Infrastructure behind the walls and insulation is not one of the most exciting parts of your van conversion, but it is one of the most important. A poorly insulated van could mean that your van is uncomfortably hot or cold, has mold issues, or that you can hear everything that is happening outside your van at all times.
In this lesson, we break down everything you need to know to make wise decisions about your van insulation and sound dampening. By the end of this blog post, you'll know your different options for insulation, including 3M Thinsulate and sheep's wood, as well as the importance of sound dampening materials.
Van Infrastructure
As you know by now, there are tons of different ways to build out a van. It can cost hundreds of dollars or tens of thousands of dollars. You can make it simple and easy or as high-end and complex as you want.
A lot of the variations in cost have to do with the materials you use, which make a big difference in the outcome and longevity of the van. Some things to keep in mind when planning for a sturdy structure are sound dampening, insulation, wall paneling, and wood choice.
Because of the nature of van life, it's important to have a solid build that can withstand constant vibrations of the road. Vibrations not only weaken the integrity of the build but can also be really noisy. Cargo vans aren't designed for quiet road trips; they're work vehicles, so with that comes highway noise and sounds of people walking by while you're trying to stealth camp. But there are ways to make your van quieter and more comfortable which we'll dive into now, starting with sound dampening.
Reducing Road Noise in your Van with Sound Dampening Material
Sound dampening materials make a huge difference in reducing the vibrations and road noise in your van. These materials help keep outside sounds outside and inside sounds inside so you can enjoy peace and quiet inside the van and you won't be as easily heard from the outside. They are typically installed directly on the inside of the vehicle's metal walls before adding insulation.
Peel and stick sound deadeners are a popular option for van conversions – they're easy to install and you don't need a ton of it to make a big difference. Applying the material to even just 25% of the inside space will significantly reduce outside noise and vibrations if you're using a good product specifically designed for this purpose. We suggest applying it to walls, the ceiling, the cab, the floor, wheel wells, doors, and under the hood. 50 square feet is typically enough for the major areas of a panel van, but you'll need more if you want to cover the entire inside. That's what Outside Van did when they converted my van and other van lifers who ride in here always comment on how quiet it is.
Here are two popular brands of sound dampening materials: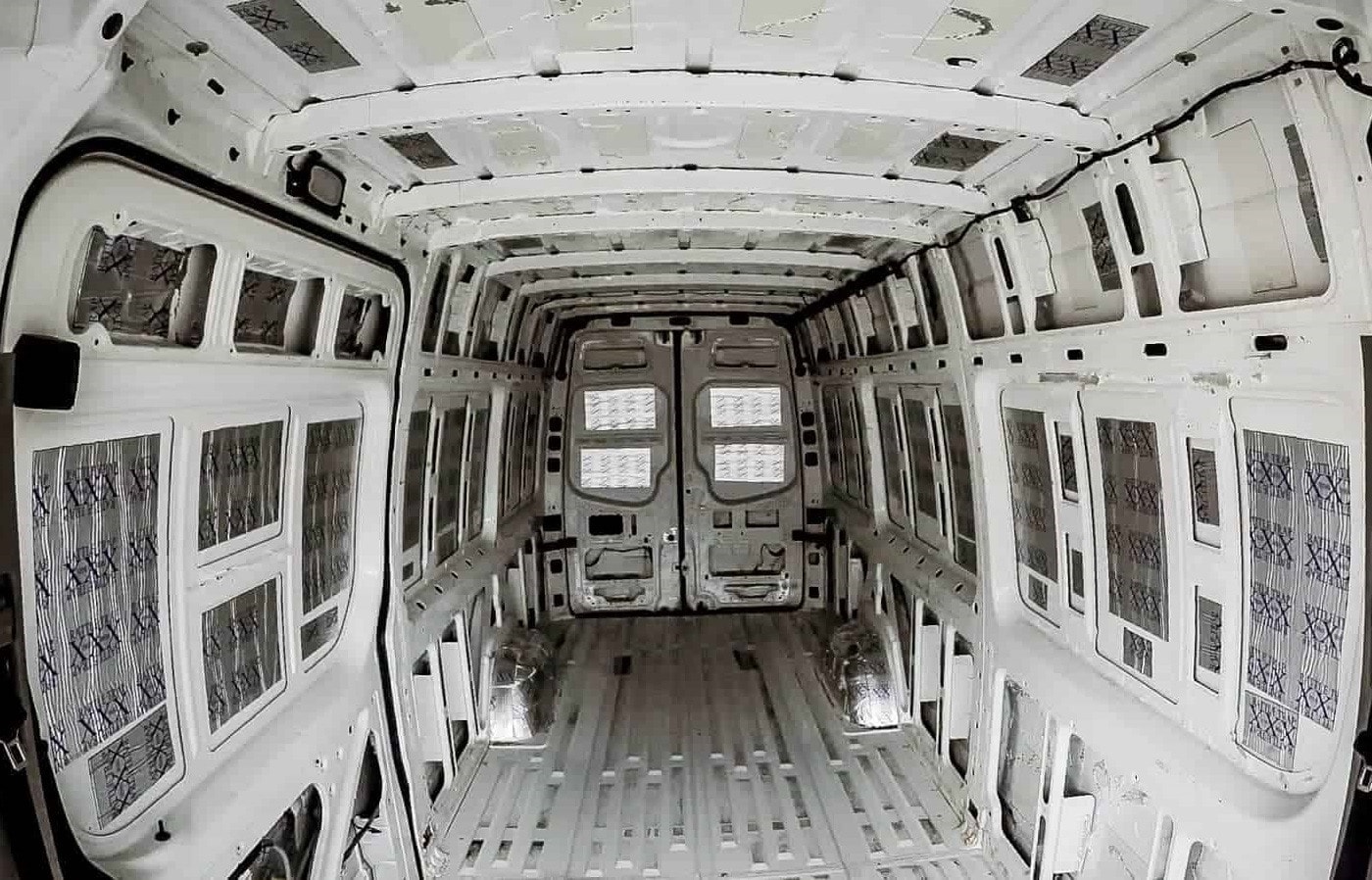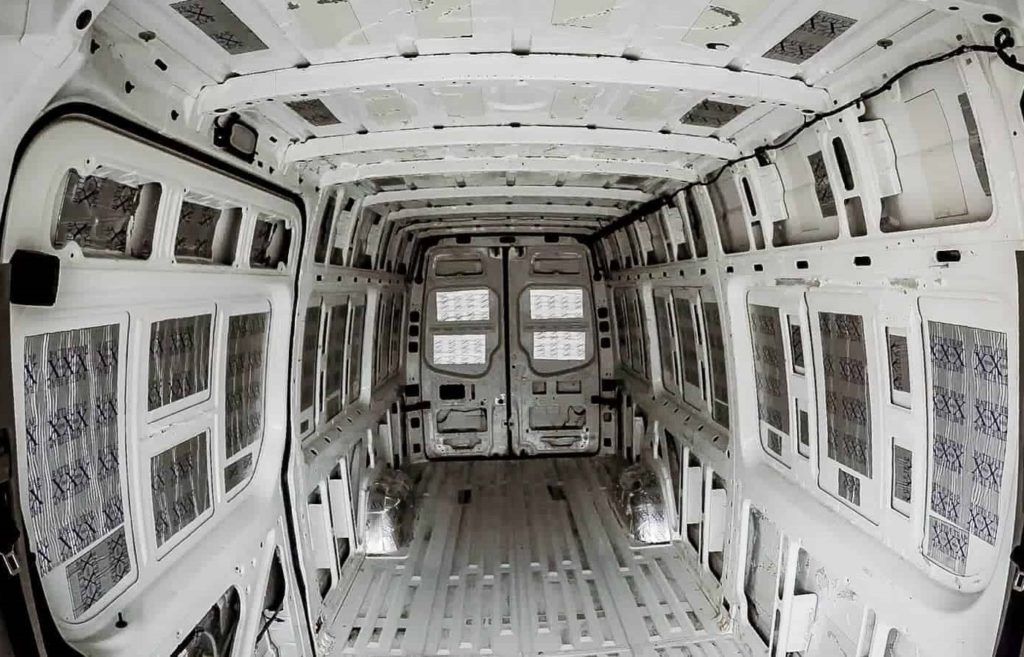 Different Types of Van Insulation
Next, you'll start thinking about insulation. How you insulate your van will make a big difference in climate control inside the van. Proper insulation will keep the van cooler in the summer and help it hold heat in the winter.
Insulation materials are measured in R-value, which is the capacity of a material to resist heat flow. Basically, the higher the R-value, the greater the insulating power. Some materials have a greater R-value than others, and what type of insulation is best is a surprisingly debatable topic.
In addition to the R-value, there are a number of other factors to consider when choosing your insulation.
First, you want your insulation to be resistant to water, mildew, and mold. Condensation can be an issue in campervans, so it's important that the insulation you choose doesn't retain moisture.
Second, you want something that is going to be easy to install if you're doing it yourself.
Third, many types of insulation – such as fiberglass – contain toxic materials that require special precautions during install that you'll want to take into account. And finally, cost comes into play as well.
In recent years, there have been two major front runners for preferred insulation type.
3M Thinsulate
In my van, Outside Van used 3M Thinsulate for insulation. 3M Thinsulate is a synthetic material, it's non-toxic and easy to install, and also has some sound dampening properties. Despite having a higher price tag and a slightly lower R-value than some of the other options, 3M Thinsulate is a clear front runner in discussions on the Sprinter Source Forum.
Combined with the sound dampening material in my van, Outside Van estimates that they achieved an R-value around 6. Putting numbers aside and speaking from qualitative experience, the insulation in my van seems very effective. We, of course, have a heater, but we've slept in sub-freezing temperatures on ski trips and had no issue with temperature control or moisture.
You can find 3M Thinsulate here on Amazon.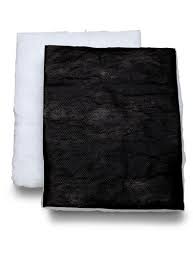 Sheep's Wool
Another emerging front-runner for van insulation is sheep's wool from a company called Havelock. An all-natural material, sheep's wool has been touted as an eco-friendly choice. It's got a slightly higher R-value than 3M Thinsulate, it's cheaper, has natural moisture-wicking properties, and also provides sound dampening. However, bugs love wool, so in order to prevent insects, as well as reduce flammability, Havelock applies a small amount of boric acid to the sheep's wool. This is considered non-toxic, according to the National Pesticide Information Center. One last thing to consider is that compared to 3M Thinsulate, sheep's wool is reported to be slightly messier on the install.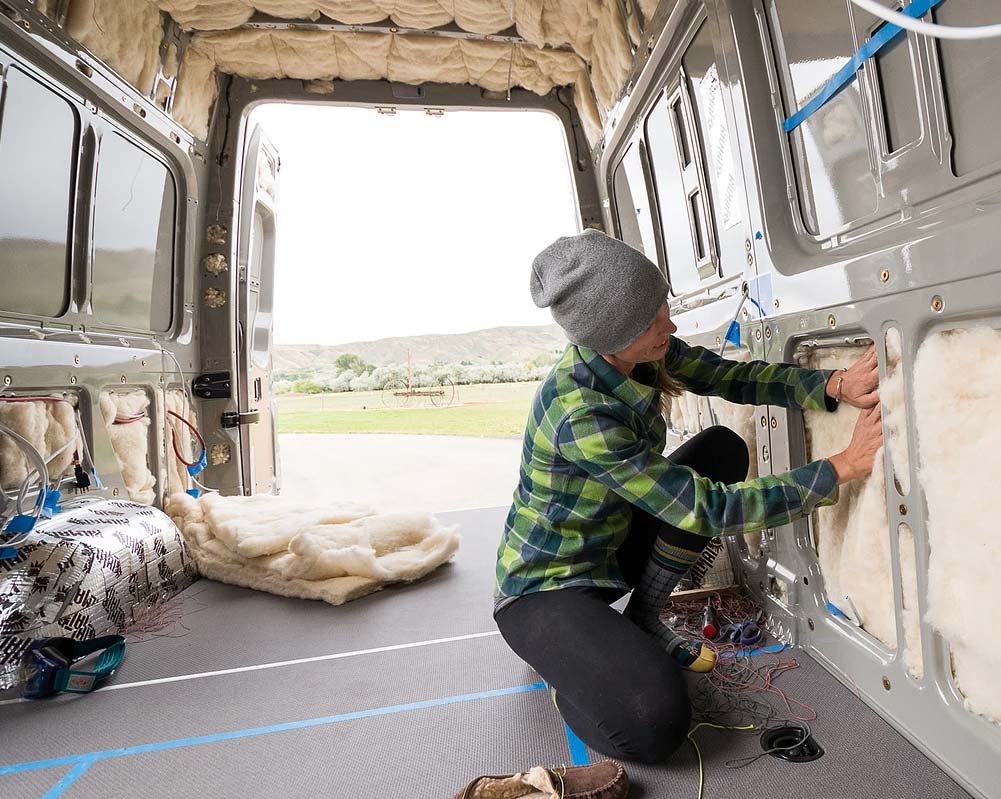 Foam Boards
A final option I'll mention for van insulation is rigid foam boards, like Polyisocyanurate. These are widely available at hardware stores and relatively cheap. If using a rigid foam board, you'll need to pay attention to any air gaps and make sure to fill them in with spray foam, 3M Thinsulate, or wool. Otherwise, airflow will result in moisture build-up in those areas.
Before moving on, there are a few materials to avoid for van insulation, including:
Denim – which retains moisture
Reflectix – which used to be popular, but as it turns out, is not very effective
Fiberglass – which contains formaldehyde and is toxic
Down below in the resources, I'll link to a thread in the Sprinter Forum about insulation where you can get some other opinions.
Wall Panels
We've touched on sound dampening and insulation, now let's talk about the walls of your van.
When it comes to selecting materials for your walls, ceiling, and other structures in your van, there are a lot of options. Do you want something prefabricated or custom-built? Do you like the look of wood or do you prefer something modern or industrial looking?
There are some great resources out there that offer building materials at discounted prices, like salvage yards, upcycling centers, and local construction stores – so keep that in mind. Ultimately, material selection is based on a few things: budget, aesthetic choice, and availability of resources.
In my van, Outside Van used Mahogany luan panels for the walls. They adhered a layer of closed-cell foam to give the panels a little cushioning and then wrapped each panel in the desired upholstery. In the case of Outside Van, they typically use polyolefin, which is an upholstery with many uses such as carpeting and vehicle interiors. It's durable, resistant to stains, mildew, and sunlight, so it's a great option for camper vans.
Another option to consider for upholstered wall panels is Sunbrella.
In my van, Outside Van used a material called Sil-Leather, which is made of silicon. Sil-Leather is eco-friendly, non-toxic, waterproof, and highly durable, and I've been very happy with it in my van. I can literally get a wet cloth and wipe the walls clean. I also love that dog hair doesn't stick to it like it would on more traditional upholstery.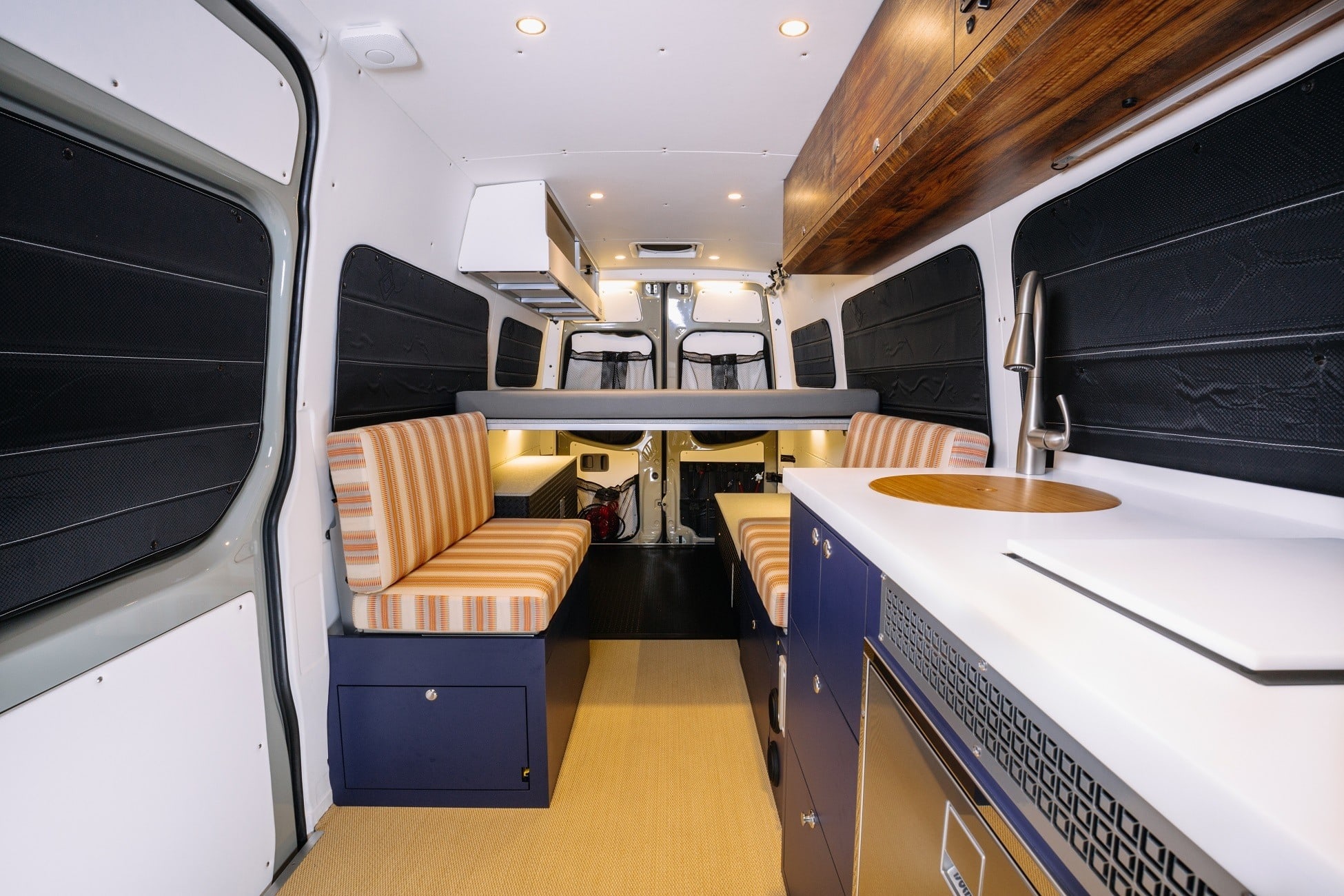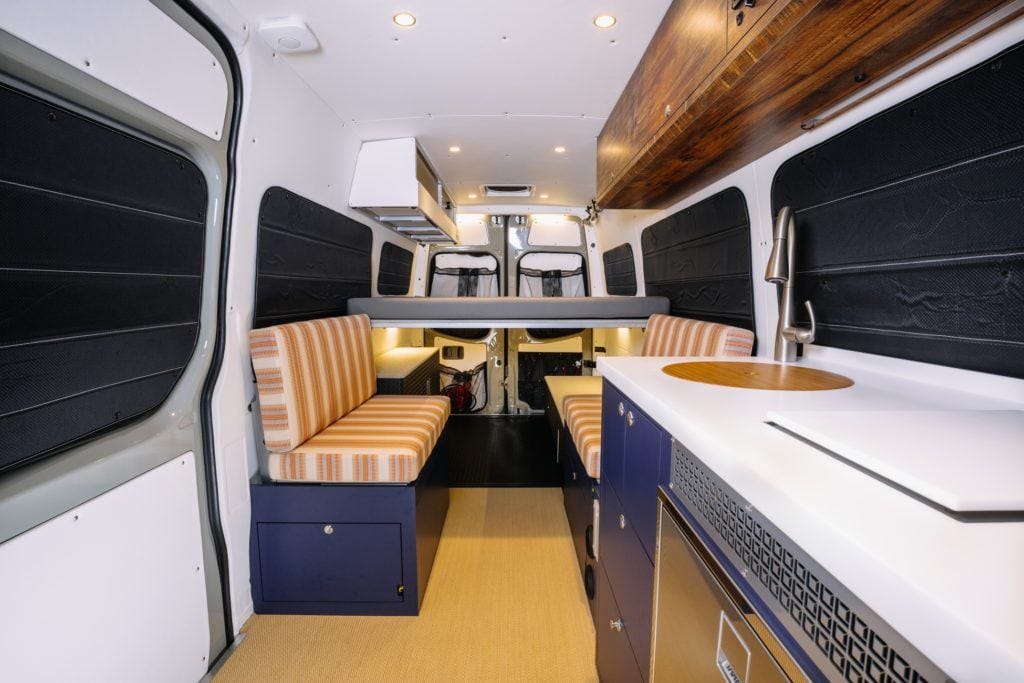 Other van lifers like the look of wood paneling. I don't have personal experience with wood, but many DIYers opt for tongue and groove paneling. Others on a tighter budget just use marine-grade plywood and paint over it.
A final option I'll recommend is the Adventure Wagon Sprinter Van Conversion Kit. Right now, they are only available for Sprinters, but they are working on expanding to other platforms including Ford Transits and Ram Promasters. These kits come with everything you need to build a solid foundation for your van – including insulation, wiring, pre-cut wall panels, trim, L-track, and more. For folks who want to DIY but don't want to deal with building the infrastructure, this is a great option.
Resources Section
Explore other van life lessons in Module 2
Do you have questions about van insulation? Share your questons, tips, and experiences in the comments below and make sure to sign up for course updates!