Camper Van Bed Ideas for Your Conversion
Learn about different camper van bed options including platform and convertible folding van beds plus examples of each.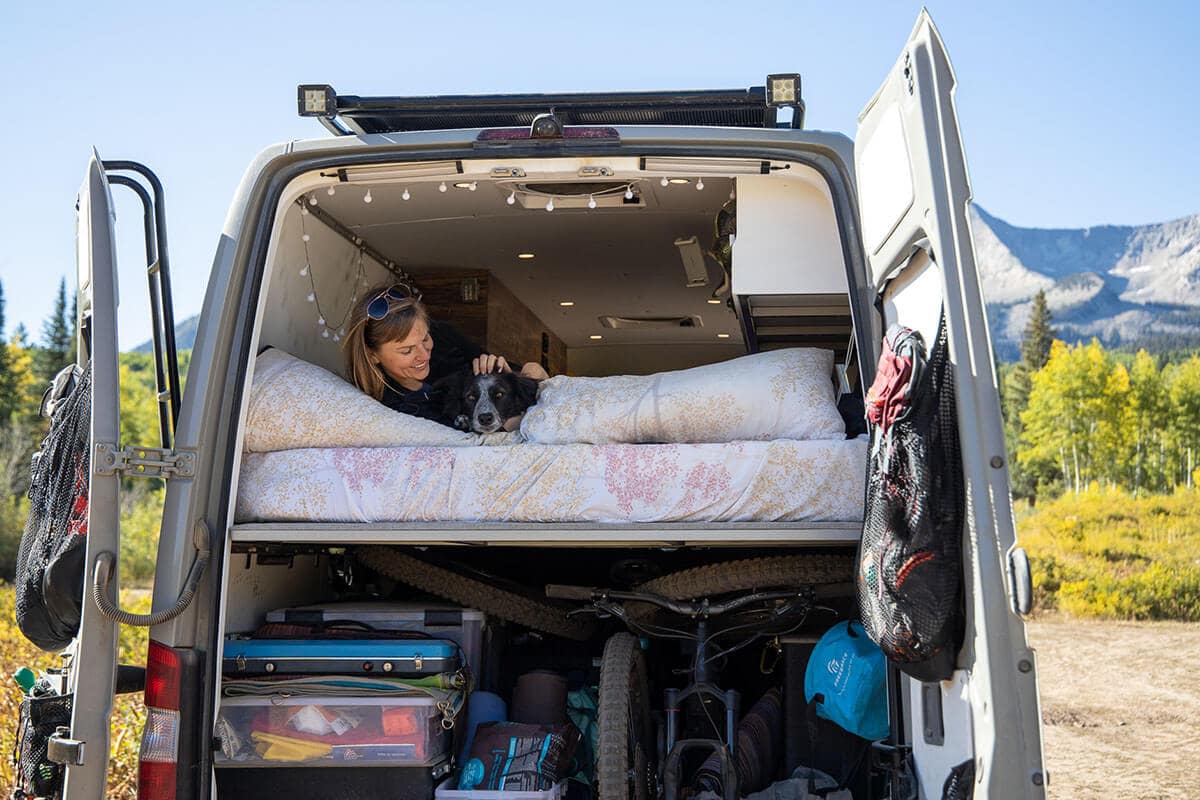 What type of camper van bed you want in your home on wheels will be one of the first decisions you'll make in your conversion – maybe you want a platform bed so you can store mountain bikes and other gear? Or perhaps you want a convertible folding bed so you can have a table to work at during the day and a bed only at night when you need it?
In this post, we cover the pros and cons of different types of van beds, some options for utilizing your space as efficiently as possible including custom mattresses and/or flares, and share some campervan bed ideas to give you inspiration for your own build.
Van Bed Styles Video
Camper Van Bed Styles
Deciding on the type of bed you want for your van should be one of the first choices you make because the rest of the camper van layout will revolve around this. The two primary styles you'll see in vans are a platform-style bed or a convertible bed. Here are the key differences:
Platform beds: fixed in place and always in "bed mode"
Convertible beds: folding van beds that can transform from couch or dinette by day to bed by night.
There are a few initial questions to consider to guide you in choosing a bed style:
How much space do you want a bed to take up in your van?
How big of a bed do you need? Can you sleep horizontally in your van or do you need to sleep vertically?
What kind of gear do you plan to carry? Bikes, backpacking gear, paddling equipment, etc?
Do you want to be able to store bikes or other gear that requires a lot of space under the bed?
Are you okay with setting up and putting away a convertible bed every day?
How much headroom do you need? Do you want to be able to sit up in bed?
Do you want ample seating to be able to host and entertain friends in your van?
Where will you eat? Where will you work? Where will you lounge?
In my first Sprinter, I had a convertible bed that turned into a couch/seating area during the day. I quickly realized I didn't enjoy converting it every day, and it severely limited my storage options for gear. Since exploring the outdoors via hiking, biking, paddling, and more were the main reasons I bought a van in the first place, in my second (and now third) van, I chose to have a fixed platform bed with a large "garage" for gear storage underneath the bed.
Think about what your day-to-day life and travels will look like in your van to get an idea of what will work best for you. Below we cover the pros and cons of fixed platform beds vs convertible beds to help you decide what's right for you.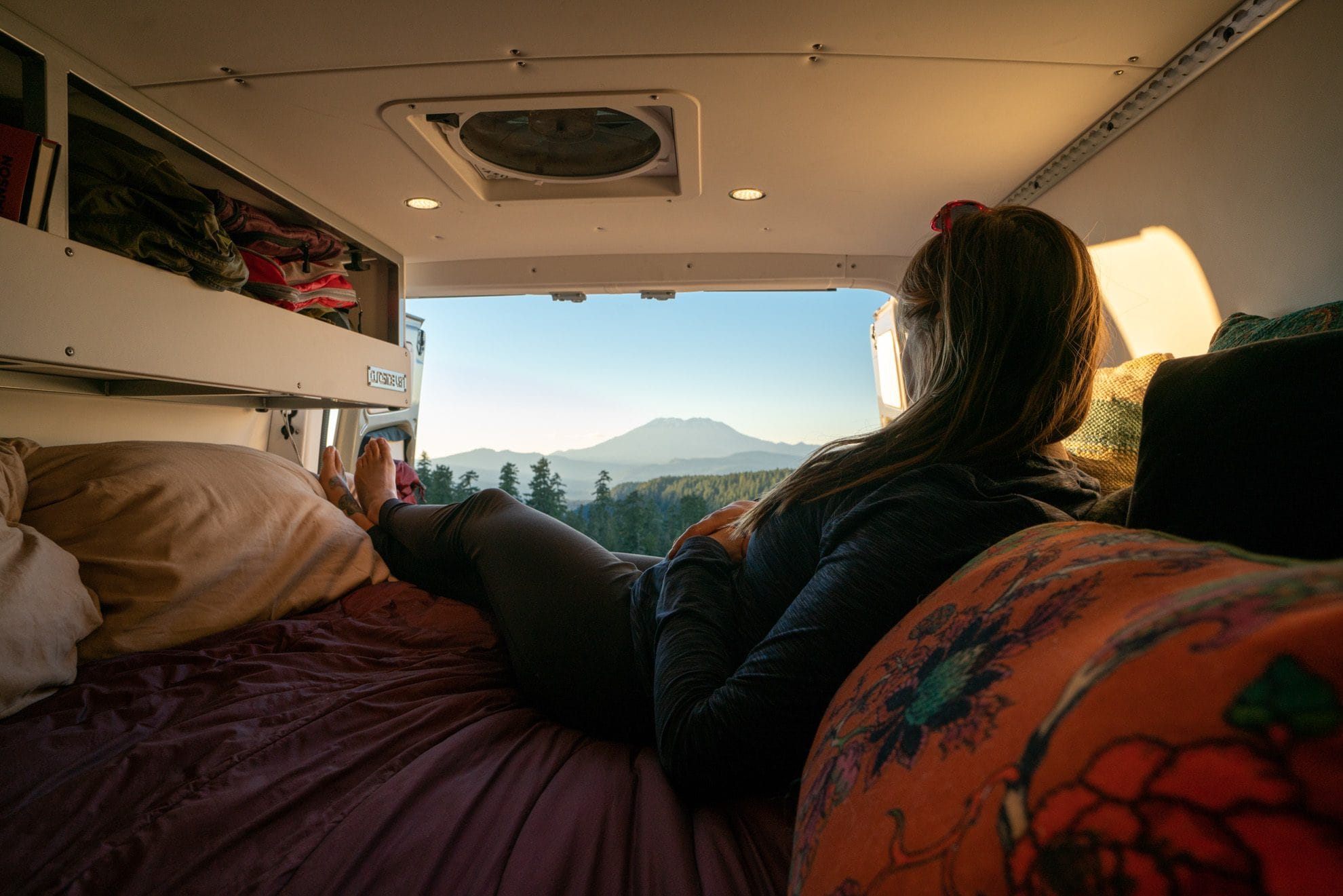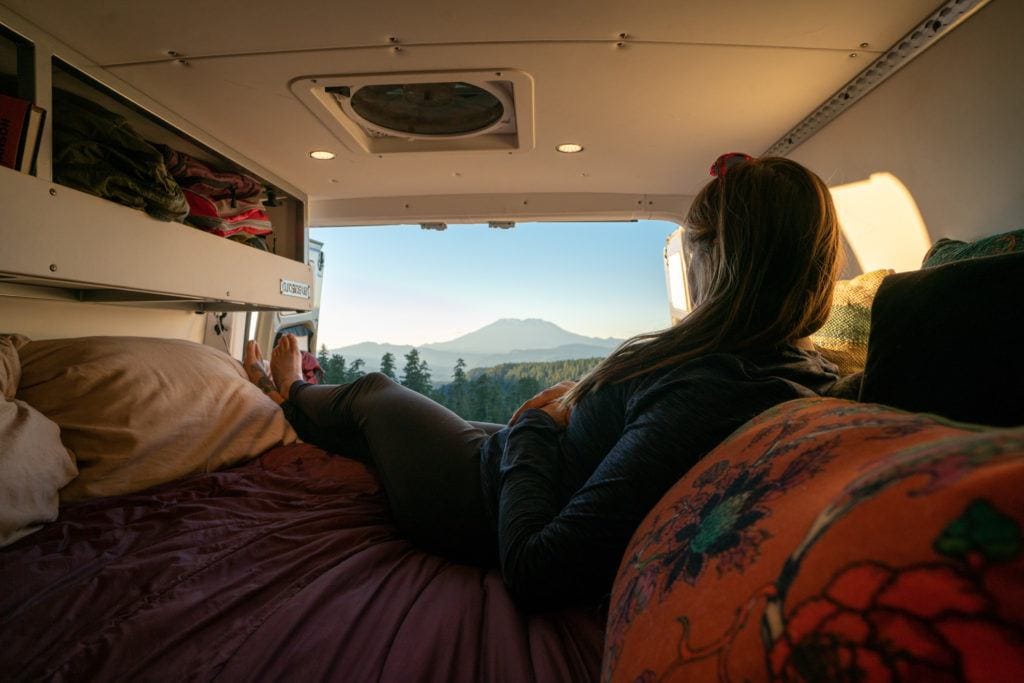 Fixed Platform Van Beds
Having a platform or fixed bed in your van provides ample storage underneath for bikes, gear, water tanks, a toilet – you name it. We call this area under the bed "the garage." This is the setup and the bed I had in my second 4×4 Sprinter van.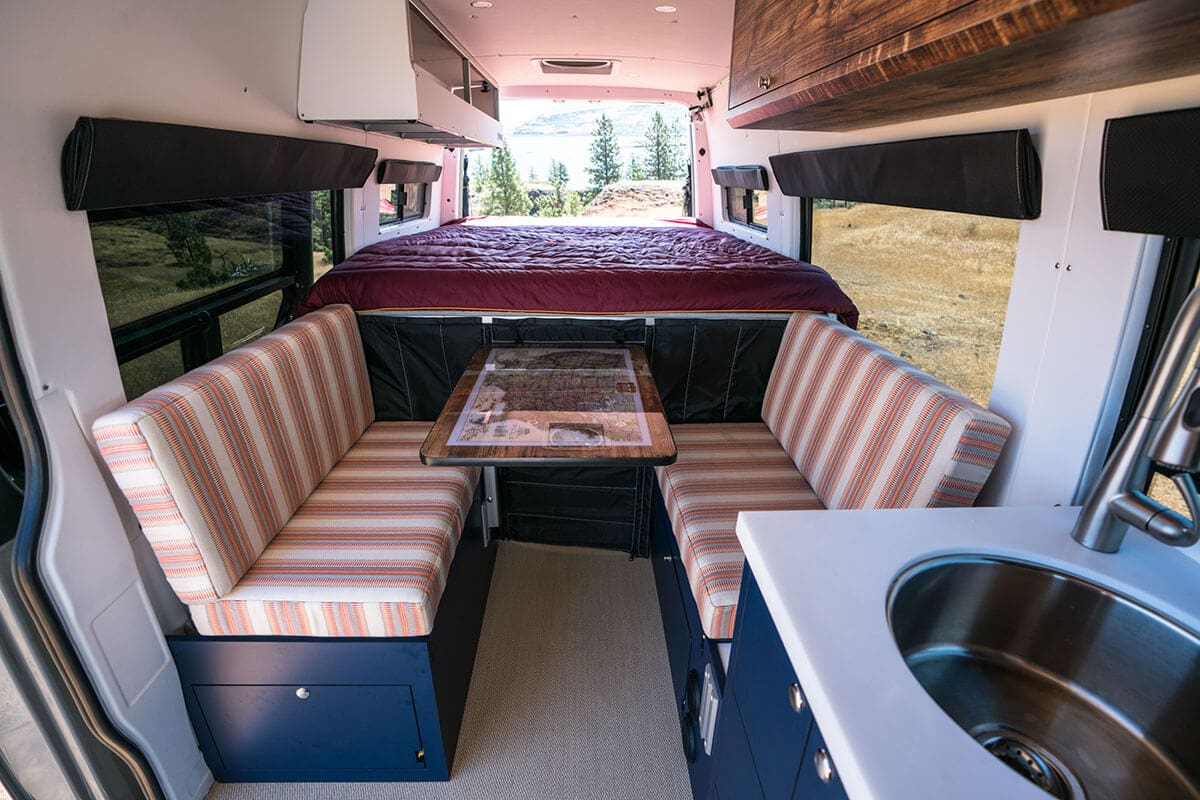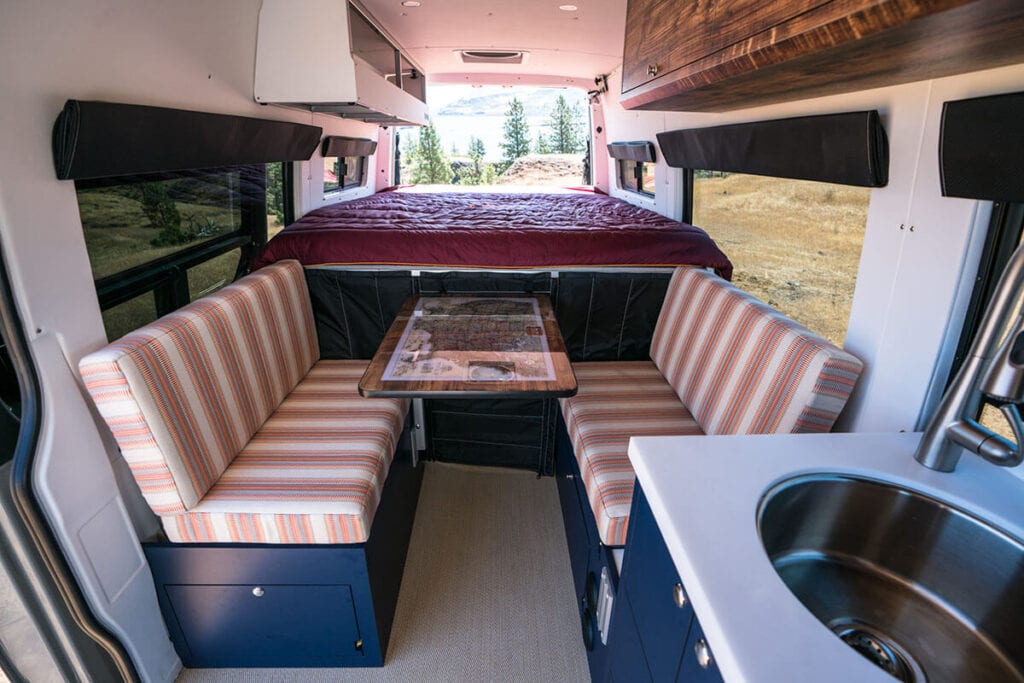 Fixed Platform Bed Pros
Always in "bed mode" – less hassle because you don't have to convert your bed every day/night
Can build the bed as high as you want, creating even more storage space underneath
Don't need a place to store your bedding and pillows because they just stay on the bed at all times
The overall design and build are less complicated than a convertible bed
A fixed bed is always ready for rainy afternoon naps or after a long day on the trail
May be able to make a regular mattress fit (likely a full or queen size), although you'll probably have some extra space around it.
Fixed Platform Bed Cons
Has a larger footprint in your van than a convertible bed, so you'll need to figure out a seating area for when you're not in bed, especially if you work from the road.
Don't have the flexibility to use that space for another purpose when you're not sleeping
Platform Bed Layout and Dimensions
In the Ford Transit and Mercedes Sprinter, the width of the van once you've installed insulation and paneling is about 5'10". The Dodge Promaster is slightly wider. So unless you are shorter than the width of the van or a dedicated side sleeper, you will likely want to set up your platform bed so you sleep vertically down the van (front to back), rather than horizontally (side to side). This long way's orientation also allows for easy storage of mountain bikes under the bed since they're a similar length.
Convertible Van Beds
There are tons of different options and layouts when it comes to convertible (or non-fixed) van beds. Typically, these are beds that need to be set up each night, and each day are converted into a seating/dinette configuration. I had a futon-style couch-to-bed setup in my first Sprinter.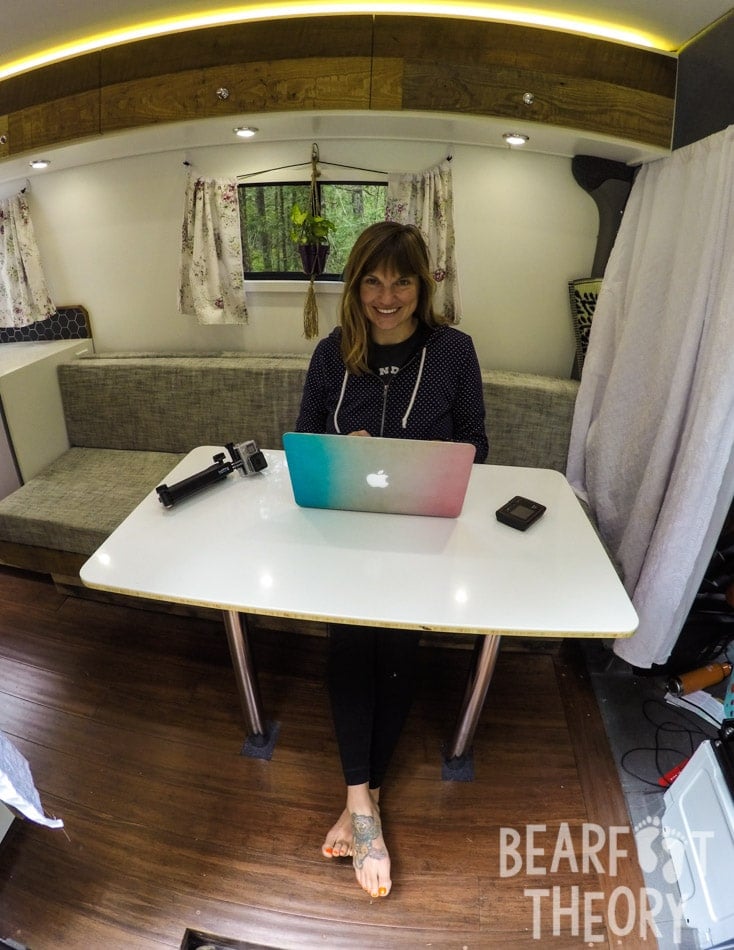 Convertible Bed Pros
Offers more living space and serves a dual purpose. For example, if you have a dinette in the rear of the van that converts to a bed, you can seat 6 people easily at your table or have a huge workspace.
Since the bed is often lower than a platform, it makes for nice photos out the back of the van if that's something you care about.
Convertible Bed Cons
It can be a hassle to set up and tear down your bed every day and you have to find a place to store your bedding during the day (unless you have a Murphy bed)
Can't have both a bed and dinette at the same time
Sacrifices indoor storage space for larger gear items like bikes, inflatable paddleboards, etc.
You typically sleep on multiple cushions, so it's the least similar to a real mattress (unless you have a Murphy bed)
Convertible Bed Layout and Dimensions
As I mentioned before, there are tons of configurations for convertible beds – common examples are:
Bench-to-bed: The dinette table drops down and the back cushions from the benches are used to fill in the bed. You can have an open back with 2 benches across from each other, or design a "U-shape" bench with 3 benches.
Couch-to-bed: A small couch that slides out to convert to a flat bed
Murphy bed: A mattress on a platform that is raised and lowered against the wall, giving you seating and a table without having to totally disassemble and reassemble your bed every time
While the folding or convertible van bed design sacrifices some storage, for example – you won't be storing mountain bikes and bigger gear items inside the van – it makes up for it in open living space throughout the day. So if storage isn't your top priority and you don't mind opening and closing your bed every day this could work for you.
Van Bed Sleeping Orientation
Another thing to keep in mind as you plan your van bed and layout is what direction you plan to sleep in. Some key considerations:
Height: Anyone over 6'0 will not be able to comfortably sleep horizontally (wall to wall)
Width of your van: Be sure to check measurements and factor in your insulation and walls. The Promaster has the widest width of popular panel vans.
Sleep position: How do you normally sleep? Do you curl up on your side or do you like to stretch out?
Obviously being able to sleep horizontally (wall to wall) gives you extra floor space and room in your van, but if you're tall, you probably need to sleep vertically (head toward the back and feet toward the front).
If you want a platform bed and want to be able to sleep horizontally across the width of your van (rather than front to back) but you're too tall, then you might consider installing flares. Flares are made for Sprinters, Transits, Promasters, and the Nissan NV, and when installed, extend the width of your van in the bed area. This allows you to comfortably sleep across the van rather than down the length of the van. By changing the orientation of your bed, you gain a couple of feet inside the vehicle for living space that can be used to add seating, a larger galley, or even a bathroom. The downside of flares is you do lose some insulation and they're an expensive investment.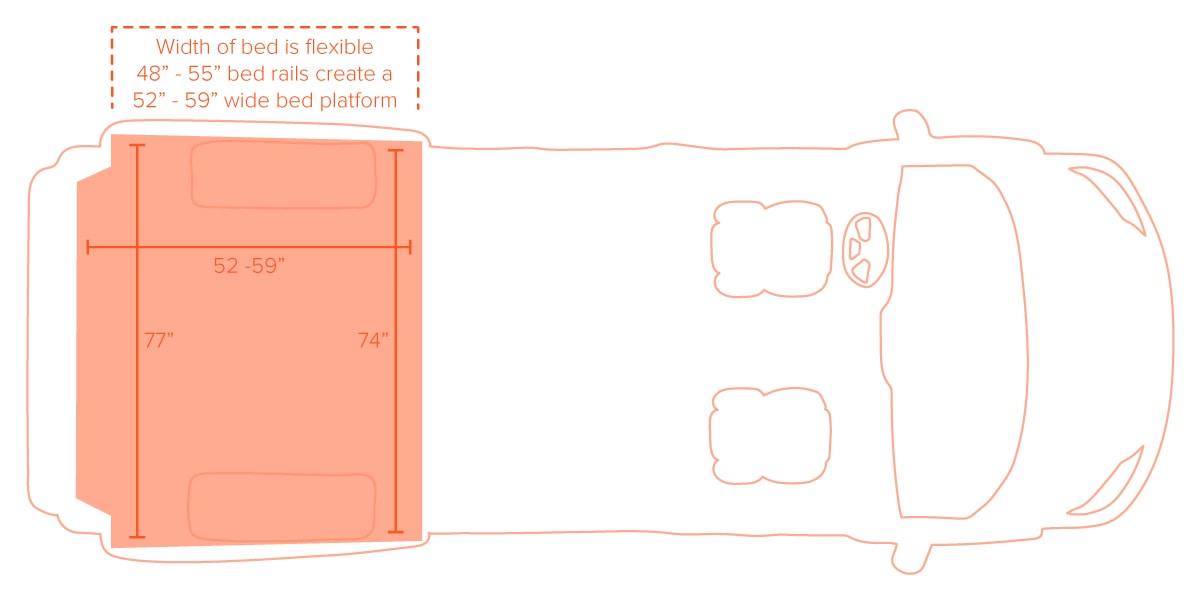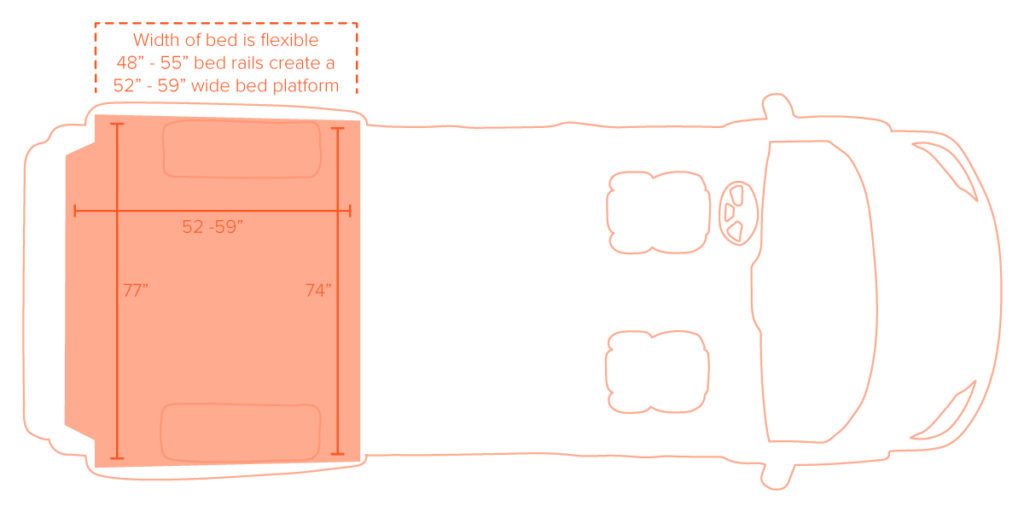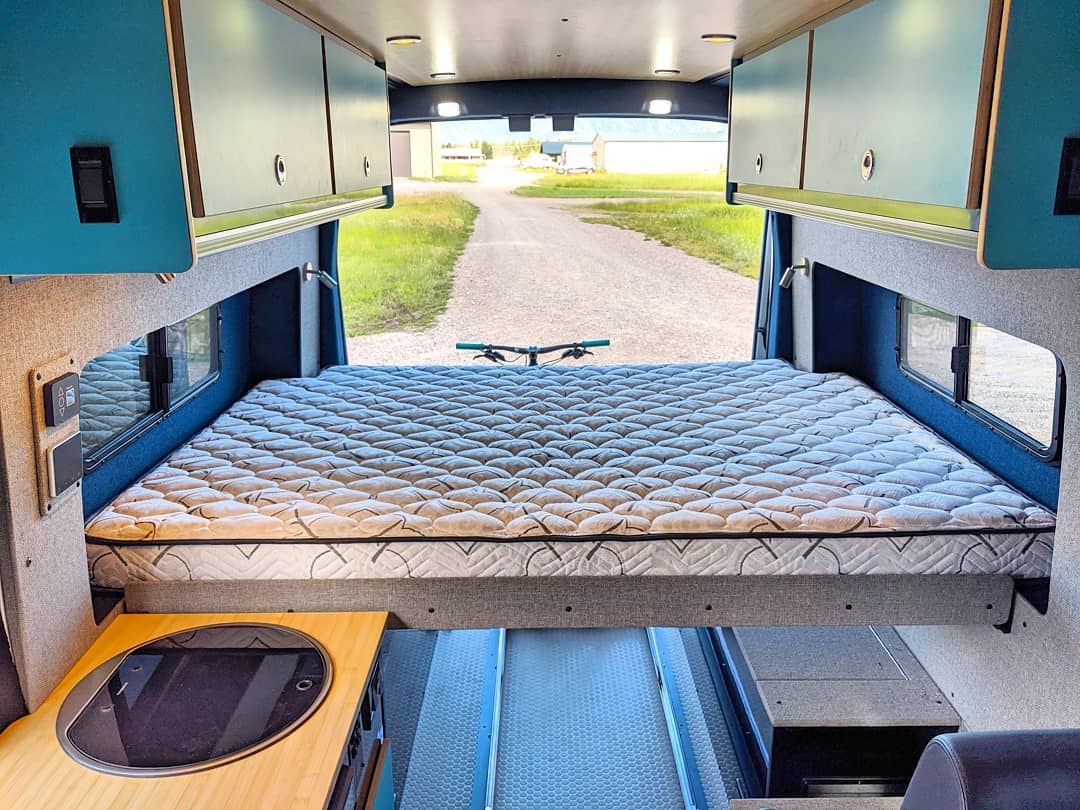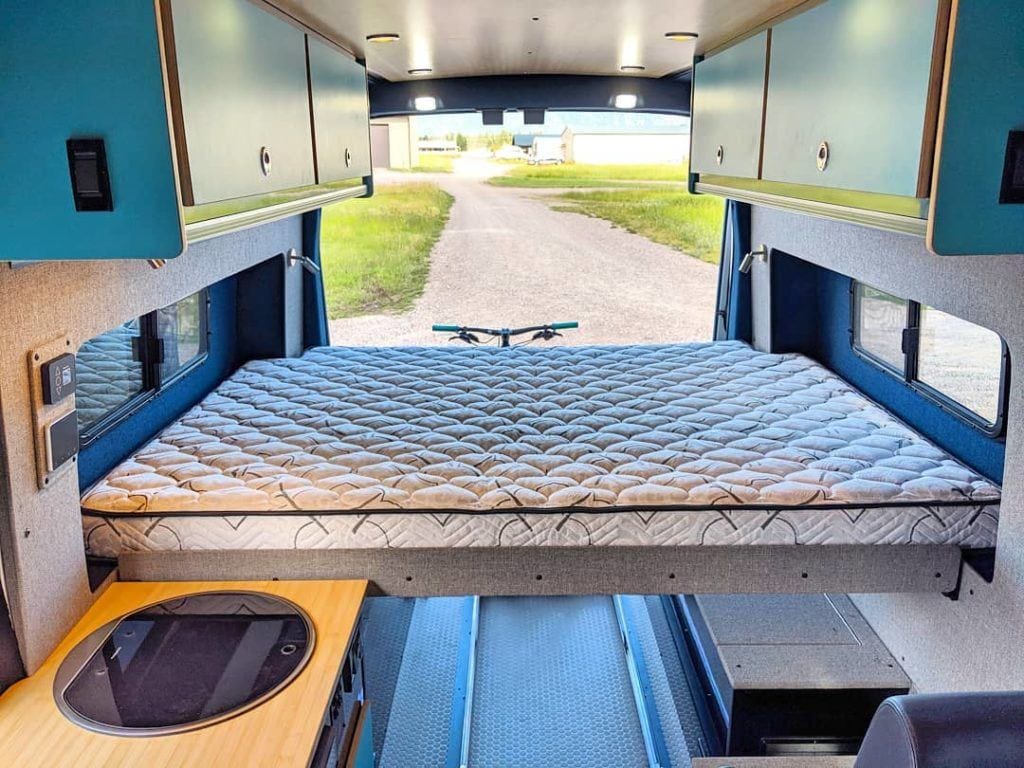 Van Mattress Options
While you may just think you can throw your mattress from home in your van, that may not be the best option. Instead of planning your van layout around your mattress, we'd recommend picking your bed style and orientation first then finding a mattress that works in your space. Remember, you're going to be sleeping in your van bed every night, so you want to pick something that's comfortable and durable.
Traditional Mattress
Using a mattress you already own is the easiest and cheapest option, but there are a few things to consider before tossing a standard mattress into your van. First, a traditional mattress might not easily fit in your van, especially if you're planning on sleeping horizontally (traditional mattresses are usually longer than the width of most vans), and because of the coils, they can't be cut to size. Traditional mattresses are also heavier and ~12″ thick, which may leave you with not a lot of head space to sit upright in your bed, especially if you have a fixed bed with bikes stored underneath.
Foam Mattress
Foam mattresses are the most popular option, simply because they're easy to cut to size (no coils), super comfortable, and usually the most affordable option. If you plan on DIY'ing a convertible bed, a foam mattress is the easiest way to cut your cushions to size. Foam mattresses are also usually thinner than a traditional mattress (4-6in thick – we've found the sweet spot for a van mattress to be 6in).
Custom Mattress
If you're not able to find a mattress that will work with the space you have in your van, or you want to make the most of the space you have, a custom mattress is an option that's actually pretty affordable. With Custom Mattress Makers, you can order a mattress to the exact dimension of the platform space you have in your van so you can utilize every inch. They can even make mattresses with angled or notched corners in case there's something you need to work around.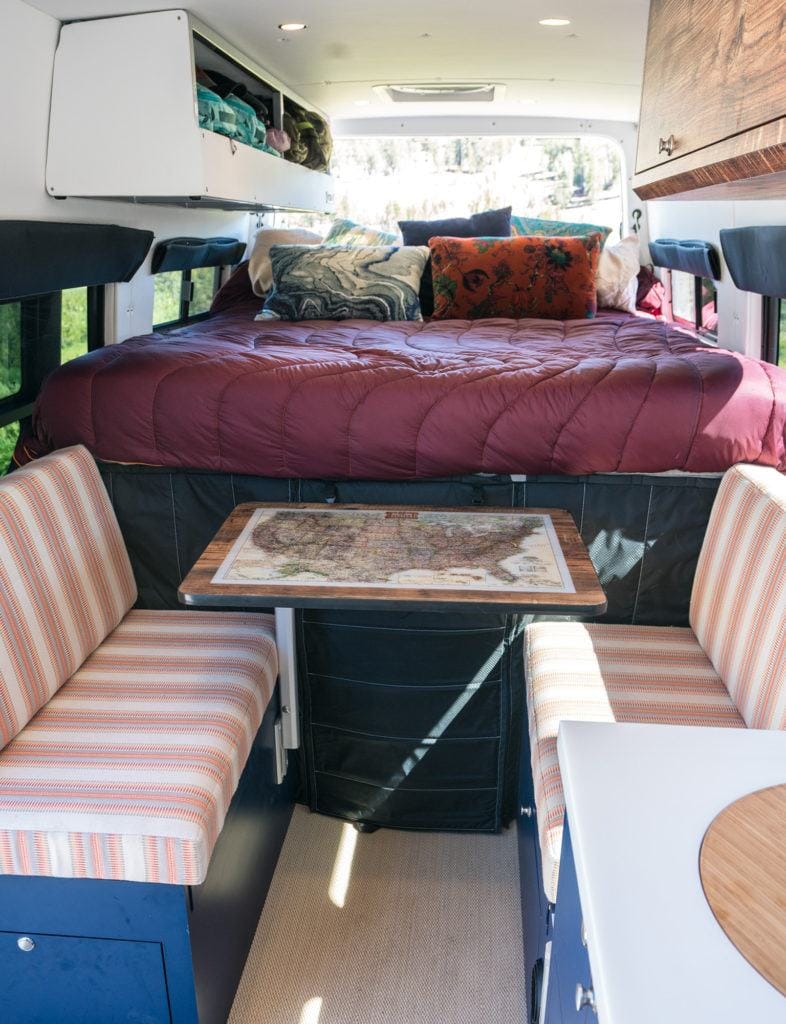 Van Bed Layout Ideas
Now that we've talked through the different camper van bed styles, let's show some examples for design inspiration for your own build:
Convertible Raised Dinette Bed
This raised dinette in @wearewanderinghome's van offers a convertible place to sit along with a "mini-garage" underneath, perfect for storing shoes and other smaller items.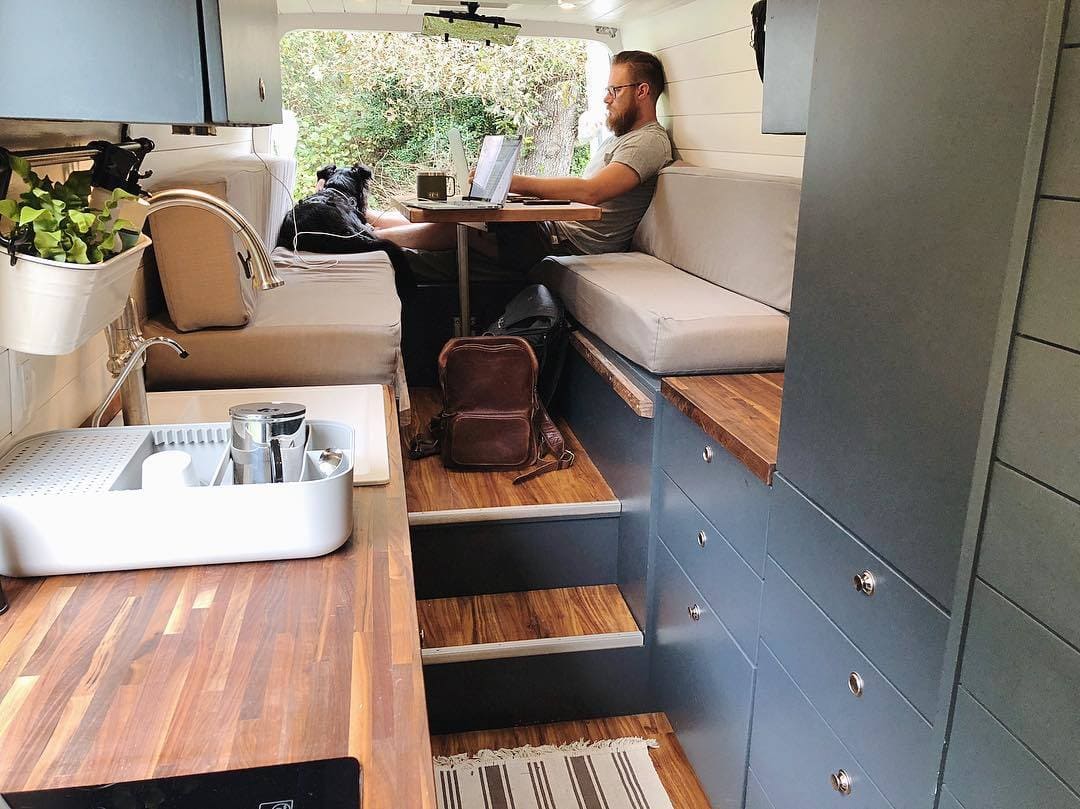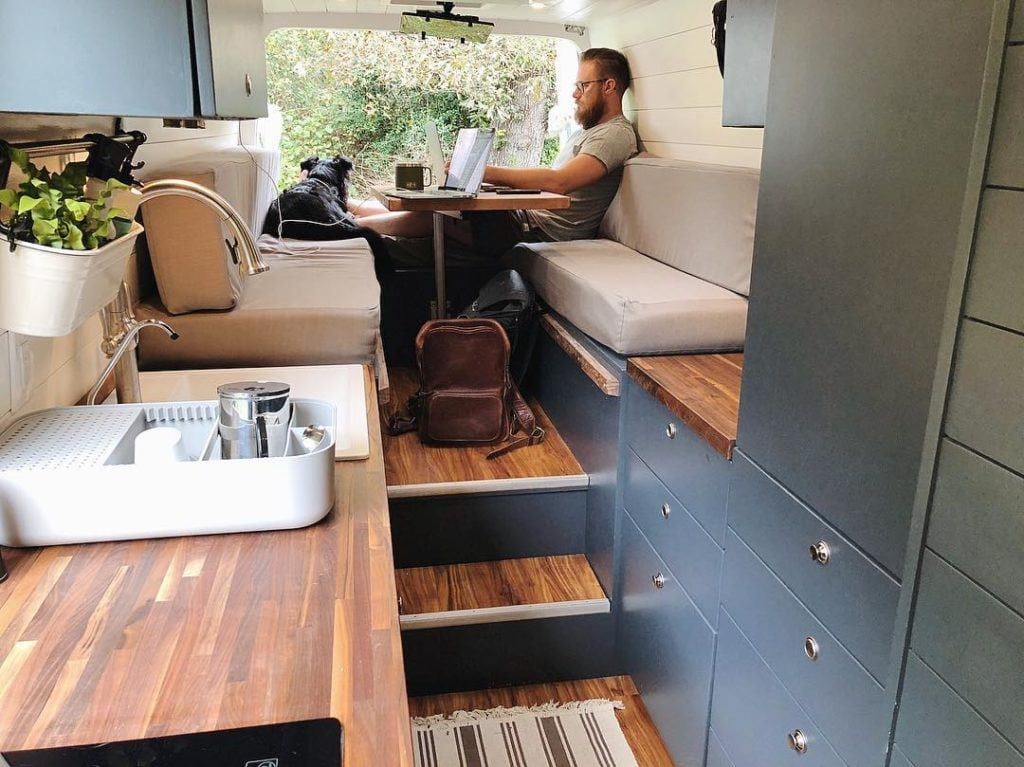 U-Shaped Raised Bench-to-Bed
This raised dinette in the back of @drivingmevananas's van converts into a bed and has a garage for smaller items below.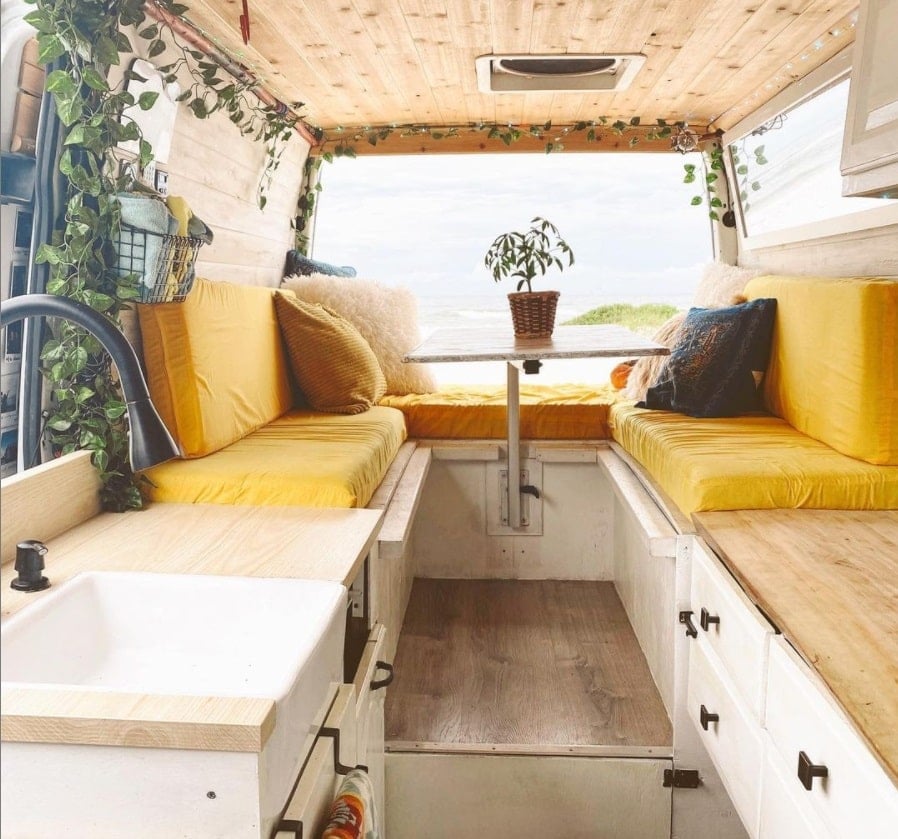 Convertible Murphy Bed (back wall)
This custom murphy convertible bed by @jarrodtocci stores in the wall when not in use and pulls down at bedtime. You can learn more about this setup in Jarrod's Murphy Bed Video.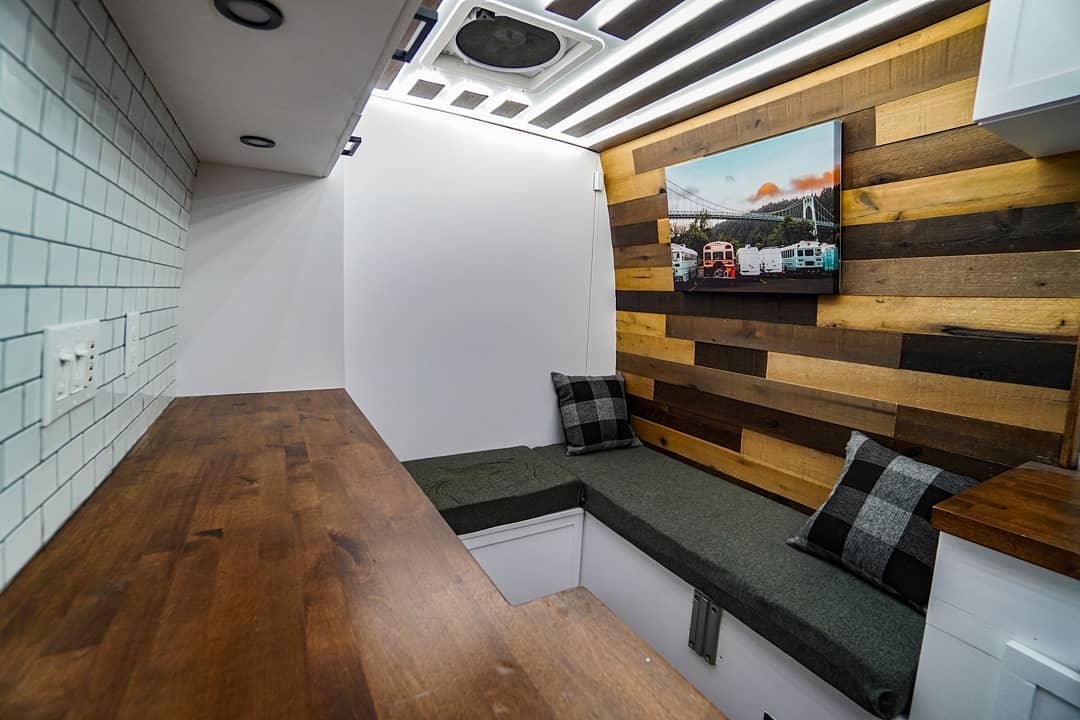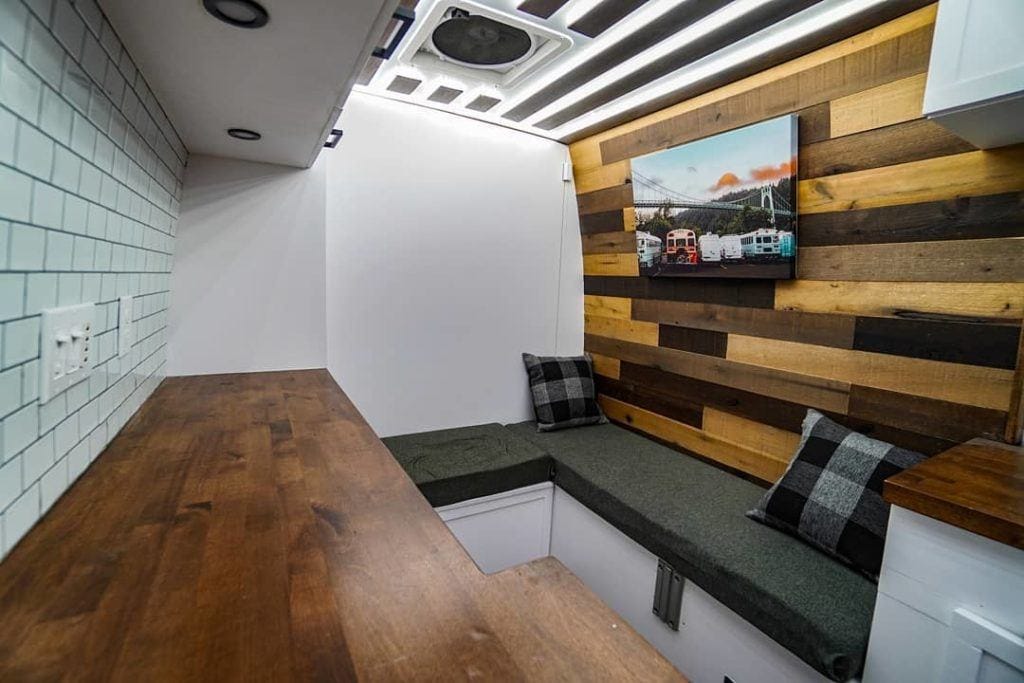 Convertible Murphy Bed (side wall)
Mariajosé & Chase of @tioaventuravan built a Murphy bed into the side wall of their van that converts into a small seating/dining area.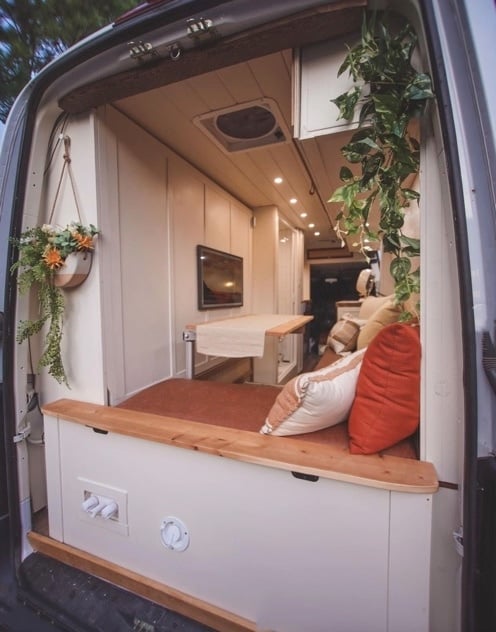 U-Shaped Bench-to-Bed
This convertible dinette and workspace in @asobolife's van folds into a bed with expansive views out the back.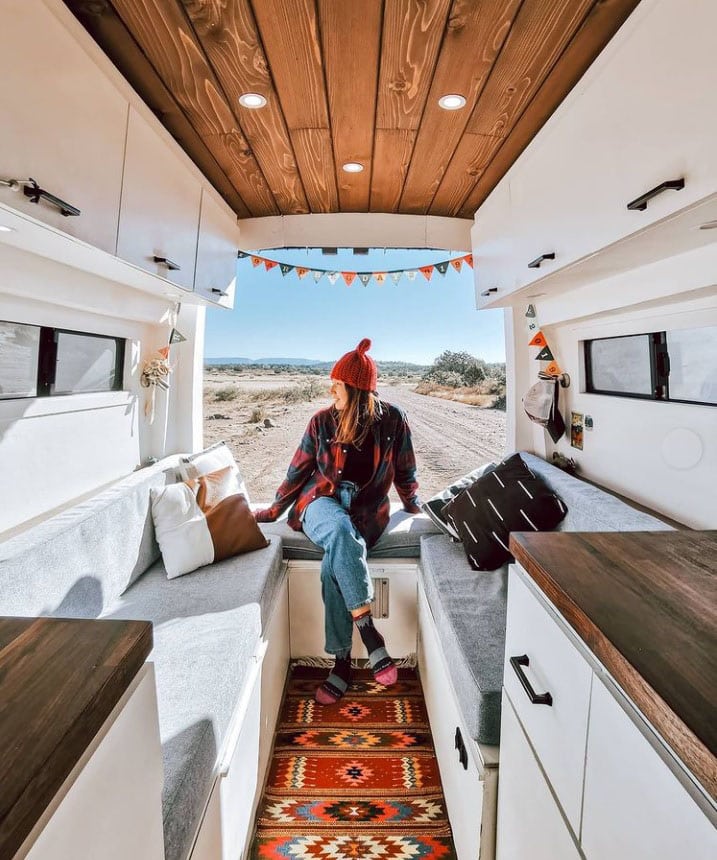 Couch-to-Bed
In my first Sprinter van, the convertible bed was across from the slider door, creating a sofa that looked out the door to a wide-open view. It was basically half of a dinette. When I was traveling solo, I could stow the table and the couch was large enough that I didn't even have to pull the bed out, so that was a plus. What I didn't like about it was when the bed was in bed form, it took up the entire area next to the slider door. When my partner was traveling with me, if we didn't have the exact same sleeping schedule, there wasn't really anywhere else to go when the other person was sleeping and moving from the front of the van to the back of the van required climbing over the bed. You can see more in this video of the bed in my first Sprinter van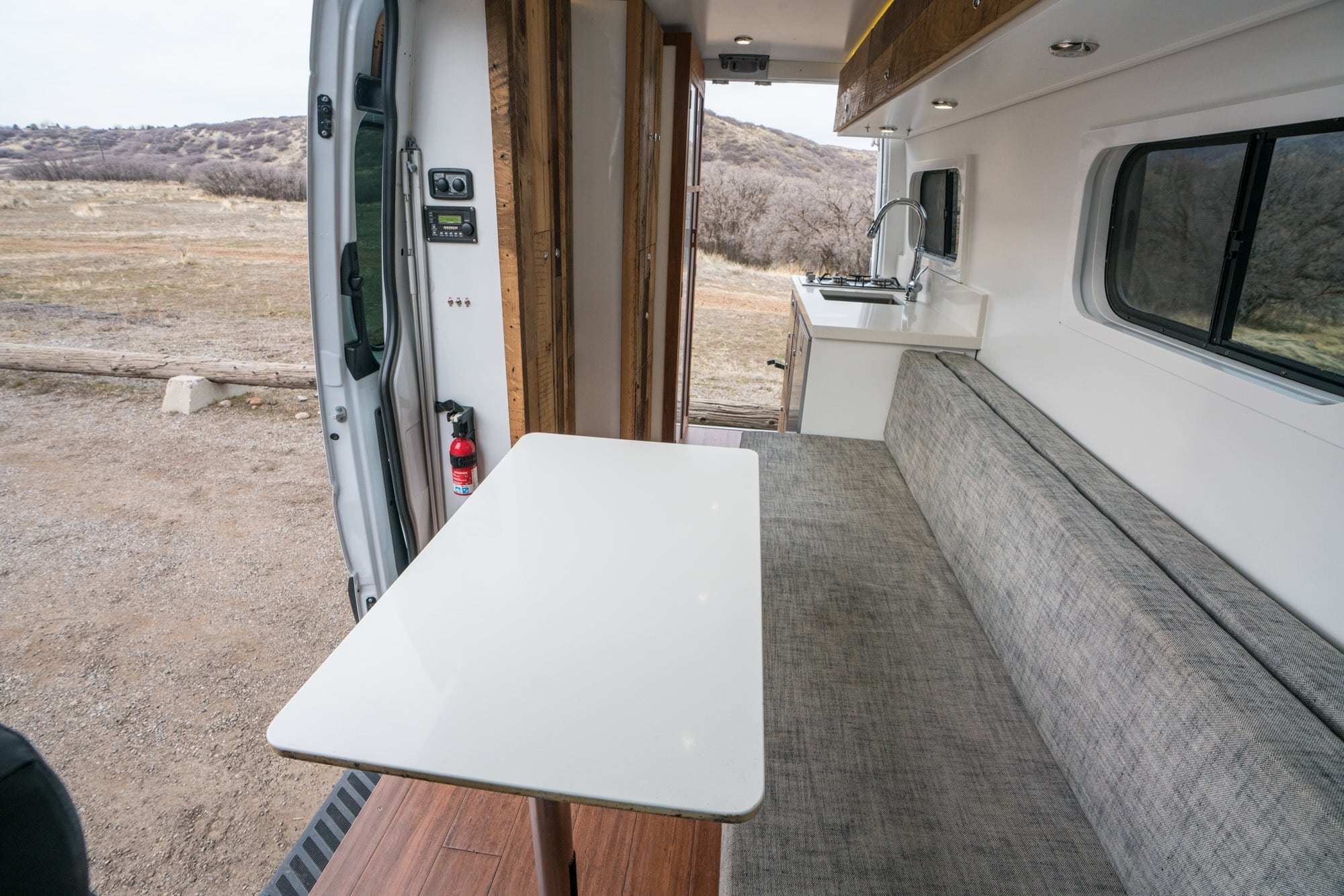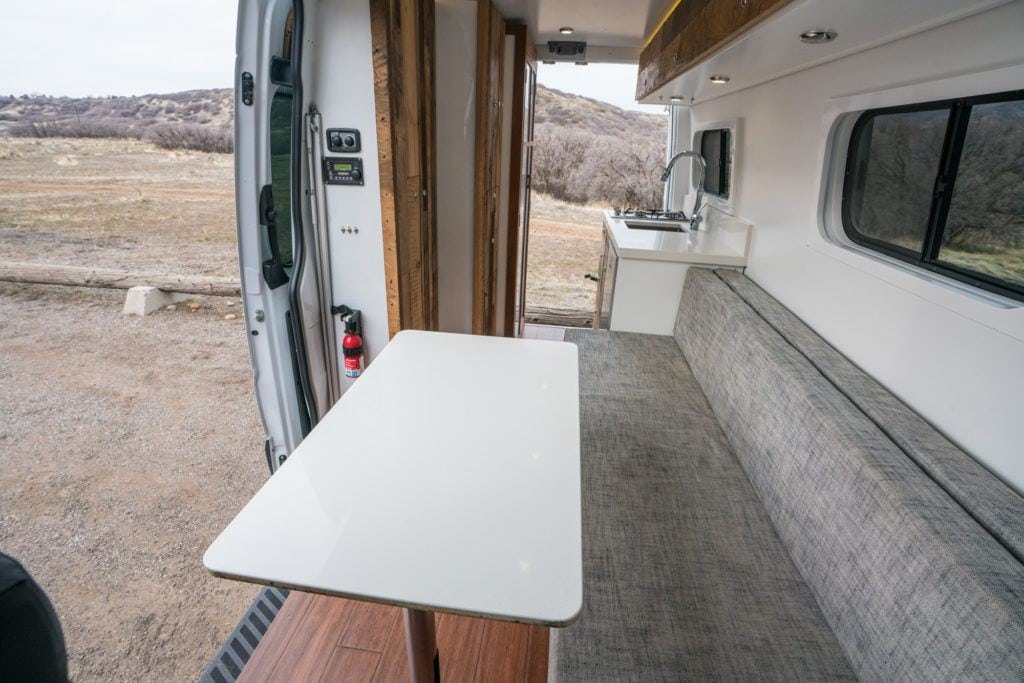 Van Life Essentials Packing List
Below are a few of my favorite pieces of van life gear and recommendations for the road:
What type of bed are you building in your van? Share your questions, tips, and experiences down in the comments, and be sure to sign up for our van life newsletter!