Washington can be broken up into two distinct landscapes: the verdant and lush western slope of the Cascade Range which includes Seattle, Mt. Rainier, the San Juan Islands, and Olympic National Park; and the dry, semiarid basin region of the east which encompasses the Selkirk Mountains, Kettle Mountains, and the Okanagan Valley. A road trip through Washington encompasses everything from rainforest to grassland steppes.
With its three National Parks and over 100 state parks, Washington is a playground for outdoor enthusiasts. Go kayaking in the Puget Sound, hike around the base of a volcano, mountain bike past alpine lakes, and wander through old-growth temperate rainforest.
To get a true sense of Washington, planning a road trip across the full state is a must.
Here are 13 must-visit stops for your next Washington road trip.

Before planning any trips, please do your research to ensure these areas are open to visitors, follow local guidelines, and do your part to be a responsible visitor. And as we ask with all of the destinations we share, please follow Leave No Trace guidelines and practice good trail etiquette.
1. Olympic National Park
The Olympic National Park, located on western Washington's Olympic Peninsula, is home to three distinct eco-systems: sub-alpine forest and wildflower meadows, temperate forest, and the rugged Pacific coast. Here you'll find tall peaks of the Olympic Mountains with endless hiking opportunities, lush vegetation in the Hoh Rainforest, rugged beaches on the Pacific coastline, and relaxing natural hot springs to soak in.
For a detailed trip through the Olympic National Park, check out our 6-day road trip itinerary and if you're up for a long hike consider tackling the 18.2 mile High Divide Trail.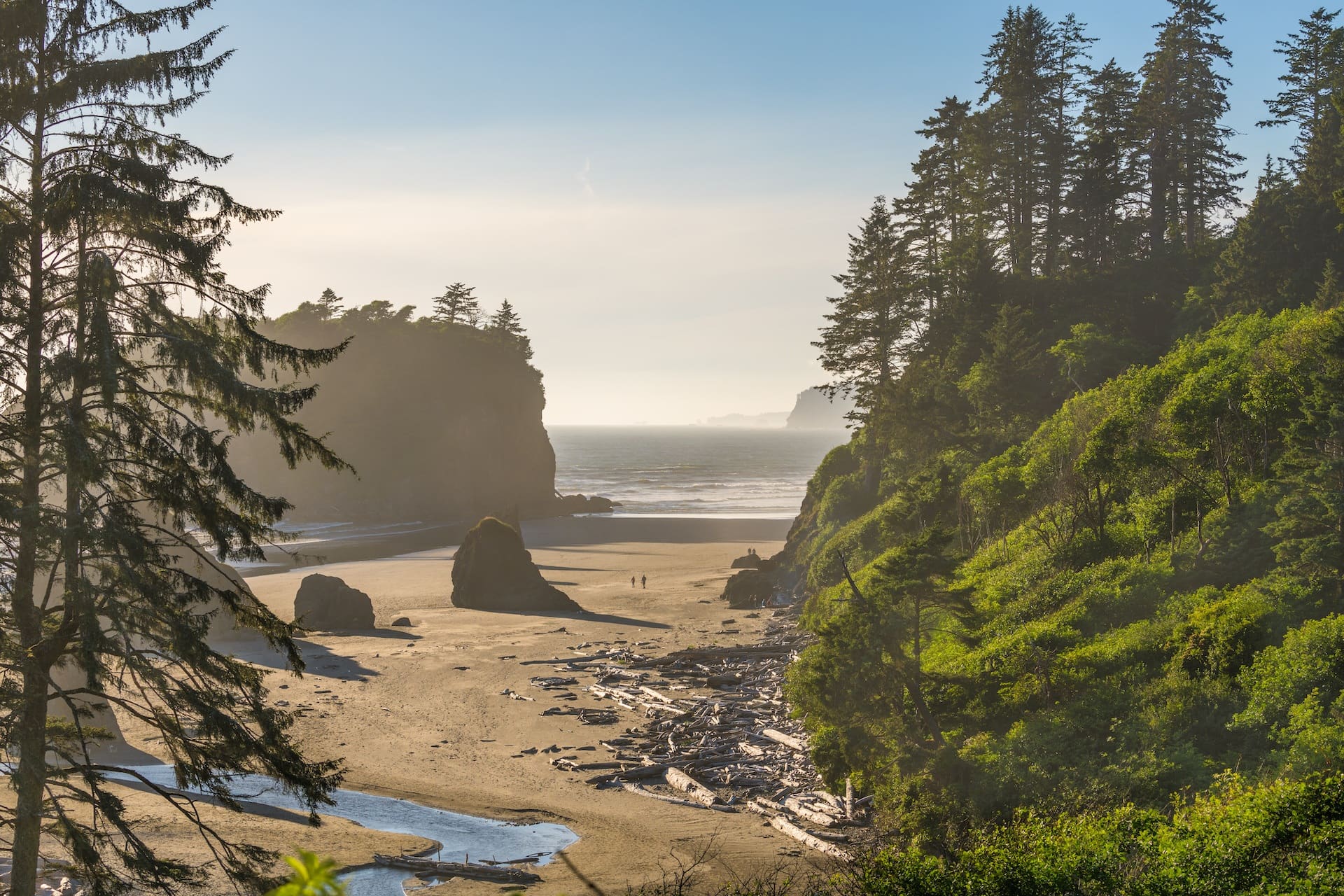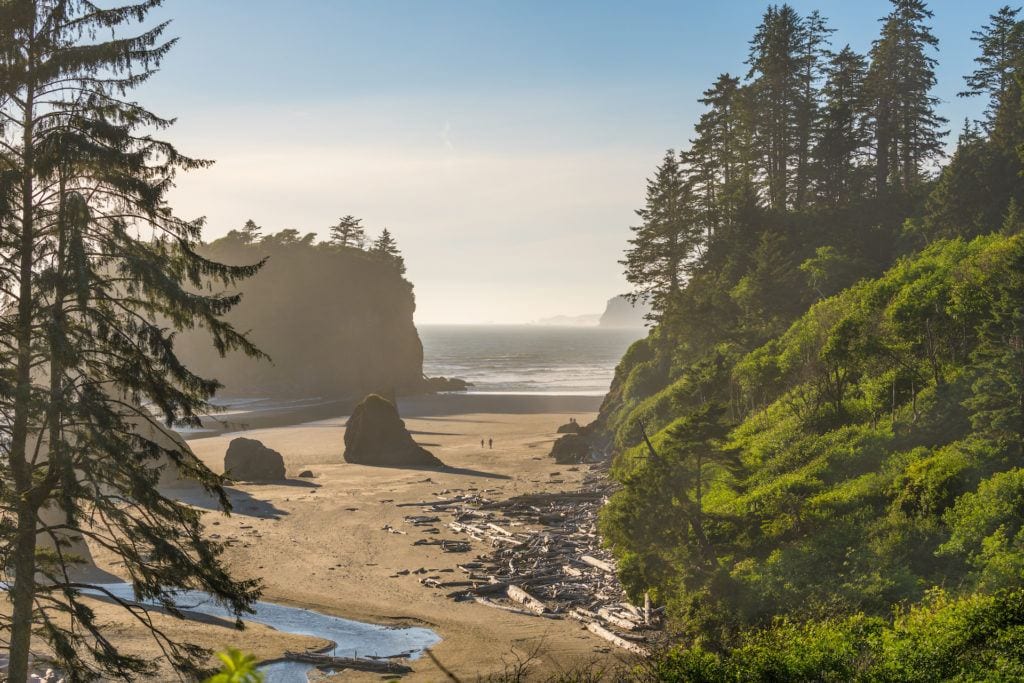 ---
2. San Juan Islands
The moment you leave the ferry dock bound for the San Juan Islands, you will feel the pace of life slow down and a sense of gratitude for this beautiful area. The San Juan Islands are an archipelago of over 400 islands and rocks located in the Puget Sound.
There are four main islands that are accessible to visitors including San Juan Island, Orcas Island, Lopez Island, and Shaw Island, all of which can be accessed by ferry from either Seattle or Anacortes. Spend your days kayaking rugged coastlines, hike to the top of Mount Constitution on Orcas Island, sign up for a whale-watching tour, or simply relax at a campsite and enjoy the beautiful beaches and sunsets.
If you don't have time to explore the San Juan Islands on your road trip, a drive through Deception Pass on Whidbey Island offers great views of the sound.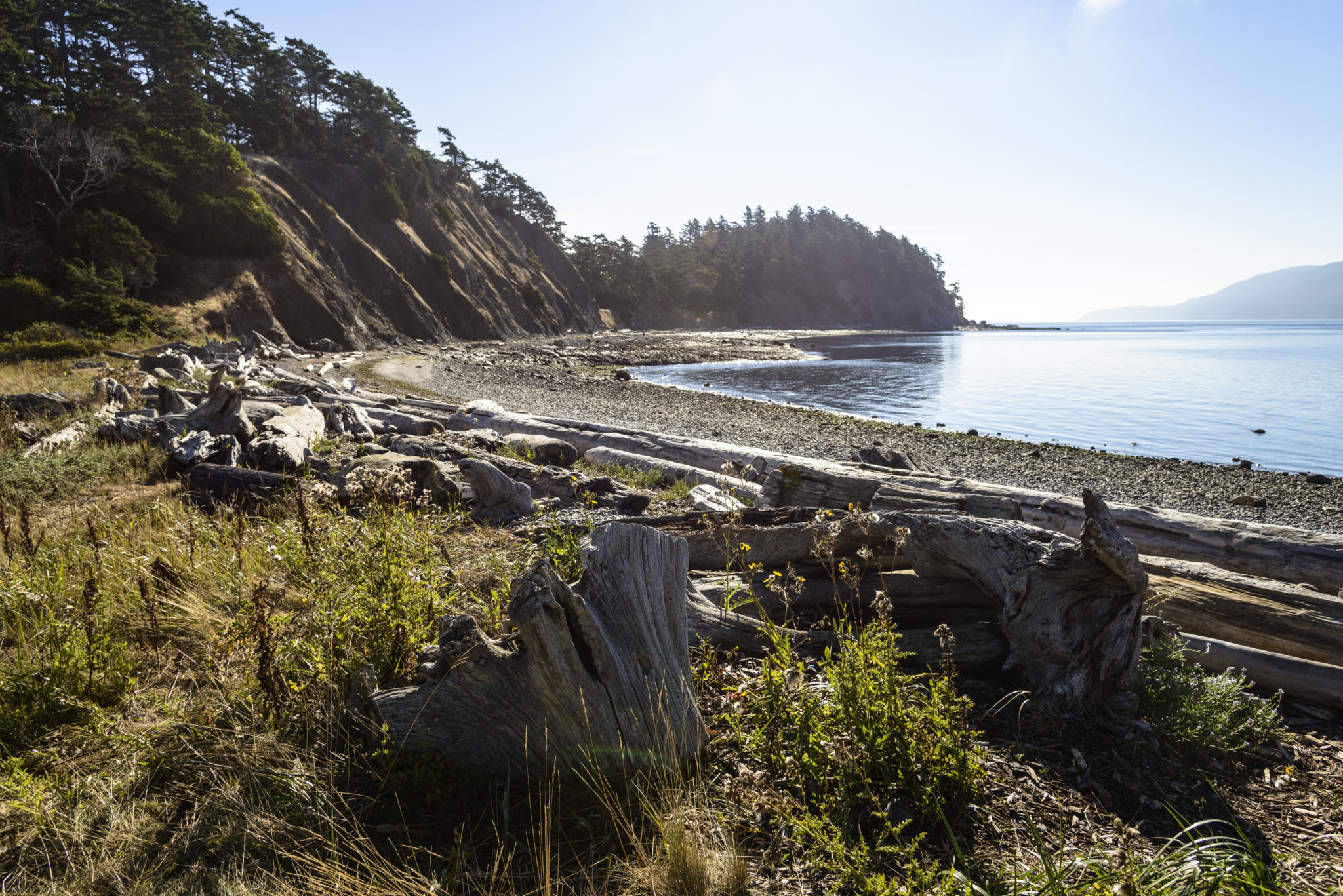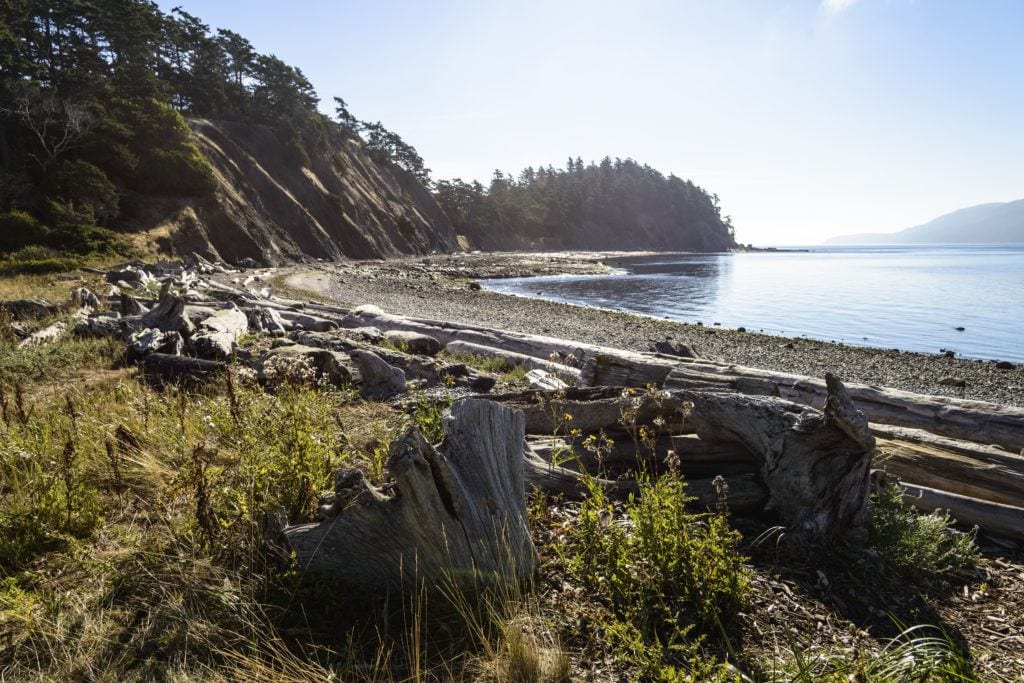 ---
3. Bellingham
Bellingham is one of Washington's best-kept secrets. Located north of Seattle, it's a small town on the Pacific coast that is known for its amazing mountain biking, hiking, paddling, and skiing. It's situated at the base of Mount Baker, making for stunning views in all directions. If you're a mountain biker, Galbraith Mountain is an absolute must. For those who prefer hiking, Chuckanut Mountain in Larabee State Park has 13 miles of trail and is Washington's first State Park.
The town of Bellingham itself is also worth exploring. It's home to several great restaurants and over a dozen craft breweries.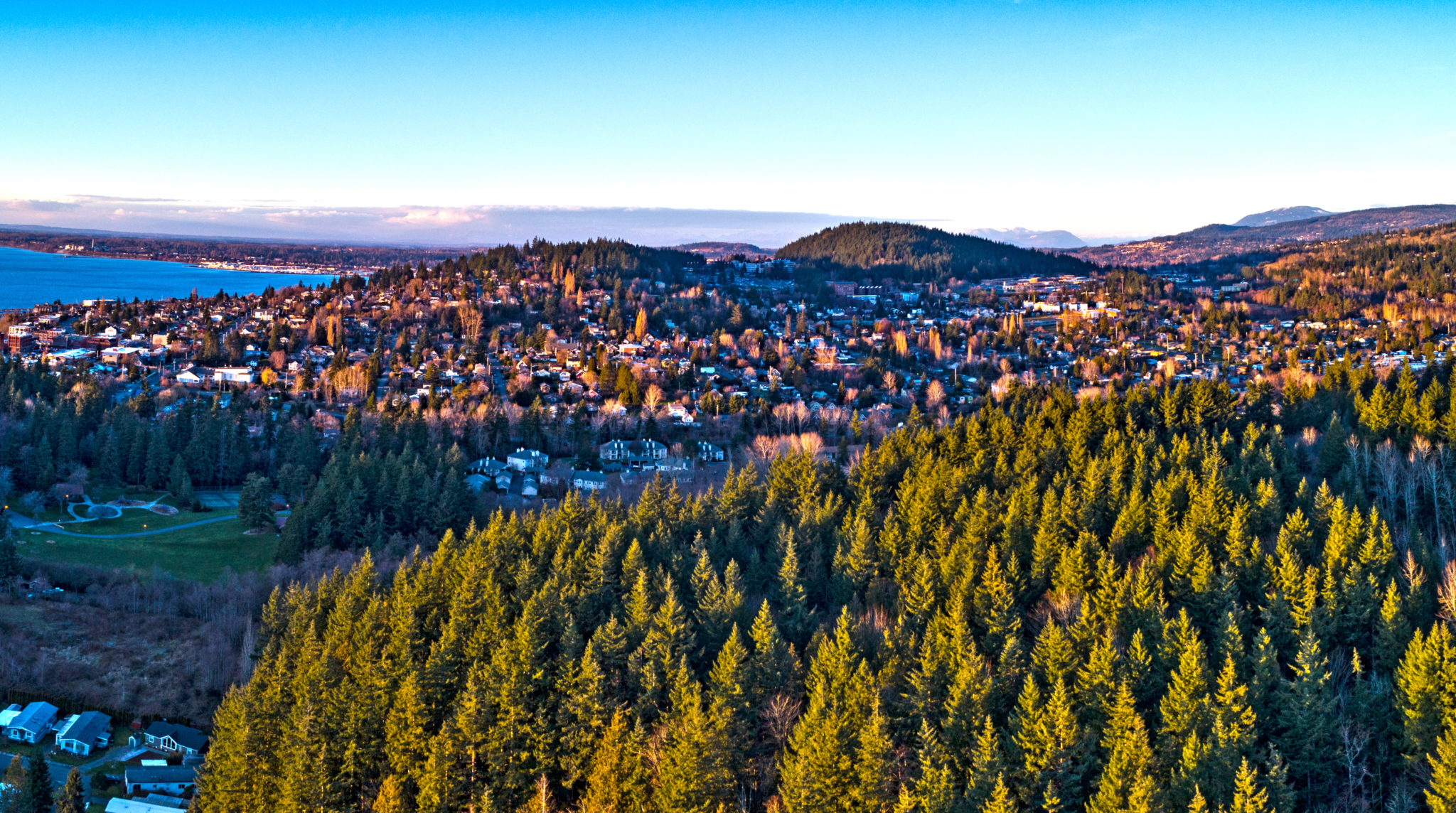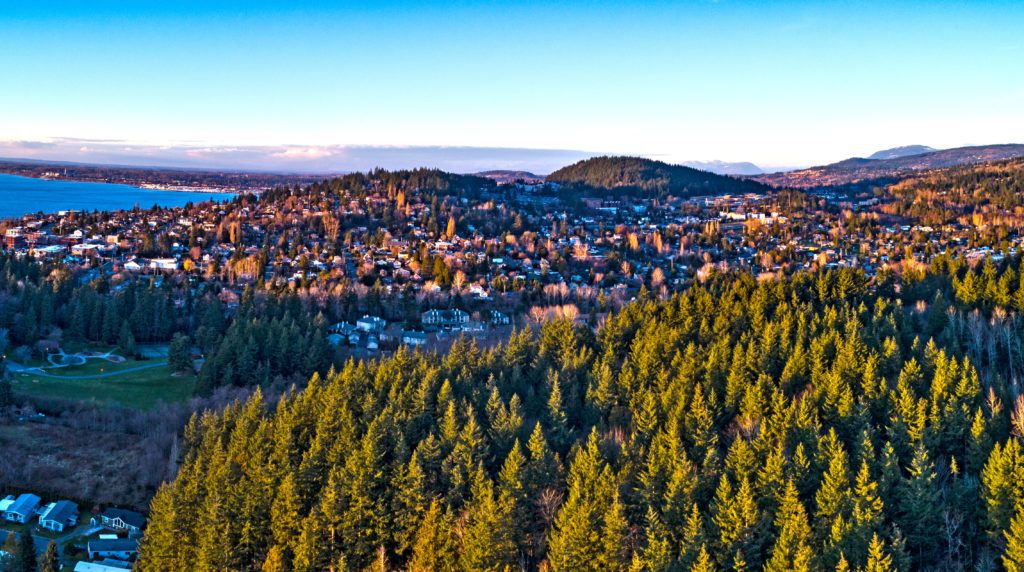 ---
4. Mount Rainier National Park
Mount Rainier is perhaps the most iconic landmark in Washington. Rising up to 14,410 feet above sea level, this active volcano is the most glaciated peak in the contiguous United States. Rainier is on many mountaineers bucket-list to climb, but you don't have to scale the volcano to enjoy its majesty. Ringing the base of the mountain are miles and miles of trail through wildflower meadows and ancient forests.
If you only have time for one hike in Mount Rainier on your Washington road trip, make it the 5.6-mile round trip Mt. Fremont Lookout Trail. For a quick leg-stretcher, Grove of the Patriarchs is also a highlight.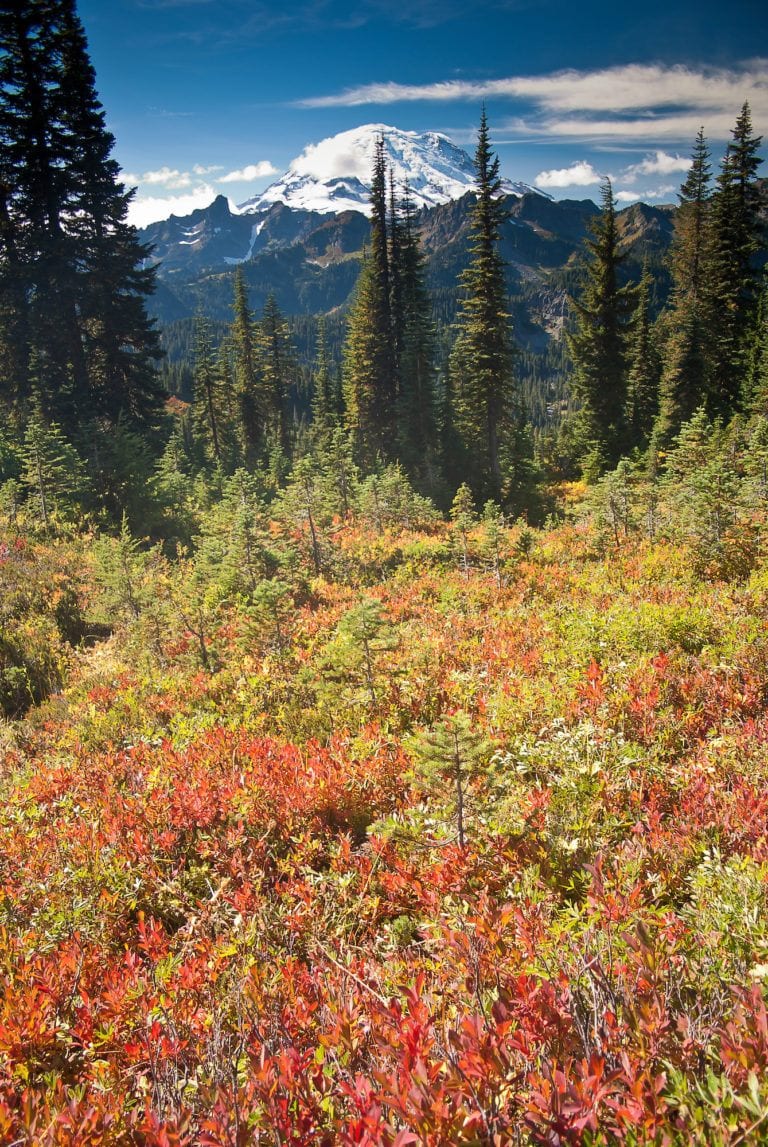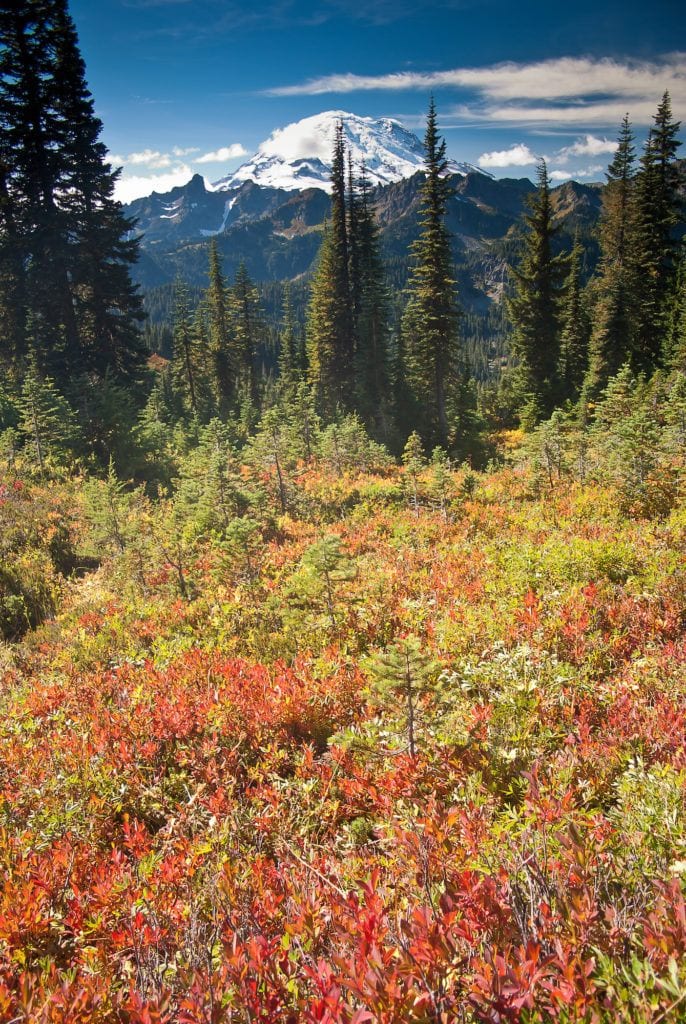 ---
5. North Cascades National Park
North Cascades National Park is a beautiful and rugged destination and a must-visit for any Washington road trip. The North Cascade Mountain Range is also the divider that separates the lush western region of Washington from the dry eastern plains.
For an epically scenic drive into the Cascades, take the Mountain Loop Highway from Granite Falls to Darrington (note that a portion of this drive is on gravel road). Then continue on Route 20 to Diablo Lake and camp at the campground on its shores. Just a short drive from Diablo Lake is the Heather Maple Pass Loop, which is one of the most scenic hikes I've ever done.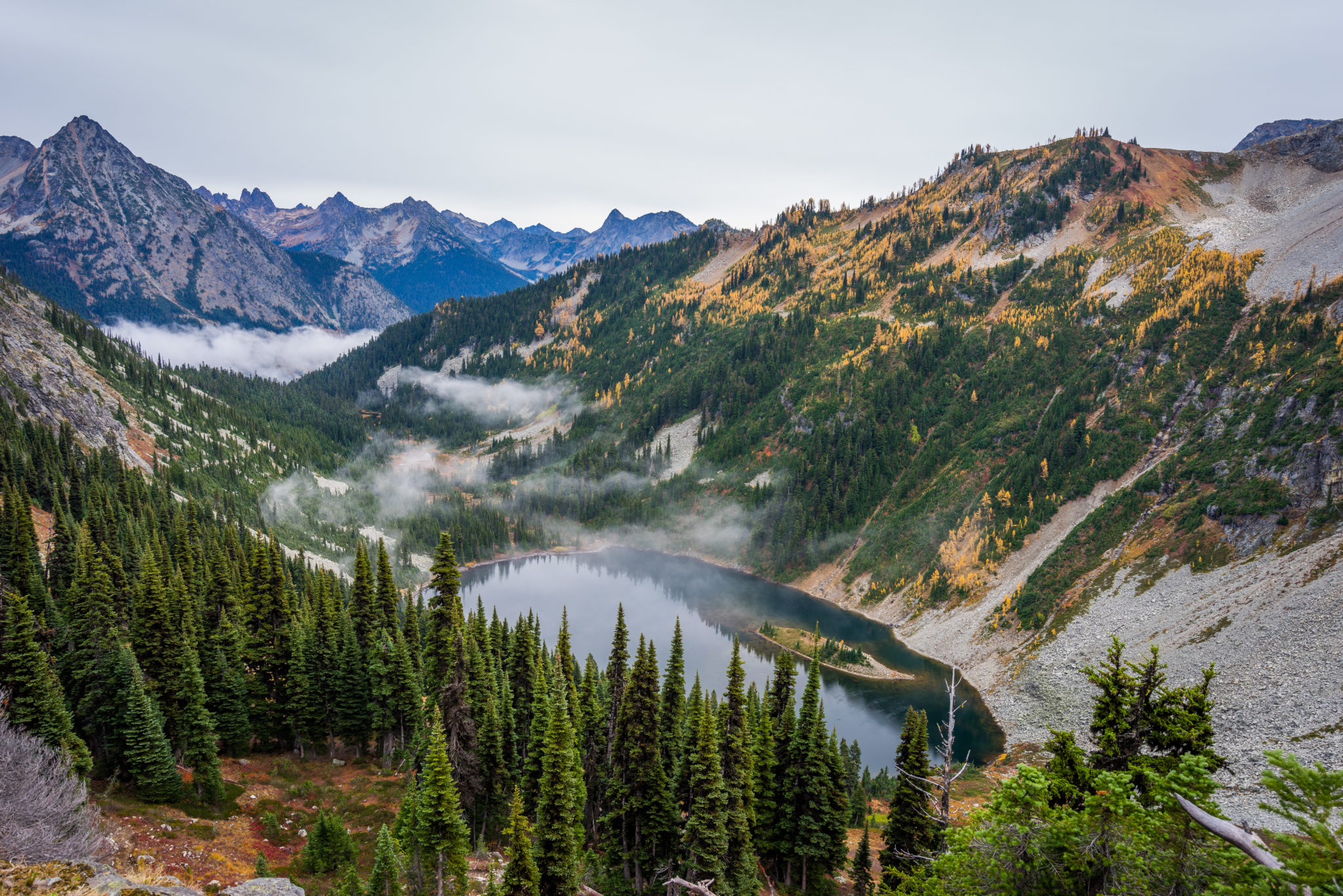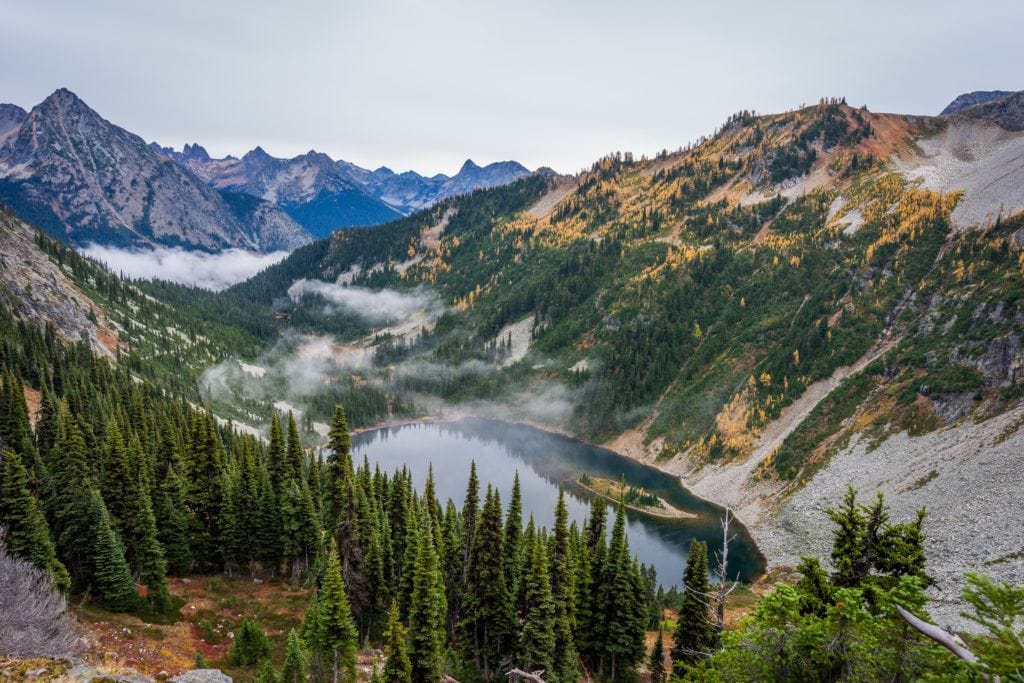 ---
6. The Enchantments
Located in the Central Cascades, the Enchantments is an 18-mile one-way hike through a magnificent and otherworldly landscape. With crystal clear alpine lakes, gushing waterfalls, mountain goats, and jagged peaks, this place certainly lives up to its name.
Most visitors spend at least one night backcountry camping in the Enchantments (overnight permits are required) but it is possible to hike the route in one day if you are very fit and have set up a shuttle at the end.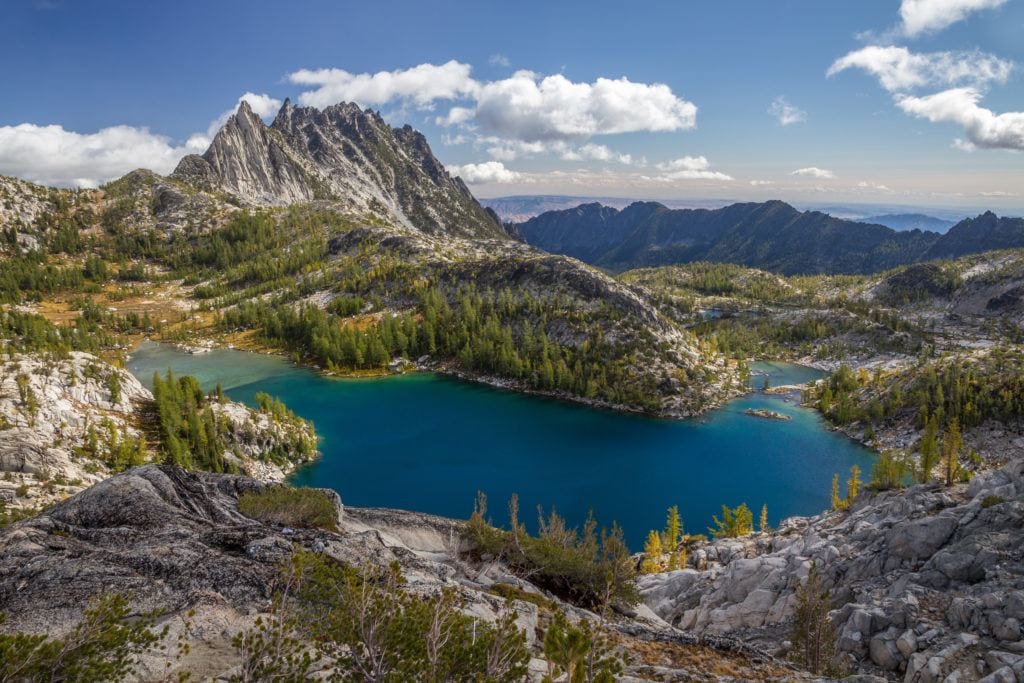 ---
7. Seattle
A road trip to Washington wouldn't be complete without spending at least a night or two in the big city. As far as cities go, Seattle is actually pretty cool. The neighborhoods of Ballard and Fremont offer delicious food and drink and even though Pike Place Market is touristy, it's worth strolling through to see local vendors and purveyors and grabbing a bite to eat.
Discovery Park and the paved path along Alki Beach are both beautiful places to stretch the legs. Another favorite activity is to pedal the Burke-Gilman Trail all the way to the top of Lake Washington. For sunset, head to Golden Garden's Park.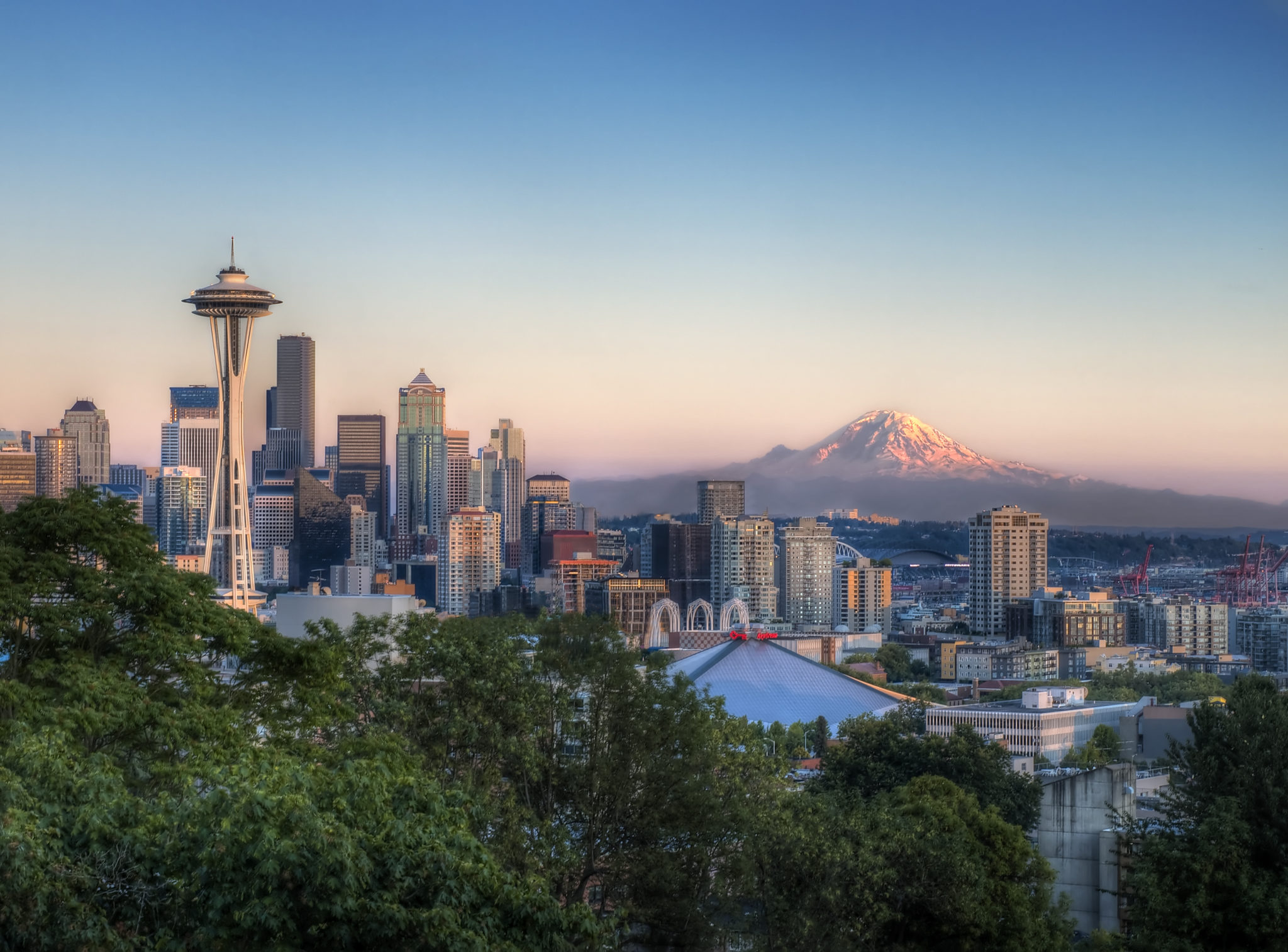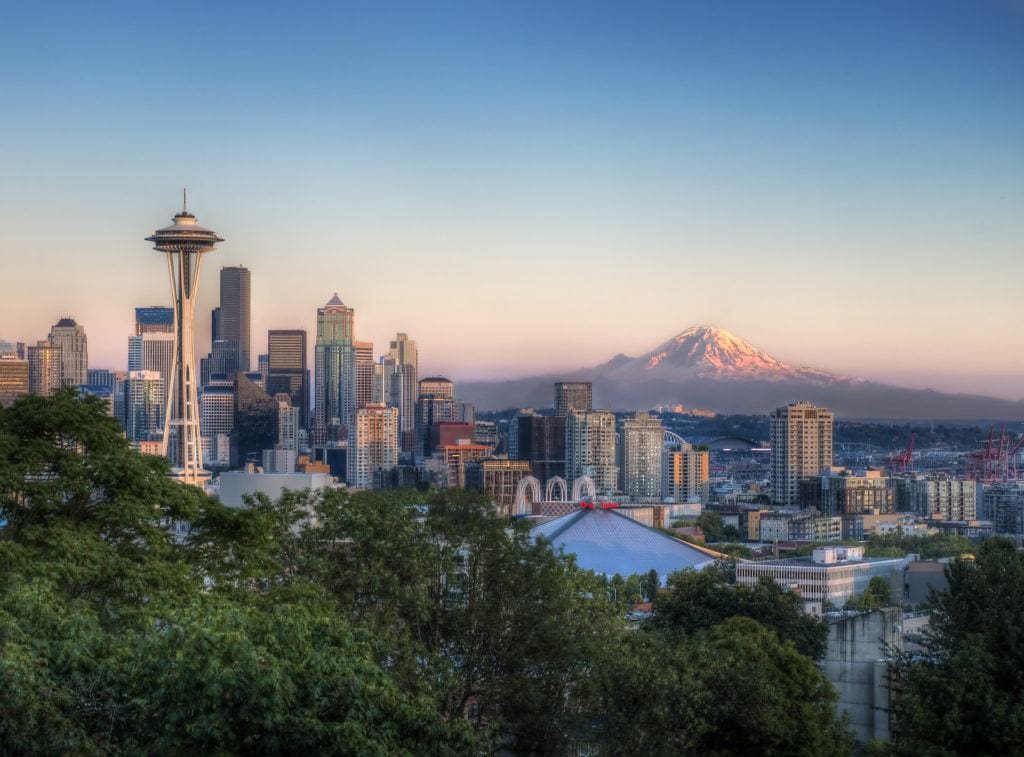 ---
8. Winthrop
Winthrop is a small adventure town in the Okanogan Valley on the eastern slopes of the Cascade Range. It's Old West architectural design is a draw for many tourists as is its endless opportunity for outdoor recreation. In winter, Winthrop is a popular cross-country skiing destination with miles upon miles of groomed trail and in the summer, the area is prime for mountain biking, hiking, climbing, and river rafting. It's also home to several summer festivals like the Winthrop Rhythm and Blues Festival and the oldest legal saloon in Washington State.
Winthrop's proximity to the North Cascades National Park make it a perfect stop for any Washington road trip.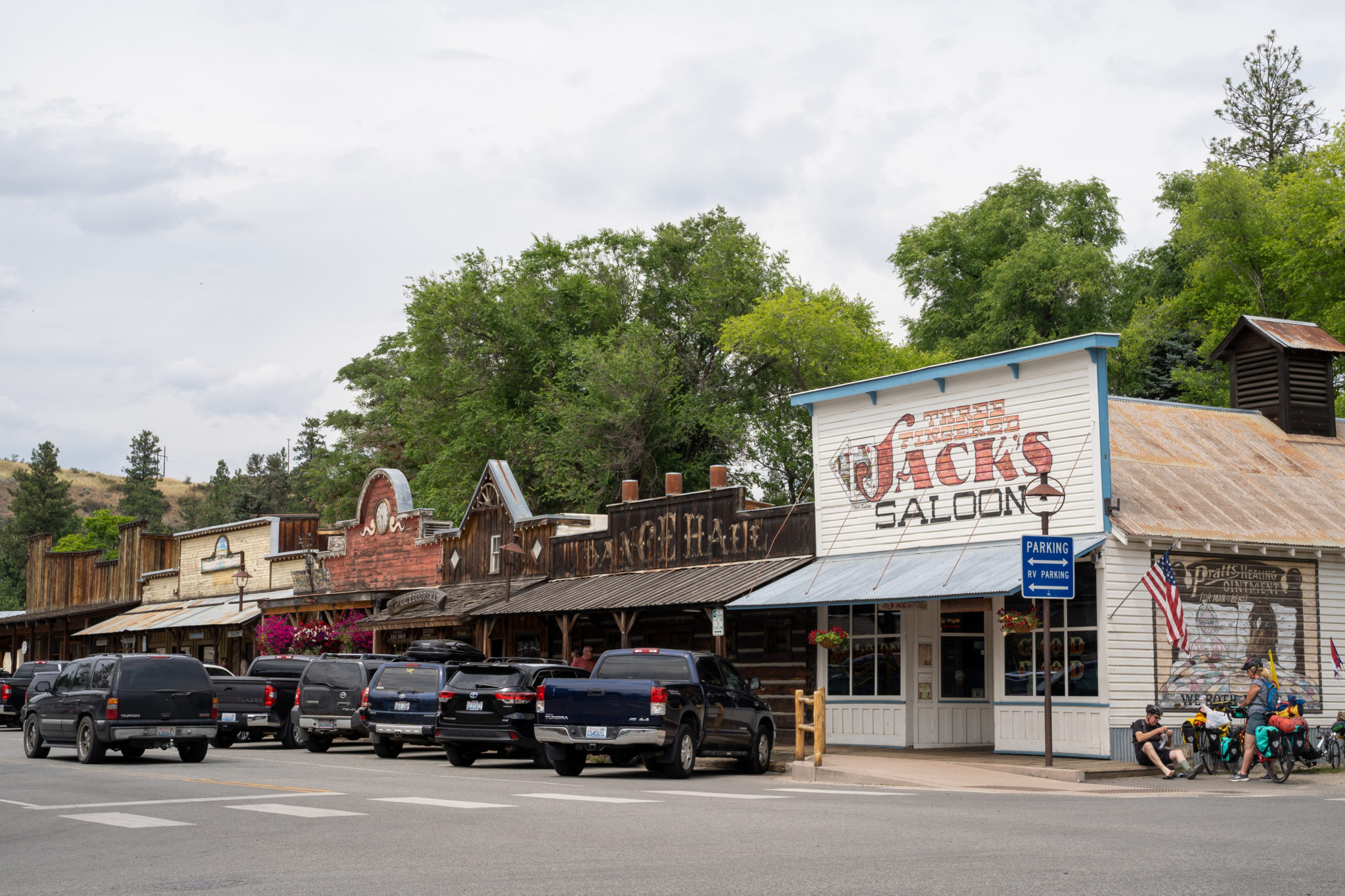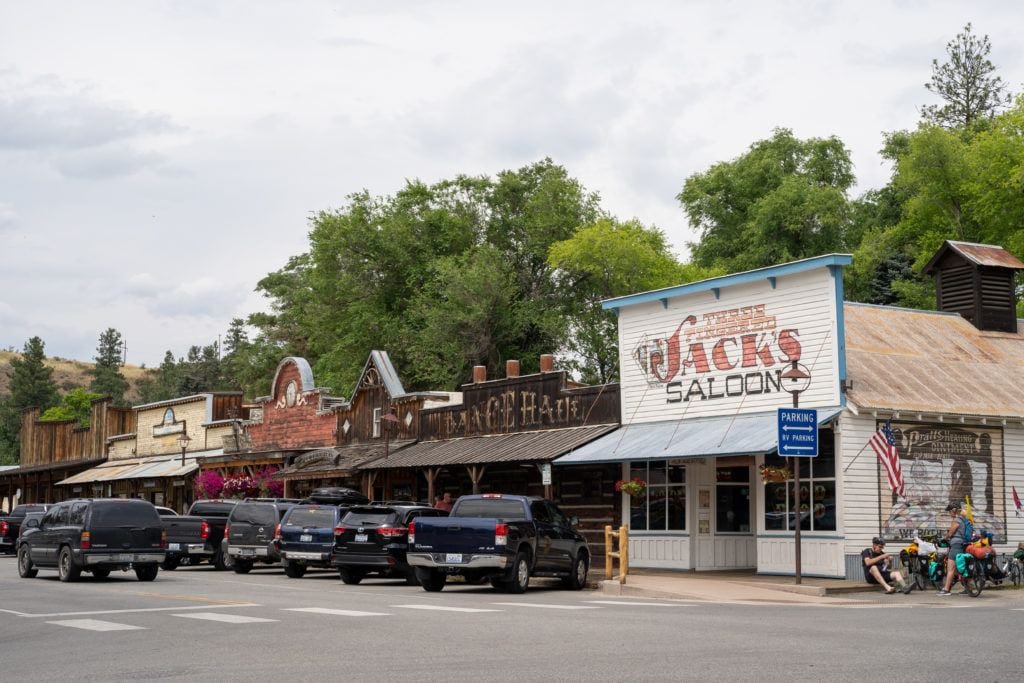 ---
9. Columbia Gorge Natural Scenic Area
The Columbia Gorge is a narrow canyon that stretches over 80 miles long and is over 4,000 feet deep in some areas. It is located along the Columbia River and forms a portion of the border between southern Washington and northern Oregon.
The Gorge is an outdoor enthusiasts dream. Within the span of 80 miles, the Columbia River Gorge transitions from temperate rainforest to dry grassland.
Beacon Rock State Park offers a great 2-mile hike that winds up to the top of Beacon Rock for great views out over the Columbia River. The town of White Salmon is also worth a stop for a day of whitewater rafting and there are plenty of beautiful wineries and breweries along Route 14 that parallels the gorge.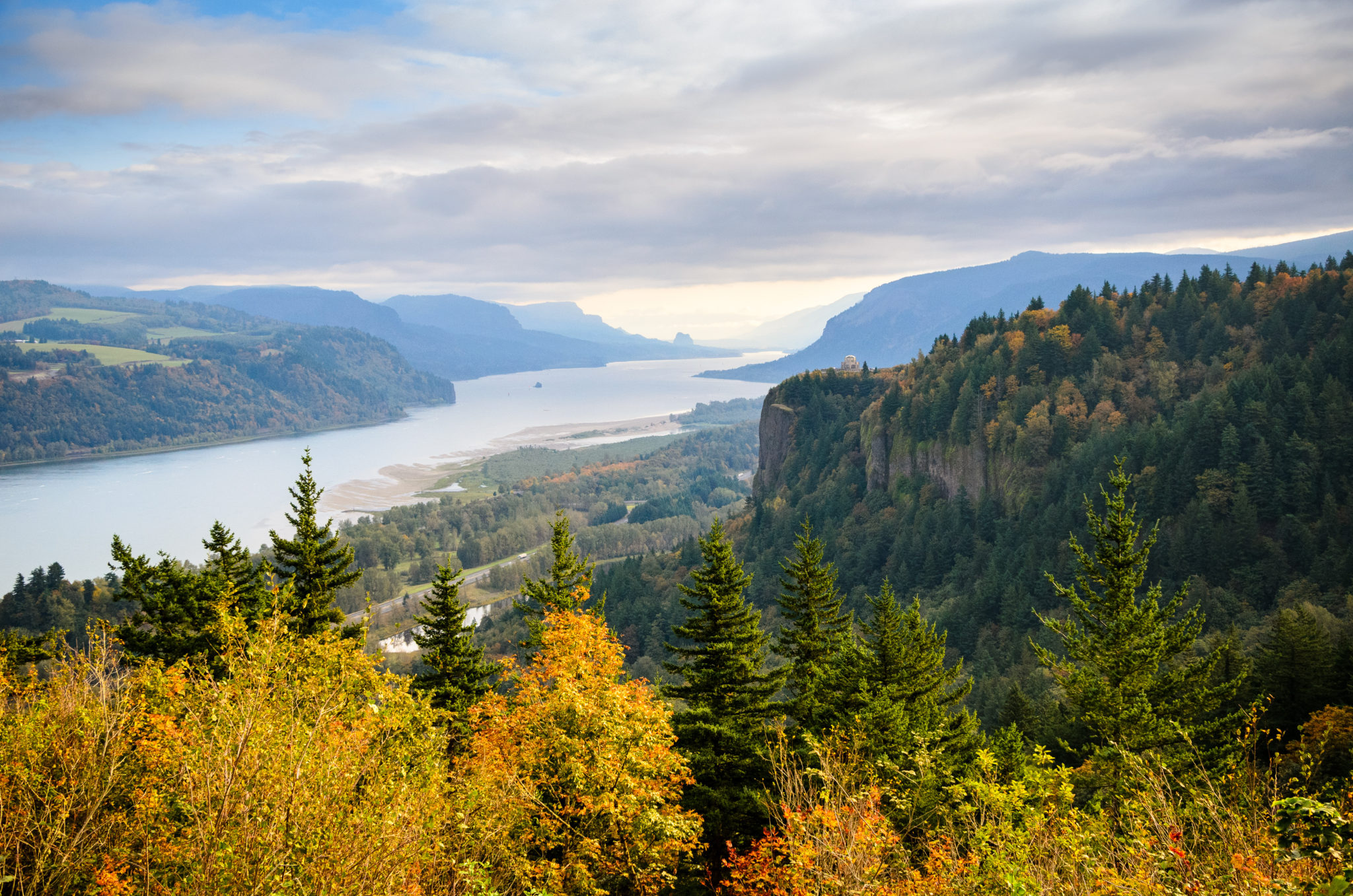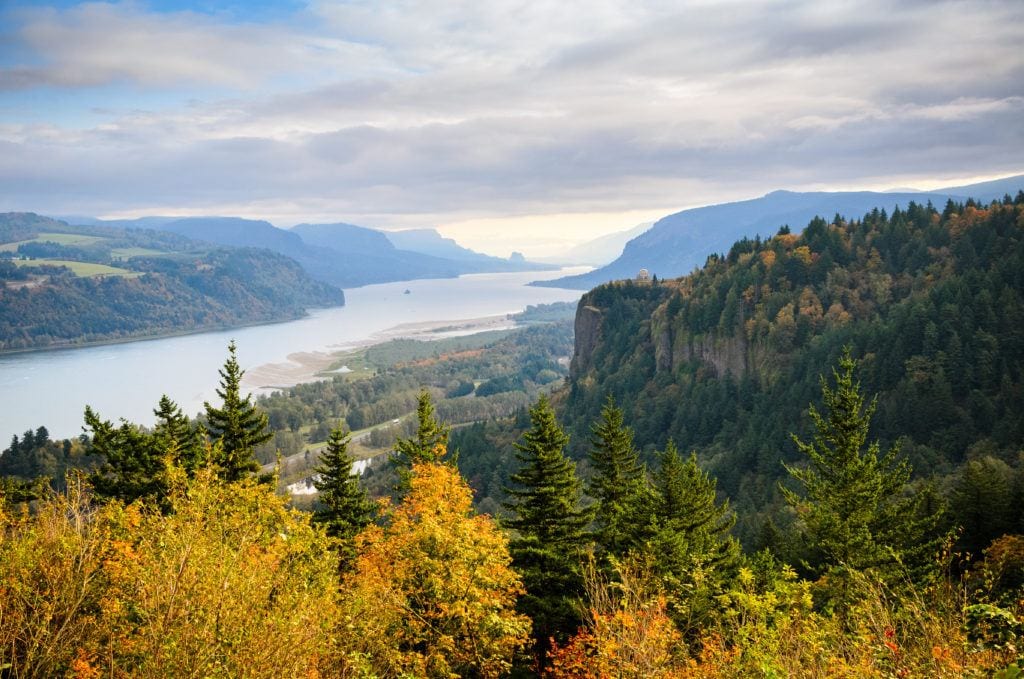 ---
10. Mount St. Helens National Volcanic Monument
Mount St. Helen's is notoriously known for its 1980 eruption that killed dozens of people and caused massive destruction throughout the area. The eruption, which was triggered by a 5.1 magnitude earthquake, blew off the cap of the volcano and left a 1-mile wide horseshoe crater.
Today Mount St. Helen's is protected within the Mount St. Helen's National Volcanic Monument, which was created to preserve the volcano and study the aftermath of its eruption. It is is a fascinating and otherworldly place to explore.
A popular and scenic hike on the west side of the volcano is the 8.5-mile roundtrip Harry's Ridge Trail. The hike starts at Johnson Observatory and has great views of Spirit Lake.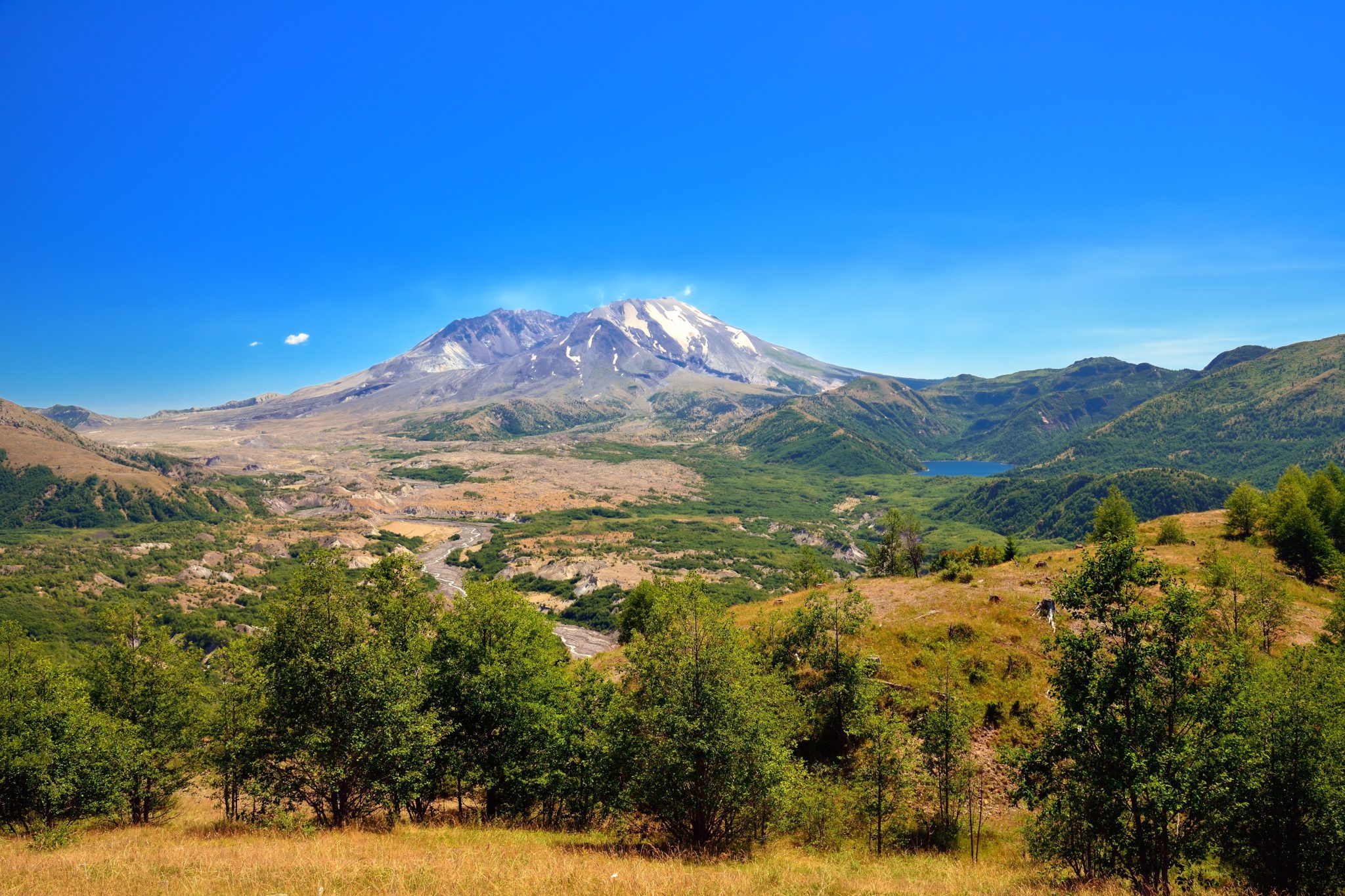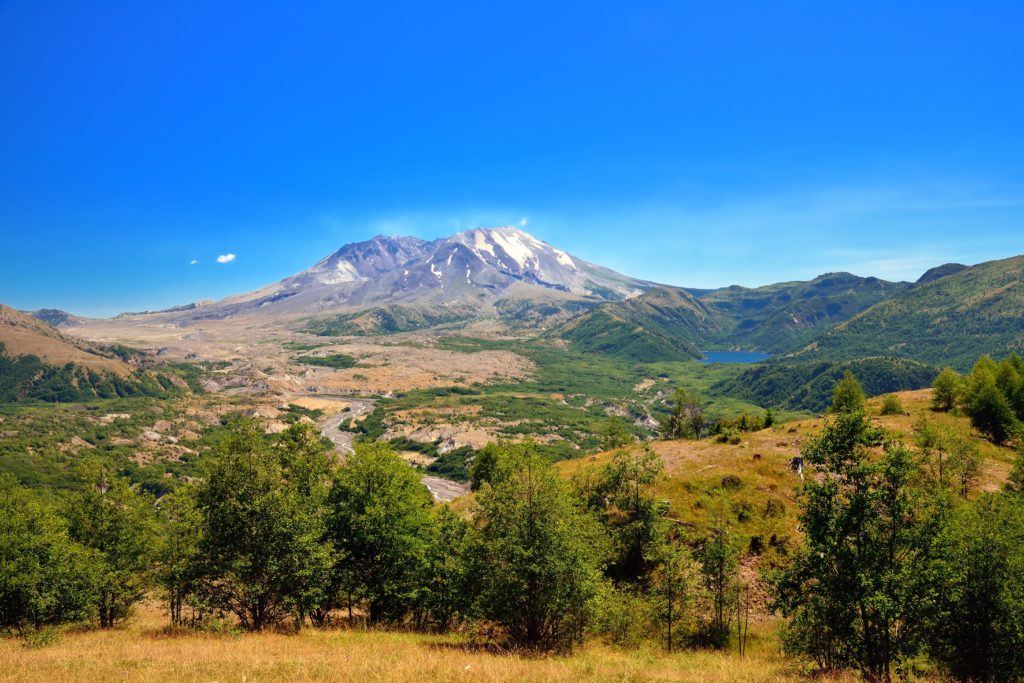 ---
11. Palouse Falls
Located in the southeastern corner of the state on the Palouse River, Palouse Falls is an impressive cascade that drops 200 feet into a large bowl-shaped pool. Carved more than 13,000 years ago, Palouse Falls is one of the last active waterfalls along the Ice Age floods path.
There are several rough walking paths along the western banks of the falls and an overlook area of the falls and river below.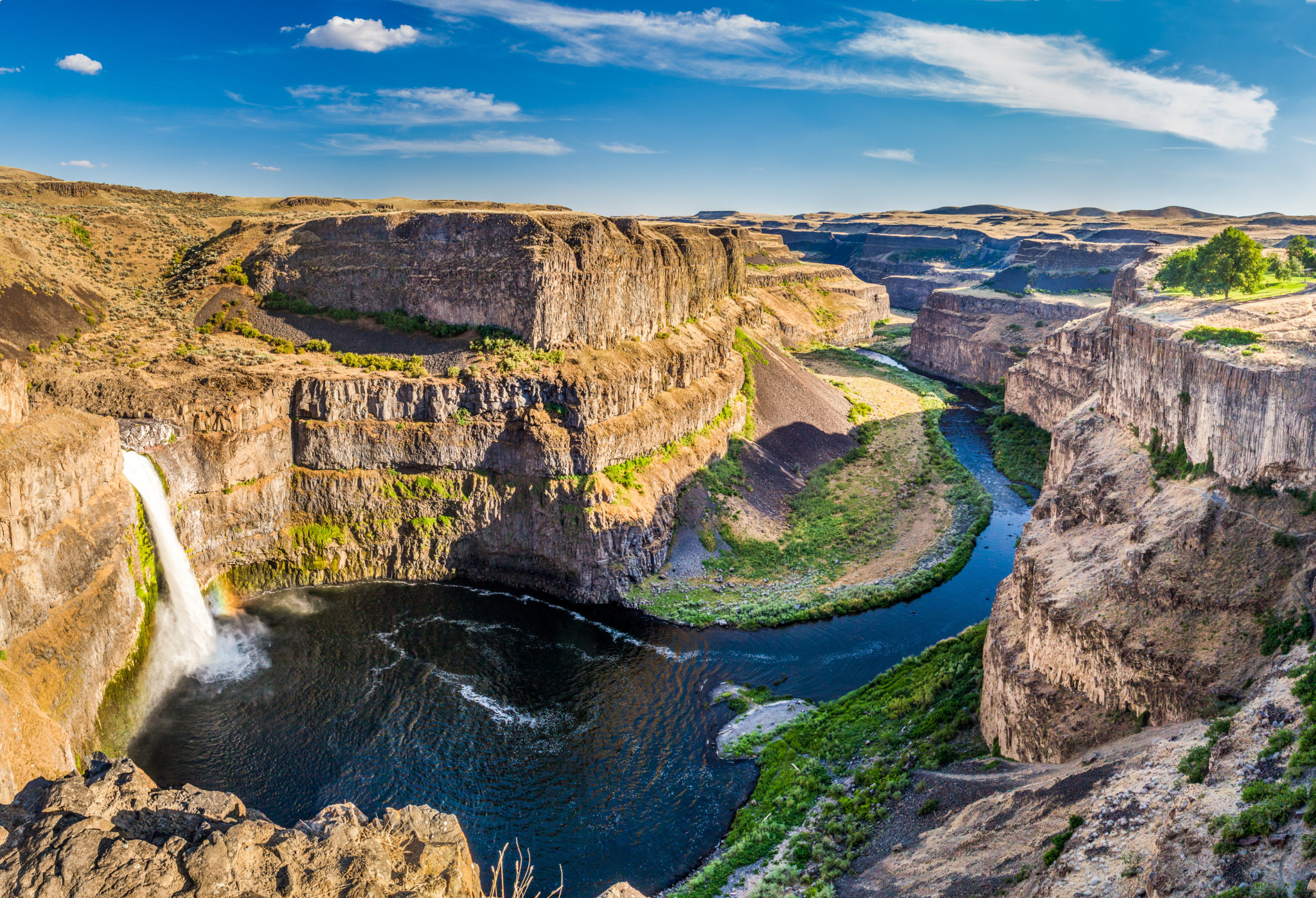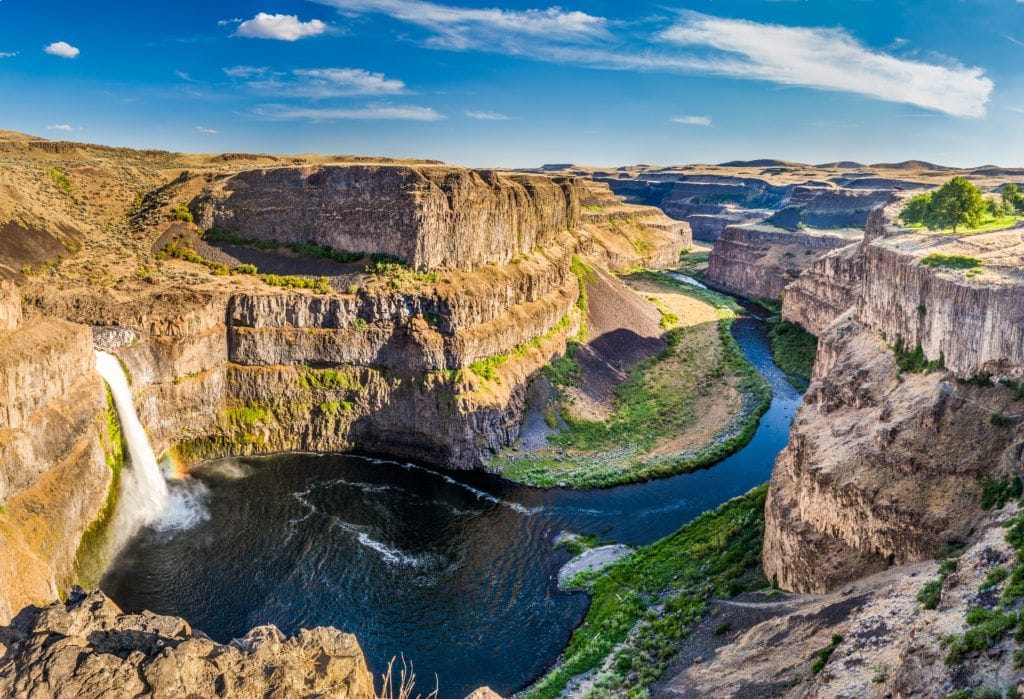 ---
12. Lake Chelan & Stehekin
Lake Chelan is a narrow 50.5-mile lake in north-central Washington on the eastern slopes of the Cascade Range. On the south end of the lake, the small communities of Chelan and Mason offer plenty of outdoor adventures including canoeing, kayaking, mountain biking, and hiking. For a moderate 7.5-mile hike with incredible views out over the Columbia Plateau and Lake Chelan, head up the Chelan Butte Trail.
At the northern tip of Lake Chelan, the small community of Stehekin is a unique and fun destination. It is accessed only by boat, foot, or floatplane and has roughly 77 year-round residents. The Lady of the Lake passenger ferry shuttles visitors from Chelan for day-visits or Stehekin is a perfect gateway to backcountry hiking trails including the Pacific Crest Trail (PCT).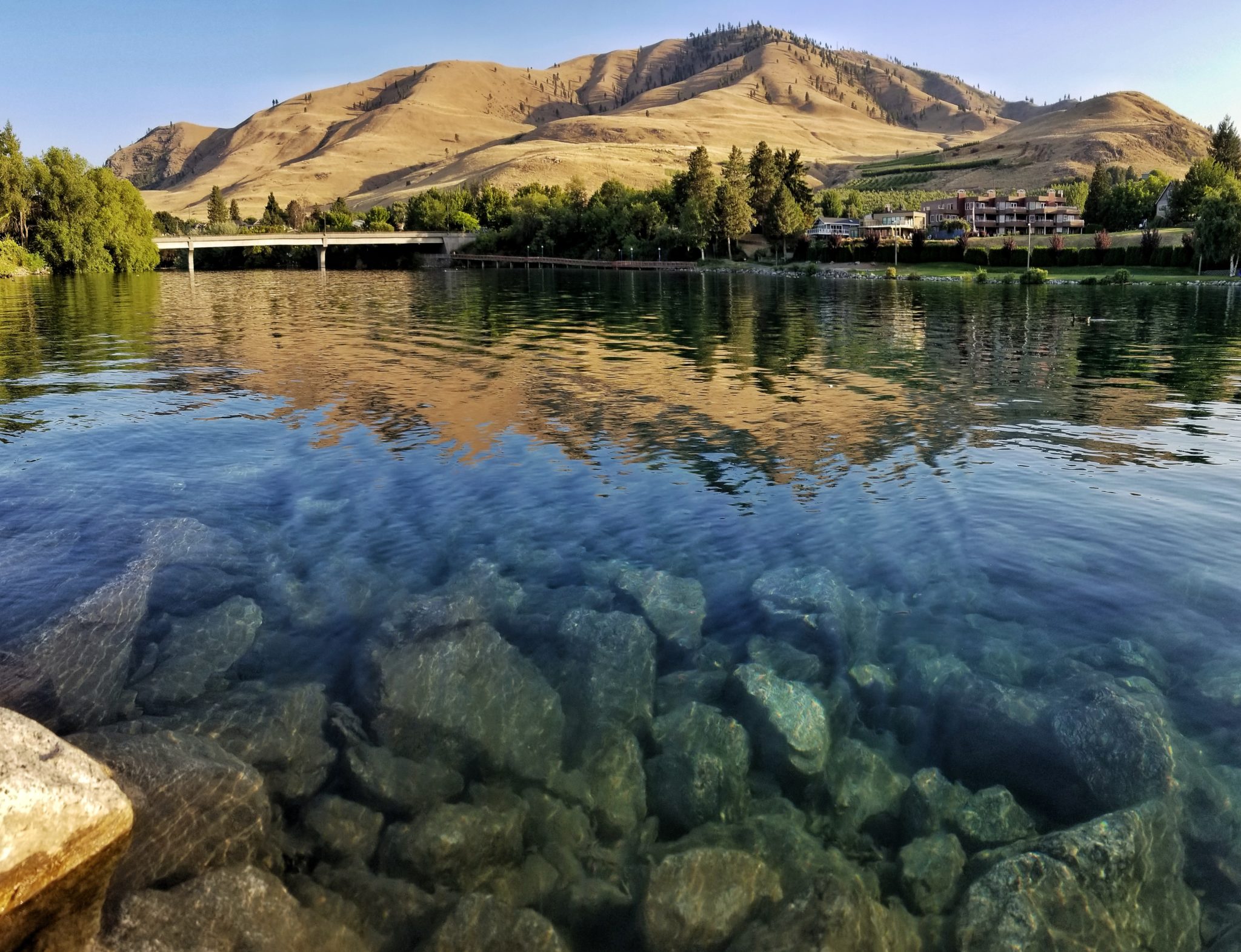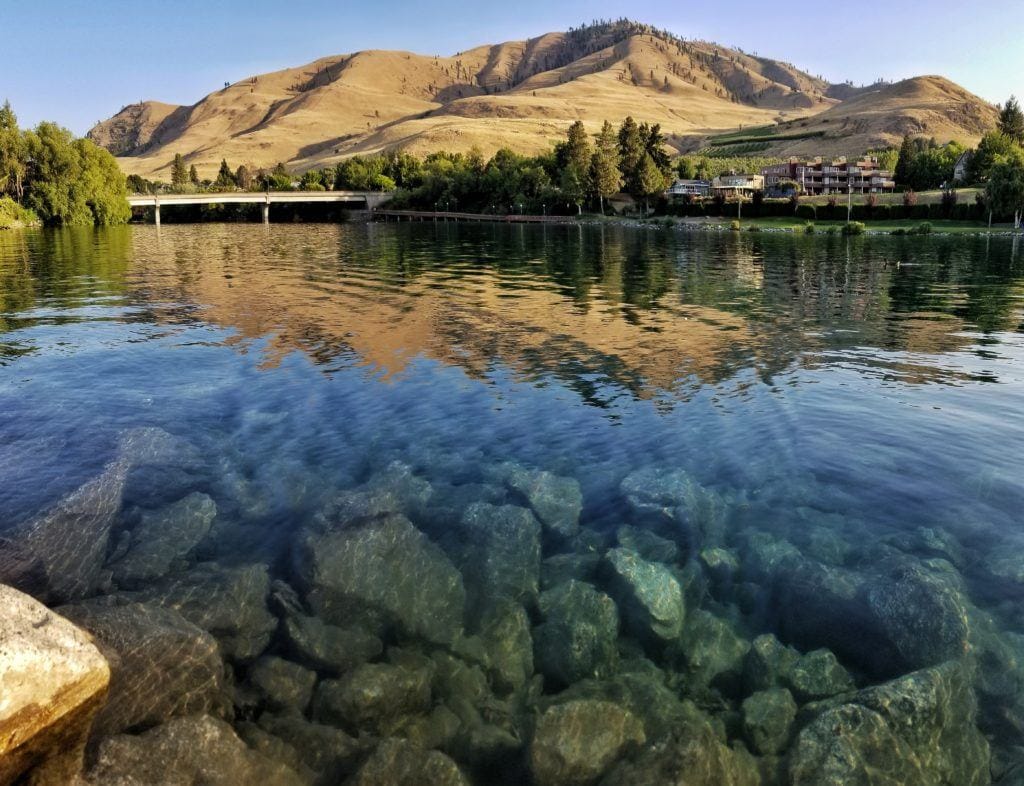 ---
13. Selkirk Mountains
The Selkirk Mountains are a lesser-known mountain range in eastern Washington that also stretches east into Idaho and north into British Columbia. The stunning 280-mile-long International Selkirk Loop is a road trip unto its own, but a portion of the route can be incorporated into a Washington road trip.
There are numerous great hiking trails within the Selkirk Mountains. Check the Washington Trail Association website for hikes near you. The Boundary Dam on the Pend Oreille River is also worth a stop for great views.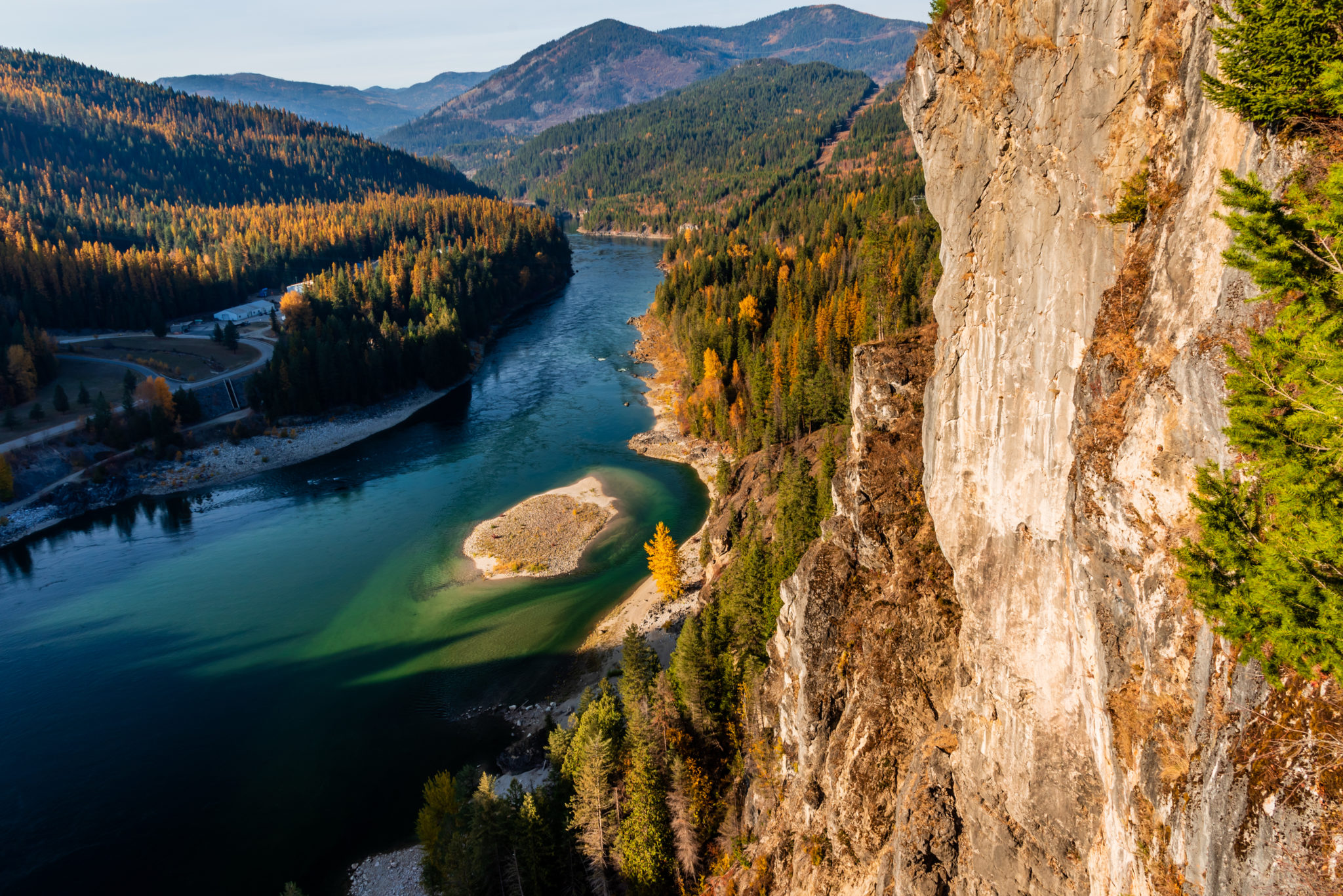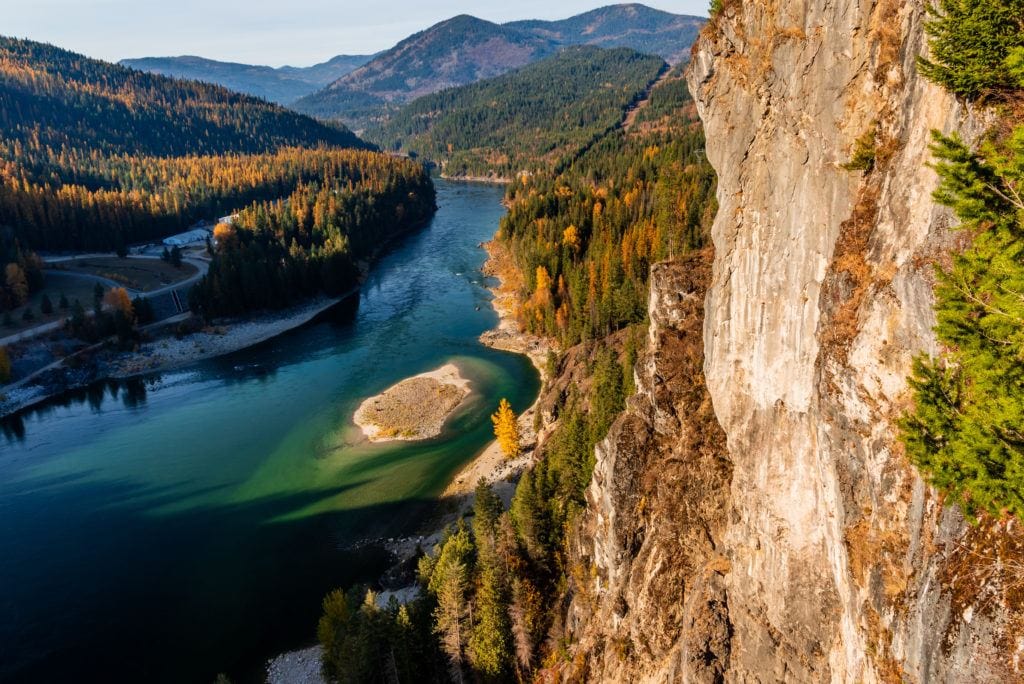 Washington is an outdoor lovers' playground. Wherever you go, adventure is sure to abound!
What other Washington road trip stops have you been to or would recommend for an itinerary? Leave a comment below!