Mountains, ocean, and the rainforest… to most, visiting that such diverse landscapes would involve three separate trips to three very different locations. There is one National Park that has it all though: Olympic National Park, in the northwestern corner of Washington State. And Olympic National Park is beautifully laid out for a perfect 5-day car camping trip that will allow you to experience a lot that the park has to offer.
In this blog post, guest contributor Kim Vawter shares the details of her 5-day Olympic National Park itinerary and her best tips for planning your own road trip.
Plan your road trip with this 5-day Olympic National Park itinerary.
Before planning any trips, please do your research to ensure these areas are open to visitors, follow local guidelines, and do your part to be a responsible visitor. And as we ask with all of the destinations we share, please follow Leave No Trace guidelines and practice good trail etiquette.
Olympic National Park Basics
First and foremost, you need to be okay with knowing that you aren't going to see the entire park, not in 5 days at least. My 5-day Olympic National Park road trip itinerary hits all the major highlights, but it would be insane to try to devour the near one million acres of Olympic National Park in a single trip.
The Olympic National Park website is incredibly helpful, and they have posted online information sheets for every single area of the park. Use this link and the menu on the left to select an area of the park to research. I'd also suggest picking up a waterproof copy of National Geographic's Olympic National Park map.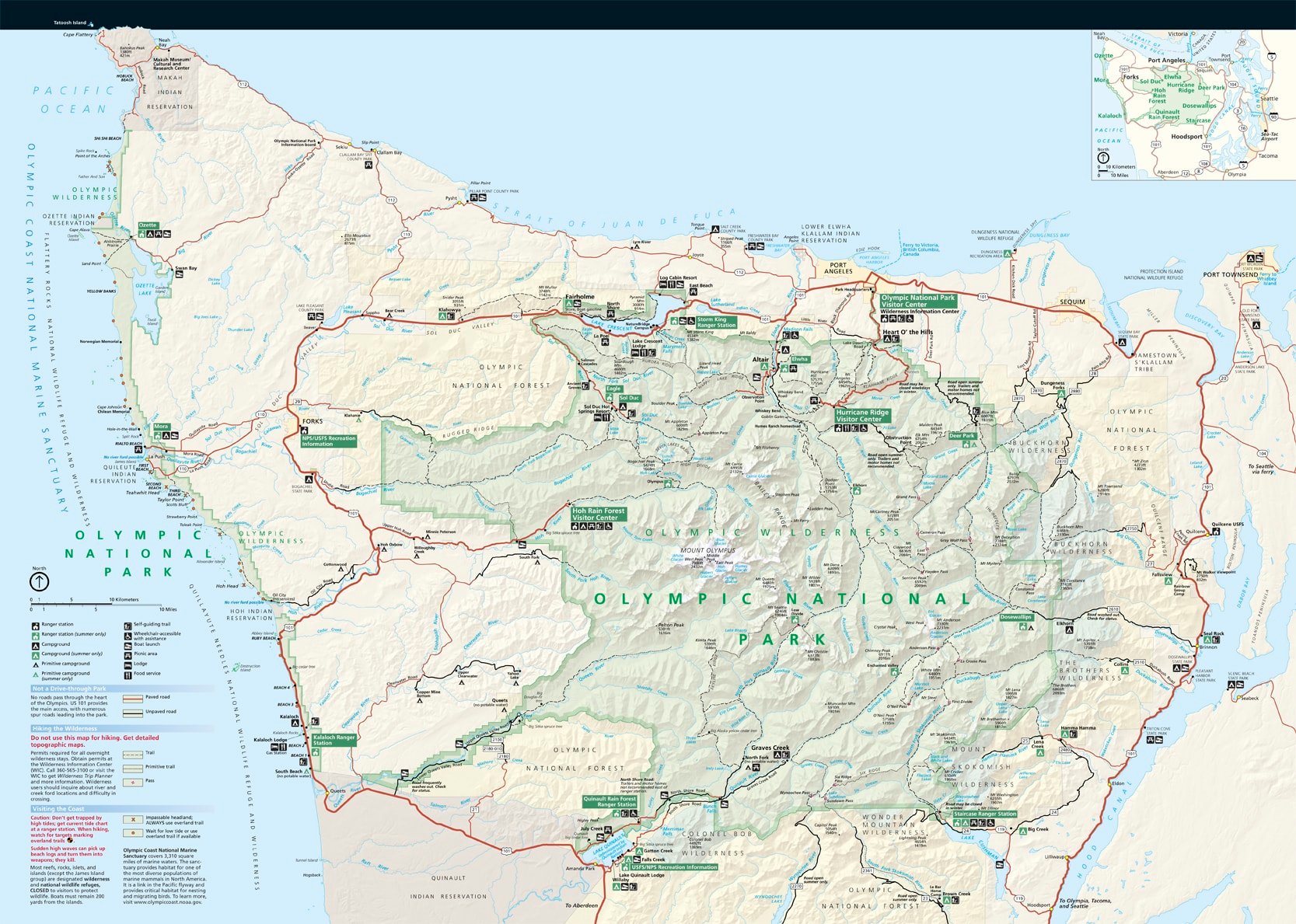 Entrance to Olympic National Park is $20 per vehicle, and your pass will be valid for 7 consecutive days.
---
Best Time to Visit Olympic National Park
Olympic NP is wet, wet, wet. Even if you go during the summer months, known as the "dry season", it still may pour! Weather closures, as we learned, aren't an anomaly for Olympic NP, so check the current park status before you go and plan accordingly. That said, if you are hoping for a dry visit, the summer is your best bet.
Olympic National Park is open year-round, and while some of the roads and facilities do close from October through May, the Hurricane Ridge road is open Friday-Sunday during the winter season for snow activities!
If planning around the weather isn't your priority, spring offers the best chance of seeing some wildlife – including black bears, elk, and giant banana slugs. It's also when waterfalls are most impressive and flowers are in bloom.
No matter what season you come, be prepared for rain, then cross your fingers and hope for sunny skies.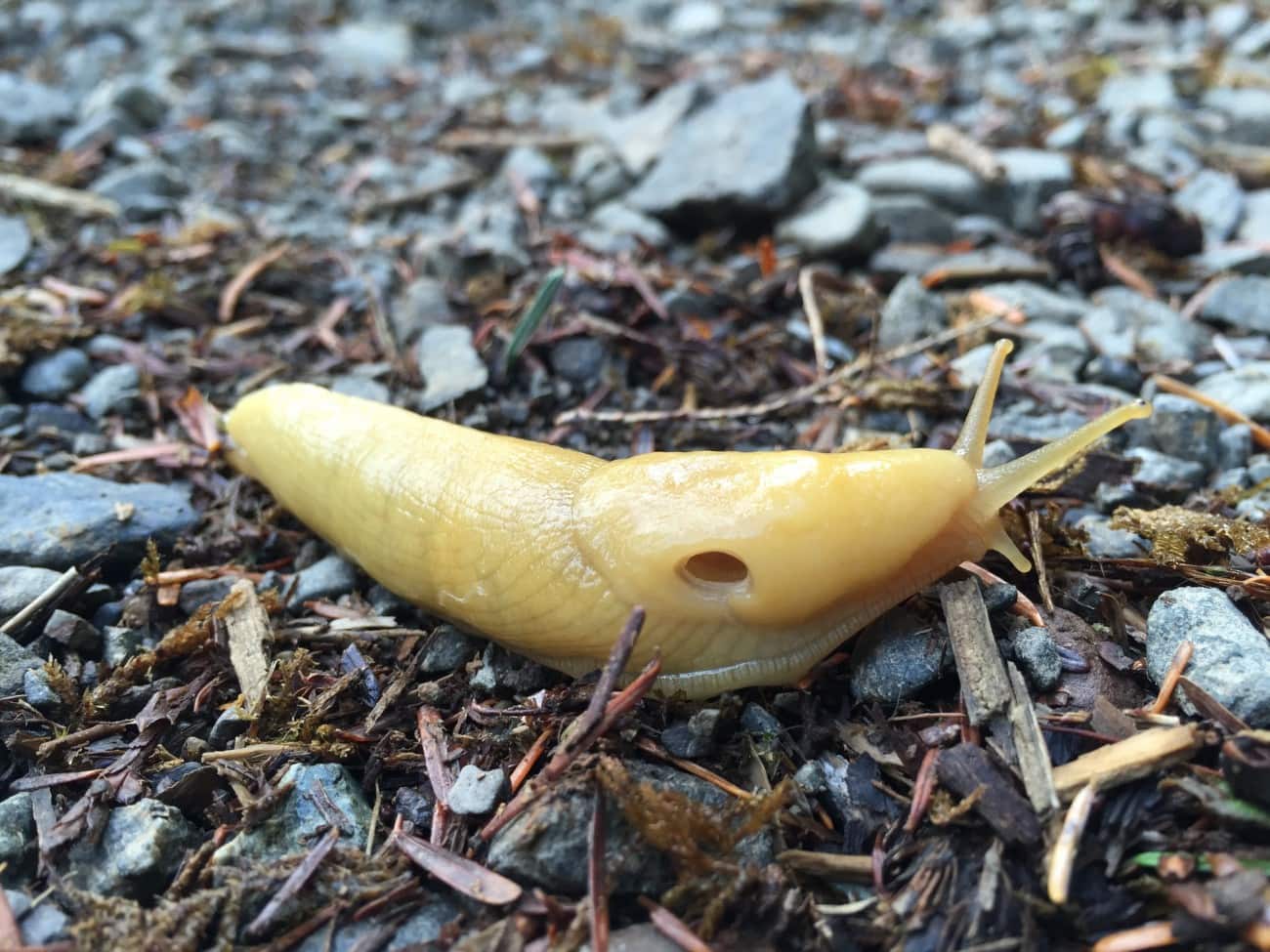 ---
Olympic National Park Permits & Campsites
Car Camping
Olympic National Park boasts beautiful campsites set in peaceful and natural settings. Campsites range from $15-$22 a night, and all but three of them are first-come / first-served.
Kalaloch (a large site on the Pacific Ocean), Sol Duc (a riverside campground tucked in old growth forest), and Mora are the exceptions. These campgrounds accept reservations from June – September and remain first-come / first-served in the off-season.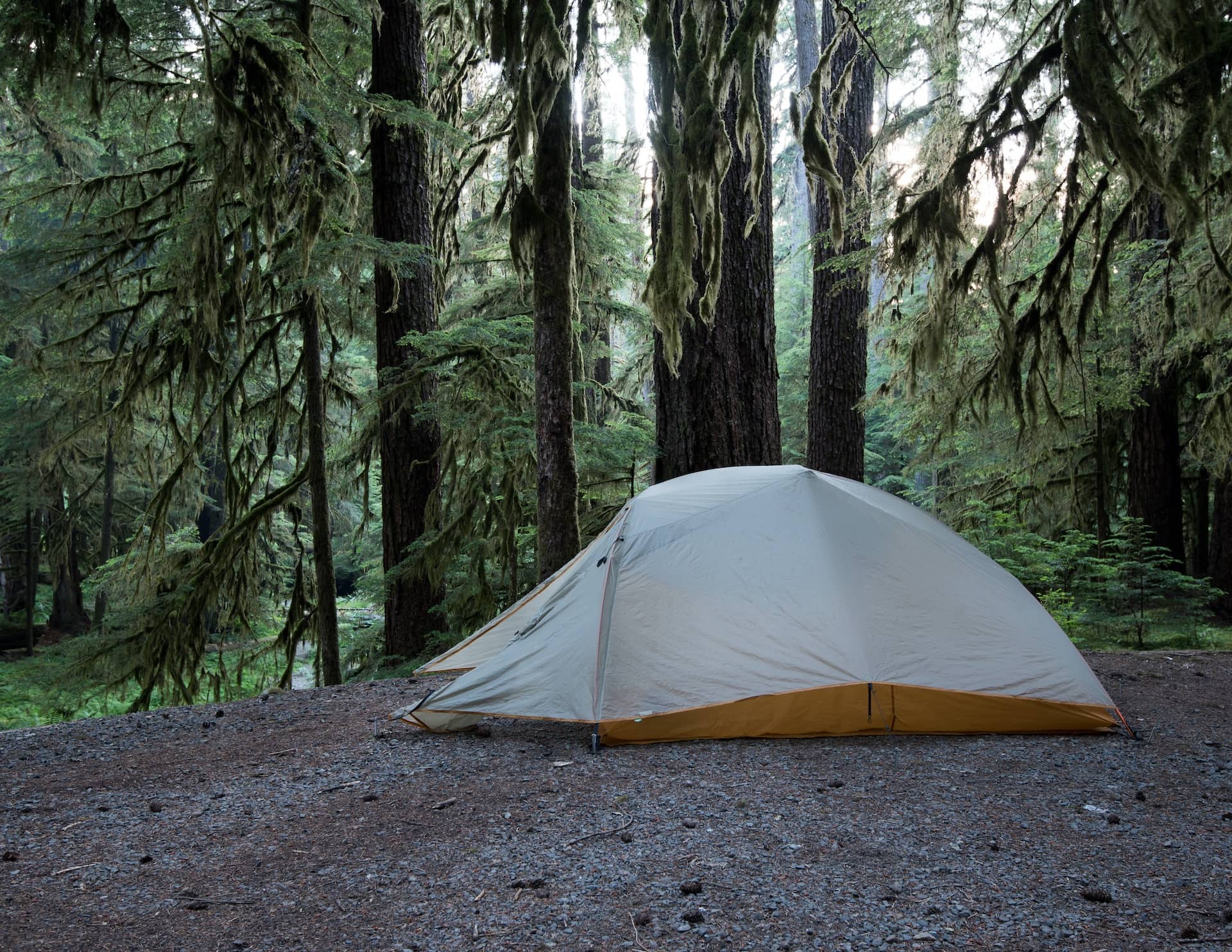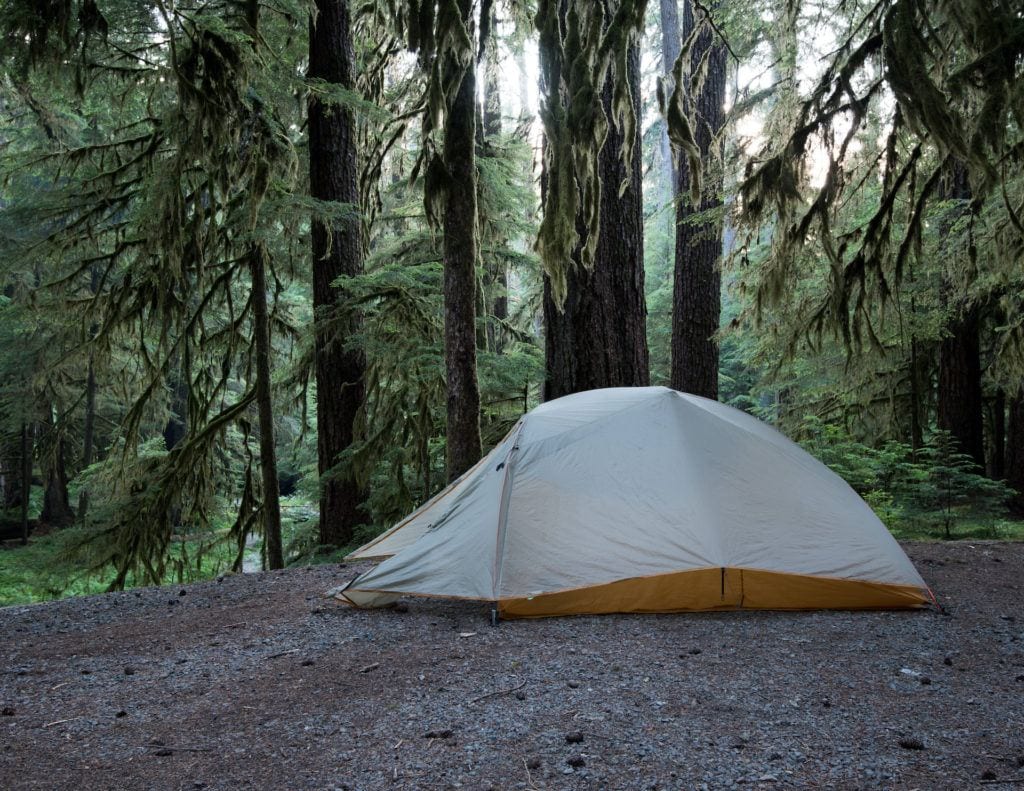 If you are looking for a quiet spot, check out Queets, North Fork Campground, and Deer Park Campground where RVs are not allowed or recommended.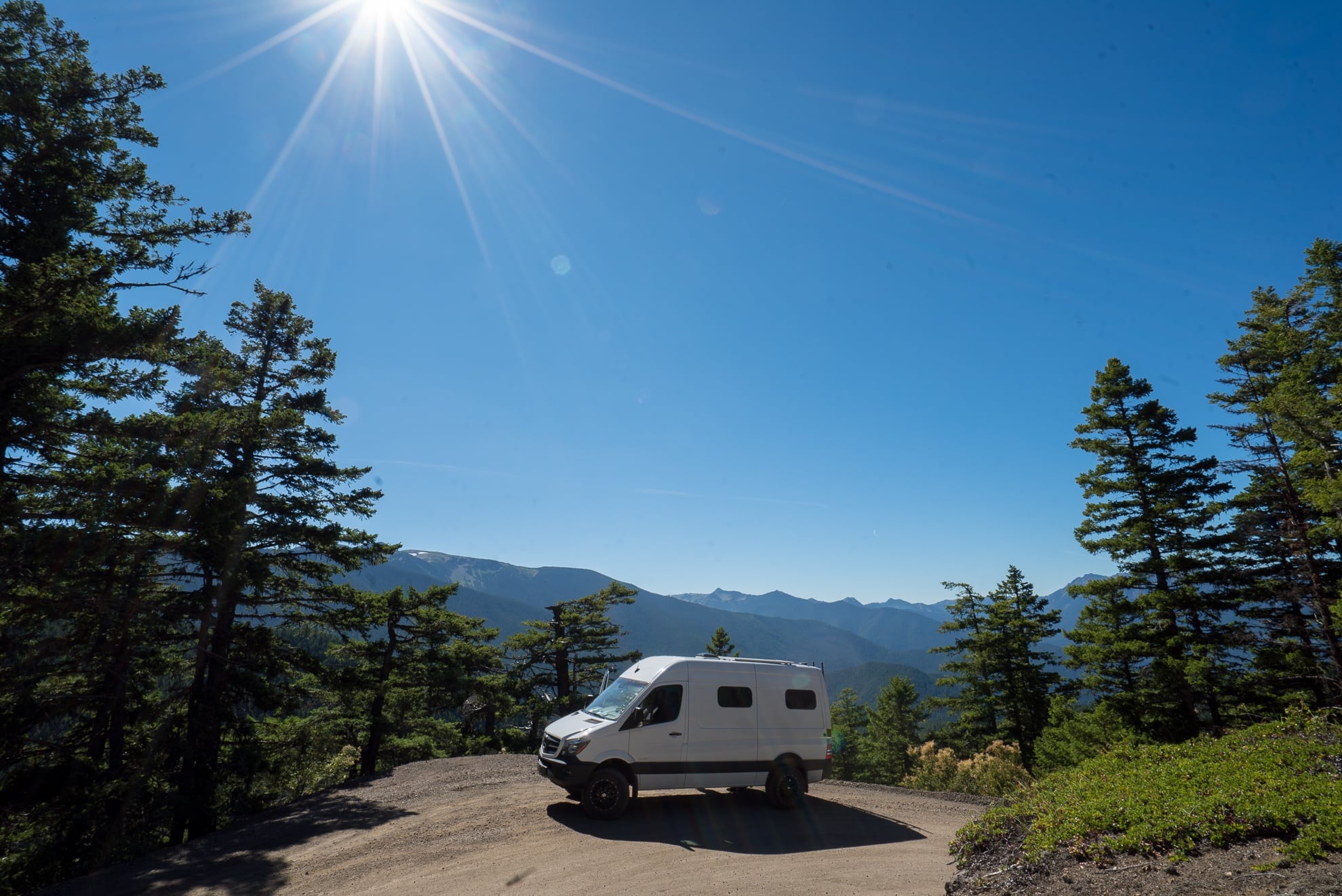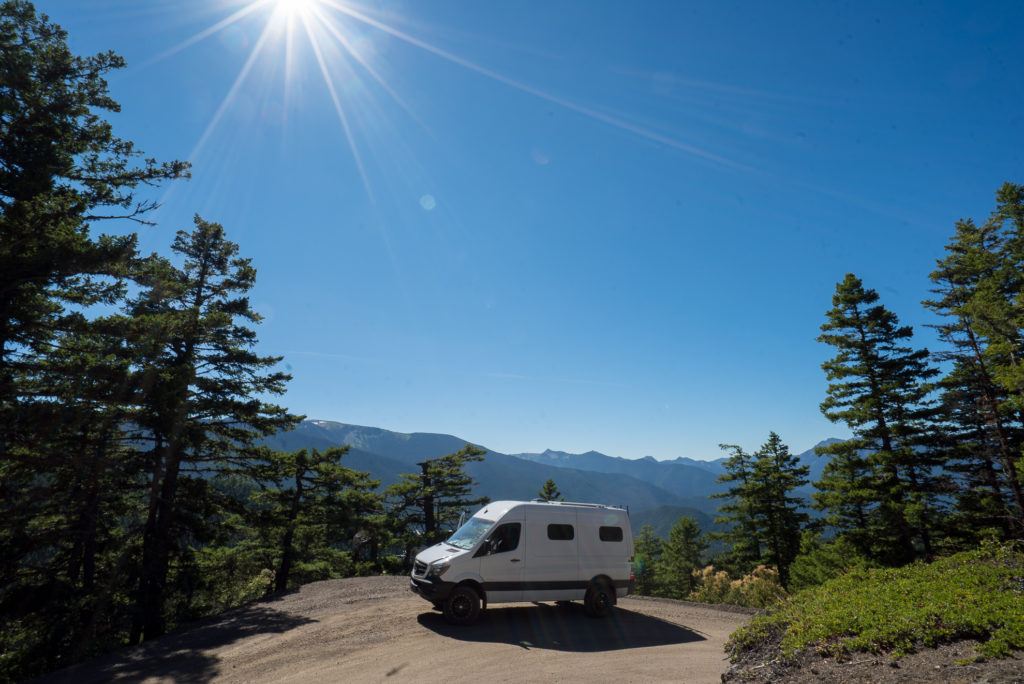 The campground guide on the National Park website also tells you which campgrounds have potable water and flush or pit toilets. And just a heads-up, we couldn't find a single campsite during our entire trip that had shower facilities.
If you're going to be camping on your road trip, get a FREE 30-day membership to The Dyrt PRO, one of our favorite apps for finding campgrounds (use the code "Bearfoot" if you're signing up on mobile!). You can read reviews, view photos, save campgrounds you're interested in, view maps offline, use road trip planning tools, and more!
Backcountry Camping
If you want to go backpacking in Olympic National Park, you must obtain a wilderness camping permit. They cost $5 per person per night for groups up to 12 people. Depending on the trail, reservations may be required, and the park accepts reservations for the entire season starting on March 15th.
More information on wilderness camping and permit information can be found here.
For one of the best backpacking trips in the Park, check out our writeup on the Olympic National Park High Divide Trail.
---
Getting to Olympic National Park
While there is public transportation to the park, I think a vehicle is a must for this trip. From the SEA-TAC airport, the Hurricane Ridge Visitor Center (where we started) is just about 3 hours along the I-5 corridor and HWY 101, driving through the towns of Tacoma and Olympia.
If you want to get out on the water, you can also take the ferry from Seattle, crossing the Puget Sound to Bainbridge Island, and the driving north from there towards Port Townsend. One-way rides are about $8, and a regular vehicle costs just $28.
We ended up making a giant loop, which you can see on the Google Map if you keep scrolling down.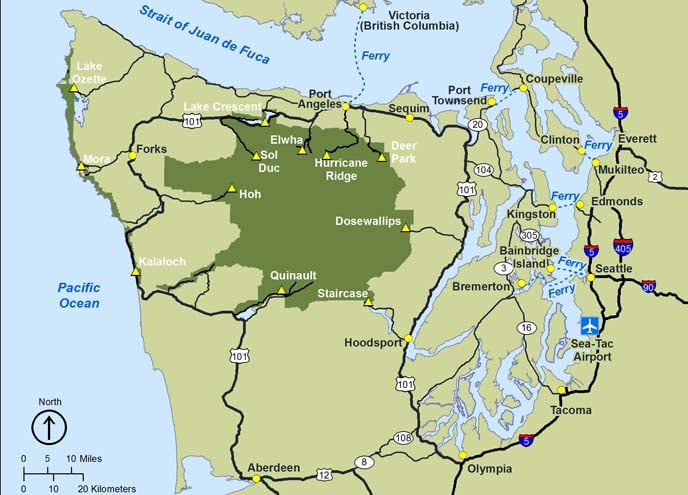 FOODIE TIP: If you take the long route through the town of Olympia, I recommend that you stop at Jay's Farm Stand as well as the Olympia Co-Op. They both offer a great selection for stocking up on some local products for your trip. If you go through Olympia, you'll also probably hit the small logging town of Shelton, which has another two awesome foodie stops I have to mention. First is Smoking Mo's BBQ and then Olympic Mountain Ice Cream.
---
5 Day Olympic National Park Itinerary
Day 1: Hurricane Ridge
The first day of our Olympic National Park itinerary, we took the ferry and then drove a counterclockwise loop from Seattle. Our first stop on the trip was Hurricane Ridge, where you get panoramic views of Mount Olympus. Here you can hike Hurricane Hill, which is 1.6 miles one way and offers great views of the mountains. There is also an incredible viewing platform at the visitor center.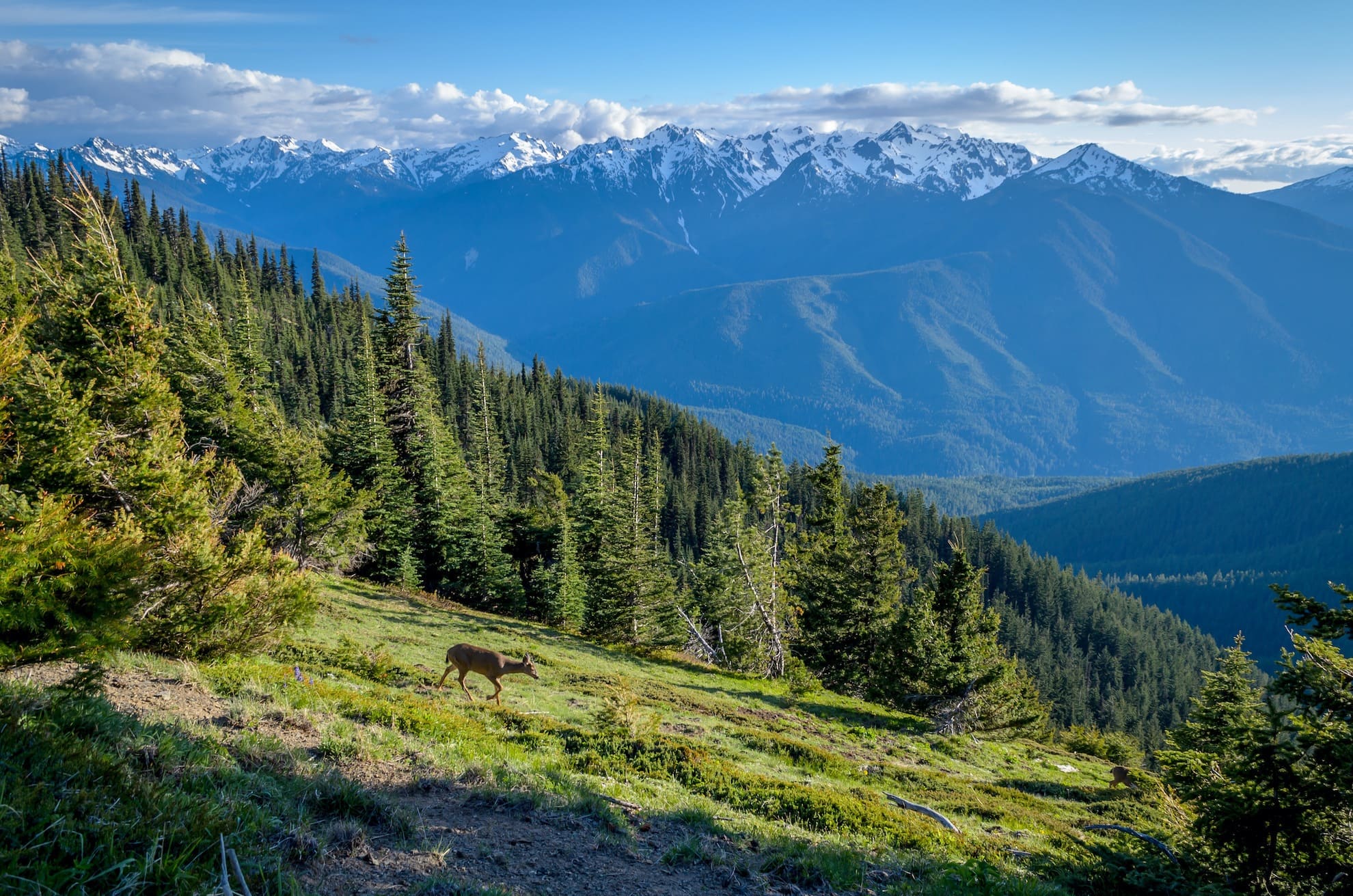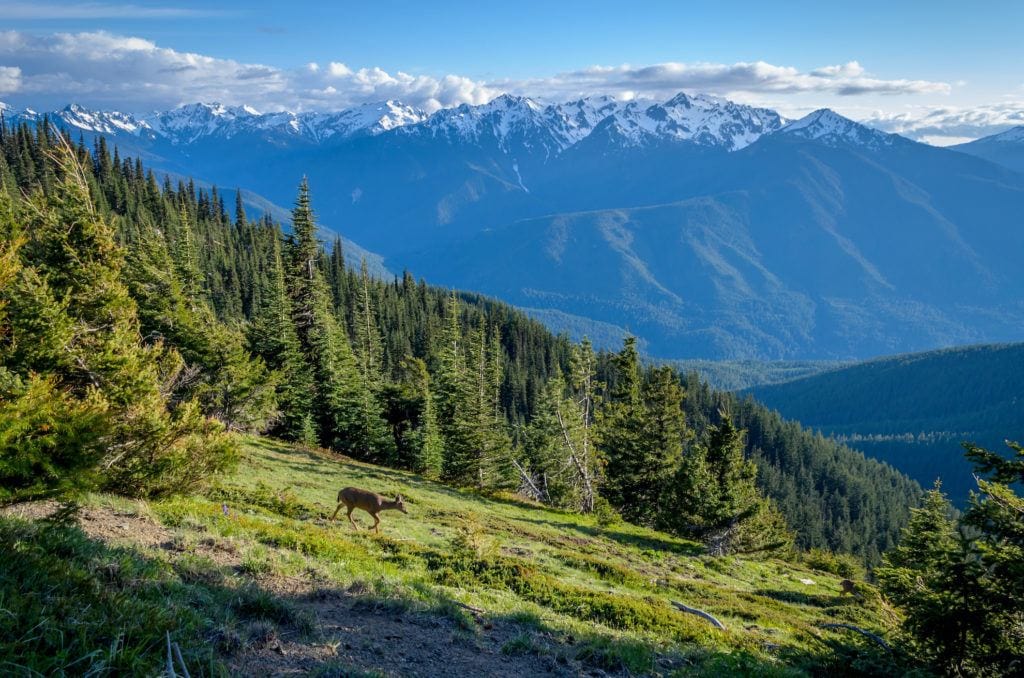 That first night, we camped at Heart O' the Hills which was by far one of the most beautiful campsites I have ever visited. I highly recommend loop D that has sites right along a flowing stream.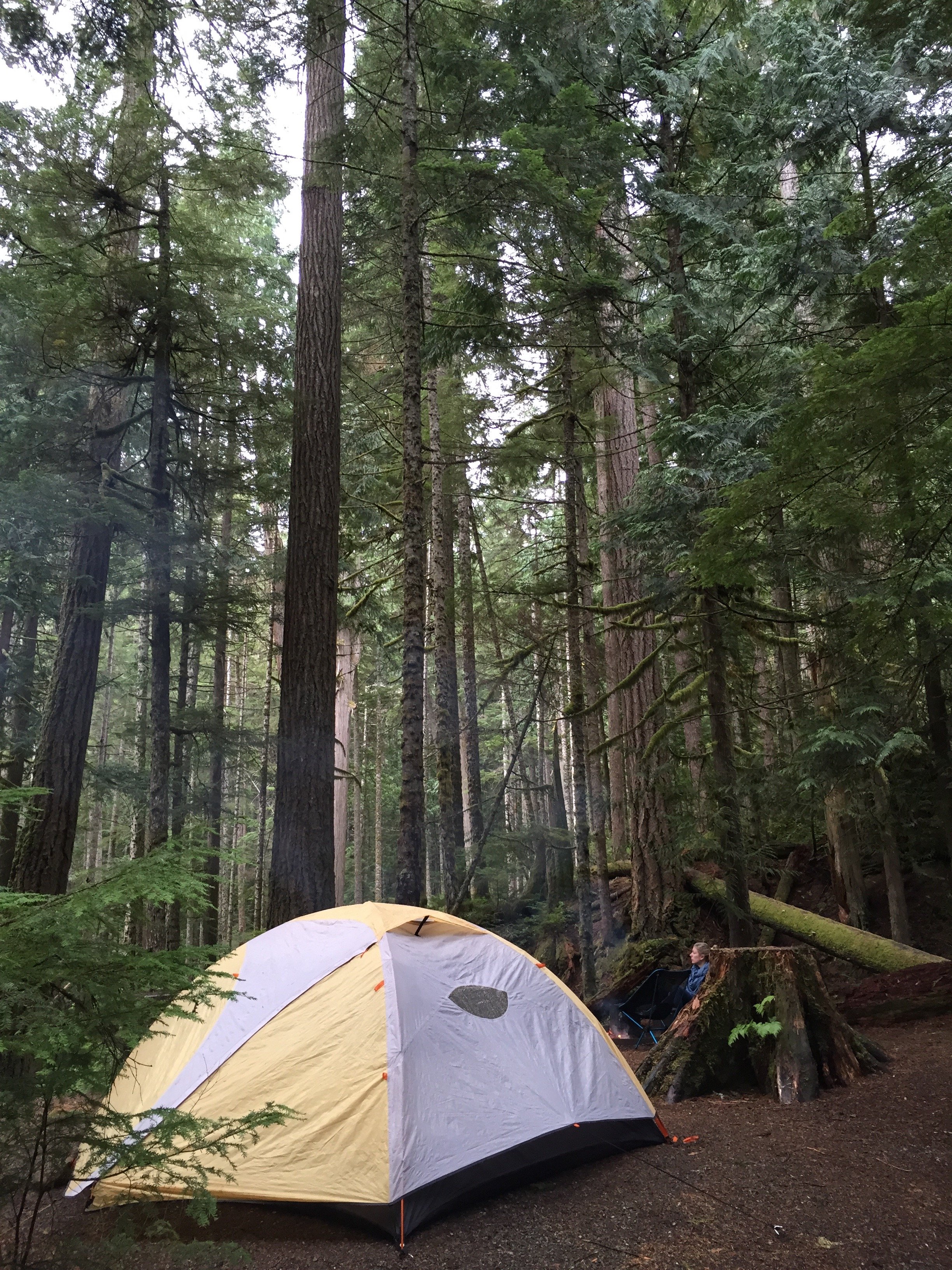 FOODIE TIP: As you are driving in and out of Port Angeles to get between Hurricane Ridge and the rest of the park do not miss the unique natural grocery store called Country Aire Natural Foods. Their fresh deli salads were absolutely delicious.
Day 2: Lake Crescent & Sol Duc Hot Springs
On day 2, get ready for totally different and yet equally incredible landscapes. As you leave the mountains of Hurricane Ridge, you arrive at the 650 foot deep Lake Crescent. Make sure to read up on the Indian legend about how Lake Crescent formed. Geological records suggest there was a large-scale disturbance that affected Lake Crescent and its neighbor, Lake Sutherland – creating two lakes from one.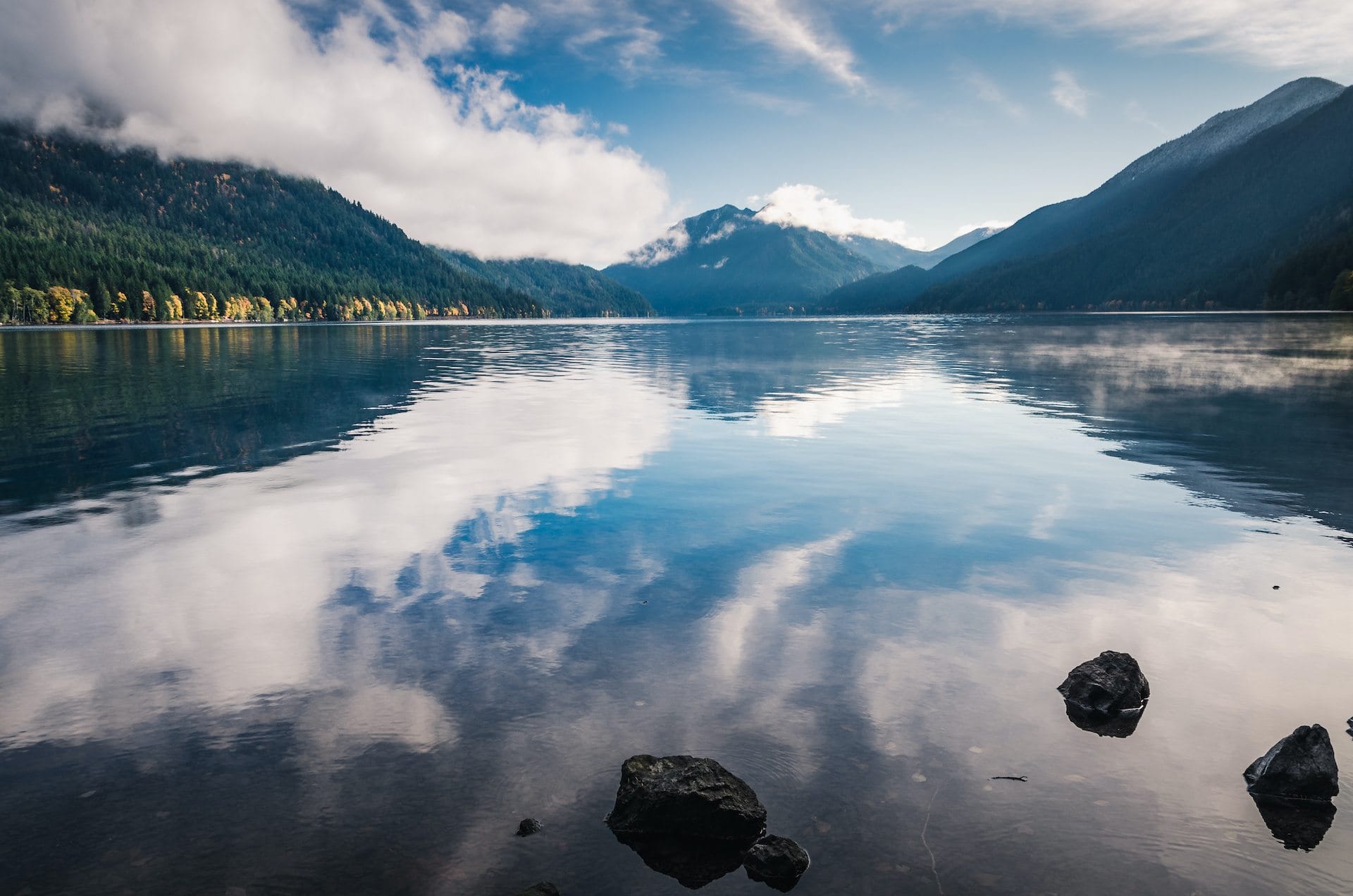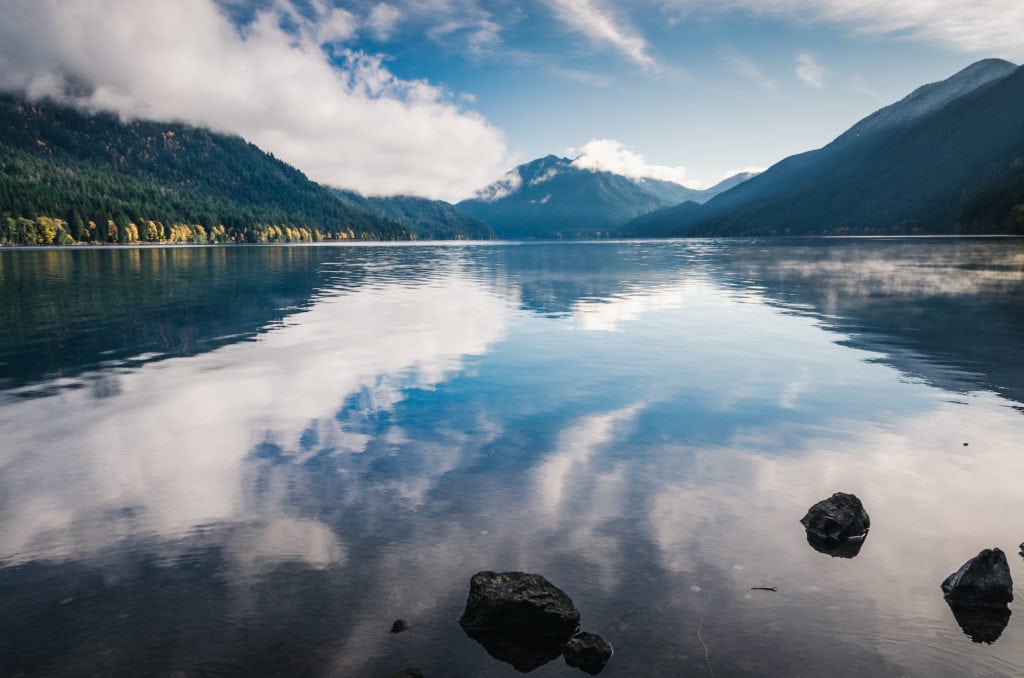 Lake Crescent also has a delightful lodge on its banks – the Lake Crescent Lodge. The hotel was built in 1915 and includes a stone fireplace and cozy sun porch. The lodge has a beautiful restaurant, bar, and gift shop as well. You can also rent kayaks on the lake to enjoy a beautiful day on the water! They even offer guided kayak tours.
If you want to hike, check out Marymere Falls trail (~1.5 miles round trip) that was as green as could be. Highlights include a few awesome log bridges that are used to cross streams. Use the same turn off as the Lodge to access the parking lot and trailhead for Marymere Falls.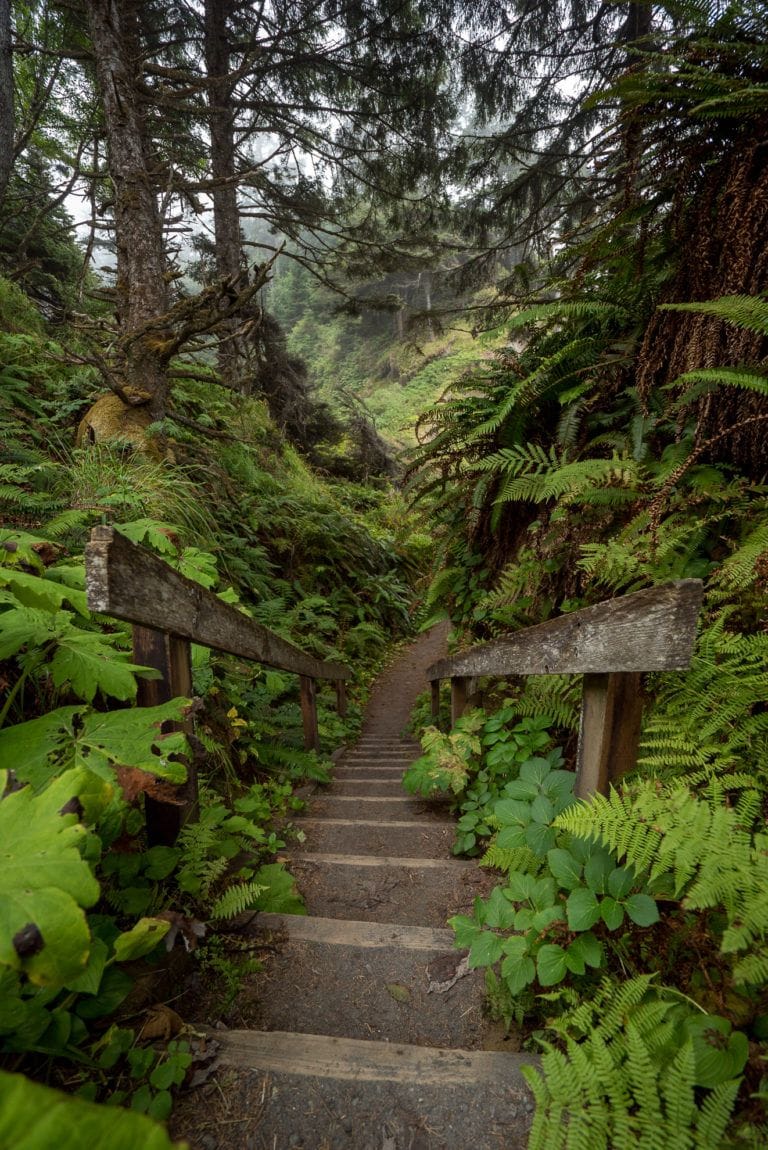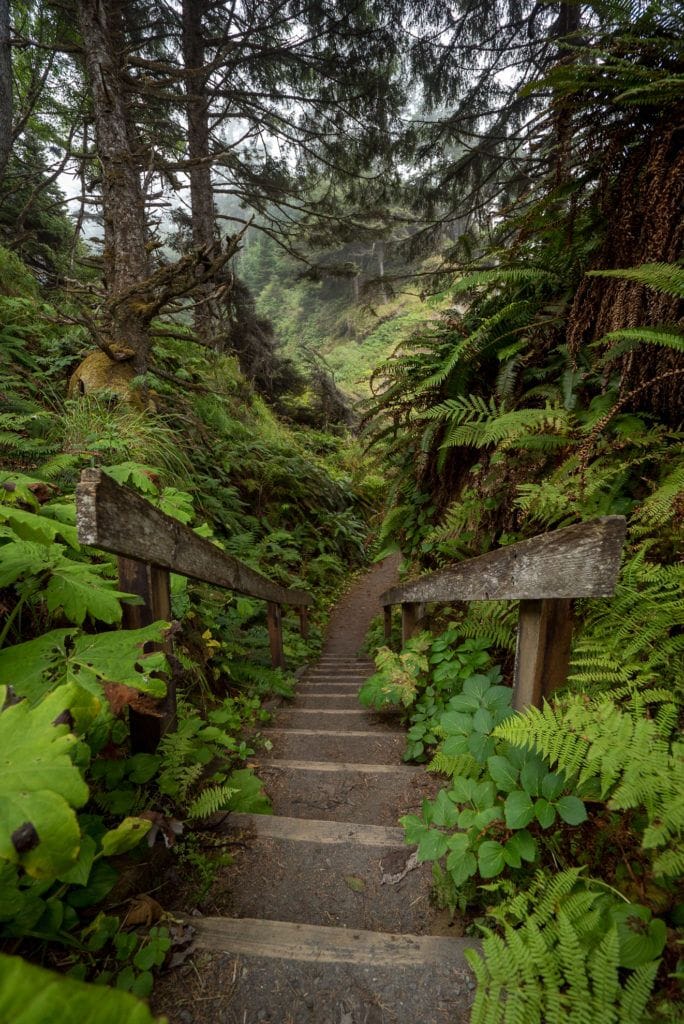 If you want something more challenging with epic views, tackle the ~2,000 foot gain to the top of Mt. Storm King.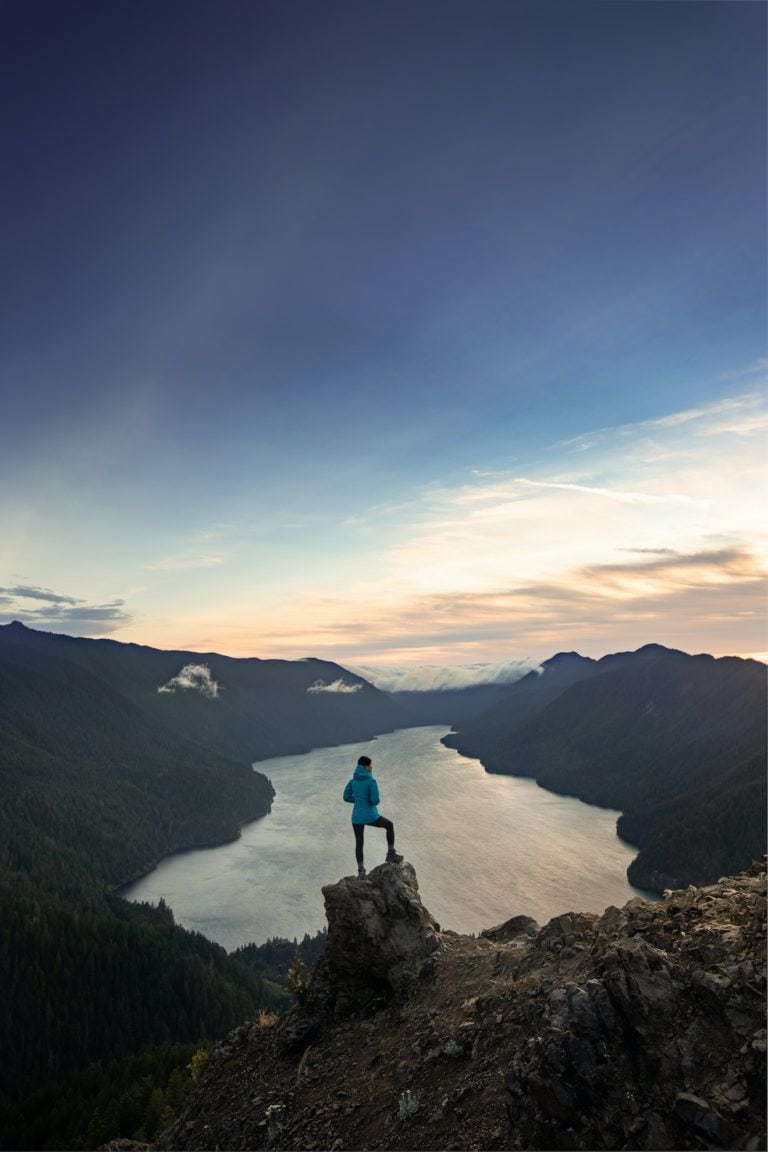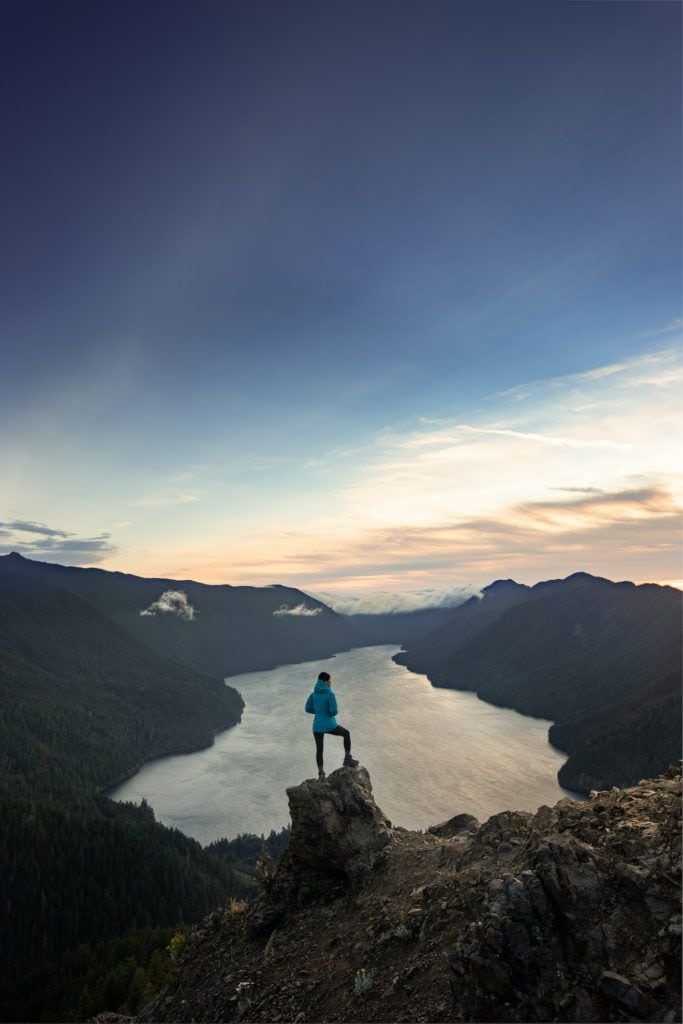 Continuing on along HWY 101, don't miss the Salmon Cascades and the Ancient Grove trail on Sol Duc Hot Spring Rd. If you are traveling during the salmon spawn (varies with temperature changes but generally is September-November), the salmon cascading along the Sol Duc River are a must-see. You can find them halfway down the road to Sol Duc Hot Springs Resort. Just down from the Salmon Cascades viewpoint is also the Ancient Groves 0.6 mile self-guided nature trail loop through an old-growth forest which is a nice quickie for stretching your legs!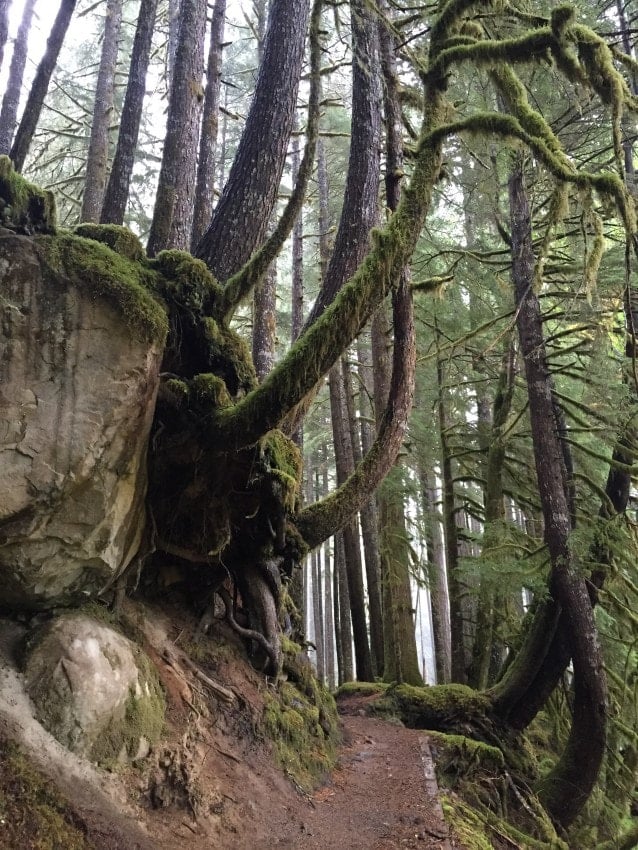 Now, for Sol Duc hot springs…I hate to be negative but these are not wild hot springs that you hike to for a few miles for a quiet soak in nature. Instead, this is a fee-based "hot springs resort" where the naturally flowing water has been piped into concrete and tile soaking tubs. We walked in and checked out the set-up and opted against it. The resort itself includes cabins, massage therapists, food options, and a gift shop.
Since we only had 6 days for our Olympic National Park itinerary, we continued on and ended up camping at Klahowya campground, which is technically outside of the National Park in the neighboring National Forest. It was right along Highway 101 and also along the Sol Duc River. This is a great campsite for putting yourself close to Forks for the next day of adventures!
Day 3: Forks & La Push Beaches
From Klahowya Campground, continue west on your Olympic National Park road trip on Highway 101 towards Forks. If you are a young female, or avid vampire fan, you might be wondering why you've heard of Forks, WA. Well, that is the town Stephanie Meyer used to base her Twilight series novels. While none of the movie was filmed on the Olympic Peninsula (Meyer never even visited!), if you do want to "Twilight geek out" head straight to the Forks Chamber of Commerce Visitor Center, which offers all the Twilight trivia and maps you need. It is important to note though that after Port Angeles, Forks is the 2nd largest city you will pass through on this trip so if you need a hot shower, warm bed, more supplies or just a nice cup of espresso, make it happen in Forks!
Just north of Forks is the turn-off for La Push, Mora, and Rialto Beach. La Push has three main beaches and they are simply named – First Beach, Second Beach and Third Beach.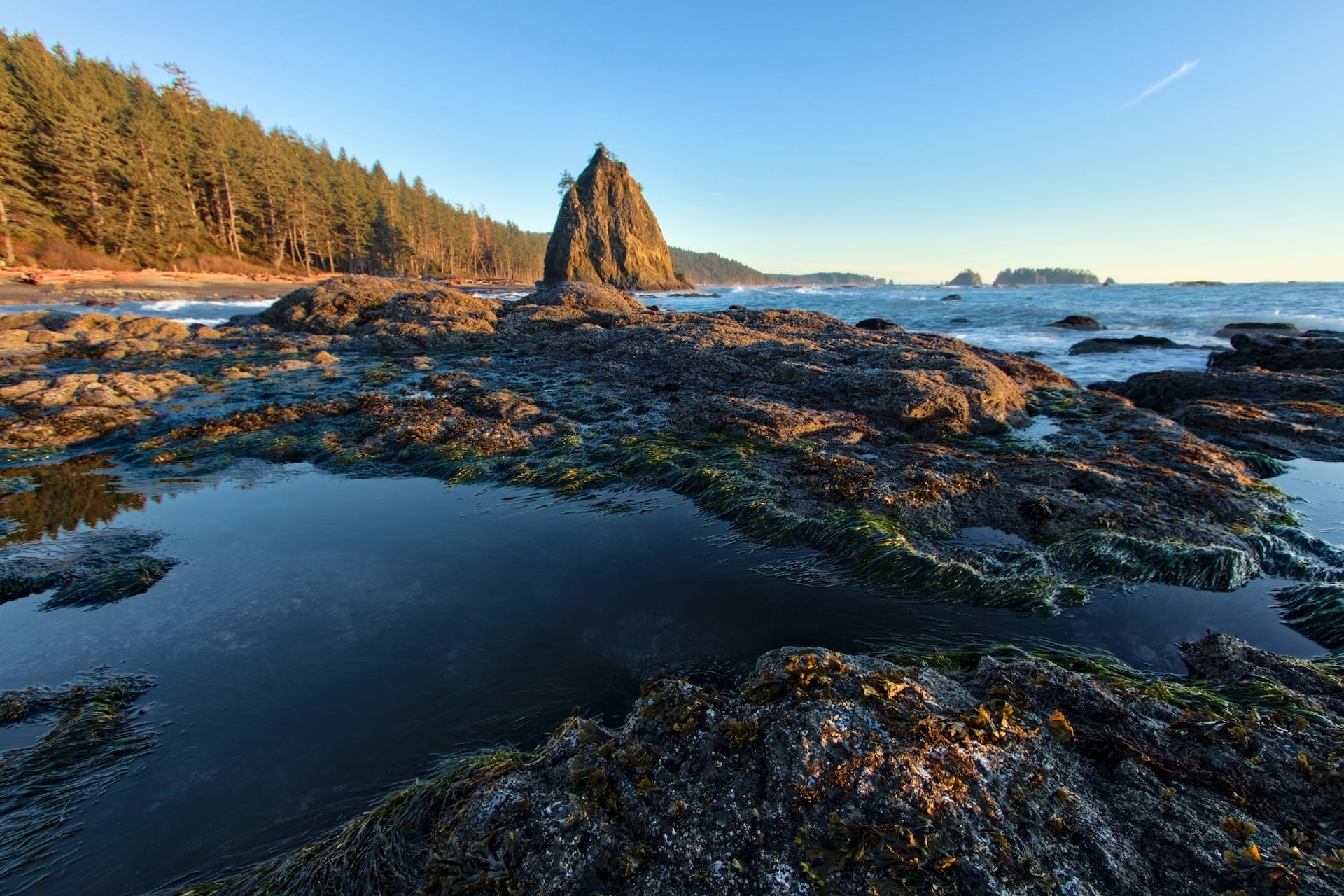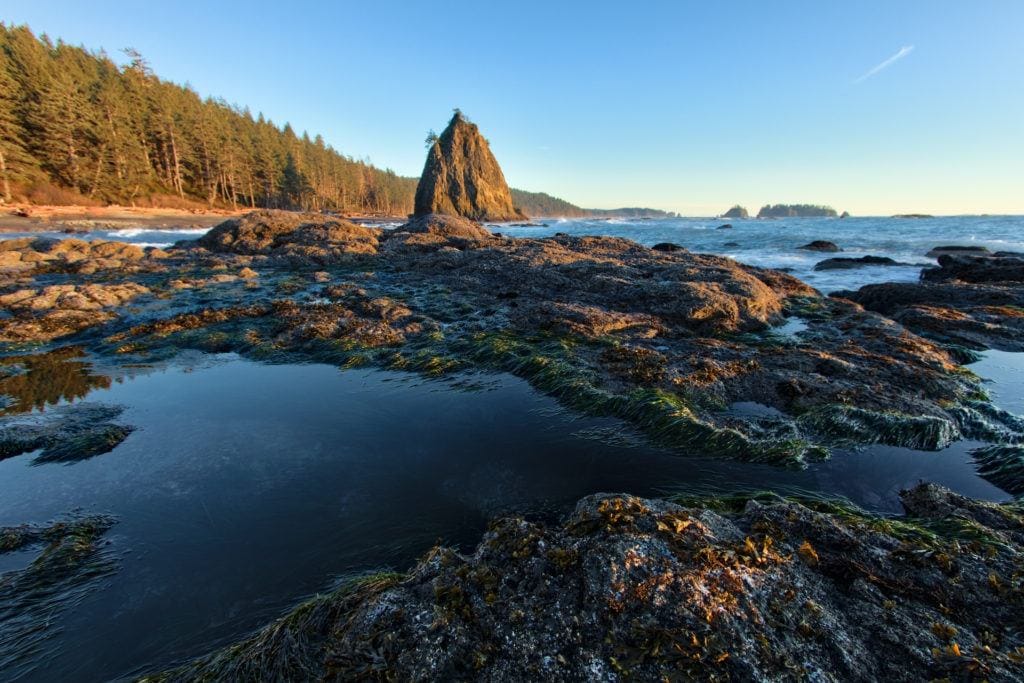 First Beach is literally right in town and is the only beach that can be accessed by car.
Second Beach was roughly a one-mile hike from the parking lot and was an absolutely beautiful spot for a picnic lunch. We ate and explored the large beach before high tide started setting in.
Third Beach is a flat 1.6 mile hike from the parking lot. On the way back to the 101, we did find what appeared to be a cute gem called Manitou Lodge if you need a night in a bed. The lodge is off Mora Road and has a small gift shop that features local artists, which is why we ventured back to check it out. The lodge and its grounds were impressive, and they have lots of information and advice for exploring the local area available in their "Great Room" which boasts a massive stone fireplace and vaulted ceilings. From here, either stay the night at Mora campground or venture on to the Hoh Rainforest to camp.
Day 4: Hoh Rainforest
Before leaving Forks for The Hoh Rainforest, make sure you are stocked on food and necessities, as there is only a small coffee shop/café/convenience store that offers a limited selection. The rainforest, less than an hour from Forks, is located down Upper Hoh Road. Hook a left off 101 onto Upper Hoh Road and travel 18 lush miles east to the Hoh rainforest and visitor center.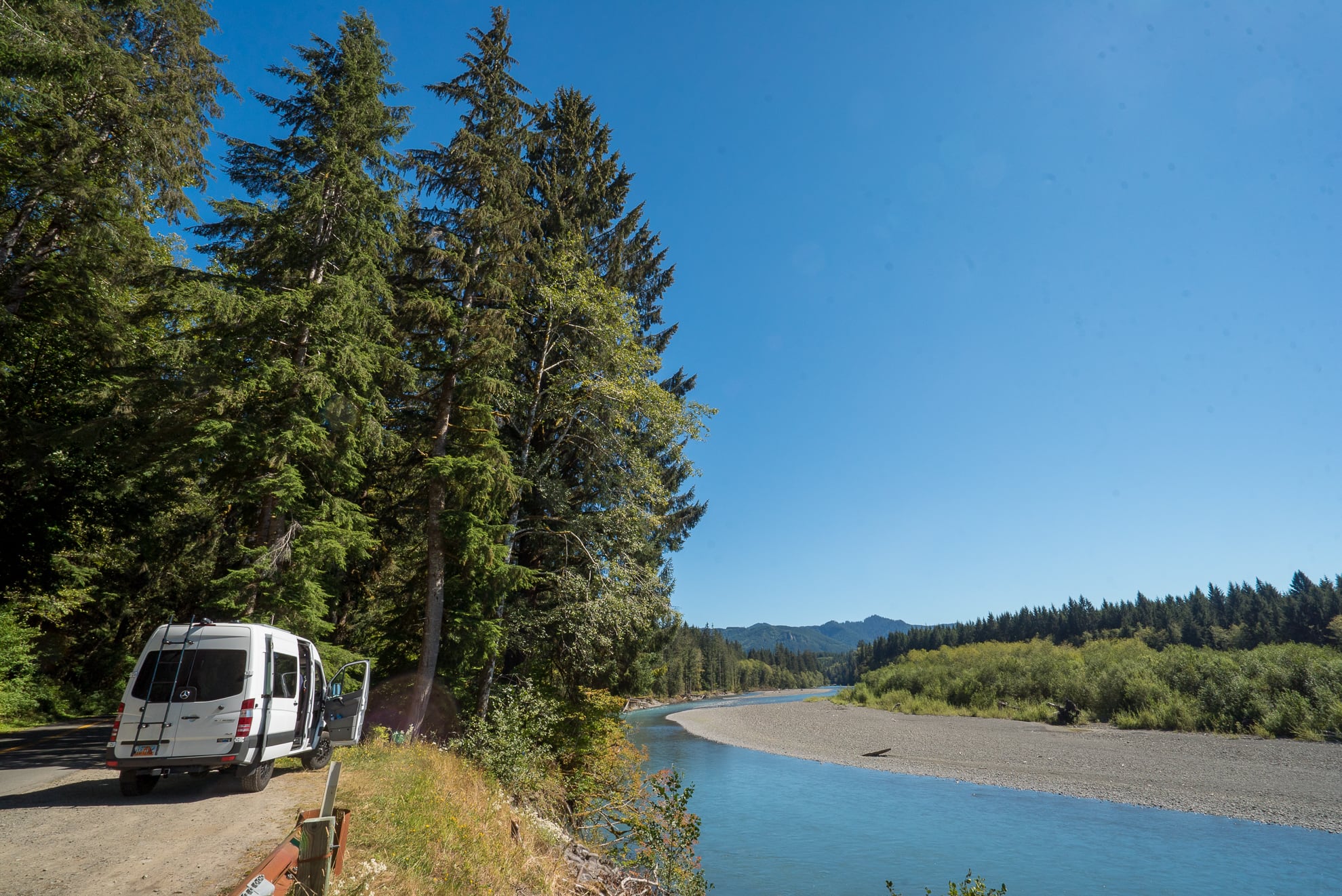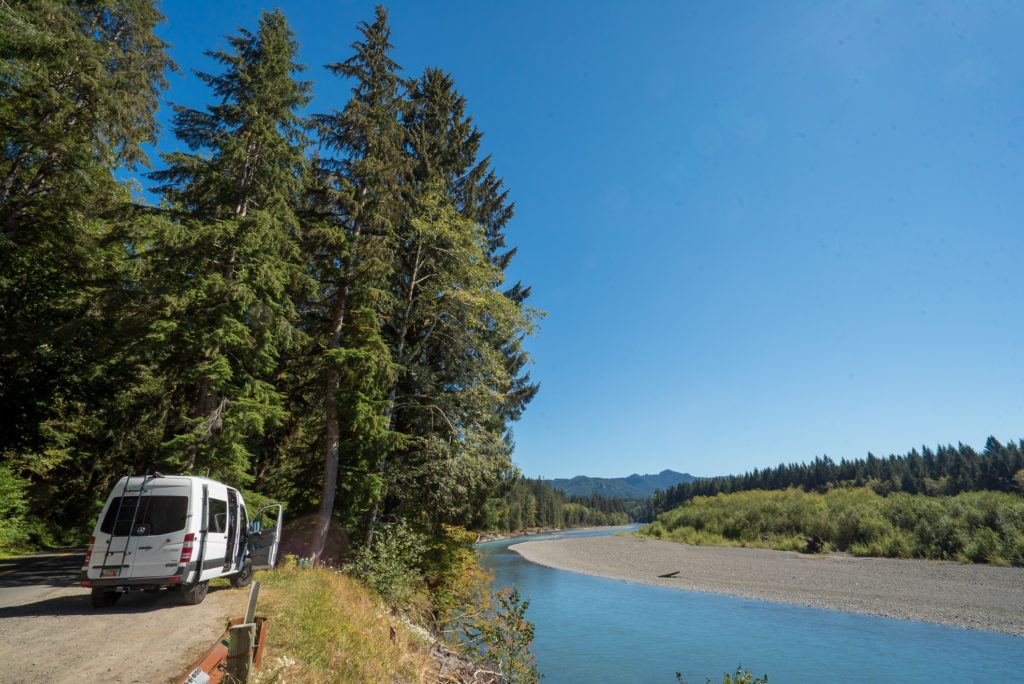 Hoh is the gateway to Mount Olympus. Crazy to think you would hike through a rainforest to get to the tallest peak in the national park! We meandered through the Hall of Mosses trail (0.8 mile loop) as well as the Spruce Nature Trail (1.2 mile loop) both of which I wouldn't miss. The Spruce Nature trail takes you along the Hoh River where you can see the silt flowing down from the mountains.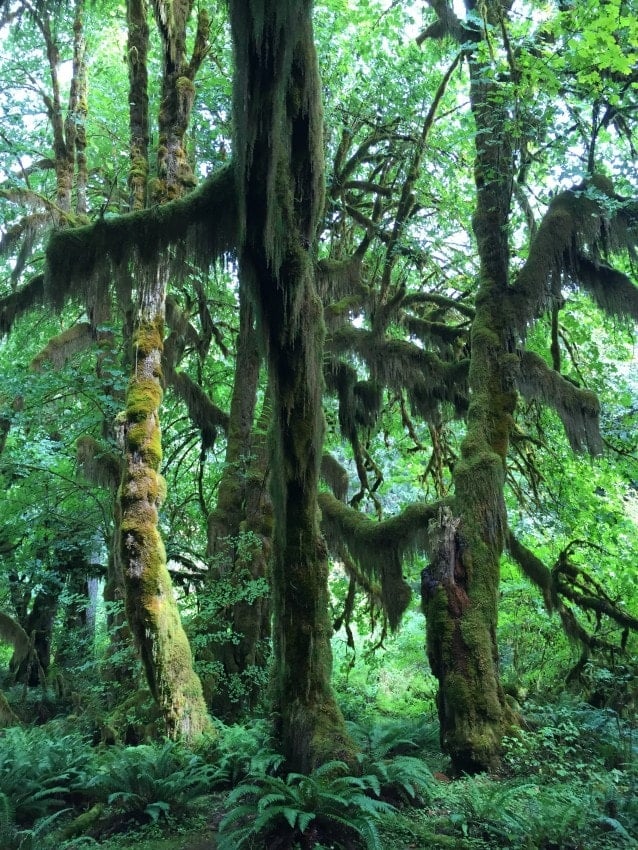 Day 5: Ruby Beach, Kalaloch Beach, and Lake Quinault
On the last day, head to Ruby Beach – apparently the most photographed beach in all of the Olympic Peninsula.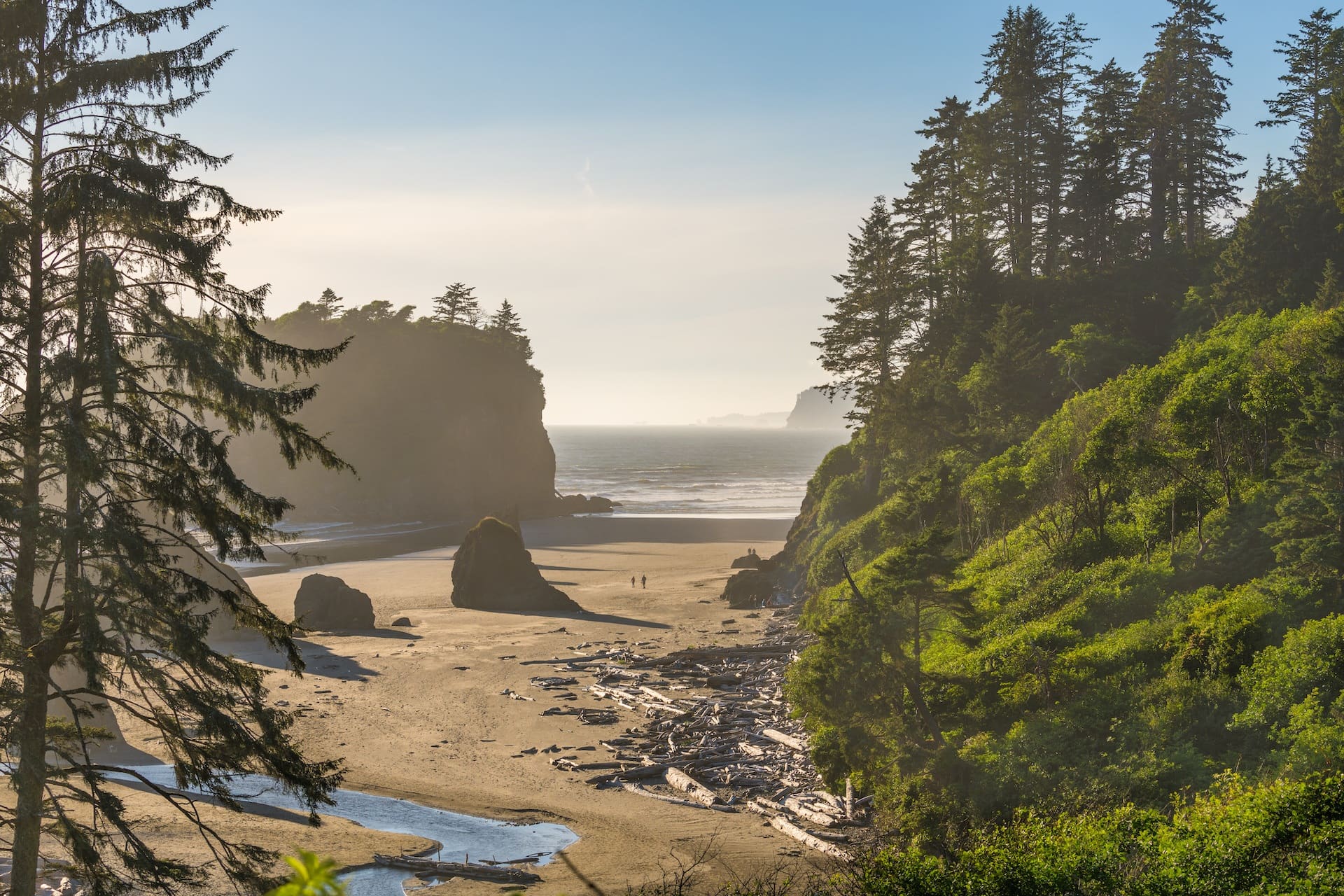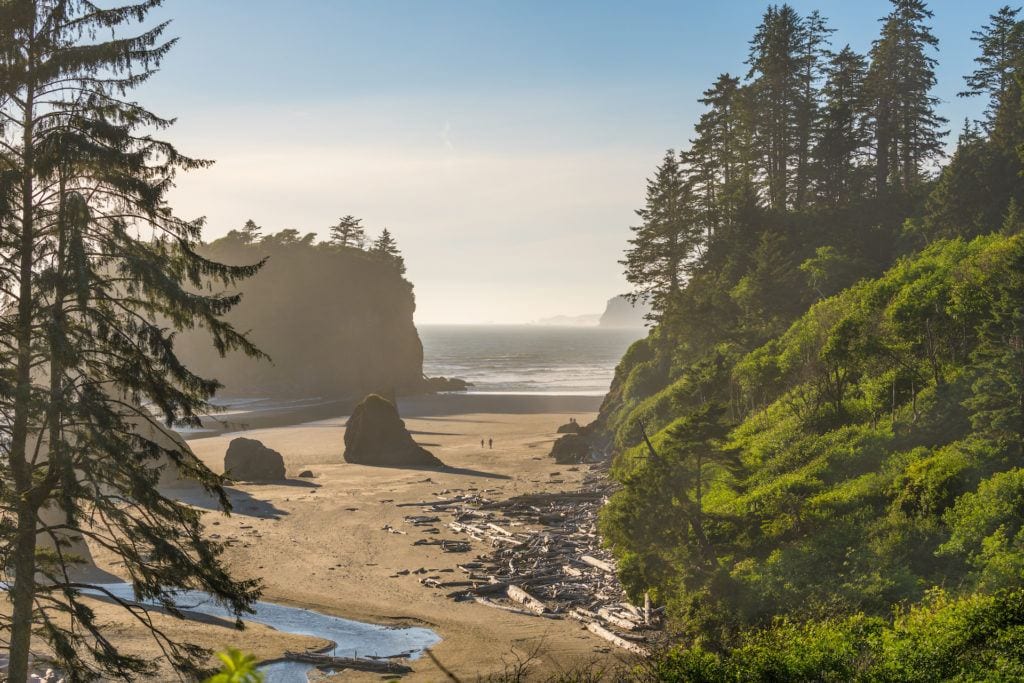 From Ruby Beach we headed down the 101 south to the Kalaloch Lodge. Stop at Beach 4, 3, 2 or 1, which are right off the road, and enjoy the views off of the highway along the way.
Kalaloch Lodge offers seaside cabins, a restaurant, a gift shop and a little convenience store. The gift shop had different goods in comparison to Hurricane Ridge, with a big selection of local products. From Kalaloch Beach continue Lake Quinault where we camped for the night at Willaby campground on a ledge above the lake.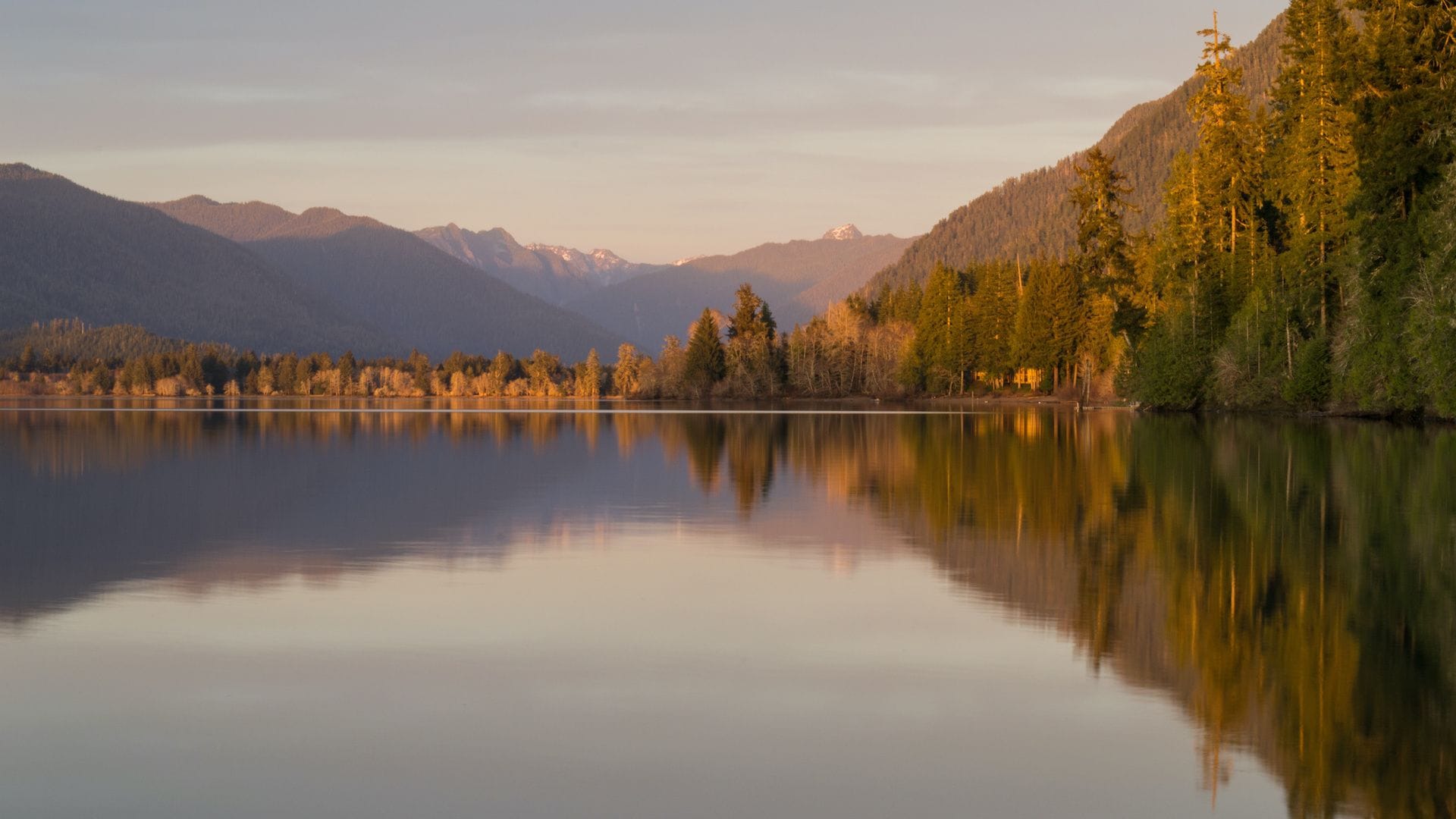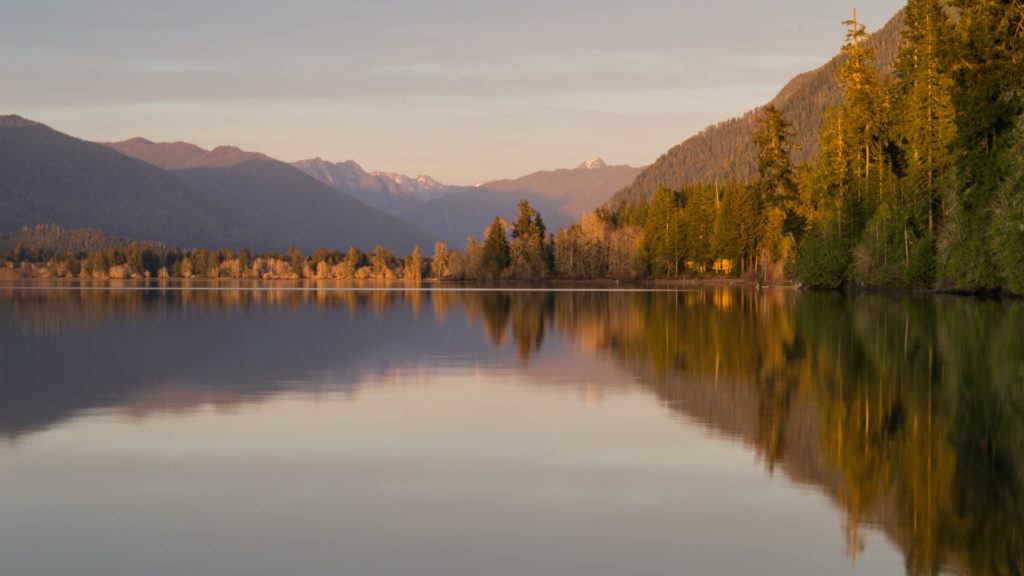 I am a sucker for National Park hotels and the nearby Lake Quinault Lodge is definitely one to checkout. The lodge has Wi-Fi in the public areas and also offers showers (for a fee) for campers. They have a great "living room" complete with vintage photographs of the lodge and memorabilia.
Also don't miss The Salmon House Restaurant & Lodge. It is a local hangout and has reasonable prices. Their wine glasses hold about half a bottle and the onion rings will not disappoint (and yes, that is what I had for dinner, in case you were wondering). We explored some of the United States Forest Service trails here, which were pleasant but not as surreal as the National Park. The United States Forest Service has an outstanding ranger station and information center right next door to the Lake Quinault Lodge.
Lake Quinault was the last stop on our trip. Afterwards, we made our way back to Seattle via Olympia, a drive that takes just under 4 hours.
Have more time to explore or want to get into the backcountry? There is no question about it…next time I visit Olympic NP I am going to hike the 17.3 mile trail to Glacier Meadows and then another 0.9 miles to see Blue Glacier.
---
Essential Gear for your Olympic National Park Road Trip
Having solid rain gear for your Olympic National Park itinerary – including proper clothing, a tent with a rainfly (if camping), and warm clothes for nighttime – is critical. Here are a few of the things I brought along and recommend.
Non-cotton layers: Avoid cotton which stays cold and soggy, and instead stick to wool, silk, and synthetic fibers that keep you warm even when wet! Check out Bearfoot Theory's guide on the Best Hiking Clothes for recommendations.
Raingear: It's critical that your rain gear (jacket and pants) can hold up in a downpour and also offer protection from the wind. In addition, you'll want to bring a rain cover for your pack. Check out Bearfoot Theory's favorite lightweight Rain Jackets for hiking here.
Shoes: Depending what kind of hiking you are doing, you'll either want a comfy pair or two of trail shoes that you can wear in the car, around camp, and on well maintained trails. I recommend waterproof shoes. Check out some suggestions for hiking shoes here.
A good hat: Even though it might be cloudy, sun protection is important! A brimmed hat will also keep the rain off of your head and face, making it easier to see in wet conditions.
Wool hat, scarf, and gloves to stay warm for the cool nights and mornings
Read More: Staying Dry and Comfortable: 5 Tips for Hiking in the Rain&nbsp
There you have it, a full 5-day loop featuring some of the best highlights of an Olympic National Park road trip and the greater Olympic Peninsula.