Olympic National Park Beach Backpacking: South Coast Trail Guide
This guide to backpacking the South Coast Trail in Olympic National Park will prepare you for a fun beach backpacking trip in Washington.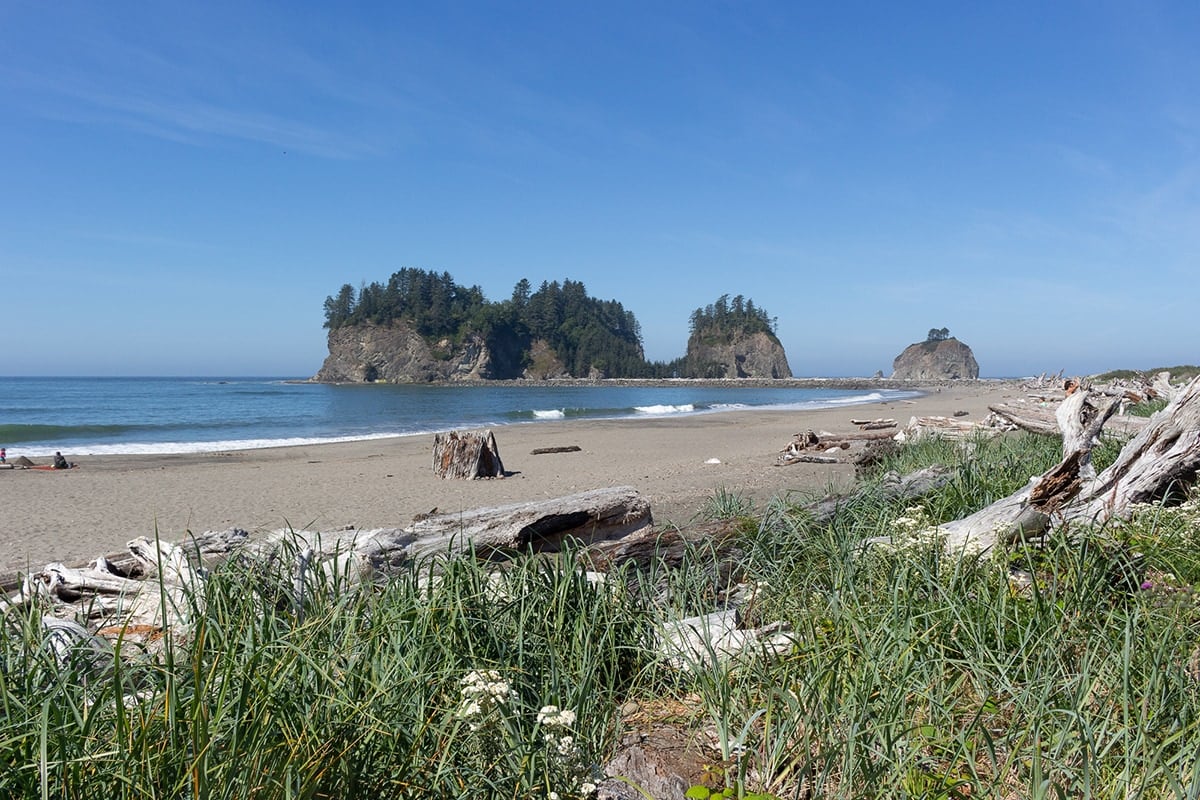 Washington's Olympic Peninsula is filled with rugged sea stacks, abundant marine life, and sandy shores. Backpacking Olympic National Park is one of the best ways to explore this area and feels like one of the more wild experiences in the country. The South Coast Trail, a beach backpacking trip detailed here, provides a comprehensive view of the south coast of the Olympic Peninsula and is great for backpackers who are used to grueling mountain trails looking for a change. Plus, nothing beats waking up on a beach to the sound of waves and the smell of the ocean.
The trail follows the natural formations of the coastline, but some sections require an overland trail that is accessed by ladders and steep terrain when hiking on the shore isn't possible. It's also fairly easy to get to from Seattle, which means it can get pretty busy in the summer months. All in all, this is one of my favorite routes on the West Coast. If you've ever wanted to go beach backpacking, this is a great trail to start with.
In this guide to backpacking the South Coast Trail in Olympic National Park, we cover everything you need to know for a successful beach backpacking trip in Washington.
Best Time for Beach Backpacking in Olympic National Park
Washington is notorious for being wet, so the ideal season for backpacking Olympic National Park is fairly short. It's best done between May-October. If you want to have more solitude, the fall months are the way to go (make sure to bring your rain gear). And while fog is common on Washington beach backpacking trips, the good news is that a foggy morning doesn't ruin the day – the coast is just as beautiful under a blanket of mist as it is under blue skies.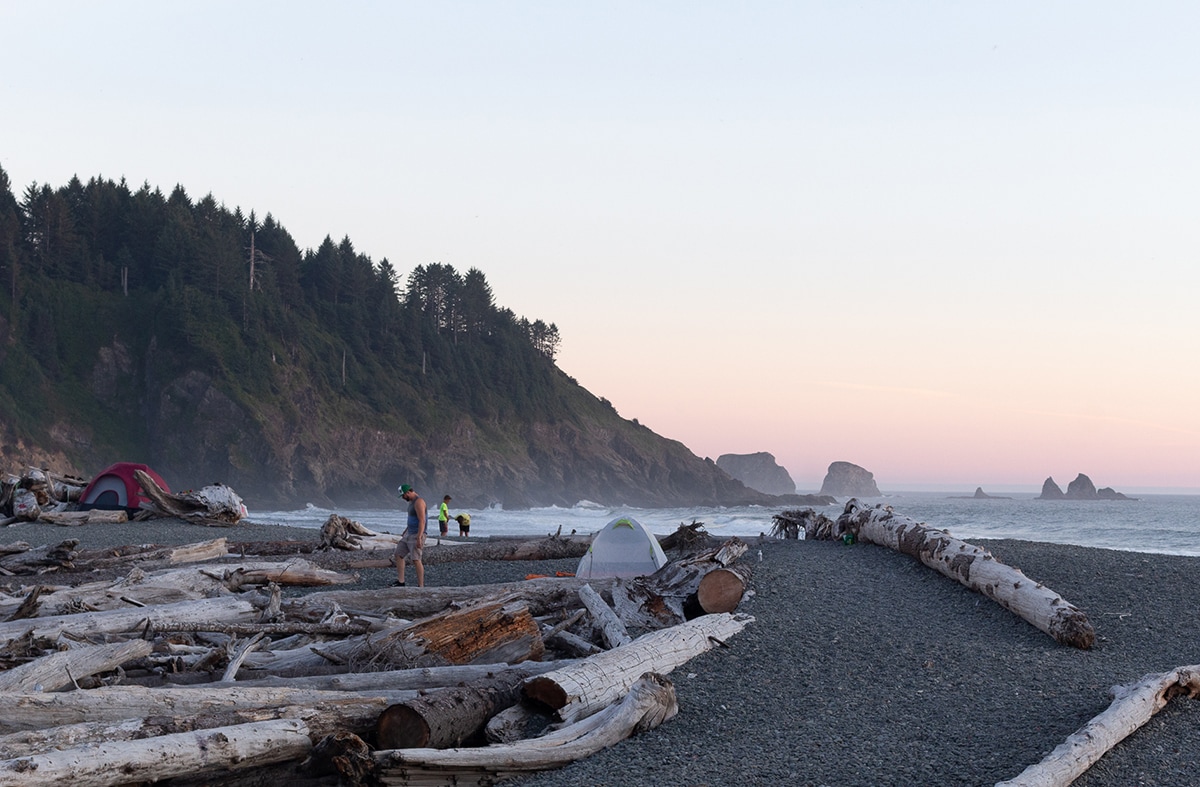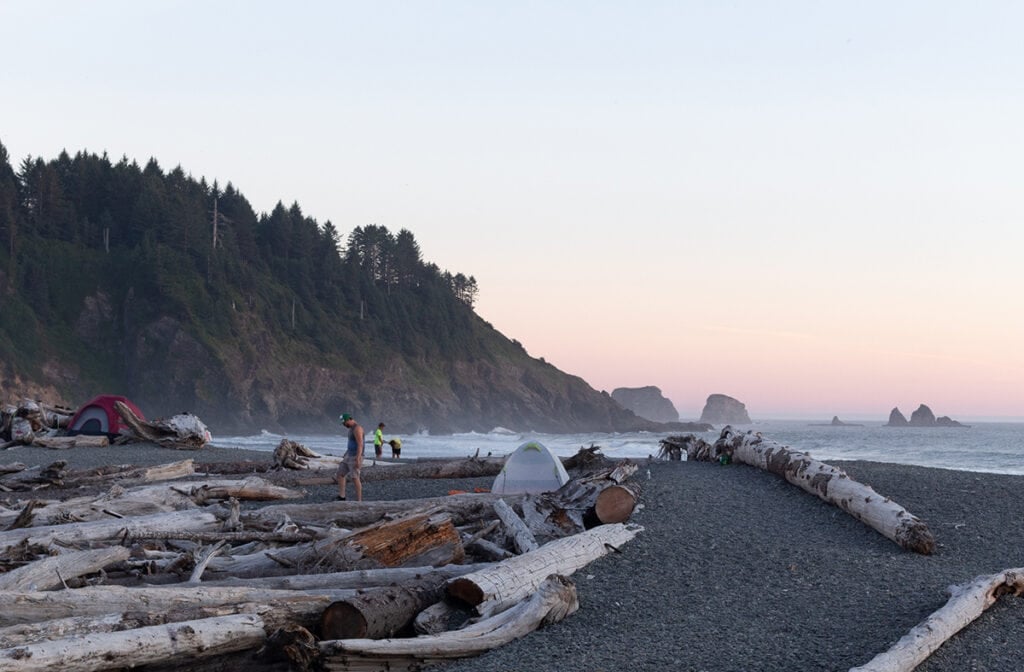 ---
South Coast Trail Basics
Although this trail may not be as physically demanding as others, you have to know the tide cycles and some sections may require waiting for low tide to cross. This is important – you don't want to get stuck because you didn't look at the tides. You can find all this information using a tidal chart, which I recommend you have on you for the duration of your hike. A tidal chart will tell you the exact hours and locations of low tide so you can plan accordingly (this may require that you leave two hours later, or earlier, than originally planned, for example).
Trailhead: Third Beach Trailhead (if hiking south) or Oil City Trailhead (if hiking north)
Trail Type: One-Way
Distance: 17 miles
Elevation Gain: ~250 ft.
Difficulty: Moderate
Days Recommended: 3 days/2 nights
Dogs Allowed: No
Wilderness Permits Required: Yes
Camping Reservations Required: No
Transportation Logistics
Since the South Coast Trail is a one-way route, many people opt to take two cars and leave one at the destination trailhead and drive the other back to the starting point. If you're starting at Third Beach Trailhead, you can leave a car at the Oil City Trailhead parking lot (and vice-versa). Both parking lots are free and there's no limit to overnight stays. If you are not planning to bring a second car, I recommend taking a shuttle from your destination trailhead back to your starting point. There's one that runs every day from either trailhead for $60 per person (2 or less) or $40 per person (3 or more). You can find further information on shuttle rates and schedules here.
We left a second car at the trailhead but the whole ordeal was pretty time consuming. Take the shuttle if you can, it'll save you time and energy.
Getting To Third Beach Trailhead
It's about a four-hour drive from Seattle to Third Beach Trailhead. Otherwise, you can take a ferry to Bainbridge Island and drive the rest of the way for a more scenic ride. It might be a good idea to spend the night in Forks before your trip so you have a flexible start time, in case you need to alter it for the tides. You don't need to pay for parking at the Third Beach Trailhead, although it gets pretty busy in the summer. Consider carpooling or getting there early for a spot. If the parking lot is completely full, you can consider parking at First Beach and starting your trek from there (it adds about a mile to your first day).
Getting a Wilderness Permit to Backpack in Olympic National Park
You can get your wilderness permit for backpacking Olympic National Park in advance online through the Olympic National Park Wilderness page. You don't need specific permits depending on which trailhead you start at. You can get your reservation six months prior to your trip but make sure you get it at least a week before you start your trek.
Water and Toilets
There are natural water sources from streams and rivers throughout the hike, but make sure to bring a water filtration system or iodine. Pit toilets are available at all campsites.
Fire Regulations on Olympic National Park Beaches
Fires are only allowed on the beach with existing driftwood. I recommend camping on the beach instead of inland during your second night if you want to have a fire. It's a really cool experience to have a campfire on the beach during sunset, and driftwood is plentiful.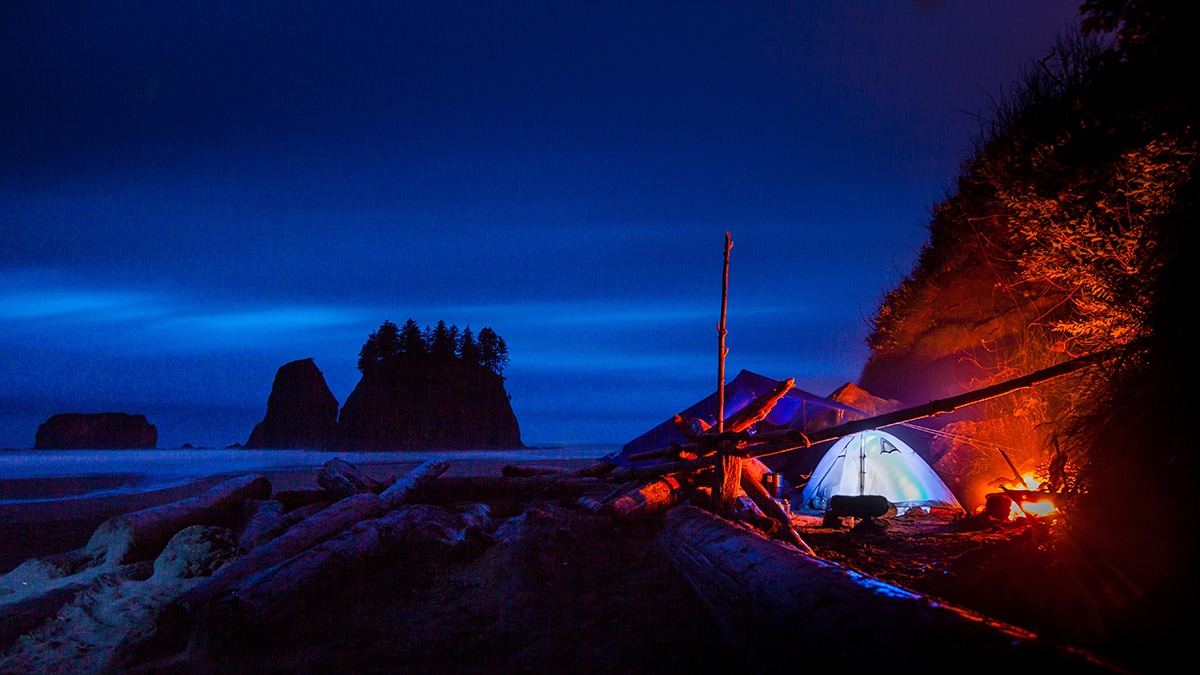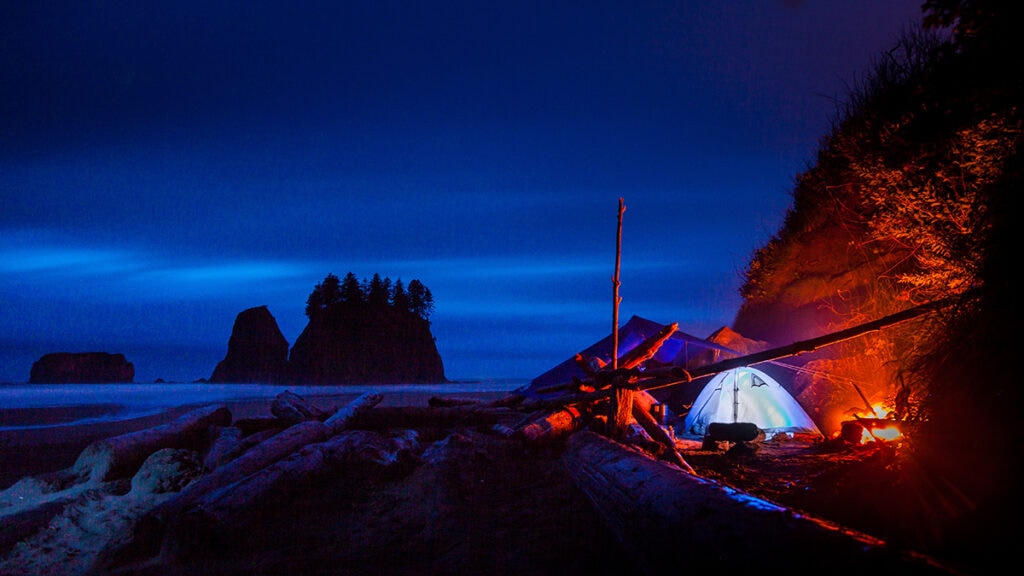 ---
Beach Backpacking Gear Recommendations
When I was done with this Washington beach backpacking trip I was covered, and I mean covered, in sand and mud. I would recommend bringing full rain gear and plenty of layers so you're prepared for any weather that might come your way, as well as sturdy hiking boots to support you while walking through the sand. In particular, high top hiking boots will help stabilize your ankles and also help keep sand out of your shoes. Another option is hiking in Tevas or similar hiking sandals since there are a few river crossings. Additionally, some people recommend gloves as the ropes on the trail can get wet and slippery in colder months.
Bear canisters are required and can be picked up at Quinault Ranger Station, along with tide charts and wilderness backpacking permits.
For more hiking and backpacking gear recommendations, check out the following posts: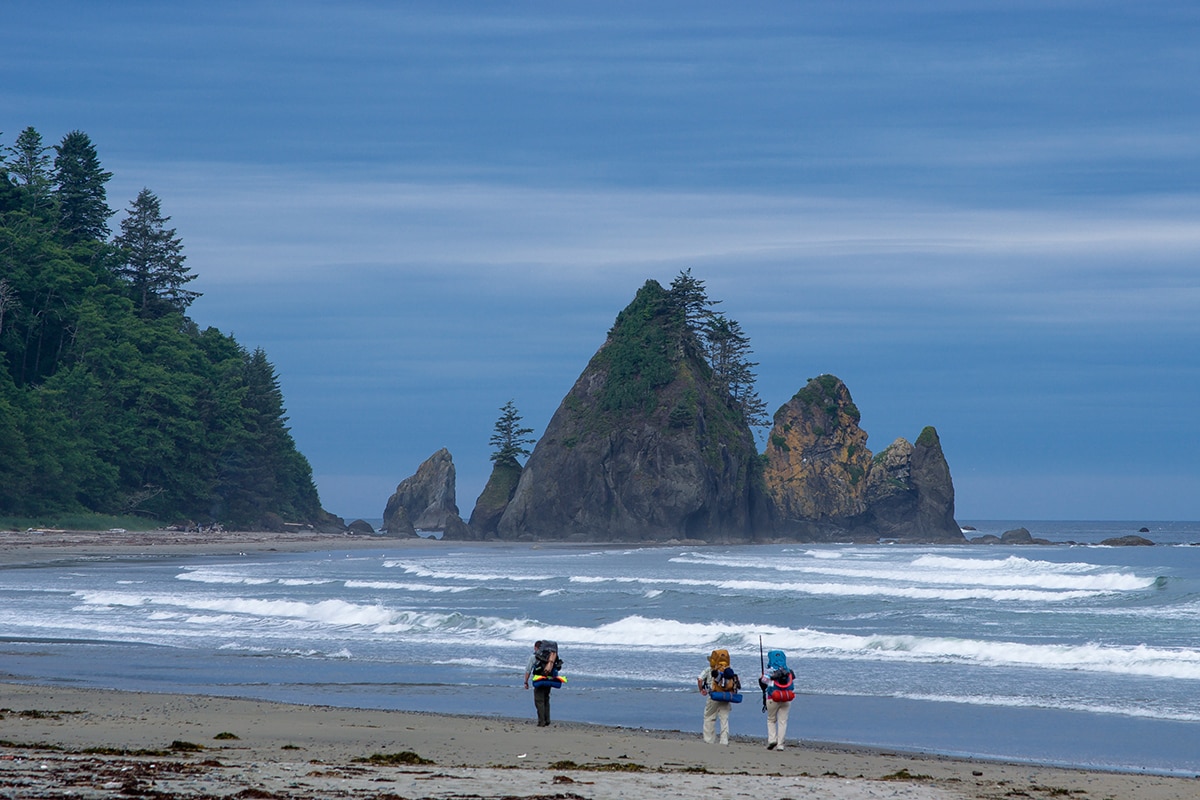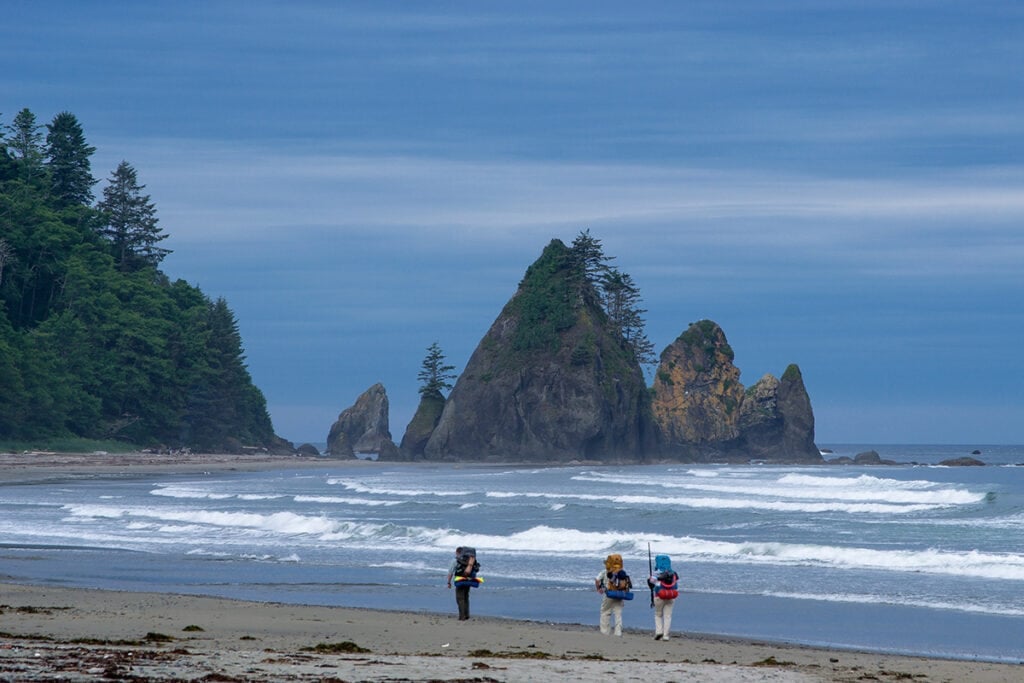 ---
South Coast Trail Itinerary for Backpacking in Olympic National Park
Day 1: Third Beach Trailhead to Toleak Point Campsite
Distance: 6.8 miles
Time: ~4-5 hours (depends on status of tides)
There are two options for starting out your trip. If you parked at First Beach, plan to add about a mile to the day. If you parked at Third Beach, a winding trail through the lush rainforest will take you down to the ocean, and your beach backpacking trip in Washington begins!
You'll hike on the sand for a short time before reaching the first overland trail at Taylor Point. The trail will be marked by an orange and black circular sign, where a steep trail begins with a wooden ladder and rope. Keep your eyes peeled for the overland trail because it's possible to miss it. There are two overland sections on this day.
The first point where you'll have to deal with the tide is just south of Scotts Creek about an hour into your hike. The section is only passable when the tide is 4 ft or lower, so make sure to check your tide chart before you head out. We had to wait a little less than an hour for low tide, so I would bring a book or a hammock to wait it out if needed. When you round the bend just south of Scotts Creek you'll make it to Strawberry Point where you'll see campsites along the forests' edge. You can choose to set up camp here instead of Toleak Point if you got a late start and want a shorter first day.
After hiking through sections of forest, sand, and driftwood, you'll make camp at Toleak Point on the beach. There are a few sites in the forest but most are on the sand.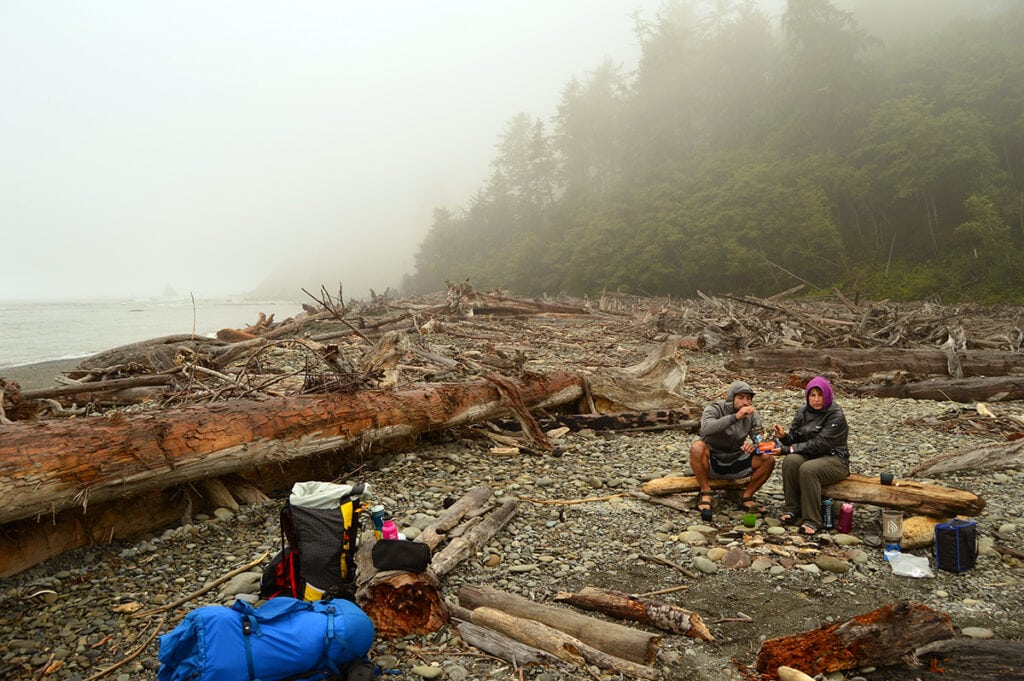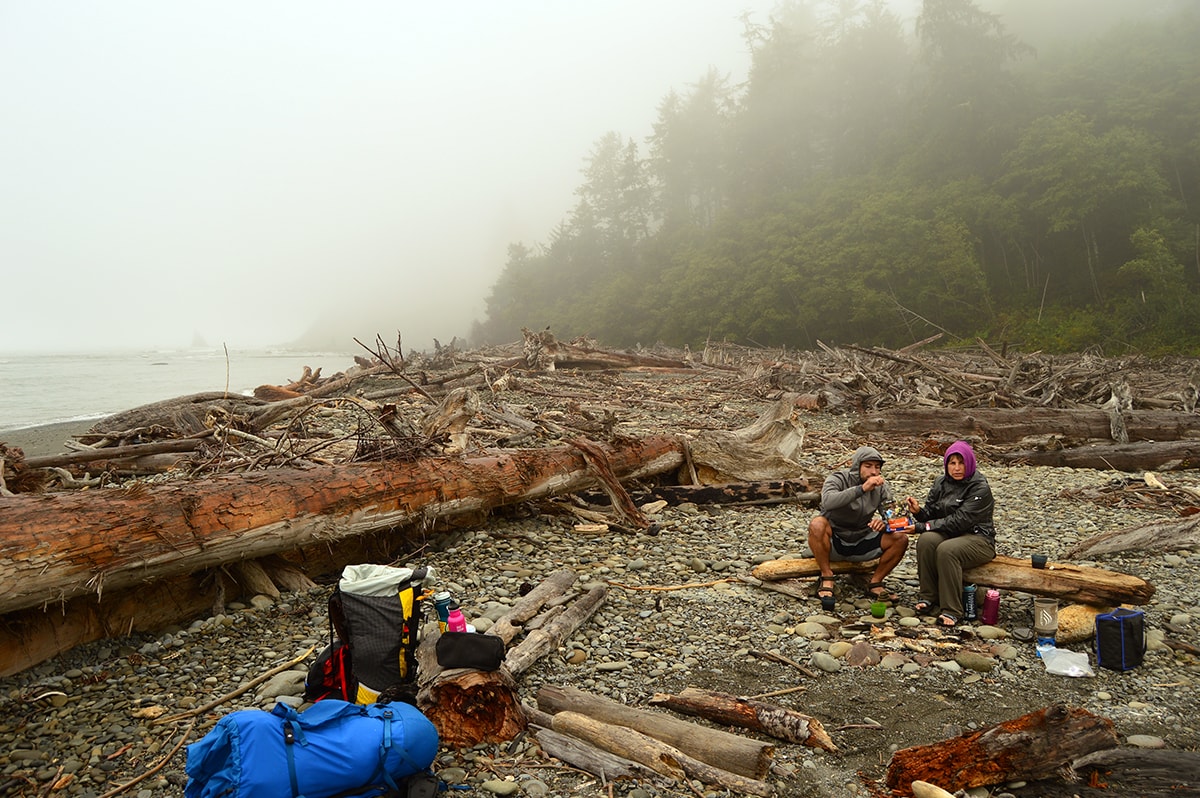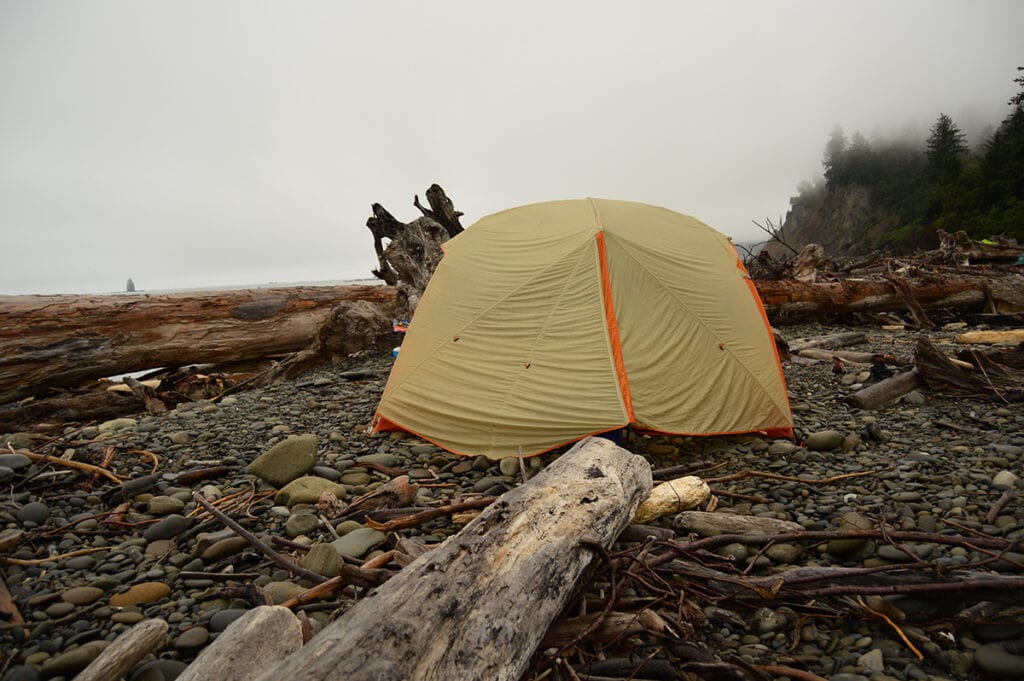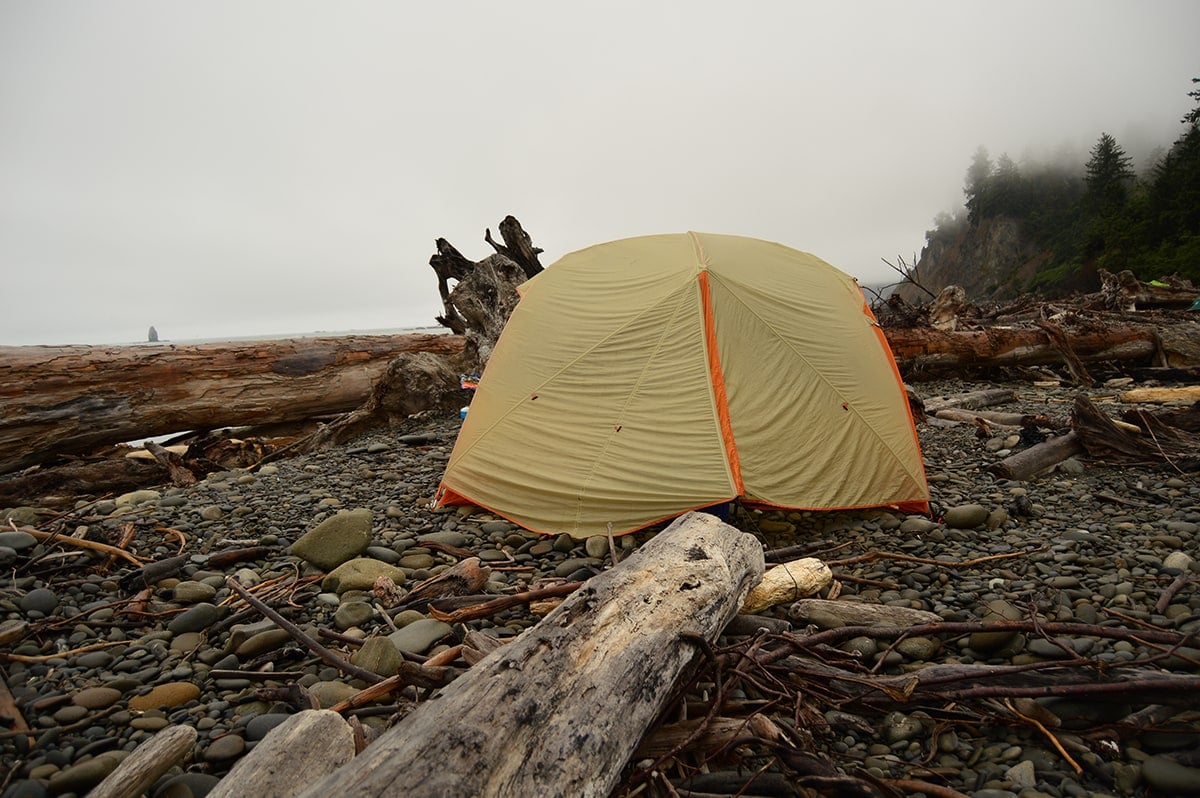 Day 2: Toleak Point Campsite to Mosquito Creek
Distance: 4.6 miles
Time: ~3-4 hours
This segment of the South Coast Trail is short and a great day to take your time and enjoy the tide pools. You'll hike for about a mile on the beach before reaching an overland point where you'll find an inland trail marked by the circular black and orange sign. The inland section here is a little longer than the first day and when the trail led back to the sand I took an hour long break to do some yoga on the beach – it was wonderfully slow-paced and peaceful.
There are a couple river crossings on this day about two miles in – Falls Creek and Goodman Creek. If you choose to cross Falls Creek during high tide, the water may be waist-deep (normally shin-deep). Goodman Creek is ankle deep. After crossing both these rivers, you'll be walking on the beach for about two miles before reaching Mosquito Creek, where you'll find a river crossing that should be done at low tide.
The camping spots at Mosquito Creek are primarily in the forest right off the overland trail. These spots can be regularly taken in the summer months. Camp on the beach if there are no forest spots (a better option anyway, in my opinion). This was one of our favorite nights on this Washington beach backpacking trip because we spent hours exploring the beach and looking at the sea anemones in the pools.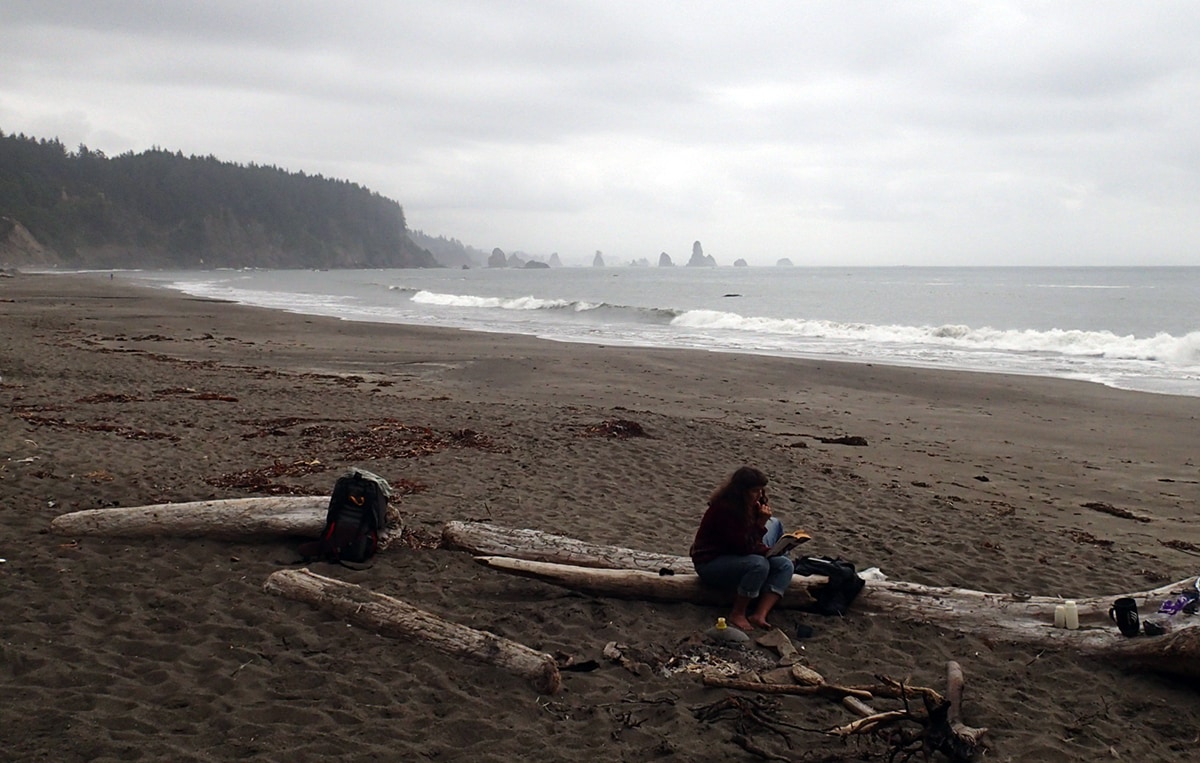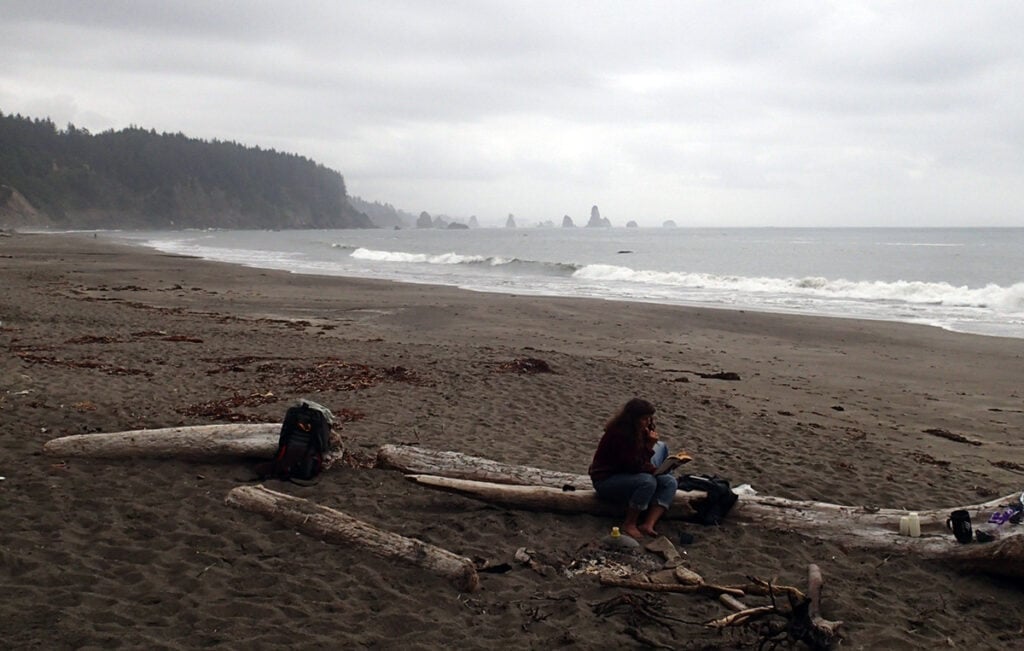 Day 3: Mosquito Creek to Oil City Trailhead
Distance: 6.1 miles
Time: ~4-5 hours
The final day of this Washington beach backpacking trip is mostly in the rainforest. A lush, green environment feels welcome after days of trekking on the sand.
The inland trail can often get muddy and wet, so be aware of the conditions and come prepared. Caution should be used on the ladder when entering Jefferson Cove as it's often wet and unstable.
South of Jefferson Cove is Diamond Rock. This is a tidal restricted area that should only be crossed at a tide of 2 ft or lower. When you get to the Hoh River you'll follow a short trail along the river that will lead you back to the Oil City Trailhead.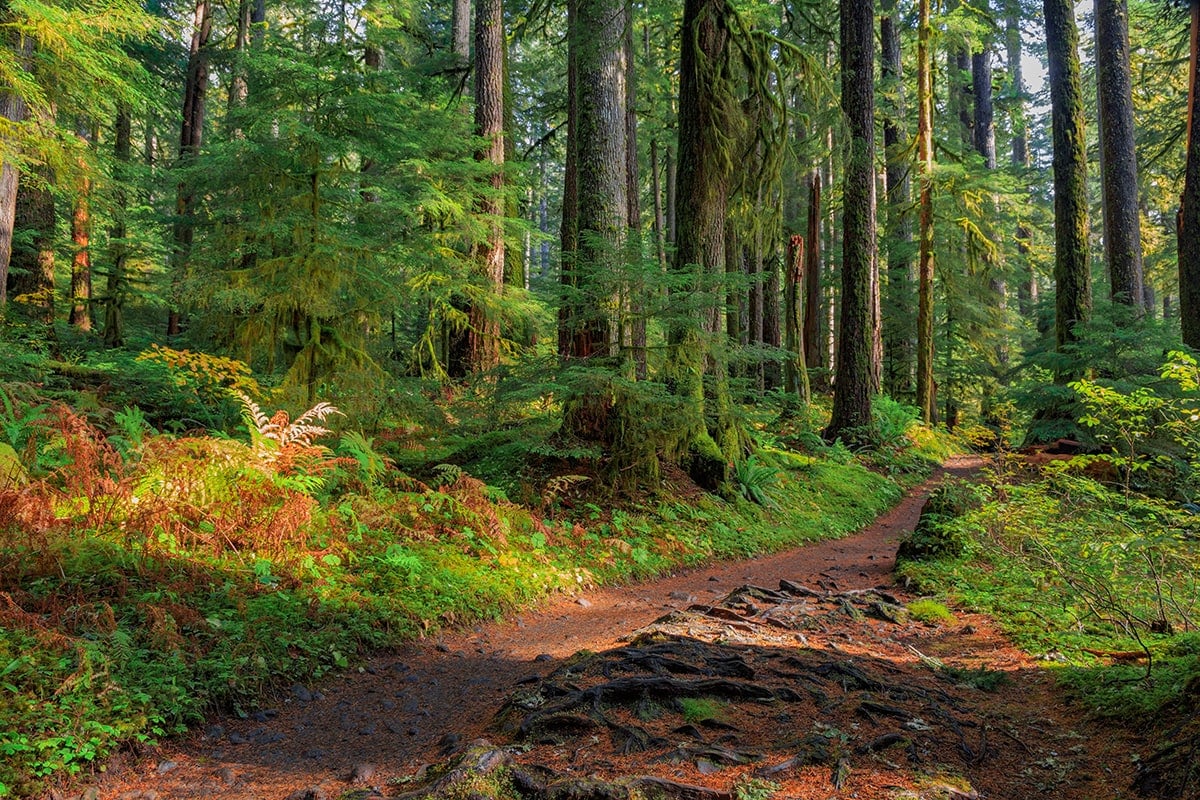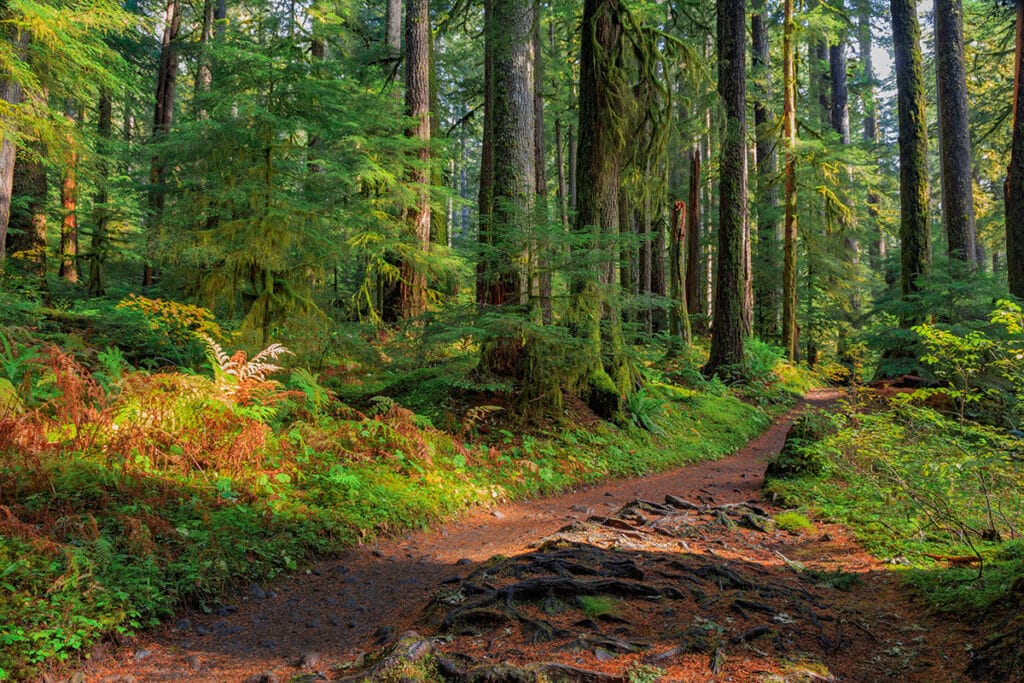 Do you have any questions about backpacking the South Coast Trail in Olympic National Park or have you done it? Leave a comment below!