7 Best Hikes in Portland, Oregon
Discover the best hikes in Portland, Oregon to get away from the hustle and bustle of the city and enjoy the natural areas around town!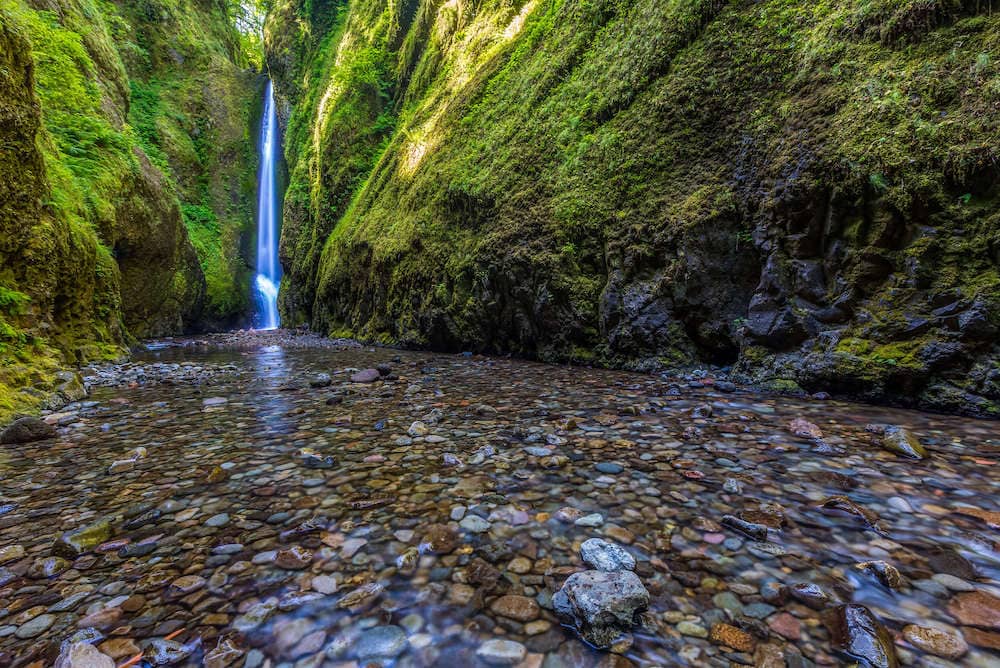 Nestled between two mountain ranges and the fertile Willamette River Valley, Portland, Oregon is designed for spectacular hiking. This heavily forested city boasts over 14 square miles of parkland and truly breathtaking natural areas within a one-hour drive from the city center. From the Columbia River Gorge to forests, cinder cone volcanoes, and sweeping vistas of the entire city, the best Portland hikes showcase the diverse topographical nature of the landscape.
I have lived in Portland for over 25 years and I know these trails like I know my own two feet. One of the things I love most about my city is that you can "get away from it all" without much fuss. In this guide, I outline the very best Portland hikes, most of which are found within the city limits.
Looking to hit the trail? We've rounded up the best hikes in Portland, Oregon so you can easily plan your next adventure.
As it goes in all of the destinations we share, please practice good trail etiquette and
remember to Leave No Trace. This means packing out all of your garbage, being respectful to others on busy trails, and following the established rules.
Map of Best Portland Hikes
---
Best Hikes in Portland, Oregon
Tryon Creek Outer Loop Hike
Distance: 5.7-mile loop
Elevation Gain: 630 feet
Time: 2 hours
Difficulty: Moderate
Trailhead start: Tryon Creek Nature Center
Dogs Allowed: Yes, on leash
Tryon Creek State Natural Area is the only State Park within the Portland city limits. The lush canopy of thick vegetation and 100+-year-old trees create a wooden wonderland in southwest Portland. There are over 8 miles of hiking trails in the park that wind down to Tryon Creek where you might spot some beavers working along the creek bed or other wildlife like coyotes, red foxes, deer, skunks, and six types of salamander.
The Outer Loop Trail is shared with hikers, cyclists, and equestrians, so be sure to give the right of way to the horses and bikes and make sure to keep your dog on a leash. There is a short part of the trail that dips into suburban Lake Oswego before rejoining the park.
In January 2021, the Terry Riley Bridge was crushed by a fallen tree and the Lewis and Clark Trail is currently closed. Take the North Horse Loop instead of the Lewis and Clark trail to complete the Outer Loop Hike.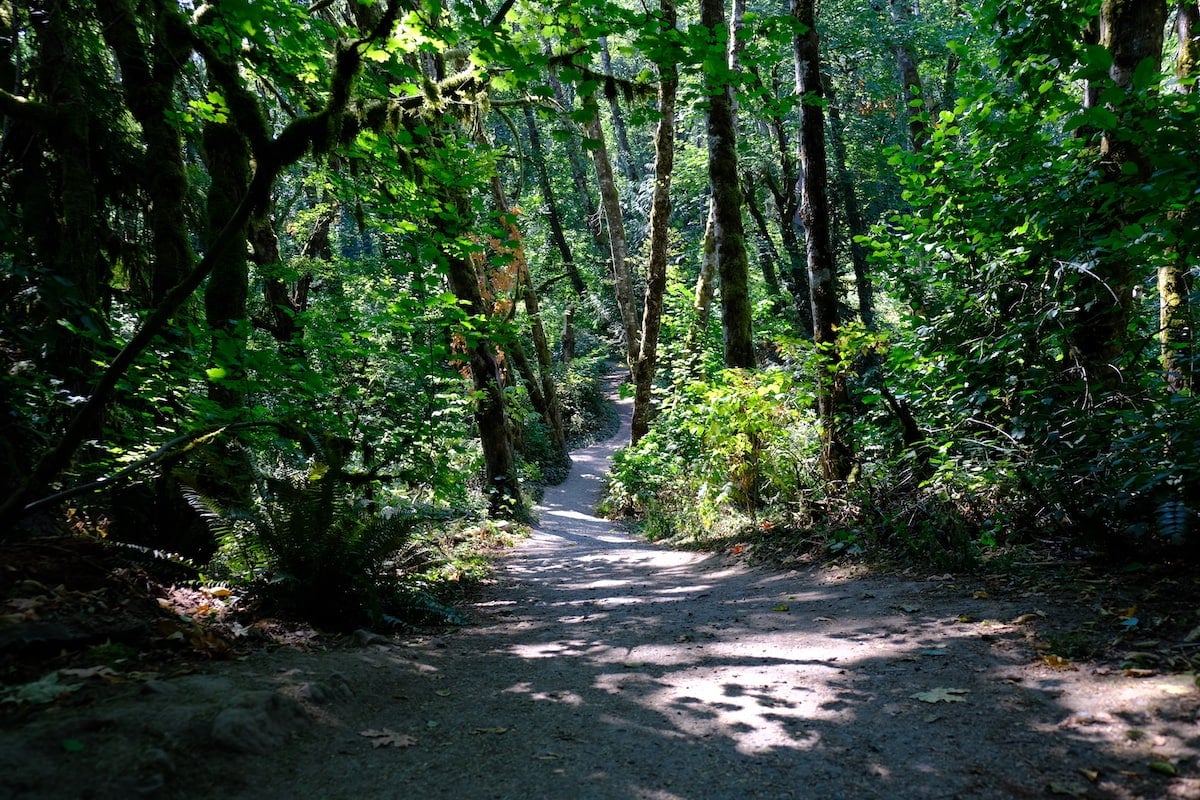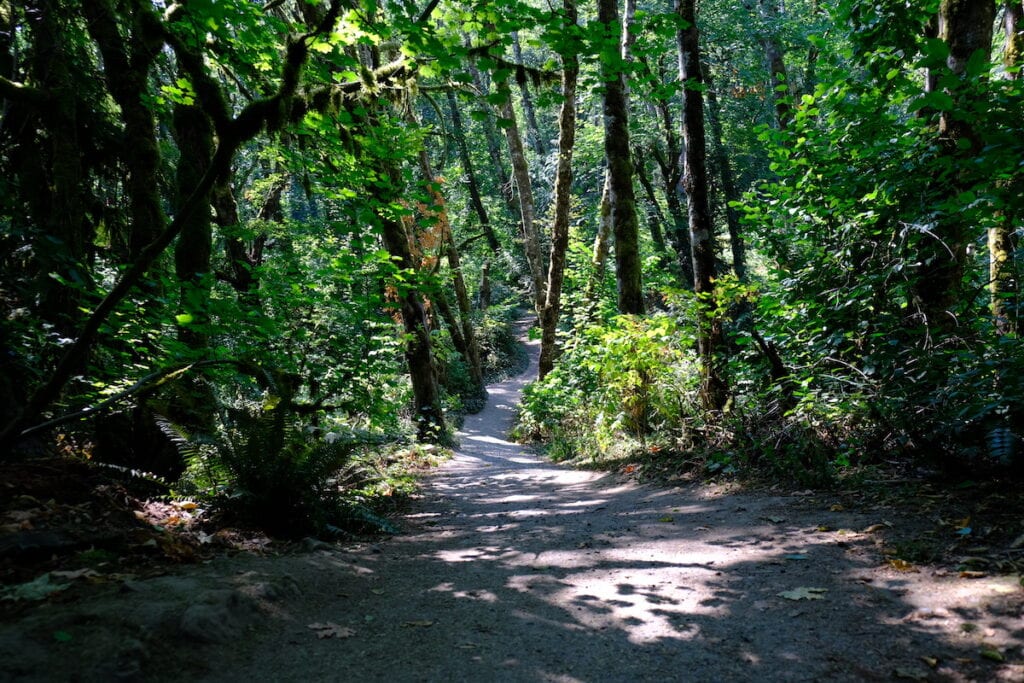 Council Crest
Distance: 3.3 miles
Elevation Gain: 820 feet
Time: 50 minutes
Difficulty: easy
Trailhead start: Marquam Nature Park Trailhead
Dogs Allowed: Yes
Get your quads working with this steady, gentle, and consistent climb up through the storied West Hills. Most of the Council Crest trail is under a leafy canopy of Douglas fir, big leaf maple, and western hemlock trees all native to Oregon.
There are a few city street crossings to make as you make your way higher and higher to the summit of Council Crest. While the park endpoint is accessible by car, the stunning vistas of Downtown Portland as well as Mt Hood, Mt. Rainier, and Mt St. Helen's will taste so much sweeter after a great hike.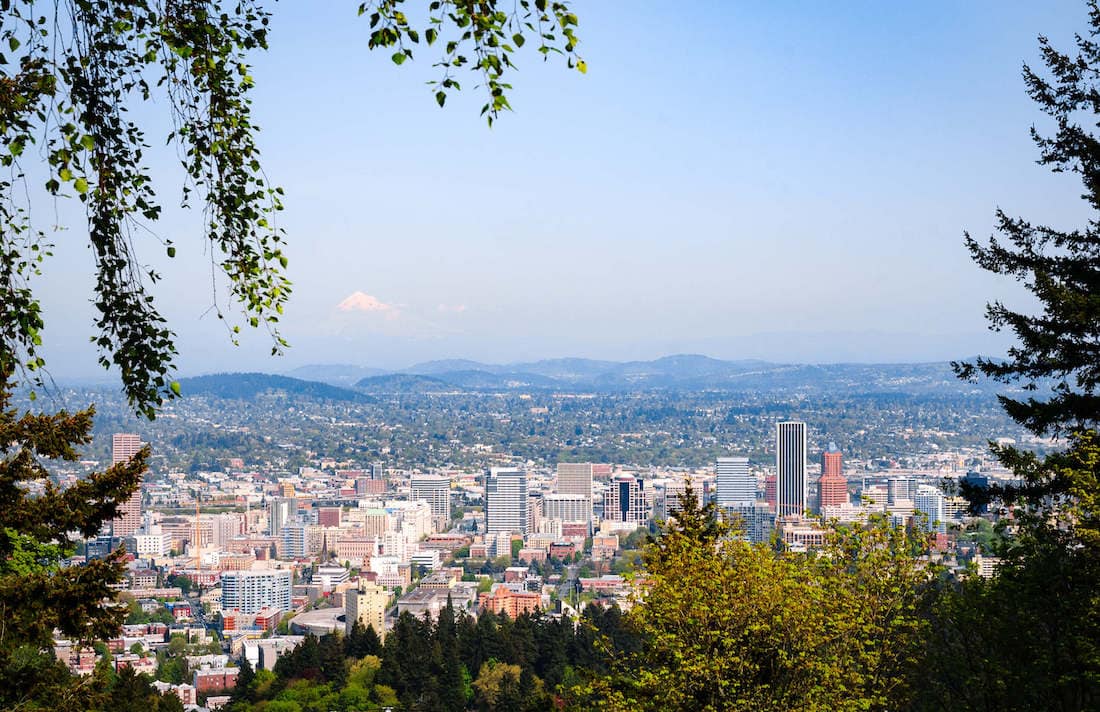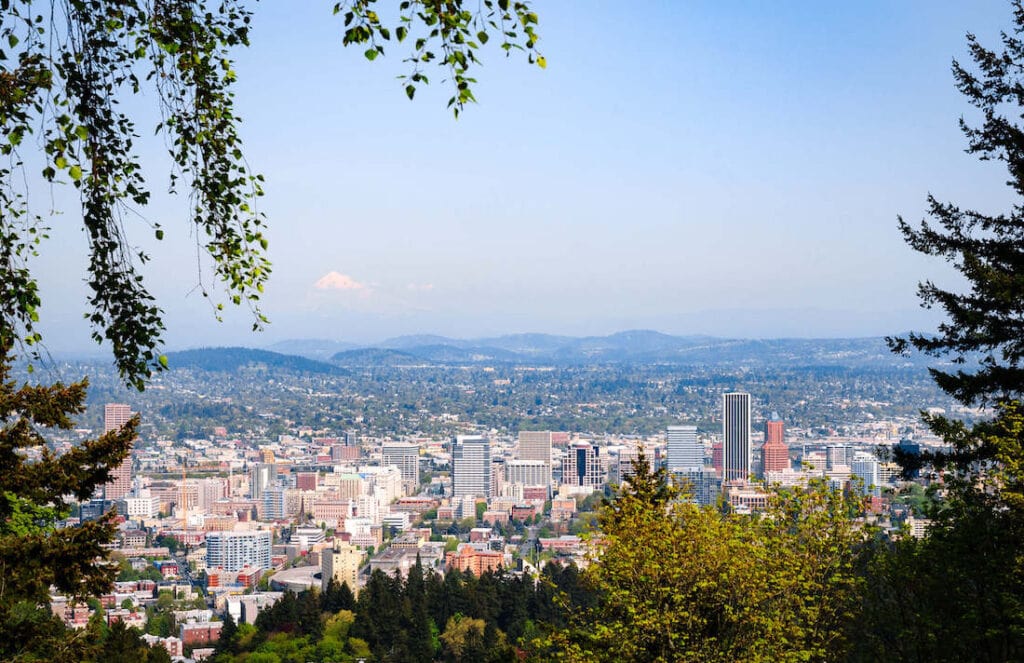 Oaks Bottom Loop
Distance: 3.8 miles
Elevation Gain: 125 feet
Time: 90 minutes
Difficulty: Easy
Trailhead start: Sellwood Park trailhead
Dogs Allowed: Yes, on leash
A vast number of waterfowl and other birds make their homes in the Oaks Bottom Wildlife Refuge located in Southeast Portland along the Willamette River. Start the Oaks Bottom Loop hike from the Sellwood Park trailhead and walk down a steep, often muddy embankment to Oaks Bottom. From there, hikers follow the easy, flat Bluff Trail passing the centerpiece of the refuge, the Wapato Marsh where you can see all kinds of ducks, Great Blue Herons, nutria, and with some luck, the family of otters who have taken up residence.
The Bluff Trail then loops around Tadpole Pond and for a brief section, hikers will walk along the Springwater Corridor Trail, a bicycle-friendly path that makes a 40 miles loop around the City of Portland and then loops back to the starting point. This quintessential urban hike shows off the very best of Portland's natural environment and its location in the heart of the city makes for easy access.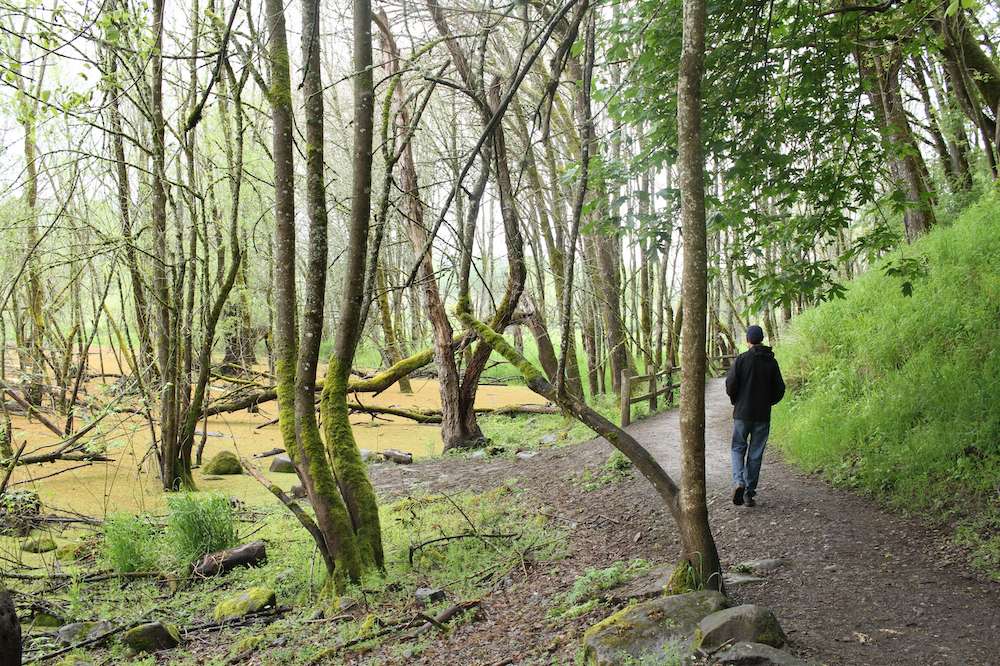 Forest Park Wildwood Trail Leif Erickson Loop
Distance: 4.3 miles
Elevation Gain: 479 feet
Time: 1 hour 47 minutes
Difficulty: Easy-Moderate
Trailhead start: NW Thurman Street where it ends at the Forest Park entrance
Dogs Allowed: Yes, on leash
Forest Park is one of the largest urban parks in the U.S. boasting over 5,200 acres of land and 80 miles of trails. This popular family and dog-friendly hike follows a section of the Wildwood trail, a 30-mile natural surface hiking trail that spans the length of the park. The Leif Erickson Drive section of this hike shares the trail with cyclists so be sure to keep your dog on her leash and your kids close by because riders can get going quite fast as they make their long descent.
In the spring, Forest Park sparkles with trillium, brightening the densely forested canopy of native wildlife. The trails are often muddy and quality footwear and trekking poles are recommended during the heart of the rainy season which in Portland seems to last about 9 months.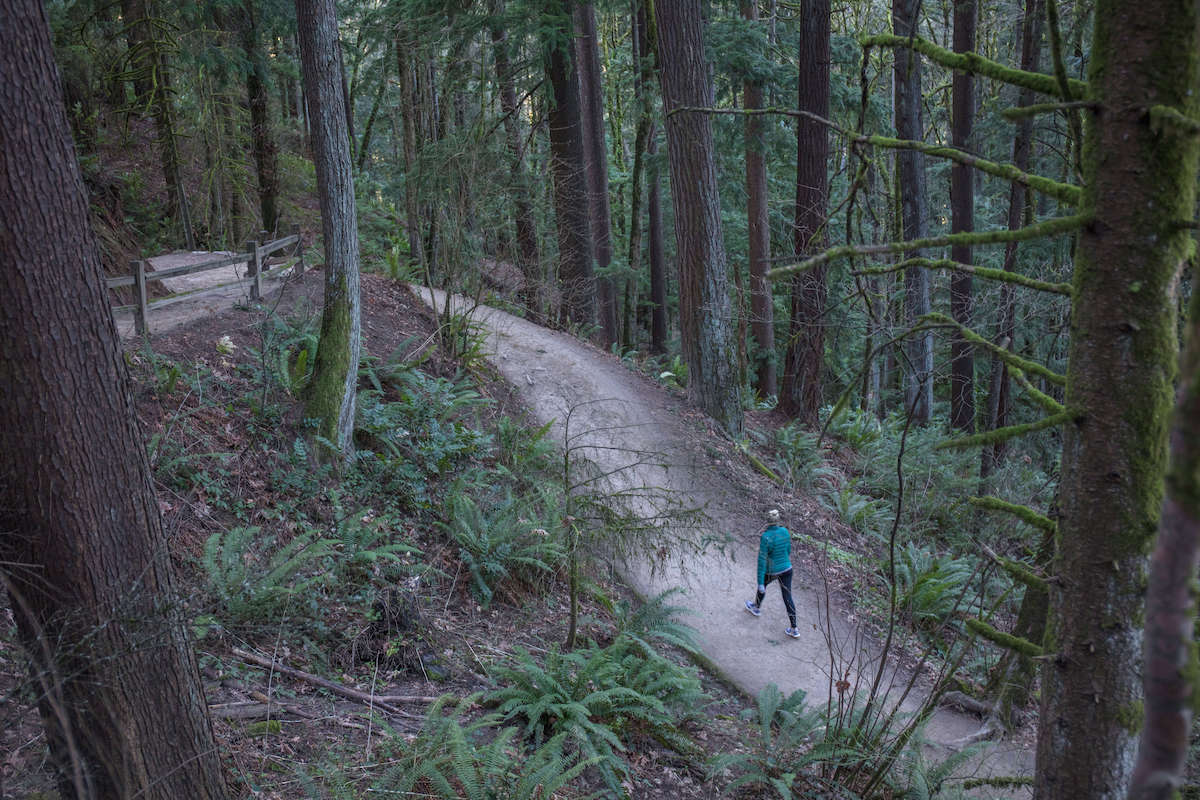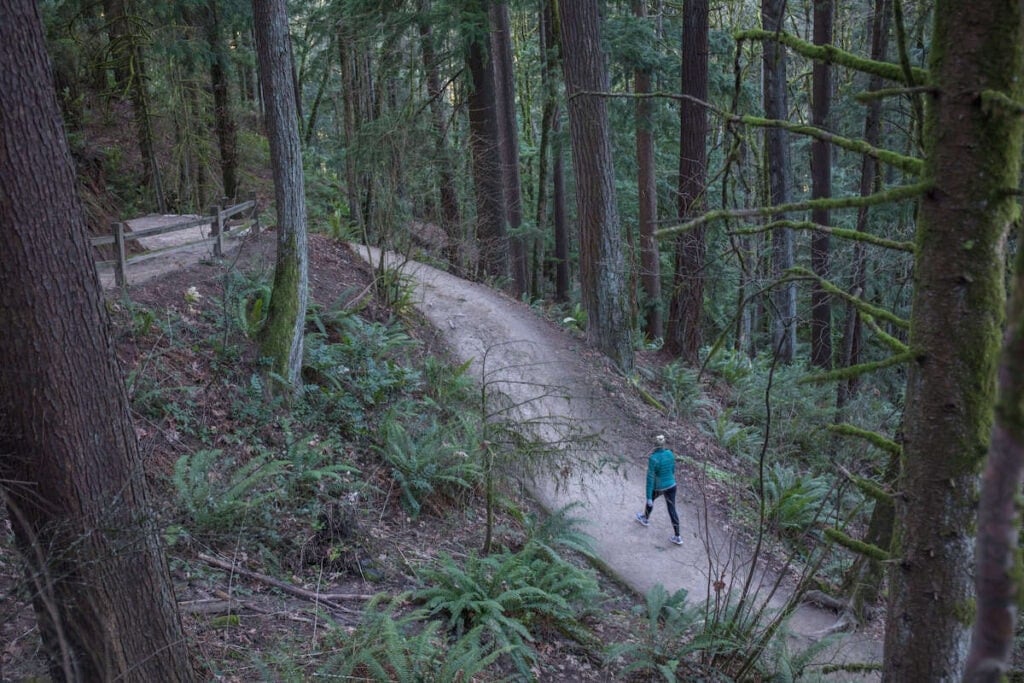 Mount Tabor Loop Trail
Distance: 1.9 miles
Elevation Gain: 213 feet
Time: 40 minutes
Difficulty: Easy
Trailhead start: Mt Tabor parking lot, SE 60th and SE Salmon Street
Dogs Allowed: Yes, on leash except for designated off-leash area
Portland's Mt. Tabor rests atop a volcanic cinder cone. The park was established in 1909 and until recently, housed reservoirs that supplied drinking water to Portland homes. The historic open reservoirs remain a key feature of the park along with a spectacular prized view of Portland from the park's summit. On a clear day, the bridges that span across the Willamette River, downtown, and the West Hills are in full view.
The Mount Tabor Loop Trail is an easy walk around the park, including a steep set of stairs and a partially shared path with cyclists. There is an off-leash section of Mount Tabor Park located in the southeast section close to Warner Pacific University for canine friends to run free. Each August Mount Tabor is home to the ultimate in Portland weirdness, the adult Soap Box Derby where competitors race down the winding paved path hoping to avoid crashing on a turn affectionately called Dead Man's Curve.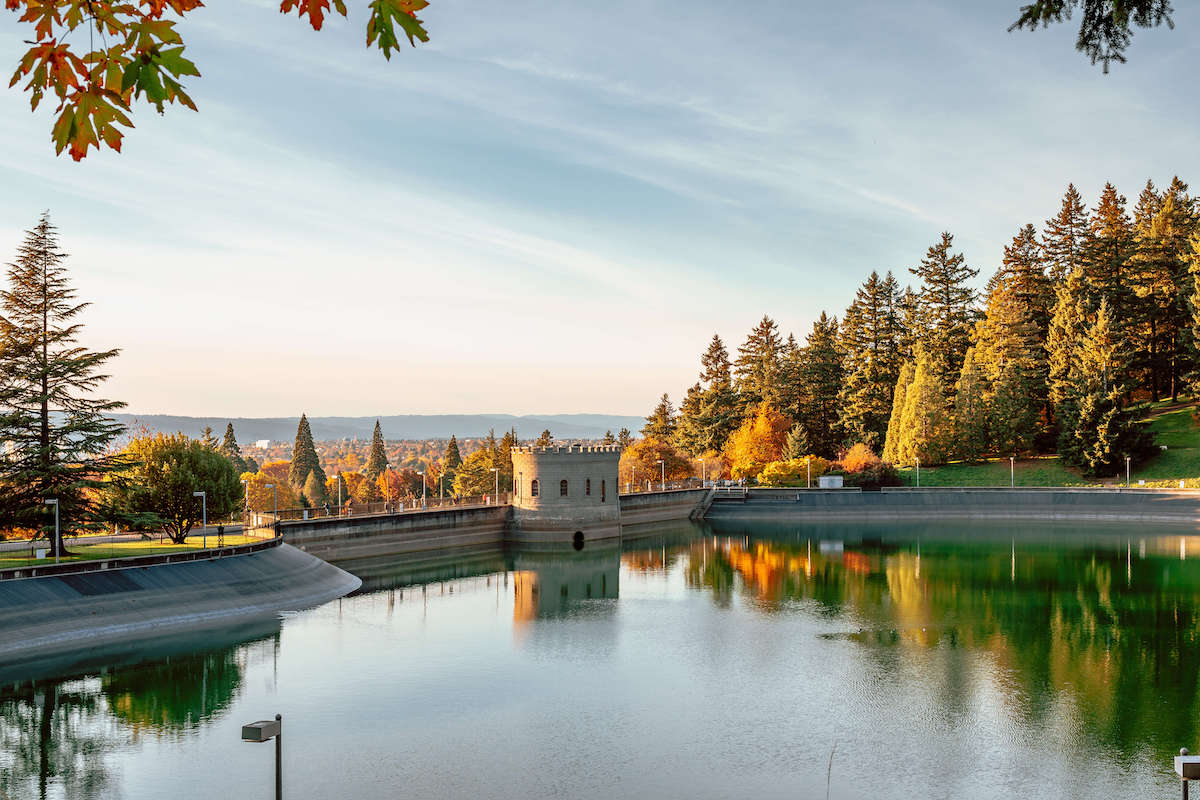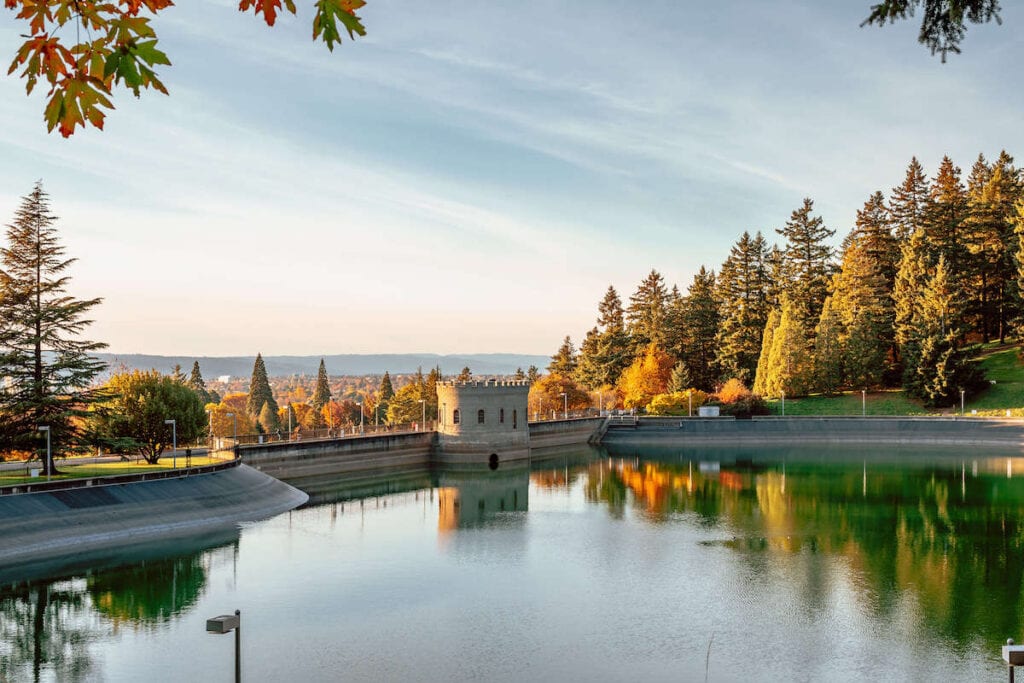 Recommended Hiking Packing List
Below are a few of my favorite pieces of day hiking gear and recommendations:
Best Hikes Near Portland, Oregon
Oneonta Trail
Distance: 5.6 miles
Elevation Gain: 1633 feet
Time: Three hours
Difficulty: Moderately challenging
Trailhead start: In Oneonta just off the Columbia River Highway
Dogs Allowed: Yes, on leash
The Oneonta Trail is a family favorite. This challenging and popular hike in the Columbia River Gorge is about a 45-minute drive from Downtown Portland. Our preferred route is to make an almost loop by starting out on the steep uphill climb up the Oneonta Trail. If you follow the trail to Triple Falls and then connect to the Horsetail Falls trail for the descent, you will end up about ¼ mile down the Columbia River Highway from the small eight-car parking lot at the base of the Oneonta Trailhead and will walk up the single-lane highway back to the parking lot.
On a hot summer day, there is nothing better than the unofficial Oneonta Gorge Trail that will have hikers wading waist-deep in crystal clear and cold water, scrambling over downed logs until making it the ultimate waterfall graced swimming hole about a mile in. The log jam is not family or dog friendly and you need to be careful on the wet, slippery logs.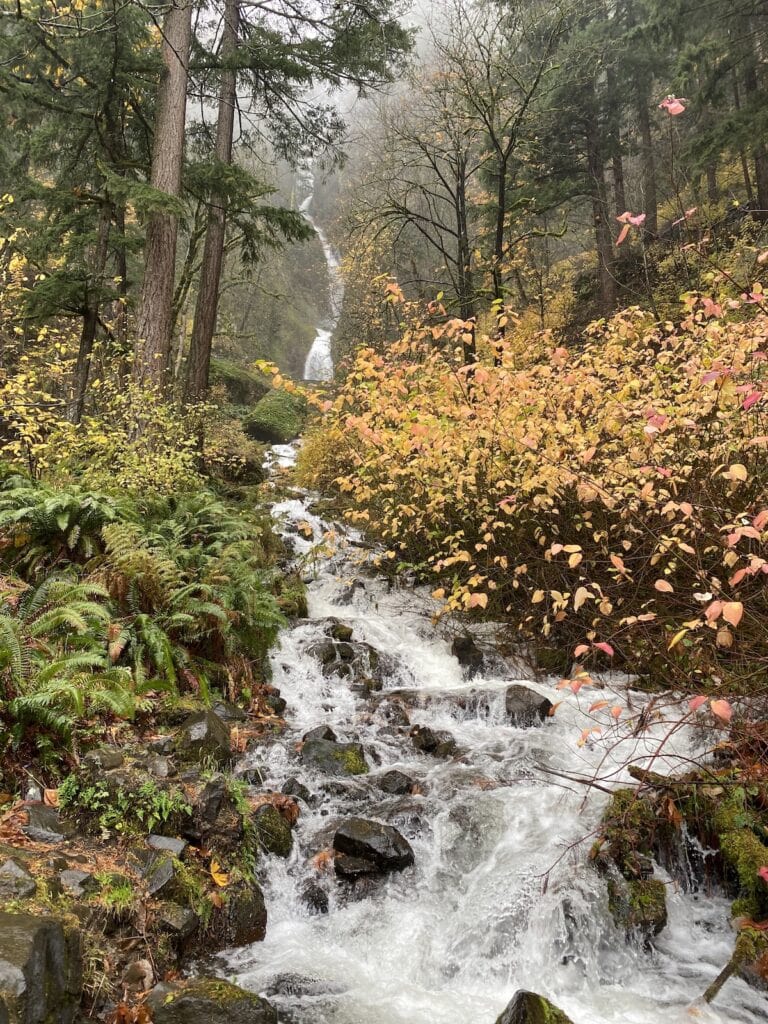 Dog Mountain
Distance: 6.5 miles
Elevation Gain: 2,988 feet
Time: 4 hours 10 minutes
Difficulty: Hard
Trailhead start: Highway 14, just past Carson, Washington
Dogs Allowed: Yes, on leash
Dog Mountain is widely considered to be "the" best Portland area springtime hike. An explosion of wildflowers covers the mountainside and the trail takes full advantage of the spectacular scenery.
Located on the Washington State side of the Columbia River Gorge, the drive to the trailhead from Portland takes about an hour. As hikers climb up the mountain, better and better views of the mighty Columbia River come into view, and the town of Hood River just a bit east of the trail.
Unlike many Portland hiking trails, most of the Dog Mountain hike is fully exposed. On a clear day, the trail can get hot so be sure to pack extra water and sturdy hiking shoes for the rugged uphill climb. The view from the summit of Dog Mountain, though, is worth every ounce of sweat and burn.
There are a number of parking spots at the trailhead and the lot fills up quickly on spring weekends. The Columbia River Natural Scenic Area charges a fee to enter, so be prepared to pay for parking.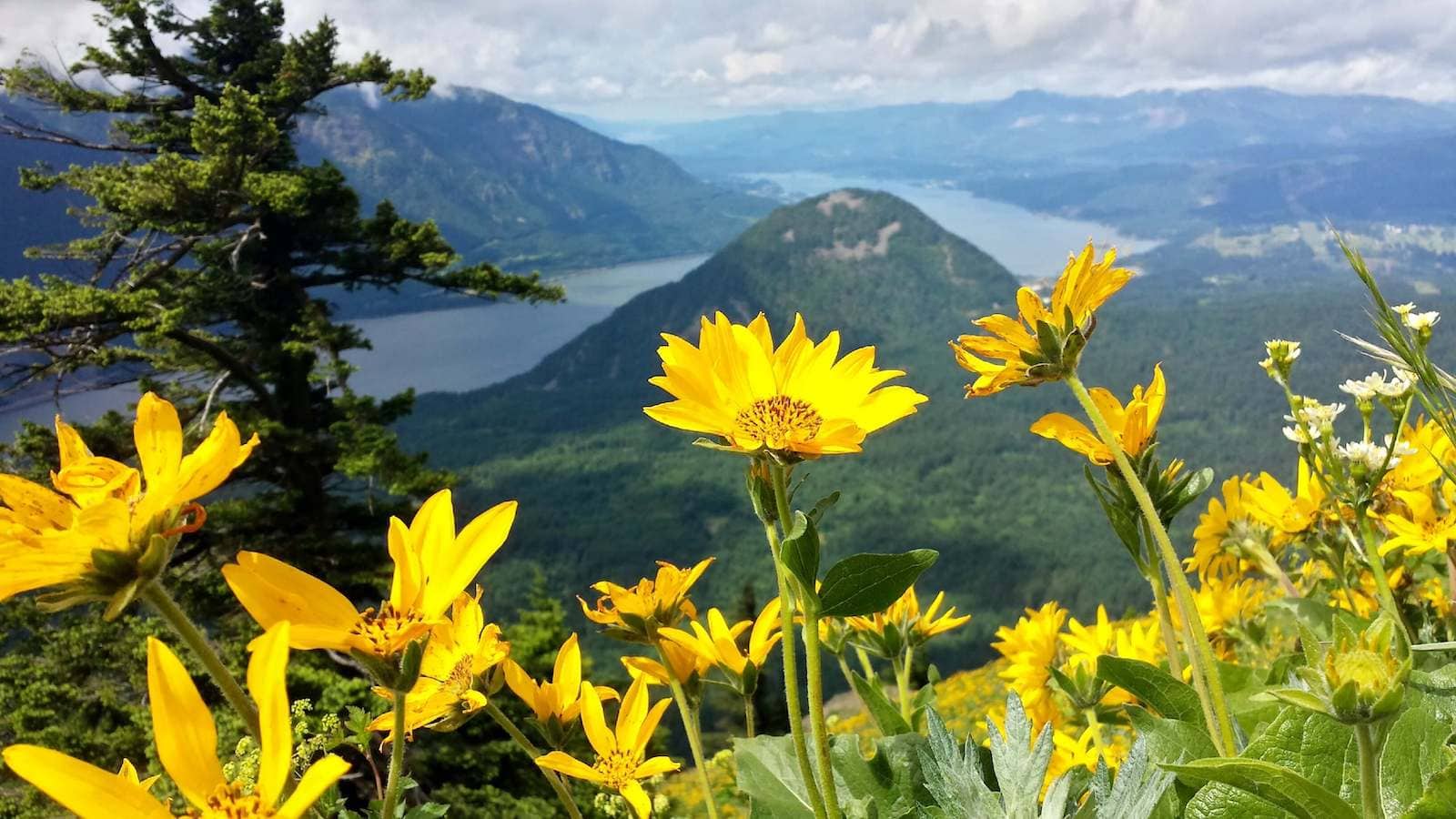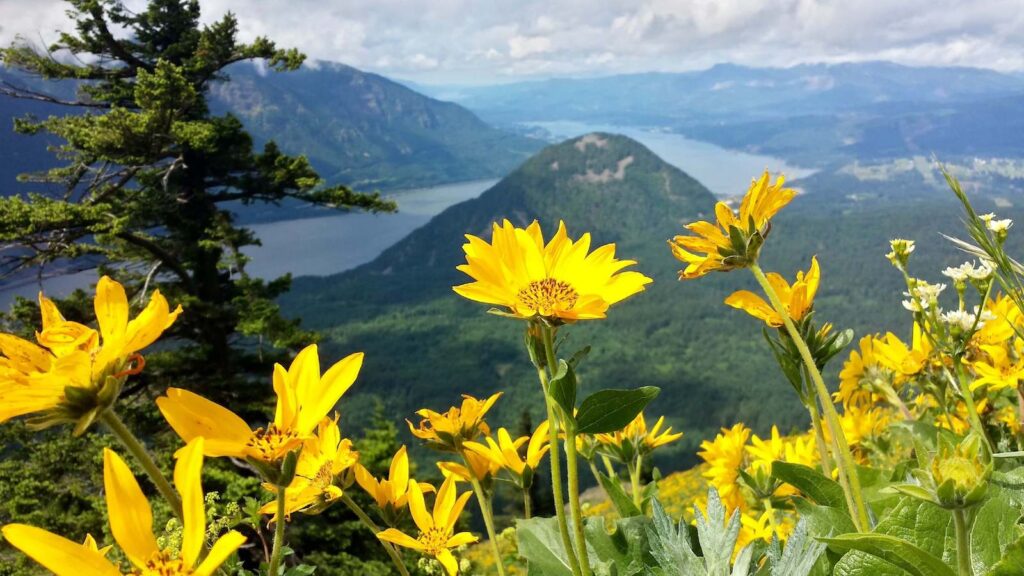 ---
Tips for Hiking Around Portland, Oregon
Here are a few tips to help you stay safe and make the most of your hikes near Portland:
Safety is important when hiking in and around Portland. Be sure to bring all the hiking essentials whenever heading out into the wilderness.
It rains in Portland frequently. Be sure to pack layers and rain gear and expect to get wet.
Hiking is a very popular weekend activity in Portland. Some trails have limited parking spots so aim to arrive at the trailhead either before the crowds in the morning or wait to start hiking until the later afternoon.
---
What are your favorite hikes in Portland? Did we miss any? Let us know in the comments!