Wolfe's Neck Camping in Maine: A Complete Guide
Learn everything you need to know about planning a camping trip to Wolfe's Neck Oceanfront Campground near Freeport, Maine.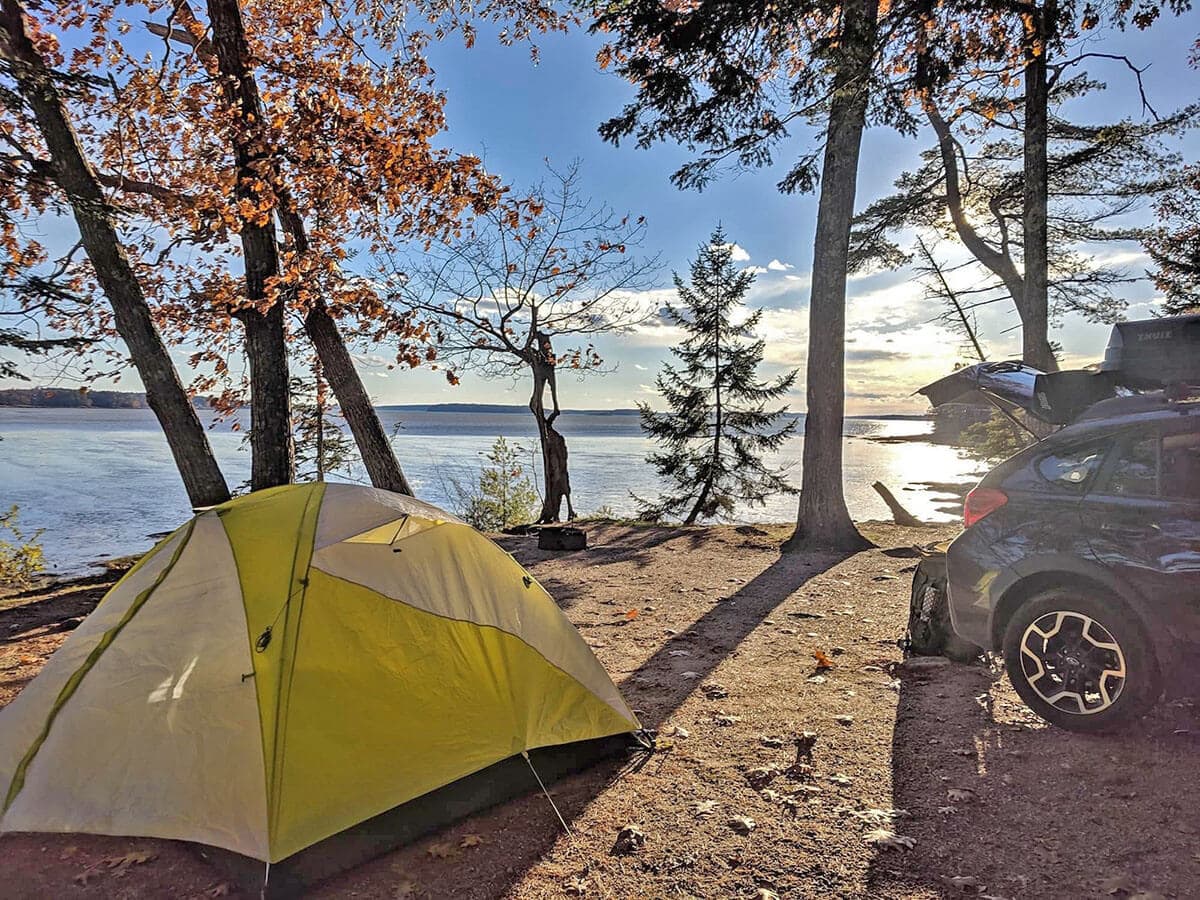 If you've been to Maine, you most likely visited Acadia National Park and fell in love with Maine's laidback vibe, coastal hikes, and tree-filled landscapes. Maine has even more hidden gems to be discovered and camping in Wolfe's Neck's Oceanfront Campground is one of those. After a busy week of moving into our new place in Portland, Maine, a night outside was just the thing my husband and I needed to hit reset. Luckily, we were able to scratch that itch with a quick 30-minute drive north to Wolfe's Neck for a much-needed car camping trip.
This waterfront campground has everything you might want out of a trip to the coastal town of Freeport, Maine like beautiful sunrises and sunsets and plenty of wooded trails nearby to keep hikers happy. In short: we loved it and I can't wait to go back! Plus, a visit to Wolfe's Neck Oceanfront Campground also supports their non-profit organization all the while helping you get your fill of the outdoors.
So, ready to hit the road? Here's your guide to camping at Wolfe's Neck Oceanfront Campground near Freeport, Maine.
As it goes in all of the destinations we share, please practice good trail etiquette and remember to Leave No Trace. This means packing out all of your garbage, being respectful to others on busy trails, and following the established rules.
#1 campsite finder app
Try The Dyrt PRO free for 30 days
Get a FREE 30-Day membership to The Dyrt PRO, one of our favorite apps for finding campsites.
Perks include:
• 5,000+ free camping locations
• 1,000+ campground discount network
• $0 extra booking fees
• Get reservations at sold-out campgrounds, and more
Use the code BEARFOOT to get 30 days free!
How to Get to Wolfe's Neck Oceanfront Campground
Wolfe's Neck Oceanfront Campground is part of the larger Wolfe's Neck State Park, which is located just five miles off of I-295 in the beautiful town of Freeport, Maine. The campground is not far from the town center where you can find the L.L.Bean headquarters and a local food market, Bow Street Market. Be sure to grab some gear or food supplies on your way in if need be!
---
About Wolfe's Neck Oceanfront Campground
The Wolfe's Neck Oceanfront Campground is actually part of the Wolfe's Neck Center for Agriculture and the Environment. On your way into the campground, you'll pass by the farm and education center, so take a moment to learn about the incredible work they do there.
Wolfe's Neck State Farm is a one-of-a-kind, year-round, coastal farm that practices regenerative farming, a method that has been proven to reduce carbon in the atmosphere. Their mission is to educate the public and the next generation on how this type of agriculture can reverse the effects of climate change when done properly.
All the campground and park entrance fees support their hardworking team and innovative efforts. Plus, you'll find an onsite Farm Cafe where you can try out some local goodies.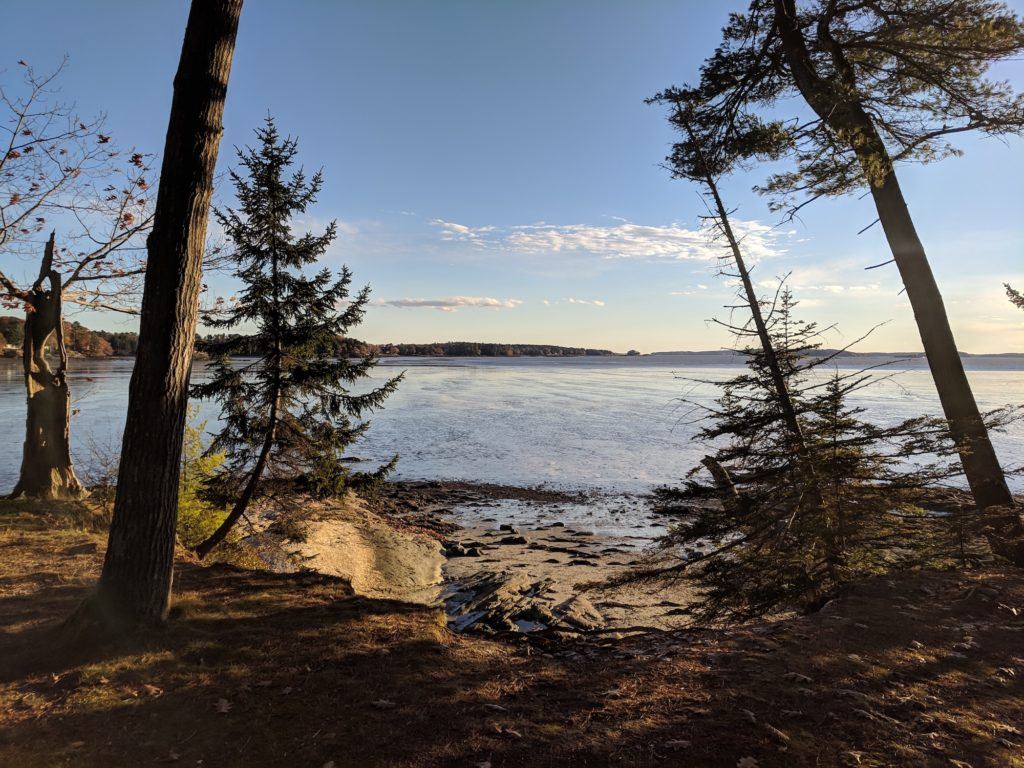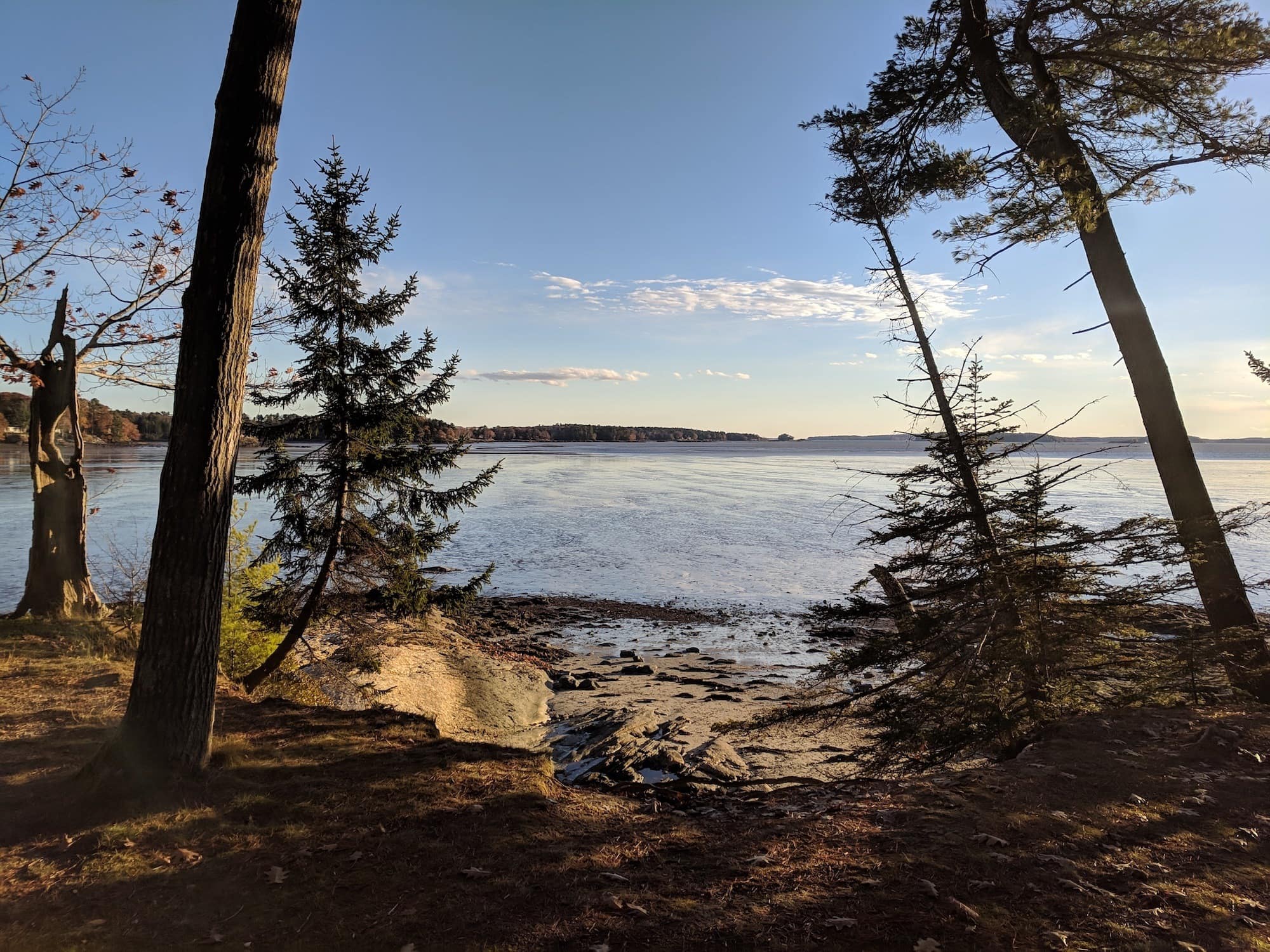 ---
Best Time to Camp in Wolfe's Neck
The Wolfe's Neck Oceanfront Campground is open year-round and depending on your style of camping, a peaceful overnight stay during the winter might be just as beautiful as a balmy summer evening. However, the high season (June through August) gets busy and you'll need to plan your stay in advance to get a prime spot.
The best time for camping in Wolfe's Neck is during September/October when the park gets quiet and the colors are about to turn. Alternatively, the farm offers programs for families with young kids during the summer, which is something to consider when planning your trip.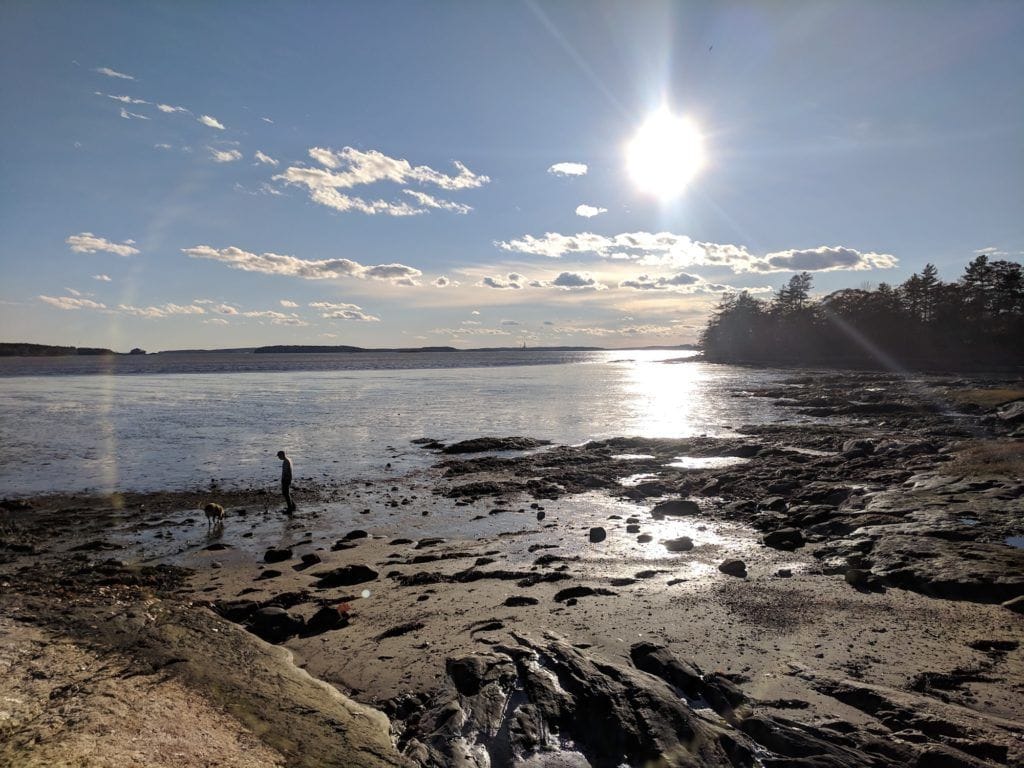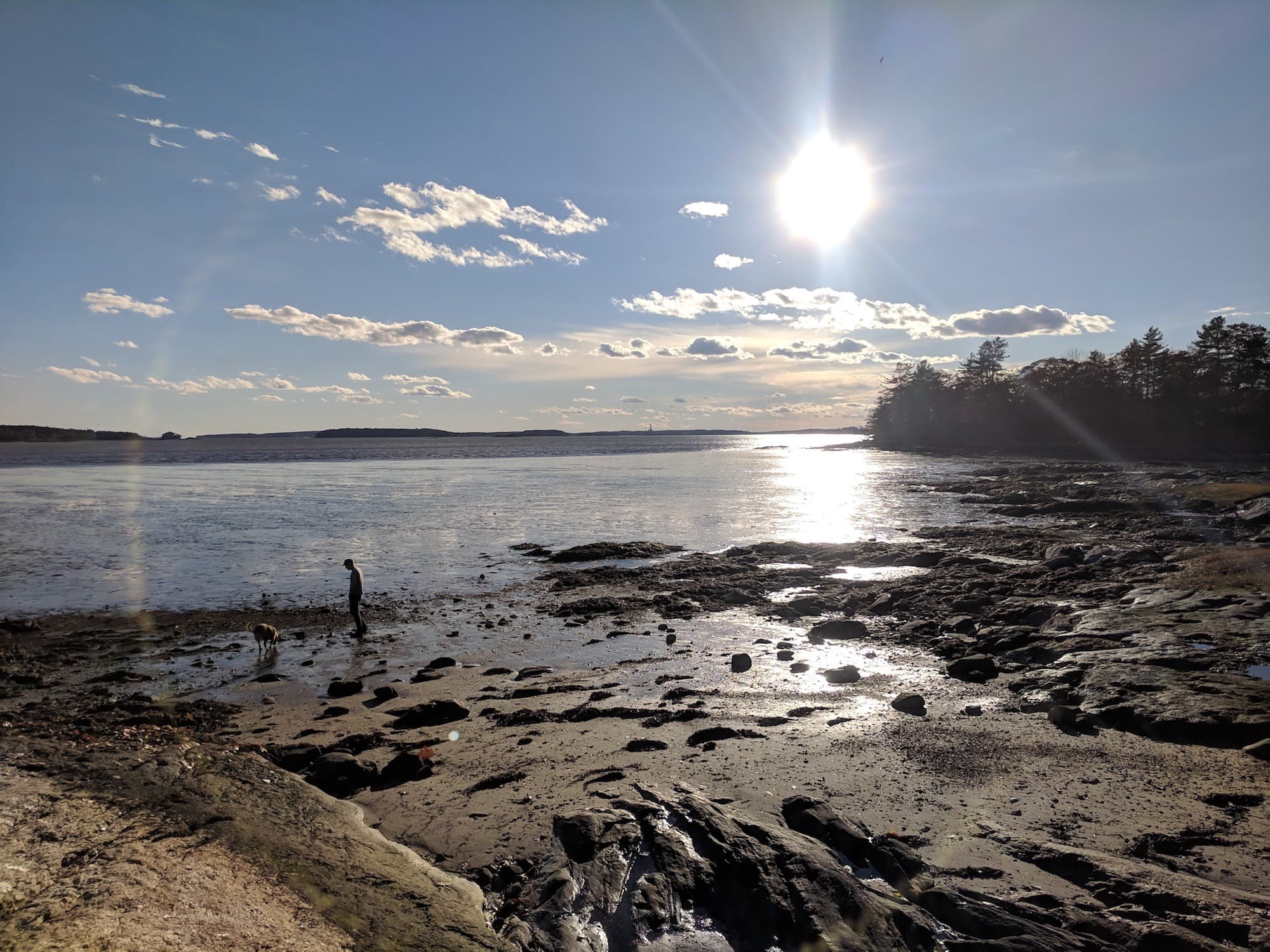 ---
Things to Do at Wolfe's Neck Oceanfront Campground
You'll want for nothing while staying at Wolfe's Neck Oceanfront Campground thanks to its 600+ acres that includes hiking trails, organic farms, biking paths, and kayaking in quiet bays. While we were there, we enjoyed a laidback night complete with a camp dinner, fire, and a stroll with our three-legged pup down by the shoreline which was easily accessible from our campsite.
Wolfe's Neck Hiking Trails
A short drive, bike ride, or walk around the corner of Wolfe's Neck Road will take you to 3+ miles of forested and waterfront hiking trails. The trails are easy for all ages and abilities and are open to the public year-round. You'll see the trails on the campground map below.
If you need even more trails, Wolfe Neck Woods State Park is just down the road and has an even larger network of hiking trails.
Biking at Wolfe's Neck
In true Maine fashion, L.L.Bean bicycles are available for rent to ride around the surrounding country and camp roads. Book ahead of time to secure your Wolfe Neck bike rentals from May through October for children and adults. Full-day rentals are $45 each.
Paddling at Wolfe's Neck
Kayak and canoe rentals are available for launch until approximately two hours before high tide with scheduled timeframes. Check the Wolfe's Neck website for more information on booking ahead of time. You can certainly give last-minute kayak or canoe bookings a shot, but rentals are not guaranteed.
Solo kayaks and canoes are $40 per tidal cycle and tandem kayaks are $70 per tidal cycle.
For more information on Wolfe's Neck bike and kayak rentals, check out their activities page.
Wolfe's Neck Farm Activities
Wolfe's Neck Center for Agriculture and the Environment hosts workshops and events all year round. To see what's currently going on at the farm center check the Wolfe Neck Center's calendar. They have tons of great activities for kids and families.
---
Camping at Wolfe's Neck Oceanfront Campground
How to make a reservation
Booking your site is easy to do online and in advance, which I highly recommend for those planning a camping trip during the high season or who want to book cabins during the winter.
There are over 130 pet-friendly campsites at Wolfe's Neck Oceanfront Campground including a hike-in area that is tents-only, sites with electric/water hookups, and three oceanfront cabins available with advanced reservations.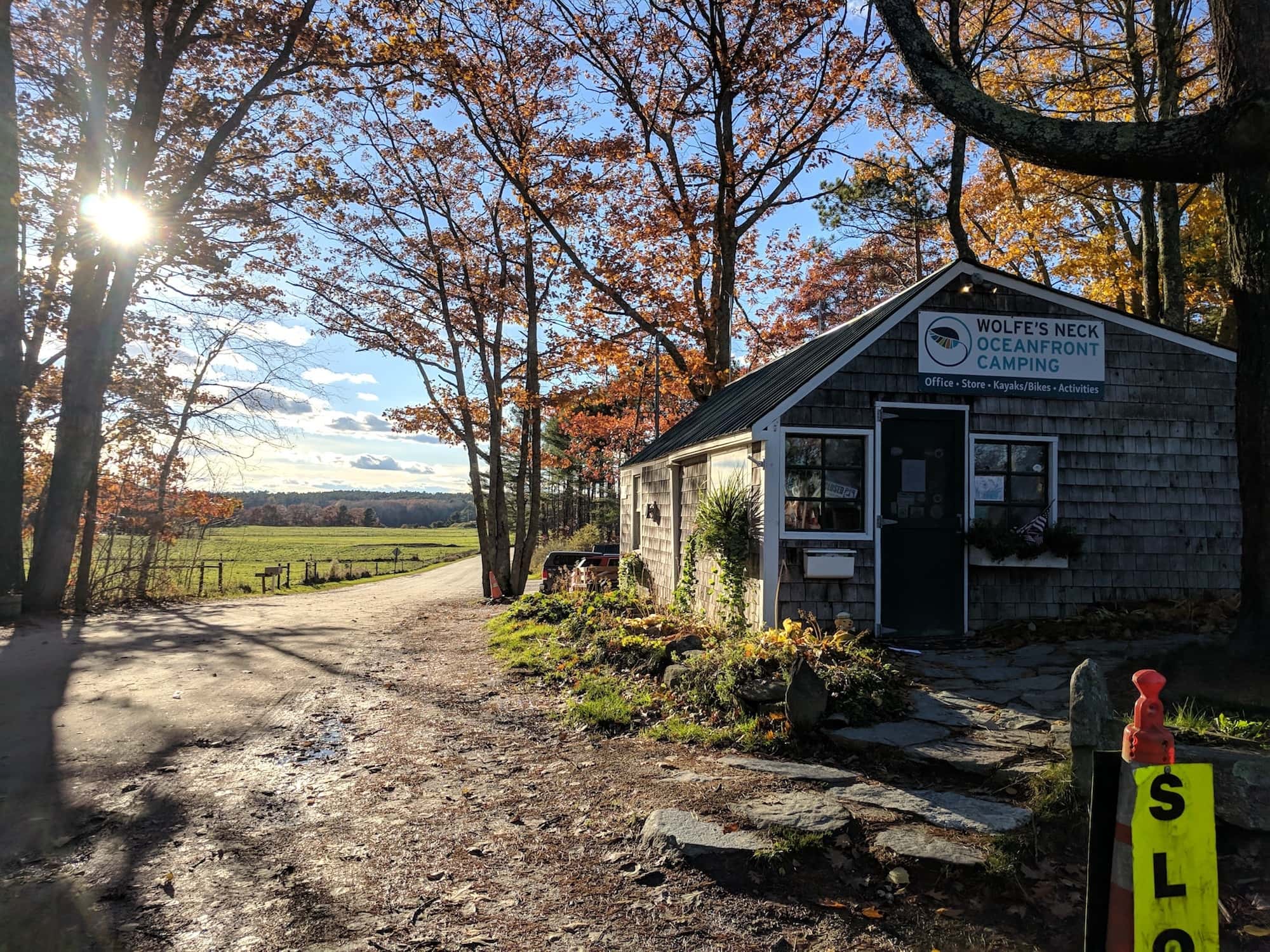 In-season camping
You can book your Wolfe's Neck campsite on the official campground website or by calling (207) 865-9307. Wolfe's Neck has a 2-night minimum stay (3 night holiday week/weekend minimum). They do accept 1-night reservations, but only on the day of the reservation and you need to book over the phone.
It's highly recommended to make reservations far in advance as in-season campsites tend to fill up quickly.
A few things to consider before booking your campsite:
A 50% deposit for stays of 4 nights or more is required
A 100% deposit for stays of 1-3 nights is required to book your stay, which becomes nonrefundable 14 days prior to arrival (30 days for cabins)
A $20 service fee will be assessed for any changes/cancellations before this point
Campsite occupancy is limited to 4 adults or up to 2 adults with children (under 18). Sites are not to exceed 6 people total.
Some sites have additional limits, so be sure t check site descriptions for more details
Off-season camping
Through late fall, winter, and early spring Wolfe's Neck has a limited number of campsites available for $25/night. Beginning November 1st, water throughout the campground is shut off (including shower buildings).
The Camp Store/Office will be closed, but instructions for self-registration are available by the office door. If there is snow on the ground or if snow is expected, you'll need to call in advance to be sure they have availability.
How to Choose a Campsite at Wolfe's Neck Oceanfront Campground
The campgrounds at Wolfe's Neck are divided into four areas: East Bay, Middle Bay, West Bay, and Quiet Cove.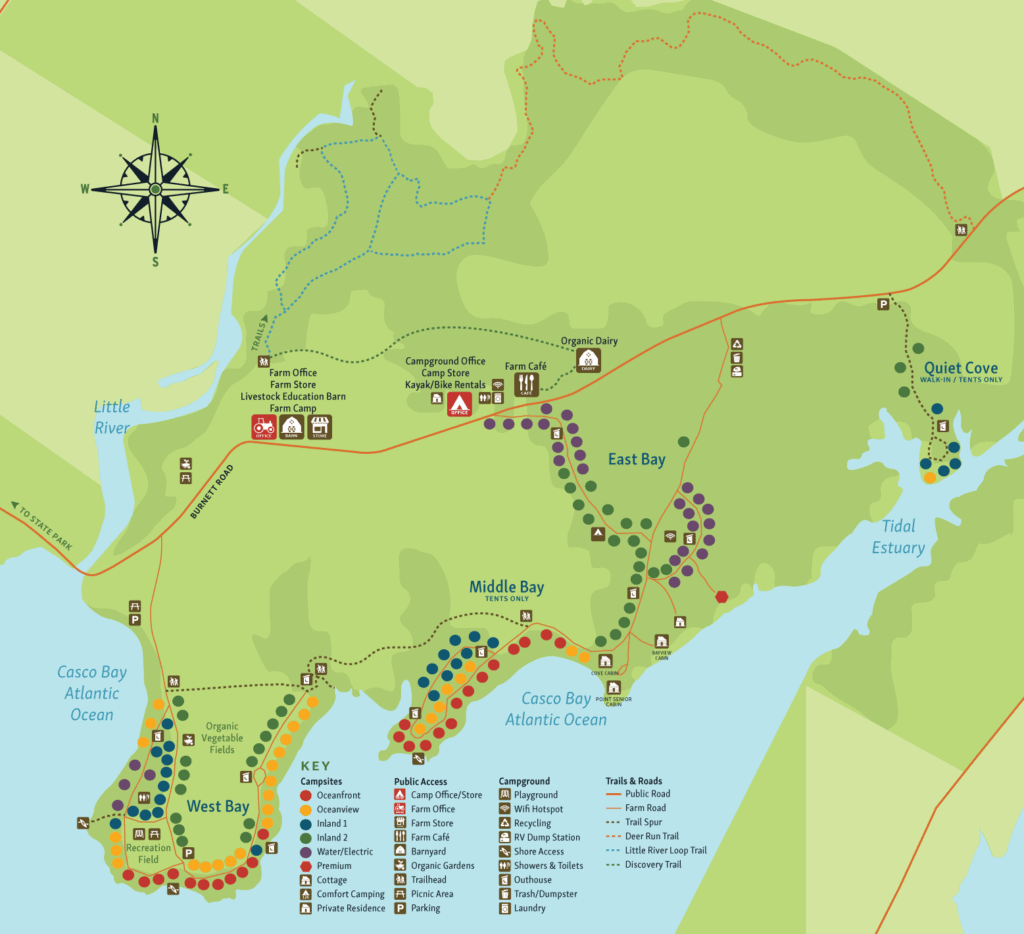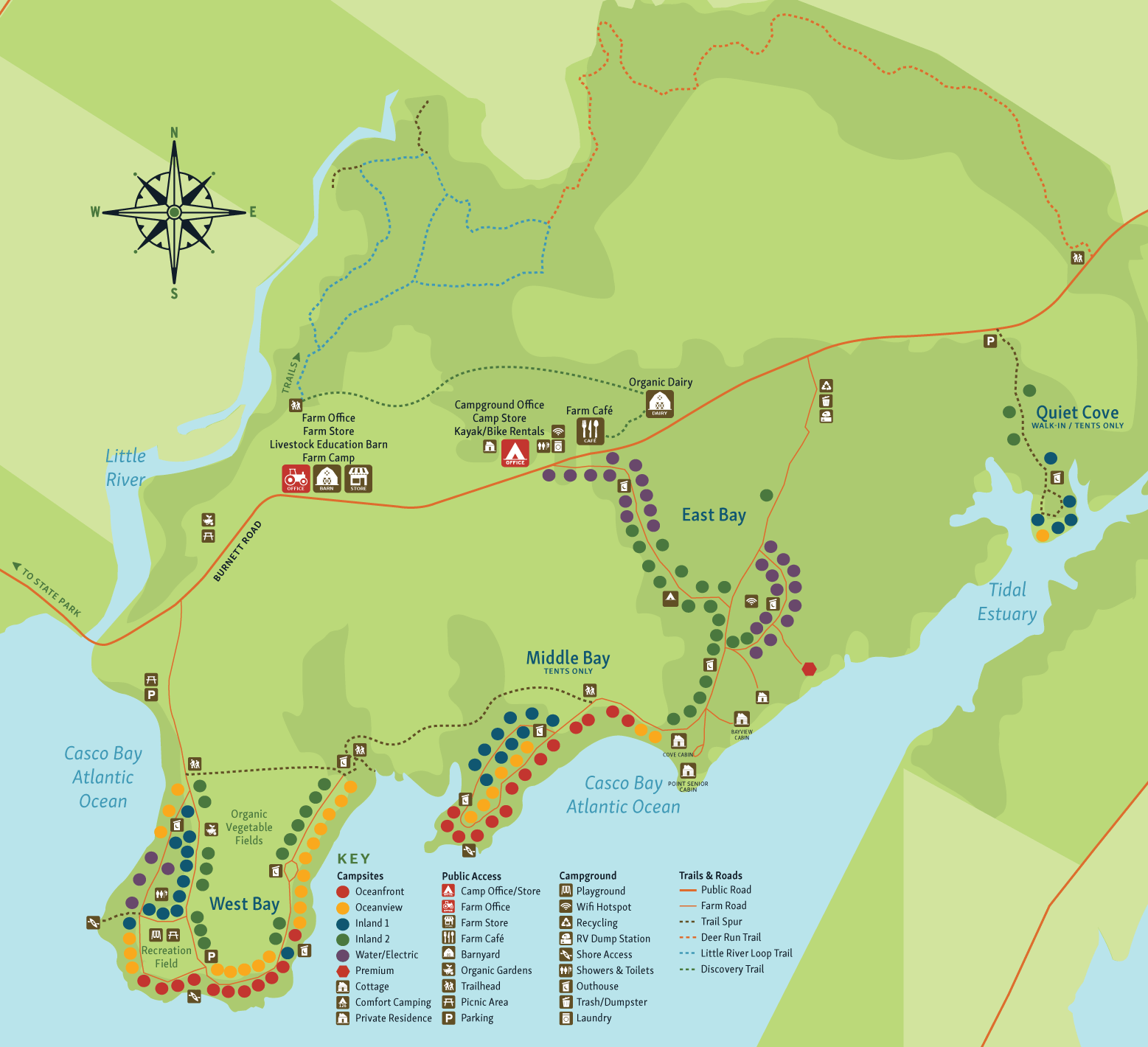 Here's a quick summary to help you choose which campsite is right for you:
East Bay Campground
The East Bay is known as the area for "Camper Convenience" and is certainly not intended for those looking to rough it for the night. There's easy access to the Farm and Camp Store in addition to the Farm Café in case you need a bite to eat.
Other amenities include:
30amp RV water and electric hookups
Private tent sites
Three oceanfront cabins
Comfort camping sites complete with a canvas tent with a queen bed, a private outhouse, and a popup canopy
Shower building
Easy access to the trailhead
Wi-Fi Hotspot
Firepits
Picnic table
Middle Bay Campground
We stayed at the Middle Bay Campground at campsite 320, which was right on the point and had a breathtaking view of the bay. This is a tent-only campground with not too much privacy between sites and is accessible by car. I highly recommend it!
Amenities include:
Firepit
Picnic Table
Easy access to beach and boat launch
Outhouse for campers
Easy access to the trailhead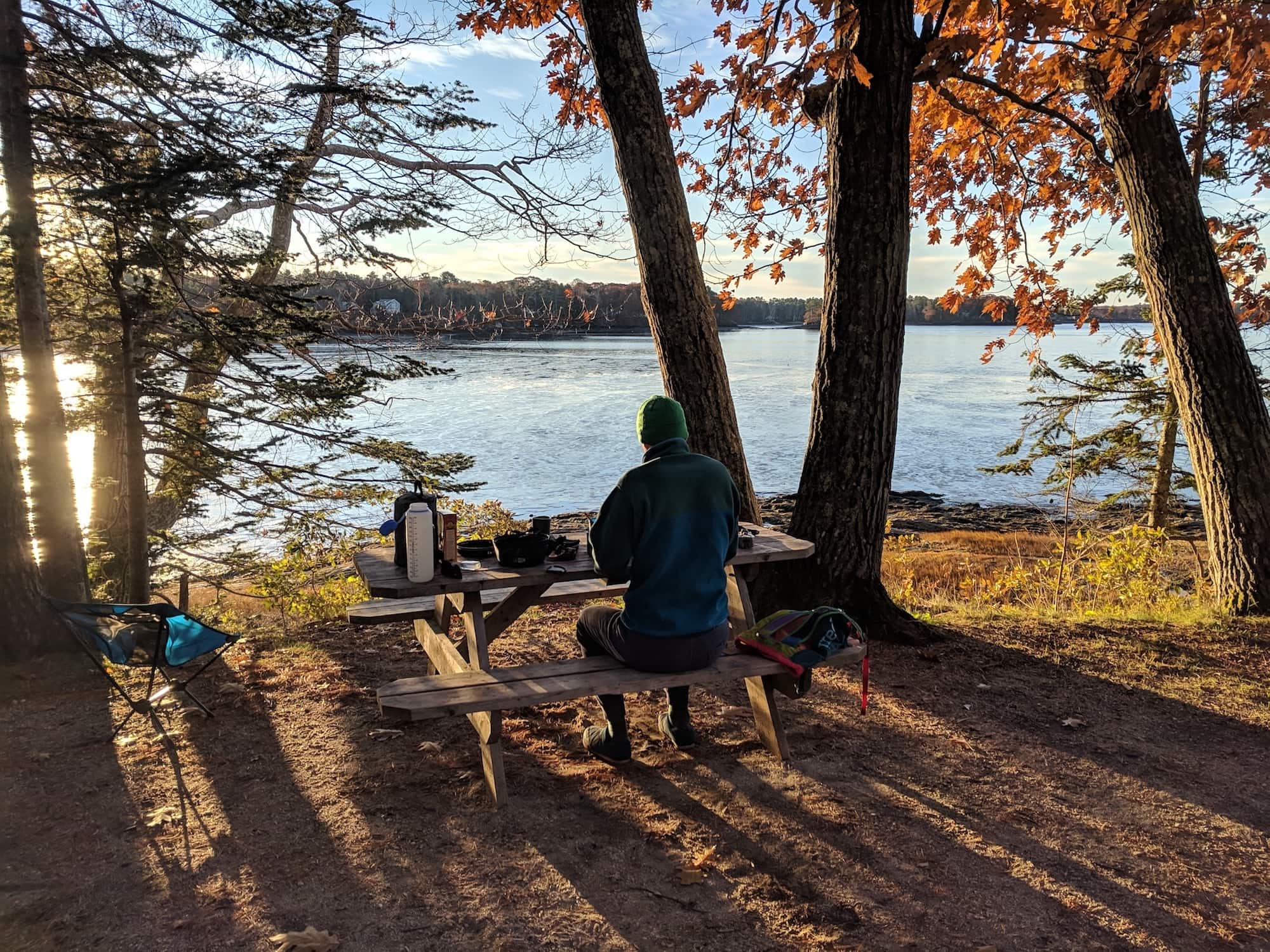 West Bay Campground
The wide-open grassy areas, recreational areas, and panoramic views of the farm and bay make West Bay ideal for families. During the day you can even catch the farmers at work in organic vegetable gardens.
Amenities include:
A shower building with flushing toilets
RVs allowed but no hookups
Easy access to the trailhead
Easy access to boat launch
Firepit
Picnic table
Quiet Cove Campground
This walk-in and tent-only section of the campground is a haven for campers who want a peaceful retreat in a natural setting. It's located along the tidal estuary and all campers must agree to keep noises low and lights dimmed. Garden carts are available for carrying gear and supplies in and out.
Amenities include:
Firepit
Picnic table
No vehicles
Hammock included at every site
Outhouse for campers
---
How to Prepare for a Wolfe's Neck Camping Trip
Wolfe's Neck Oceanfront Campground is an easy place to visit and to fall in love with thanks to the beautiful setting, accessibility, and ease of visiting. There isn't much you'll need to prep for besides crossing off your usual car camping checklist in advance and bringing your fall hiking layers.
However, it's always good to cover your bases and be over-prepared. Below are a few key things to think about before you go.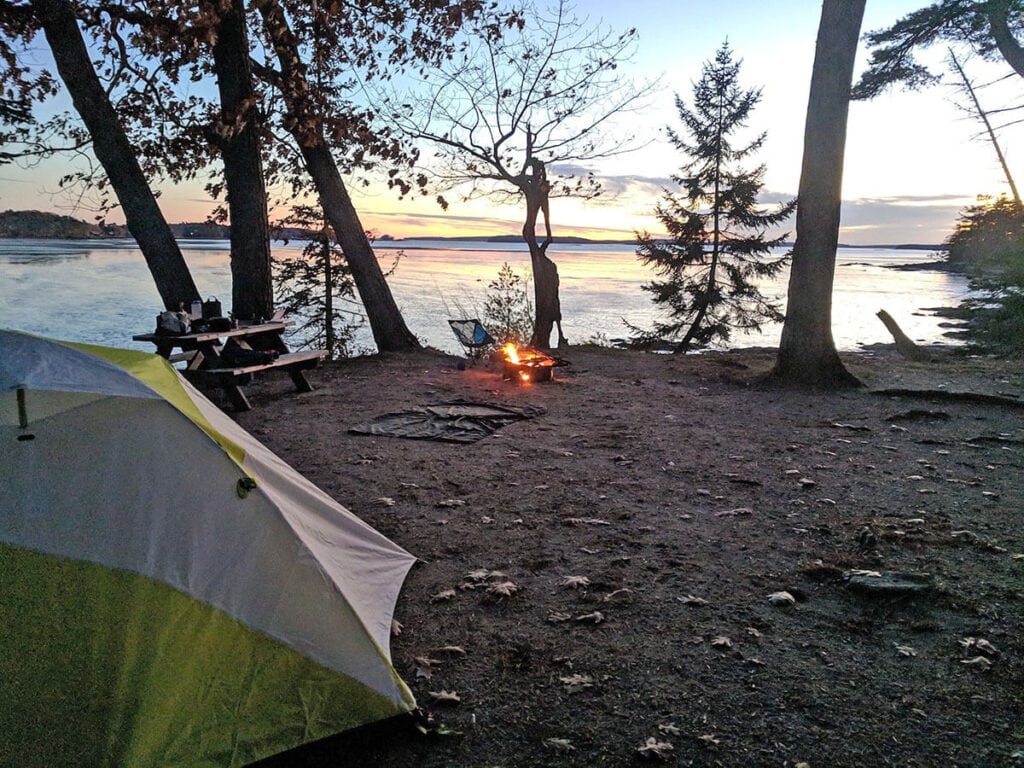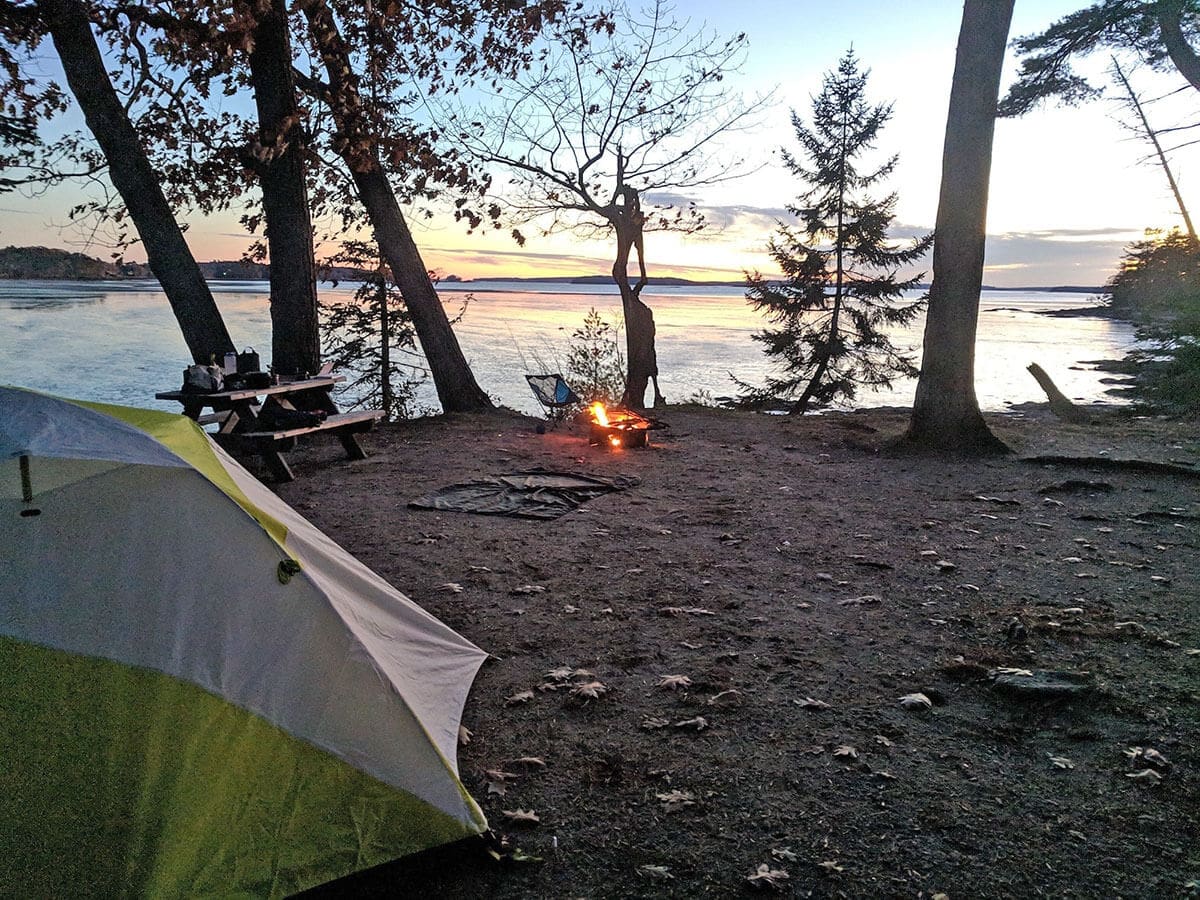 Food
Luckily, there are food stores 10-15 minutes away from your campsite and in the summer campers have the added bonus of a camp store nearby. In case you need something in a pinch, the Bowstreet Market is on your way to the campground so make a stop before you check-in.
Firewood
Nearly all of the campsites have fire pits so don't forget your firewood. As it goes in Maine and everywhere else, campers are not allowed to bring firewood from out of state. This runs the risk of spreading invasive insect species that can do serious environmental damage, so purchase firewood locally.
As you drive down Flying Point Road there are signs for firewood along the way.
Weather conditions
The weather at Wolfe's Neck Oceanfront Campground isn't likely to be much of a threat unless there is a storm, but it can get chilly. If you are camping out on an oceanfront site as we did, you'll be exposed to some pretty brisk winds at night. Our trip in October was exactly that and I was glad to have warm layers, socks, a hat, and gloves for the night.
For more tips on cool weather camping, check out our post on Fall Camping Tips: How To Prepare & Stay Warm.
Have you camped at or explored Wolfe's Neck in Maine? What are your favorite things to do in the area? What camping tips or questions do you have? Let us know in the comments!