Interested in kayaking but don't have a lot of experience? Kayaking can be a great way to get out on the water, either for a leisurely morning paddle or a more rigorous overnight adventure. I've done a number of fun overnight kayaking trips and in this post, we share some basic beginner kayaking tips so you can get out there, give it a try and have fun as well!
From kayaking gear to your technique to common questions about what to wear or where to go, these beginner kayaking tips for first-time paddlers will have you out on the water with confidence in no time.
Go paddling for the first time with these beginner kayaking tips – including info on kayaking gear, techniques, and more.
Important Reminder: As outdoor recreationists, it's our responsibility to know how to recreate responsibly on the water whether we're kayaking, paddleboarding, canoeing, rafting, or boating. Learn how to prevent the spread of aquatic invasive species with 3 easy steps that have a huge impact on our ecosystems.
Types of Kayaks
Sit-On-Top vs Sit Inside Kayaks
There are two main types of kayaks – sit-on-top and sit-in kayaks.
Sit-on-top kayaks tend to be the easiest for beginners. They are very stable and easy to get in and out of, and for those of you who might feel nervous, a sit-on-top kayak won't leave you feeling trapped. Sit-on-top kayaks are great for warm water, especially if you think you might want to swim from your kayak. On the other hand, if it's cold, you will get wet on a sit-on-top kayak, which is something to keep in mind.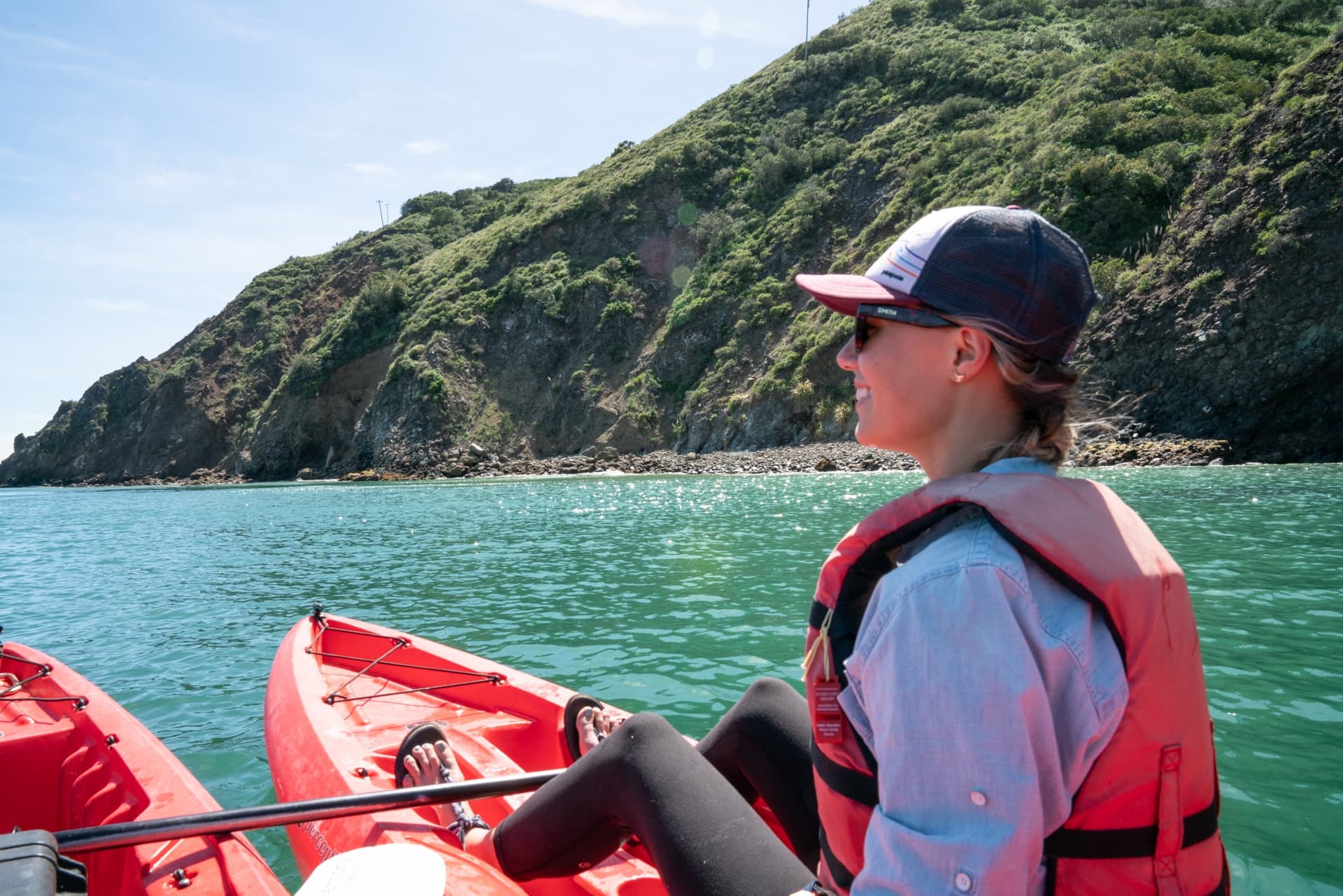 Sit-inside kayaks have a "cockpit" where your legs go inside the hull of the kayak. For beginners, a sit-inside kayak may feel a little more confining until you get the hang of it. However, sit-inside kayaks are a lot more efficient and if you are paddling a long distance, sit-inside kayaks will be more comfortable for the long-haul.
They aren't as easy to get in and out of, but if you are kayaking in colder water and want to stay dry, sit-in kayaks can be adapted with a "spray-skirt" to prevent water from getting inside the hull.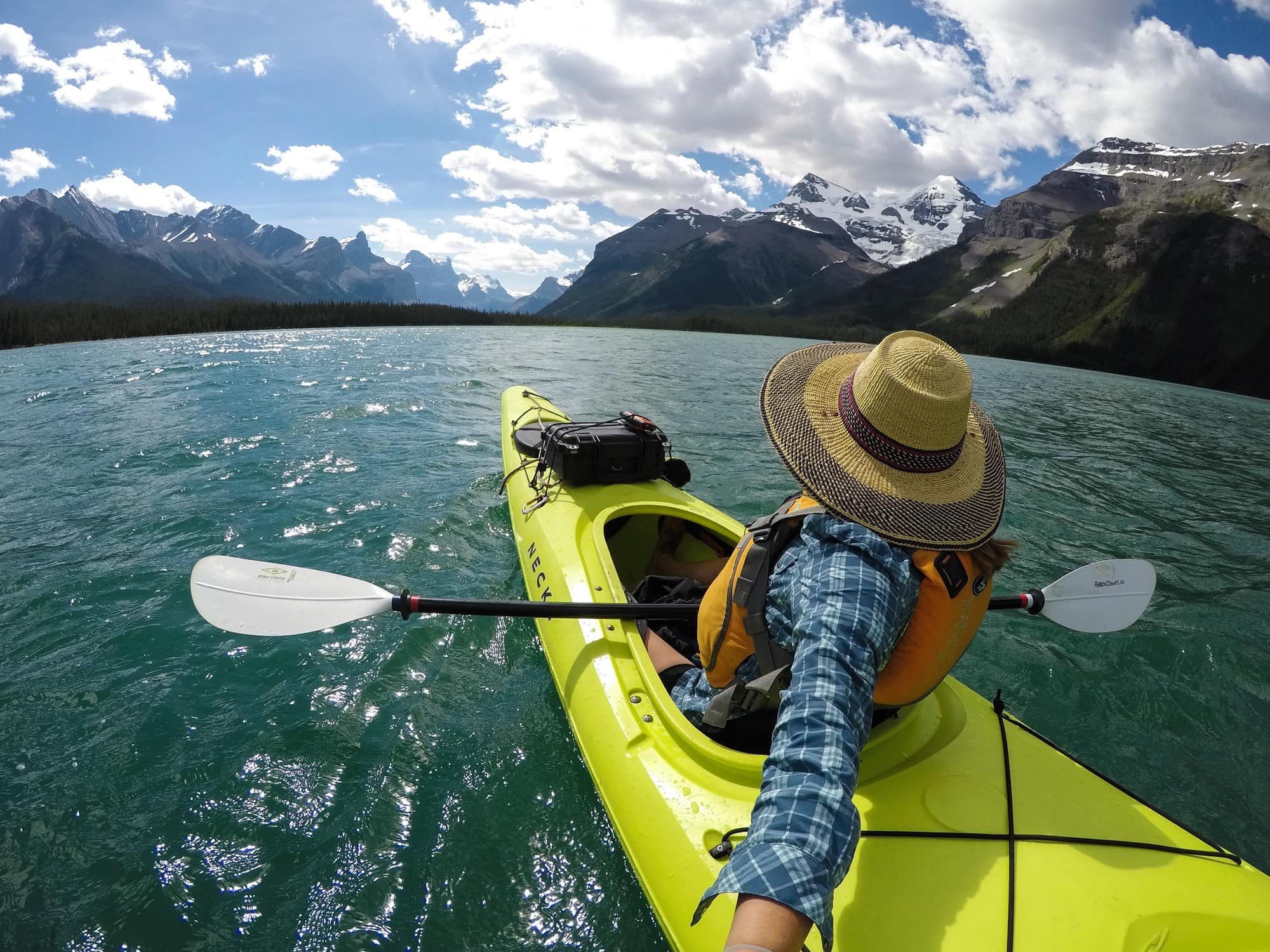 Single Kayaks vs Double Kayaks
If you don't have a partner, then a single kayak it is. Single kayaks are lighter and quicker on the water.
Double kayaks, also known as tandem kayaks, have two seats. Double kayaks are heavier than single kayaks and take a bit of synchronization between the two paddlers to maneuver. Once you get into your groove, however, a double kayak can be very efficient.
Double kayaks are a great choice for pairs where one person might not have the strength to power a kayak on their own. If you are on an overnight kayaking trip, double kayaks often have bigger hulls for storage too.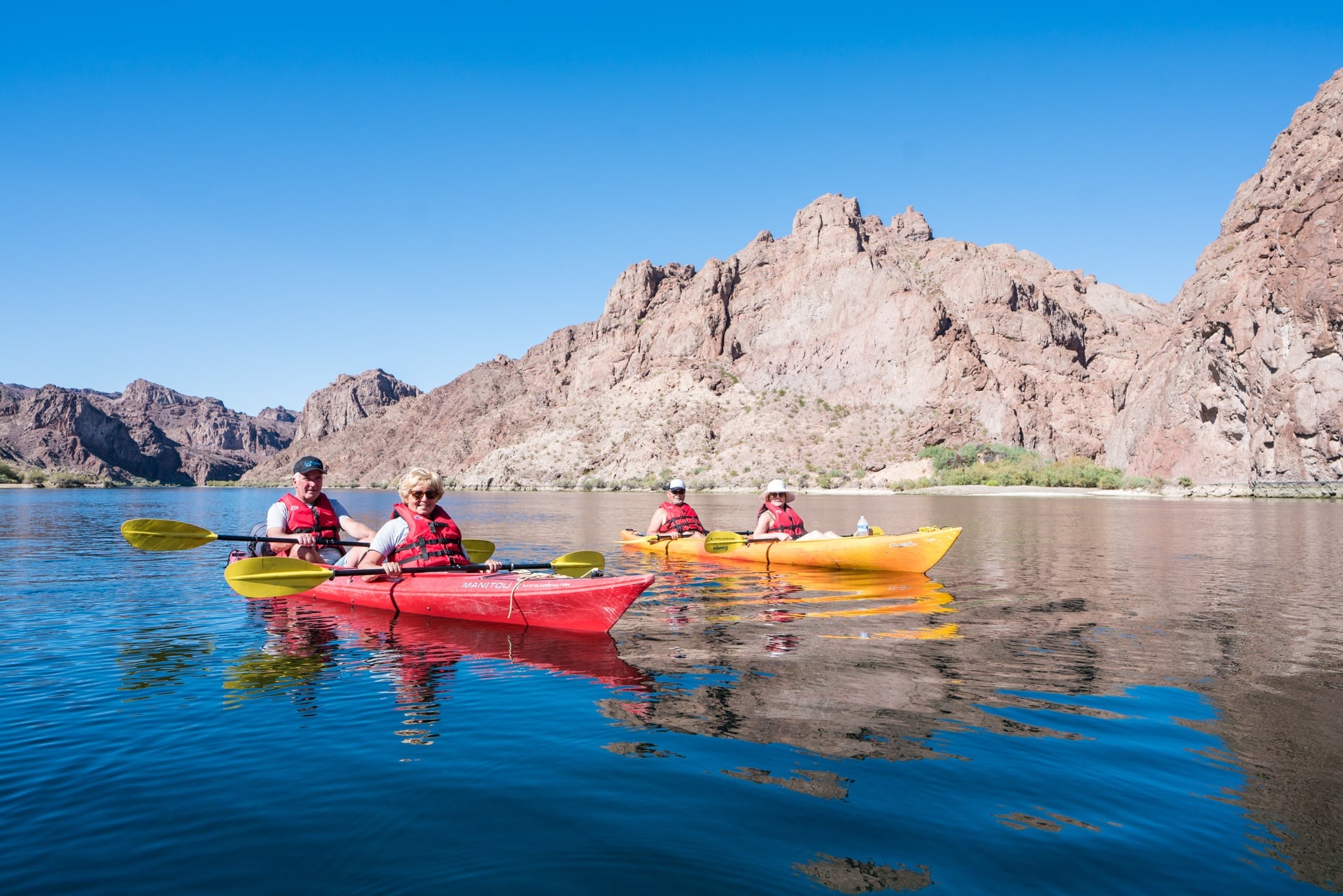 How to Transport a Kayak
This is likely one of the trickiest things for first-time kayakers. How the hell do you get the boat from the shop to the water? For your first time, we recommend renting a kayak from somewhere on the water so you can bypass this step, but if you do need to load a kayak on the top of your vehicle, this video gives you step-by-step instructions. This is a budget-friendly solution for securing the kayak to your roof without a fancy rack setup.
If securing a kayak to your roof seems like too much work, there are more portable kayak options to consider that are good for flatwater paddling.
How to Sit in a Kayak
Body Posture
When you sit in a kayak, you want to be sitting with a straight back and your legs out in front of you, but you don't want to be tense or uncomfortable. Slightly bend your knees and place them against the side of the kayak. This contact gives you more stability and power in your strokes.
Most kayaks have a backrest that you can pull tighter or make looser to help you sit up more straight and relieve lower back strain. Make sure to adjust your backrest to your personal comfort.
Foot Position in a Kayak
If you're in a sit-in kayak, there will be a pair of footpegs at the front of your kayak near your feet. When you place your feet on the footpegs and slightly bend your legs, your knees should move outward and touch the side of the kayak comfortably. If your legs are fully extended or bent too close to your body, adjust the footpegs as needed.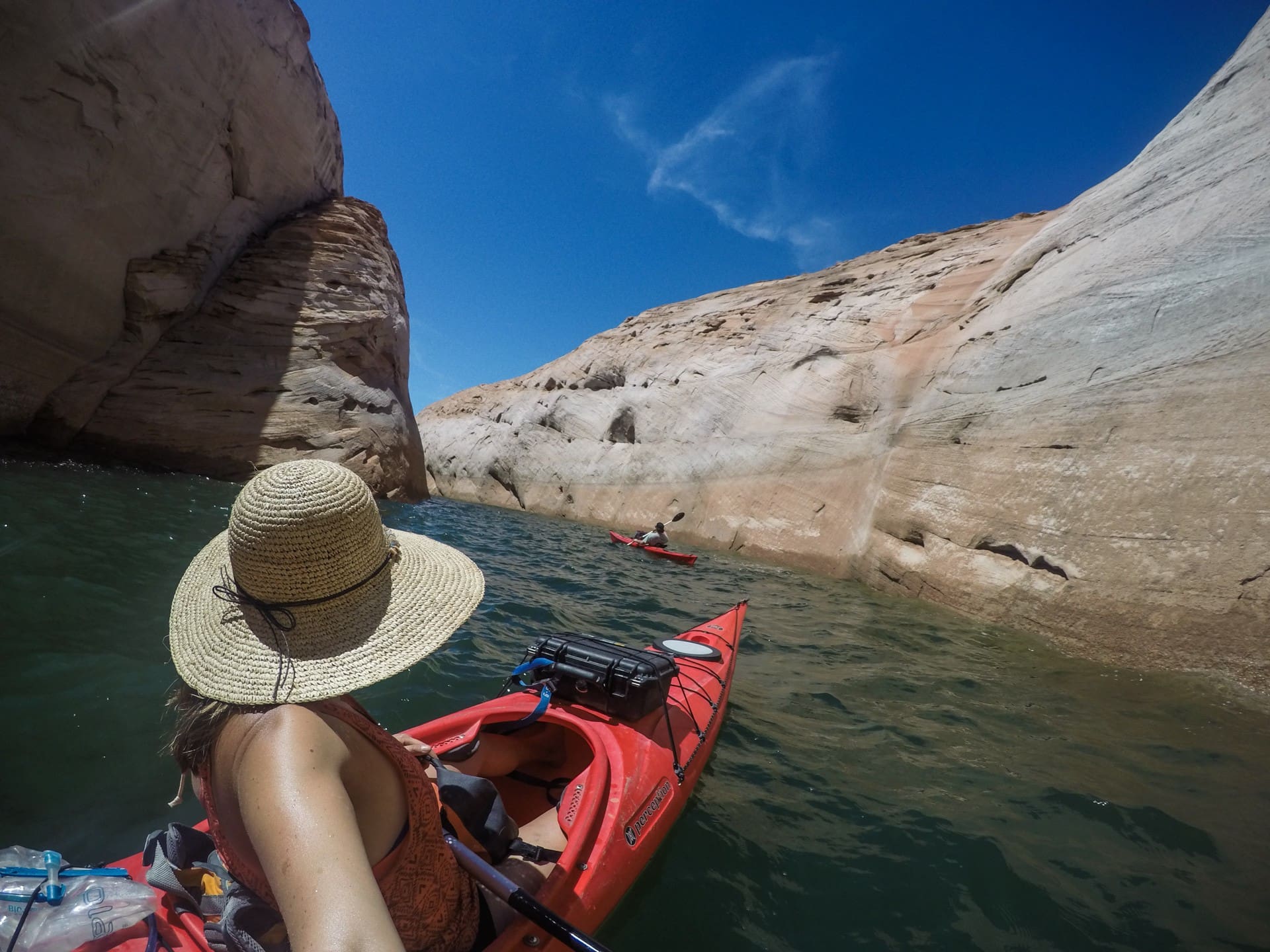 How to Paddle a Kayak
How to Hold a Kayak Paddle
You'll want to hold the paddle similar to how you hold the handlebars on a bicycle with your hands gripping down on the paddle. If you rest the paddle on top of your head, your elbows should make a 90-degree angle. This is called a paddler's box and tells you how far apart your hands should be spaced.
You're going to want to also make sure the scooped sides of your paddle blades are facing you. Remember you don't need to have a death grip on your paddle, most paddles float if you drop it. You want to have a relaxed grip that is in the shape of an "o". For more information on how to hold your kayak paddle, check out this helpful post on the REI Blog.
How to Paddle Forward
Engage your core & twist your torso to lean forward and put the paddle blade fully into the water near your feet. Then pull back to your seat with the blade and remove it from the water. Just remember, long strokes from your feet to your seat is the way to go. Don't forget to paddle on both sides or you'll just paddle yourself in a circle!
How to Paddle Backwards
You'll just do the forward stroke in reverse. Put the paddle in the water at your seat and push it towards your feet then remove the paddle from the water and switch sides doing the same motion.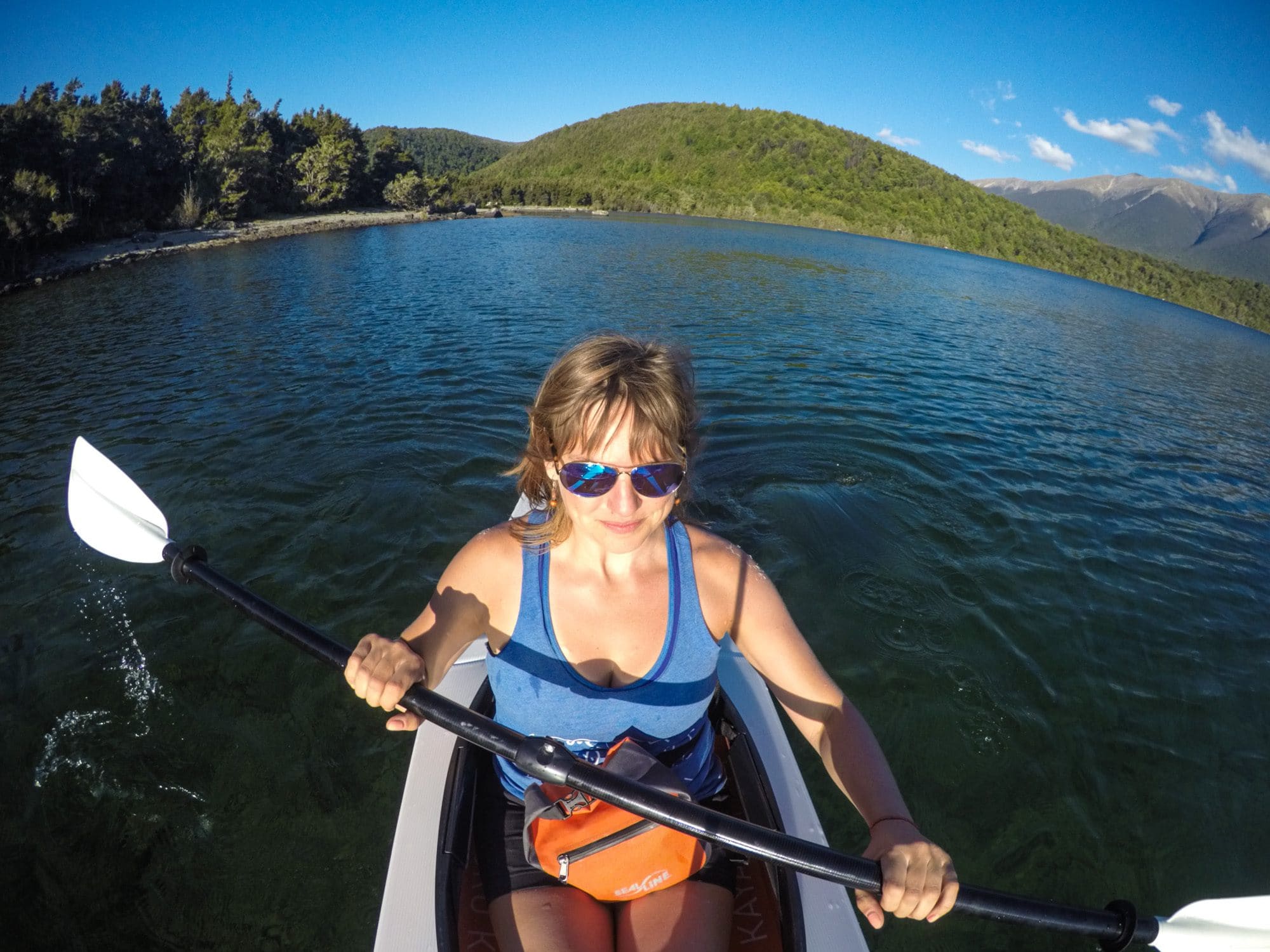 How to Stop a Kayak
Put your paddle in the water like you are doing a backstroke and hold it there, dragging it against the water. This will slow and then halt any movement your kayaking is making in the water.
How to Turn a Kayak
If you want to turn LEFT, then paddle only on your right. If you want to turn RIGHT, then paddle only on your left.
What to Wear & Bring Kayaking
Since you'll likely be getting wet, you want to stay away from anything cotton which will leave you dripping and soggy all day. Assuming it's warm and you don't need a wet or drysuit of any kind, you'll want lightweight, quick-drying layers – like a rash guard and boardshorts – which also provide sun protection.
Kayak Paddle
As a beginner kayaker, you don't need to go out and throw down a ton of money on a lightweight carbon fiber paddle. Instead, look for a paddle that is durable and budget-friendly. You might also want a paddle that breaks down into pieces if you want something more compact that you can easily travel with.
Life Vest
Always have a life vest, known as a PFD (personal floatation device) with you. In some cases, it's the law. I recommend always wearing your PFD when you launch, and always have it within an arms reach so you can quickly put it on.
If you decide to pull over and beach your kayaks for a bit, make sure to secure your PFD to your boat so the wind doesn't blow it away. The NRS Ninja PDF is unisex, lightweight, comfortable, and doesn't get in the way of your paddle stroke.
Clothing for Kayaking on Warm Days
When kayaking, it's good to having clothing that you can easily move around in, dries quickly, and will help protect you from the sun. If you're just getting started with kayaking don't feel like you have to run out & buy new clothing. You most likely have clothes at home that you can use for kayaking, and then you can choose to invest in specialized gear later on. Below are a few of my favorite pieces of clothing and accessories for kayaking.
Other Kayaking Essentials
Here are a few other kayaking essentials that I like to bring with me when I paddle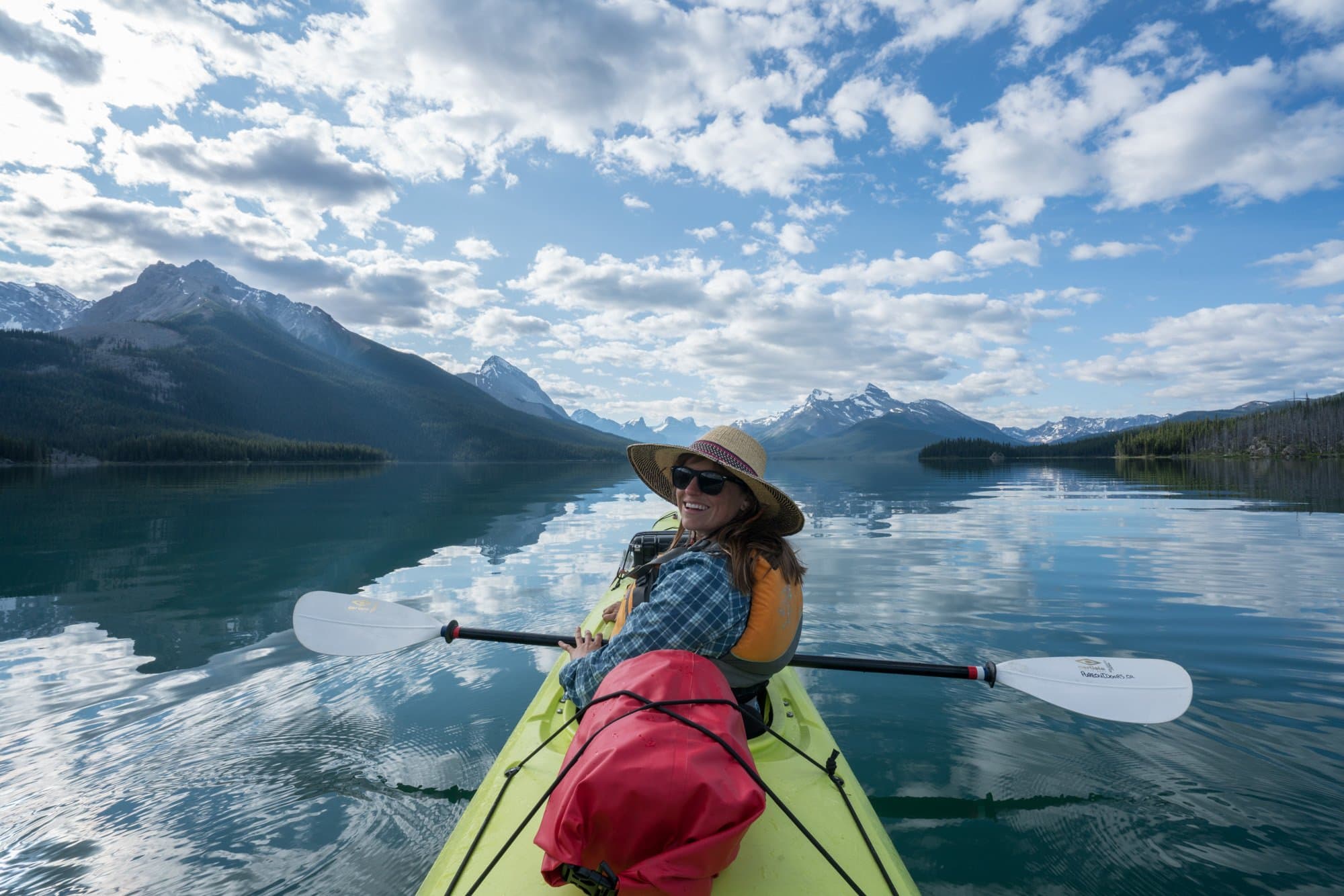 Considerations for your First Kayaking Excursion
When you are planning your first kayaking trip, there are a few considerations you'll want to make:
Trip Length: For your first-time kayaking, plan a trip that is less than three hours. You don't want to exhaust yourself or bite off more than you're ready for. Three hours gives you enough to get a feel for kayaking and decide if you like it.
Wind/Water Conditions: If it's really windy, you might opt for another day. Wind poses an additional challenge that sometimes is unavoidable, but we recommend trying kayaking for the first time when it's calm out. Also, lake, calm river, or bay conditions tend to be easier than the ocean for new paddlers.
Take a class or go on a guided tour: If you're nervous, consider taking a class or joining a guided tour for your first trip. Use REI's Class Finder to see if there is one near you. You'll build a foundation, familiarity with the gear, and the confidence to go on your own next time. Or who knows? Maybe you'll meet a new paddling partner in the class.
Once you are comfortable and ready to advance to the next level, check out my all-time favorite kayaking trips for inspiration: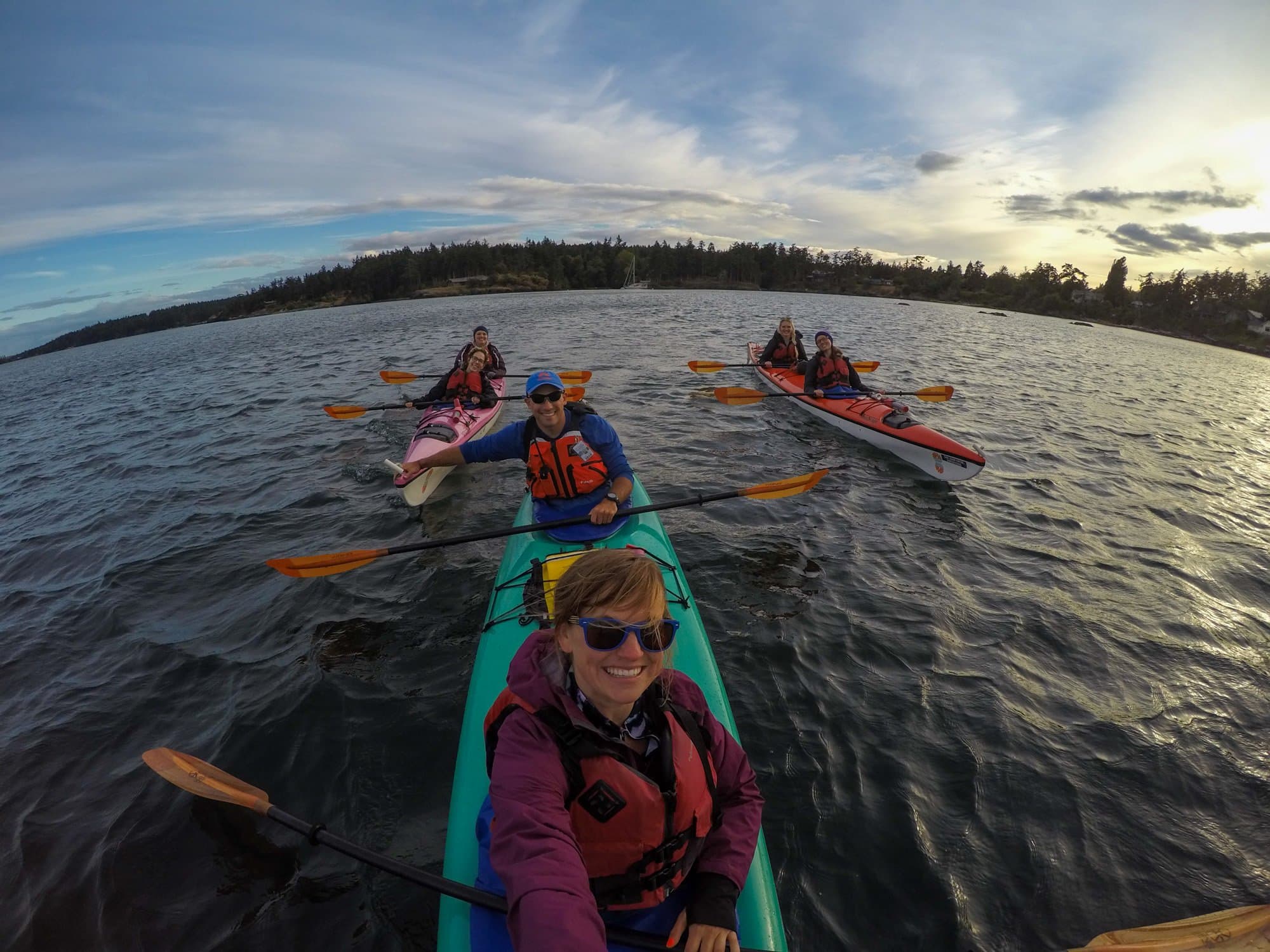 Managing Common Kayaking Fears
As an ocean kayaking guide for the Channel Islands, BFT community member, Kim, has heard it all. What if I fall? Or get swept out to sea? If this sounds like you, here are Kim's tips for addressing those fears.
What if I fall in?
First, know that it takes a lot to flip a kayak over and tandem kayaks are even harder to flip. With that said, it's important that you know how to get yourself back in the boat in that unlikely event.
Kim actually recommends that you practice falling in so that you have experience re-entering a kayak from the water. She also says, always wear your PFD. If you're going with an outfitter or rental company, listen to their safety talk and ask any questions you have prior to heading out.
I'm afraid I'm not fit enough
Kayaking in the morning is usually better than in the afternoon as winds can pick up in the afternoon making kayaking more difficult. For the first half of your trip, head into the wind, if possible. That way when you're tired later on, you can then kayak downwind and get a little boost.
Should I worry about sharks if kayaking in the ocean?
Kim gets this question because she guides in the Channel Islands. Know that seeing sharks is rare, but it's something many people are afraid of. If you're with a tour operator or renting from a business, it's okay to ask them if they have frequent experience with sharks or if this is something you should be aware of.
We hope these beginner kayaking tips inspire you to try paddling for this first-time this summer. What questions or tips do you have? Leave them in the comments below!