Backpacking Mt. Katahdin & Knife Edge in Baxter State Park, Maine
How to plan the best 3-day backpacking trip to Baxter State Park in Maine that includes hiking Katahdin and Knife Edge.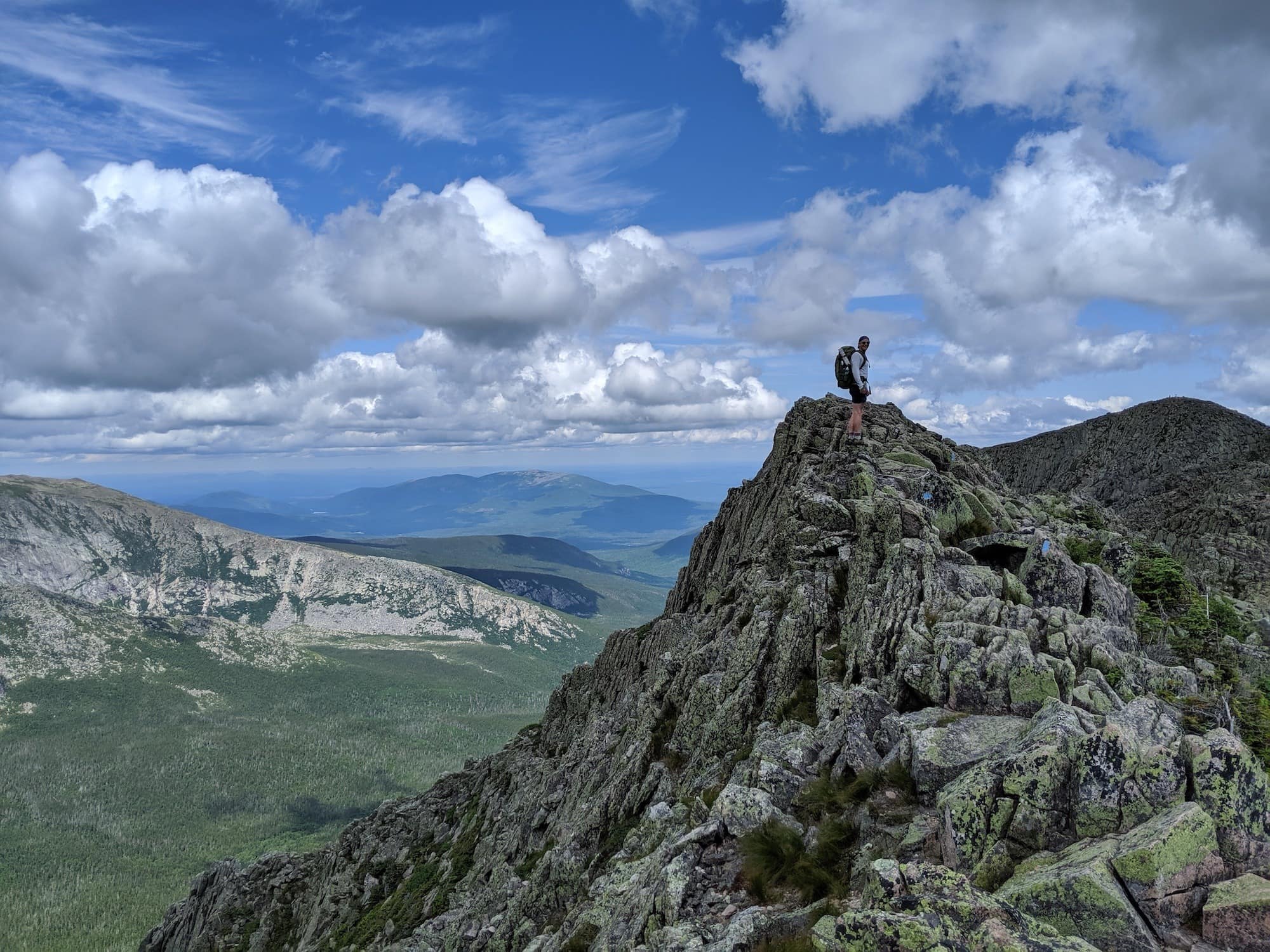 For our first summer living in Maine, a multi-day Mt. Katahdin, Knife Edge backpacking trip in Baxter State Park was the pinnacle of outdoor adventuring during this fun and fleeting time of year. Although Baxter isn't as far north as you can go in Maine, it is known as the home to some of the wildest backcountry in the state's Hundred-Mile Wilderness.
I had heard of how beautiful and special a place it was (oh, and believe the hype about the bugs!), but was totally blown away by its rugged terrain, wide-open summits, and sparkling lakes that we had all to ourselves.
So if you're looking for an unforgettable overnight backpacking adventure in New England, read on to learn more about backpacking in Baxter State Park.
Discover everything you need about backpacking Mt. Katahdin, Knife Edge in Baxter State Park, Maine
Mount Katahdin, Knife Edge Backpacking Loop Details
As I'll explain below, we extended one section of this loop that you can easily opt out of if you're interested in planning a shorter and less strenuous trip. However, the effort of logging a few more miles was worth the incredible rewards of getting up to the alpine a day earlier.
This three-day tour of the southeastern section of Baxter State Park did not disappoint!
Trail Type: Loop
Distance: 23.2 Miles
Recommended Days: 3
Difficulty: Moderate – Hard
Dogs Allowed? No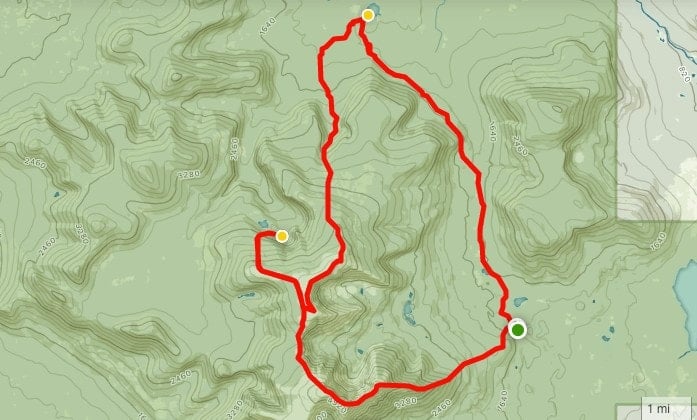 ---
The Best Time to Hike Mt. Katahdin and Knife Edge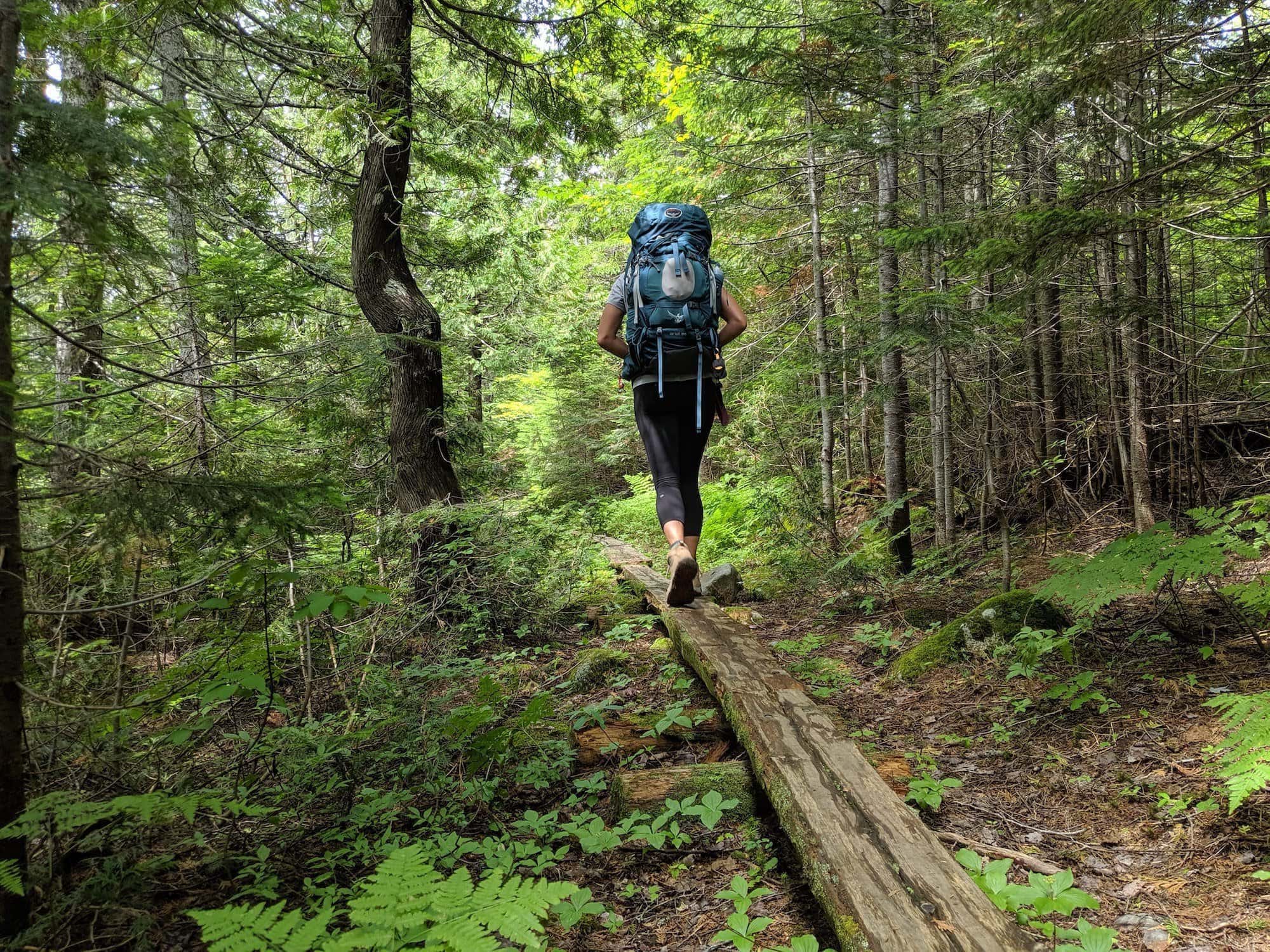 The best time to hike and camp in Baxter State Park is from July through September. The park weather can be variable and severe summer thunderstorms are not uncommon; there's even the possibility of snowfall throughout the year! When we visited in mid-July, it was hot and buggy, but during the nighttime, it cooled off nicely and made for perfect camping weather.
August is a better month to avoid the swarm of bugs and mosquitoes that we encountered in July, along with the crowds of visitors at Mt. Katahdin. High summer will come with lots of bugs and a lot of people at the summit and along the ridgeline of Katahdin and Knife's Edge.
Plan a visit for September and you'll get fewer crowds with a beautiful display of fall foliage.
---
What to Know Before You Go
Baxter State Park is a remote wilderness area where visitors are responsible for their own safety. It's unique in that it puts preservation before recreation and so much of the park is truly wild. Preparation and planning are key in having a great time in its expansive backcountry.
Cell Service – There is no cell service in Baxter State Park. From the moment you drive through the entrance of the park, there is an 8 mile-long road to the trailhead where cell reception is non-existent.
Water Availability – Potable water sources are abundantly available throughout the park at streams and ponds. While Baxter State Park is fortunate to have uncontaminated and pristine water sources, you will still need to treat your water by boiling or using a packable water filter.
Trail Permits and Reservations – You do not need a permit to access the park, however, you do need to make a reservation by phone or online for each campsite. Day hikers who plan to summit Mt. Katahdin, Knife Edge must make a day parking reservation. All other parking lots without access to Katahdin are first-come, first-serve.
Fire Regulations – Fires are allowed at the sites where there are designated campfire rings. You are not allowed to bring any firewood from outside the park and at some campgrounds there is wood available for purchase. However, at the Russell Pond Campground lean-to sites you have to search for your own dead wood and branches.
Leave No Trace – Familiarize yourself with the Leave No Trace principles before heading out to Baxter State Park. The park's motto is "Wilderness first, recreation second" and we are all responsible for upholding the high standards that have been set and respected for years. You can read more the rules and regulations here.
---
Getting to the Russell Pond Trailhead
The Russell Pond trail and campground are part of Baxter State Park's backcountry hiking and camping areas. Parking is located at the Roaring Brook Campground, which is one of the most popular front-country campgrounds because it puts you close to three trailheads with direct access to Mt. Katahdin. For this reason, the park requires you to share your itinerary when checking in at the Ranger station for your safety.
To access the parking lot, drive to Togue Pond Gatehouse at the south entrance of the park. This is about an 8-mile drive from the nearby town of Millinocket to the Togue Pond Gatehouse then another eight miles to the parking lot and campground. Once you've parked, the Russell Pond Trailhead is just a quick walk from the lot!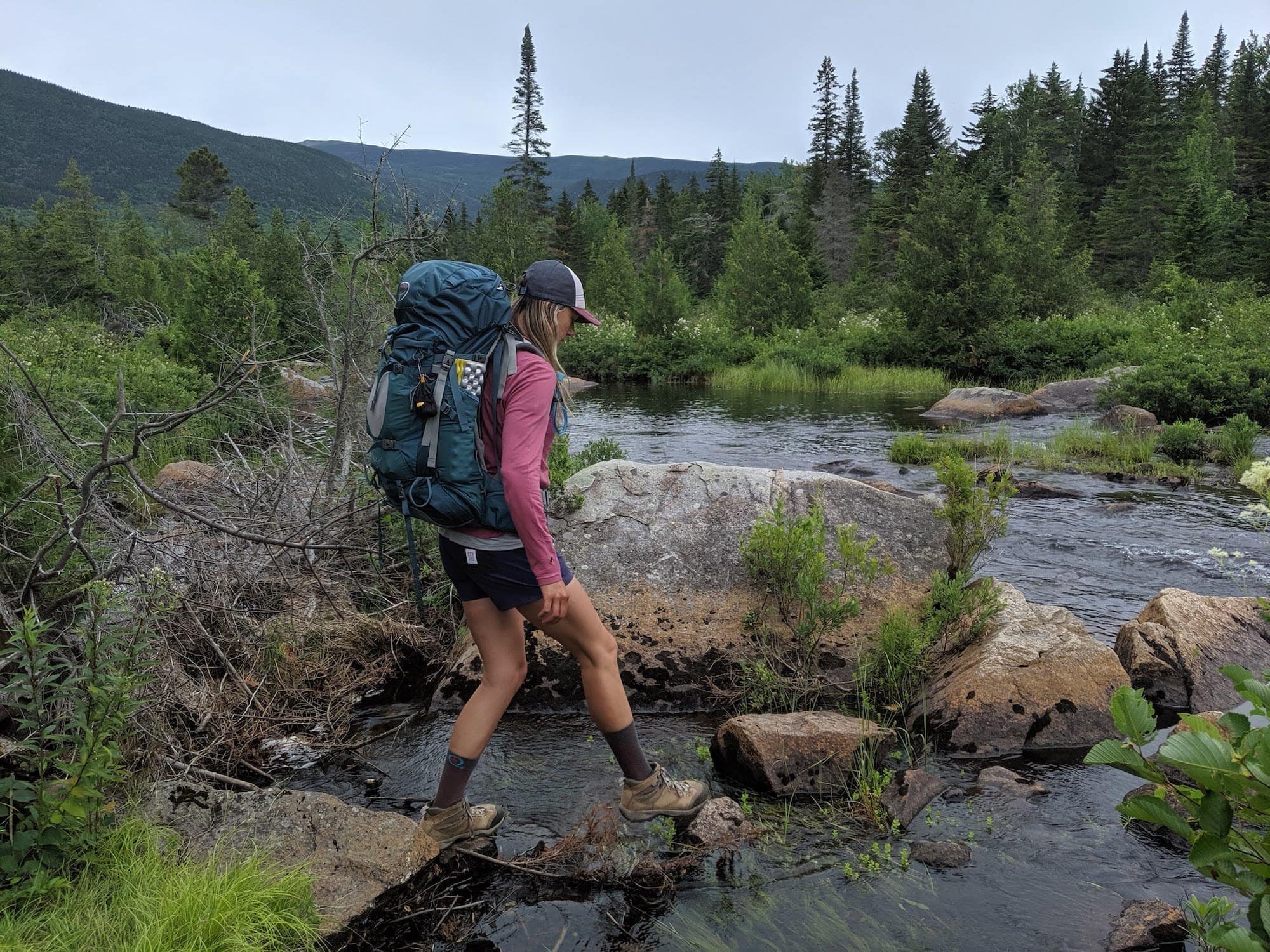 ---
Mt. Katahdin, Knife Edge Backpacking Trip Report
For our first time backpacking in Baxter State Park, we planned a three-day, two-night trip that would loop around the southeast section of the park, checking off Mt. Katahdin, Knife Edge, and Hamlin Peak. The cutoff time to hike out to Russell Pond before dark is 2 PM sharp, so make sure you get there on time.
Day 1: Roaring Brook Campground to Russell Pond Campground
Distance: 7.2 miles
On Day One, the hike from Roaring Brook Campground to our lean-to at the Russell Pond Campground was a pretty flat, meandering trail without too much elevation gain (about 1,246 feet) up and over a few small hills. During the 7.2 miles it takes to get there, you'll get your first head-on view of Mt. Katahdin from Whidden Pond and encounter a few stream crossings with easy rock hopping along the way. This is a great spot to cool off and refill your water, just remember to filter it first.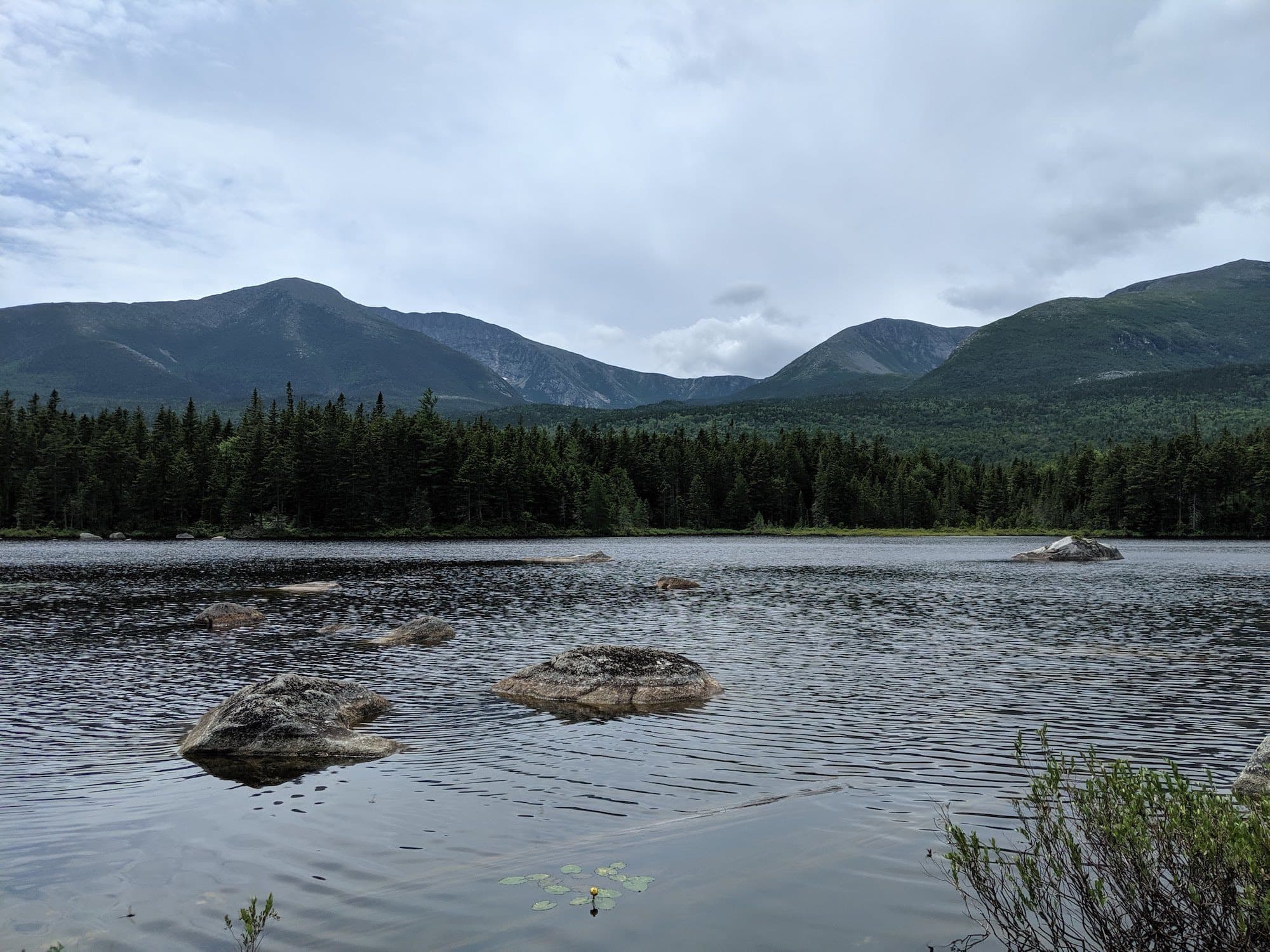 Our mid-July hike was a buggy one, so insect repellent is a must-have for warding off mosquitoes and flies! By the time we got to Russell Pond Campground, they weren't much better, but thankfully, you can make a campfire in the designated fire rings to smoke them out and find some reprieve before you get in your tent.
Russell Pond Campground is the park's most remote backcountry campsite and a beautiful one at that. When you arrive, you're required to check in with the Ranger once more to tell them your plans for that day and the next. Definitely use the ranger as a resource and don't hesitate to ask questions! They'll give you the weather report, conditions, and offer some helpful advice for your trip. Baxter State Park is a remote wilderness area where visitors are responsible for their own safety; it's something the park takes to heart, while also providing you with guidance at certain waypoints, so definitely take advantage.
The Russell Pond campground has very basic facilities that include a bear line, pit outhouses, and canoe rentals available by the hour — swimming is not recommended. Thanks, leeches… We were fortunate enough to have snagged a beautiful lean-to at a waterfront site, where we hung out by the fire and cooked up a camp dinner under the stars.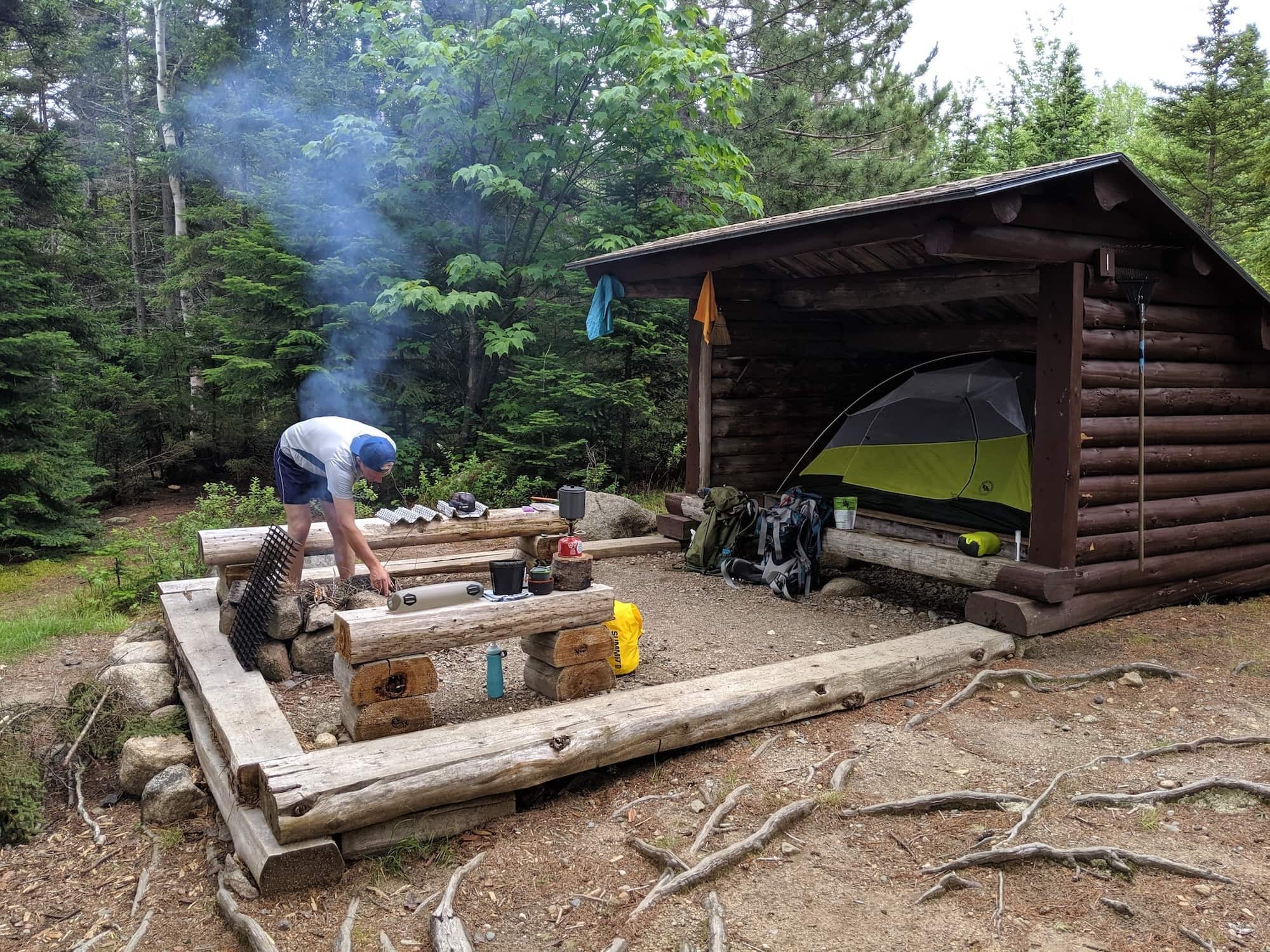 Day 2: Russell Pond Campground to Davis Pond Campground
Distance: 8 miles
The second day in Baxter State Park finally got us above treeline, but not without miles of boulder-filled climbing in true Northeast style. We planned our route so that the last day would be the grand finale: ascending Mt. Katahdin, Knife Edge, and descending Pamola Peak. That meant leaving Hamlin Ridge and a night at Davis Pond Campground for Day Two. It's a slightly unorthodox trip that had us doubling back and climbing up some of what we had just hiked down on Day Three. That said, we were eager to add a few more miles in order to spend more time hiking in the alpine and less time at the campsite, but it's not the norm.

When you hike out from Russell Pond, you'll take the Northwest Basin Trail for a mile until you reach the junction. Here you can choose to hike below the treeline and straight to the Davis Pond shelter or hang a left and hop on the North Peaks Trail up to the ridgeline then back down to the shelter. We chose the latter and were pretty happy with the 8-mile trek. Although the 3,000-foot elevation gain was certainly tough, the extra hours soaking in panoramic views of Baxter State Park were rewarding.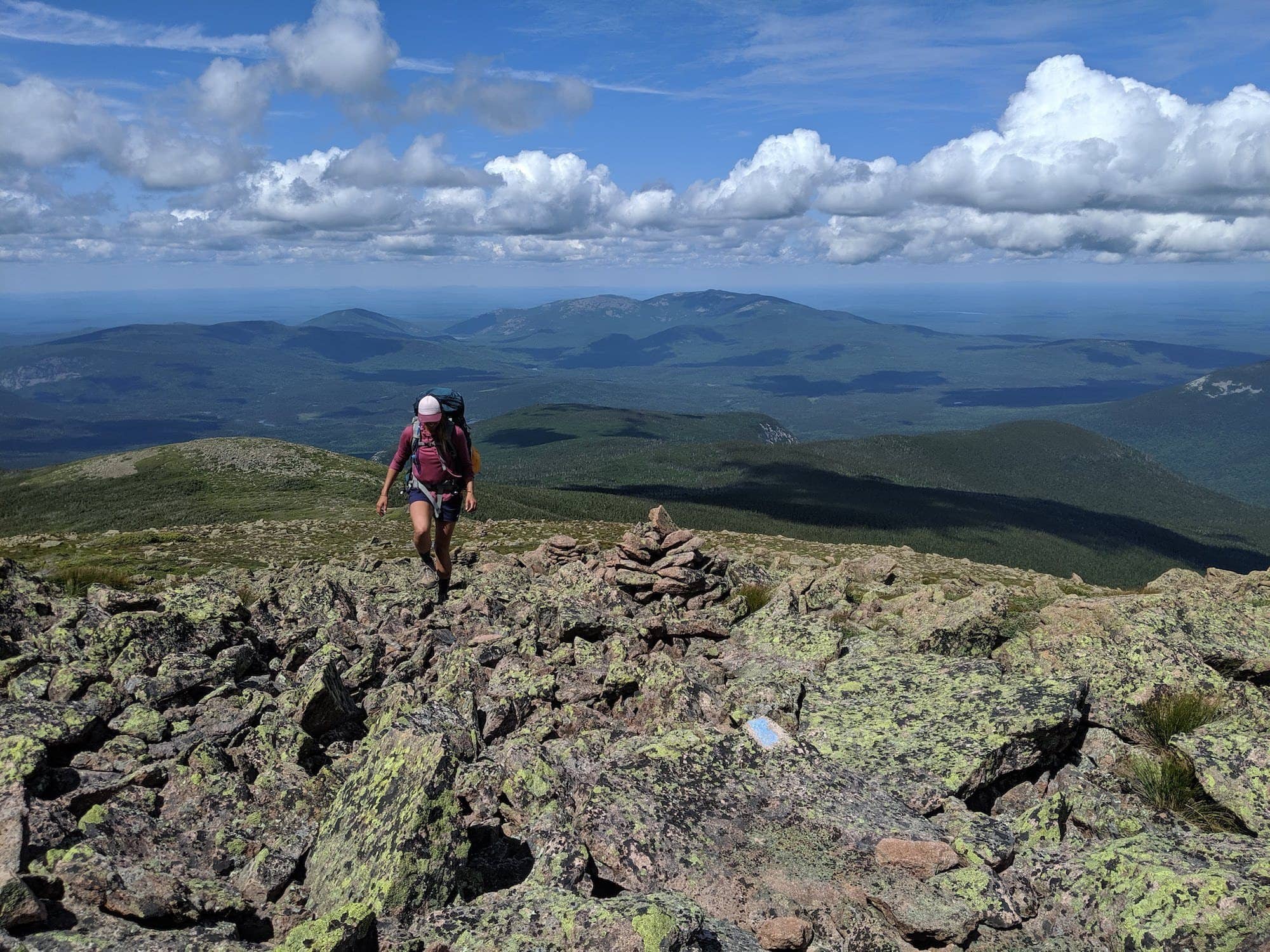 There were also a couple of stream crossings with nearly knee-deep water that required us to do some boulder hopping and river fording. To be honest, we didn't mind taking off our hiking boots and reviving our tired feet in the chilly water. We spent that night at the secluded Davis Pond Campground. It's a pretty dreamy spot that's a short walk to the pond where you can refill your water and look out for moose in the distance. You're not allowed to make fires here, but there is a pit outhouse on-site.
Day 3: Davis Pond Campground to Roaring Brook Campground
Distance: 7 miles
On Day Three, we packed up camp and hiked back up the Northwest Basin Trail to the rocky boulder field filled with tiny alpine tarns and beautiful wildflowers, plus stunning views into the basin of Katahdin along the way.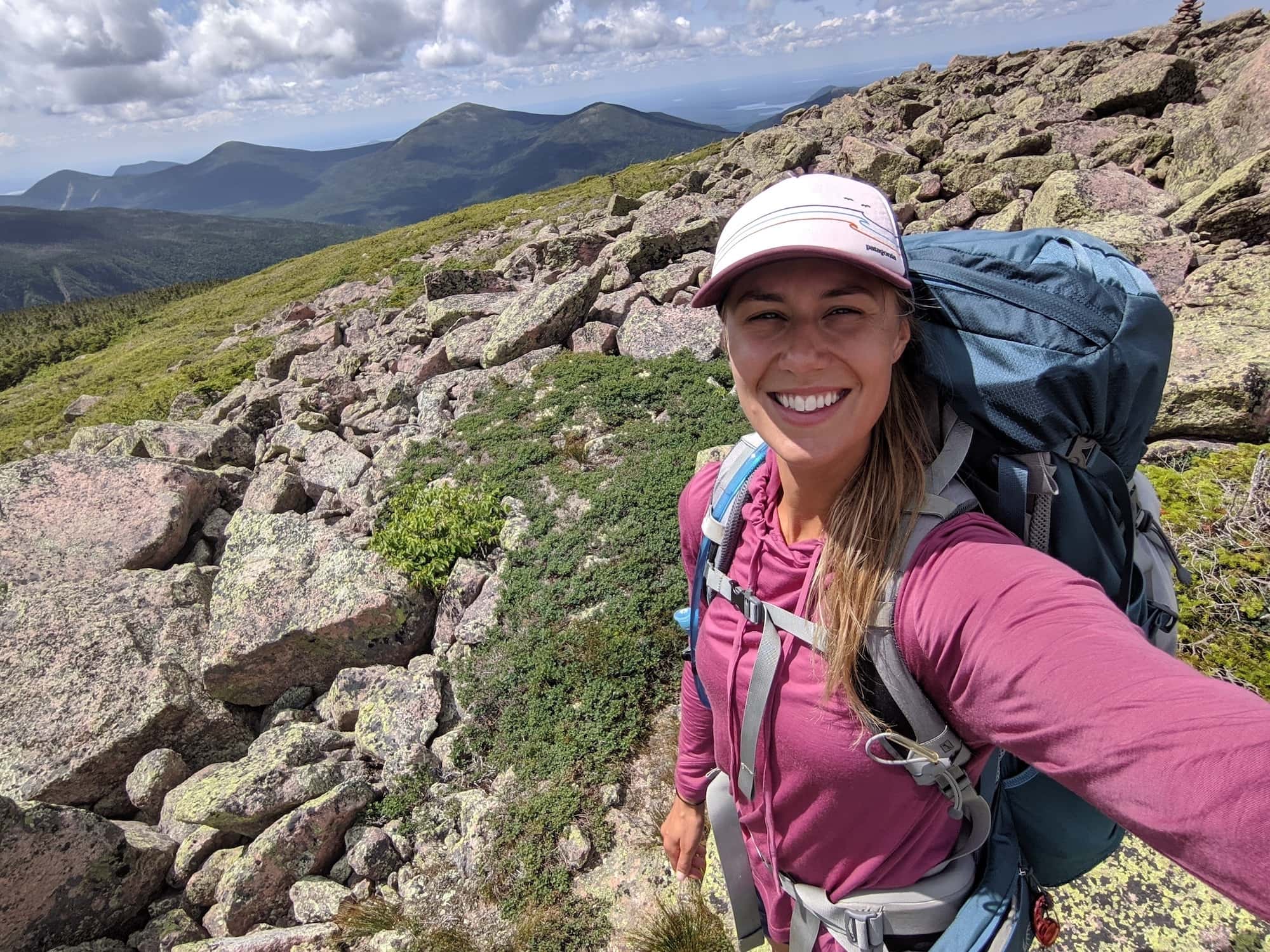 Once you pass the Saddle Trail, you'll come to another junction where Cathedral and Dudley Trail both lead day hikers up to the ridgeline to ascend Mt. Katahdin. There are also day hikers who come up from the opposite direction, hiking up the Helon Taylor trail along Knife Edge and head up to the summit from the east. Katahdin is also the northern terminus of the Appalachian Trail, where some thru-hikers are either starting or ending their journey.
Needless to say, this area can get pretty crowded, so an early start and steady pace will make a world of difference.
The wildly popular hike from Katahdin to Pamola Peak via Knife Edge is a 1.1 mile-long rocky scramble that should not be underestimated. Leave yourself 1-2 hours and don't take a chance if there is any threat of inclement weather. While it's certainly worth the effort, the trail can be tough for anyone with a fear of heights or little experience hiking rock scrambles that require hand-over-hand climbing without rebar or metal rungs to help.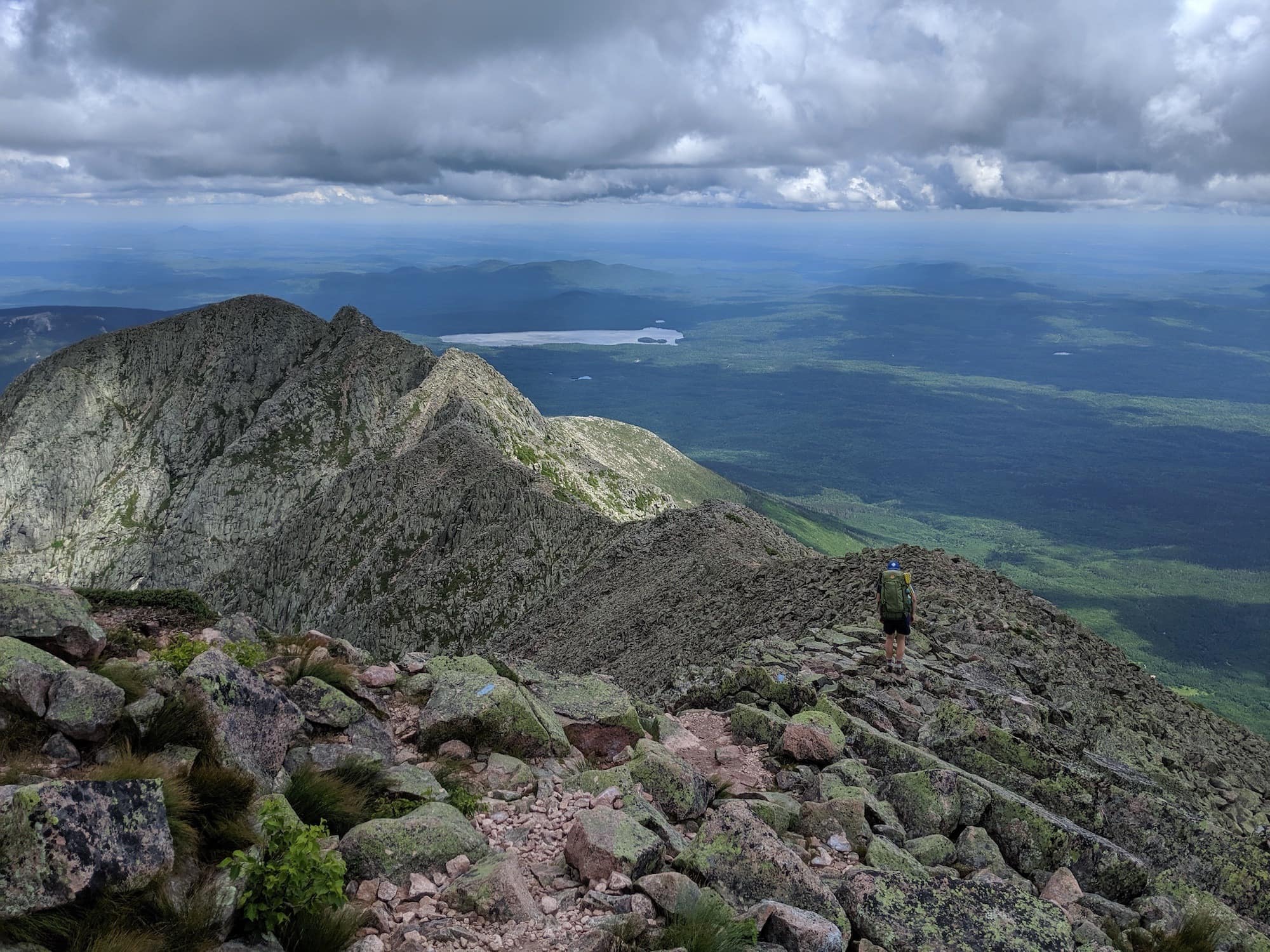 Some sections have very narrow footing with steep drop-offs on either side and more than a few pretty hairy spots that inspire the "what-the-bleep" moments. I opted to put my head down and maintain a Jedi-worthy type of laser focus while my husband Brian climbed the gnarliest, most billy goat sections with pure joy.

We finished the day by hiking the last two miles down the surprisingly rocky Helon Taylor Trail, proving to be trickier than we had expected. Luckily, we quickened our pace as the trail dipped below the treeline at the last mile and hauled it back to the Roaring Brook campground to our car.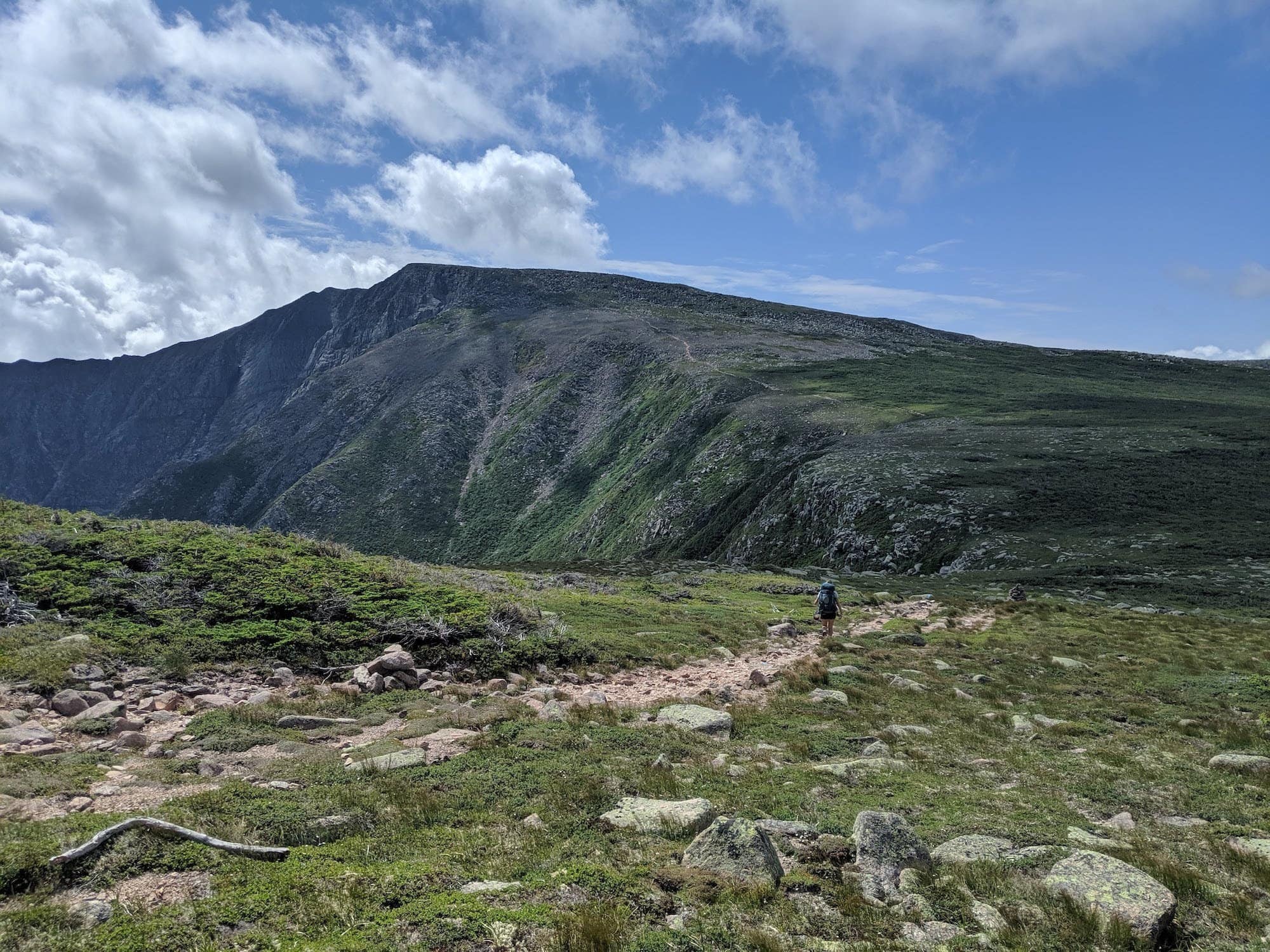 ---
Recommended Gear for Mt. Katahdin, Knife Edge Hike
Take the time to pack everything you'll need for this trip before you go because there aren't any stores or places to buy supplies within this area of the park. One thing I wish I had brought but didn't were my trekking poles. Long days of rocky scrambles can take a toll on the knees, so make sure you bring them if you tend to have knee pain while hiking.
The weather in Baxter State Park can quickly change from hot to cold (conditions in the alpine are especially unpredictable), so these tops from Patagonia provided great temperature regulation, sun protection, and worked as a versatile layer.
Here's a quick glance at some more of my recommended gear for your Katahdin backpacking trip: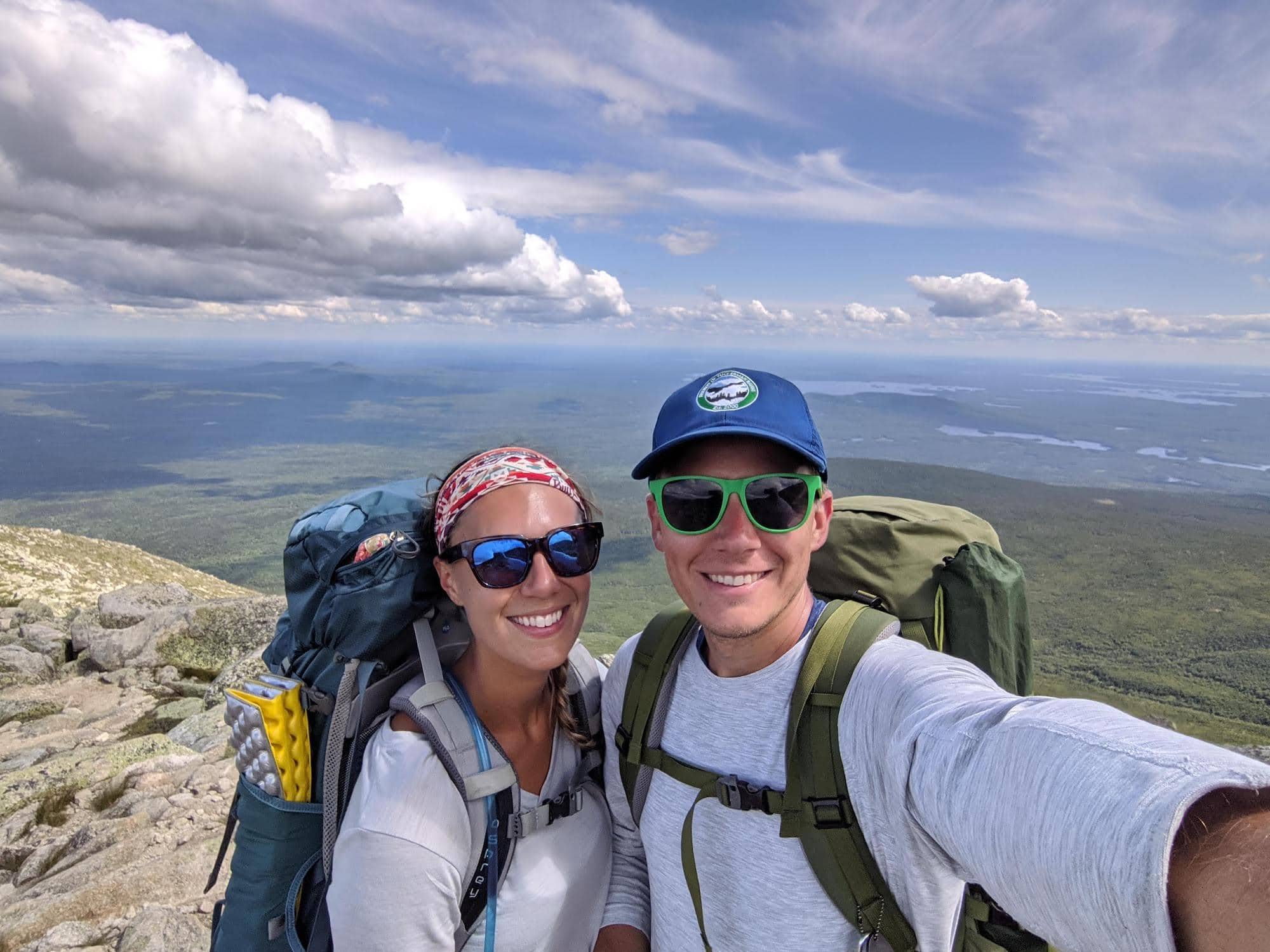 ---
What questions do you have about backpacking Mt. Katahdin and Knife Edge in Baxter State Park? Have you done this or a similar route? Leave a comment below!