TRAIL GUIDE: BACKPACKING THE PIPER TRAIL AND CARTER LEDGE LOOP IN THE WHITE MOUNTAINS
By Bearfoot Theory's East Coast expert Katherine Oakes
The Piper Trail and Carter Ledge Loop is a great backpacking option in the White Mountains. Out of the 8,320 acres of above treeline hiking (also known as "the alpine") in the White Mountain National Forest of New Hampshire and Maine, the fresh air, clear skies and wide-open views on the Three Sisters and Mount Chocorua ridgeline are truly my favorite. They're located in the Southernmost region of the Whites, miles away from the popular 4,000 footers of the Presidential Range. Since the White Mountains have the largest alpine area east of the Rockies this means hikers get some incredible and unique point of views of the park atop this 3,354 foot-high peak.
I like to claim a special connection to this area because (true story) I've hiked to the top several times — one of them while in the womb! Urban legends from my parents aside, it was a treat not just to hike but to spend the night camping on Piper Trail and getting to enjoy, not just the highs, but the beautiful pine-forested lows on this overnight trek. One last thing before you go: take a moment to brush up on your Leave No Trace know-how to help you tread lightly.
Ready to get out there? I am stoked to share with you my guide to backpacking the Piper Trail and Carter Ledge Loop in the White Mountains of New Hampshire.
Piper Trail and Carter Ledge Loop Details
The Piper Trail and Carter Ledge Loop offer hikers and backpackers some of the most scenic summits in the Southeastern region of the White Mountain National Forest. It begins and ends on the Piper Trail with a trek up and around the Nickerson and Carter Ledge Trails in between. It can be a challenging and demanding hike at times, with long steep climbs, rough footing and rock scrambling along the way. Your hard work will be paid off in full with panoramic vistas of New Hampshire's spectacular backcountry, alpine hiking and a scenic overnighter at the Camp Penacook Shelter.
Trail Type: Loop

Distance: 8.3 miles

Difficulty: Moderate – More Difficult at times

Dogs allowed? Yes
Best Time to Hike in the White Mountains
The best time to backpack the Piper Trail and Carter Ledge loop trail is during the summer and fall when the views are either lush, green mountains or that famous New England foliage. Try to go mid-week to avoid the crowds as Piper Trail's popular out and back summit to Mount Chocorua is known for being busy in the high season (summer-fall). The good news is the Piper Trail and Carter Ledge Loop is not as busy. Make sure you begin your hike in the late morning or early afternoon to catch the sunset and avoid hiking the dark.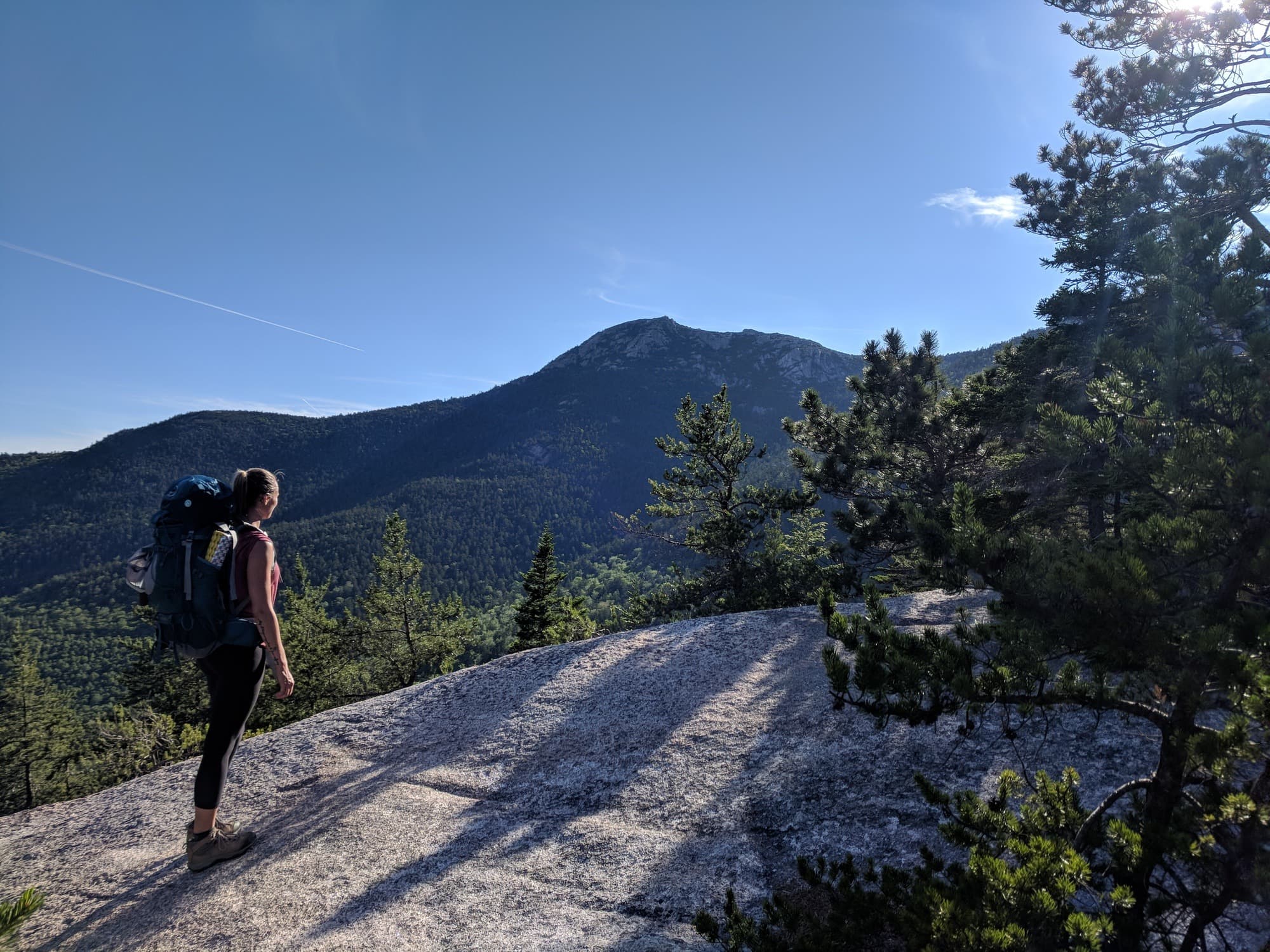 How to Get to the Trailhead
Easily accessible by car, the Piper Trailhead is located off of the Chocorua Mountain Highway, NH-16 North in Albany, New Hampshire. From NH 16 North turn left onto Moulton Drive and follow the dirt road a short way down to the parking lot for the trailhead. Park here and make sure to register your car and pay the fee. There are public bathrooms and even a few picnic tables to use and enjoy.
Things to Know Before Hiking the Piper Trail and Carter Ledge Loop
Plan ahead and come prepared before this backpacking trip on the Piper Trail and Carter Ledge Loop and you'll have a great hike. There are only a few things to consider before you head outside, the first being the parking lot at the trailhead. There is a $5/day use fee and a self-service pay station for all hikers and campers that is used to help maintain the trails. Make sure to follow the guidelines listed on the sign and have $5 cash on hand to pay when you get there.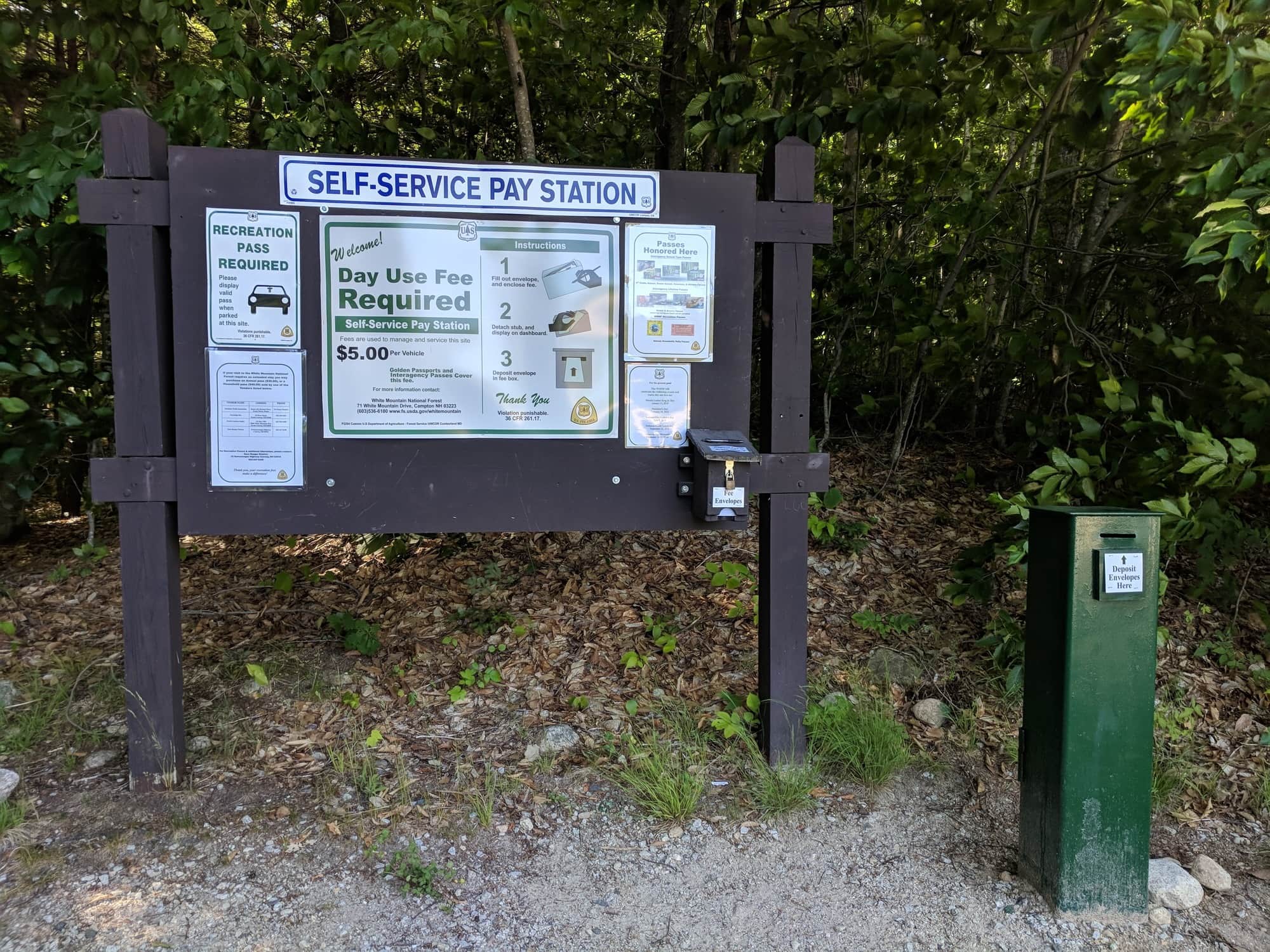 Second, this hike takes you through varied terrain including steep scrambles, forested areas, and windy ridgelines. To avoid getting overheated or too cold, dress in layers (light layers if you are going in the summer) bring a hat and sunglasses for UV protection, wear sturdy and supportive hiking boots and bring trekking poles along to help protect your knees if you prefer to use them. A good backpack, plenty of snacks and especially water is essential on this overnighter since you cannot drink water from the streams without a good filter.
Last, as mentioned before, try your best to go during the week instead of the weekend. Piper Trail and Mount Chocorua are popular destination points that get crowded — luckily, the Carter Ledge Trail is less populated but you're sure to bump into other hikers on the ridgeline. Head out mid-week to snag a spot in the parking lot and the shelter if you can!
Learn how to choose a backpacking pack that's right for you
Piper Trail and Carter Ledge Loop Backpacking Guide
The trailhead begins from the large dirt parking lot where you will enter onto the beginning of Piper Trail. It's a nice wide and flat trail with a soft pine needle and dirt path underfoot to make for an easy and welcoming entrance for hikers of all skill levels. Since Piper Trail is the most direct route to the top of the area's highest peak, Mt. Chocorua, this is where you're most likely to encounter the crowds — and by crowds I mean a handful of people here and there. Don't worry, after 1.4 miles you'll break off Piper Trail to turn right onto Nickerson Ledge Trail and begin the steady climb up to complete the Piper Trail and Carter Ledge Loop.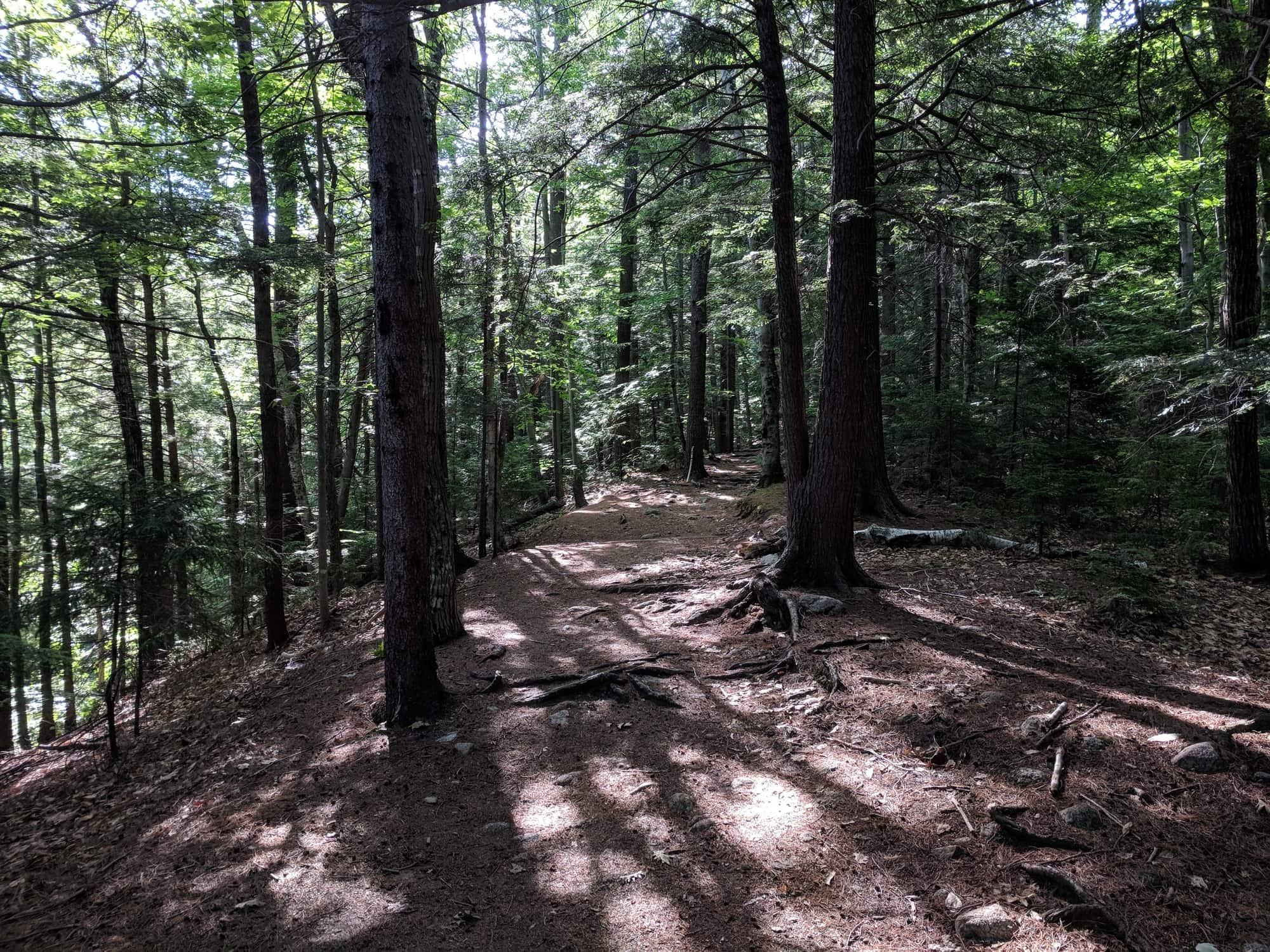 Like much of the area, trail markers are scant and signs can be easy to miss if you aren't paying attention. While this one is easy to spot, I'll admit that on my first time hiking the route, I walked right past it and sadly had to track back a mile. Womp. Since this obviously will not happen to you, turn onto Nickerson Ledge Trail and follow the easy, sloping path that eventually becomes steeper as you swing around east of Piper Trail for less than a mile to join up with the beautiful Carter Ledge Trail.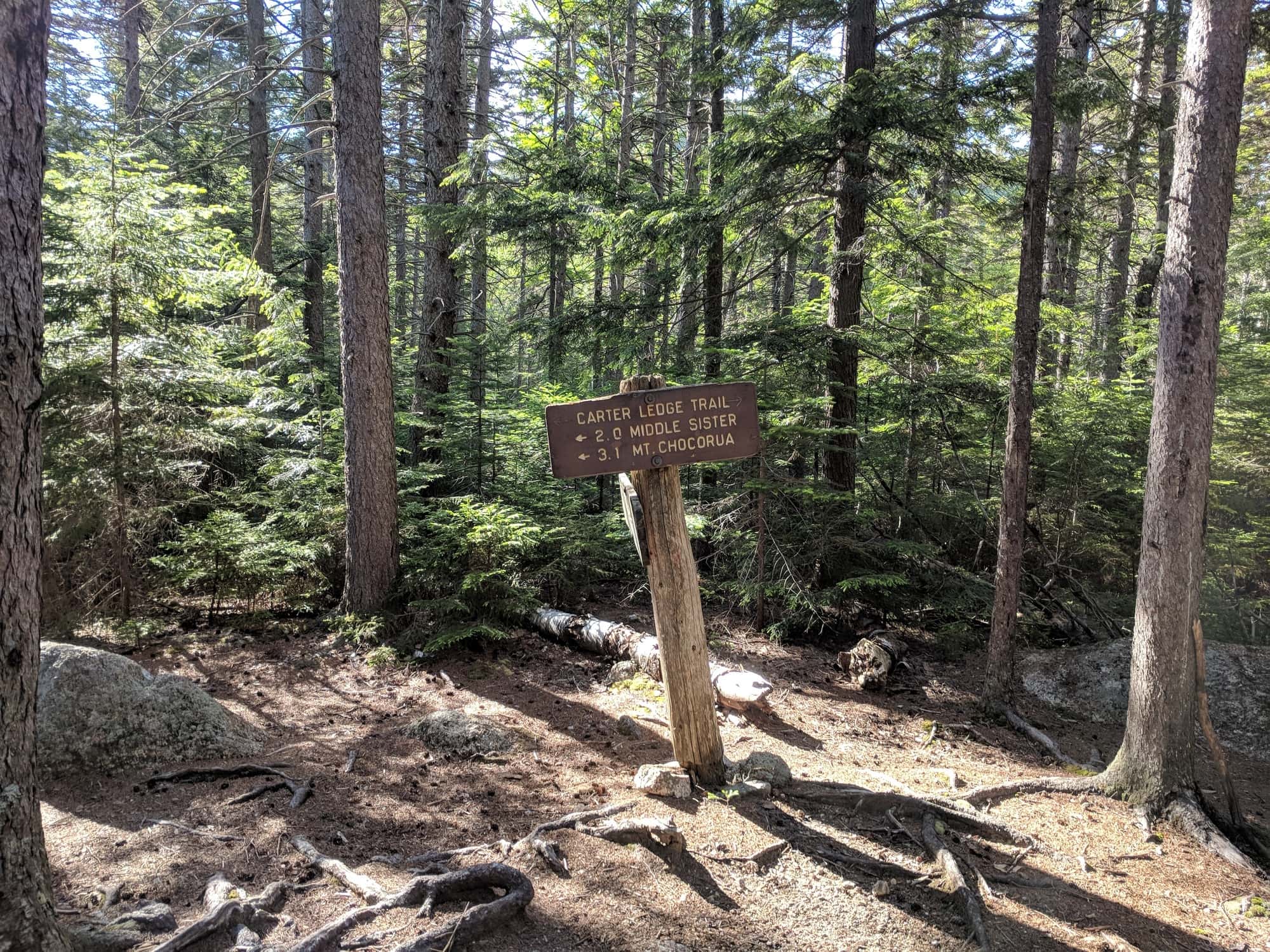 This section of the trail, from Nickerson to Carter Ledge flip flops between rocky steeps and flat forested pine areas that can be challenging for some — especially if you're carrying a heavy pack. No matter your fitness level, it's important to wear the right layers, as you'll find yourself working up a sweat while climbing hand over foot atop big boulders one moment and trekking through the cool shade of a pine forest the next. At times, the steady vertical gain makes it feel like a slog, so it's a good point to rest, drink water and enjoy a snack on the sunny rock slabs to get a little more energy before you continue up to the first summit.
It's here that you will encounter the first vista point on the Piper Trail and Carter Ledge Loop with these views of the White Mountain Range…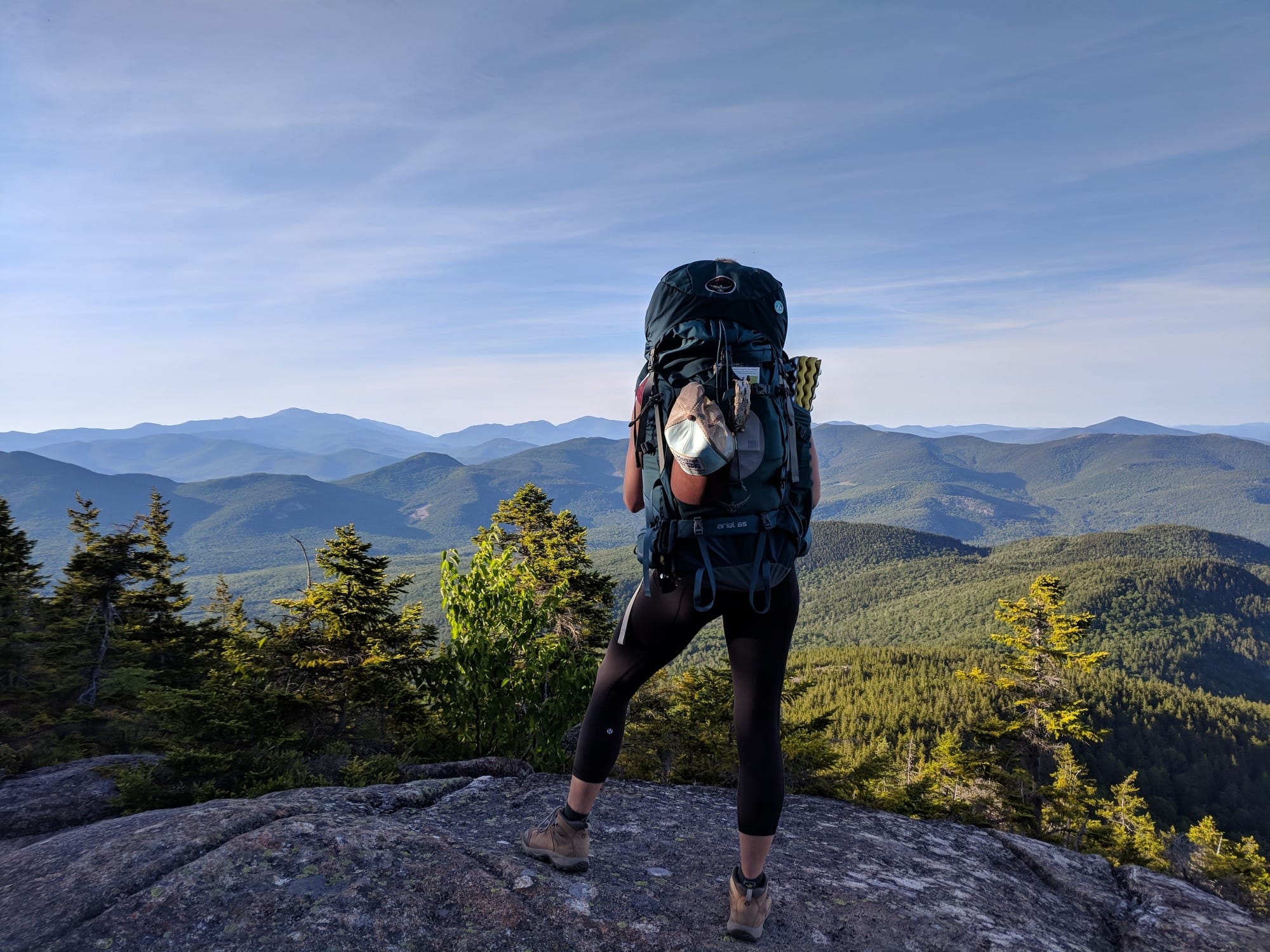 Continue on Carter Ledge up to Middle Sister, one of three stunning vista points called, The Three Sisters along the mile-long ridgeline. From here, everything opens up to reveal a mile's worth of trail all above tree line with panoramic views of the Whites and Lakes Region on both sides. Straight ahead you'll see the famous Mt. Chocorua towering over all Three Sisters just shy of a mile away from where you stand. Depending on how you feel and what time it is, you may want to take a break somewhere along the ridgeline to rest and simply take it all in. On this trip, my husband Brian and I made it to the summit just in time for the start of sunset, which painted the mountains in a dreamy soft blue hue and a warm golden glow — by far my favorite thing about the Whites and something worth trying to time just right. The only downside was that it didn't leave us much time for a proper rest stop, however, with the shelter being just a short walk away we didn't mind the hustle.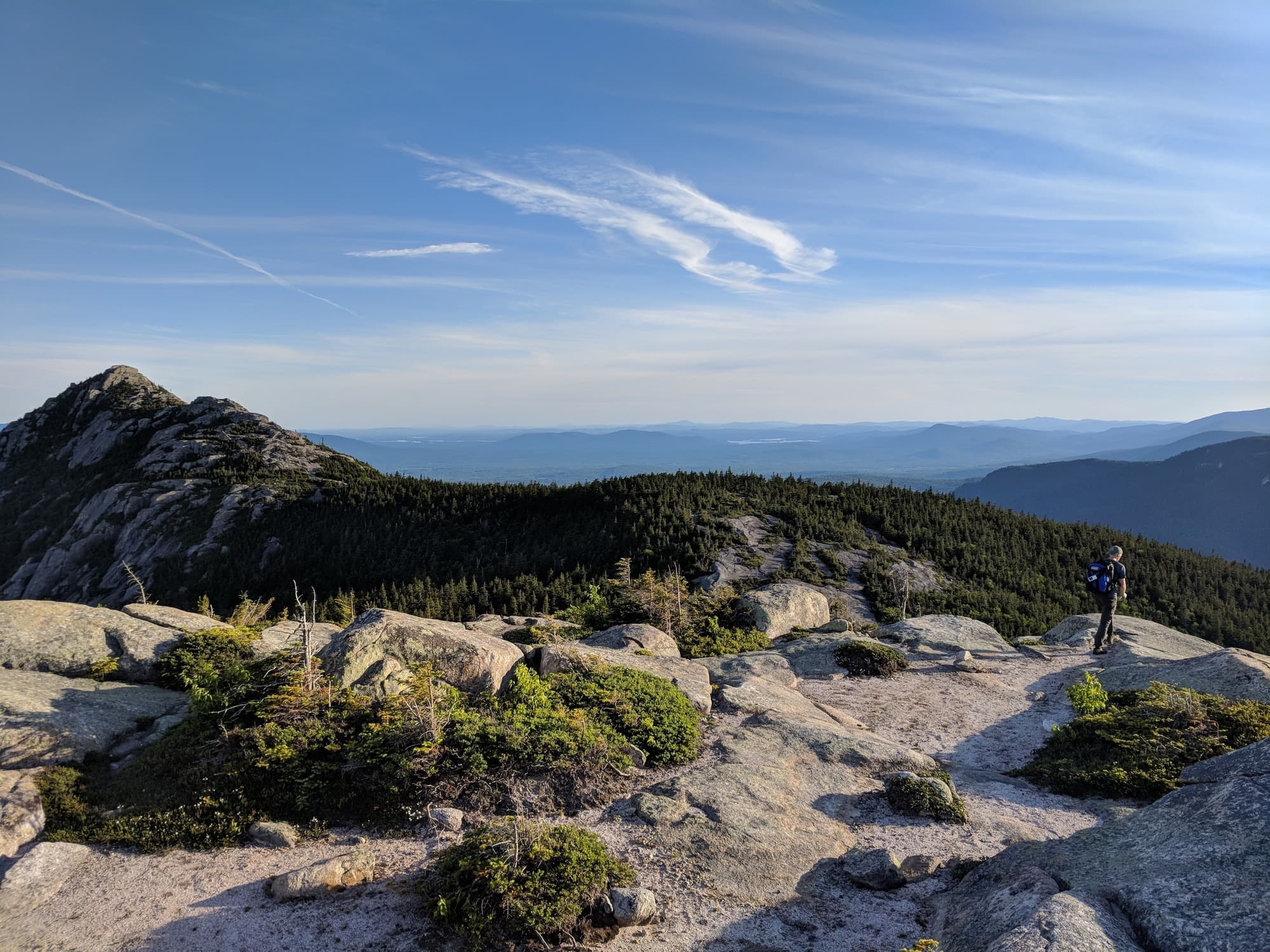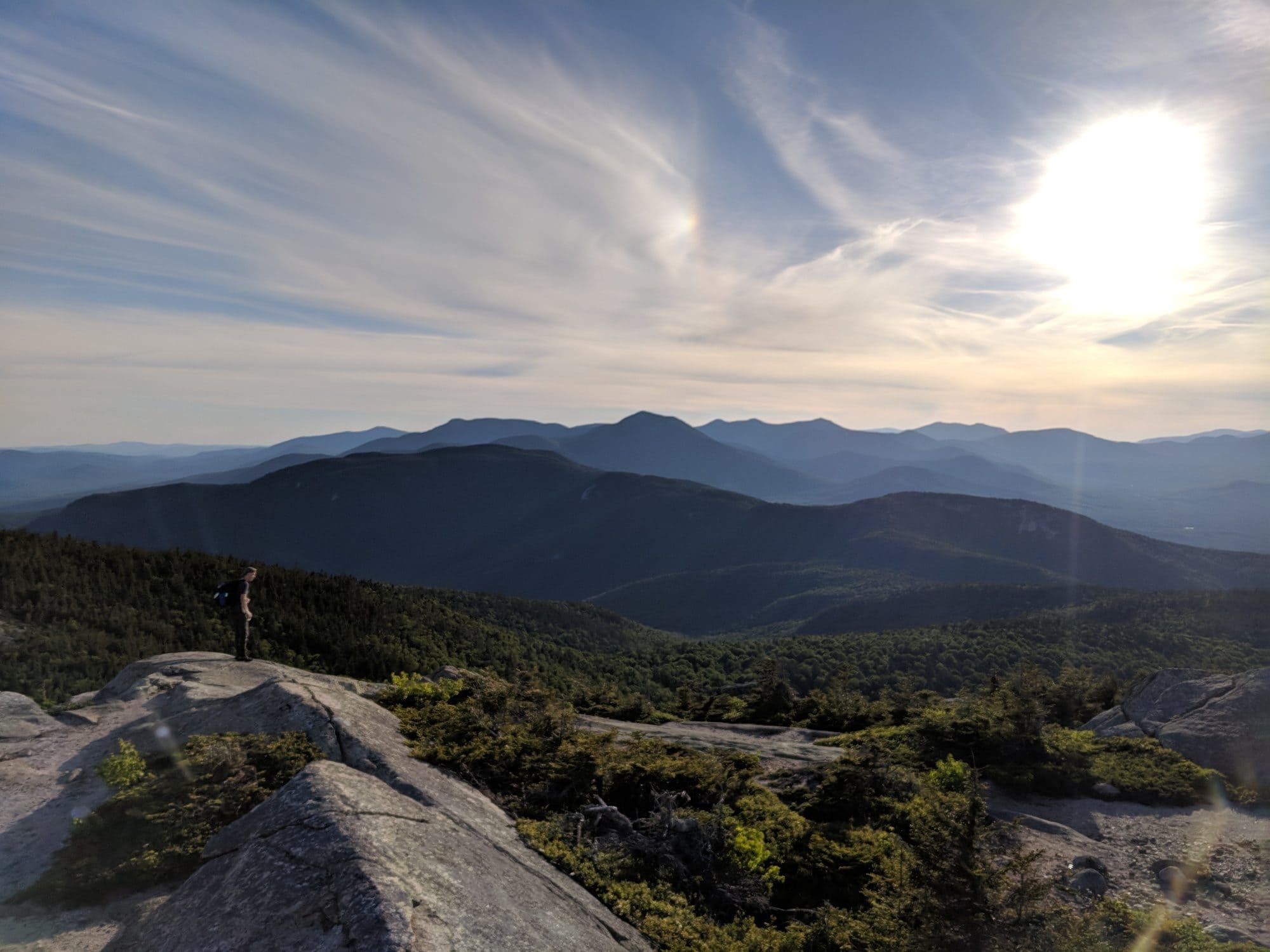 As I mentioned before, the trails on the Piper Trail and Carter Ledge Loop are not too well marked. Blazes are far and few between, but the trailpost signs will clearly indicate the right direction at each junction. Up on the ridgeline, it's easy to get a little off track so keep an eye out for the painted yellow bars on the rock slabs that are a bit faded in places but still easy to spot. In some cases, where the trail zig zags out of sight unexpectedly, there are rock cairns to help you stay on track. Don't worry, even if you think you may have lost the trail, you don't need to look too far to see if you are still heading in the right (or wrong) direction.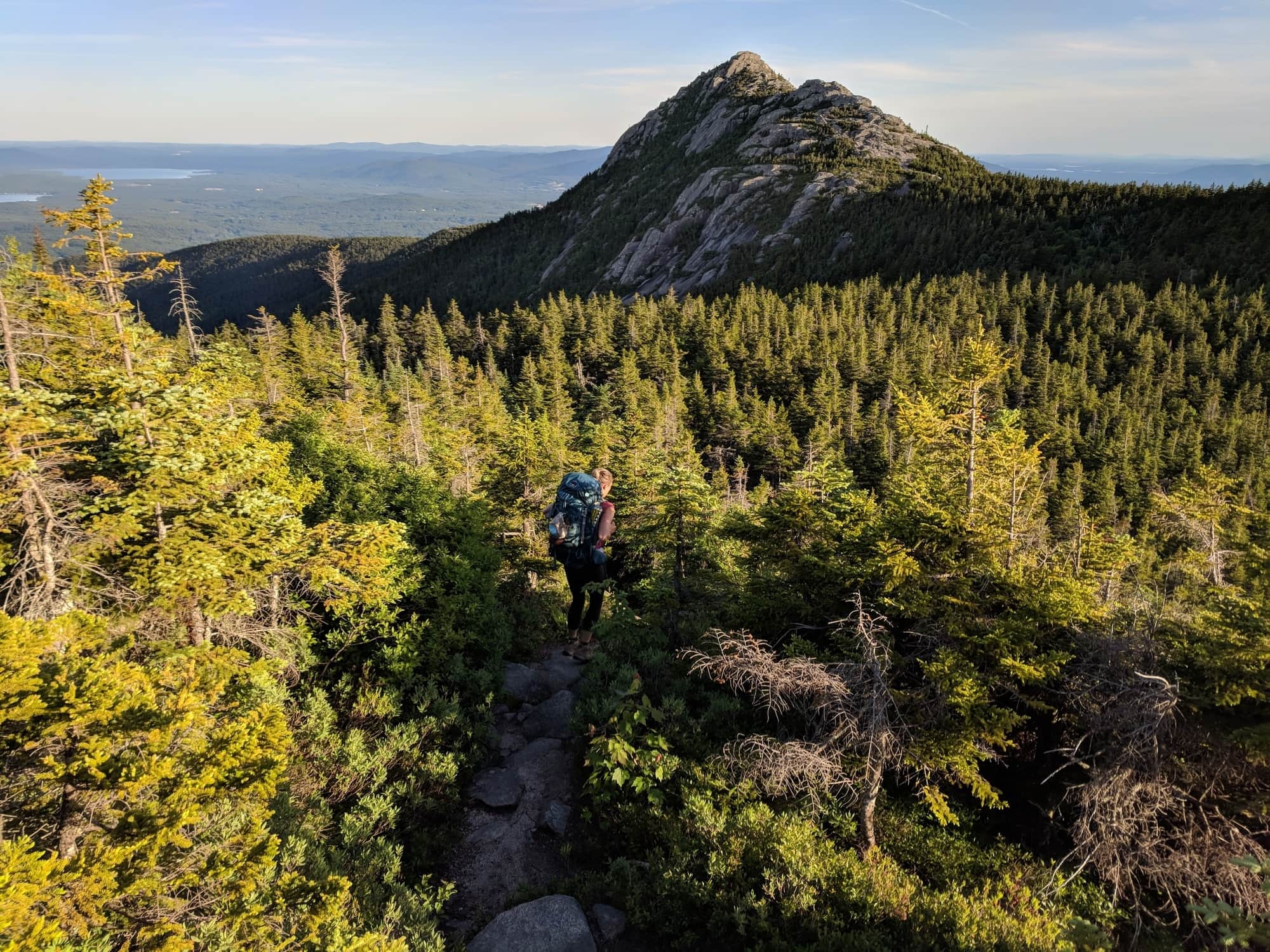 The trail will gradually take you down and here is where things can get confusing. Stay on the trail until you reach the next junction that points hikers towards Piper Trail and Mt. Chocorua. You won't summit Mt. Chocorua that is, of course, you want to go up and back down the extra mile to the highest peak, but consider yourself warned: it is steep, shlep of a mile but doable and well worth it. If not, option B is to save it for the morning and then head straight back down to the parking lot or leave it out of your trek entirely. Either way, you'll still need to make it down to camp so whatever you choose to do at that point (up and back the summit or right to the shelter) the way to Camp Penacook Shelter is simple: head down the Piper Trail.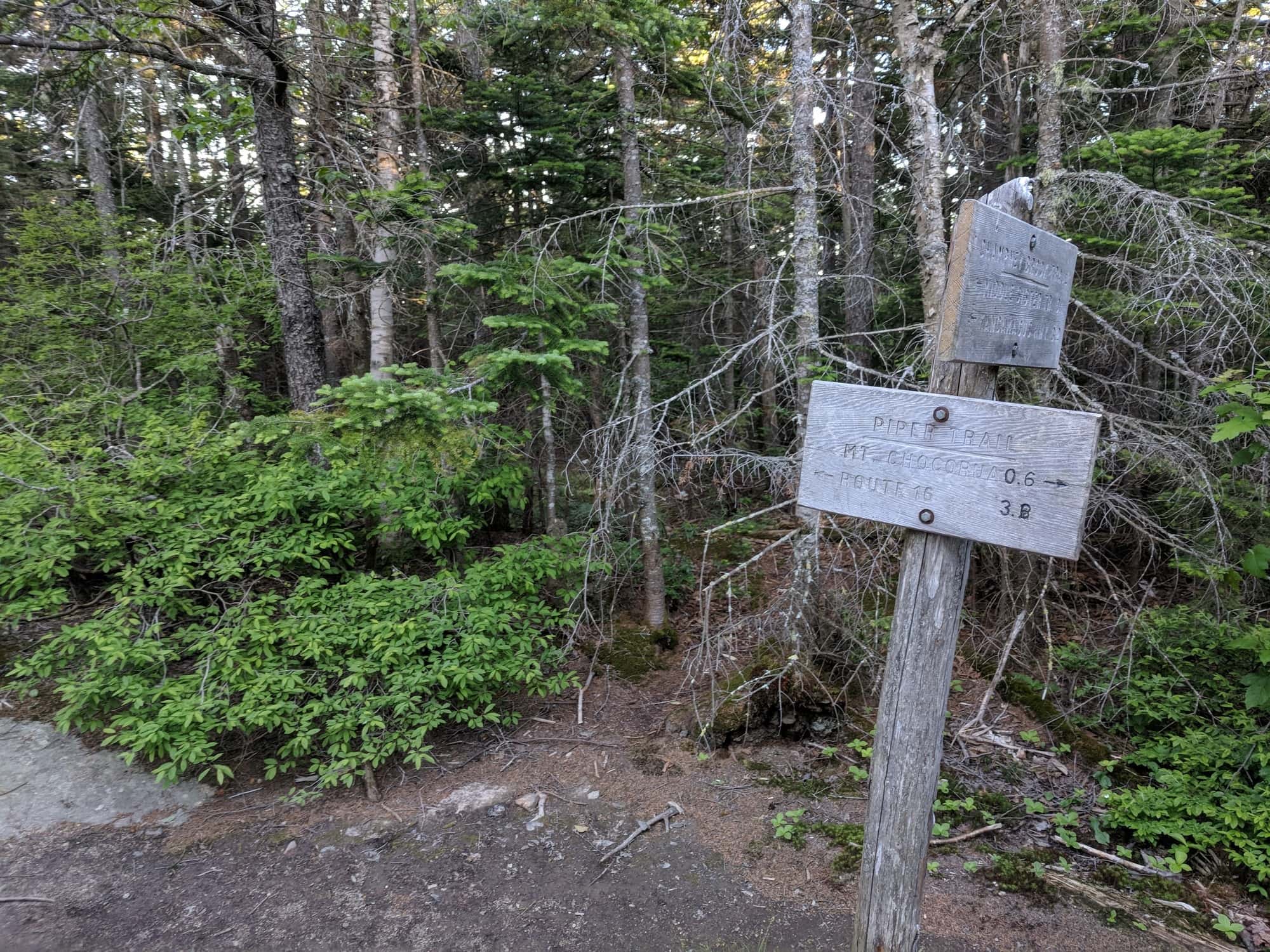 Piper Trail takes you back down the mountain with a small connecting trail that takes you right to Camp Penacook. After about a 1.5 miles turn right off Piper Trail when you spot the sign that says "Shelter", simple right? Then follow that short and steep boulder-filled trail slightly up and away from the trail traffic until you get to Camp Penacook, a 3-sided shelter with a campfire ring, beautiful views and a platform behind to accommodate additional campers if the shelter is full. We lucked out with the weather and got to experience the sunset and sunrise from our tent in the shelter which we, fortunately, had all to ourselves during our mid-week trip.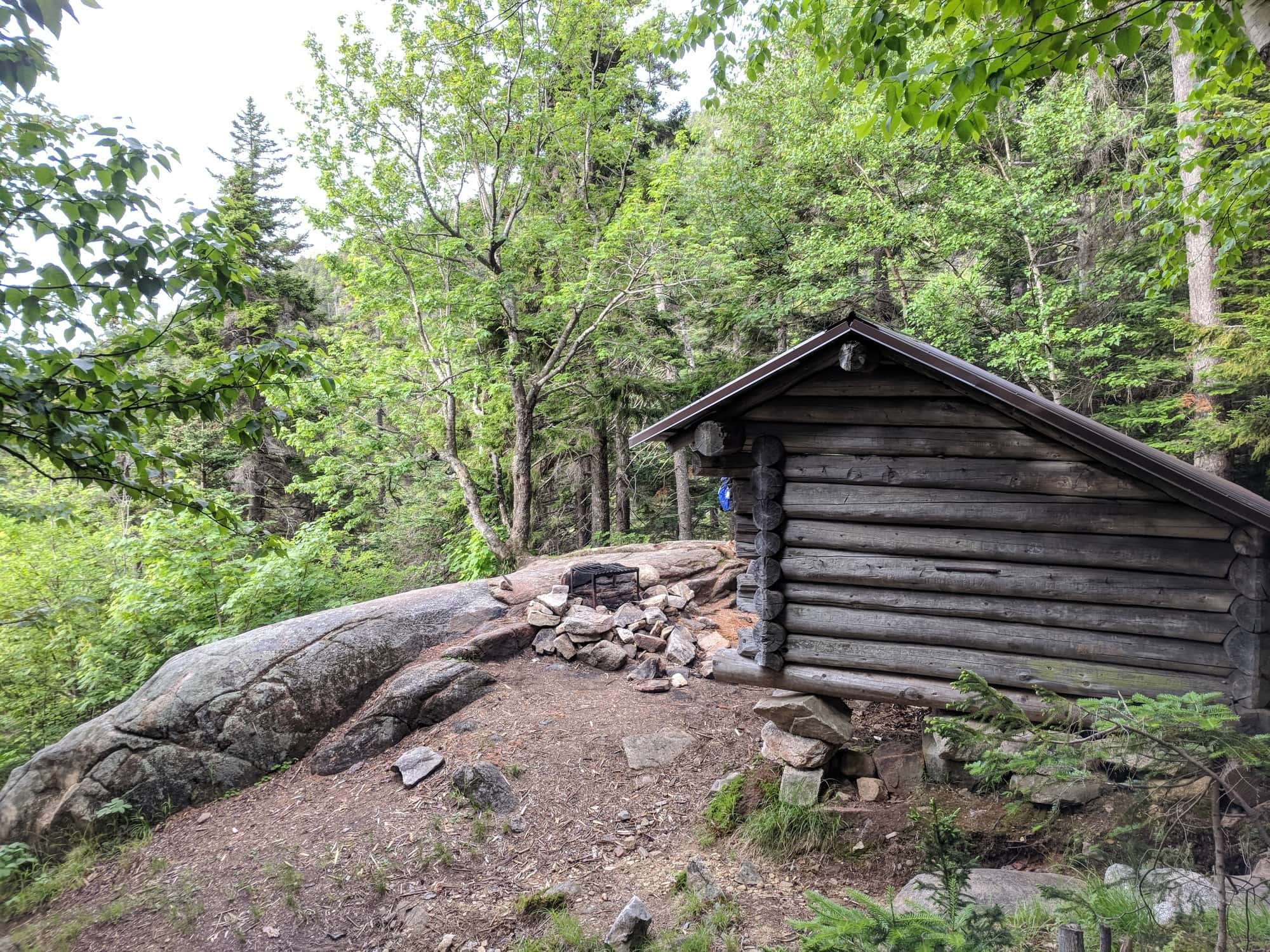 Camp Penacook is clean and well maintained due in large part to campers doing their part to keep it that way; make sure you pack in and pack out all belongings, food and trash, and as always remember the principles of Leave No Trace . Read the signs on the sides of the shelter to learn more about what is permitted and what is not.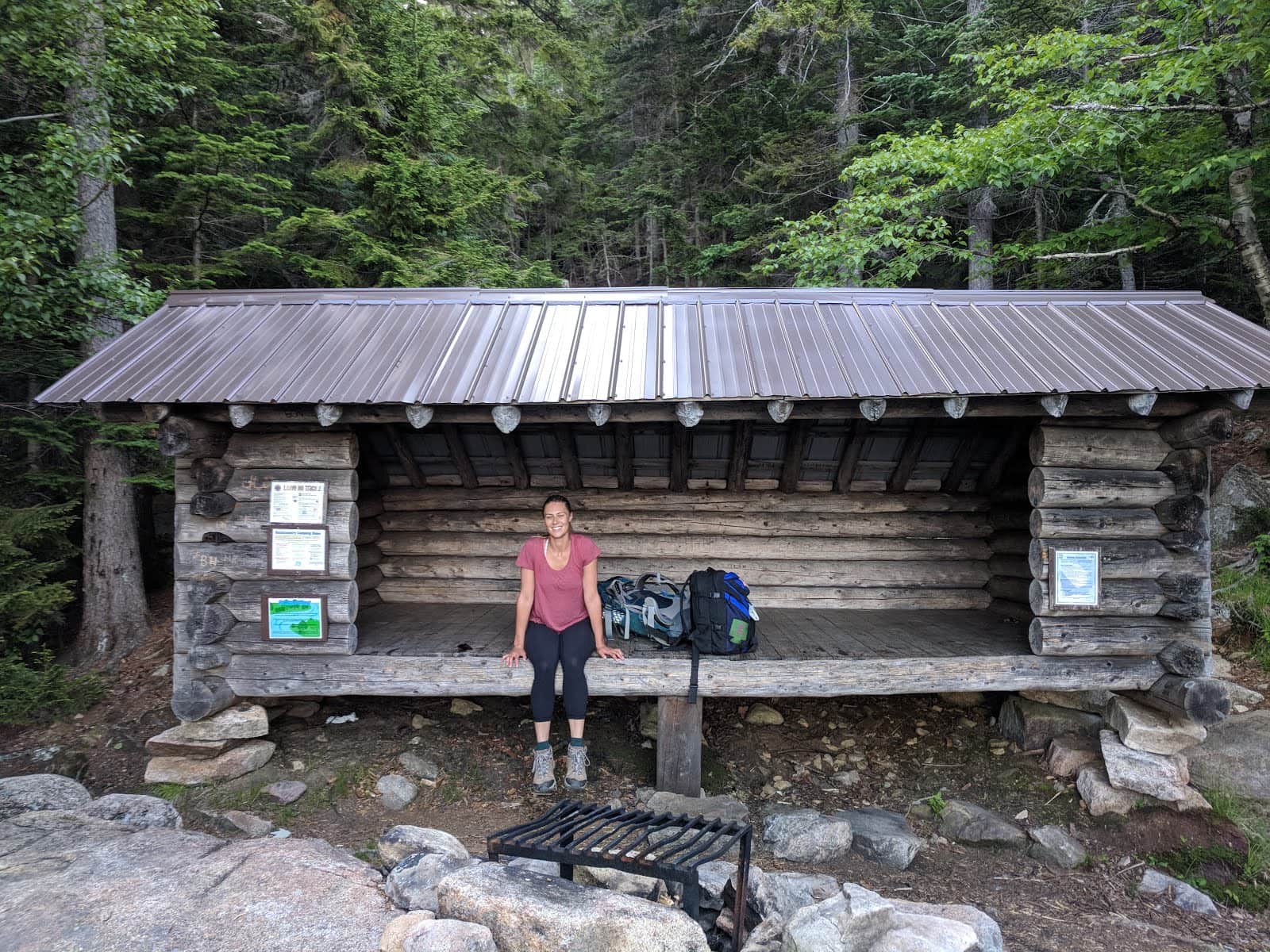 The hike back down to the parking lot — if you are forgoing the mile-long hike to summit Chocorua — makes for a fairly easy and quick trek back. Simply pack up camp and get back onto the Piper Trail for 3 miles until you reach the bottom. One last thing: make sure to take your time and enjoy the beautiful backcountry of Whites on your way down to savoring every step.
Have you hiked the Piper Trail and Carter Ledge Loop? Made it to the summit of Mount Chocorua? Share with us in the comments below! Don't forget to join in on the conversation on The Bearfoot Theory Outdoor Adventurers Facebook Page.