Maine Backpacking Guide: Hiking the Cutler Coast Trail
This Maine backpacking guide features the Cutler Coast trail, an overnight backpacking trip or long day hike along Maine's Bold Coast.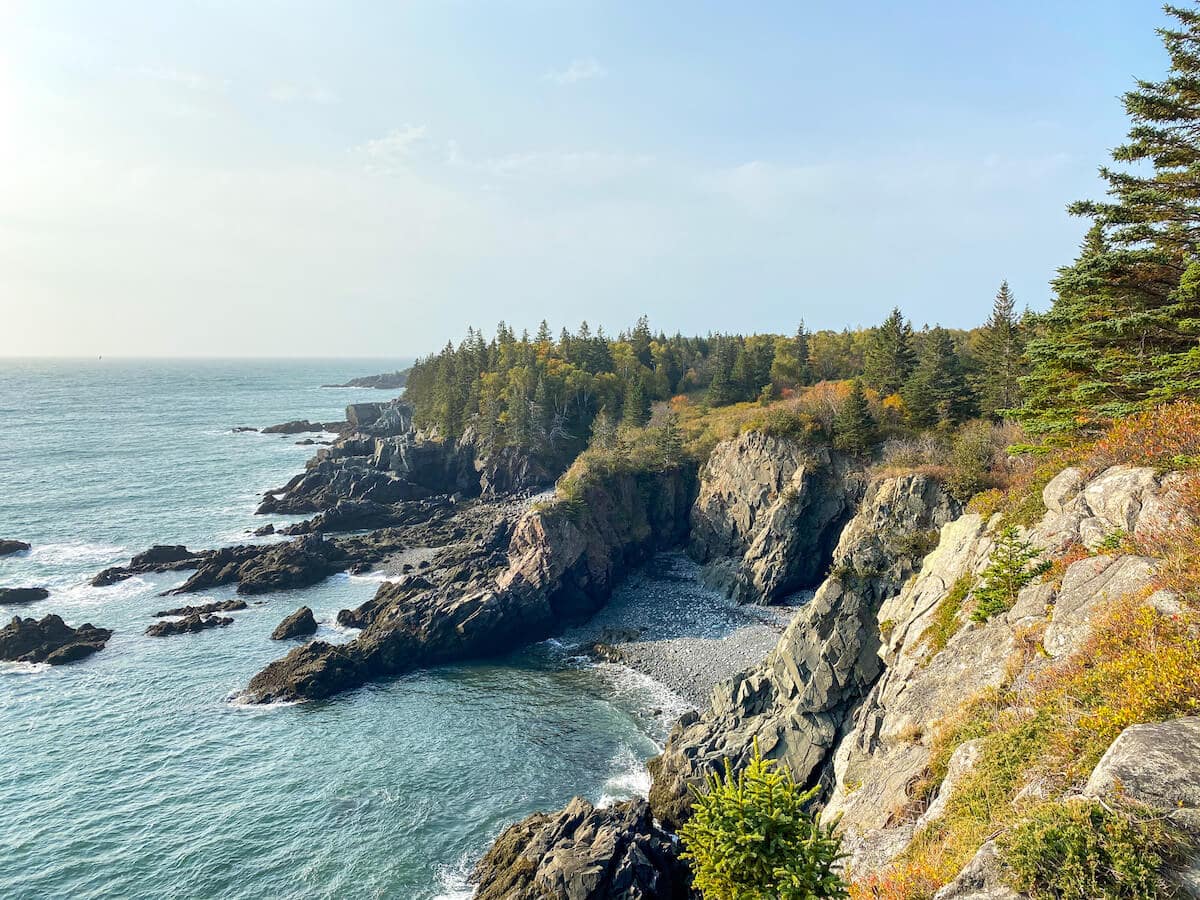 The Cutler Coast trail offers the best of Maine backpacking – lush forests, rugged coastline, stunning sunrises, and whale watching opportunities – all wrapped up with the taste of remote wilderness. Located just 2 hours north from the popular Acadia National Park, the Cutler Coast trail offers equally breathtaking coastal views, without the throngs of people. Hiking through dense forest to reach the Bay of Fundy, then along the coast through rugged and rocky terrain, this 2 day/1 night backpacking trip — or long day hike — will leave you utterly speechless.
The Cutler Coast trail is a 10.4 mile loop filled with cobble beaches, sheer rocky cliffs, and dramatic views of the "Bold Coast" of Maine. Although the parking lot was mostly full on a weekend in October, it felt like we had the trail to ourselves, only crossing paths with other hikers near the campsites. This trail is perfect for those wanting to dip their toes into overnight backpacking, as this trail is mostly flat and the first campsites are located just 3 miles from the parking lot.
For a quick, beautiful backpacking trip in Maine, this guide to the Cutler Coast has you covered.
Important Reminder: As it goes in all of the destinations we share, please practice good trail etiquette and remember to Leave No Trace. This means packing out all of your garbage (including toilet paper), being respectful to others on busy trails, and following the established rules.
CUTLER COAST TRAIL BASICS
Stunning ocean campsite views and the wild, expansive coastline you traverse make the Cutler Coast trail one of the best hikes in Maine – truly living up to its "Bold Coast" nickname. This trail can be done as a longer day hike, but I recommend stretching the hike to 2 days/1 night to enjoy the coast.
Trail Type: Loop, or out & back
Distance: ~10.4 miles
Elevation Gain: 974'
Recommended Time: 2 days/1 night
Difficulty: Moderate
Campsites: 5 available – first come, first serve
Fees: None
Dogs allowed: Yes
---
WHAT TO KNOW BEFORE BACKPACKING MAINE'S CUTLER COAST TRAIL
The Cutler Coast trail offers sweeping ocean views and hidden coves seen from the rocky cliffs above – here are the basics you need to know when planning your Maine backpacking adventure.
Permits
Permits and fees are not required to hike or camp on the Cutler Coast trail, however, you must sign the trail log at the trailhead. There is no cap for day hikers, but there are only 5 designated campsites (maximum 6 people per site). These sites are first-come, first-serve, and camping outside of the designated spots is prohibited. Check the trail log before starting your hike to ensure a campsite is available. Each campsite has a pit toilet, but you will need to hike in/out with all food, water, and camping supplies.
Parking
There are 20 parking spots at the trailhead – these can fill up quickly from day hikers and backpackers during summer/early fall weekends, so arrive early to ensure you secure a spot. We had no issues finding a parking spot on a mid-October weekend morning.
Wildlife
Whale watching peaks from early summer to early fall, and birdwatching is very popular along the trail from spring to fall. Birdwatchers have identified more than 200 species in the area, including 6 species of owls. From shore, you may spot seals, porpoises, humpback whales, finback whales, and minke whales during the summer months.
Water
Water is not available on the trail – you will need to carry all water needed for your trip.
Fire Regulations
Open fires are not allowed on the Cutler Coast trail – only self-contained stoves for cooking are permitted.
Dogs
Dogs are allowed on the trail, but must be leashed at campsites. Dogs can be unleashed hiking the trail, as long as they are kept under control.
Leave No Trace
Familiarize yourself with the Leave No Trace principles before heading out on the Cutler Coast trail. There are no garbage bins available on the trail or at the primitive campsites. Please pack out all your trash and obey all posted rules regarding fires, pets, and oceanside camping regulations.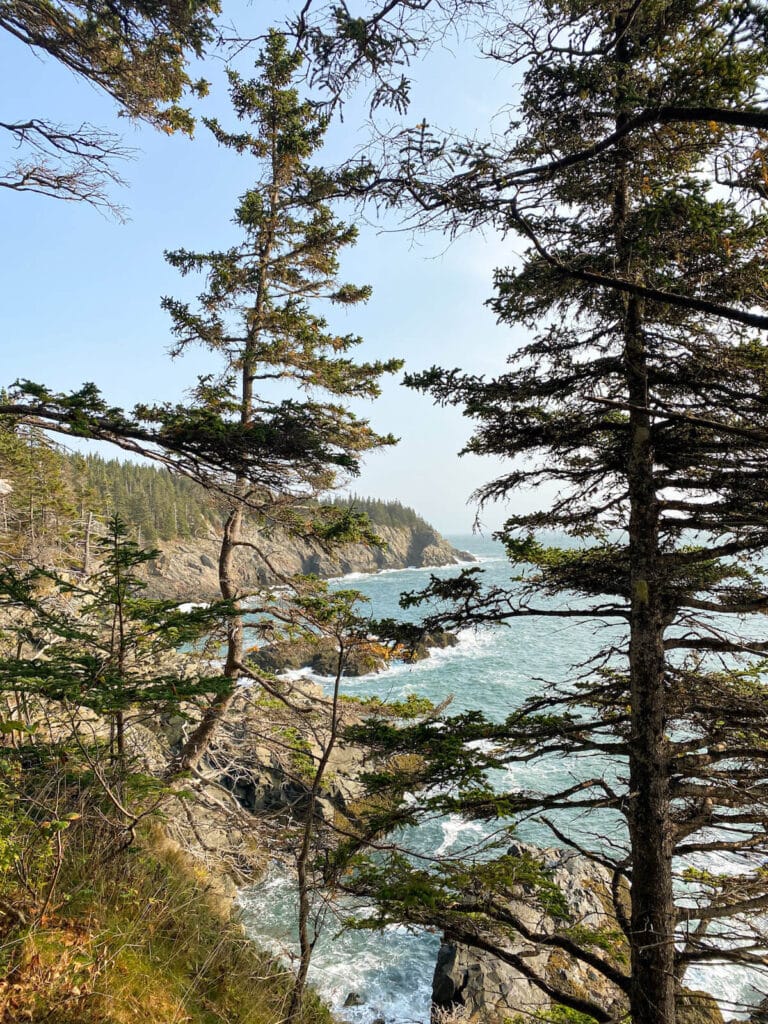 ---
BEST TIME TO HIKE THE CUTLER COAST TRAIL
While the Cutler Coast is open year round for hiking, summer and fall are the best times to backpack (in my opinion). During the summer months, wild blueberries ripen between late July and early August, and you may spot whales from the shore. Be sure to pack strong insect repellent between May and early July when black flies and mosquitos are rampant in the area. If you plan to hike during fall, wear bright orange as the larger Cutler Coast Reserve is open for hunting. Coastal Maine can be extremely windy, so prepare for potentially gusty hiking year-round. I visited in mid-October, which was still excellent backpacking weather with highs in the upper 50s, lows in the 40s, and minimal wind gusts. While the trail is open during winter, only those with proper snowshoeing/winter backcountry hiking experience should attempt the trail.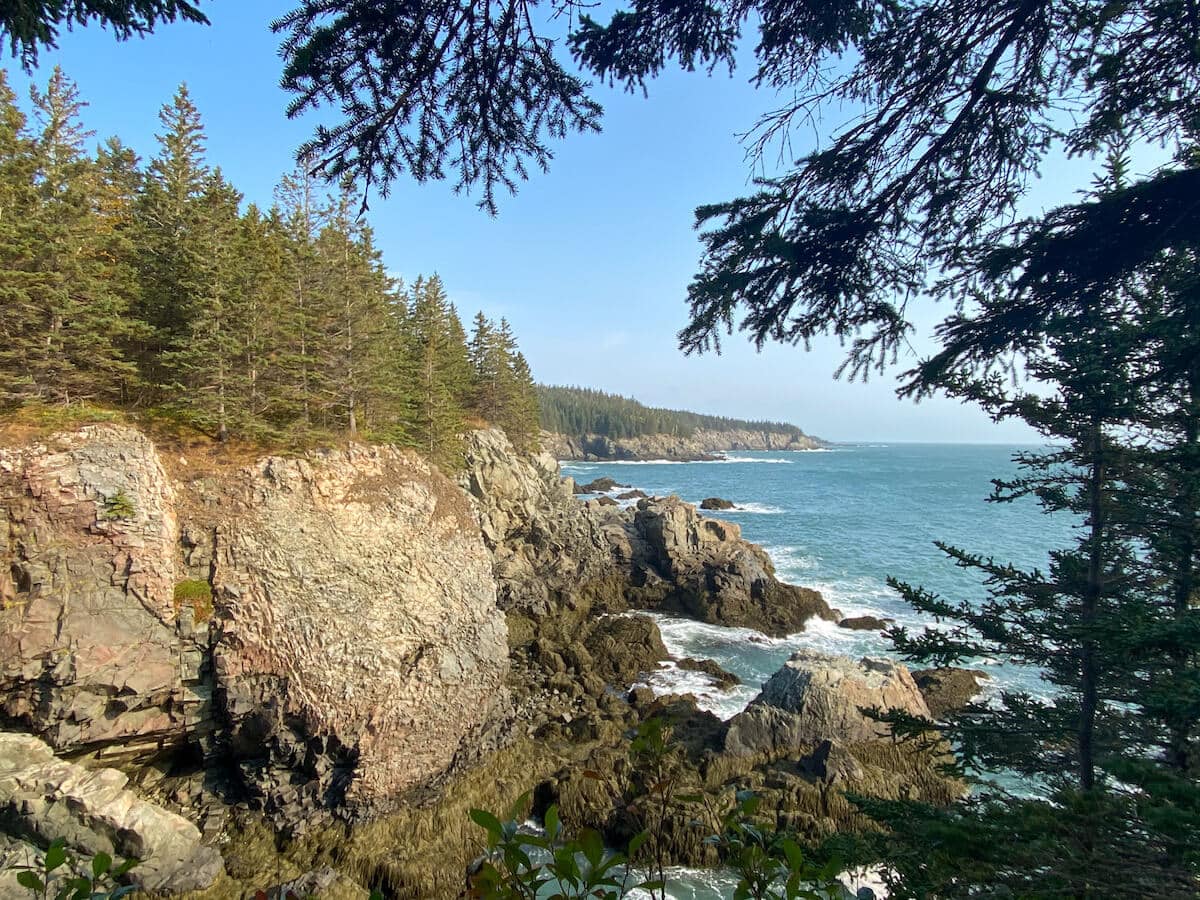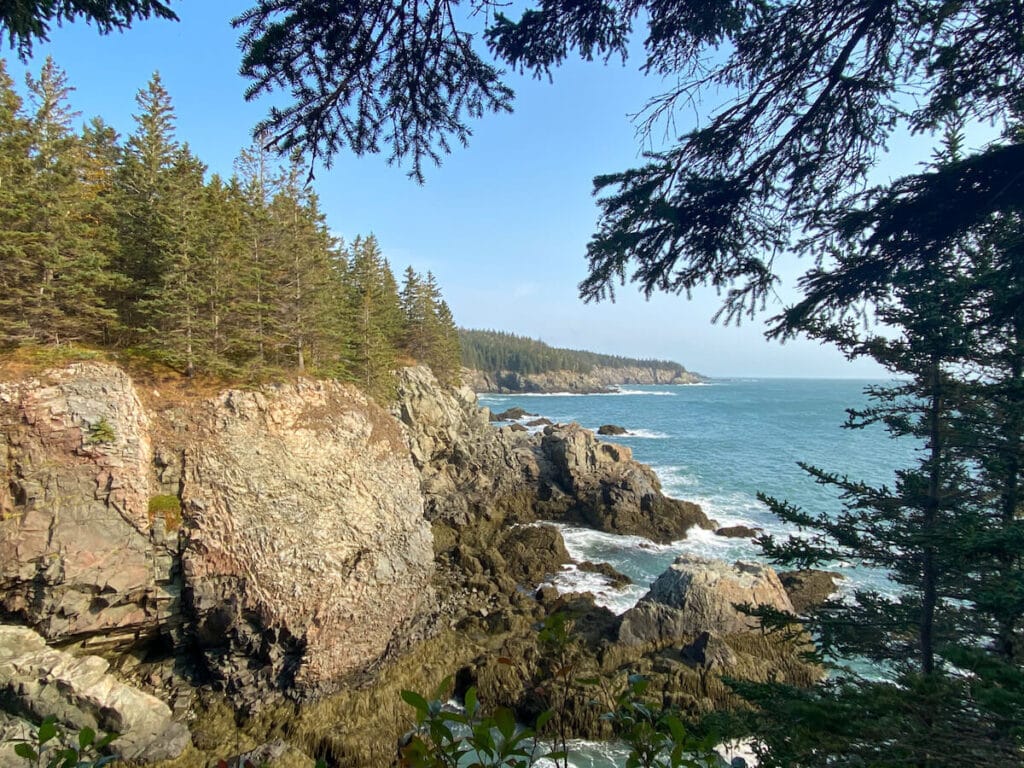 ---
HOW TO GET TO THE CUTLER COAST TRAIL
The Cutler Coast trailhead is located in northeast Maine – approximately 2 hours north of Acadia National Park. After turning onto ME-191 in East Machias, you will drive 16.9 miles to the parking area/trailhead on the right hand side of the road. There is a small blue/white sign designating the trailhead, a pit toilet, and gravel parking lot.
---
CUTLER COAST BACKPACKING ITINERARY
Although this trail is short enough to be a day hike, it is truly magical to camp so close to the ocean, falling asleep to the lulling waves and the sounds of loons in the distance, so I recommend staying overnight at one of the five primitive sites available along the coastal section of the loop.
DAY 1: Trailhead to Coast
Follow the Coastal Trail from the trailhead, which starts with a 1.4 mile section through the forest, filled with mossy trees and woodlands. You will walk on a boardwalk through marshy sections to reach the first ocean overlook. From here, you will hike along the craggy cliffs above the ocean, adding up to 3.8 miles to Fairy Head – this section is quite rocky with a few large drop-offs, so expect to hike at a slower pace (and for stops to take in the amazing views!).
There are 5 campsites dispersed along the coast, each between 3-5 miles from the trailhead. Please check the log book before you begin your hike to ensure a campsite is available. All have coastal views, so picking the first available site is my recommendation. From there, you can explore without your gear and enjoy the various hidden beach alcoves.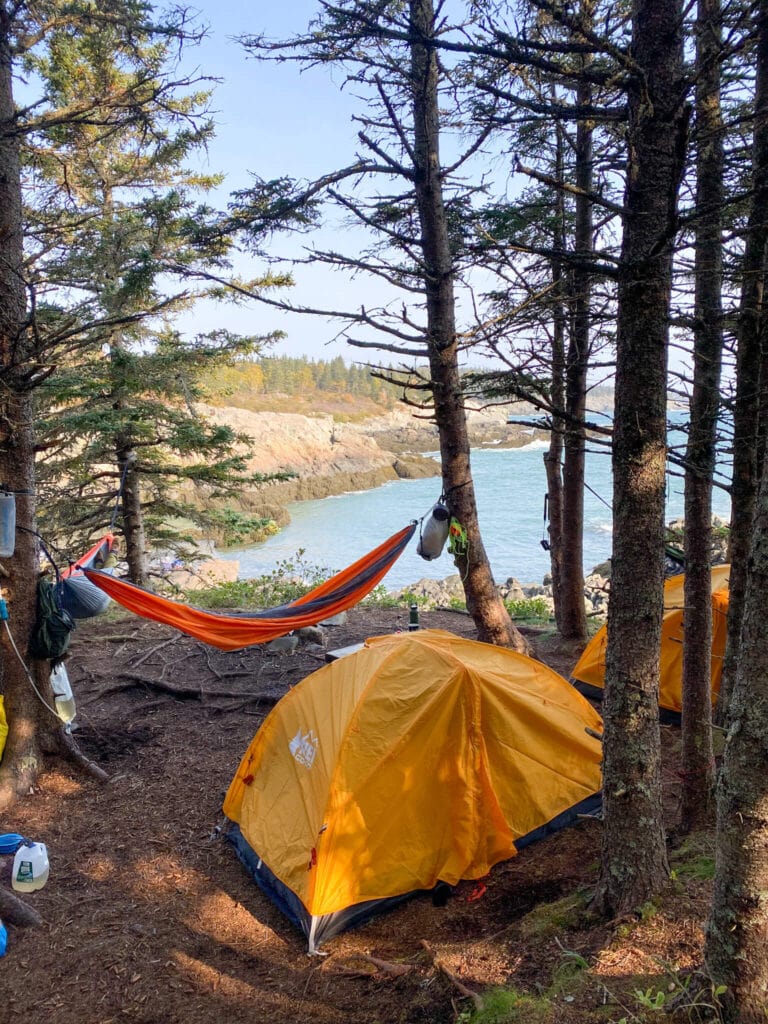 DAY 2: Coast to Inland Trail (or back along Coast)
Once you reach Fairy Head, you can either take the 5.2 mile Inland Forest trail back to the trailhead, or turn around and take the coastal route back. We chose to take the coastal route back, as we heard the Inland route was a little monotonous and we wanted to spend more time by the ocean. However, if you are short on time the Inland route will likely be quicker.
I recommend driving to Lubec after finishing the Cutler Coast trail, located 20 minutes north of the trailhead. The town of Lubec is a quaint fishing village with a good brewery and a handful of restaurants and shops to check out. Just outside of town is the Quoddy Head Lighthouse, located at the eastern-most tip of the continental US. This is one of the first places in the US to see the sunrise each day – and there were only a handful of others there during our sunrise visit!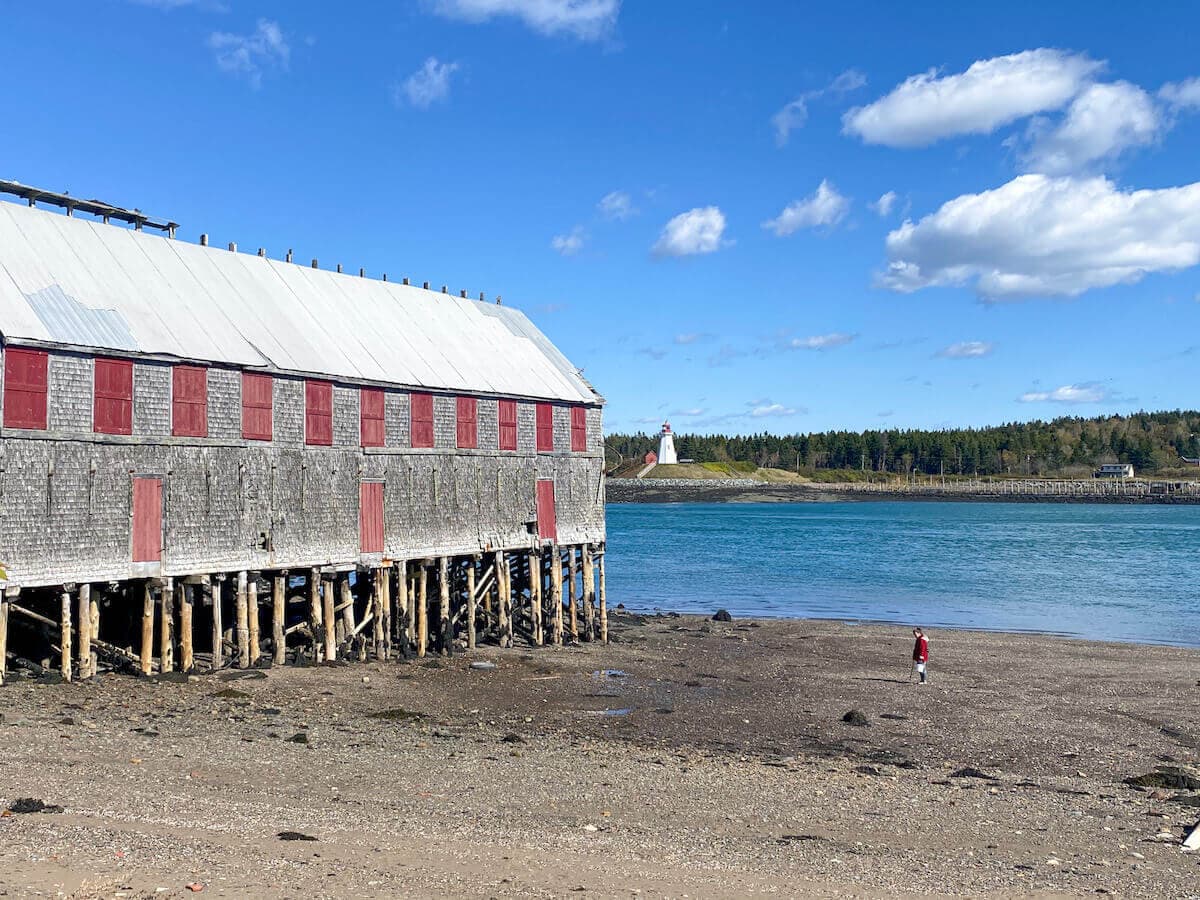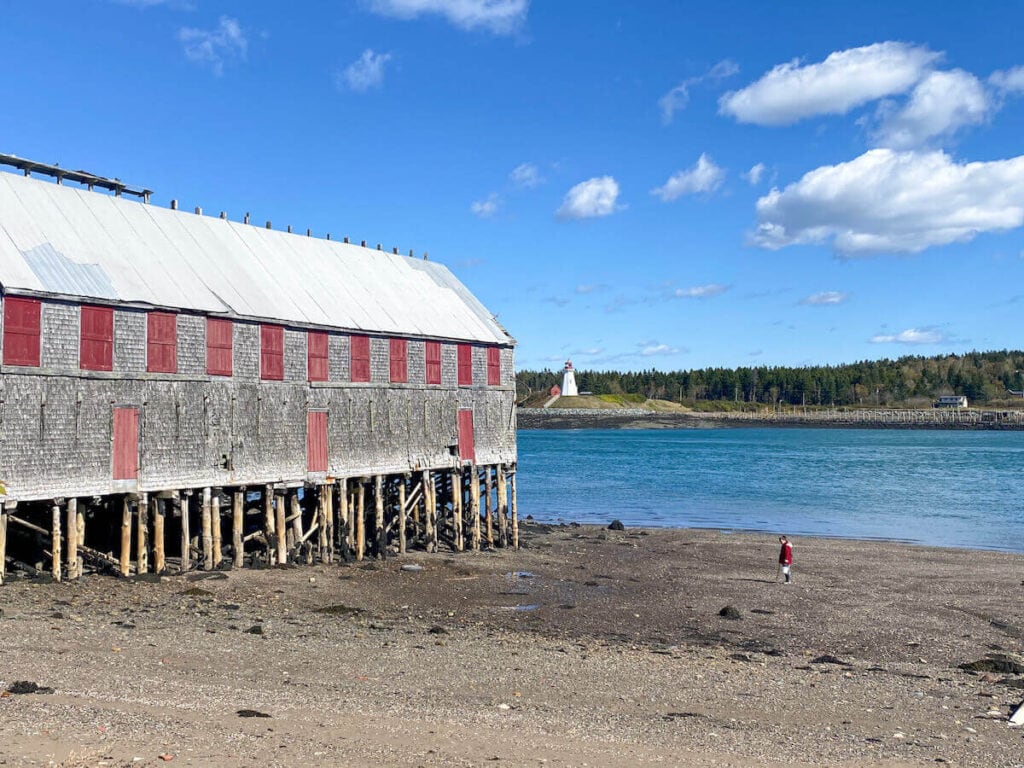 ---
CUTLER COAST BACKPACKING GEAR
Start with this backpacking checklist for your Maine backpacking trip. Since the coastal section of the trail is extremely rocky, I recommend using trekking poles. It can also get windy so bring a windbreaker or lightweight rain jacket. In the summer months, bring sun protection including a hat (with a chin strap!), and a long sleeve shirt for breezy weather. Nighttime temps can get chilly, so I recommend packing layers.
Recommended Hiking Packing List
Below are a few of my favorite pieces of day hiking gear and recommendations: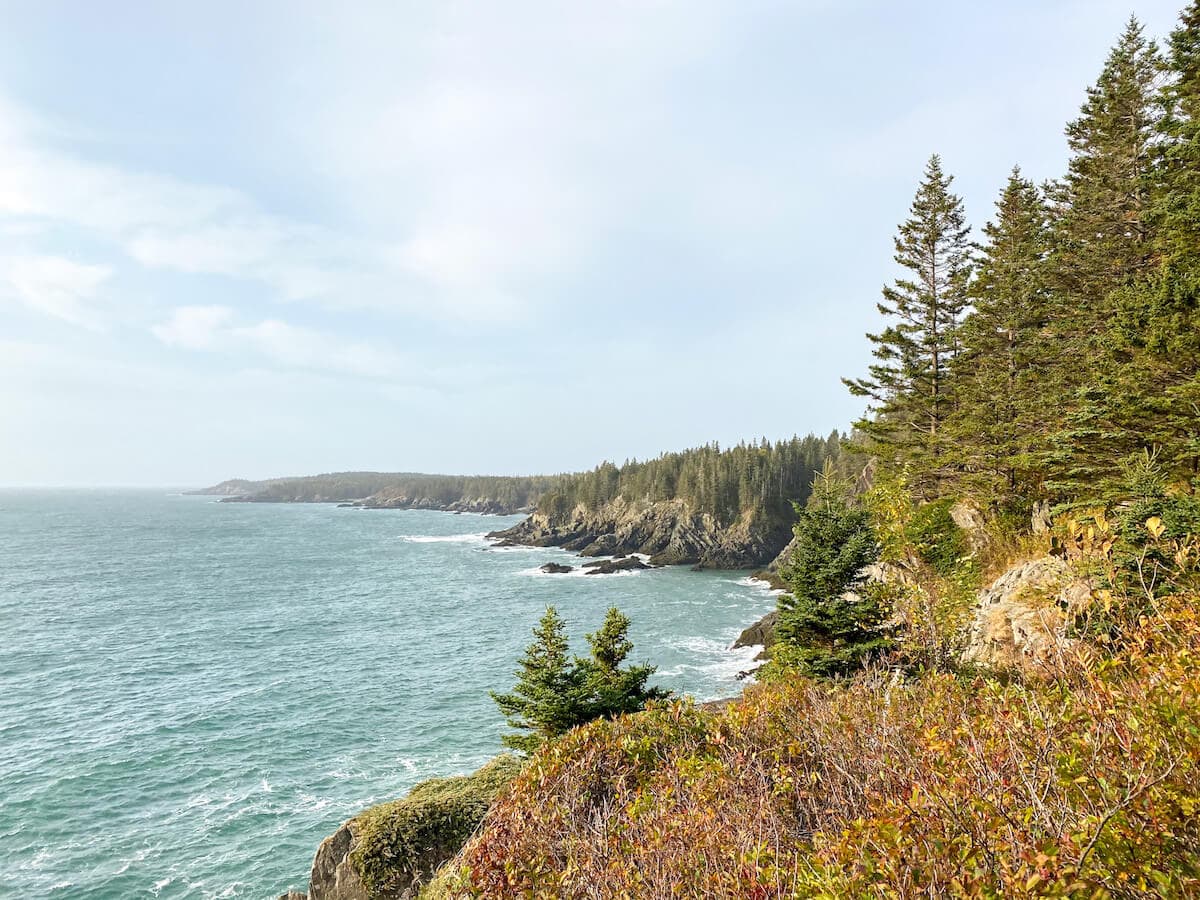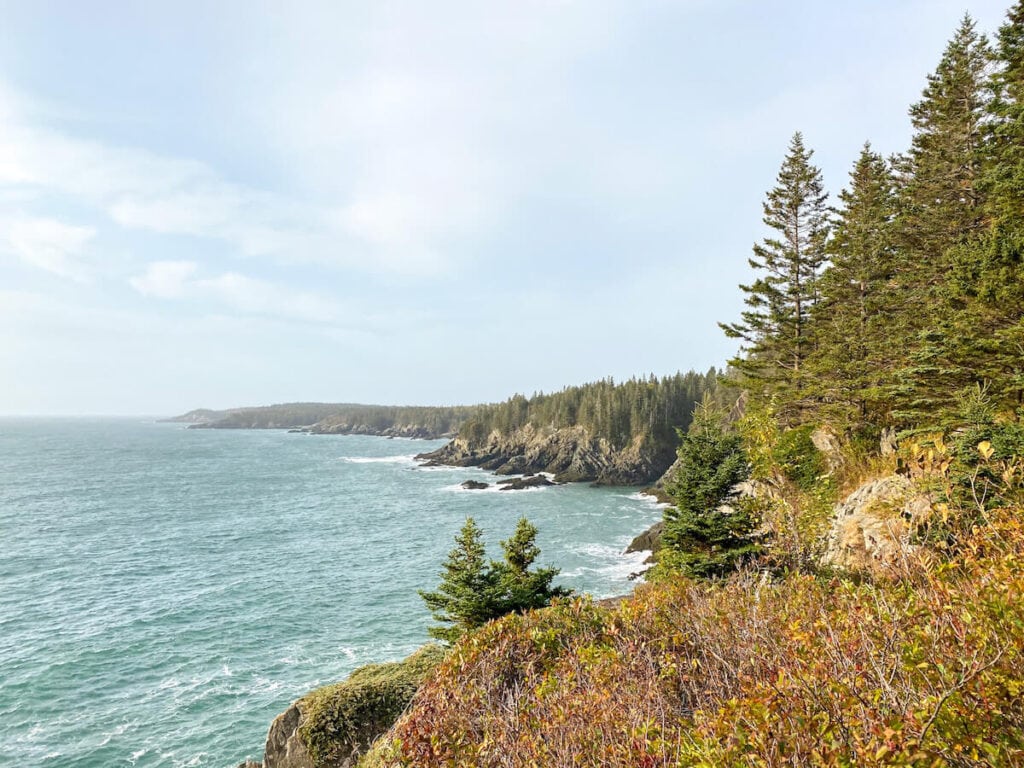 ---
Got any questions about backpacking the Cutler Coast trail in Maine or have you done this hike? Leave a comment below!