The Ultimate Guide to Harriman State Park, New York
Discover the best things to do in Harriman State Park in New York including hiking 200 miles of trails, camping, boating, and more.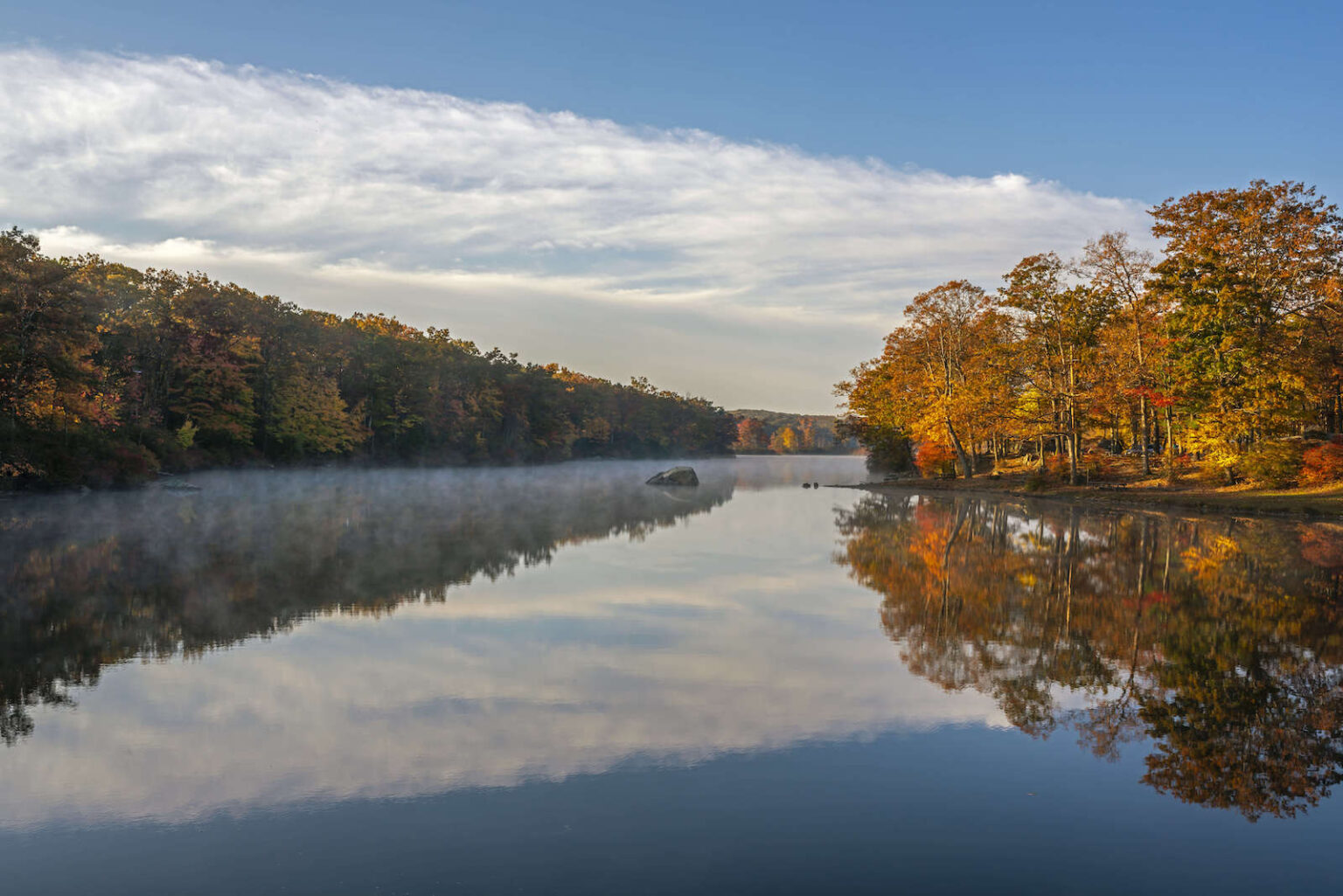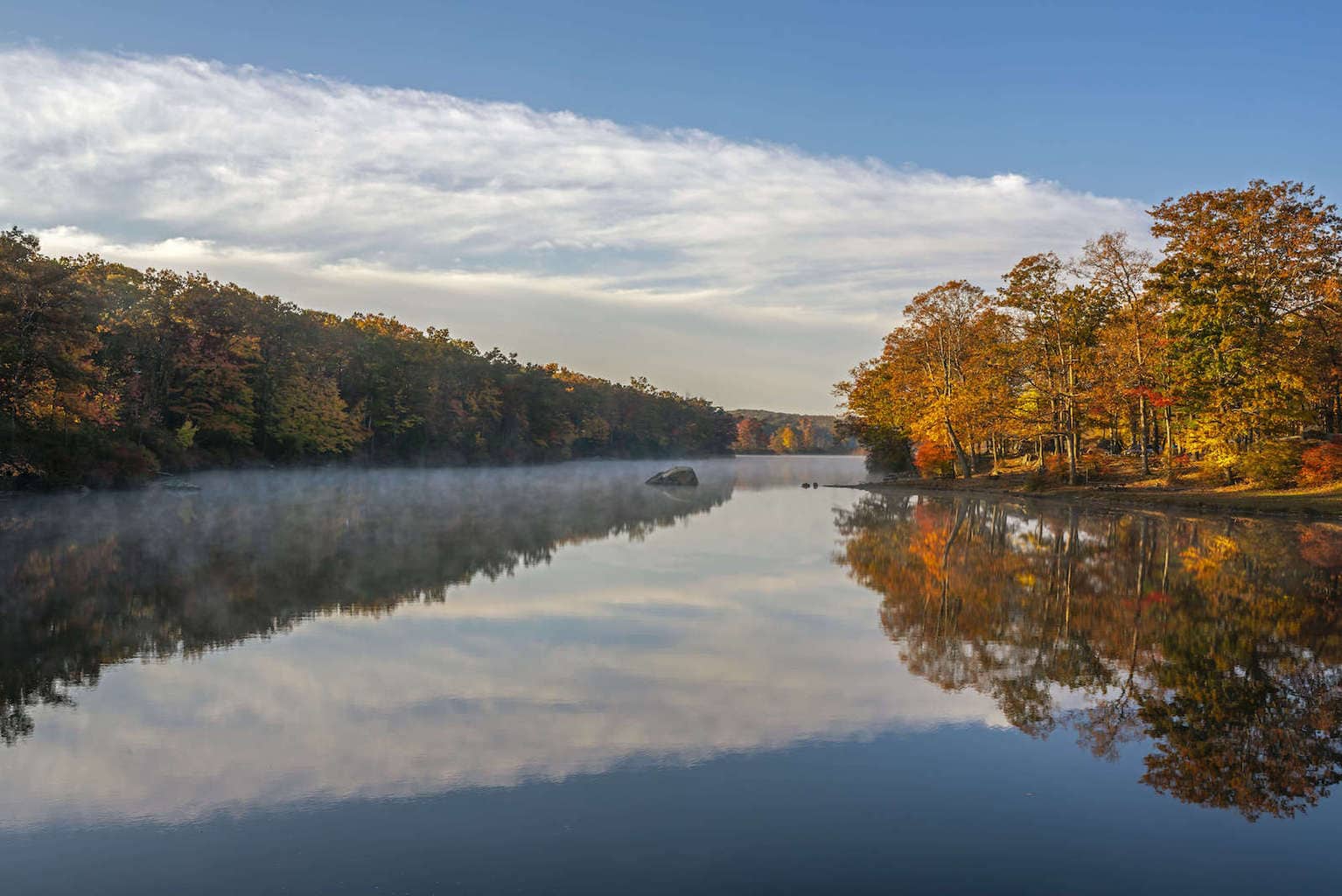 New York state's Harriman State Park has long been a haven for lovers of the outdoors. As a kid, I grew up a mere 30 minutes south of Harriman and I spent more weekends than I can count hiking the trails, exploring the area, and enjoying all of its many panoramic vista points.
Harriman State Park is a special place in part because of its close proximity to New York City and the metro area. This allows city dwellers and suburban families to get a taste of nature by going backpacking, camping, hiking, and boating without having to travel very far.
One thing I love most about Harriman is that visitors will cross paths with people of every outdoor skill level. Whether that's first-time hikers, Appalachian Trail thru-hikers, or parents who want to share their love of hiking and camping with their kids, you can find a variety of outdoor lovers at Harriman.
Whether you are an occasional visitor, city slicker or out-of-towner looking to get away from the chaos of the NYC this guide will help you navigate Harriman State Park. Happy Trails!
And as it goes in all of the destinations we share, please remember to Leave No Trace. This means packing out all of your garbage, being respectful to others, and following the established rules.
Harriman State Park Basics
Harriman State Park is the second-largest state park in New York with 200 miles of hiking trails, 3 beaches, 9 historic lean-tos, 2 group camping areas, and 32 lakes and reservoirs. The 47,000+ acres of Harriman State Park borders Bear Mountain State Park with connecting trails and camping areas that link the two historic areas together and make them feel like one big park.
Located in the lower southeast corner of New York state just an hour away from the city and minutes from the border of New Jersey, Harriman is a popular outdoor destination for many in the city and the suburbs. Be warned, it gets crowded on nice days and warm weekends!
While you're here, take note of the white-blazed trails which mark a section of the Appalachian Trail. What's really cool about Harriman is that the AT leads thru-hikers over the Bear Mountain Bridge and eventually leads them across the northern part of Harriman State Park.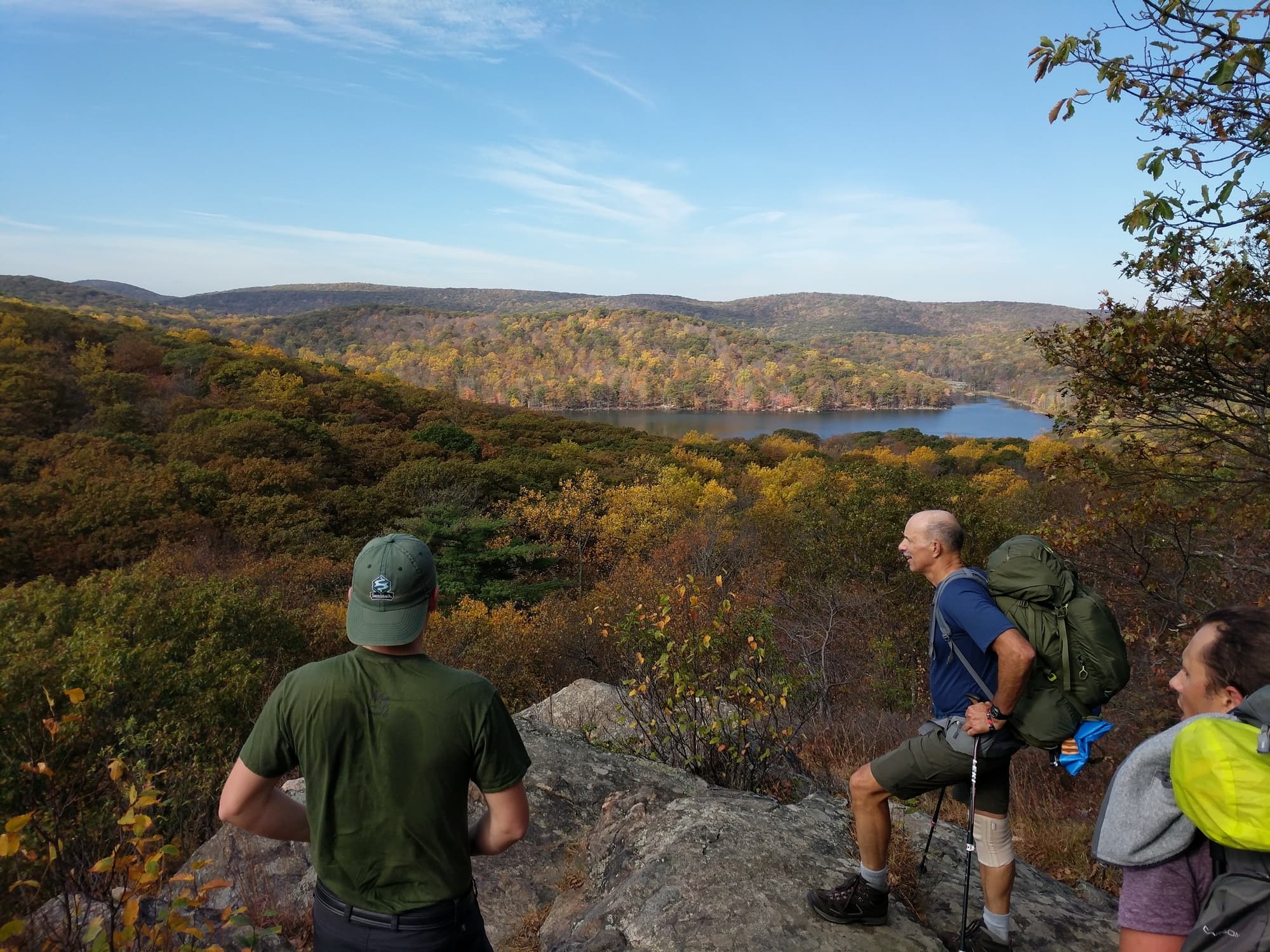 ---
How to Get to Harriman State Park
This area north of New York City is jam-packed with highways and well-traveled roads, so there are plenty of routes you can take to get to Harriman State Park. There are even a number of roads that wind their way through the park. So, driving is truly the most convenient way to get there, especially if you are planning on an overnighter.
Getting to Harriman State Park by car
Take Palisades Interstate Parkway straight into the park where you can stop at any of the main parking areas or stop-off alongside of the road to hop on a trailhead
I-87 North is a main highway that takes visitors straight to the west side of Harriman State Park. From here, it's easy to enter onto one of the park's many interior roads
Route 202 travels along the eastern side of Harriman, making it easy to enter the park as far up as the Pine Meadow Lake Trail where it branches off and away from the park's entry points
Route 17 North will take you to the southern tip of the park to a popular area called Seven Lakes Drive. Here you can park your car for an overnighter or a day trip and gain entry to one of the many trails in the lower half of Harriman.
Taking public transportation to Harriman State Park
Take the Shortline Bus from Port Authority to any of the stops at Suffern, Viola Road, Jones Point, Tompkins Cove and Harriman Inn to enter the west side of the park
NJ Transit Port Jervis train line takes you to the west side of the park and drops you off at any of the following train stations that are walking distance to trailheads: Sloatsburg, Suffern, Tuxedo and Harriman
---
Best Time to Visit Harriman State Park
The best times to visit Harriman State Park are during the summer and fall seasons. While the park is open year-round for winter lovers too, during the summer all trails, campsites, and lake areas are open and completely safe to enjoy.
Of course, the Northeast's famous foliage makes fall one of the most exciting times to be at Harriman. Not only is the weather perfectly crisp and cool but the beautiful colors of the season can be seen from every vista point and down below.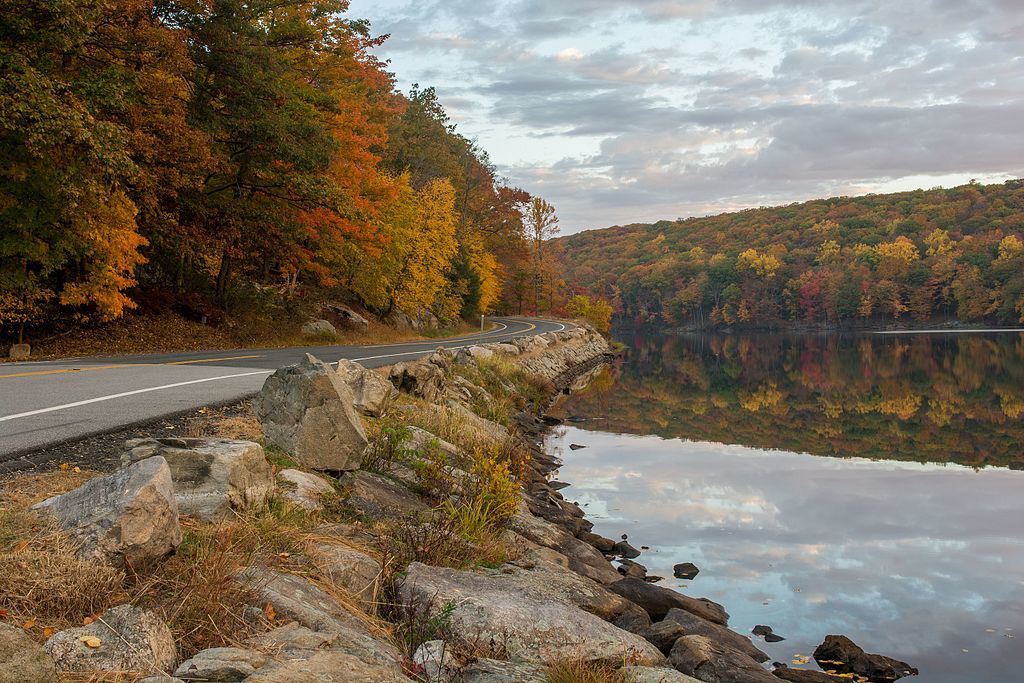 ---
Best Places to Visit in Harriman State Park
1. Lake Tiorati
Lake Tiorati is one of seven lakes in Harriman State Park and it's one of the only two you are allowed to swim in. Tiorati is a gorgeous clear blue lake with a sandy beachfront that is perfect for families or daytrippers. It's easily accessible by the main highways and has a parking area for you to unload. Dogs are allowed on a six-foot leash.
2. West Mountain Shelter
Of the nine shelters in Harriman State Park, West Mountain is by far the most popular spot. It's a beautiful old stone lean-to that is perched on a cliff overlooking the Hudson River and the New York City skyline. Be warned, this is one of the most trafficked destinations in the area, so you're better off going during the week or getting there very early to secure your spot.
Just be prepared to share your shelter for the night with other hikers eager to get a night in at West Mountain.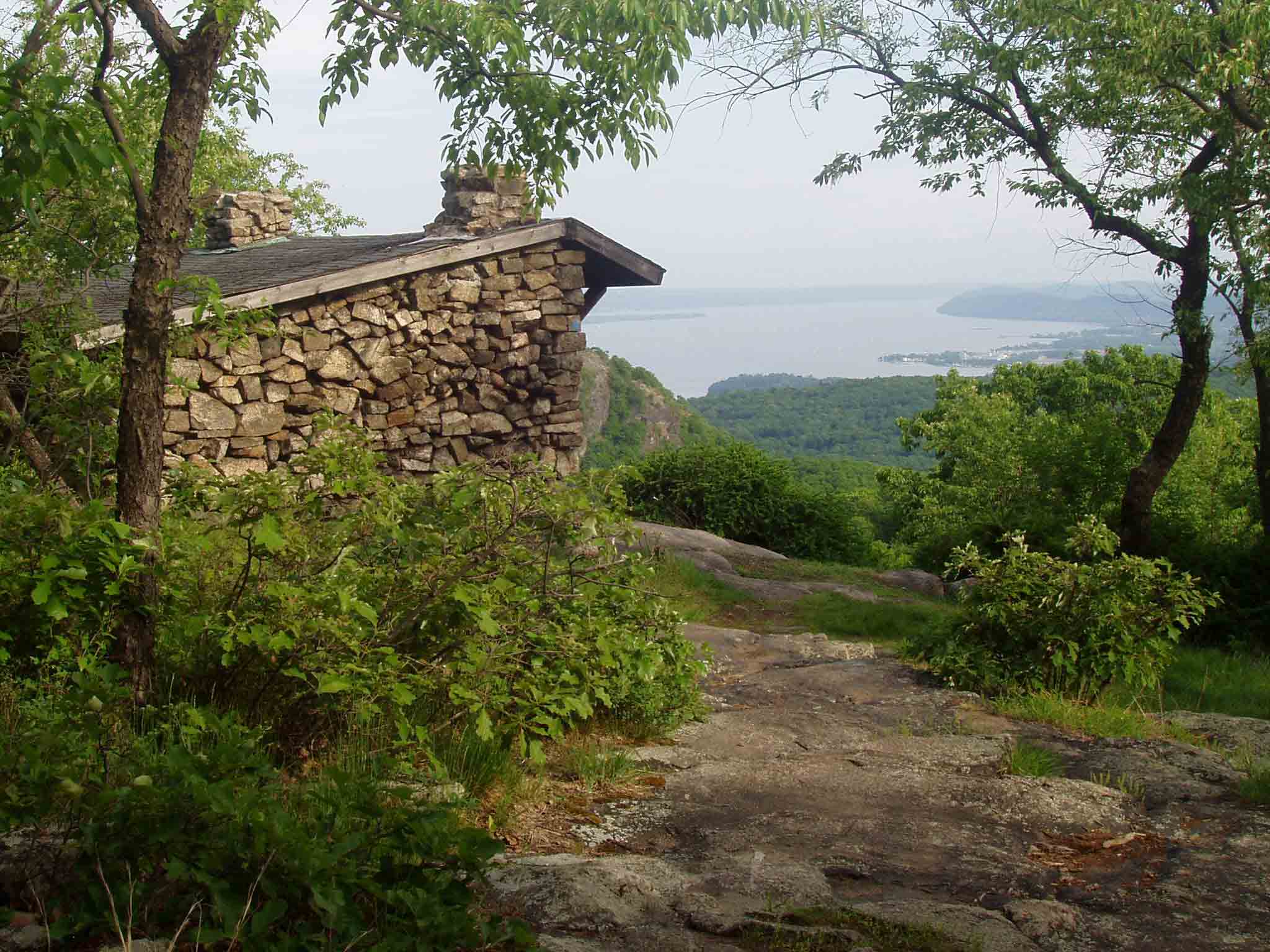 3. Bear Mountain Bridge + Inn
This historic early-1900s stone building and beautiful bridge should be at the top of your list when visiting Harriman State Park. The Bear Mountain Inn's rustic craftsmanship alone makes it worth a visit.
4. Pine Meadow Lake Trail + Pine Meadow Lake
This crystal clear blue-green lake is a popular spot in the Southern section of Harriman State Park that is frequented by many daytrippers and overnight guests. The trail is easy to access and there is plenty of parking available, so try to plan your visit during off-peak hours or mid-week if possible to avoid overcrowding.
I highly suggest doing a long or shorter loop around Pine Meadow Lake which will also take you past a waterfall and along a brook. Only enjoy the water from a distance and do not swim or plan to camp! Sadly, many guests ignore the rules that are here to protect this park, so remember to do your part and as always, carry out what you carry in.
5. Almost Perpendicular Trail + Claudius Smith Rock
Another popular hike that isn't too crowded is Almost Perpendicular. Here, hikers gain quite a bit of elevation as they make their way to the top of the cliffs for big views of the park that are jaw-dropping in the summer and fall. Hikers will also pass by the famous Claudius Smith Den that was the hideout of the notorious local cowboy, Claudius Smith during the American Revolution.
---
Harriman State Park Camping
One of my favorite things about Harriman are the campsites. Having grown up in the surrounding area, we frequently day hiked in the park and camped overnight in our tent when my brother and I were old enough to carry our gear on our backs.
As an adult, I realize just how lucky I am to have nine historic, hand-built backcountry shelters under an hour away from my urban home. I highly recommend spending a night in Harriman at one of the shelters and if you can get one all to yourself on a beautiful day you'll certainly be the better for it.
Here are a few things to know before you go camping at Harriman State Park:
Harriman State Park Shelters
You do NOT need to make a reservation for shelters or obtain a permit (unless you're interested in a group campsite, see below)
Camping overnight in the Harriman State Park shelters is totally FREE
All the shelters and campsites are off-trail and are only accessible by foot. There is parking near trailheads but no drive-in campsites
Parking is NOT allowed by Island Pond or Pine Meadow Lake despite the well-worn campsites and fire rings that exist
Get there early! Despite the 46,000+ acres worth of space, the nine shelters can easily get filled up.
Beat the crowds and secure your space while you can
Be welcoming to other campers who want to spend the night there, too. It's open to multiple groups or solo hikers, not just for you. Keep in mind this camping etiquette and you're likely to make some new friends!
Dogs are allowed at the shelters, but they must also be kept on a 6-foot leash.
Campfires are allowed but you will need to forage for firewood and kindling (only use already downed trees and logs)
Carry in and carry out all trash and other belongings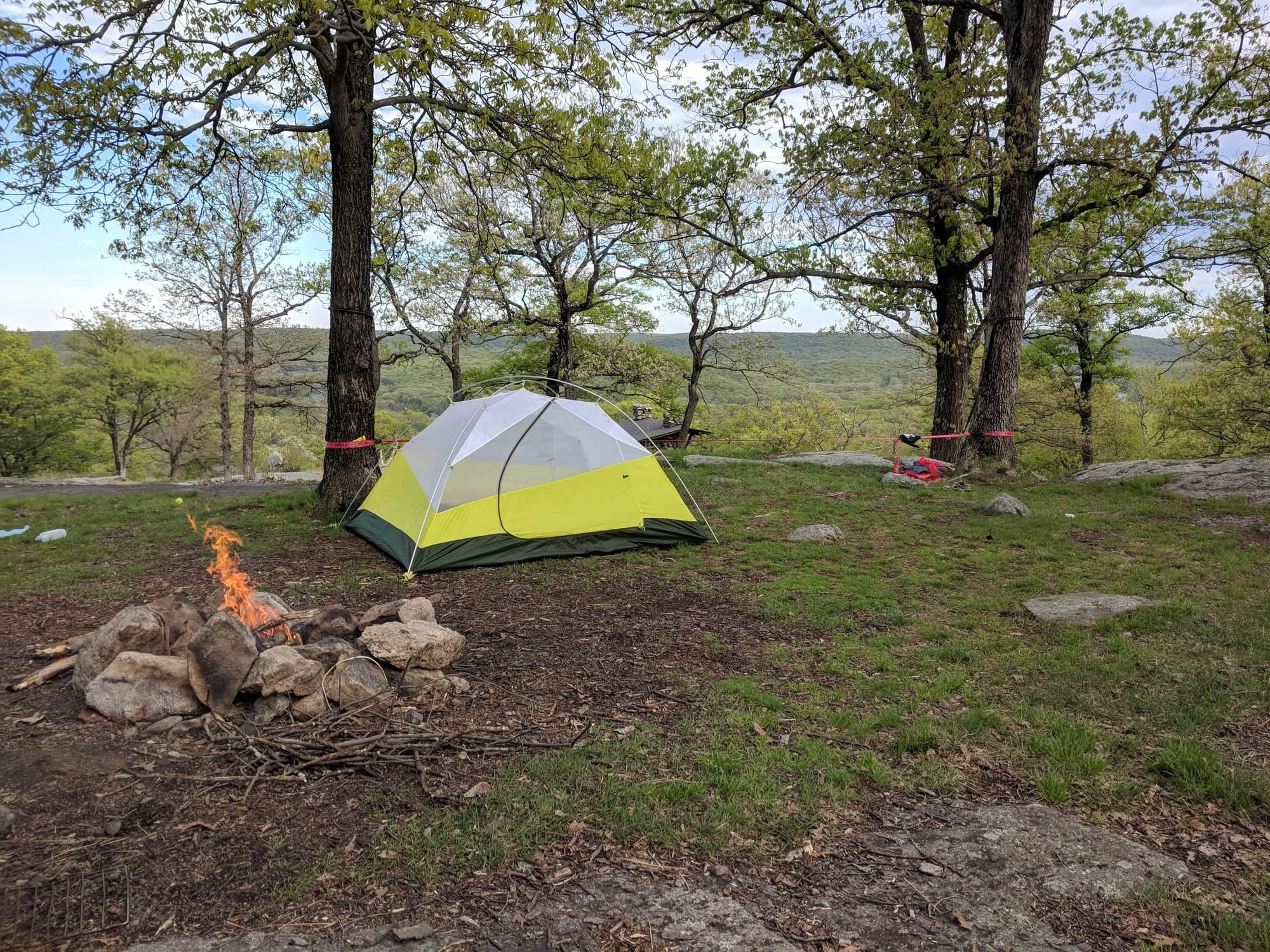 If you find a shelter that is totally packed, don't worry, there are normally 2-3 well-worn campsites in the surrounding area that are just as good a spot to spend the night. At the shelters, you'll find fire pits, soft grassy patches, and sometimes some big tree trunks or rocks that other generous campers have rolled in for you to sit on as you enjoy your campfire.
The community of hikers and backpackers in Harriman is something that is always sensed and noticed in the area. Showing kindness and respect to your surroundings and fellow hikers is one of the most important aspects of being outdoors, so always remember to pass it on when you can.
Tentrr Camping
Harriman State Park has partnered with Tentrr to provide fully-equipped canvas tents that are all set up and ready to go when you arrive. There are three walk-in Tentrr sites along the shores of Silver Mine Lake with easy access to hiking and biking trails.
There are also 11 additional walk-in tents at Sebago Lake, all of which are single-occupancy. For more information on Tentrr at Harriman State Park, visit the Tentrr website and search for "Harriman State Park".
Group Camping in Harriman State Park
There are two group camping sites at Harriman: Beaver Pond and the Stephen & Betsy Corman AMC Harriman Outdoor Center. Both of these sites are by reservation only and are intended for larger car camping groups.
Beaver Pond Group Campsite
Located on Lake Welch Recreation Area, Beaver Pond Campground includes tent and trailer sites that are great for larger groups. Dogs are not allowed and alcohol is strictly prohibited. Cooler/car searches will take place if you are suspected of having alcohol on hand.
Beaver Pond has a reputation for being a louder and rowdier area, so it isn't the first choice for many dedicated hikers and backpackers. However, if you are looking for a fun, party atmosphere by the lake with friends, this is for you.
Stephen & Betsy Corman AMC Harriman Outdoor Center
Reserve a cabin or bunkhouse in Harriman at the Stephen & Betsy Corman AMC Harriman Outdoor Center. Perfect for very large groups like family reunions, corporate events, youth groups, and more. Amenities include meal service, easy trailhead access, bathhouses, meeting spaces, and more.
They also offer tent sites and platforms as well as backcountry campsites run by the Appalachian Mountain Club.
---
Harriman State Park Boating
When the trails are overcrowded and the beaches are full, there is no better place to be than out on the water. Harriman's lakes and ponds do allow boaters on the water with a permit and although I've never been, I'm super stoked to check it out one day.
Here's a brief overlook of the rules, regulations, and things to know before boating at Harriman:
Boats are allowed out on the lakes from April 1-November 30
Visitors must obtain a $30 permit for their season pass/boating permit
Boating is only allowed between 5am and 10pm
Island Pond requires you to have a fishing permit as well
There is no alcohol allowed on the lake and you may not get out of your boat and swim
How to Get a Boating Permit at Harriman State Park
Visit one of the ranger stations at Lake Welch or Lake Tioriati
The permit costs $30 and is good for the entire season
Boaters who want to get a permit for a "locked lake" such as, Tiorati, Welch, Stahahe and Island Pond must purchase a key for $15 to unlock the padlock at the boat launch
After purchasing, the permit will be in sticker form and must be attached to your boat
You can also rent paddle and rowboats at Bear Mountain State Park. They are first-come, first-serve and can be rented 11am – 5pm every day. There are a few limitations, like you may not swim or exit the boat and all boaters must wear a life jacket at all times.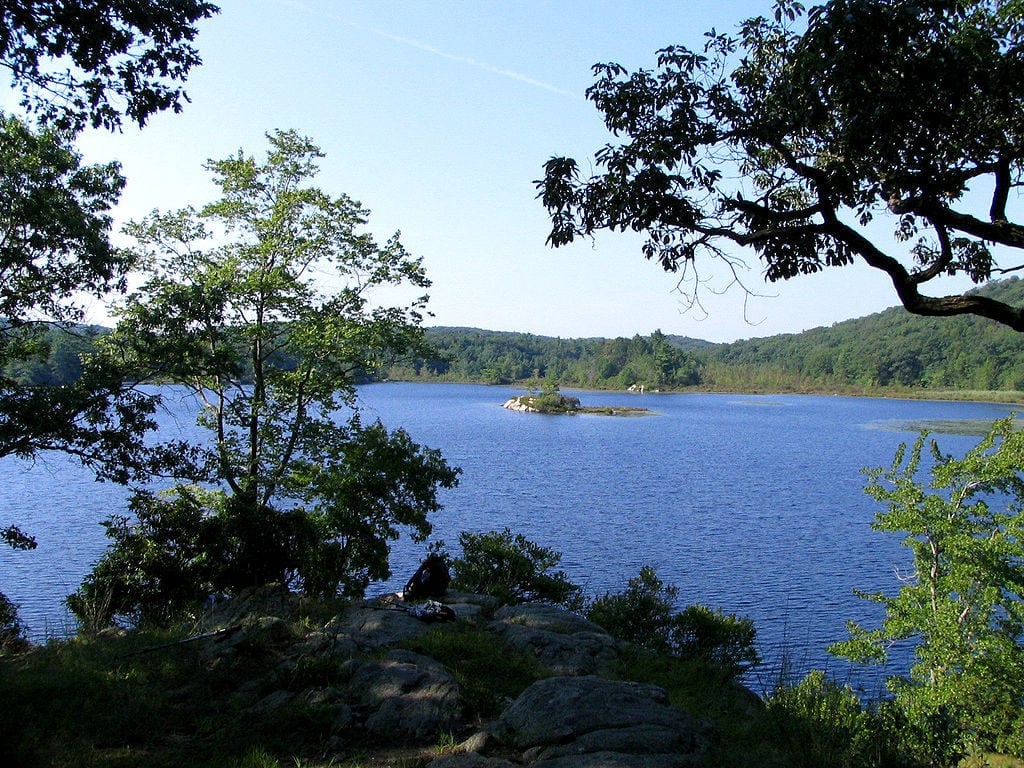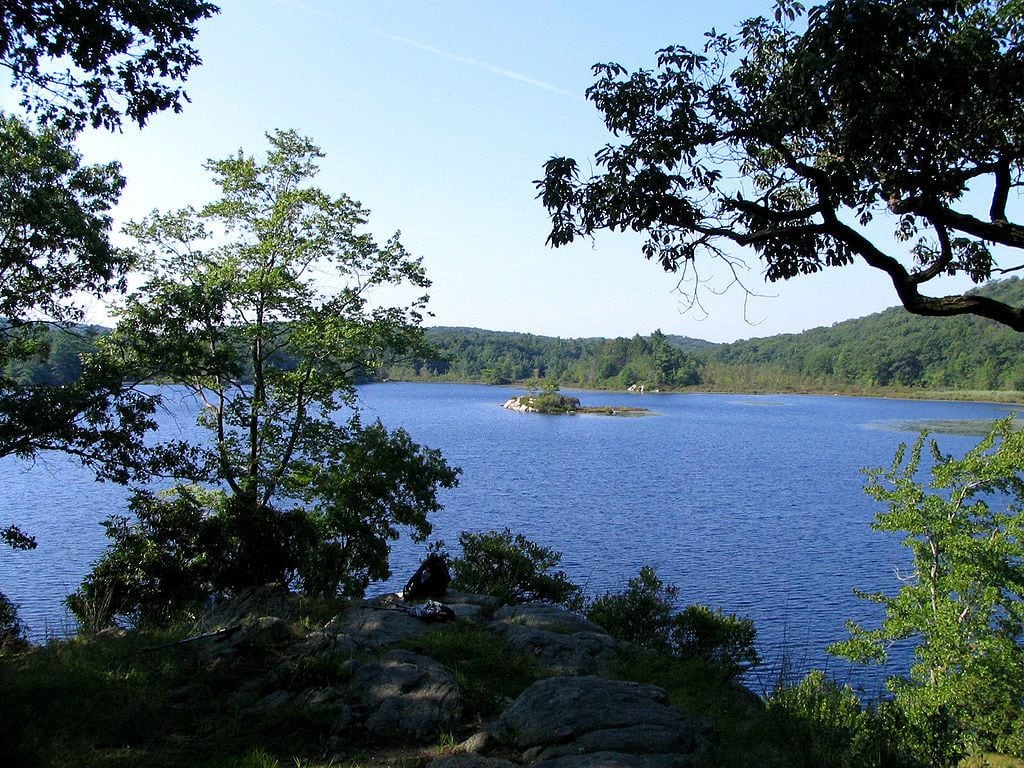 ---
Harriman State Park Swimming
Swimming is only allowed at Lake Tiorati and Lake Welch in Harriman State Park. All other lakes, ponds, and reservoirs are off-limits for safety reasons such as aggressive wildlife like snapping turtles and no lifeguards on duty to assist someone in danger.
Like many popular outdoor destinations, other websites or visitors will suggest otherwise but the park's rangers and visitor centers clearly enforce these rules for everyone's safe enjoyment of this wild place.
---
Have you spent time exploring Harriman State Park? What are your favorite things to do there? What questions do you still have? Leave a comment below!