10 Best Weekend Trips From Denver
Plan an adventurous weekend trip from Denver to one of these top destinations. From ski resorts to National Parks, there's something for everyone.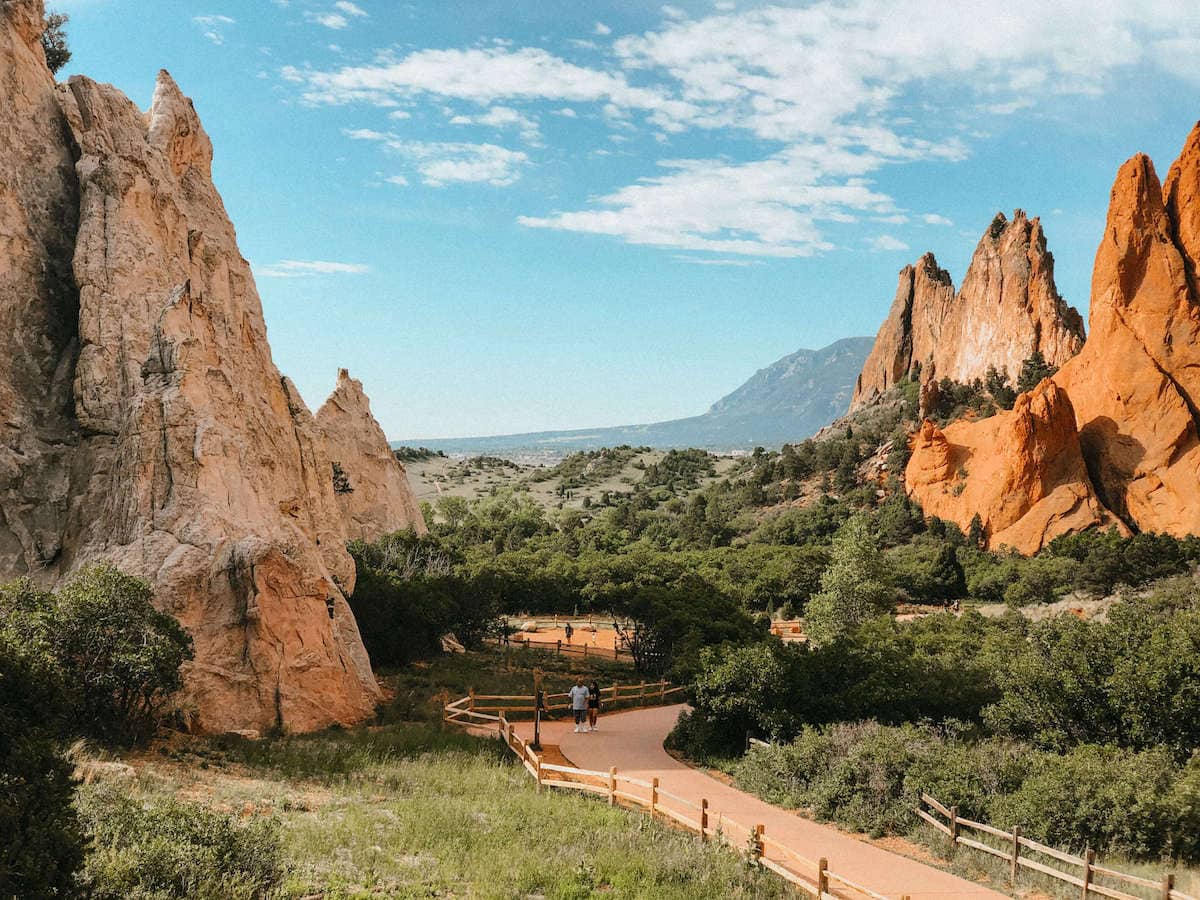 One of the most amazing things about living in Denver is the endless outdoor activities and adventures that you can go on from skiing to hiking and everything in between. Whether you're a weekend warrior or looking for a quick getaway, there are plenty of beautiful weekend trips from the Denver metro area to some of the most beautiful destinations within Colorado.
Within a short distance, there are countless adventures for outdoor enthusiasts including National Parks, wildlife-viewing opportunities, scenic byways, and so much more.
Here are 10 of the best long weekend trips from Denver within the state of Colorado.
Important Reminder: As it goes in all of the destinations we share, please practice good trail etiquette and remember to Leave No Trace. This means packing out all of your garbage (including toilet paper), being respectful to others, and following the established rules.
Feature image: Garden of the Gods in Colorado Springs | Photo credit: Abby Price
---
1. Rocky Mountain National Park
Driving distance from Denver: 2-3 hours
One of the best weekend trips from Denver is to Rocky Mountain National Park. Not only is this one of the most beautiful National Parks in the country but it also contains some magnificent hiking trails, endless wildlife, and one of the most famous scenic byways in the United States: the Rocky Mountain National Park Scenic Loop.
Rocky Mountain National Park is located only about 2 to 3 hours from the Denver metro area making it a super easy drive and the views are unbelievable the entire way.
One of the top attractions within the park is the Trail Ridge Road which is the highest continuous paved road in the United States. It is roughly 50 miles in length and takes you from Estes Park to Grand Lake.
Read More
Rocky Mountain National Park Resources
2. Colorado Springs
Driving distance from Denver: 1-2 hours
Colorado Springs is a great weekend trip from Denver if you are looking to explore a smaller city within an hour or two of the city. The town of Colorado Springs has so much to offer from quaint coffee shops, breweries, endless restaurants, and quite a bit of shopping. If you are looking for some of the best chocolate in Colorado, be sure to check out Cacao Chemistry for a tasty treat!
For a more outdoorsy and adventurous long weekend trip, there are endless hiking options in the area including Garden of the Gods and Pikes Peak.
One of the main attractions in Colorado Springs is being able to drive to the top of Pikes Peak, which is only 15 feet short of being the highest paved road in the United States at 14,115 feet in elevation. It's such a steep drive down the mountain that they stop all cars at the halfway point to check your brake temperatures. Whether you choose to drive or hike to the summit, the views from the top are incredible and it's a wonderful way to check off your first 14er!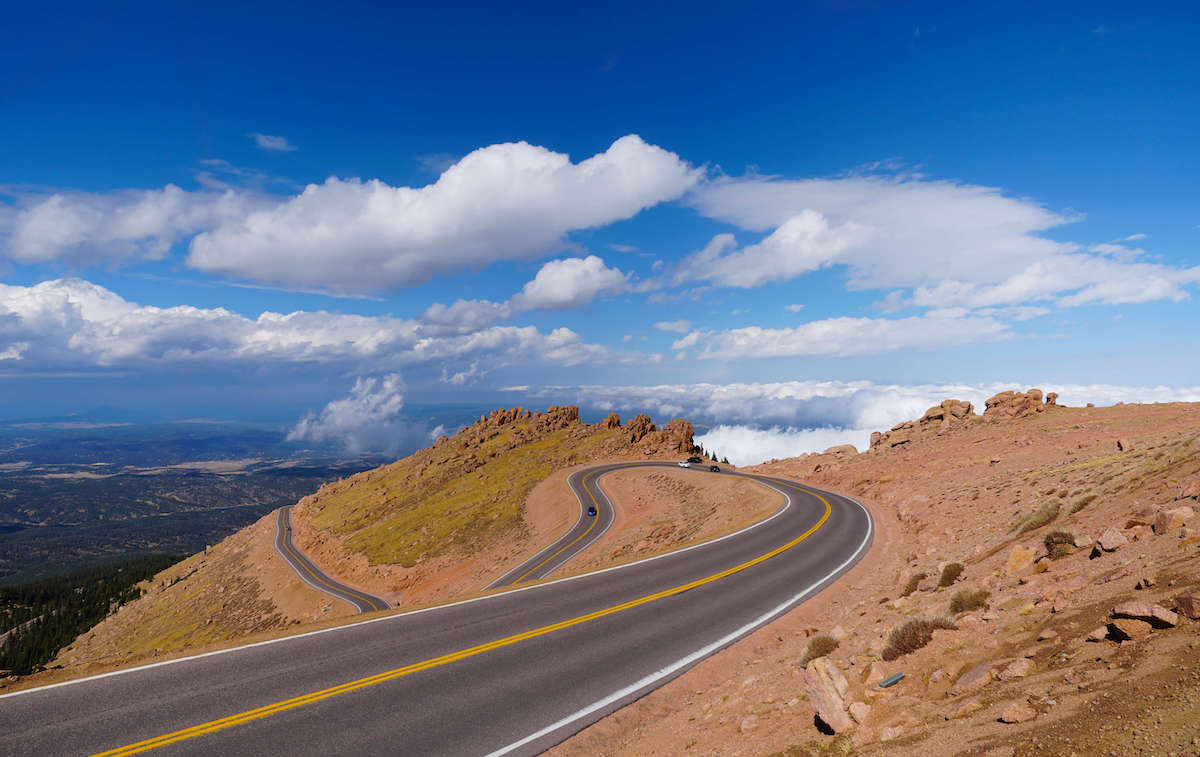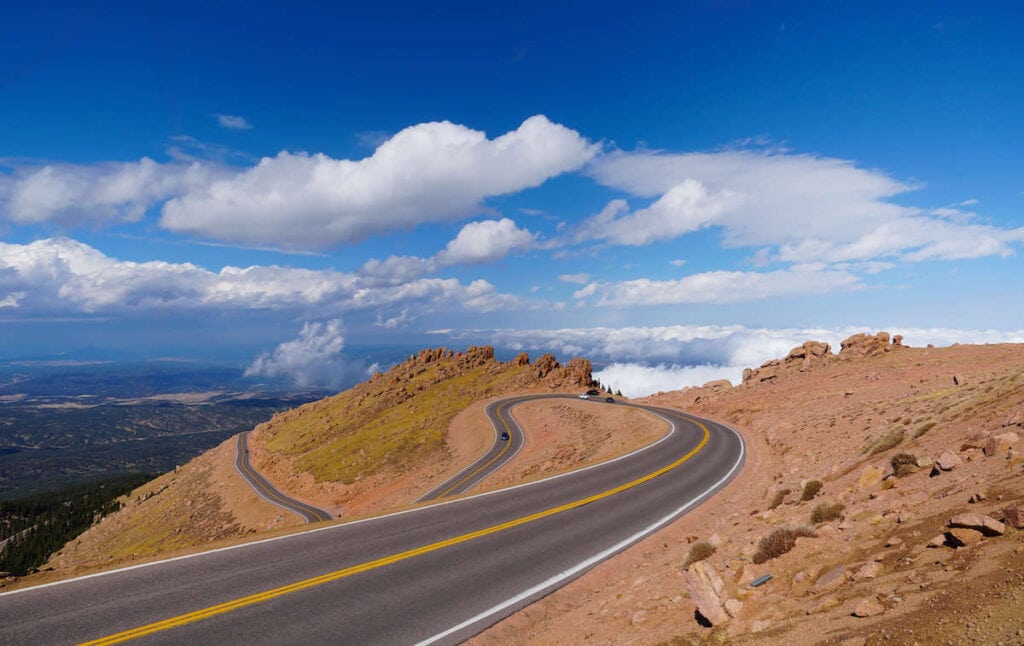 #1 campsite finder app
Try The Dyrt PRO free for 30 days
Get a FREE 30-Day membership to The Dyrt PRO, one of our favorite apps for finding campsites.
Perks include:
• 5,000+ free camping locations
• 1,000+ campground discount network
• $0 extra booking fees
• Get reservations at sold-out campgrounds, and more
Use the code BEARFOOT to get 30 days free!
3. Steamboat Springs
Driving distance from Denver: 3-4 hours
Steamboat Springs is known for its beautiful ski resort town and proximity to the slopes. If you are looking for a fun weekend getaway but would like to focus on skiing powder, look no further. Ski Steamboat's 'champagne powder', walk the charming downtown area, and explore countless shopping and dining options.
Additionally, being a little further away from Denver than most of the other resorts, you will avoid some of the crowds too!
As you may have guessed from the name, there are some wonderful hot springs in the area as well. We love heading to the Strawberry Park Hot Springs after a long, cold day on the slopes to warm up and get some much-needed relaxation.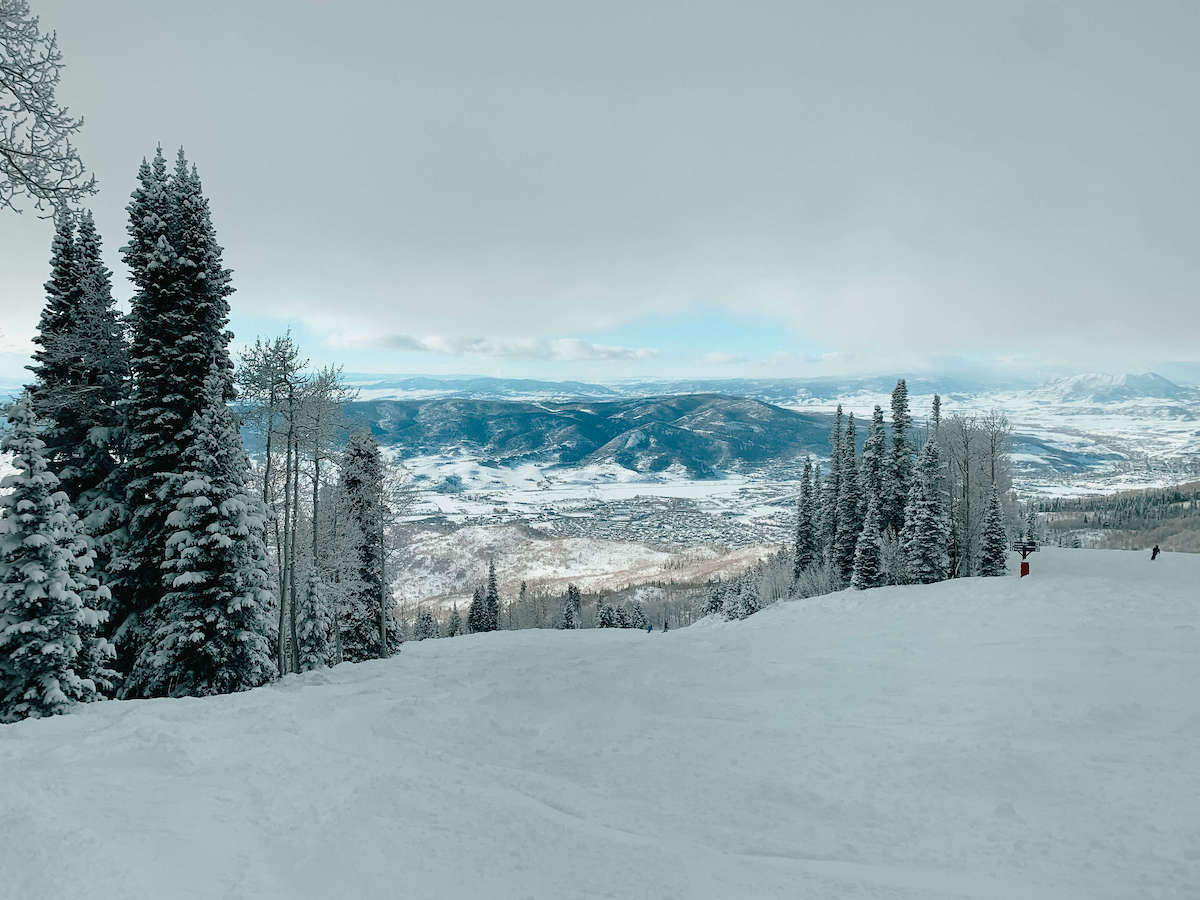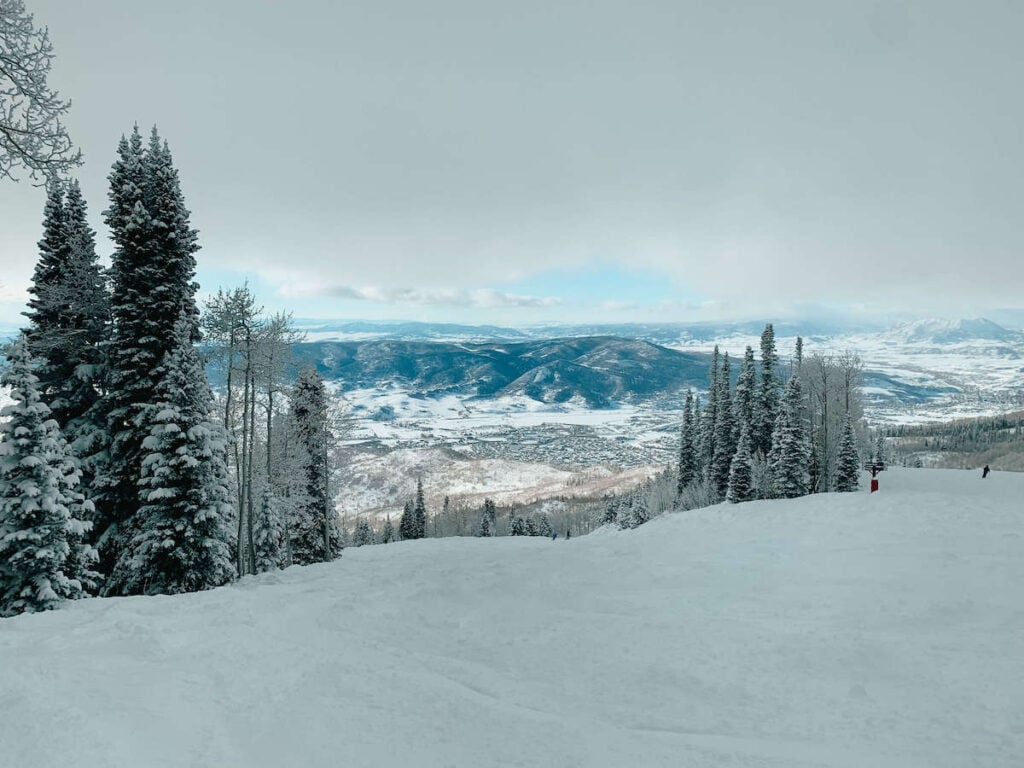 4. Breckenridge
Driving distance from Denver: 1.5-2 hours
Breckenridge is one of the most well-known ski towns in the United States and has so much to offer for both visitors and locals alike including endless shops, dining options, incredible ski slopes, and their infamous brewery!
If you haven't already noticed, Colorado has many of the highest elevation records in the United States and Breckenridge is no exception. For the skiers and snowboarders looking for a little extra thrill be sure to head up the Imperial Express, which is the highest chair lift in North America taking you all the way up to 12,840 feet!
If you are visiting Colorado in the summer, bring your mountain bike and check out the endless trails that Breck has to offer.
Another option in the summer is to check out one of the amazing hikes in the area such as Quandary Peak for the more intense hikers or a stroll around the Dillion Reservoir for the more casual hikers, which is situated between the towns on Breckenridge, Frisco, and Dillion.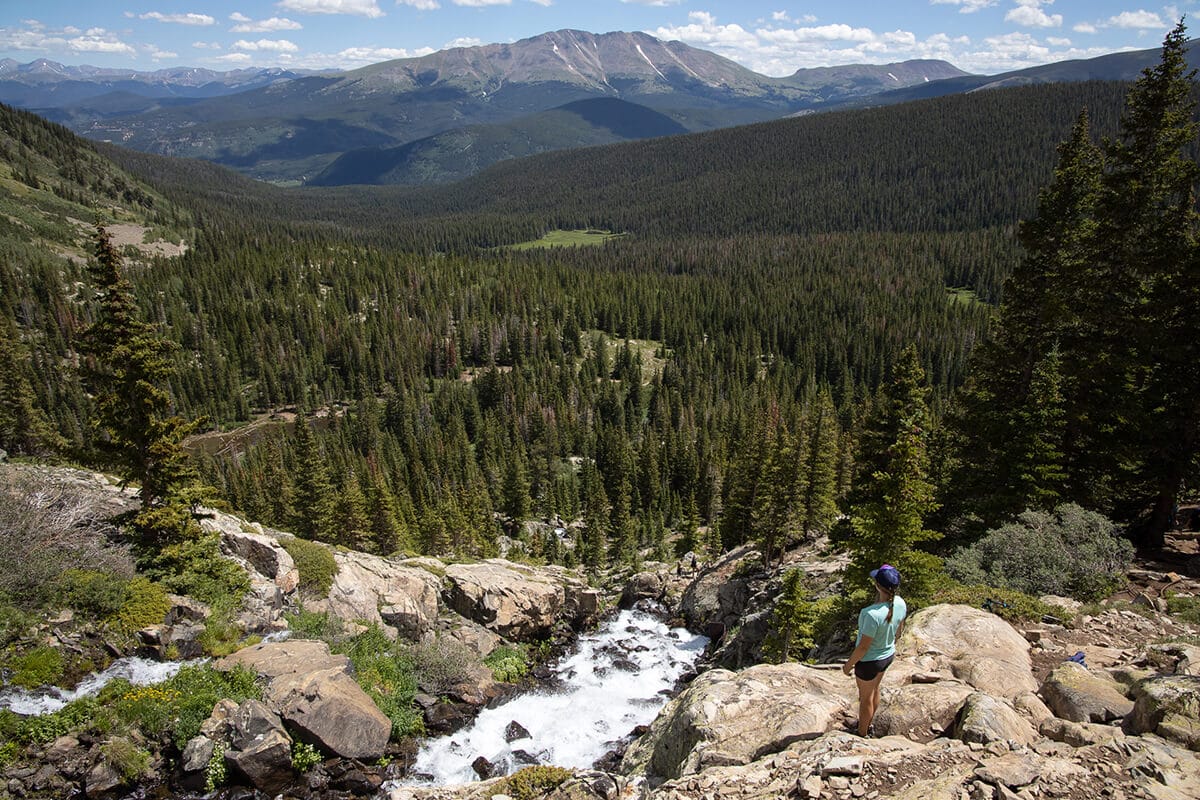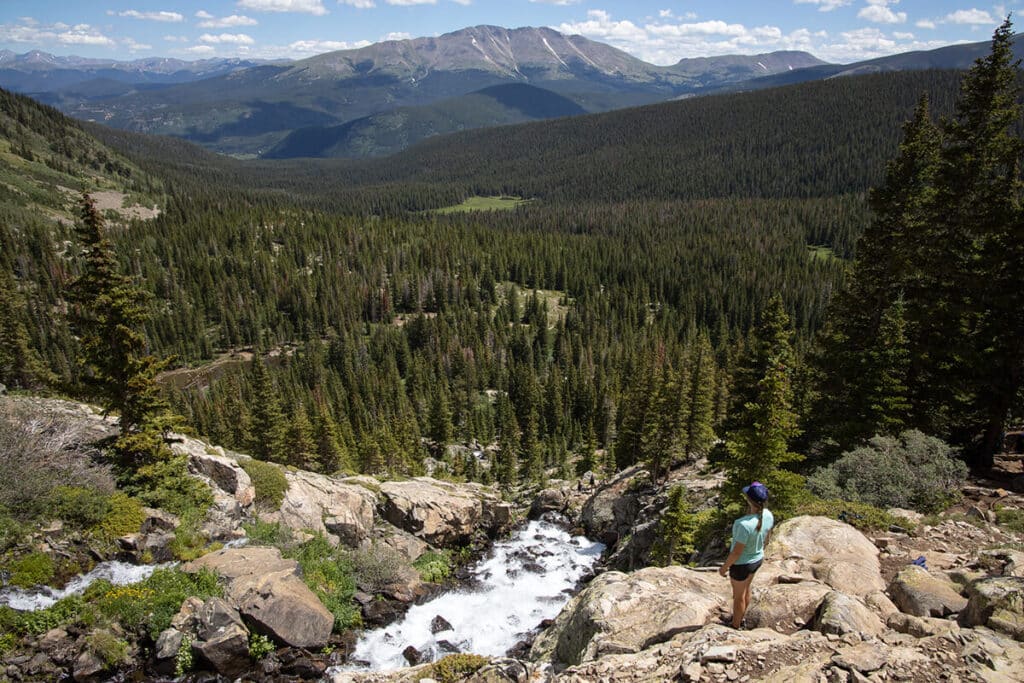 5. Glenwood Springs
Driving distance from Denver: 3 hours
Glenwood Springs is a small town about three hours from Denver that is known for its natural hot springs.
Glenwood Springs is also a great central city in the mountains. You can quickly drive to Aspen to ski or check out the legendary fall foliage around the Maroon Bells or head over to the wineries in Palisade, which are mentioned next!
Read More
Colorado Fall Resources
6. Palisade
Driving distance from Denver: 4 hours
Palisade is located in Colorado's wine country and is a perfect destination for a fun and romantic long weekend trip from Denver. The small town of Palisade is full of wineries both big and small and is also known for its delicious peaches!
If you're looking for more of an adventure-filled weekend, the Palisade Plunge mountain bike trail drops riders over 30 miles and 7,500 feet from Mesa Top to town. It's a big, backcountry ride, so be sure you're prepared if this is on your adventure list.
For a tamer weekend, Palisade is situated near the entrance of Colorado National Monument, which is known for its sheer wall canyons, unique rock formations, and scenic 23-mile Rim Rock Drive.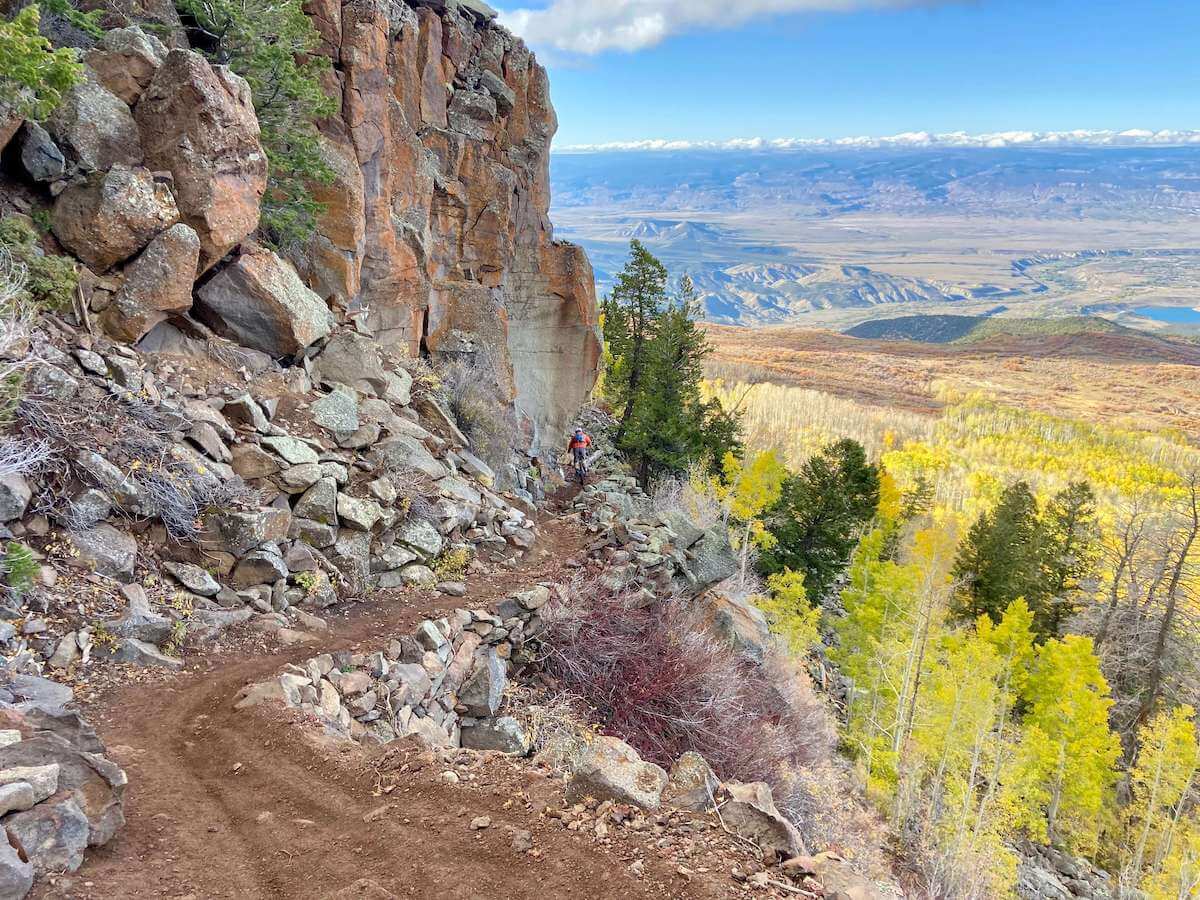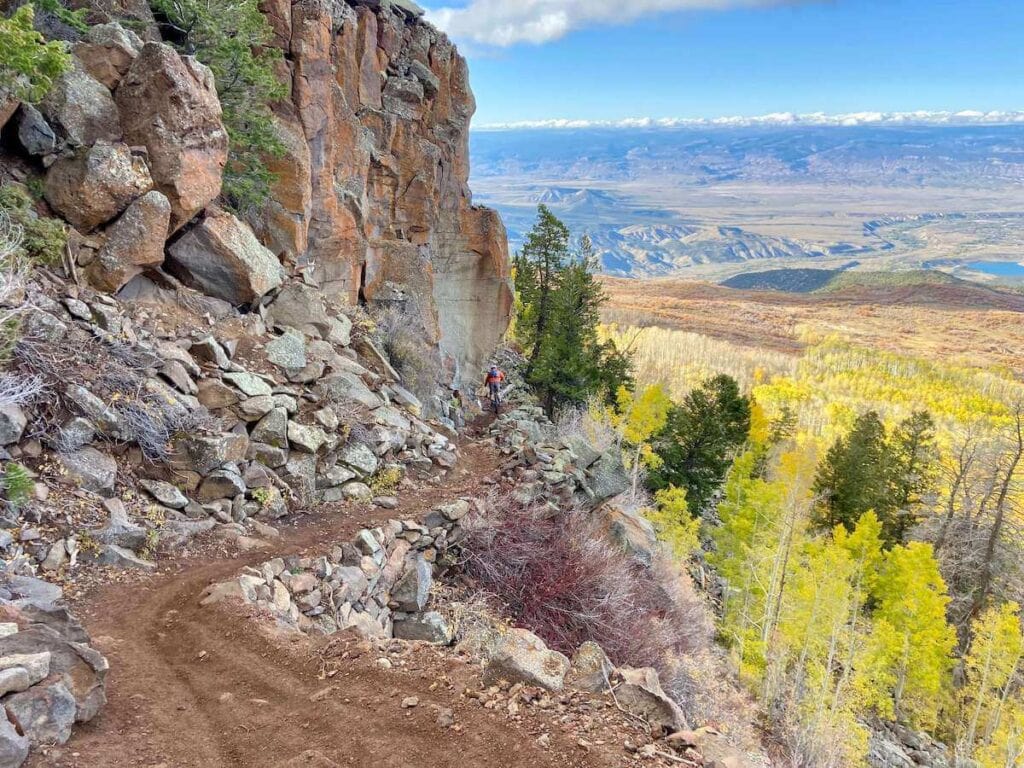 7. Ouray
Driving distance from Denver: 6 hours
If you are looking for a weekend trip that is a bit off the beaten path, Ouray is your spot. Ouray is commonly known as the "Switzerland of America" because of its old-school charm, quaint establishments, and proximity to some of the sheerest, drastic mountains in the United States!
Additionally, Ouray is only an hour's drive from Telluride, making it an ideal location to check out if you want to get a local feel near such a popular tourist destination!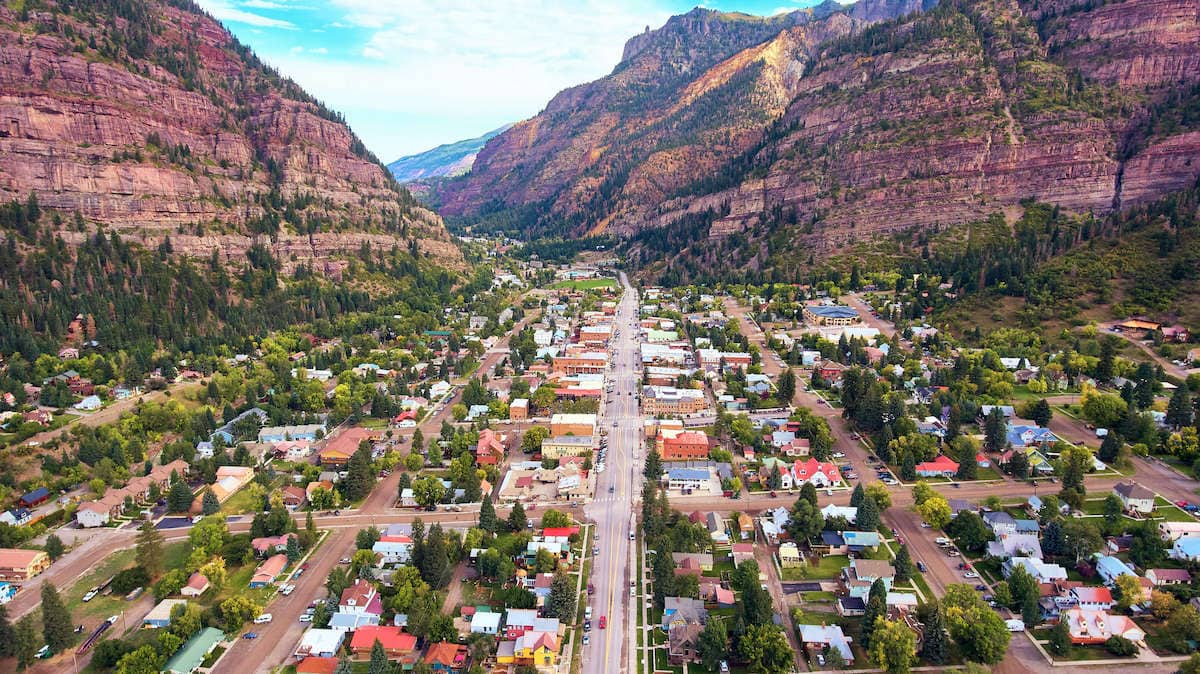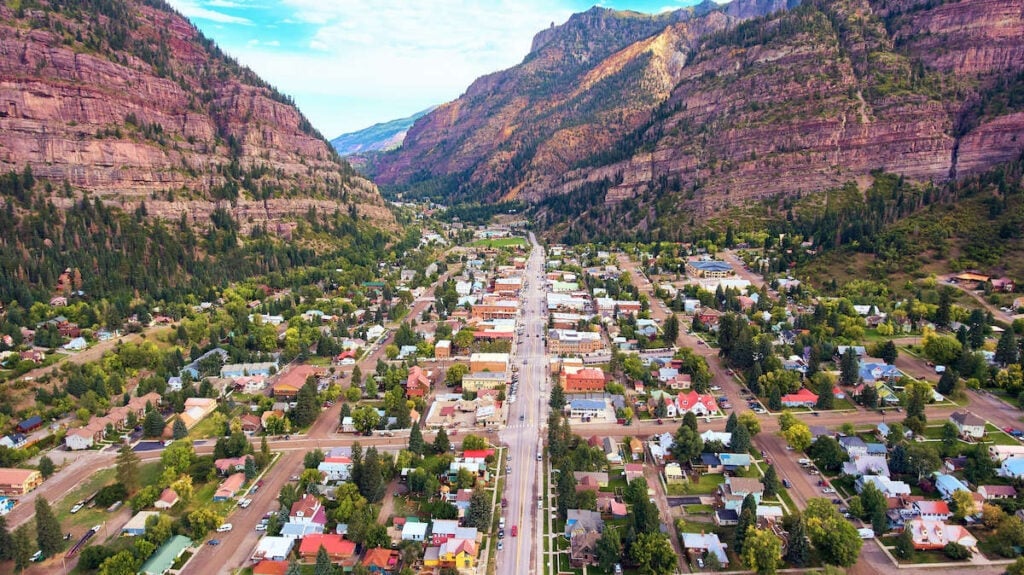 8. Fort Collins
Driving distance from Denver: 1 hour
Fort Collins is about an hour outside of Denver which makes it an easy drive for a weekend trip or just a short day trip.
Fort Collins is known for endless brewery options and is home to some of the best beer in the state. Make sure to swing by Odell Brewing Company for a beer by one of their fire pits as their beer is famous in Colorado and growing rapidly across the country!
9. Great Sand Dunes National Park
Driving distance from Denver: 3.5 hours
Great Sand Dunes National Park is one of Colorado's most unique National Parks. It features massive sand dunes that have formed at the base of 13,000-foot peaks. Seeing dunes backed up against snowcapped mountains is truly magical.
If you're planning to visit in the spring, bring a beach chair. Yes, you read that correctly, a beach chair! The snowmelt from the mountains creates a wide, slow-moving river at the base of the sand dunes and people come from all over to experience a Colorado "beach".
If the Great Sand Dunes National Park is your final destination, but you aren't feeling up to camping, then check out the nearby town of Alamosa which has a cute main street filled with restaurants and breweries.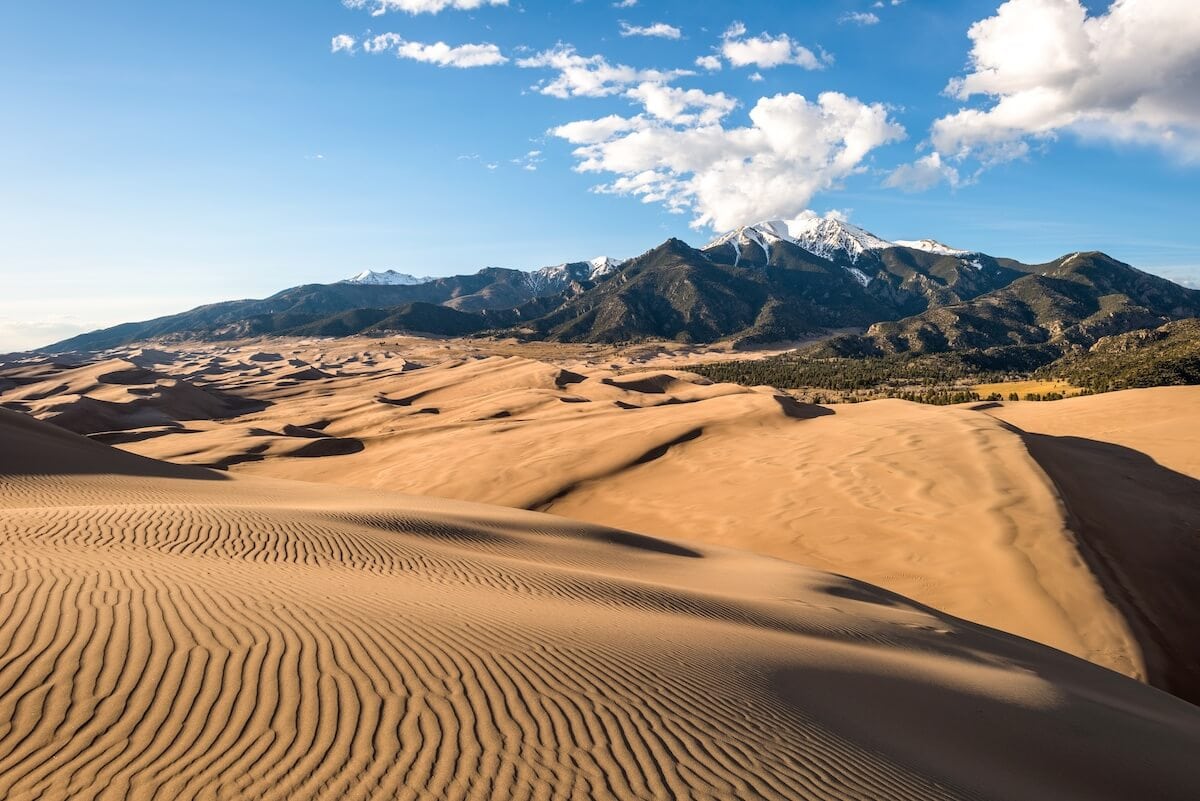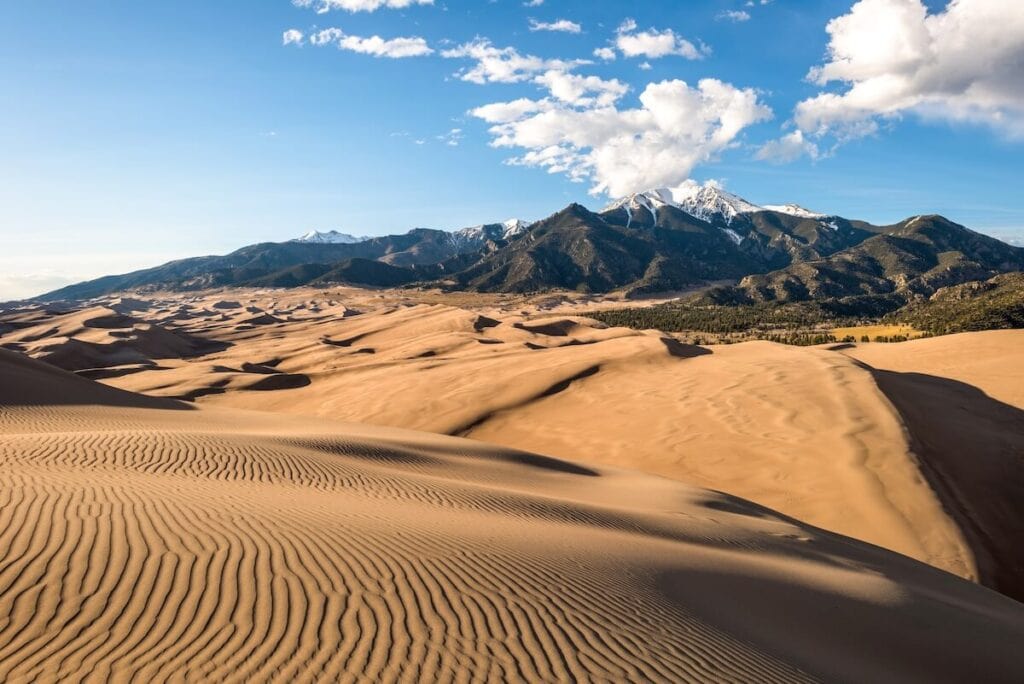 10. Moab, Utah
Driving distance from Denver: 6 hours
Moab is outside of Colorado, but just a 6-hour drive from downtown Denver, making it a great long weekend trip. Moab has so much to offer from the endless red rock formations to Arches National Park, and so much more. If you're looking for several days of exploration and a change of scenery, with some of the best hiking trails in Utah, you must check out Moab!
Additionally, Idaho Springs, Frisco, Glenwood Springs, and Palisade are on the way to Moab so if you are looking to stop at multiple locations during your long weekend trip this is a great option.
Read More
Moab Adventure Resources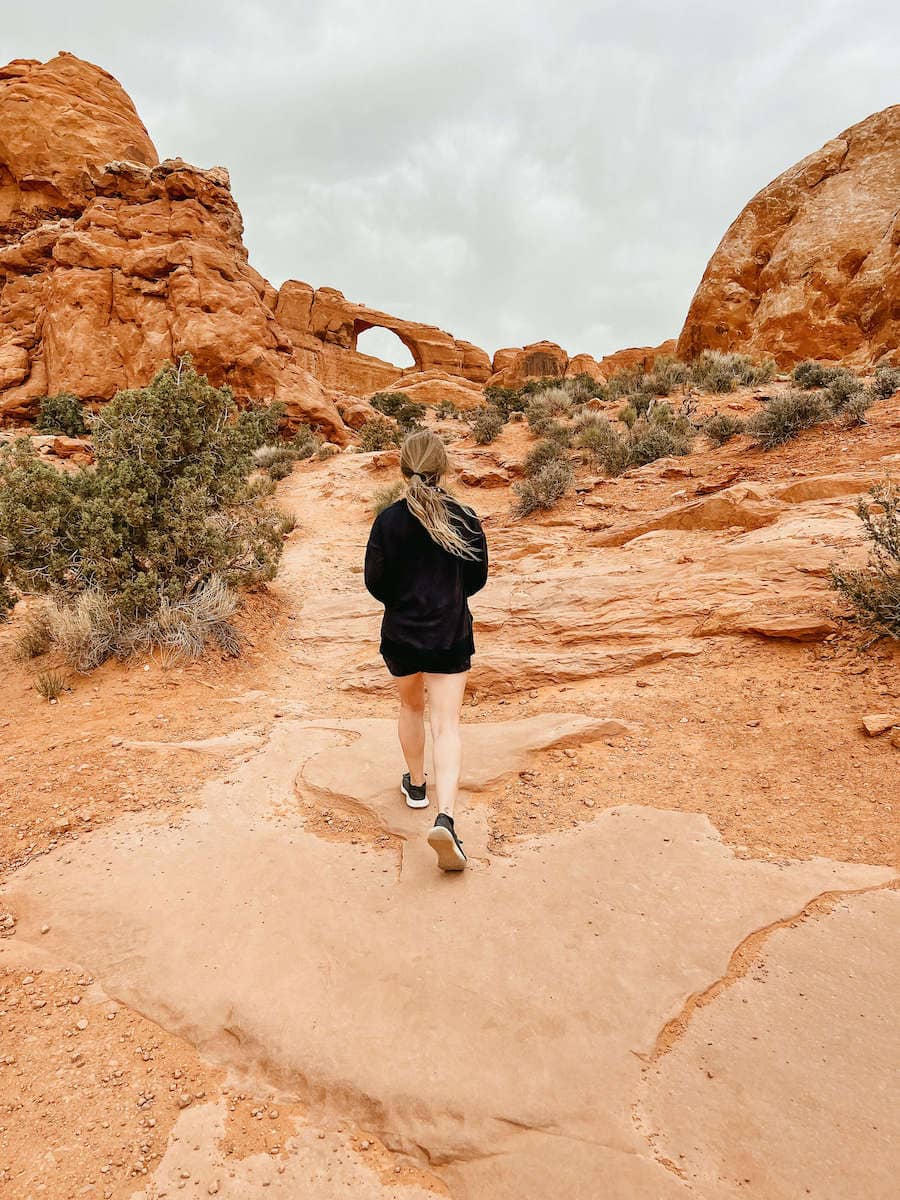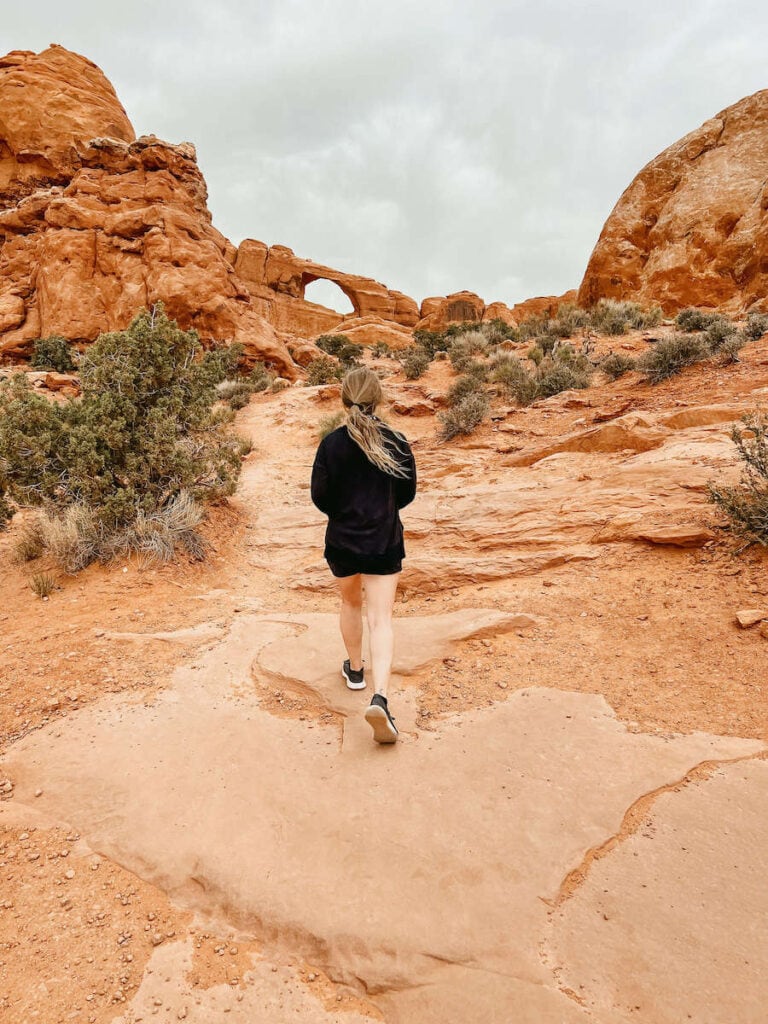 Looking for some more weekend getaways from Denver? Check out these Colorado road trip blog posts:
We hope this list helps you find the best weekend trips from Denver! What are your top places to visit around Colorado? Which destinations are on your list to visit? Leave a comment below!