Ultimate Guide to the Million Dollar Highway & The San Juan Skyway Loop
Drive Colorado's Million Dollar Highway and San Juan Skyway to see amazing views of the Rocky Mountains and visit small mountain towns.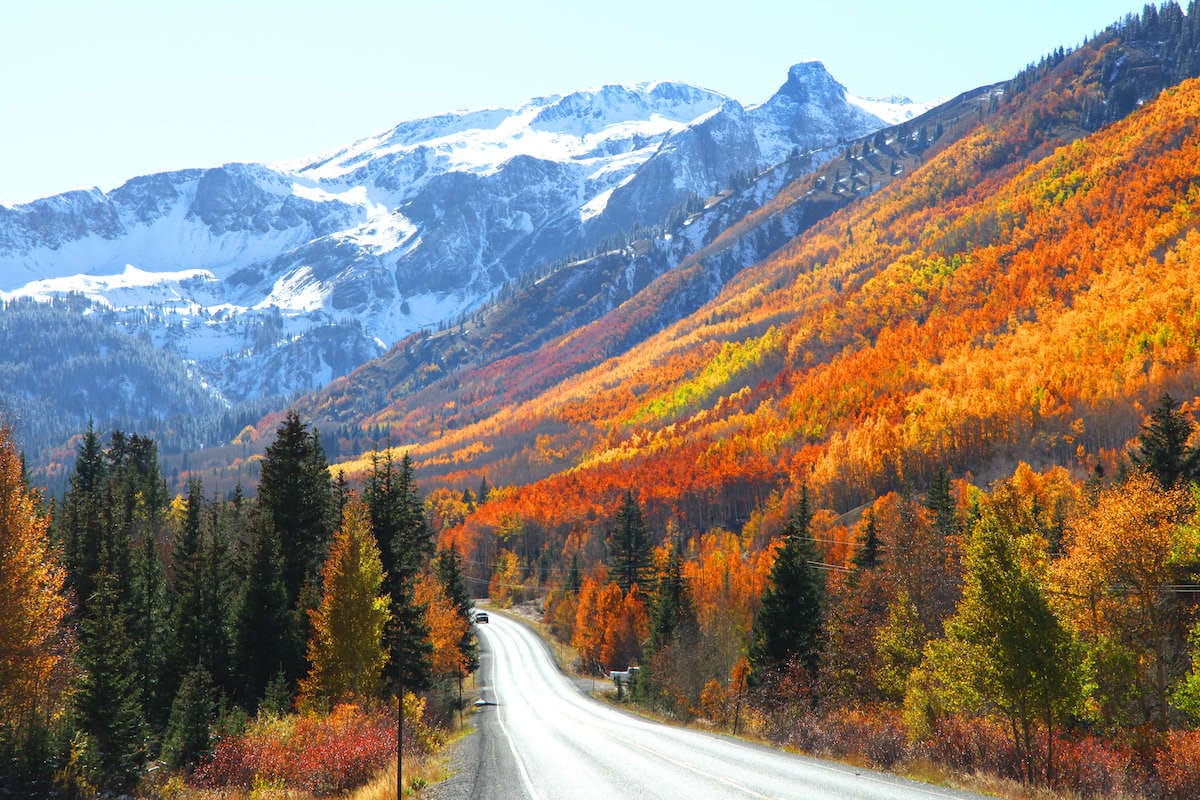 The Million Dollar Highway and San Juan Skyway road trip is a must-do if you want to travel through the Rockies of Colorado. It takes you through most of Colorado's San Juans, a rugged and remote section of Colorado's Rocky Mountains. The San Juan Skyway Loop travels through small town after small town (including Durango, SIlverton, Ouray, and Telluride), over spectacular mountain passes, and along creeks and rivers.
This guide goes into details about each section of the loop including things to do, places to eat, and places to stay. This road trip also lends itself perfectly to camping, as there is lots of National Forest land along the way.
You can do the trip in 5 days with lots of activities or combine days to make the trip your own. It works just as well as a driving-heavy weekend trip as it does a week-long camping and hiking trip.
In this guide to the Million Dollar Highway and the San Juan Skyway Loop, we give insider tips on the best places to stop, things to do, where to camp, and more.
Join our community for access to our free member resources!
Download Handy Outdoor Packing Checklists & Trip Planning Guides
What is the San Juan Skyway?
The San Juan Skyway is a loop of beautiful highway that wraps around the San Juan Mountains through Durango and Ouray, Colorado. Also known as San Juan Scenic Byway, the highway travels through some of the most spectacular scenery in the Lower 48.
Living in the San Juans, I hear over and over from visitors that the scenery is on par – or even better – than popular destinations like Glacier National Park and Rocky Mountain National Park. Fourteen thousand foot peaks rise from the mountain ranges on the sides of the highway and pretty much the whole journey is just one "wow" after another. The 200+ mile loop can be driven in as quick as two days, or take as many as five with more stops and activities.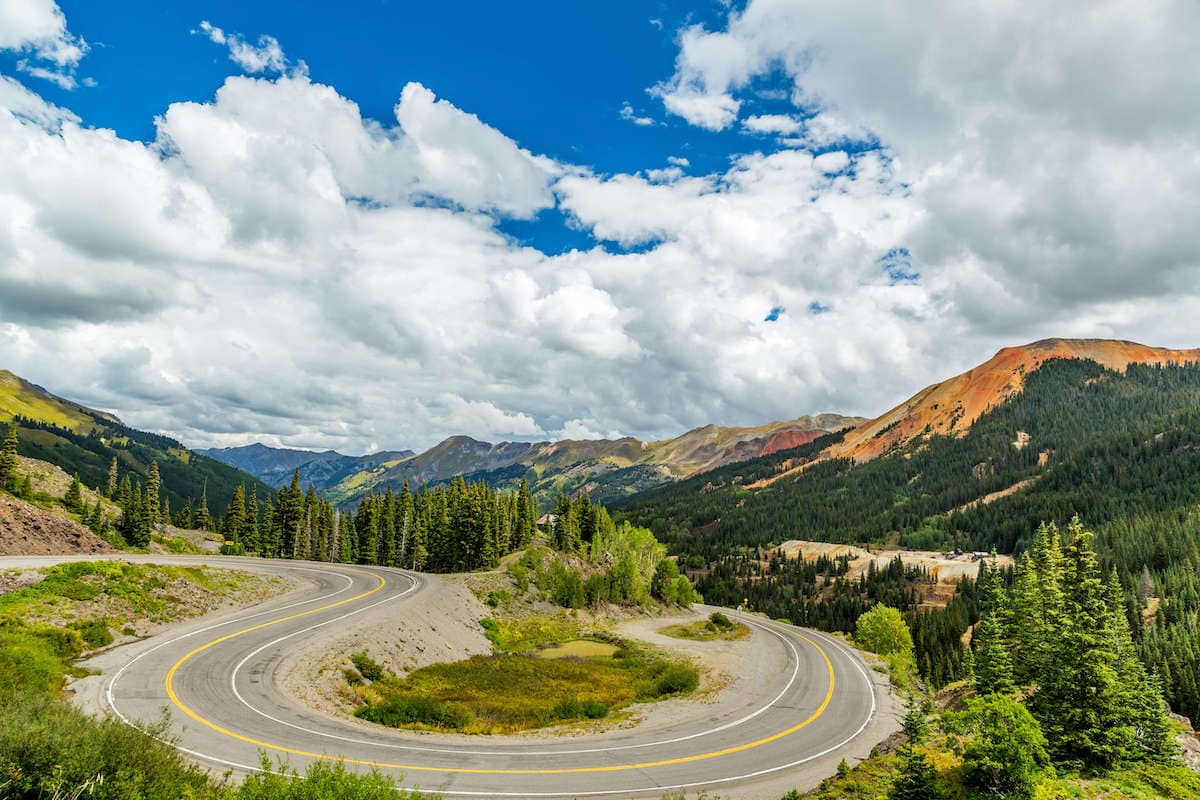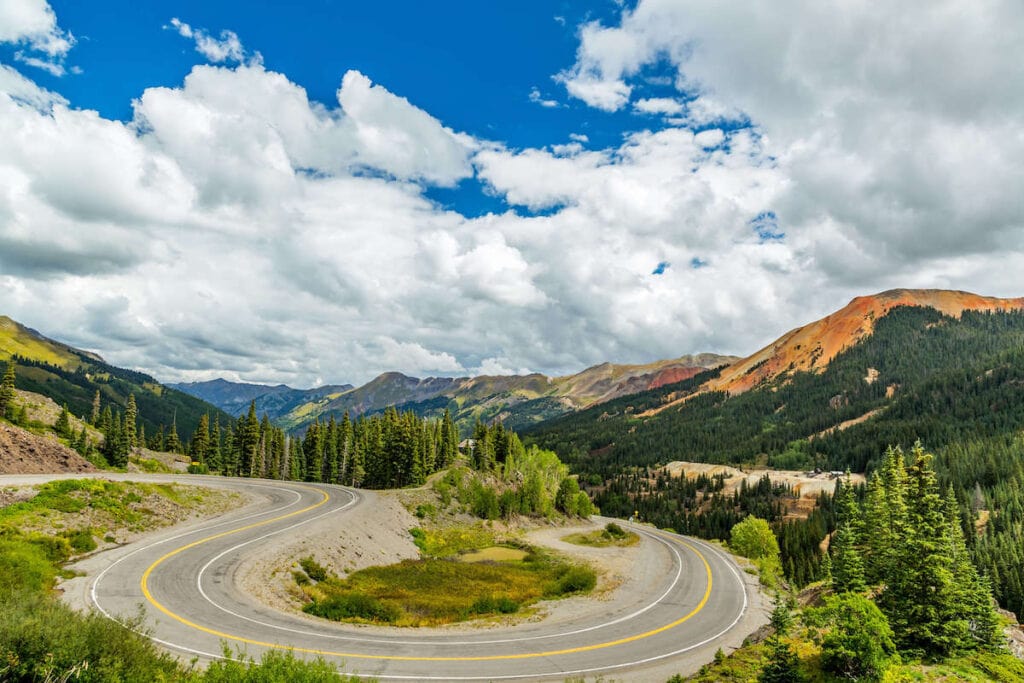 ---
What is the Million Dollar Highway?
The Million Dollar Highway is the iconic section of the San Juan Skyway between Silverton and Ouray. The nail-biting road winds around hairpin turns on the side of a cliff for 23 miles between the two adorable mountain towns of Ouray, Colorado and Silverton, Colorado.
From Denver, the Million Dollar Highway is about a 6-hour drive depending on which side you start from. It's great for a longer road trip combined with other areas of Colorado!
There is some debate about where the name "Million Dollar Highway" came from, but some believe the name came from the plethora of gold and silver mining that was once in the area, while others think it was because the road cost one million dollars to build. Still another theory is that someone once said "I will never drive that road again, not for a million dollars!". That one will be up for you to decide, once you drive the road!
One exciting (or scary — you decide) tidbit about the Million Dollar Highway is that it has no guard rails. This is because in the winter, the road gets hit with frequent avalanches and the guardrails would get quickly destroyed by these devastating avalanches. Because of this, if you're a nervous driver, I recommend driving the Million Dollar Highway from Silverton to Ouray, instead of the other way around, because in this direction you drive on the inside of the road, instead of the outside (right on the edge of the cliff!)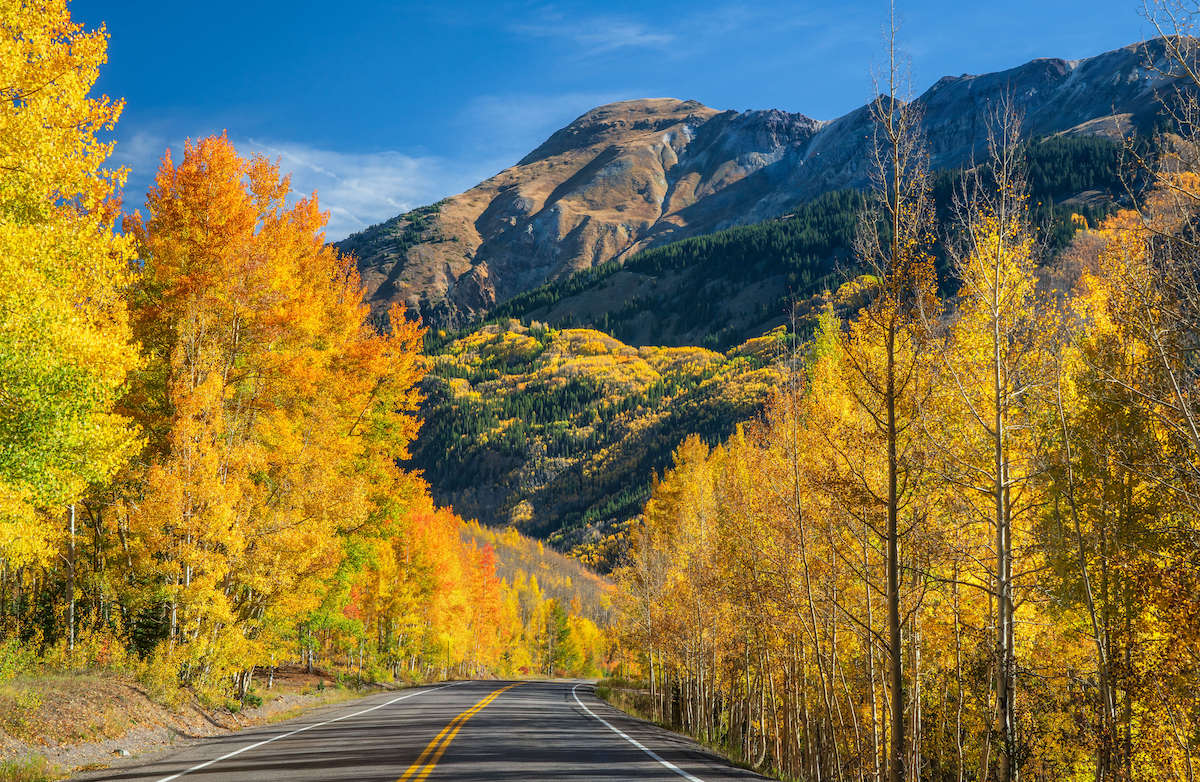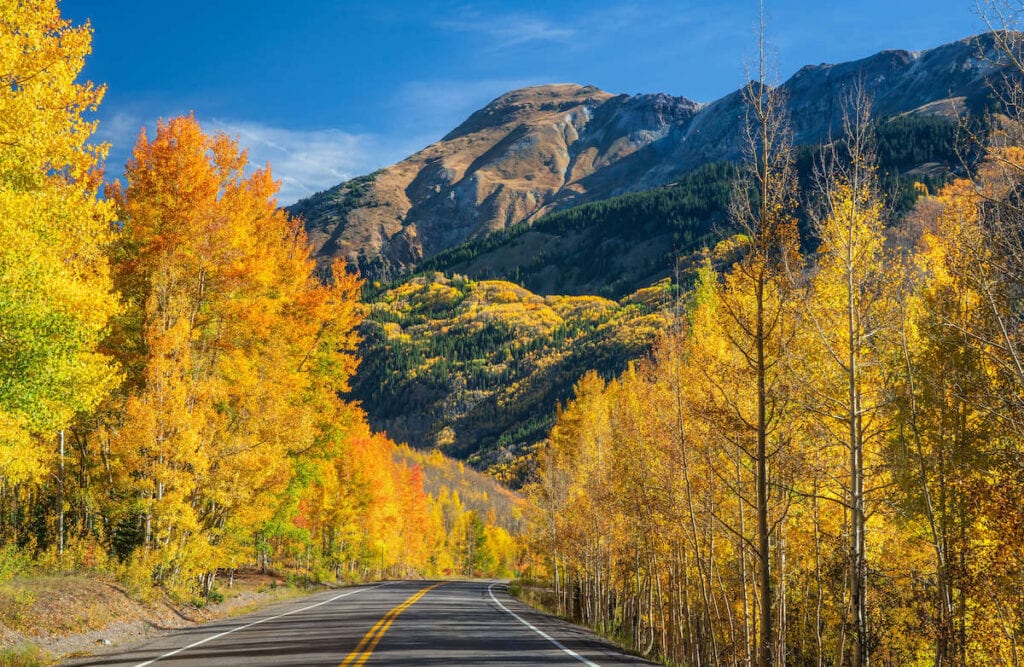 ---
Best Time To Drive the San Juan Skyway
Summer is a great time to do the San Juan Skyway road trip because the weather is typically sunny and warm. However, with the leaves turning yellow, a fall road trip through Colorado would also be a perfect time to do this drive. The aspen leaves in the San Juans typically start to turn yellow mid-late September and last for about three weeks.
The first time I drove the Million Dollar Highway was during a blizzard. I was taking an avalanche training course with San Juan Mountain Guides and was heading out for the first day of learning in a storm. I could barely see 10 feet in front of the car, let alone the stunning views, and I drove about 5 miles per hour up the highway from Ouray to Red Mountain Pass.
The complete whiteout, lack of guard rails, and icy road kept me fixed to my driving and it wasn't until the storm cleared on my drive back that I began to see some of the beauty that makes this one of the most scenic drives in the country.
So, I would avoid driving the San Juan Skyway and the Million Dollar Highway in the winter unless you are totally prepared with snow chains. They will also sometimes shut down the highway due to snow, so check conditions before heading out.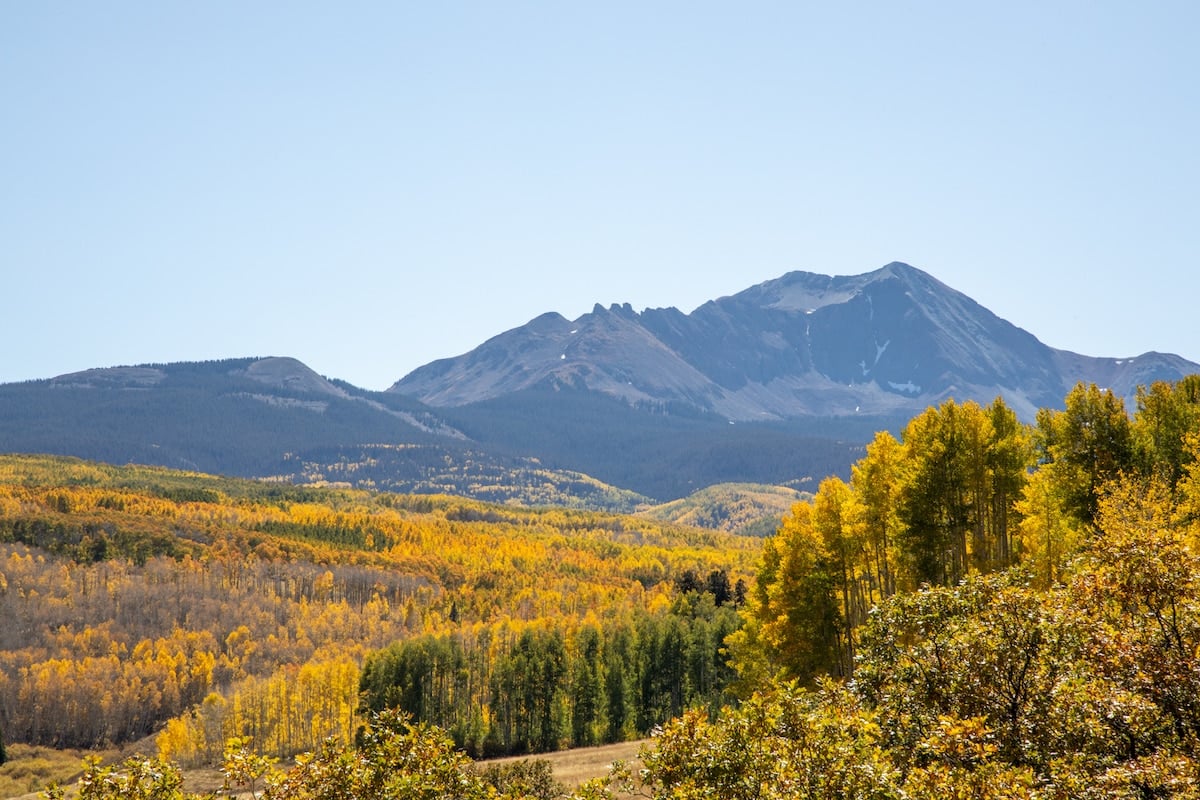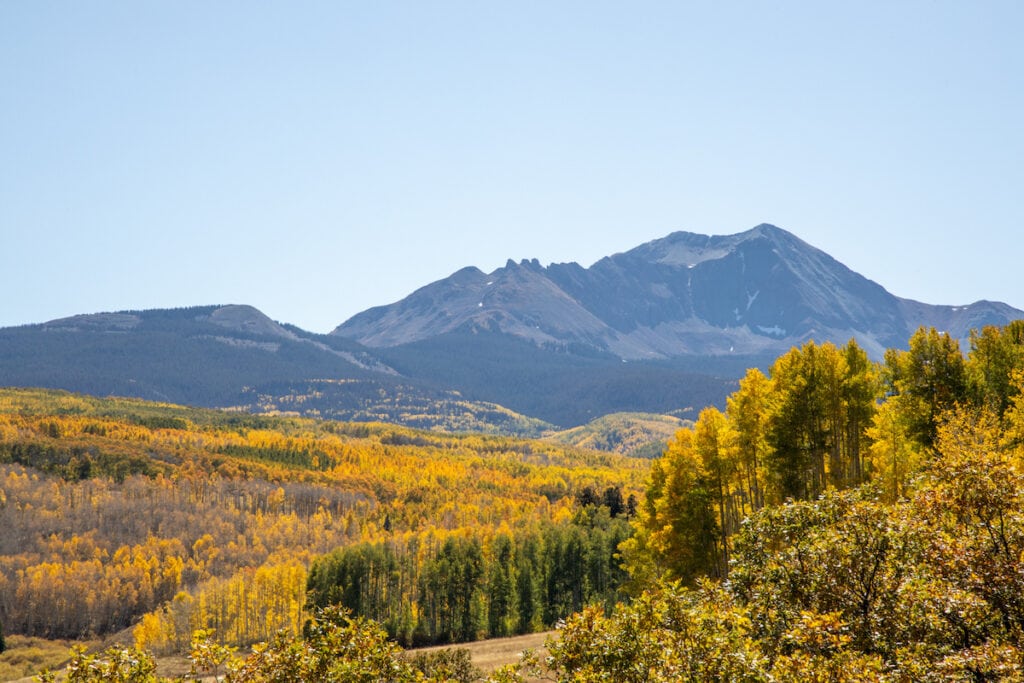 ---
Million Dollar Highway Road Trip Itinerary
Durango to Silverton (48 miles)
Driving from Durango to Silverton, Colorado takes you over Coal Bank Pass and then Molas Pass, at the highest elevation of 10,970 feet. Ease into the rest of the trip with this first leg. It features mountain views and lots of places to stop and stretch your legs if you want!
Where to stay in Silverton:
Little Molas Lake Campground is about a mile off the road right before you reach Molas Pass. The primitive campground is currently free to use and has no water or trash services, although there is a toilet. Campsites contain fire grates but no picnic tables. This is a beautiful place to camp and take in the meadows and peaks surrounding Molas Pass.
Silverton has a variety of hotels, inns, and lodges available to stay in throughout the year, although I have never stayed in any myself.
#1 campsite finder app
Try The Dyrt PRO free for 30 days
Get a FREE 30-Day membership to The Dyrt PRO, one of our favorite apps for finding campsites.
Perks include:
• 5,000+ free camping locations
• 1,000+ campground discount network
• $0 extra booking fees
• Get reservations at sold-out campgrounds, and more
Use the code BEARFOOT to get 30 days free!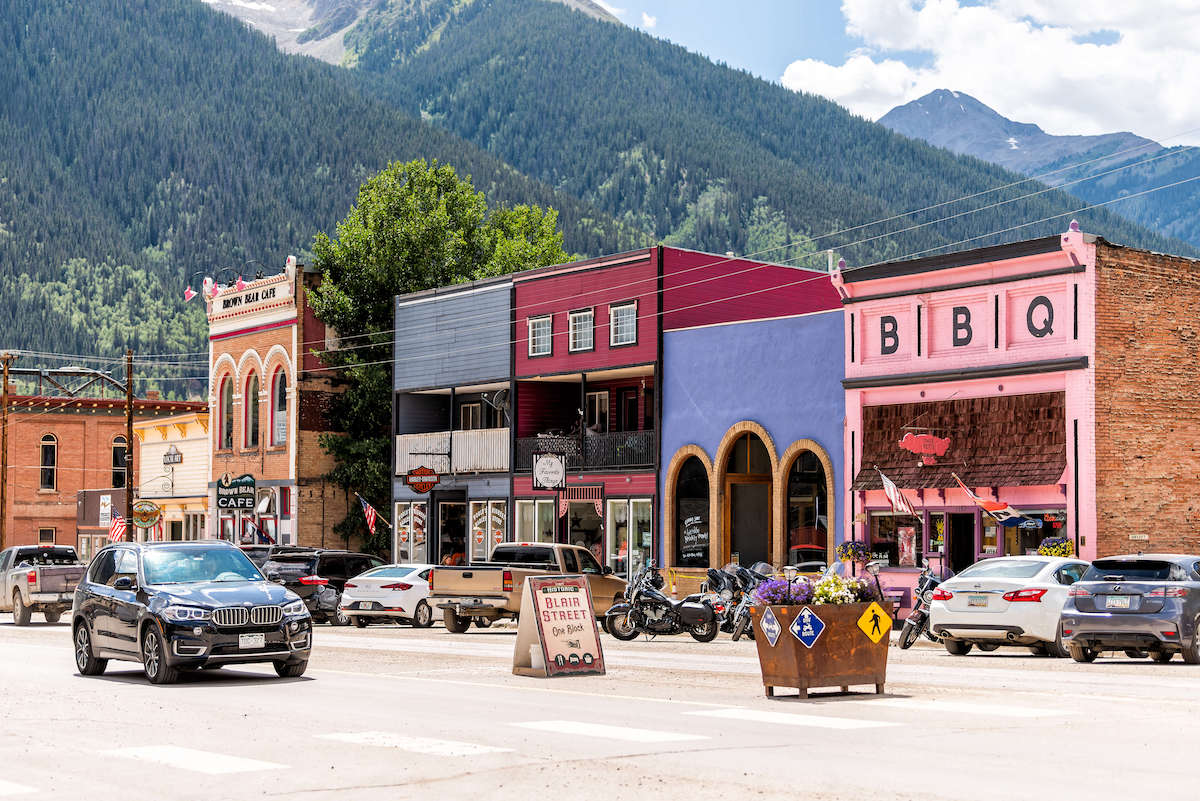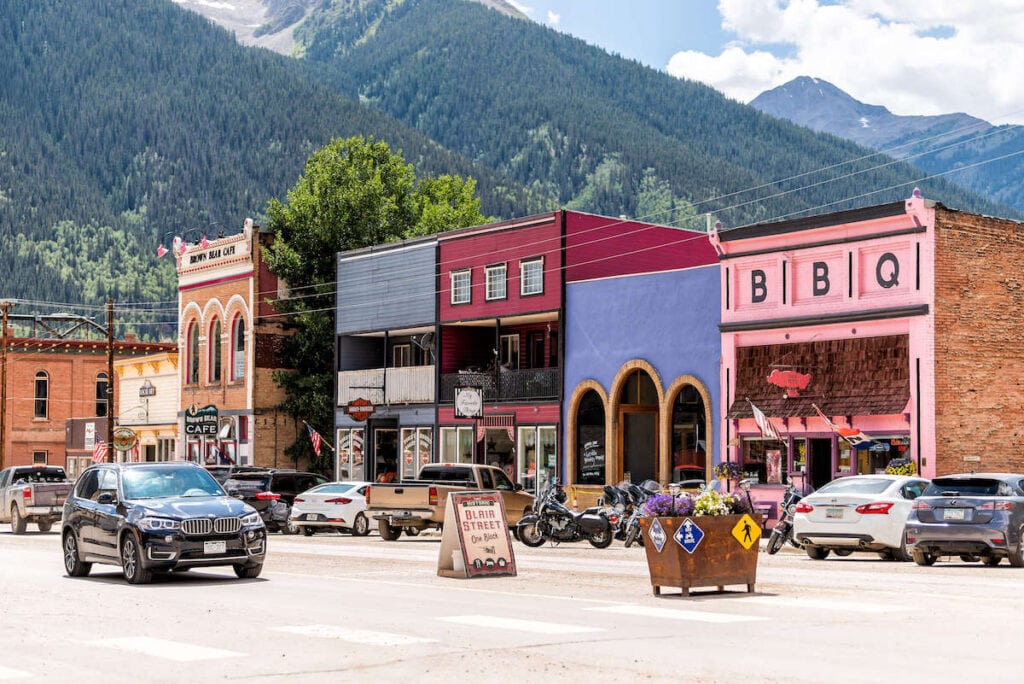 What to eat in Silverton:
Kendall Mountain Cafe has delicious breakfast offerings, I love their breakfast burrito and have also heard great things about the french toast.
Avalanche Brewing Company provides a perfect post-adventure treat of pizza and beer although I also love their tacos.
What to do between Durango and Silverton:
Hike to Spud Lake. This two-mile round trip hike to a lake stretches your legs while you are driving, without taking up too much time! This hike provides mountain views for the beginning of your road trip! Check out this post for more Southwest Colorado hiking recommendations.
Take Photos at Molas Pass. The highest point of the day, Molas Pass offers 360 degree mountain views, with lakes and meadows galore. Look for the Grenadier and Needles mountain ranges in the Weminuche Wilderness to the east, identified by their pointy, rocky summits.
Bike at Purgatory Mountain Resort. A ski resort in the winter, in the summer the resort provides downhill mountain biking for all skill levels. Or try out their other summer offerings including a scenic chairlift ride and roller coaster!
Silverton to Ouray (24 miles)
This is the iconic Million Dollar Highway section of the road trip, so take your time, and take in the views! First, the road winds its way up to Red Mountain Pass, which is worth a stop to gaze at the views. Then the road starts going down, down, down, with countless switchbacks and an average speed of about 15 miles per hour. The views never stop, but there are not too many pull-outs to take photos, so just hold it all in your mind until you arrive above the cute little hamlet of Ouray. It's not called the Switzerland of America for nothing!
Where to stay in Ouray:
Main Street Inn is a very cute brightly colored collection of historic houses on Main street in Ouray. I stayed here last winter while I was in town and it was the perfect basecamp to explore the area. The best part is that they give you freshly baked goods upon arrival!
Amphitheater Campground is a great spot to stay for those who want to be outside. I have not personally stayed here, but it is located right outside of town and includes 35 campsites. Reservations can be made ahead of time, or some sites are first come first serve.
Where to eat in Ouray:
Red Mountain Brewing has a good beer selection and some of the best sweet potato fries I have had! They also have great burger and entree options.
Bon Ton is a good option for a fancier night out in Ouray! With an Italian flair, they feature great wine options, pasta, meat, and more.
What to do between Silverton and Ouray:
Hike Ice Lakes, Columbine Lake, or Highland Mary Lakes. One of these stunning alpine lakes hikes makes a great addition to this drive. Get out into the mountains that you see all around you, and explore!
Take pictures at Red Mountain Pass, or stop at any of the many pullouts on the way down to Ouray to take photos! Just make sure that you are parking in a designated pullout, as many sections of the road do not have enough room to pull off.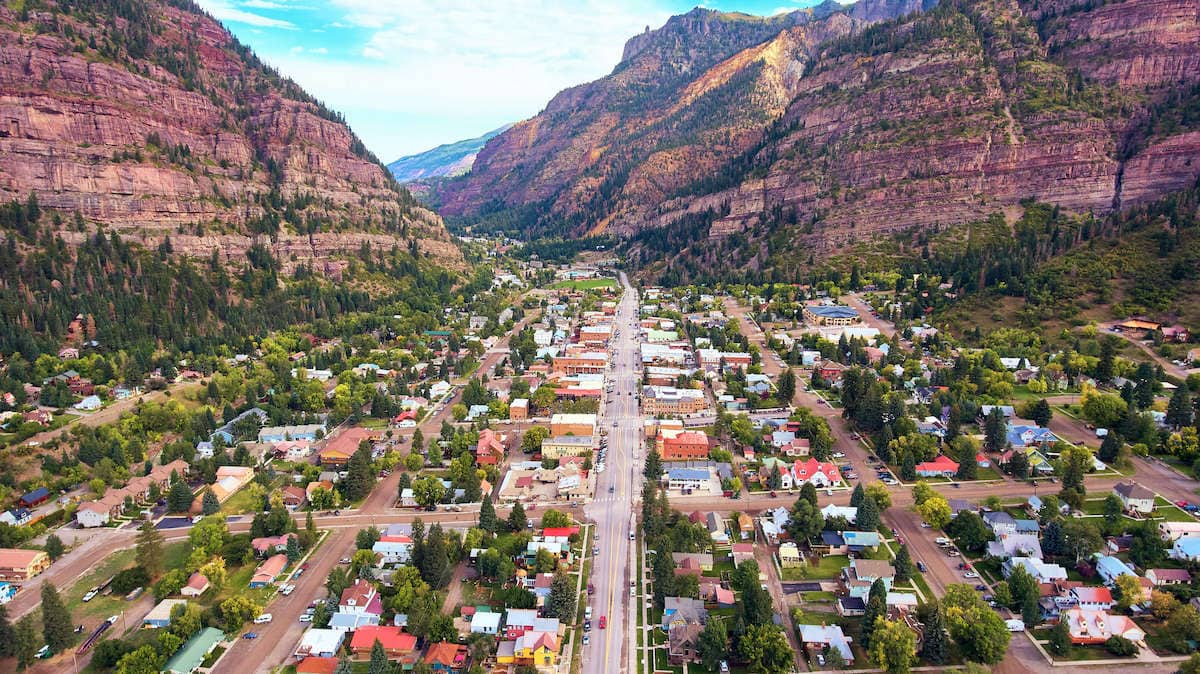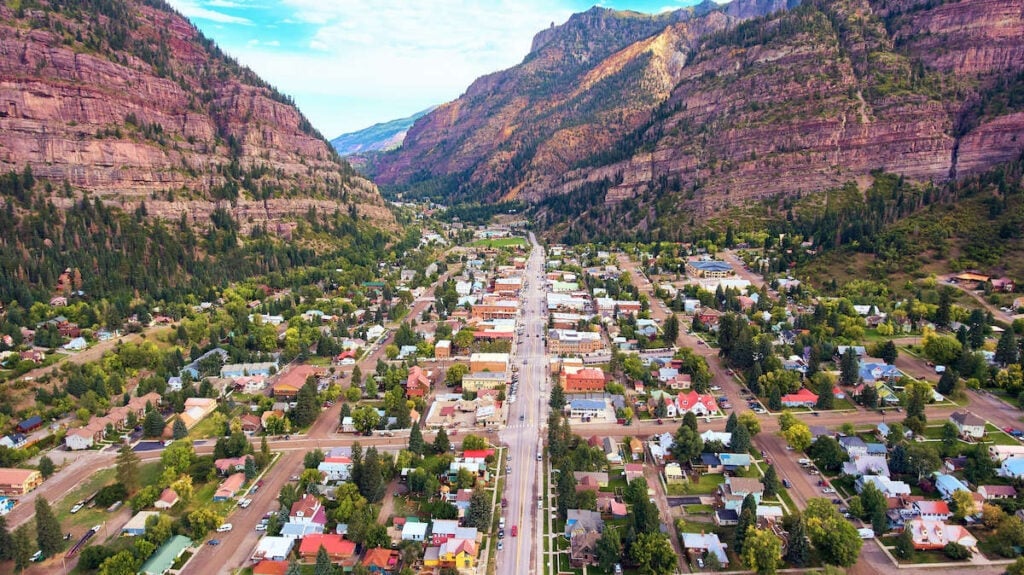 Ouray to Telluride (50 miles)
The drive between Ouray and Telluride is another beautiful stretch of road. You might feel like you are driving out the mountains as you leave Ouray, but don't worry, some of the best is yet to come! The road takes you through Ridgway, where you will turn left to head over Dallas Divide. Don't miss the stunning views of Mount Sneffels as you head over the pass! Then turn left again at Placerville to head into Telluride.
Where to stay:
Alta Lakes Campground is a free campground above Telluride with 20 campsites and a portable toilet. It is a popular and beautiful area, but a high clearance 4wd vehicle is recommended, although there have been reports of standard SUVs being fine on the drive up.
Sunshine Campground is a paid, first-come, first-served campground just 8 miles south of Telluride. Some sites have beautiful views of Mt. Wilson while others are surrounded by Aspens.
Telluride also has many hotels, inns, and BnBs to stay at while visiting, although I have not personally stayed at any.
Where to eat:
Smugglers Union is a delicious restaurant and brewery with a good selection of local meats and produce for their meals.
The Butcher & The Baker is a popular sandwich shop and bakery with organic and local offerings that look delicious!
The Village Market has some of the best fresh bread baked by Blue Grouse Bakery. It gets delivered on Monday, Wednesdays, and Fridays
What to do:
Hike Bear Creek Falls or Bridalveil Falls. These popular and beautiful trails start right in the town of Telluride and are short enough for a late afternoon outing after a day of driving. Check out the Best Hikes in Telluride for more.
Hike to Blue Lakes. If you want a longer hike, head towards the mountains when passing over Dallas Divide to hike the Blue Lakes trail to three stunning blue lakes beneath Mount Sneffels
Take photos at Dallas Divide. This view is one of my favorites on the whole road trip, and is made even more beautiful by fall colors, sunset, or sunrise. Stop and take photos and take in this stunning skyline.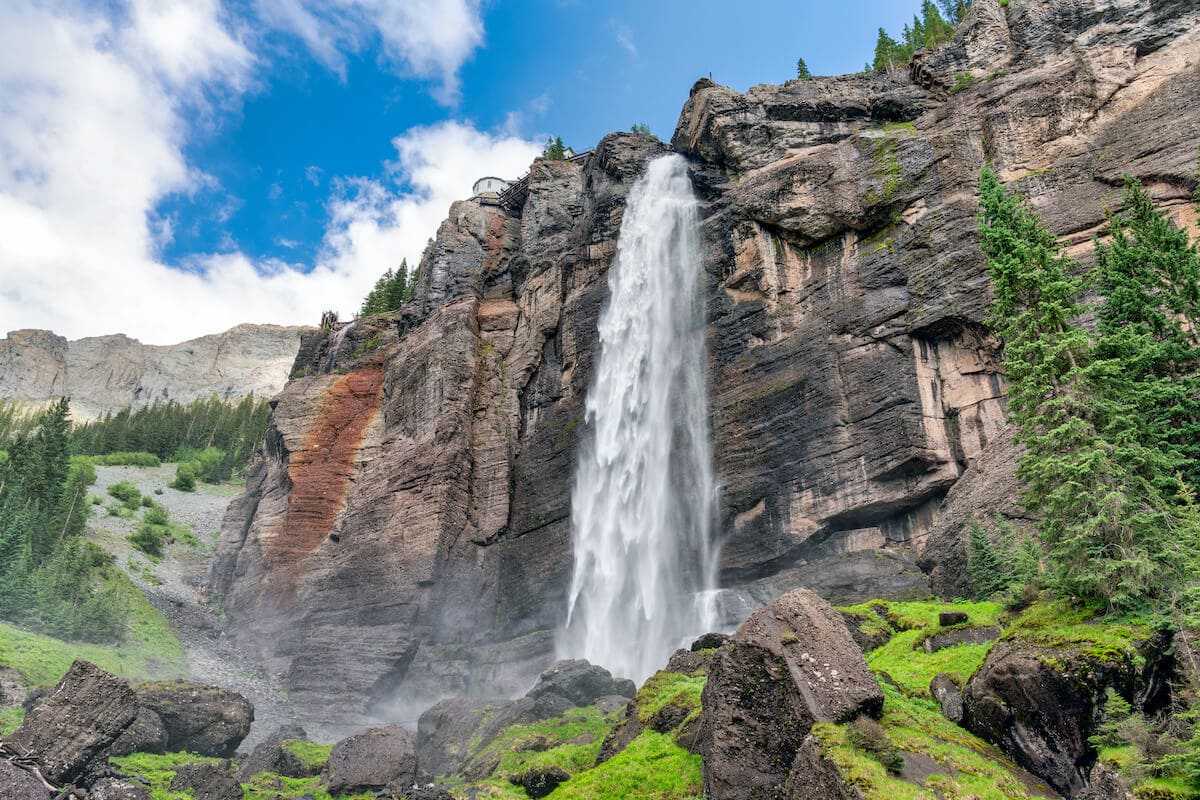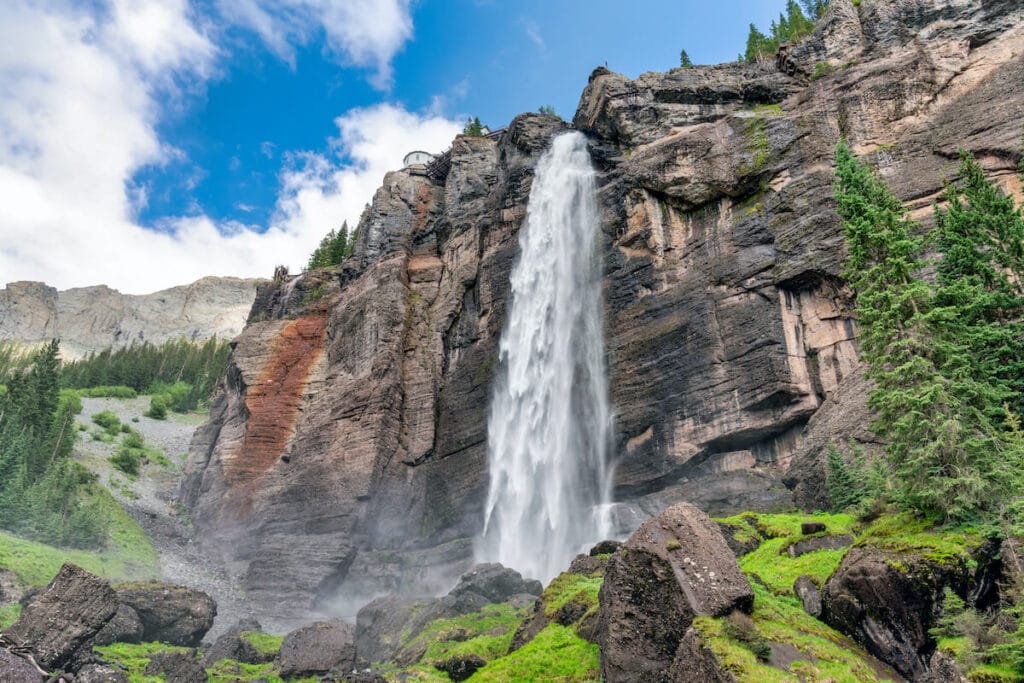 Telluride to Dolores (65 miles)
This leg of the Million Dollar Highway journey starts to take you out of the mountains and into the desert, but don't miss the beautiful and often overlooked Lizard Head Pass and the small town of Rico on the way to Dolores! Lots of hiking and exploring exist in this part of San Juan National Forest, and although I might be biased (I live there), I think Dolores is an underappreciated gem of the area.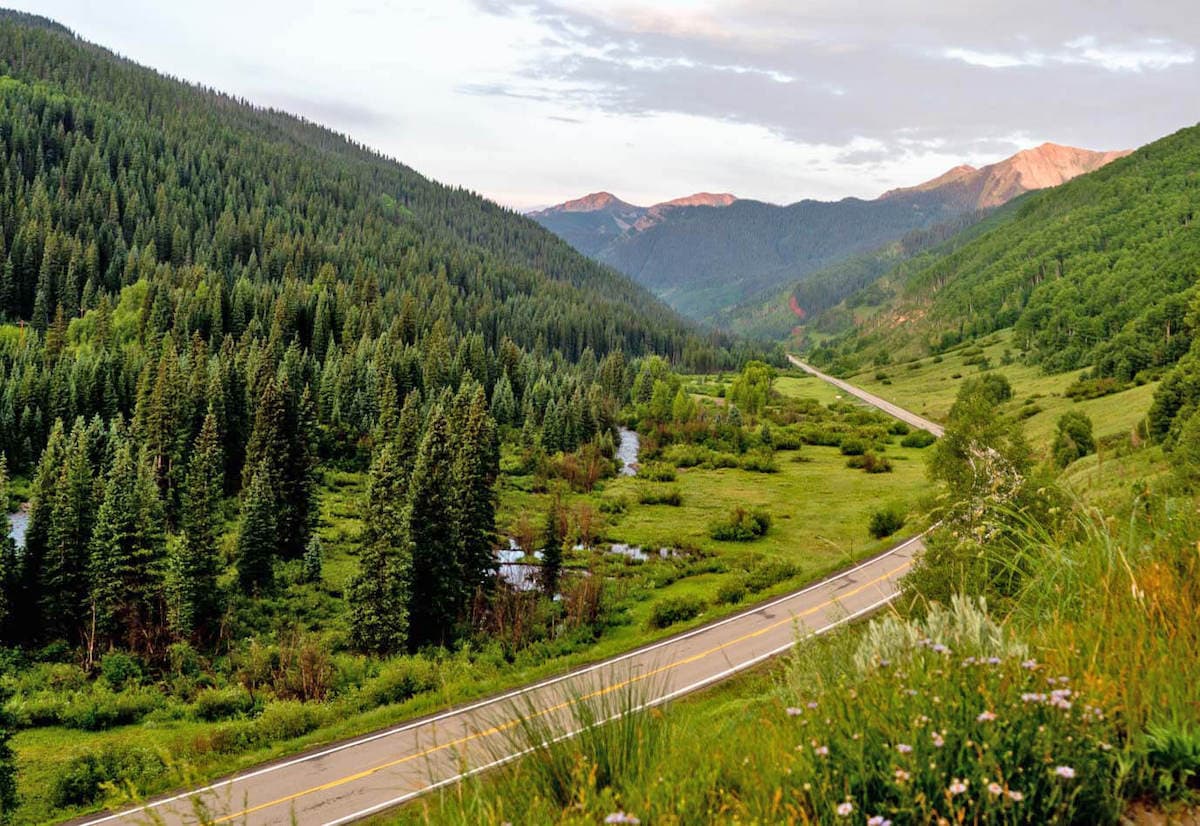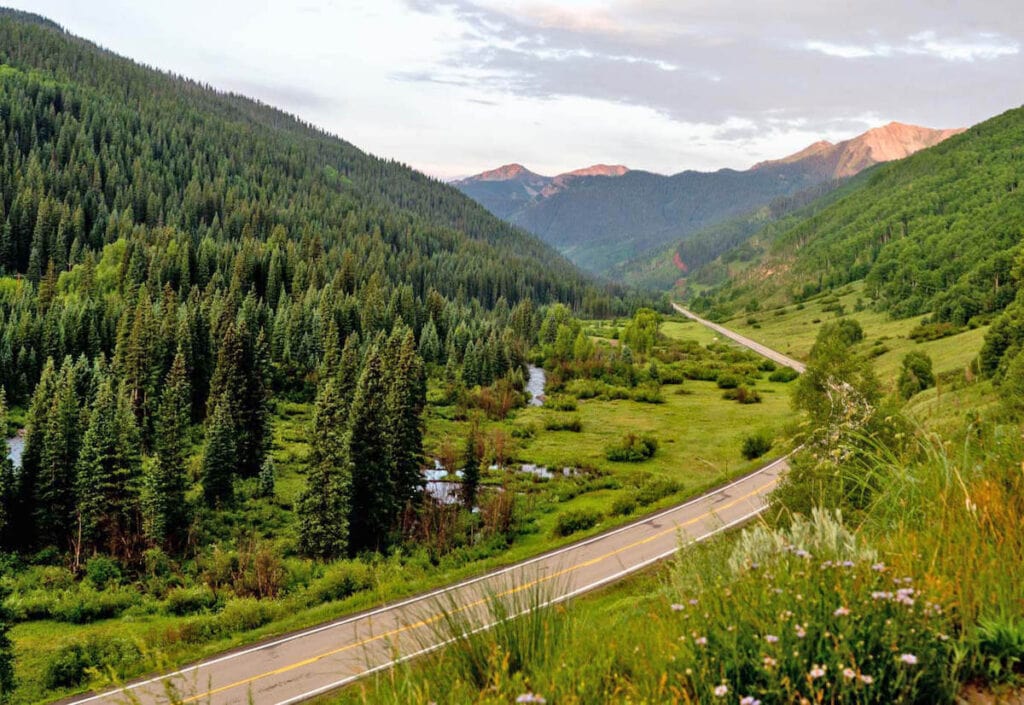 Where to stay:
Dolores River Campground and Cabins is a great riverside campsite with cabin rentals available as well. They often have food trucks on-site for dinner, and even have a kids fishing pond! The campsite stays pretty quiet most of the time, and if you want to stay somewhere unique, try out their covered wagons!
Boggy Draw Dispersed Camping offers a free and beautiful place to camp. The area has lots of mountain biking and trails to explore, as well as dispersed camping all over the mesa. Drive up above Dolores and either head past Boggy Draw Trailhead to find a variety of campsites, or continue down the Dolores-Norwood road to find many camping options off the road.
Where to eat:
Esoterra Cidery makes delicious dry cidery with no additives including sugars or coloring. They officially consider themselves a winery and come at cider from the perspective of wine. The atmosphere and outdoor area provide a great place to get to know the owners and locals, and their food truck Zoe the Tail offers fresh and delicious food. I especially recommend the cheese plate!
Dolores River Brewery offers another great community gathering place with good beer all around. They make their own delicious pizza and also have a rotation of local food trucks providing dinners throughout the week. Show up and try out what's available.
What to do:
Stop in Rico, Colorado to find an old mining town coming alive with a few small coffee shops, a historical museum, and a great taco truck.
Hike at Lizard Head Pass or at least stop and take pictures. There are a few hiking options in the area, including hiking up to the base of the tower of Lizard Head Mountain, hiking a 13 mile loop, or try the Hope Lake hike off of Trout Lake, just before Lizard Head Pass.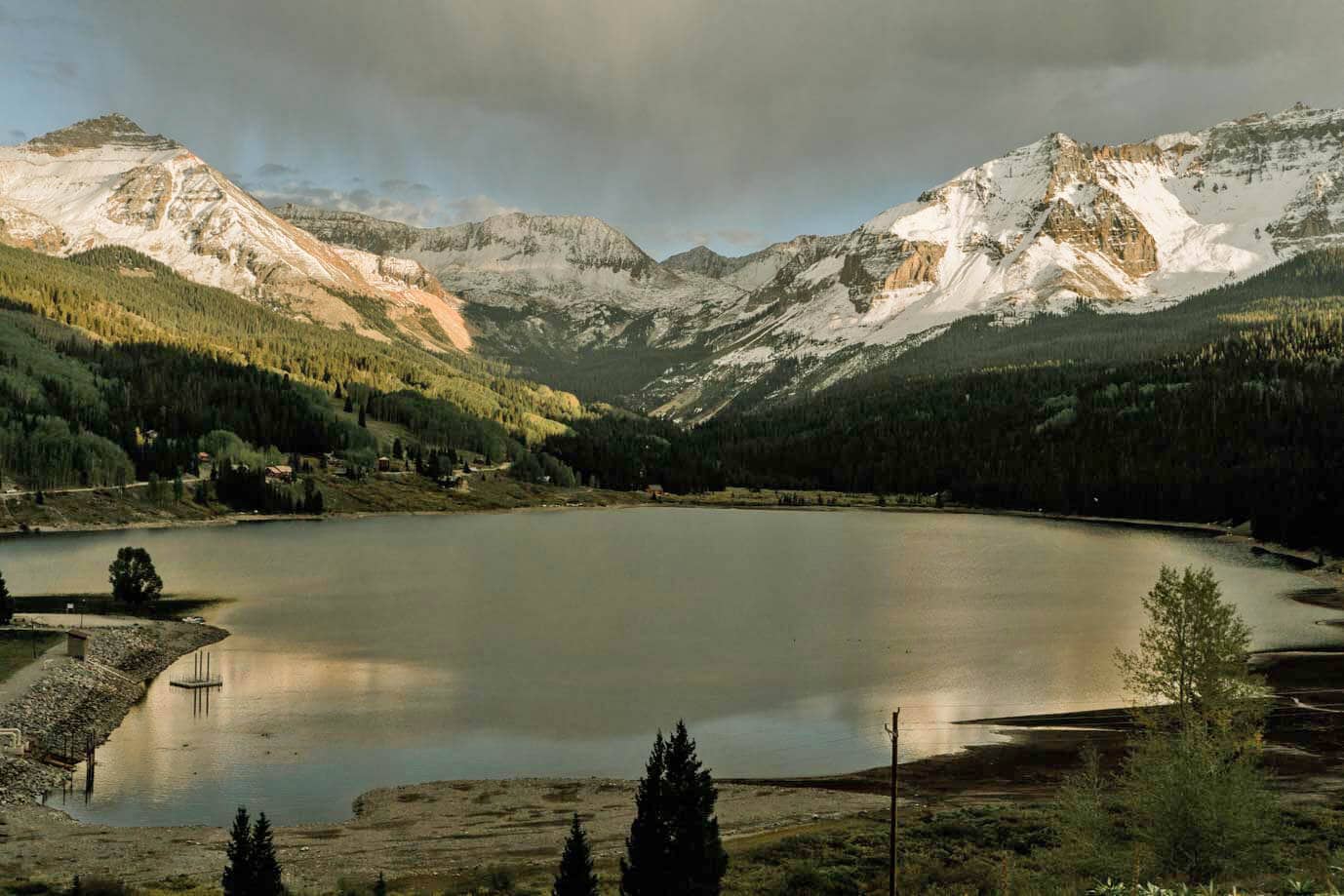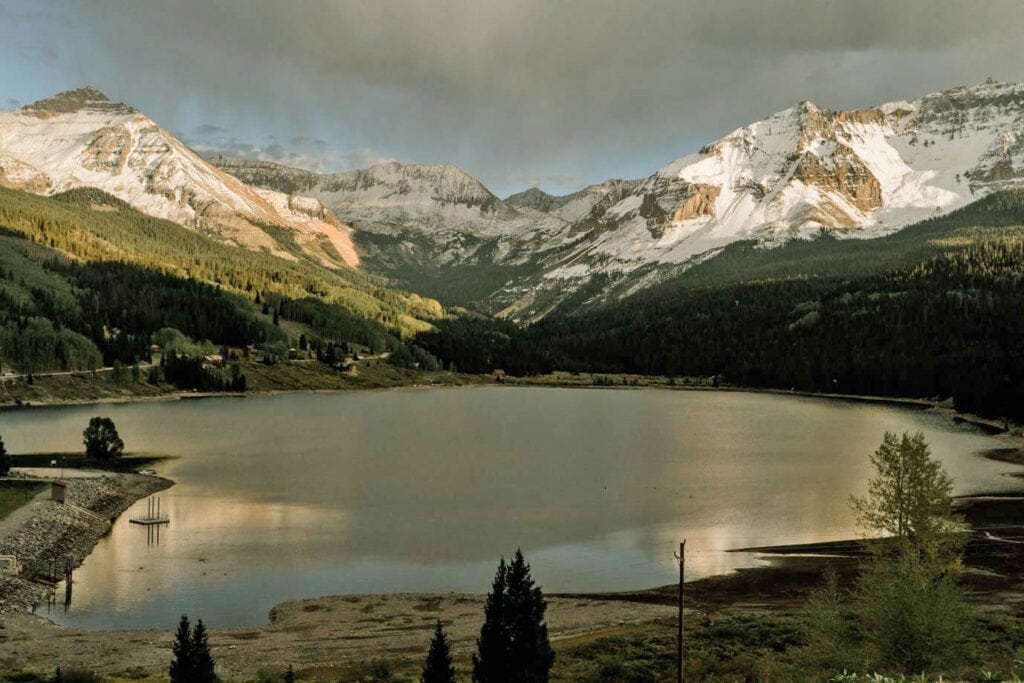 Dolores to Durango (45 miles)
The last leg of the San Juan Highway between Dolores and Durango heads through Montezuma county to the small artsy town of Mancos, which is worth a stop to explore and have a bite to eat at the delicious Absolute Bakery and Cafe. Then the road heads over the La Plata mountains back to Durango, Colorado to finish the San Juan Skyway road trip.
Where to stay:
La Plata Canyon features both paid campgrounds and dispersed camping and is only a few miles outside of Durango. There is also a variety of other dispersed camping in the area!
Durango also has lots of hotels and other places to stay in the town itself.
Where to eat:
11th Street Station is a fun collection of food carts located around Ernie's Bar, which provides the drinks. It can be a good option for food when everyone is in the mood for something different, with options from Thai, to pizza, to tacos, there's something for every craving.
Steamworks Brewing Company is a local brewery and restaurant with great beer options and salads, sandwiches, pizza, burgers, and more.
What to do:
Enjoy the art in Mancos, Colorado. This small town right at the base of the La Plata mountains features an eclectic western art scene with a variety of small art galleries that are worth the browse!
Hike Animas Mountain Trail. This 6 mile loop up a mountain in town gives your legs a stretch at the end of your road trip.
Visit Mesa Verde. This National Park contains structures built by Ancestral Pueblo people over a thousand years ago. Learn about the history of the Pueblo people who still live in the area today.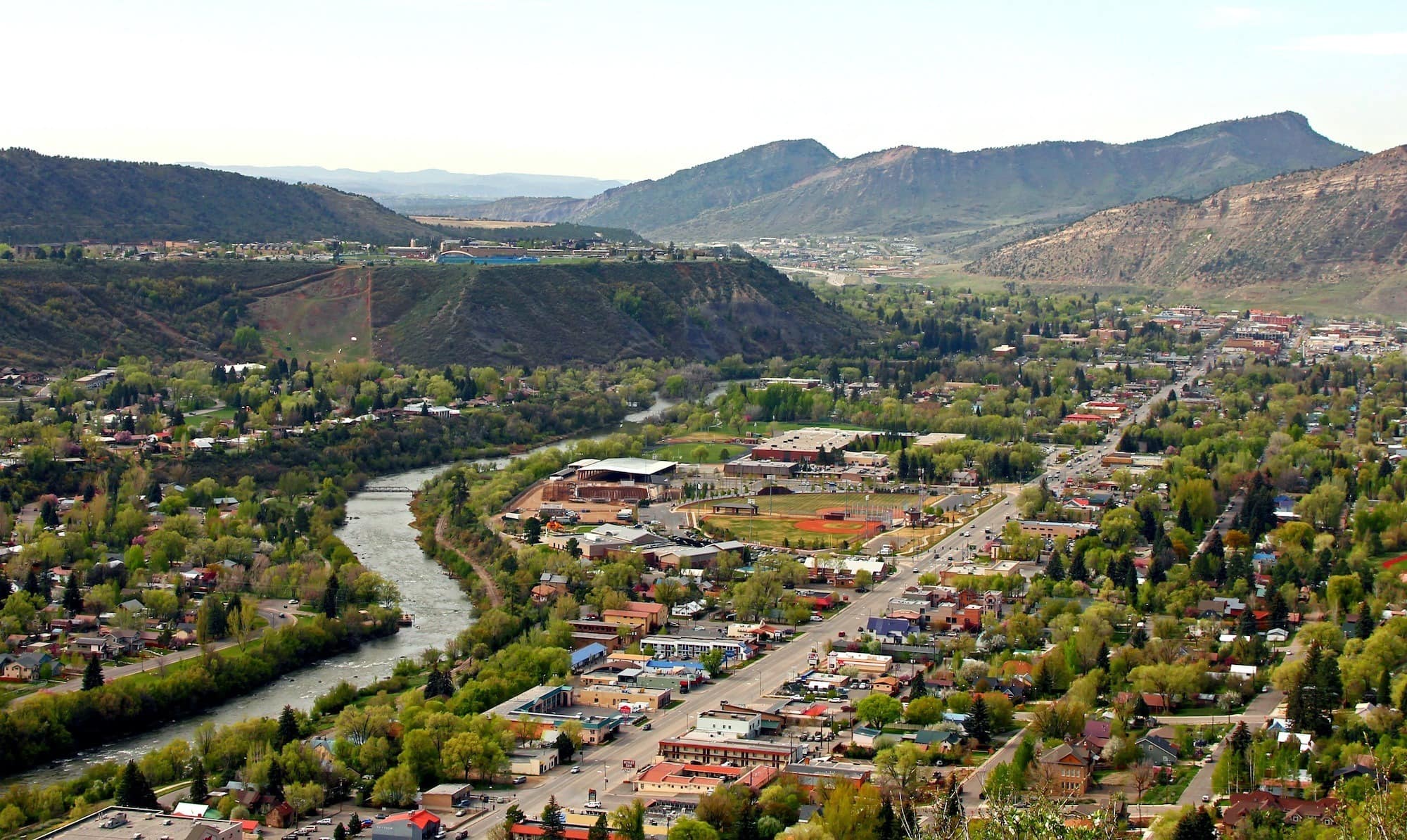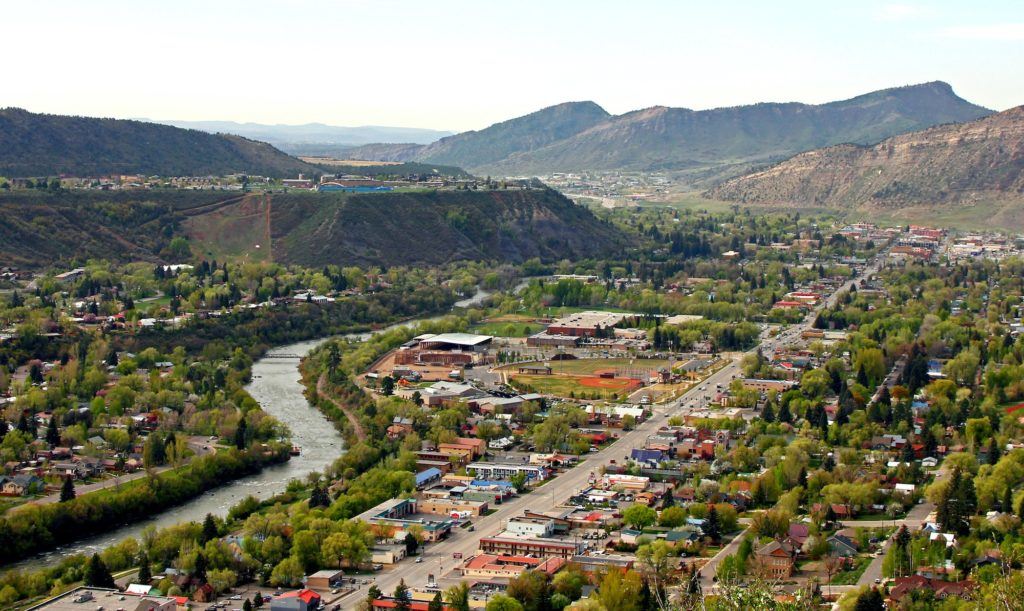 Is road tripping the Million Dollar Highway on your bucket list? Do you have any questions? Leave a comment below!