Complete Rocky Mountain National Park Winter Guide
Beat the crowds and explore a winter wonderland by visiting Rocky Mountain National Park in winter!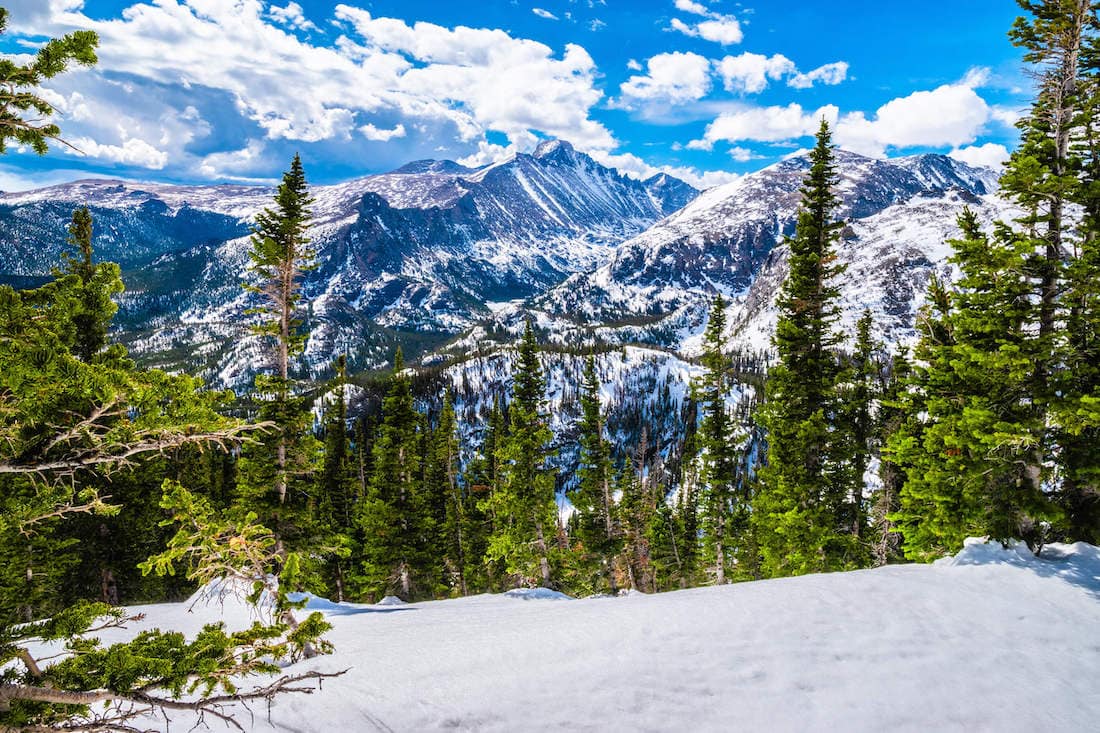 Winter is one of the best times to visit Rocky Mountain National Park. The crowds of summer and fall have subsided, the parking lots and roads are way less busy, and the trees and mountains are covered in fresh, pillowy snow. Rocky Mountain National Park winter visitors can also enjoy majestic views of the snow-covered Rocky Mountain peaks as they tower over the park's icy streams while wildlife tracks weave through quiet forests for visitors to admire.
Discover the best things to do for a winter getaway in Rocky National Park including winter activities, where to stay, and more.
Important Reminder: As it goes in all of the destinations we share, please practice good trail etiquette and remember to Leave No Trace. This means packing out all of your garbage (including toilet paper), being respectful to others on busy trails, and following the established rules.
Where is Rocky Mountain National Park?
RMNP is located on the Front Range of the Rocky Mountains in northern Colorado. The closest major city is Denver, which is 2 hours away by car if the roads aren't slowed or closed due to winter weather. While the park is busiest in the summer and fall, winter is one of the best times to visit Rocky Mountain National Park thanks to fewer people, plenty of snow, and beautiful winter scenery.
There is no direct public transportation to RMNP in the winter, and the park shuttle also does not operate in the winter, so you will need a car to drive yourself. Denver also has the closest major airport, so we recommend flying here to rent a car.
Estes Park is the gateway to Rocky Mountain National Park and it's filled with everything you'll need to enjoy your stay: lodging, restaurants, grocery stores, outdoor gear stores, and convenience stores to stock up on anything you may have forgotten.
A winter trip to Rocky Mountain National Park takes a lot of preparation — but the small crowds and huge, mountainous terrain will make your trip worth it!
---
Rocky Mountain National Park Winter Lodging & Camping
You can camp right in Rocky Mountain National Park in winter if you're ready to brave the cold! Timber Creek Campground, Longs Peak Campground, and parts of Moraine Park Campground are generally open year-round, but Timber Creek Campground and Longs Peak Campground have been closed in recent years leaving Morrain Park the only campground in Rocky Mountain National Park currently open. The other campgrounds are slated to (hopefully) open next year.
Moraine Park Campground near the park's Beaver Meadows Entrance has stunning views of the park's mountains.
Timber Creek Campground (closed at the time of writing in 2021) is the only campground on the west side of the park and sits beside the Colorado River.
Longs Peak Campground (closed at the time of writing in 2021) is 20 minutes south of Estes Park with a great view of — you guessed it — Longs Peak.
Backcountry sites and mountain huts are also available. Always be sure to check for the most up-to-date reservations, fees, and closures on the park website.
If you'd rather stay indoors overnight, there are plenty of options in Estes Park. For a luxurious stay, check out The Estes Park Resort or The Stanley Hotel that inspired Stephen King to write The Shining. The Ridgeline Hotel has great views and the romantic RiverSong Inn is a perfect couple's bed & breakfast getaway.
Since Estes Park is right on the doorstep of Rocky Mountain National Park, you've got plenty of options for finding an economical or luxurious hotel.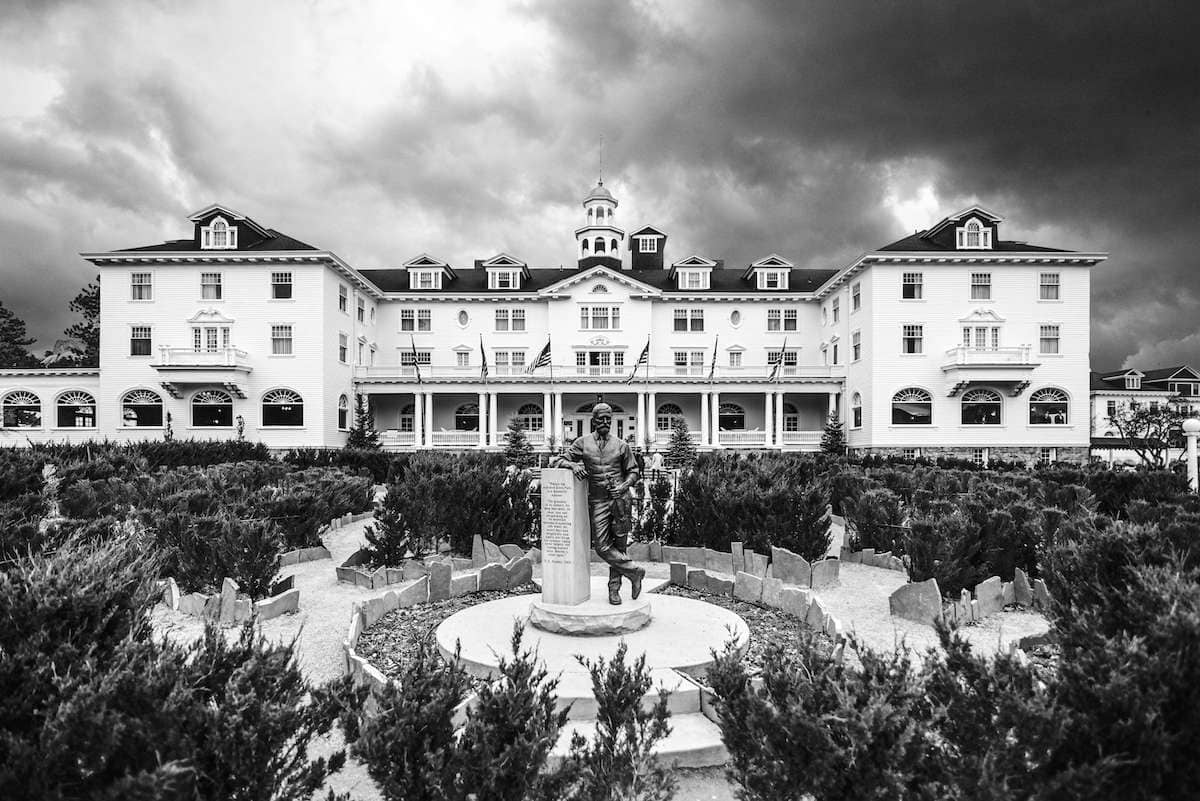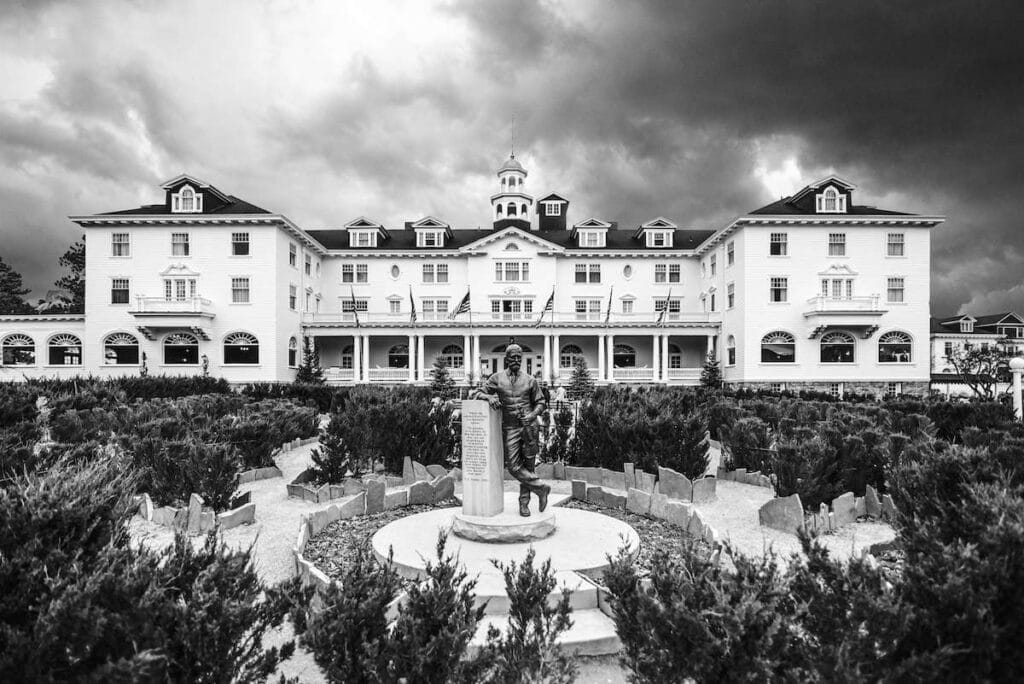 ---
What's open & closed in winter at Rocky Mountain National Park
Rocky Mountain National Park is open 24/7, every day of the year, but certain areas of the park close down in the winter.
Three of the five visitor centers in the park are open during the winter. Beaver Meadows Visitor Center and Kawuneeche Visitor Center are open daily all year but closed on Thanksgiving and Christmas Day. Fall River Visitor Center is open most weekends in the winter. Moraine Park Visitor Center and Alpine Visitor Center are both closed for the entirety of winter.
The popular Bear Lake Road is open year-round, but keep in mind that the free shuttle bus that services the road is closed during the winter. Other roads that remain open during the winter months, weather conditions allowing, include Fern Lake Road, Wild Basin Road, Twin Sisters Trailhead Access Road, and Upper Beaver Meadows Road.
Trail Ridge Road is one of the highest paved roads in the entire U.S., but it's unfortunately closed during the winter months thanks to the road's high elevation, high winds, and deep snowfall. It usually closes in mid-October and opens in late May, but most years you can still drive 8 miles from the park's eastern entrance to Many Parks Curve.
Old Fall River Road is also closed during the winter, as is Endovalley Road at the West Alluvial Fan parking area.
Be sure to check Rocky Mountain National Park's road closures before and during your visit. Keep in mind that conditions can change quickly in the mountains.
---
Things to do in Rocky Mountain National Park in the Winter
Rocky Mountain National Park has tons of trails for hiking, snowshoeing, and cross country skiing. Along with scenic drives and winter wildlife, there's truly something for everyone!
Snowshoeing
If you want to explore the park's snowier trails, snowshoeing is the way to go. All you'll need is a pair of snowshoes and an optional pair of trekking poles, and you're set to tromp through fluffy snow and admire the park's quiet forests and frozen lakes.
Check out snowshoeing to Dream Lake, Emerald Lake, or Lake Haiyaha for shorter trips, or snowshoe all the way to Chasm Lake for a longer day in the high alpine.
Never been snowshoeing? We've put together a snowshoe guide with everything you need to know. You can also check in with the park staff about a ranger-led, two-hour snowshoe program — it's usually held on weekends in the winter.
Cross Country Skiing
Forge your own trail on a pair of backcountry Nordic skis to enjoy the deep snow on flatter sections of the park.
One of the best places to ski in the park is right on Trail Ridge Road — simply drive until the road is closed, strap on your skis, and enjoy the subalpine forest and huge views of Hidden Valley and Horseshoe Park.
Another popular cross country skiing destination within the park is Sprague Lake, a 3.3-mile beginner loop that begins from the Glacier Basin Campground, which is off Bear Lake Road just south of the park's east entrance.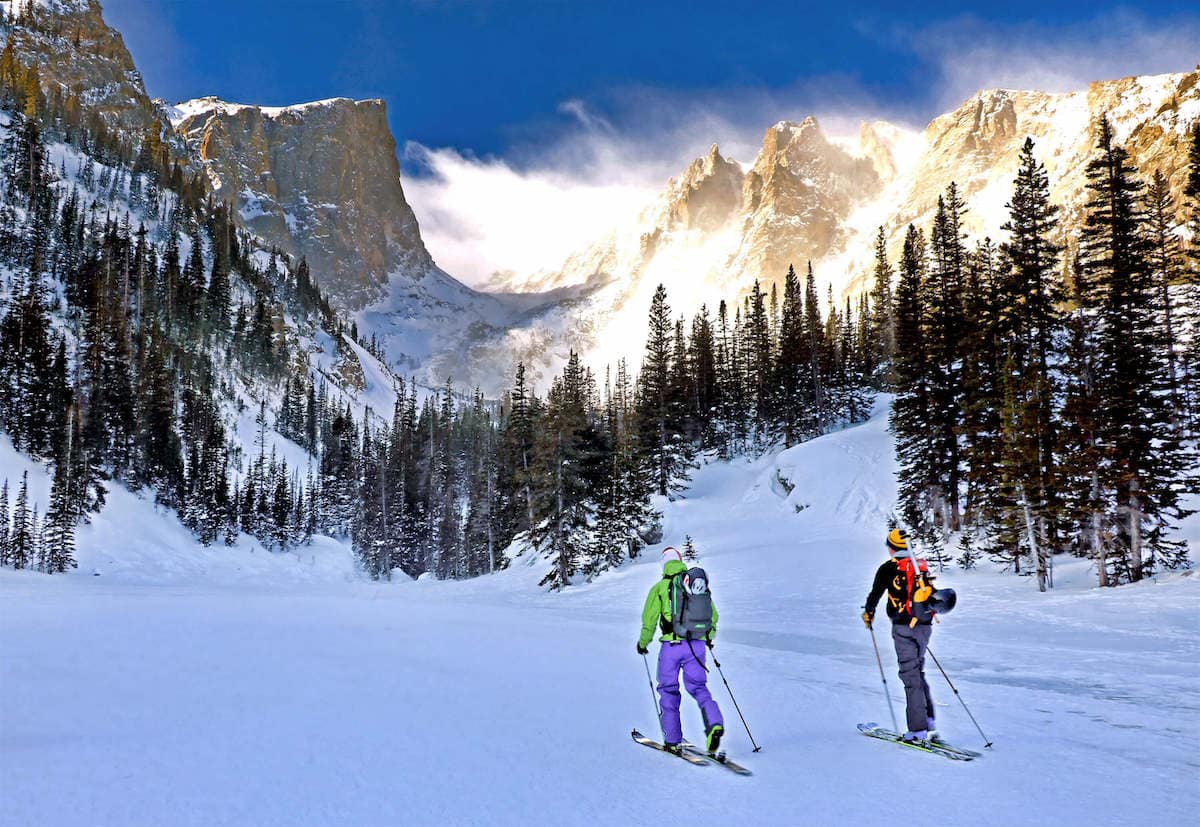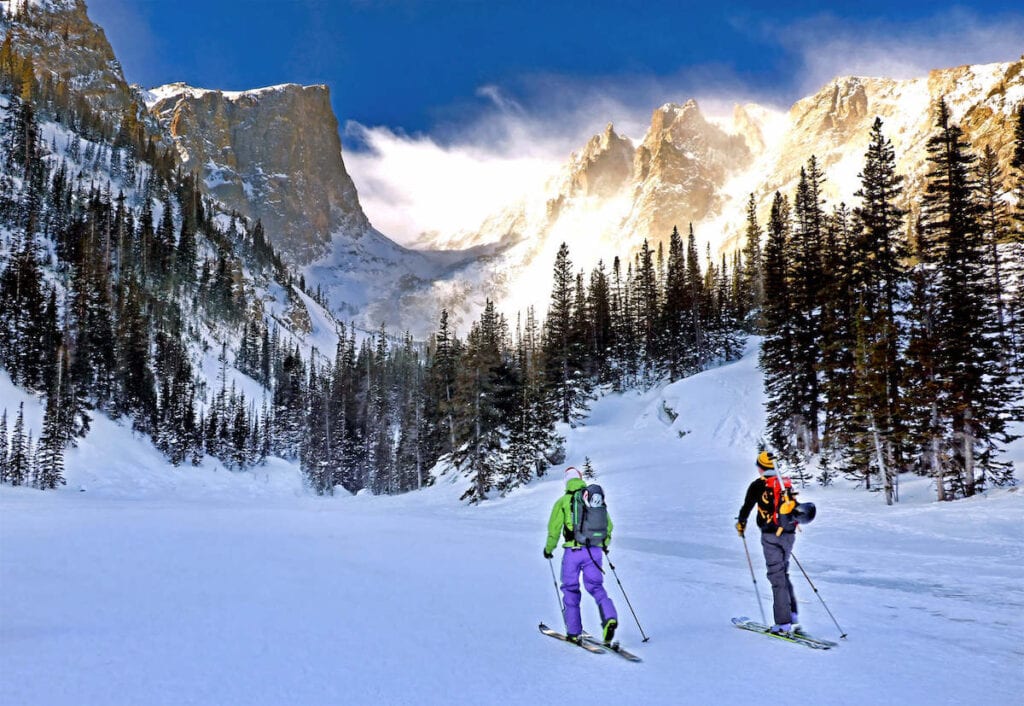 Winter Wildlife Watching
Wildlife watching is one of the best things to do in Rocky Mountain National Park in winter thanks to fewer crowds and the quiet of winter. Much of the wildlife moves to lower elevations in the winter, which makes them much more accessible.
Winter wildlife you may see include elk, bighorn sheep, moose, mule deer, and plenty of winter bird residents. While the park's black bears are probably hibernating this time of year, you might just hear the loud crash of dueling bighorn sheep that headbutt each other in November and December. Just be sure to give wildlife plenty of space, bring your binoculars, and know how to prevent dangerous encounters!
Rocky Mountain National Park Winter Hikes
Some of the best Colorado winter hikes are in Rocky Mountain National Park, but you may want to pack your snowshoes and trekking poles if you don't want to posthole. Check out the 3 hikes below to enjoy the best Rocky Mountain National Park winter hikes!
Emerald Lake
The hike to Emerald Lake is one of the most popular hikes in the park, and it's a great one to take in the winter. Start at the Bear Lake Trailhead off Bear Lake Road to begin this 3-mile round trip hike that has 605 feet of elevation gain. Along the way, there will be a fork in the trail to either take a left onward to Emerald Lake or a right to go to Bear Lake.
You'll pass by Nymph Lake and Dream Lake along the way, which often freeze over in the winter — just be cautious if you decide to walk out on the frozen lake! Once you make it to Emerald Lake, you'll have a great view of Hallett, Notchtop, and Flattop Mountains.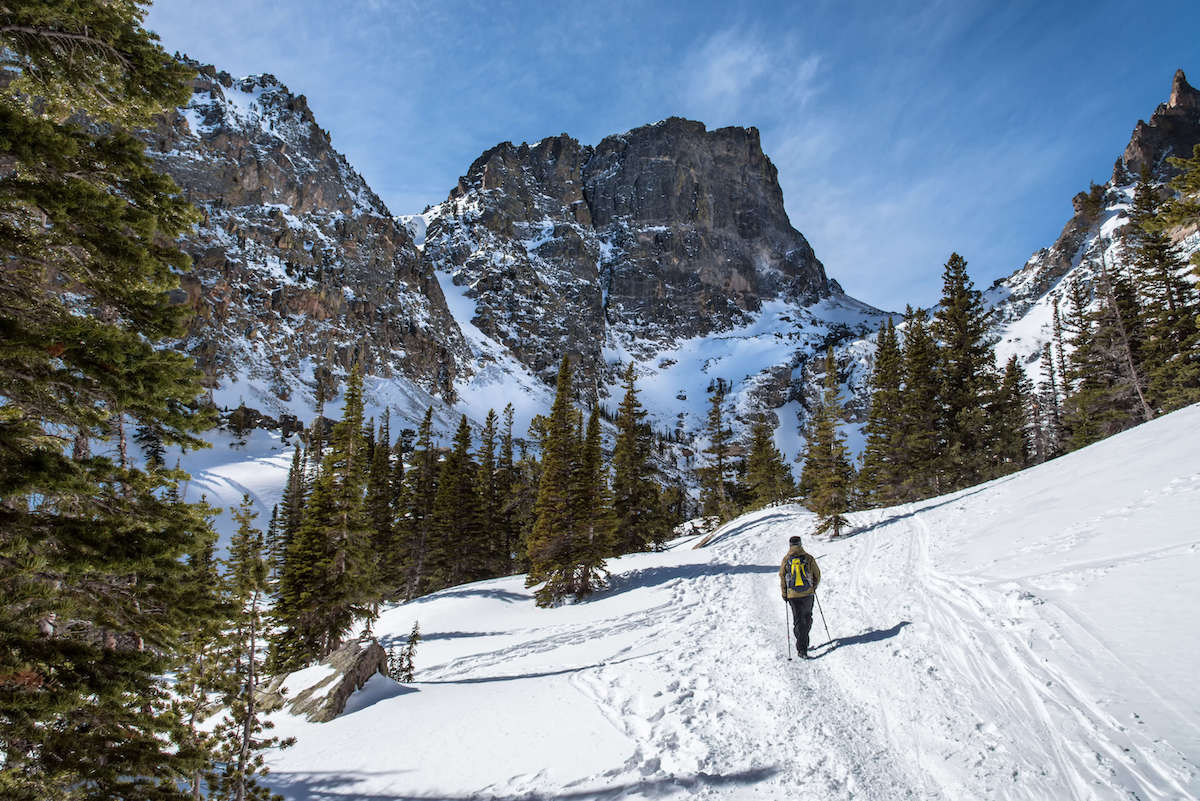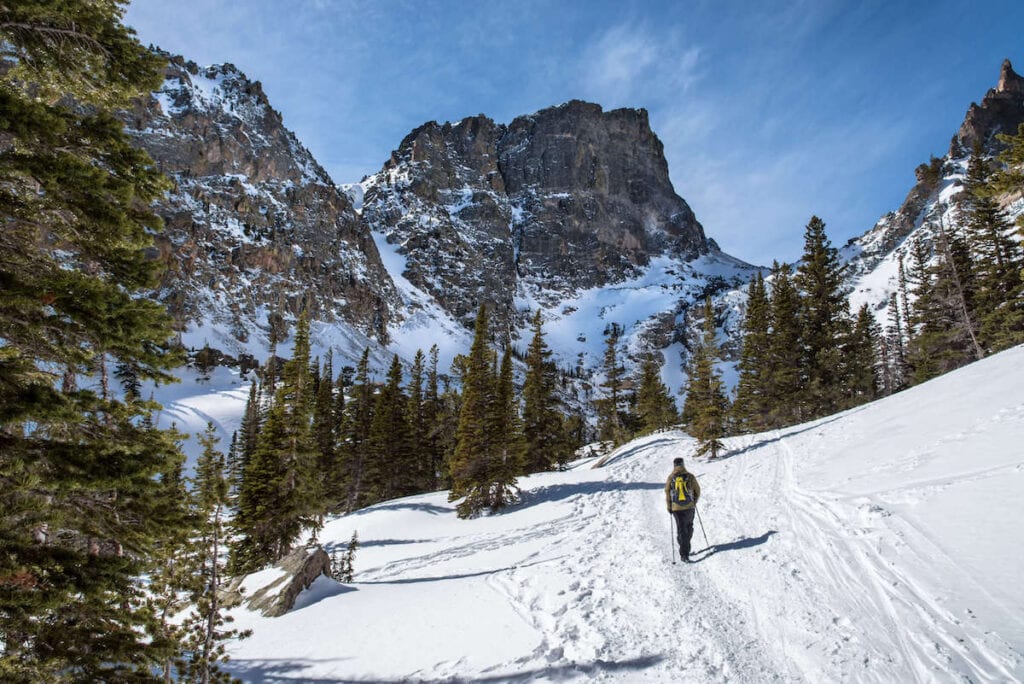 Loch Vale
Hiking to the beautiful Loch Vale is one of the best Colorado winter hikes and extra special in the winter, especially since you can connect the trail to many other lakes like Mills Lake, Glass Lake, and Lake Haiyaha. Start at the Glacier Gorge Trailhead off Bear Lake Road, one of the most popular trailheads in the park. (This is also the starting trailhead for an ambitious snowshoe hike to Sky Pond.)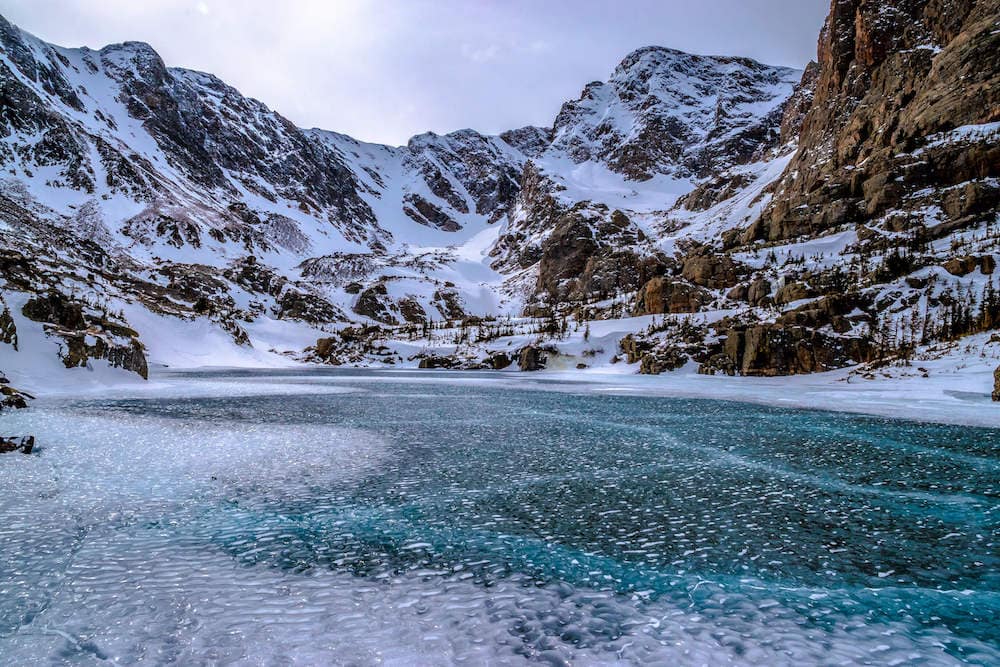 Hiking to Loch Vale is a 5.4-mile out-and-back trail with 1,056 feet of elevation gain, so we highly recommend packing trekking poles and microspikes or snowshoes to navigate the snowy terrain if it hasn't been packed down by past hikers.
As you start your hike in an aspen grove, you'll take a left at Bear Lake Junction, past Alberta Falls, Mills Lake, and Lake Haiyaha, and eventually climb up to the final, beautiful view of The Loch. The snow tends to get deeper at the end of the hike, so be sure to pack accordingly!
Lily Ridge Trail
This 1.2-mile roundtrip hike around Lily Lake is a favorite for families and visitors that don't want to commit to a long hike in the snow and are looking for relatively flat terrain. Featuring a great view of the east face of Longs Peak named "The Diamond", this trail completely circles Lily Lake and is a 15-minute drive south of Estes Park on Highway 7.
It's much less busy in the winter, and parking is a cinch.
---
What to pack for a winter Rocky Mountain National Park Trip
Winters in Rocky Mountain National Park can get intense with winter storms, low temperatures, and intense sun exposure, so proper winter layering is a must here since the weather can quickly lead to dangerous conditions.
Here are our car and hiking essentials for visiting RMNP in winter:
Snow Tires and Chains: these aren't just suggested — they might be legally required depending on road conditions.
Snow Shovel
Ice Scraper
Four-Wheel Drive: while it's not entirely necessary, four-wheel drive can be super helpful in keeping traction while winter driving
Garmin InReach: a personal location beacon is something we recommend carrying on all outdoor adventures, but this is especially important for winter activities where prolonged exposure to the elements can be especially dangerous
Microspikes: these make a huge difference in keeping you upright and confident while you're navigating tricky, snowy terrain
Sunscreen and Sunglasses: Sunlight reflects off the snow so it's smart to protect your eyes and skin when hiking in the winter.
In addition to these essentials, you can read our in-depth guide on what to wear when winter hiking here.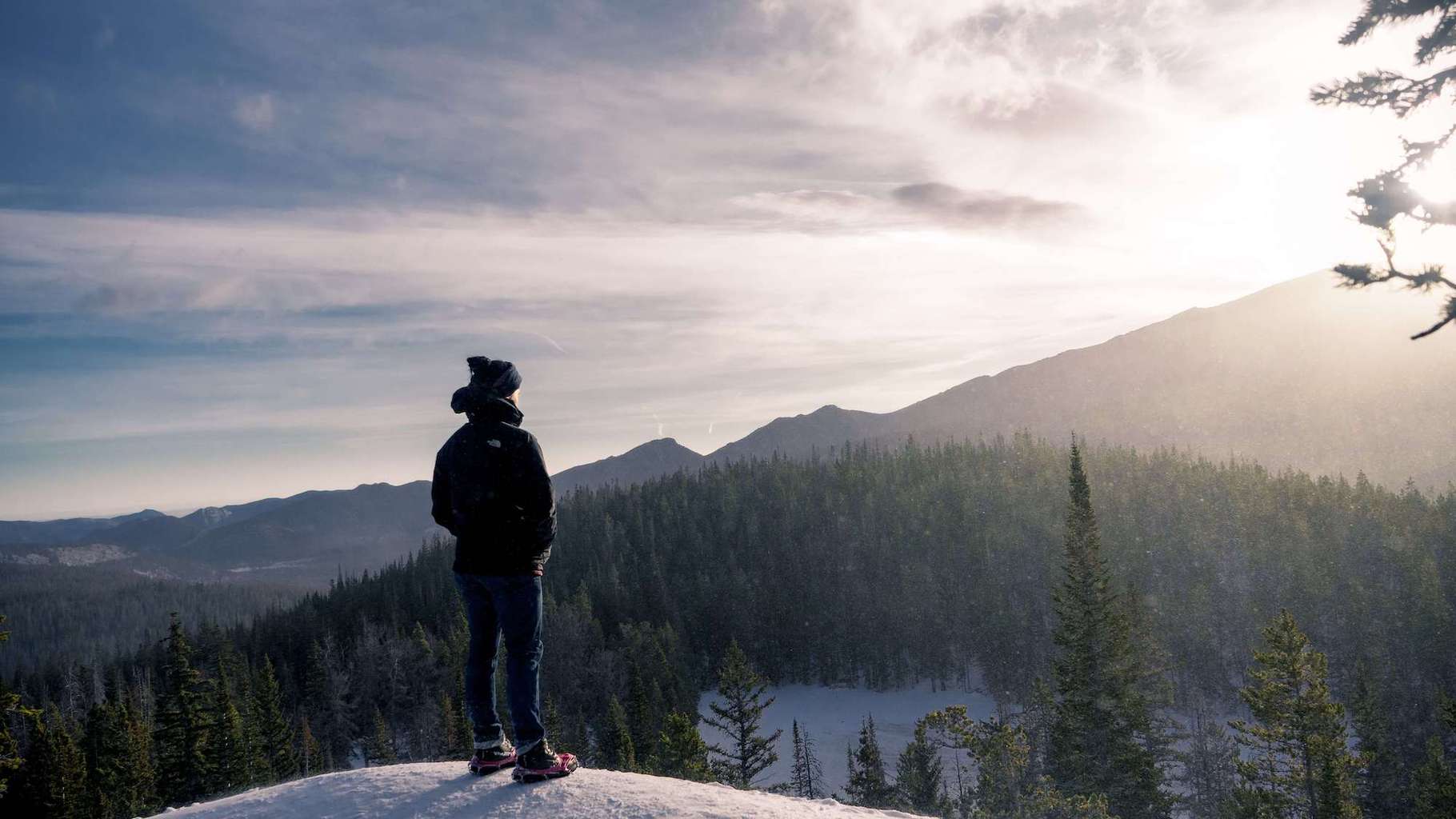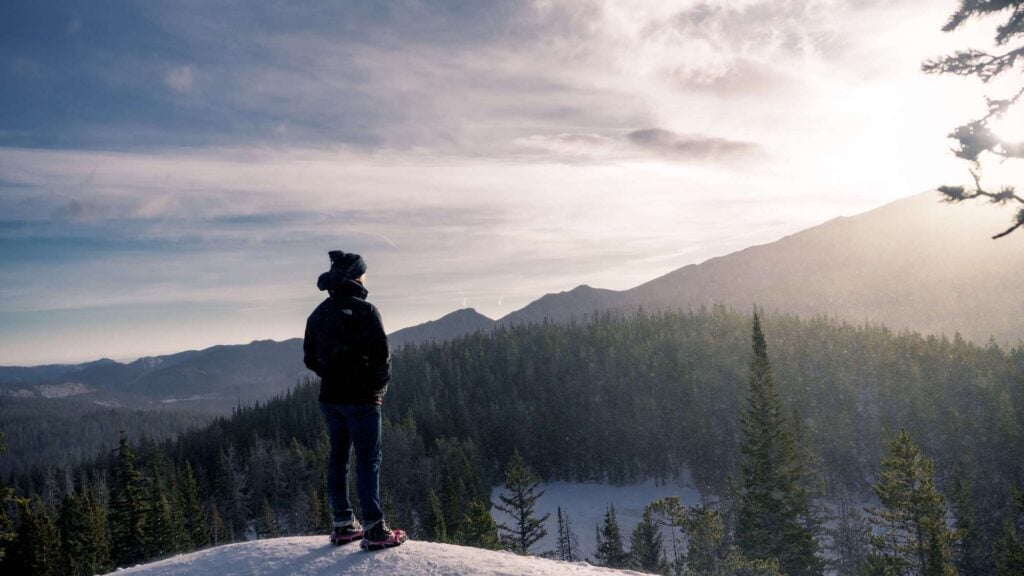 ---
Have you ever been to Rocky Mountain National Park in the winter? Where is your favorite place to go cold weather camping and hiking? Tell us in the comments below!