Best Day Hikes in Rocky Mountain National Park
Wildlife, waterfalls, lakes, big peaks, and more. Explore Rocky Mountain National Park's best trails with this detailed list of my favorite day hikes.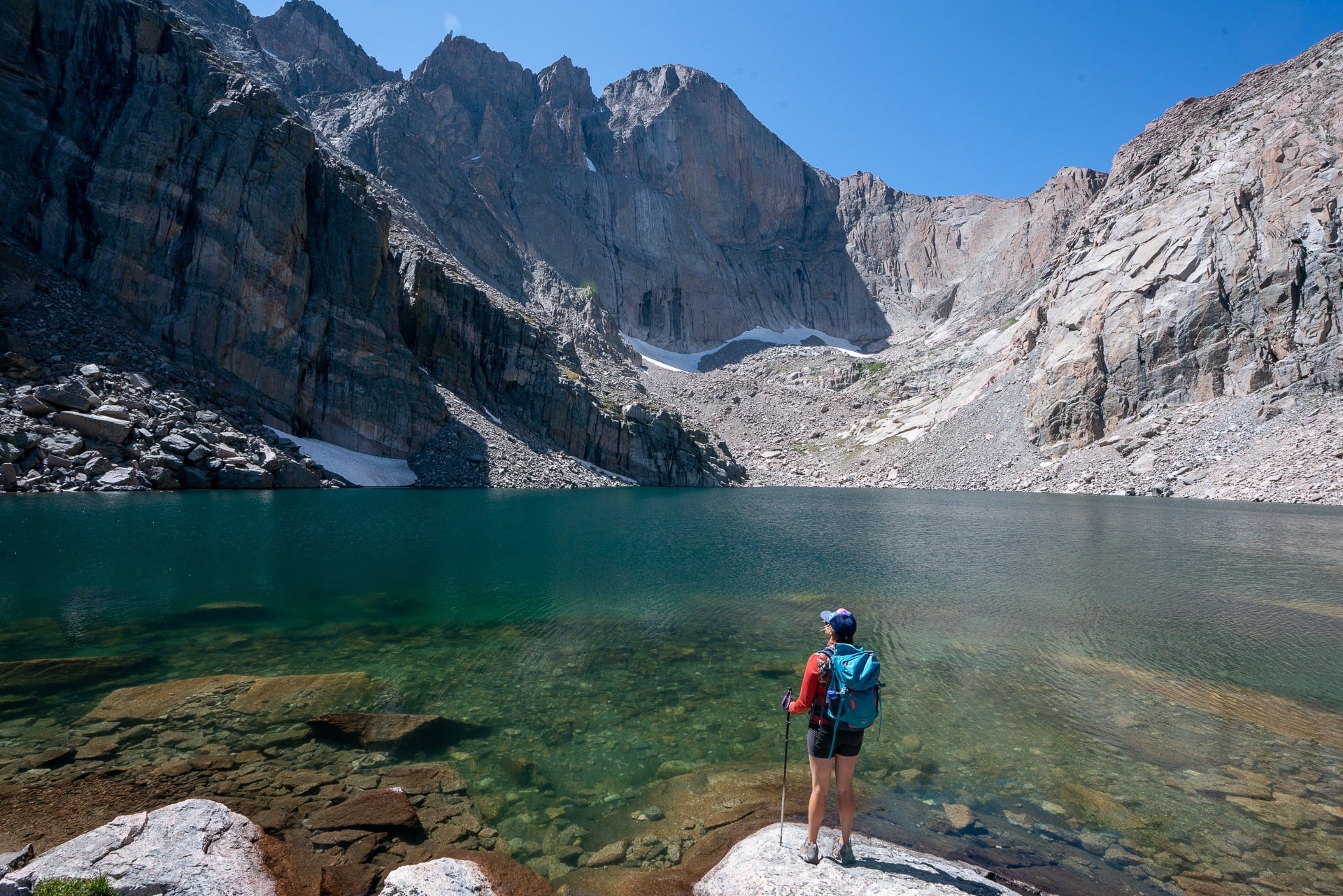 During my trip to Rocky Mountain National Park, our goal was to hike as much as possible and to experience the amazing scenery and wildlife that this place has to offer. We spent a total of 10 days in the Park, focusing a majority of our time around Bear Lake, Fern Lake, and Longs Peak on the East side of the Park. The trails in these areas get you into the high alpine quicker than the West side of the Park and give you some amazing panoramic views.
All of these day hikes are centrally located, so that you can spend less time driving, with many of them accessible via Rocky Mountain National Park's free shuttle. They are also all under 10 miles, well-signed, and easily done within a day. Obviously, there are more than the hikes listed in this blog post, but if you are visiting for the first time, these will keep you plenty busy and give you a taste of the different environments and ecosystems in the Park. For more tips for your first visit to RMNP, check out this blog post.
Please note: From May 27-October 10, 2022, RMNP will require timed reservations to enter, which you can purchase here.
Ready to get out there? Here are some of the best day hikes in Rocky Mountain National Park.
As it goes with all of the destinations shared on Bearfoot Theory, please remember to Leave No Trace. That means picking up any trash you see on the trail, practicing good trail etiquette, and being respectful to other hikers.
Chasm Lake Trail
Length: 8.5 miles
Elevation gain: 2,566 feet
Difficulty: Strenuous
For me, this was the most difficult but also my favorite hike that we did during our time in Rocky Mountain National Park. Chasm Lake sits at 11,760 feet and puts you right at the base of Longs Peak, RMNP's tallest mountain. Much of this hike is above the treeline, so it's imperative to get an early start to beat any afternoon thunderstorms.
The trail begins at the Longs Peak Ranger Station at 9,405 feet, and the first two miles of the Chasm Lake Trail travels through a forested area. At approximately 1.9 miles in, you'll reach Lightning Bridge, a footbridge that's bookended by two signs warning hikers about lightening risk. Pause here to layer on an insulated jacket or windbreaker before entering into the exposed tundra ahead. This is where the views really start to open up and you can see across the valley towards Longs Peak.
Along the way, you'll pass through the Chasm Junction with 2,130 feet of elevation behind you, and as the Rockies unfold in front of you, one of the most scenic privies to take a break and relieve yourself. Continue on until you reach Chasm Meadows with its flowing streams and beautiful green grass. The way up to here is known to have snow and icy conditions at about 3.8 miles in, which doesn't melt until mid or even late June. Take it slow and steady, because there's also a steep drop off on your left. This is another great spot to take a break and appreciate the views before heading on — just remember not to break trail to protect the alpine vegetation.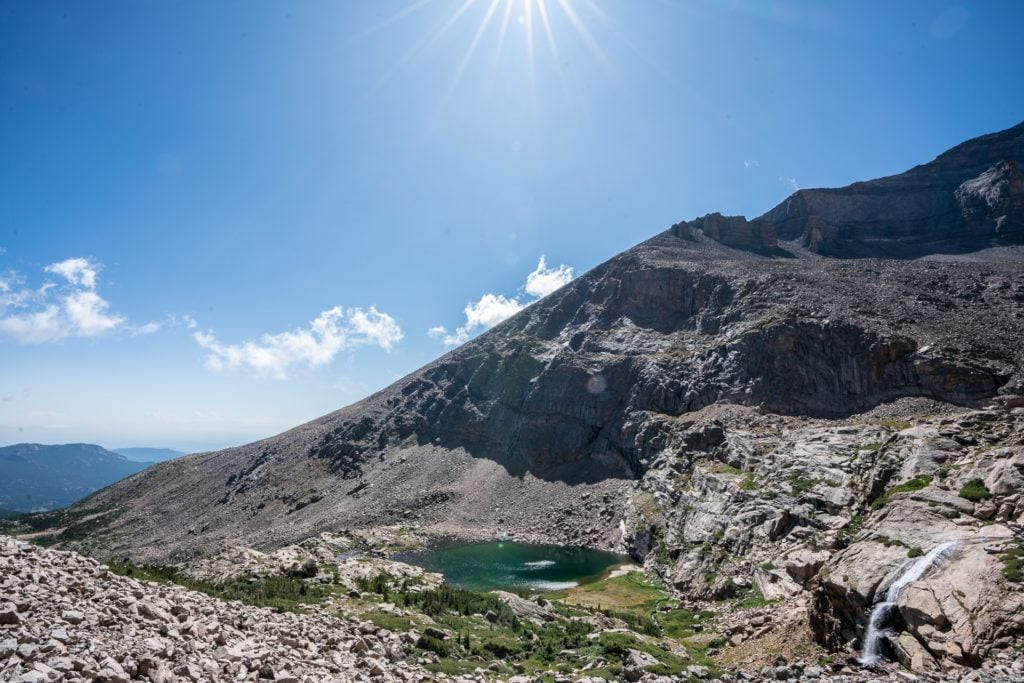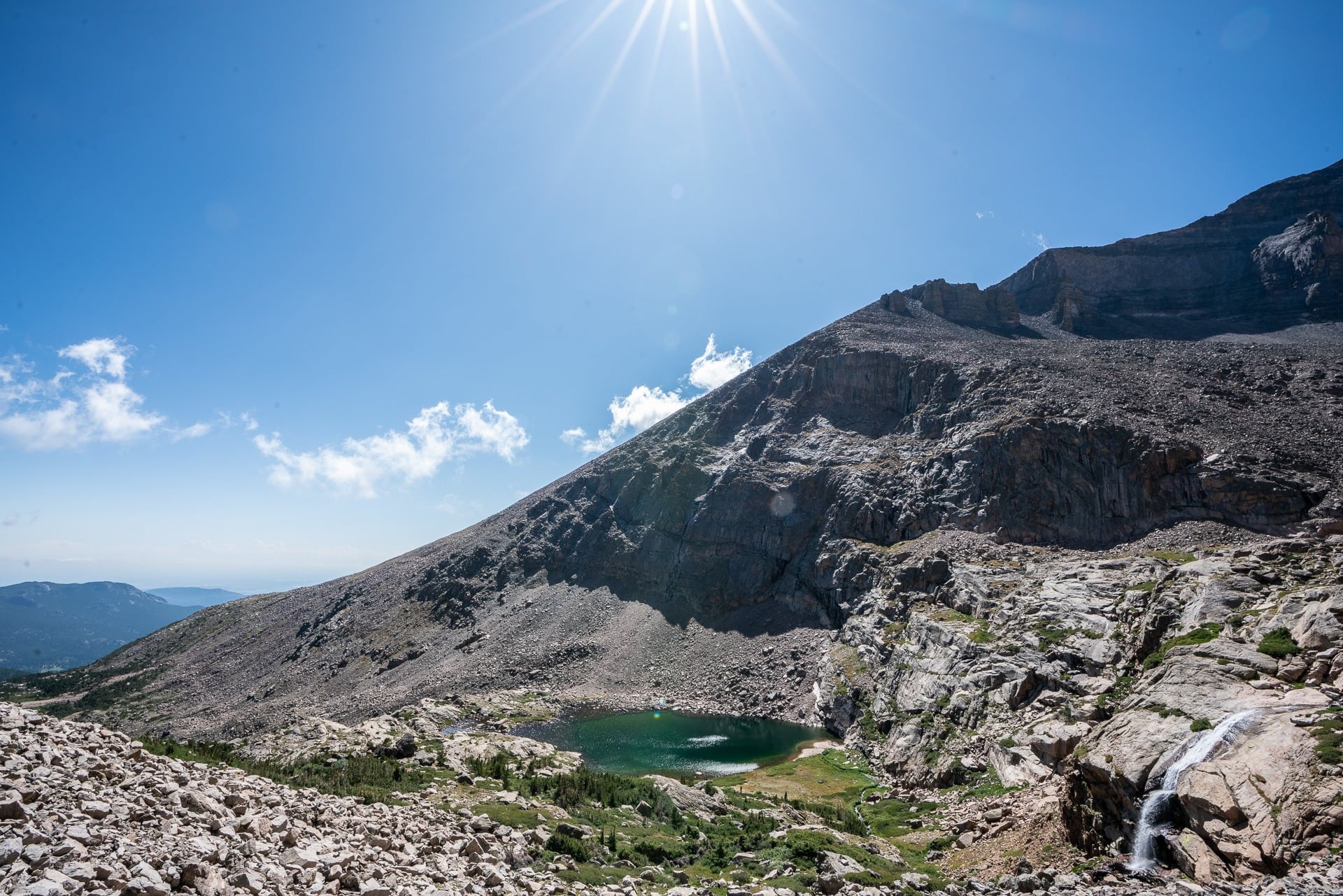 Look out for cairns here and head directly through the meadow up towards the spot where you can see a waterfall coming out of the rocks from Chasm Lake. At the very end of the hike, there is one steep section and a short scramble. The best path up the scramble is to follow the crushed and broken rocks, indicating a footpath worn in by previous hikers.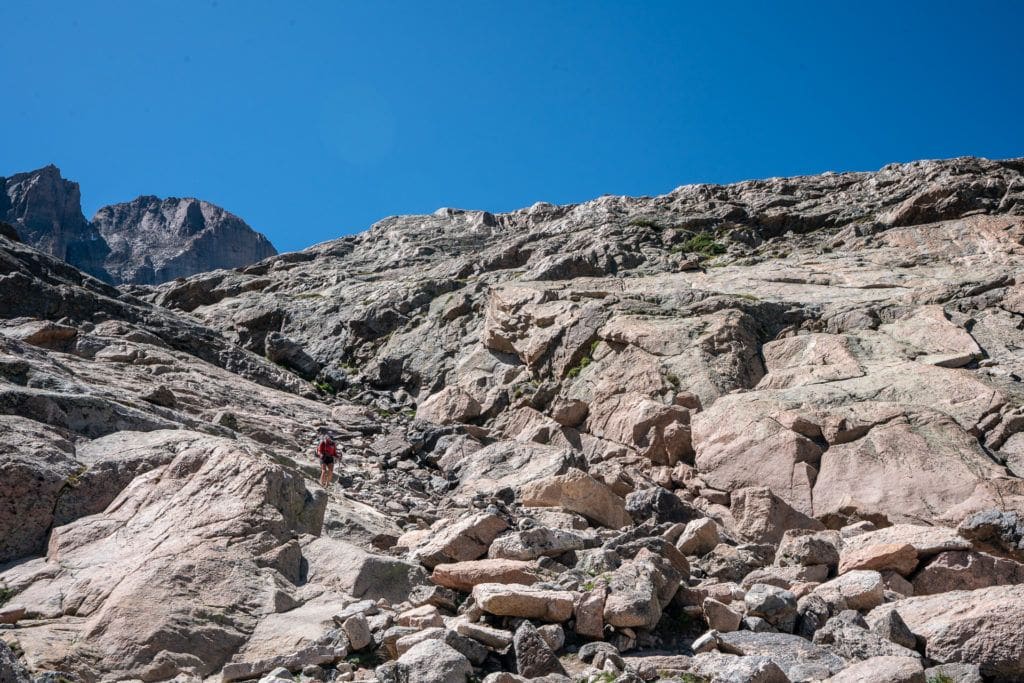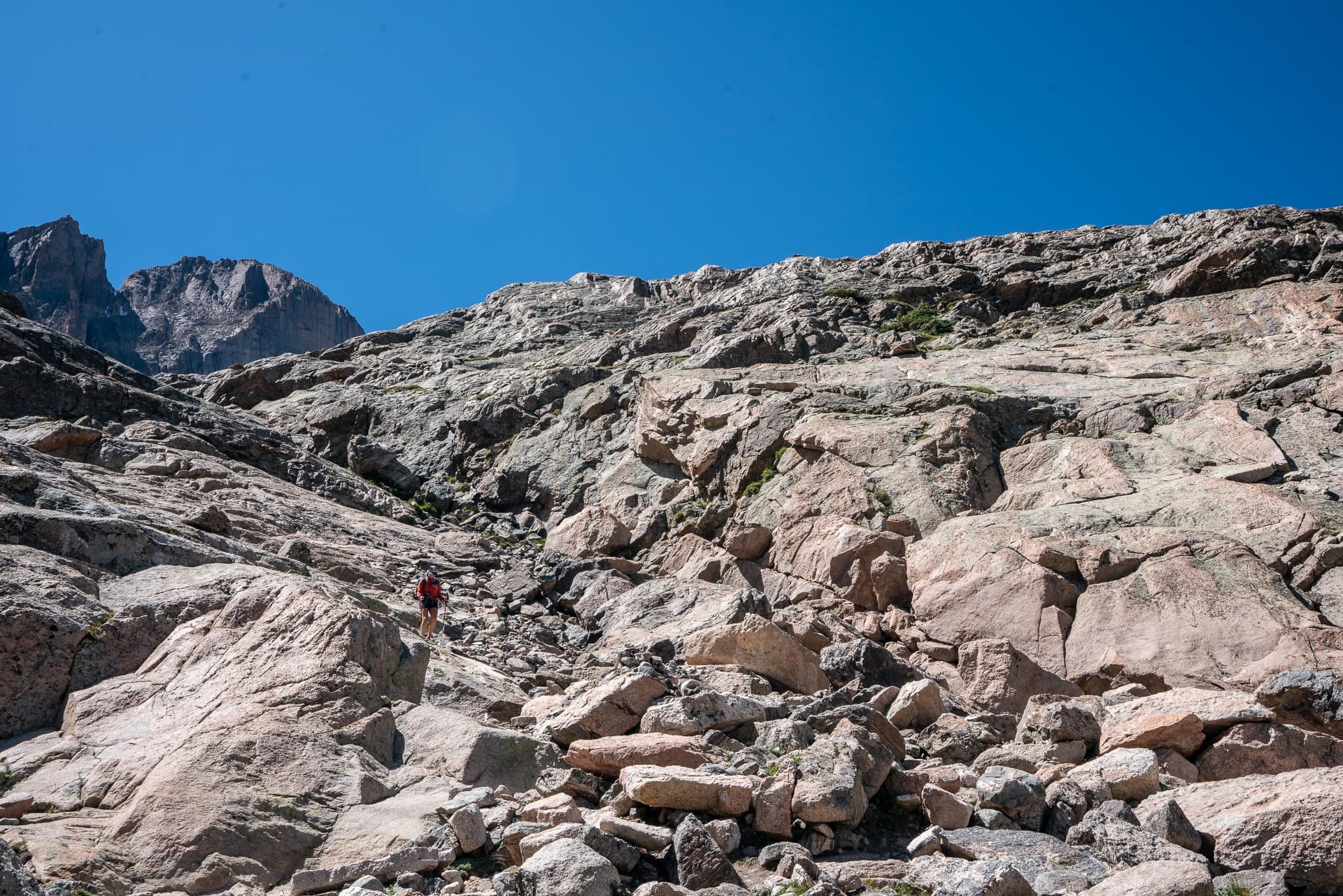 When you finally make it to Chasm Lake you'll have a full-on view of Longs Peak, and a high alpine lake where you can rest your legs. Cross over to the outlet and boulder hop your way to the right side of the lake to find a private spot to sit and take it all in.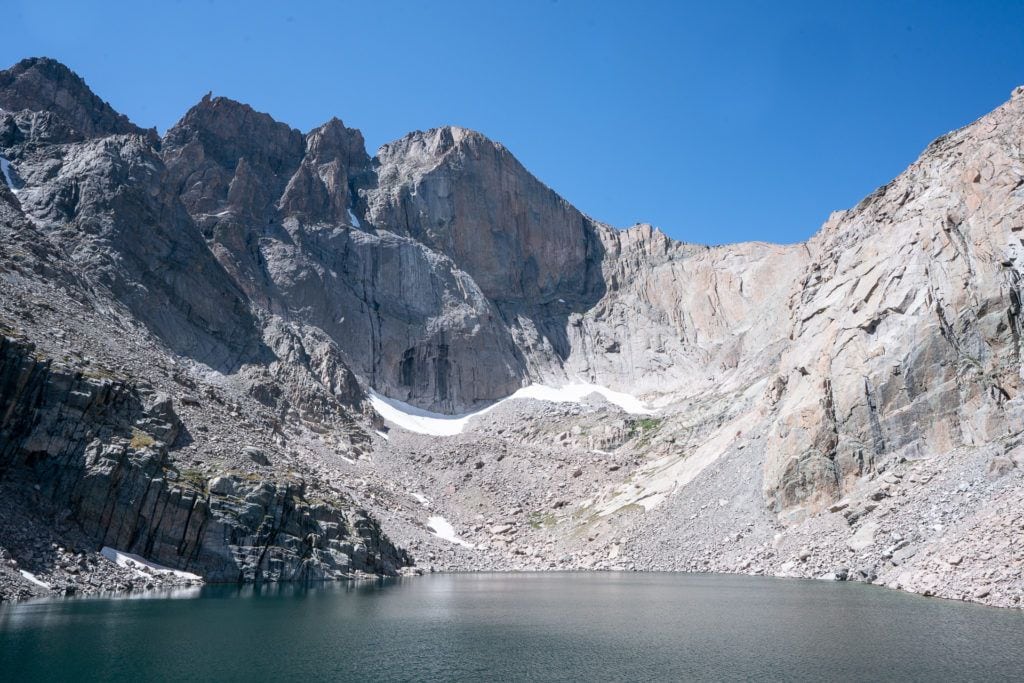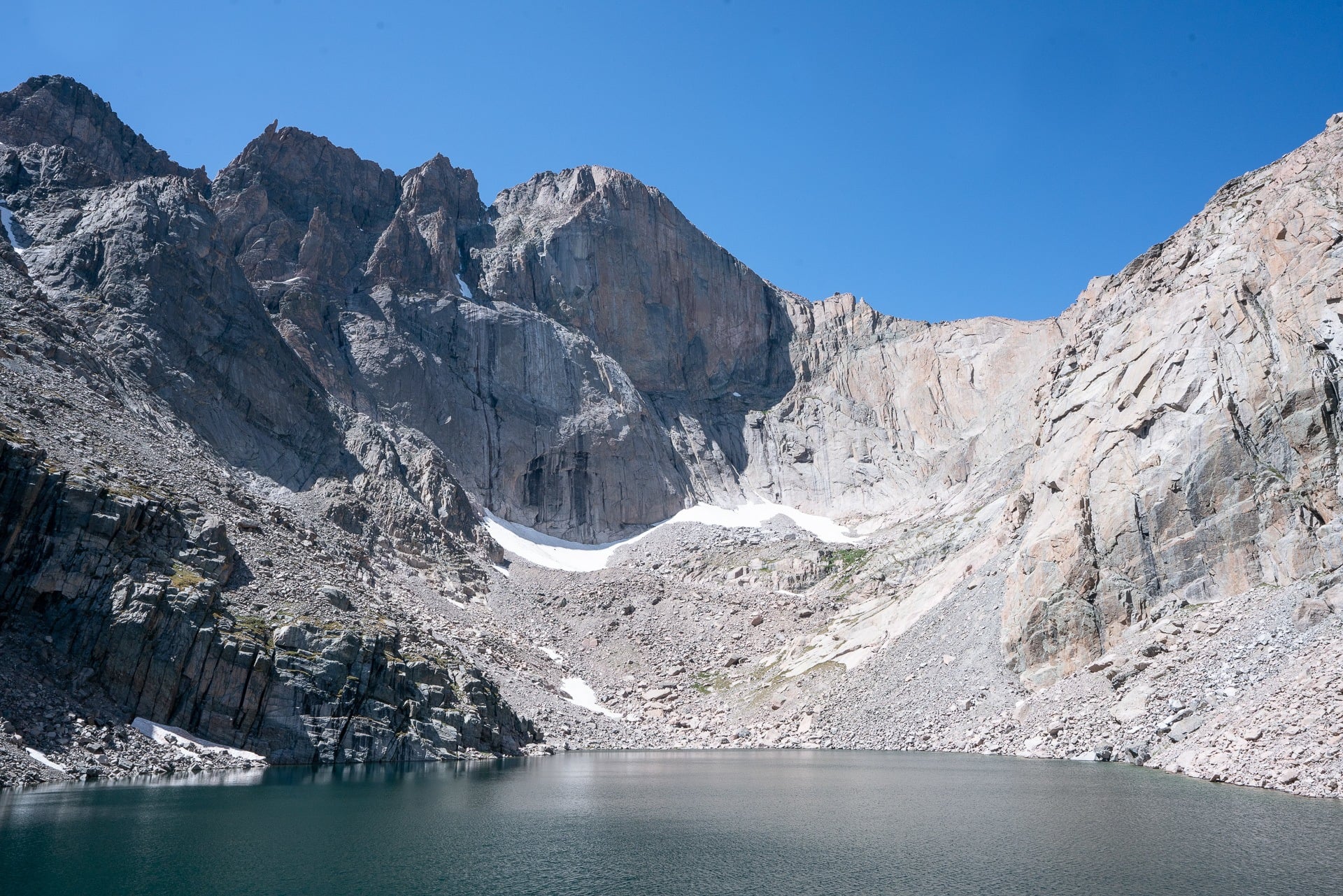 How to Get There:
From the eastern entrance of the park, take Highway 7 all the way in and turn left onto Longs Peak Road, from there it's a short drive to the trailhead and an easily accessible parking lot.
---
Black Lake Trail
Length: 9.4 miles
Elevation gain: 1,463 feet
Difficulty: Moderate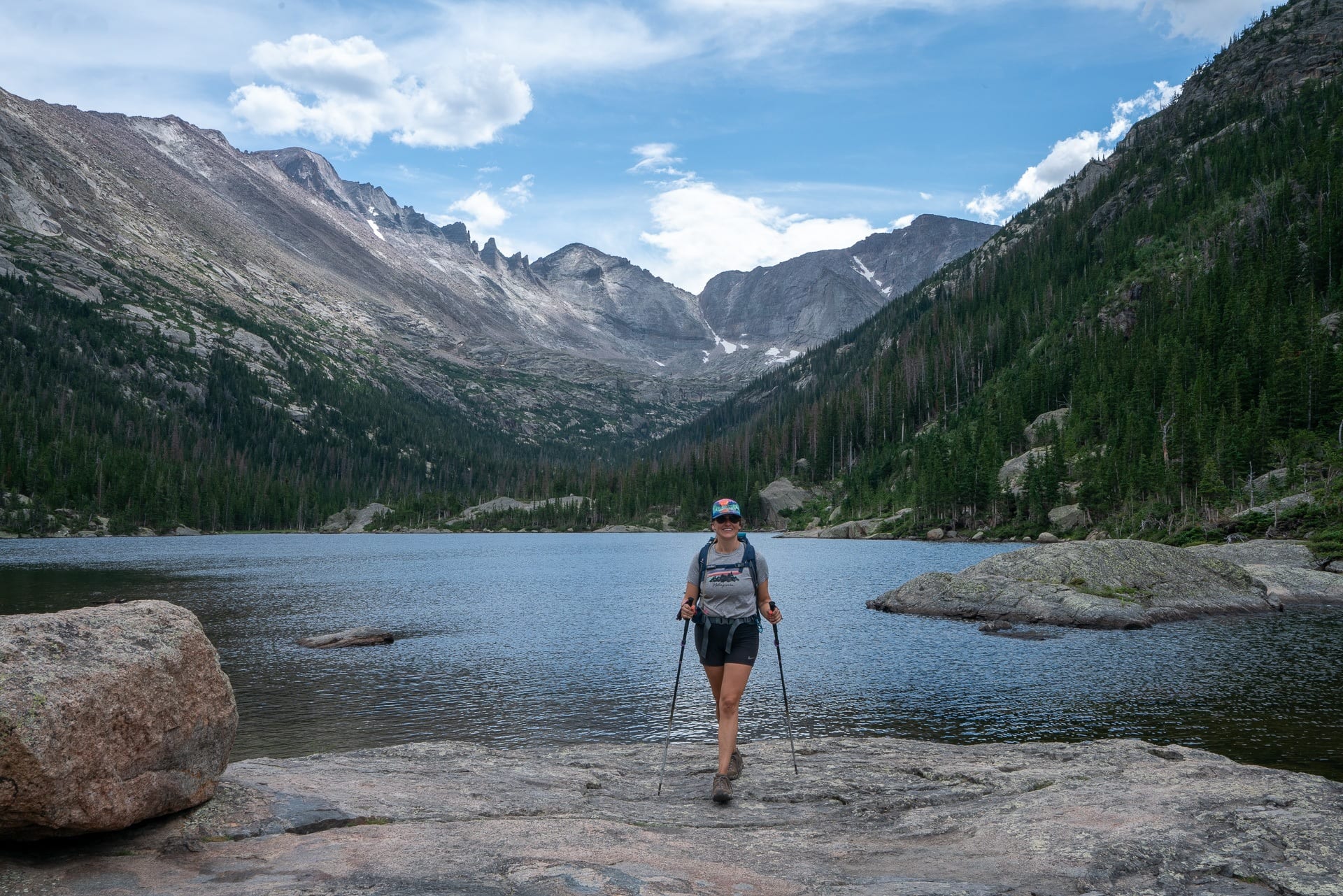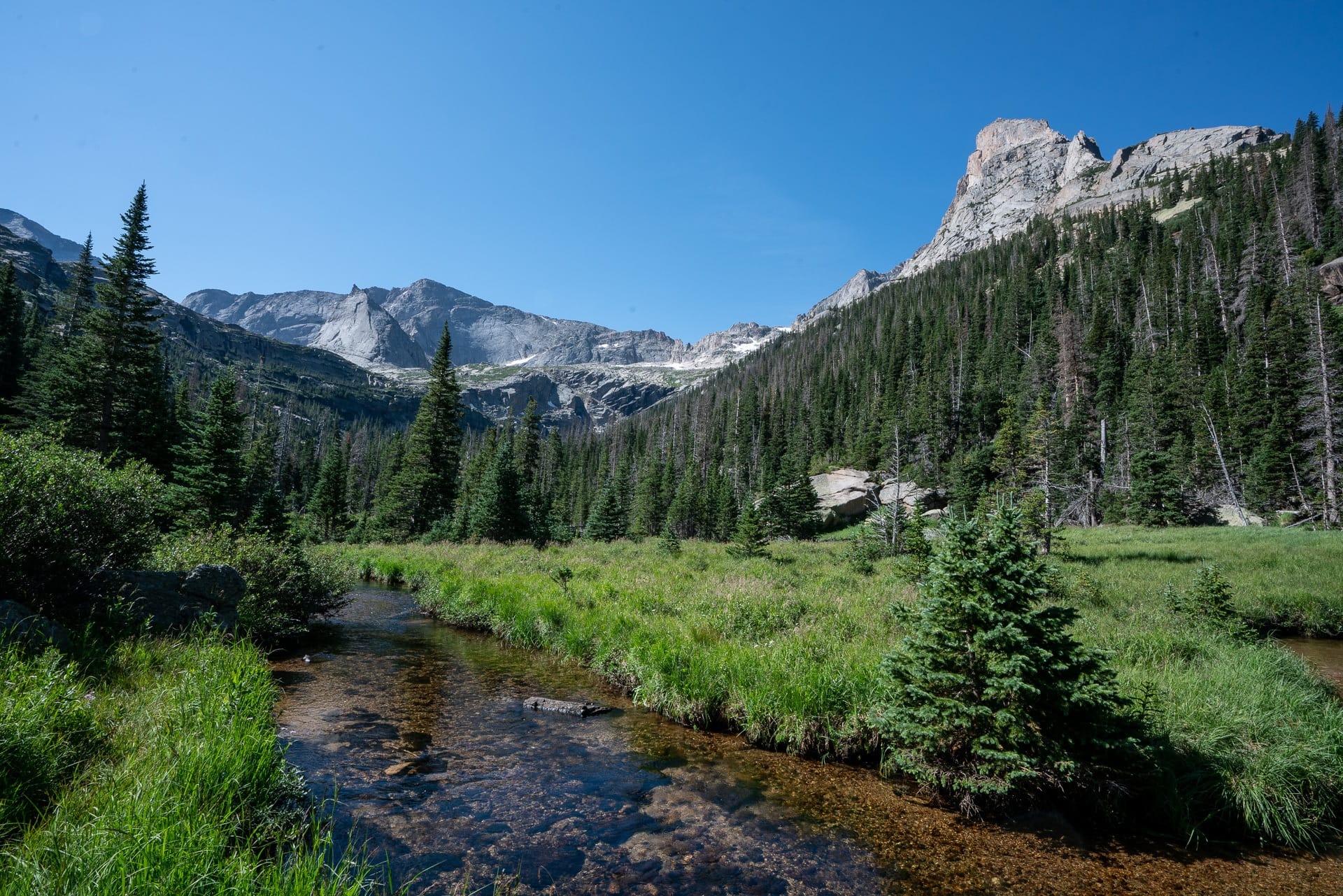 Black Lake Trail and Sky Pond are tied for my second favorite trail, since they both have all the features you'd want (waterfall, scenic vistas, and an alpine meadow) from one of Rocky Mountain National Park's best hikes. The most notable differences was we found Black Lake to be less crowded and slightly easier overall. If you want to check them out for yourself, you're in luck because they both leave from the Glacier Gorge Trailhead.
Begin here, at Glacier Gorge, and hike for a quarter of a mile over Chaos Creek until you see the trail split. Stay to the left and continue on to Alberta Falls, where you'll get to hike through an evolving backdrop of beautiful pine forests into the aspen groves.
Less than a mile in, you'll arrive at Alberta Falls. It's a scenic waterfall that's easily accessible, so be aware that due to its popularity it can get crowded. Many even consider it to be one of the best waterfalls in the park. This is a great stop to enjoy a short break by the waterfall, or avoid the crowds and push on.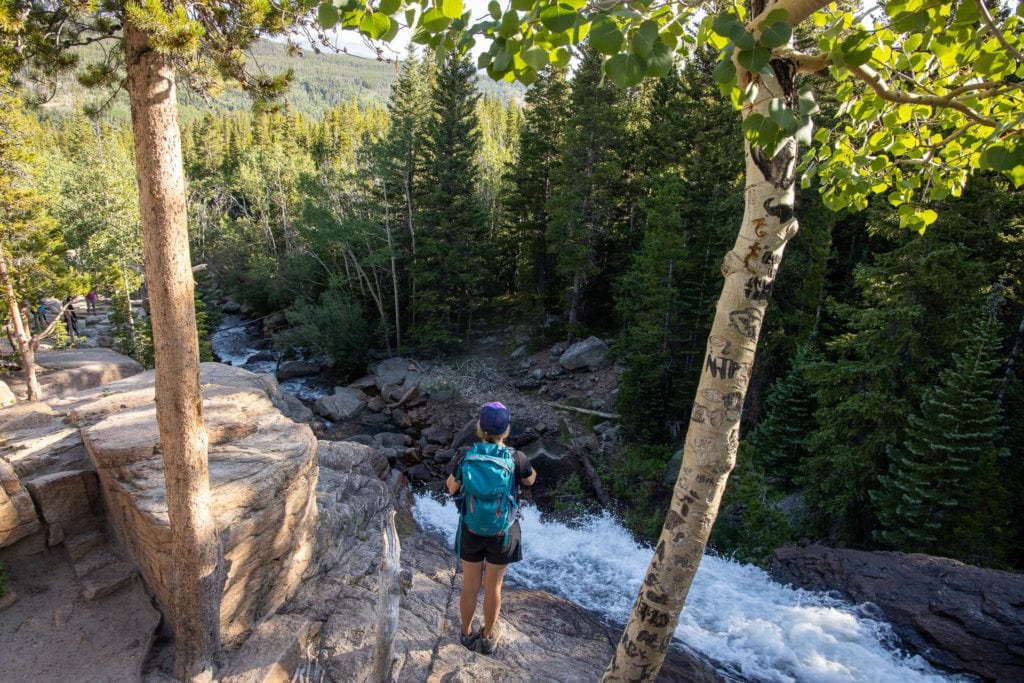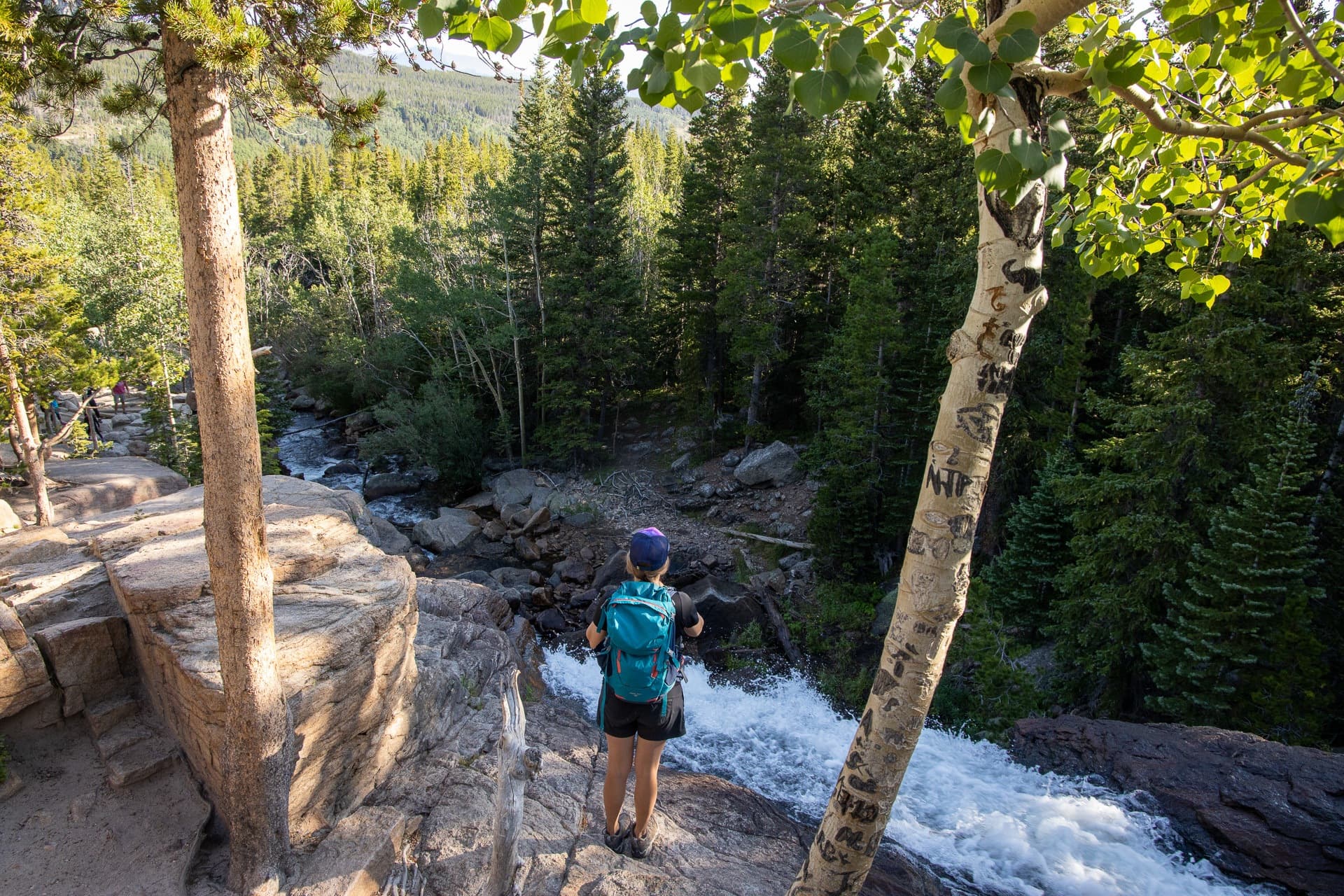 Continue hiking past Alberta Falls and turn left at Mills Junction until you reach Mills Lake.
Skirt around the eastern side of the lake and onto a rocky area that juts out over the water to get a spectacular look at Mills Lake from a different angle. As you arrive at the end of the lake, take in the views of Chiefs Head Peak over the lake that's just behind you in the distance. Follow the trail down into a wooded area and you'll quickly arrive at Jewell Lake.
As you continue, the trail turns into a narrow boardwalk to carry you through the marshlands, and then into a forested area where there are remnants of downed trees from a devastating storm. Watch your step and take it slow. Since the trail isn't as well maintained here, allow yourself some extra time to get through this section.
Once you've passed the Glacier Gorge Bridge on your right it is a series of steeper uphill climbs. Hang in there and take breaks when you need, because the views of Chiefs Head Peak illuminated in the distance are worth it.
Keep hiking up to Black Lake, where you'll encounter a meadow. When you get to the end, take the trail all the way out to the farthest left end of the lake. There you'll find a cascading waterfall with a small, rocky path that leads you up the side of it for a truly unique vantage point. Go up there for the solitude and to soak up all the amazing views of the lake, valley, and peaks that surround you.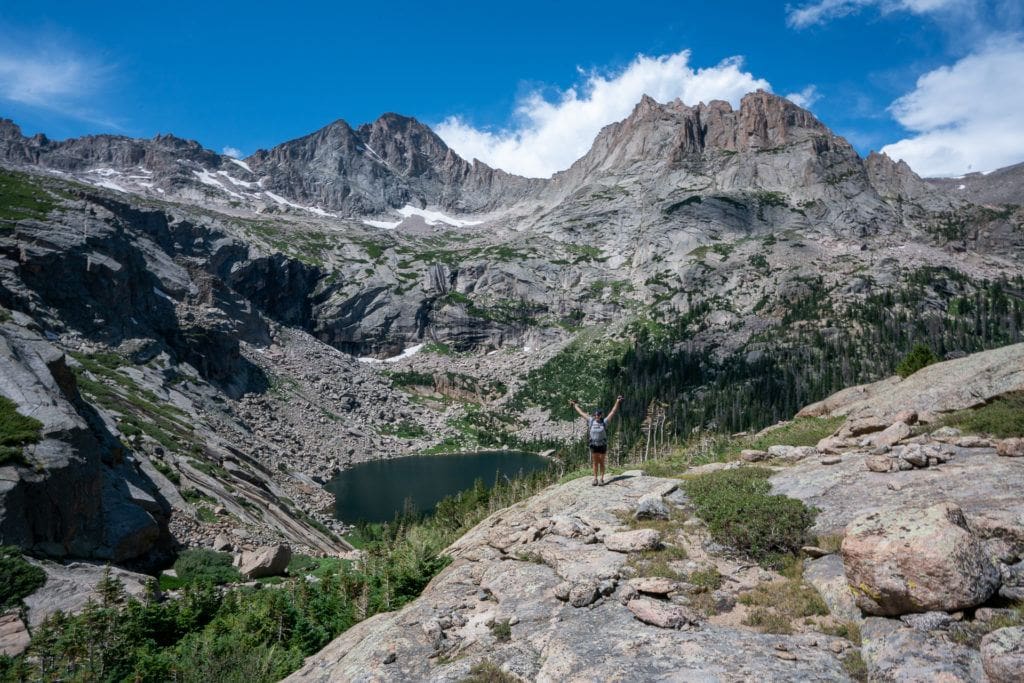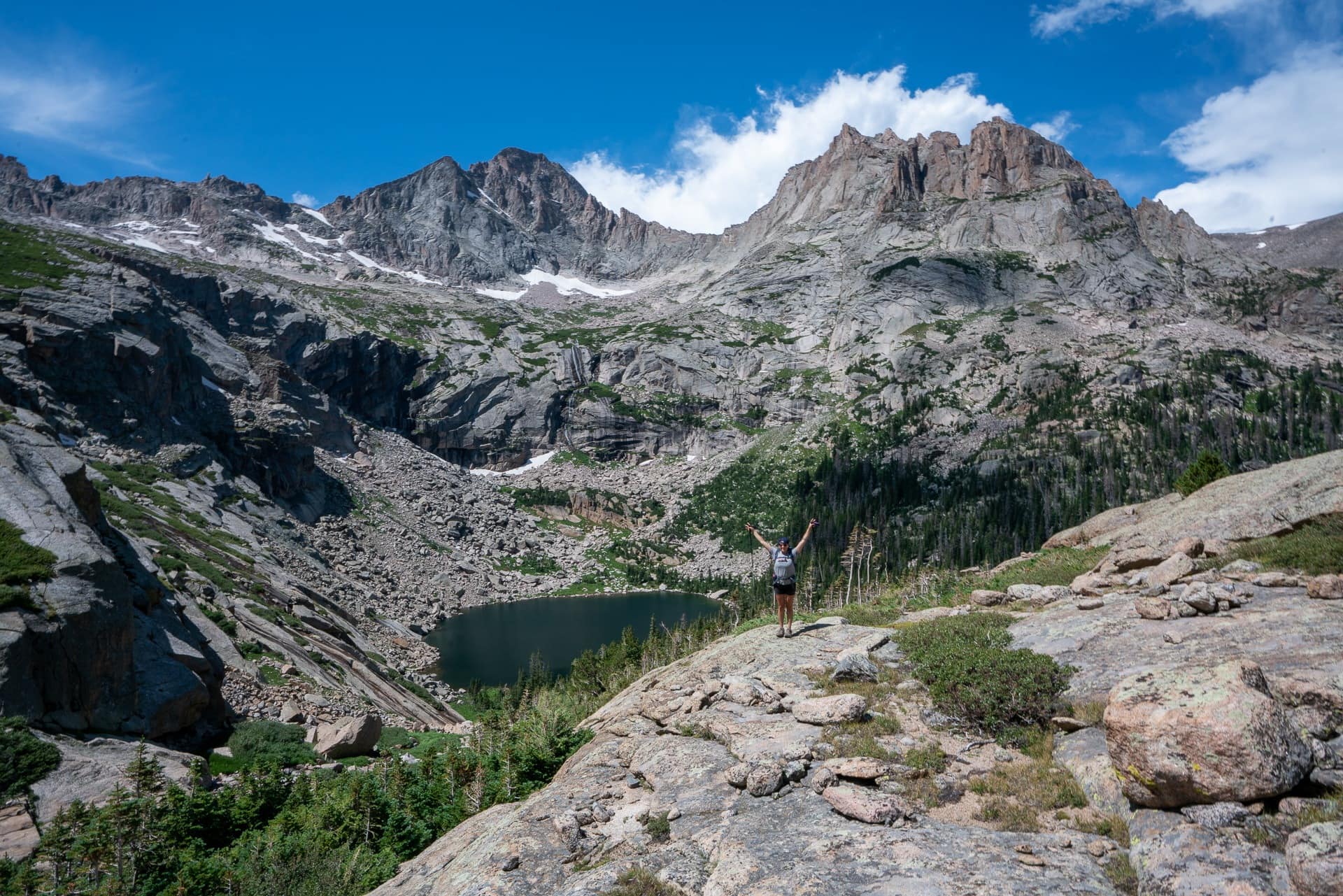 How to Get There:
From Estes Park, take Highway 36 to Bear Lake Road until you reach the trailhead and parking lot. Due to the popularity of the trail, this is a great time to use the shuttle.
READ NEXT: The best places to see fall colors in Colorado
---
Sky Pond Trail via Glacier Gorge Trail
Length: 9.0 miles
Elevation gain: 1,780 feet
Difficulty: Strenuous
This hike starts from the same trailhead as Black Lake and splits off a couple miles in.
Beginning at the Glacier Gorge Trailhead, hike in and follow the same guidance as before, where after a quarter of a mile, you'll stay left at the fork and head towards Alberta Falls. You'll get to pass by Alberta Falls (one of the most popular and beautiful waterfalls) or stop for a quick break and take in the views.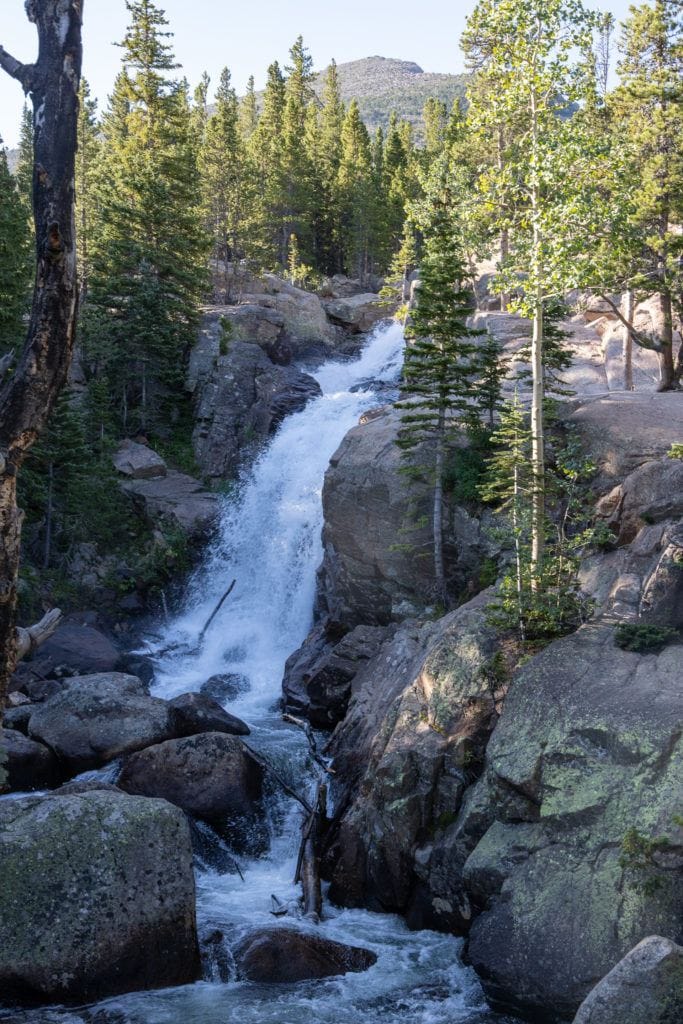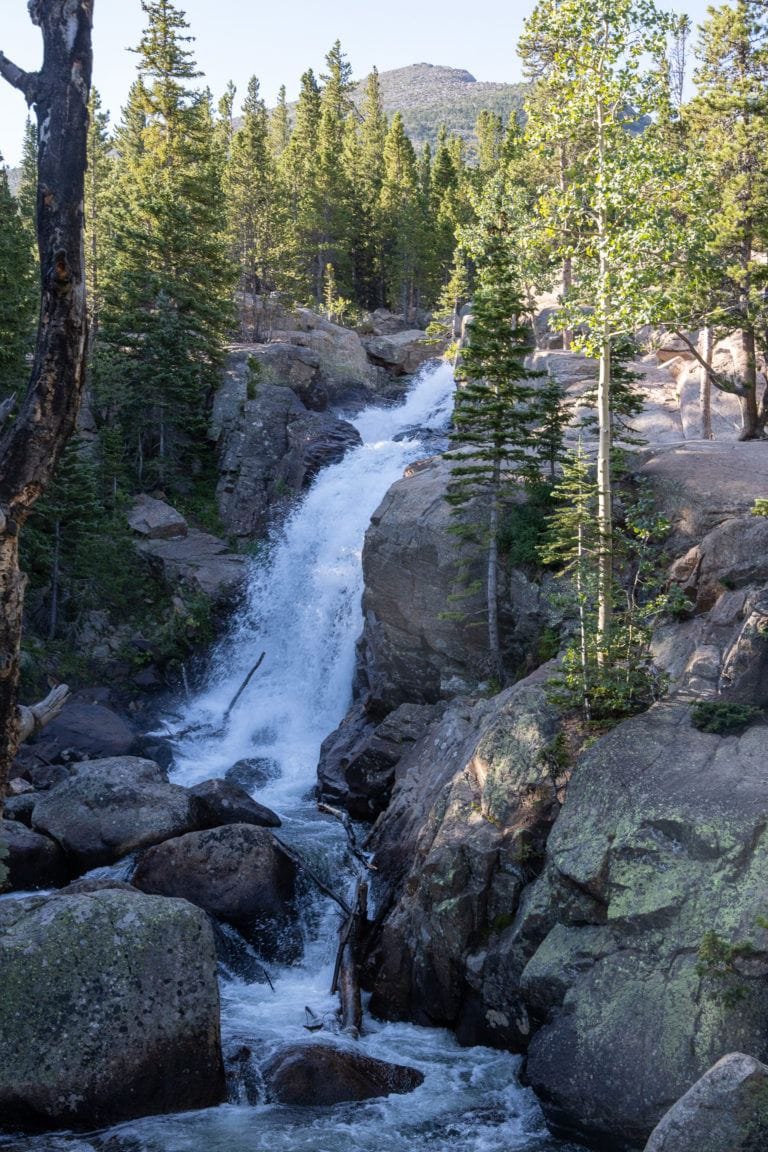 About a half of a mile past the falls, you'll come to North Longs Peak Trail Junction. Make a right turn here, pass the turnoff at Mills Junction, and hike straight ahead to the Loch Vale Trail. During the climb up, the trail gets incrementally steeper and you'll be taking switchbacks for most of the way. This gives you a wonderful view down into the gorge below as the Icy Brooks waterfalls tumble down the mountainside.
After the climb, at 2.8 miles, you'll reach Loch Vale where the views will bring you to a standstill.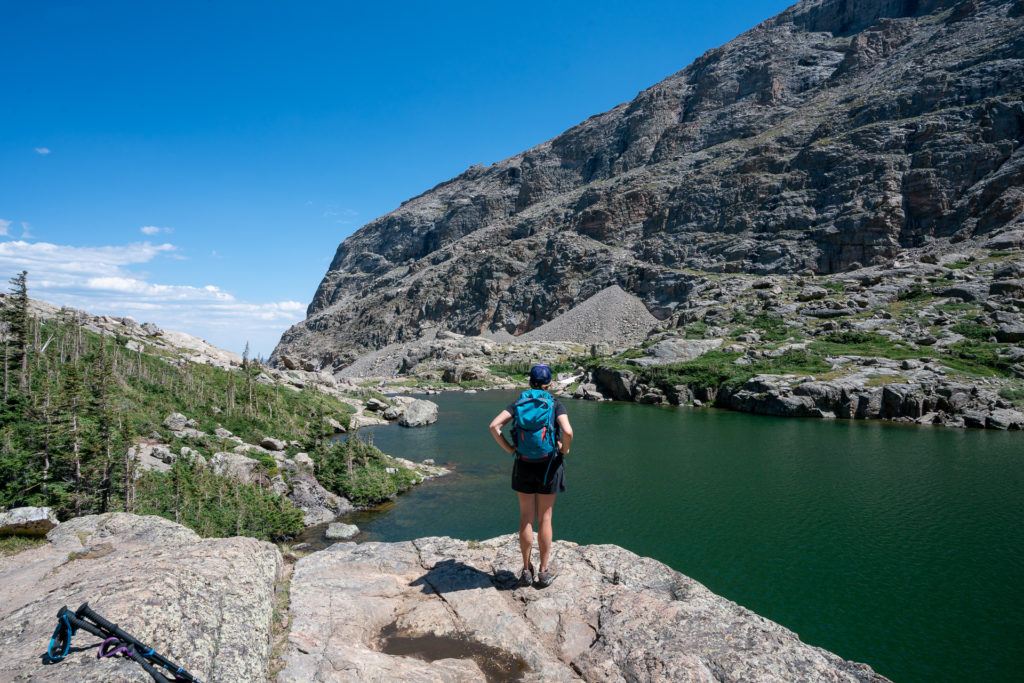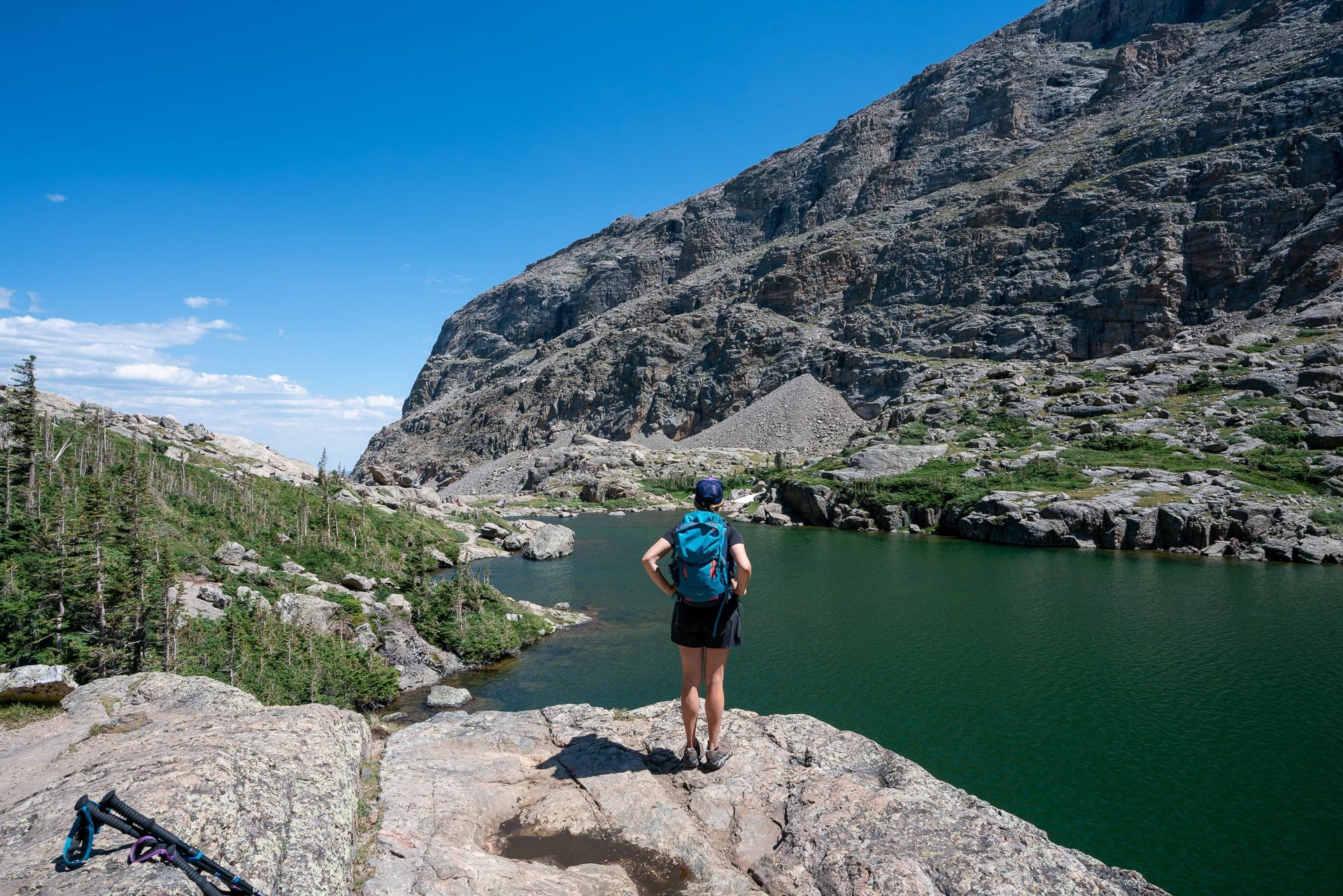 As you continue on, take a left at the Sky Pond and Andrews Glacier junction which you'll hike for a couple more miles until you finally arrive at the Timberline Falls. This takes you directly up a short scramble for about 100 feet. Don't worry, it's just a couple of moves and there are good handholds. I'd recommend taking your time and putting your trekking poles away so you can use your hands. On the way down, you can hand your backpack to a friend and then scoot your way down on your butt. However, if the exposure really bothers you, then the waterfall might be the point where you turn around.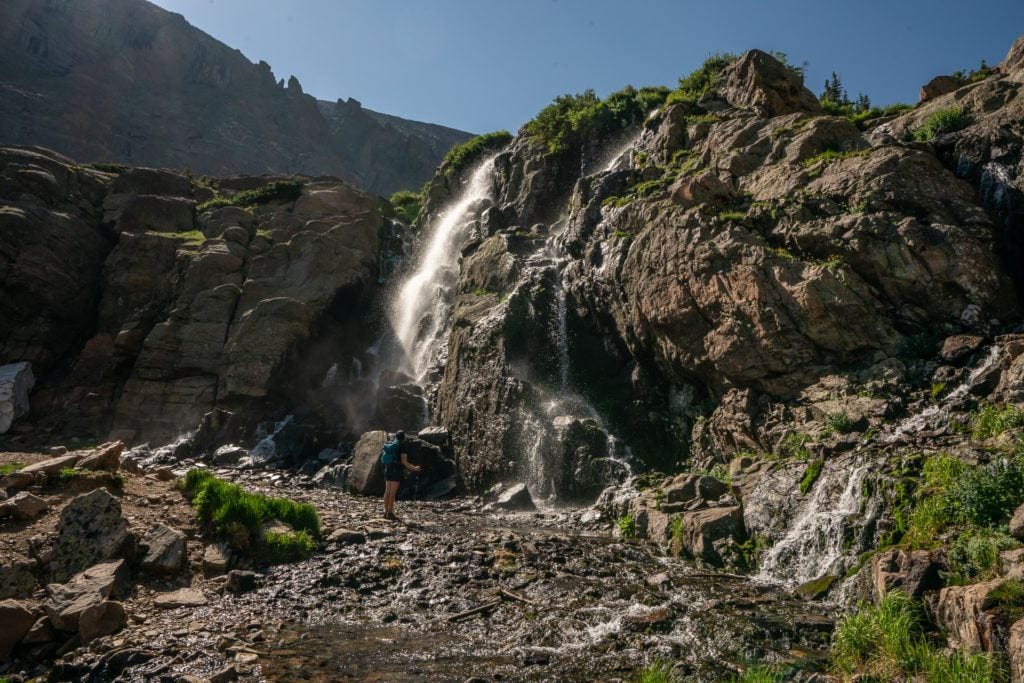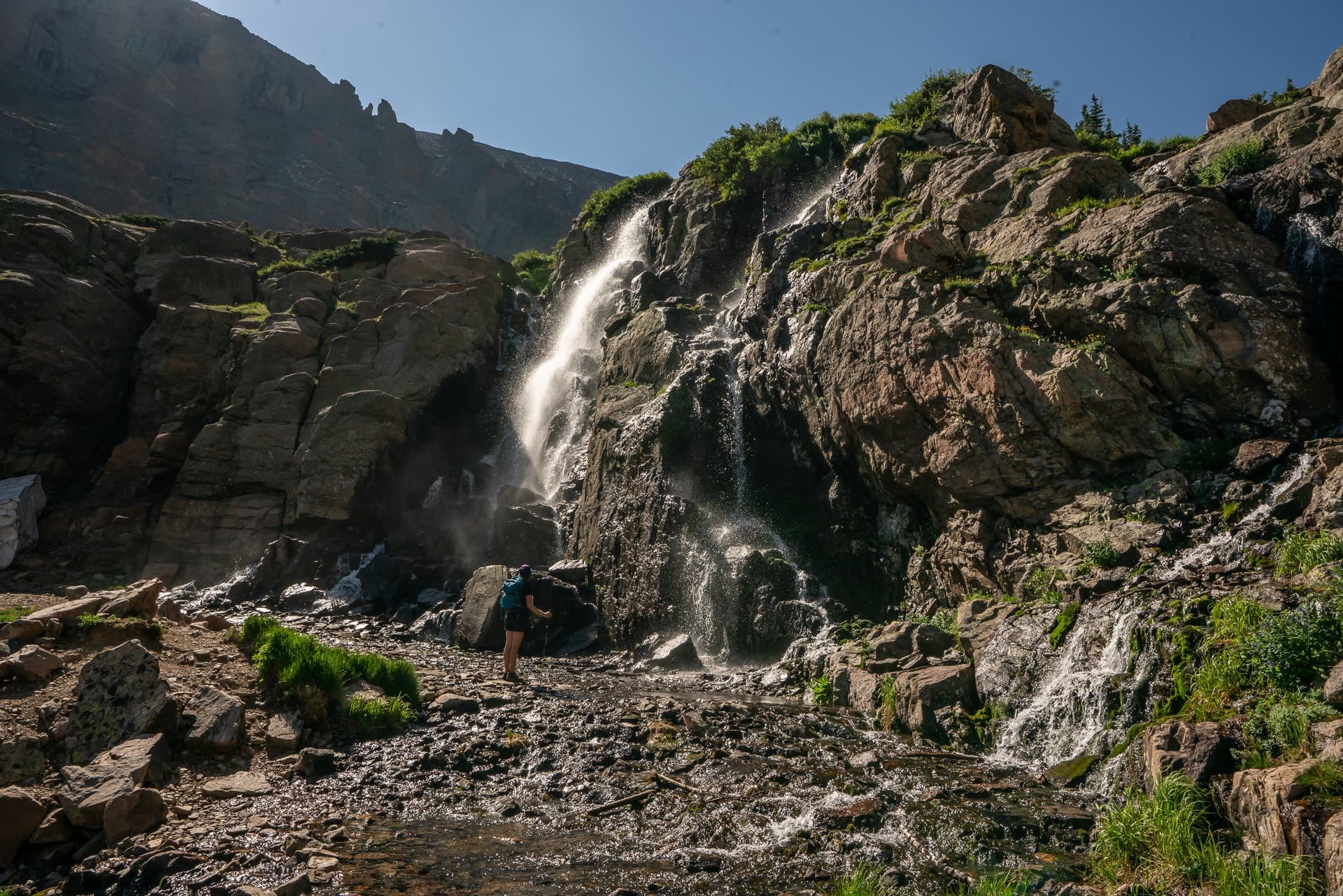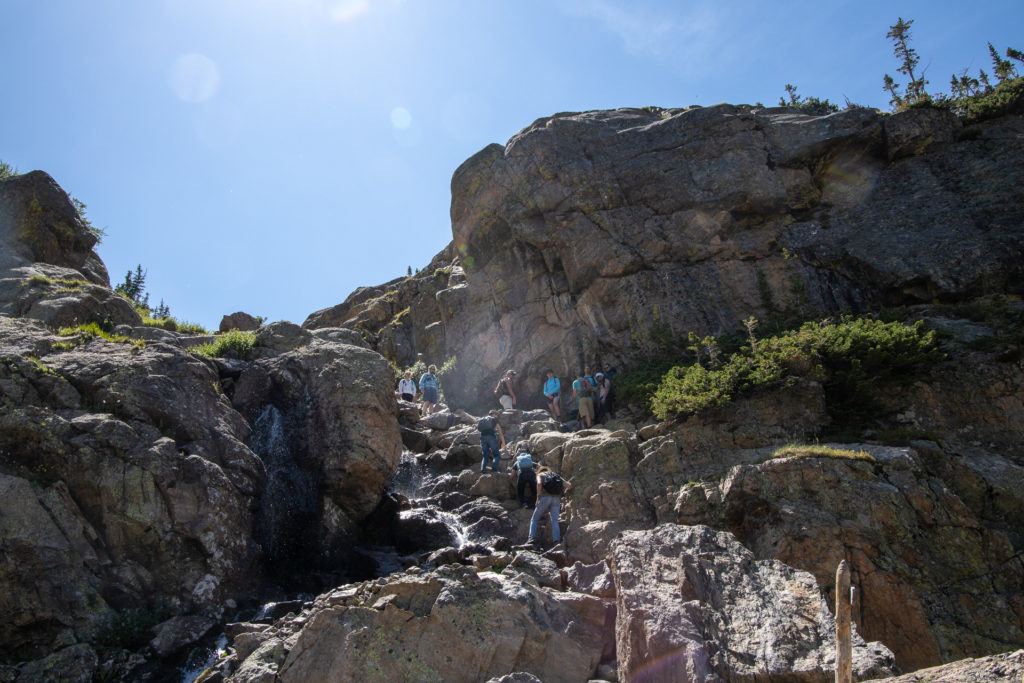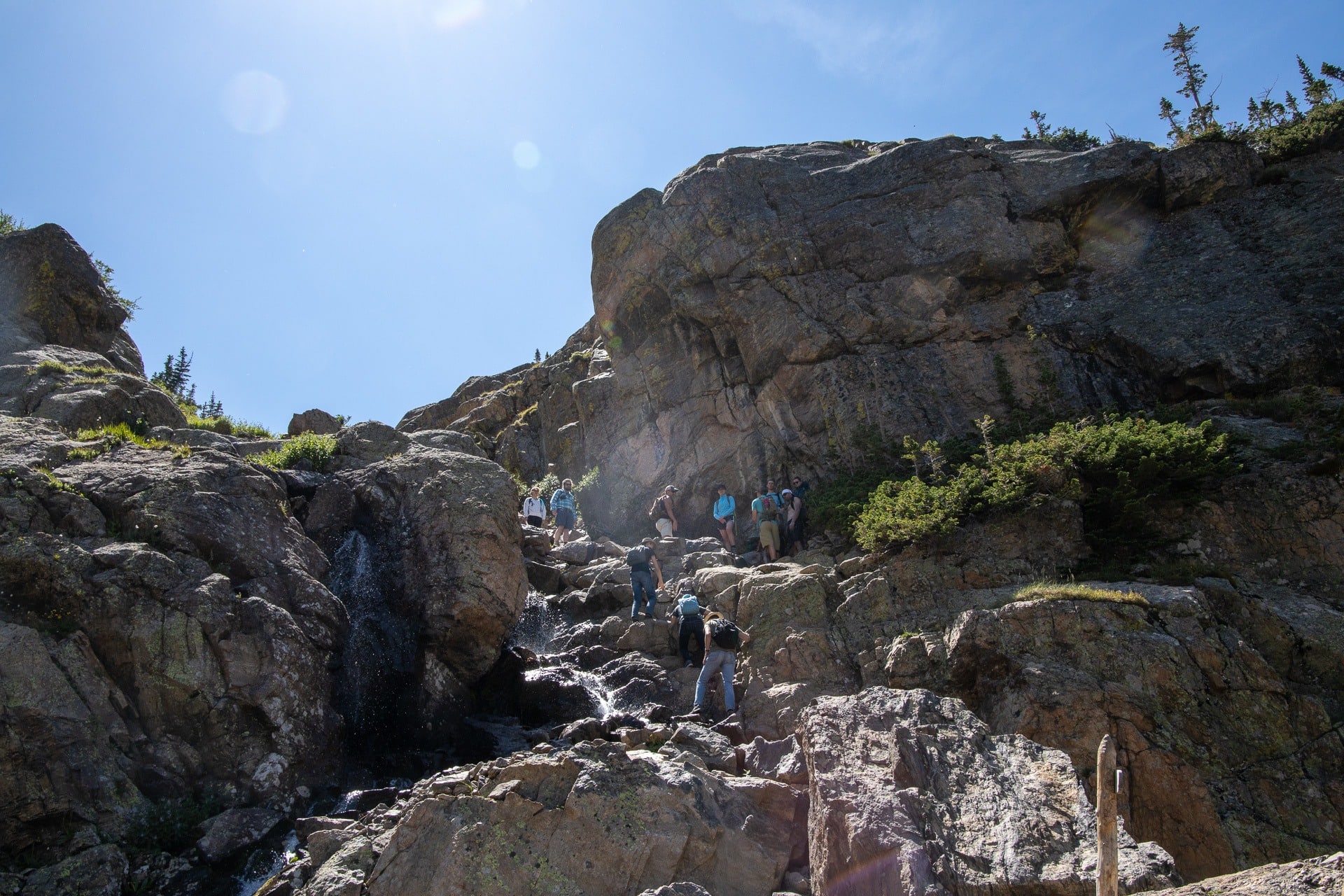 When we were there in late August, there wasn't too much water coming down the rock scramble, but during peak run-off, you may get your shoes wet here.

At 4.5 miles and 10,900' above sea level, you'll finally arrive at Sky Pond. Granite spires, a clear blue basin, and a hard-earned break makes this scenic vista well worth the effort. Here, we found a nice place to sit below the outlet of Sky Pond to enjoy lunch with a view.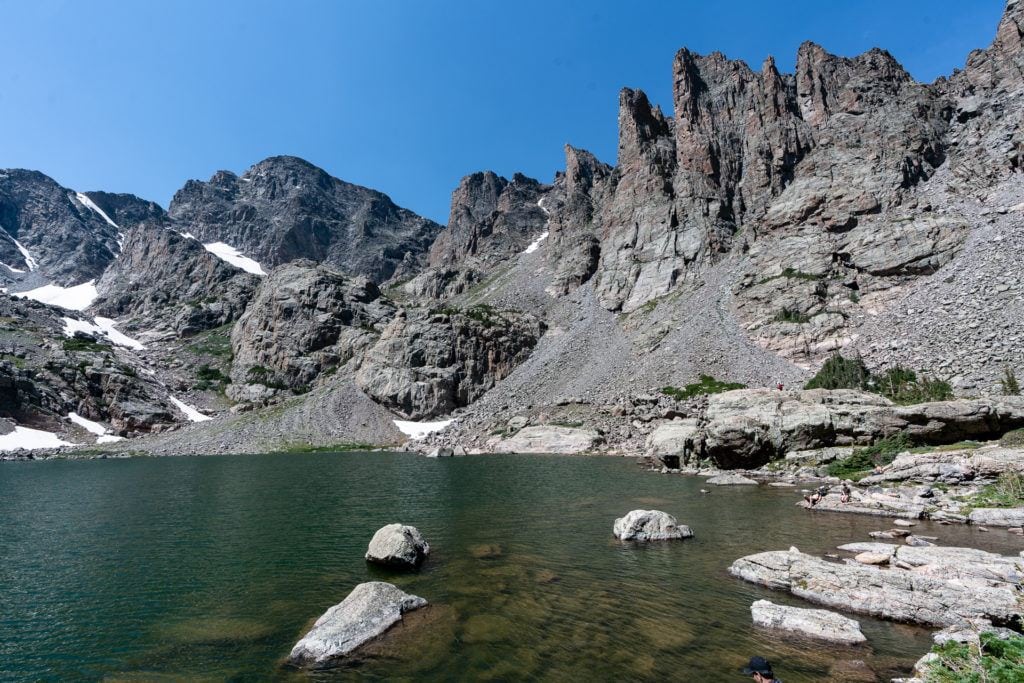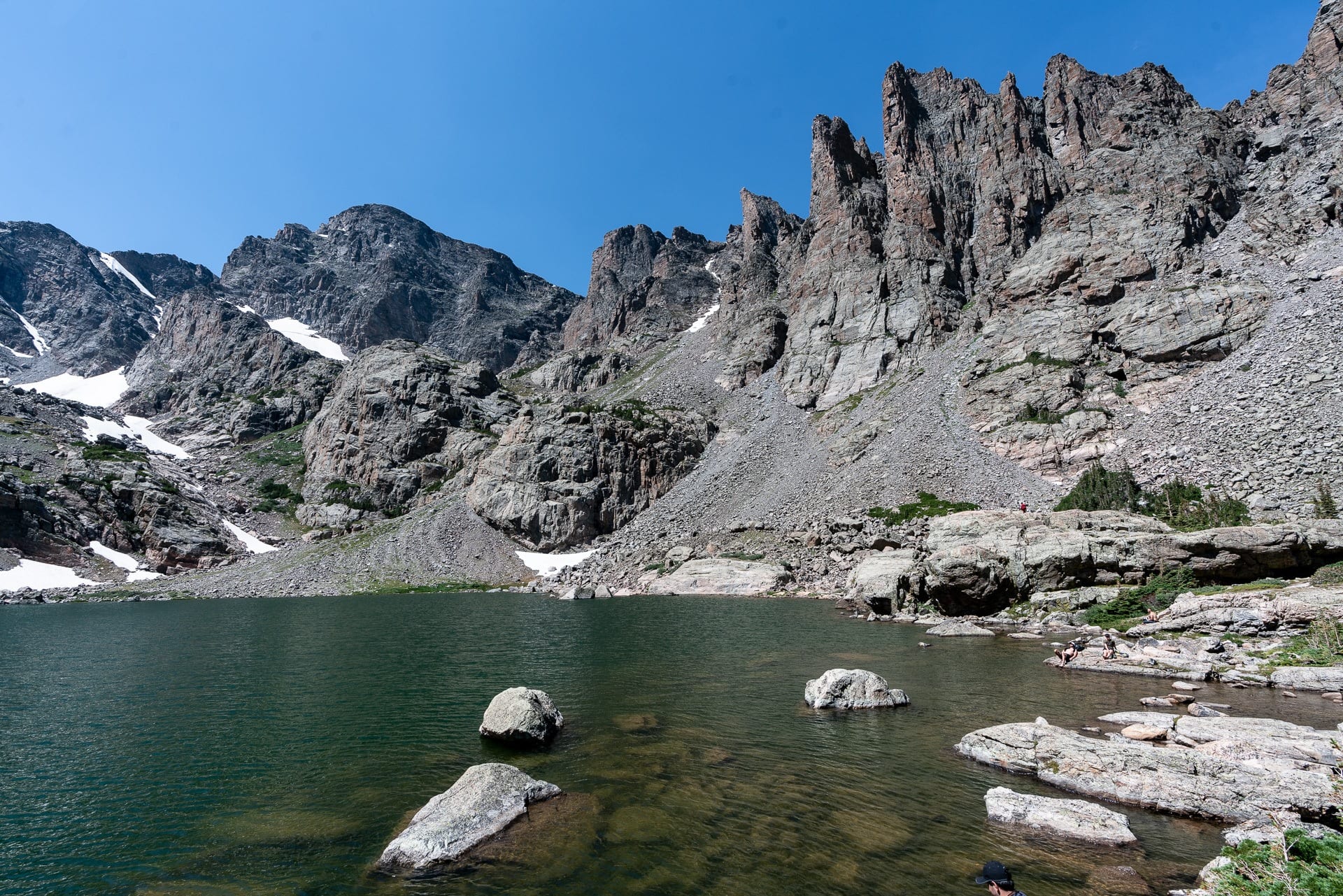 How to get there:
Highway 36 will take you directly into the park. Take a left onto Bear Lake Road, and arrive at the Glacier Gorge trailhead.
---
Flattop Mountain Trail
Length: 8.5 miles
Elevation gain: 2,866 feet
Difficulty: Strenuous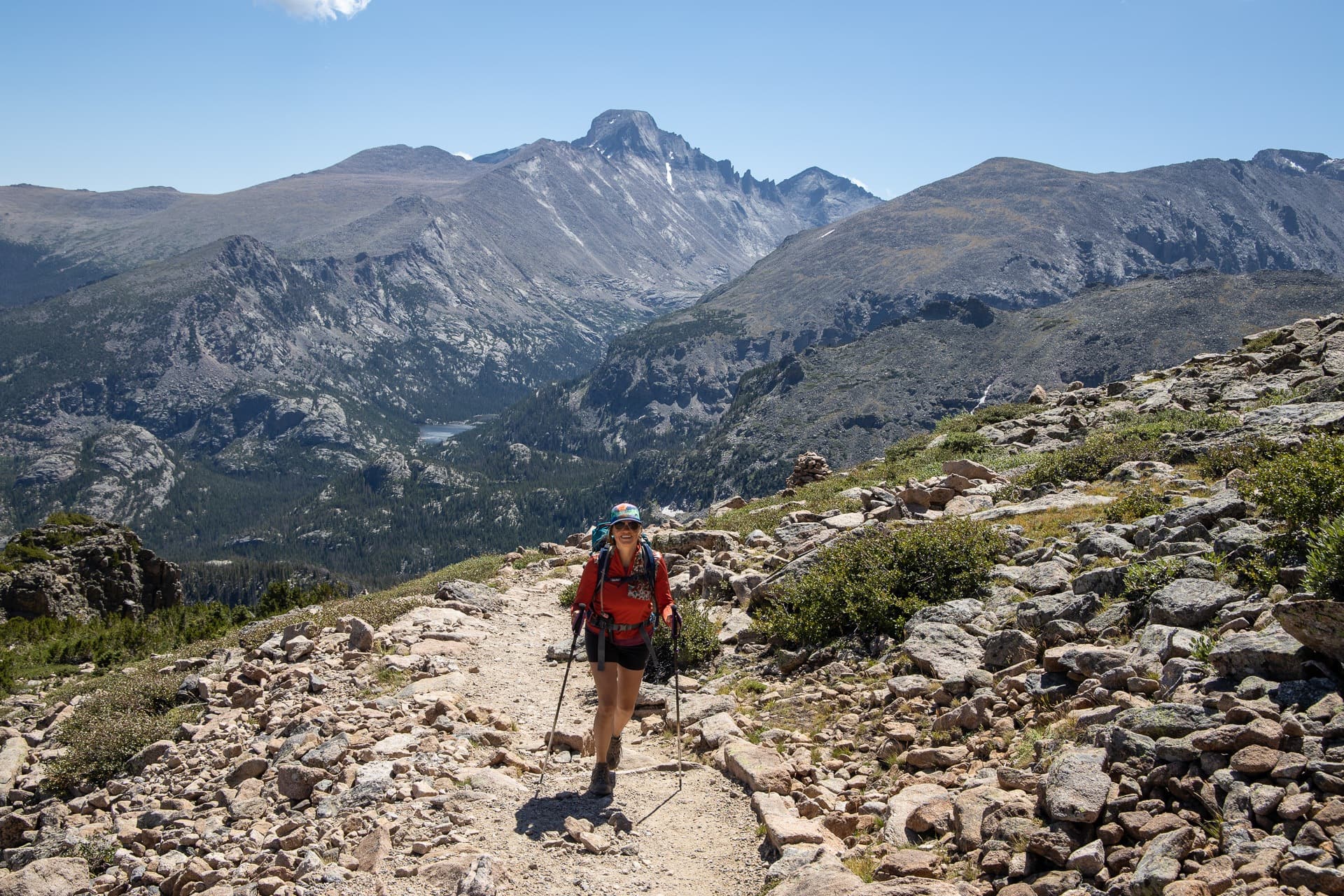 Flattop Mountain Trail is one of the more challenging treks on the list, but the payoff is topping off on the wide-open summit of the Continental Divide. It's both scenic and strenuous, and that's what makes it one of Rocky Mountain National Park's best hikes.
Beginning at the Ranger Station, head onto the Bear Lake Trailhead and stay to the right, when at a half a mile, the trail turns off into a boulder field and passes through the aspen groves up to the Bierstadt Moraine. A steep ascent will take you up towards Flattop Mountain Trail (this is one of the most difficult climbs), which has stunning views of Longs Peak, Chiefs Head Peak, and Keyboard of the Winds. From here, at 1.7 miles, you will arrive at Dream Lake Overlook and can also see down into the turquoise waters of Dream Lake from above.
For the next mile or so, you'll hike up a series of switchbacks until mile 2.4 where you'll finally break through the treeline. Although it's tempting to stop here, there are even more spectacular views up ahead. However, this is a good spot to put on a warmer layer, or even a rain jacket if you have one. Rocky Mountain National Park is known for sudden changes in the weather. Always pack rain gear and be alert, even on a clear day.
After you've layered up, keep hiking to mile three, where there is a perfect place to rest and catch your breath at the Emerald Lake Overlook, 1,200' up. Dig in and hike the rest of the way to the summit of Flattop Mountain, where it is more of a plateau rather than a peak, but nevertheless, offers panoramic views of nearby mountain ranges like Mummy Range and Notchtop Mountain in the distance.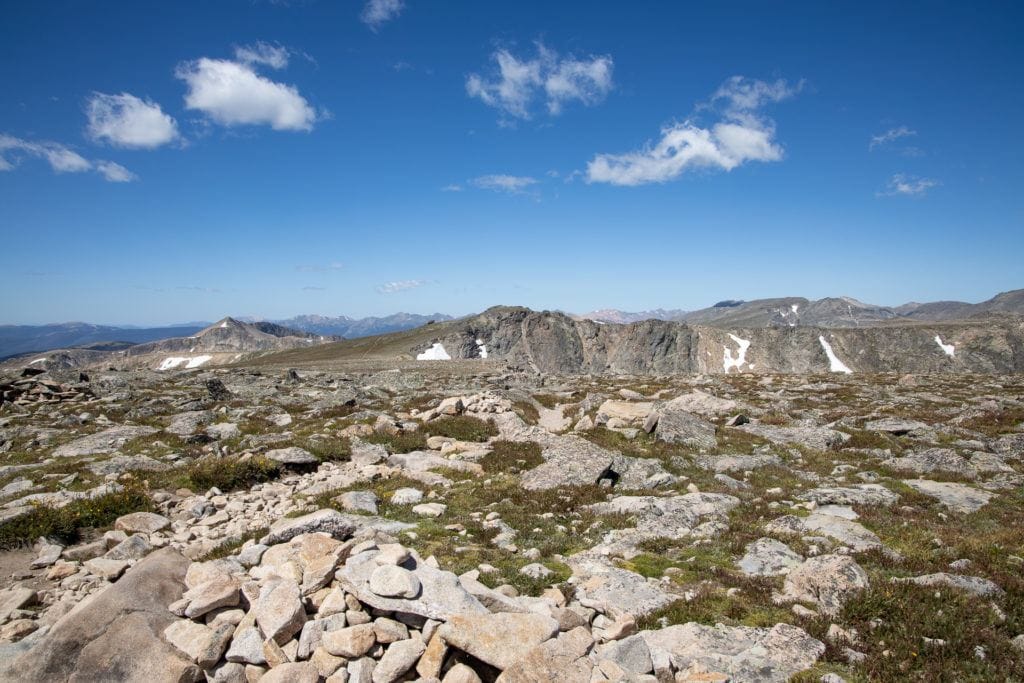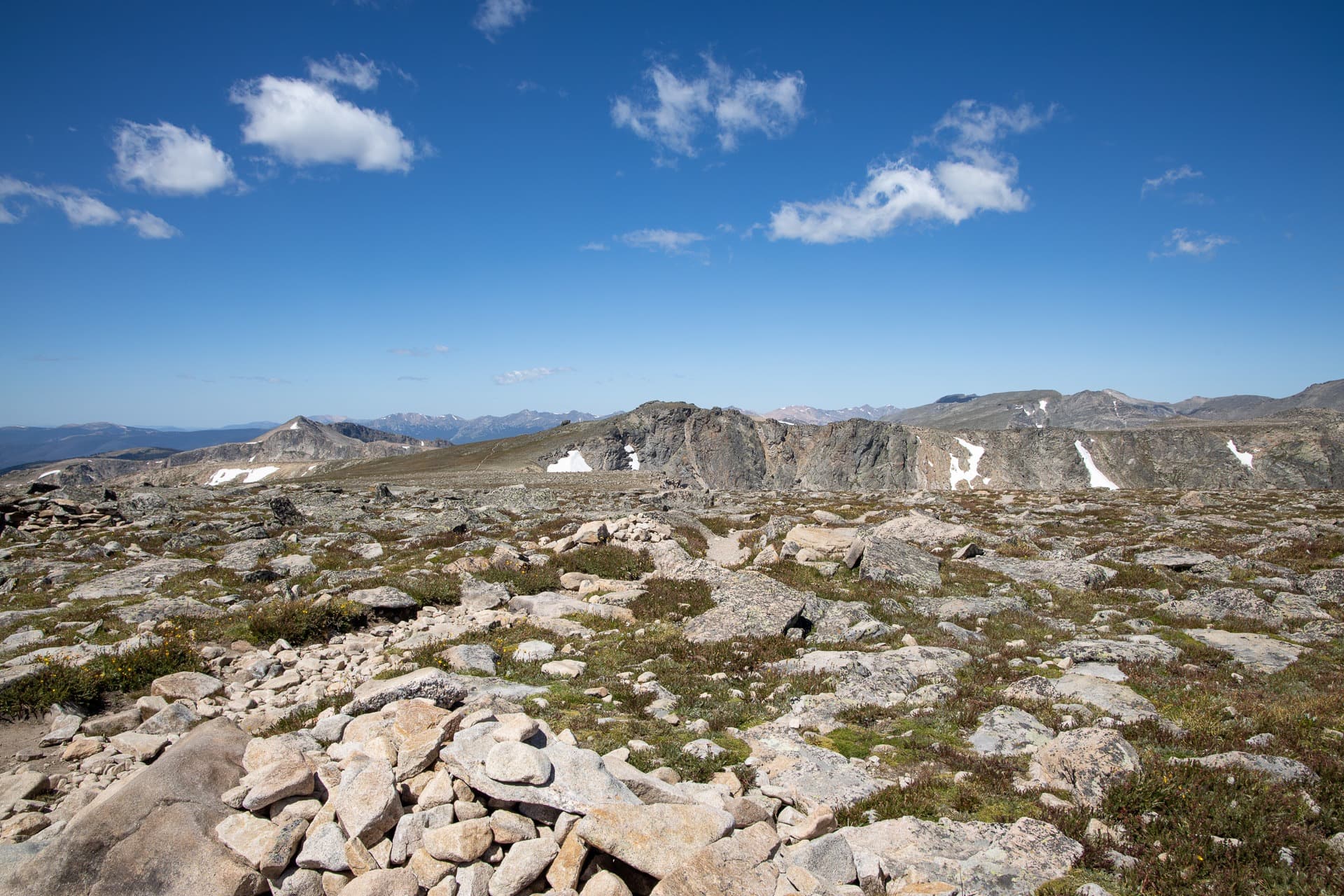 If you have warm hiking layers, continue on to summit Hallet Peak, which is only 0.7 miles from the summit of Flattop. We wanted to do this, but it was incredibly windy and much colder above the treeline than in the parking lot. Wherever you decide to turn around, make sure you catch a view of the Tyndall Glacier while you're there and enjoy this unique vantage point from the top.
How to get there:
Take Highway 34 to Bear Lake Road. From there, follow this to the parking area and trailhead located at the end of the road.
READ NEXT: My complete list of what to wear hiking
---
Emerald Lake Trail
Length: 3.3 miles
Elevation gain: 650 feet
Difficulty: Moderate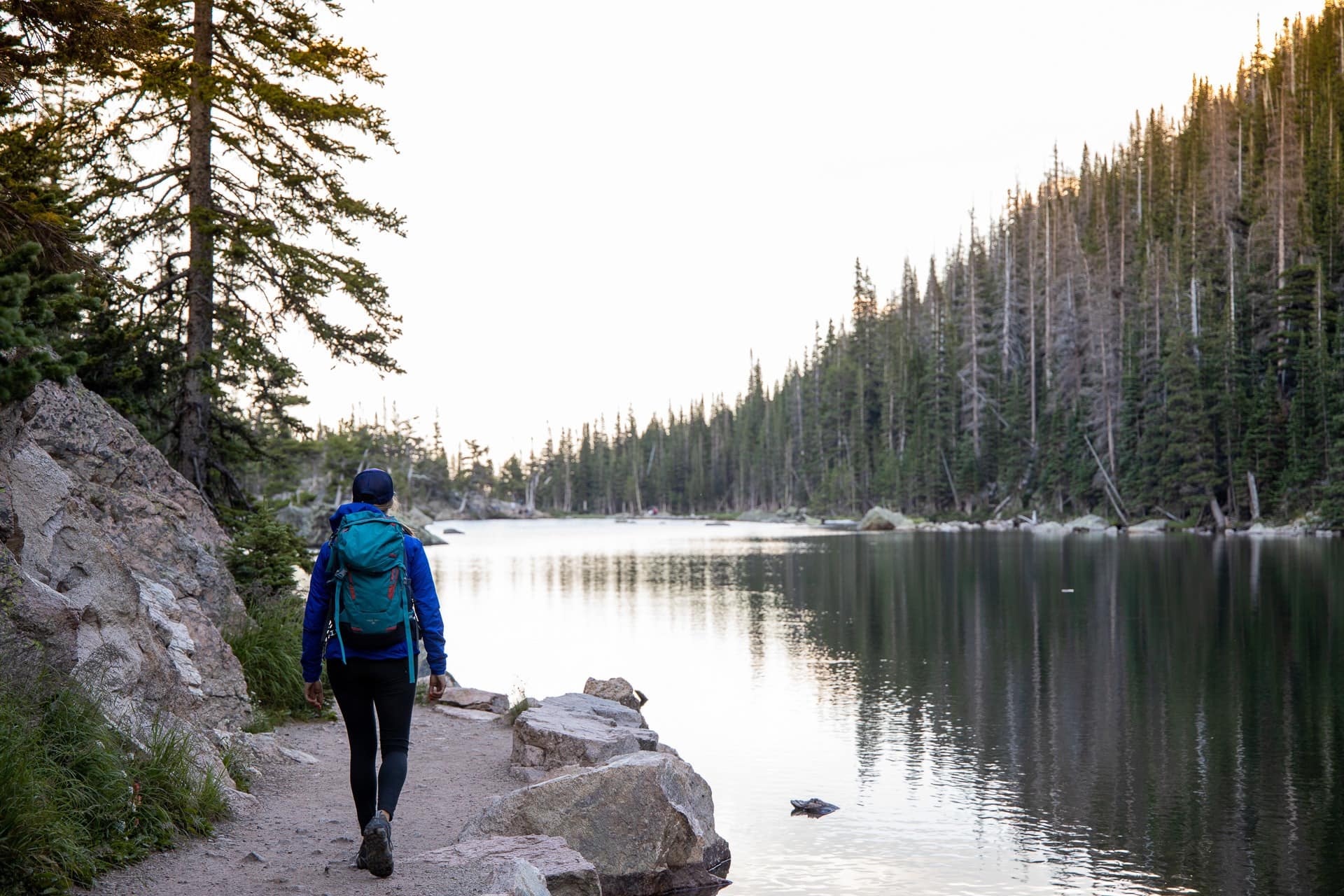 A short hike with plenty of scenery, the Emerald Lake trail is one of the most popular hikes in the park for good reason. If you want to avoid the crowds, begin in the early morning — as early as sunrise to have the best experience and the best lighting. We hiked Emerald Lake Trail in time for the sunset (not the best for photography at the lake) but the colors were pretty during our descent, and there were fewer people on the way down.

It starts off at Bear Lake Trailhead, where you'll hike past Nymph Lake within the first half of a mile, with views of Hallett Peak and Flattop Mountain in the distance. Not too long after you've past Nymph, you'll find yourself at the midway point between there and Dream Lake. In the summertime you'll be surrounded by wildflowers.
After a mile and a half, you'll come to the end of Dream Lake. The trail starts to climb higher, eventually taking you up rock steps then down to Emerald Lake. It might be brief, but this short hike to Emerald Lake brings big rewards. Here in the heart of the Rockies, it's not hard to see why this is one of the best hikes in Rocky Mountain National Park.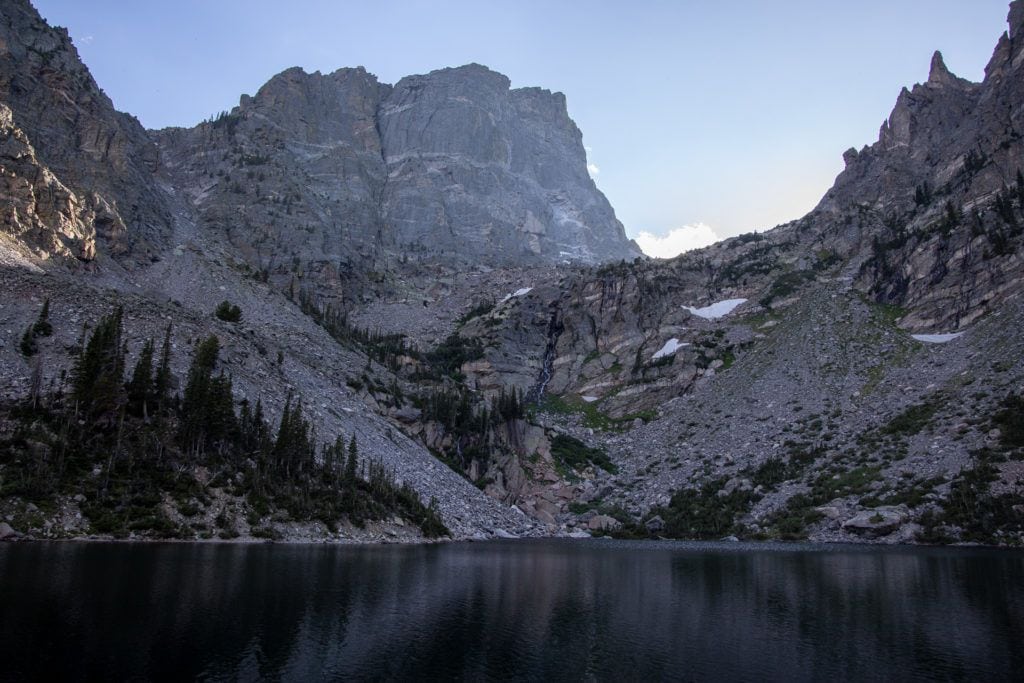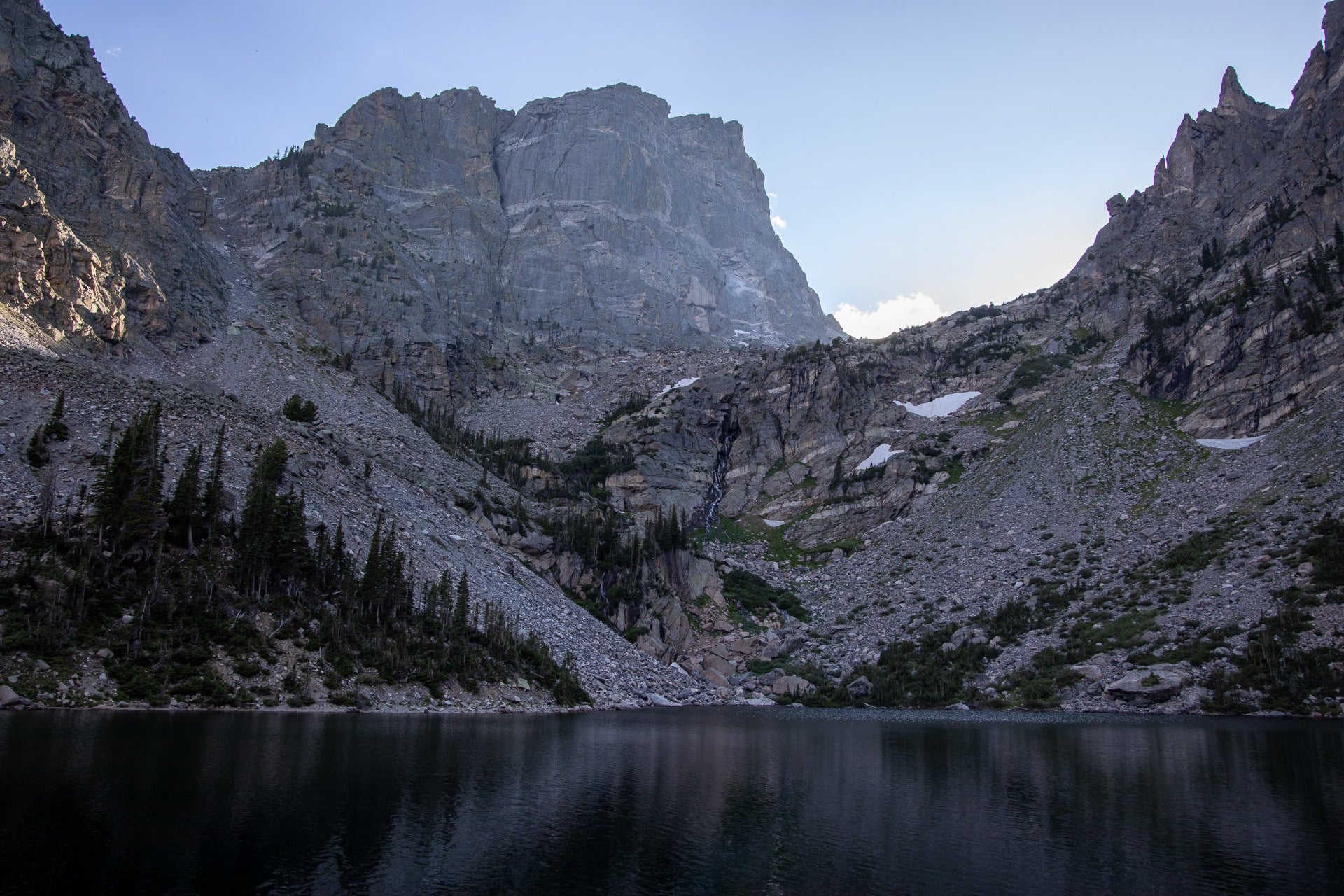 How to get there:
The most direct route is to take Highway 36, from Estes Park, to Bear Lake Road. Make a left turn to follow the road all the way to the trailhead and parking lot. Alternatively, the best way to access the trailhead is by using the shuttle to avoid crowds and creating traffic.
---
Bear Lake to Lake Helene to Lake Odessa to Fern Lake
Length: 9.2 miles
Elevation gain: 1,230 feet
Difficulty: Strenuous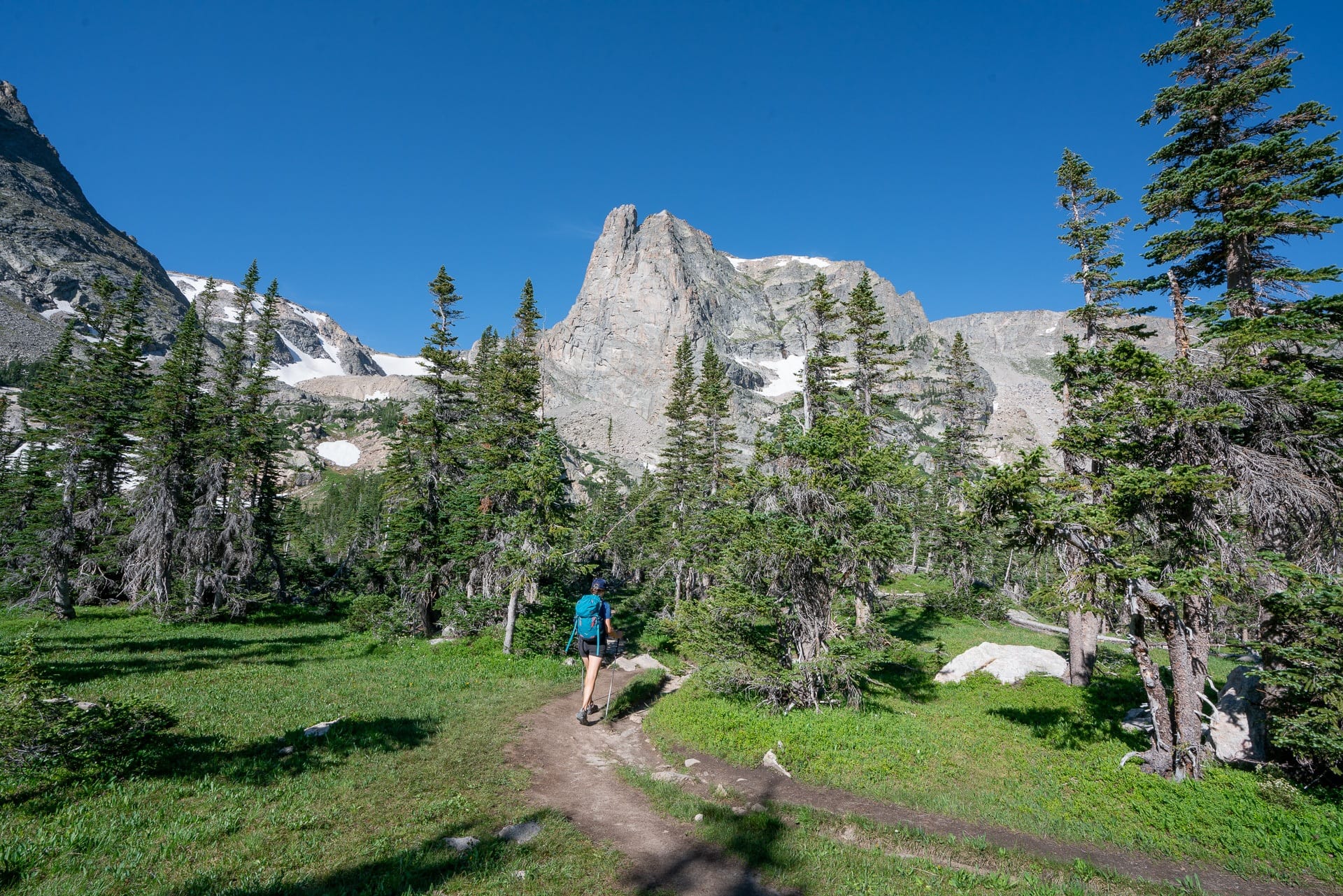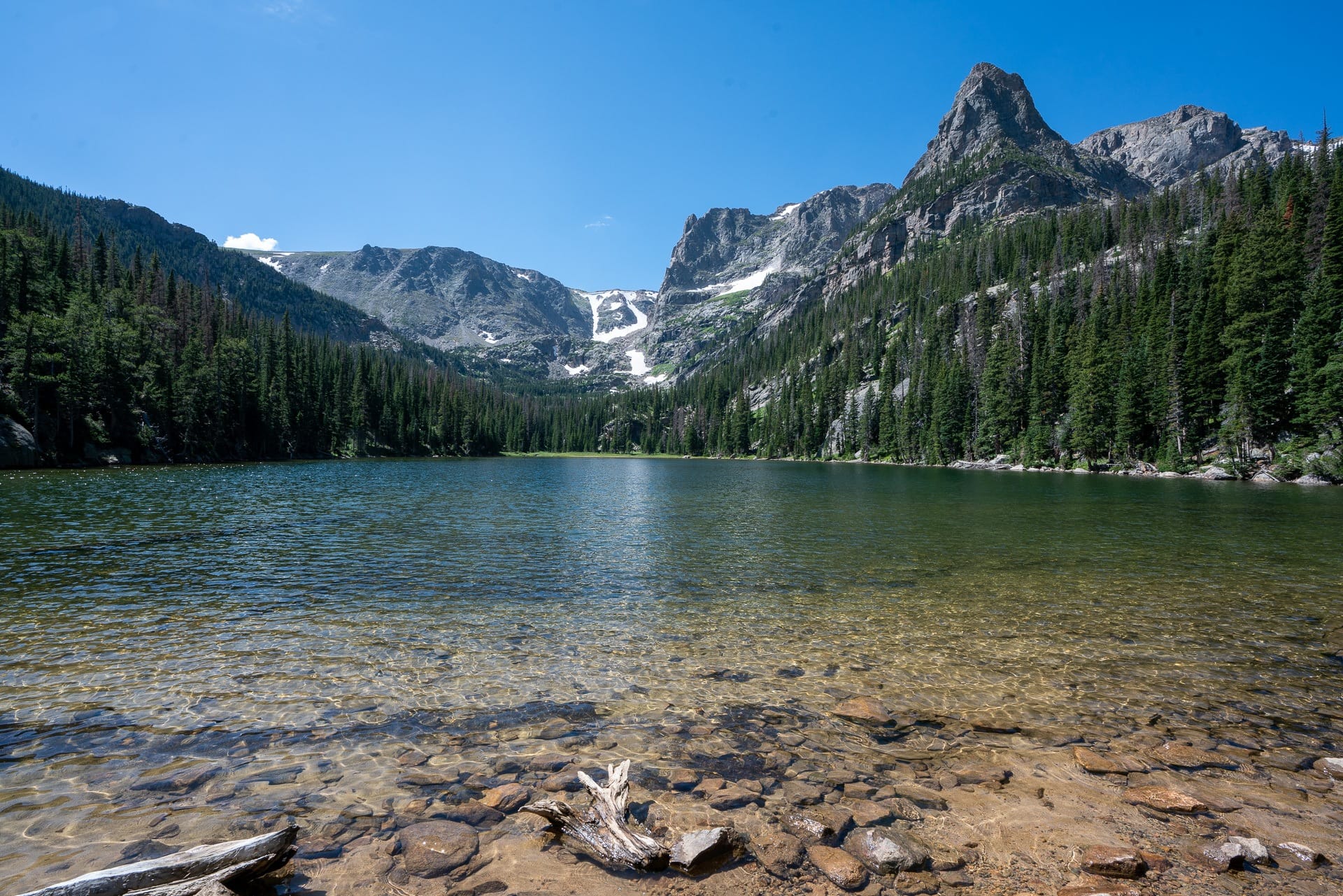 This trail is a great way to see many of the Rocky Mountain National Park's lakes all in the same hike. It's a one-way hike that utilizes the Park's free shuttle system to get you back to your car after you're done with the hike.
Begin at Bear Lake Trailhead, and take the Bear Lake Trail through a forested area full of aspens past Bear Lake. As you hike in, you'll start to get views of Longs Head Peak and Chiefs Head Peak in the distance. At mile three, there's an unmarked junction that veers off towards Lake Helene, which is worth the extra stop. Look for an unmarked trail that's a quick hike out to Lake Helene. A short footpath will take you all the way around — we even spotted a bull moose here.

Continue on to Odessa Lake, but watch your step. Over the next half of a mile, snow and ice can remain on the trail well into June. Grab your trekking poles and take it slow. The good thing is that you won't want to rush by these views. As you head down into the gorge towards Odessa Lake and Little Matterhorn can be seen directly ahead. This is also a great place to stop for lunch, and a popular one, too. If you want a quiet lunch spot, keep hiking around the lake to escape the crowds.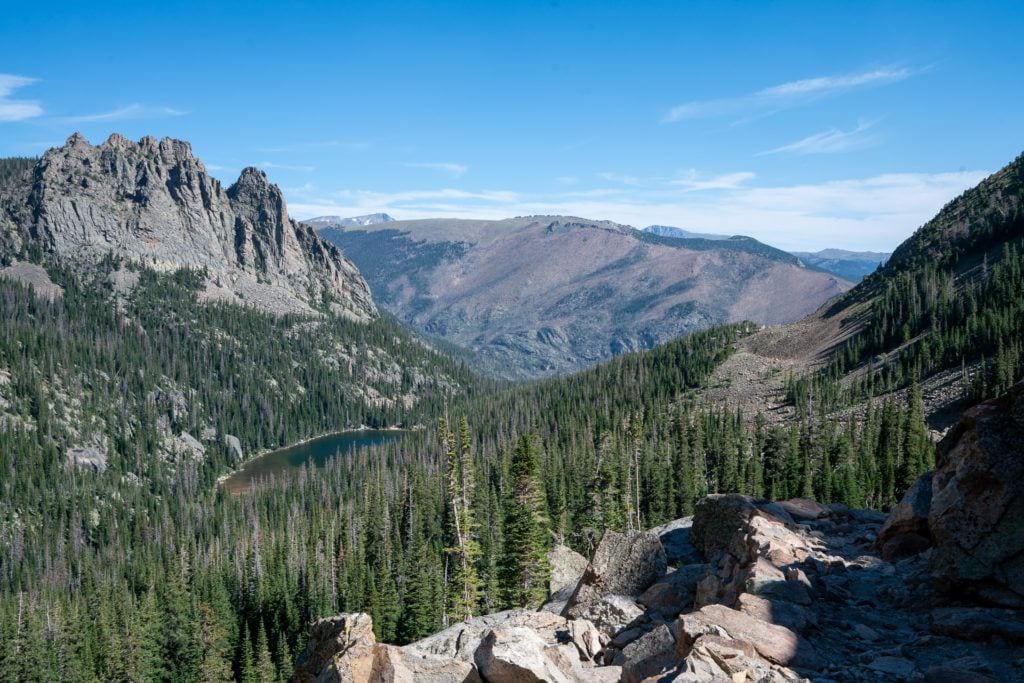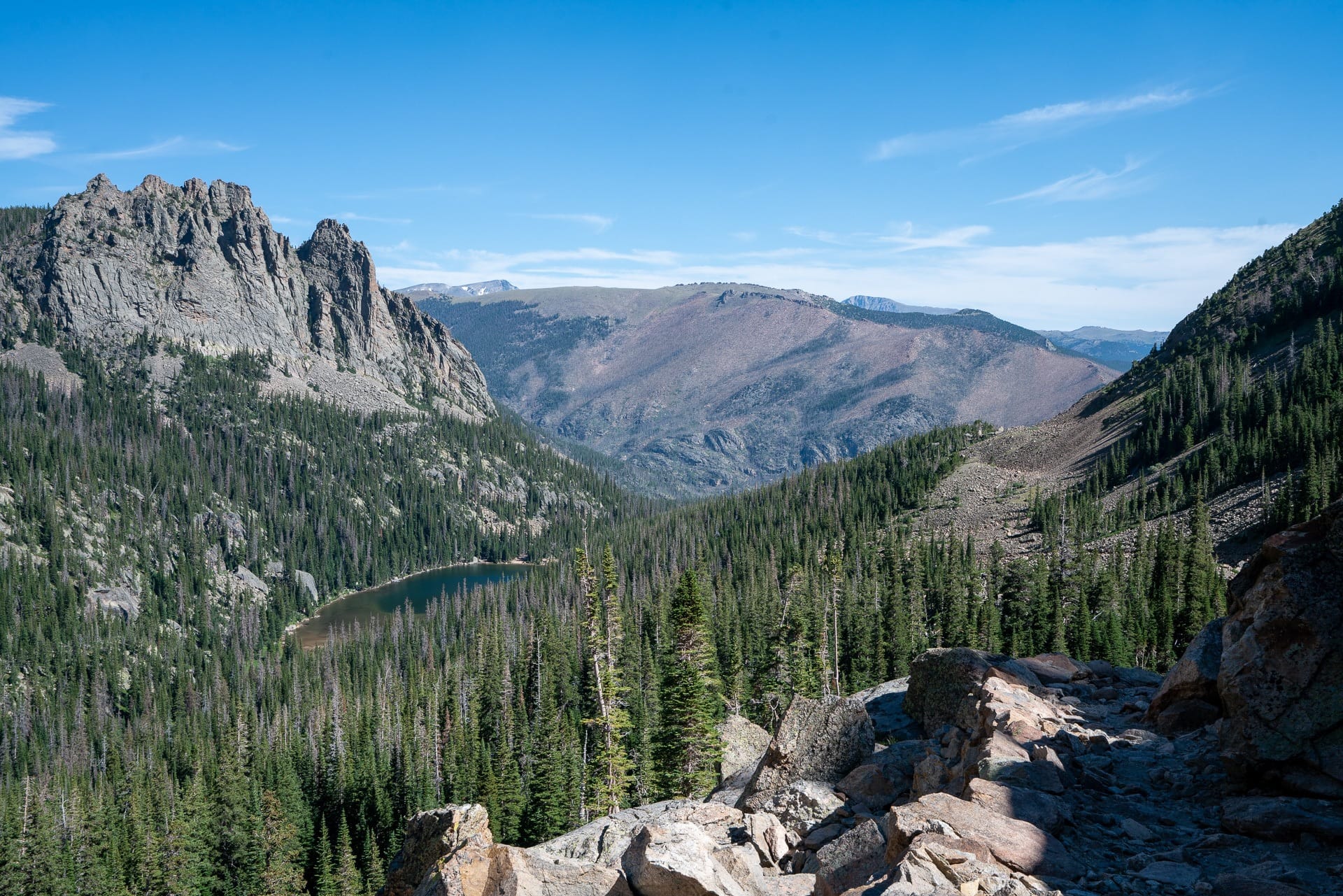 The descent down towards Fern Lake is just as scenic, with a new vantage point of the same mountains, and a deep blue alpine lake. Rest your legs here, especially if you have sensitive knees because it only continues to go down (and at some points never seems to end). Around mile six, you'll come to Fern Falls, a picturesque waterfall, and over the next couple miles you'll hike past two large boulders known as Arch Rocks.
Finish at Fern Lake Trailhead. It's an extra 0.8 miles to the shuttle stop on the dirt road. The Shuttle arrives at Fern Lake every 30 minutes. Be prepared and ask your shuttle driver in the morning what times they stop at Fern Lake to line it up with the end of your hike.
How to get there:
Some of the Rocky Mountain National Park's best hikes are easily accessible by the park's shuttle system. However, it only runs daily from May 25-September 13. After that date, it only runs during the weekends through October 20. Take advantage of the shuttle and park at the Park and Ride, and then shuttle up to the start at Bear Lake.
---
Ute Trail to Tombstone Ridge
Length: 4.0 miles
Elevation gain: 481 feet
Difficulty: Moderate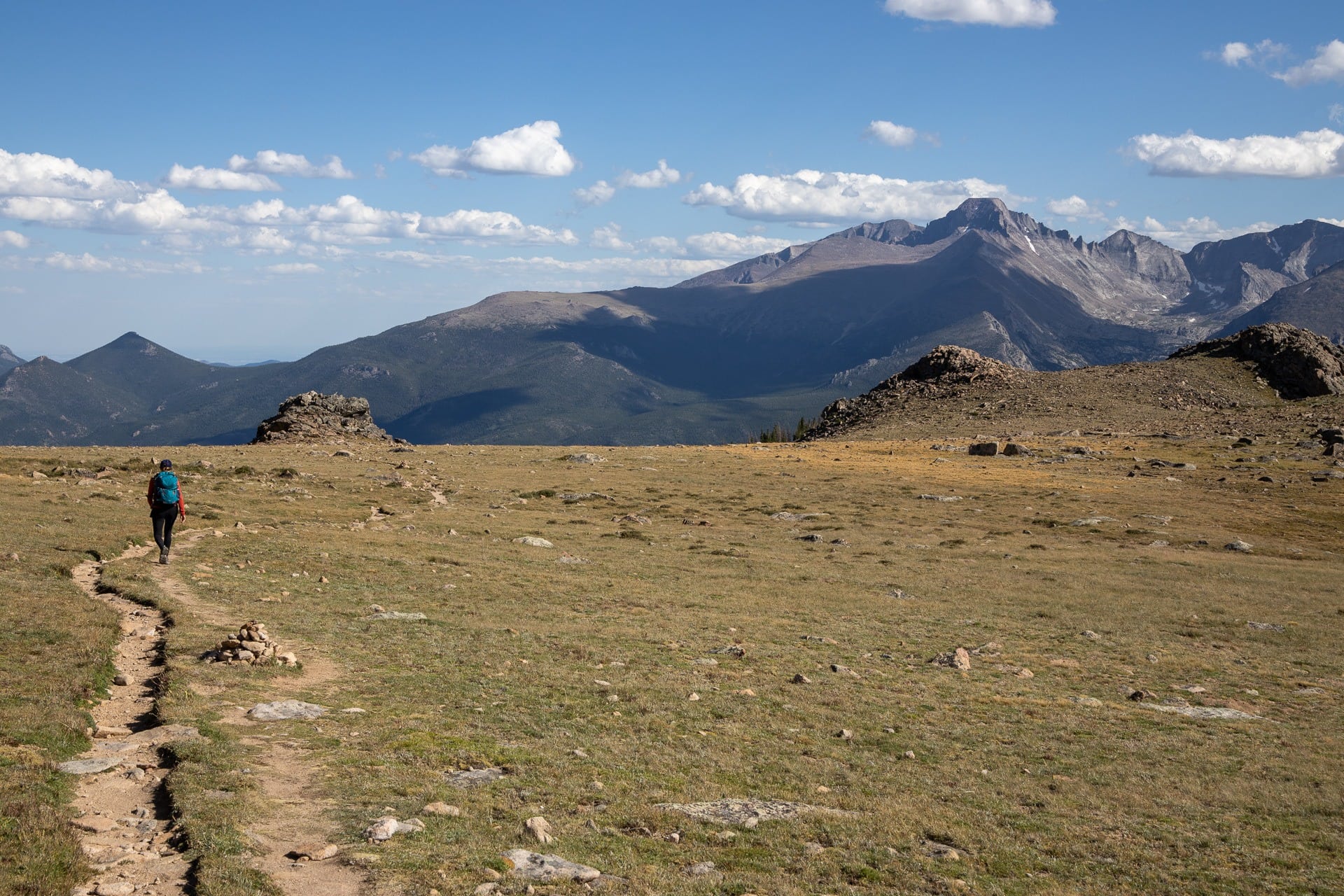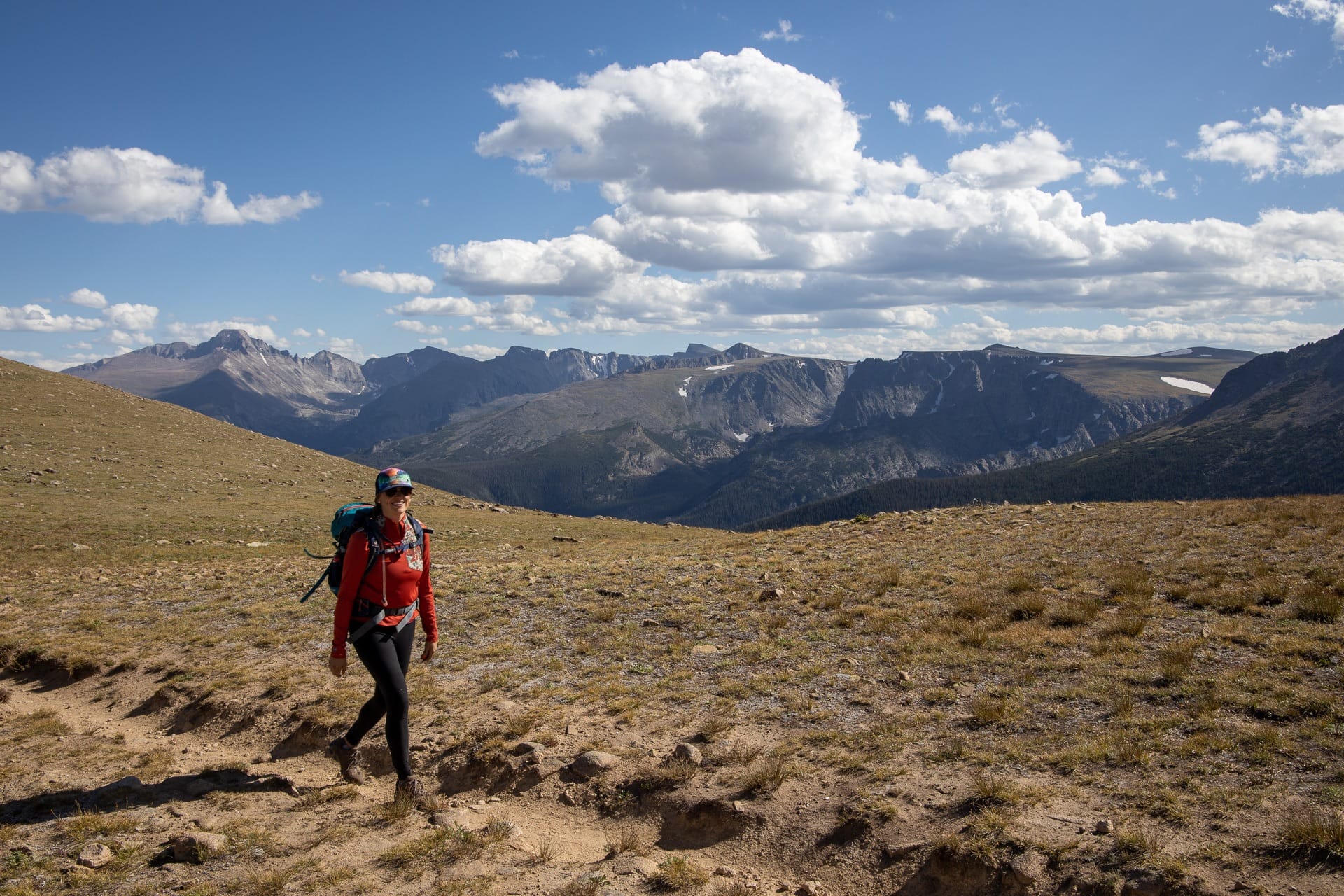 The Ute Trail to Tombstone Ridge is a nice trail with a lot of opportunities to spot wildlife and take in the views. Alternatively, if you are driving over Trail Ridge Road and want to stretch your legs, this is a fantastic place to do it.
It's one of the best hikes in Rocky Mountain National Park to get great views of the Continental Divide, and a great trail to acclimate to the altitude before tackling the more strenuous hikes on this list. Keep in mind that you don't have to do the whole thing. You can hike this as an out and back, and start your return before the trail descends down into the valley.
Begin at the Ute Crossing Trailhead, where the terrain is rocky and the flora and fauna of the tundra ecosystems are fragile. Stick to the maintained trail, and whenever possible, step on rocks instead of vegetation. It can be very windy and cold here, and in true Rocky Mountain fashion, the weather can turn without much warning. It's important to be prepared, check the forecast ahead of time, and pack extra hiking layers to keep you warm.
Hike up to continue onto the Tombstone Ridge, where there are beautiful views of the Rockies in front of you. After about half a mile, you'll notice that there are tombstone-shaped rocks that dot the ridgeline in the distance, hence the name of the Tombstone Trail. There's a series of gentle climbs up and small descents, with some threat of mud and rough rocky terrain to be aware of on the trail.
The biggest feature of this hike is the wildlife, such as elks, marmots, or pikas, and the incredible gardens of the alpine tundra. The elevation here is about 11,600', so take your time and stop to catch your breath when you need a break. Keep hiking until you reach Timberline Pass, at the two-mile mark. This is your spot to turn around and descend back to Ute Crossing.
How to get there:
Take Highway 34 into the park and turn right onto Trail Ridge Road to the trailhead parking lot.
---
Best Rocky Mountain National Park Planning Resources
Before our trip, I purchased The Essential Guide to Hiking Rocky Mountain National Park by Erik Stensland. That book is pure gold. Not only are the photos amazing, but the trail descriptions are spot on and the way the book is organized makes it very easy to find a hike that's right for you.
I also purchased the National Geographic Rocky Mountain National Park hiking map. I'm a map geek, and this map helps give you the full picture of how the Park is laid out and how the trail system works.


What do you think are the best Rocky Mountain National Park day hikes? Have you hiked any of these trails? Let us know in the comments below!