What To Know Before Tackling the Telluride Via Ferrata
Experience the thrill of the Telluride Via Ferrata – a fun and exhilarating mix of climbing & hiking where you use special equipment to traverse a steep cliff.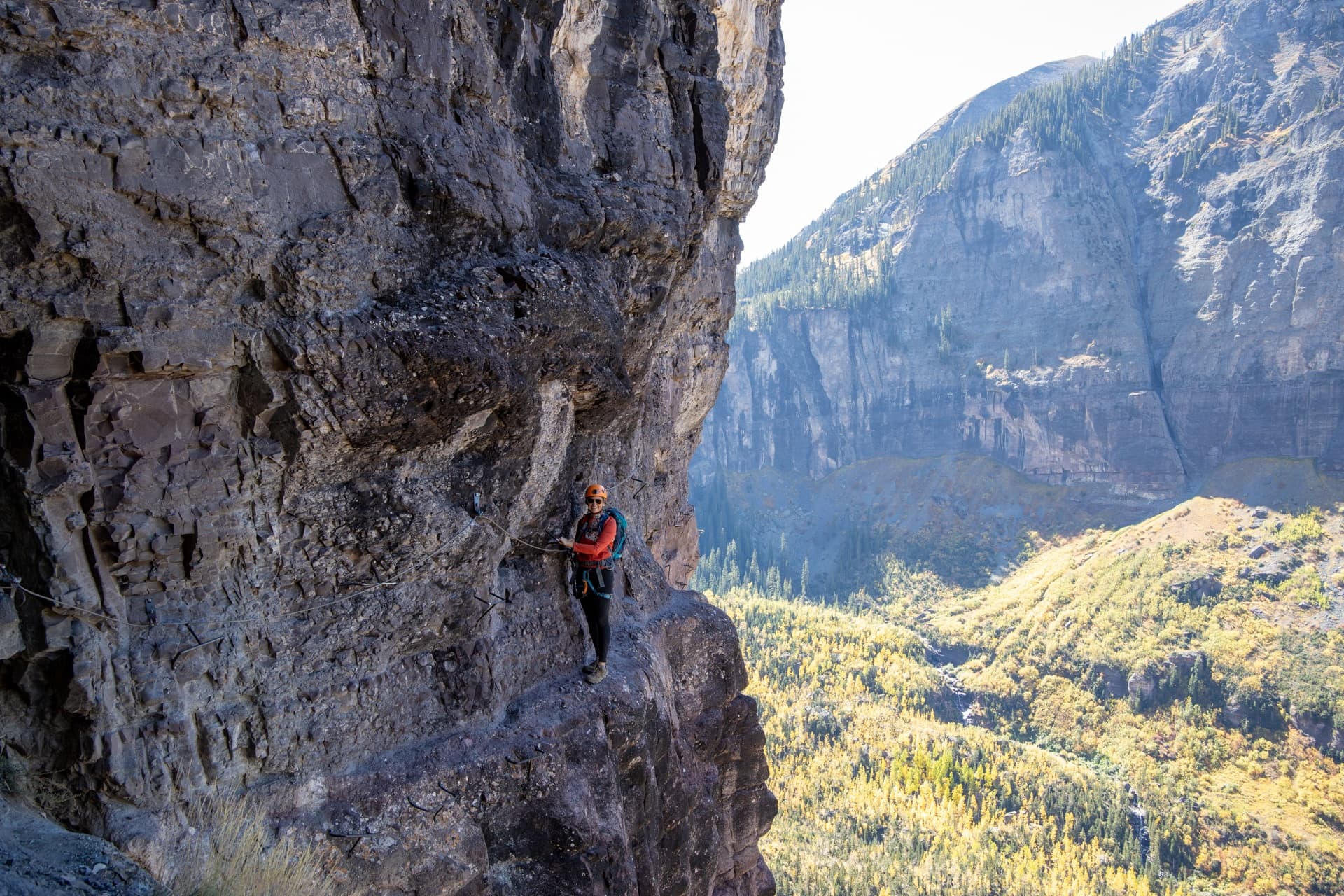 If you're looking for an adrenaline rush, look no further than the Telluride Via Ferrata. This challenging hike will take you up some of the most impressive cliff faces in the area and reward climbers with amazing views of the town below and the surrounding mountains.
However, before you get geared up, there are a few things you need to know. While the Telluride Via Ferrata doesn't require a guide, I thought it would be a smart idea to go with someone who was familiar with the route and equipment, so we hired a local outfitter to show us the ropes.
Whether you want to do this hike solo or with a guide, below I cover the important things to know before embarking on the Telluride Via Ferrata.
Important Reminder: As it goes in all of the destinations we share, please practice good trail etiquette and remember to Leave No Trace. This means packing out all of your garbage (including toilet paper), being respectful to others on busy trails, and following the established rules.
What is a Via Ferrata?
Via Ferrata means "iron path" or "iron way" in Italian. These 'paths' are protected climbing routes, which means that there are bolted anchors and steel cables fixed to the rock face at regular intervals. This protection allows hikers to enjoy scrambling and rock climbing in relative safety while clipped into a harness.
The first via ferrata was built in the Dolomites mountains of Italy in the early 1900s as a way for soldiers to move quickly and easily across the mountainous terrain during wartime.
Nowadays, via ferratas are used for recreation and are a popular activity in Europe. They have only started to gain popularity in North America in recent years, with only a few routes in North America (most in the Rocky Mountain range).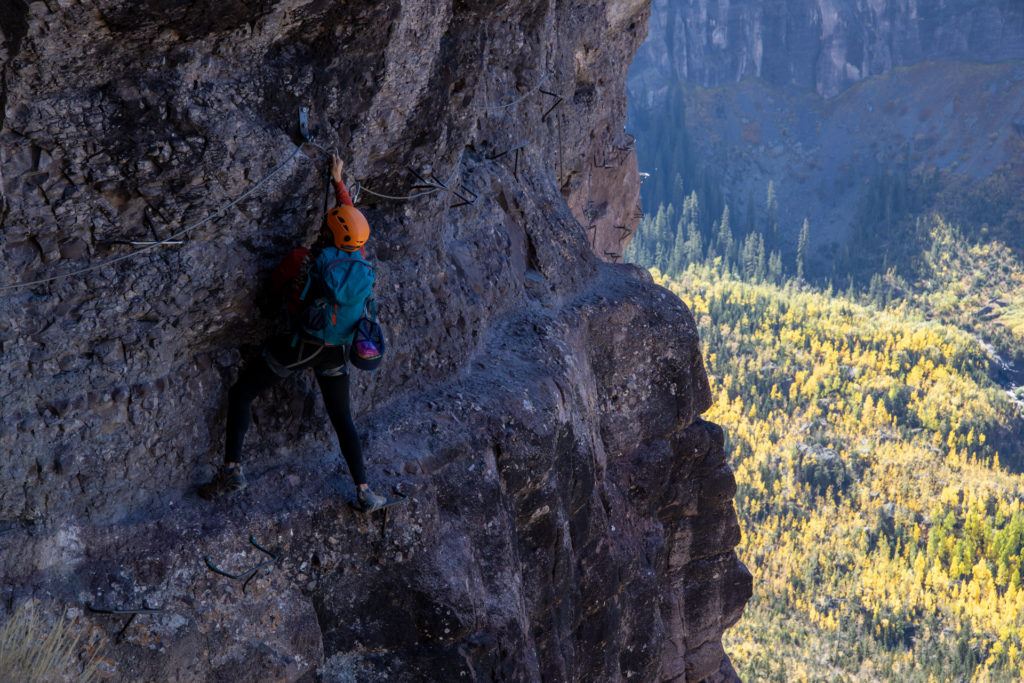 ---
About The Telluride Via Ferrata
The Telluride Via Ferrata was built in 2007 by local climbers along with the help of professional route setters.
It's one of the longest via ferrata routes in Colorado, spanning a little over two miles. The entire loop is about 3 miles with just over 1,200 feet of elevation gain.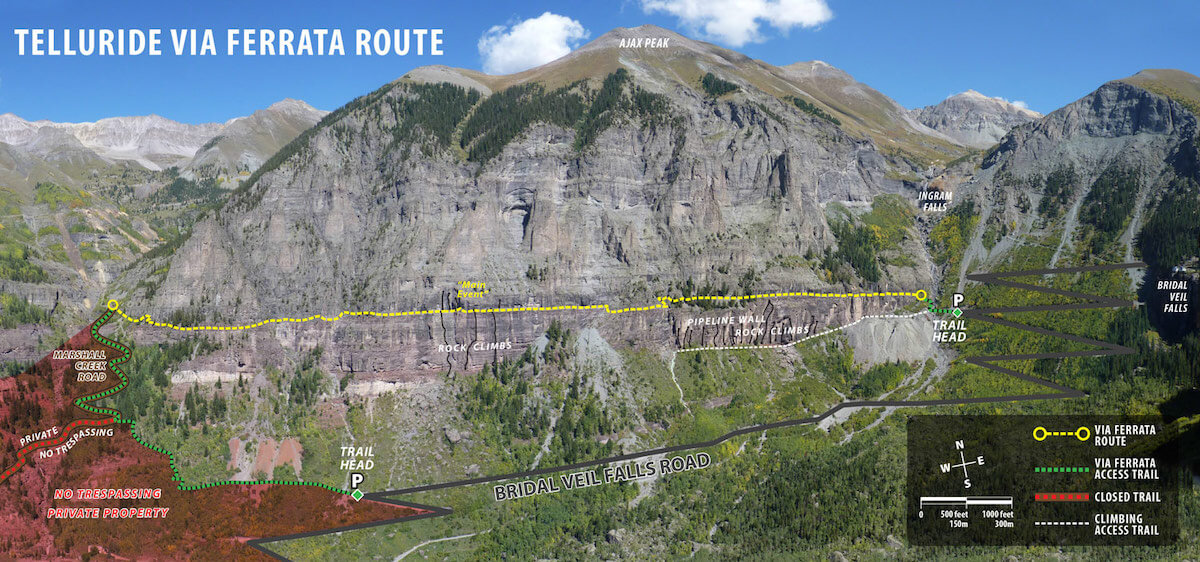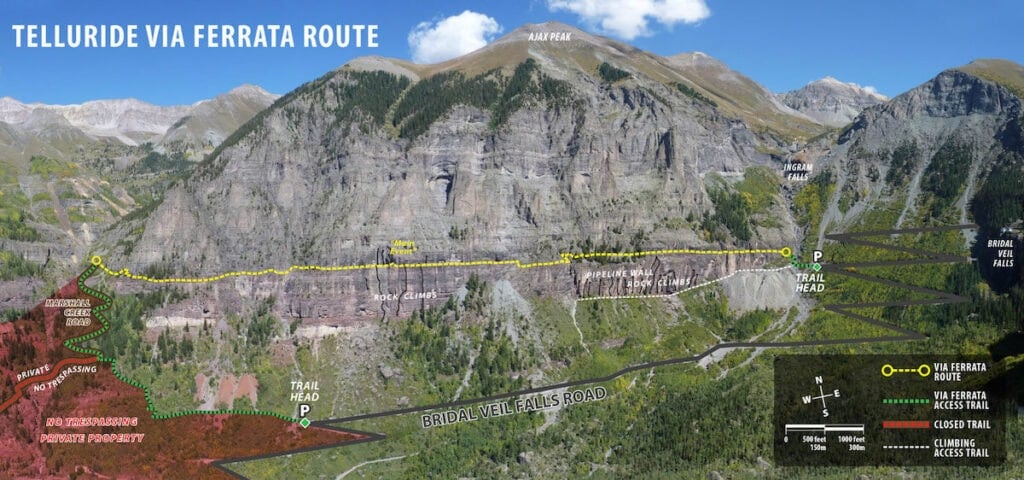 ---
Getting to the Telluride Via Ferrata Trailhead
The route begins near the base of Bridal Veil Falls, the 365-foot waterfall that you can see from the east end of town. The route is one-way, so you must start on the east side and make your way west across the cliff face.
Our guide Andrew picked us up in town where we left our van. We then drove up the Bridal Veil Falls road and parked at the finish point. From there, we took a gradual hike further up the road to the starting point near the base of Bridal Falls. It was a nice, easy way to warm up in the morning before starting the real action.
---
How Difficult is the Telluride Via Ferrata?
The Via Ferrata was a bit more intense than I expected but totally doable for anyone in decent physical shape. With that said, it's not for the faint of heart or those with a fear of heights.
The hike up the road to the start of the route requires some short bursts of up and down while the via ferrata had its challenging moments where you have to use all of your body strength. Some of the moves were tricky and I was happy to have our guide giving us some tips on how to most efficiently move across the rock face.
Most of the rungs and handholds were spaced in a way that made it easy to grab on to the next one, but there were a few in the Main Agenda area (the most exposed section) I really had to reach for. There was also a short section near the end where you have to traverse upwards and this requires a fair amount of upper body strength.
The biggest challenge on the Via Ferrata is mental. In some areas, you are completely exposed with more than 500 feet of air below you. It requires keeping your cool and trusting yourself and the equipment.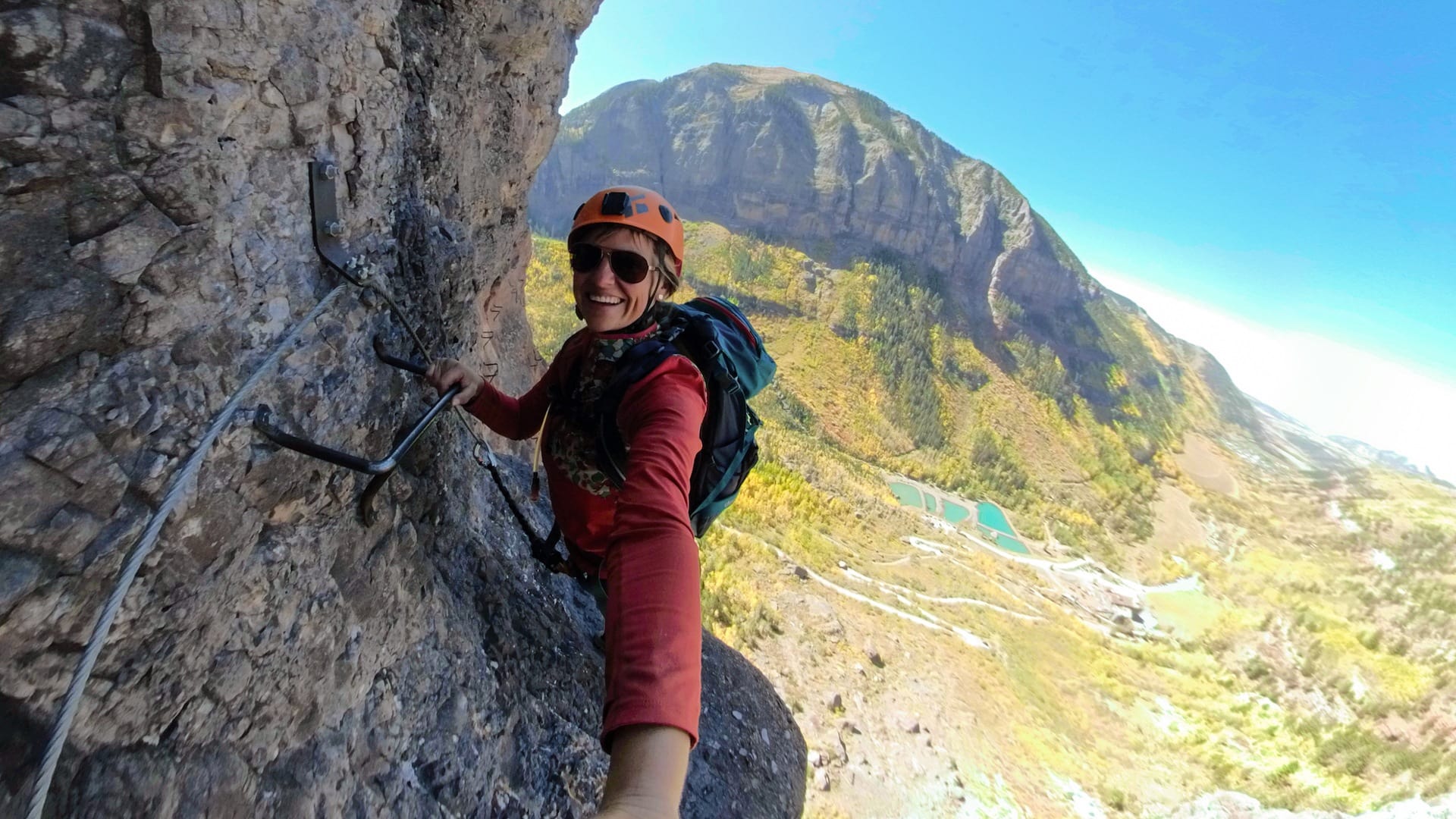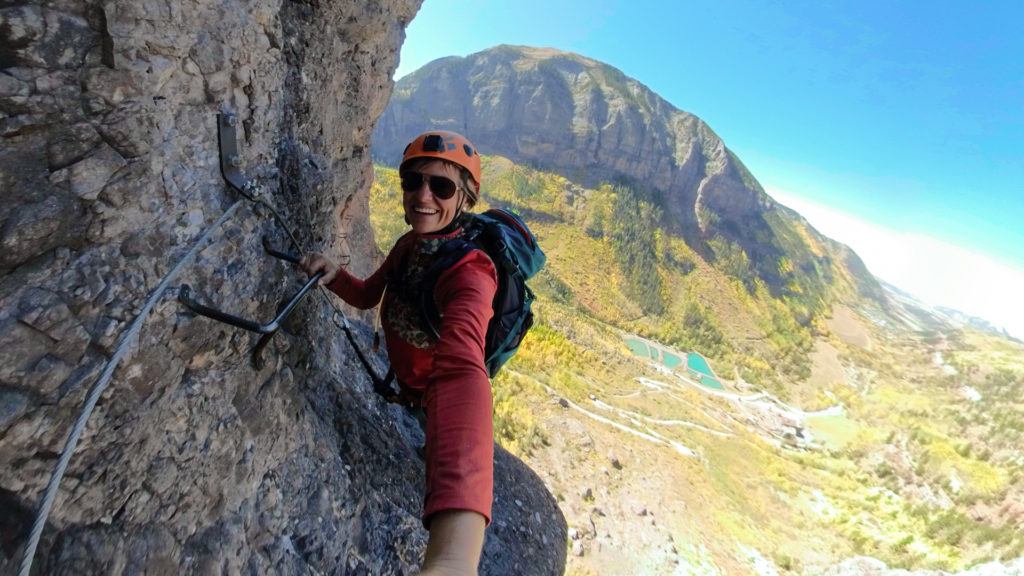 ---
Planning Your Telluride Via Ferrata Adventure
How long does it take?
The entire route took us about 4 hours, but the total time requirement varies from group to group. It all depends on how quickly you move and how many breaks you take along the way.
Is a guide necessary?
A guide is not required on the Telluride Via Ferrata, however, if you're not familiar with via ferratas or have basic mountaineering/climbing skills, I'd recommend one to have a more enjoyable, safe, and less stressful experience. That way, if you run into any challenges – physically or mentally – your guide can help you through them.
I also personally enjoyed getting to know our guide, Andrew. He's been guiding in the San Juan Mountains for years and gave us a ton of other tips about cool stuff to see and do in the area.
If you are an avid rock climber, then you probably don't need a guide. Just make sure you give other groups appropriate space on the difficult parts. The equipment is also slightly different than climbing, so do your homework on what gear to bring before you head out.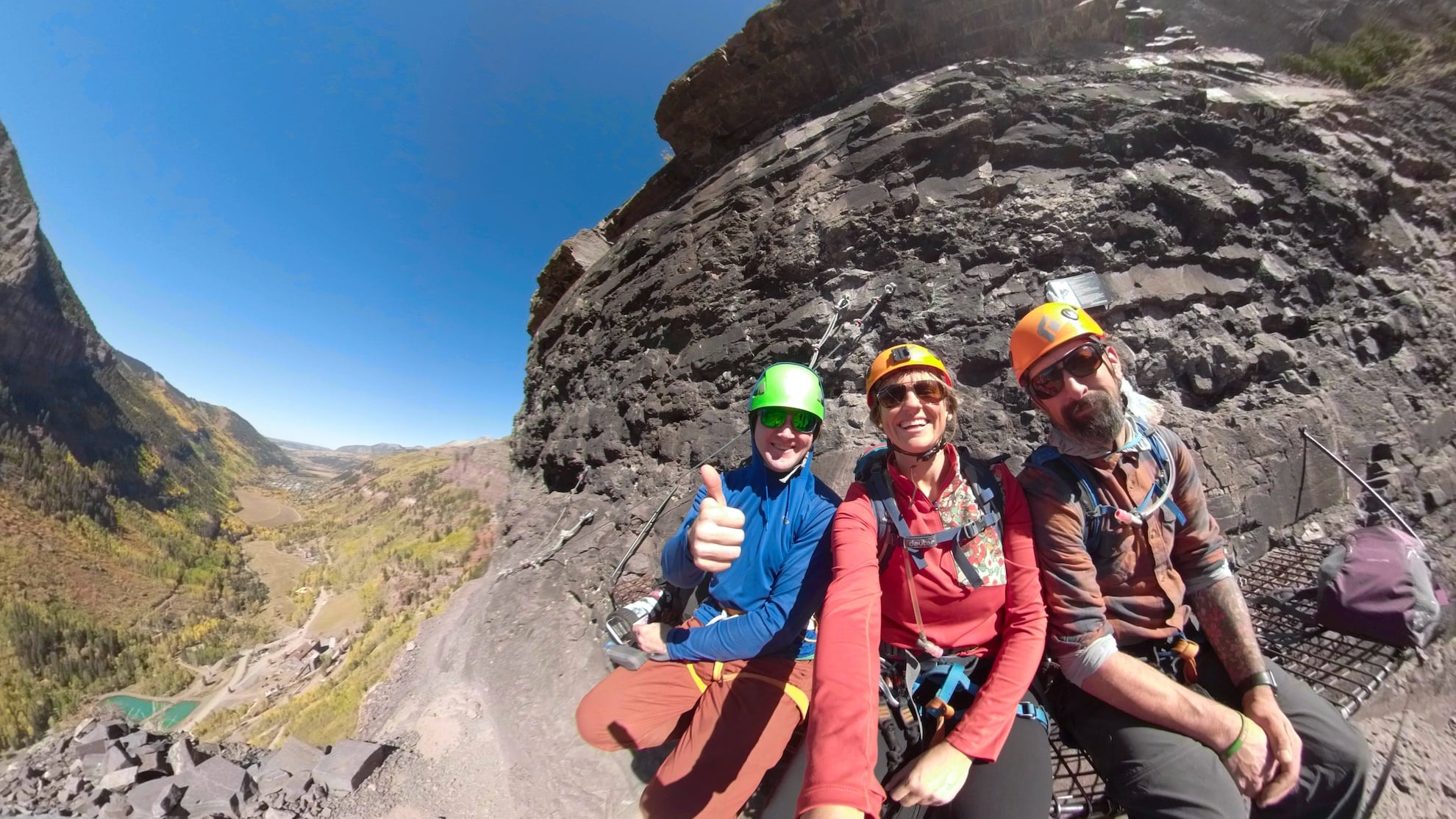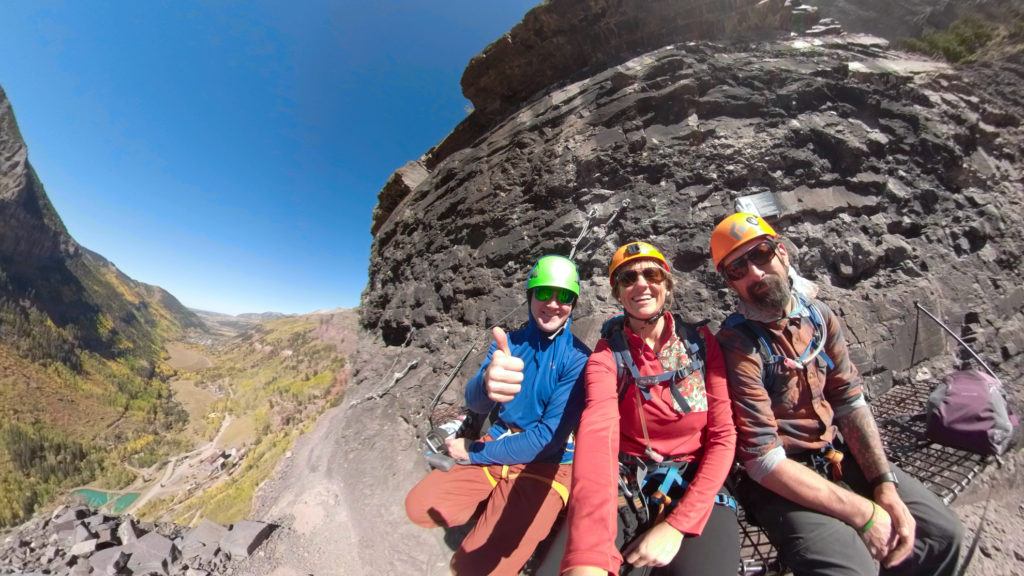 Where to hire a guide
There are several companies that offer guiding services on the telluride via ferrata. The one I went with, San Juan Mountain Guides, only offers private trips but I definitely think this is the best way to go. You get more personalized attention and can move at whatever pace you are comfortable with without adjusting for a group.
The price for a guided hike depends on the total number of people in your group, with a maximum ratio of 4 people to 1 guide. Prices include equipment and transportation from town.
Another company to look into is Mountain Trip, which also offers private tours as well as group trips.
Best time of year to hike the Telluride Via Ferrata
The best time of year to do the Via Ferrata is in the spring, summer, or fall. Be sure to check the weather forecast ahead of time because there is no option for escape once you are on the route. Telluride typically experiences rain in the afternoons early July through mid-August so plan to start early. Be especially careful if you choose to do the Via Ferrata in the spring when there is still snow above the route due to avalanche dangers.
Summers in Telluride can be very busy with so much to see and do. We did our hike in September and discovered that fall is a wonderful time with fewer people, beautiful colors, and comfortable temperatures.
San Juan Mountain Guides will run trips until the weather no longer allows.
What Gear to Bring
If you go with a guided tour, the technical equipment like harnesses, helmets, and lanyards will be taken care of. If you are going on your own, you'll need to do some research to determine exactly what gear is required for a safe hike.
Aside from the technical gear, you'll want to have the following:
Extra layers (the weather can change rapidly in the mountains around Telluride)
Snacks
2-3 liters of water (I recommend a hydration reservoir so you can drink water hands-free)
Sunscreen
Sunglasses
---
What questions do you still have about the Telluride Via Ferrata? Is this something you would do? Leave a comment below!