What type of bed you want in your van conversion is one of the first decisions you'll make in your conversion. Maybe you want a platform bed so you can store mountain bikes and other gear. Or perhaps the idea of making the bed every day seems like a major pain. On the other hand, you might want a dinette where you can work and entertain guests. If you're trying to decide between a permanent platform bed with storage for gear OR a convertible style bed that will provide seating, this video will provide van conversion bed ideas for you to ponder.
In this lesson, we cover:
The major van conversion bed ideas
The pros and cons of a permanent platform-style bed
The pros and cons of a convertible bed
Adding flares to sleep across the width of the van
What I did and didn't like about the convertible bed in my first van.
Deciding on a Camper Van Bed Style
Deciding on a bed style for your van should be one of the first choices you make because the rest of the layout will revolve around this.
The two primary styles you'll see in vans are a platform-style bed and a convertible bed. Platform beds are fixed; convertible beds are basically folding van beds that can transform from couch by day to bed by night.
There are two major initial questions to consider to guide you in this process:
Do you want to be able to store bikes or other gear that requires a lot of space under the bed?
Are you okay with opening and closing a convertible bed every day?
Fixed Platform Van Bed
Having a platform or fixed bed in your van provides ample storage underneath for bikes, gear, water tanks, a toilet – you name it. We call this area under the bed "The Garage."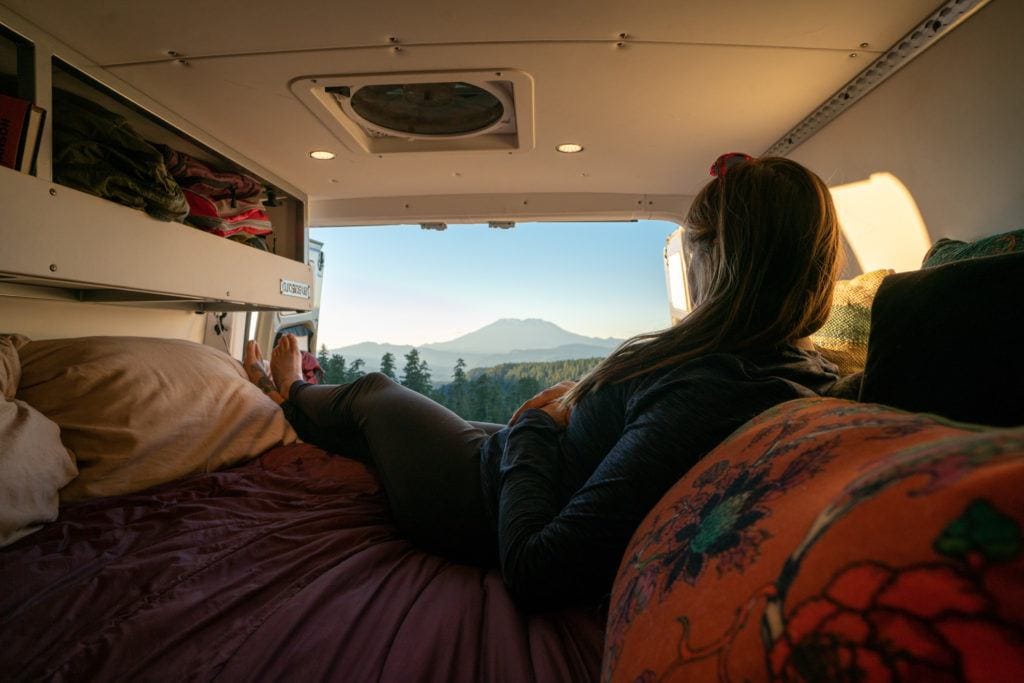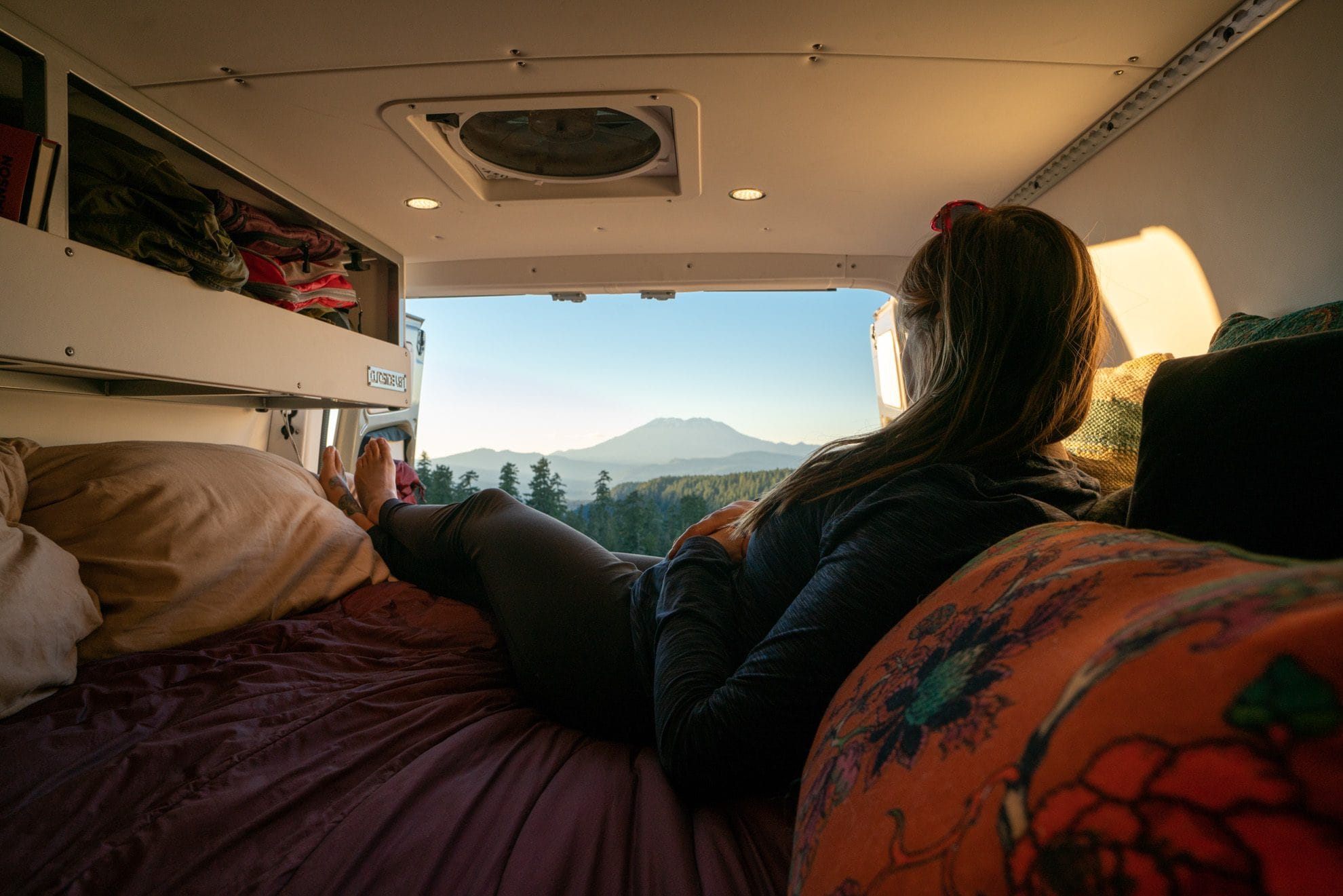 One perk of the fixed van bed is that you can build the bed as high as you want, creating even more storage space underneath. Plus, you don't need to open and close your bed every day and you don't need a place to store your bedding and pillows because they just stay on the bed at all times. This is what I have in my second van, and I have to say, I appreciate being able to hop in bed every night without the hassle of converting it. The bed is always ready for rainy afternoon naps and after a long day on the trail. Also, it can accommodate a regular mattress, so that's a bonus.
Back in Module 1, Lesson 2, we shared the dimensions of different panel vans. In the Ford Transit and Mercedes Sprinter, the width of the van once you've installed insulation and paneling is about 5'5". The Promaster is slightly wider. So unless you are shorter than the width of the van, you will want to set up your platform bed so you sleep the long ways down the van, rather than across. This long ways orientation also allows for easy storage of mountain bikes under the bed since they're a similar length.
However, if you want a platform bed and don't care about easy storage of bikes under your bed, then you might consider installing flares. Flares are made for Sprinters, Transits, Promasters, and the Nissan NV, and when installed, extend the width of your van in the bed area. This allows you to comfortably sleep across the van rather than down the length of the van. By changing the orientation of your bed, you gain a couple of feet inside the vehicle for living space that can be used to add seating, a larger galley or even a bathroom. The downside of flares is you do lose some insulation, and even more so if you decide to put slider windows in.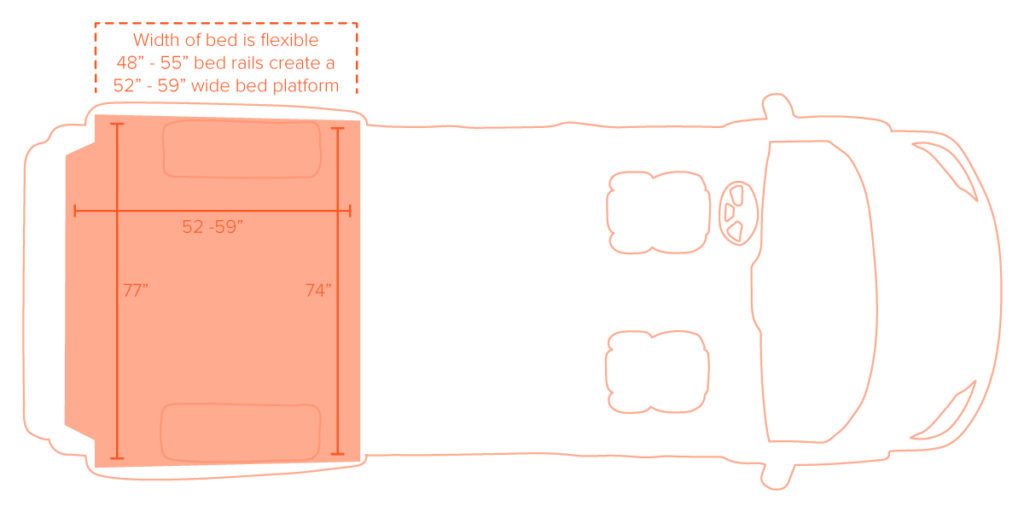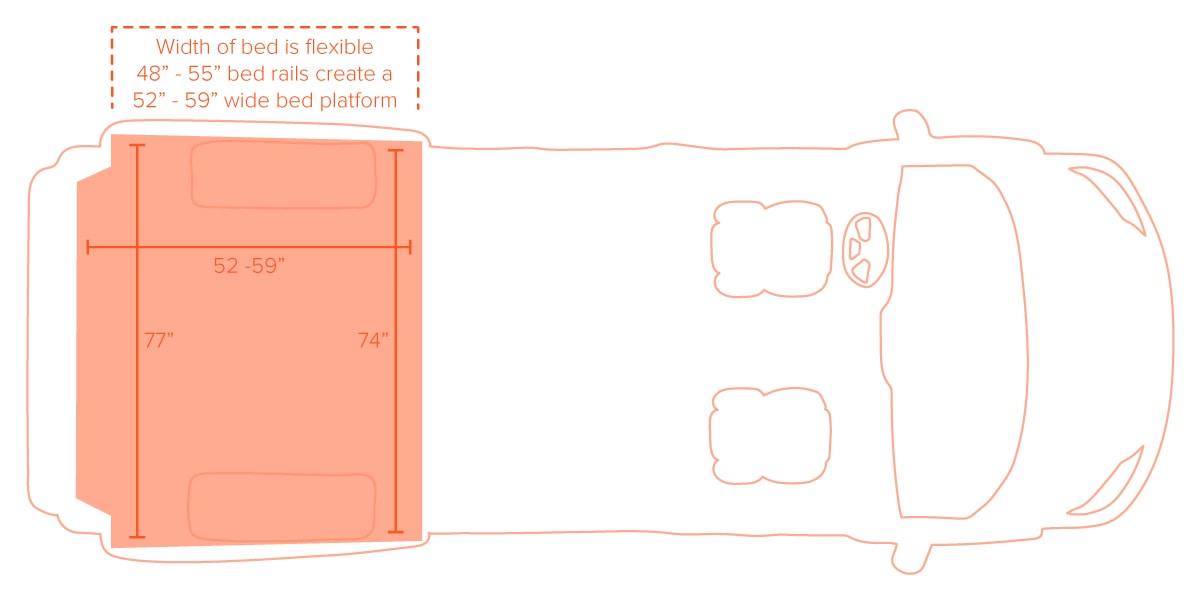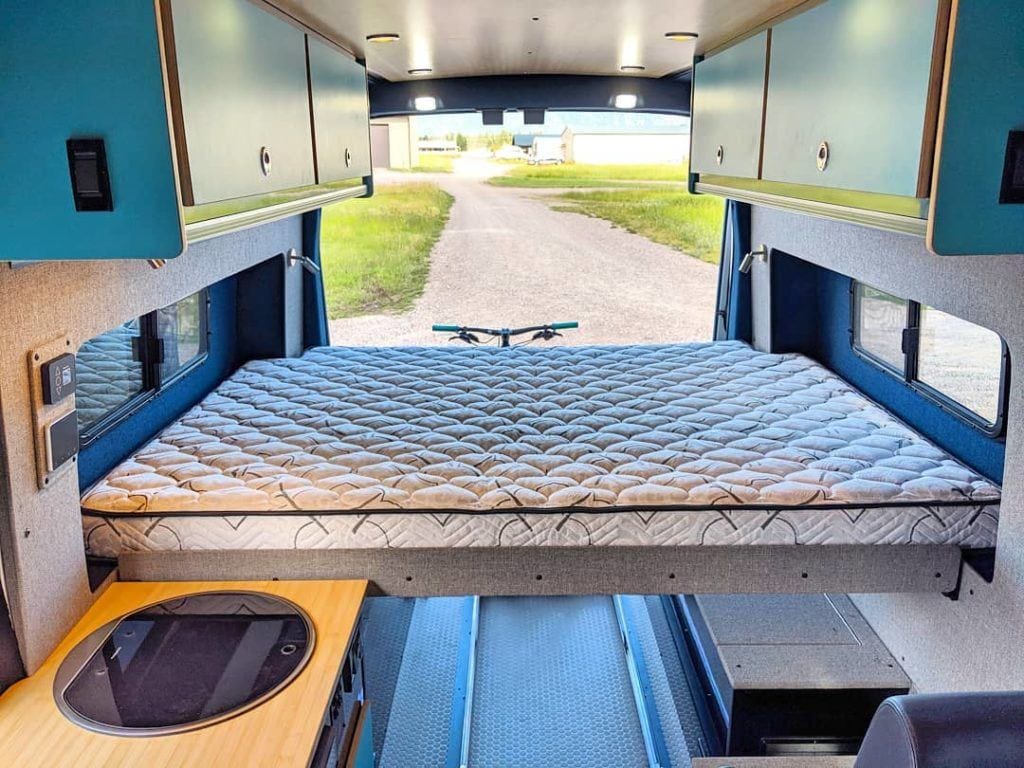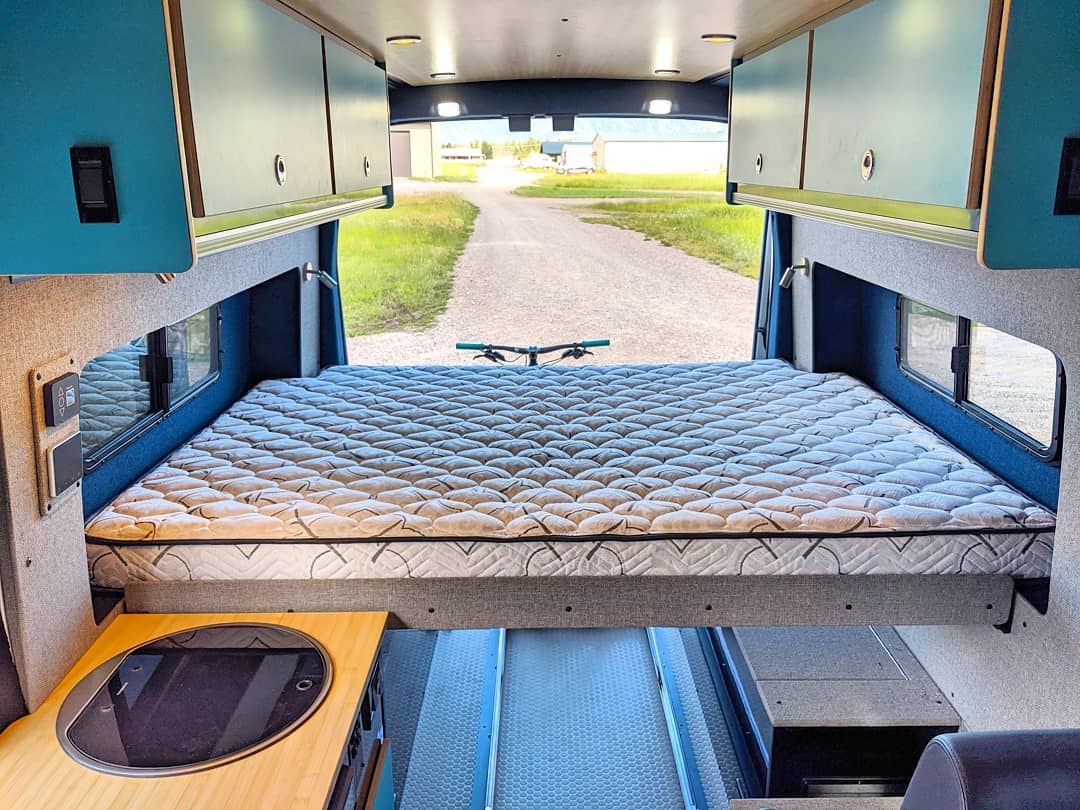 Convertible Folding Van Bed
The other major bed type is a convertible or folding van bed, which is what I had in my first van. You can place your convertible bed in a couple of different positions in your van depending on your situation.
Generally, when a convertible bed is in sofa form, it offers more living space and serves as a dual purpose. For example, if you have a dinette in the rear of the van that converts to a bed, you can seat 6 people easily at your table or have a huge workspace. This also makes for nice photos out the back of the van if that's something you care about.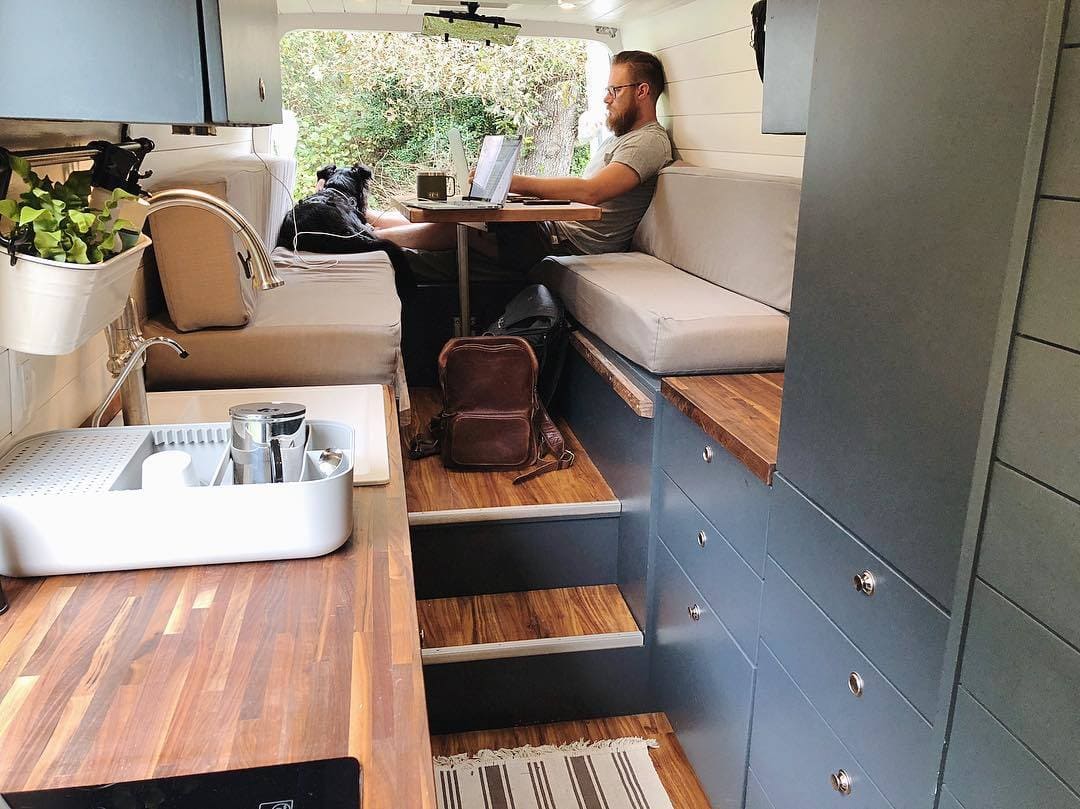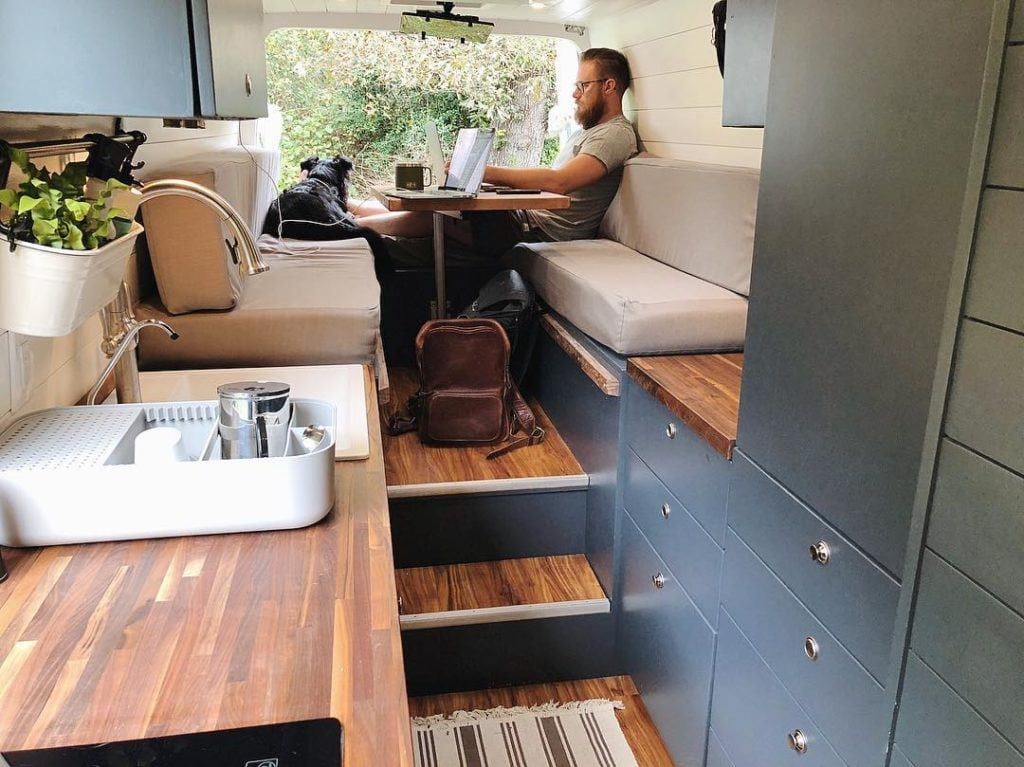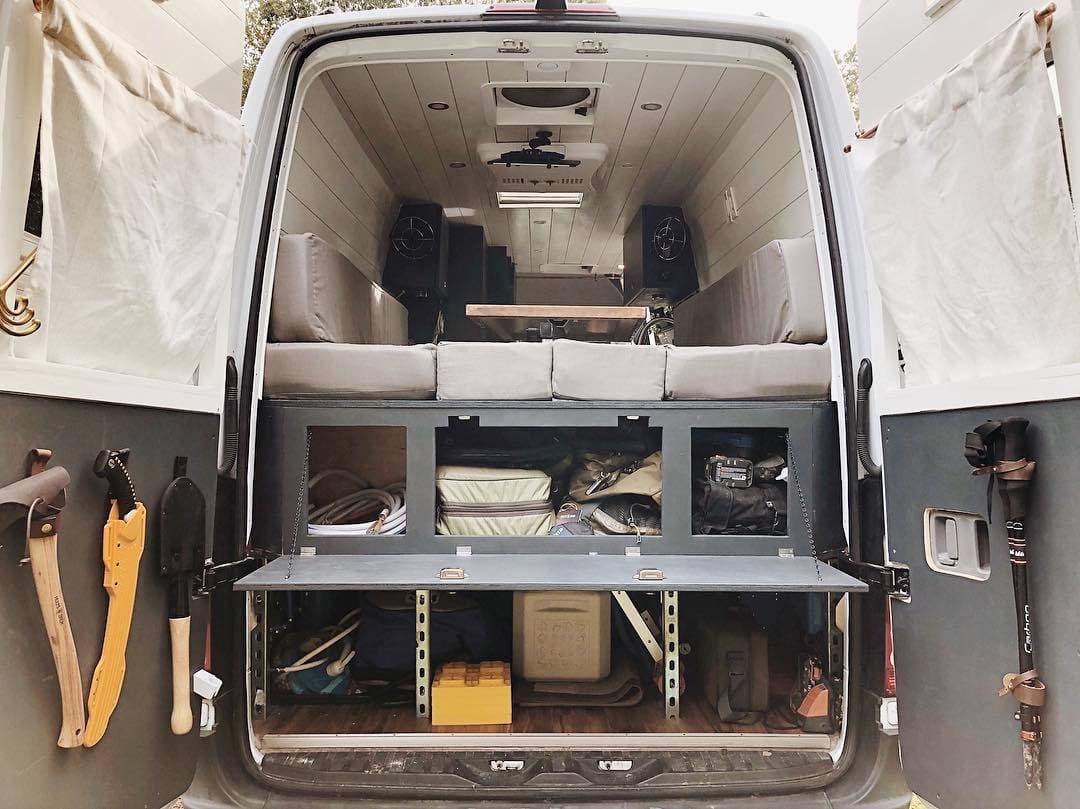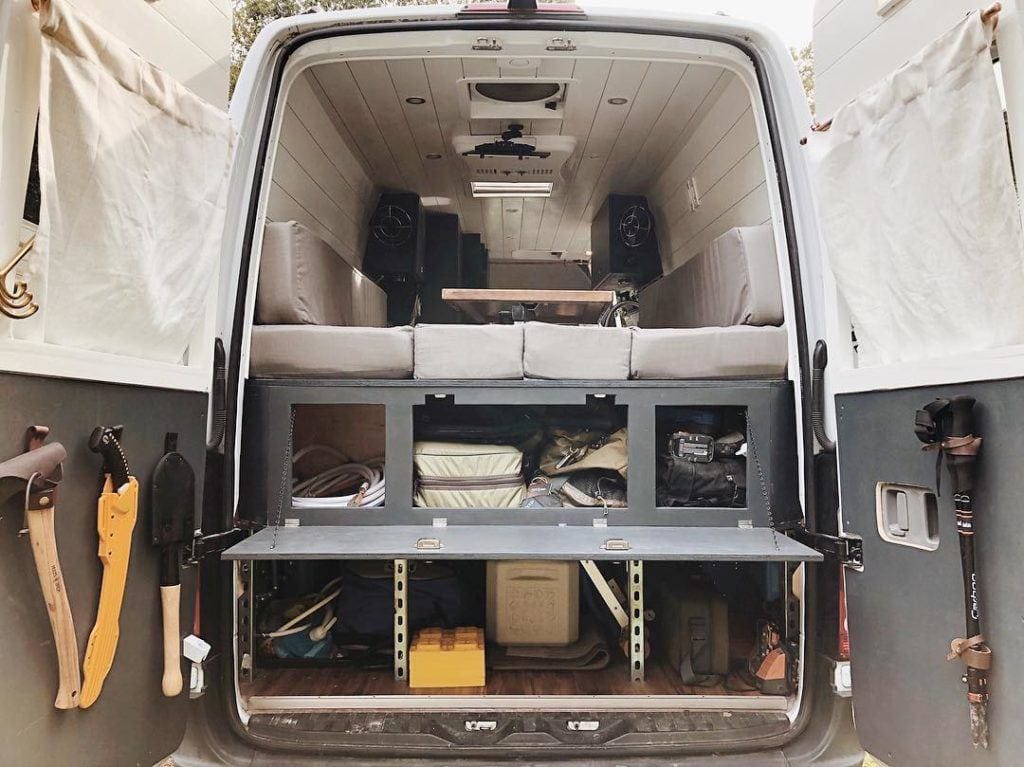 This raised dinette in @wearewanderinghome's van offers a convertible place to sit along with a "mini-garage" underneath.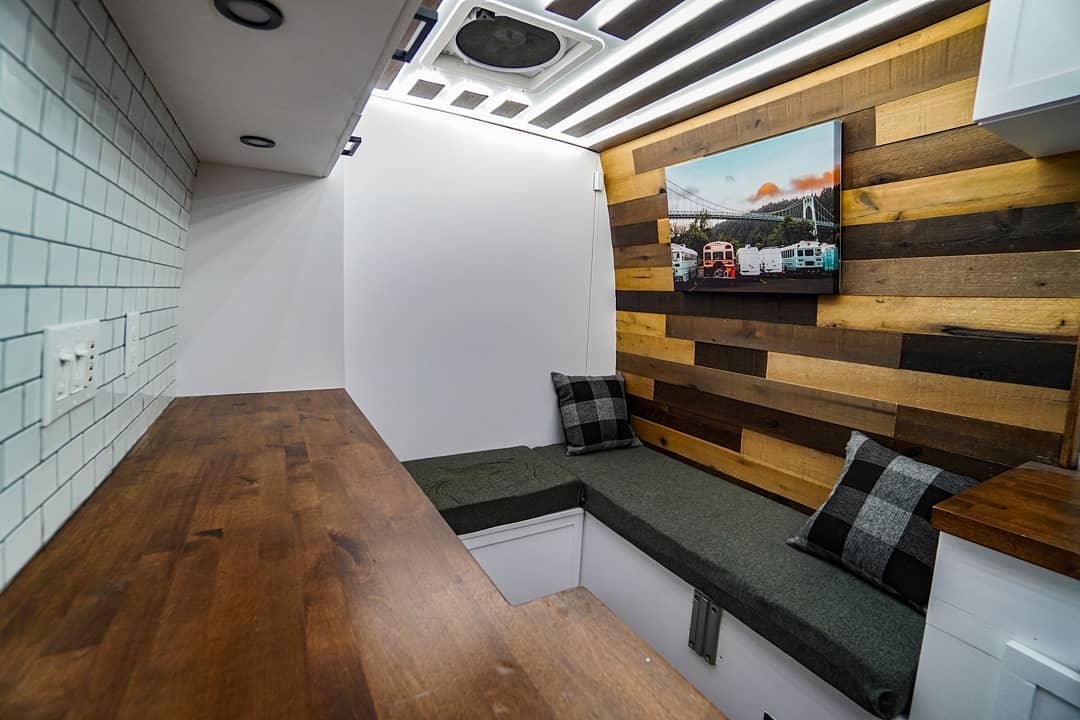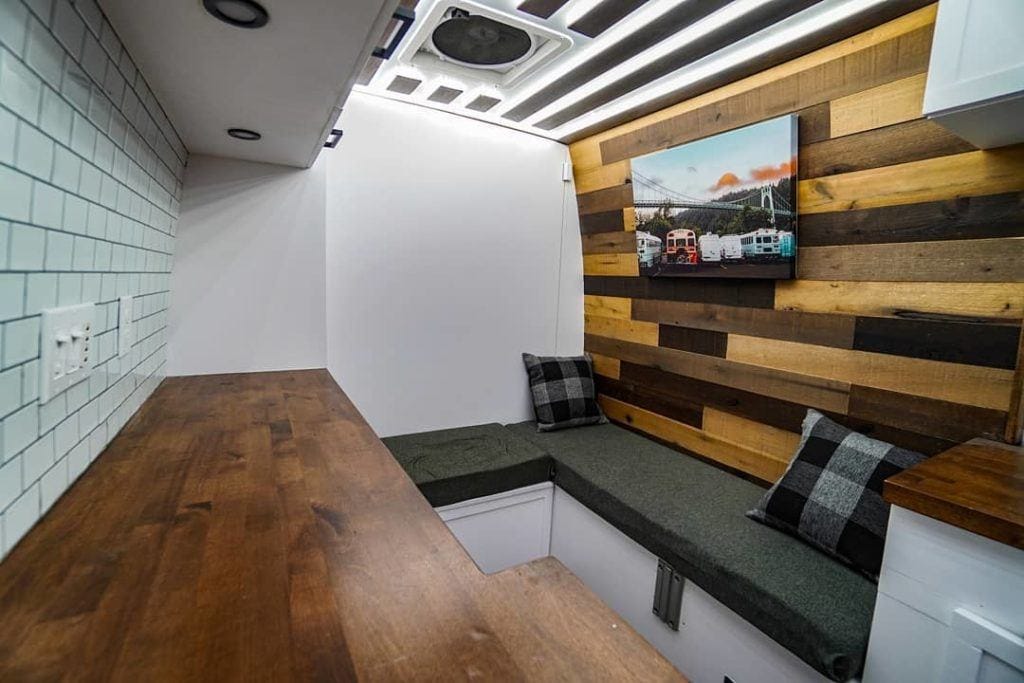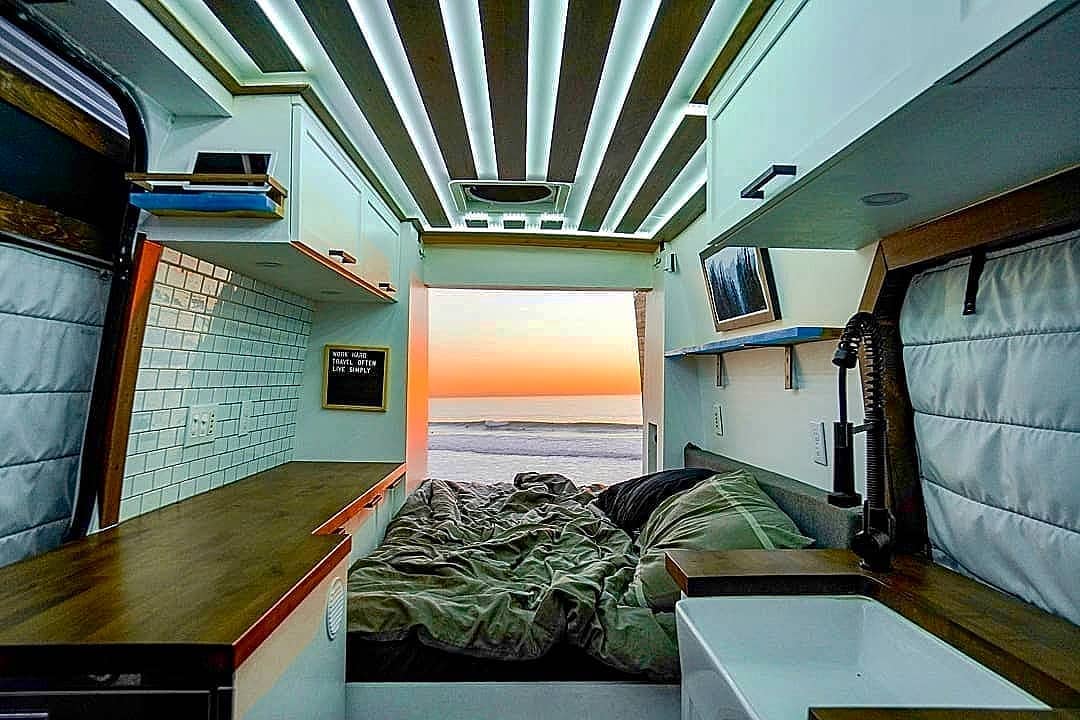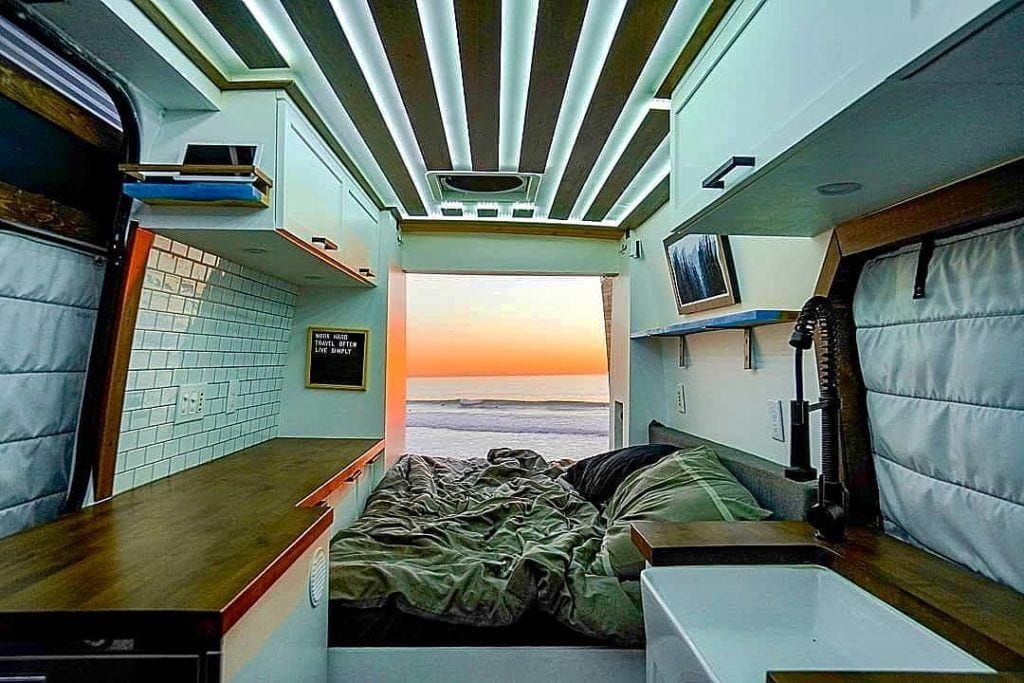 This is a custom murphy convertible bed by @jarrodtocci that stores in the wall
While this design sacrifices some storage, for example – you won't be storing mountain bikes and bigger gear items in the van – it makes up for it in open living space throughout the day. So if storage isn't your top priority and you don't mind opening and closing your bed every day this could work for you, but you will need a place to store your bedding during the day. Also, with convertible beds, you'll typically be sleeping on multiple cushions and might feel the creases when you sleep, so if you think that's something that might bother you keep that in mind when making your decision.
In my first van, the convertible bed was across from the slider door, creating a sofa that looked out the door to a wide-open view. It was basically half of a dinette. When I was traveling solo, I could stow the table and the couch was large enough that I didn't even have to pull the bed out, so that was a plus. What I didn't like about it was when the bed was in bed form, it took up the entire area next to the slider door. When my partner was traveling with me, if we didn't have the exact same sleeping schedule, there wasn't really anywhere else to go when the other person was sleeping and moving from the front of the van to the back of the van required climbing over the bed.
There you have it, some of the pros and cons of different bed styles. As I mentioned, the biggest decision making factor here, aside from storage, is deciding whether opening and closing your folding van bed every day will get old after a while.
I'll also mention that you are only limited by your creativity. I suggest checking out the @vanlife_roadmap on Instagram for more inspiration.
Hopefully, you now have a sense of what might work best for you and your lifestyle.
Resources Section
Instagram accounts featured in video
Explore other van conversion lessons in Module 2
What type of bed are you building in your van? Share your questions, tips, and experiences down in the comments, and make sure to sign up for course updates here.