6 Easy Colorado 14ers for Your First Summit
Looking for easy 14ers in Colorado? We've rounded up our top beginner-friendly trails.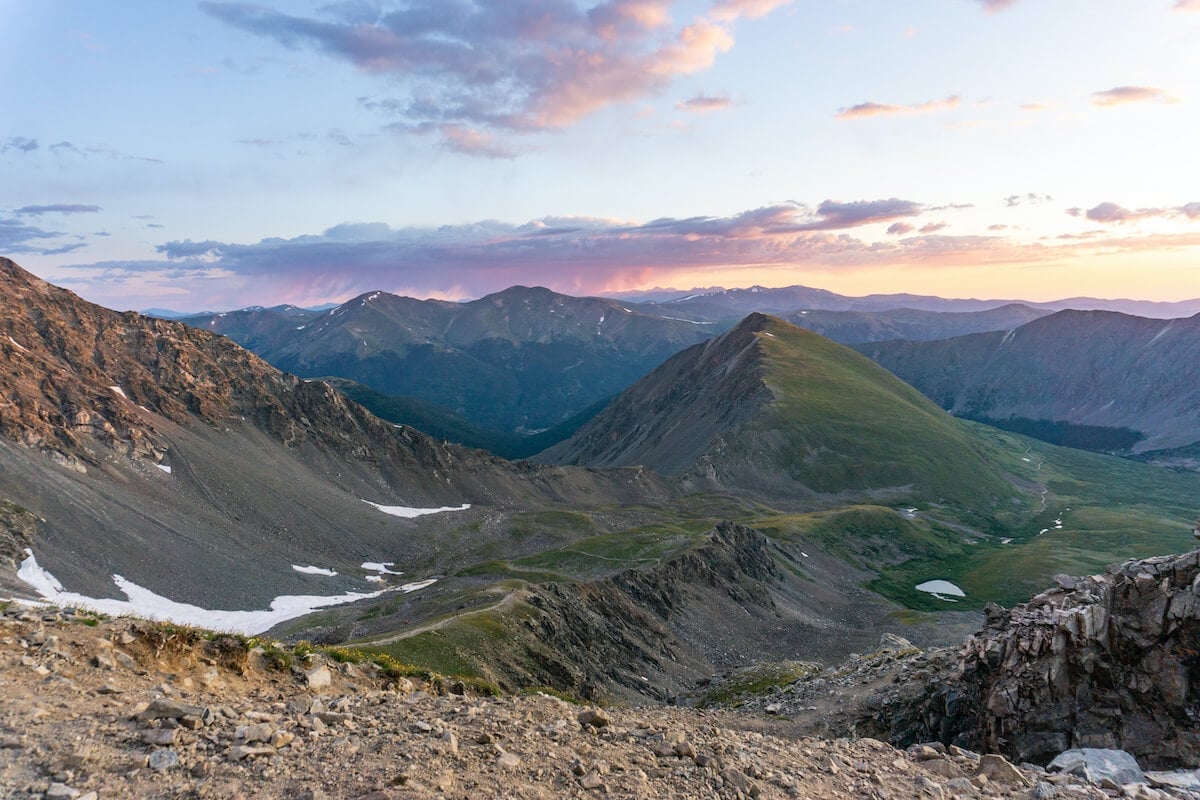 Let's get something out of the way first: there is no such thing as an "easy" Colorado 14er. Hiking a fourteener, defined as a mountain over 14,000ft above sea level, requires hiking experience, preparation, and training. Hiking at high altitude poses certain challenges, however the epic summit views after climbing a 14er are a worthwhile reward.
We've rounded up 6 of the easiest, beginner-friendly Colorado 14ers, but due to their significant elevation and elevation gain, they are by no means "beginner trails". Before hiking your first 14er, we recommend reading our guide on how to prepare for your first fourteener.
Summer thunderstorms are frequent in Colorado – and can change quickly – so always check the weather, and start your hikes before sunrise to ensure you are hiking back down by early afternoon.
Looking for an easy Colorado 14er to climb? Read about our top beginner fourteeners below!
Important Reminder: As it goes in all of the destinations we share, please practice good trail etiquette and remember to Leave No Trace. This means packing out all of your garbage (including toilet paper), being respectful to others on busy trails, and following the established rules.
Recommended Hiking Packing List
Below are a few of my favorite pieces of day hiking gear and recommendations:
Easy Colorado 14ers
Quandary Peak
Distance: 6.6 miles roundtrip
Elevation Gain: 3,326 ft
Difficulty: Hard
Trailhead start: Quandary Peak Trailhead
Quandary Peak is the most popular easy Colorado 14er, and for good reason! The trail is rocky and steep, but unlike many other beginner 14ers, this one does not require any technical scrambling. Mountain goats are frequent in this area too.
Please note that trailhead parking reservations are required from June 1-September 30. If you're unable to secure a parking reservation or if you're a small hiking group, you can also ride the shuttle, which operates 7 days a week, 5 a.m. to 5 p.m., from June 15 to Sep. 18, leaving from the Breckenridge South Gondola parking structure every 30 minutes. It costs $5 for Summit County locals and $15 for non-locals.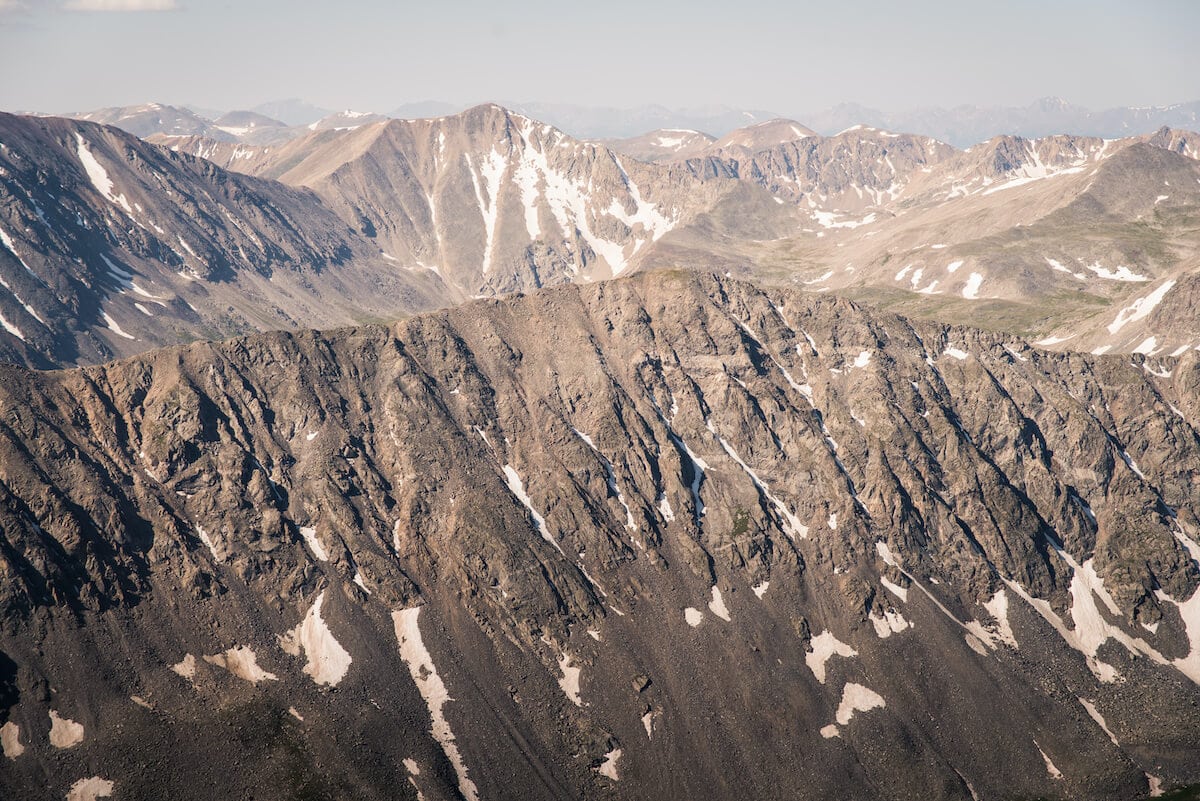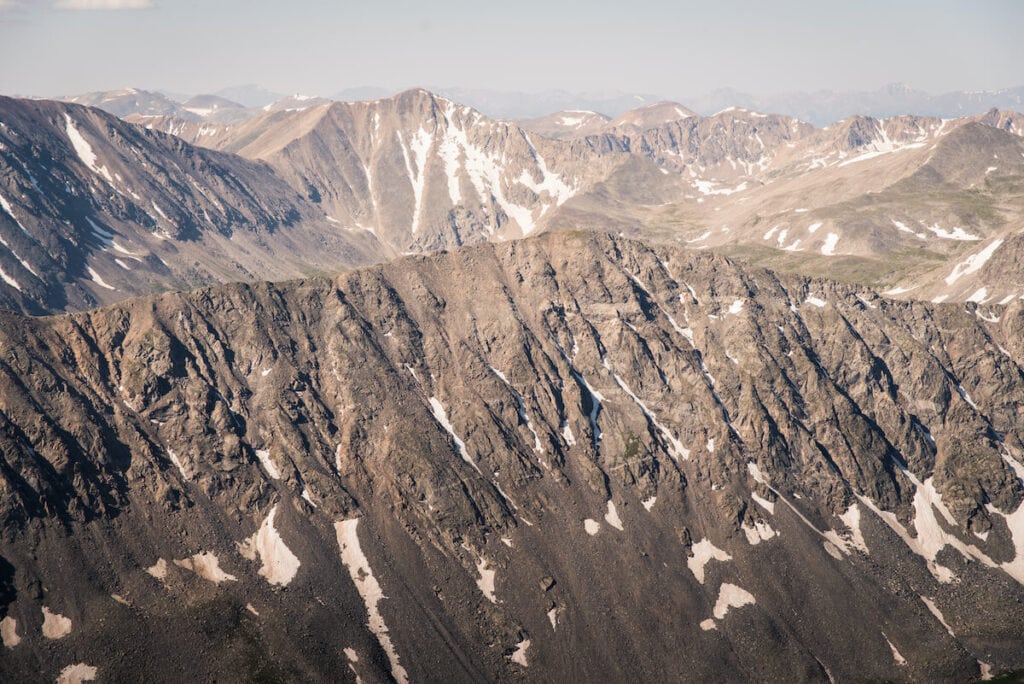 Mount Bierstadt from Guanella Pass
Distance: 7.1 miles roundtrip
Elevation Gain: 2,729ft
Difficulty: Hard
Trailhead start: Bierstadt Trailhead
Mount Bierstadt is a relatively short climb (by 14er standards) and the trailhead starting from Guanella Pass is well over 11,000 feet. That means the hike is short and not too steep – the perfect easy Colorado 14er!
Another perk is that Mount Bierstadt is easily accessible on Colorado's Front Range. With an early enough start, you can sleep in Denver, drive to the trailhead, climb a huge mountain, and be back in time for happy hour downtown (just remember to be wary of the altitude!). Mount Bierstadt's manageable stats and easy location make it a perfect first fourteener to test yourself on.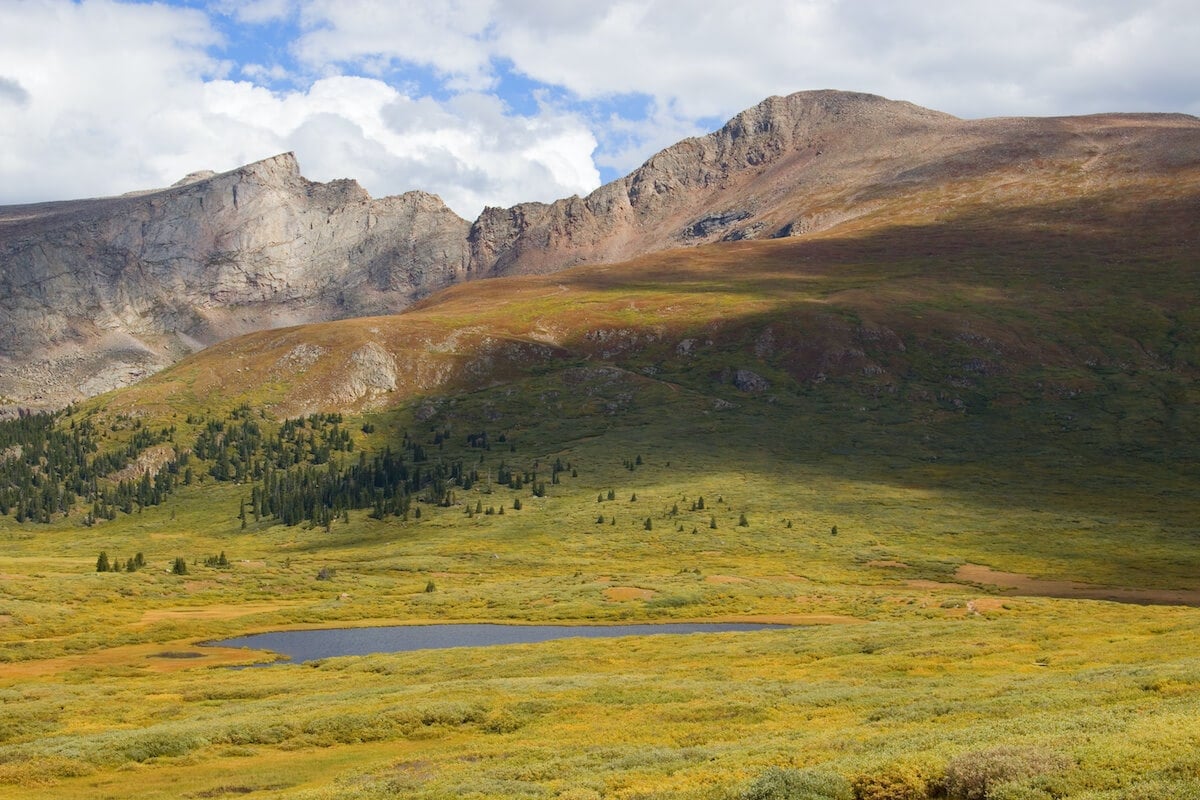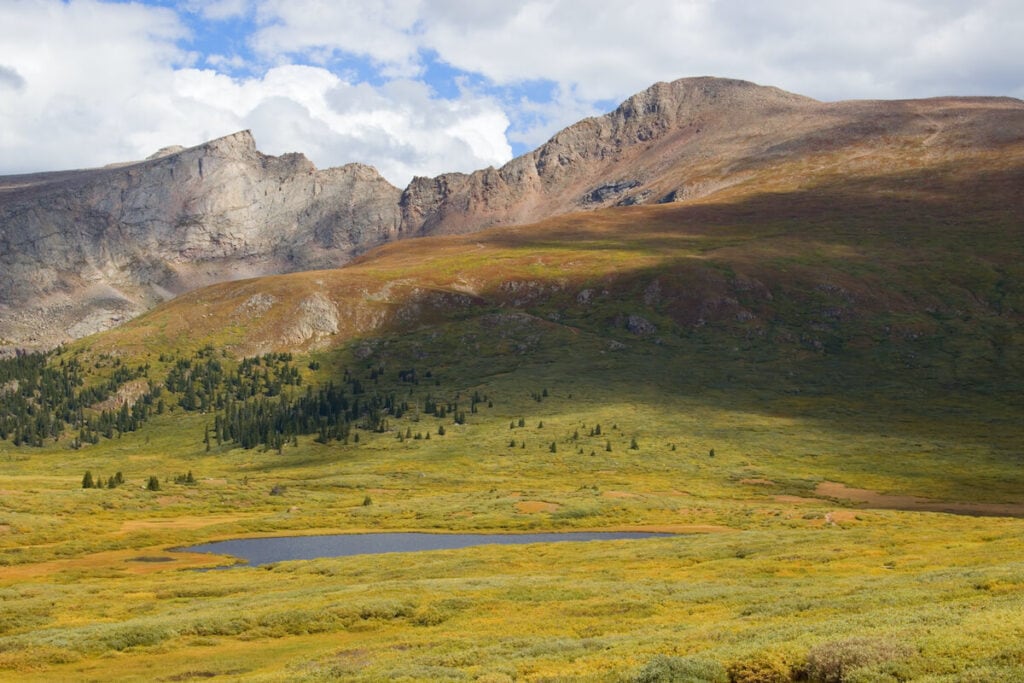 Grays Peak and Torreys Peak from the Grays Peak Trailhead
Distance: 8.1 miles roundtrip
Elevation Gain: 3,622ft
Difficulty: Hard
Trailhead start: Grays and Torreys Trailhead
Easily accessible from the Front Range, Grays Peak and Torreys Peak have awesome views the entire way – and you can knock two easy Colorado 14ers off in one hike!
Starting with Grays and its easy switchbacks, you may wonder how you'll pull off Torreys Peak as it looms high over you. However, once you reach the top of Grays at 14,270 feet, you'll see that Torreys' summit is actually three feet shorter and just a quick traverse away. The ridge that connects the two peaks is surprisingly easy and before you know it, you'll have checked two fourteeners off your list instead of one. Plus, descending on the Torreys trail (instead of the Grays trail that you came up) will give you new views of the surrounding peaks and valley.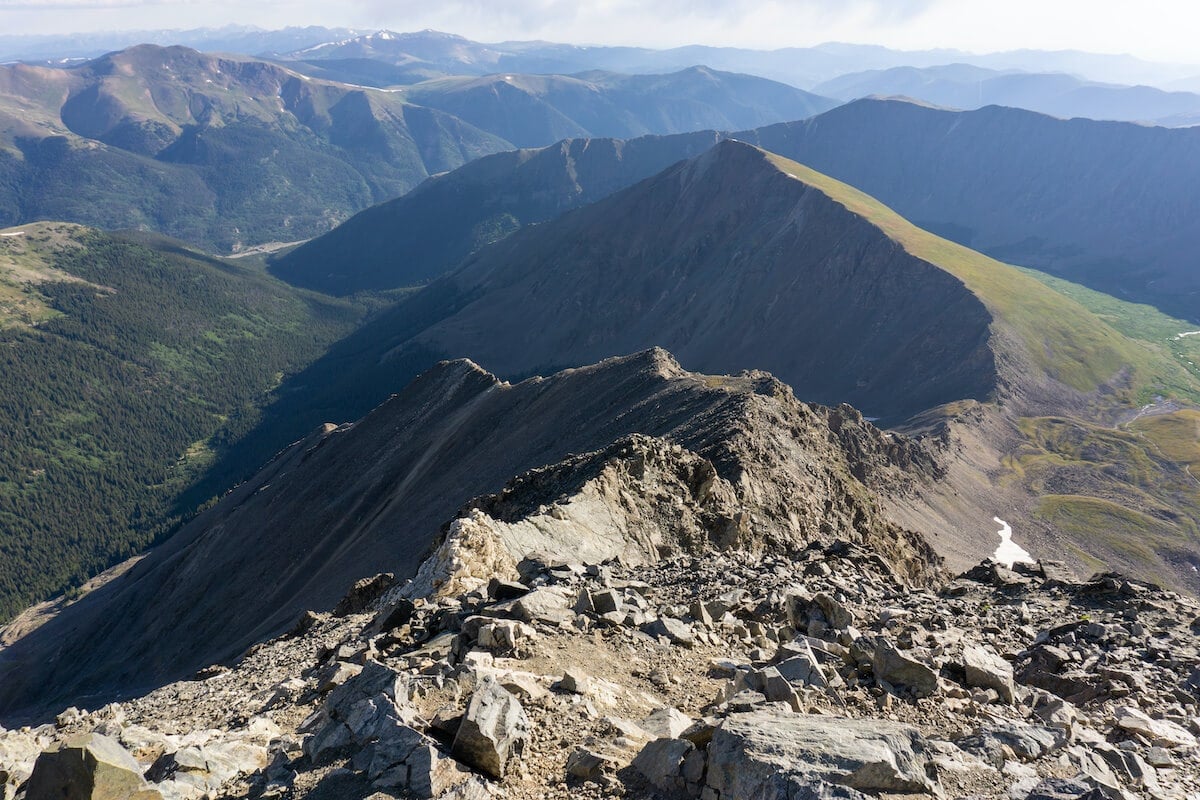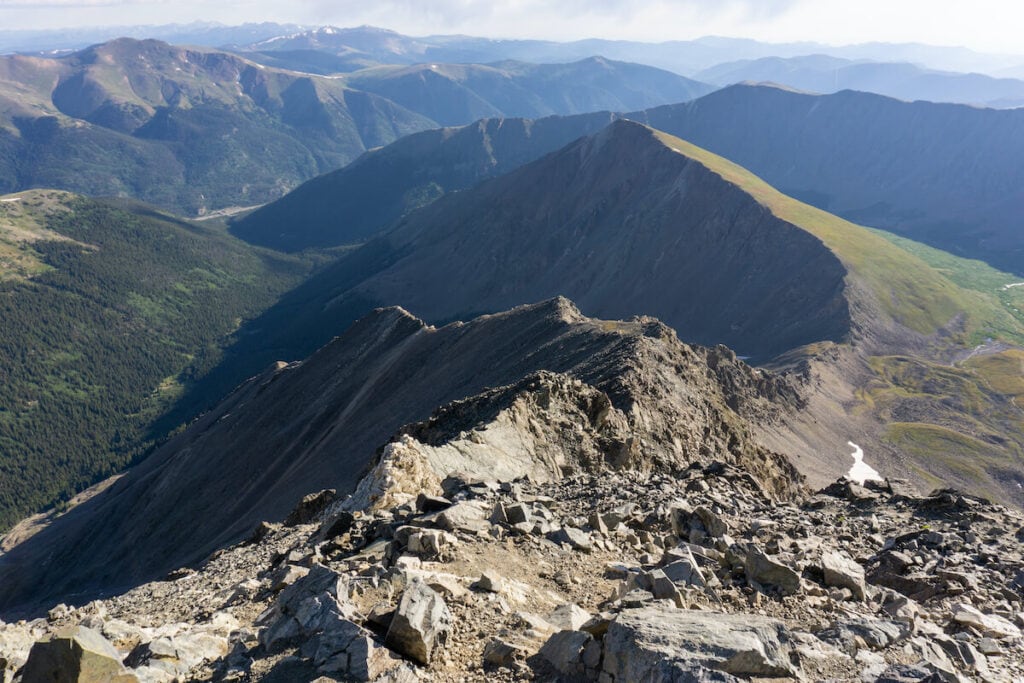 Mount Sherman via Fourmile Creek Trailhead
Distance: 5 miles roundtrip
Elevation Gain: 2,027ft
Difficulty: Hard
Trailhead start: Mt. Sherman Trailhead
Sliding down a mountain on your raincoat, a trash bag, or just the seat of your pants is some of the most fun you can have on a summer day in the mountains. Mount Sherman is our favorite for your first glissade (the fancy word for sledding on your butt).
The trail from Fourmile Creek is a nice gradual ascent starting on a 4-wheel drive road, before switch-backing up to the saddle between Mount Sherman and Mount Sheridan. From the saddle, it is an easy climb to Sherman's almost flat top. The whole trail is around 5 miles round trip but can be longer depending on how high up the 4WD road you can park your car.
*Important note: always check the trail and snow conditions before attempting this hike. Mount Sherman is best saved for a warm summer day, long after the last snowfall of the spring. Don't go if there has been a recent snowstorm and/or an avalanche danger warning. Pick a line that isn't too steep and give it a test run, using your heels to dig in and control your speed. Once you feel comfortable sliding around a bit, enjoy the exhilaration as in a matter of seconds, you cover a distance that took you all morning to climb up.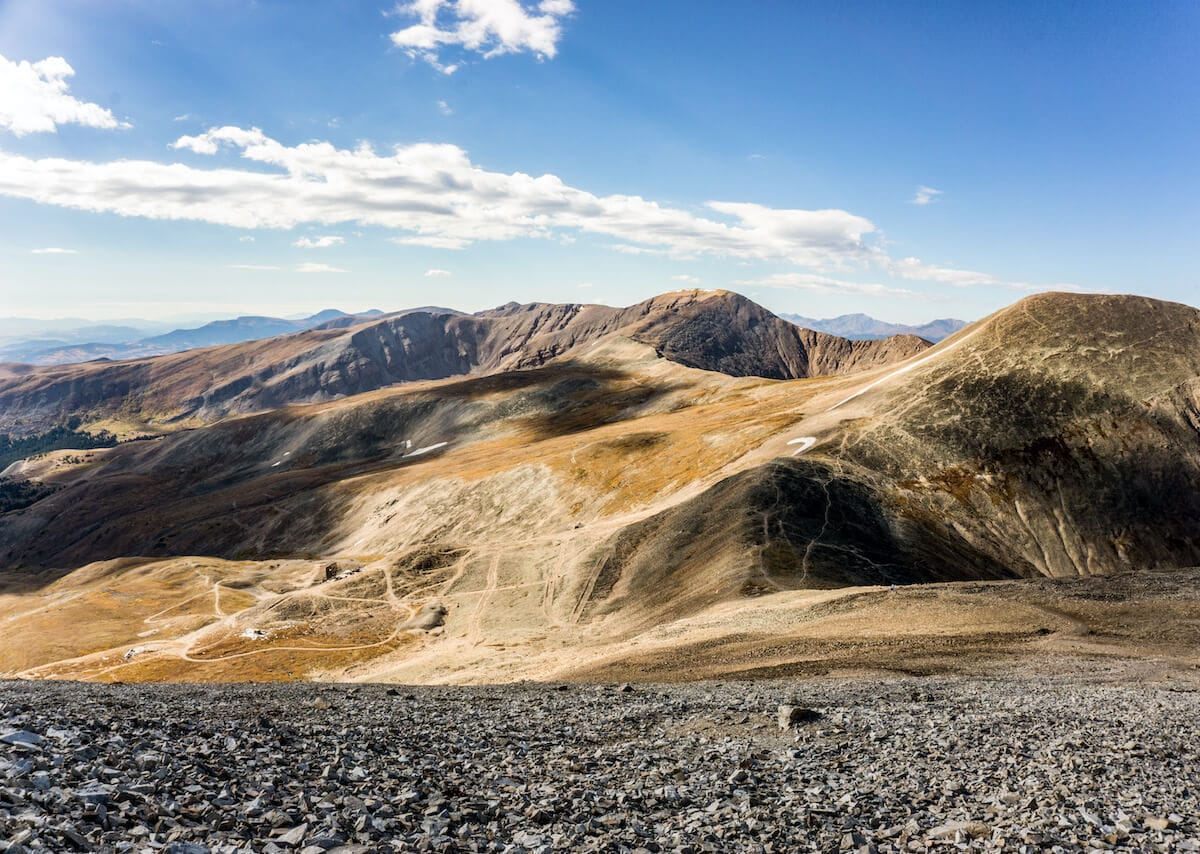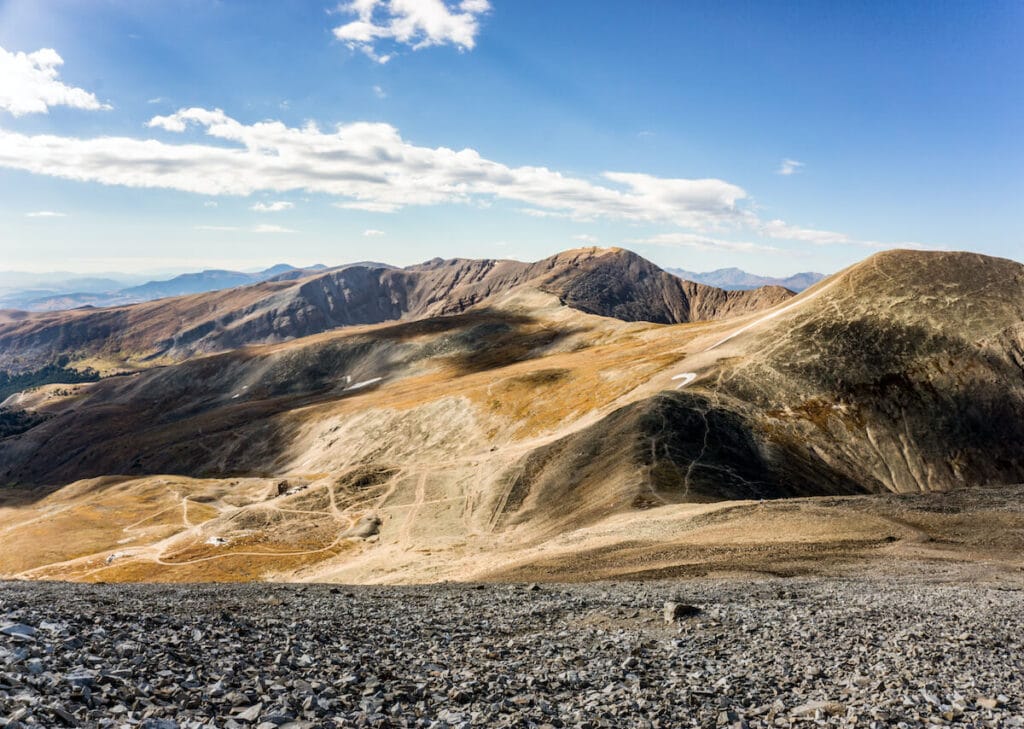 Handies Peak from American Basin
Distance: 5.3 miles roundtrip
Elevation Gain: 2,440ft
Difficulty: Hard
Trailhead start: Handies Peak Southwest Slope Trailhead
At the height of wildflower season, usually around mid-July to the start of August, American Basin is unlike anything we have ever seen. Columbine, Colorado's state flower, carpet the alpine slope above the trail, and on the other side down near the creek, red Indian Paintbrush, Bluebells, and purple Baby Elephant cover the faces all the way up the basin to the high alpine Sloan Lake. From there, one of the best trails on any fourteener leads up to the summit of Handies Peak. Up there, the San Juan Range engulfs you in every direction.
The best part? All of this beauty comes at the bargain price of only 5 miles round trip, provided you have a 4WD car that can reach the basin's trailhead. With a short climb like that, time is on your side, so take it all in and enjoy.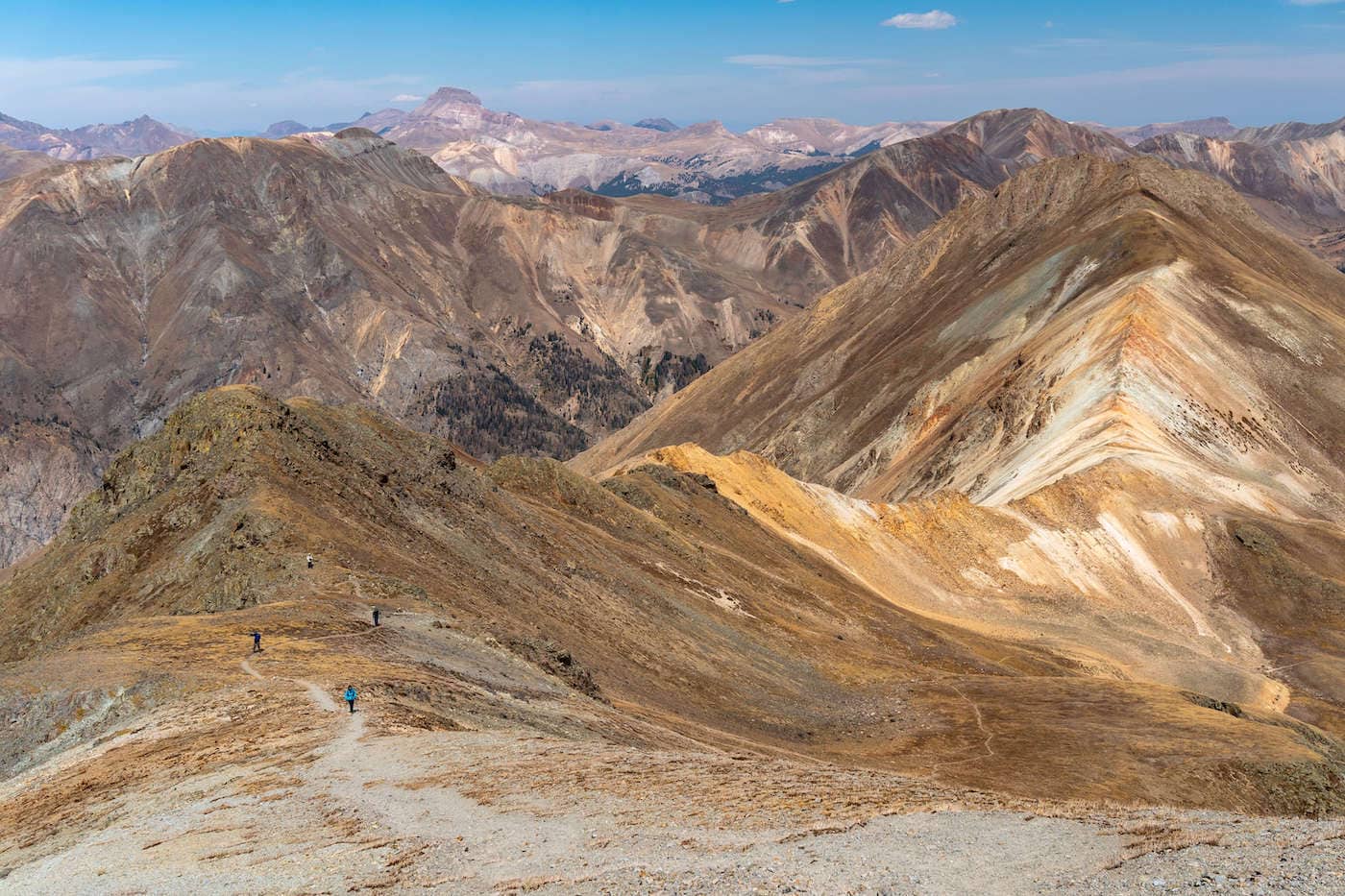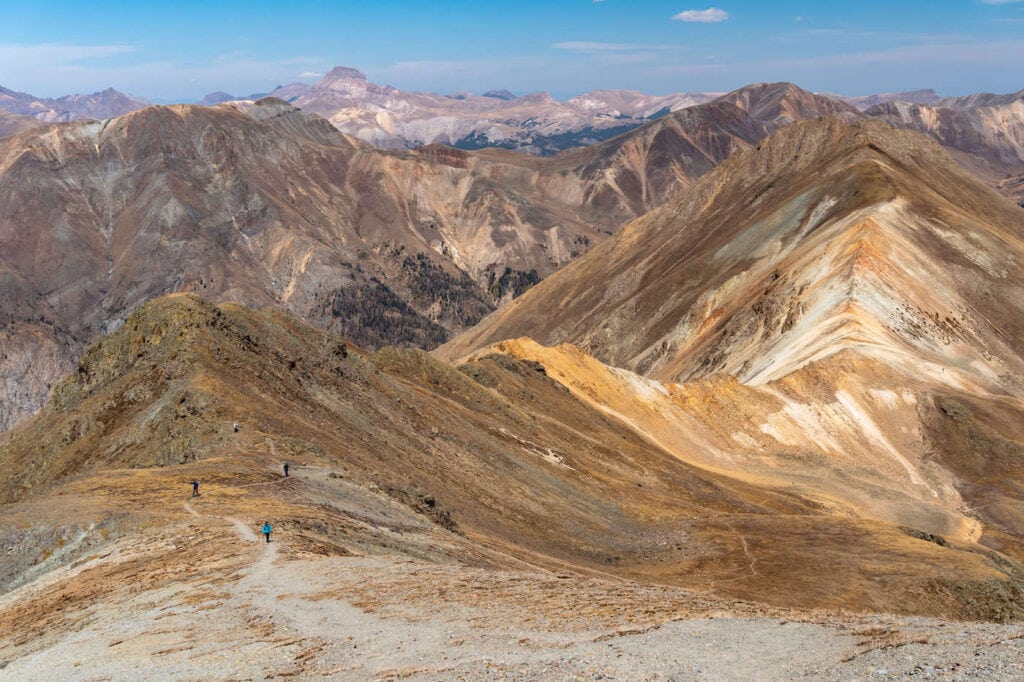 Mount of the Holy Cross via Half Moon Pass
Distance: 11.7 miles roundtrip
Elevation Gain: 5,531ft
Difficulty: Hard
Trailhead start: Mt. of the Holy Cross Trailhead
You can hike Mount of the Holy Cross in a day, but the Holy Cross Wilderness is one of the prettiest wilderness areas in Colorado, so getting to spend a little more time in this backcountry paradise and splitting the climb into two shorter days is a no-brainer.
For the perfect intro to fourteener backpacking, on Friday night hike in and up over Half Moon Pass and down to the creek (about two miles). Set up camp there and enjoy a night in the wilderness while you get used to the altitude. Then, get up nice and early Saturday morning and tackle the ascent (around six miles round-trip).
Since you've cut off some distance and slept at altitude, the climb to the summit and back to camp should be easier, letting you soak in the incredible views. Once you are back at camp, you can relax and enjoy another night out – that way there's no need to rush to beat the afternoon storms back to your car or to worry about the climb back up and over Half Moon Pass. You'll have all day Sunday to do that!
*Note: After a few comments from readers, we want to clarify that Holy Cross is a serious mountain, and is the most advanced on this beginner list. It should only be attempted after you've gotten a few 14er day hikes under your belt and are ready to progress to an overnight backpacking trip.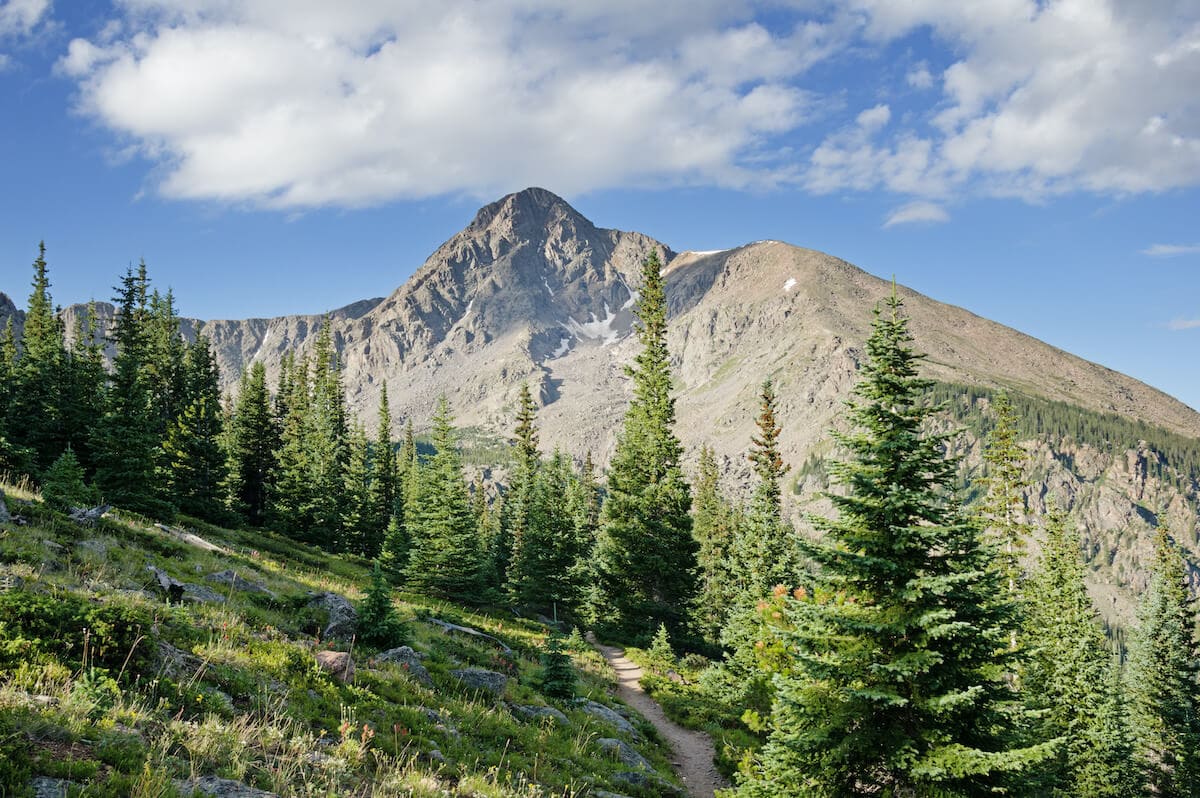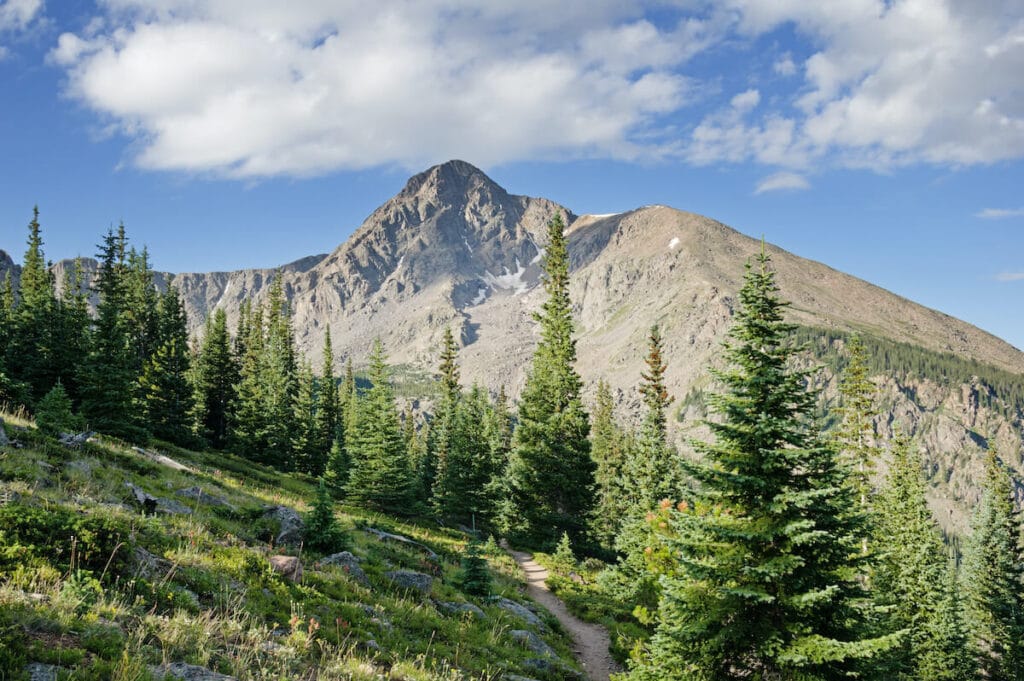 Are you planning to hike a Colorado 14er? Are we missing any easy Colorado 14ers on our list? Let us know in the comments below!