Get off the Strip: 10 Outdoor Activities in Las Vegas
Looking to get away from the casinos? Here are our favorite outdoor activities in Las Vegas to get you outside and off the strip.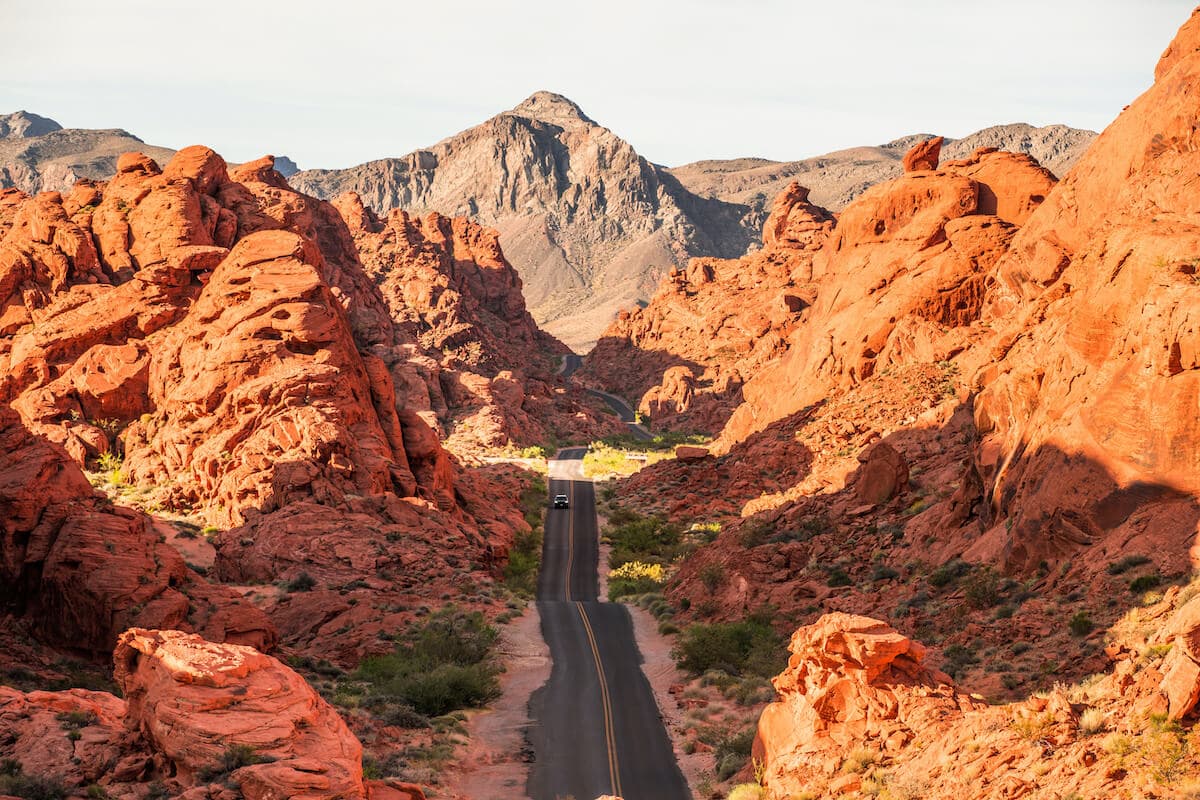 Most people visit Las Vegas and don't venture beyond the famous 4-mile Strip, but believe it or not, there are tons of amazing outdoor activities near Las Vegas! When I first started this blog, I spent a year living in Las Vegas and during that time I learned that there's a lot more to Vegas than smoky casinos and glitzy nightclubs.
Venture just a short drive away from the strip and you'll discover hot springs, snowy mountains, red rock canyons, and plenty of jaw-dropping hiking trails. In this blog post, I share some of my favorite outdoor activities in Las Vegas.
Looking for the best outdoor activities in Las Vegas? Get out of the casinos and get into nature with our favorite things to do in Las Vegas off the strip.
Important Reminder: As it goes in all of the destinations we share, please practice good trail etiquette and remember to Leave No Trace. This means packing out all of your garbage (including toilet paper), being respectful to others on busy trails, and following the established rules.
Best Outdoor Activities in Las Vegas
Red Rock Canyon
Red Rock Canyon National Conservation Area is Nevada's first National Conservation Area and is located less than 30 minutes from the Strip. This is a must-visit area for climbers as well as hikers with 19 marked hiking trails and some of the best hiking within a close proximity to the Strip. Ice Box Canyon is a cool, shady hike through a canyon with seasonal waterfalls. Calico Tanks Trail is one of the most popular hikes in the area and leads to beautiful views of the Strip after a little bit of scrambling.
Red Rock Canyon is typically 5-10 degrees cooler than in town, but if you plan to visit during the summer, be prepared to hike at sunrise or sunset because it's still very hot. Most of the trails are fully exposed, so make sure you have adequate sun protection.
If hiking or climbing isn't your thing, the 13-mile scenic drive loop is nice to admire the gorgeous red rocks.
Mt. Charleston
There are many options for Las Vegas hikes, and the best spots depend on the season. In summer, head up to Mount Charleston to get some reprieve from the heat. Higher elevations here result in temperatures that can be as much as 20 degrees cooler than in downtown Vegas.
Surrounded by ponderosa pine, bristlecone, and aspen trees, you'll be surprised that you're only 50 minutes from the Strip! The aspens turn a gorgeous yellow in the fall (usually sometime in September or early October) so it's the perfect fall place to hike near Las Vegas.
The Raintree Trail is a forested trail whose main attraction is a huge 3,000-year-old bristlecone pine tree. Some of our other favorite Mt. Charleston hikes include Mary Jane Falls, which ends at a seasonal waterfall, and Cathedral Rock which has beautiful views of the surrounding mountains that look nothing like what you would expect in Vegas.
During winter, Mt. Charleston actually gets snow! You can ski and snowboard at Lee Canyon or learn to snowshoe with Go Mount Charleston.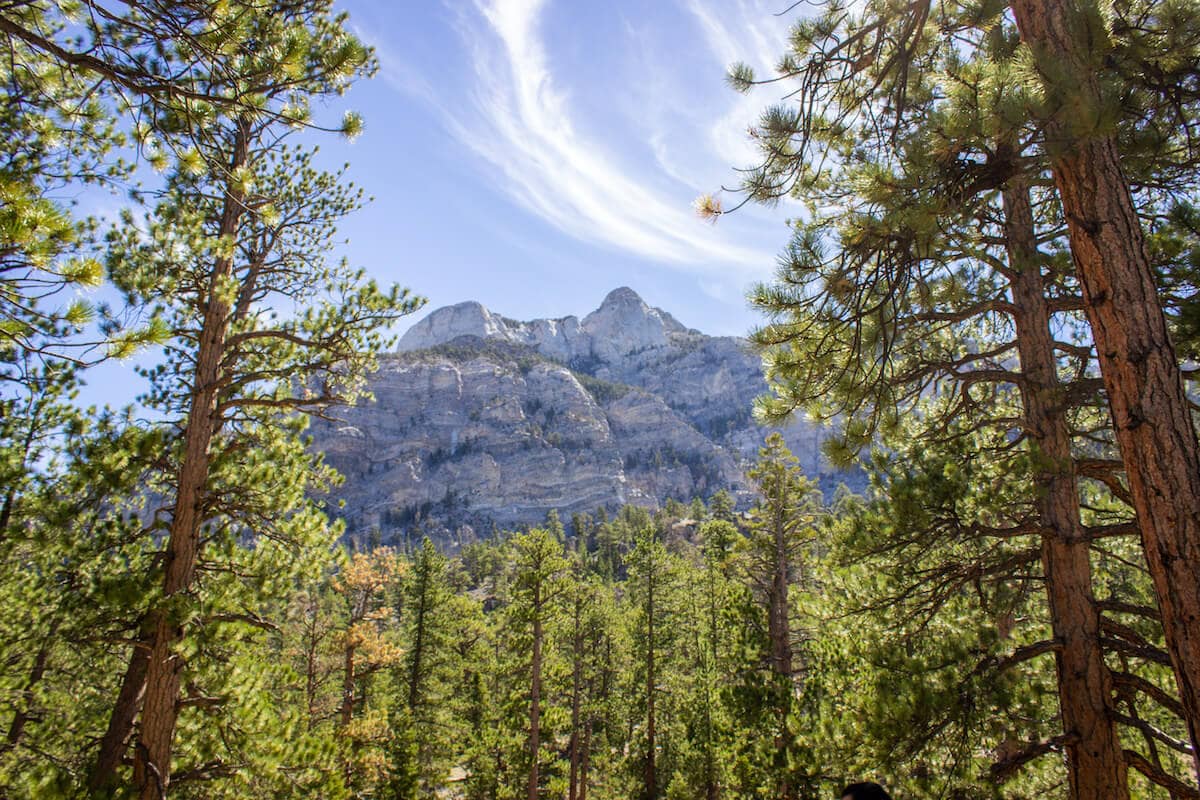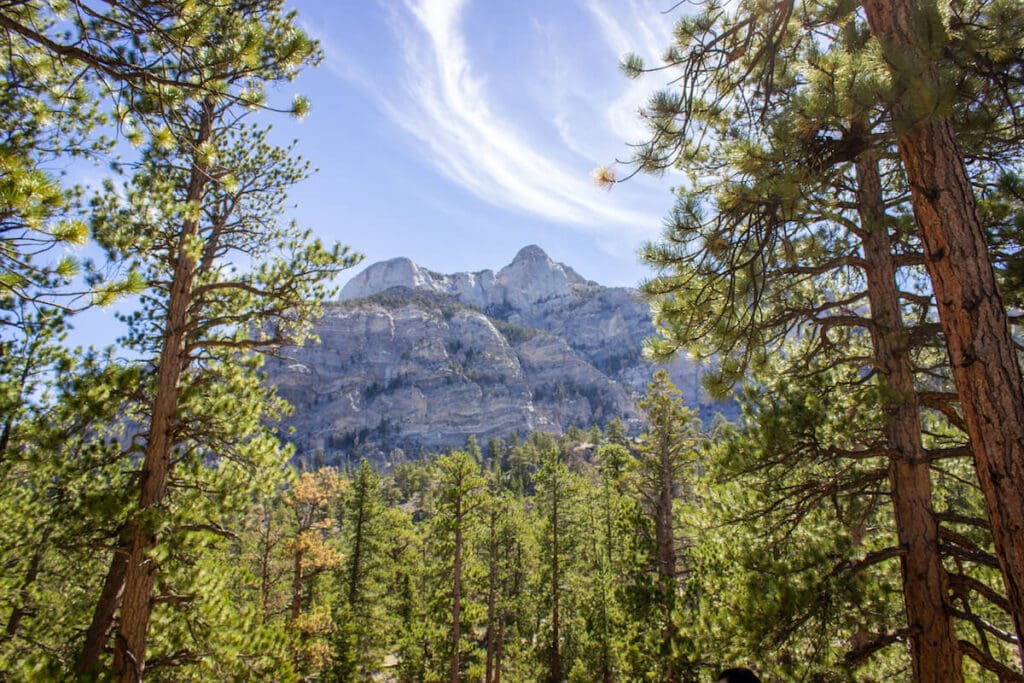 Valley of Fire
The oldest and largest of Nevada's state parks, Valley of Fire State Park, features bright red Aztec sandstone and will have you feeling like you're on Mars. Only an hour northeast of Las Vegas, the stunning park is home to petrified trees, 2,000-year-old petroglyphs, and great hiking trails.
Most of the hiking trails in Valley of Fire are short (less than 2 miles) and you can cover a lot in one day. Don't miss the Fire Wave Trail which leads to a picturesque rock that folds into a rainbow of reds, oranges, yellows, and pinks and rivals The Wave. Other top Valley of Fire hikes include Natural Arch and Elephant Rock.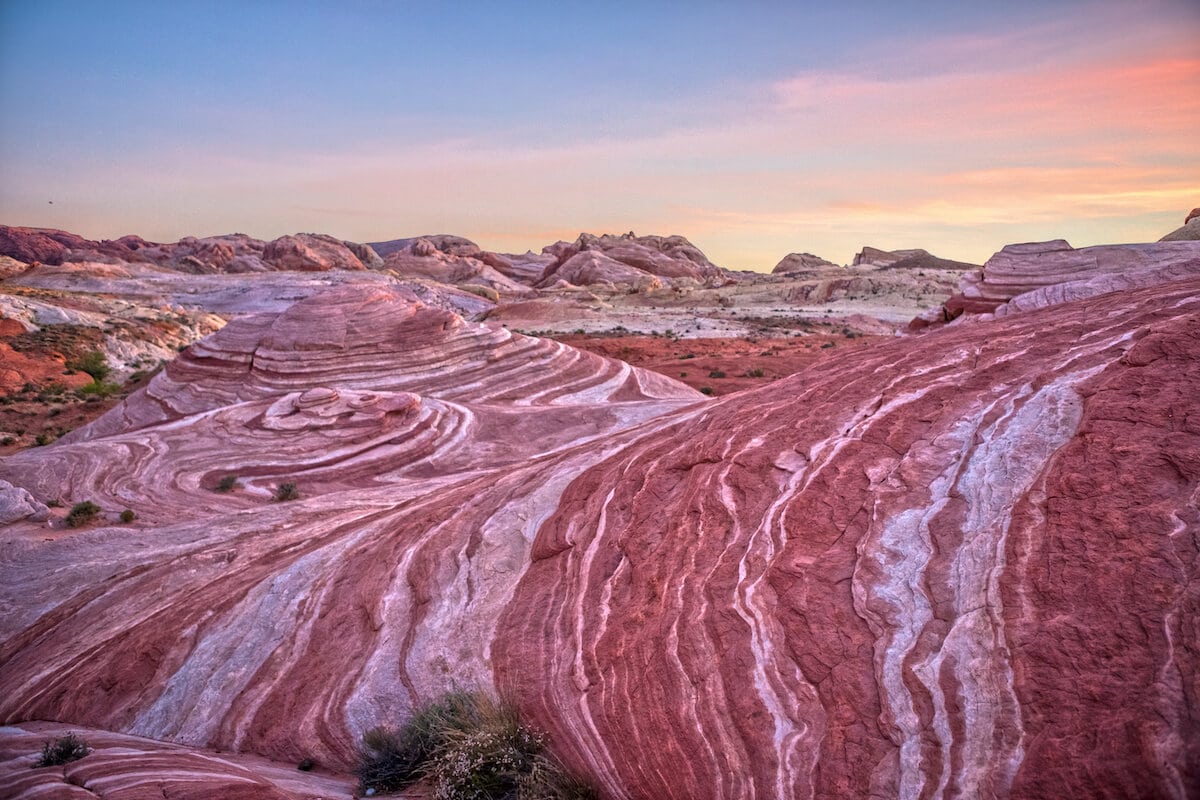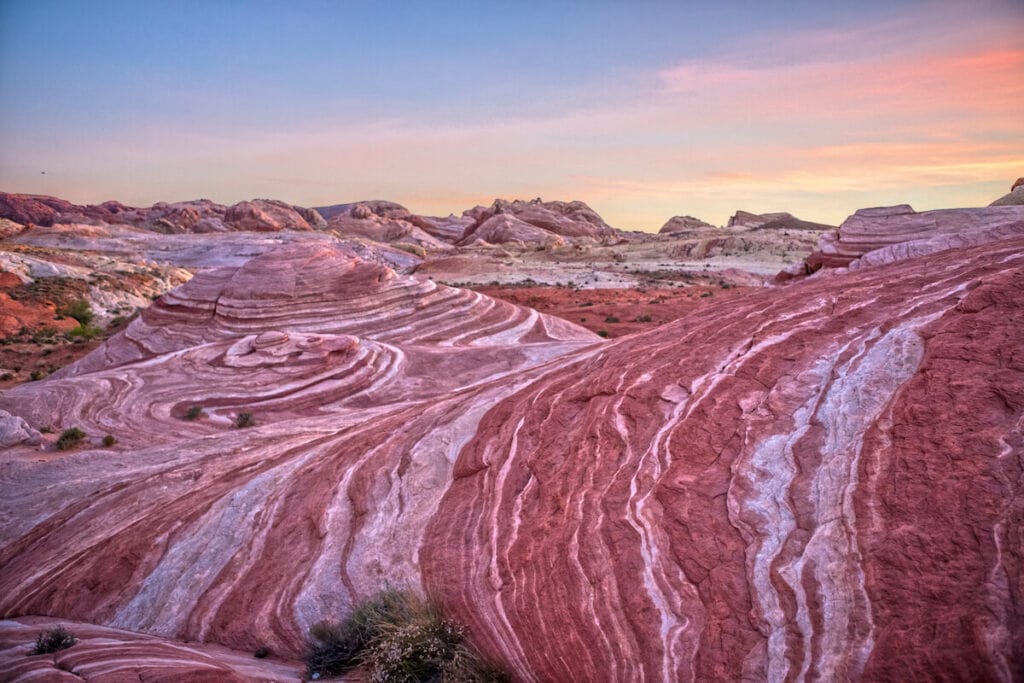 Lake Mead
Lake Mead National Recreation Area lies just east of Las Vegas and offers a ton of outdoor activities. If you're into biking, the 34-mile paved River Mountains Loop Trail connects Lake Mead, Hoover Dam, Henderson, Boulder City, and the rest of the Las Vegas Valley.
There are several spots around Lake Mead to rent boats, stand up paddle boards, or kayaks.
For hiking, Anniversary Narrows is one of my favorite Las Vegas hiking trails. The trail begins in a wash and ends in a twisted narrow slot canyon with a variety of colors and geologic features. If you've never done any slot canyon hiking, this is a beautiful, beginner-friendly hike that will make you hungry for more slot-canyon adventures.
The Historic Railroad Trail, which follows the last preserved section of railroad bed that once served the construction of the Hoover Dam and the creation of Lake Mead, is another popular spot. You can walk or bike this trail (which includes 5 short railroad tunnels) and has awesome views of the lake leading you all the way to the Hoover Dam.
If you're up for a more challenging hike, Fortification Hill climbs 1,400 feet and on a clear day, you can see the Hoover Dam, Lake Mead, The Strip, and Mt. Charleston. This is a hidden gem for Las Vegas hiking trails!
>> Read Next: What To Wear Desert Hiking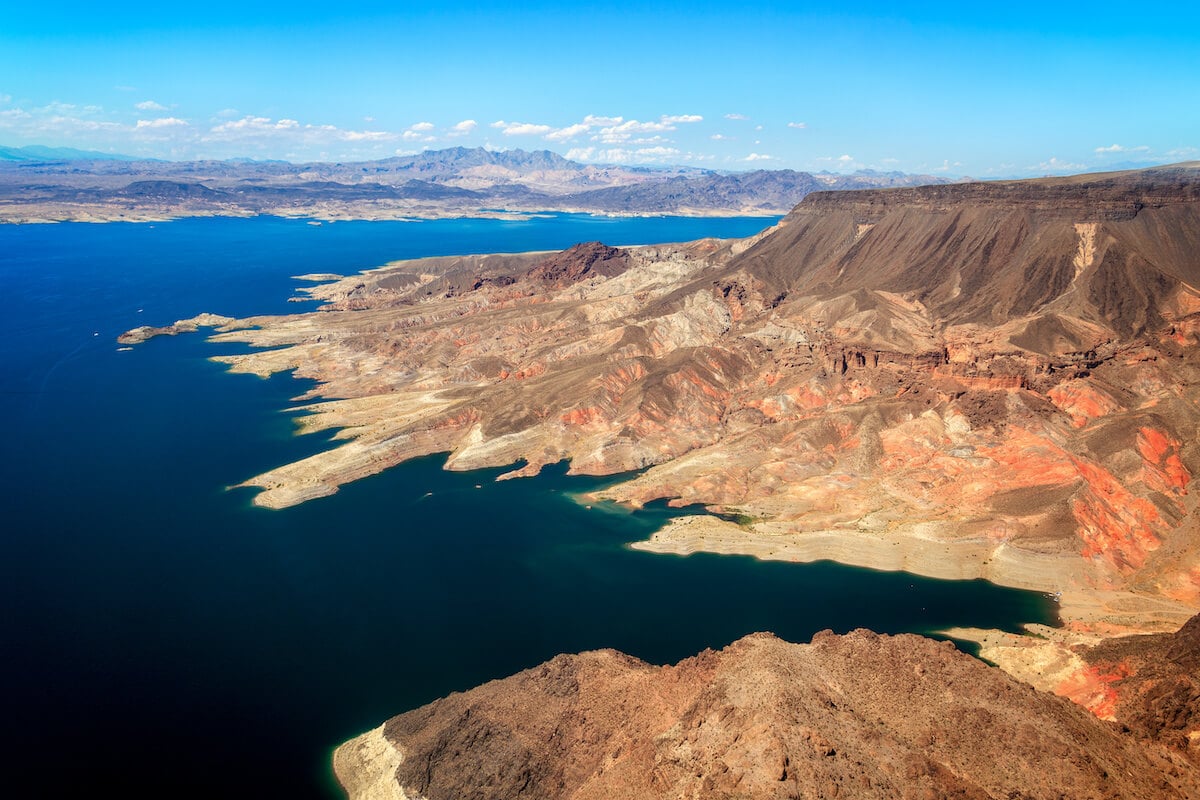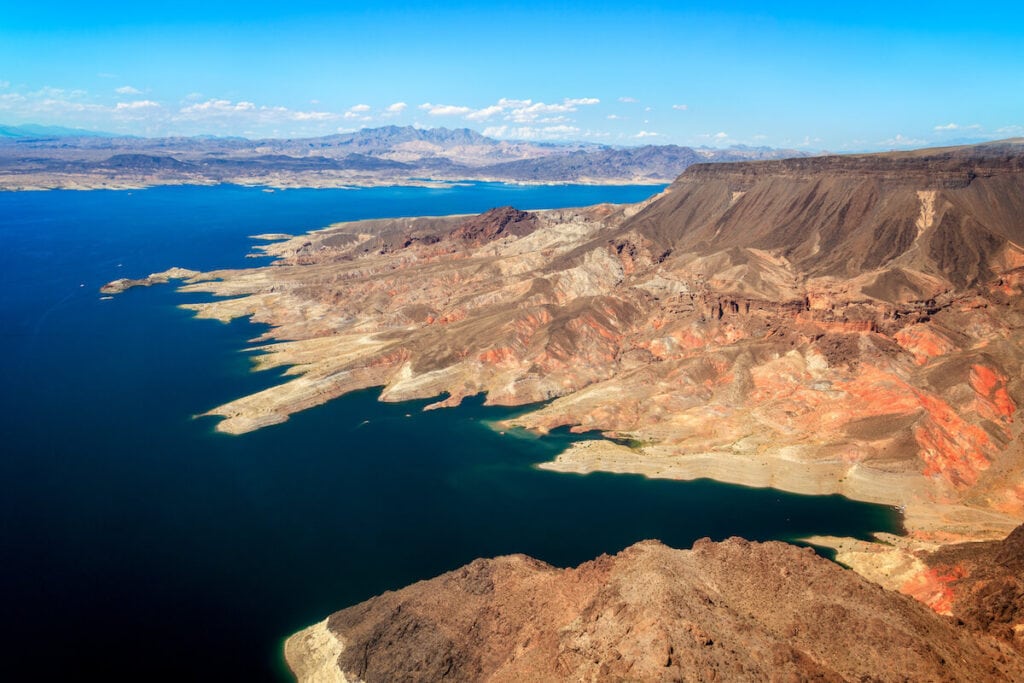 Lake Las Vegas
Lake Las Vegas is a Mediterranean themed resort community about 30 minutes from the Strip that is situated on a 320-acre lake and surrounded by desert mountains. Lake Las Vegas Water Sports rents stand-up-paddle (SUP) boards, kayaks, and electric boats by the hour.
If you're looking for something a little more extreme, you can also try fly boards, use their wakeboard cable park, or their aqua park full of inflatable water toys.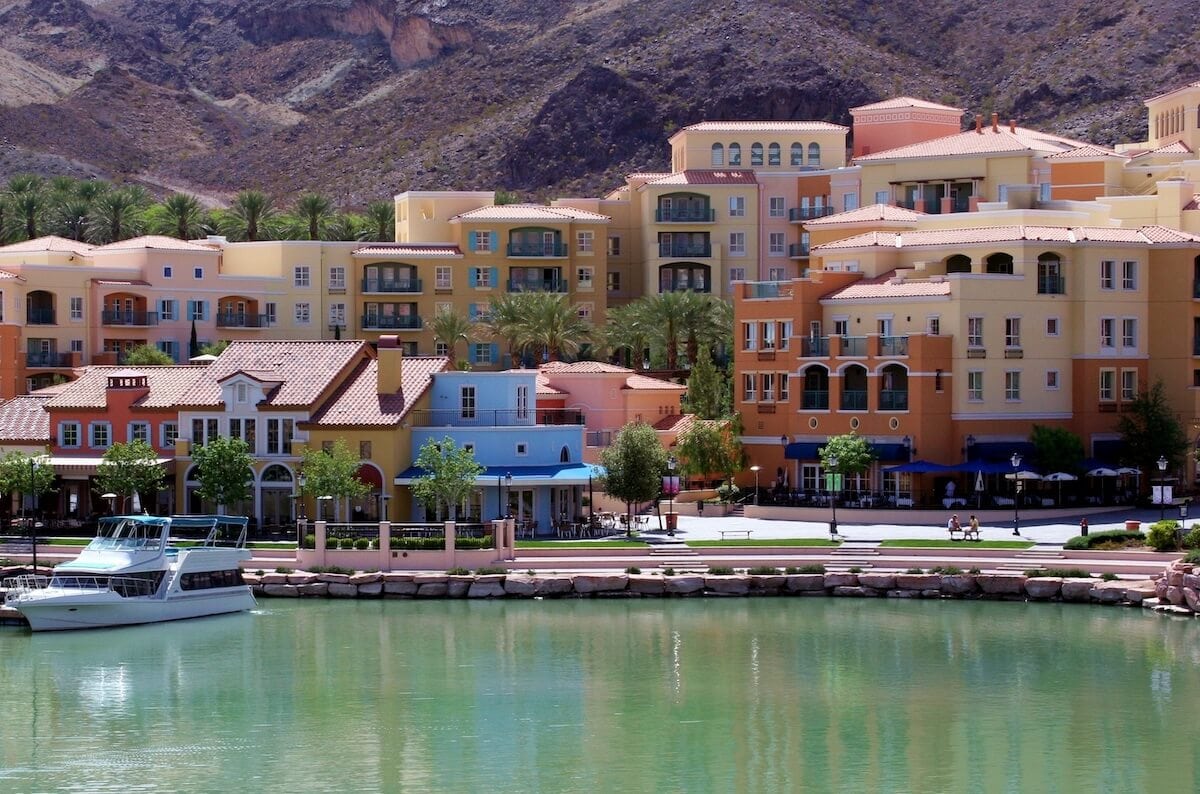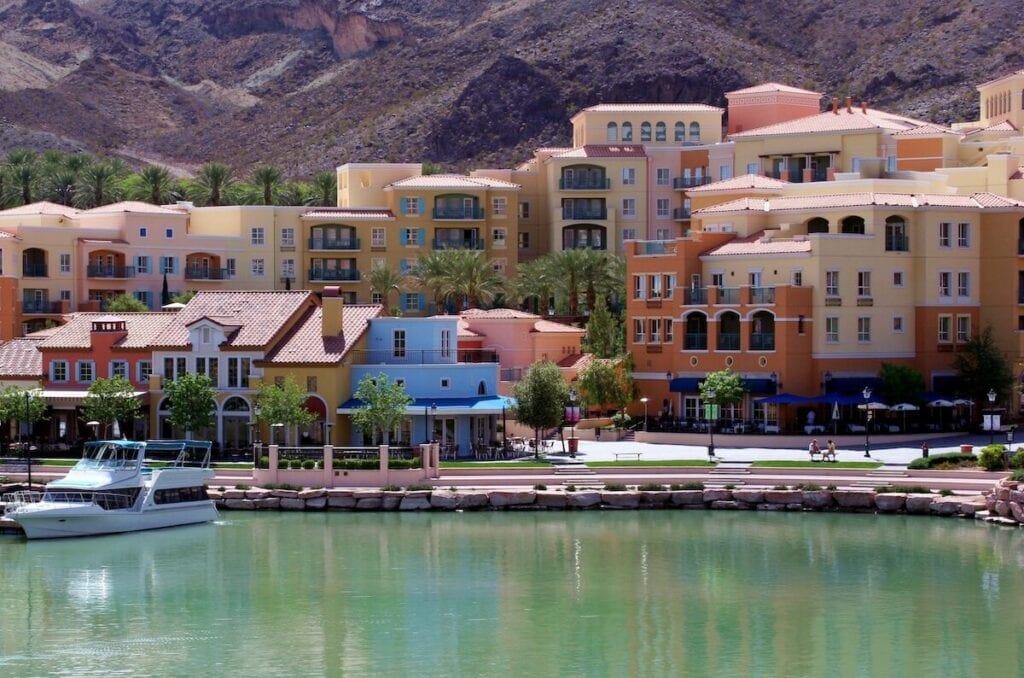 Black Canyon
The Black Canyon Water Trail lies only 45 minutes from the Las Vegas Strip. This 12-mile, tranquil stretch of the Colorado River is a paddler's paradise that will take you through dramatic desert landscapes and narrow slot canyons. The trip begins at the bottom of the Hoover Dam and can be done in a single day (although we highly recommend camping for a night!).
And as if that weren't enough, there are some awesome natural hot springs to soak in too. Check out my blog post on Kayaking the Black Canyon for all the logistical details – Black Canyon is my favorite outdoor activity in Las Vegas!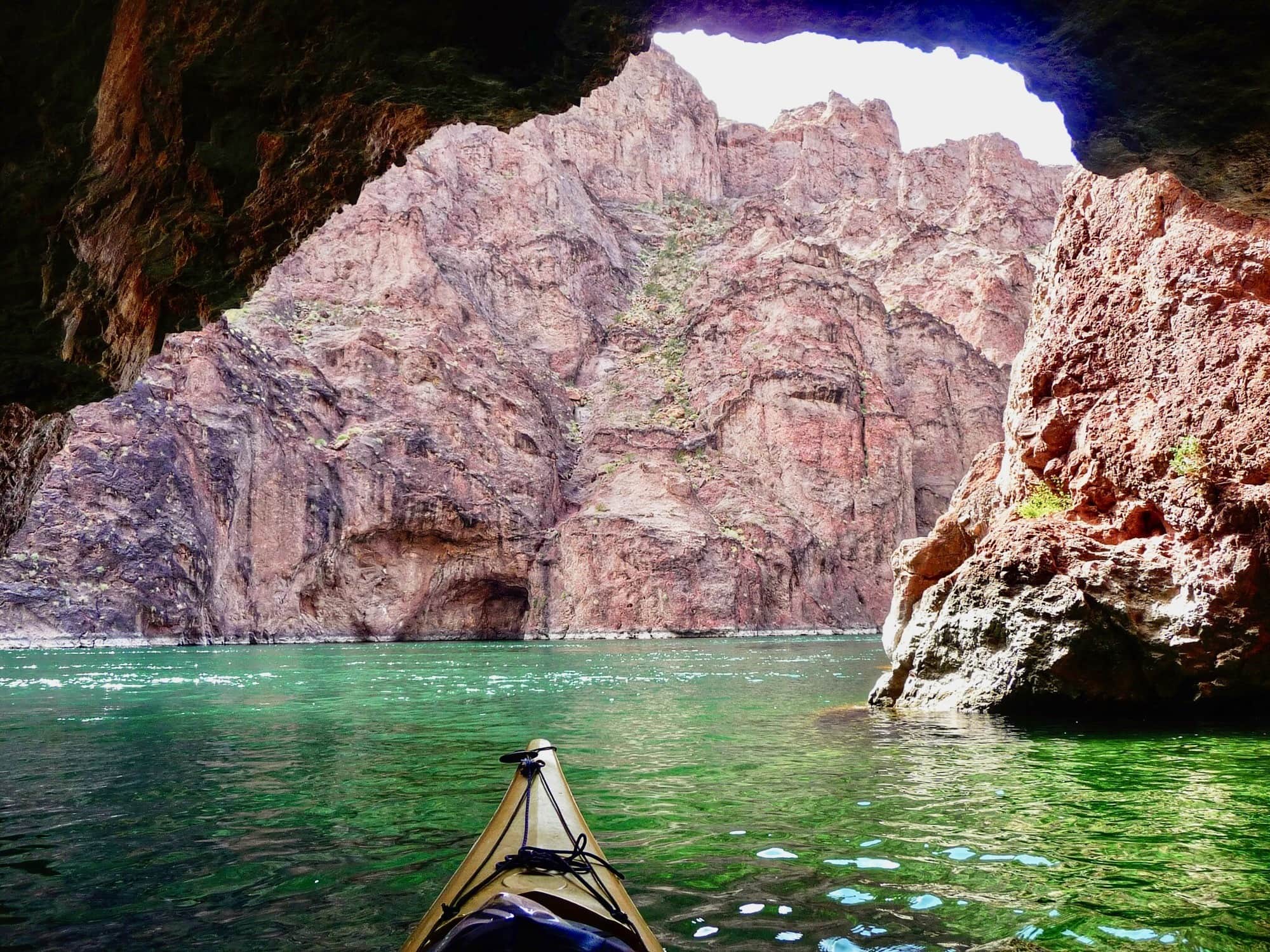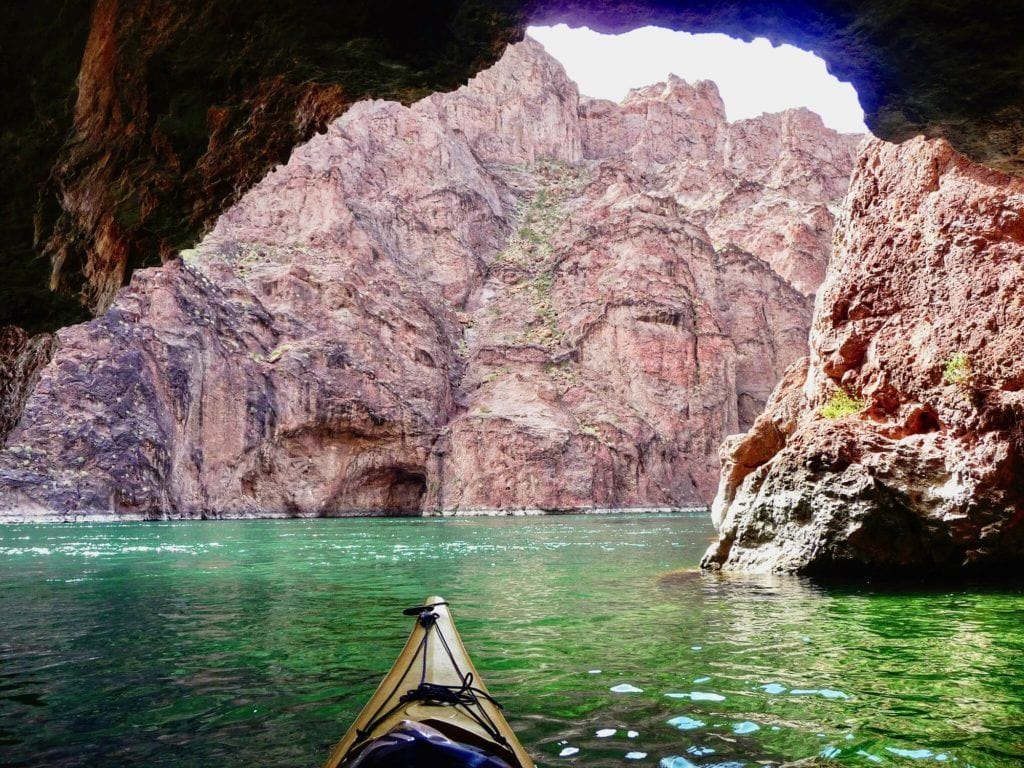 Arizona Hot Springs
Arizona Hot Springs is a beautiful pool located in a narrow slot canyon just above the Colorado River. You can get to the hot springs from the Black Canyon Water Trail (via boat) or a moderate 5.6-mile round trip hike (via foot). The effort is more than worth it, especially in the winter when it is cooler and you can enjoy a nice long soak.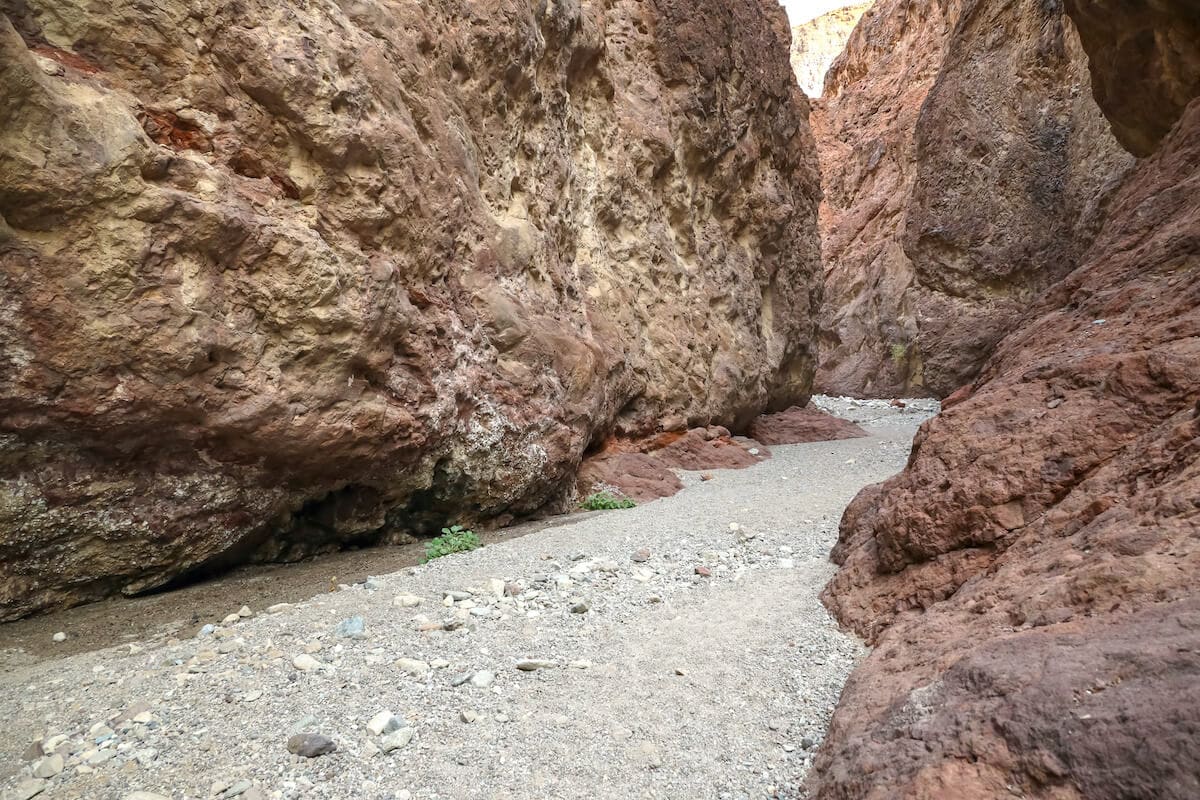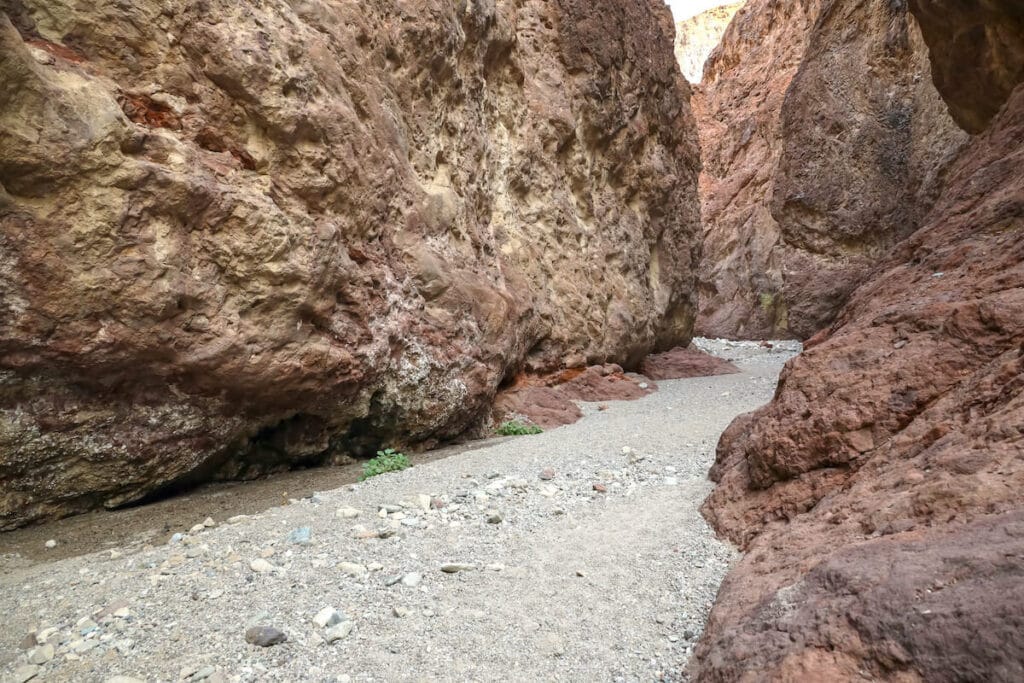 Gold Strike Canyon Hot Springs
Another popular hot spring near Las Vegas is Gold Strike Canyon. You can also access these hot springs from paddling the Black Canyon, or by hiking in. If you choose to hike in, expect third class scrambling and bouldering by navigating through an 8 rope course that weaves in and out of house-sized boulders. This is an all day adventure but a nice soak is so worth it!
* Note — due to extreme temperatures, both Arizona and Gold Strike Hot Springs are closed every year from mid May – end of September.
For more hot springs in Nevada, check out our comprehensive guide.
Nelson's Landing and Nelson Ghost Town
Thrill seekers love Nelson's Landing, where you can cliff jump into the Colorado River in-between Lake Mead and Lake Mohave. If heights aren't your thing, you can just chill and relax on the beach and watch the jumpers. This is the best outdoor activity to beat the Vegas summer heat!
Note: Every year the river level drops, so please use extreme caution if you choose to cliff jump.
Be sure to check out one of our favorite Nevada Ghost Towns on your way out to Nelson's Landing — Nelson Ghost Town.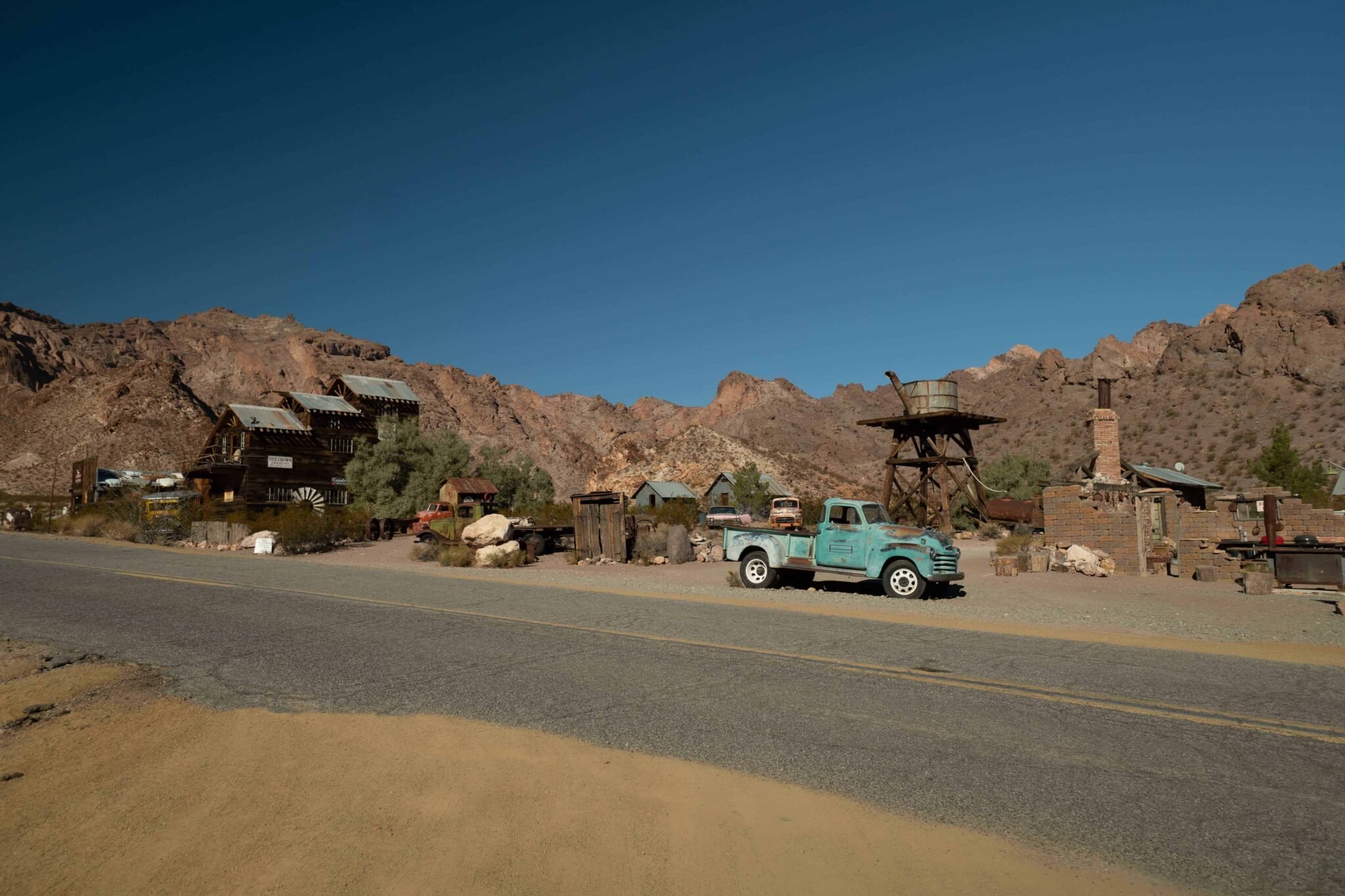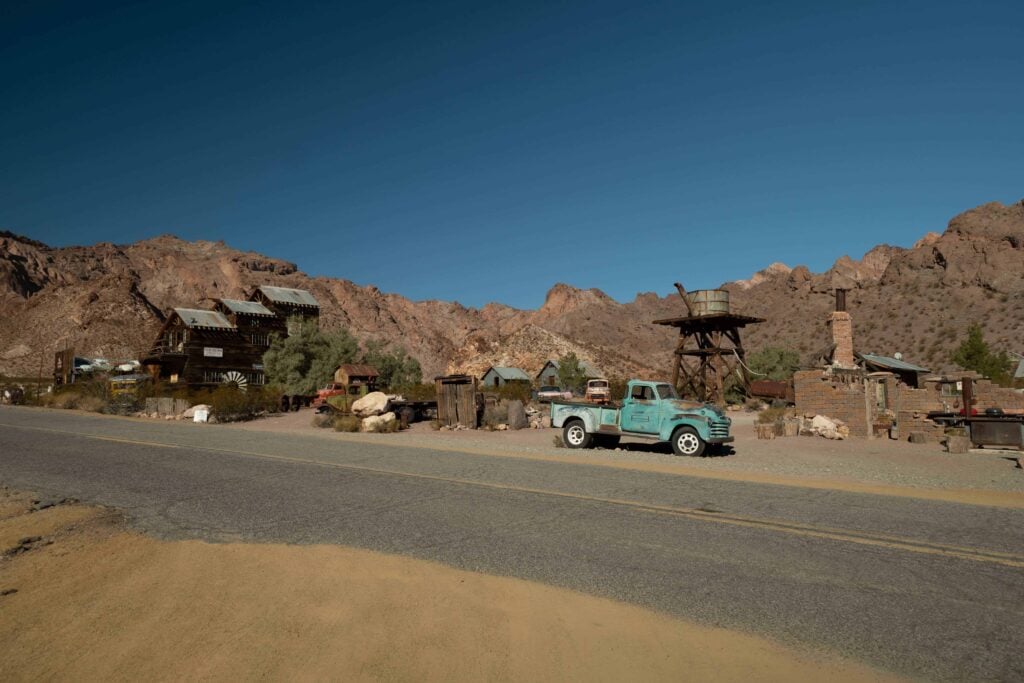 Bootleg Canyon
Bootleg Canyon, located just 23 miles from the Strip, is a mountain biker's dream with over 20 trails for all skill levels with awesome views of Lake Mead and the Strip. This park is open 24/7 (it is Vegas, after all!).
You can also do a flight over the Mojave Desert with Flightlinez Zipline Tour in Bootleg Canyon. The tour includes four separate zip lines with the longest line being almost 1/2 mile. If the daytime tour isn't thrilling enough, from April to October, they also offer a sunset tour. Knowing how epic the sunsets are here in Las Vegas, I bet this would be awesome. (Note: As of October 2021, Flightlinez has suspended their tours due to COVID-19.)
Have you visited Las Vegas or are you planning a trip there? What are your favorite outdoor activities in Las Vegas? Leave a comment below and let us know!