Maligne Lake Kayaking Trip in Jasper National Park
MALIGNE LAKE KAYAKING TRIP IN JASPER NATIONAL PARK One of the coolest things I did last summer was an overnight kayaking trip on…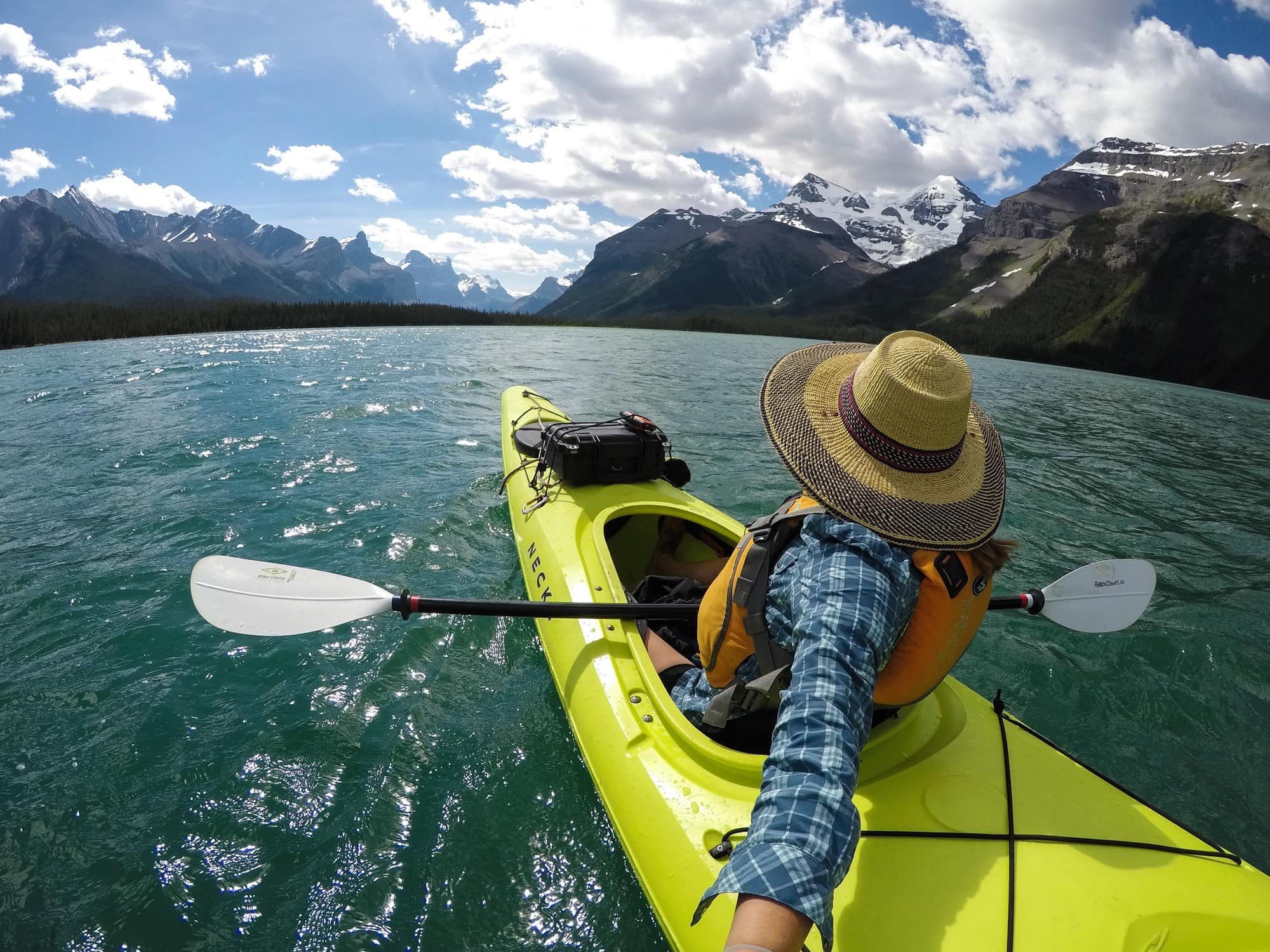 MALIGNE LAKE KAYAKING TRIP IN JASPER NATIONAL PARK
One of the coolest things I did last summer was an overnight kayaking trip on Maligne Lake in Alberta's Jasper National Park. This turquoise colored lake is about 14 miles long and is surrounded by glaciers and the soaring Rocky Mountains. There are only three backcountry campgrounds on the lake, the furthest only accessible by non-motorized boat. That means that those willing to kayak to the end of the lake can find solitude away from the tourist boats visiting the famed Spirit Island. 
In this blog post, I share everything you need to know to plan a day or overnight kayaking trip on Maligne Lake, including the cheapest place to rent a kayak, how to get a coveted camping reservation, and how to be bear aware during your kayaking trip.
Start planning your Maligne Lake kayaking adventure now!
Important Reminder: As outdoor recreationists, it's our responsibility to know how to recreate responsibly on the water whether we're kayaking, paddleboarding, canoeing, rafting, or boating. Learn how to prevent the spread of aquatic invasive species with 3 easy steps that have a huge impact on our ecosystems.
Where is Maligne Lake?
Maligne Lake is located about 30 miles from the town of Jasper, Alberta in Jasper National Park and a few hours north of Banff. If you plan ahead, a visit can easily be worked into your Canadian Rockies road trip.
The closest international airport is Edmonton, about a 5 hour drive. Calgary is slightly further away, but flying in and out of Calgary allows you to drive the stunning Icefields Parkway.
To get to Maligne Lake from Jasper, head north from Jasper on Highway 16 for 3.5 miles, then take a right on Maligne Lake Road. Follow this (and enjoy the spectacular views) for 26 miles.  We spotted deer and black bears from the car, so keep an eye out for wildlife while you are driving.
The Three Maligne Lake Backcountry Campgrounds
You'll need to reserve a backcountry campsite in advance (info on how to do that below). When making your reservation, you'll need to indicate which Maligne Lake backcountry campsite you want to stay at. The campsites are considered semi-primitive. There are picnic tables, bear-proof bins, and pit toilets. The options for camping are:
Hidden Cove – 4 km (2.5 miles)
I'd only recommend staying at the 4-site Hidden Cove campground if you can't get a reservation at the other campsites. It's only a short paddle in and the best scenery is far past this campground. You could get an early start and paddle here, set up camp, and then go explore as far as you like. It is possible to make it to Spirit Island and back in a day from Hidden Cove. The campground is aimed at families & beginner paddlers.
Fisherman's Bay – 13 km (8 miles)
Fisherman's Bay is the closest campsite to Spirit Island. If you want to paddle to Spirit Island at night when no one else is around, this is your best option. There are 8 tent pads available at Fisherman's Bay.
Coronet Creek – 21 km (13 miles)
Motorized boats are not allowed past Spirit Island which is 14 km (8.5 miles) from the launch point. That means for the entire stretch past Spirit Island, it is very quiet and you'll only see a few other kayakers and maybe a couple of small electric fishing boats. This is where we stayed, and we paddled all the way there in one day and all the way out the next. It's worth traveling this far for the tranquillity, but you'll need to be ready to work. There are 8 tent pad sites available here.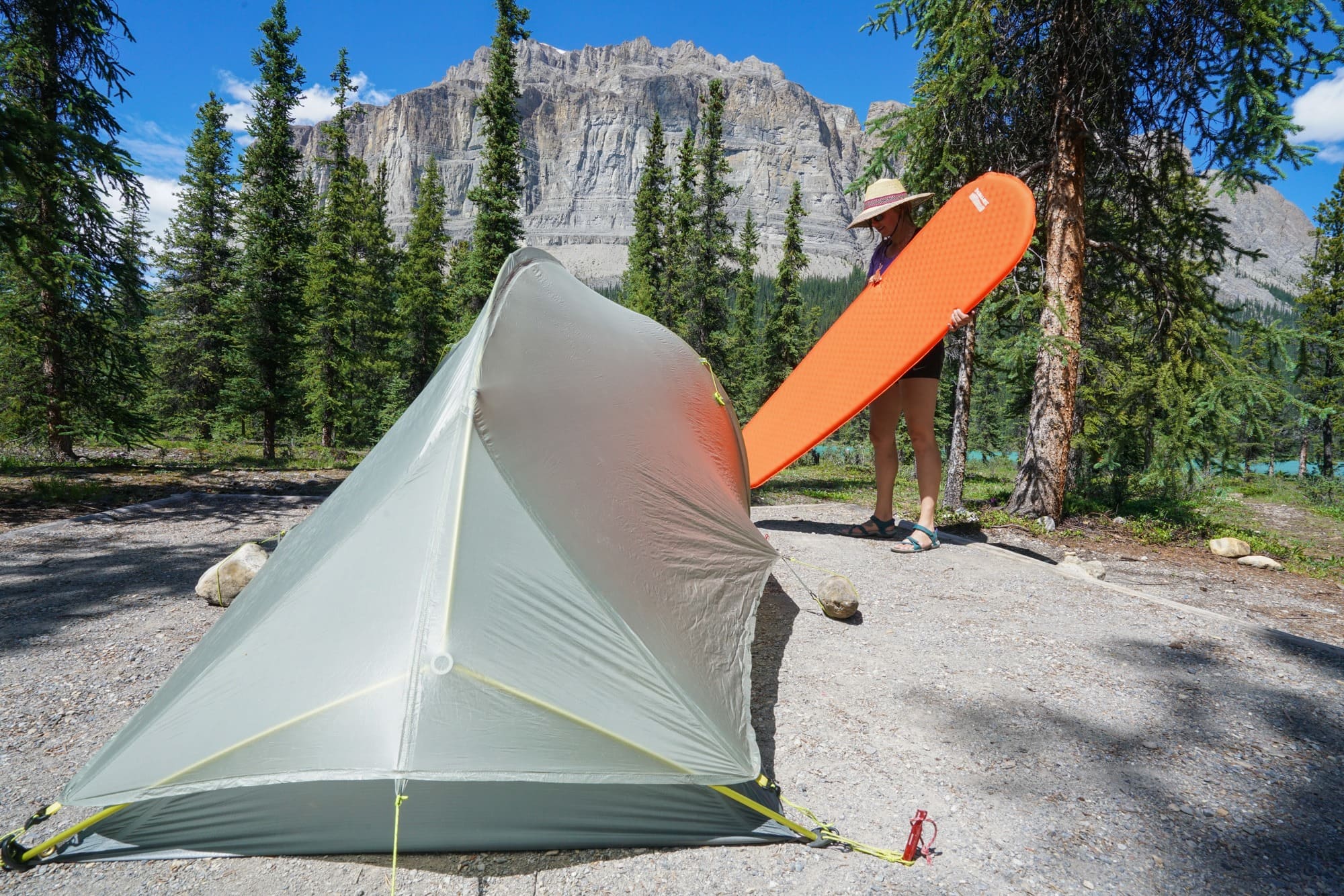 Our campsite at Coronet Creek
Learn how to Leave No Trace on your Maligne Lake Kayaking Trip
Lake Maligne Kayak Rentals
There is a company located right on the shore of Maligne Lake where you can rent kayaks. They are more expensive, and they don't open until 9 am, which means you can't get an early start to beat the tour boats and wind.
Instead, I recommend renting your kayaks for Lake Maligne from a company located in the town of Jasper called Pure Outdoors. We reserved the kayaks 2 days before our trip in person at their shop, and were stoked that it was quite a bit cheaper than the other option.
The owner met us at the launch point with the kayaks at 7:00 am, which meant we were able to get on the lake much earlier than everyone else. He gave us a map and some dry bags and told us about the major points of interest.
When we returned to the launch point the next afternoon, all we had to do was empty the kayaks out and put them to the side of the ramp, and the owner would come by that evening and pick them up.
Maligne Lake Kayaking Launch Point
Single vs Double Kayak vs Canoe
The owner of Pure Outdoors highly encouraged us to rent a double kayak vs a single. While it takes a bit of coordination, two people pushing a boat and gear is more efficient than each person having to row their own boat. With Maligne Lake being so long with frequent strong winds, we were happy we took his advice. Plus we got to enjoy each other's company more than had we been in single kayaks.
For long paddles like this, I'd also strongly suggest a kayak over a canoe.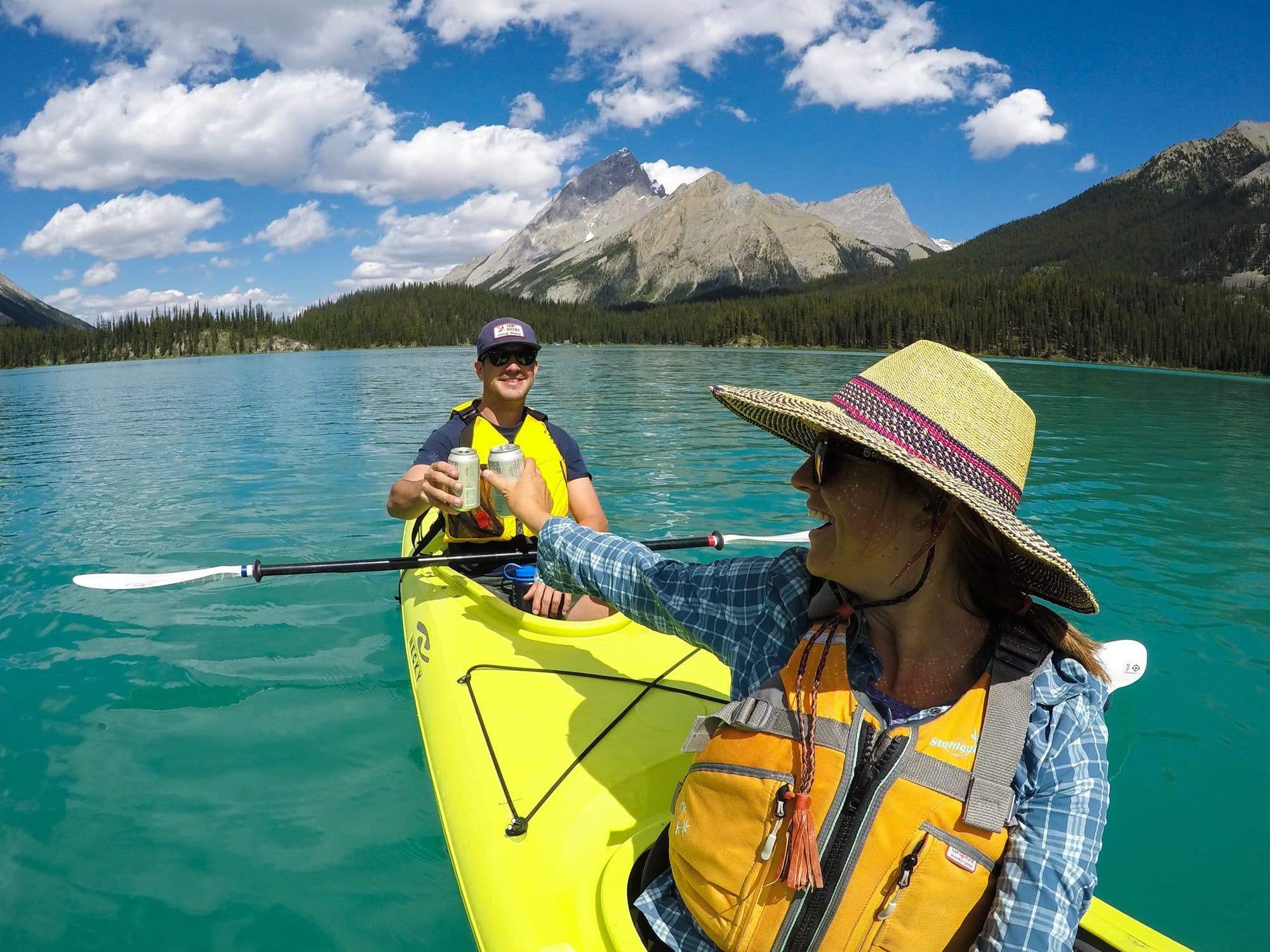 Maligne Lake Kayak Trip Photos & Recap
We wanted to get an early start so we could have some quiet time on the water. Maligne Lake is a very popular tourist destination, with non-stop cruises starting at 9am that take people to Spirit Island. By starting at 7:30, we'd have a little time to ourselves and make some ground before the lake got busy. The lake is also known to get windy in the afternoons, so the further we could get before lunch the better. The calm water made for some incredible reflections that we only saw the first hour of the day, so it was worth the early wake-up call.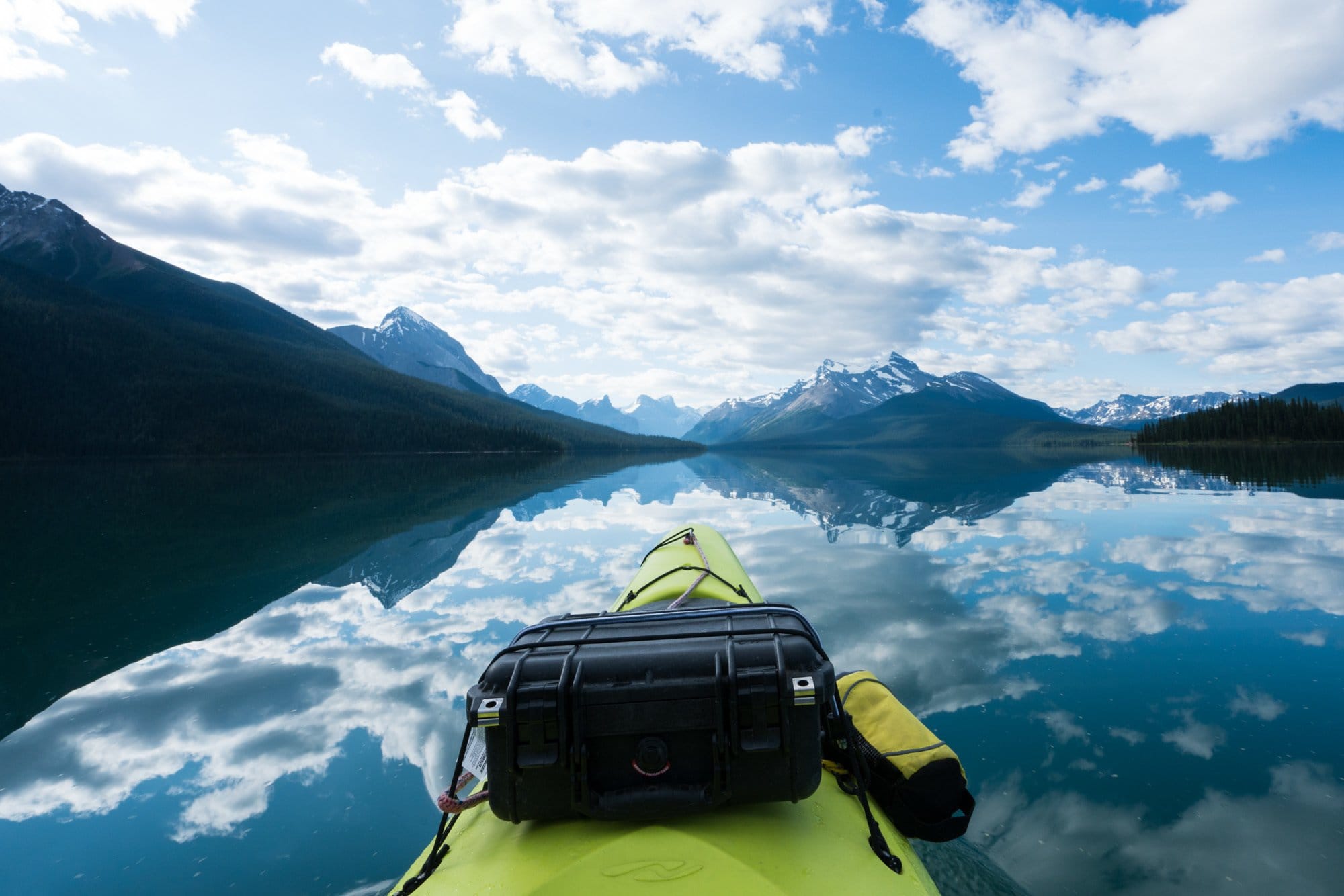 The owner of Pure Outdoors gave us map of the lake, which showed all of the picnic areas and points of interest. The map was helpful because Maligne Lake turns a bit, and you can strategically cross in certain places to shave off some distance vs hugging one shoreline the entire time. We got a few miles under our belt before our first snack break. We also ended up swimming at the spot in the photo below on our return the next day.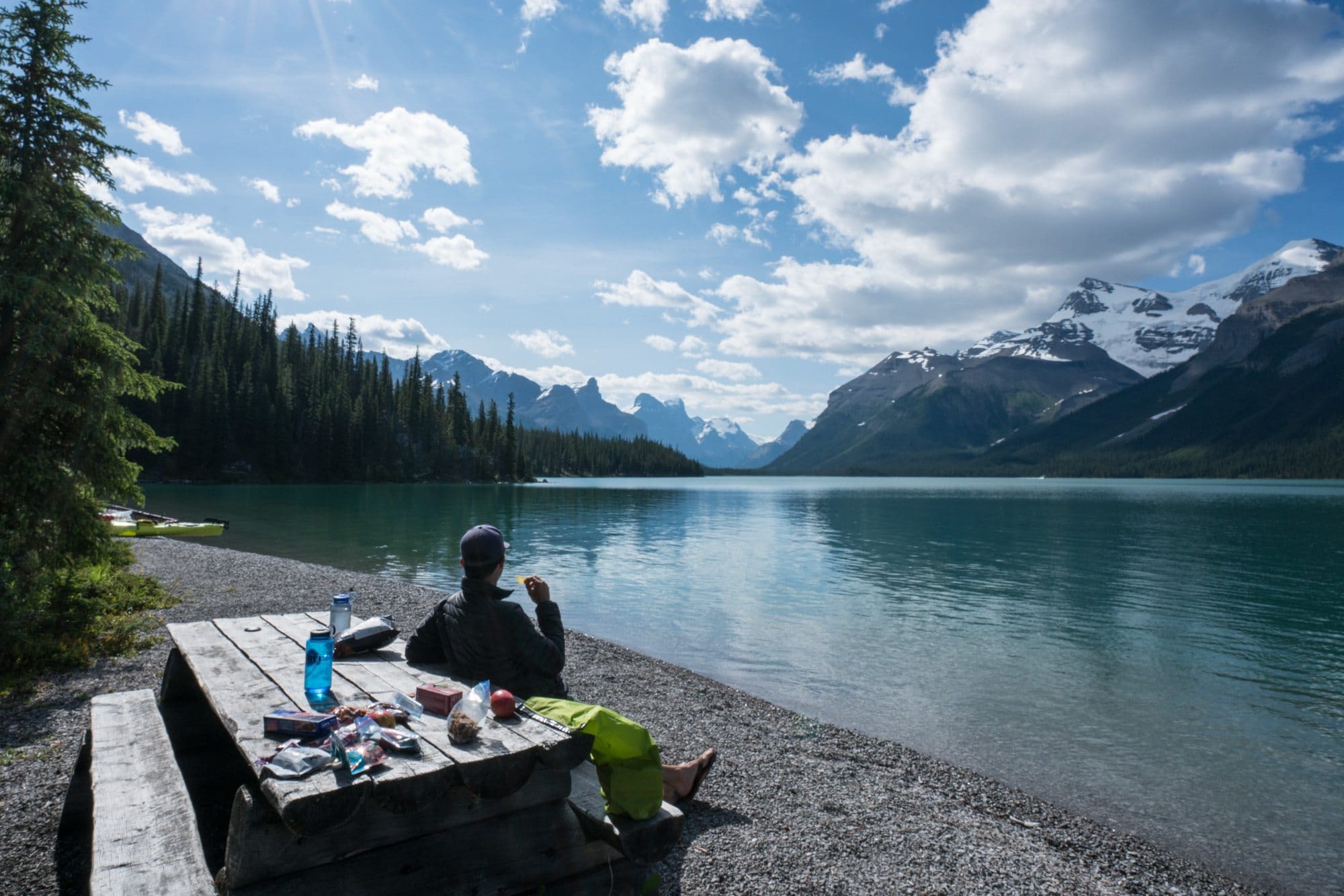 Soon after our first snack break, the cruise boats started passing us by. I was worried that they would make the lake really choppy, but the boat drivers are pretty good about keeping their distance and slowing down as they go by to minimize their wake.
Our next stop was Spirit Island, the destination for all of the tour boats and most canoe-ing day trippers. Spirit Island was beautiful, but the viewpoint where most of the famous photos of Spirit Island are taken was packed with people (which most of the photos don't show).
Spirit Island
The cruise boats aren't alllowed past Spirit Island, so beyond that point, Maligne Lake just became more spectacular. This is where you get to see glaciers up close and cascading falls, and you are surrounded by dramatic Rocky Mountains on all sides. Plus the only people who get to experience that part of Maligne Lake are people willing to work for it. We only encountered a few other kayakers, who were also headed to Coronet Creek to camp.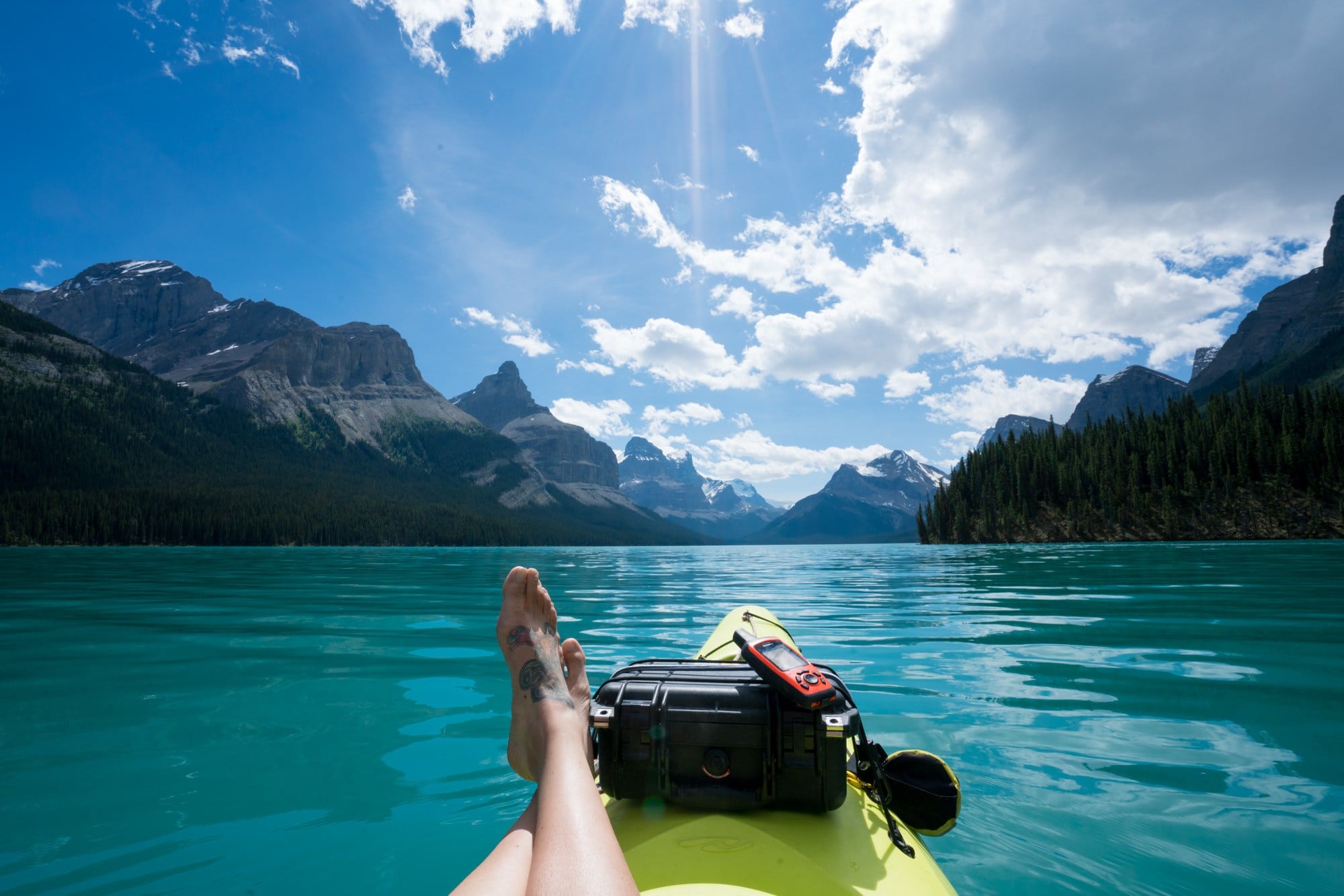 The last 2 miles were pretty challenging. We encountered a small headwind, and my arms were feeling a little wrecked. We thought we still had quite a ways to go, until I pulled out my Garmin InReach GPS and saw that the end of the lake was right around the corner. A few more strokes, and we spotted Coronet Creek Campground on the backside of a small peninsula on the right side of the lake. We paddled over, unloaded the boats, and took a load off.

After a nap, we decided to explore a way up Coronet Creek and some of the nearby beaches. If you decide to head out of camp, make sure to bring your bear spray, as the areas are prime grizzly habitat, according to the ranger.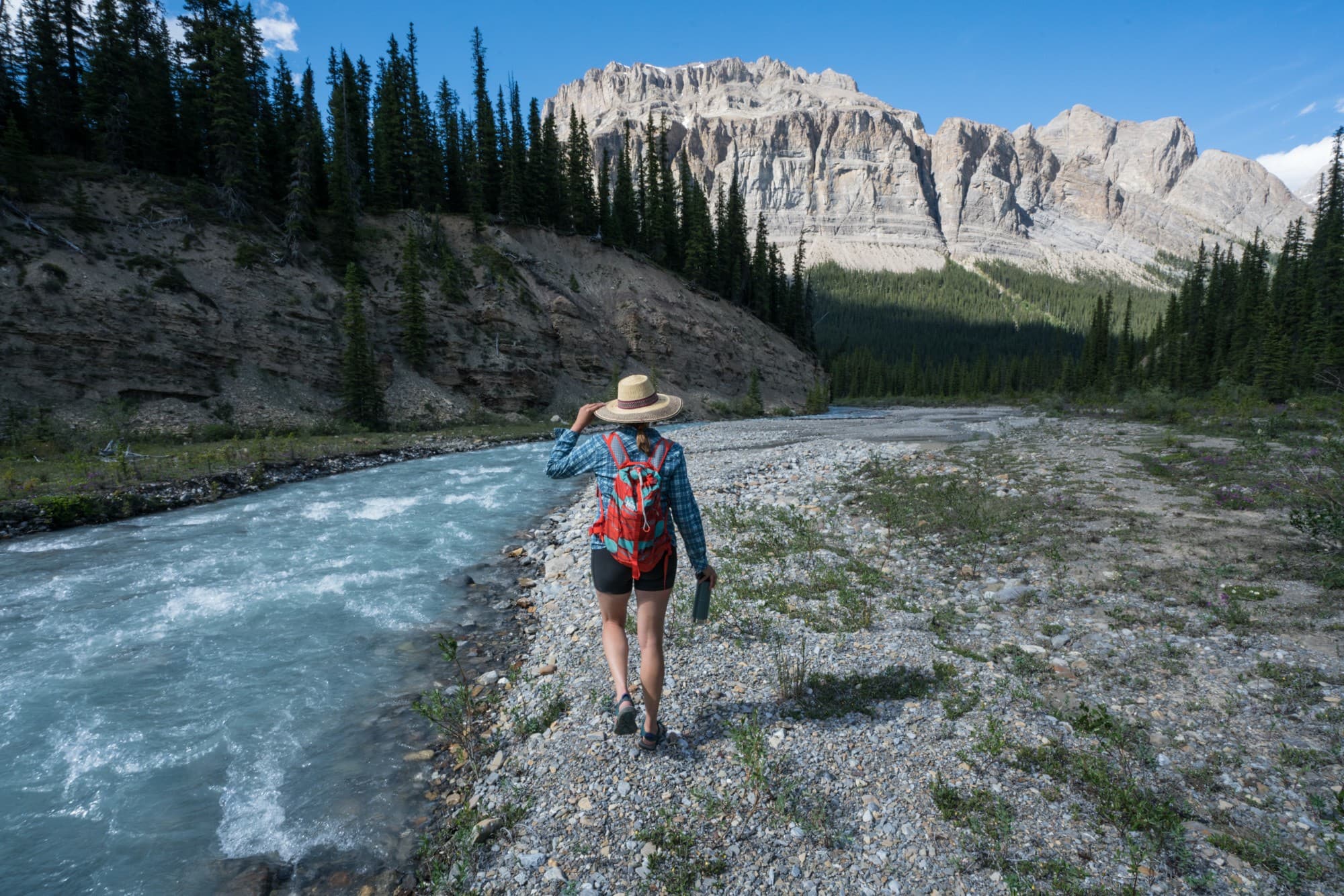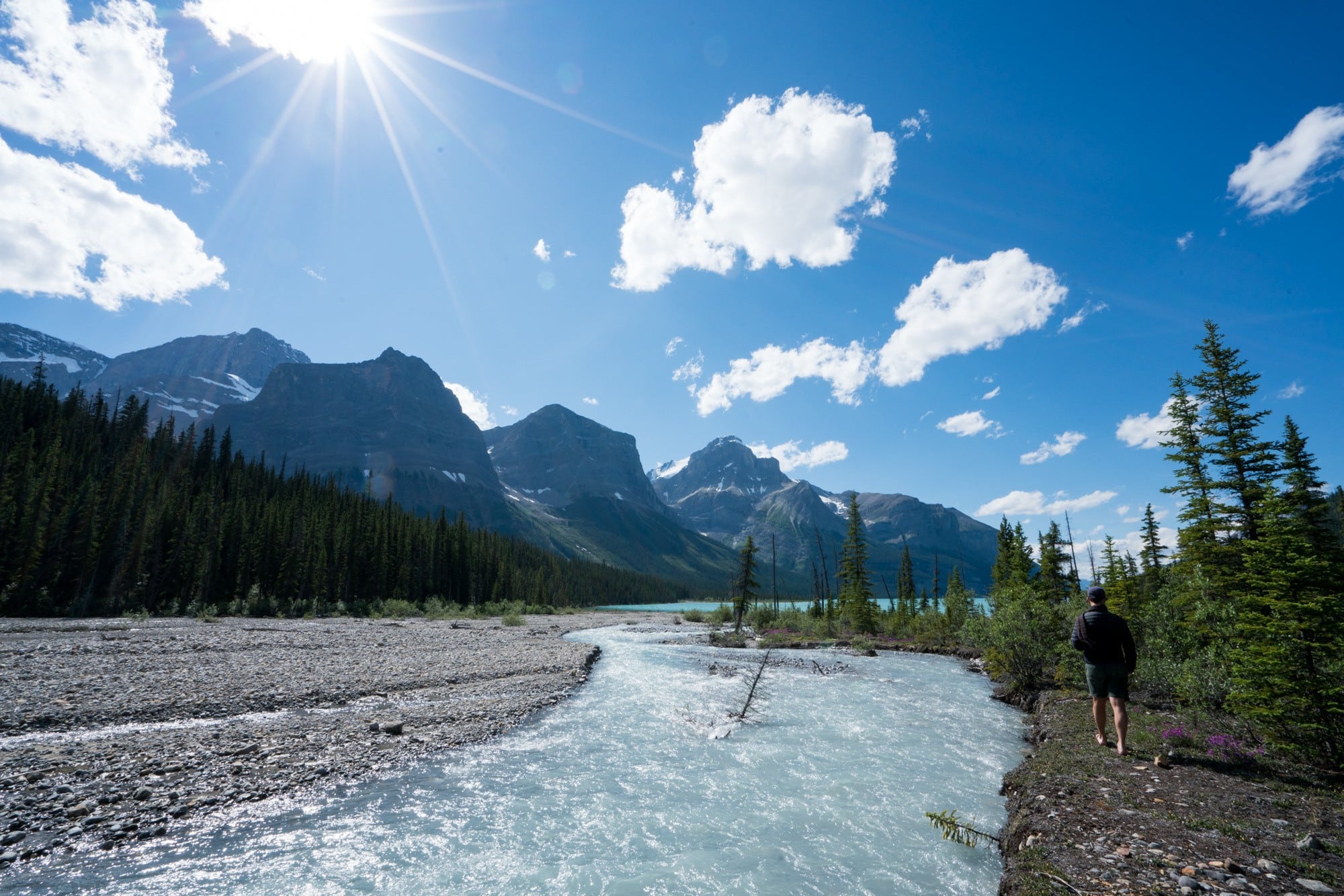 The Coronet Creek campground has a main kitchen area with a bunch of bear bins, pincic tables, and fire pits. Make sure you store your food and any scented items and toiletries in the bear bins whenever you aren't at camp. Don't leave food in your tent. For more information about what to do if you run into a bear, see this blog post.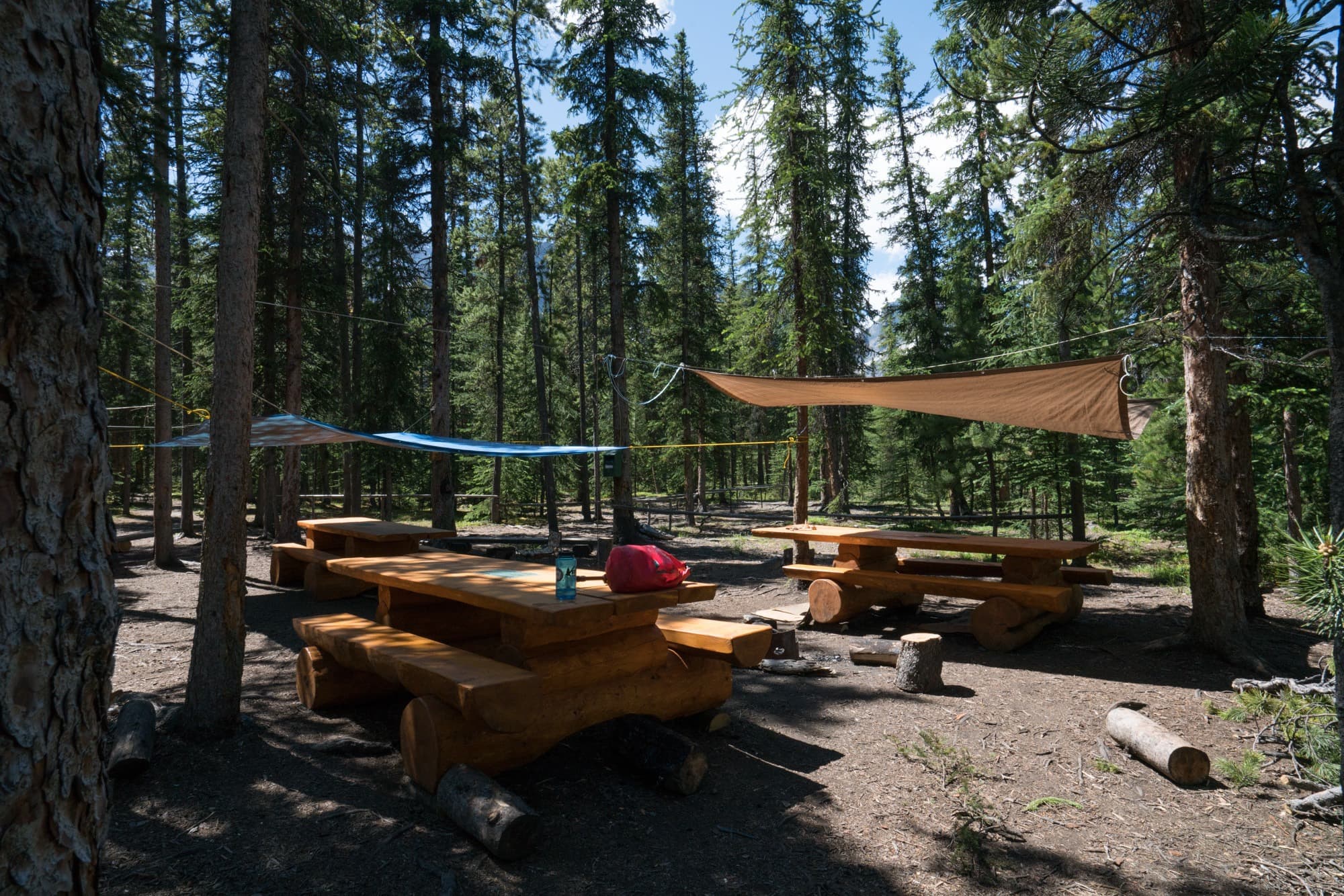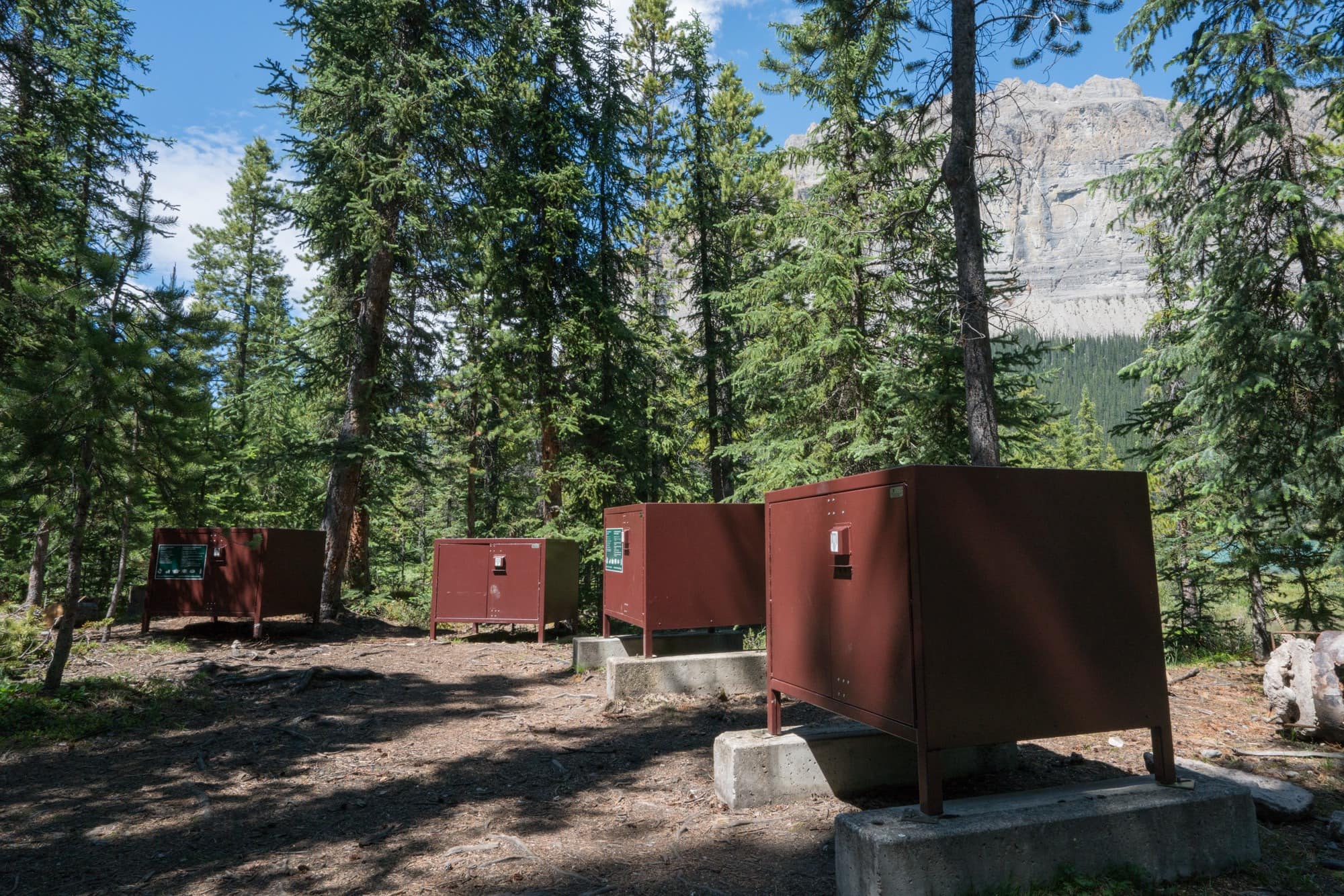 That night, we hung out on the beach with some Australian travelers who were also staying at Coronet Creek. It was a great way to end the night before our long paddle out the next day.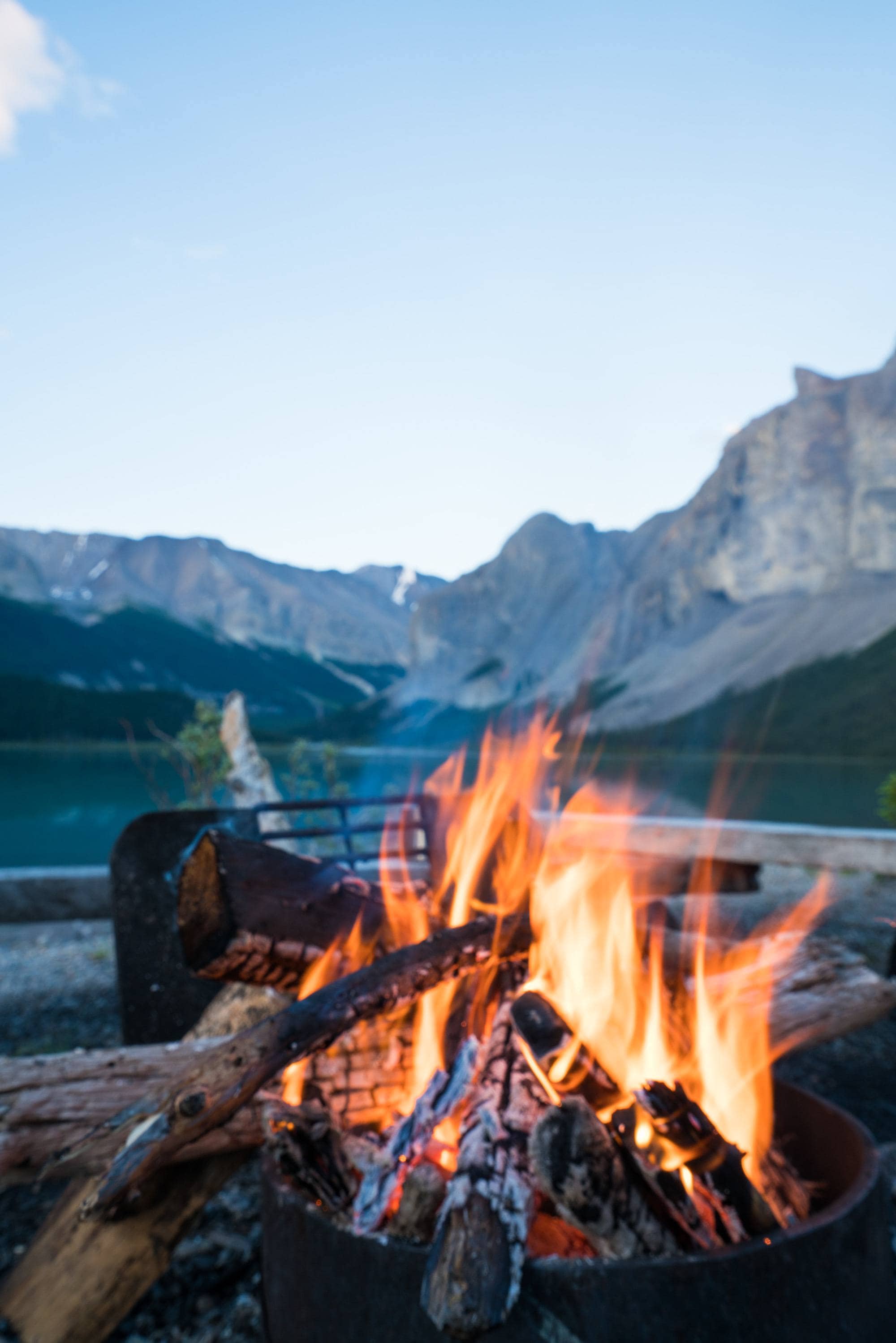 The next morning, we woke up and were on our way by 10am. We stopped at Spirit Island and had lunch and a quick swim at our picnic spot on Day 1, making it back to the launch point by 4pm.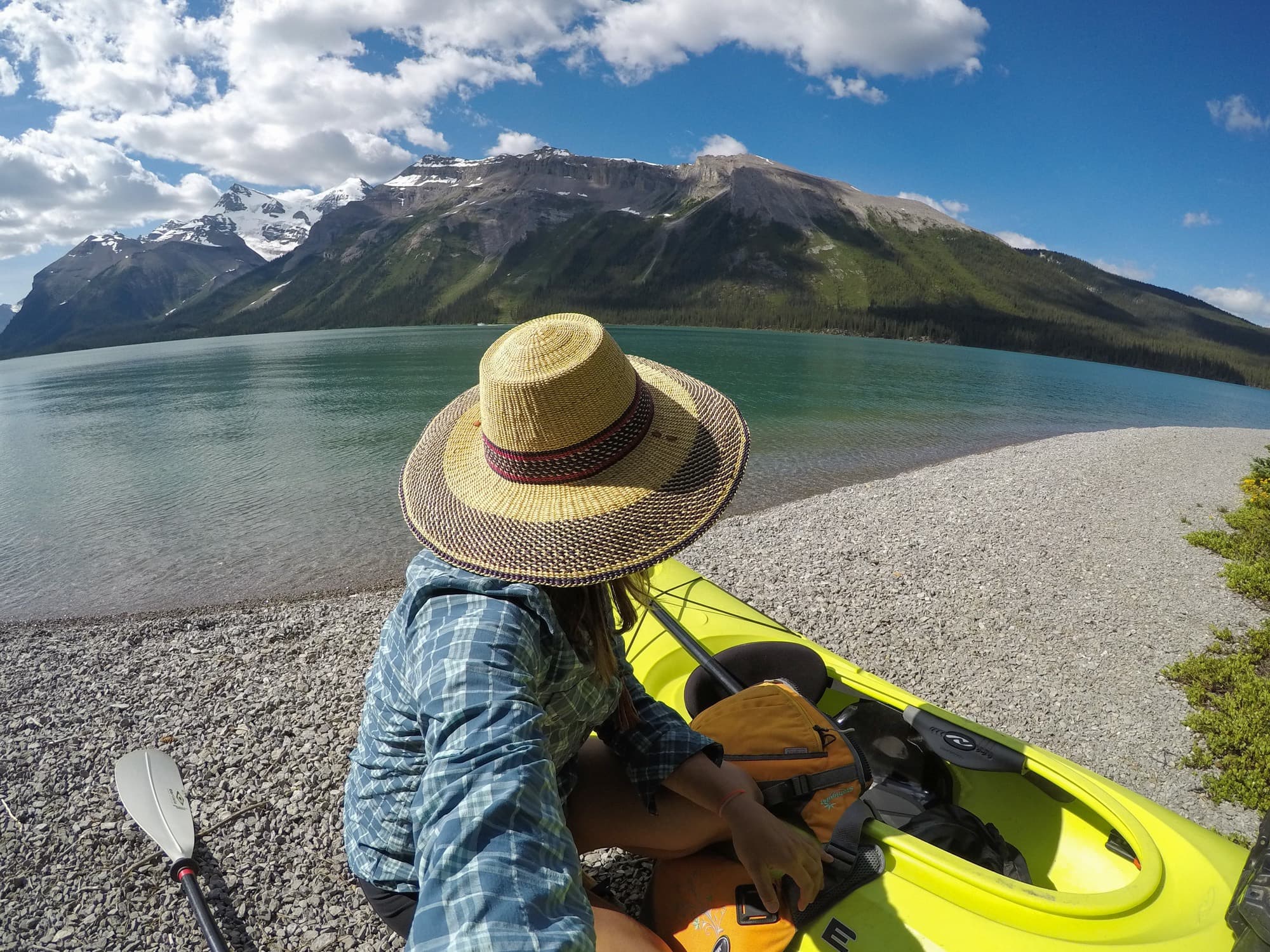 What's the Best Maligne Lake Itinerary
If I were to do it again, I'd stay for 2 nights. I'd aim for a reservation at the Fisherman's Bay campground on the first night. On day two, I'd pack up and head further down the lake to Coronet Creek. Then on the third day when you've eaten all of your food and your boat is a little lighter, I'd get up super early and kayak all the way back to the launch point. The lake tends to be calmest in the morning, so the more miles you can pack in when there's no wind the better.
If you're looking for even more adventure there is an 8 km (5 miles) unmaintained trail route that follows Coronet Creek to the base of the Coronet Glacier. In case you're looking to spend more days in the area, this is a great day hike from the Coronet Creek campground and will have you walking vs. paddling for a few hours.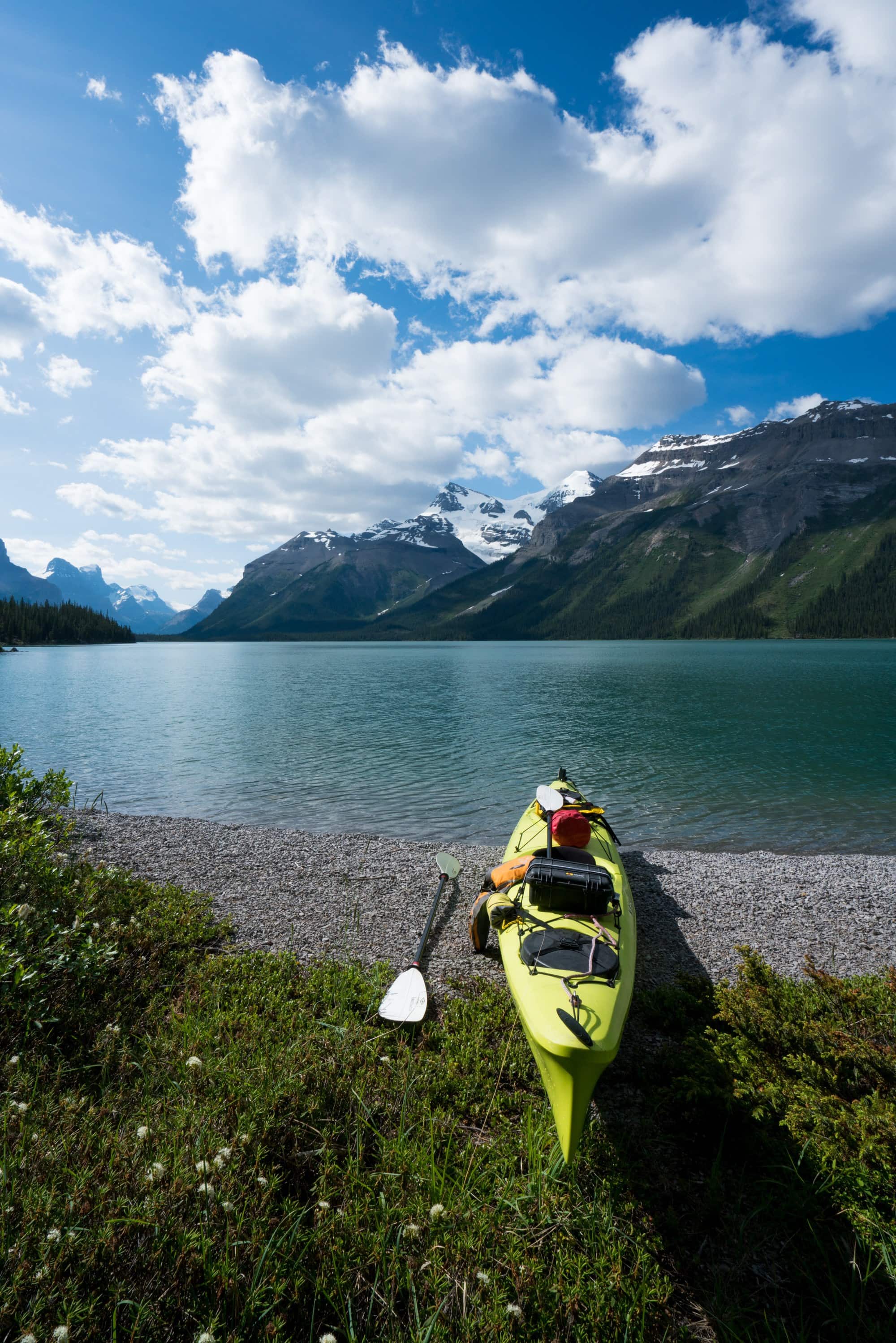 Maligne Lake Backcountry Camping Reservations
If you have a tight vacation schedule, planning your Maligne Lake kayaking trip ahead of time is essential. For the 2018 season, Maligne Lake backcountry campsite reservations open on January 24, 2018 at 8am MST. Reservations will fully book up for the summer, so I suggest being ready on that date.  You can book your permit on the Parks Canada Maligne Lake backcountry campgrounds reservations page.
When selecting your campsite, you'll choose:
Reservation Type: Backcountry Camping
Enter your arrival date
Park and Backcountry Experience: Jasper / Maligne Lake
Party Size & Number of Tent Pads: A maximum of 4 people are allowed per tent pad.
Access Point: Maligne Lake Trailhead
After entering that information, the sites that have availability will show up on the map in green. Click that to book your site.
I'm not sure what the 2018 Fees will look like, but for my 2-person/1 night permit, I paid $30.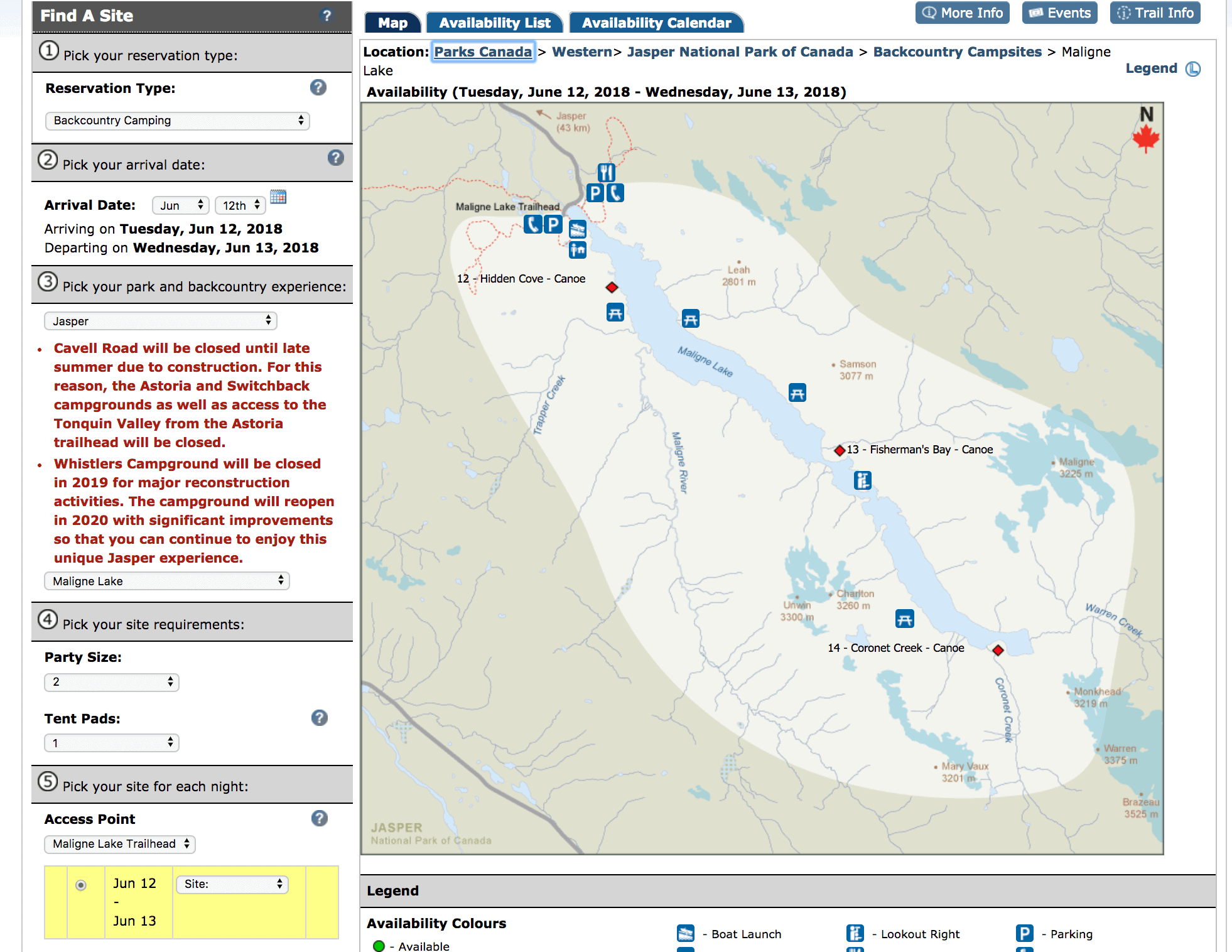 What happens if you miss the reservation rush in January?
I drove up to Canada in June with no plans and unaware of the permit requirements. I got on the reservations website and happened to get lucky thanks to a cancellation. I wouldn't bank on this, but if you have flexible dates, it's worth checking the website to see if there's anything available.
Gear for Kayaking Maligne Lake
You'll want to pack like you are going backpacking, as the storage in the kayaks is limited. Pure Outdoors provides the kayaks, life jackets, paddles, and they also have dry bags for rent.
In addition to basic backpacking gear, you'll want a water filter, sun protection, bear spray, and I also suggest traveling into the backcountry with some sort of communication device. Bring lots of layers since it does get cold at night, and don't forget a swimsuit in case you get the courage to take a dip.
Finally, I recommend bringing toilet paper, since there's no guarantee the pit toilet at your campsite will have any.
More on Gear: Overnight Kayaking Gear List for Lake Powell
Final Information for Maligne Lake
The wind pick-ups around 9 am and can change direction/intensity very quickly, you should have basic paddling knowledge & skill for exploring this backcountry area.
Fires are permitted only from 6 am to 11 pm and only in the metal fireboxes.
If you're planning to rely on fish as a food source during your visit, a National Park Fishing Permit is required. Make sure to review information on discarding fish waste in an appropriate manner to prevent bear attraction. Packing extra dehydrated meals is always smart in case you don't catch enough.
Make sure to follow Leave No Trace principles to maintain this pristine wilderness area.