20 Photos to Inspire You to Thru-Hike the Pacific Crest Trail
Thinking about thru-hiking the PCT? Check out these 20 Pacific Crest Trail photos and the story behind them by a girl who solo-hiked the PCT.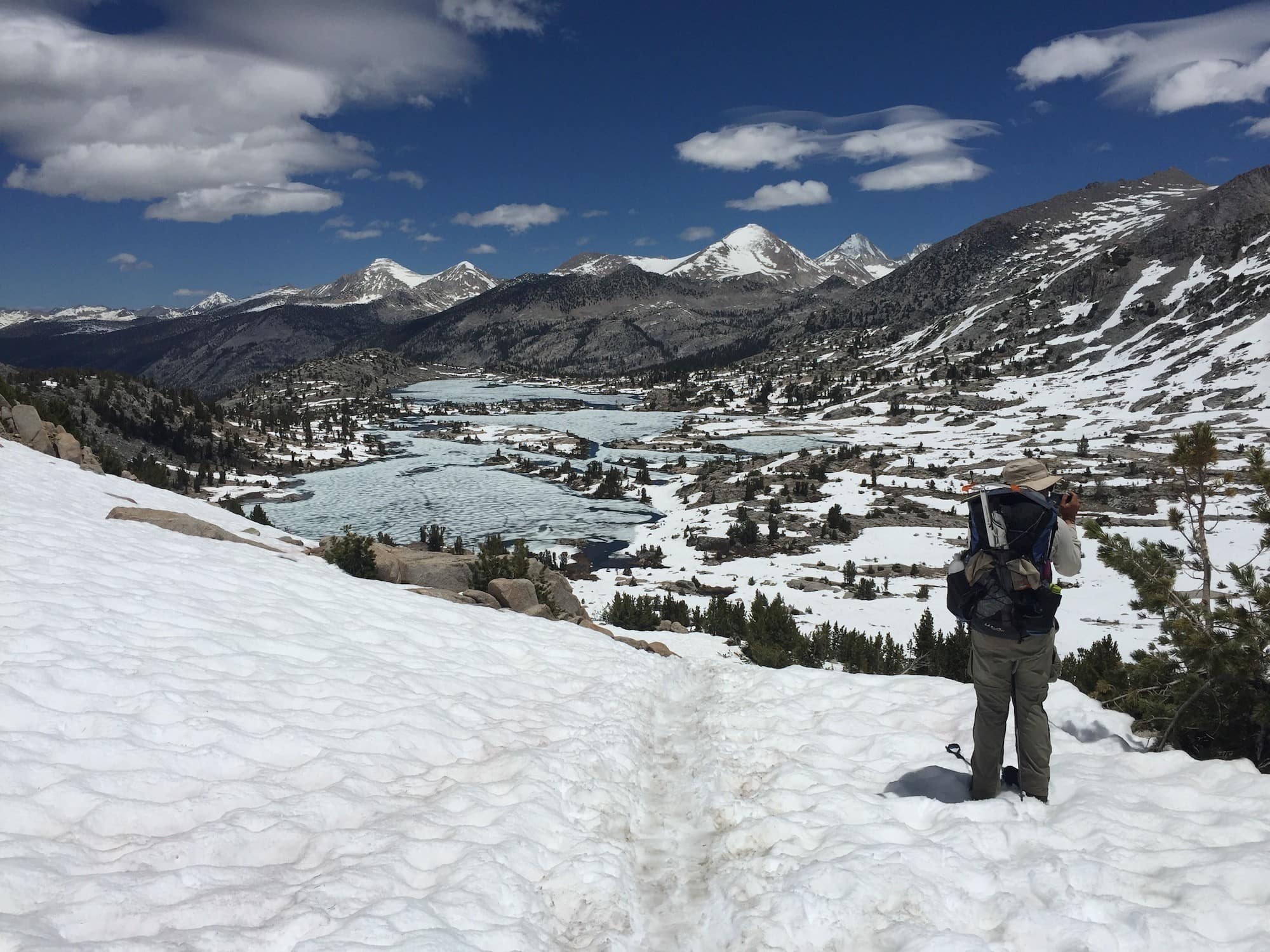 20 PHOTOS TO INSPIRE YOU TO HIKE THE PACIFIC CREST TRAIL
Have you dreamed of hiking the Pacific Crest Trail? In 2016, Kim (Bearfoot Theory's former Community Manager), quit her job as a principal and embarked on a 5-month journey to solo hike from the Mexico border all the way to Canada. That's 2,650 miles! In this blog post, she shares some of her favorite Pacific Crest Trail photos and stories to inspire those of you would one day like to thru-hike the PCT. While the images are super beautiful, I especially love this piece because of Kim's captions. She takes us along on her journey, and show us that long-distance hiking is about so much more than the pretty views. If you have questions or need support in planning your Pacific Crest Trail hike, leave your comments at the end of this post, and we'll be sure to respond. -Kristen-
**UPDATE** If you have already committed to a Pacific Crest Trail thru-hike make sure to check out Kim's Complete Pacific Crest Trail gear list as well as her Guide to Planning your Pacific Crest Trail resupply.
I've always had mixed feelings when sharing photos and stories of the trail with others. How do you truly describe the experience of living in wilderness and hiking for 5 consecutive months? No single photo or memory will ever come close to defining the experience. It was the greatest adventure of my life, and I can't speak highly enough about taking time away from "everyday life" to explore who you are deep down. It took significant financial, emotional, and physical planning to be able to travel the trail, but the benefits are indescribable.
One aspect you'll note that's missing from my photos are the faces I met along the way. I met some of the most incredible people on the trail. We shared hitches together, trailside coffee, tears on difficult days, beds in some trail towns, and laughs–so many laughs. I didn't find it fitting to include amongst these Pacific Crest Trail photos, those images of the people who inspired me day in and day out to keep hiking. That post would be drastically different as it would have to be composed of at least 50 images of those who kept me thru-hiking, both people I met on the trail and people in my life who inspired and encouraged me. It's a community I'll forever be grateful to have shared so much joy with and to still have in my life today.
If you are a solo hiker who is nervous about taking on a thru-hike alone, don't be. Trust me. Go with your instinct and believe in yourself, get out there!
Ok, on to some of my favorite Pacific Crest Trail photos and stories from my 5 months of hiking.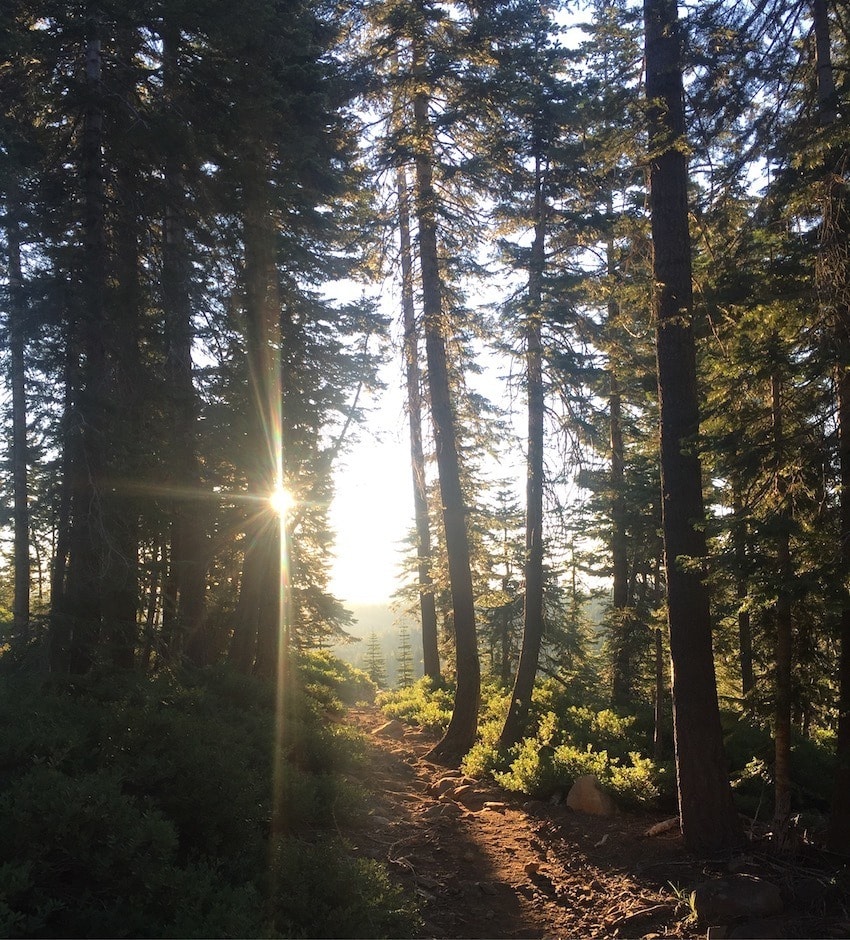 Early mornings were sometimes tough but that moment when you caught a glimpse of the sun rising you were instantly alive and ready for the day.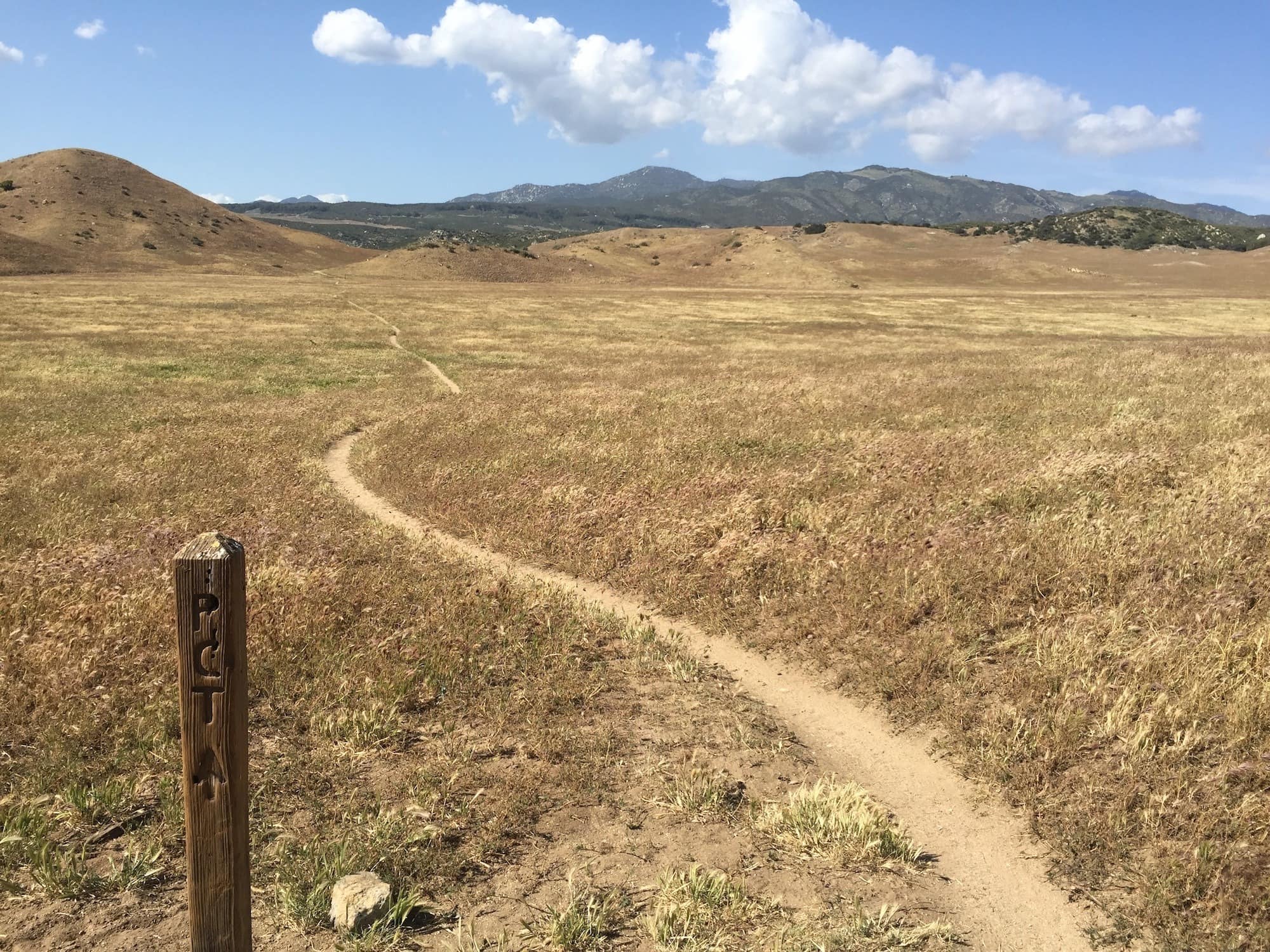 Near Warner Springs, CA the Pacific Crest Trail meanders through low, flat meadows. It was in the midst of one of these meadows when I felt the presence of my late grandmother. The meadows gave off a purple hue, which I remembered being her favorite color. My grandmother would have loved to have followed my adventures on the trail; she would have done something like this had she had the opportunity and means.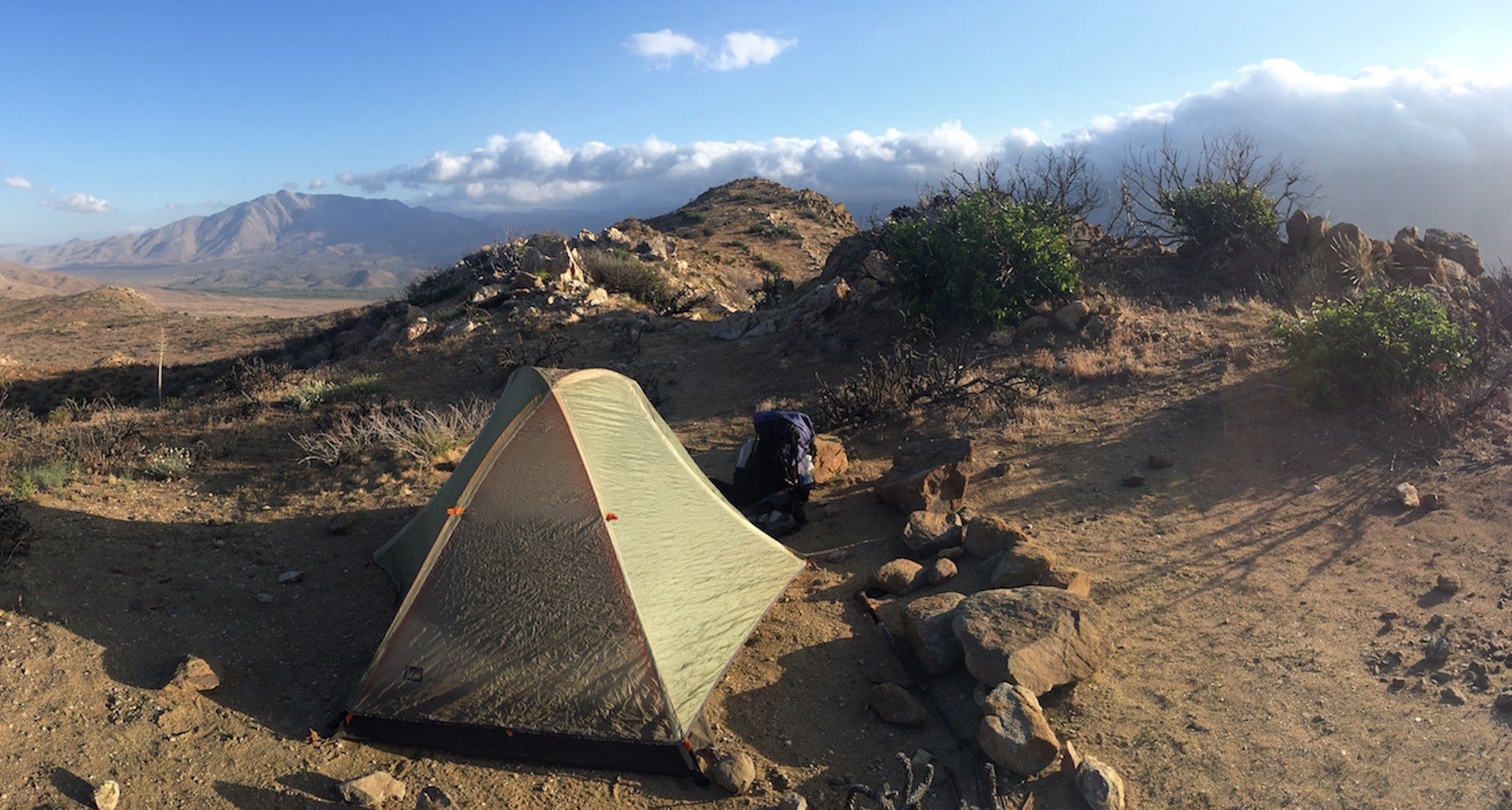 This Pacific Crest Trail photo is full of emotions and stories. The night previous to this, I found myself in a Julian, CA hotel room with electrolyte poisoning. I almost quit the trail but didn't want to give up so early. The next day I decided to leave town ahead of my friends so that I could have some quiet solo time on the trail.
I called my oldest brother, and as I was building the courage to tell him I wanted to quit, he kept telling me over and over again how proud he was of me.
I never told him the real reason I called; I just kept walking until I came across a flat ledge that looked to be a great campsite. I found the location just before sunset, and as my friends arrived, we were overcome with the vistas it offered. I knew I had to keep going. Ironically enough, it ended up being one of the roughest nights on the trail with wind relentlessly beating our tents from all angles.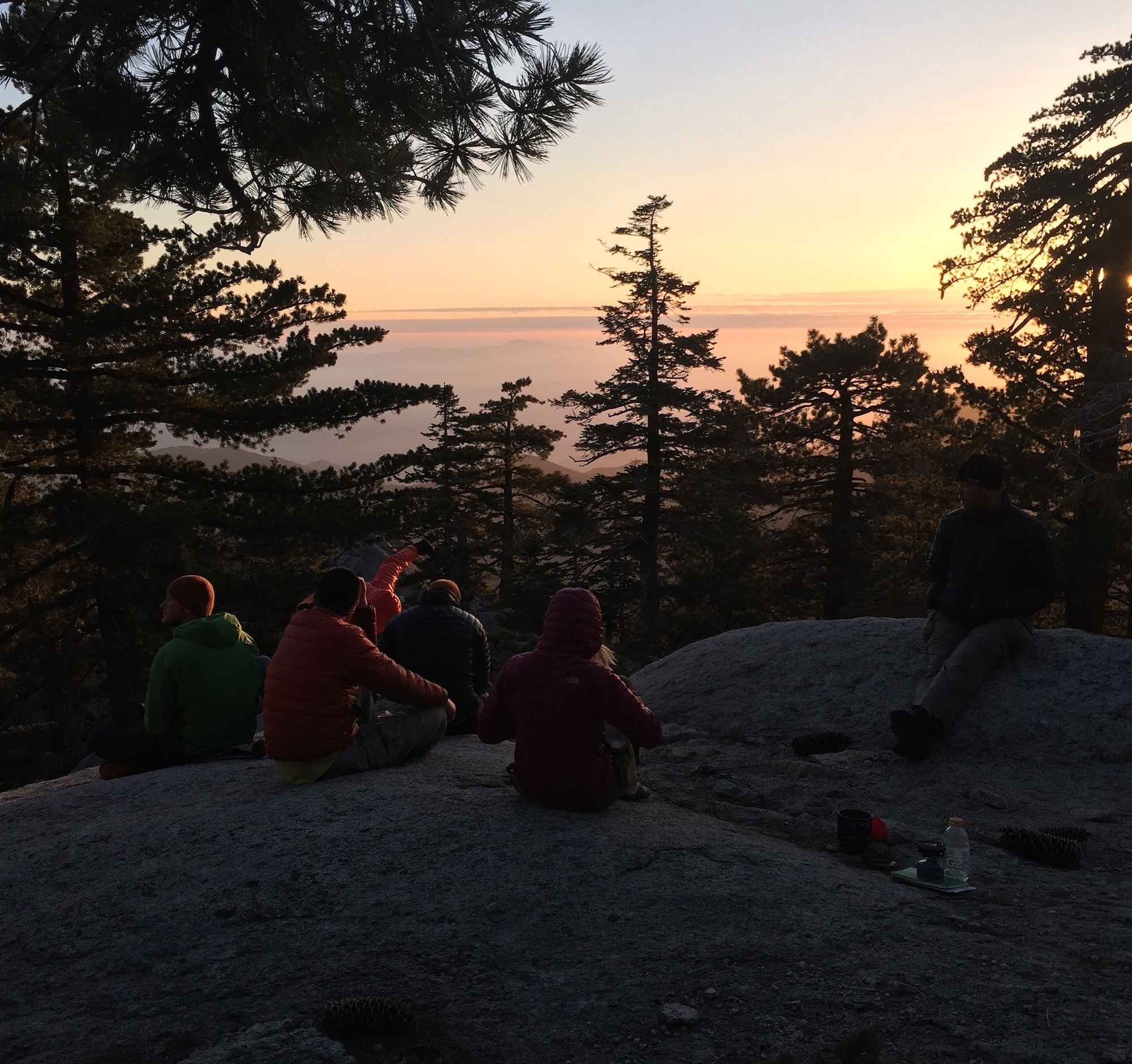 After spending an evening in Idyllwild, CA my large trail family and I set out on the trail again. This was our first campsite after leaving town. It was an incredible sunset over Mt. San Jacinto and the lower valley we were preparing to descend into the next morning.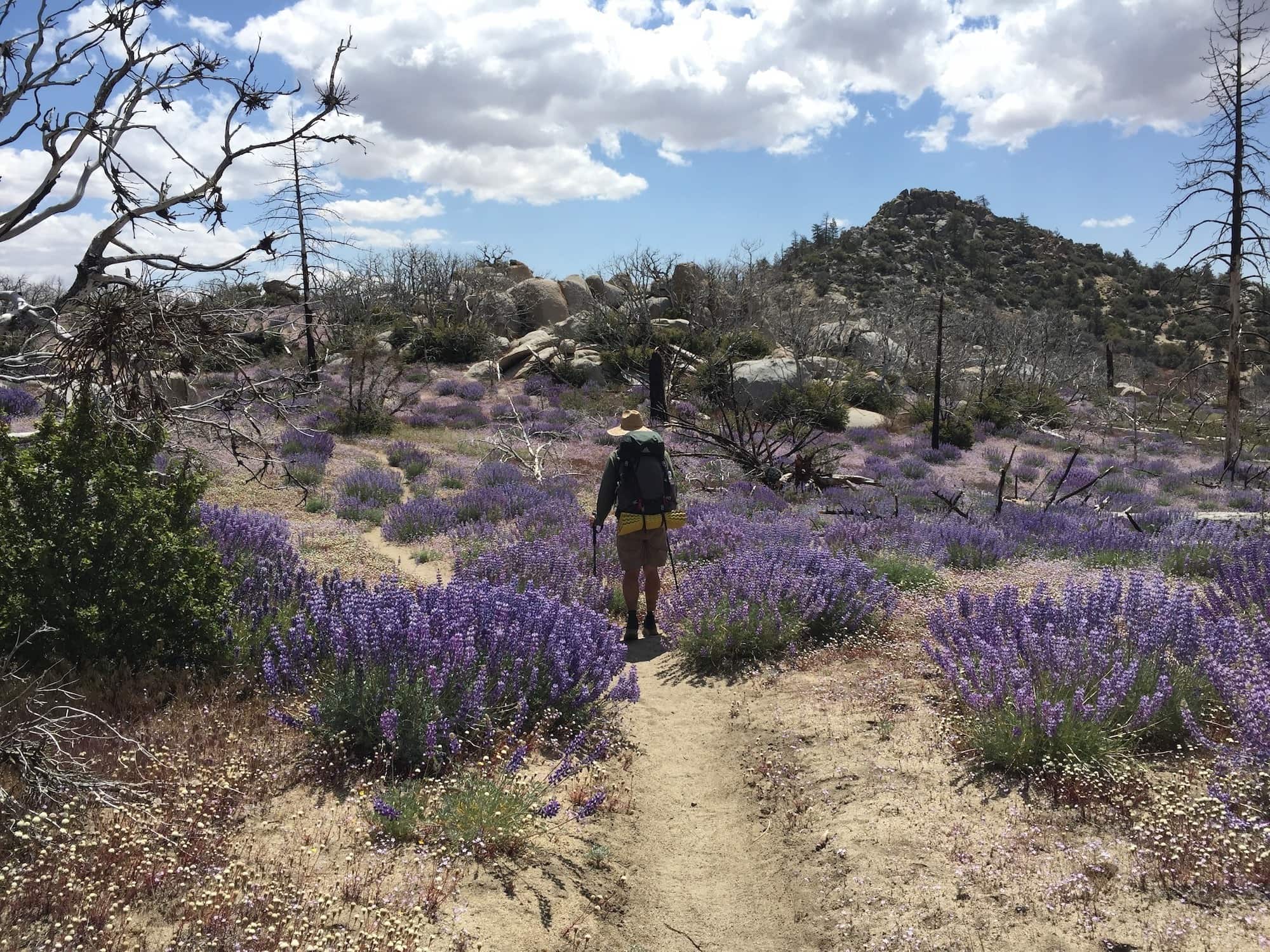 Going through burn recovery areas was always a mixed feeling. I tried to imagine how beautiful the land must have been in years prior to the fire, but it was also miraculous to see plants and wildlife coming alive again.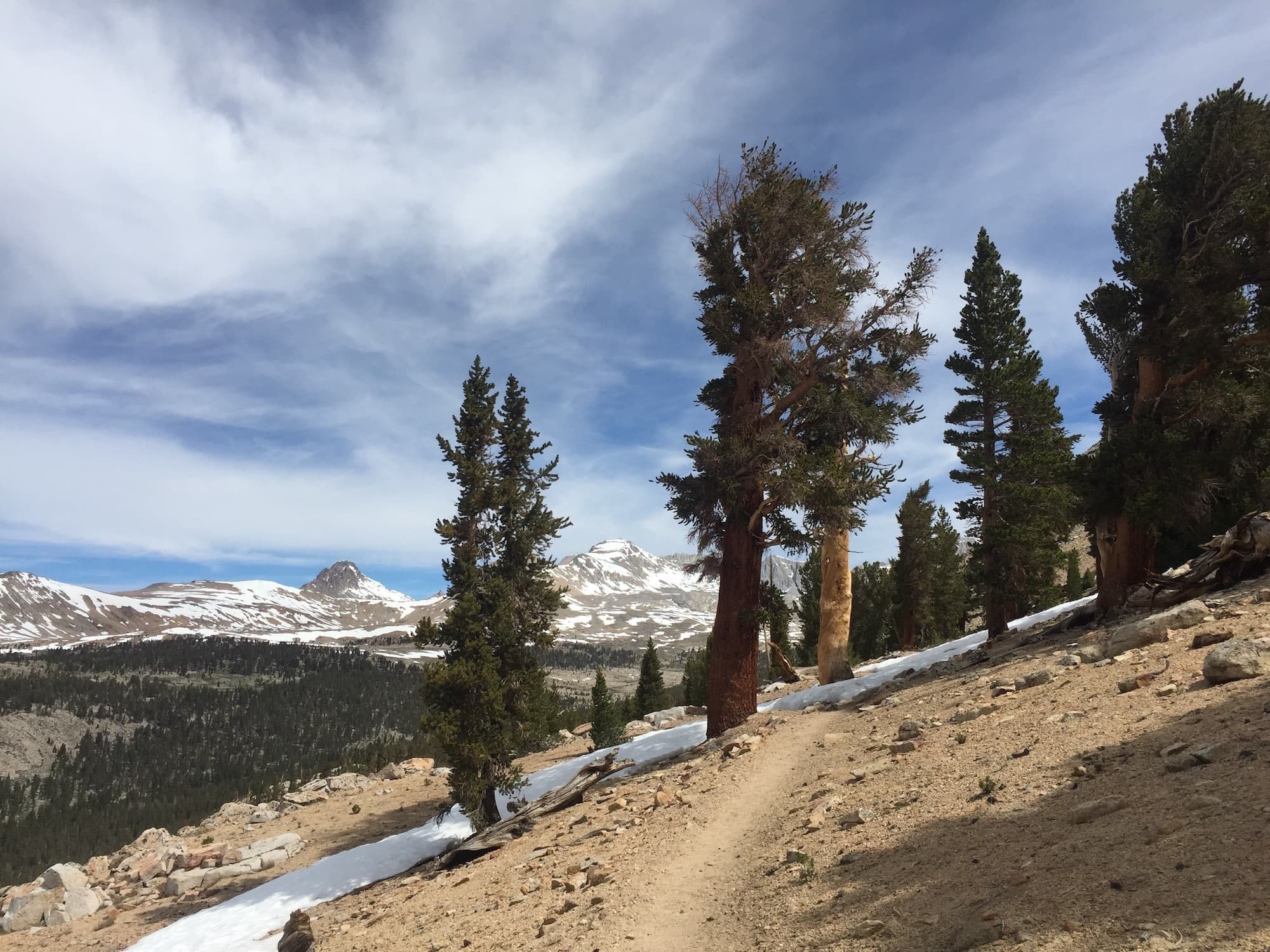 Transitioning from the desert to the mountains was a reward. The gradual increase of snow and cooler temperatures were such a treat.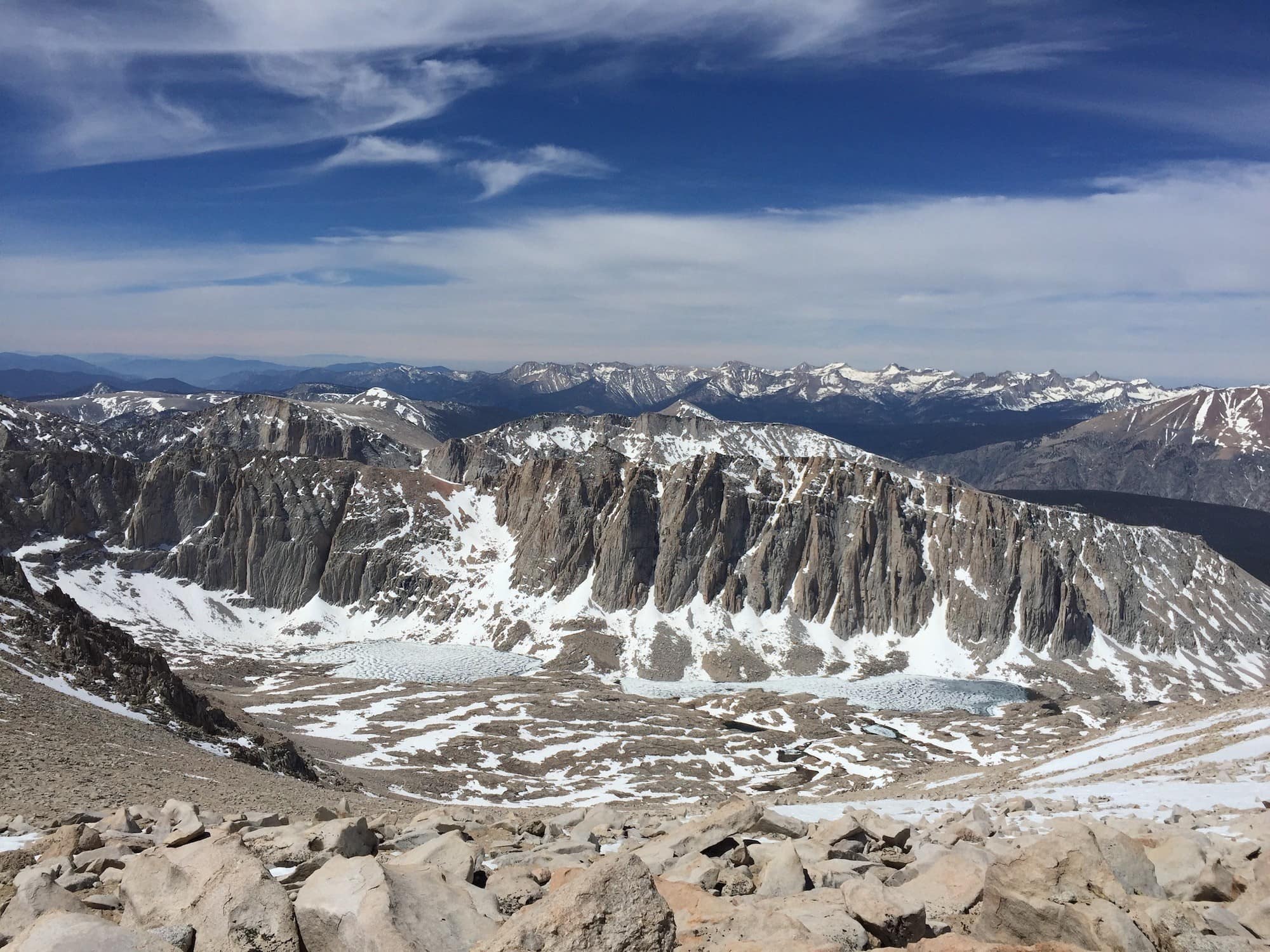 Coming down from Mt. Whitney was exhilarating. Originally I planned not to summit Whitney, but my entire trail family was hitting the summit,  so I drew up the courage.
I was nervous about altitude sickness.
Looking back it was among my top ten favorite days on the trail.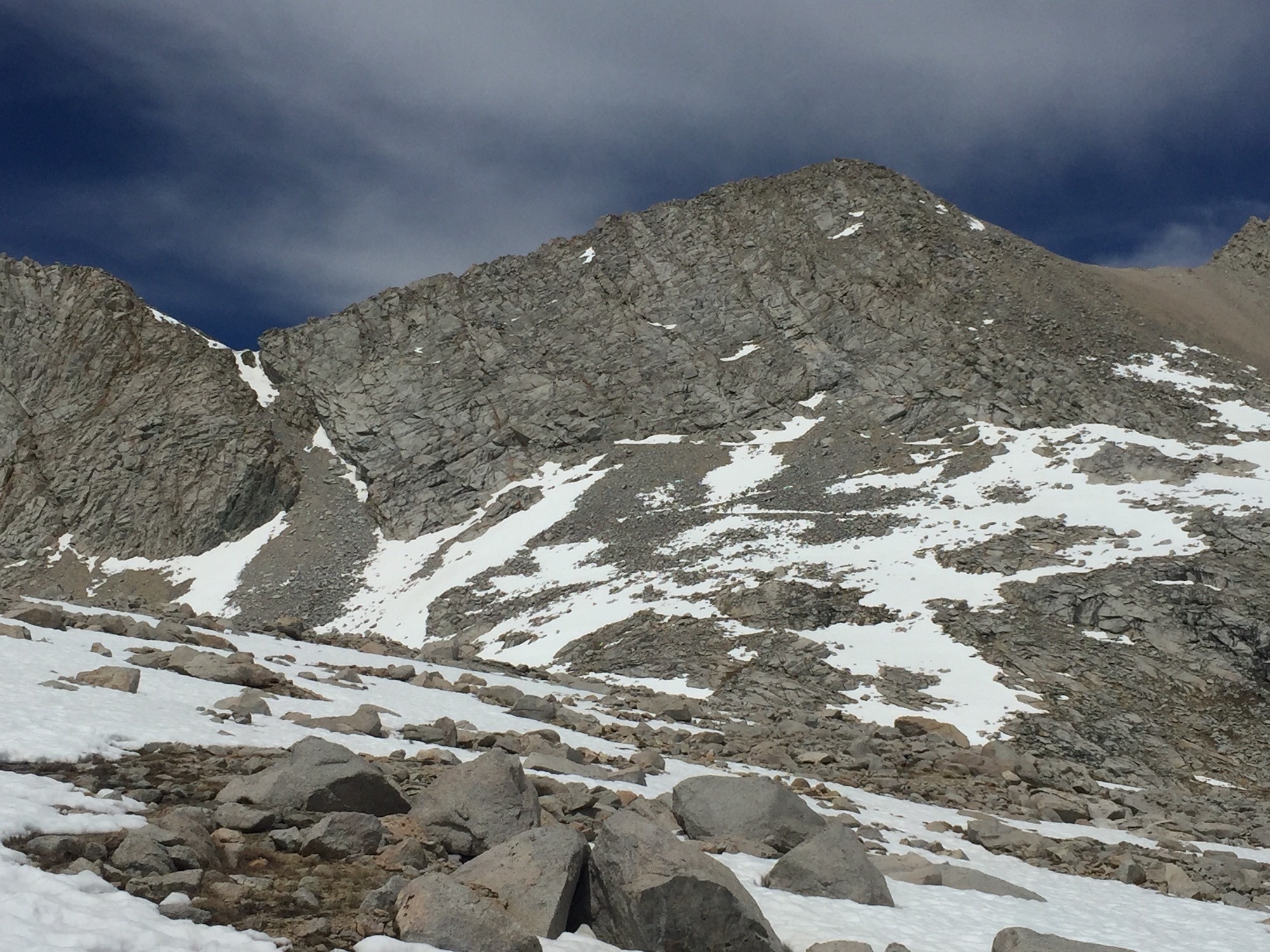 Forester Pass, the highest point on the PCT at 13,153 feet, marks the start of numerous Sierra passes that must each be climbed. The PCT passes through 25 National Forests and 7 National Parks. I remember reading in Yogi's PCT Guidebook that Forester Pass was easily identifiable by the "checkmark" you'd be able to spot in the mountain ridge. When I finally saw the "checkmark," I laughed and almost turned around. I thought there was no way I'd make it up over the pass. One of my trail friends, Uncle Tami, told me we'd be "battle buddies" and do it together. There were many more times on the trail where I didn't quit because I learned to trust others, this was one of the first. The friendships you make on the trail are indescribable.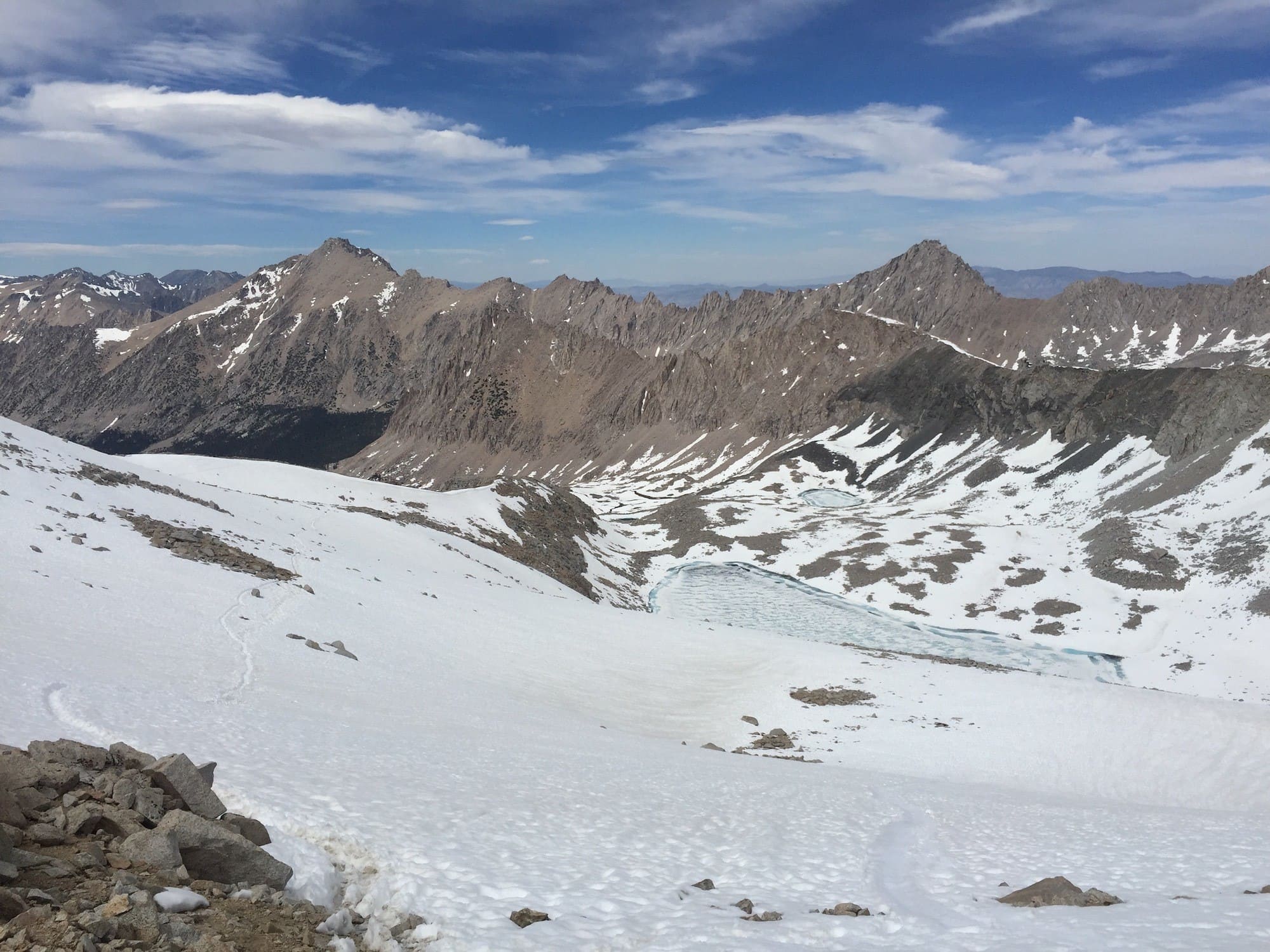 This was the first photo I snapped after reaching the top of Forester Pass. Forester Pass marks the transition from Sequoia National Park to Kings Canyon National Park. I remember having this feeling of immediate celebration and then looking out and realizing reaching the summit was only the beginning. I was anxious and incredibly nervous for almost every Sierra pass,
but I took a moment at all of the summits to celebrate each and every one of them.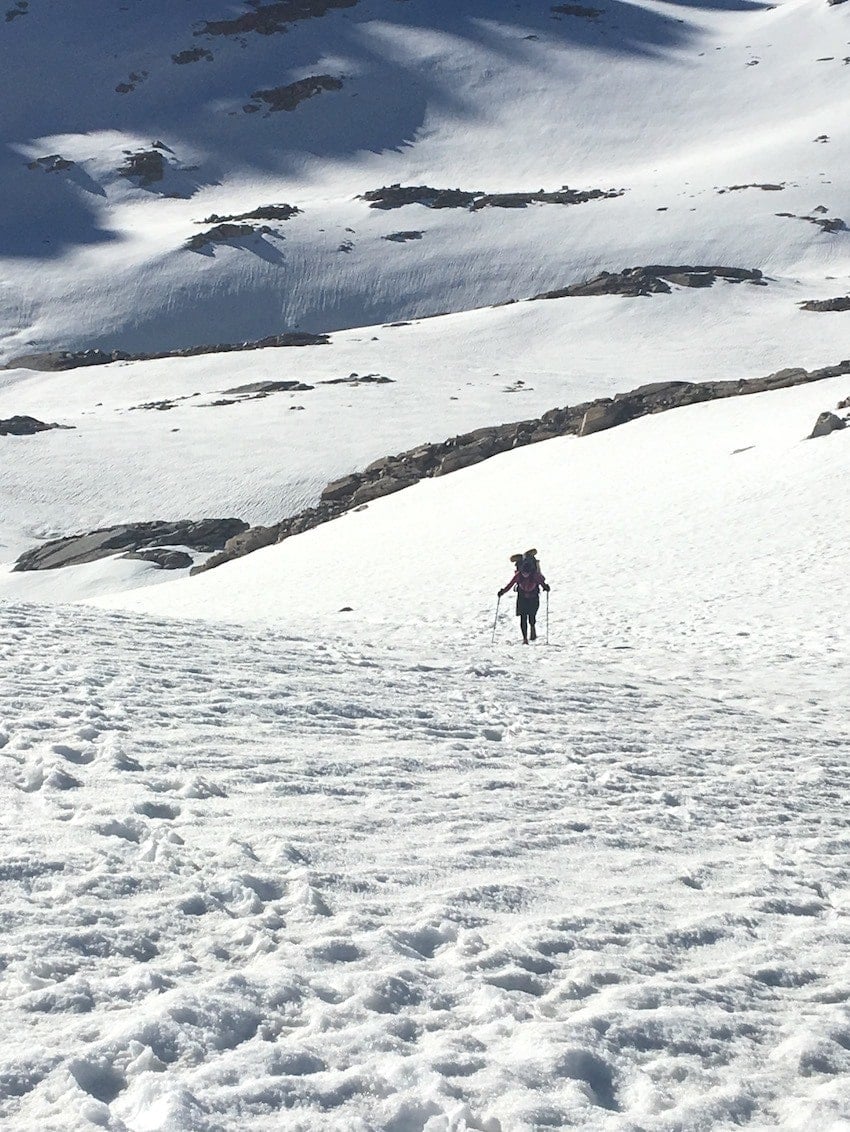 This is one of my favorite Pacific Crest Trail photos from my trip. My friend, Pizza Taxi, and I separated from our larger trail family for a few days of hiking away from the larger group. One of the passes that we conquered together was Muir Pass. It was entirely covered in snow, and we couldn't see the trail at all. We read in our guidebook that people often mistook Muir Pass and went up the wrong peak. We were ecstatic when we found ourselves at the doorstep of Muir Hut (finally).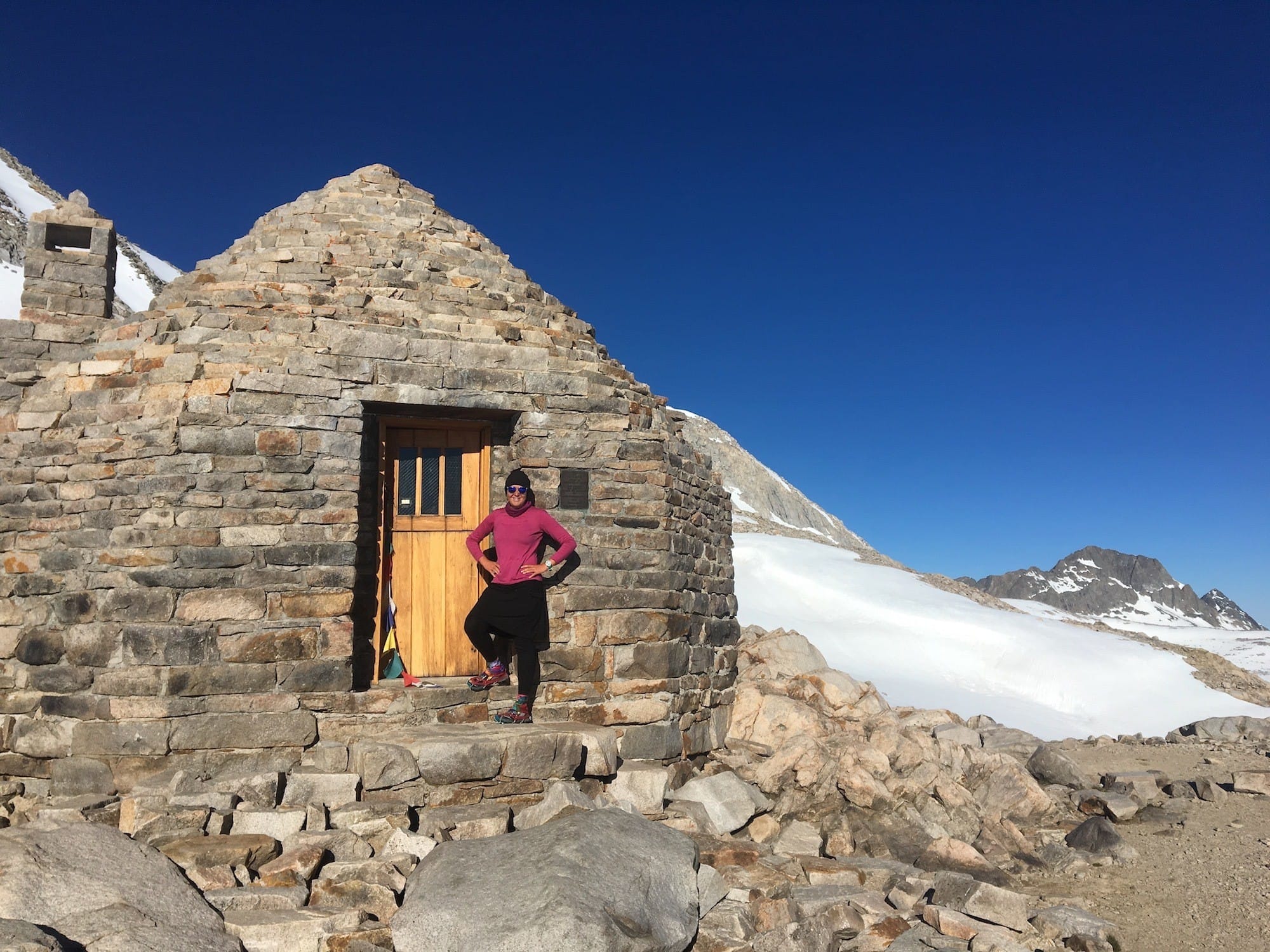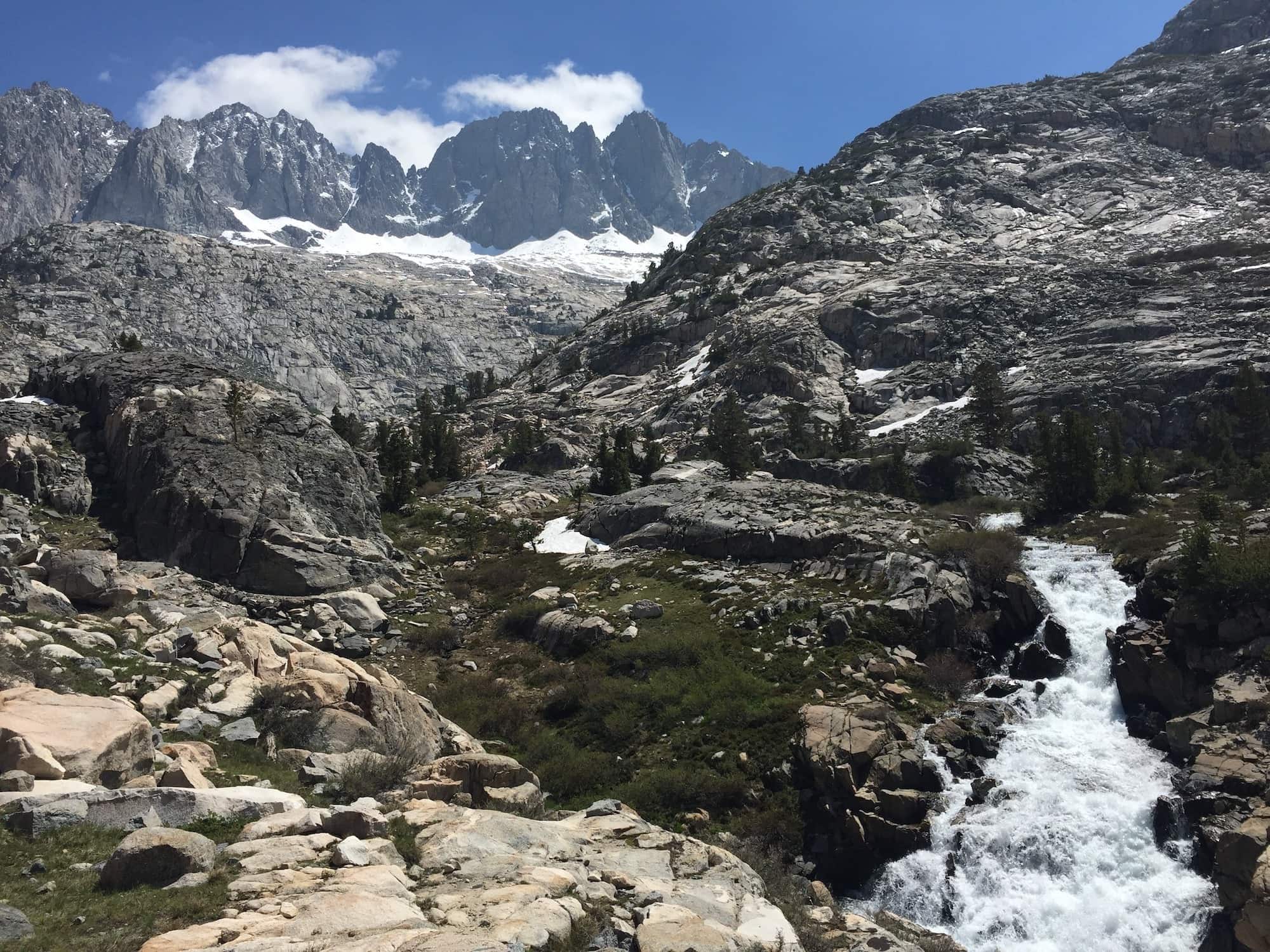 This shot was on our descent from another Sierra mountain pass. We stopped and enjoyed dinner right by this gushing waterfall before hiking on until dark.I remember being exhausted and just wanting to camp by the waterfall. My shoes were soaking wet from walking in snow all day and I had no dry socks.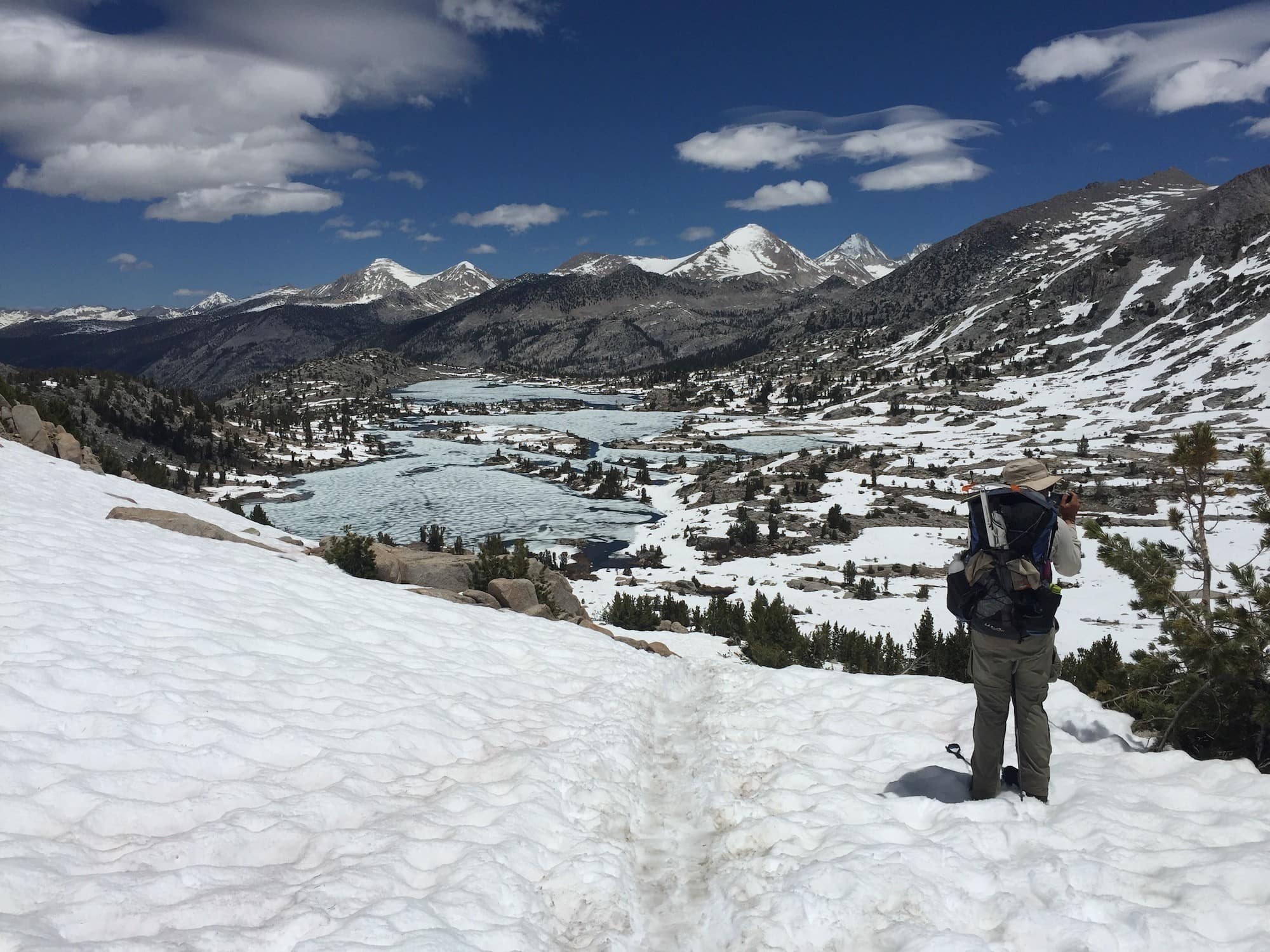 This is a photo of one of our last Pacific Crest Trail passes in the Sierras. I was super exhausted that day, and as we hiked up and over the pass, I dreamed that maybe, just maybe, on the other side there wouldn't be any snow. I was completely wrong! Towards the end of our Sierras mileage, the temperatures were rising quickly. The snow was quickly turning to mush making it harder to maneuver through.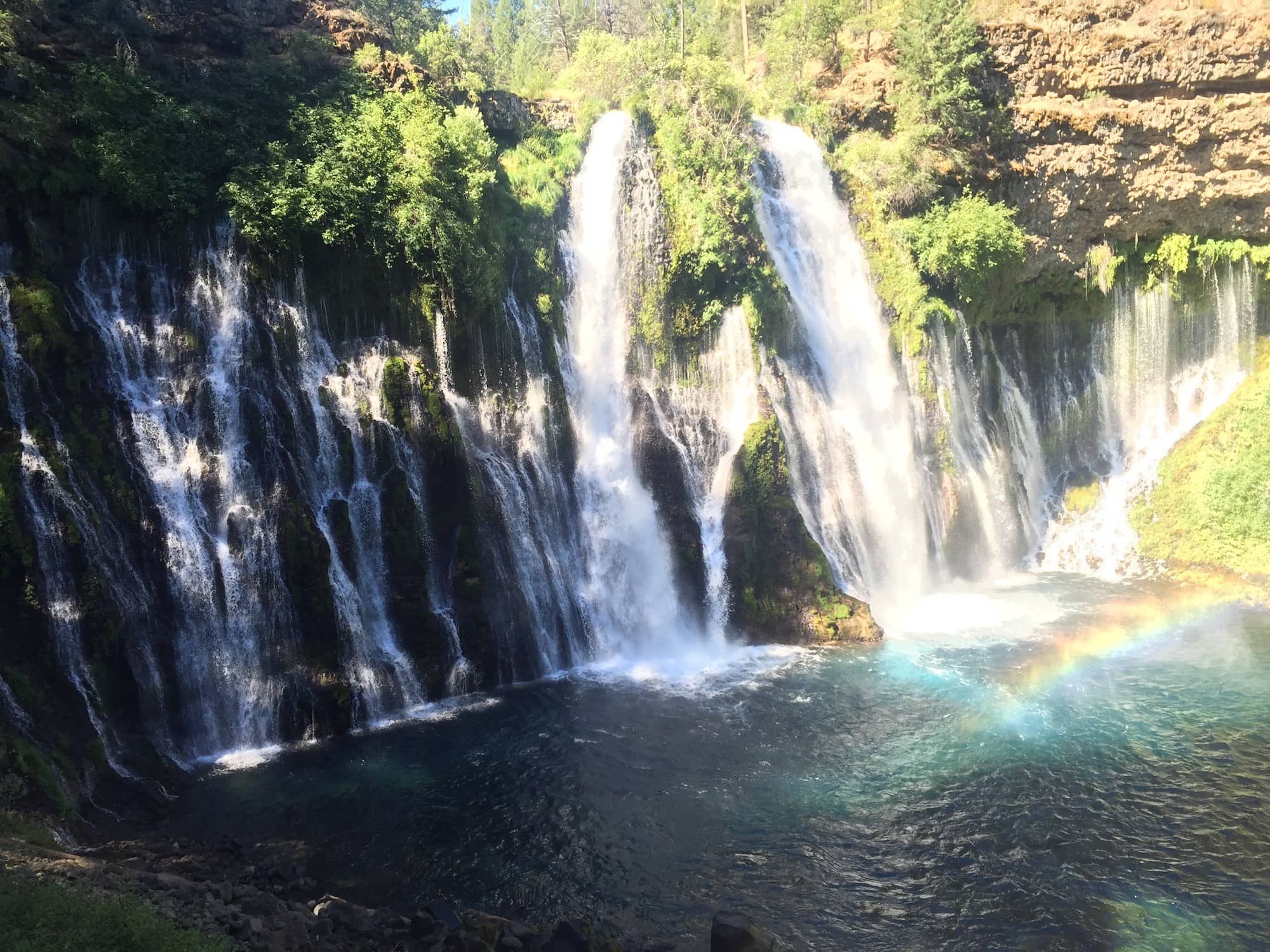 I was so excited to be so close to Oregon that I almost didn't stop at Burney Falls State Park in Northern California. There were so many moments on the trail where natural beauty forced me to stop and slow down to enjoy every sight, and I was always glad that I did. This is one of the biggest lessons from the trail that I've tried to remind myself frequently.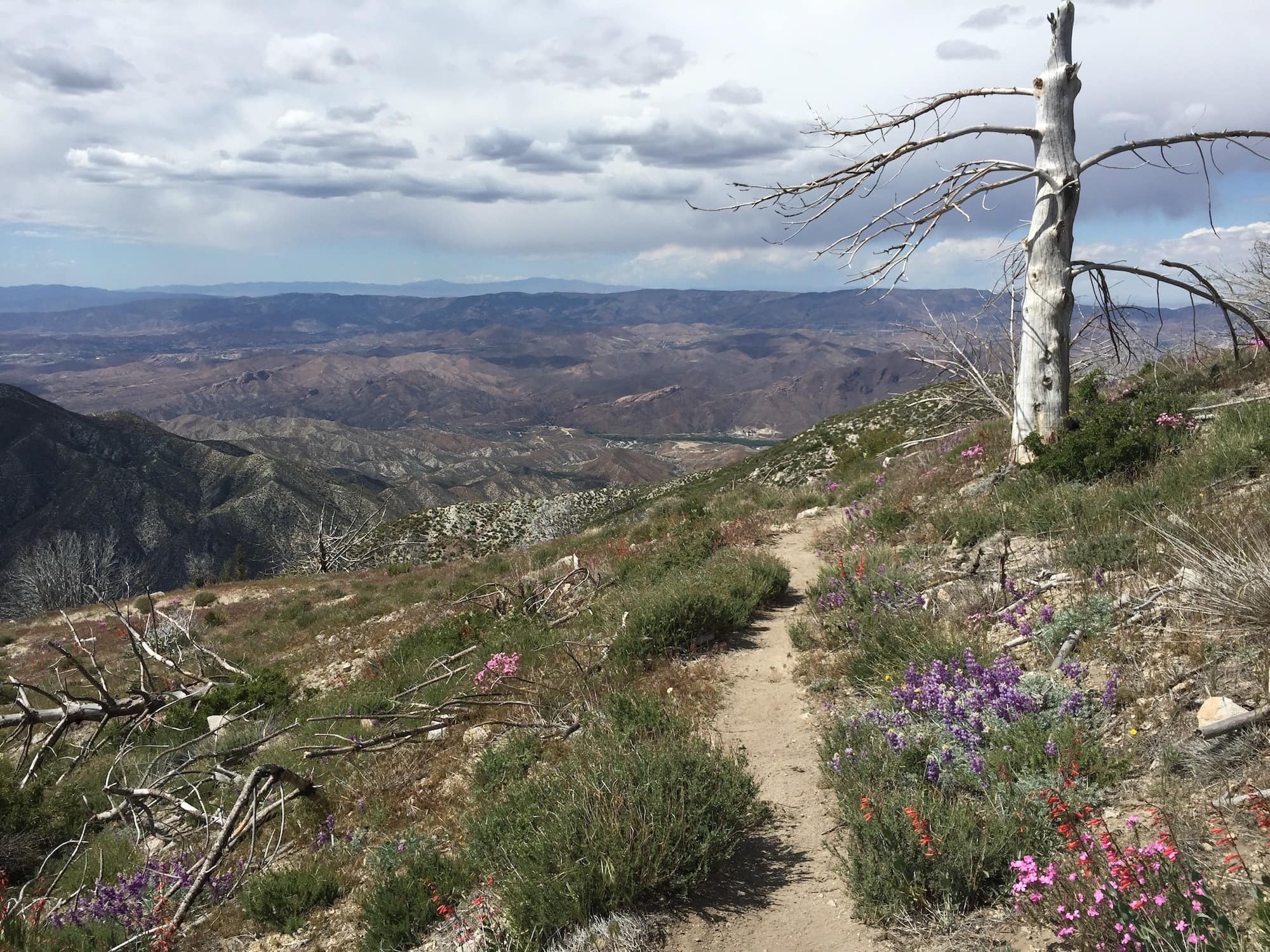 I was fortunate to have some incredible weather on the entire trail. The views on clear days would take my breath away. I loved being able to look ahead and imagine what the trail would be like in a few days.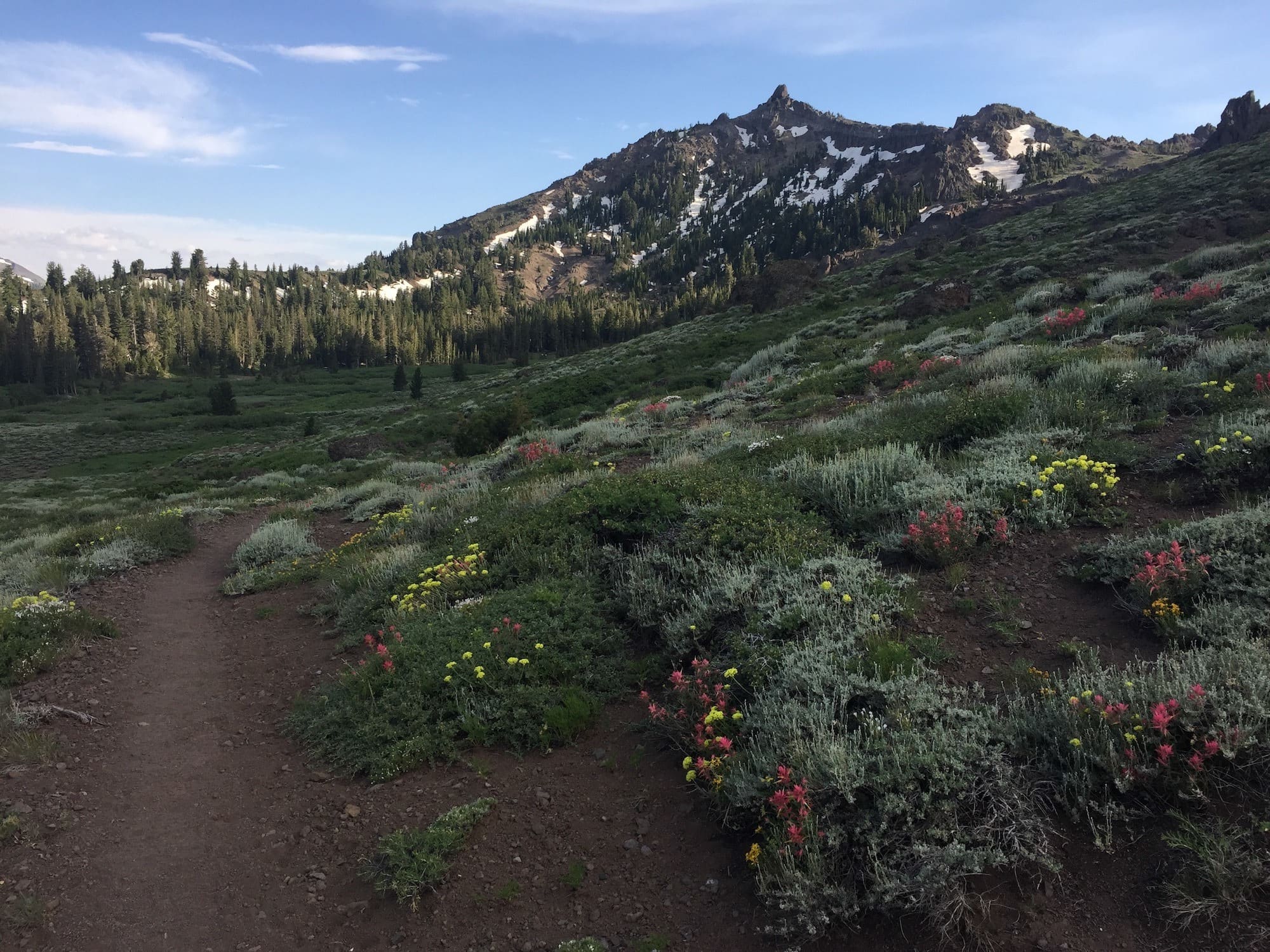 I shot this Pacific Crest Trail photo while waiting for my dad to catch up to me. He spent 9 days hiking the trail with me. It was his first time carrying a backpack and his first time sleeping in a tent. He helped me savor how far I'd come and appreciate the beauty around me.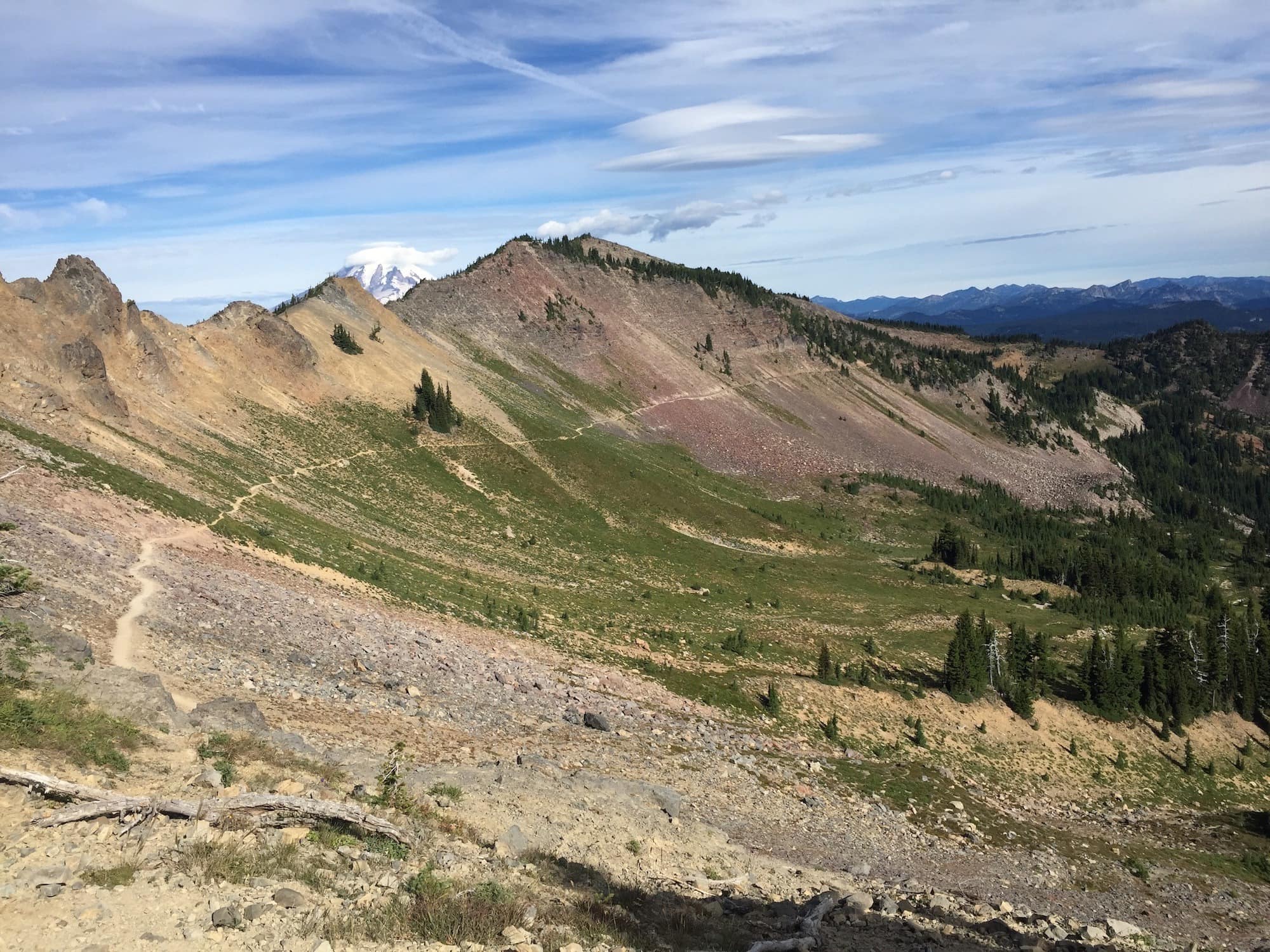 Whenever I saw trails like this cut into ridges it always made me laugh, they seemed like you could fall so easily yet when you were on them they seemed so stable and wide. I remember being so excited to get closer and closer to Mt. Rainier, it's the peak in the background on the left. It was majestic for miles upon miles.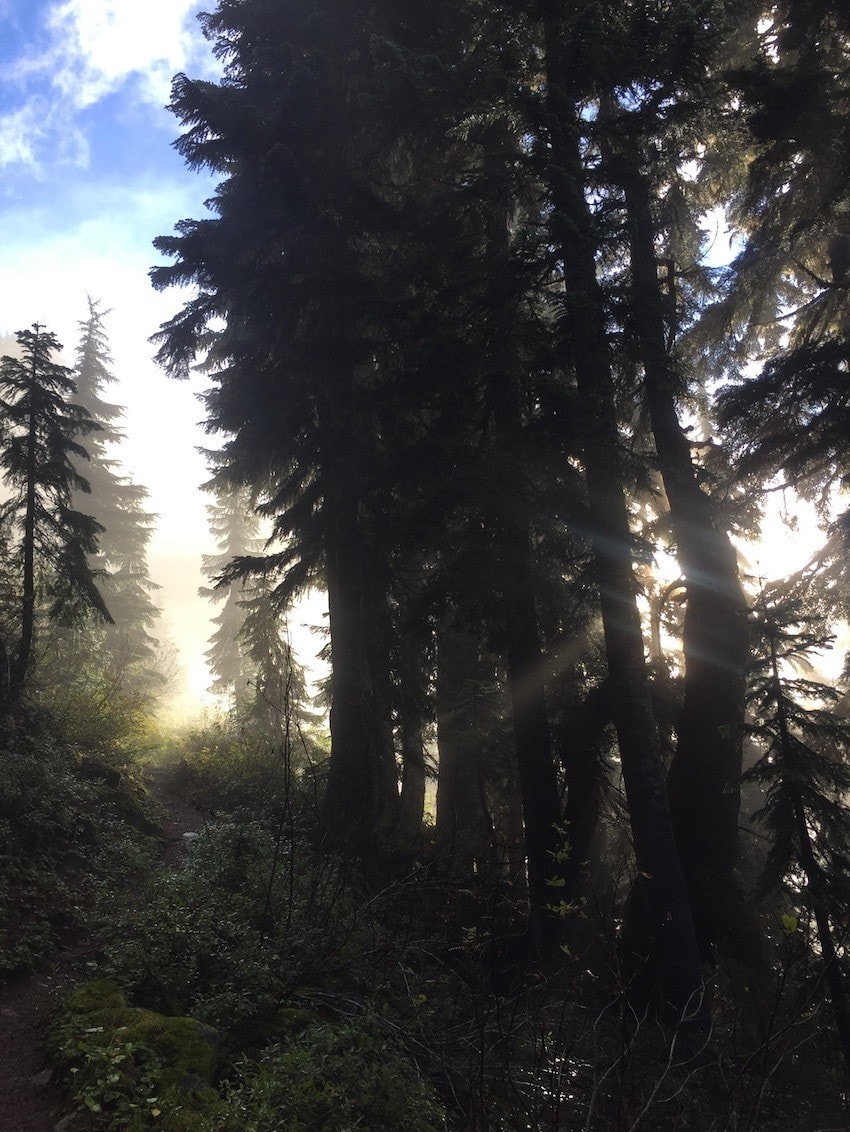 In Washington, the foliage would be so thick at times you could almost lose the trail. It always kept me focused on ensuring I was following the right path. This was another early morning where I was attempting to get 30 miles in before sunset.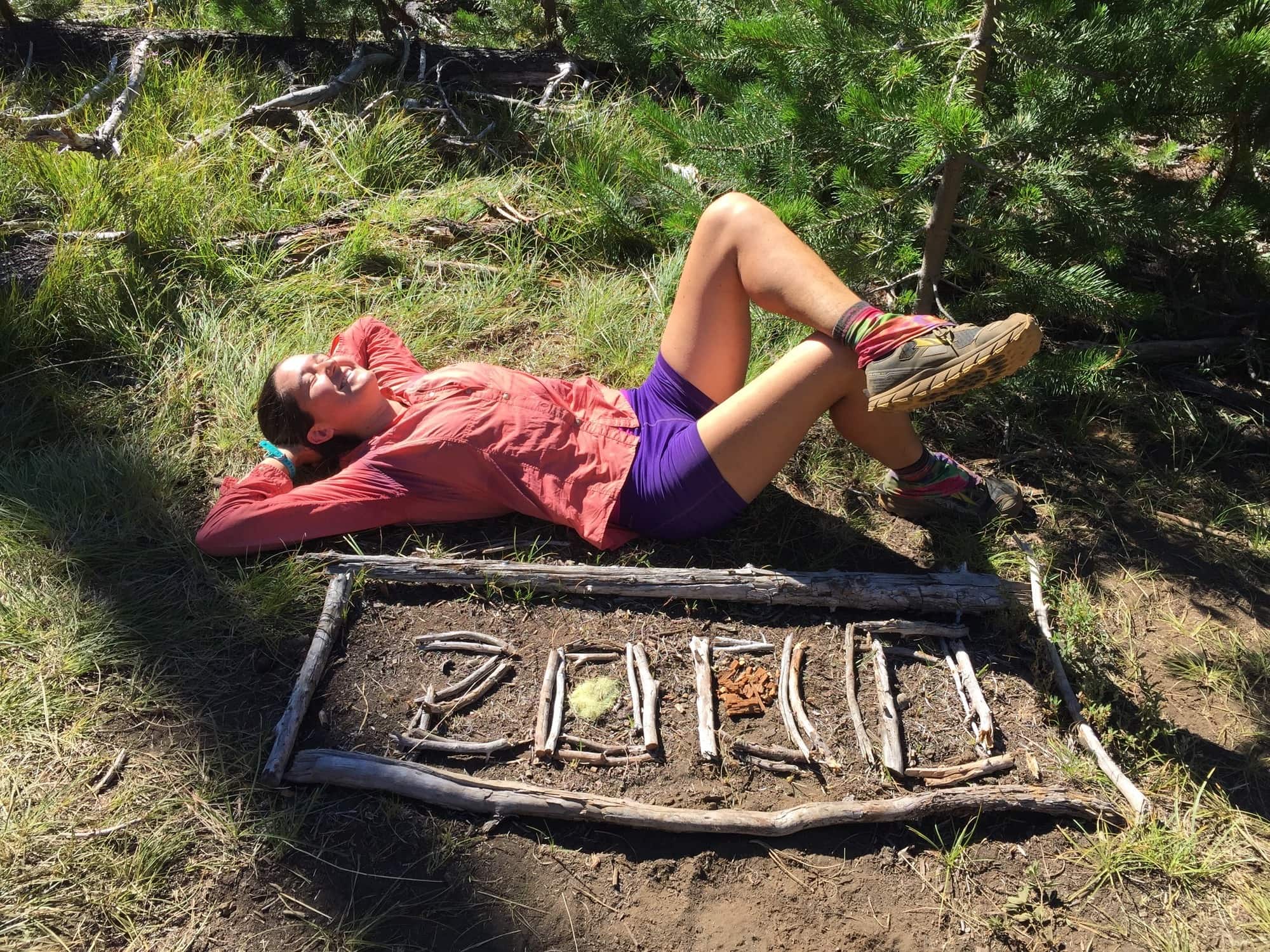 It's impossible in pictures and even in words to explain the emotions of completing a thru-hike.
Passing mileage milestones marked periodically along the trail kept the positivity flowing. I remember right before the 2,000 mileage marker you have to cross a highway; I kept hoping there would be some "trail magic" near the road or by the marker. I was exhausted and needed a pick-me-up to keep moving. I was nervous I'd start crying when I hit the 2,000-mile marker and maybe just convince myself I'd walk far enough and not keep going. The second I saw this picture my friend took, I felt like all my raw emotions had been captured—pure bliss and happiness. I just had to stop and take the time to treasure the moment and once again, celebrate. Once I hit the 2,000-mile marker, I became truly confident in my ability to complete the trail, and I was thankful for being granted the opportunity to experience a thru-hike.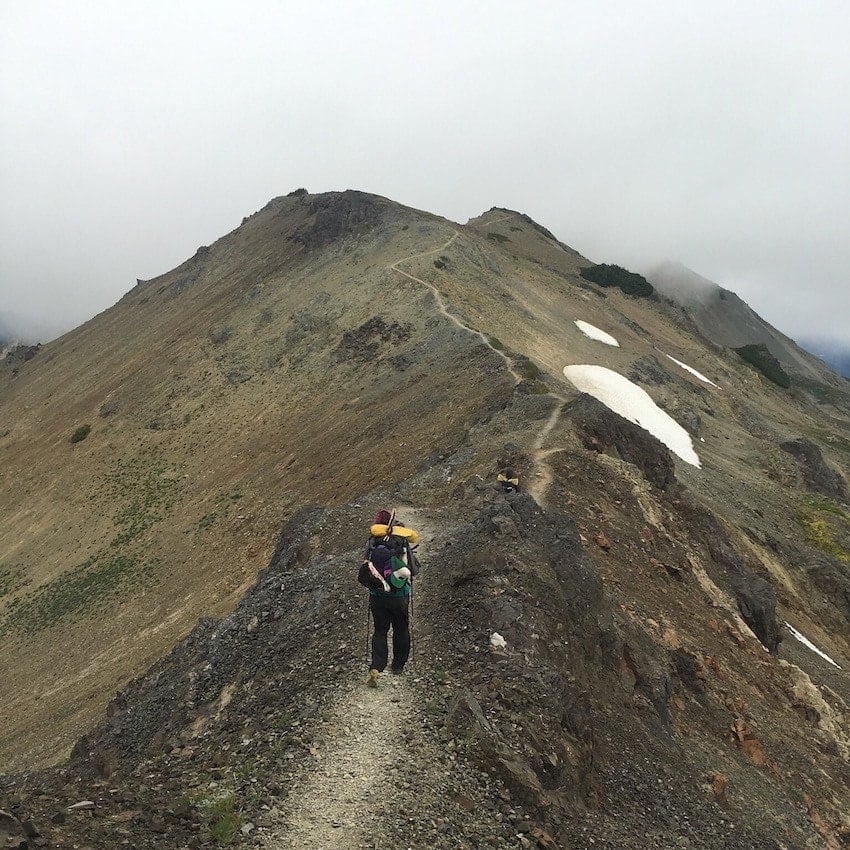 One of a few heart-racing days I experienced on the trail was coming down from the Knife's Edge in Washington. We, unfortunately, got caught in strong winds and were completely fogged in on the trail. I could barely see my hand in front of my face let along anyone in my group. Hail was falling, and I remember gripping my trekking poles so fiercely.
I felt so tiny with winds wildly whipping around me.
It was one of only a few days on the trail that I felt I was in imminent danger. My friends and I had a huge celebration when we finally reached the bottom.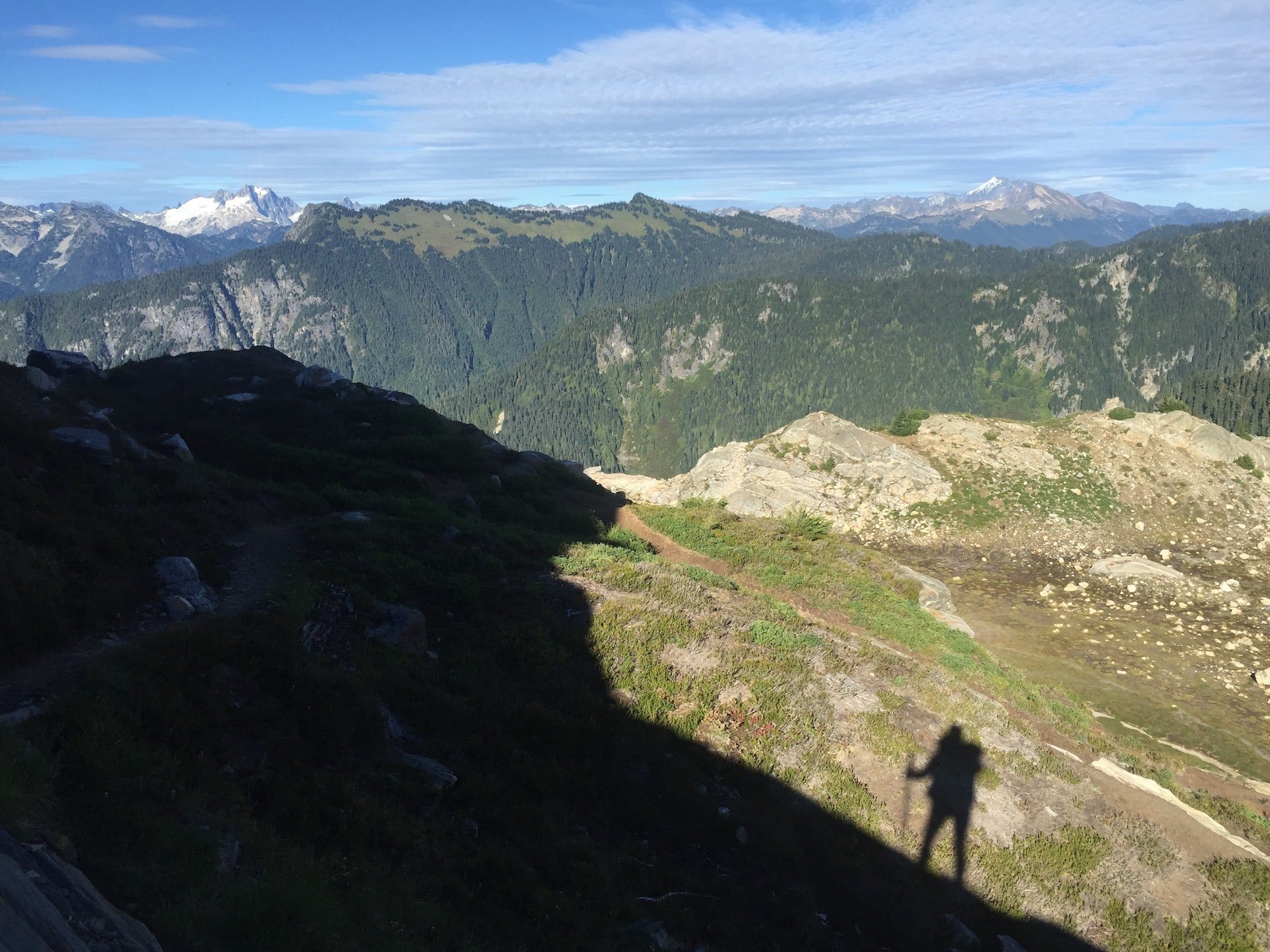 Surviving 5 months in the wilderness reminded me how strong I was and helped me understand that if I stay focused and dedicated to a goal, I can accomplish anything with grit. The photo above is one of my favorite snaps from the entire trek, "Just a Girl and her Mountain" I'd titled it.
Congrats to Kim on this incredible accomplishment, and huge thanks to her for sharing her incredible Pacific Crest Trail photos! Now, who wants to thru-hike the PCT?