THE ULTIMATE GUIDE TO BANFF, JASPER & YOHO CAMPGROUNDS
Last summer I spent nearly a month camping in Banff, Yoho, and Jasper National Parks in Alberta. I thought camping was the ideal way to explore the Canadian Rockies as it puts you right at the heart of all of the trails and other adventures that the Parks have to offer. Plus it was inexpensive relative to staying in hotels. If you want to stay at the campgrounds in Banff, Yoho, or Jasper National Parks it does require a bit of advance planning, as the campgrounds fill up months in advance – which I failed to do. I remember going on the Parks Canada website a month before my trip and being utterly confused with the campground situation. All of the campground reservations were full, and I crossed my fingers that I'd get there and be able to find a place to park my van at night.
In this new blog post, I share some Banff, Yoho, and Jasper campground tips from my Canadian Rockies road trip. I share my thoughts on my favorite campgrounds, which ones you can reserve in advance, and advice if you miss the boat on campground reservations or simply prefer to be spontaneous.
Get ready for camping in Banff, Yoho & Jasper National Parks!
Banff, Yoho & Jasper Campground Basics
To camp all of the National Parks you will need the following.
A National Park permit: National Park permits are available at the entry gates, visitor centers, and campground kiosks.
A camping permit: Some campgrounds in Banff, Yoho & Jasper accept advanced reservations for permits online. Others are first come, first served. Cost varies between sites.
A fire permit: Fire permits are required for each registered party that wants to have a campfire (conditions permitting). They are $8.80 per site per night and include your firewood. If you don't want to have a fire, then you can save some dough.
Other tips:
Pets are allowed in the National Park campgrounds but must be on a leash at all times.
Be bear aware! All campsites have bear proof boxes where you should store your food. Don't leave food out on picnic tables unattended, even for a couple of minutes while you go to the bathroom.
There is no "free camping" in Banff, Yoho & Jasper National Parks, like we have on BLM Land. You are only allowed to stay in designated sites, and I wouldn't recommend trying to sneak around and sleep in a trailhead parking lot overnight. These lots are patrolled, and they do make people move. I "stealth-camped" one night of my trip off the Icefields Parkway where all of the sites were full and was paranoid the entire night about getting busted.
If you snag a first-come, first-served site that you like, set up shop there for a few days and explore around there. You'll have a better time if you don't have to search for a new campsite every single morning.
"Stealth Camping" in the trees off the Icefields Parkway….my least favorite night of my trip.
Banff National Park Campgrounds
The campgrounds in Banff are divided into two areas; Bow Valley campgrounds and Icefields Parkway campgrounds.
The Bow Valley Campgrounds includes the campgrounds in the towns of Banff and Lake Louise, plus all of the campsites in between. The Icefields Parkways campgrounds include everything north of Lake Louise until you get to the Jasper National Park border.
There are 2,462 sites located within 14 campgrounds so options are plentiful, although it's also one of the most popular areas in the Canadian Rockies. For that reason, if you know your dates, we strongly suggest making reservations. That way you won't have to worry about not finding a spot.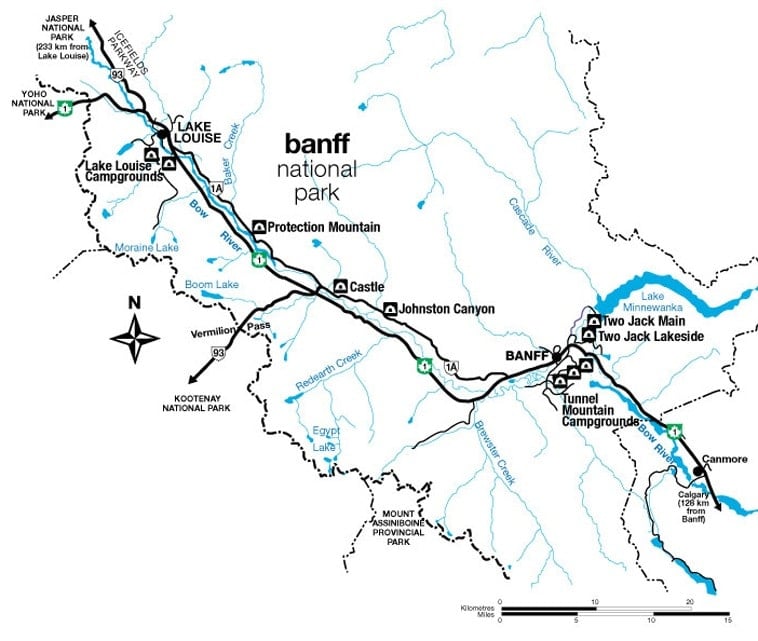 Campgrounds Closest to the Town of Banff
If you want to explore the town of Banff, the closest campgrounds are the Tunnel Mountain Campgrounds and the Two Jacks Campgrounds, followed by Johnston Canyon. 100% of the sites at theses sets of campgrounds are reservable by advanced reservation.
Tunnel Mountain Campgrounds
If you want to be able to hop on a quick bus and head to town, then the Tunnel Mountain Campgrounds are the best choice. The Tunnel Mountain Campgrounds also have showers, while the Two Jacks campgrounds do not. The Tunnel Mountain Campgrounds are also the only campsites near Banff with hookups. So if you need electricity you'll need to stay here. At the Tunnel Mountain Campgrounds, there are over 700 sites, and you kind of feel like you are in a giant parking lot. These campgrounds do have pretty views of the mountains if you don't mind looking past the pavement and your neighbor's RV. You are paying for convenience and amenities at Tunnel Mountain.
Two Jacks Main and Lakeside Campgrounds
The Two Jacks campgrounds feel a little more wild. It's harder to get to town by public transportation, but you're right next to Two Jack Lake which is a great spot for sunset. Lake Minnewanka is also right around the corner with a lot of nice trails to explore.
The Two Jacks Main and Lakeside campgrounds are more spread out, with sites spread throughout the trees. If you're on top of your planning and lucky enough to score one of the campsites right on the shore of Two Jacks Lake, you'll be a happy camper and should plan on staying a few nights.
Two Jack Lakeside campground also has equipped campsites for $70 a night that includes the full shebang; a 6 person tent, 6 sleeping pads, a stove with propane, a lantern and even a broom with a dustpan. Don't forget food, sleeping bags, and your clothes!
Johnston Canyon
Johnston Canyon Campground is about 30 minutes from the town of Banff, and it is very busy due to the popularity of the Johnston Canyon hike which is right across the road. If you do end up getting a spot at Johnston Canyon campground, use it as an opportunity to get up early and hit the Johnston Canyon trail before the rest of the crowds arrive.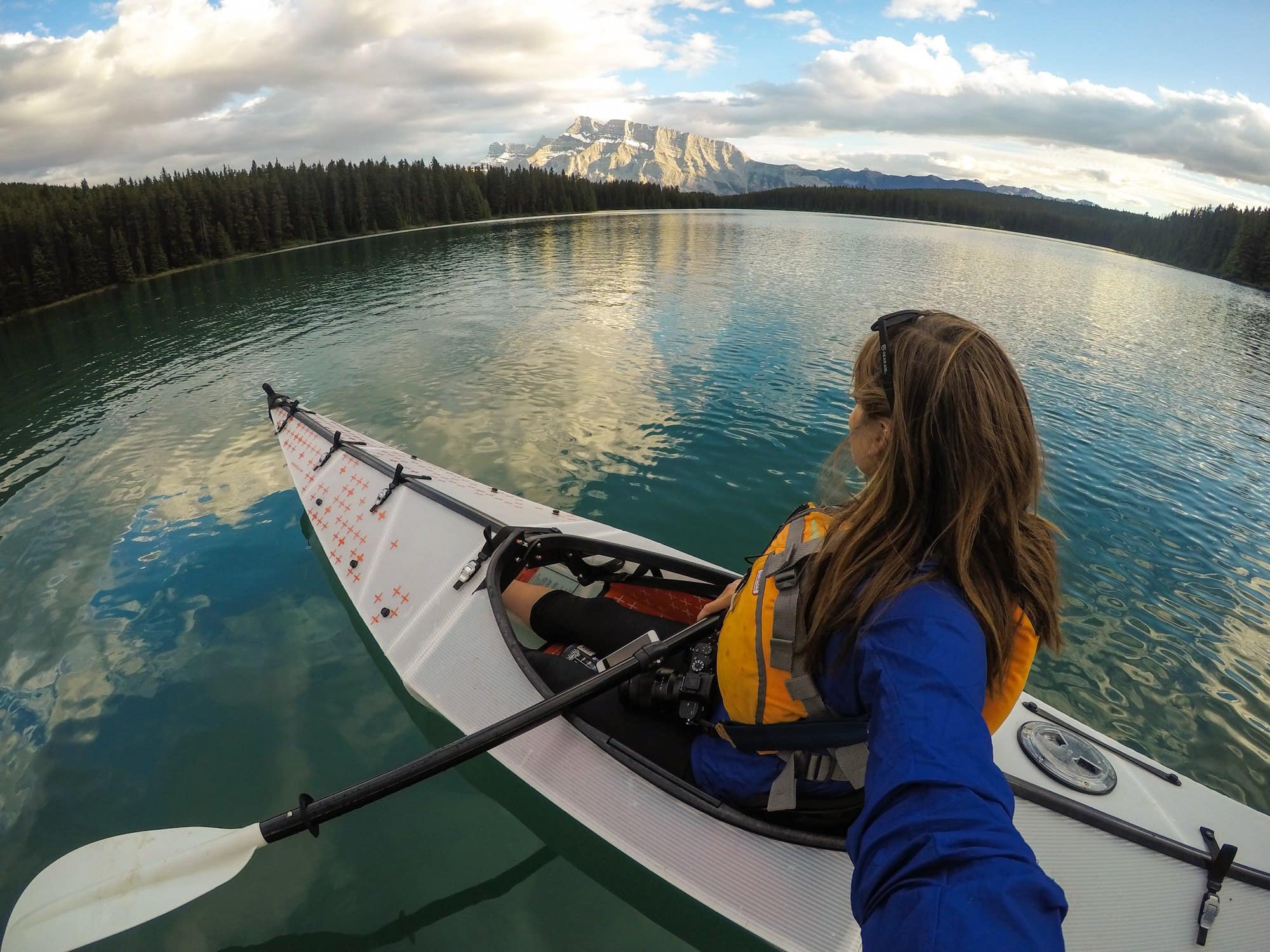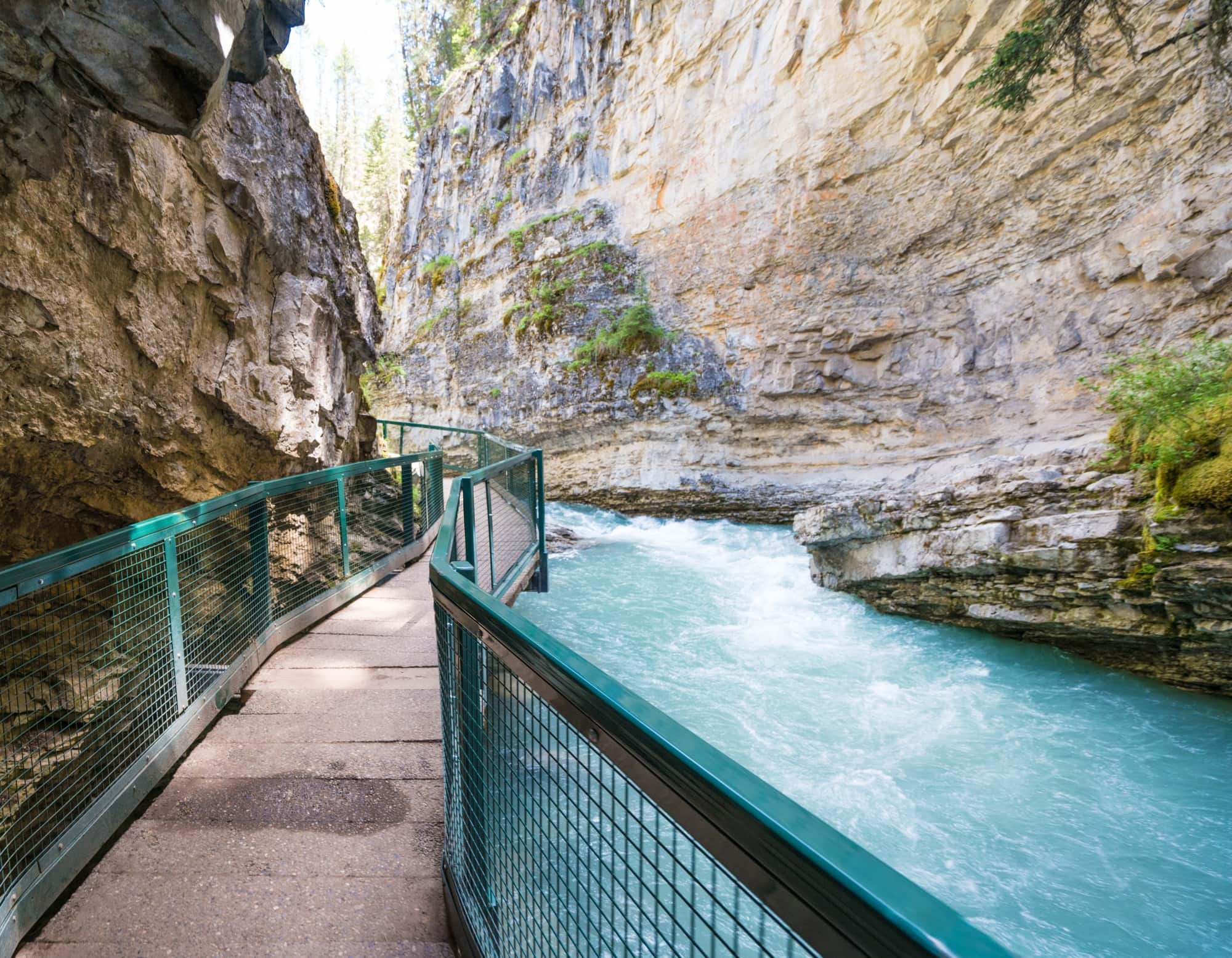 Enjoying Sunset on Two Jack Lake & beating the crowds at Johnston Canyon.
Campgrounds Closest to Lake Louise
Lake Louise has a large campground right off the highway and next to the train tracks, and it is separated into two areas – one area for hard-sided campers and another for people who are tent-camping. The tent-camping area is surrounded by a fence to keep the bears out, and you are not allowed to pitch a tent in the hard-sided campers area. The Lake Louise campground has hot showers and flush toilets and consists of pull through sites where you share a parking spot with your neighbor. It's not the most scenic, but it is the most convenient to Moraine Lake, Lake Louise and the surrounding trails.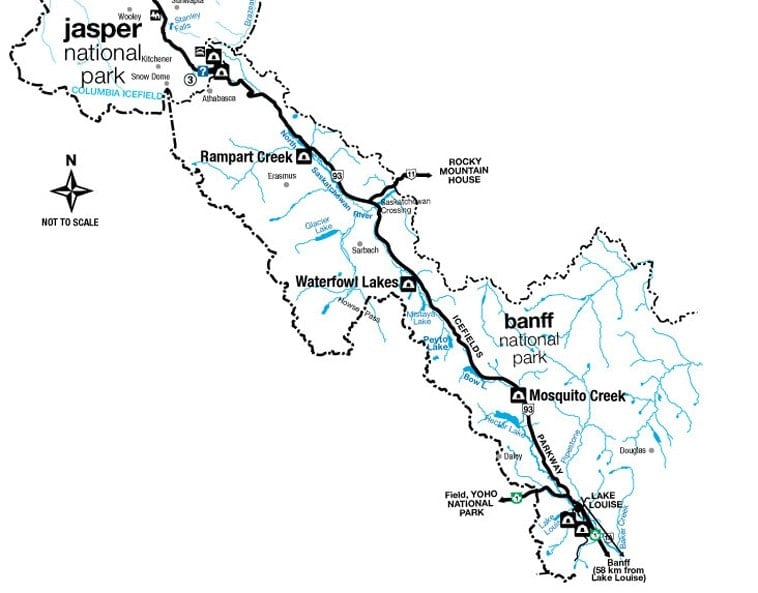 Campgrounds on the Icefields Parkway in Banff National Park
North of Lake Louise, you'll find Mosquito Creek, Waterfowl Lakes, and Rampart Creek Campgrounds. These are all first come, first served. If you are trying to get a campsite at one of these, I recommend arriving early. Every time I tried to stay at one of these, they were already full. If you want to stay here, don't leave your campsite search for the end of the day. Instead, head to the campground you want to stay at first thing in the morning, and snag a spot right as someone is leaving. Don't be picky, or you might not end up with a campsite at all. I learned this the hard way. Once you find a site, then go explore for the day.
What if all the Banff Campgrounds reservations are full?
I showed up to Banff with no plans and all of the sites on the website were already reserved. I wouldn't recommend this, as it ended up being quite stressful. Every morning I had to rush to find my next campsite, and I ended up planning my day around where I could find an available site versus what I actually wanted to do. If you end up in a similar situation, you aren't completely out of luck. Here are some tips and places you can stay:
First go to your campground of choice early in the morning: The campgrounds in Banff often have last minute cancellations. Or people will leave a day early. In this case, people looking for a site will line up first thing in the morning and wait for the campground to vacate. Once they have open sites, the ranger will give sites out on a first-come, first served basis. Sometimes, you'll be able to stay for more than one night, so ask when you are being checked in. I was able to get sites at both Tunnel Mountain and Two Jacks Main this way.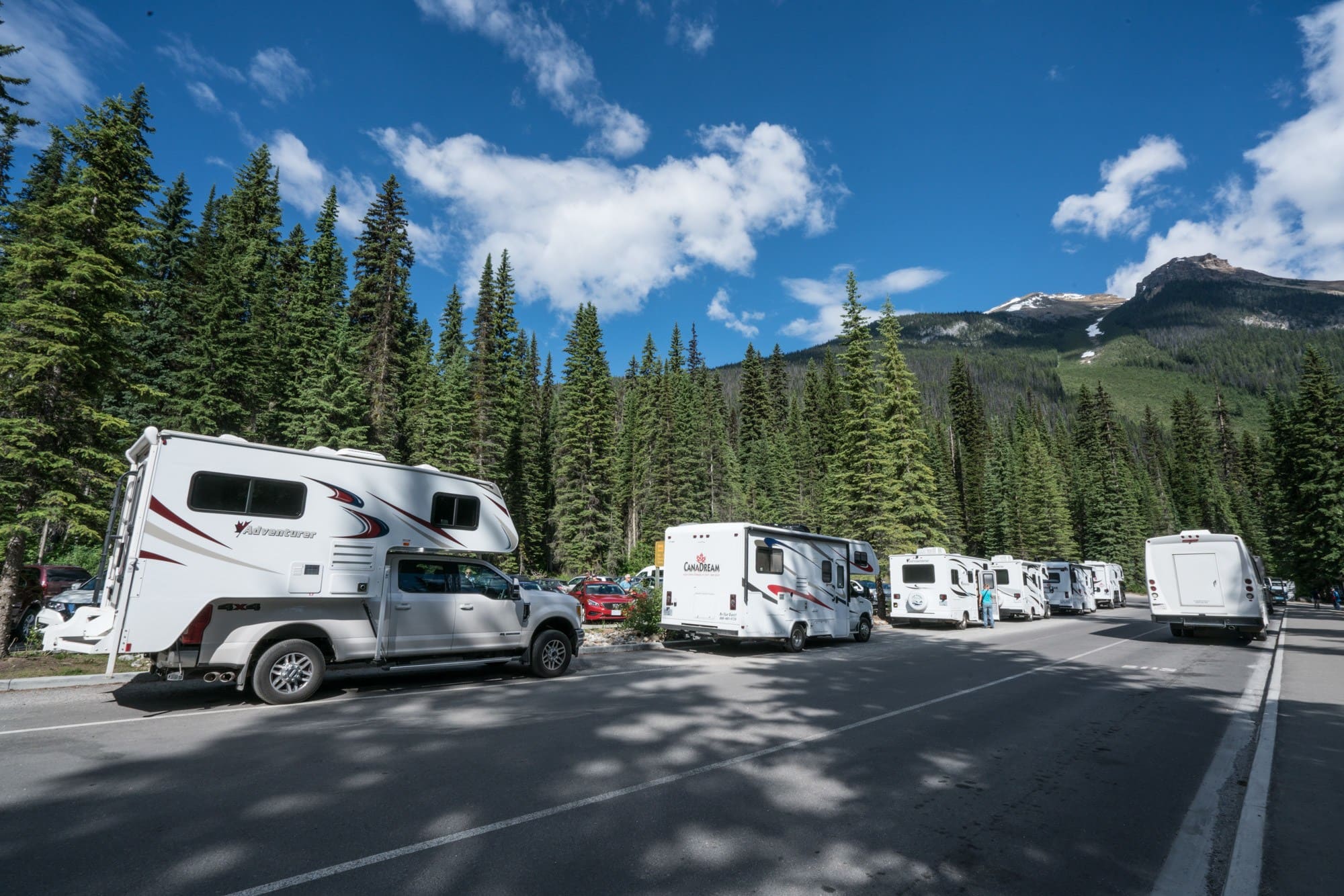 Banff overflow camping: The Tunnel Mountain Campground offers overflow camping at the back edge of the campground. I believe it was $12. You are required to sleep in your vehicle (no tents) and sites were a little cheaper than a normal campsite. This is really just a place to park and sleep that provides access to the bathrooms.
Lake Louise overflow camping: the Lake Louise overflow camping was in a dirt parking lot right off the highway, also for $12. Again, this was only for people sleeping in their vehicles, and no tents were allowed. I much preferred the Banff overflow over the Lake Louise overflow. The only plus side of the Lake Louise overflow is they were running shuttles up to Lake Louise and Moraine Lake that left from the same parking lot.
Jasper National Park Campgrounds
If you head north from Banff on the Icefields Parkways, eventually you'll cross the border into Jasper National Park. Jasper is slightly less busy than Banff, and I had a little better luck here finding a campsite without an advanced reservation.
All of the reservable campgrounds in Jasper are circled on the map below in red. All of the non-reservable campgrounds in Jasper are circled in blue.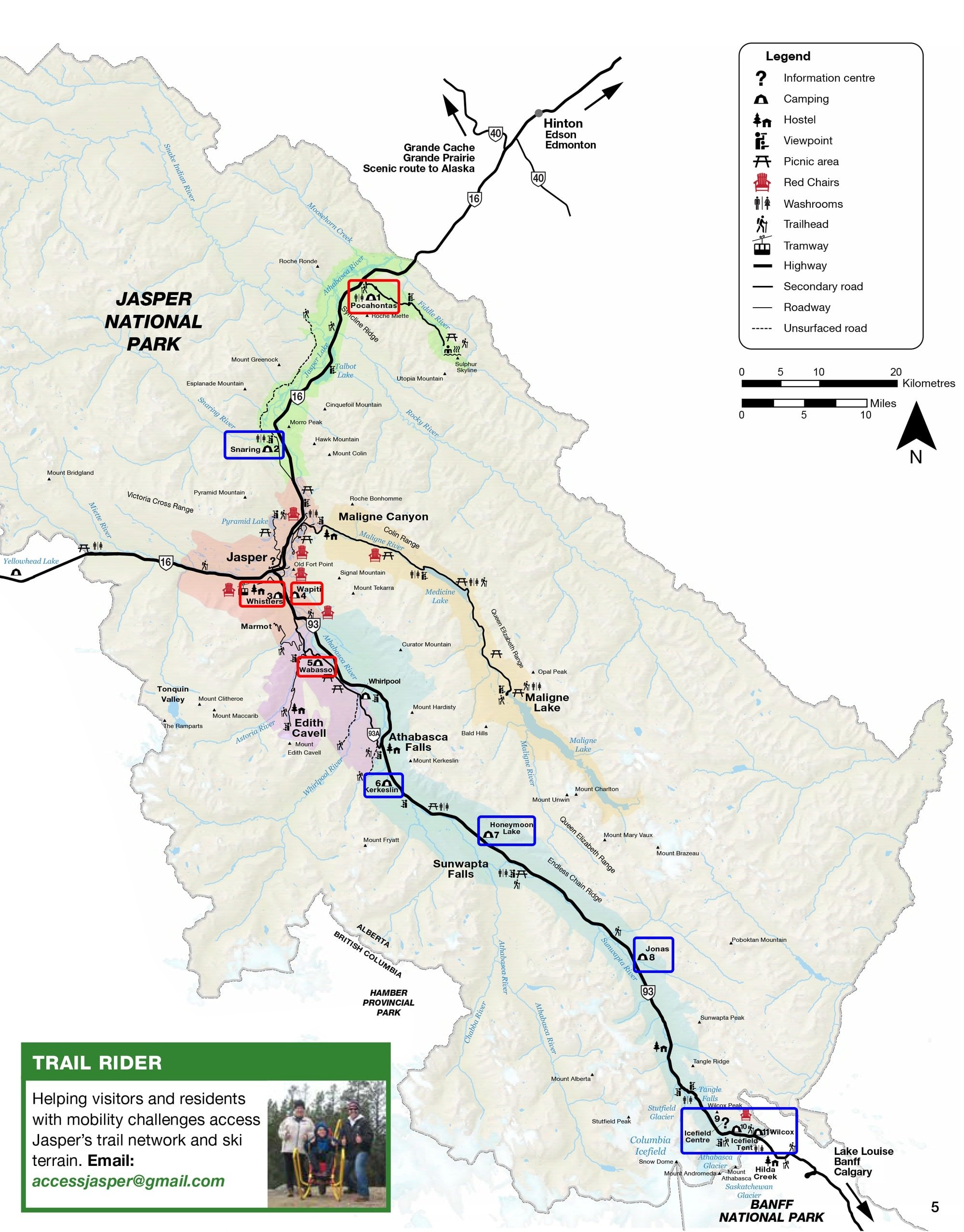 Campgrounds Closest to the Town of Jasper
The campgrounds that take advanced reservations that are closest to the Jasper township are: Whistlers, Wapiti, and Wabasso. Pocahontas campground also takes advanced reservations, but it's a little further from the action – which can be good or bad depending on what you are looking for. Reservations open in January for the summer season.
Whistlers campground has over 780 sites and has nightly evening shows all summer. There are also oTENTiks at Whistlers, aka glamping. oTENTiks are fully set up tents with wooden floors, beds, seating and even heaters. They can fit up to 6 people with a maximum of 4 adults.
Wapiti is the campground I stayed at along the Athabasca River. I didn't have a reservation and used the same tactic as I did in Banff – get up early and see if they have availability. Luckily I was able to get a Wapiti campsite for a couple of nights without too much hassle. Wapiti is open year-round if you want to beat the crowds in the summer and visit in the winter.
I also stayed in the Snaring River Campground, which was first come first served and preferred it to Wapiti. It's a little more off-the-beaten path, but still close enough to Jasper township that you can enjoy what the town has to offer. There are no showers, and be ready to use your bug spray.
Self-registration at Snaring River
Campgrounds along the Icefields Parkway in Jasper
There are a lot of first-come, first-served campgrounds spaced out along the Icefields Parkways once you cross into Jasper National Park. I'd estimate that it's a 30-minute drive between each one, and like Banff, they fill up in the morning. If you know you want to stay along the Icefields Parkway, find your campsite first and then head out for your day's adventure.
If you can't get a spot in the main Jasper campgrounds or any campgrounds along the Icefields Parkway, you have a couple of options.
Snaring River Overflow Camping: This is a great option right next to the official Snaring River Campground. It's a big field with open camping. It costs just over $10 and is only available if all of the other campgrounds are full.
Columbia Icefields Center Parking Lot: They allow RVs and Campervans to park overnight in the big parking lot at the Columbia Icefields Center. There is a toilet, but nothing else. I stayed here for one night and for a parking lot, the views couldn't be beat.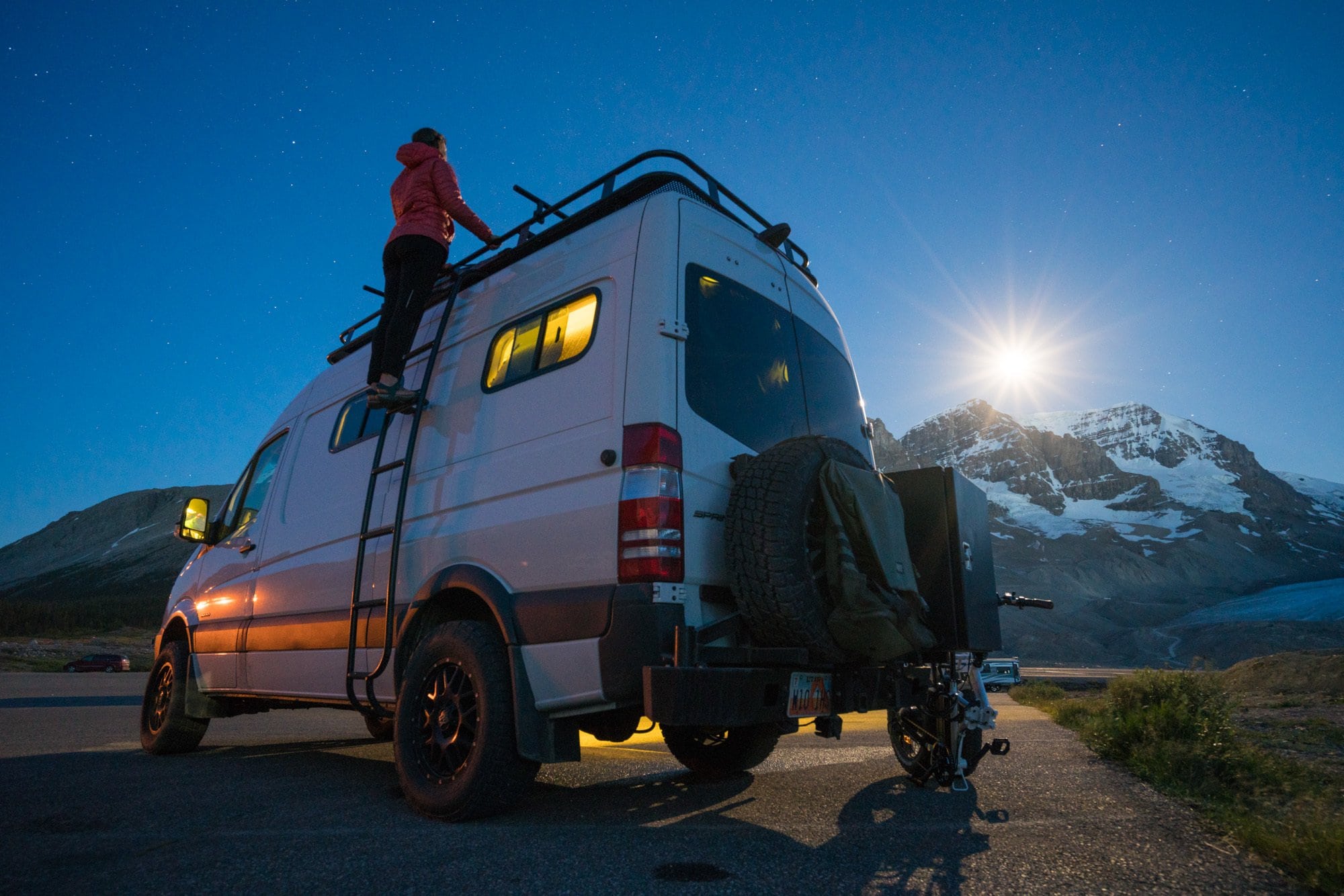 The full moon rising over the Columbia Icefields parking lot
Yoho National Park Campgrounds
If the campground lists above for Banff and Jasper National Parks overwhelmed you, don't fret. Yoho National Park only has 4 campgrounds with slightly over 150 sites.  Yoho National Park had some of the best hiking trails (in my opinion), so one of Yoho's campgrounds is a very convenient place to base yourself for a couple of days during your road trip. Yoho is located just west of Lake Louise.
Campgrounds are generally open from mid-May to mid-October but vary from campground to campground. All Yoho National Park campgrounds are available first-come, first-served. Campgrounds are busiest on holiday weekends and all weekends in July and August.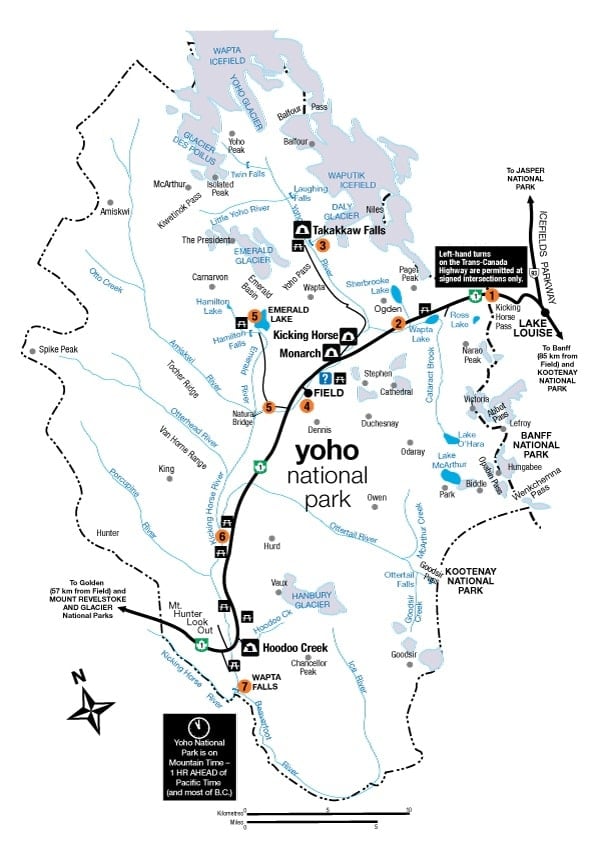 In Yoho National Park, Kicking Horse campground is the largest with 88 sites and is the only one with flush toilets and showers. The rest of the campgrounds are small and pretty primitive. To get a spot at Kicking Horse, you'll want to get up early to beat any line that might form. When you arrive, if you get a spot, you can stay consecutive nights, as long as you tell them you want to extend before check-out the next day.
Right next door to Kicking Horse is the much smaller Monarch Campground. Here you'll only find pit toilets, along with some pretty incredible views. The first night when I arrived in Yoho, both Kicking Horse and Monarch were full, but they allowed overflow parking across the road from Monarch in a dirt lot next to the railroad tracks.
Kicking Horse and Monarch the most centrally located campgrounds in Yoho. From there you can easily drive up to Takakkaw Falls or the Iceline Trail, as well as Emerald Lake and it's nearby trails. You can also drive into Field which is a cute small town with a couple of places to grab some grub, as well as a liquor store.
If you are tent camping, then your best option for a quiet and scenic experience is the walk-in sites at Takakkaw Falls.
Takakkaw Falls – the walk-in sites allow you to beat the crowds at this popular spot.
What to Pack for a Canadian Road Trip
Weather can change very quickly in the Canadian Rockies, and it is important you are prepared. I suggest bringing rain gear, regardless of the predicted forecast for your travels, and I recommend carrying it with you on your day hikes.
The average high temperature during the day in spring and summer ranges from 50° (F) to 65° (F)  though temperatures at night can drop below freezing. In late June, we got everything from hot sun to rain to snow. Some days were quite warm and nights got into the 30s (F). While you might be camping during the summer you need to ensure your sleeping bag has a good rating for temperatures below freezing. Packing extra blankets to be safe is a great idea, along with a groundsheet for your tent to provide extra insulation with dropping temperatures.
Just a typical summer day in the Canadian Rockies
Remember to be bear aware, and always carry your bear spray. The Parks suggest hiking in groups, and if you choose to hike alone, they recommend talking out loud (yes, to yourself) and clapping before you turn any corners. The worst thing you can do is surprise a bear on the trail.
Don't forget that the Canadian Rockies are high in elevation so you'll want adequate sun protection with sunscreen and a sun hat. Trekking poles were very helpful on the steeper hikes.
For hiking clothing, you'll want lots of layers, including an insulated jacket, a hat, and gloves.
For full hiking apparel and camping gear checklists, see these posts:
Top Resources I used to plan my Canada trip
Hope this Banff, Yoho, and Jasper National Park campground guide helps you plan a well-organized trip to the Canadian Rockies. If you have questions, make sure to leave them in the comments!