JOHN MUIR TRAIL TRIP REPORT, THE FINAL SECTION
(KEARSARGE PASS TO MT. WHITNEY)
The John Muir Trail is 212 mile of pure Sierra goodness. And now, in my final John Muir Trail trip report, we reach the grand finale…summiting Mt. Whitney – the tallest peak in the continental U.S. The beauty of the JMT is that despite having these magnificent peaks, anyone in decent physical shape can do it. There's nothing even slightly technical or scary. It's just putting one foot in front of the other while distracting yourself with the alluring landscapes. I had never done anything like this before this trip. I'm just a regular gal who likes to hike. So if you are thinking about doing the JMT but have reservations, I hope these John Muir Trail trip reports encourage you to go for it.
For more information on the John Muir Trail, check out these posts:
And as it goes in all of the destinations we share, please practice good trail etiquette and remember to Leave No Trace. This means packing out all of your garbage, being respectful to others on busy trails, and following the established rules. 
 DAY 19 – FLOWER LAKE TO UPPER VIDETTE MEADOW (182.4)
In my previous John Muir Trail trip report (part 4), I talk about how we had to make a detour to pick up our last food drop at Onion Valley. This ended up adding about 14 miles in total and an additional mountain pass to our trip. At the time it seemed like kind of a pain, but we ended up finding a quiet camp on Flower Lake where we were treated to this sunrise on Day 19.
*Side note: I still owe you guys a post about food drops, and that is high on my priority list. But for now, if you are in the process of planning and don't want to carry more than a week's worth of food, Onion Valley is a logical place to do your final pickup.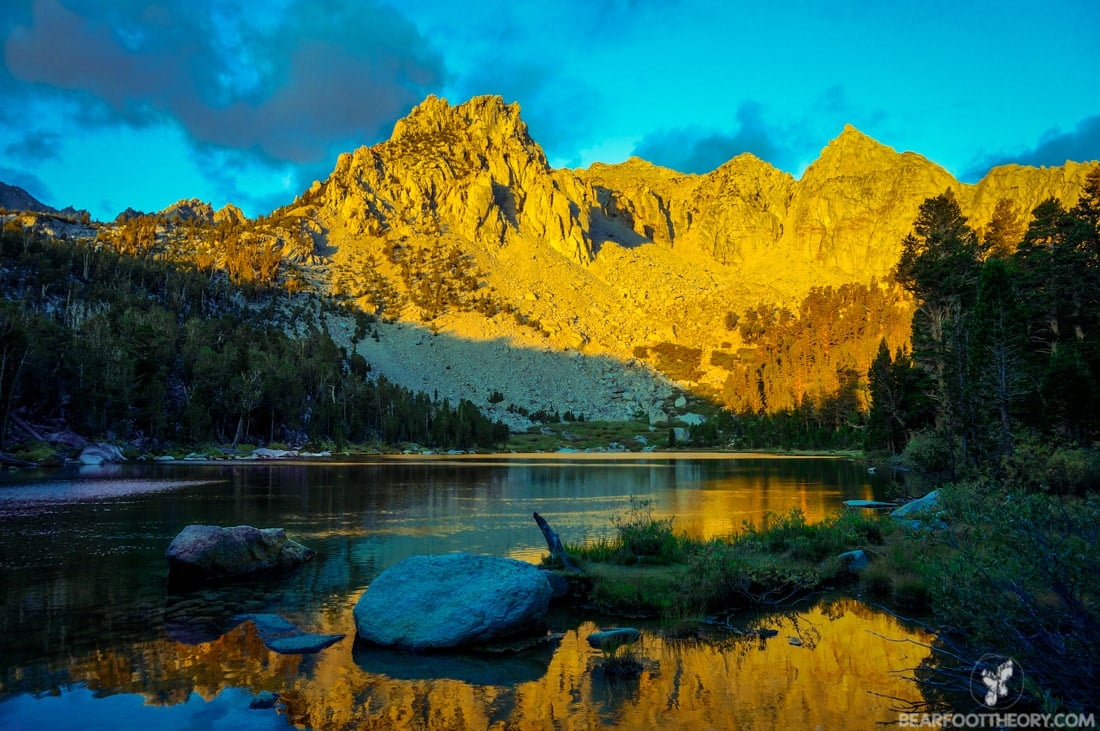 When we started out that morning, it looked like it was going to be another beautiful day in the Sierras, but the weather quickly turned as we made our way to the top of Kearsarge Pass. Something that we learned is that the weather can turn in an instant up there. While we were very lucky throughout our trip, it's critical that you have easy access to whatever clothing you need to be comfortable. For me, that was my rain coat and sometimes rain pants. For my friend Brad, he pretty much stayed in his swim suit, no matter what the weather. Men are so lucky 🙂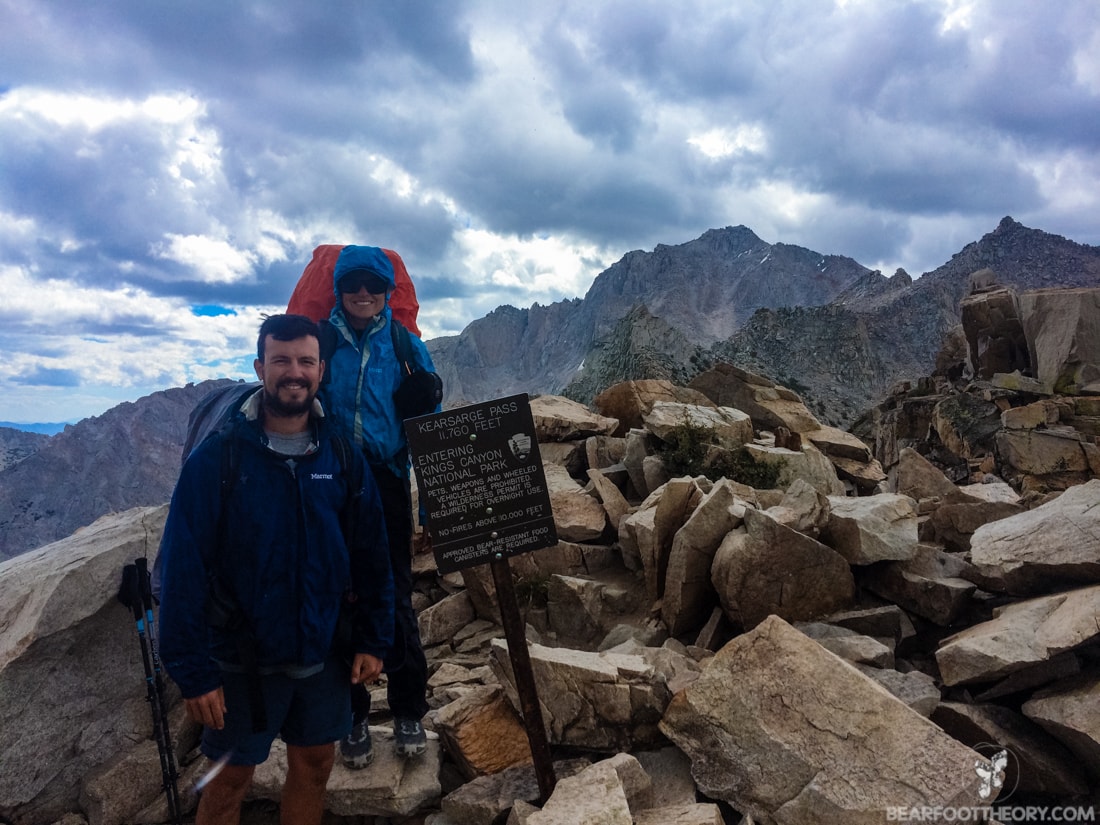 We reconnected with the John Muir Trail at mile 179.4, and the rest of the afternoon we experienced on and off rain as we descended down into Vidette Meadow. The pyramid shaped peak in the picture below is East Vidette Peak. In the cloudy sky that afternoon, it had a menacing look and was one of my favorite peaks along the entire trail.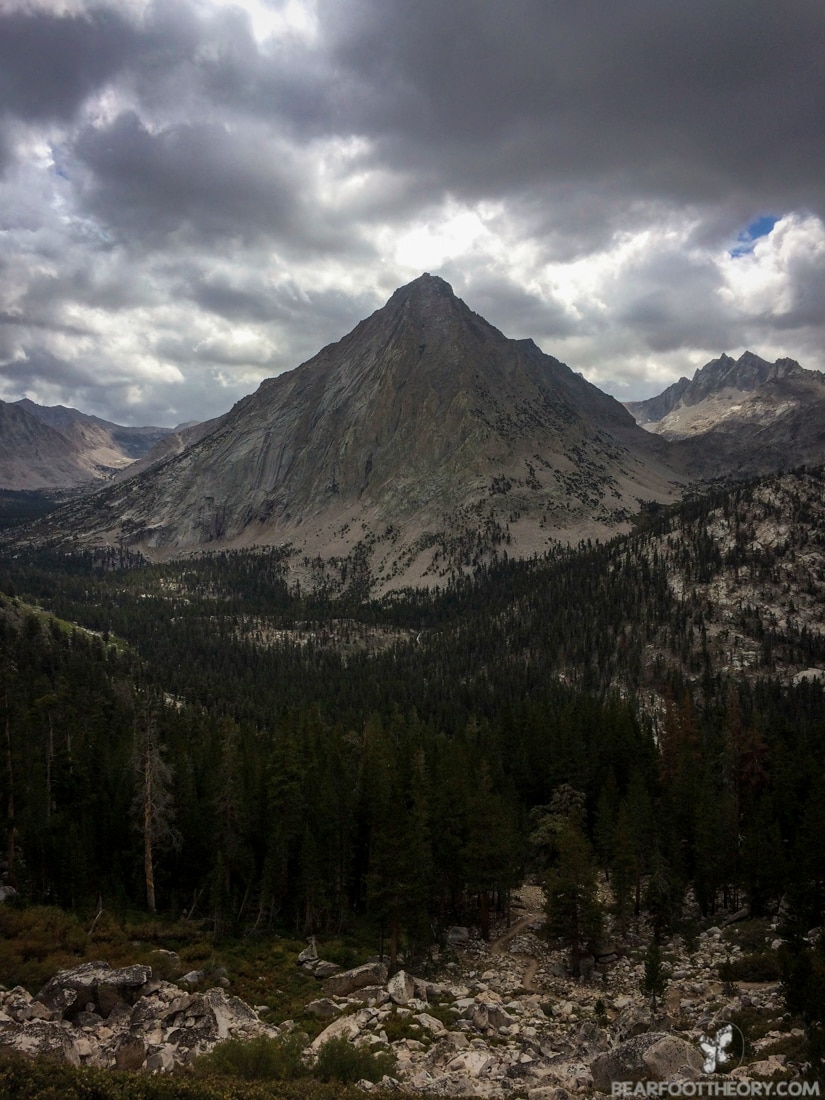 During lunch we got caught in a downpour and shortly after we decided to stop and set up shop. We were feeling wet and tired and with Forester Pass just ahead, we didn't want to risk ascending in the storm. So we found a nice riverside spot for our tent in Upper Vidette Meadow and hid out for a couple of hours while the rain passed. Eventually, the rain subsided, and as we emerged from our tent, we got to watch a dramatic cloudy sunset.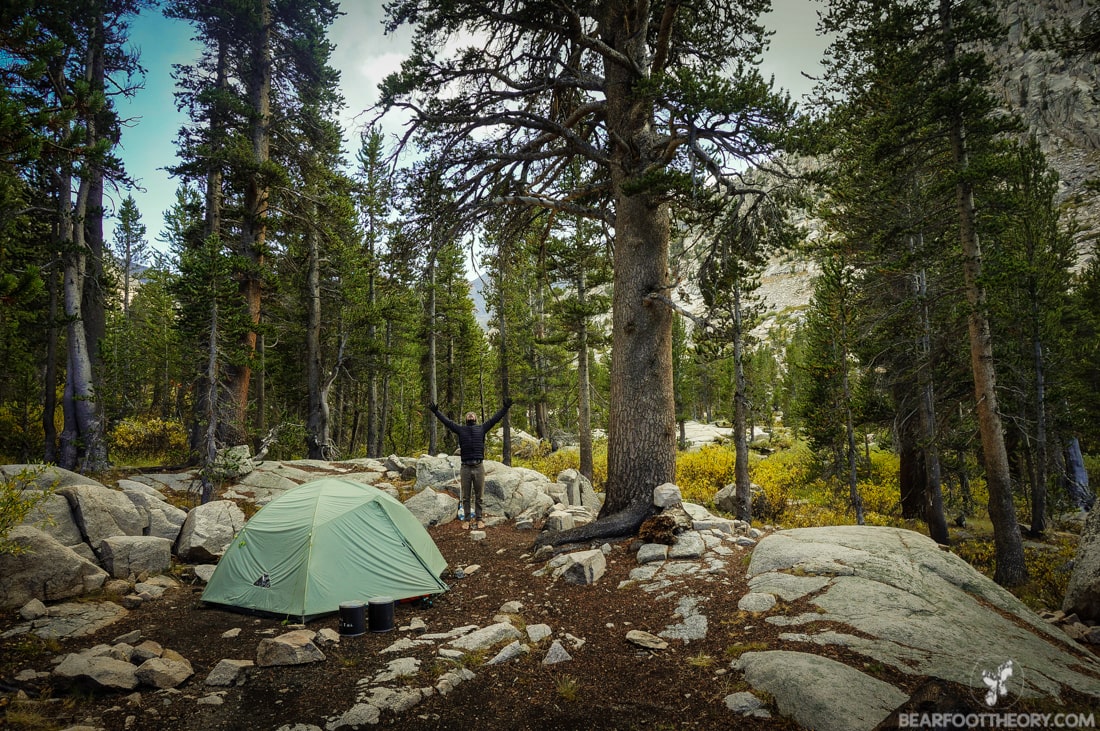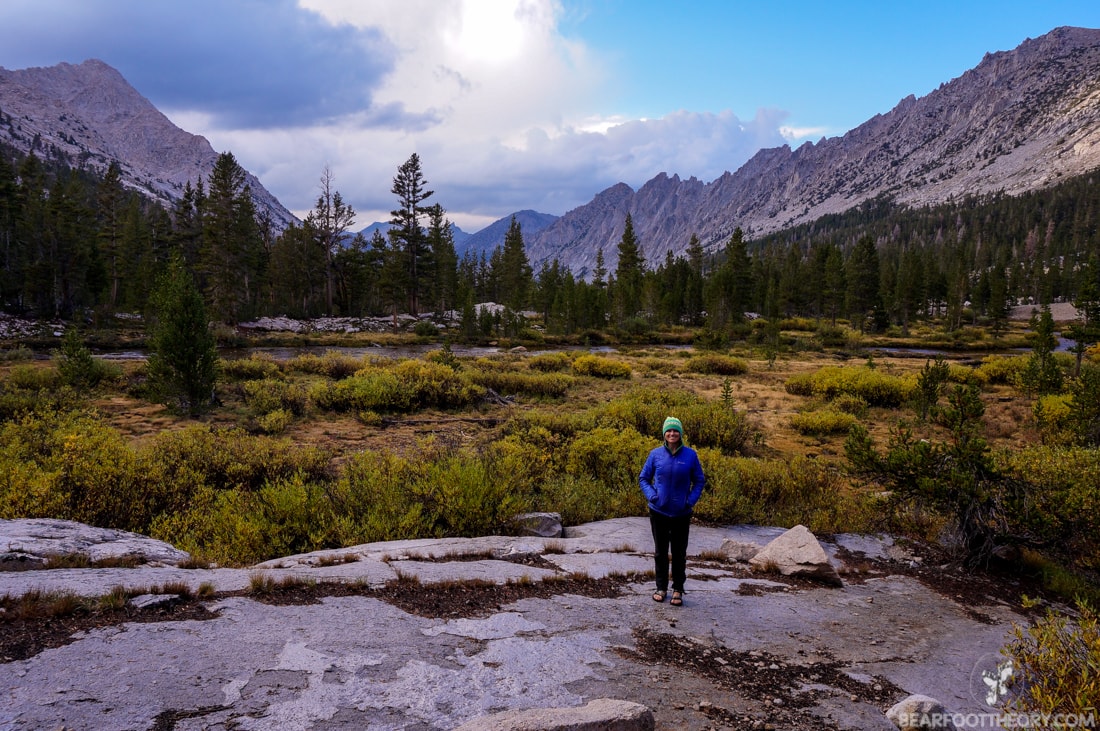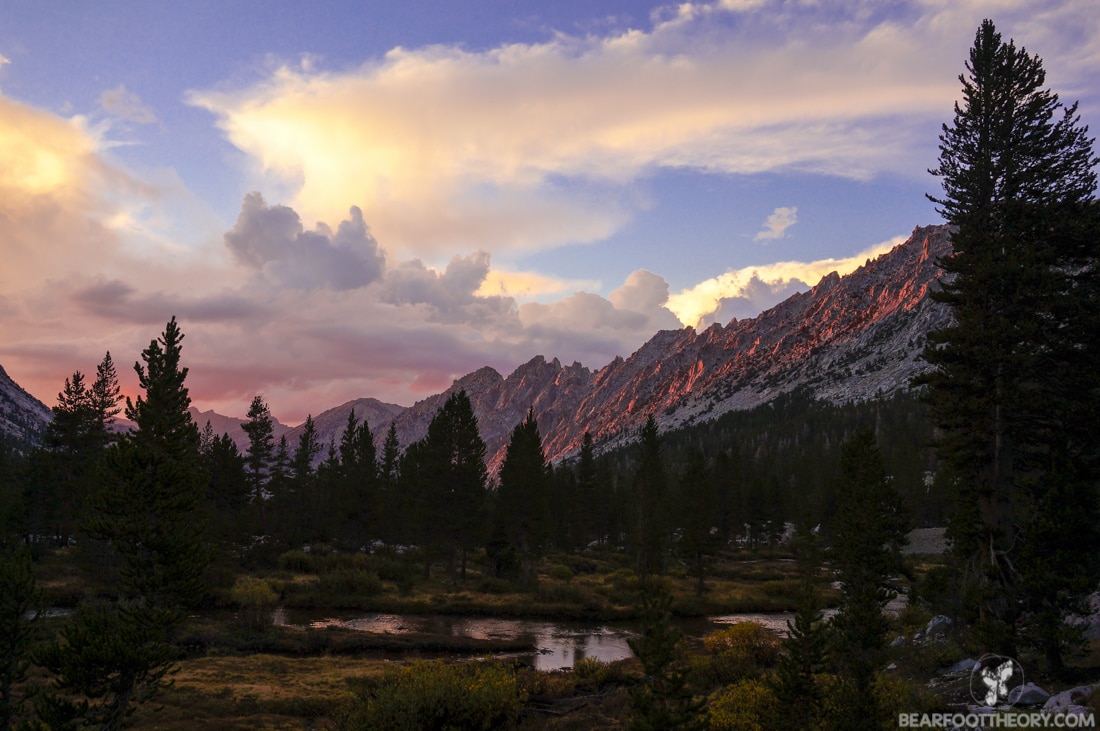 DAY 20 – UPPER VIDETTE MEADOW (MILE 182.4) TO WRIGHT CREEK (MILE 197.9)
I had mixed feelings waking up on Day 20. That day we would be tackling Forester Pass. The biggest and baddest pass of them all…or at least that was the rumor on the trail. I was a little bit nervous, but waking up to those blue skies I had a feeling it was going to be a good day. Day 20 also happened to be my 31st birthday. No better way to spend a birthday, I thought, than being out there on the trail. We had even saved some special treats for dessert that night.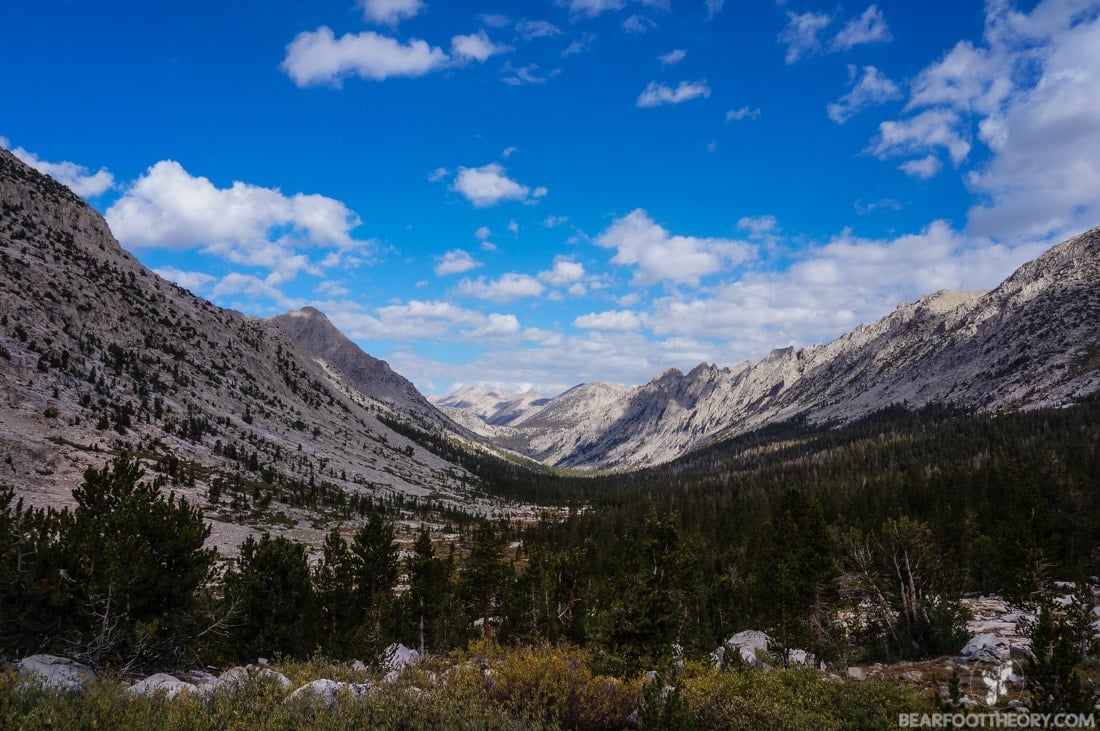 The top of Forester Pass sits at 13,110 feet and marks the official border between Kings Canyon National Park and Sequoia National Park. Quickly after leaving Upper Vidette Meadow, we emerged above the treeline and slowly made our way up the talus trail. We were surprised to find that yes, Forester Pass was long. But it really wasn't any harder than any of the other passes we had encountered. Maybe it's because we were nearly three weeks in and our legs were pretty buff at that point, but the point is…don't get intimidated by the trail talk. While some of the passes are more difficult than others, all of the passes on the trail are manageable, including Forester.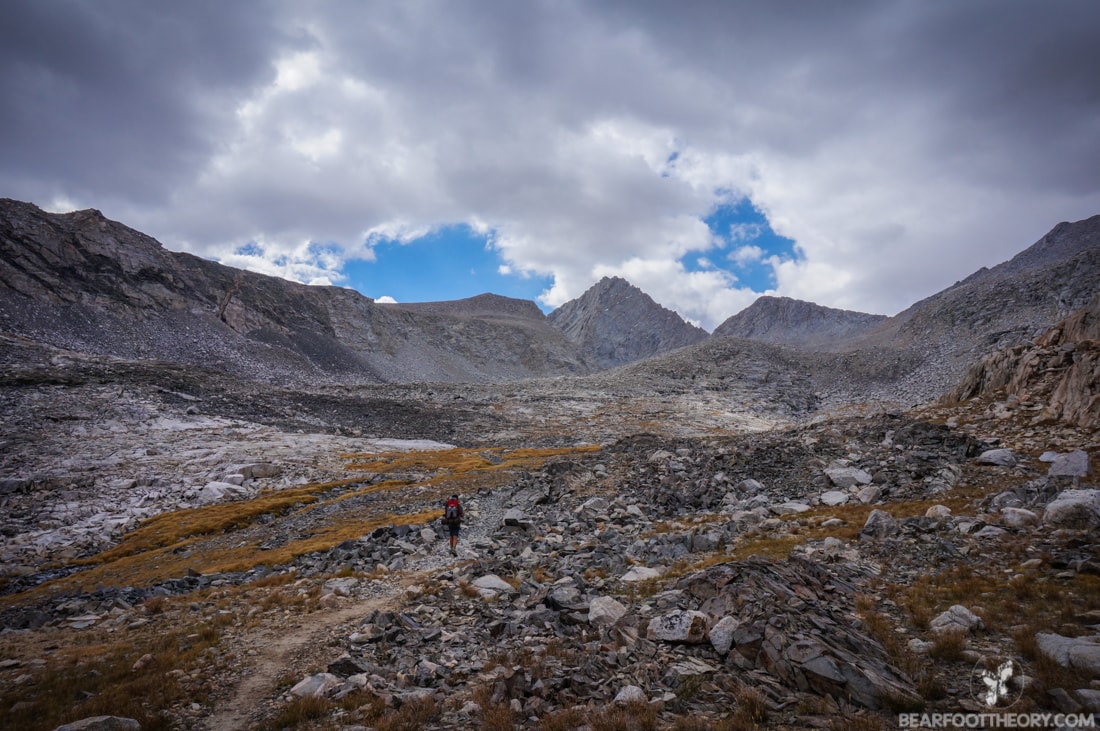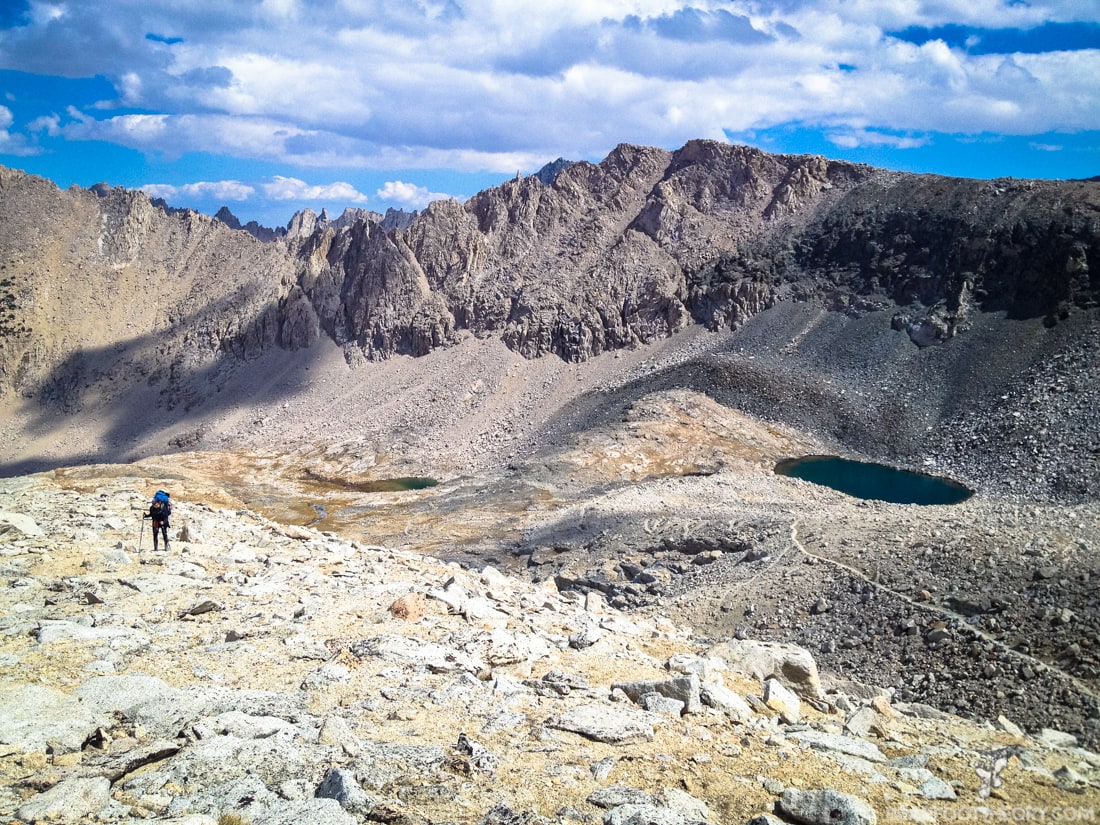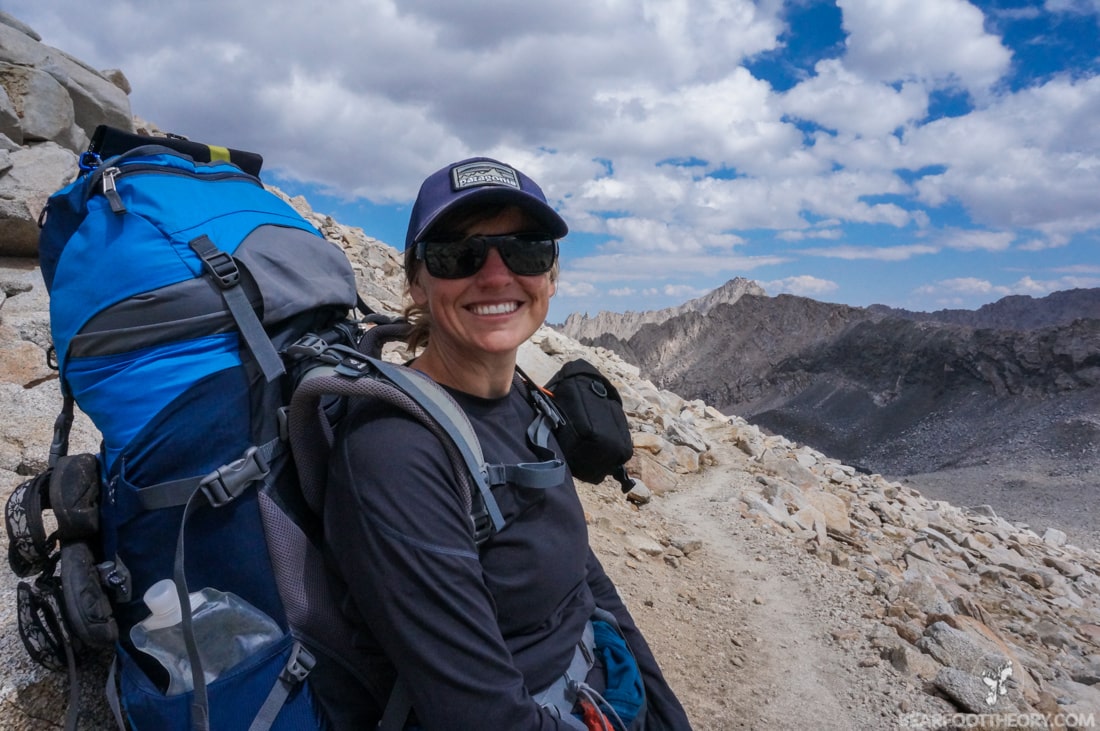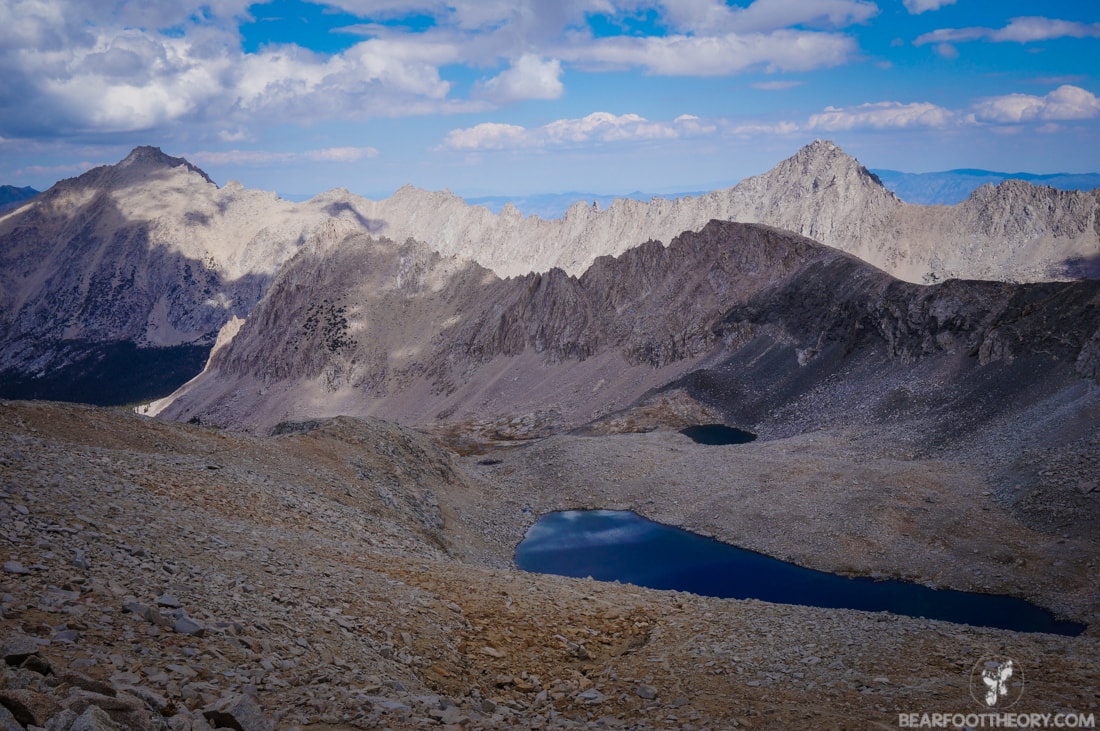 we were on the final stretch of the pass, Brad scurried off ahead of me. When I finally made it to the top, I was greeted by a group of fellow hikers, some of who we met earlier on the trail. Everyone sang me happy birthday, and one of the guys up there even gave me a birthday swig of his coveted bourbon. What a fabulous way to start 31.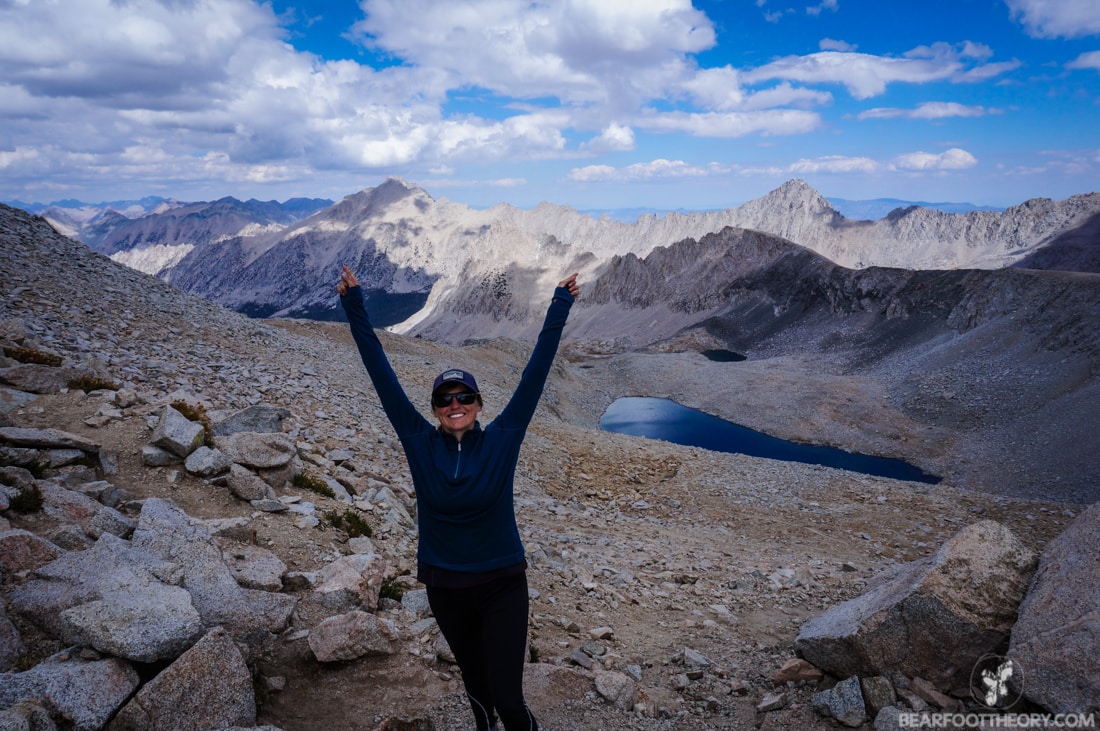 We hung out on the top and soaked it all in before going down the other side into Sequoia National Park. Once we descended, the trail zig zagged down the barren terrain with expansive views of the Kaweah subrange off in the distance.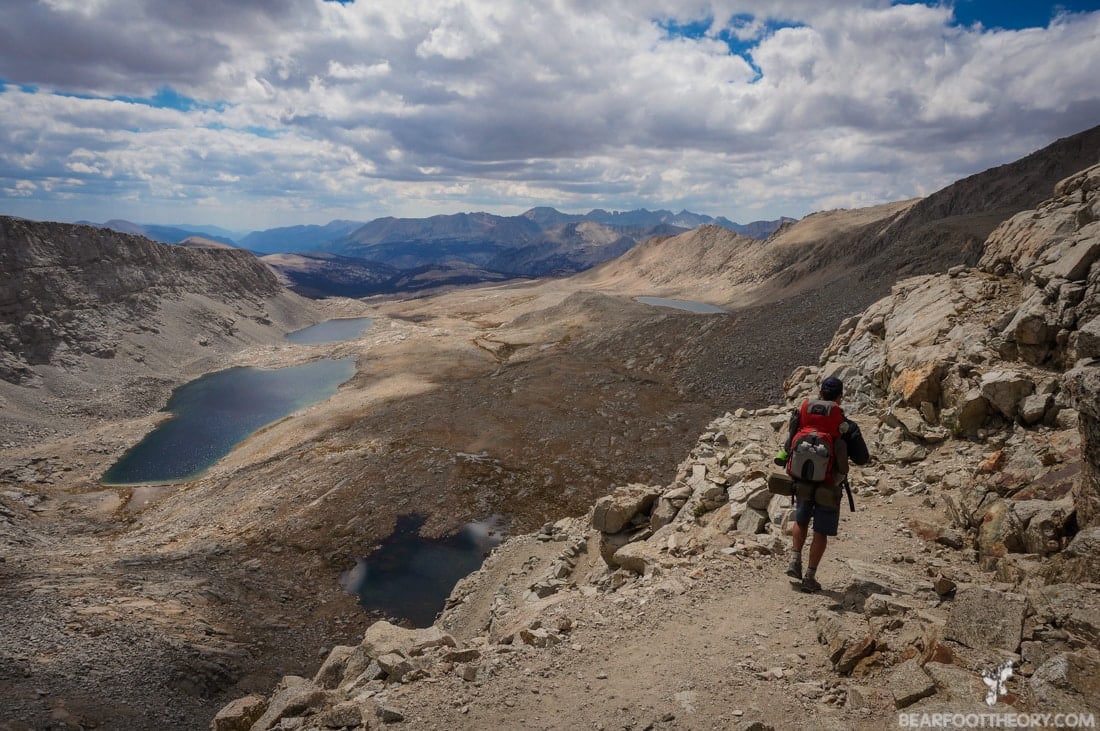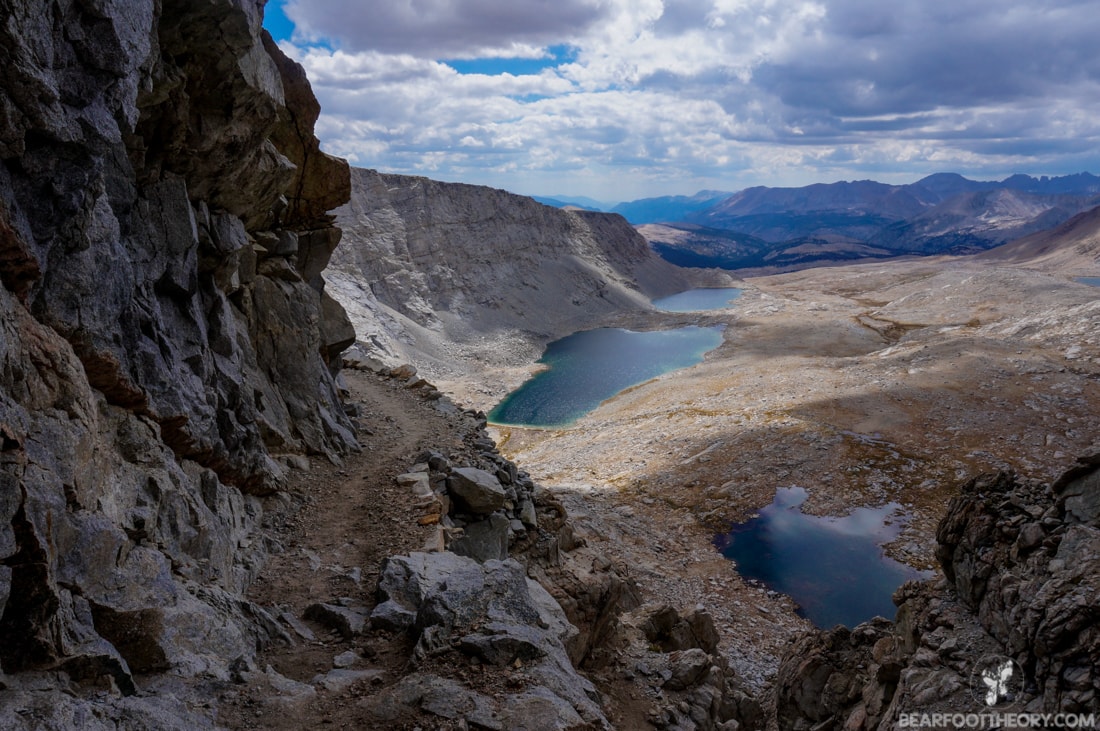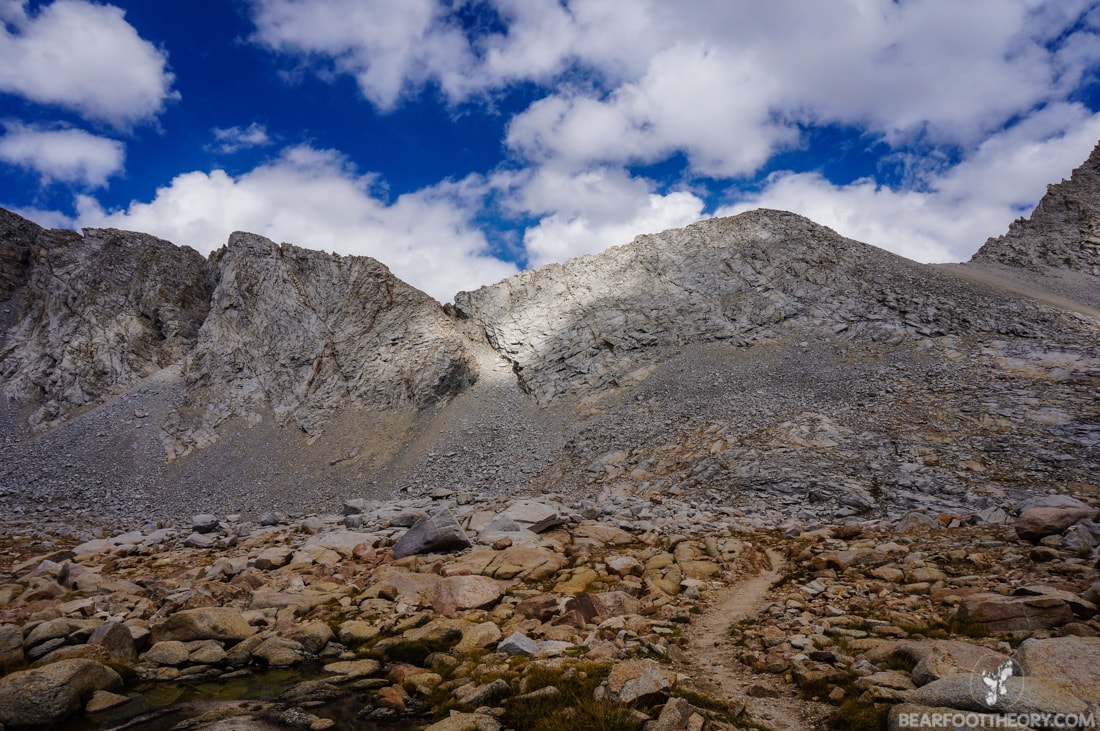 We remained above the treeline for several miles south of Forester Pass. Just before the junction with the Lake South America trail, we decided to break for lunch.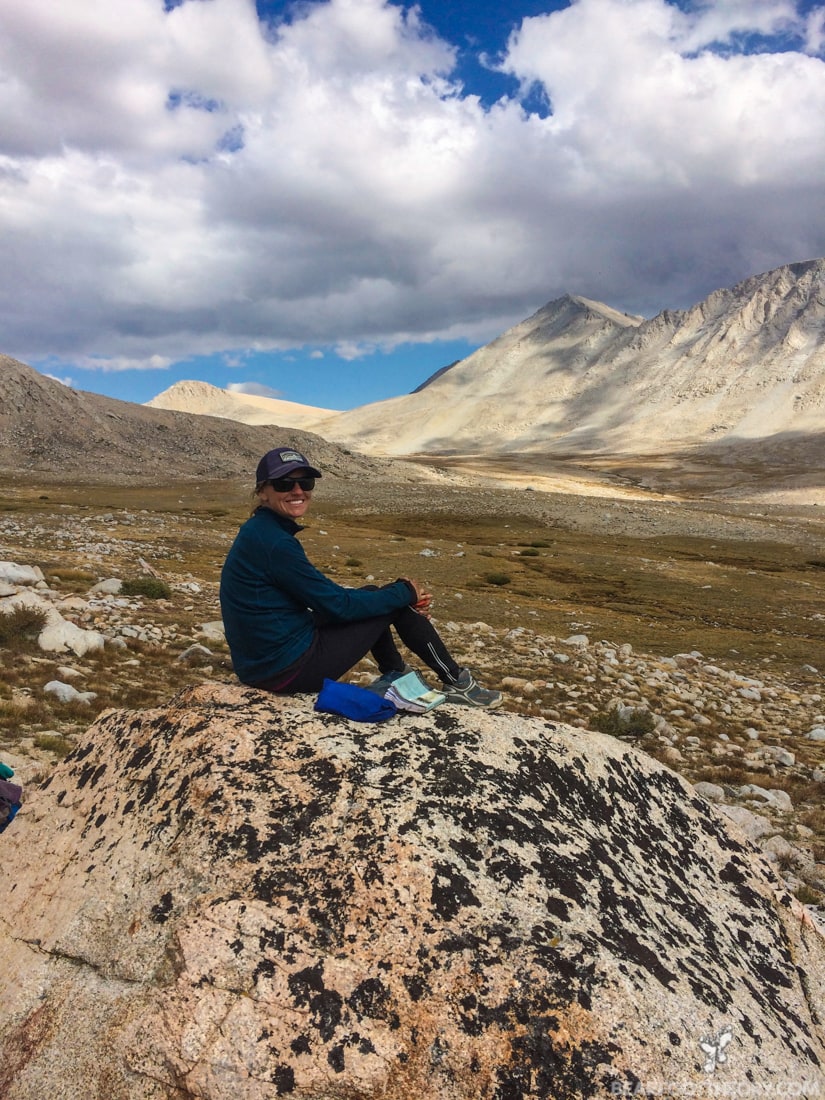 Shortly after lunch, we found our first sign indicating the distance to Mt. Whitney. It started to seem very surreal that we only had 2 days left on our trip.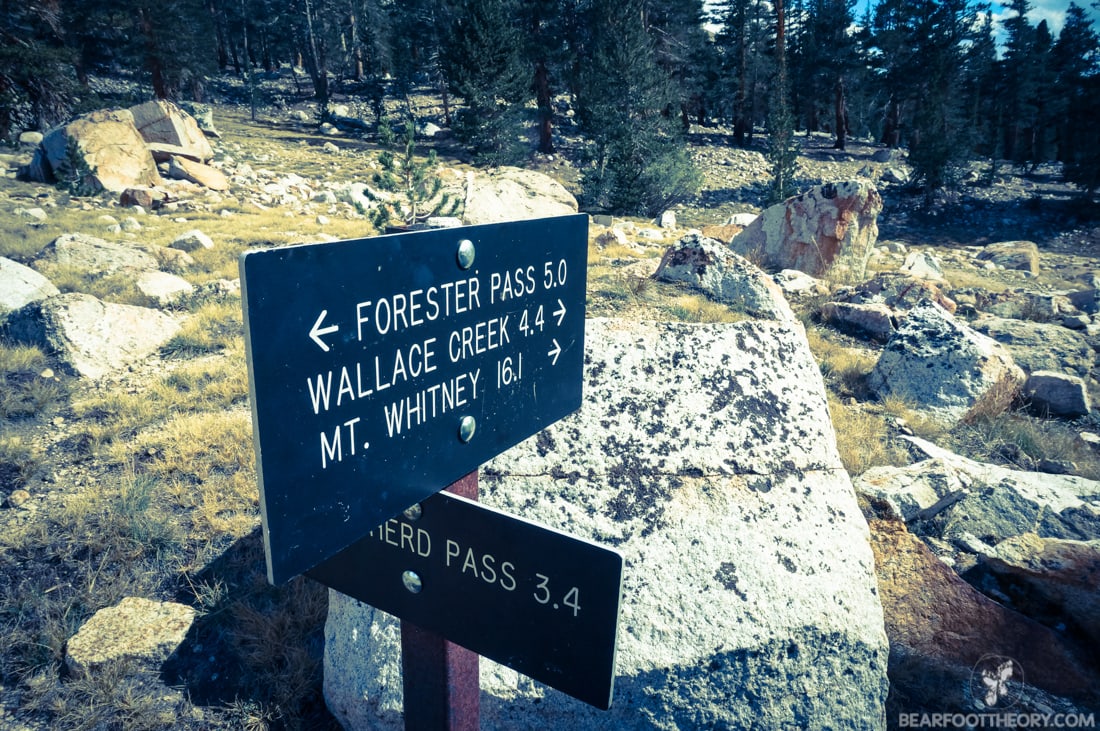 We didn't have a real plan about where we wanted to camp that night, so we just kept trucking along.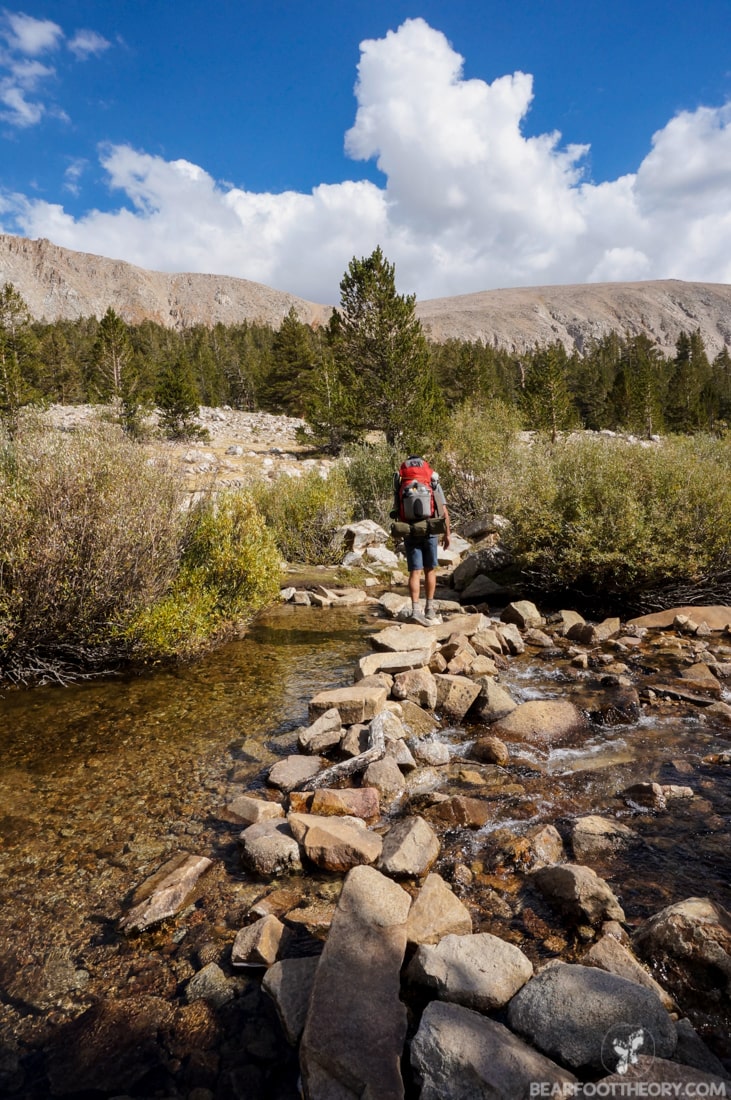 Next we hit Bighorn Plateau, a flat sandy landscape at 11,430 feet. I would have loved to camp on the small pond that is up there, but the clouds looked a little unpredictable, and we agreed that staying up there wasn't the best idea.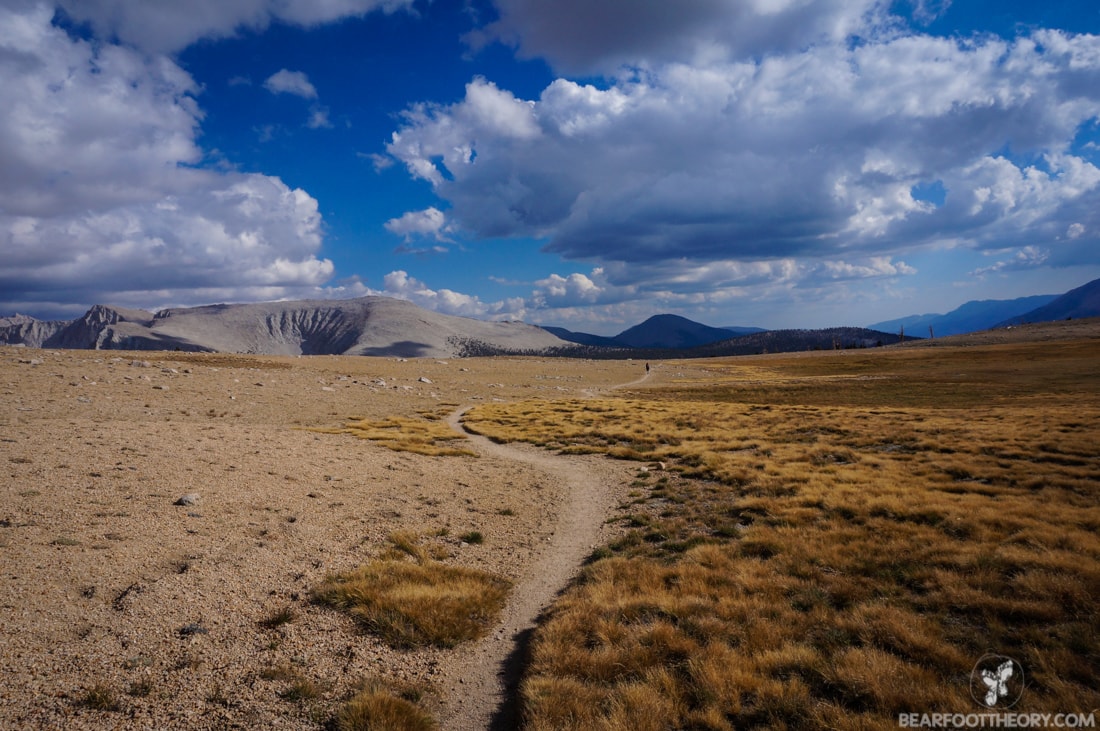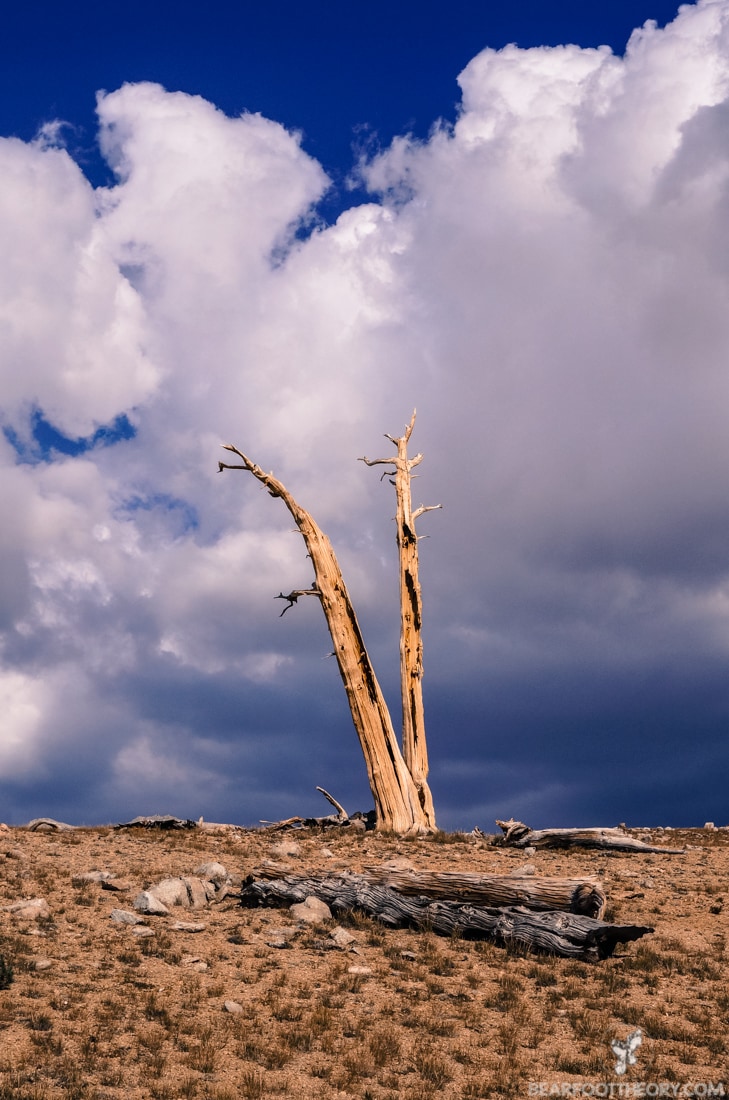 Bighorn Plateau is also where you catch your first glimpse of Mt. Whitney. It was hard to believe we'd soon be standing on top of it.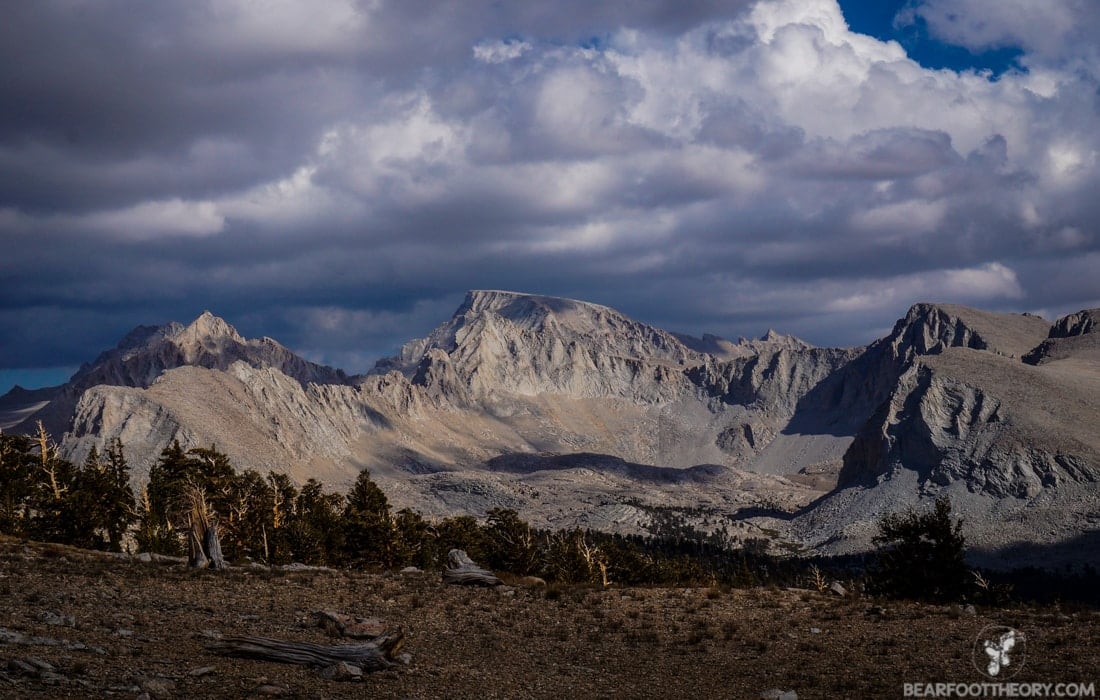 By the time we decided to stop for the day at Wright Creek, we'd hiked about 15.5 miles. It's amazing how far we had come since day 1 in terms of our abilities. I remember struggling to make 8-10 miles a day during our first week in Yosemite. As you go, your muscles, endurance, and confidence grows, and I felt pretty excited about the transformation I was experiencing….Not to say I wasn't happy to kick off my shoes and feast on that Mountain House Sweet and Sour Pork birthday dinner. In fact, I feel confident saying that was the best birthday dinner of my life.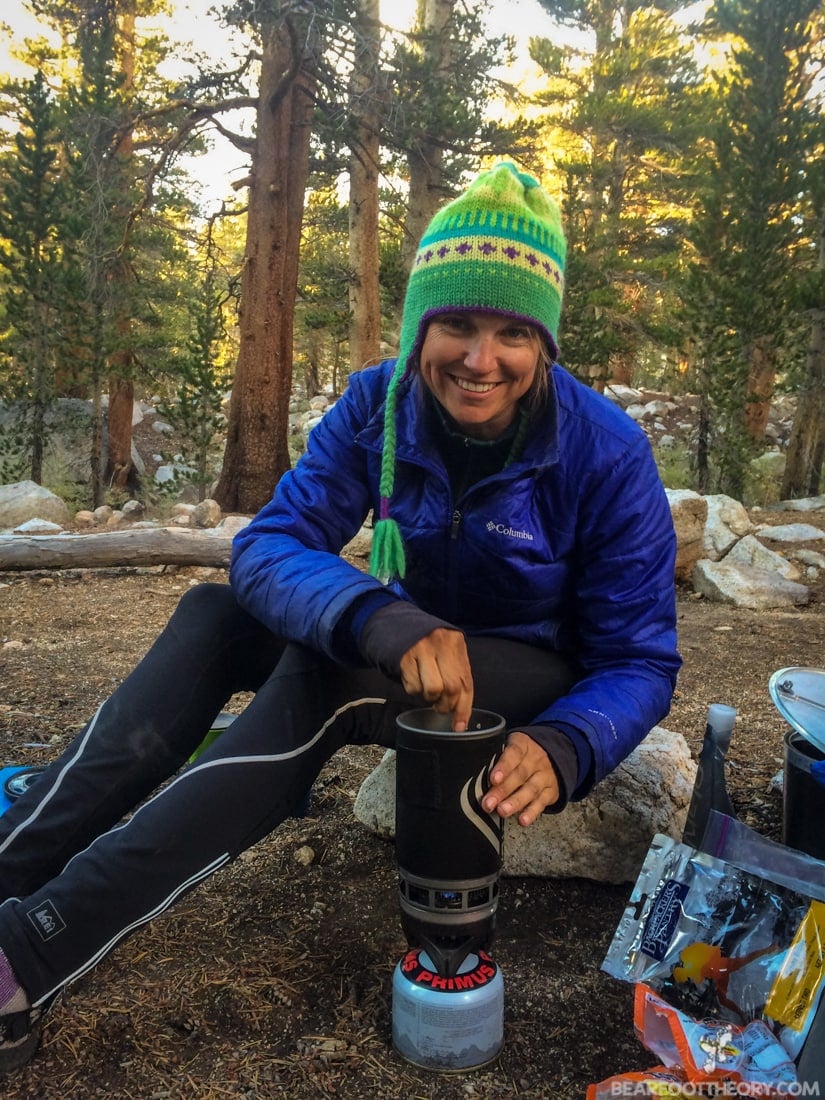 DAY 21 – WRIGHT CREEK (MILE 197.9) TO GUITAR LAKE (MILE 206)
After the long day prior, we were excited that we only had to cover 8 miles on Day 21. This was also going to be our last night on the trail, so we really wanted to have some time to relax at camp and enjoy it. So we got an early start and enjoyed another view of the Kaweahs, which seemed so much further away coming down from Forester Pass.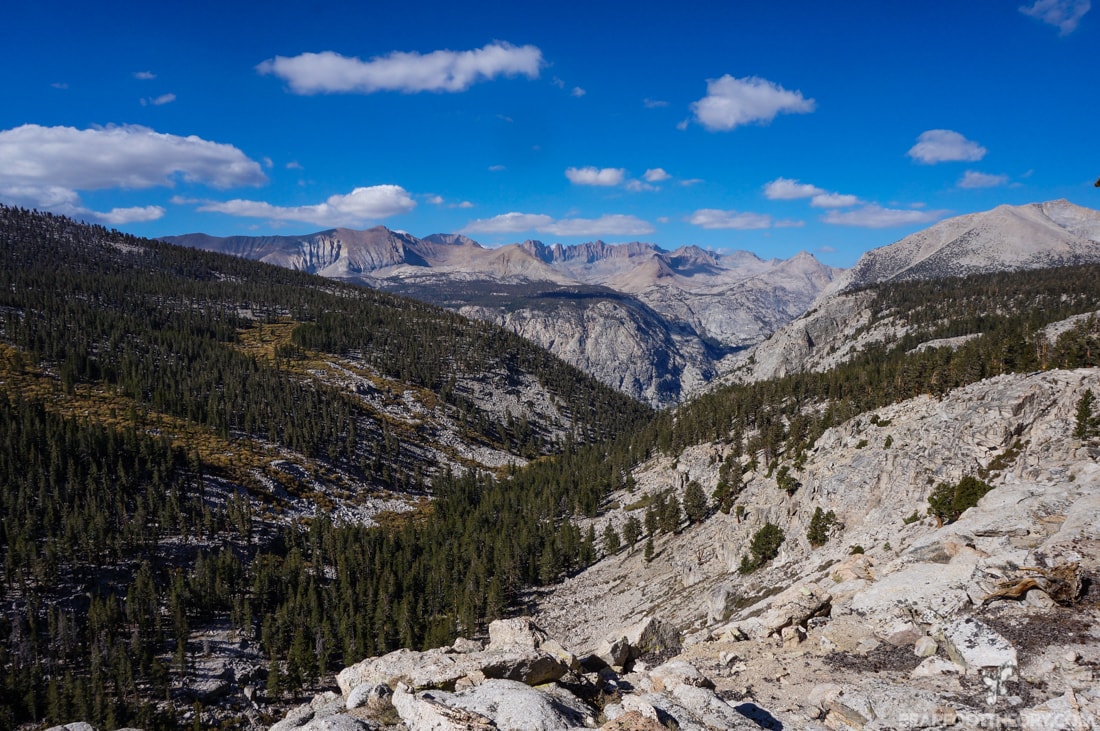 We arrived at the Crabtree Junction around lunch. There is a ranger station there across the river, and we thought it would be a good idea to stop in and inquire about the weather forecast for that night and next day. We were pleased to hear that there was nothing but sun headed our way and that gave us some confidence for Whitney.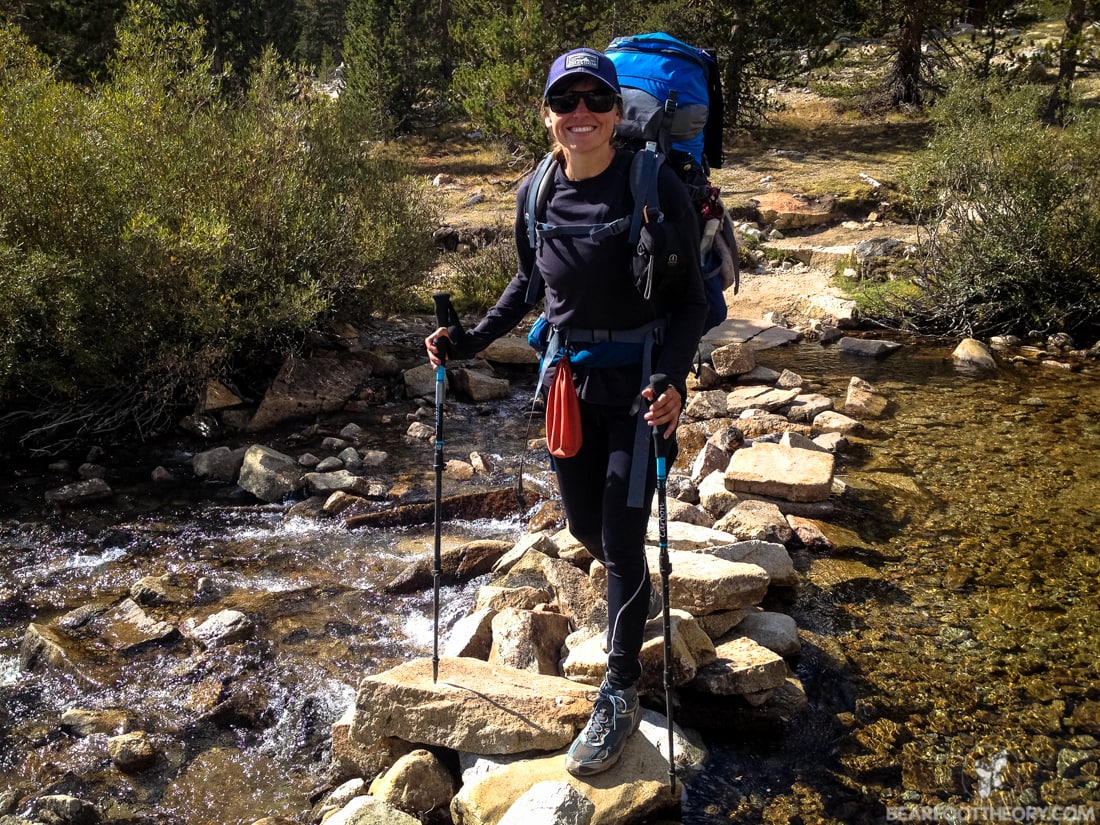 Soon we passed Timberline Lake and this meadow would be the last greenery we encountered until we came down from Whitney the next day.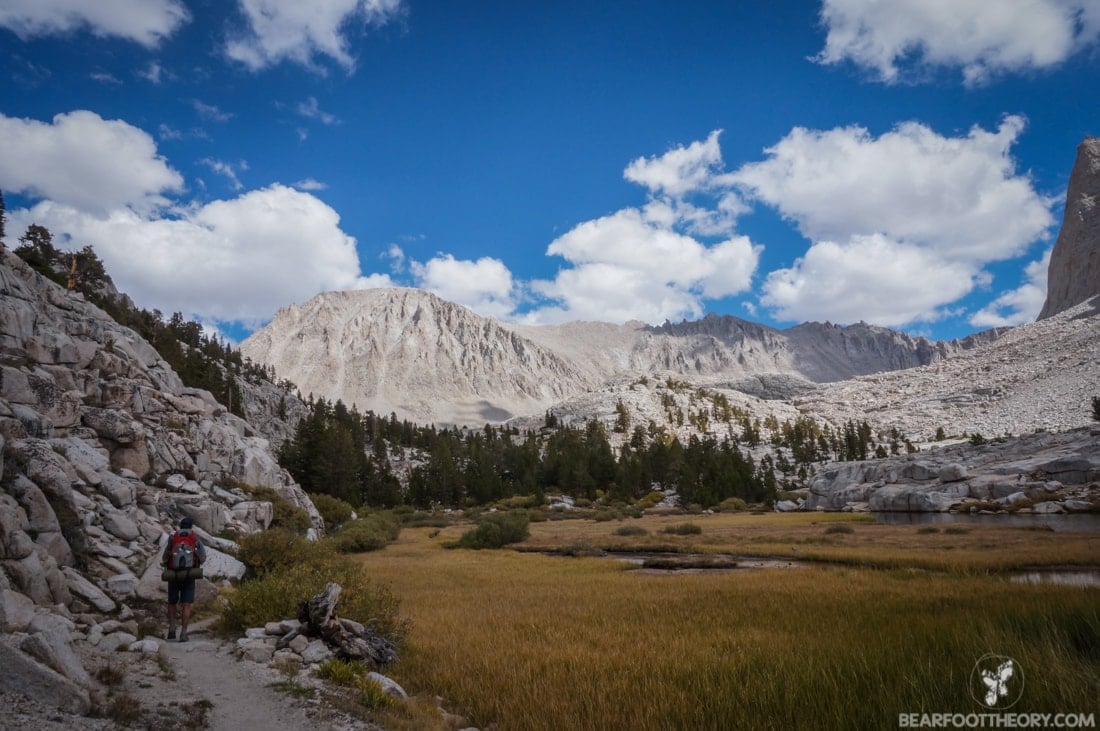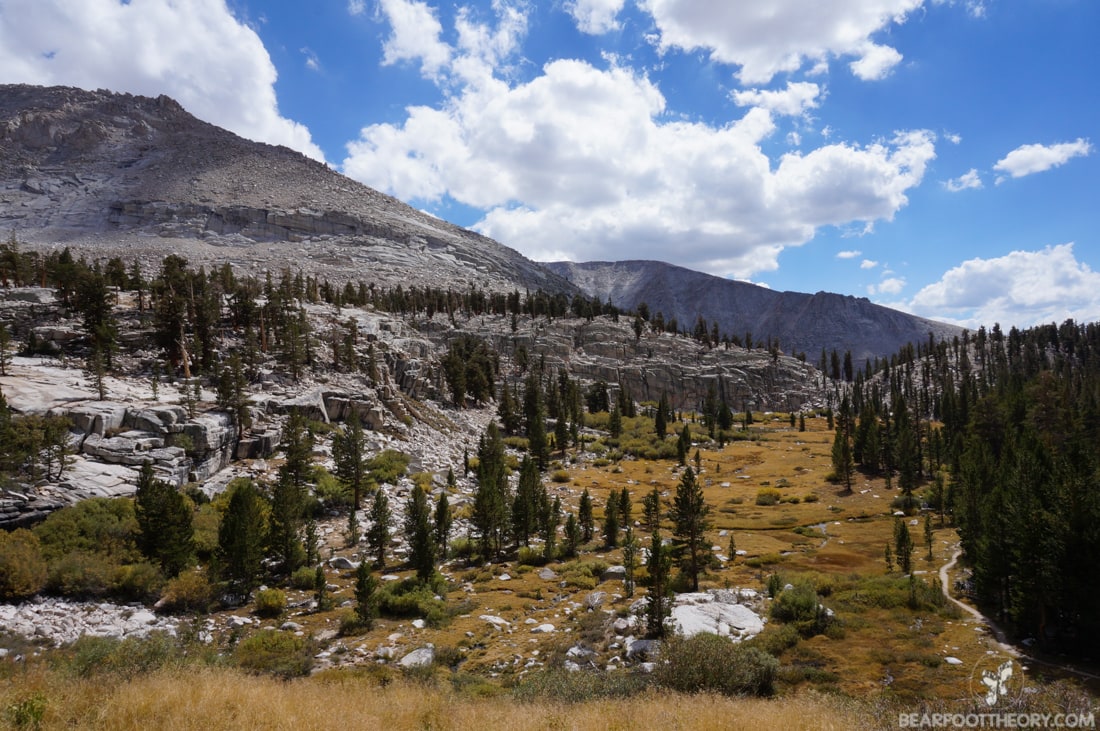 We arrived at Guitar Lake in the mid-afternoon and found all of the campsites were already in the shade. We wanted the sun! According to everything I had read, Guitar Lake was the last source of water before Mt. Whitney, but the Ranger at Crabtree told me otherwise. He said there were a few ponds just up the hill from Guitar Lake where we could also camp. So we decided to keep going in search of those rays.
And this is what we found. Pretty much the most epic campsite of all time. There was one other group of two camped across the small pond, but there was plenty of room that we didn't bother each other.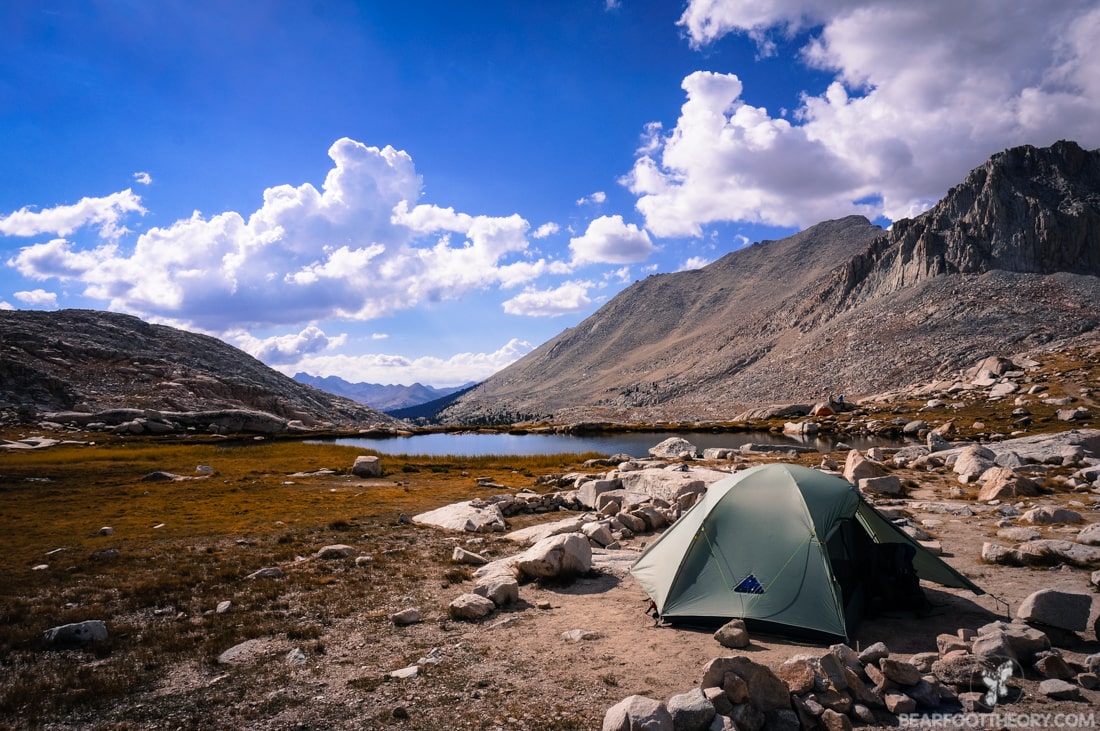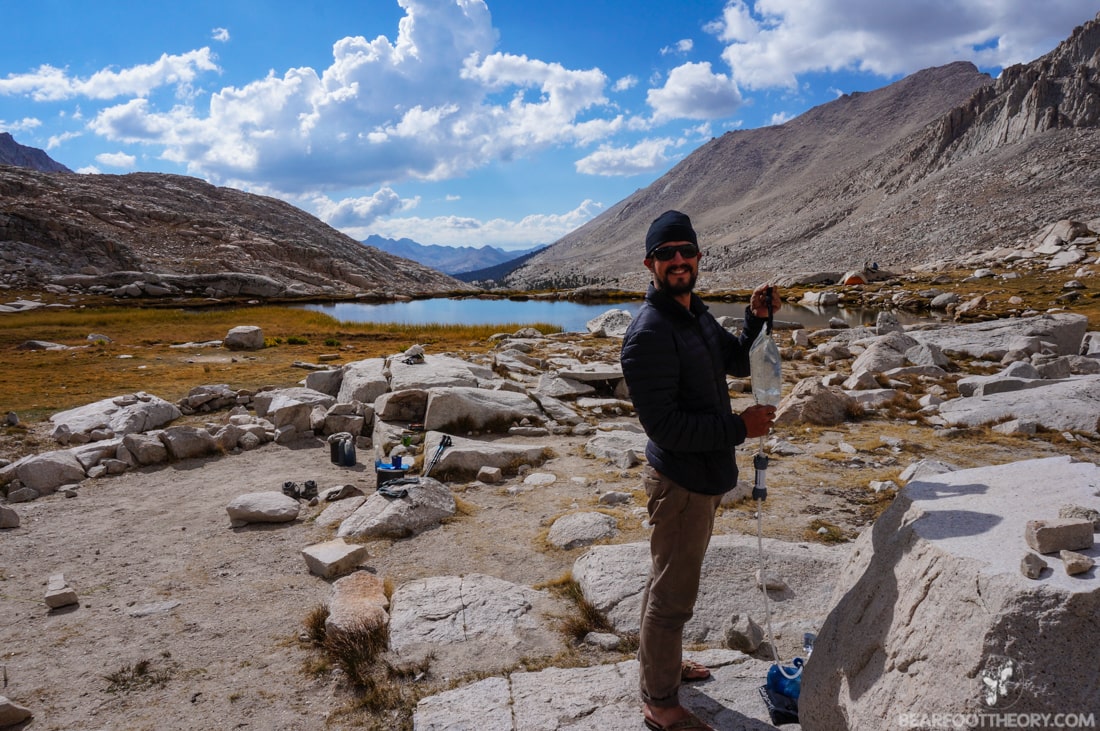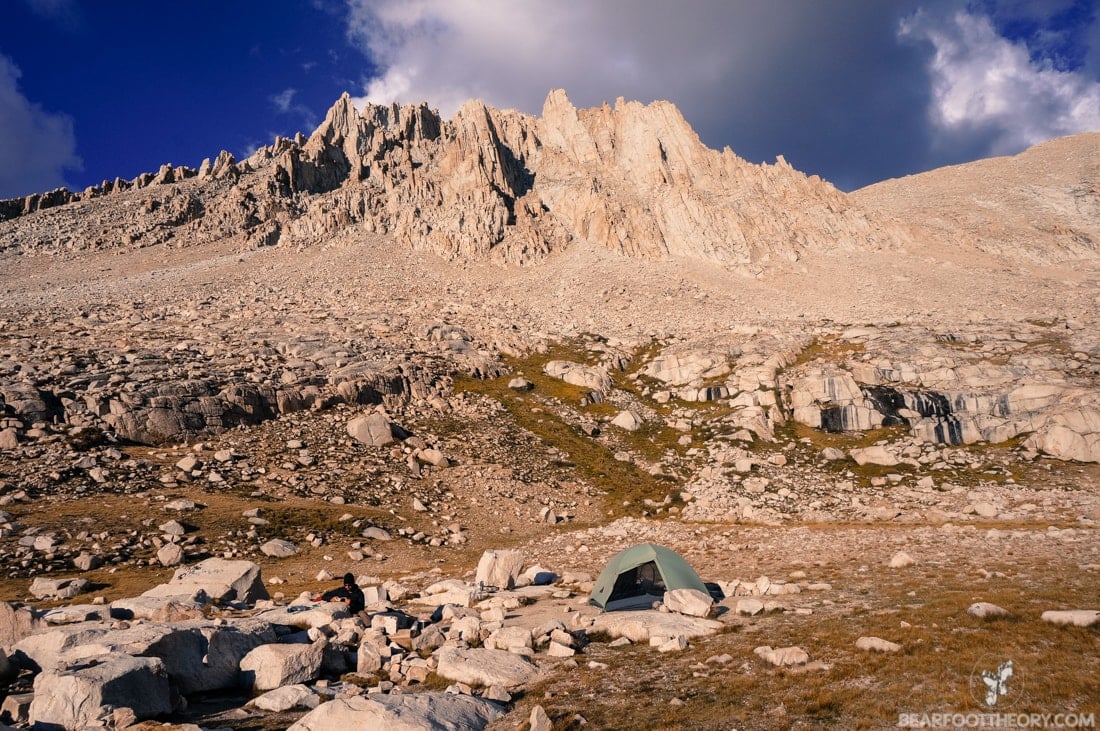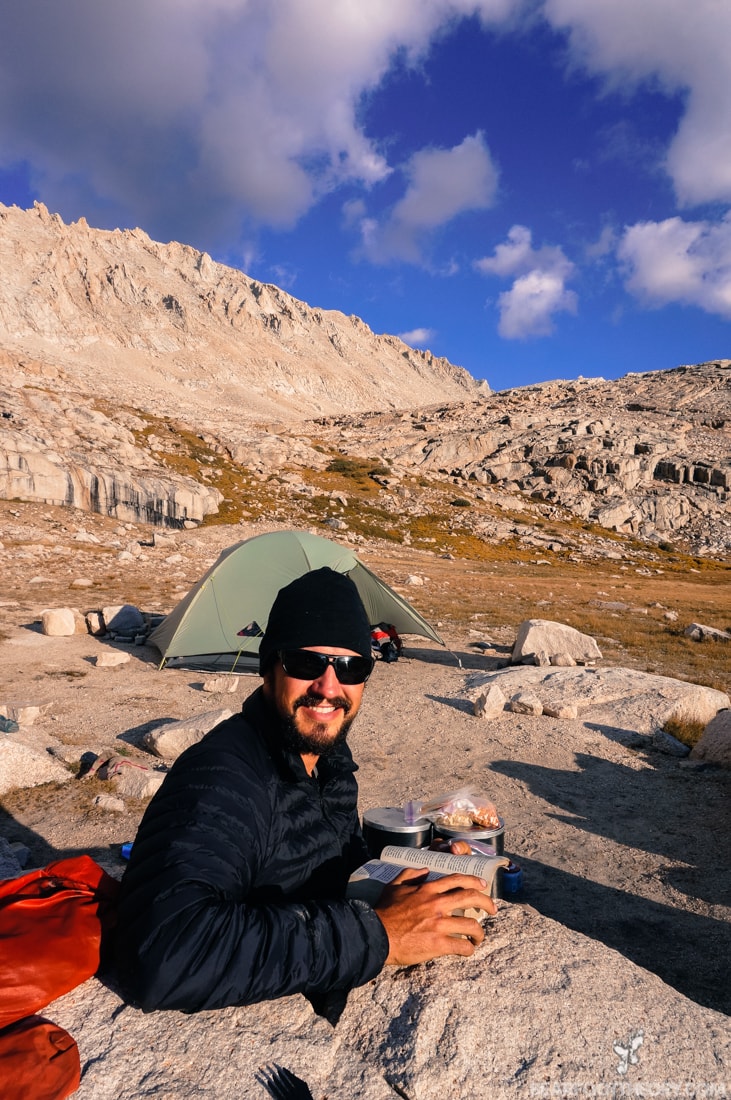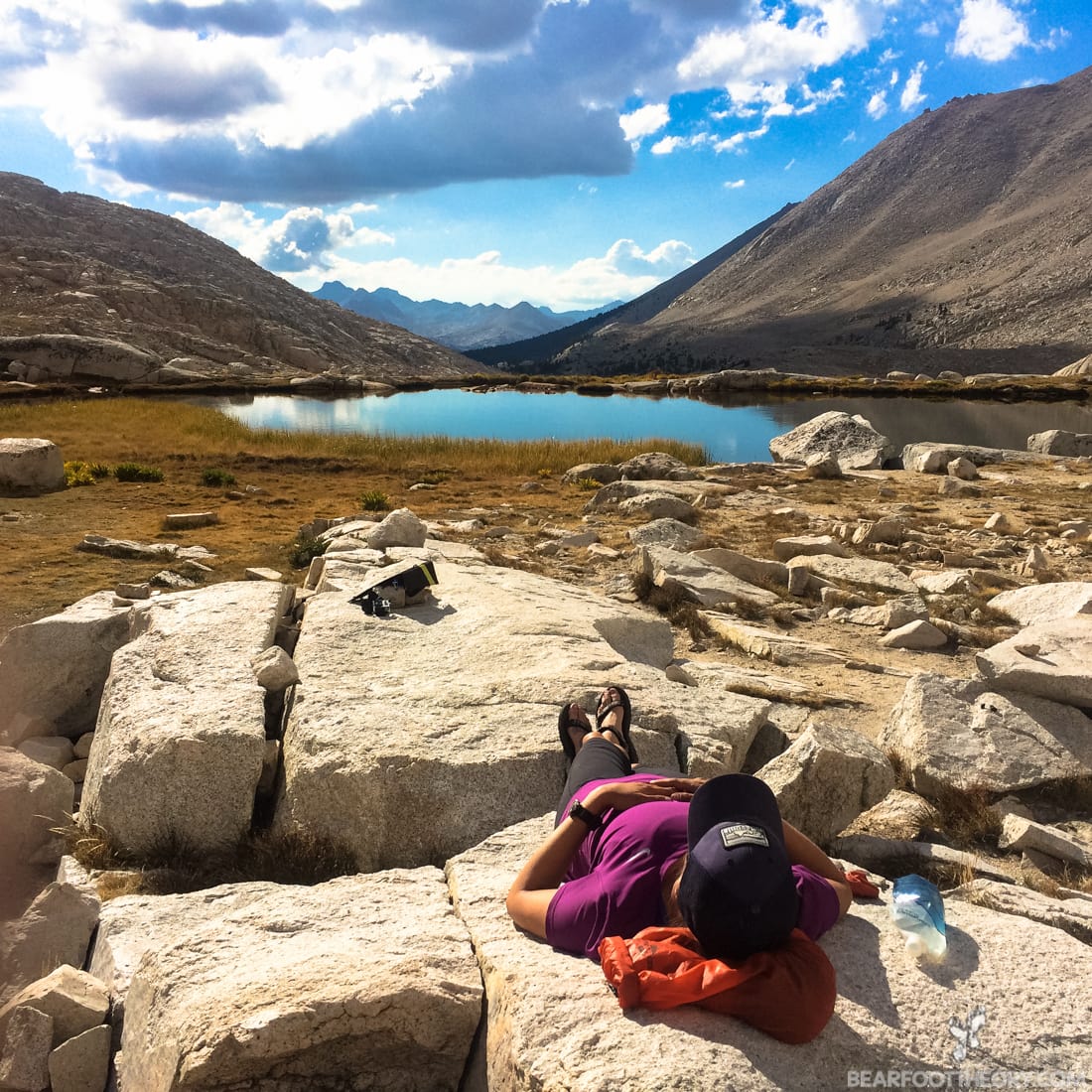 We had several hours of hot afternoon sun before it started to set. We were so happy that we continued on past Guitar Lake. Plus, we got to spend our last night watching this sunset. While the evening sky was pretty throughout our whole trip, there weren't many nights where we had a perfect view of the sun setting over the horizon. We couldn't have been more thankful to end our last full day on the trail this way.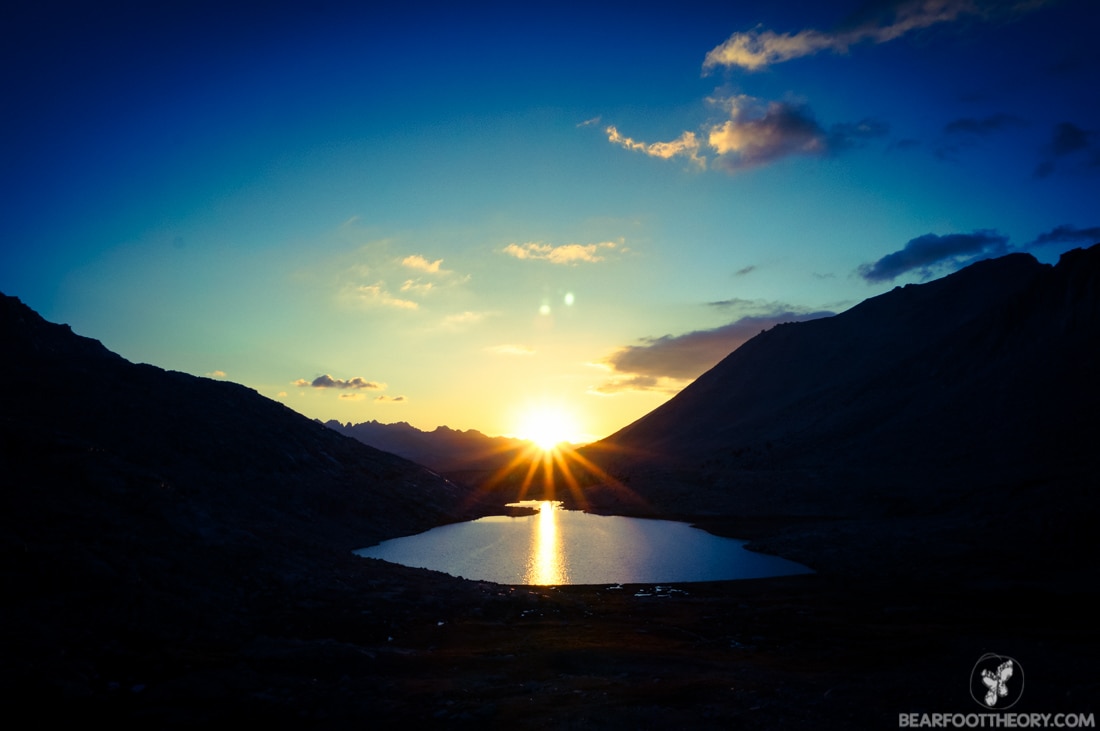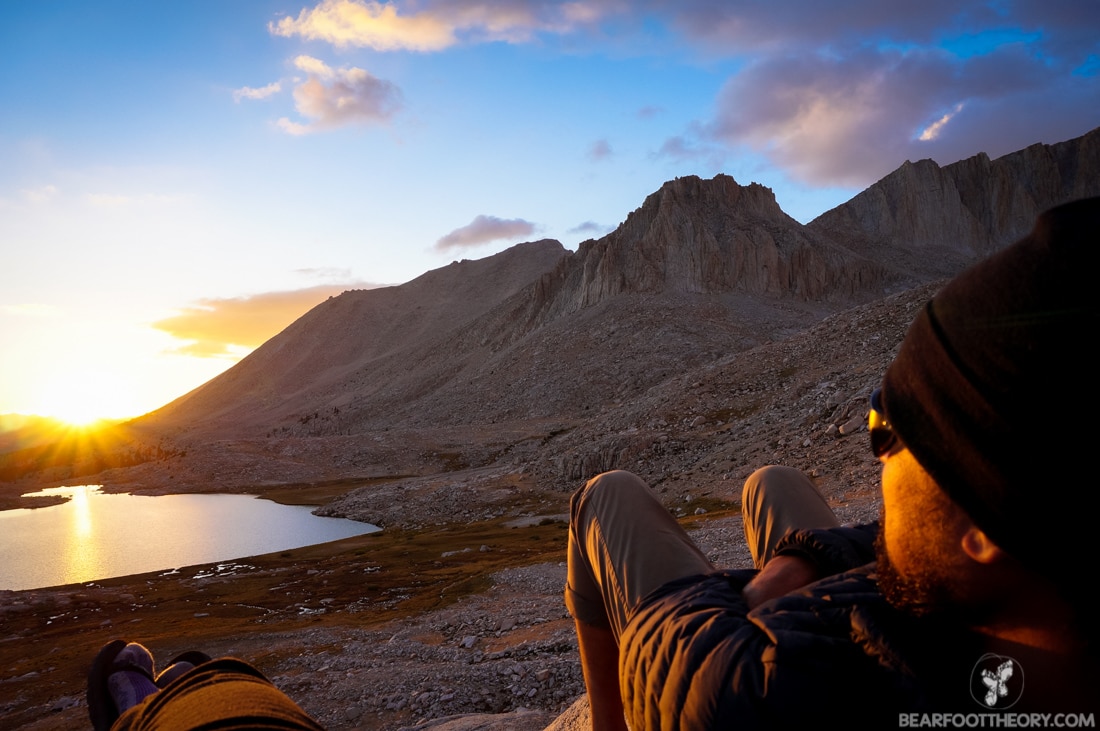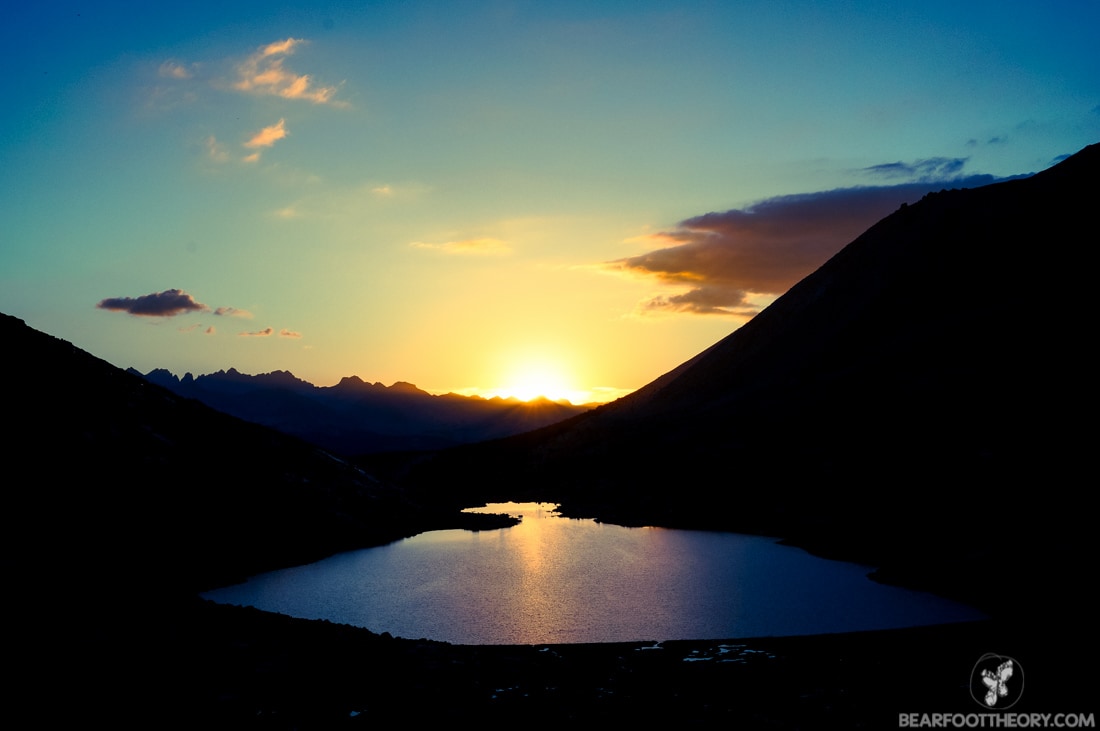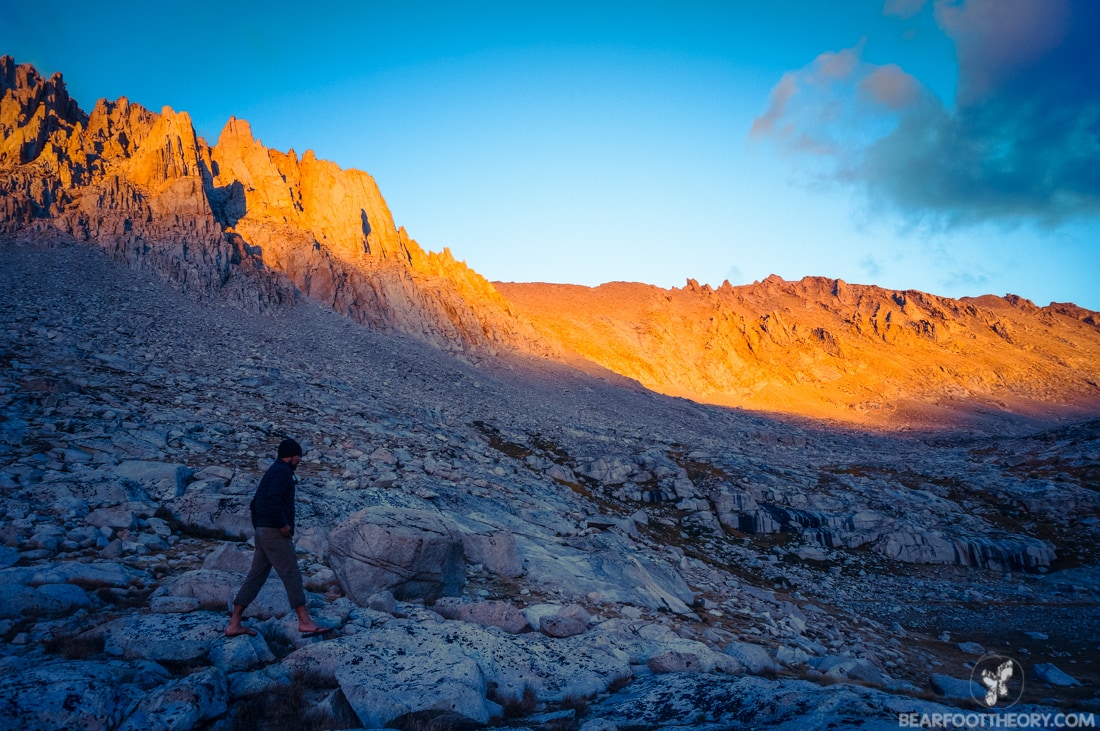 That night we went to bed early with the jitters, and I barely slept at all. In less than 12 hours we'd be standing on top of the tallest mountain in the lower 48 and soon after that, I'd be drinking a cold one back in Lone Pine. It was a very strange feeling.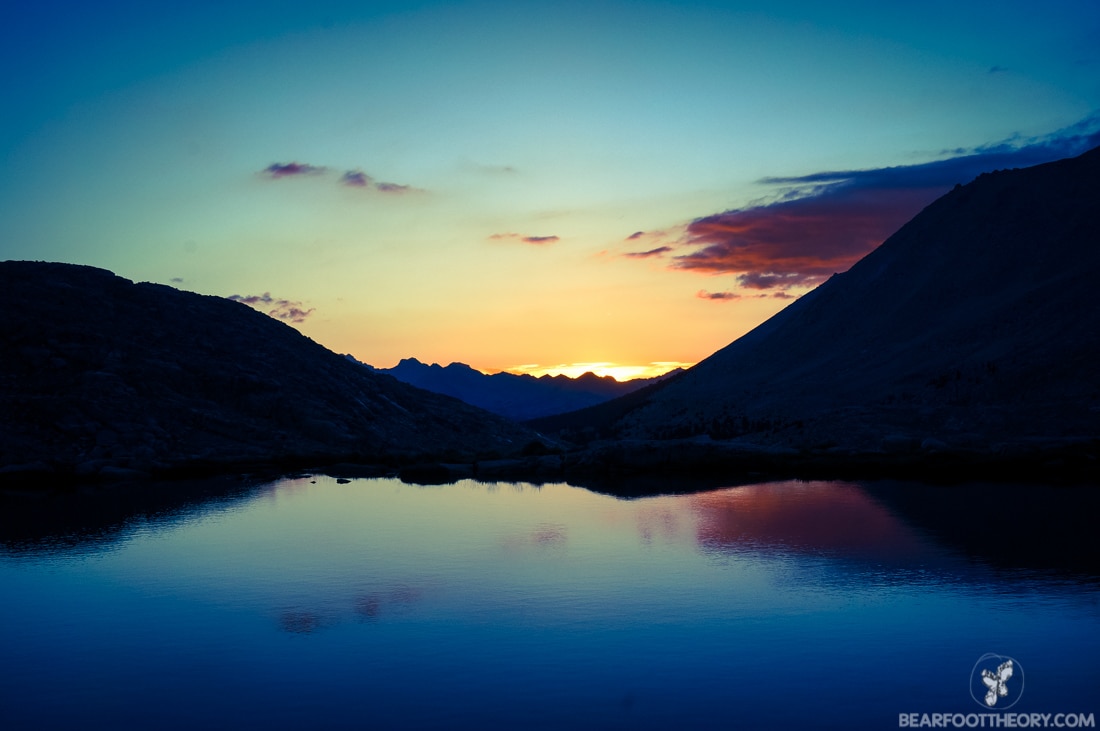 DAY 22 – GUITAR LAKE (MILE 206) TO THE END!
We wanted to watch the sunrise from the top of Mt. Whitney. We had just over 3,000 feet to climb in about 4.5 miles, and we weren't exactly sure how long that would take us. We also weren't sure if we would be affected by the altitude.  The ranger told us that 2:00 or 2:30am would be a good time to wake up, and sunrise would be about 6:30. To play it safe, we set our alarm for 2:00 and packed up in a hurry. And off we went in the dark, led only by our headlamps.
Hiking up those switchbacks in the dark was invigorating. We couldn't tell how far we'd gone or how steep the cliff side was. The excitement and the brisk air kept us pushing ahead, while we carefully kept our eye on the time.
When we got to the Trail Crest, the side trail that leads tot he summit, I think it was about 5:30am. We still had 2 miles and 1,000 feet to climb. We started to get nervous that we weren't going to make it, so we decided to drop our packs at that junction since we would be passing by it again on the way down. I quickly grabbed my small daypack, some water, and an extra layer. Now running 30 pounds lighter, we were able to pick up our pace as we raced the sun to the top.
Dropping our packs ended up being an excellent decision. We arrived just before 6:30, just in time to witness the velvety blue sky light up as the sun rose in the east over Death Valley. It's was FREEZING cold up there, but the sunrise was everything we wanted it to be. I even felt a little emotional up there. All that planning and all that hiking to get there. We did it. We were proud, excited, sad. Lots of mixed emotions.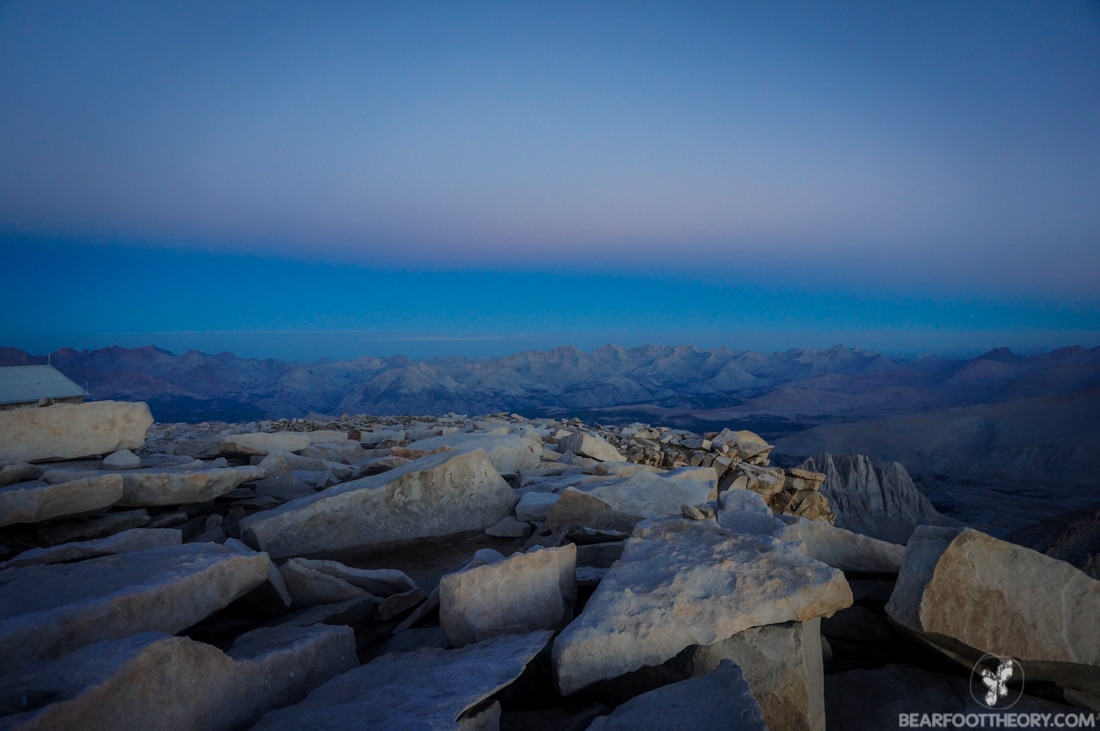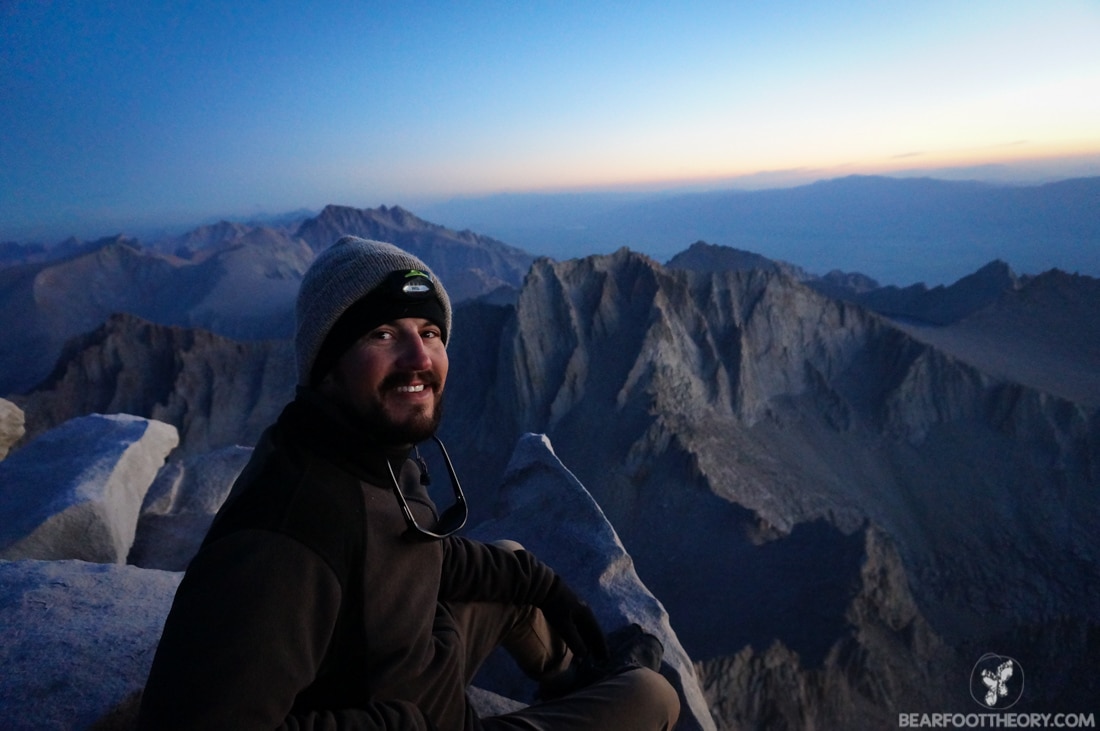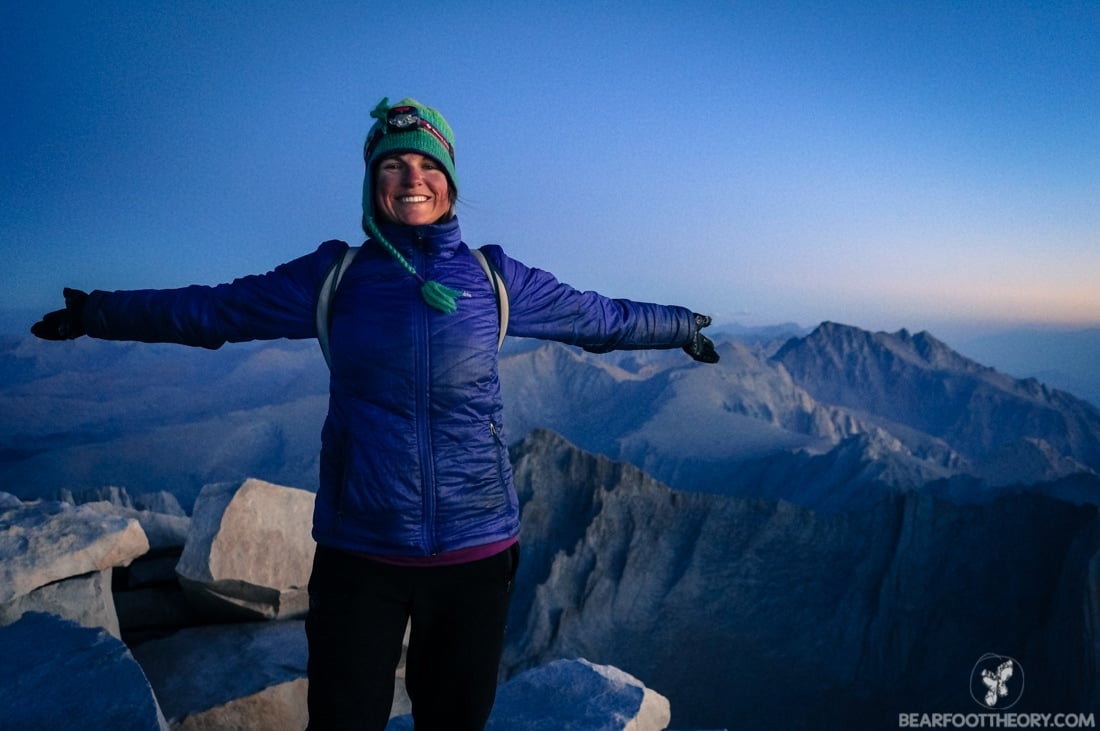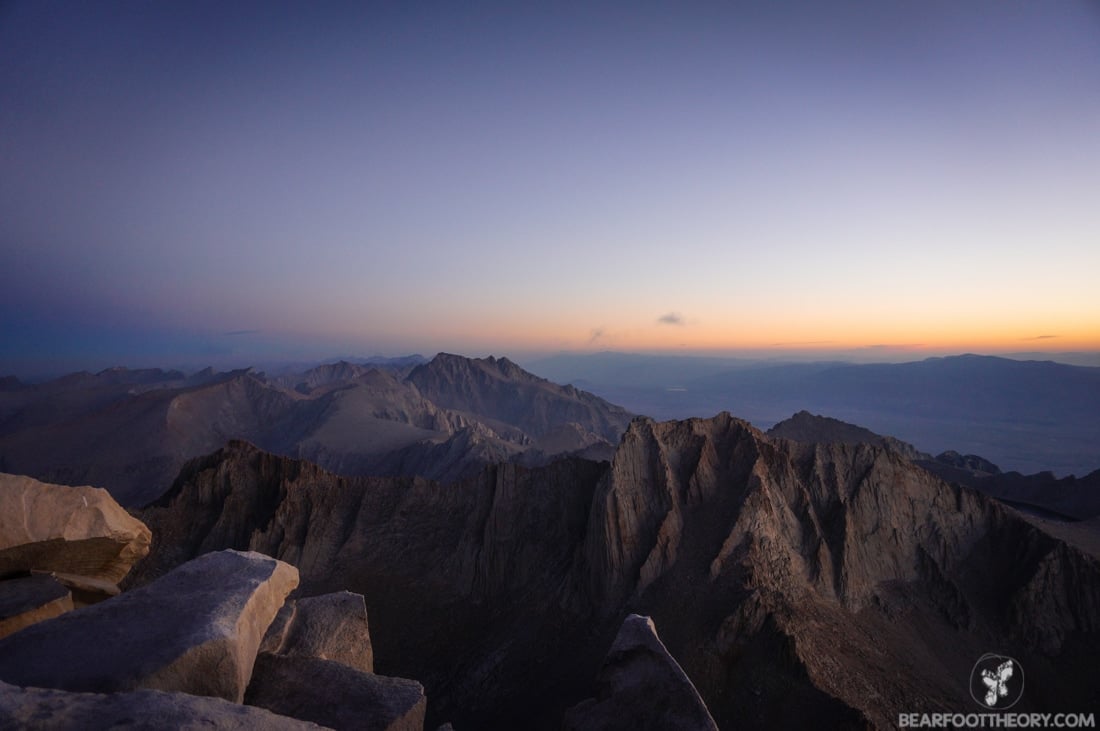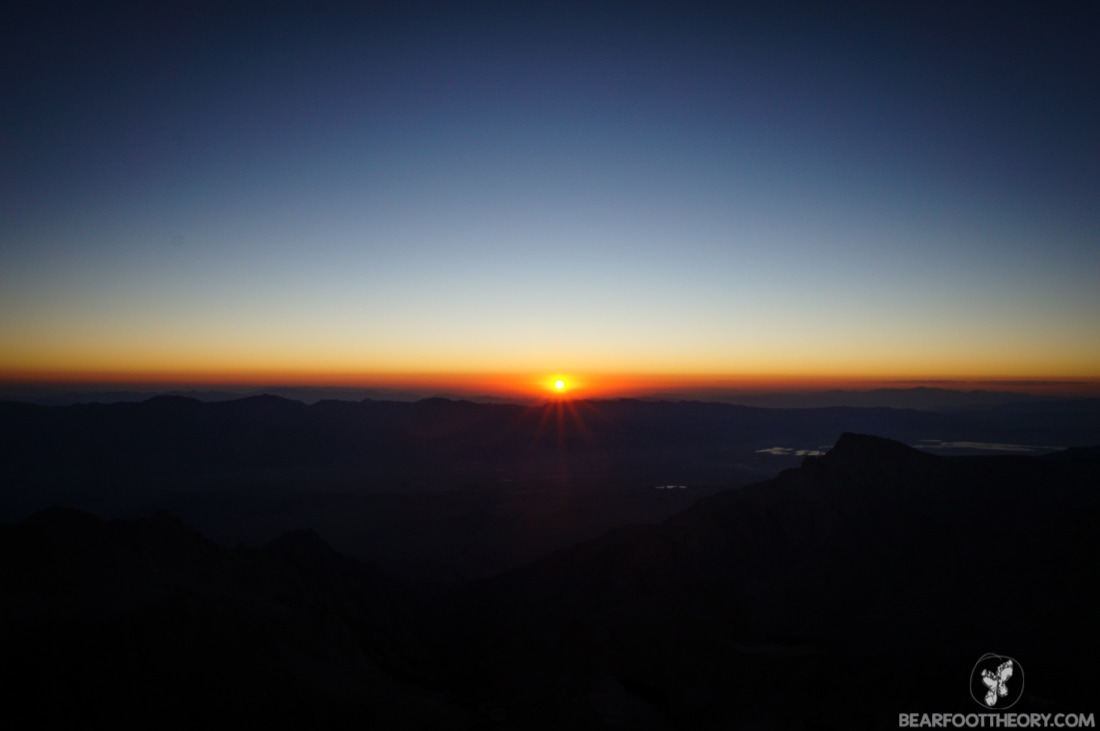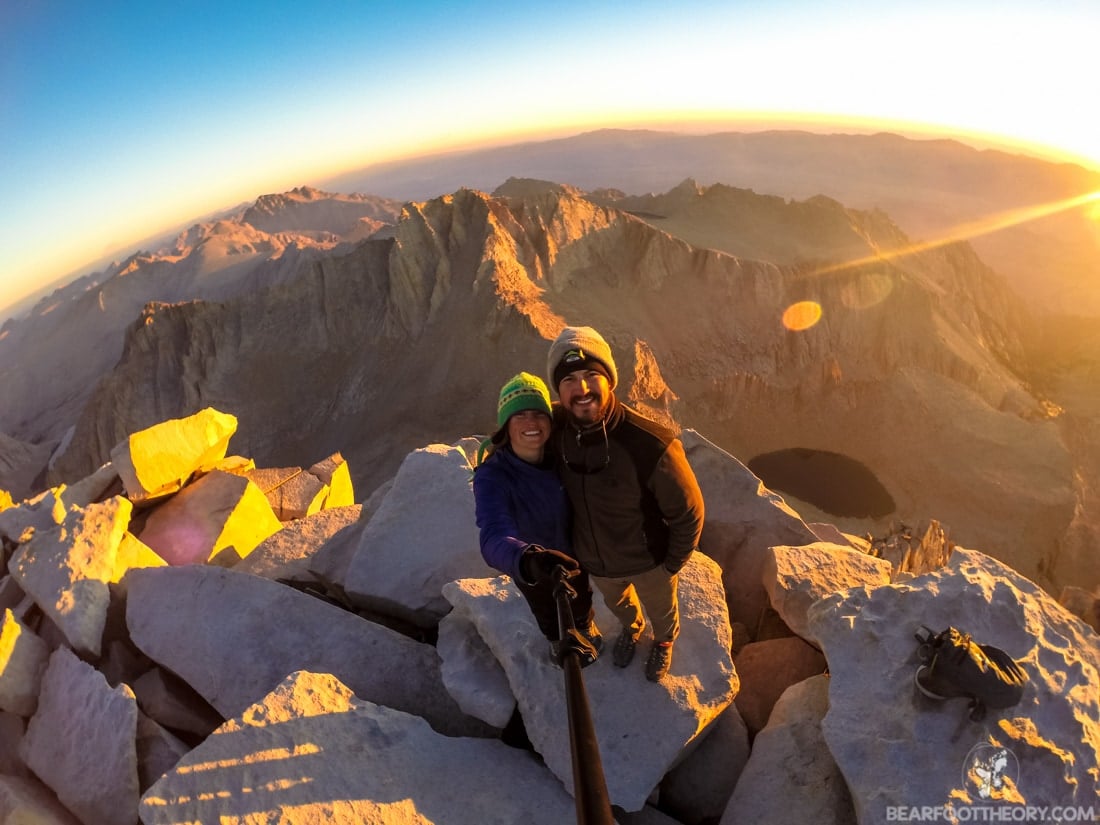 After the sun came up, we were so cold that we couldn't really stay up there much longer. We tried to warm up in the hut but eventually decided to sign the register and head back down. My only regret is not getting a picture of the register while we were there.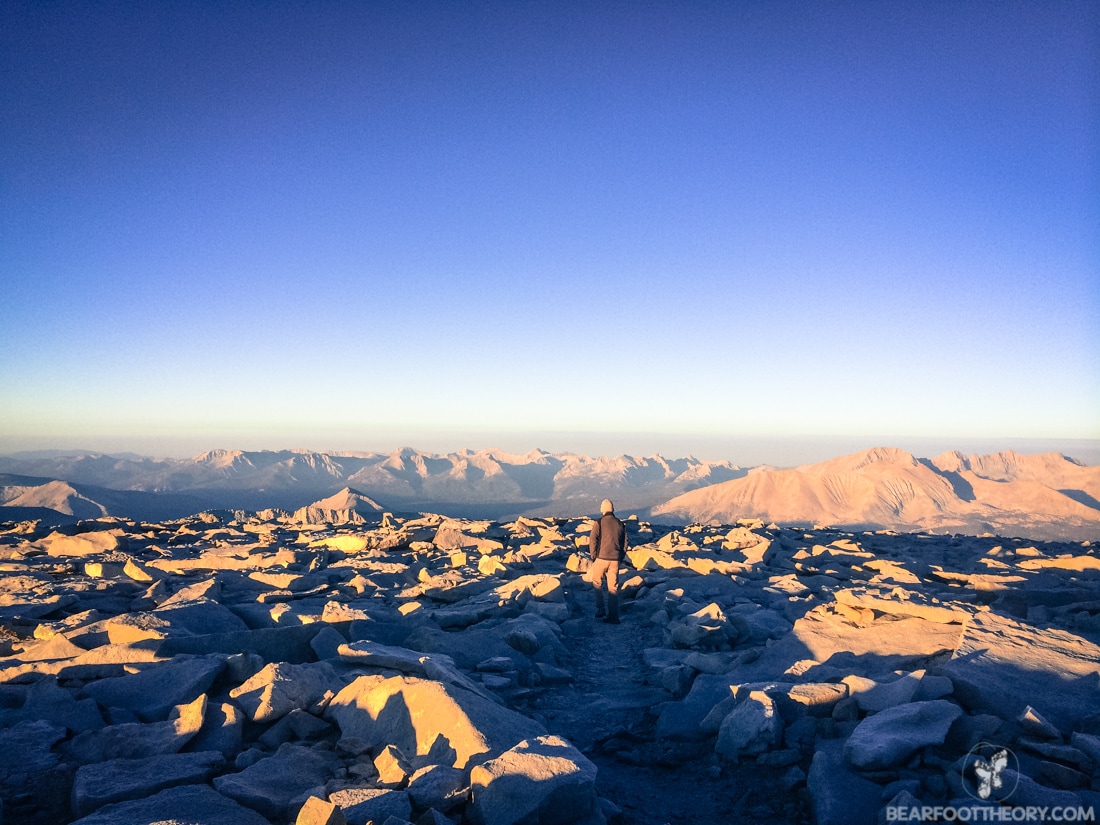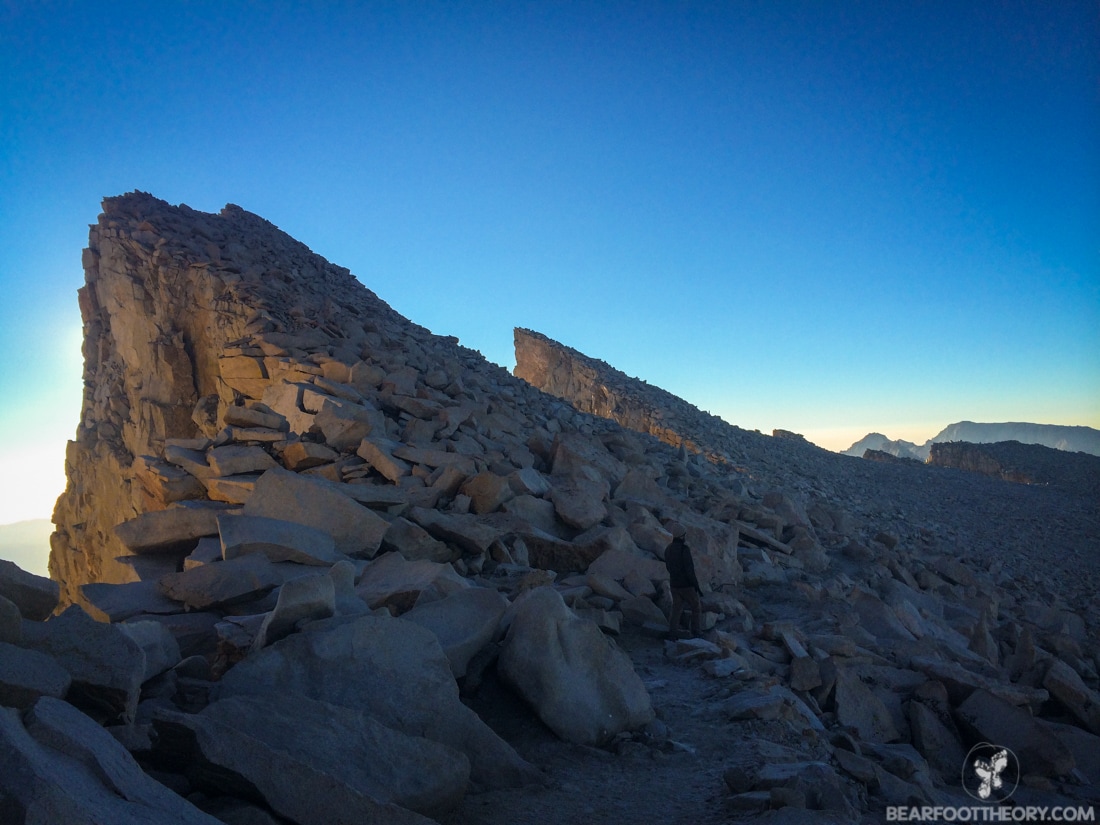 Here I am at the official end of the John Muir Trail!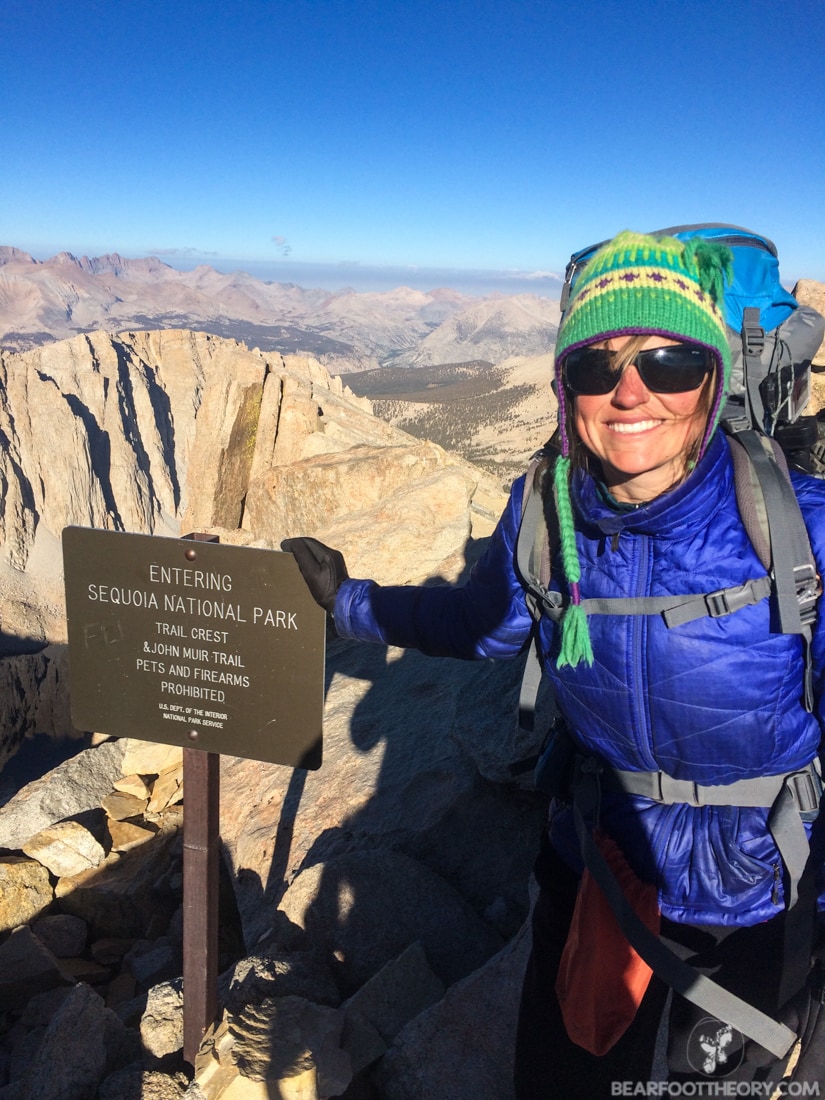 Overall, the hike down was actually pretty difficult. You lose about 5,500 feet over 8 miles and it's pretty tough on the knees. Make sure you have enough water and snacks to fuel you till the end.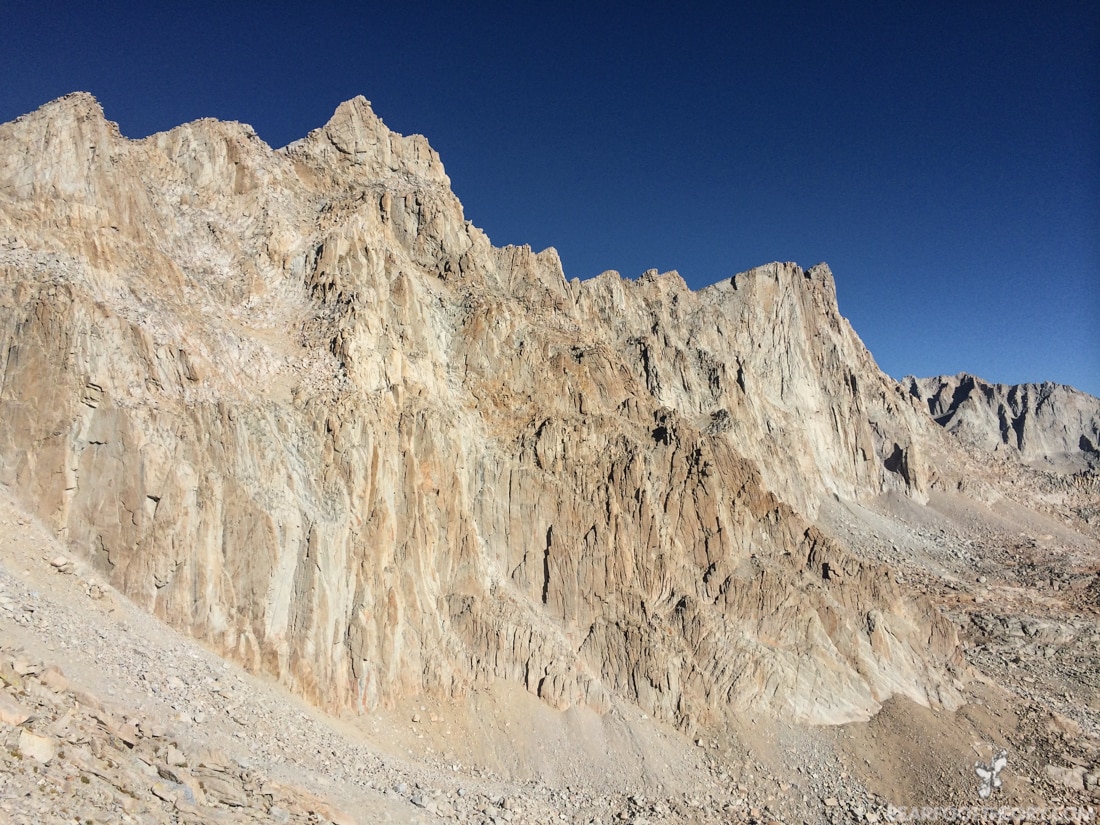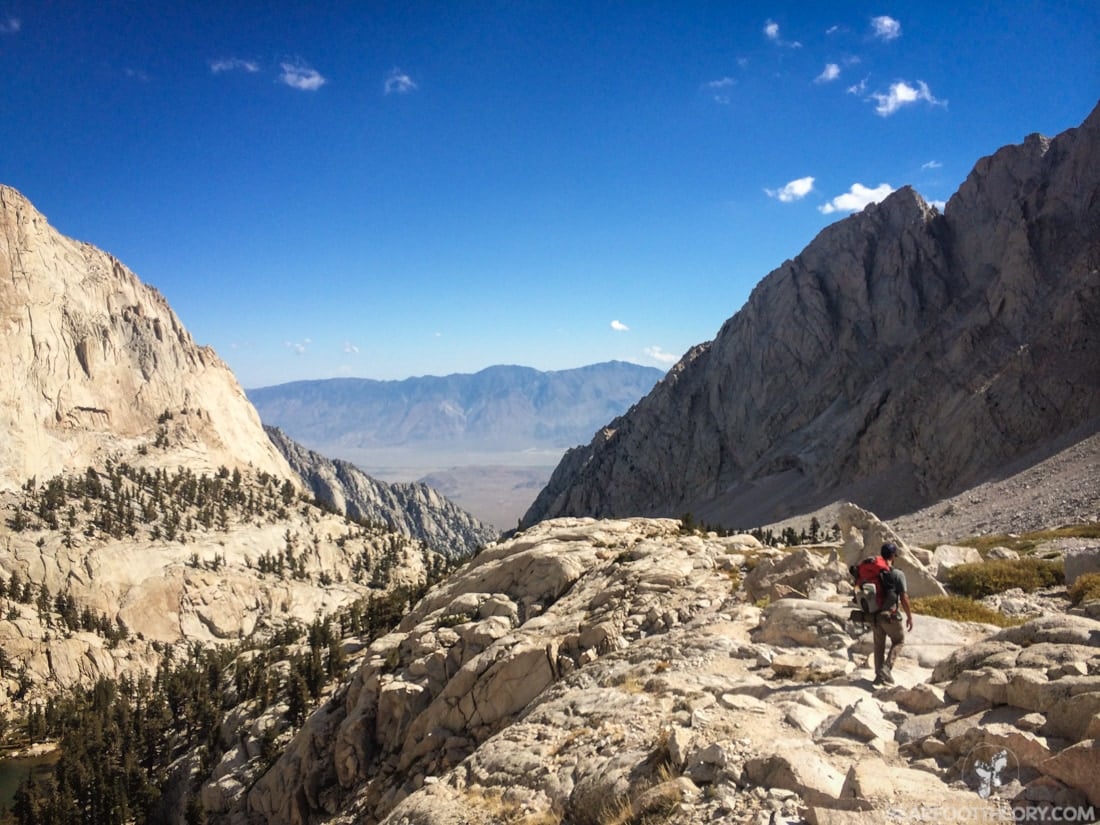 And that's a wrap! We covered about 240 miles (including our food drops) over 22 days. The first week it felt like it was going so slow, but by the end, time was flying by, and I felt like I could've stayed out there even longer. Guess I'll just have to start planning my next long-distance hike. Anyone have suggestions? I think I'm ready for something BIG!
Thanks again for following along on my John Muir Trail trip reports. If you have any questions, just leave a comment below. I'm so excited for everyone who's headed out there this summer. It was a life-changing experience for me, even now 6 months later. Good luck and happy hiking!
Are you on Pinterest? If so, follow my JMT Planning Board!
Follow Bearfoot Theory I Kristen Bor's board JOHN MUIR TRAIL PLANNING on Pinterest.