JOHN MUIR TRAIL HIGHLIGHTS, SECTION III
(MUIR TRAIL RANCH TO MARJORIE LAKE)
Get ready. Ready for colossal peaks. Mile after mile of martian, above-the-treeline landscapes. Gem-colored lakes. Waterfalls. You name it. The week we spent on the John Muir Trail in Kings Canyon National Park was by far my favorite. It felt like every corner introduced us to some new crazy view, and the scenery just got better and better.
Kings Canyon was also home to some of the most challenging terrain, both mentally and physically. Muir Pass, The Golden Staircase, Mather Pass, Pinchot Pass, Glen Pass….We were tackling big climbs on an almost daily basis and the overall trail elevation was on a general upward trend as we moved further south towards Mount Whitney.
The good news is by the time you hit this section, your lungs have adapted, your legs are like steel, you have a daily routine that keeps you in motion, and your head is seriously in the game.
Since Kings Canyon was so picturesque, I decided to break it up into two separate posts so I could give this region the attention it deserves.
This post covers the trail from Muir Trail Ranch (mile 112) to Marjorie Lake (mile 158), which is just before Pinchot Pass.
For more information on the John Muir Trail, visit my JMT Archives. Or check out these popular posts:
And as it goes in all of the destinations we share, please practice good trail etiquette and remember to Leave No Trace. This means packing out all of your garbage, being respectful to others on busy trails, and following the established rules. 
DAY 12 – MUIR TRAIL RANCH (MILE 108) TO MCCLURE MEADOW (MILE 119.3)
We stayed the previous night at the backpacker's campground at Muir Trail Ranch, our second resupply point on the John Muir Trail. We enjoyed a nice long soak in the hot springs across the river and spent that night gorging ourselves on whatever food we had left.
In the morning, we were eager to get to the Ranch to see what kinds of treats we had in our resupply bucket that I had mailed about a month prior. So we skipped breakfast and our daily stretch session and headed down with our bags and empty bear bins to pick up our new supplies.
After loading up and packing our bags it was 11am and we set off. I was quickly reminded what a difference carrying that extra 10 pounds of food makes. It really slows you down. I also realized how important your morning routine is. Never ever skip coffee and never ever ever breakfast.
Luckily we were super stoked on the 80 miles ahead of us, which sort of helped us forget about the extra weight on our backs. Two hours later, we reached the official border of Kings Canyon National Park. YESSSS!
For the next 3.5 miles, the trail followed the South Fork of the San Joaquin River. Despite being flat, these were sun-exposed miles. So be prepared and consider getting an earlier start from Muir Trail Ranch than we did.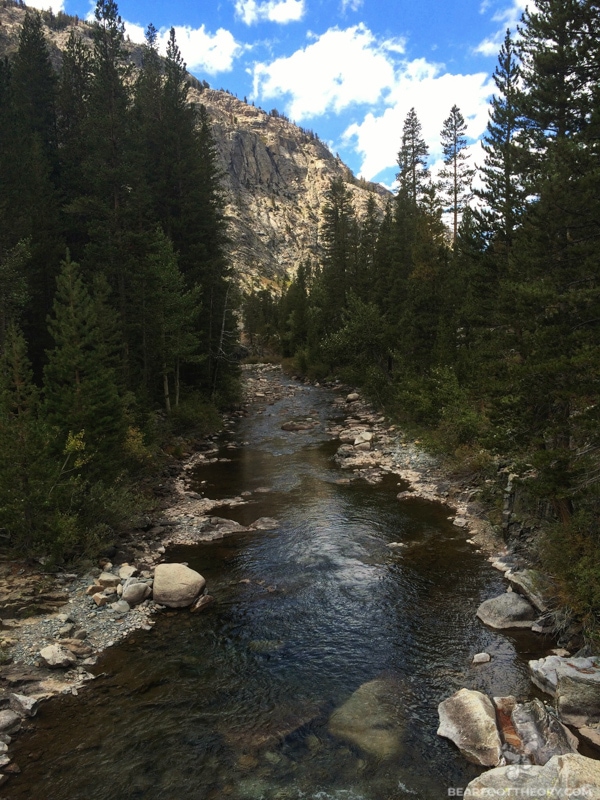 We stopped for lunch at the Goddard Canyon Junction, where there are a few tent sites, and afterwards immediately began the steep climb to Evolution Meadow.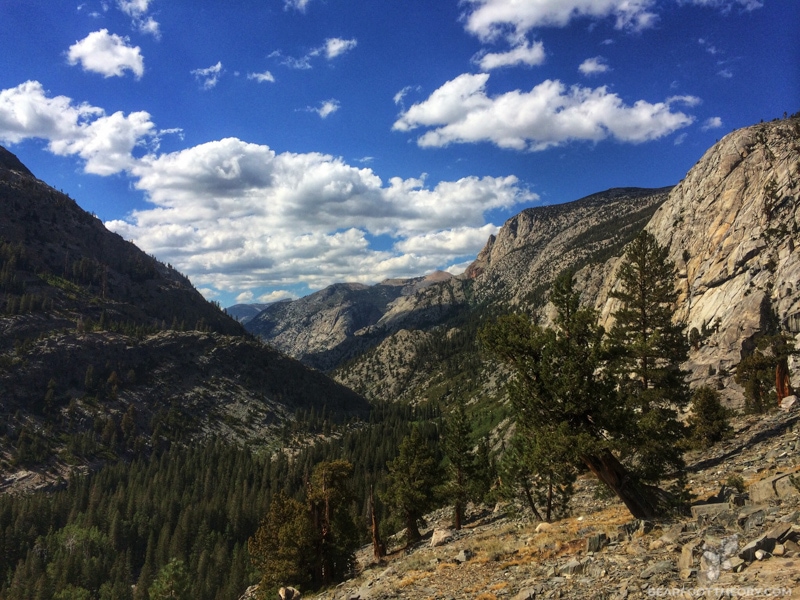 As we neared the top of the switchbacks, we could hear some turbulent waters running to our left. We veered off the trail to catch a glimpse. I had only been to Kings Canyon once before and one thing I remember was the impressive number of really big waterfalls. This one did not disappoint. Here Evolution Creek tumbled down the cliff, forming a series of deep holes as it cascaded into the San Joaquin River below. Awesome!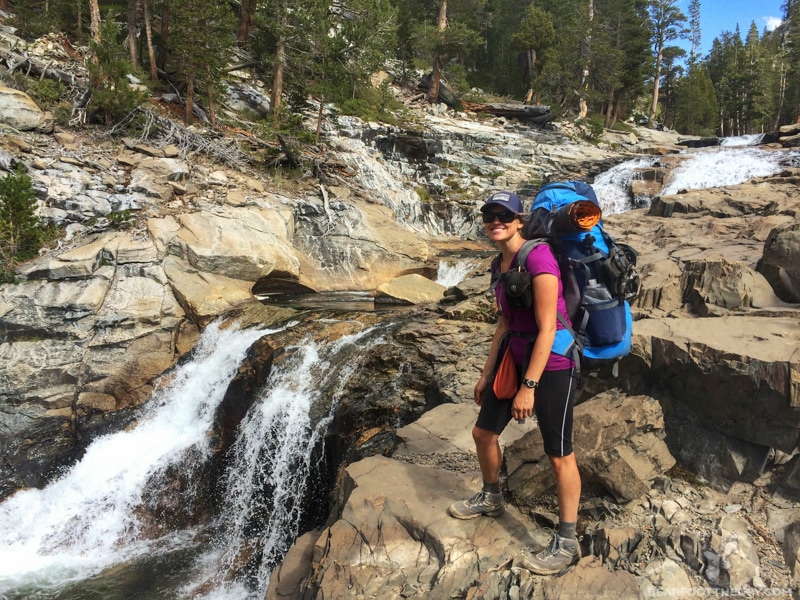 As we made our way further into Evolution Meadow, the terrain transformed from dry, exposed slopes to flat green pastures with Evolution Creek slowly snaking through.
At some point, you have to cross Evolution Creek. In high water years, continue walking up the right side of the creek until its safe to cross. Either way, you will have to take your shoes off.
In the late afternoon, we finally arrived at McClure Meadow and began searching for a spot to set up for the night. About 5 minutes past the ranger station, we spotted a small bench on the right with an expansive view of the eastern skyline, including the peaks towering over Evolution Basin where we would be headed the next day. Done.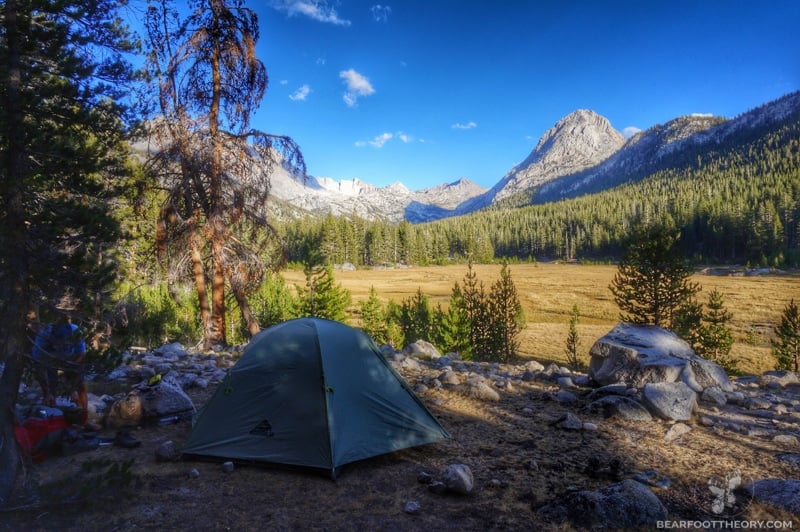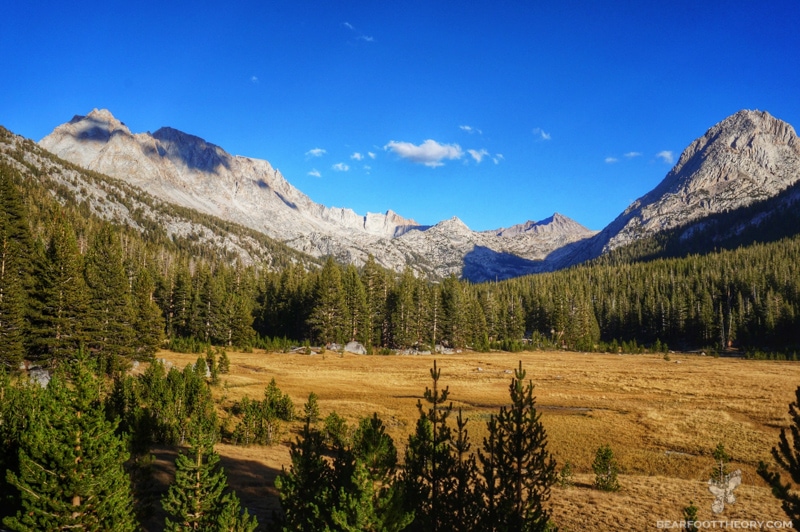 We set up camp, filtered water, and basked in the sun along the creek that meandered below our camp. The reflection of the Sierras in the creek really caught my eye.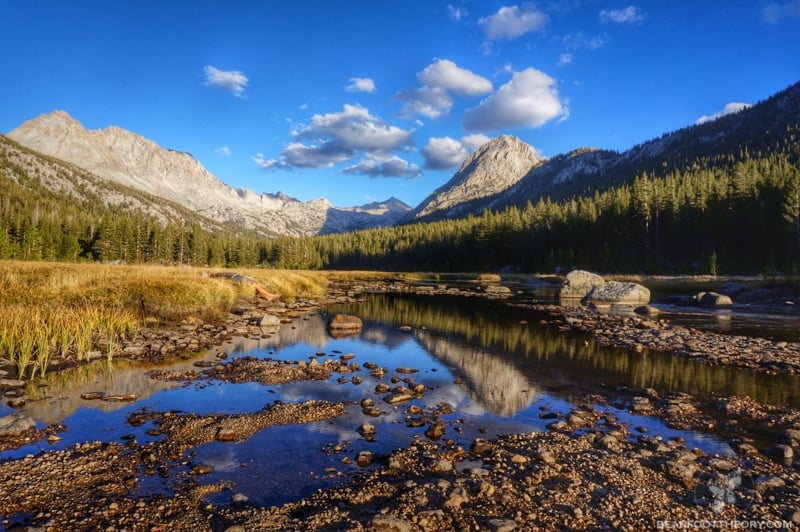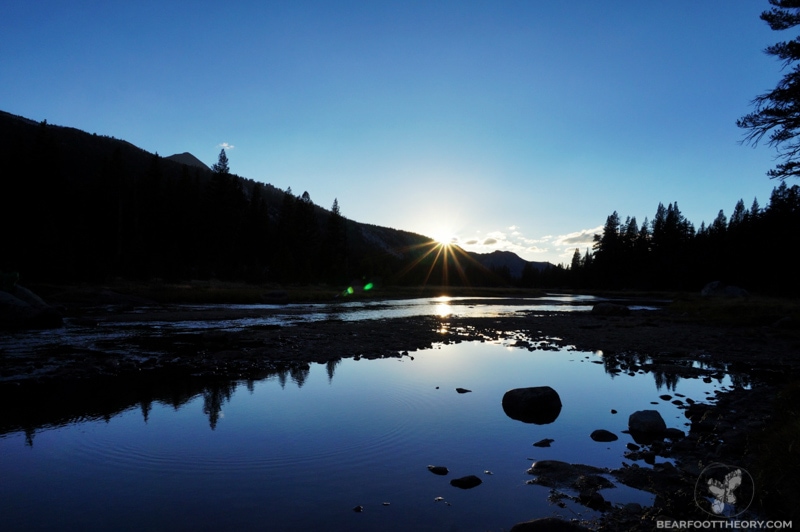 But it got even better. Once the sun went down, we mosied back to camp and started to get dinner ready. I found the perfect rock to relax on as I took in the incredible view.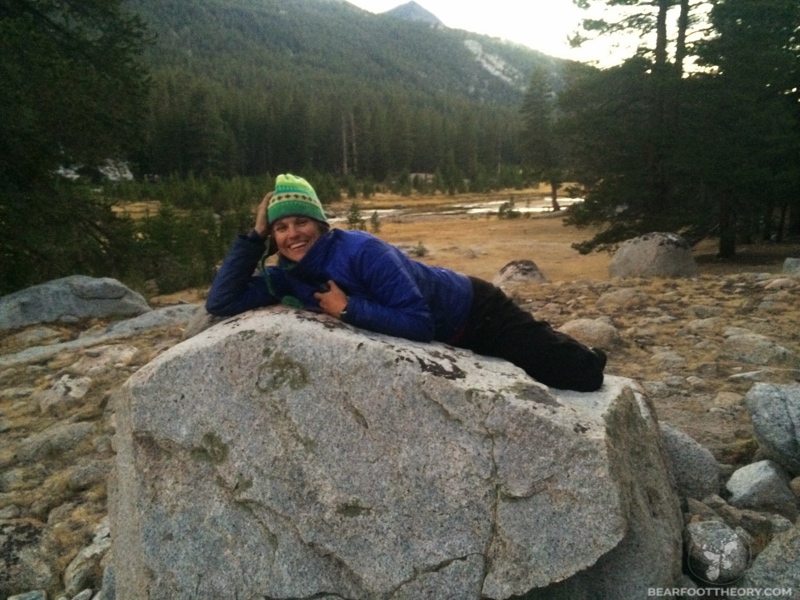 The colors in the sky slowly shifted from blue to orange to pink to grey with a subtle hue of purple. Then the sky began to light up and slowly we watched a near full moon rise over the Evolution peaks. This skyscape is one that I will remember vividly for the rest of my life.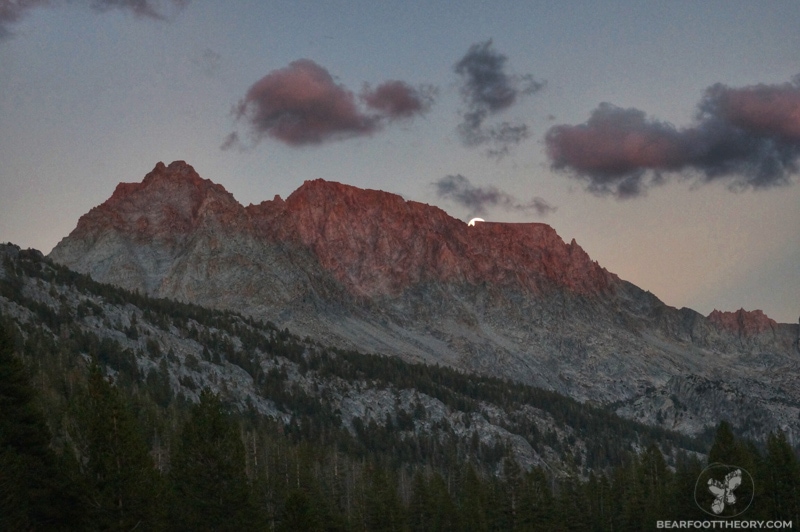 DAY 13 – MCCLURE MEADOW (MILE 119) TO BIG PETE'S MEADOW (MILE 135)
We woke up in the middle of the night to pouring rain. Luckily, my Mountain Hardwear Skyledge Tent stood the test. Not a drop leaked through, and we stayed warm and dry.
When we emerged from our cocoons and peaked outside, the clouds hanging around Evolution Basin and Muir Pass looked pretty ominous. But the rain had stopped, so we decided to get the show on the road.
We enjoyed the lingering dampness as we hiked through Evolution Valley and began to ascend to Evolution Lake.

Two hours after leaving camp, we ran into a group of guys from southern California that we made friends with earlier in the trip. Everyone on the trail called them "the LA boys." (Everyone has names for everyone out there by the way.) Anyways, they were a hilarious bunch, so we were pretty pumped to cross paths with them. Funny people make good hiking company.
The sky remained dark, but there were no signs of thunder, so we kept trucking along. Right as we caught our first sighting of Evolution Lake, I felt a rain drop. One of the LA boys named Arnie was right in front of me, and we simultaneously looked at each other and said "uh oh." We knew it was coming.
Literally within three seconds, the Sierras unleashed their wrath and the sky was dumping buckets. In a panic, Arnie and I threw our packs down to grab our rain gear and pack covers, which I had thankfully placed at the top of my bag that morning. My hiking partner b-Rad was hiding under a tree not too far behind doing the same thing.
Once we were all decked out, we kept hiking, but now at a much faster pace. Soon, we reached the northern tip of Evolution Lake. We were now above the treeline, completely exposed. And…it started to hail. Frozen sideways hail. Then thunder. At first I felt adventurous, but then I just got scared. We were doing everything the ranger told us not to do. We still had 5 miles and 1,000 feet of elevation to gain before the top of Muir Pass and now there was nowhere to hide.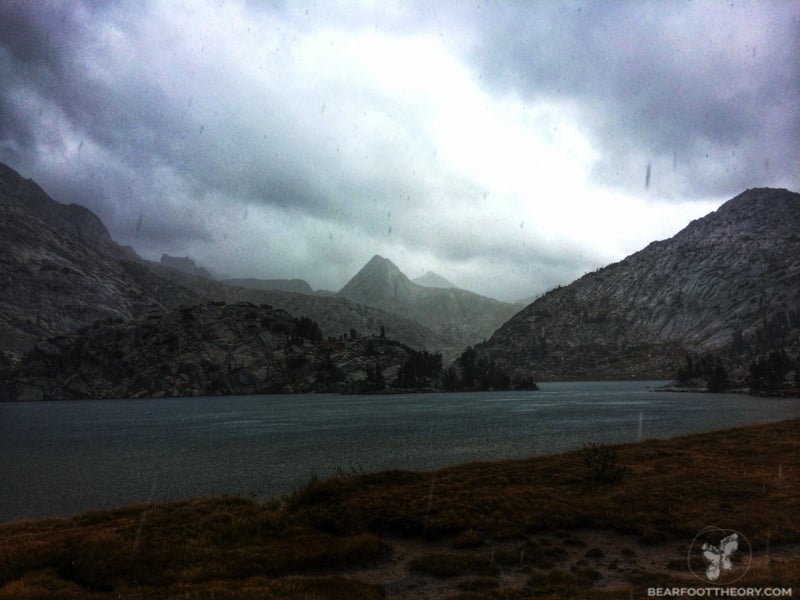 After a quick discussion, we agreed if the thunder got any closer or the storm got any worse, we would bust out the tent and hide out till it passed.
Fortuitously, the distant thunder and lightning kept at bay. But the rain and wind sustained. We hiked and hiked and hiked. Not stopping for water. Not stopping for food. Not even the bathroom. We knew that in a split second, the conditions could change and we could be caught in a dangerous situation.

Finally, I could see Muir Hut at the top of the pass. We were almost there, but it still seemed so far away. As we ascended those last few hundred feet, the wind gusts nearly blew me over.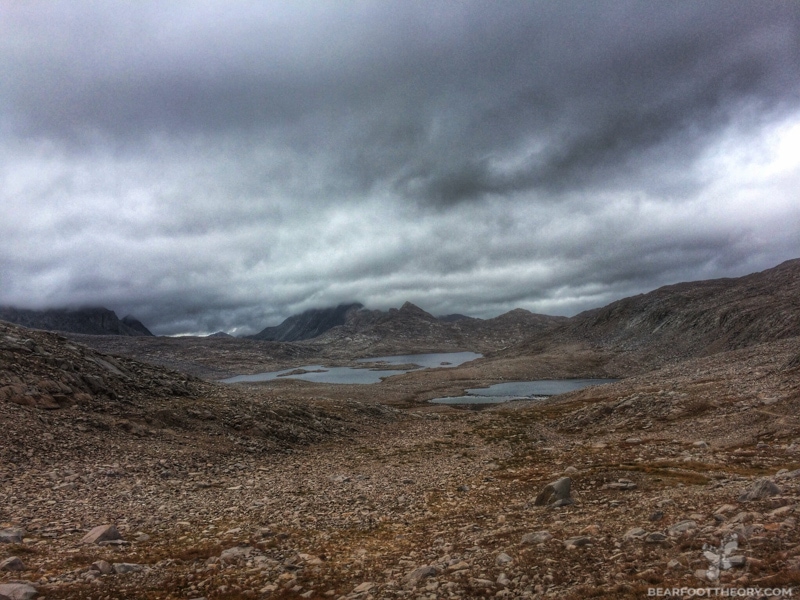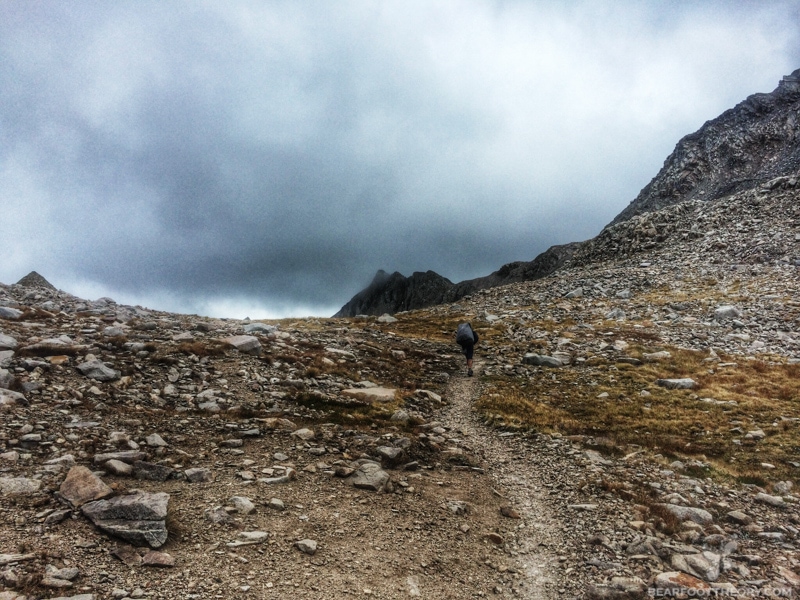 We were unsure if we were going to be able to get into Muir Hut, a shelter that was built in 1930 by the Sierra Club. So we were relieved when we reached the top of the pass and were able to seek refuge inside. We also found the LA boys hiding out, along with a few other thru-hikers. 

Inside the hut was cold, dark, and damp. My fingers were numb. My legs were shaky. And my rain coat was soaked through. Yet somehow, I was on a high. Adrenaline was pumping through my blood like I had never felt before. In fact, I felt great. (My only regret was not getting a picture of the outside of Muir Hut.)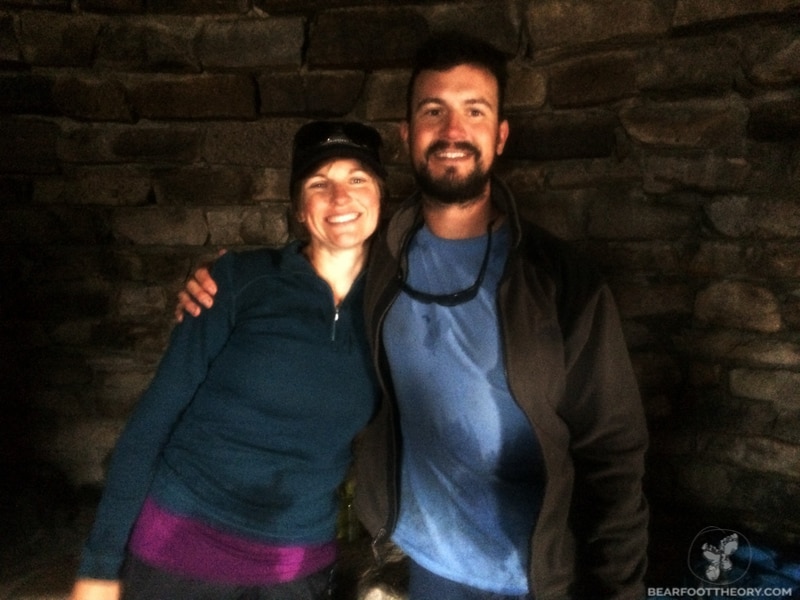 We decided to stay and hang out for a while. We cooked up some ramen and refueled while we waited for the storm to pass.
An hour later, the rain appeared to be on its way out, and we decided to join the LA boys back on the trail. The rest of the afternoon was all downhill, and we even caught a few glimpses of blue sky in the late afternoon.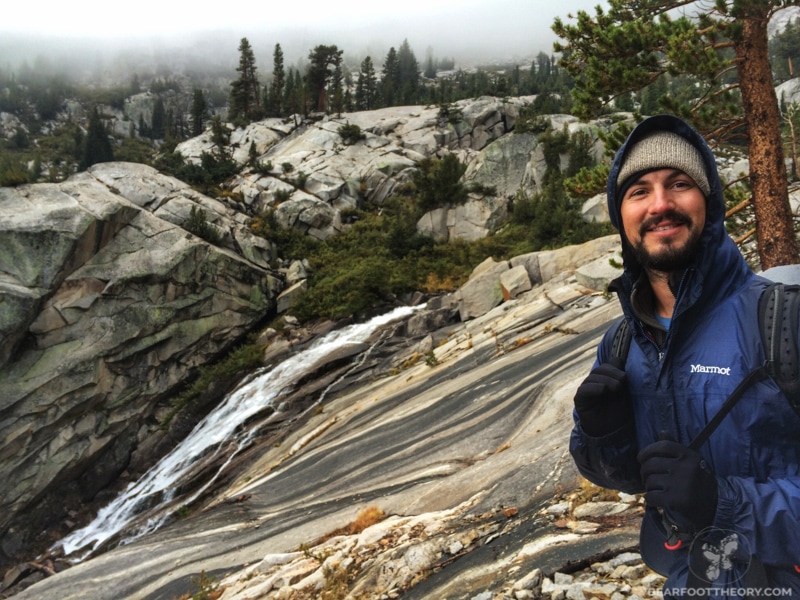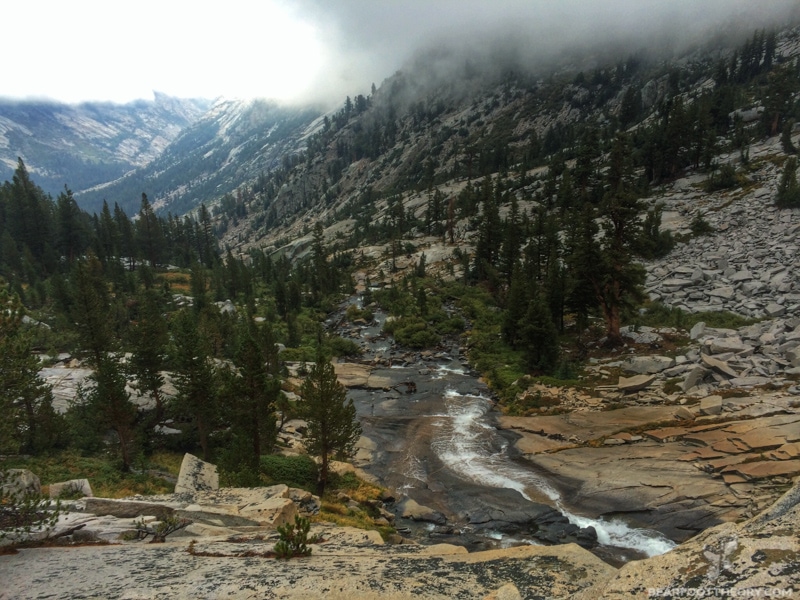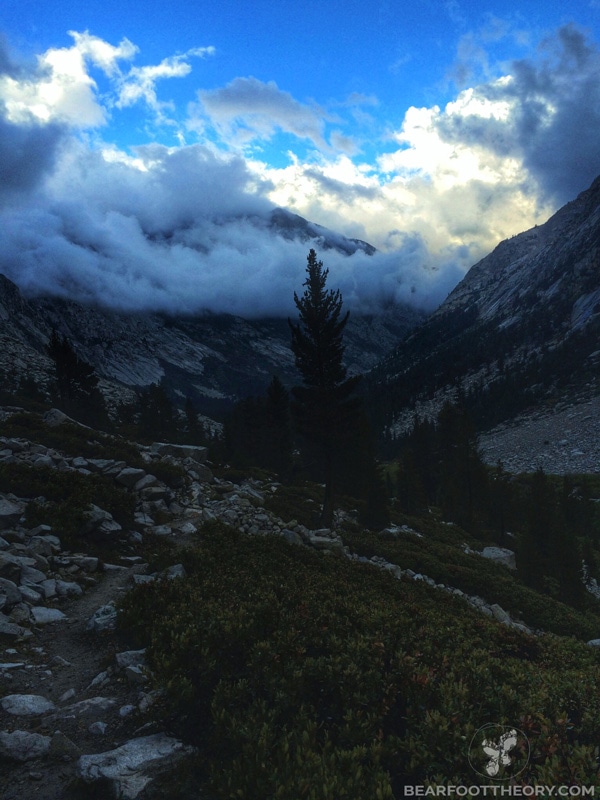 There weren't a lot of campsites on the way down from Muir Pass, so keep that in mind when planning out you day. We finally found a spot just before Big Pete's Meadow, and in total ended up hiking 16 miles that day. Amazing what your body will do when it goes into survival mode.
DAY 14 – BIG PETE MEADOW (MILE 135) TO UPPER PALISADE LAKE (MILE 148)
We woke up to a gloriously sunny sky. I was so thankful. One stormy day was enough adventure for me.
We had camped with the LA boys the night before, which turned out to be a very good decision. Not only did it provide some much-needed camaraderie, we were also able to trade some of our mashed potatoes for some more hot chocolate. Total score.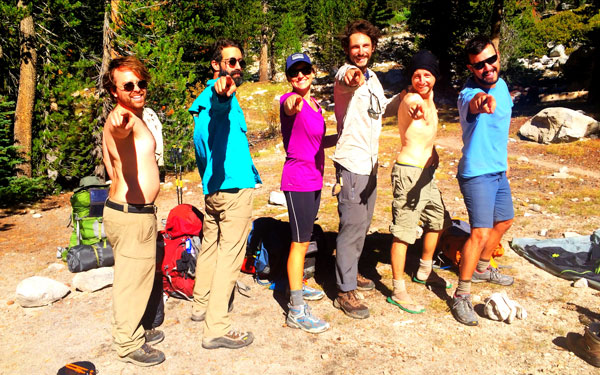 The first half of the day was pretty uneventful. Little Pete and Grouse Meadows are both beautiful places to stop and take a break, but we pushed through because we had a big climb up ahead. The dreaded Golden Staircase.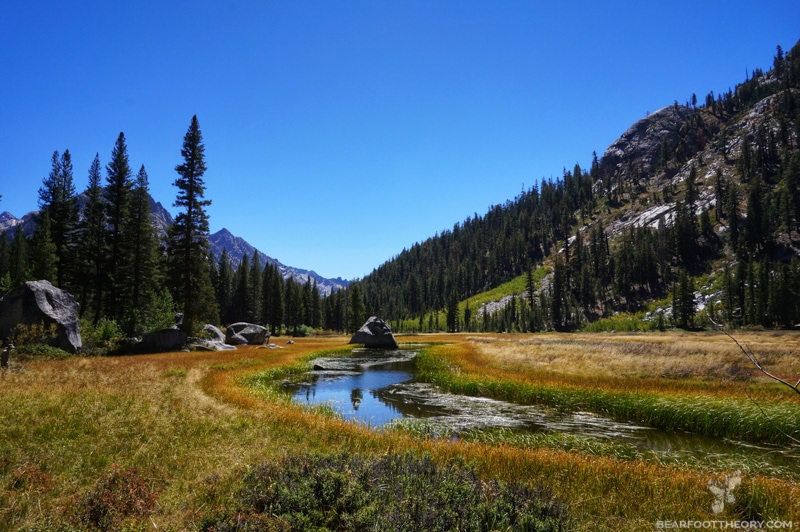 As we made our way towards the Golden Staircase through Deer Meadow, we could already tell the view from the top was going to be epic.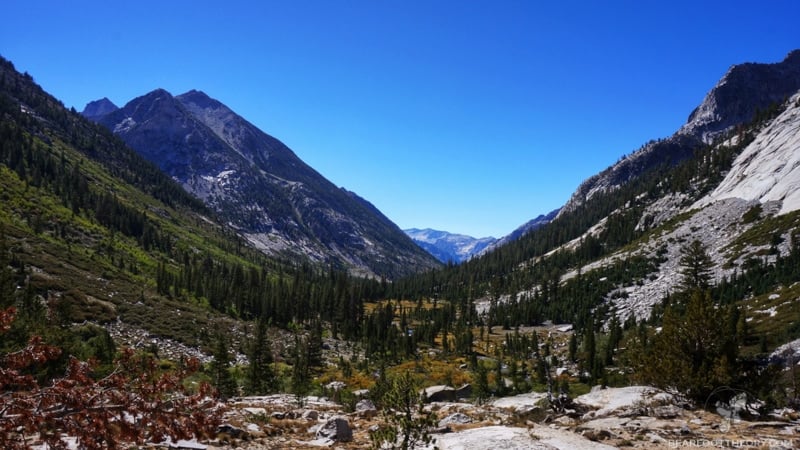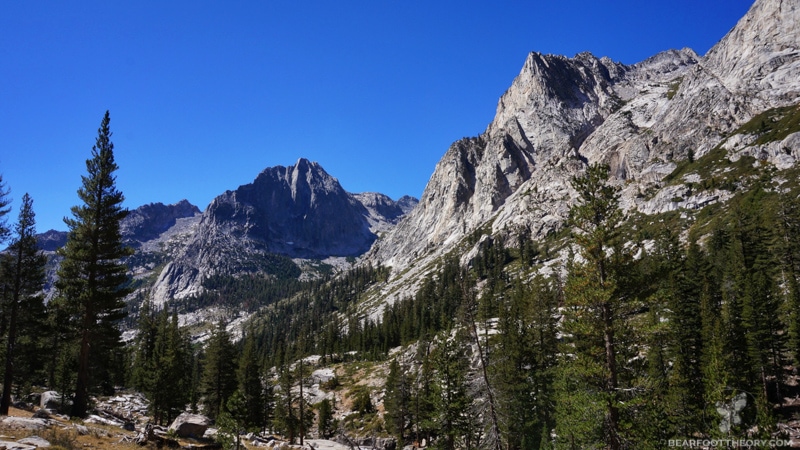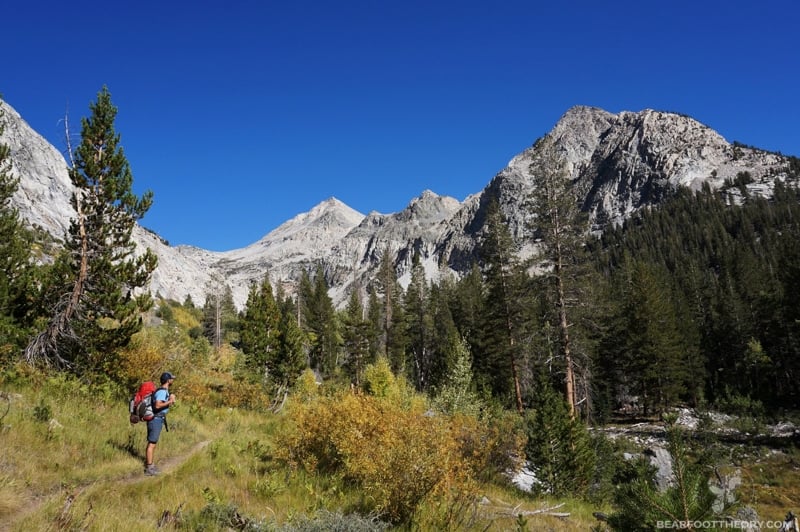 The Golden Staircase is a steep 1,500-foot ascent up 50 or so odd switchbacks. But like most tough spots on the trail, it wasn't as bad as I expected. Just think of a never ending stairmaster at the gym, but with a far superior view.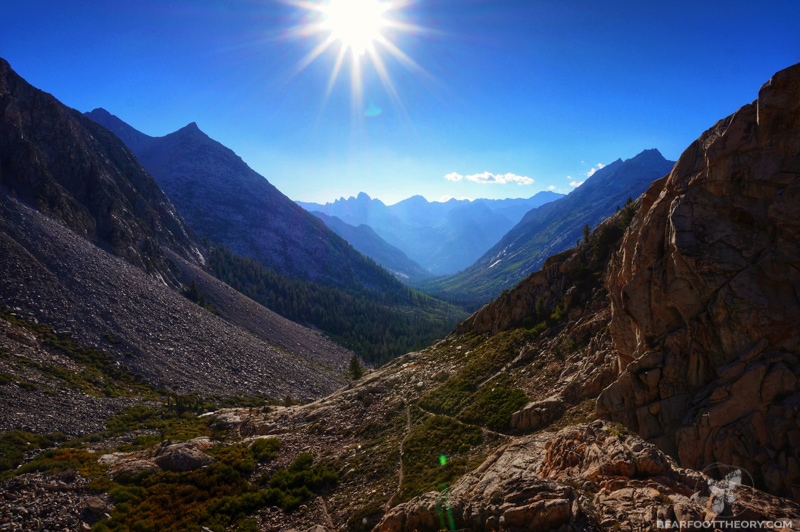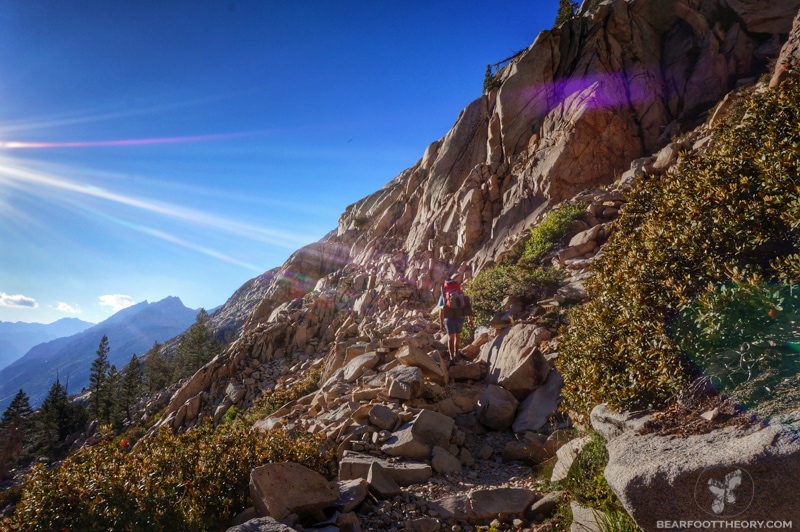 We had planned on camping at Lower Palisade Lake, but when we got there, there were quite a few tents already set up. And being above the treeline, there was really no privacy. Except for people who were hiking alone and looking for companionship, I never really got why people would want to set up camp so close to one another. Isn't that why we are out there…to get some peace and quiet?
Brad and I decided to keep going. We figured we'd find a spot with some solitude at Upper Palisades Lake. Well, as it turns out, the distance between the Lower and Upper lake is further than it looks on the map. And the trail is quite a bit higher than the lake itself, so we were having trouble finding a tent site with easy access to water. It was starting to get dark, and I was getting hangry (hungry+angry). Plus I think the long, tough previous day in the rain was finally starting to wear on me. Luckily Lower Palisade Lake was glowing in the sun, and that provided a minor distraction.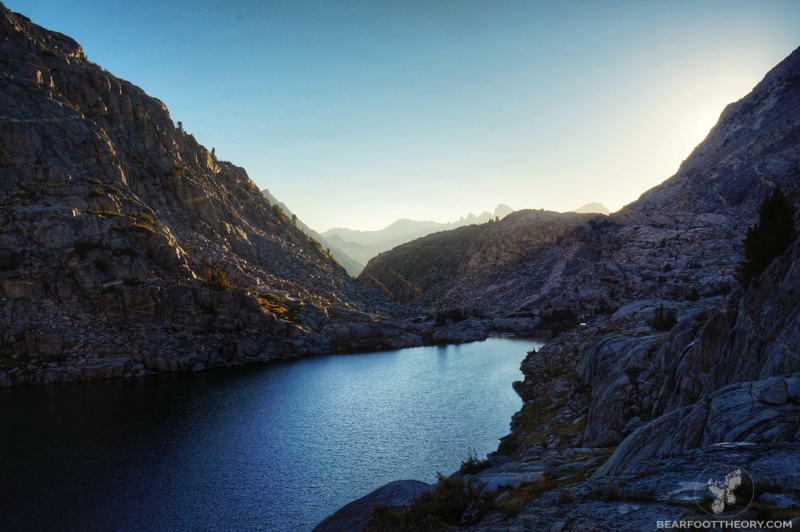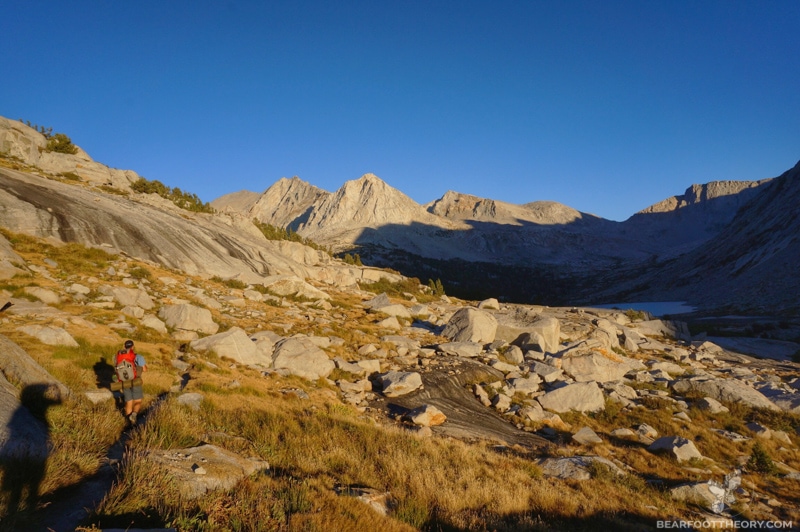 Eventually we crossed a small creek and decided to veer left off the trail in search of a flat spot near this water source.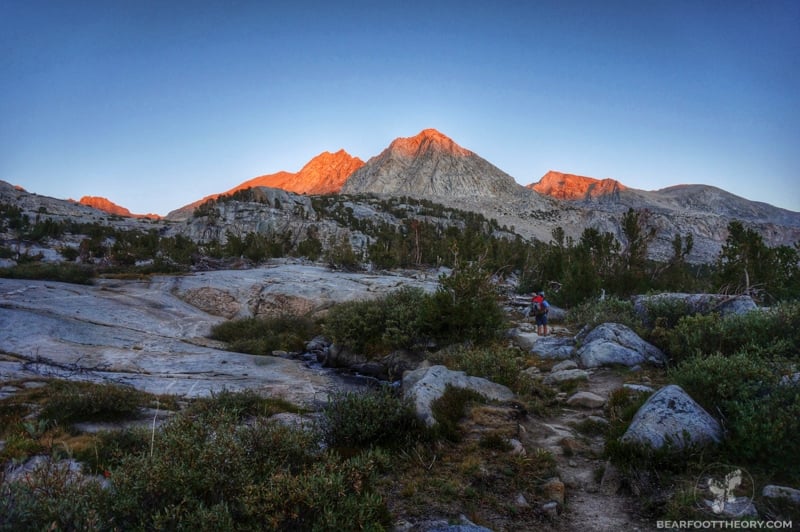 By the time we got our tent set up, the sun was going down quick. We hustled to filter our water and cook and eat dinner. In less than 45 minutes, we were tucked away in our sleeping bags and ready for shuteye.
Sidenote: Just a quick recommendation. The Golden Staircase is tough, but don't be tempted to leave it till the next morning. If you go that route, it means you will have to climb the Golden Staircase and immediately follow it with Mather Pass, for a total of 3,500 feet in one day. Mather Pass is also one of the toughest passes on the trail in my opinion, so you'll want a pair of fresh legs when you tackle it.
DAY 15 – UPPER PALISADE LAKE (MILE 158.5) TO CROSSING BELOW LAKE MARJORIE (MILE 158.8)
Well I woke up to this. The  moon and all. Not too bad.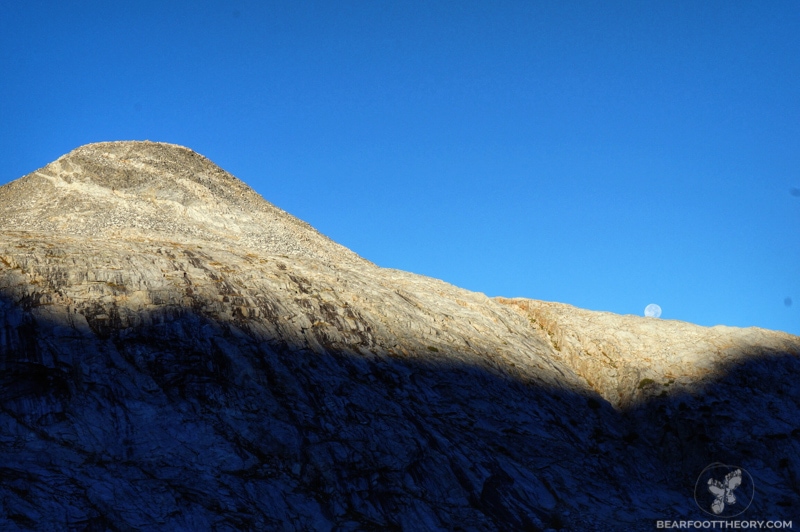 As soon as we started hiking on Day 15, we were going uphill on our way to the top of Mather Pass. Now I was happy that we continued on to Upper Palisade Lake the night before. Pumping out that last bit of elevation just made this day that much easier.
The ascent to Mather Pass is kind of a beast. Most of the passes on the trail are well-graded switchbacks. They might be long, but there are few with big rock steps like Mather. That said, it still ended up being one of my favorite passes. The view as you climb is just spectacular. The barren landscape is speckled with sapphire-colored lakes and surrounded by six peaks that exceed 14,000 feet. So pace yourself and remember to enjoy the view as you climb.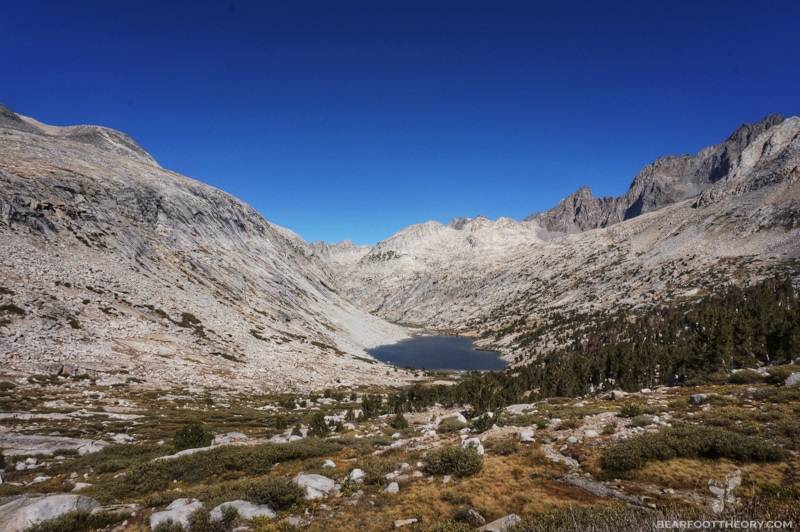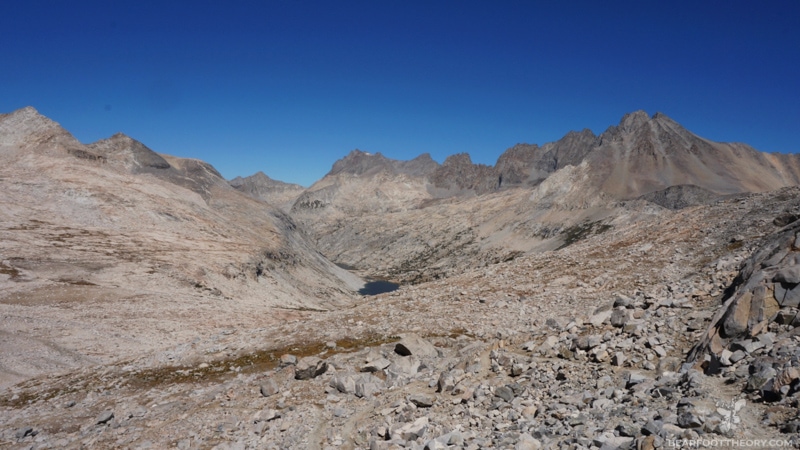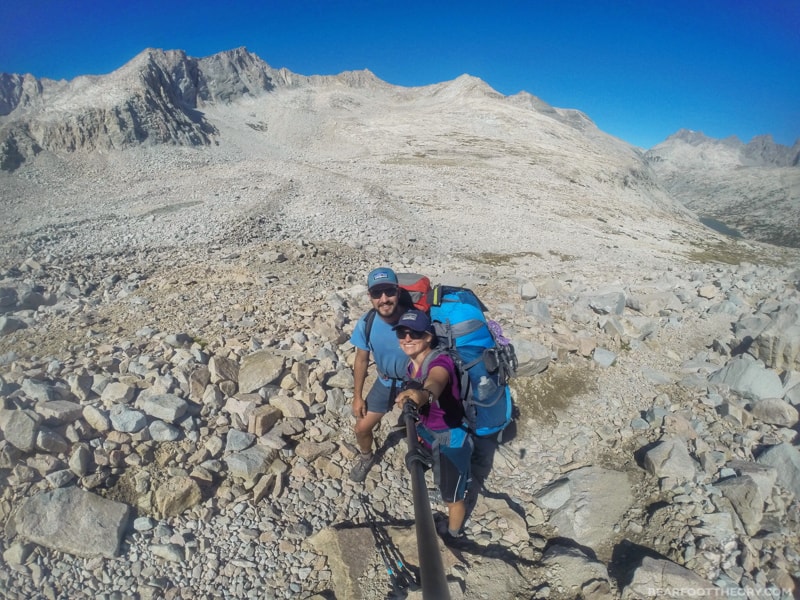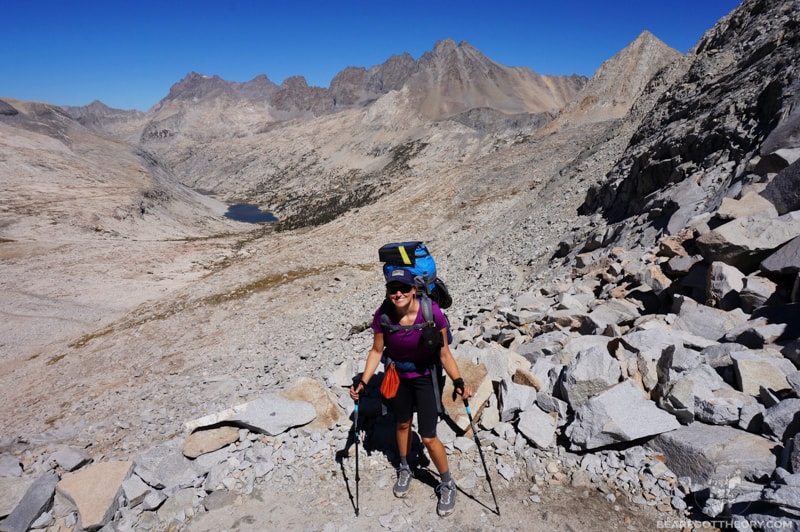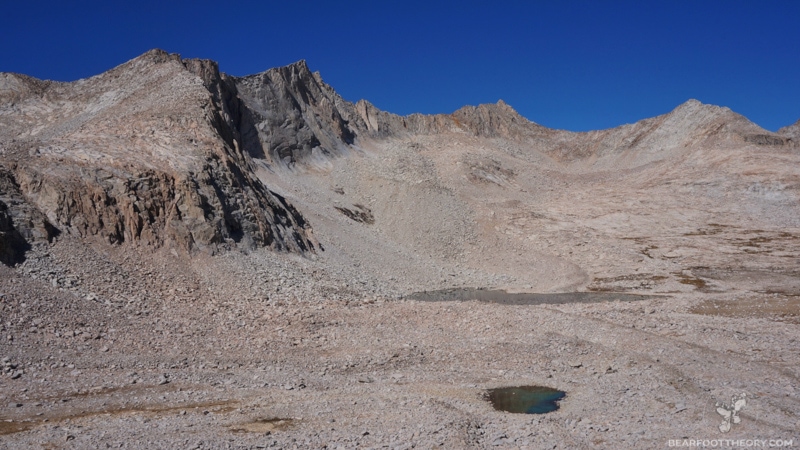 Ah…we made it. *sigh* Once you get to the top, make sure to take some time and relax. The views to the south of Mather are equally awesome.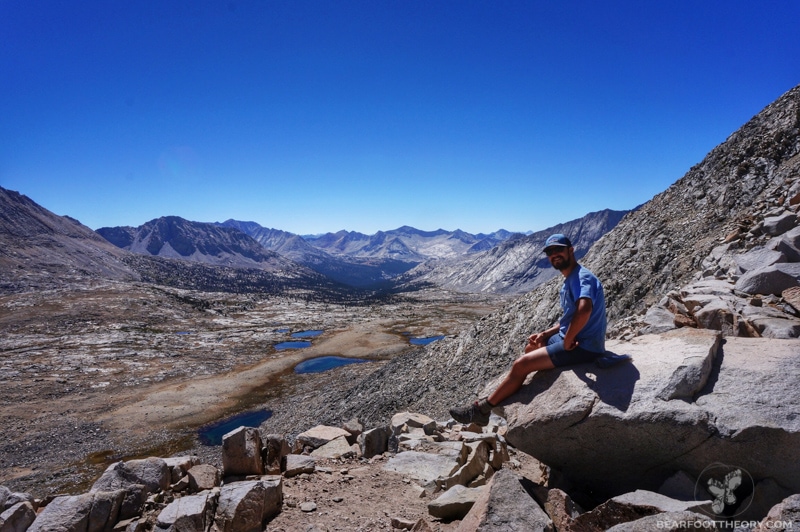 We hung out at the top for an hour before heading down a steep series of switchbacks.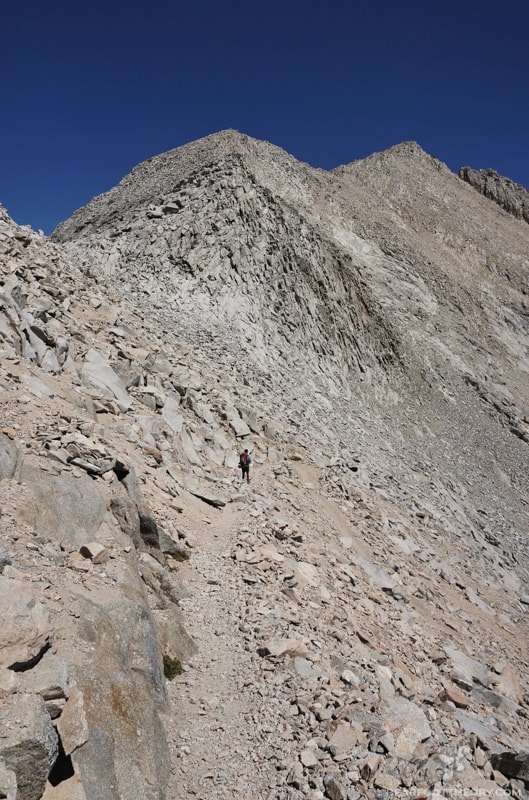 Looking back at Mather Pass, it was hard to believe we came from all the way up there. What took us 2 hours to climb only took 30 minutes to come down.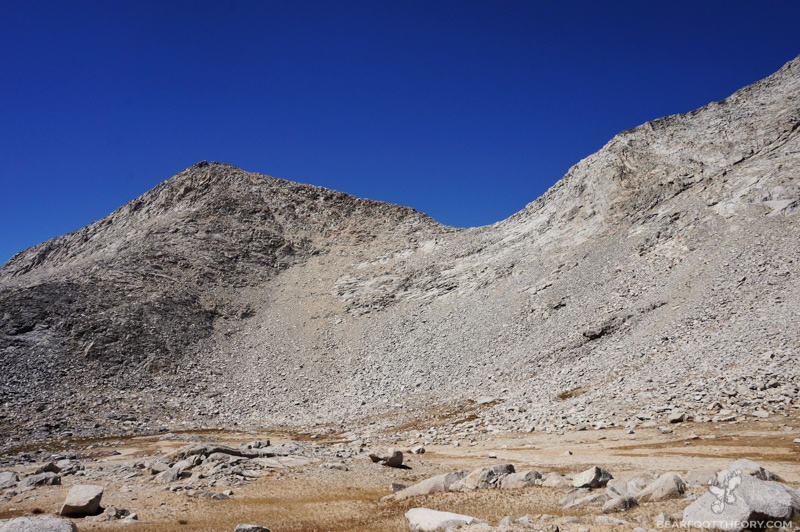 As you get further away from Mather Pass, the mountains transform from the light colored granite to a colorful, red metamorphic rock.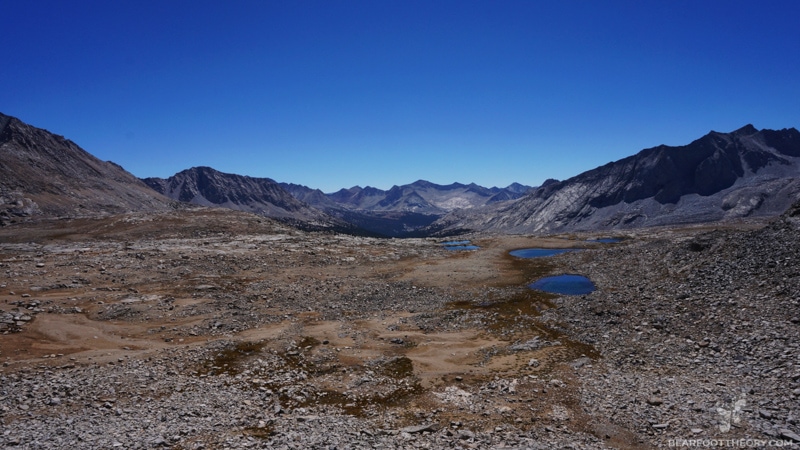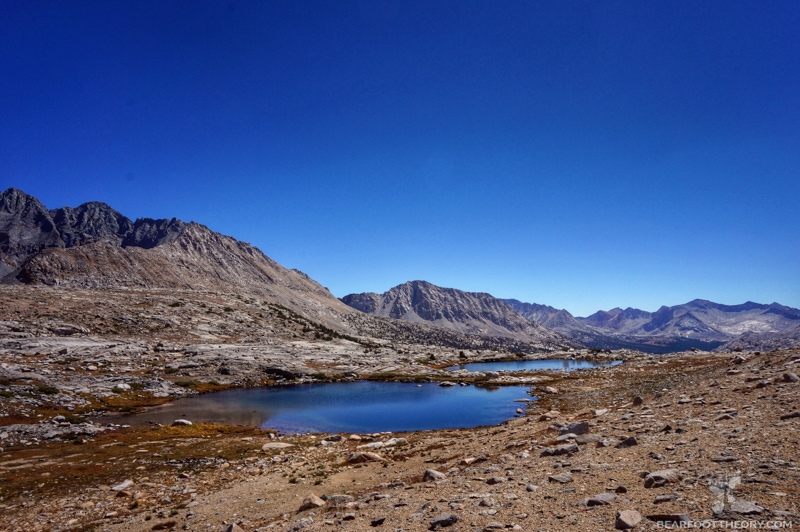 About two miles past Mather Pass, you'll run into the South Fork of the Kings River, which you then follow for another 4 miles. Anywhere along here is a great place to stop for lunch.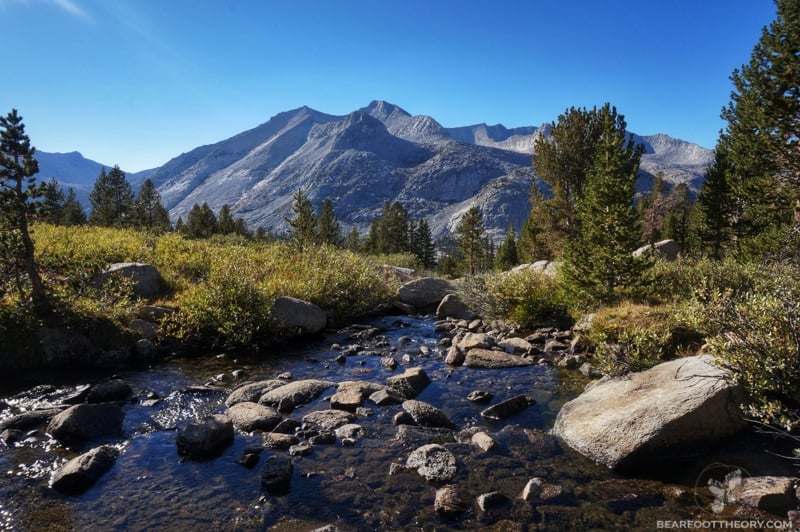 Once you complete the main South Forks Crossing, it's back uphill again on a dry dusty slope. Up down up down. That's the name of the game on the JMT. But not to fret, this uphill section is short, and once you reach the top, you have your choice of lakes to camp on.
Since we were pretty exhausted by this point, we stopped at an unnamed lake on the right just past the Bench Lake Ranger Station. We traveled a bit off of the trail on the north side of the lake and found a perfect spot for our tent. But first things first, shoes off. We went down to the lake, soaked our feet, ate snacks, and enjoyed the warm afternoon sun.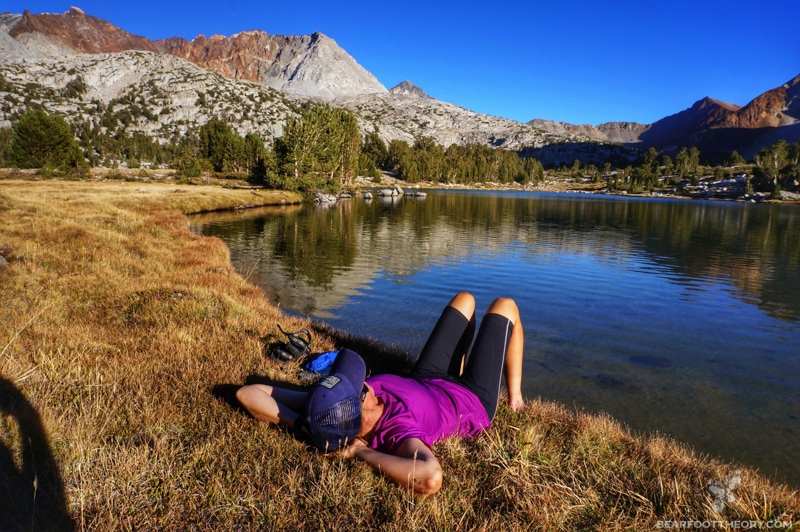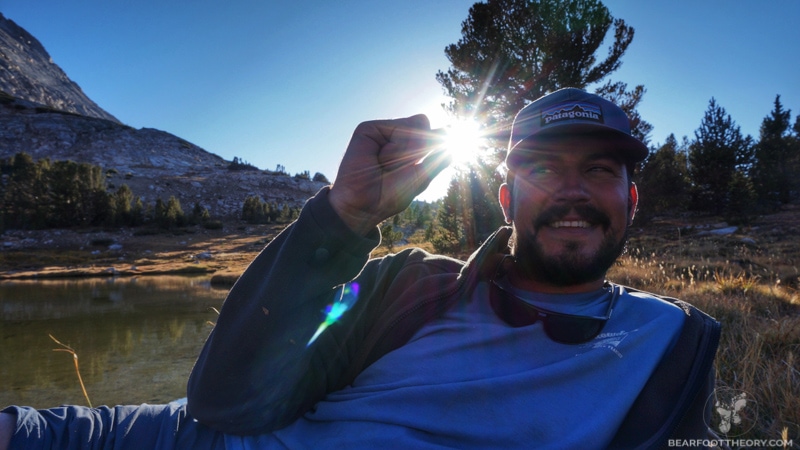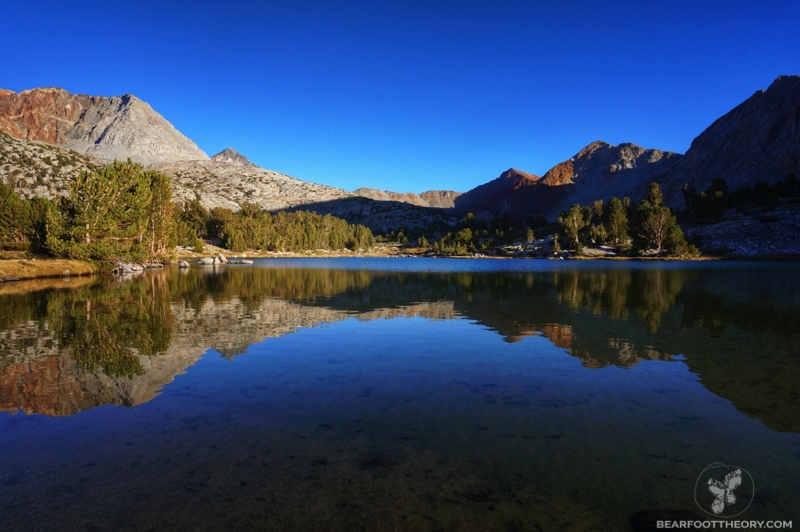 Then as the sun started to go down, we headed north of the lake to get an even better sunset view. What was really cool is we could see all the way back to Mather Pass where we came from. It makes you feel pretty proud when you realize how far you walked that day.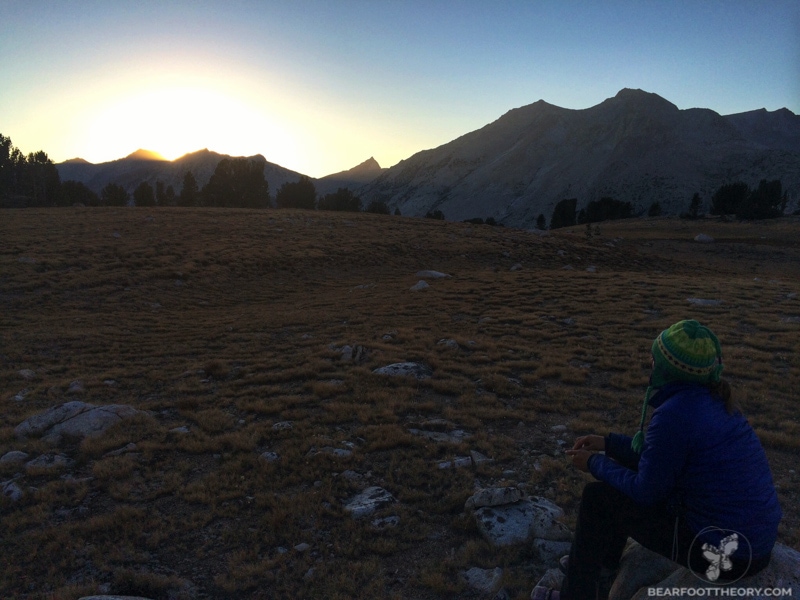 This secluded campsite ended up being one of my favorites on the JMT (I feel like I say that alot). I'm not sure if was the colors, the reflections, the sunset, or just the fact that we got to camp early enough to chill out for a while…but it was gooooood.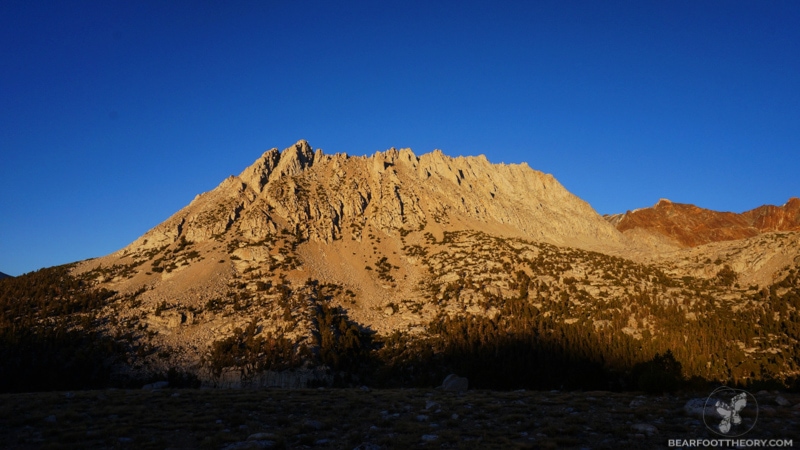 Well that's it for Part 3 of my John Muir Highlights. The next morning we woke up and tackled Pinchot Pass. Also awesome. But you'll have to wait for Part 4 for that.
Are you planning a trip on the John Muir Trail? Follow my JMT Pinterest board for all kinds of planning resources!
Follow Bearfoot Theory I Kristen Bor's board JOHN MUIR TRAIL PLANNING on Pinterest.