JOHN MUIR TRAIL HIGHLIGHTS (Yosemite to Reds Meadow)
I've been home from the John Muir Trail for a little over a month now. I'm still glowing from the experience.
While I am already scheming away for my next adventure, one of the best parts of being home has been hearing from you guys. I've received dozens of messages from people saying that they've been inspired by the photos and are now planning their own John Muir Trail excursion. That is so awesome to hear!
While I'm not in the business of writing serious trail guides, I wanted to share with you some tips, as well as my favorite spots from each day on the trail. The best spots to swim, the best places to camp, the best places to take a break. Places you aren't going to want to miss.
I decided to break up the trail up into 4 sections based on where we resupplied…a topic that I will cover in a future blog post. So for now…here you go! Part 1 in the series.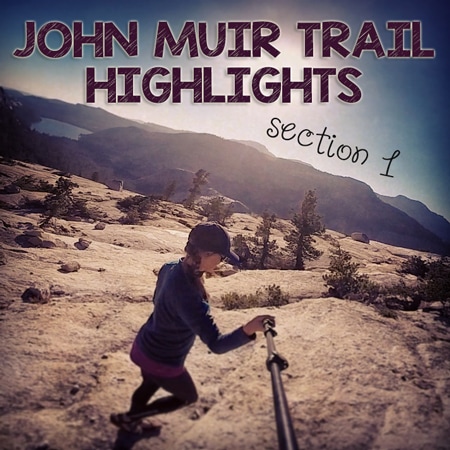 DAY 1 – TENAYA LAKE TO SUNRISE LAKES
Highlight: Clouds Rest
The John Muir Trail traditionally begins in Yosemite Valley and quickly gains 3,000 vertical feet over the first 6 miles. Given your bag is heaviest on the first day, this is a tough climb. At 6 miles you reach the junction to Half Dome, a Yosemite icon. If you have never hiked up from the Valley and summited Half Dome before, you should absolutely start the trail at the very beginning.
My hiking buddy, b-Rad, and I had both done Half Dome a few years before, so we decided to meet up with the John Muir Trail from a different starting point. Plus, getting a permit out of Yosemite Valley is very competitive, and we were more likely to be successful with our permit application if we started at a different trailhead. (This is another topic I will be covering soon).
We started at the Tenaya Lake trailhead, which is about 11 miles east of Tuolumne Meadows, and spent our first night at Sunrise Lakes. We did this so we could drop our bags at camp and do a 10 mile round trip day hike up to Clouds Rest, arguably the best vantage point in all of Yosemite. I'll tell you…the view did not disappoint. We got there late in the day and only had to share the summit with two other people. I thought this was pretty remarkable considering the large crowds I encountered when I stood on the top of Half Dome.
The other advantage of starting from Tenaya Lake is that you park at the Tuolumne Meadows Ranger Station and take the free park shuttle from the Ranger Station to the Tenaya Lake trailhead. Three days later, the JMT passes right by this Ranger Station, giving you the opportunity to drop off any excessive gear in your car. We also stored some of our food in the bear locker in the parking lot so we didn't have to carry the entire week's worth of food from the get go.
Tenaya Lake Trailhead
bRad standing on the summit of Clouds Rest with Half Dome in the distance
Clouds Rest
The hike down from the top of Clouds Rest
Camp at Sunrise Lakes
Sunset above our camp at Sunrise Lake
DAY 2 – SUNRISE LAKE TO LOWER CATHEDRAL LAKE (MILE 17.7)
Highlight: Swimming and sunset at Lower Cathedral Lake
On the second day, we met up with the John Muir Trail at the Sunrise Lakes Junction, which is at mile 13.2 of the JMT. We could have made it all the way to Tuolumne Meadows on day 2, but prohibitions in Tuolumne restrict camping to the one established car campground. This didn't sound too appealing, so we decided to make it a short day and stop at Cathedral Lakes.
First we checked out Upper Cathedral Lake which is right on the trail. It's a gorgeous spot, but we couldn't find a suitable campsite. So we kept going and took the 0.75 mile detour off the trail at mile 17.1 to get to Lower Cathedral Lake.This ended up being the BEST decision, and we found an amazing campsite on a point on the north side of the lake. While still populated, Lower Cathedral Lake was a little quieter and, in our opinion, superior to Upper Cathedral Lake. Right at our campsite there was a beach for sun tanning and a rock in the middle of the lake that wasn't too far to swim to. Also, as the sun set, Cathedral Peak formed a stunning reflection in the water, and we had the best viewpoint on the entire lake. Another tip – if you have extra time, walk out to the northwest edge of the lake. There is a wide open view of Tenaya Lake, and it was pretty cool to see where we had hiked from.
Cathedral Peak
Side trail to Lower Cathedral lake
The view from our campsite of Cathedral Peak reflecting in Upper Cathedral Lake
DAY 3 – LOWER CATHEDRAL LAKE (MILE 17.7) TO LYELL CANYON (MILE 31)
Highlight: Sunrise at Lower Cathedral Lake
We woke up to a gorgeous sunrise. The morning reflection of Cathedral Peak was even more perfect than the night before, confirming Upper Cathedral Lake as one of my favorite spots during our first week on the JMT.
After packing up, we made our way to Tuolumne Meadows. There is a General's Store and restaurant where you can buy food and supplies and also grab a burger if you are so inclined. This is also the last place that there is any cell service until Red's Meadows in case you need to phone home.
As I mentioned, as we rolled by the Rangers Station, we decided to drop off a few things at our car that we decided we didn't need, picked up our food that we had stored in the bear locker, and kept going. This was a very long day where we encountered a few too many people and found the scenery to be a little monotonous compared to the previous day. The good news is that it is one of the flattest days on the trail, so you can really pack in some miles.
There are tons of camping options along the Lyell Fork of the Tuolumne River, many with beautiful swimming holes. Since we would be tackling Donahue Pass, the next day, we hiked as far as we could and then set up shop at a nice secluded spot on the river.
Tip: Plan on climbing passes in the morning when the storm threat is low and your legs are fresh.
Morning reflection of Cathedral Peak
The view of the other direction from our Cathedral Lake campsite
Pack horses headed to the Sunrise High Sierra Camp
A tantalizing swimming hole on the Lyell Fork of the Tuolumne River
Playing at our riverside camp in Lyell Canyon
DAY 4 – LYELL CANYON (MILE 31) TO DAVIS LAKE (MILE 40.2)
Highlight: Donahue Pass & the sunset at Davis Lake
Donahue Pass is the first pass on the John Muir Trail with an elevation of 11,060 feet at the top. But don't be nervous. None of the passes require technical moves. Just take your time, rest when you need to, and you'll be fine.
I felt like I was in Alaska while hiking up Donahue Pass with views of the permanent snowfield on Mt. Lyell and the icy blue rivers below. If you time it right, there were some amazing, but windy campsites at the Upper Lyell Base Camp (mile 34.4).
Once you reach the top of the Pass, there are many places to sit down and enjoy the view or to break for lunch.
After Donahue Pass, many people try to make it to Thousand Island Lake or Garnett Lake to camp for the night. These impressive lakes were some of Ansel Adam's favorites, and for that reason, they draw a crowd. After 4 days of busy trails in Yosemite, we were looking for some solitude, so at mile 40.2, we took a mile long detour to Davis Lake. We found a beautiful secluded lake, made of a series of islands and were treated to a colorfully pink sunset.
Tip: If you decide to head to Davis Lake, stick to the outer edge when looking for a campsite. Despite being small, the maze of islands is easy to get lost in. In the morning it took us 45 minutes of rock hopping just to get back to the trailhead. It was not the best way to start the day.
Upper Lyell Base Camp on the way up to Donahue Pass
Looking back to Lyell Canyon from Donahue Pass
Our lunch spot on the south side of Donahue Pass
The view from camp at Davis Lake
Sunset at Davis Lake
DAY 5 – DAVIS LAKE (MILE 40.2) TO LAKE EDIZA JUNCTION (MILE 48.4)
Highlight: the WHOLE day!
Day 5 was packed with gorgeous lakes and countless places to swim. We planned to stop at Thousand Island Lake for lunch, but when we arrived, it seemed that many other hikers had the same idea. Alternatively, we took a swim/lunch break at Emerald Lake, which was just 1.5 miles up the trail. While not as spectacular as Thousand Island, we had the lake all to ourselves.
Shortly thereafter, we stumbled upon Ruby Lake, which had two campsites on the east side of the lake right along the trail. With the contrast of the blue water against the red mountains, Ruby Lake would have been a lovely place to swim or camp.
Garnet Lake was also beautiful, but busy, with views of both Banner and Ritter Peaks. A beach on the southeast side allowed for an easy approach for swimmers and provided a perfect spot to sun afterwards.
After you leave these lakes, you climb a series of switchbacks and then drop back down to the Ediza Lake Junction. We found a sunny spot all to ourselves to set up camp on the south tip of the trail right along Shadow Creek. Late in the afternoon, this is the last place on the trail that you will see any sun, and in my opinion, sun is a critical component of any good camp.
Unnamed Lake just beyond Island Pass
Ruby Lake
Garnet Lake
Camp at Lake Ediza Junction
Enjoying some stellar afternoon sun
Golden sun at Lake Ediza Junction campsite
DAY 6 – LAKE EDIZA JUNCTION (MILE 48.4) TO REDS MEADOW (MILE 59.9)
Highlight: Rosalie Lake and the ice cold PBR at Reds Meadow
Shortly past the Lake Ediza Junction, you come across Shadow Lake. We were lucky to hit it at just the right time in the morning when the mountains reflected off the water.
My favorite spot of the day was Rosalie Lake. Right below the trail, we found some big flat rocks where we stopped for snacks and photos. This is the last nice place that you will come across before Red's Meadow, so make sure to soak it all in.
The only other suitable spot for lunch is Trinity Lakes at mile 52.7, but don't expect to swim here. It was very marshy and buggy.
The remaining portion of the trail leading to Devil's Postpile is all downhill and travels through a large forest full of dead trees. It's rather unpleasant compared to the scenery over the past 6 days, so we booked it to Devil's Postpile National Monument.
Once you get to Devil's Postpile, you will start to see signs of civilization, including cars and roads. It will feel strange, but it's worth a quick stop to see the monument itself.
The only place to camp in the area is at the established Reds Meadow Forest Service campground. It costs $22 a night for a site, which was a total turnoff after camping for free along the trail. However, it is super convenient to the "Resort" where you will pick up your resupply box, and you can also buy an ice-cold beverage. Mmmmm. There are also bear lockers in the campground, which is helpful after the resupply since your bear box will likely be quite full that night. The campground was relatively empty except for a few other JMT thru-hikers. That night we ended up meeting a really awesome group of people that we later met up and hiked with in Kings Canyon. We shared some laughs and enjoyed beers around the campfire, and it surprised us by being a very memorable evening.
Sunrise on Shadow Creek at our Lake Ediza Junction campsite
Shadow Lake – no camping is allowed here due to restoration projects
Rosalie Lake
Devil's Postpile National Monument
Well there you have it! Our first six days on the John Muir Trail. The scenery on this section was magnificent, but it was also the most crowded. As we continued south, the crowds thinned out and it began to feel like true wilderness.
Want more? Head to Part 2 in this series where I cover the trail from Reds Meadow to the second resupply point at Muir Trail Ranch. Or, check out my other posts on the John Muir Trail:
What other questions do you have about the John Muir Trail? Shoot away in the comments below!