Got a trip planned and only want to carry-on? In this blog post, I share the best travel backpacks for women in 2021 to help you pack lighter, get more organized, and provide you more flexibility while you travel. I also share a few reasons why travel backpacks are our choice over wheeled luggage and what features make a great travel backpack.
Here are 9 smart choices that stood out as the best carry-on travel backpacks currently available.
Travel Backpacks vs Wheeled Luggage
You might be wondering why you should choose a travel backpack vs wheeled luggage. Here are a few reasons why:
Traveling light with a carry-on sized travel backpack gives you flexibility. You don't need to make travel decisions based on your luggage. No matter where you are, you can just throw your bag on your back and go.
No more waiting for luggage at baggage claims or worrying that your luggage could get lost.
It's safer – having a compact travel backpack means you'll be able to keep it with you in your seat when traveling on buses.
It frees up your hands since you won't be pulling a suitcase.
If you're traveling in places with bumpy cobblestone streets or dirt roads, carrying a backpack is much easier than rolling a suitcase.
I don't always prefer a travel backpack, it depends on my destination. If I'm flying domestically on a plane, getting in an Uber, and going straight to my hotel, then I'll bring wheeled luggage. If I'm on an extended trip with multiple destinations where I'm going to be spending a lot of time walking and on public transportation, then I'll always choose a travel backpack.
---
What Features Make a Great Travel Backpack?
Our focus here at Bearfoot Theory is outdoor travel. That means all of the best travel backpacks for women that we feature here have the adventure traveler in mind. Women who hike might experience the elements and are looking for something durable that can hold up to getting tossed around.
Here are some of the things I look for in a carry-on travel pack:
It must be large enough to carry a month's worth of stuff, but small enough to carry-on. Ideally, you want something in the 30-40 liter range.
I prefer front-loading travel backpacks over top-loading. With a front-loading pack, there is no need to pull everything out of the pack to reach whatever is at the bottom.
A travel backpack must have smart, functional pockets to keep things organized.
It needs to be comfortable to carry when packed to the brim, with a supportive hip belt and shoulder straps.
---
The Best Carry On Travel Backpacks
REI Ruckpack 40 Pack
The REI Ruckpack is a great choice for a travel backpack when you want to carry-on. I have the 40-liter version and I can't believe how much stuff I'm able to fit in there and still maintain organization. I've used the pack for three-day weekends and love that it easily fits in the overhead compartments (note that it is slightly bigger than the dimensions of some airline's allowed carry-on, but it should fit on all but the smallest planes). The Ruckpack also comes in a men's version.
There are a few features that make this travel bag different from other carry-on backpacks I've used:
The zipper for the main compartment fully unzips allowing you to access stuff at the bottom of the bag without taking everything out.
Organization: the side pocket has tons of space where you can stash your phone, ID, boarding pass, point-and-shoot camera, and other small items. Plus, another pocket on the top of the bag and two mesh pockets on the inside panel, allowing you to separate your different travel items.
When you get to your destination, this bag is equally good on the trail as it is in the airport. It has a laptop sleeve that doubles as a hydration reservoir, a built-in rain cover, a sturdy hip belt, two expandable water bottle pockets, compression straps, and loops to attach your trekking poles.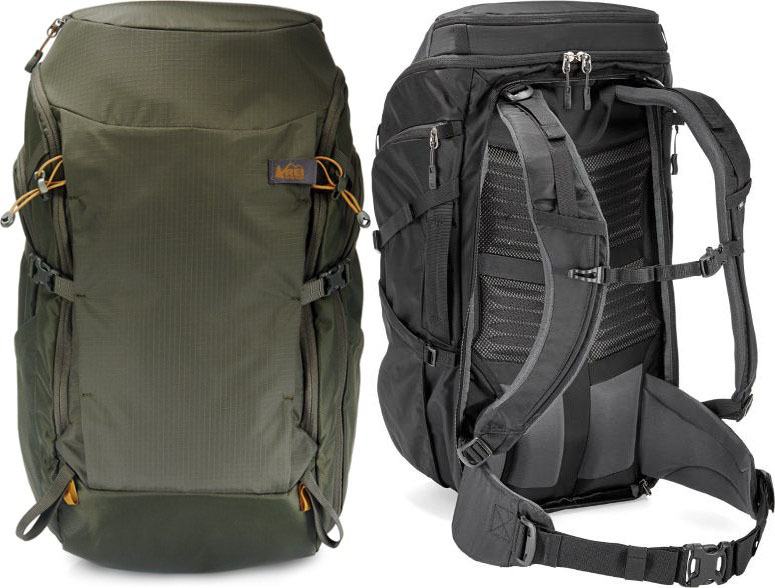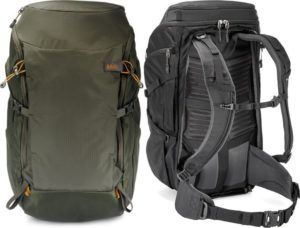 Pacsafe VentureSafe EXP45 ECONYL Travel Pack
*Eco-friendly* Pacsafe is the leading company in anti-theft travel accessories. The Pacsafe VentureSafe EXP45 ECONYL Travel Pack is perfect for those traveling with loads of technology or through areas with increased security risks. Here are some of its features:
It's made with ECONYL fiber which is made from discarded fishing nets and other nylon waste that would otherwise end up in the ocean.
Lightweight yet durable, this pack features a hidden slash guard made of stainless steel wire mesh, to protect from someone cutting your pack.
It also has lockable zippers and a stainless steel cable that you can use to lock your bag to a stationary object.
It has a built-in 15″ laptop sleeve to cushion your computer or a 3-liter hydration pouch.
External compression straps allow you to pull the load closer into your back.
It meets legal carry-on size dimensions.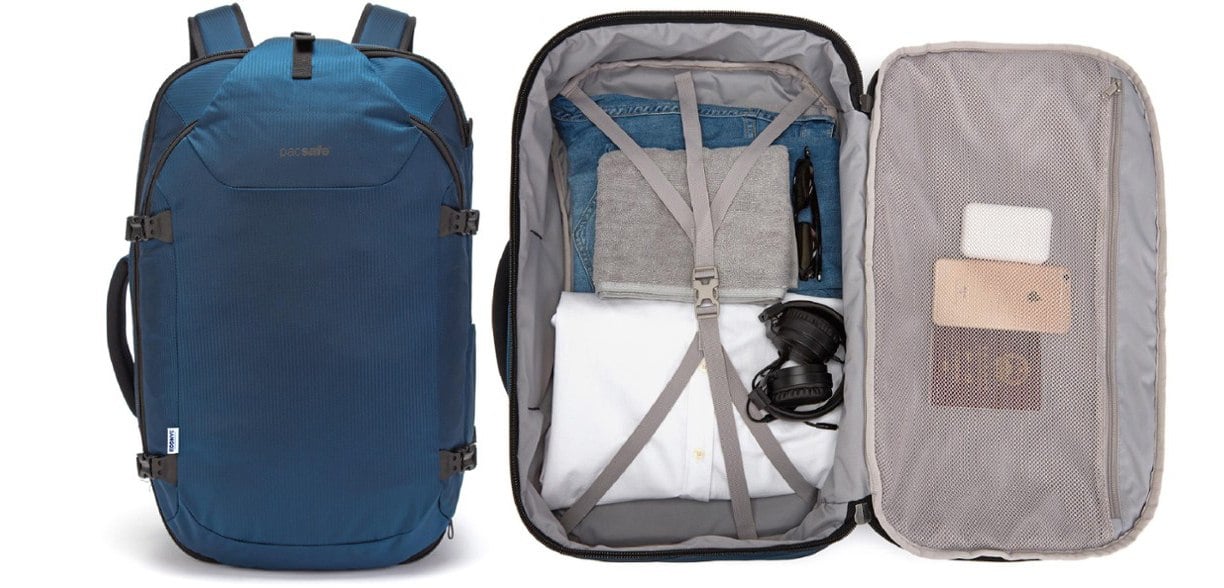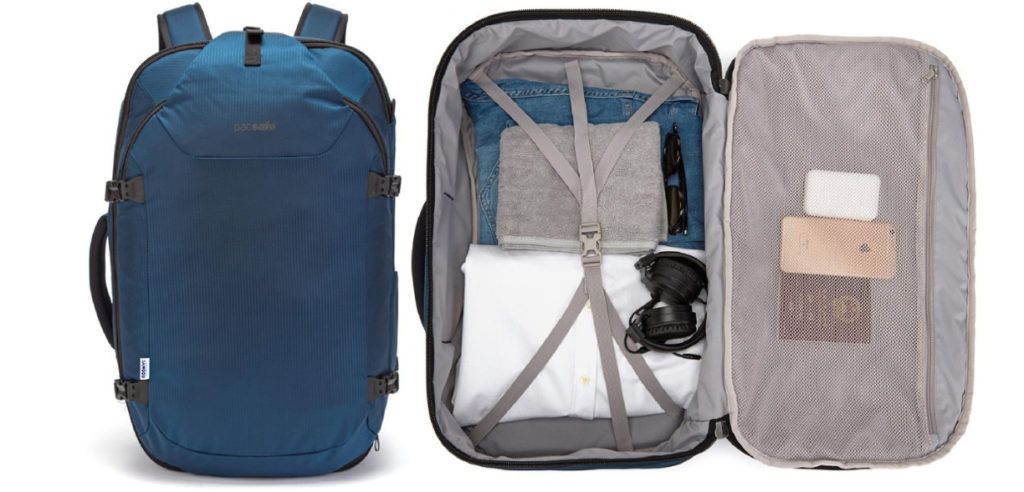 On the downside, while this travel backpack has a padded hip belt, it's not as robust as I would like. This pack is also slim on organizational features.



Osprey Porter 46 Travel Pack
This 46-liter Osprey travel backpack has been around for a long time and was one the first travel packs I ever owned. With slight improvements year after year, this has turned into one of the best carry-on travel backpacks for women who want flexibility in their travels. It is incredibly versatile for all types of traveling and exploring.
Here are some features of The Osprey Porter 46 pack:
The removable padded hip belt and shoulder harness with a chest strap provide comfort and support.
To make security checkpoints easier, there is a slim back-panel laptop compartment so you can quickly pull out your devices.
Compression buckets on either side allow you to easily reduce or expand the size of the bag.
It has multiple handles for easy carrying by hand.
The zippered pockets provide easy access to essentials.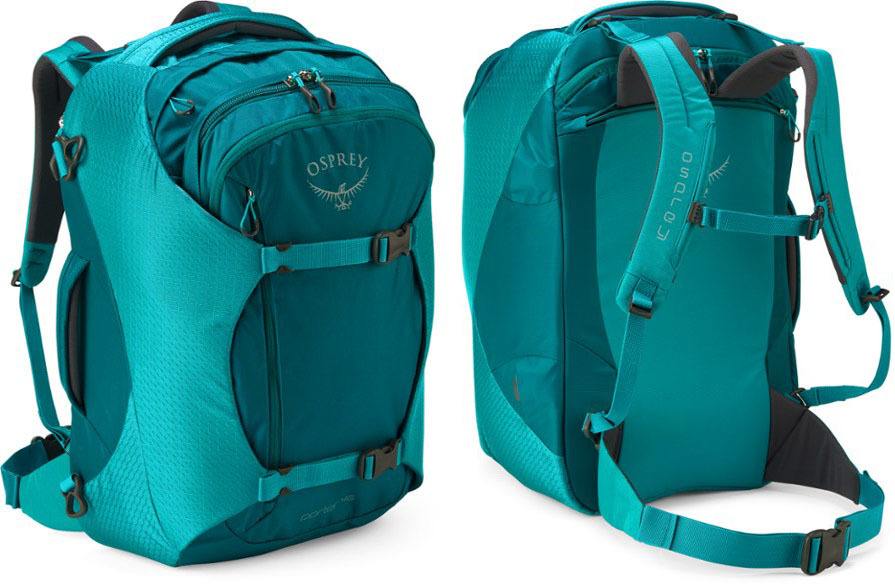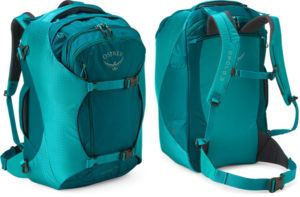 For added security while traveling, use the lockable zippers. You can even attach a lightweight Osprey Daylite daypack to the bag via reinforced cord loops. If you need something larger, the Osprey Farpoint 55 or Osprey Farpoint 70 are both great larger travel backpack options.


eBags TLS Mother Lode Weekender
The TLS Mother Lode Weekender is a 54-liter, lightweight travel backpack that comes in 10 different colors and packs just like a suitcase. Plus it's the least expensive on this list of the best travel packs for women, making it a great option for budget travelers. Here are our favorite features:
This travel pack is only $110! (at the time of writing)
It has several pockets, an adjustable laptop sleeve, and an expansion zipper that adds extra volume for a large load.
It has a large main compartment with an additional zippered panel for maximum organization.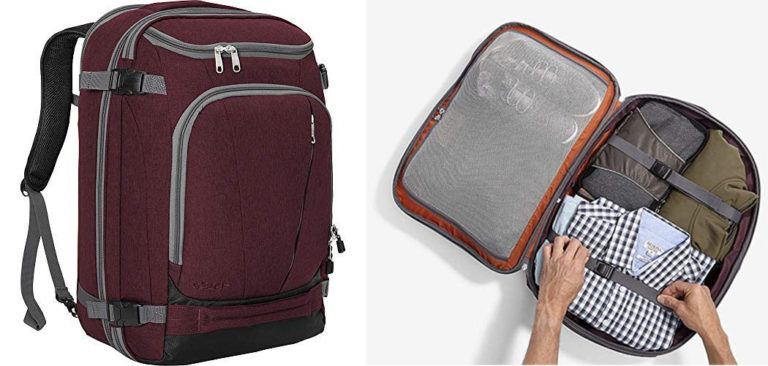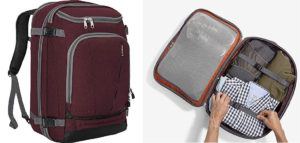 The waist belt is a little flimsy, but for $110, you'd be hard-pressed to find a better, more affordable travel backpack.


Cotopaxi Allpa 42L Travel Pack
The Cotopaxi Allpa 42 travel pack is Cotopaxi's largest and toughest travel backpack. I own and love this bag for many reasons:
It's an all-around functional, rugged carry-on bag.
The exterior polyester and nylon shell resists moisture and defends your belongings against rough scrapes or tears during transit. This thing really is tough!
The zippered mesh compartments make storing your items easier and eliminate the need for packing cubes.
The three padded laptop/tablet/phone sleeves keep your devices safe and accessible.
You'll be amazed by how easy it is to organize. Wear it on your back or carry it on your shoulder, this is a high-quality, reliable travel backpack.
It even comes with a raincover.. just in case!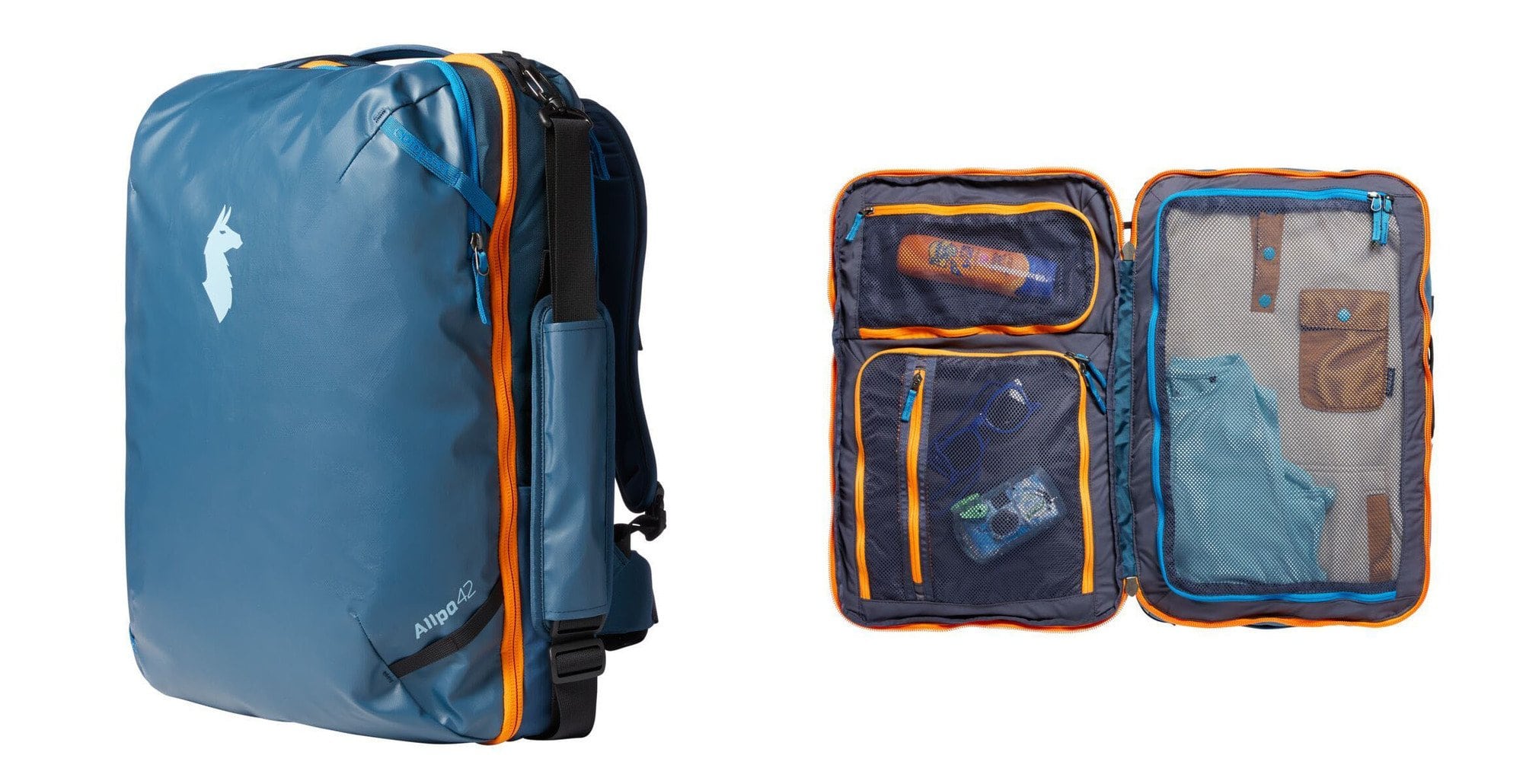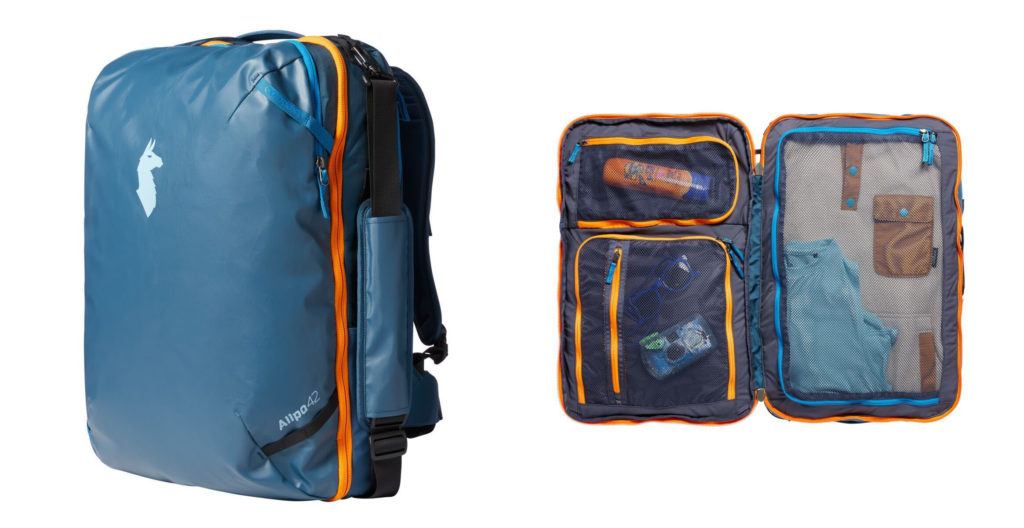 Like many of the other travel backpacks on this list, the waistbelt on this isn't quite as supportive as I think it should be for a pack of this size. However, I flew with this from New Jersey, hopped on the train to New York City, and walked in the city to my hotel and didn't experience too much back or shoulder fatigue.
If you want to go smaller, you can check out the different sizes Cotopaxi offers here.



Patagonia Black Hole Pack 32L
*Eco-friendly* You'll never go wrong with Patagonia gear and this Patagonia Black Hole 32L travel pack is no exception. Here are a few of its key features:
This water-repellant carry on backpack is made with 100% recycled polyester and nylon.
It's lightweight and super strong.
It has several smart compartments, including two accessible padded laptop sleeves, mesh pockets, a hidden stash pocket, and a top zipper for quick go-to items.
Additional daisy chains leave room to clip on one more thing before you walk out the door, like a hat, water bottle, or sandals.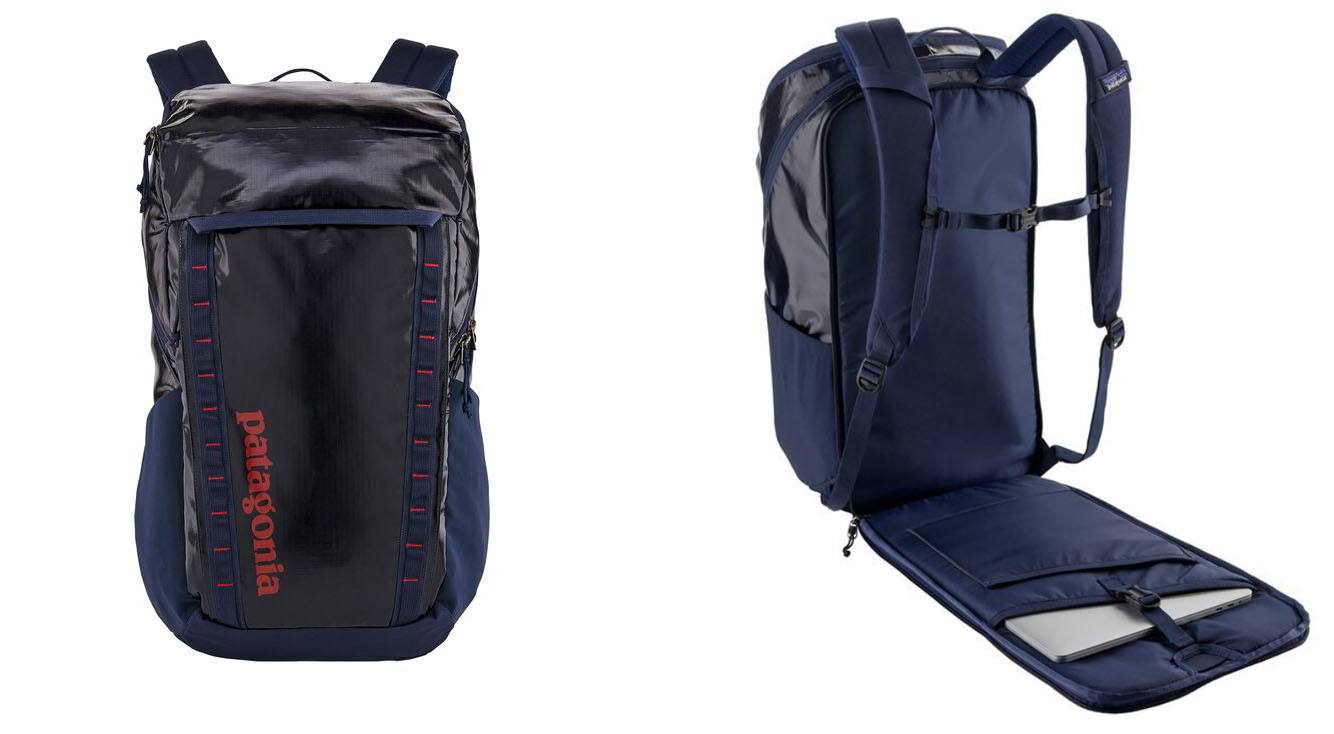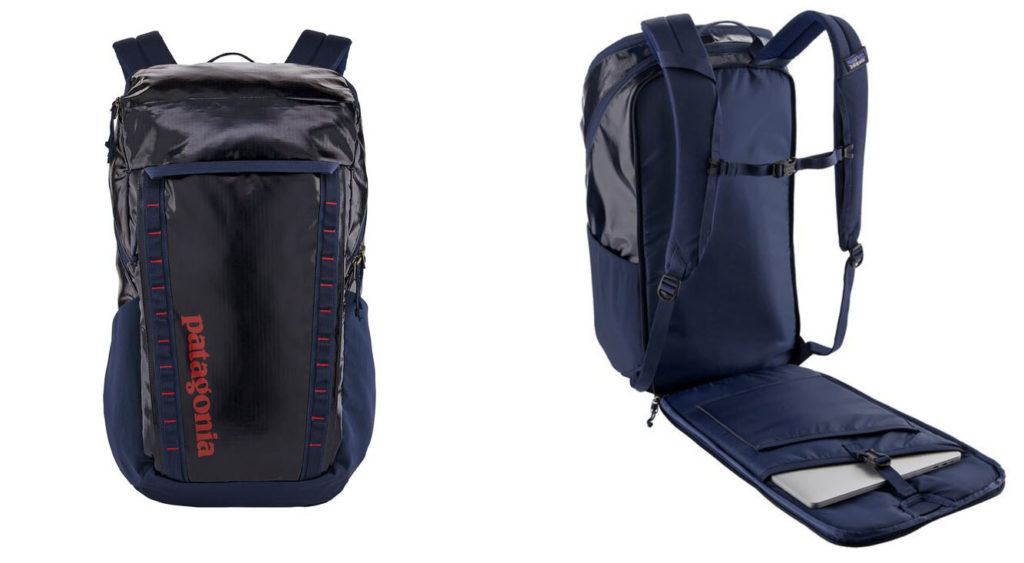 NOMATIC 40L Travel Bag
Newer on the market, NOMATIC arose from Kickstarter and Indiegogo campaigns. These carry-on bags are well designed to be water-resistant, durable, and easy to use. Available in multiple sizes, the NOMATIC 40L Travel Bag has been rated as one of the best travel backpacks for women on the market right now. Their carry-on bags are:
Stacked with organizational features including an RFID safe pocket, shoe compartment and laundry bag, padded tech sleeves and water bottle storage, and three additional exterior pockets for small accessories.
It's able to transform from a travel backpack into a travel duffel bag, so you won't need to fuss with loose straps.
It's a modern and sleek option if you prefer that look over the classic backpacker style.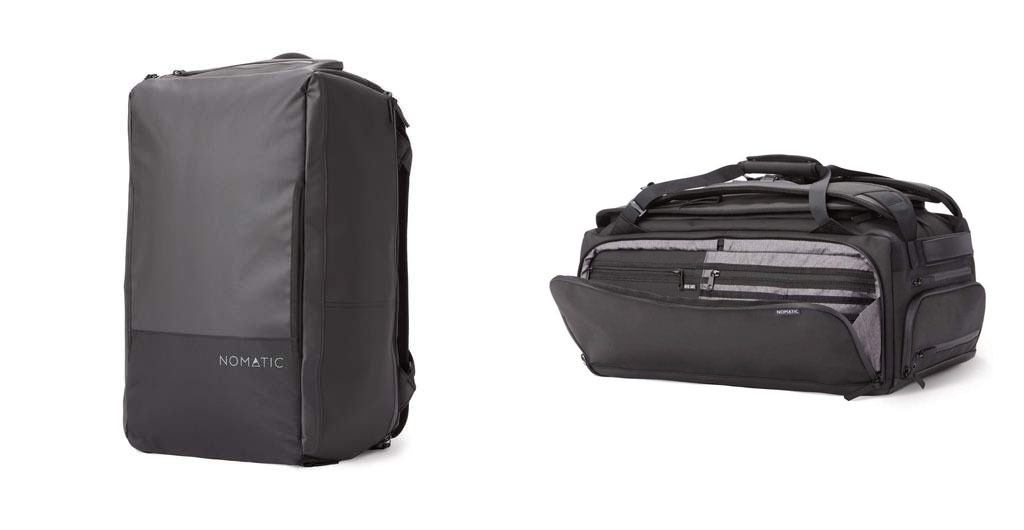 Tortuga Outbreaker Travel Pack
Tortuga is a company that is highly focused on creating some of the best travel backpacks. Their designs have evolved over the years and the Tortuga Outbreaker Travel Backpack comes in a 45L or 35L capacity. Here are some of the features that set this travel pack apart:
This packs like a suitcase making it very easy to find what you are looking for.
Weather-resistant lockable zippers and fabric protect your belongings.
The back panel is adjustable for different heights. This is a great travel backpack for women who may find unisex packs too large.
The suspension system on this pack is more advanced than the other travel packs on this list.
It has handy side pockets for water bottles.
The TSA compliant computer pocket opens and lies flat so you don't have to remove your laptop from your pack at security. This computer pocket also has a number of zippered pouches that allow for organization of cords and small accessories.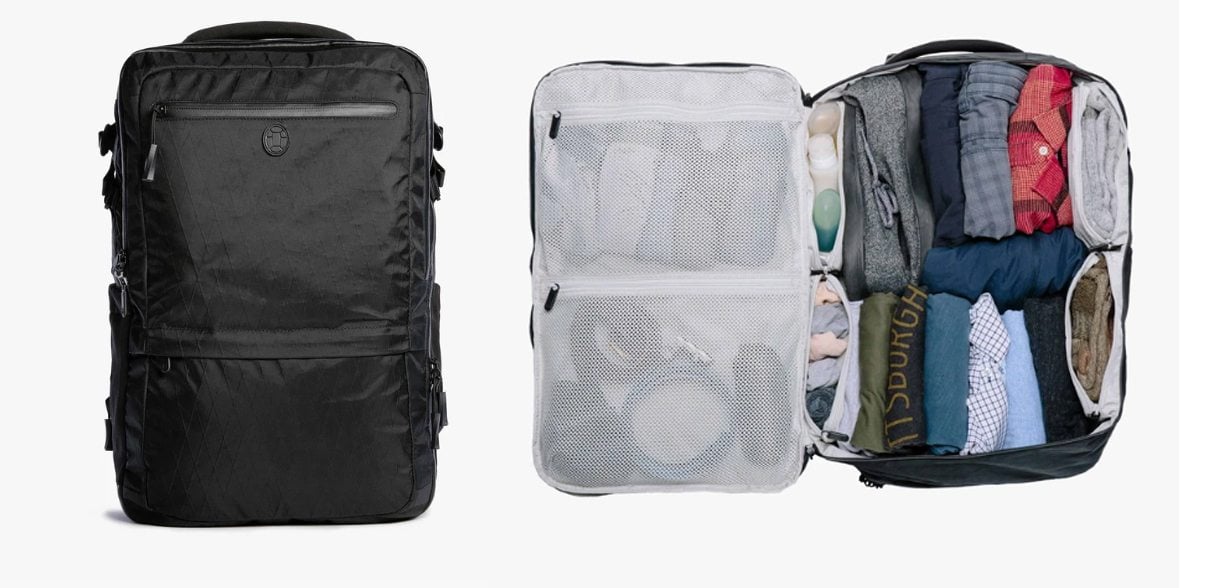 This pack gets amazing reviews and is a great option for travelers who want to stay organized. I also like that this pack isn't too flashy, which is good for safety.


Peak Design Travel Pack
*Eco-friendly* Peak Design is a fully carbon neutral company. They are committed to creating less waste in production by using recycled textiles, avoiding restricted substances, and completely offsetting their impact. And, they make high quality, durable products that last.
These are some of the stand-out features of Peak Design travel packs:
This travel pack is fully weatherproof (shell and zippers).
It's made with a 100% recycled nylon canvas shell.
It's expandable from 35L to 45L while maintaining a sleek, modern look.
It opens from the top, side, front, and back.
The tuck-away straps that magnetize into place = no chance of straps getting caught in the conveyer belt.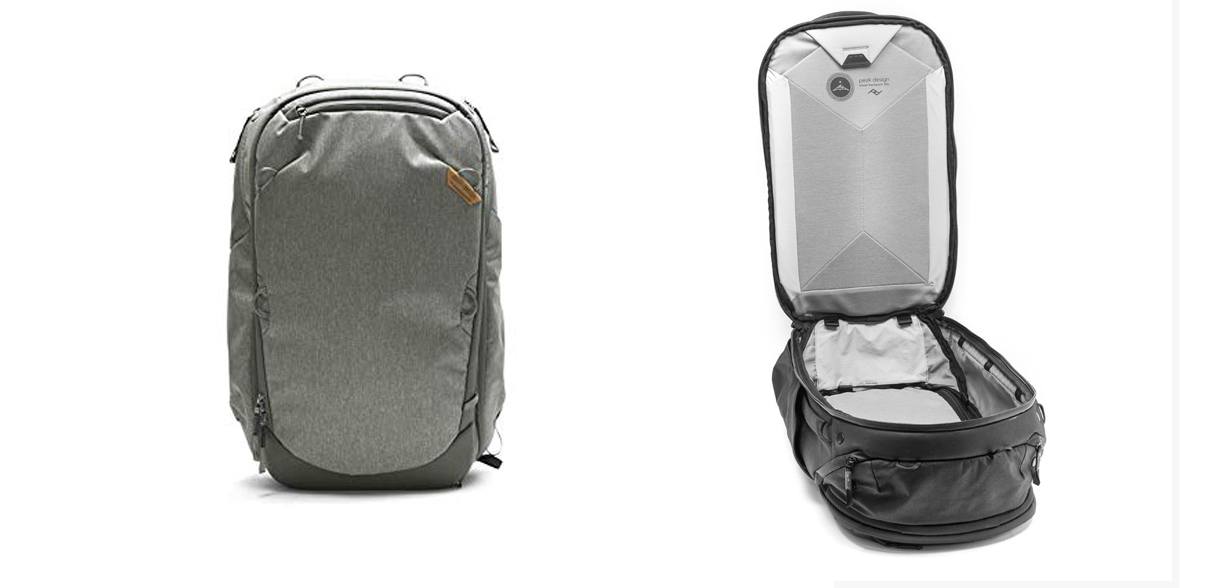 If you've got a trip lined up and want to invest in a high-quality travel backpack, we hope this post helps you find the best option for you that will last you for years of adventures. Let us know where you're headed in the comments below!
Some of the links in this post are affiliate links which means if you make a purchase, we receive a small compensation at no added cost to you. Any purchases you make help keep this blog going and our content free. We truly appreciate your support!