4-day El Chaltén Itinerary for Adventure Travelers
Discover hiking, white water rafting, the Fitz Roy, and other beautiful landscapes in this bucketlist Patagonia destination with our 4-day El Chaltén itinerary.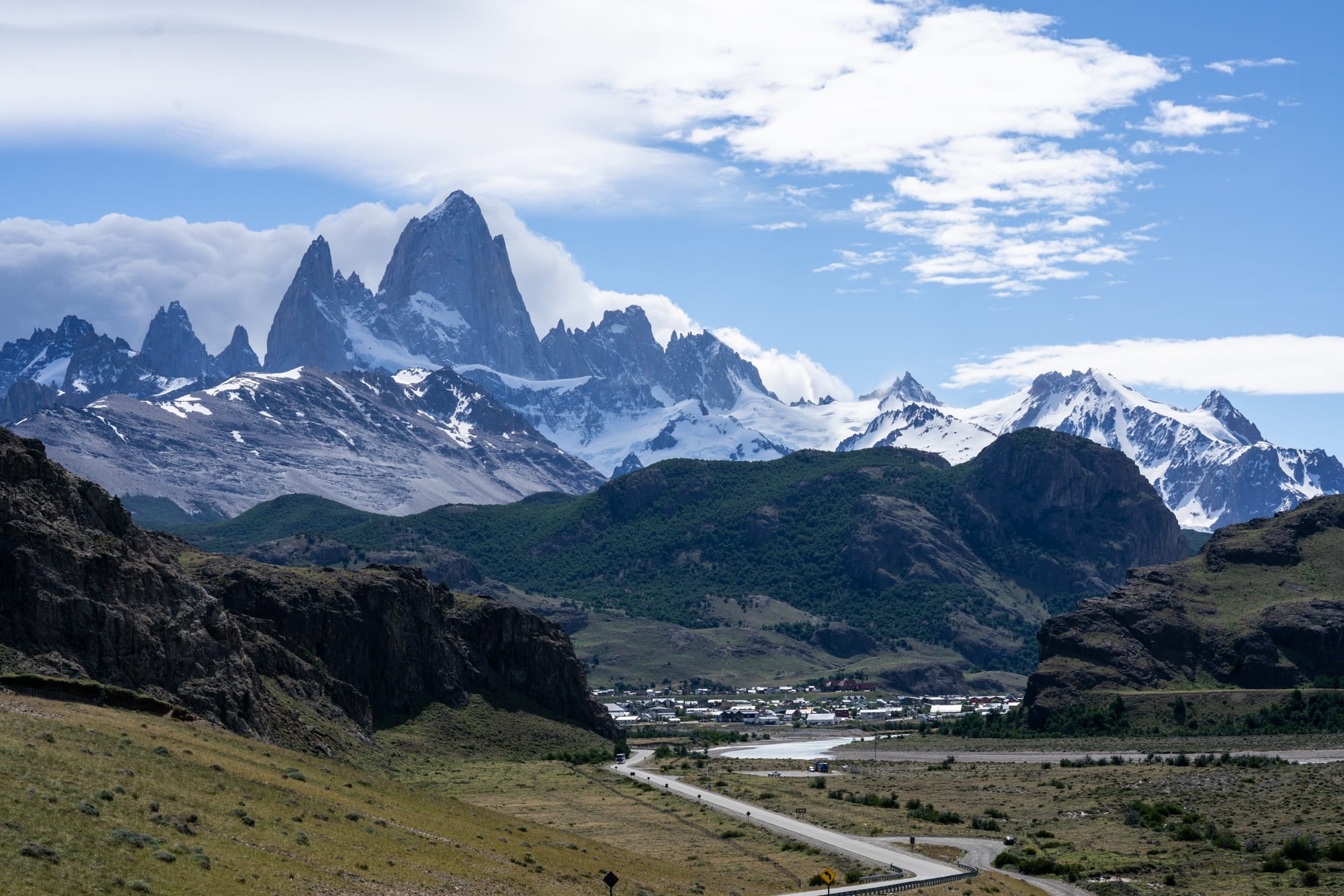 4-DAY EL CHALTÉN ITINERARY FOR ADVENTURE TRAVELERS
Founded in the 1980s, after gaining popularity in the mountain climbing community, El Chaltén is the newest town in Argentina. Today, it's a quickly growing travelers hub at the base of the iconic Fitz Roy, which you may know from Patagonia's (the clothing company's) logo.
It's a cute town with great restaurants, world-famous trails, and friendly locals, and I easily could have stayed here a week or more. Not only is there a ton to do, but the weather is also temperamental, so building in a few extra days gives you some leeway for checking off your bucket list hikes.
I traveled here as part of a 14-day guided tour with G Adventures called Hiking Patagonia in Depth. Our tour guide Marina handled all of the logistics, including transportation, and I have her to thank for the dining suggestions in this El Chaltén blog post.
*As it goes with all destinations we share on Bearfoot Theory, please remember to Leave No Trace, practice good trail etiquette, and be kind and respectful to the locals.
In this blog post, I share my 4-day El Chaltén itinerary from my Bearfoot Theory group trip with G Adventures.
[separator style_type="icon" /]
YouTube Video – Hiking Patagonia in Depth with G Adventures Part 1
Check out the highlights from the first week of our trip in El Chalten and El Calafate in my new YouTube video.
[separator style_type="single" /]
Day 1
Catch an early flight out of Buenos Aires to El Calafate. Give yourself plenty of time at the domestic airport, as it was packed as early as 5:30 am. If you have extra time at the airport, there are a number of places you can grab a coffee and breakfast before going through security.
Once you land in El Calafate, it's a three-hour drive to El Chaltén. For transportation, you can rent a car, take a bus, or hire a shuttle. All of those options can be arranged right there at the airport, although in the busy season, you might consider booking ahead of time. The road to El Chaltén is well maintained and straightforward, so if you are traveling independently, and it's in your budget, renting a car is a convenient option. Once in Chaltén, a car isn't really necessary, since the entire town only spans a few blocks and is easily walkable.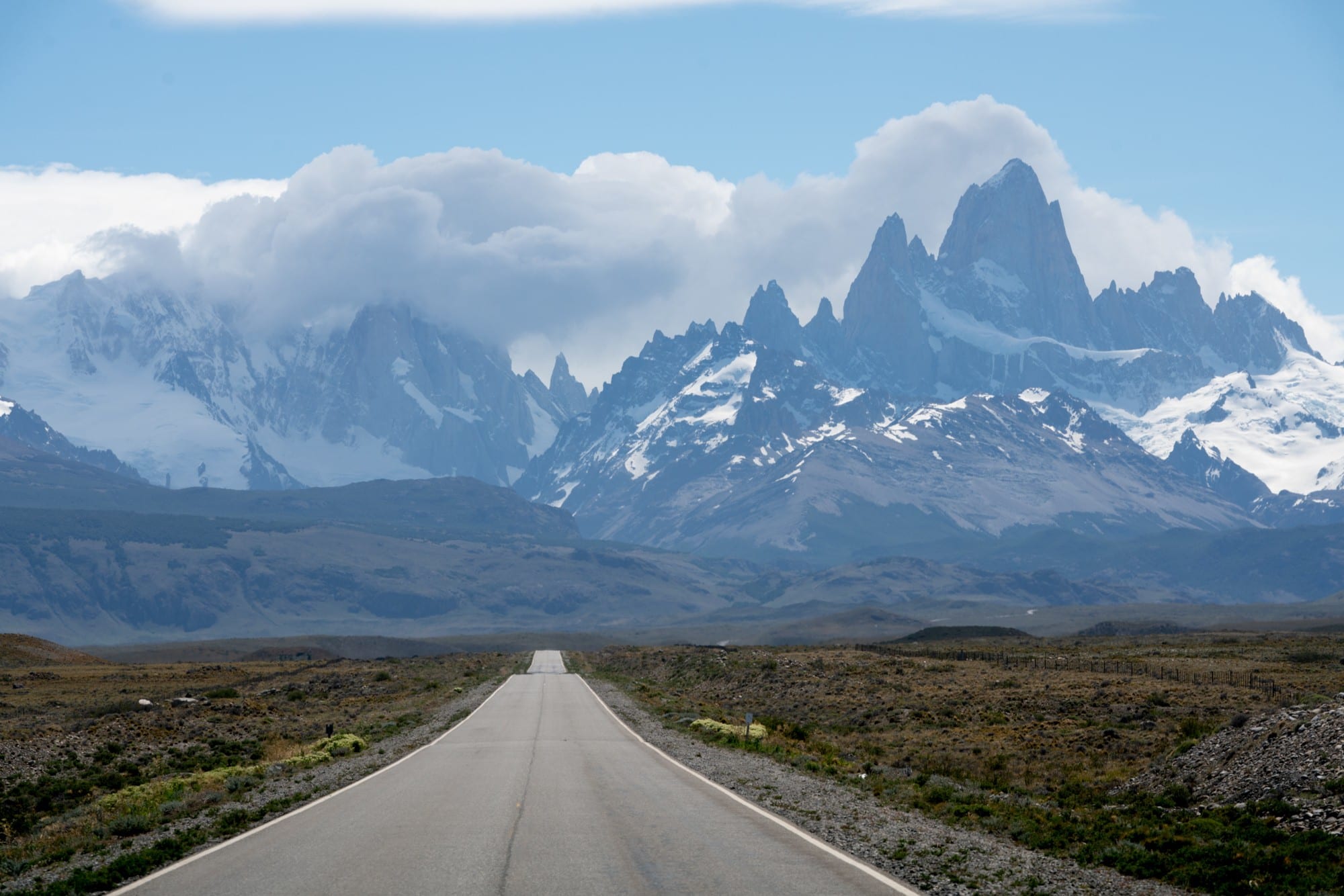 By the time you arrive in El Chaltén, it will be the mid-afternoon. Drop your bags at your hotel and stretch your legs on a short hike up to head out for a short hike up to Mirador De Los Condores which offers an awesome view of the Fitz Roy on a clear day, as well as the town. The 1km trail leaves right from the visitor's center and is well signed and easy to follow.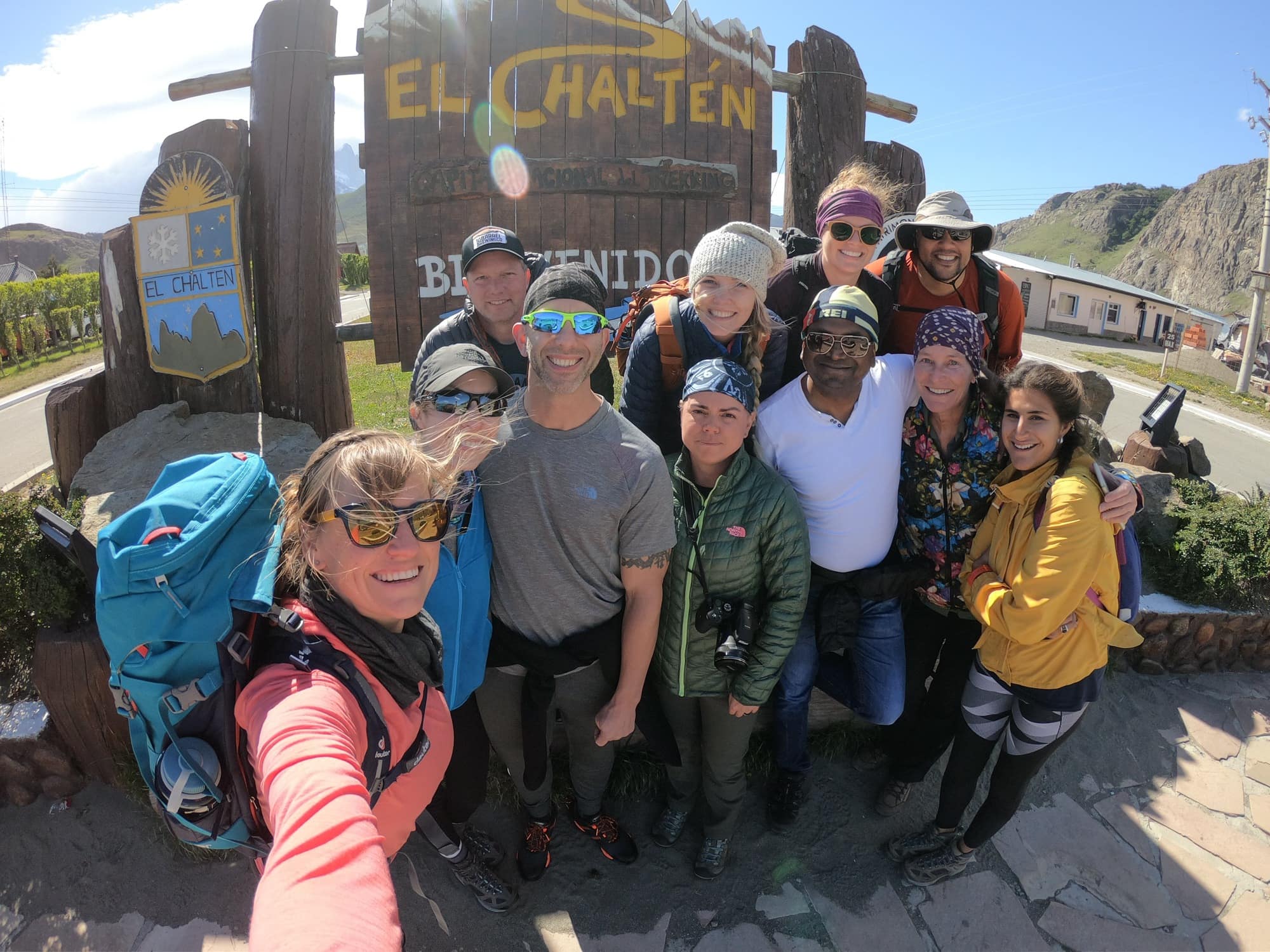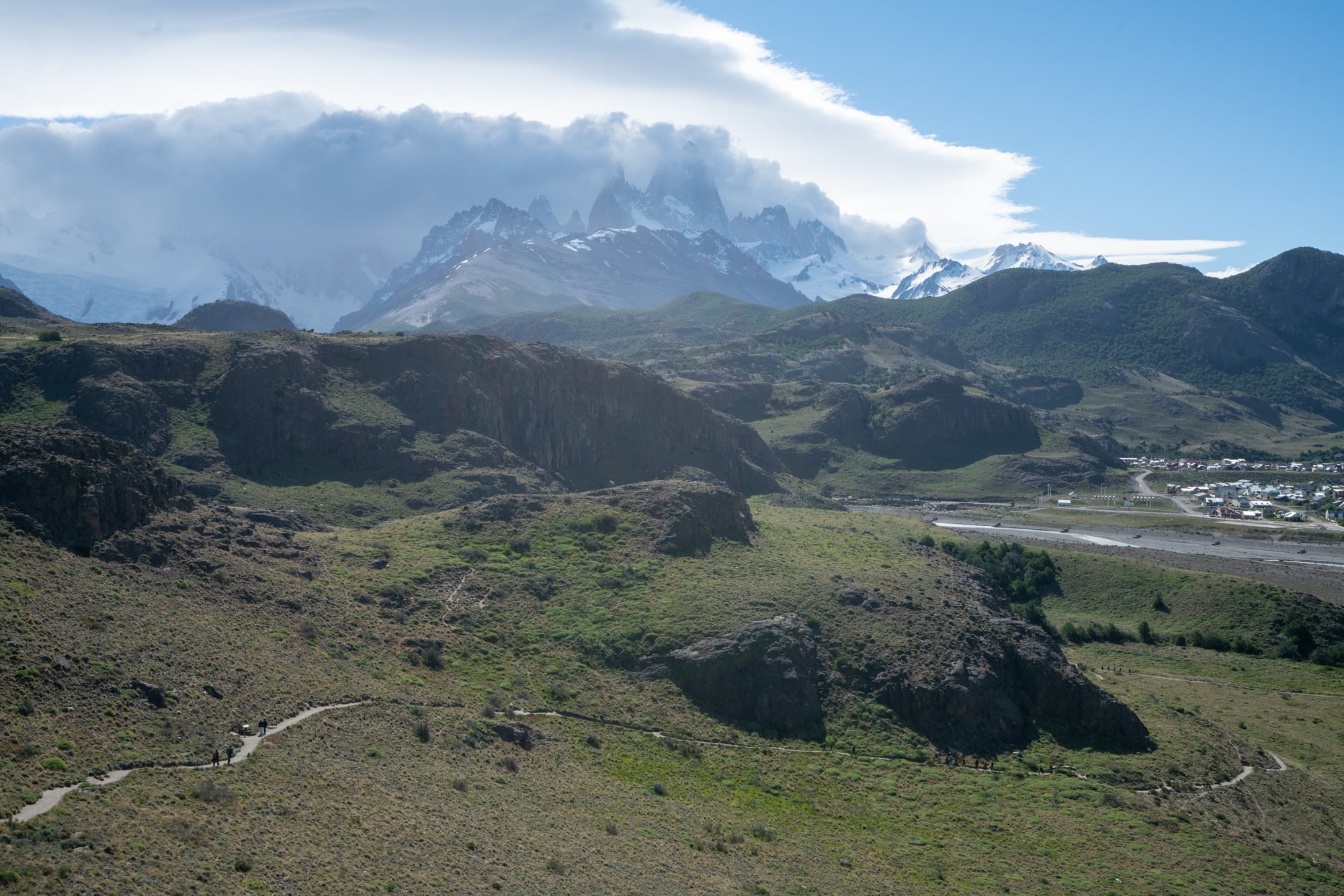 [bulleted_list icon="fa-cutlery"]
Dinner Recommendation
[/bulleted_list]
If you have time and energy before dinner, grab a beer or glass of wine at La Vinería. Then head to Techado Negro for dinner where popular items include lamb ravioli, lentil strew, and trout.
[bulleted_list icon="fa-info-circle"]
El Chaltén INSIDER TIPS
[/bulleted_list]
RESTAURANTS: In El Chaltén, you'll want to make dinner reservations, especially if you have a large group. Most of the restaurants are very small and get very busy.
HOTELS: We stayed at the Hosteria Vertical Lodge. Like a majority of the hotels, it was simple, clean, fairly comfortable, and a few blocks from the city center with free breakfast. For all of the hotels in El Chaltén, prices go up significantly in the busy season, and hotels also fill up. If you are traveling to El Chaltén from mid-December through mid-March, I highly recommend making a reservation. Don't just show up and think you can wing it.
[separator style_type="single" /]
Day 2 – Hike to Laguna De Los Tres
Now the rest of your itinerary should take the weather into account. If you know you're going to have a good weather day, use that to check off one of the El Chalten hikes in this blog post. If the weather is bad, you can use that as a rest day or do a shorter hike that won't be disappointing if you can't actually see the mountains.
Before you head out on any of your long-day hikes, pick up a to-go lunch in town before you set off. Our favorite spot was the Lo de Haydee bakery in town where you can pick up a sandwich and/or empanadas for a picnic lunch.
[images_2_col image_1="35128″ image_2="35086″ /]
Assuming you have good weather, use Day 2 to hike to Laguna De Los Tres. This is the most famous hike in El Chaltén which takes you to an alpine lake at the base of the Fitz Roy. The hike is 13 miles with 3,300 feet of elevation gain, and under normal conditions, it takes about 7-9 hours.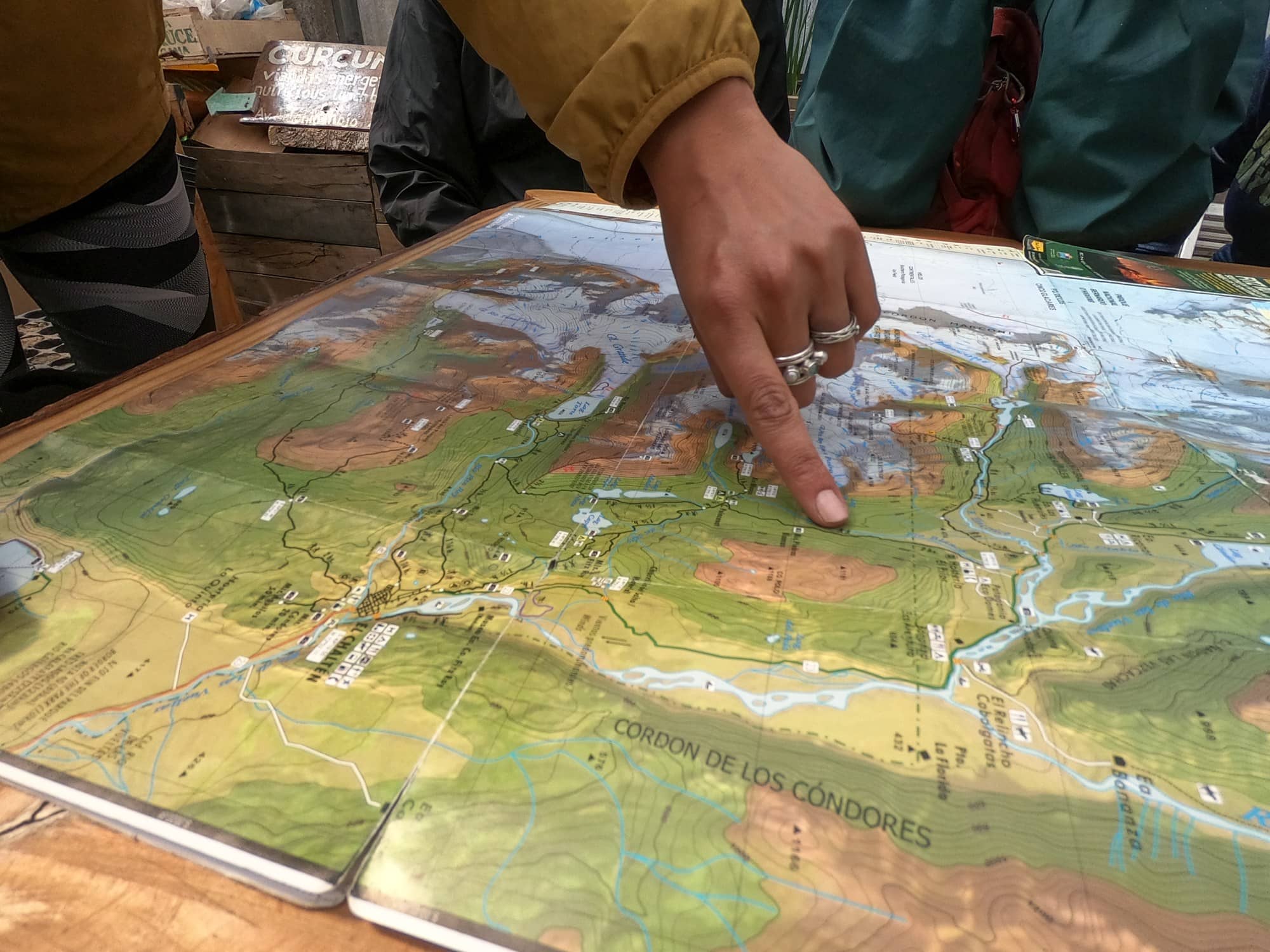 If you are an independent traveler, you are not required to have a guide to hike any of the trails in El Chaltén. If you want to hire a guide, however, it's a great way to learn more about the area and connect with a local. Our guide Pablo was extremely knowledgeable, spoke impressive English and was very friendly. If you want to hire him, email him at burbanopablo@gmail.com.
There are two ways to hike this trail. The first is to do an out and back, and that trail starts right at the top of the Main Street in town.
If you are on a set schedule or the weather looks bad for your whole trip and you still want to hike this trail, I recommend taking the alternative route as we did. Instead of starting in town, we took a shuttle for 300 pesos each ($9) (that can be arranged through your hotel) and got dropped off at Hosteria El Pilar. As a semi-loop, this route offers different viewpoints and you'll pass right underneath the Piedras Blanca Glacier, which even on a bad weather day, you should be able to see part of. It also shaves off some of the elevation gain, and eventually, you link up with the main trail and can continue up to Laguna De Los Tres if conditions permit.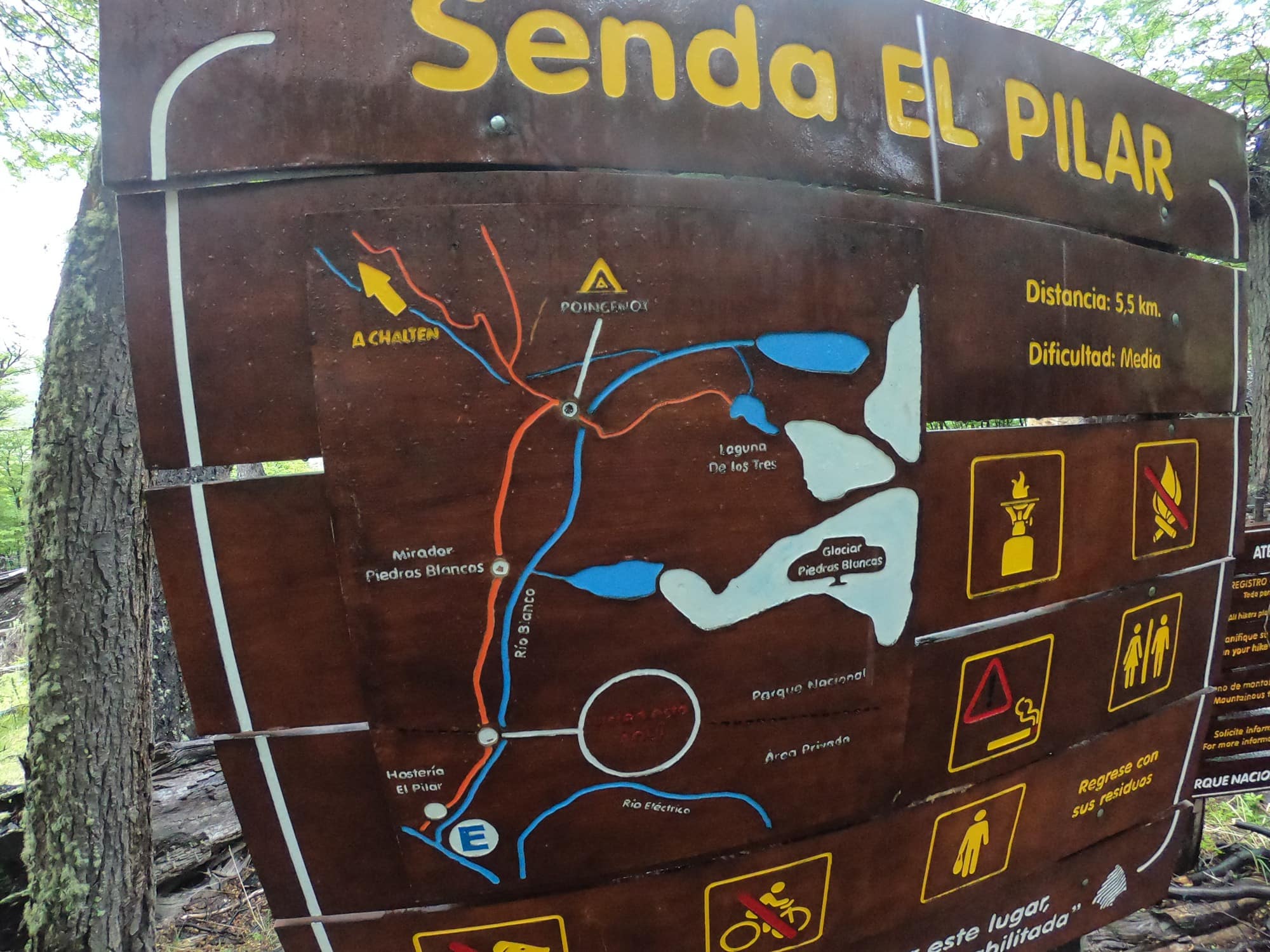 [images_3_col image_1="35090″ image_2="35088″ image_3="35091″ /]
The final stretch of the hike is very steep, very exposed and can be dangerous in a storm. And when it's raining at that final junction, it can be a blizzard at the lake. Because of this and the fact that we wouldn't be able to see any good views of the lake anyways, our guide Pablo advised us against continuing up the trail. At that point, we stopped in a Shelter near the backpacker campground for lunch before we turned around and returned to town via the traditional trail. Pablo's decision was confirmed as prudent when we crossed paths with a ranger who was on his way up to close the trail.
If this happens to you, just know that there are many, many beautiful lakes all throughout Patagonia. This is just one that has become famous on the internet, and in this area, the weather rules everything. Come with no expectations and you won't be disappointed.
[bulleted_list icon="fa-cutlery"]
Dinner Recommendation
[/bulleted_list]
For dinner, head to Patagonicus, a pizza restaurant with very good pizza and a healthy beer list. The Calabrese and the pizza with shredded lamb were both a hit.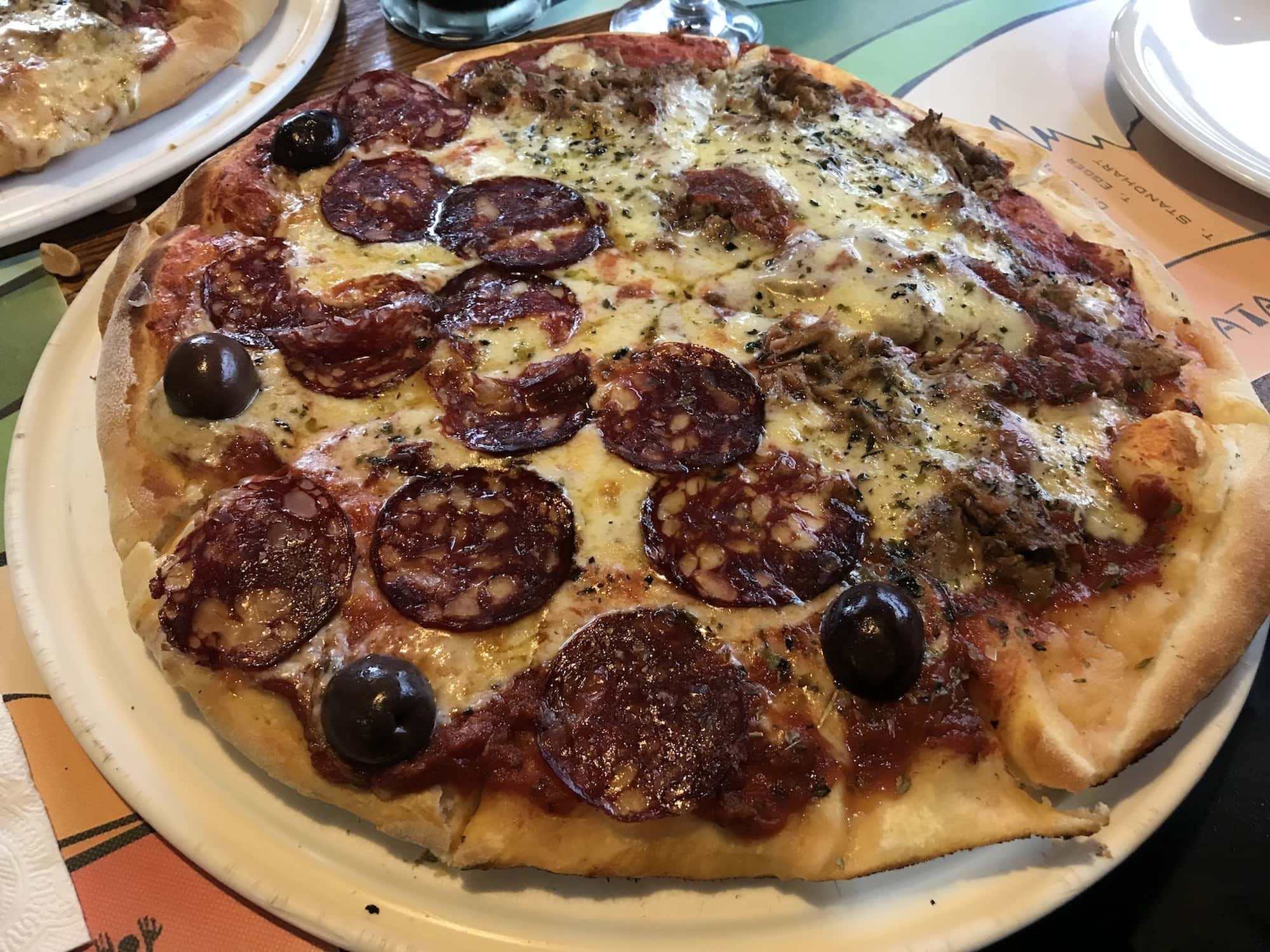 [tagline_box link="https://bearfoottheory.com/best-lightweight-rain-jackets-for-hiking/"]Be prepared for rain in El Chaltén. Check out our guide on choosing the best lightweight rain jacket for hiking.[/tagline_box]
[separator style_type="single" /]
Day 3 – Hike to Cerro Torre
Get an early start to beat the crowds, but first hit up the bakery.
Today's hike is to Laguna Torre, a glacial lake just below the famous Cerro Torre peak. The trail was 18k round trip and took us 6.5 hours including a lot of stops and lunch at the lake. AllTrails calls it lightly trafficked…but don't be surprised if there are a ton of people on the trail.
The hike started with a 3km uphill burst which led to a viewpoint of the mountains. After that, the next 6km were relatively flat with nonstop views of the Cerro Torre and surrounding peaks, with several sections right along a glacier-fed river.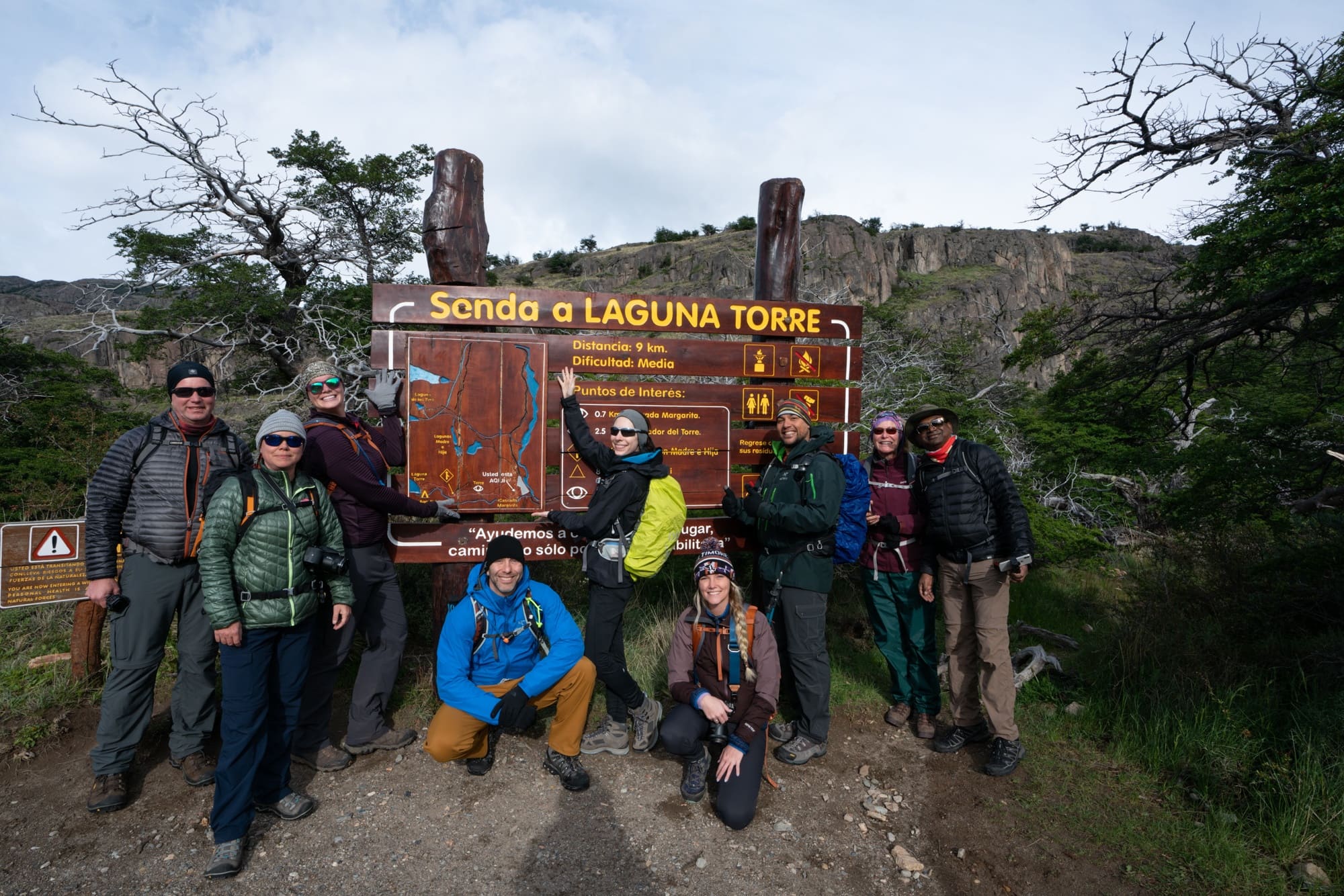 [images_2_col image_1="35084″ image_2="35083″ /]
Once you are very close to the lake, the trail gets more sandy, and you pass through an area of glacier moraine. However, the trail is well maintained and smooth the entire way.
Towards the end of the trail, you'll cross a clear stream if you need to refill your water bottles. The locals say the water is safe to drink without filtering, but I wouldn't trust it. As busy as this trail is and as many people who are going to the bathroom along the trail, I'd recommend using a Steri-Pen or a water bottle with a purifier built in.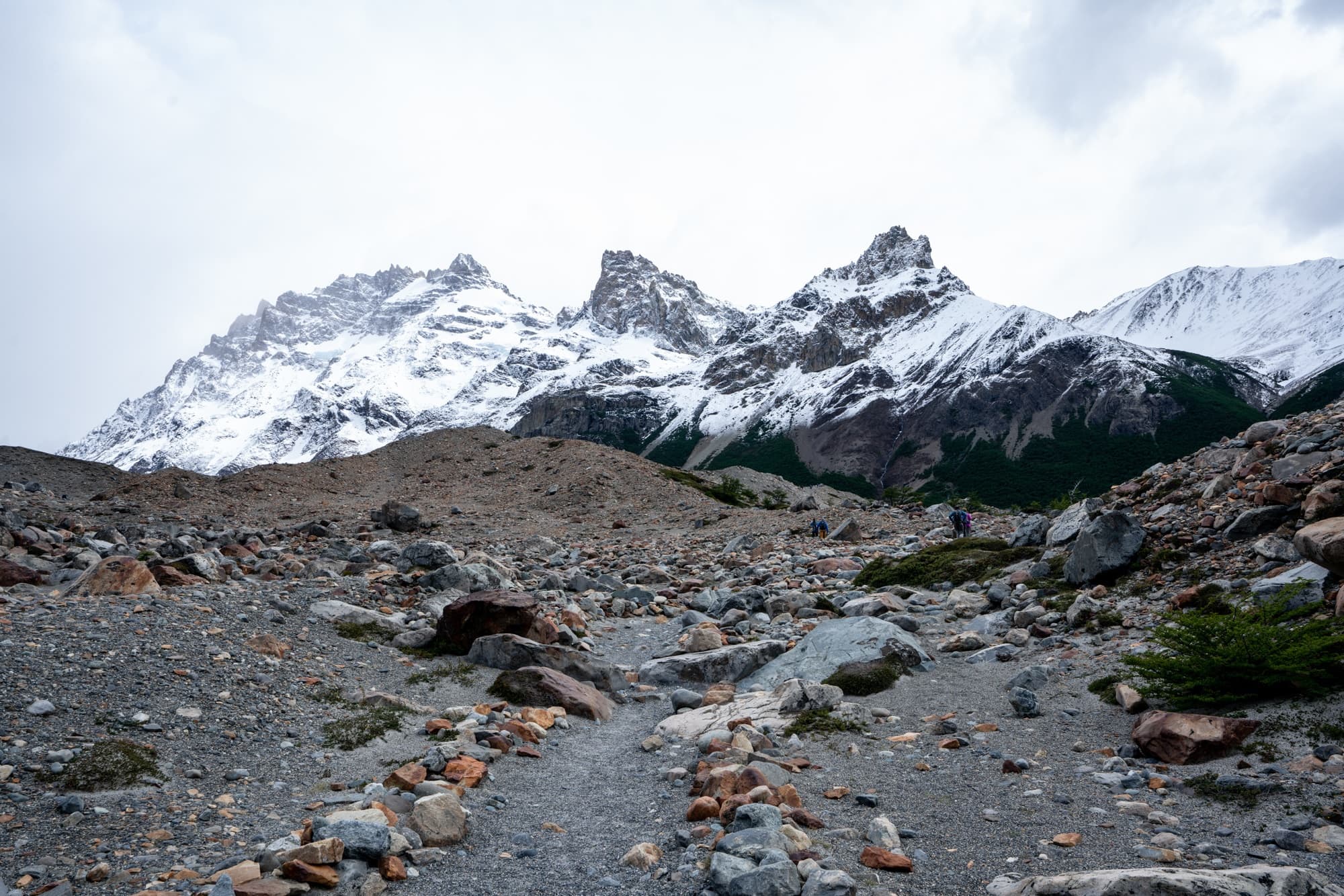 The lake was very large with huge chunks of ice and a large glacier on the far end. It was fairly cloudy for our hike in and got very windy and cold at the lake when we stopped for lunch. Even if it's sunny, lots of layers and rain gear are essential for any Patagonia hike.
[tagline_box link="https://bearfoottheory.com/cold-weather-hiking-clothes-winter-layering-basics/"]Read more on how to layer for cold weather hiking
[/tagline_box]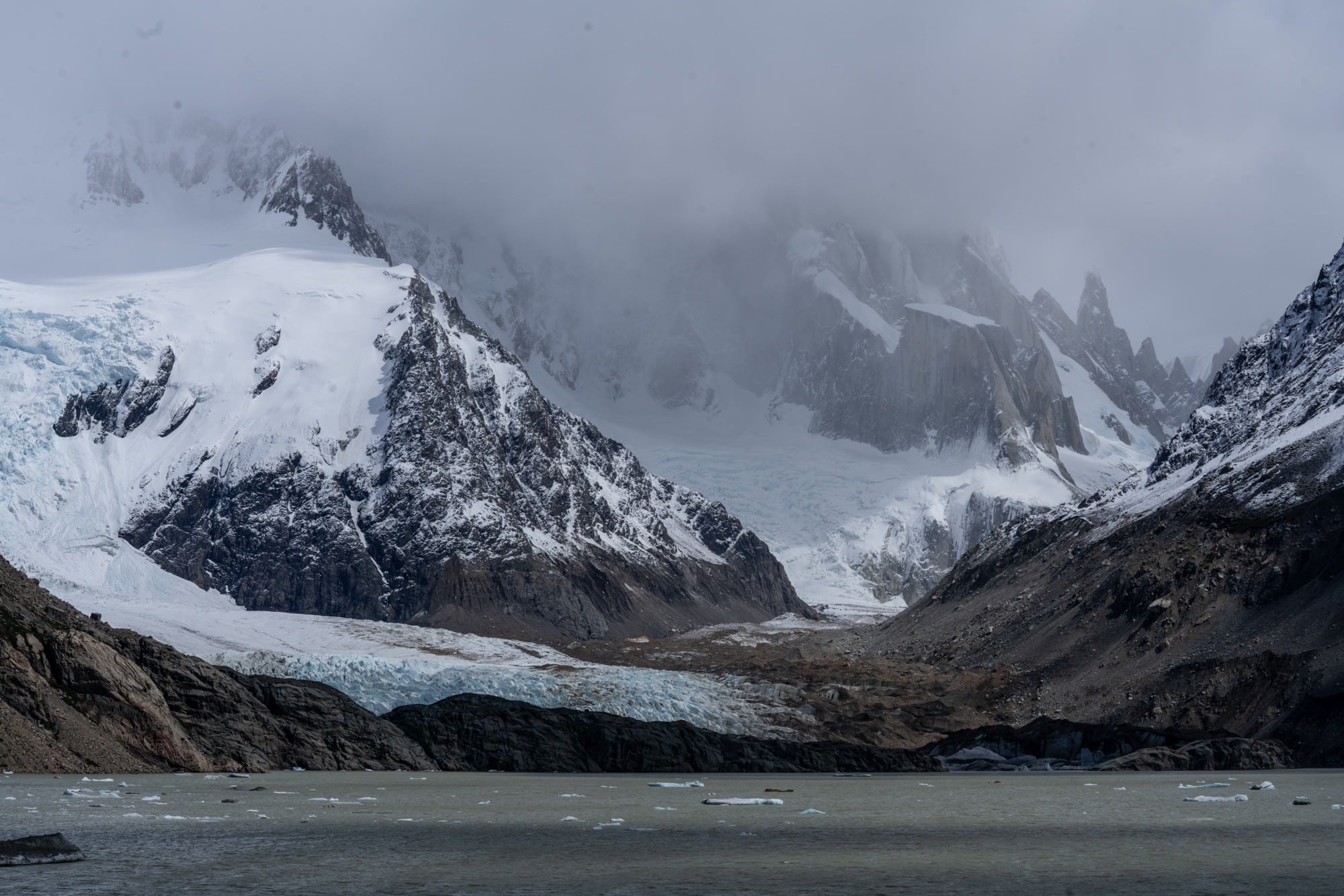 On the way down the clouds started to lift so we stopped at the viewpoint again to take some more pictures. Even the Fitz Roy started to peak out from the clouds.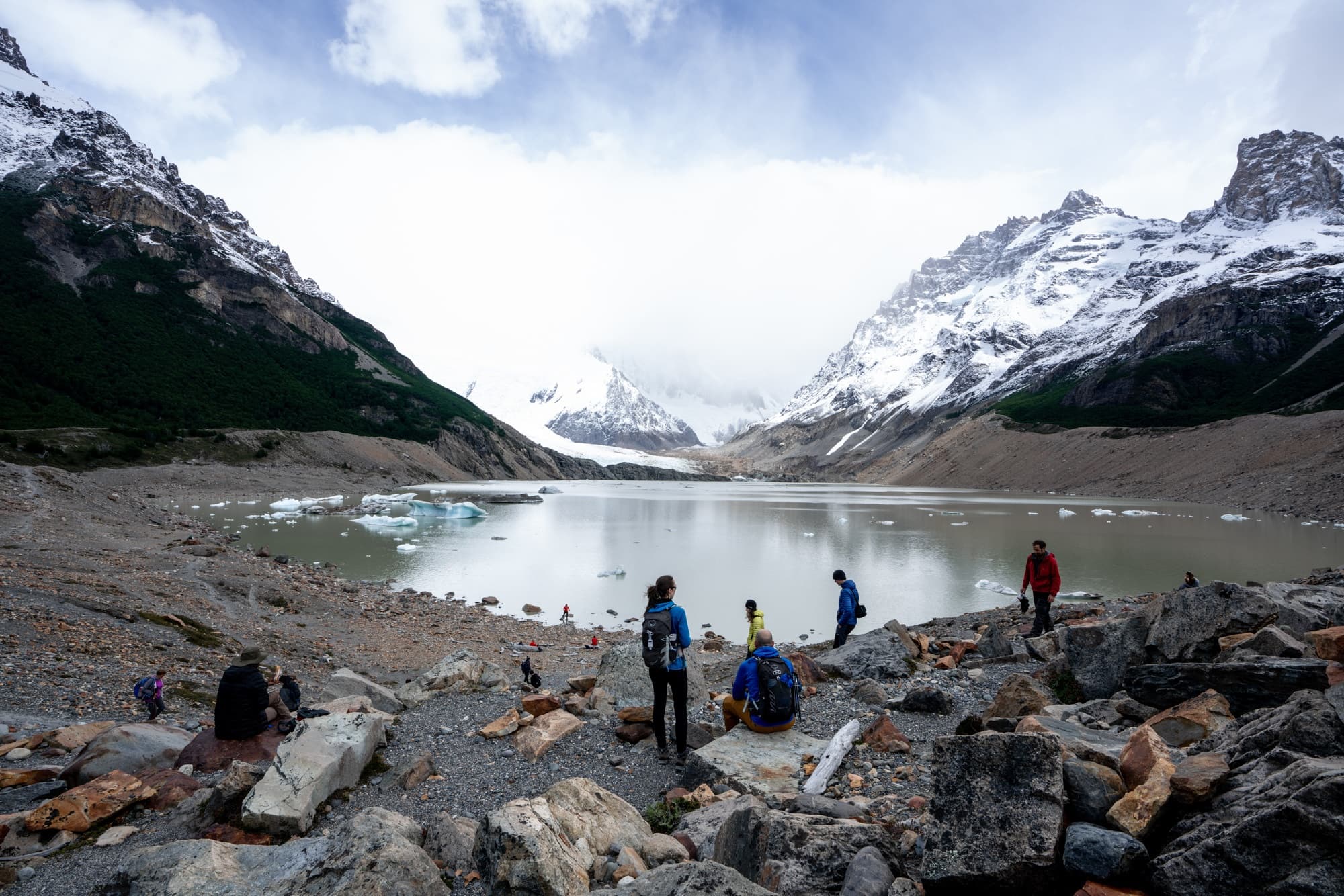 [bulleted_list icon="fa-cutlery"]
Dinner Recommendation
[/bulleted_list]
For dinner, go to the Italian joint called Maffía on the main drag. They make all of their pasta in-house, and the best dishes among our group were the lasagna bolognese, the fondue ravioli, and the goulash (for something more local).
[separator style_type="single" /]
Day 4
If you like an adrenaline rush, sign up for a half-day rafting trip with El Chaltén Rafting Experience on the Rio De Las Vueltas River, which has some pretty exciting class III and one class IV rapid. The river cuts through a gorgeous canyon, with condors flying above, interesting rock formations, and glacial blue water. Before heading to the river, you'll be given a onesie base layer, a full dry suit, and booties. The only thing they didn't provide that I wish I had was a pair of neoprene gloves. There is nowhere to store dry bags on the boats, so I recommend leaving anything you'd be bummed to lose at home. If you want to get photos, mounting a GoPro to a helmet or a wrist mount would be your best options, and the safety kayaker will also take photos of you during the trip that they email to you for free afterward.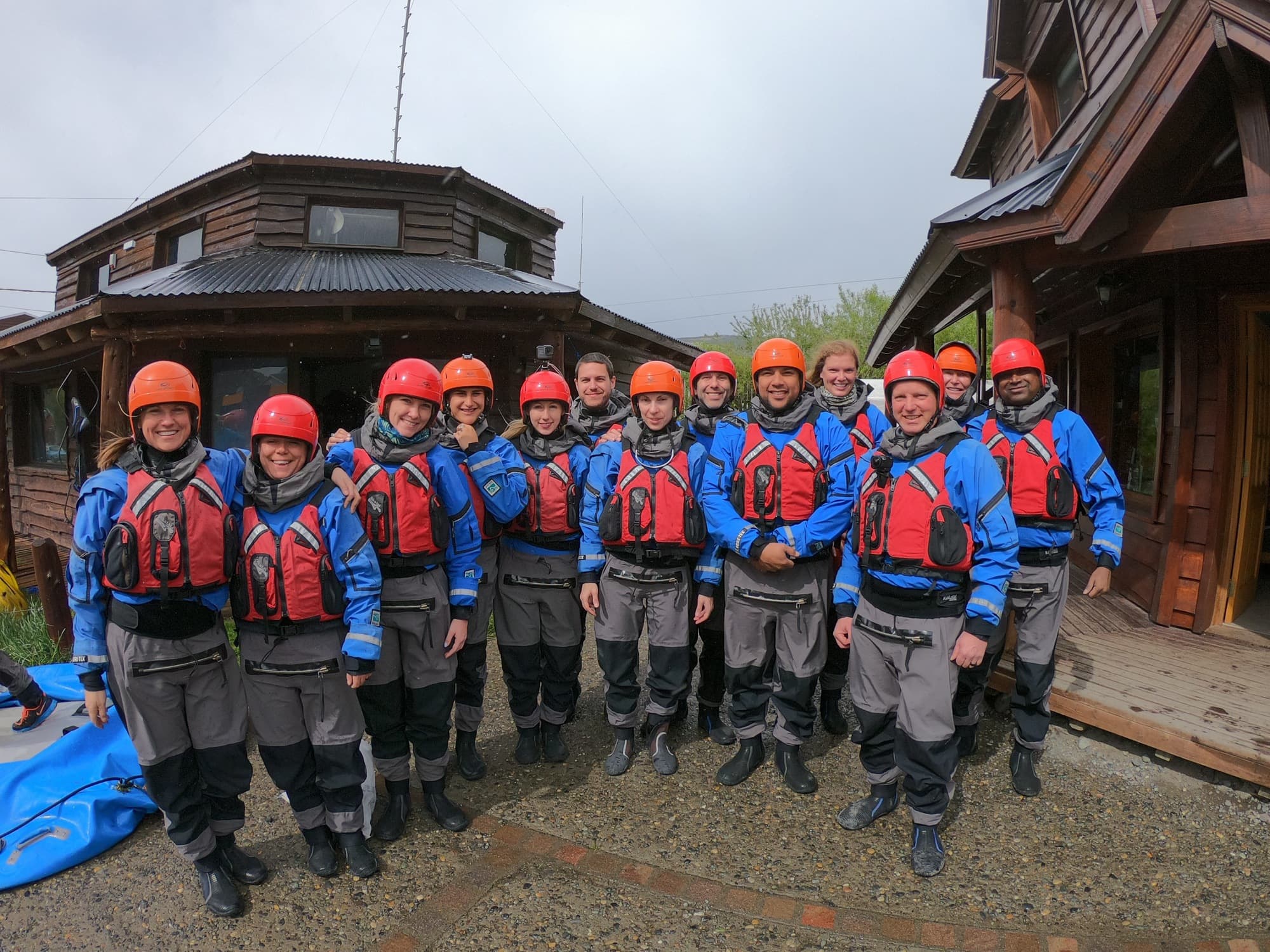 From their office in town, you walk about 5 minutes to the launch point, where our group of 11 split up into two paddle boats. The river starts out pretty mellow, and as the canyon narrows, you'll reach the one Class IV rapid first. The guides directed us to pull over and we walked the first section of rapids, while the guides navigated the boats through. Then right at the top of the waterfall, we loaded back into the boats which should be lined up to go smoothly down the tongue of the waterfall. The first boat ran a clean line, and it didn't look too bad. Unfortunately, our boat almost immediately got off track and entered the rapid too far to the left where we got hung up on a rock and Melinda, who was in the front of the boat, ended up taking a swim. We got her back into the boat fairly quickly and the rest of the day went smoother.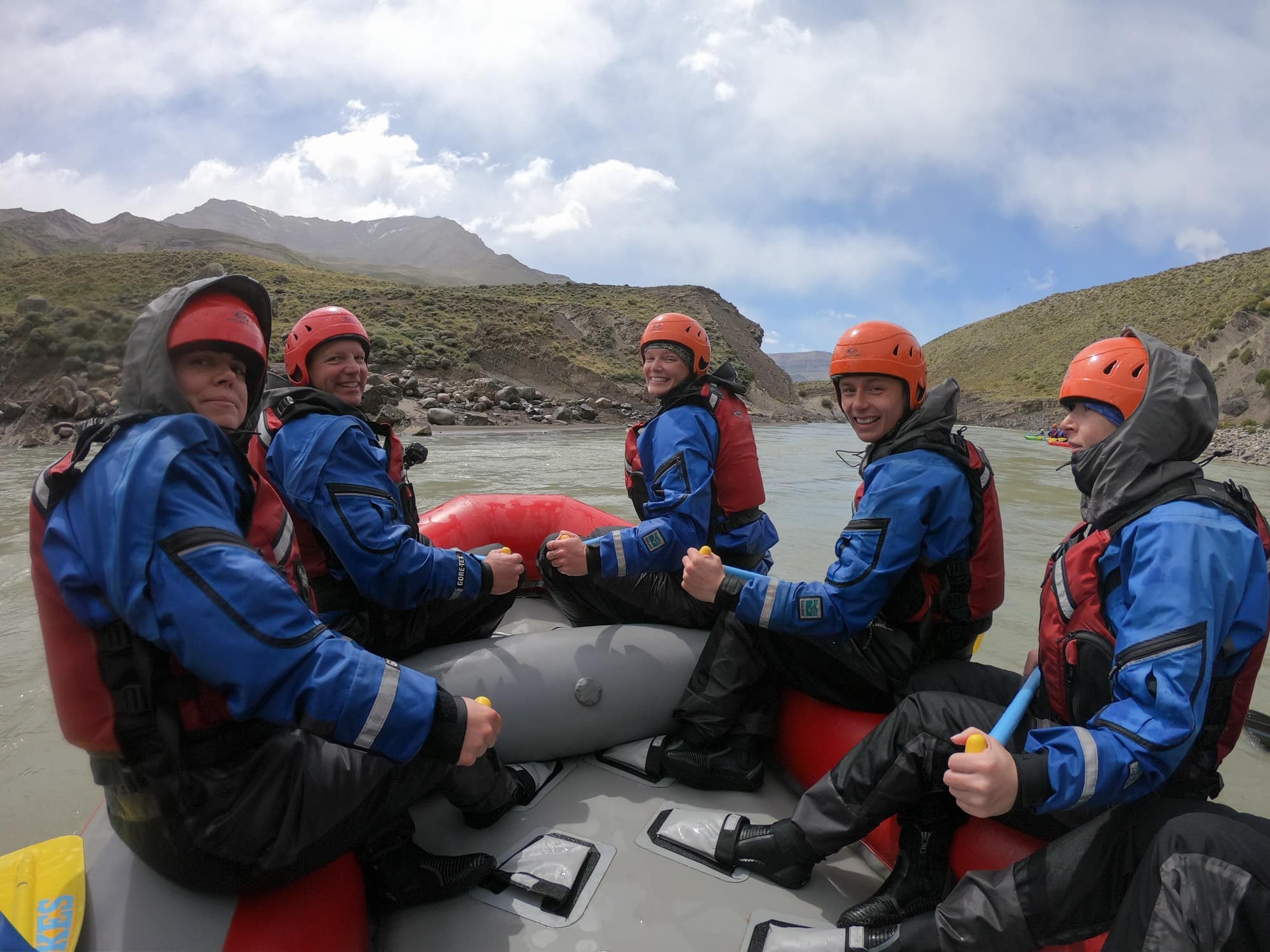 If rafting sounds like too much adrenaline for you, check out this list of 15 things to do in El Chaltén by the Crazy Tourist. Rock climbing is also very popular. If you have questions, stop by the visitor center or inquire at your hotel.
[bulleted_list icon="fa-cutlery"]
Dinner Recommendation
[/bulleted_list]
Hit up Restaurante Ahonikenk Chalten Fonda Patagonia for dinner. If you need to warm up after rafting, try the Argentinian stew. It was very hearty with meat and beans. The chicken stir-fry with rice was also a popular dish in our group.
[separator style_type="single" /]
More Info on G Adventures
G Adventures did a fabulous job on the itnerary and the logistics for our trip. I'll be publishing a full G Adventures review soon, but in the meantime, you can get more details (or even sign up for this itinerary) on the Hiking Patagonia In Depth page on G Adventures website.
[tagline_box link="http://www.anrdoezrs.net/click-7674930-13579210″]Learn more about the G Adventures Hiking Patagonia In Depth Itinerary
[/tagline_box]
[separator style_type="single" /]
We hope our 4-day El Chaltén itinerary helps you plan an amazing adventurous vacation to El Chaltén, Argentina.
Have you been to El Chaltén in Argentina? What's missing on our El Chaltén itinerary? Have questions? Leave us a comment below!
[content_box title="Read Next"]
[/content_box]