Ultimate Guide to Visiting Perito Moreno Glacier
Learn everything you need to know about visiting Perito Moreno Glacier in Argentina, with info on things to do, how to get there, and park fees.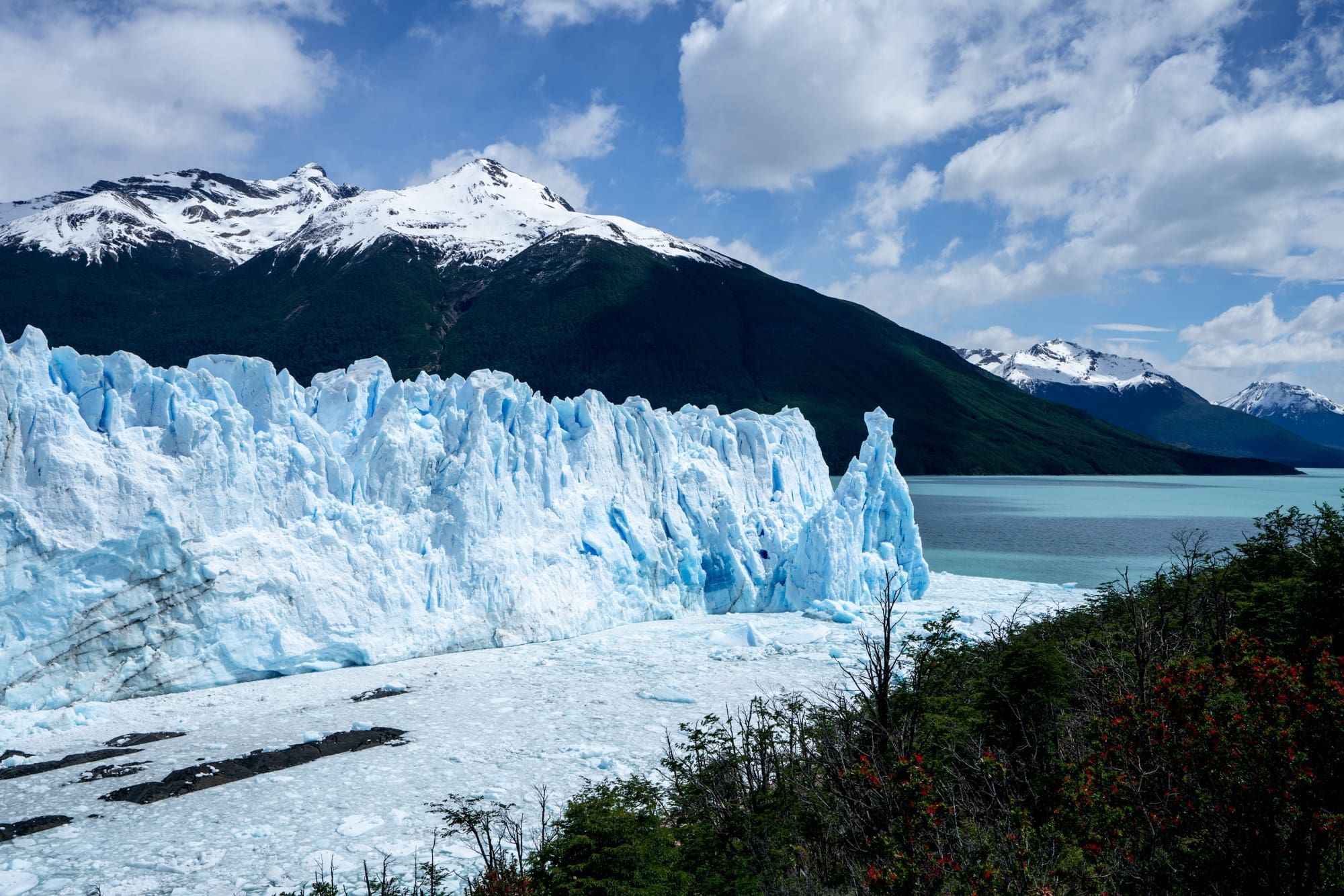 Perito Moreno Glacier is located an hour and a half drive from the nearest town of El Calafate and is a must-do during your visit to Patagonia.
Established as a UNESCO World Heritage Site, the Perito Moreno Glacier is larger than the city of Buenos Aires covering 97 square miles and is approximately 18,000 years old.
The easiest and cheapest way to explore Perito Merino is on a self-guided walk around the boardwalk, but if you are interested in doing something more adventurous or getting a different perspective of the glacier, there are several options – from kayaking to strapping on crampons and walking on the ice.
In this blog post, I share all of the information you need to plan an exciting trip to Perito Moreno Glacier.
[separator style_type="icon" /]
Perito Moreno Glacier Basics
[bulleted_list icon="fa-info-circle"]
Getting from El Calafate to Perito Moreno Glacier
[/bulleted_list]
We visited Perito Moreno Glacier as part of our tour with G Adventures, so all of our transportation was arranged. The Perito Moreno Glacier is about 80 km one way from the town of El Calafate and takes about an hour and a half to get there.
If you are traveling independently, there are a couple of ways to get to Perito Moreno Glacier.  
Rent a car in El Calafate: There are a number of car rental companies in El Calafate. I personally don't have experience with any of them, but a company called Nunatak seems to have the highest ratings online. The advantage of renting a car is you can travel on your own schedule. If you arrive to Perito Moreno Glacier early in the morning you can beat the crowds and enjoy the glacier before the tour buses arrive.
Take a public bus from the El Calafate bus terminal to Perito Moreno Glacier: There are several bus departures every day from El Calafate starting as early as 7:30 am. When you arrive in El Calafate, enquire at your hotel to see if they have a current bus schedule and if it's possible to book a day ahead. In the high season, you'll want to arrive at the bus station at least 30 minutes early to secure a seat. At the time of writing, bus tickets are 500 ARS (which can be anywhere from $13 – $35 USD depending on exchange rates)
Go on a tour: If you want all of the transport arranged for you, stop by any of the tour agencies in town and sign up for a tour. You can also just sign up for transport online.  I'll share more details below about some of the different tour options.
[bulleted_list icon="fa-info-circle"]
Perito Moreno Park Entrance Fees
[/bulleted_list]
At the time of writing, the entrance fee for visiting Perito Moreno Glacier is 500 ARS (~$32.50 USD), which you pay (cash only) as you go through the front entrance.
If you sign up for a tour, make sure to check whether the Park entrance is included so you aren't surprised when you arrive at the glacier.
[separator style_type="single" /]
The Best Time to Visit Perito Moreno Glacier
The Glacier is open year round.  December through March is the busy season, which coincides with the warmest, sunniest weather, although that's never guaranteed. These also tend to be the windiest months.
Visiting in the shoulder season will afford you fewer crowds, while still having a chance good weather. If I ever go back, I'm bringing warmer clothes and visiting in fall (April/May), when the fall colors look gorgeous.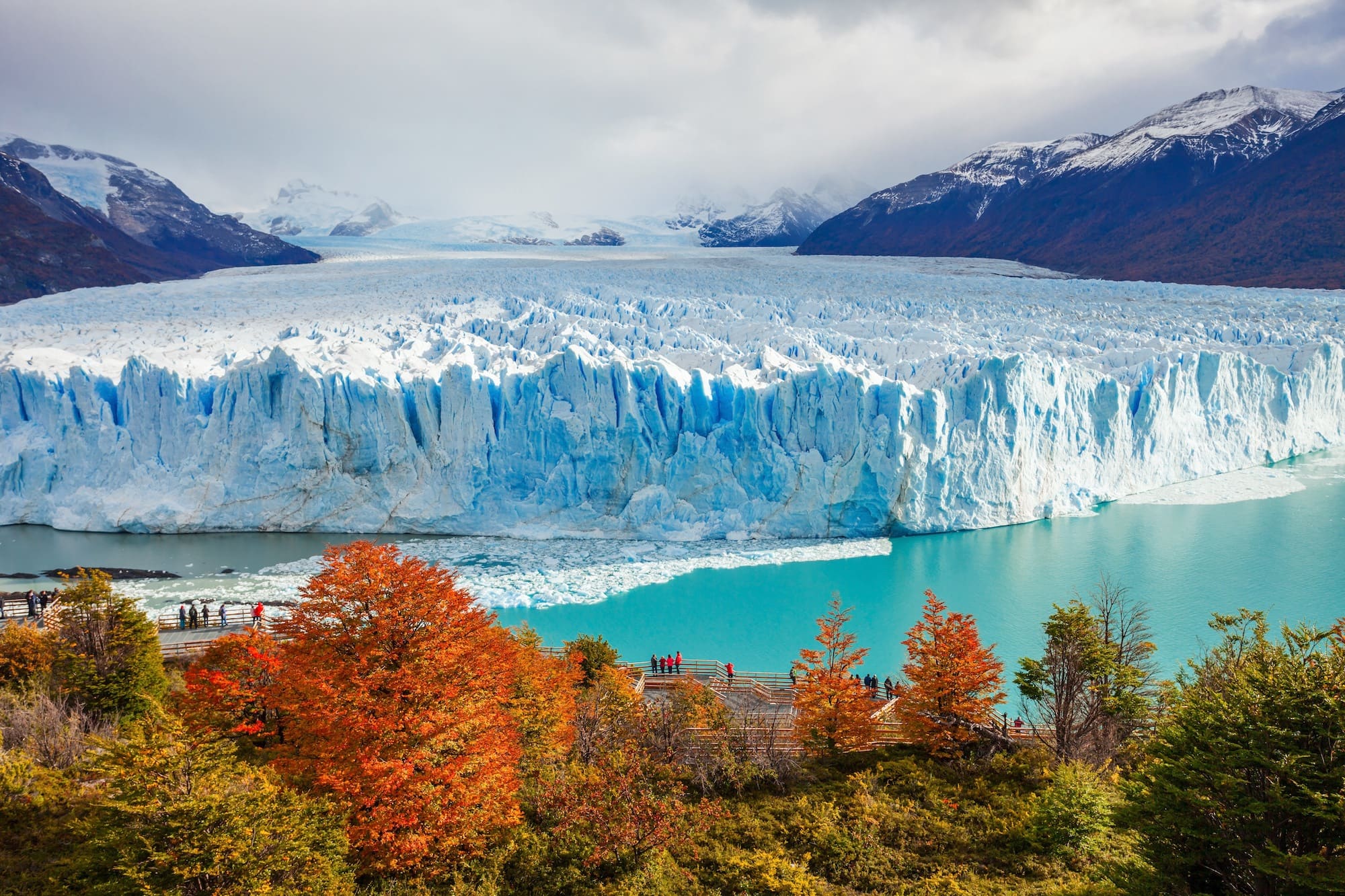 Fall colors exploding at Perito Moreno Glacier in April
[tagline_box link="bearfoottheory.com/g-adventures-review-hiking-patagonia-in-depth"]Learn more about my experience on G Adventure's 14-day Hiking Patagonia in Depth itinerary.
[/tagline_box]
[separator style_type="single" /]
Things to Do at Perito Moreno Glacier
[bulleted_list icon="fa-check"]
Take a One-hour boat ride
[/bulleted_list]
When we visited Perito Moreno, we first took the basic one hour boat ride. The boat costs 800 pesos (~$21.04 USD) and takes you to the southern face of the glacier. You can sign up right at the boat dock as you are entering the Park, and there are hourly departures from October to May. I enjoyed getting the perspective from the water level because you can see just how tall the glacier really is.  You don't need to purchase a ticket in advance. Only do this boat tour if you aren't doing any other tour that goes out on the water (like the ice trekking, kayaking, and other glacier cruises).
If you want to get transport from town that includes the boat ride, this is a good tour option.
If the weather is really crummy, you'll want to get on the boat early to snag a window seat. Otherwise, you can't see much from the middle of the boat. You can also view the glacier from the upper or lower deck, but come prepared with layers because it can be very cold out there.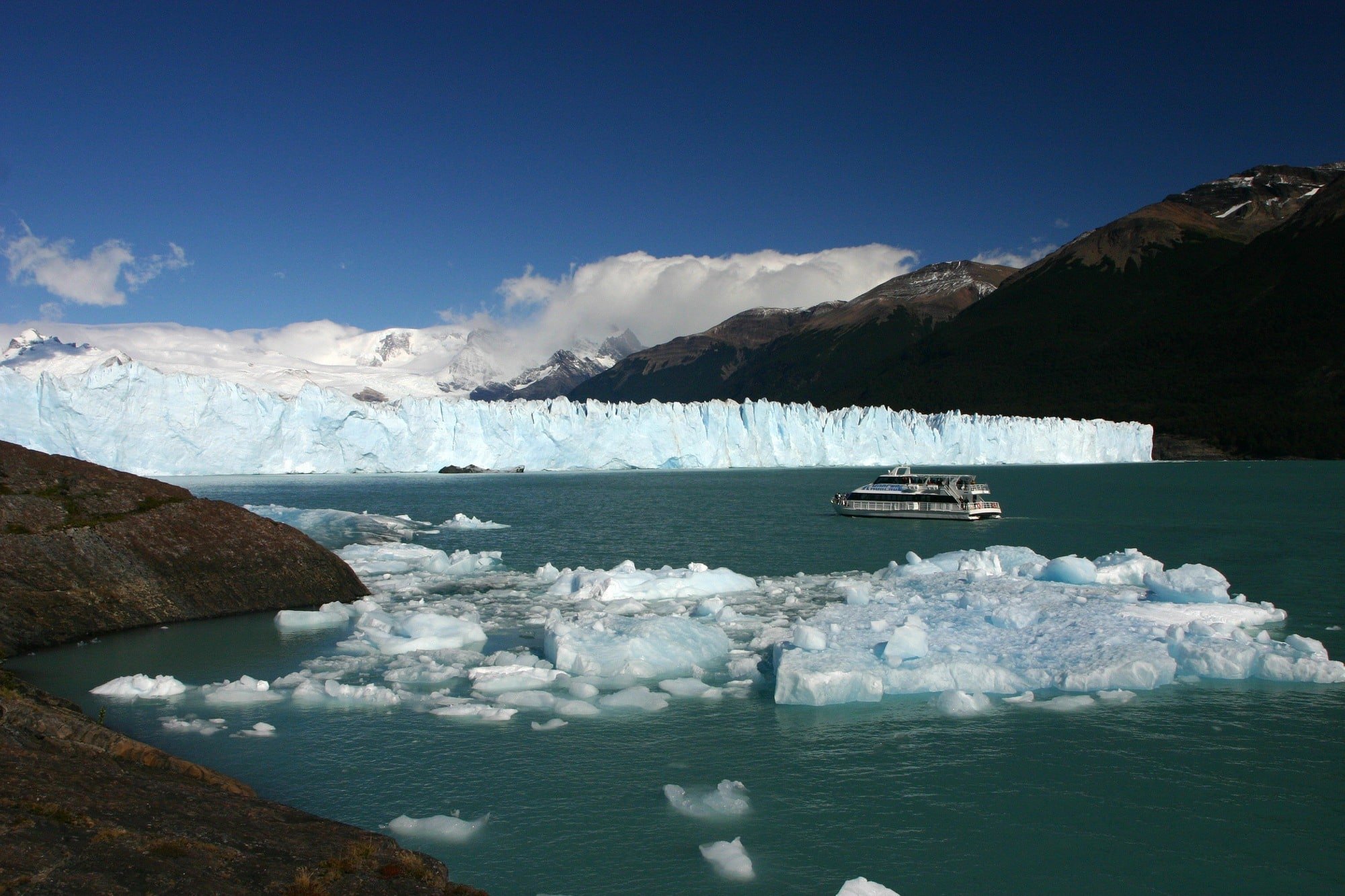 [bulleted_list icon="fa-check"]
Hike the Perito Moreno boardwalk
[/bulleted_list]
Exploring the boardwalk at Perito Moreno Glacier is a must-do, and apart from your park entrance fee, this activity is free and no guide is necessary. All of the trails are well marked by color code, and the views are incredible from every angle. If you take your time, you might get lucky and see the glacier calving (breaking). From the top, we started walking in a clockwise direction and at every trail junction, we went left. That allowed us to cover a majority of the boardwalk and took us on the closest route to the glacier. We also brought a bottle of wine and lunch and sat at one of the viewing platforms.
The entire boardwalk system is around 4 kilometers, and there are bathrooms only available at both ends (so make sure you go before you start the walk). For food, there is cafeteria style food and a coffee stand at the top of the boardwalk and at the end, there is a nice sit-down restaurant where you can order food and/or even a cocktail served over glacier ice with a view of Perito Merino's north face.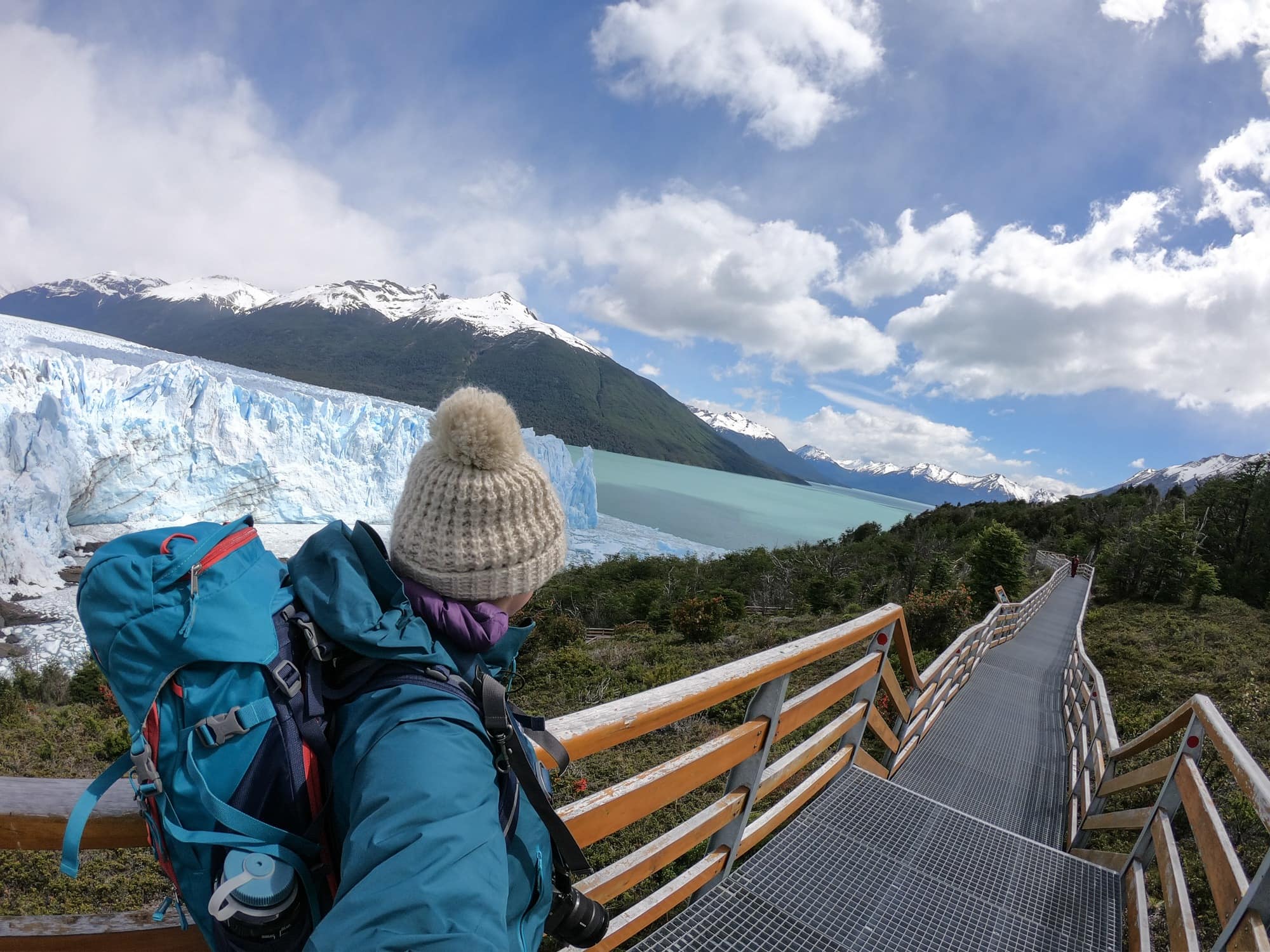 *Please be a respectful tourist, and stay on the boardwalk as the signs indicate.*
[bulleted_list icon="fa-check"]
Kayaking at the North Face of Perito Moreno Glacier
[/bulleted_list]
This was not an option during our visit because it was too windy, but kayaking seems like an adventurous way to explore Perito Moreno. Kayak tours are led by a company called Mil Outdoors and include transportation to and from El Calafate. On their tours, prior to getting into the kayak, you also have 2 hours to walk around the boardwalk…so you can kill two birds with one stone. The tour costs $185 and includes transport, lunch, a Gortex drysuit, and guides. The tour generally visits the north side of the Glacier, which is different than the boat tour mentioned above.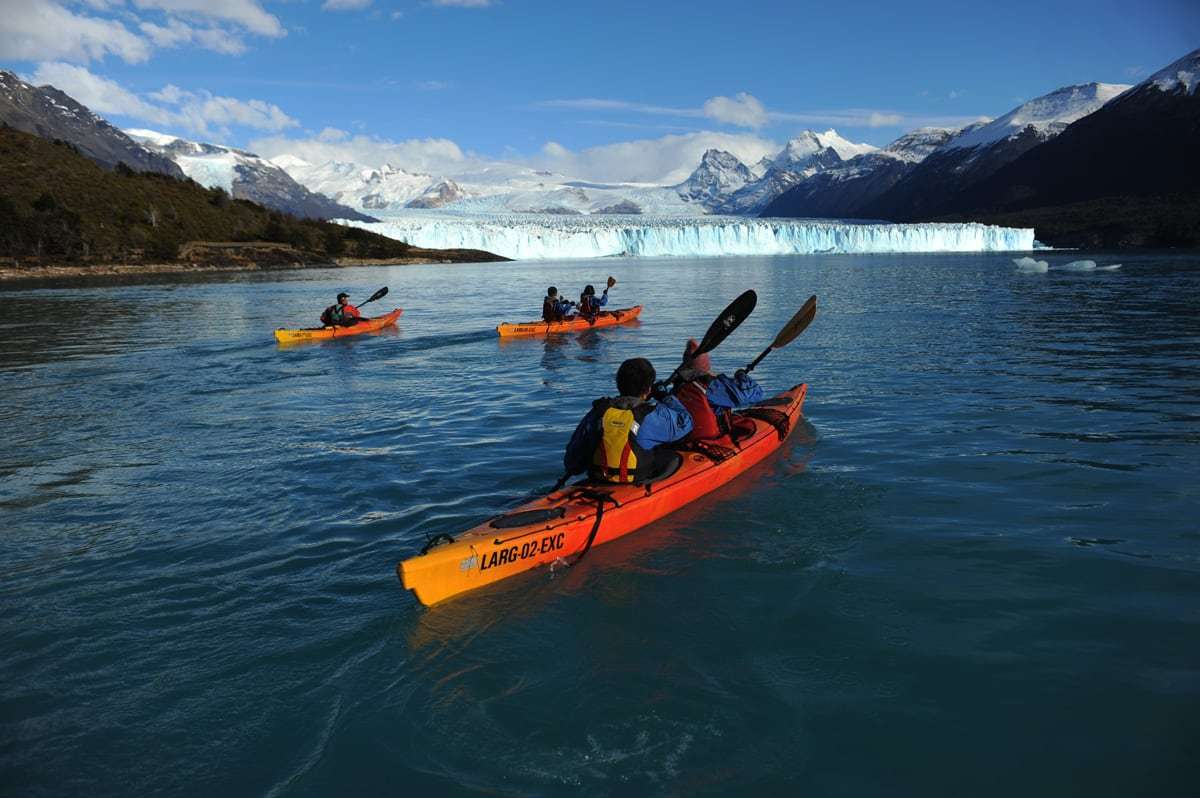 Photo Credit: Mil Outdoors
[bulleted_list icon="fa-check"]
Perito Moreno Ice Trekking
[/bulleted_list]
A company called Helio & Adventura runs a couple of different tours that allow you to get right on the glacier. A couple of people in our group went on these tours and raved about them.
Unfortunately for me, I waited too long to sign up, and by the time I inquired, both the Mini-Trekking and the Big Ice tours were both full. If you are sure you want to do this, I suggest signing up as soon as you know your dates.
On both of these tours, you take a boat over to a landing point (so skip the boat ride mentioned above), and then you have to walk on a trail in order to get to the ice. Then you strap on crampons and with a glacier guide, you get to trek on the ice and see all of the crazy ice formations up close.
Alternatively, the Mini-Trekking has a much shorter approach, with a total of 1.5 hours on the glacier. As a result, it's a shorter day overall and a little bit less expensive.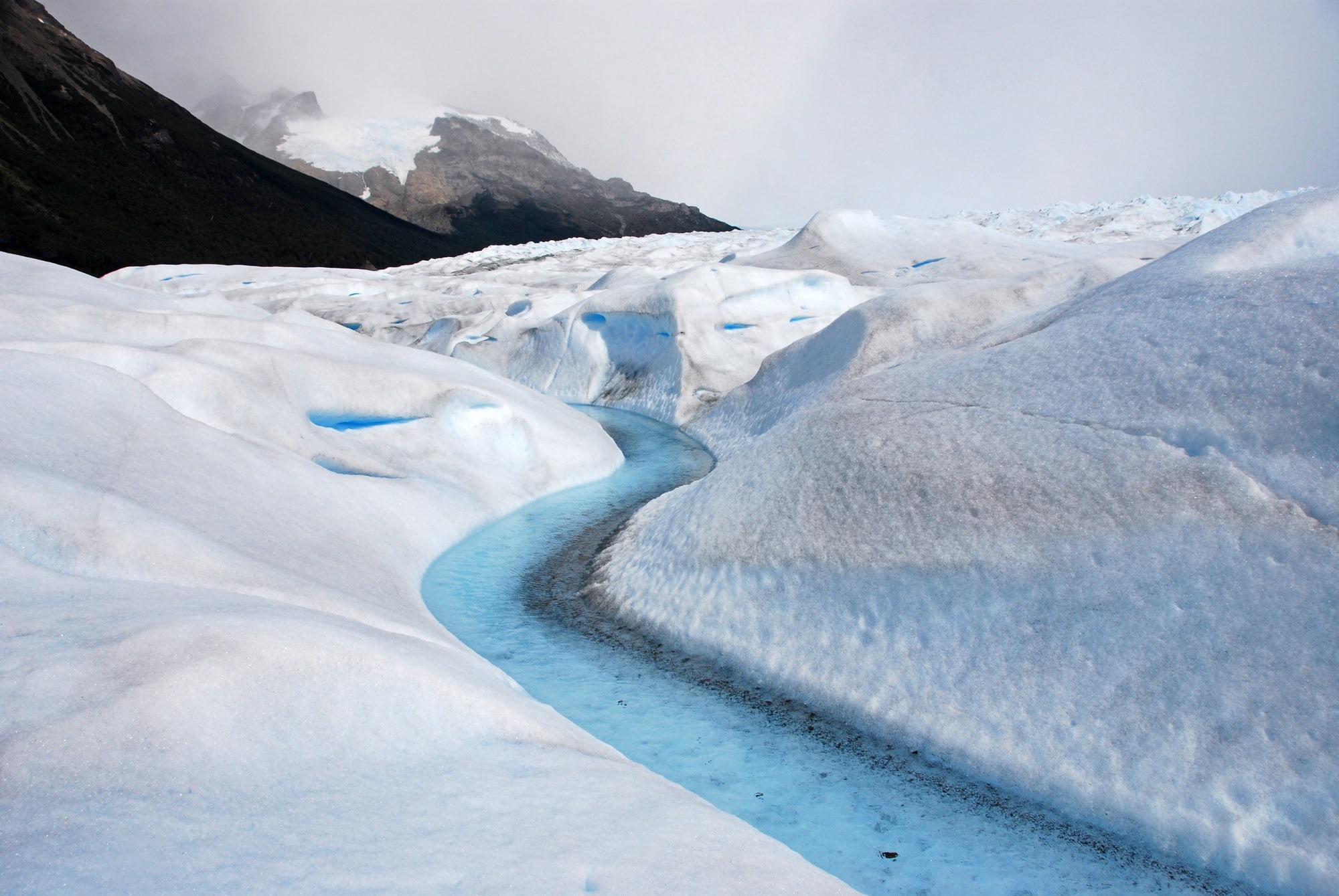 The Park entrance fee and lunch are not included, so make sure you grab a lunch box or empanadas in town the night before. Also, wear sunscreen and good sunglasses!
[separator style_type="single" /]
Perito Moreno Glacier YouTube video
Want to see more of Perito Moreno Glacier? Check out the clips in my Patagonia YouTube video!
I hope this helps you plan your visit to Perito Moreno Glacier. Leave any questions and comments below!
[content_box title="Read Next" icon="fa-star-o" backgroundcolor="#eaeaea" iconcolor="" circlecolor="#74c3ae" circlebordercolor="#74c3ae" outercirclebordercolor="#74c3ae" image_width="21″ image_height="21″]
[/content_box]
This post contains affiliate links. That means if you make a purchase, I get a small commission at no added cost to you. I only promote companies and products I stand behind, and every time you make a purchase, it helps keep the wheels turning at Bearfoot Theory. Thank you for your support!