G ADVENTURES REVIEW: HIKING PATAGONIA IN DEPTH ITINERARY
In November, I partnered with G Adventures to offer their 14-day Hiking Patagonia in Depth itinerary as an exclusive Bearfoot Theory reader trip. This was the fifth Bearfoot Theory group trip I've offered since starting my blog, and if you follow me on Instagram, you know that like the rest, the Patagonia trip was a smashing success. Our two-week hiking itinerary covered all of the major highlights and destinations in Patagonia, including El Chaltén and El Calafate in Argentina, and Torres Del Paine on the Chilean side.
Patagonia is a HUGE region, and you can't possibly cover everything there is to see in 2 weeks. However, I chose this two-week hiking itinerary because we got to explore the major highlights and destinations in Patagonia, while minimizing the amount of travel and time spent in the car. It was an incredible first-taste of what Patagonia has to offer, and if I were ever to go back and travel on my own, I'd have a much better understanding of the lay of the land and how to get around.
In this blog post, I share all that we got to see, do, and an overall G Adventures review for their Hiking Patagonia in Depth Itinerary.
YouTube Video
Watch my new YouTube vlogs of our G Adventures Hiking Patagonia in Depth trip!
Patagonia Highlights
Exploring the Perito Moreno Glacier
Luxurious camping below massive peaks in Torres Del Paine
A private Thanksgiving dinner at Chef Gabo's home in El Calafate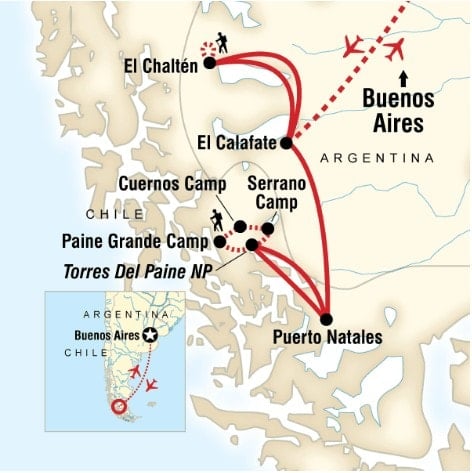 G Adventures Review
While you can certainly do this trip independently, there are a number of reasons you might consider a guided tour in Patagonia. The biggest factor for me was the logistics. As I mentioned, Patagonia is huge and a very popular destination. It takes a lot of time to get around and planning in advance during the busy season is essential. Permits for the W Trek get snatched up sometimes a year in advance.
What I liked about traveling with G Adventures is not only did they do ALL of the planning, everything went really smooth once we were there. Every one of our drivers was there on time. All of our hotels were booked at the lowest rate. Finally, 100% of our permits and camping gear for the W Trek were set up. AND we had top-notch local guides at every step of the way. Not a second of our two-week trip was wasted dealing with late buses, unprofessional guides, or hotels not being ready for us. Even our (optional) dinner reservations were set up.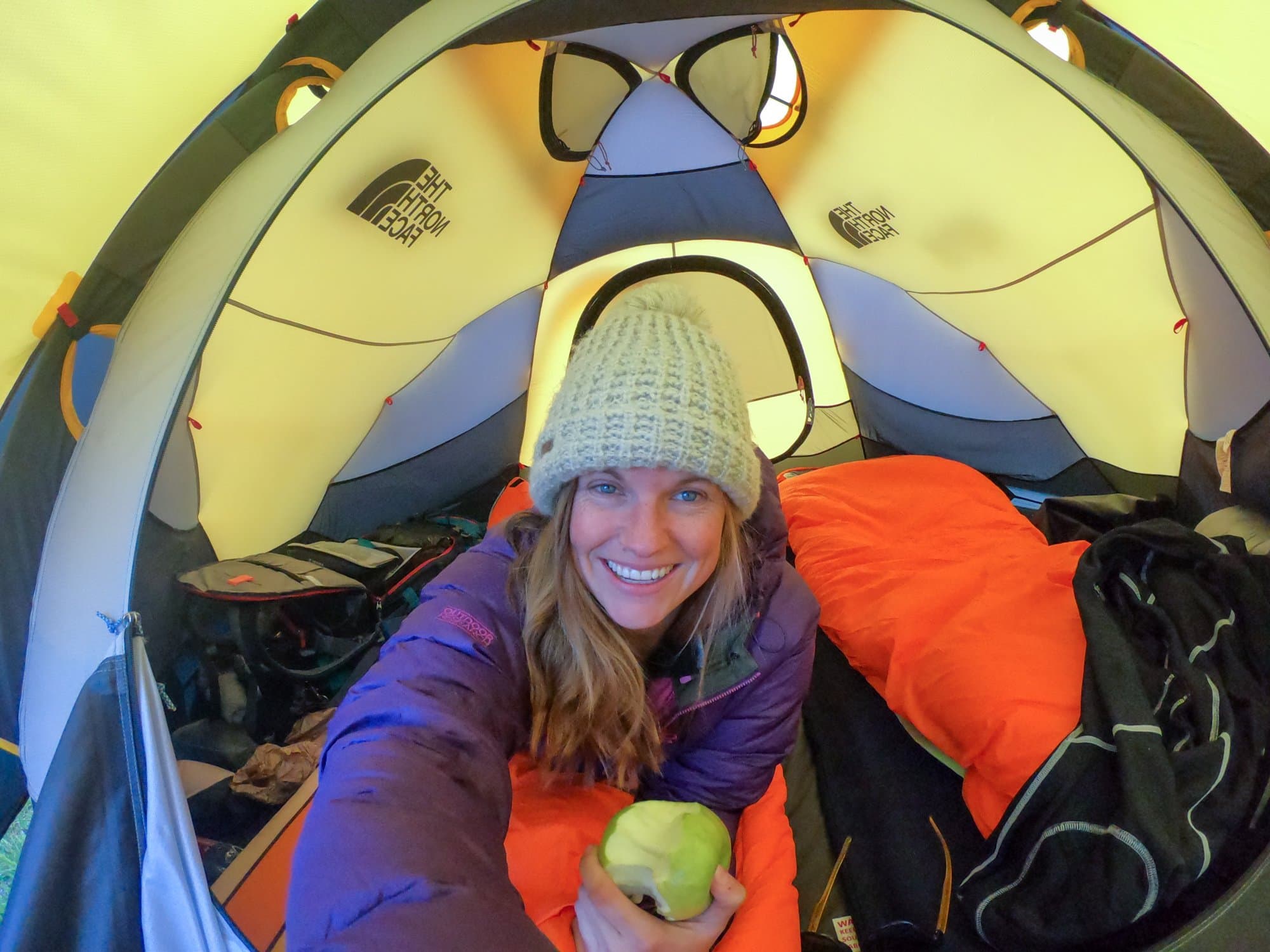 If you have limited time for your vacation or limited time to plan, I thought the G Adventures Hiking Patagonia in Depth trip was a fun and stress-free way to travel.
I will say that being part of a group tour requires a group mentality and going with the flow. Many of G Adventures trips have people on them from all over the world. With the right attitude, it's an opportunity to travel with a diverse and like-minded group of people. However, if you don't like to hike in groups (G Adventures max group size is 16) or you want to hike at your own pace, then this tour is not for you. Instead, you might be better off going alone or hiring a private hiking guide.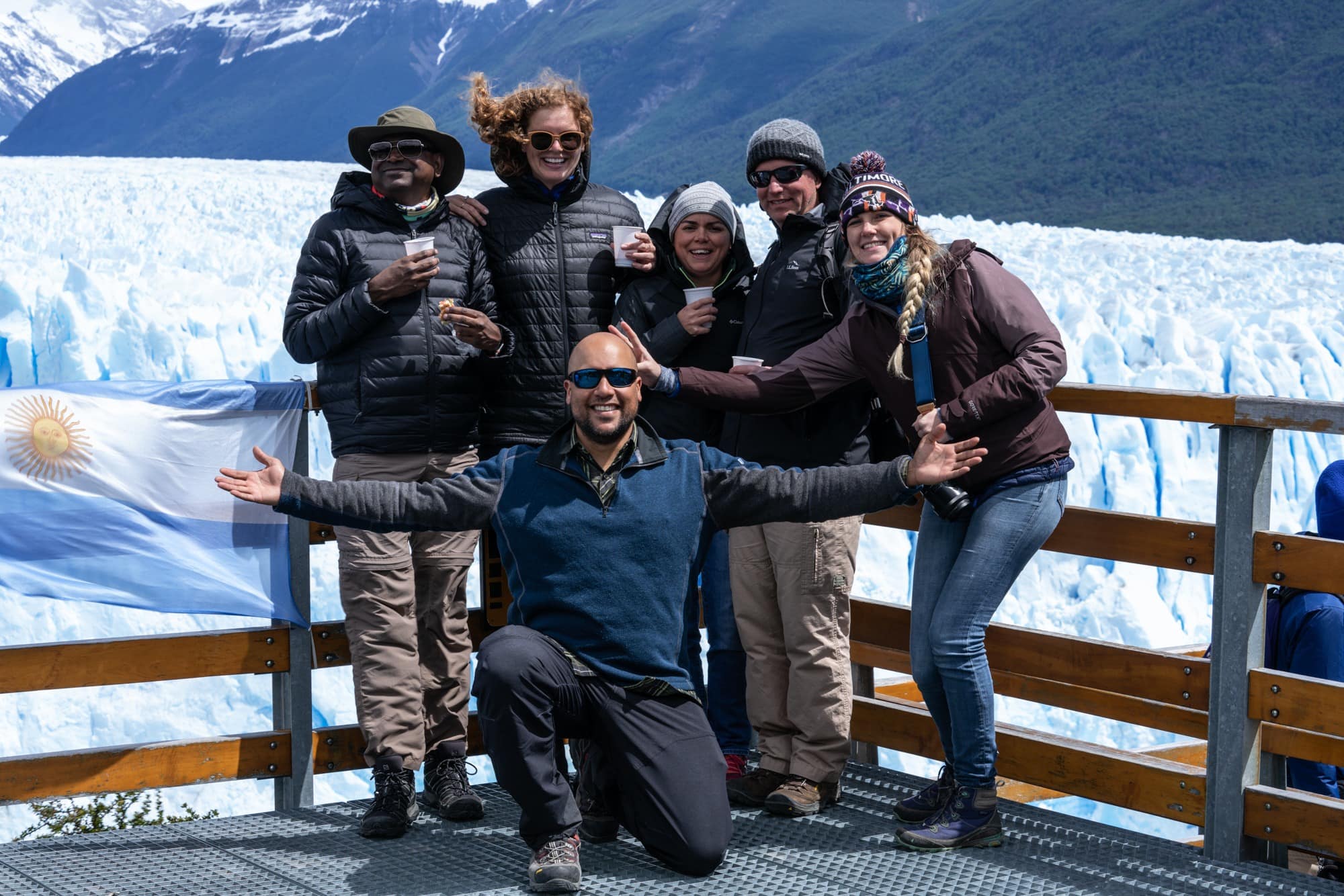 G Adventures Review: Our CEO & Guides
All G Adventures trips are assigned a tour leader, otherwise known as your trip CEO. In our case, our CEO was Marina Silva, a vibrant Buenos Aires local who had been working with G Adventures for several years. As a local Argentinian, we learned a ton from Marina about South American culture. I loved listening to her speak the language as she organized our dinners, transportation, and activities. Marina was extremely organized, and our trip went as smooth as possible, with no hiccups in logistics. Marina was with us the entire trip and was the person we went to with questions, concerns, and special requests.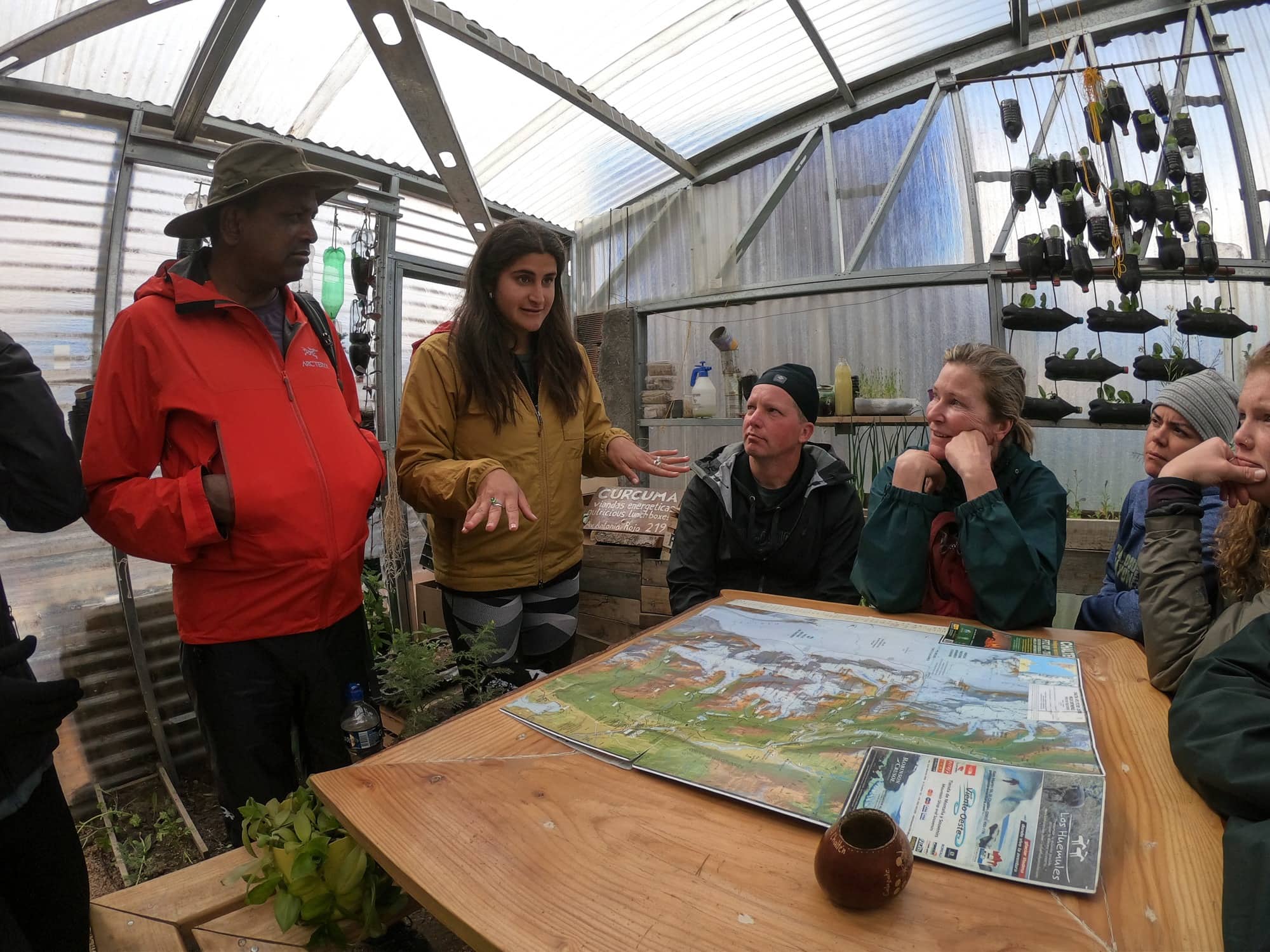 In all of the National Parks we visited, tour groups are also required to have a local guide. So in addition to Marina, we were also accompanied by mountain guides on all of our day hikes, and on the W Trek, we actually had two.  The thing that stuck out to me was that a majority of the local guides spoke EXCELLENT English and were very knowledgeable about the local terrain, plants, and animals. I appreciated having the opportunity to learn and to connect with the culture via our local guides. While we didn't run into any issues on our trip, all of our guides seemed well-prepared to handle medical issues, inclement weather, or anything else we could have encountered.
The one thing to note is that tips for guides and drivers were not included in the trip price, which is pretty common across all guided tours I've been on. That is something to keep in mind if you sign up for the trip.
G Adventures Review: Transportation
Getting around Patagonia isn't the easiest or quickest, so I appreciated having all of our transportation lined up in advance. The G Adventures Hiking Patagonia in Depth itinerary visits El Chaltén, El Calafate, Puerto Natales, and Torres Del Paine, so our transportation included a combination of two planes, one bus, and nearly 10 private shuttles. For the private shuttles, we were in spacious Sprinter Vans with plenty of room to spread out with our group of 10. The max group size for all G Adventures tours is 16, so on trips of that size, the vans probably feel a little tighter. All of our drivers arrived on time, as promised, and it was really nice not having to waste time worrying about how to get from one place to the next. I can imagine if you were doing this trip independently, you'd need to add in a few extra days to your itinerary, just in case your transportation doesn't go as smoothly as planned.
G Adventures Review: Lodging
All of our accommodations on the trip were fairly basic, but they were clean, comfortable, and centrally located. Trip prices were based on double occupancy, so all solo travelers were paired up with someone else unless you paid for a single supplement. The only time I'd say that sharing wasn't ideal was for a few taller folks while camping on the W Trek. The two-man tents were fairly cozy and didn't leave a lot of spare room.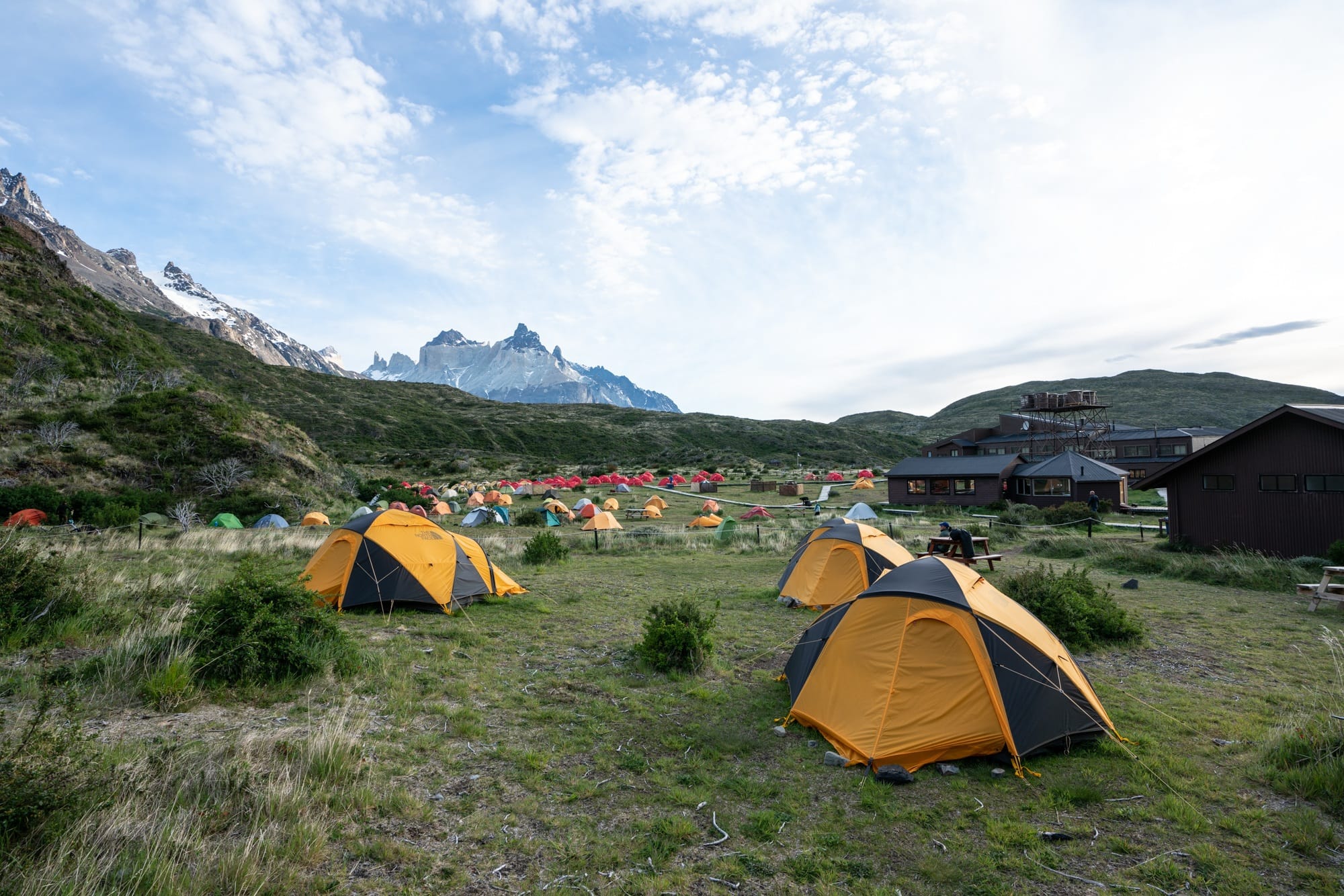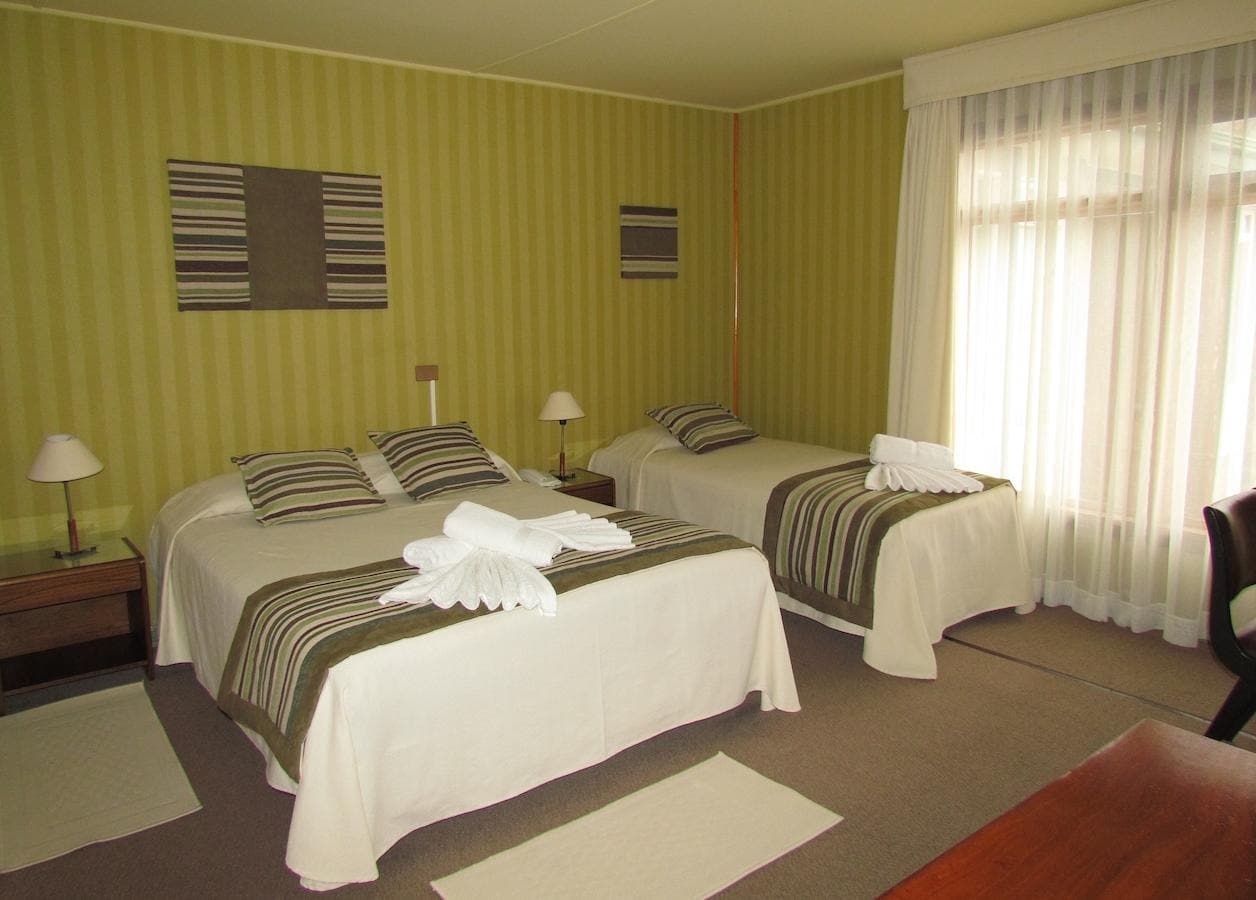 G Adventures Review: Food
The meals on G Adventures trips work differently every day. Some meals are included (including all meals on the W Trek), while some meals we were responsible for on our own. For the most part, I think this worked out well, as it gave people a chance to grab dinner on their own if there was a specific restaurant they wanted to try or if they wanted some alone time.  Marina made some excellent restaurant recommendations and also helped make reservations for those of us who wanted to dine together.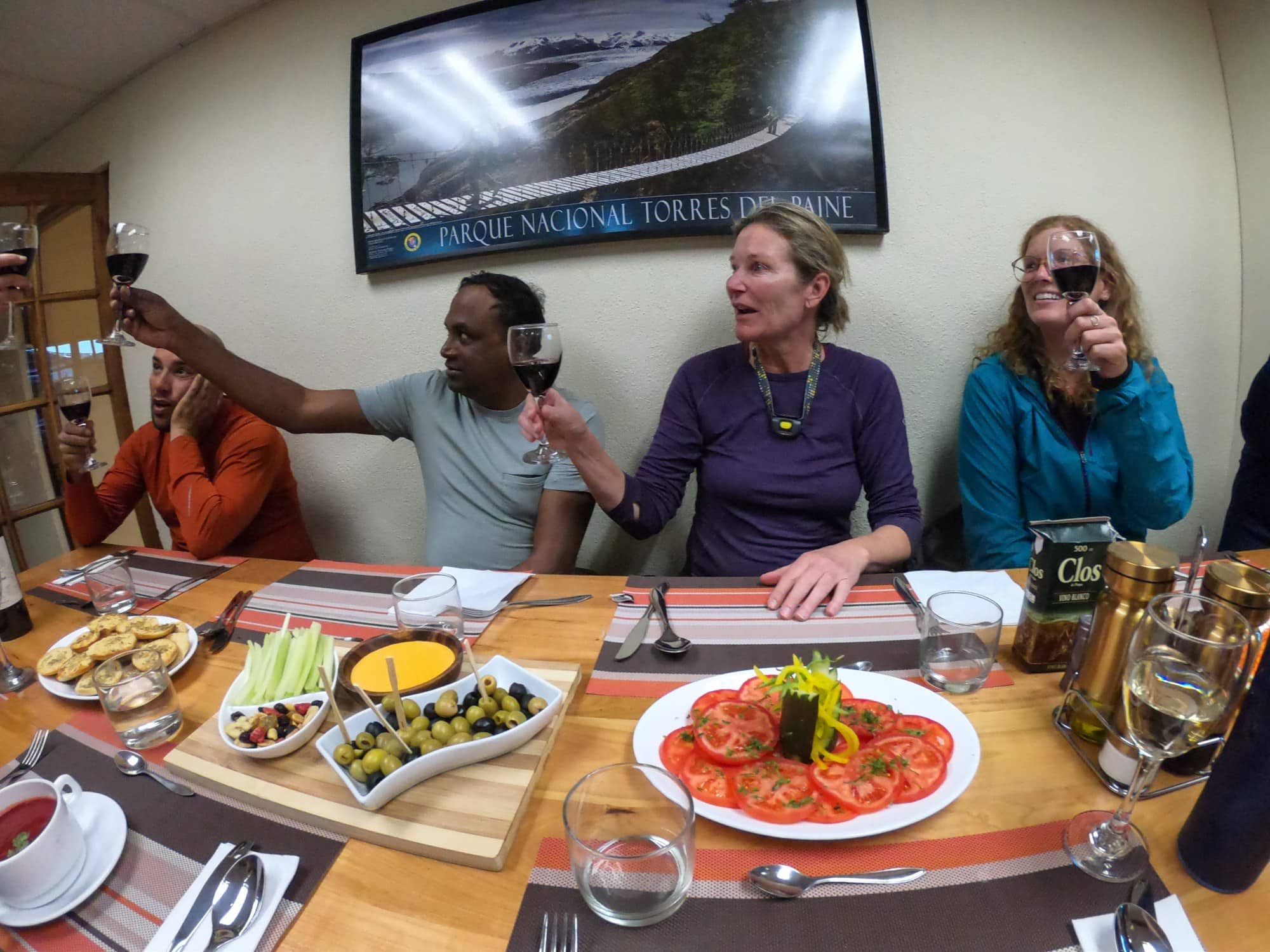 The G Adventures Hiking Patagonia In Depth itinerary spelled out exactly which meals were included and which were not. On the website, it says that they recommend $430-560 US for meals that are not included, although I think this estimate is slightly low.
The Itinerary
I thought our itinerary was very well planned out. We saw all of the major highlights on the G Adventures Patagonia tour, and we all went home with a much better understanding of what there is to do in Patagonia, how to get around, and where we'd want to revisit if any of us were to go back.
Our itinerary was broken up into four major parts:
Buenos Aires (where we started & ended – Days 1, 13 & 14)
El Chaltén (Days 2-5)
El Calafate (Days 5-8)
Torres Del Paine & the W Trek (Days 9-12)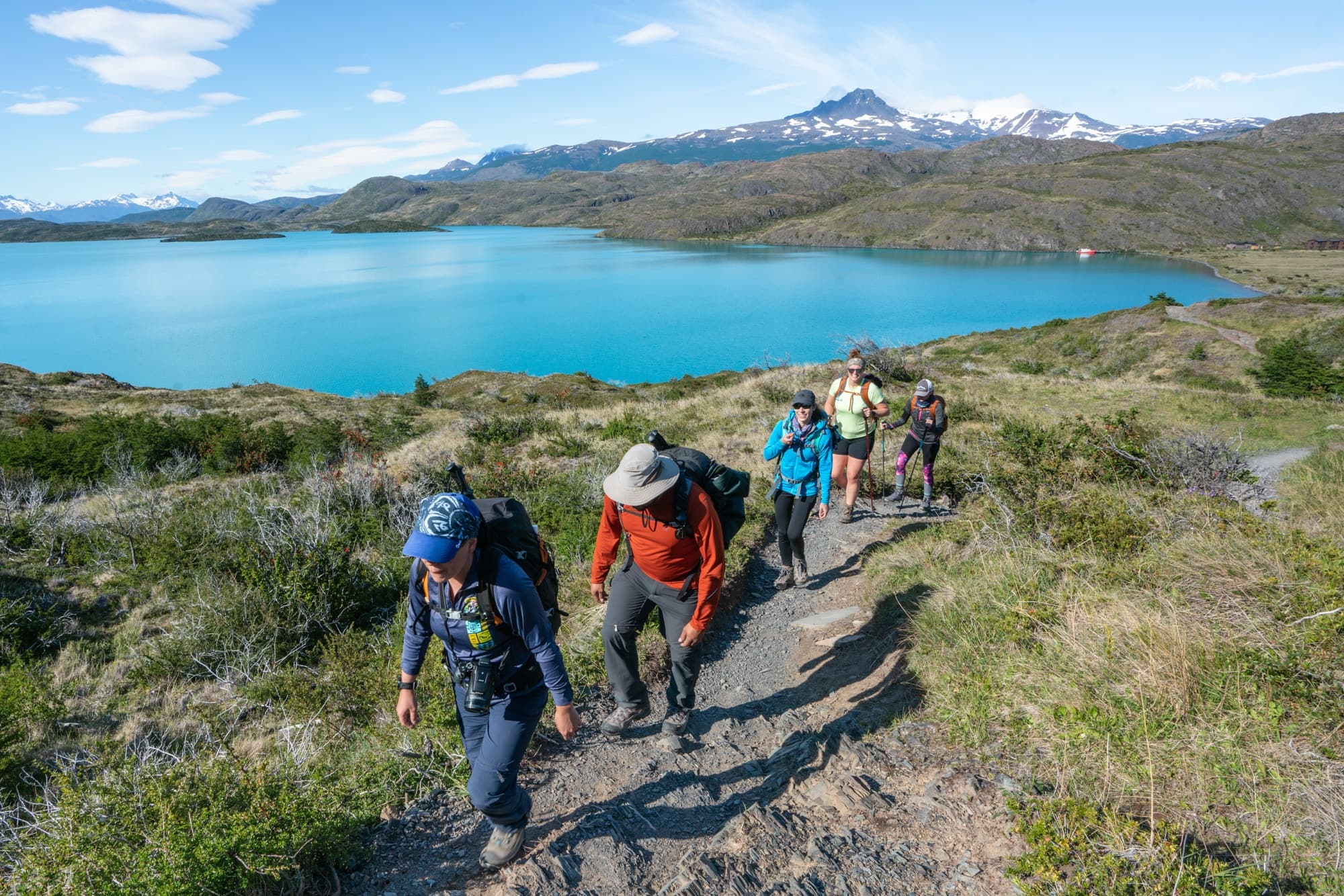 Buenos Aires (Day 1)
Our meeting point was in Buenos Aires. While this is technically the first day of the tour, the only thing organized on the first day was our welcome meeting at 6 pm at the hotel that G Adventures arranged. This gave people a chance to get settled, catch up on rest, and get cash and anything else you needed. We stayed at the Park Royal Hotel which was close to downtown and a convenient cab ride from a lot of the city's main attractions. I arrived a couple of days early and stayed at the Mine Hotel in another neighborhood called Palermo and organized a food biking tour with BA Bikes.
Our welcome meeting lasted about an hour, and then after that, we all went to a restaurant down the block that Marina made a reservation at.
If you're looking for a fun activity on Day 1, check out my review of a biking food tour I went on around Buenos Aires.
El Chaltén (Days 2-5)
El Chaltén is a small town on the northern end of Glaciares National Park and is a great hub for exploring some of Patagonia's most famous hikes. It's a very cute walkable town with excellent restaurants and easy access to some of Patagonia's most famous hikes, including Laguna De Los Tres which sits at the base of the Fitz Roy.
To get to El Chaltén, we took a domestic flight to El Calafate, and then took a private 3-hour shuttle to El Chaltén.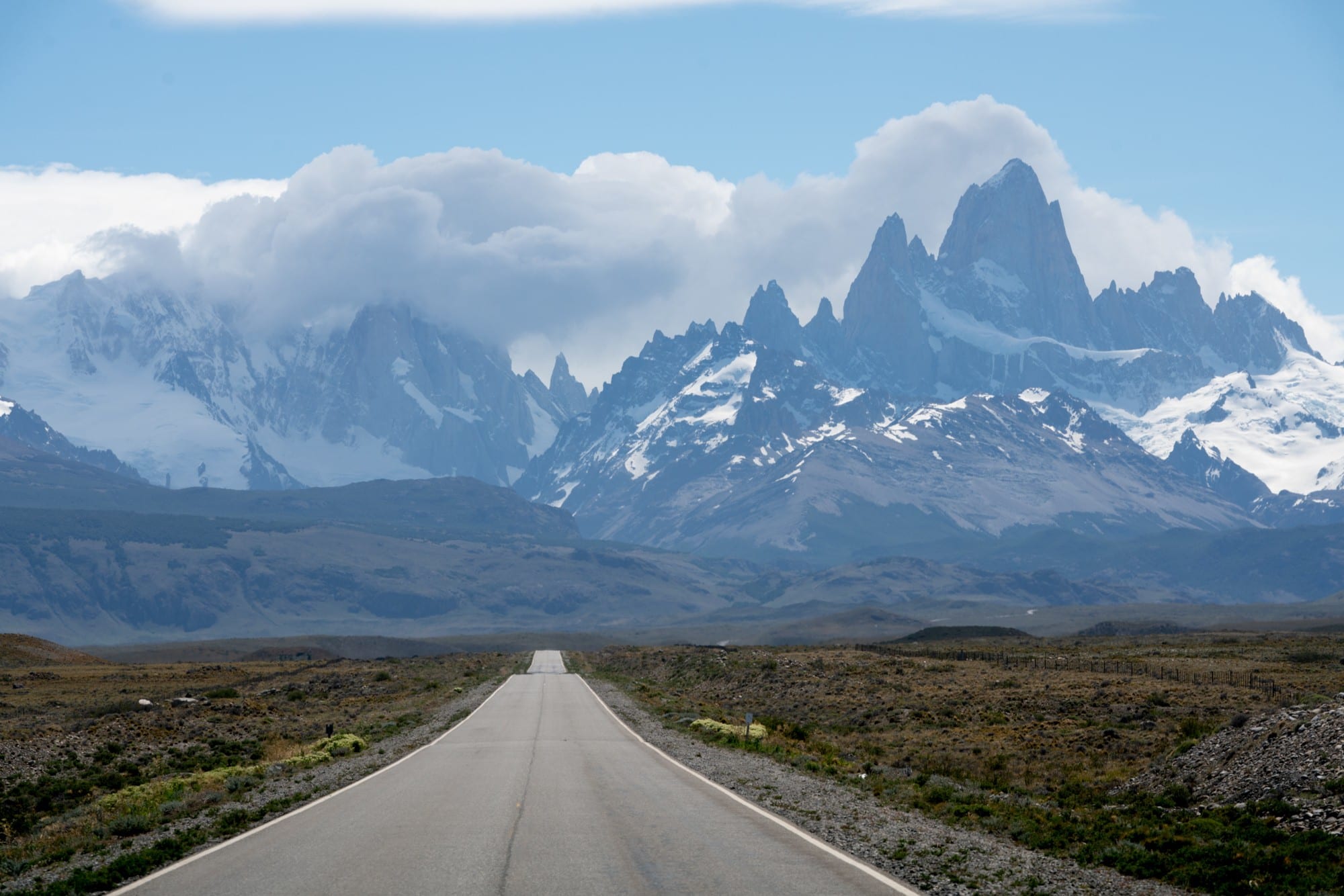 While in El Chaltén, our hike to Laguna De Los Tres got derailed because of hail and snow. However, our hikes to Laguna Torre and Mirador De Los Condores were successful and had better weather.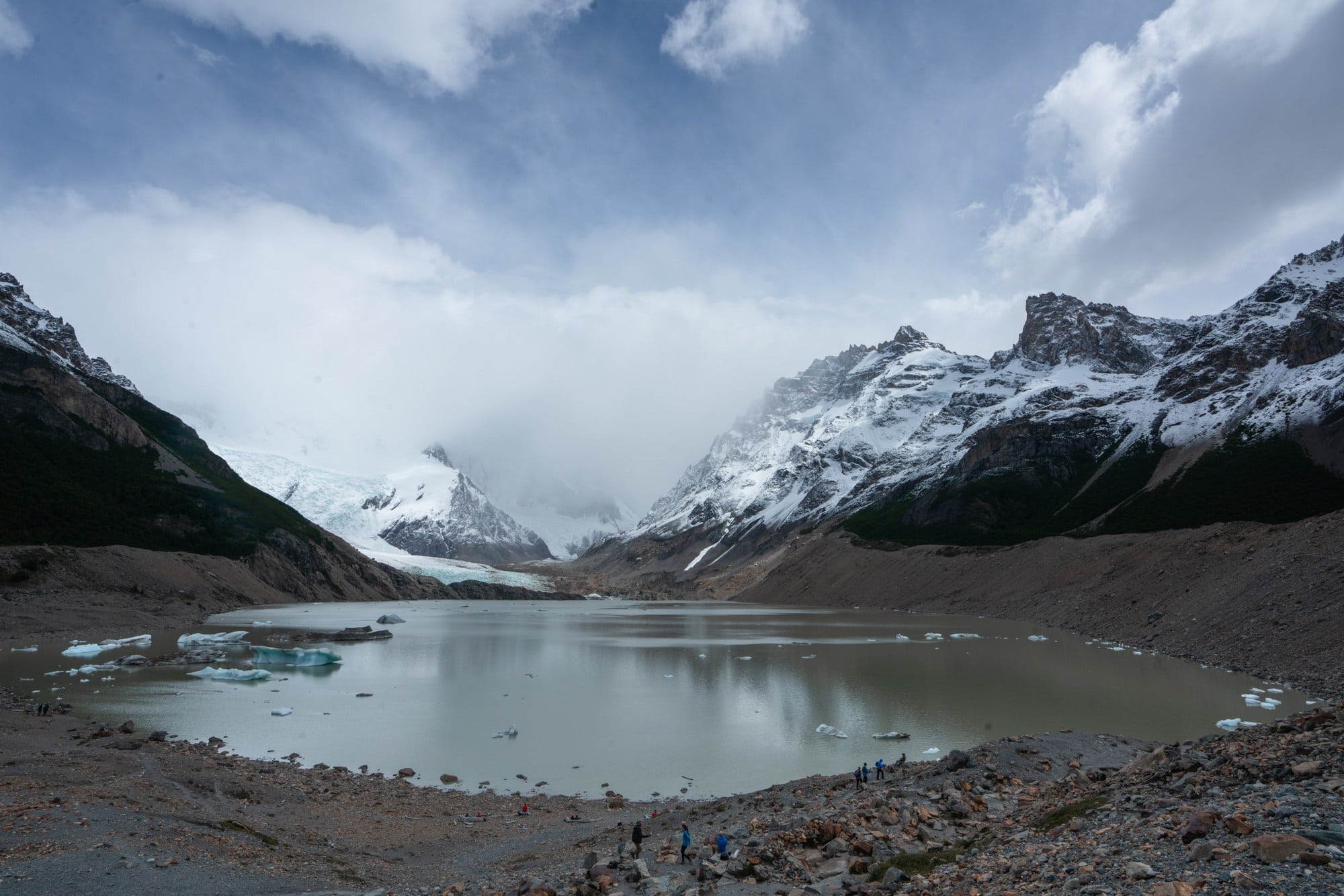 Cerro Torre
We also spent half-day rafting on Rio De Las Vueltas River, which was very exciting (and maybe at the edge of my comfort zone).
Overall our time It was action-packed, and I would love to come back here one day and explore more of the hiking trails. For a full El Chaltén itinerary,  with activities, dining and hotel options, check out my complete El Chaltén Adventure itinerary.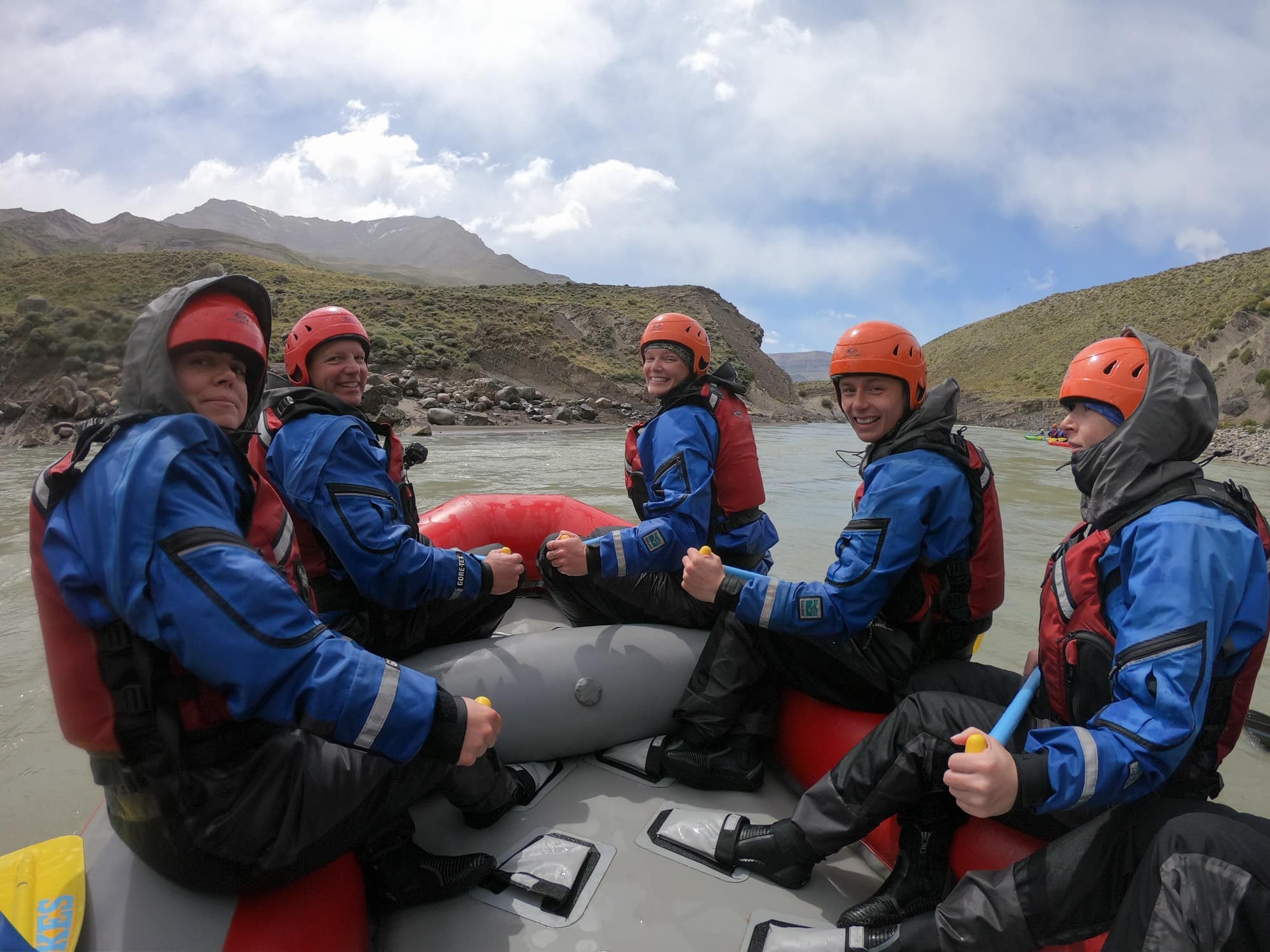 Check out our 4-day El Chaltén itinerary for adventure travelers
El Calafate (Days 5-8)
We left El Chaltén in the afternoon on Day 5 and spent three hours driving back to El Calafate, our base for exploring the world famous Perito Moreno Glacier. El Calafate is much bigger and busier than El Chaltén, with tons of shops and restaurants. There really isn't any hiking to do right around town and most of the activities require driving out towards the glacier.
We arrived late in the day, so we checked into our hotel – Posta Sur, which was about a 10-minute walk from the main drag in town. That night, we ate at La Zaina, where the specialty is lamb braised in Malbec for over 4 hours. They also had a good Old Fashioned, which was the best cocktail I had on the trip.
The next morning, we were picked up by a private shuttle and taken out to Perito Moreno Glacier. We first stopped at the boat dock where we had the option of going on a 1-hour boat ride to the base of the glacier. It cost $20, and in my opinion, this is worth it to get a different perspective. However, if it's pouring rain, you could skip this as the inside of the boat was very crowded.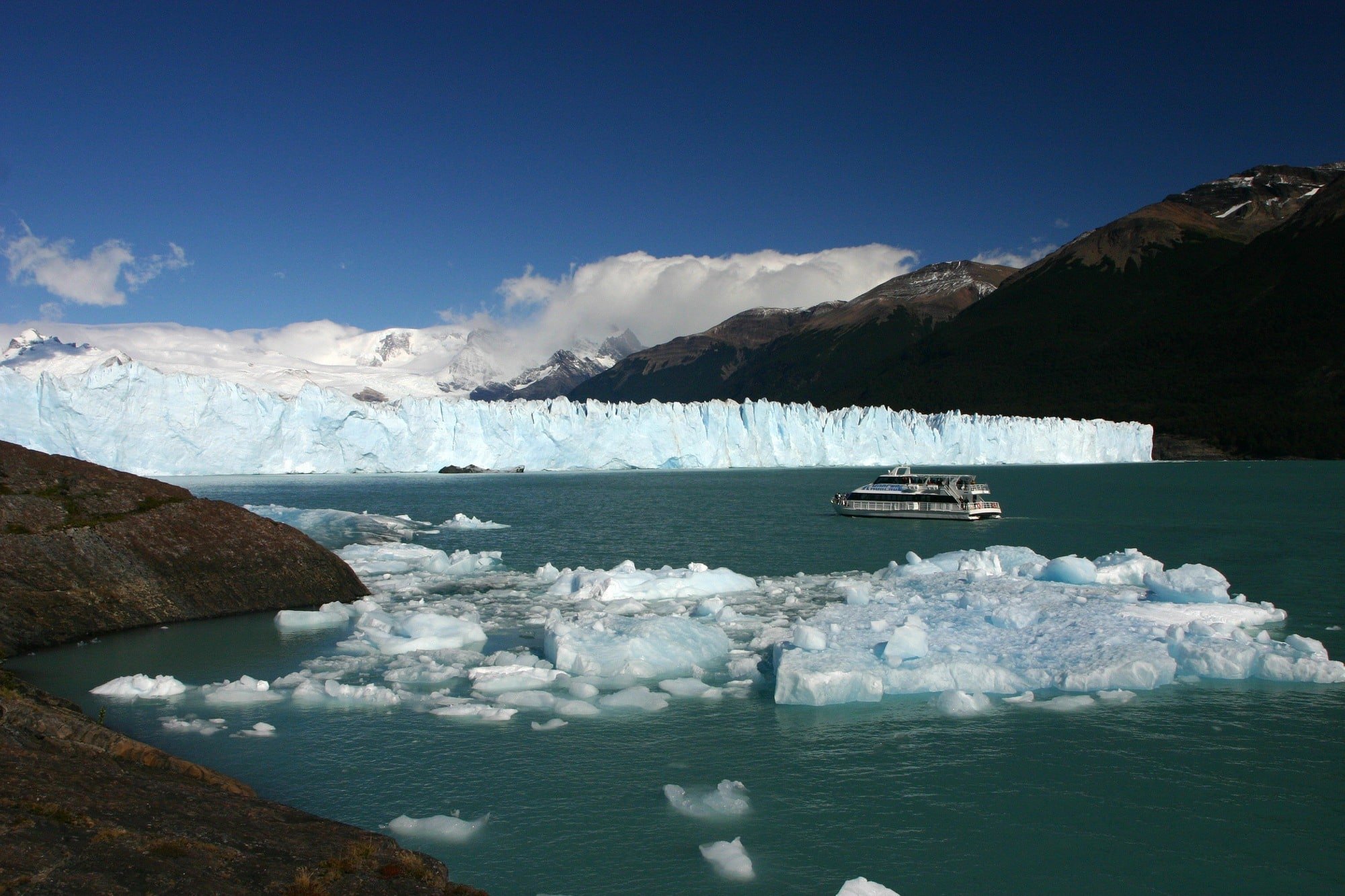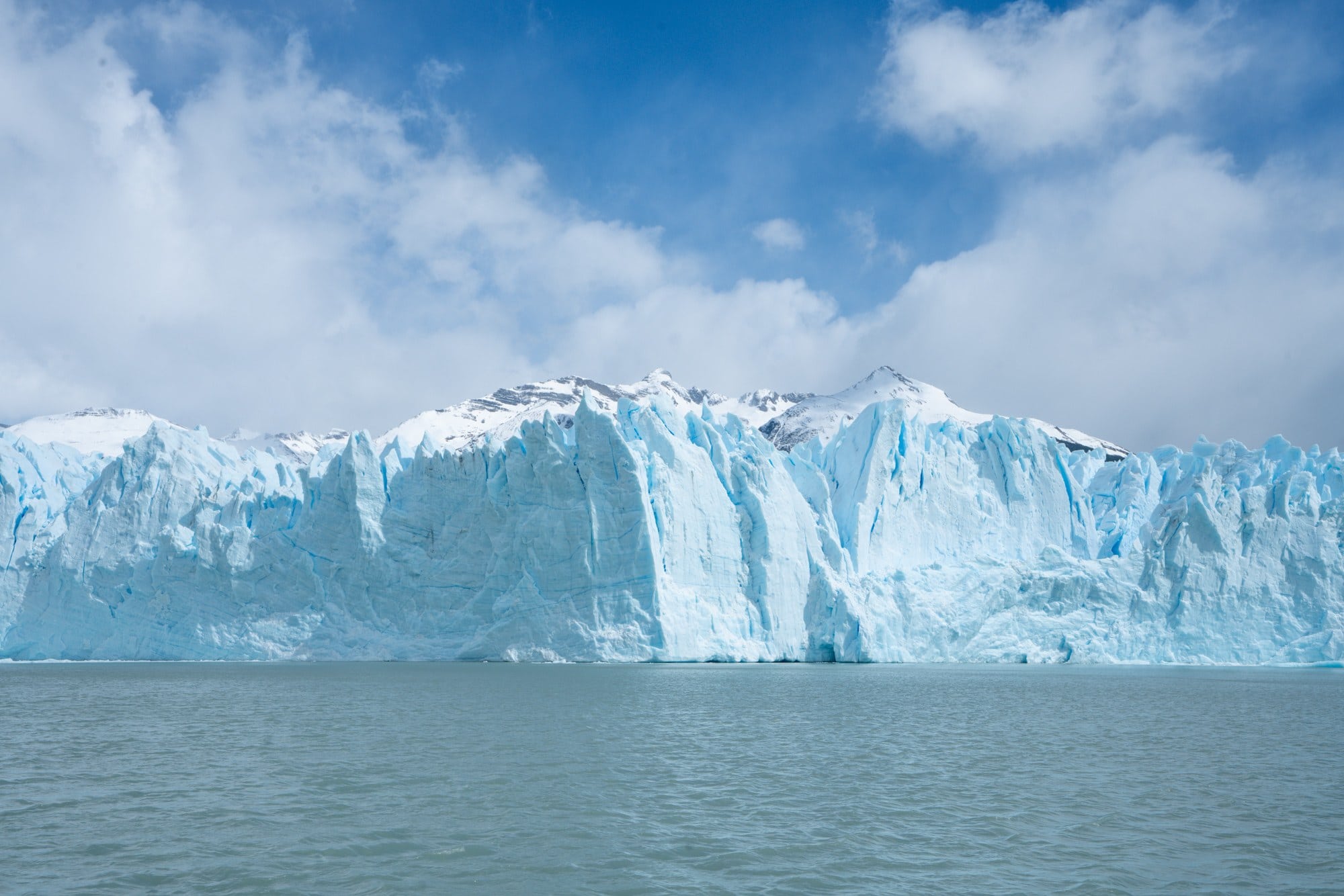 After that, we drove out to the visitors center where all of the boardwalk trails leave from. We spent a few hours exploring and stopped for some wine and snacks that we brought from the grocery store at one of the lookout points. The glacier is absolutely amazing, and we were given plenty of time to sit and watch the glacier calve.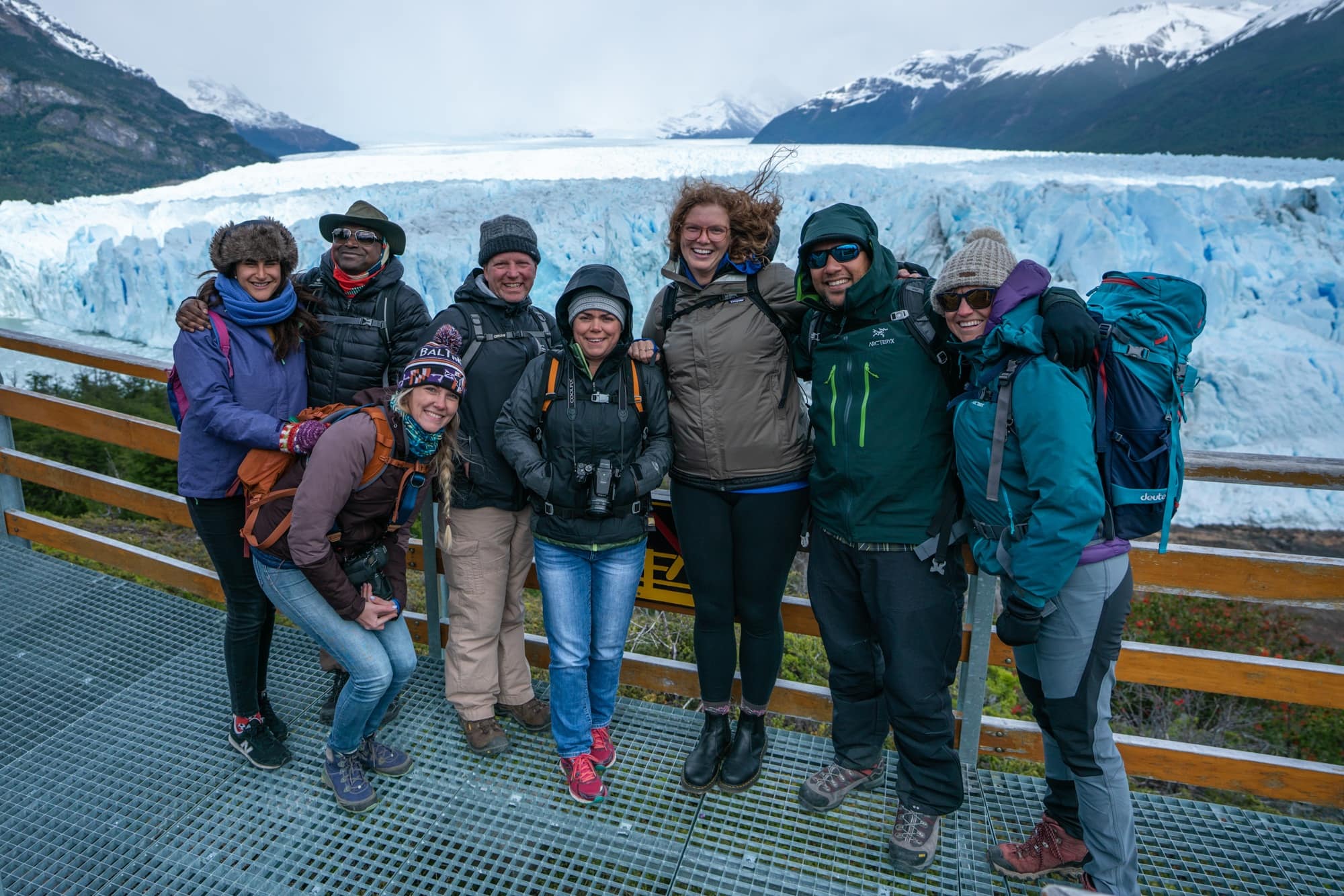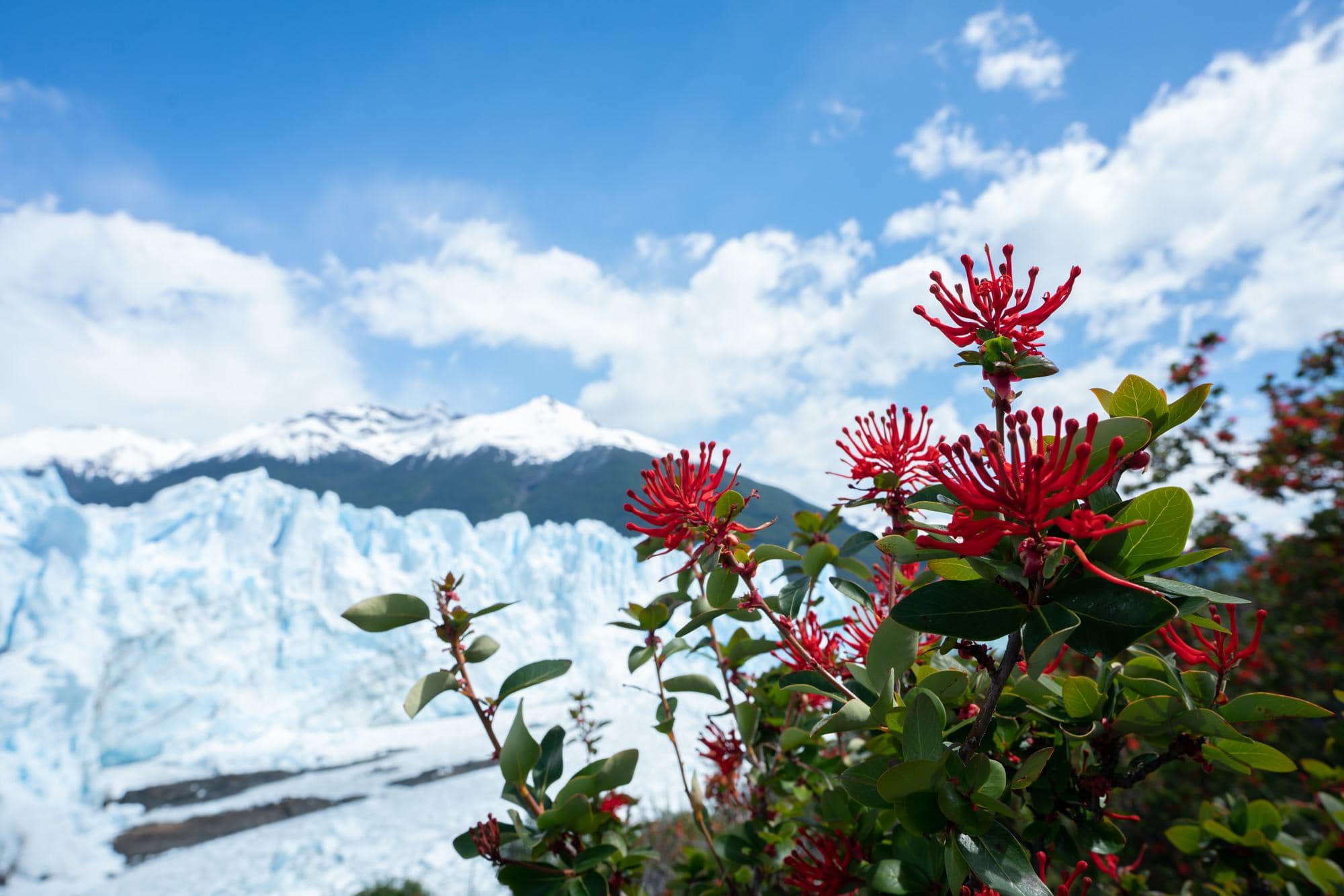 It happened to be Thanksgiving, so to celebrate, Marina arranged for us to have dinner with local El Calafate chef Gabo Carrizo who cooked up a delicious Argentinian feast in his lovely home which he refers to as Ranch Aparte. We talked, laughed, and even shed a few tears and even got to meet Gabo's 7 dogs that he rescued from the local animal shelter that he volunteers at. It was truly a special evening that I'll never forget.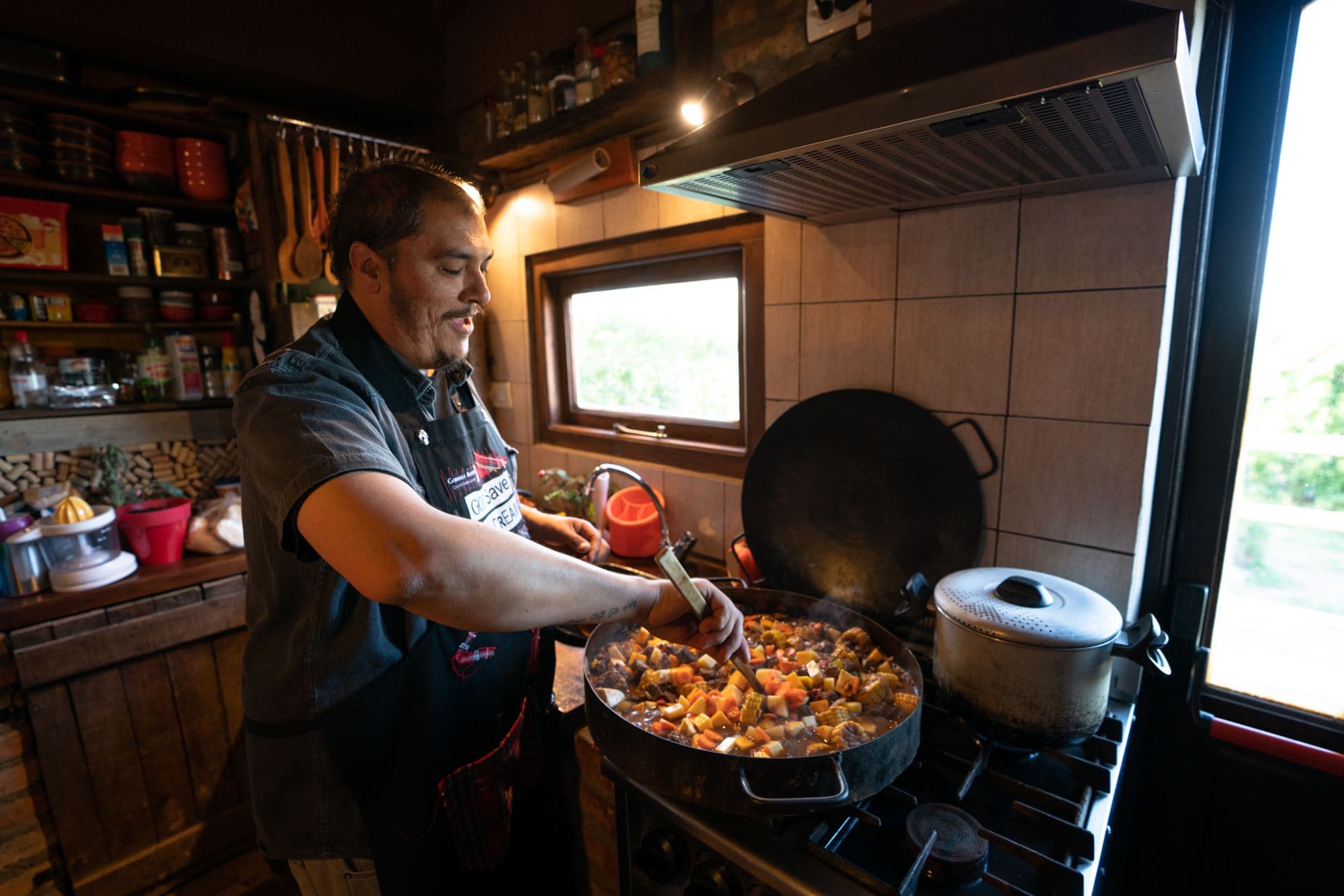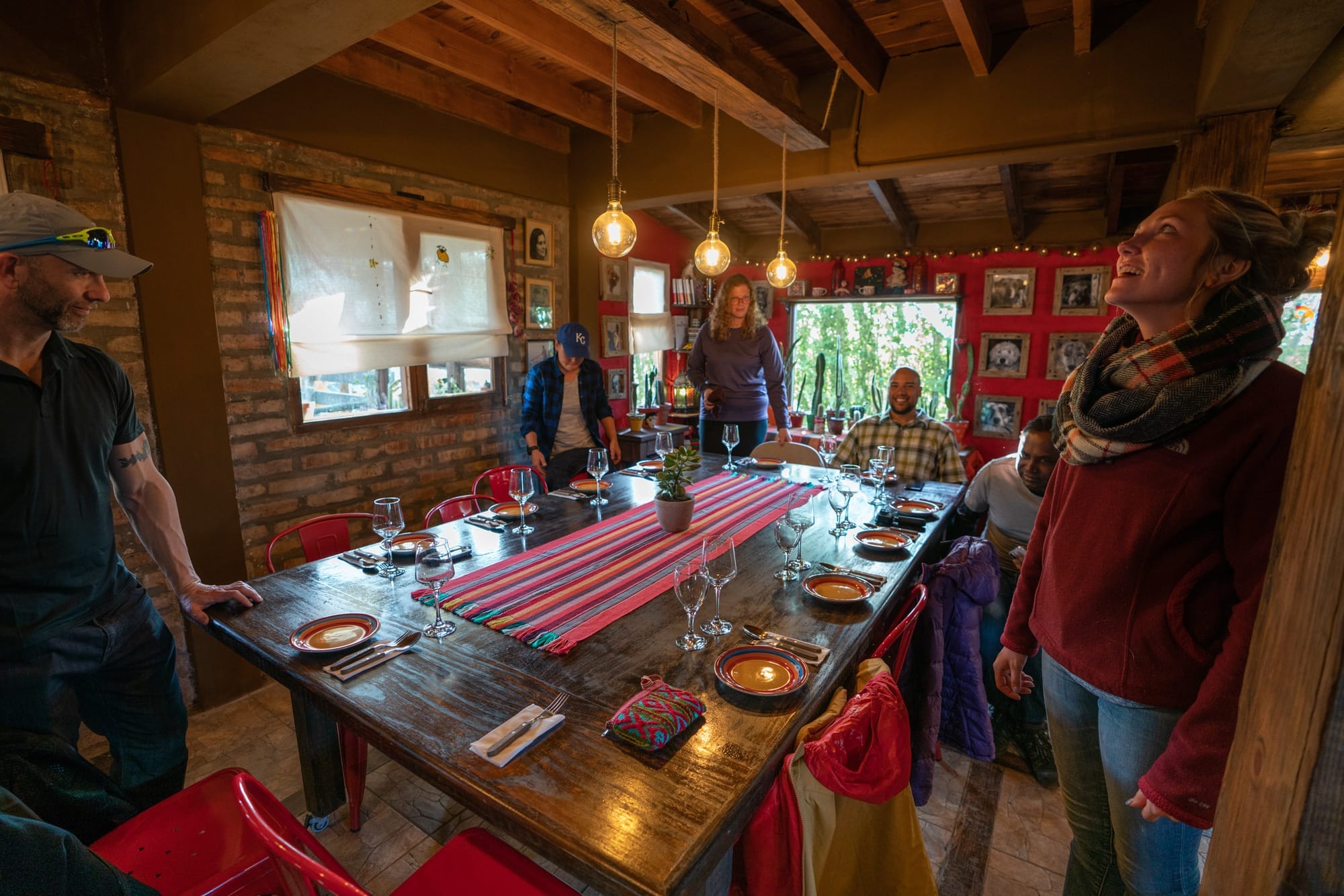 Our final day in El Calafate was a free day. On our first day of the trip, Marina gave us some options for different tours we could do on this free day, which were not included in the price of the G Adventures tour. Myself and a few others dragged our feet on making a decision. We were waiting to see what the weather was going to be like and some of the optional tours were also quite expensive. By the time we made a decision, some of the tours were canceled (i.e.: kayaking) due to wind while the others were full (i.e. trekking on the glacier). If you decide to go on this G Adventures Hiking Patagonia in Depth itinerary, I suggest doing research in advance while you are home and have good wi-fi. Figure out the date of your free day and if there is an activity you are absolutely set on, sign up in advance. The price is the same whether you book through your tour leader or if you book directly through the company, and that way you are guaranteed a spot.
That day, those of us who didn't sign up for an optional activity had a relaxing day walking around town. There are some cool bars and coffee shops, and to be honest, the rest of our itinerary was so packed, it was kind of nice to not have an agenda.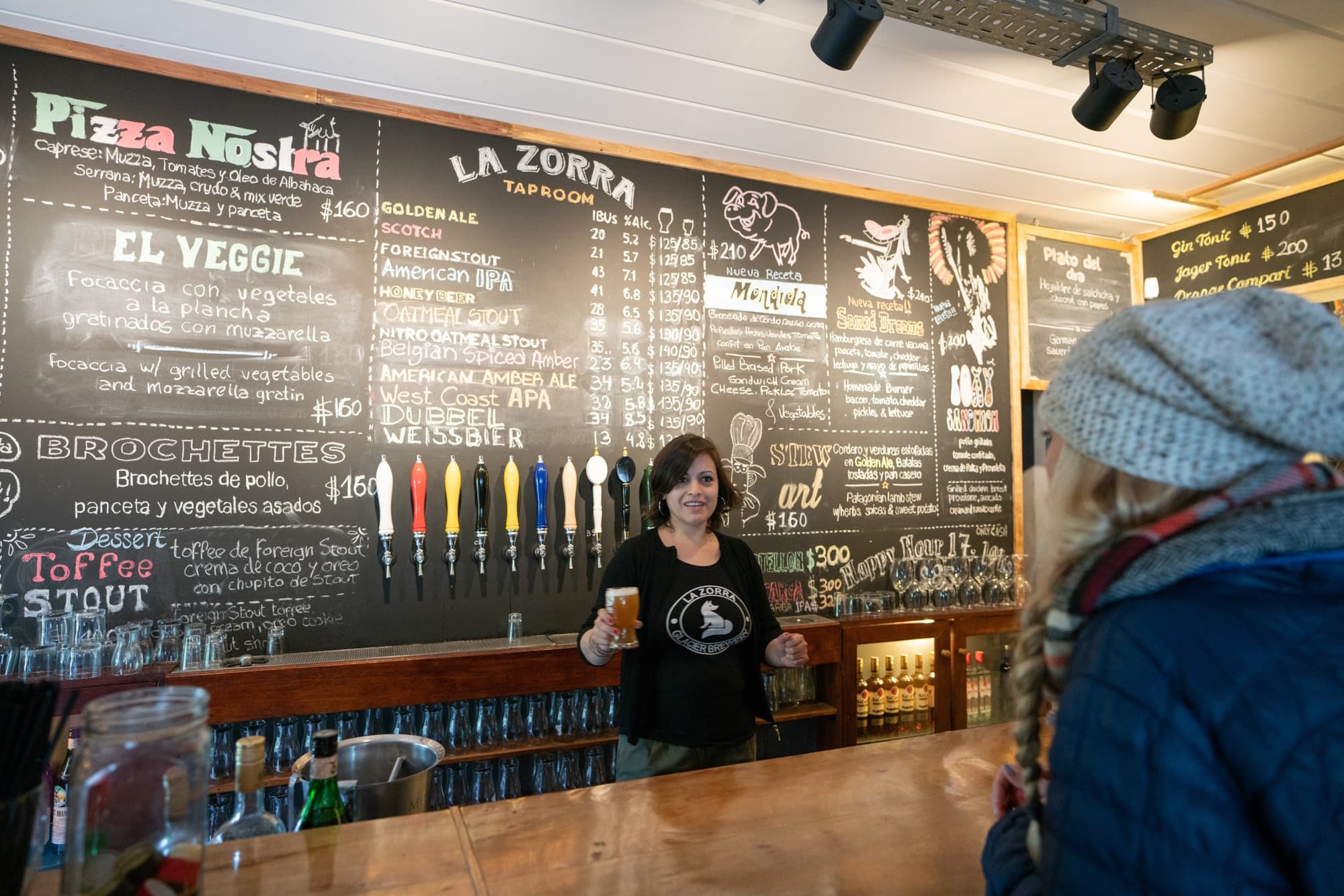 Torres Del Paine & The W Trek (Days 8-13)
From El Calafate, we caught an early morning public, yet very cushy, bus down to Puerto Natales. The overall ride took about 6 hours, including a border crossing into Chile. Marina explained the process to us, so once we got to the border, we knew exactly what to do.
Puerto Natales is the launching point for anyone visiting Torres Del Paine National Park. Once we checked into our hotel and got settled, we had a planning meeting with our two mountain guides (Jarec and Marcello) who'd be leading us on our 4-day world famous W Trek.
There are many ways to hike the W Trek. Most people take between 4-5 days, and the trek requires a ton of advance planning. Major highlights include hiking to the base of the Towers, the French Valley, and Grey Glacier, but the views are non-stop the entire W Trek.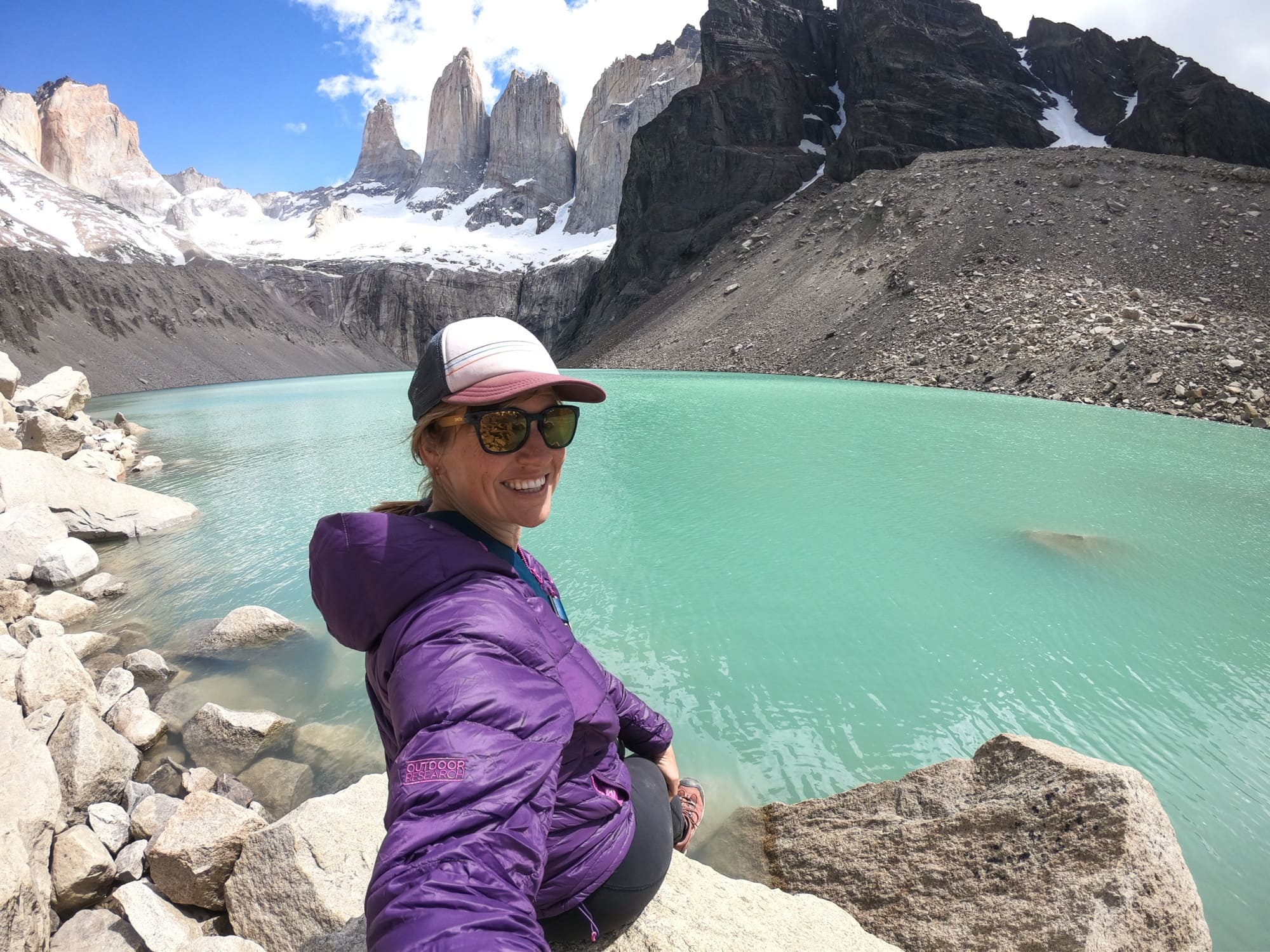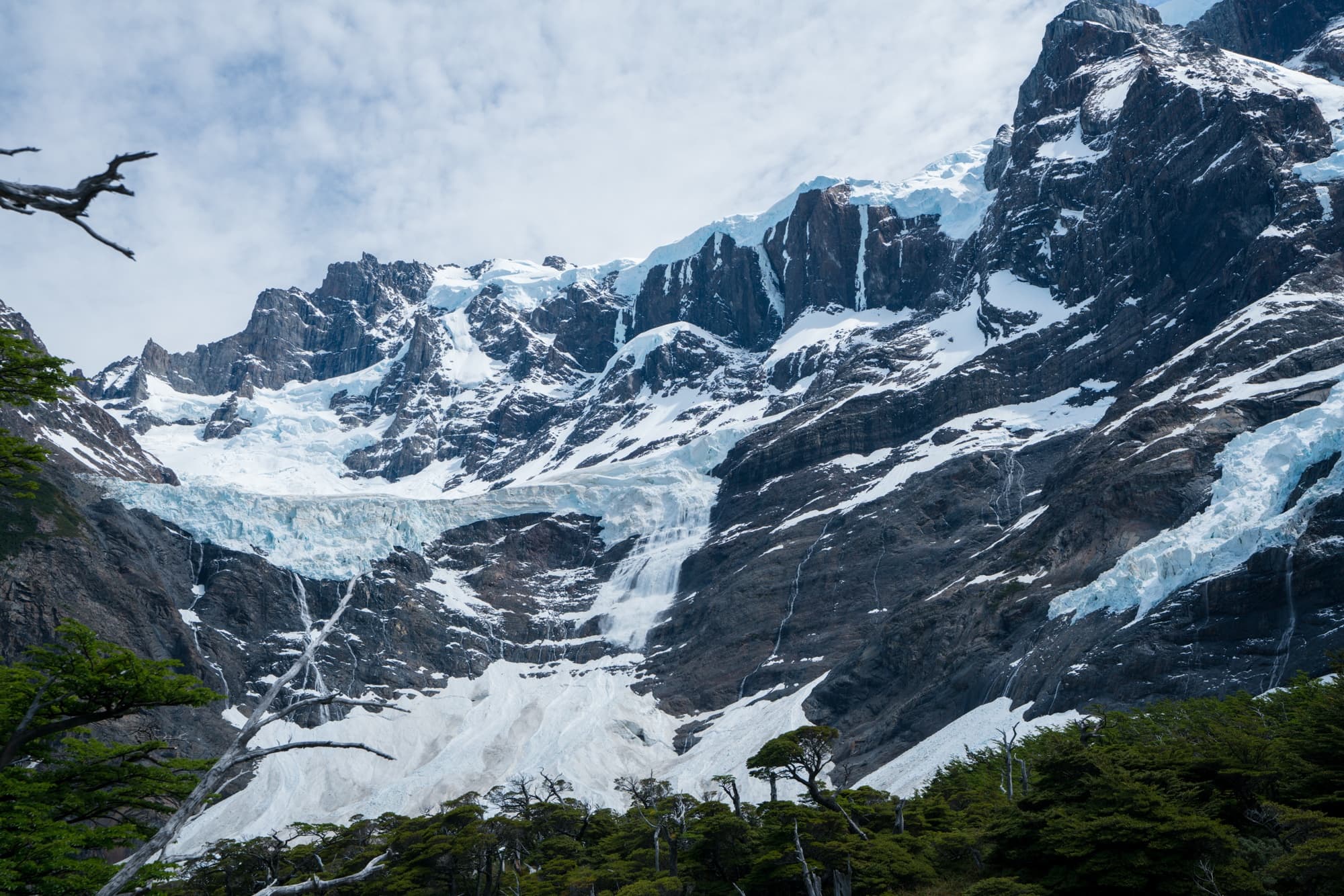 If you are traveling independently, you have to carry all of your gear in a big backpacking pack. On our trip, with the way G Adventures organized it, we only had to carry our daypacks on the hike. All of our camping gear and additional clothing was transported for us each day to the next night's campsite.
Camping within the Park is only permitted at established campgrounds. It's not necessarily a wild, backcountry experience due to popularity, but the regulations make sense in order to protect the Park and its natural resources.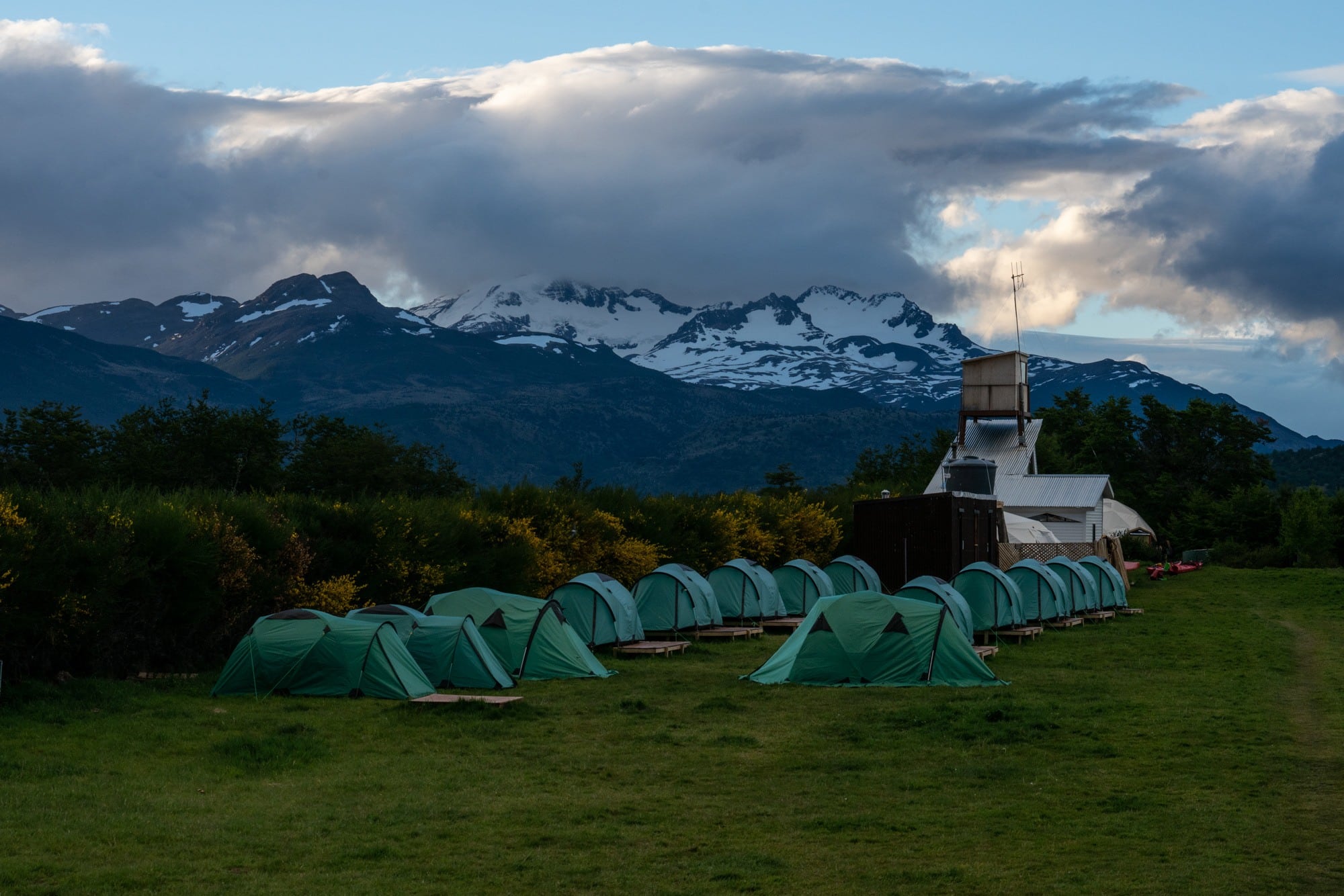 Each night we camped at a different Refugio. When we arrived, our tents and sleeping pads were already set up for us, so the work we had to do was minimal. At each Refugio, we were served hot dinner and breakfast (which is amazing considering where we were), and we were even able to order drinks at the bar every night.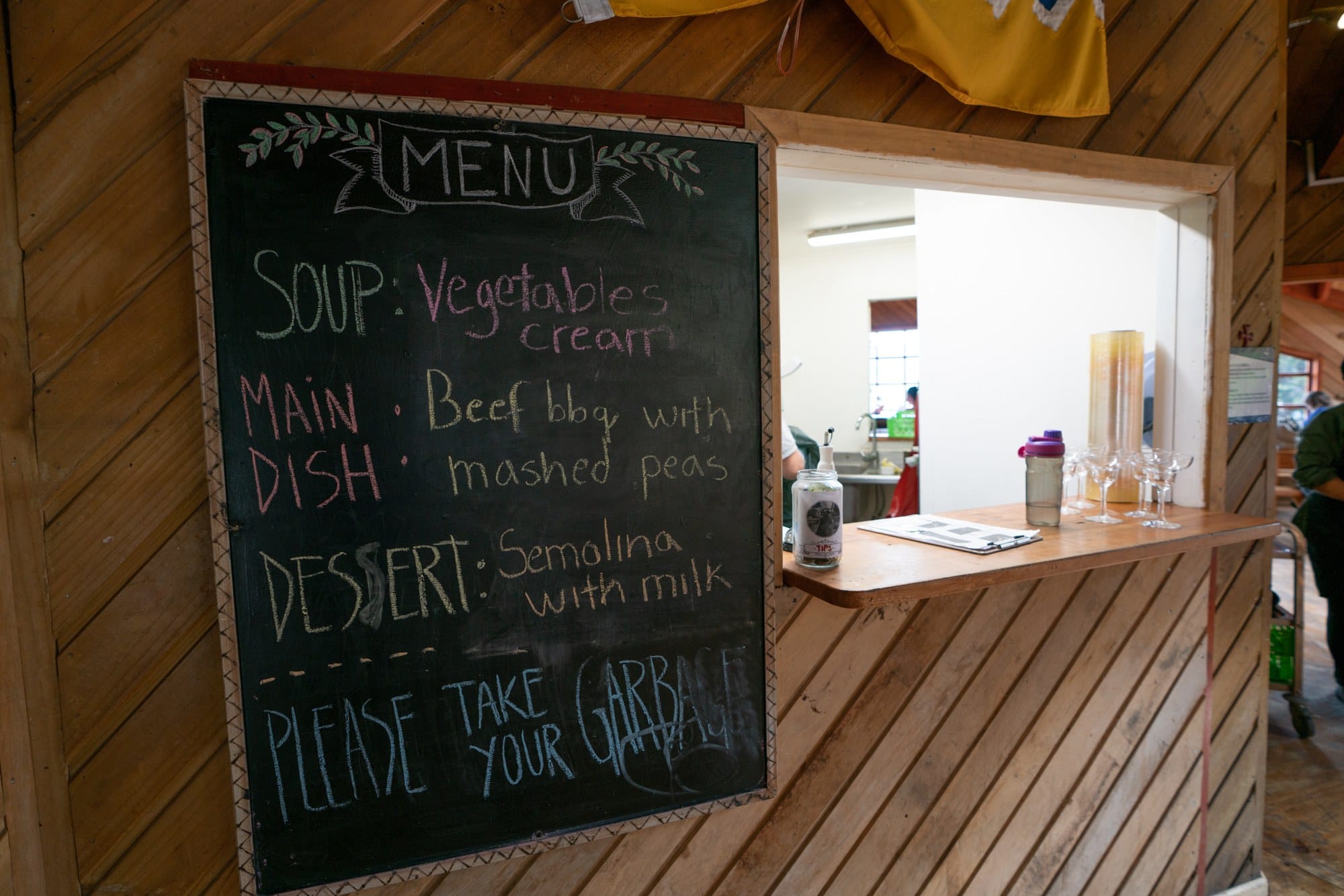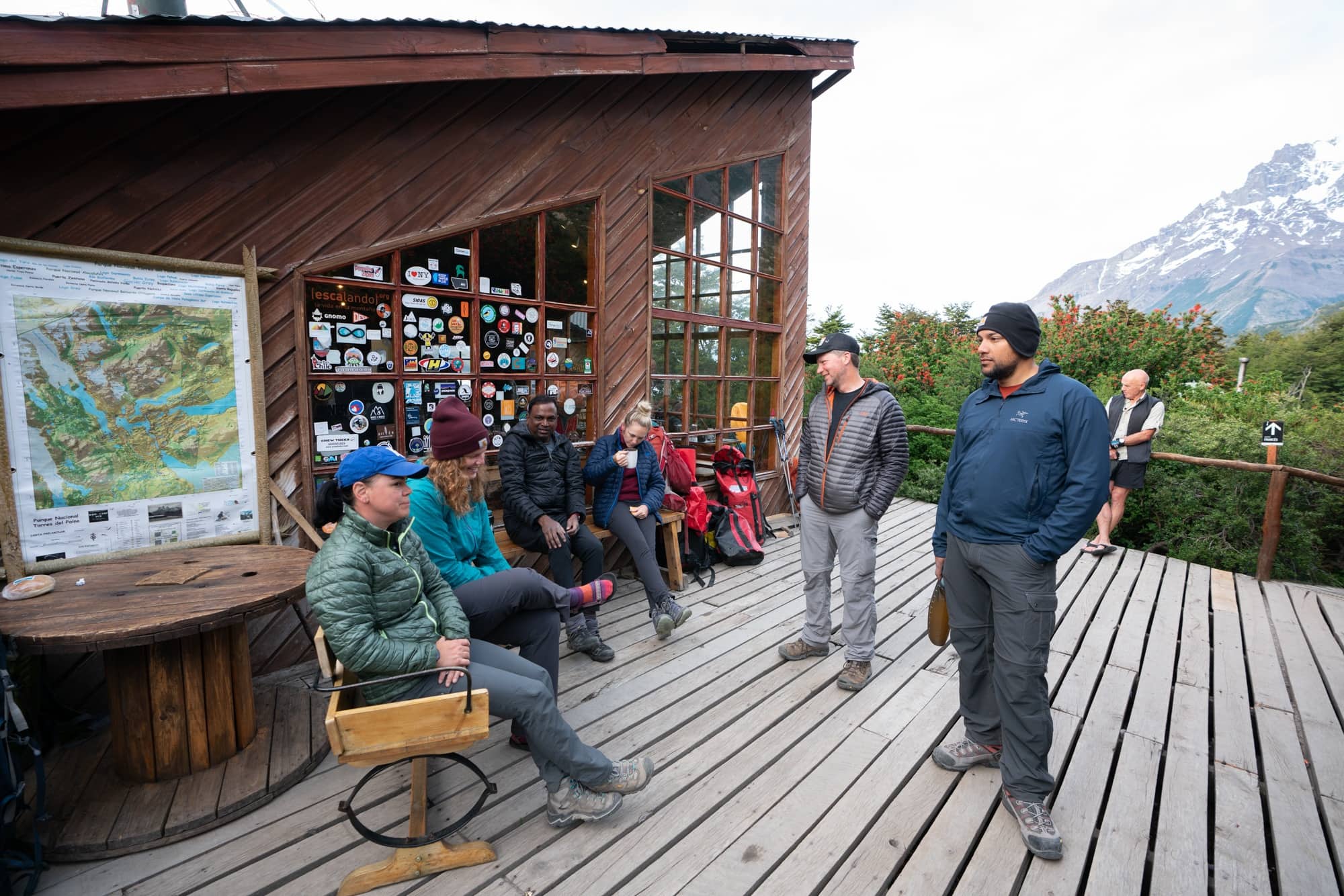 Overall, our time on the W Trek was very well organized and we were lucky with near-perfect weather. For more details on our W Trek with G Adventures, check out this blog post and watch the video below.
On the last day of the trek, we finished the hike mid-day, were transferred by private shuttle back to Puerto Natales and had a celebratory dinner with our guides at a local pizza joint in town.
Get more details and see photos of the W Trek in Patagonia
Buenos Aires (Day 13-14)
We departed very early on day 13 and had a long day of travel back to Buenos Aires. Normally you take a bus back to El Calafate and hop on a short domestic flight back to Buenos Aires. During our trip, the domestic airport was closed due to the G20 conference taking place, so we had to route through Santiago and didn't end up making it back to the city until after midnight.
On the final day of the trip, there was nothing organized and people were free to catch a flight home anytime that day. Most of us left late, so Marina gave us some ideas and also arranged for private taxis to take us to the airport that evening.
Final Thoughts
I chose G Adventures for a few reasons. First, they have a ton of experience in Patagonia and specialize in adventure-based travel. For everything we got with our trip, I thought the trip offered high value for the price we paid. Some of the other tour operators in the region charge almost double for the same itinerary. Perhaps the accommodations on those other trips are fancier, but for how little time we spent in our hotels, I'm not sure the extra price tag would be worth it.
Second, the G Adventures itinerary started in Buenos Aires, which is very easy to get to. Many of the other tour operators require you to get to El Calafate or Puerto Natales on your own, and then the tour starts from there. Having all of the local transportation from Buenos Aires worked out and included also added value to our trip.
Finally, G Adventures chooses to work with small, locally owned businesses rather than big international chains. This means we stayed in local hotels, dined in local restaurants, and used local transportation and local guides. This allowed us to connect with the local people, and our travel dollars directly strengthened and supported the local people and communities that we interacted with.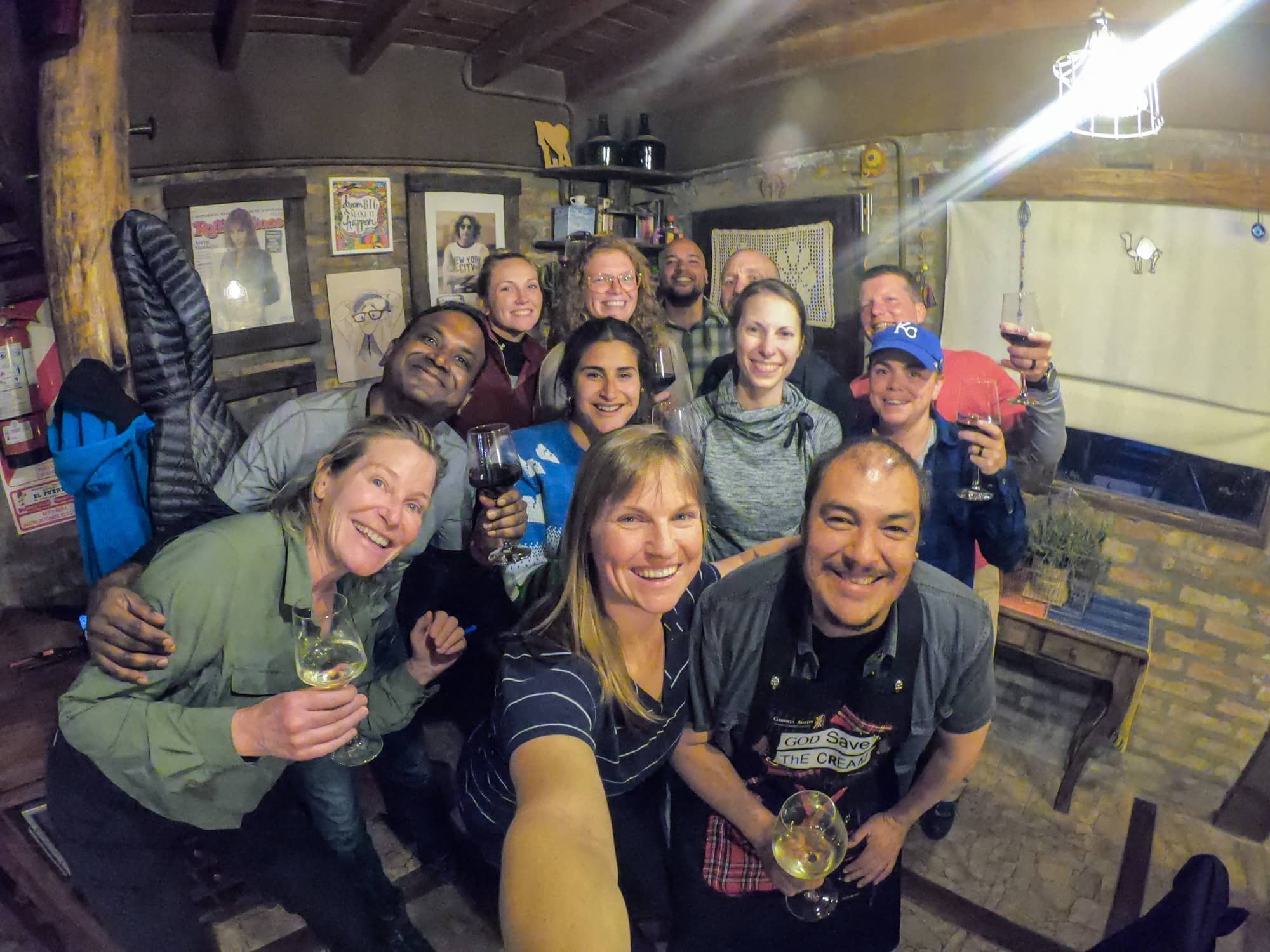 Furthermore, G Adventures has established its own non-profit called the Planeterra Foundation that has contributed millions of dollars towards social and environmental projects in the countries they run tours in.
Overall, G Adventures lived up to my expectations. They aren't a luxury tour company, but a company for adventure-minded travelers who have an interest in connecting with locals and making the most of their limited vacation time. With itineraries all over the world, I have a feeling this my Patagonia trip with G Adventures will not be my last.
For more details on the G Adventures Hiking Patagonia in Depth itinerary and to see available dates, visit the G Adventures website.
For questions about our trip or to tell me where you'd like the next Bearfoot Theory Group trip to go, leave a comment below.