Hiking the W Trek in Torres Del Paine, Patagonia: Itinerary, Gear & Camping Tips
Want to hike the W Trek in Torres Del Paine? We answer all of your questions about itineraries, gear, campsites, and whether a guide is necessary.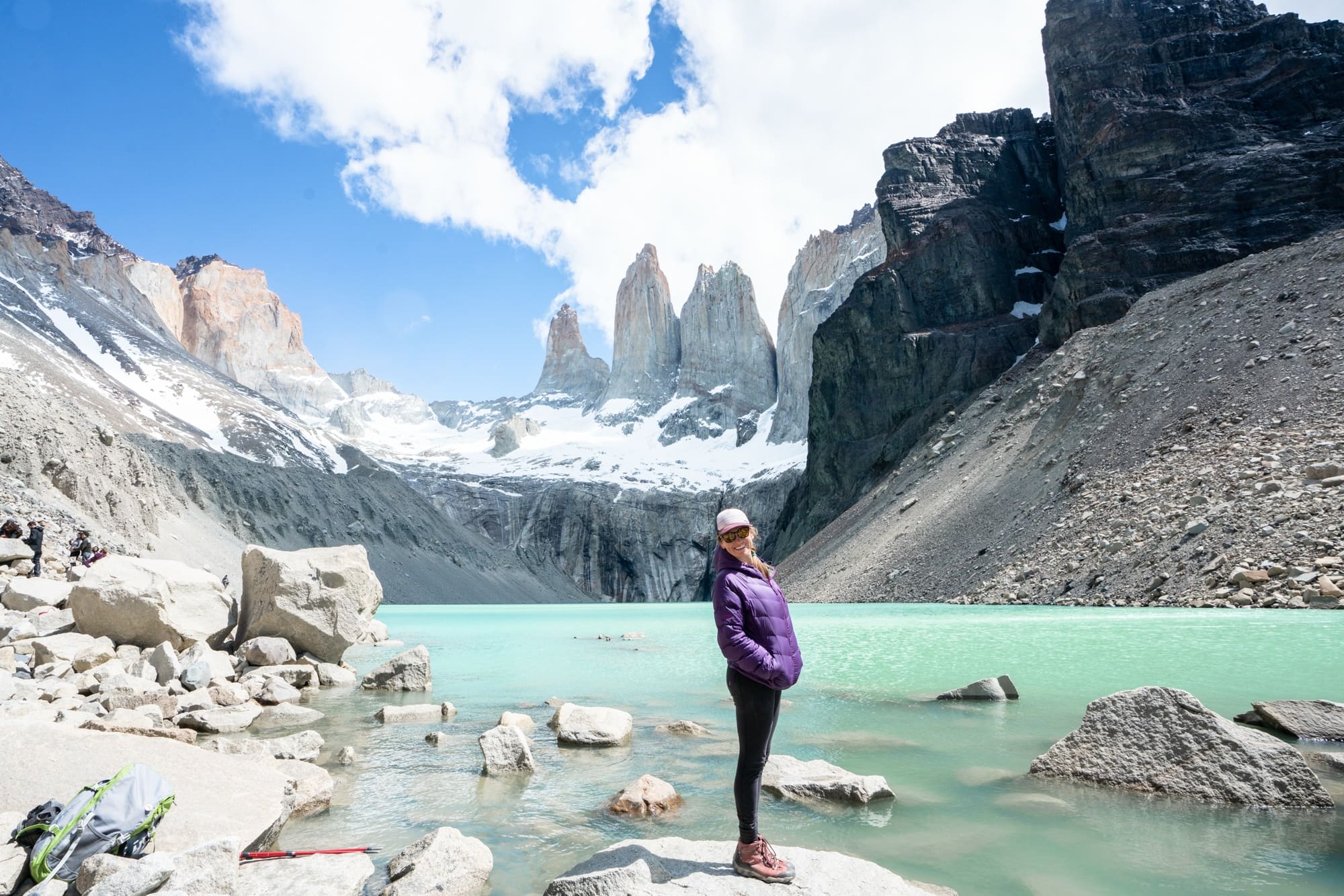 During our guided trip to Patagonia, we hiked the famous W Trek with G Adventures as part of the most recent Bearfoot Theory group trip. We spent four days and three nights in and around Torres del Paine and took in the amazing scenery of wild and rugged Patagonia.
There were comfortable campsites, home-cooked meals at the park's well-known refugios which exist to serve backpackers and day hikers alike, not to mention top-notch guides. If you've ever thought about hiking this world-famous trail look no further.
As it goes in all of the destinations we share, please practice good trail etiquette and remember to Leave No Trace. This means packing out all of your garbage, being respectful to others on busy trails, and following the established rules. 
Keep reading if you plan on hiking the W Trek in Patagonia for a complete itinerary, gear and camping tips.
W Trek YouTube Video
Watch my new YouTube vlog from our time on the W Trek in Torres Del Paine! 
What is the W Trek in Patagonia?
Torres del Paine National Park in Chilean Patagonia is the most famous hike in the entire region. It's a four to five-day hike that makes stops at the park's iconic refugios for overnight stays with an option to hike the entire trek without carrying food. While hiking, it gives travelers unparalleled views of the granite towers and some of the park's most well-known sites from up close.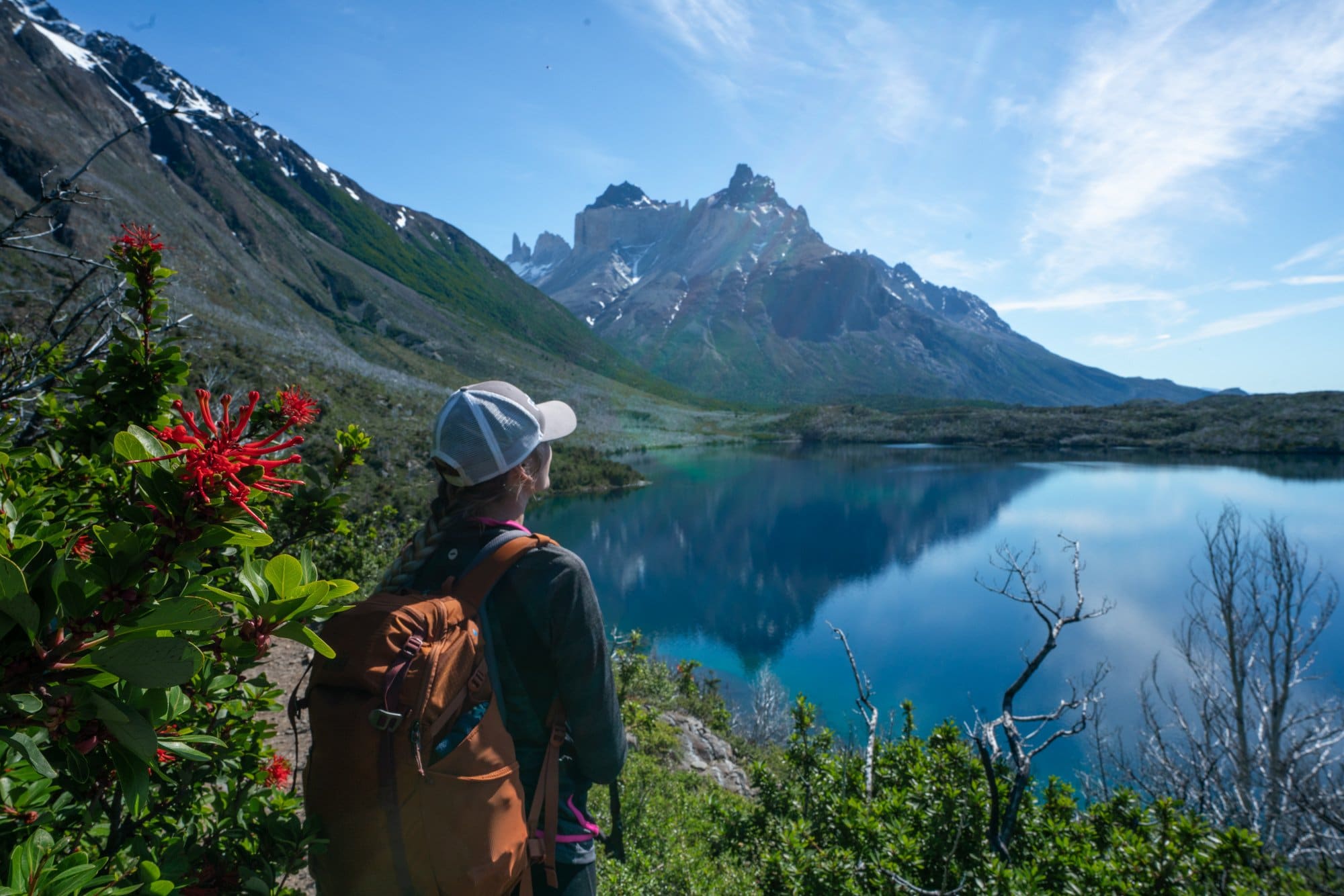 Do you need a guide to hike the W Trek?
Now I'll say that I'm not necessarily a "guided-tour-kinda-person." I love traveling independently and the spontaneity that comes with being your own guide. However, it really depends on the destination for me and in the case of hiking the W Trek, there are a number of benefits to joining a tour, or hiring a local guide at a minimum. Hiking the W trek requires a ton of advanced planning. All of the campsites are run by different operators and fill up from 6 months to even a year in advance. Getting your desired dates and sites can be difficult.
If you hike the W Trek with a tour, you can be more spontaneous with your travel plans since the campsite reservations are made for you.  You won't have to book a year in advance in the case that you find yourself with unexpected vacation time. You'll also learn so much more about the culture, local language, geography and history of the park because of the guide's own personal experience and familiarity with the area.
Our two local guides contracted by G Adventures, Jarek and Marcello (along with our G Adventures tour guide Marina) were very knowledgeable, a lot of fun, and had high safety standards, and I had a more memorable experience because of them.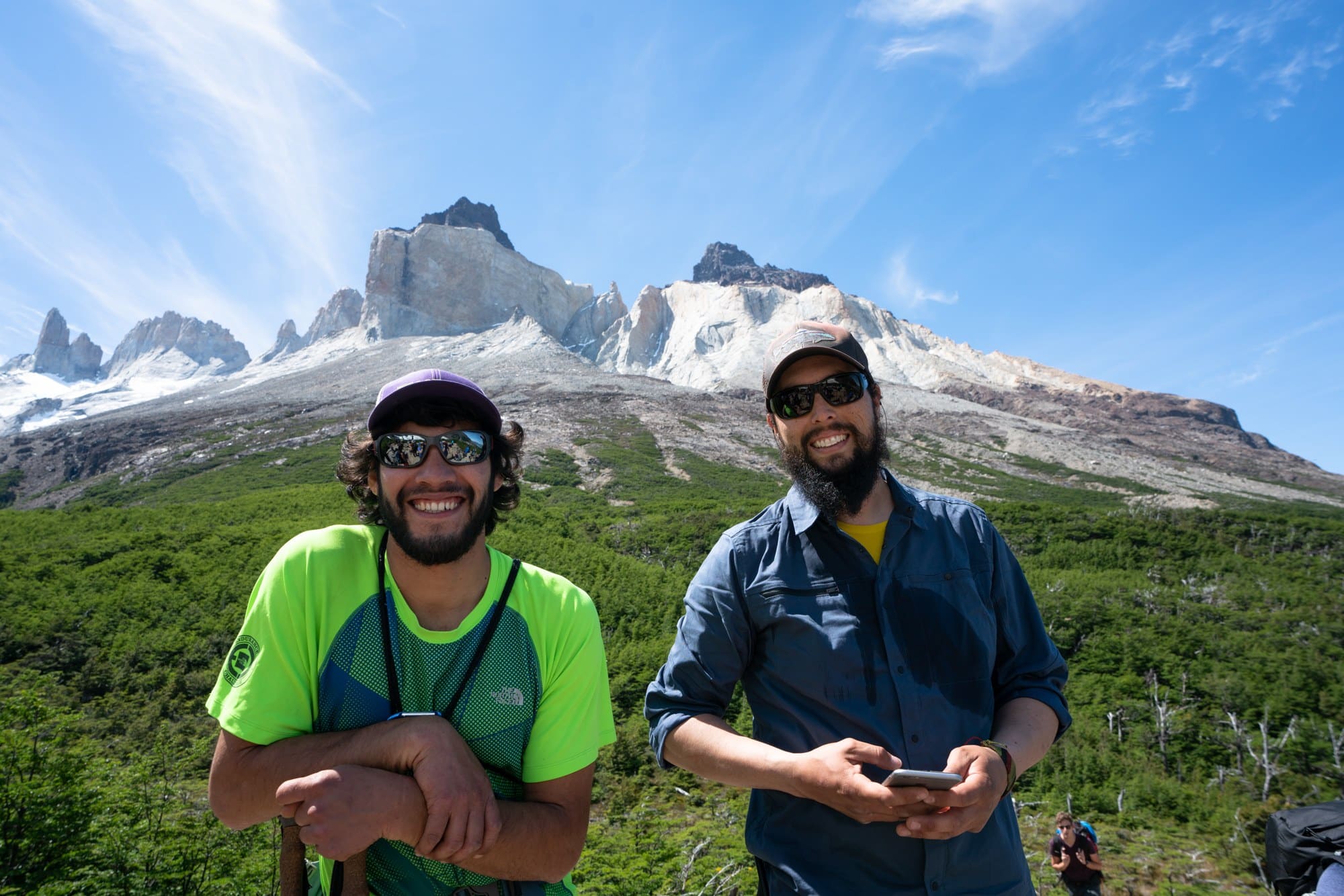 They were adamant about Leave No Trace practices and were full of local insight including what water sources were safe to drink, prime lunch spots, and more.
G Adventures even arranged for us to have all of our gear transported for us each day to the next campsite. So all we had to carry was our daypacks full of food, water, camera, and extra hiking layers. Plus, all of our meals were set up for us, we always had a hot breakfast and dinner at the refugios and were given a boxed lunch for the trail every day.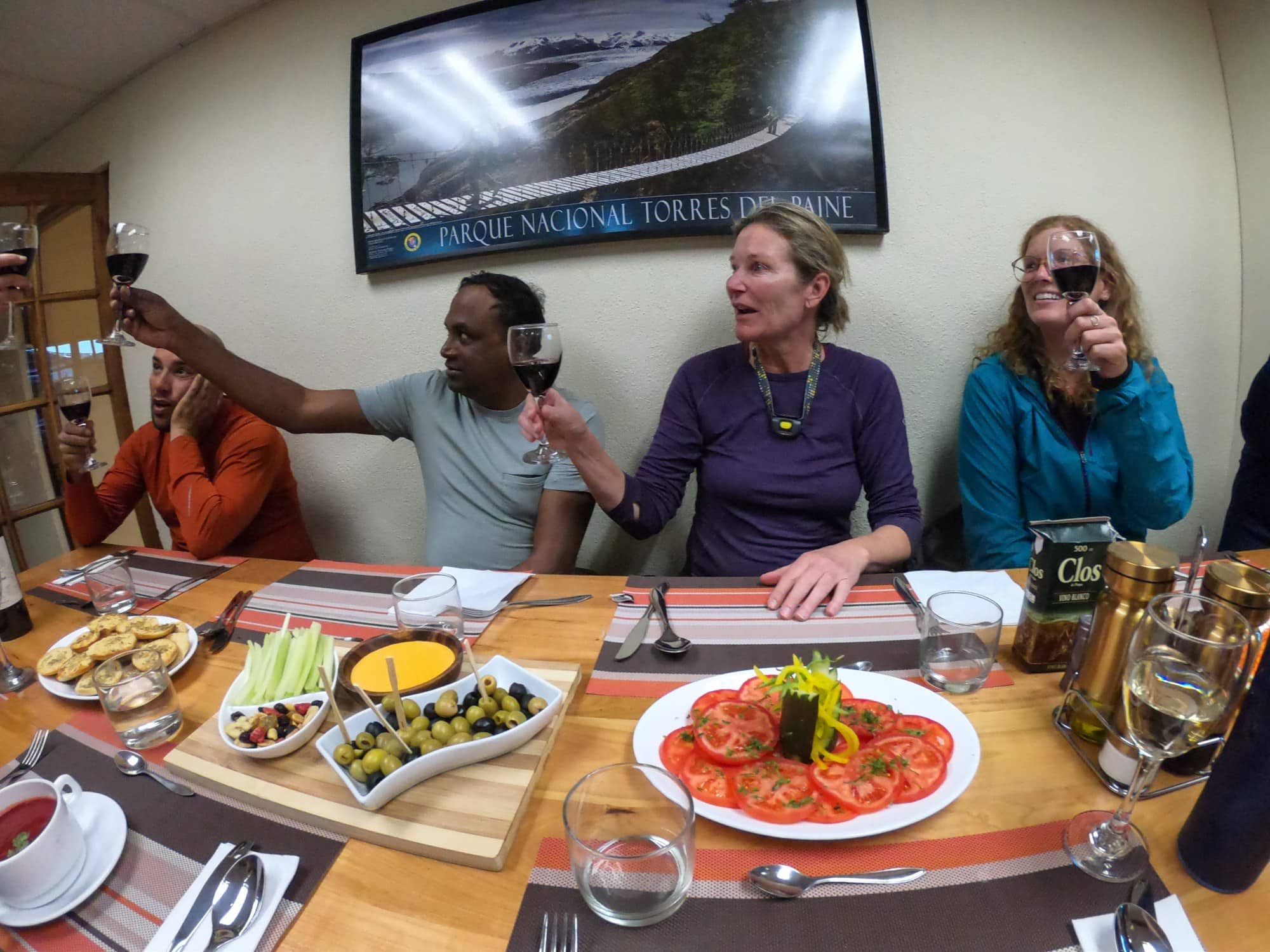 It's worth pointing out that joining a tour or hiring a guide is the more expensive option; so you have to decide if the logistical conveniences are worth it to you. If you do decide to do it independently, don't worry about hiking it solo. The trail is very well marked and well traveled, so it would be tough to get lost.
Overall, I thought our G Adventures tour was a great value given how much time and effort they saved us in planning and the amazing experience we had as a group. You can read the full review of my Patagonia G Adventures tour here. 
If you do want to do it independently, check out these resources:
Want to go on this guided trip? Check out available dates on the G Adventures website!
Leave No Trace When Hiking in Patagonia
Whether you are traveling with a guide or not, please educate yourself on local Leave No Trace practices.  Here's a quick refresher if you're a little fuzzy on the most basic (and global!) ethics…
Anytime you go outside, pack out your toilet paper and don't go to the bathroom near water sources
Stay on the trail. Don't cut switchbacks or take shortcuts.
Only camp at established campsites (making your own campsite in Torres Del Paine is prohibited)
NO CAMPFIRES OR BURNING TOILET PAPER (there was a huge fire recently that burned a huge portion of the park).
There is also no smoking allowed on the trail.
Make sure you secure your trash when you are eating. It is very windy in Patagonia and if you leave a wrapper sitting on your pack while you eat, there is a good chance it will blow away.
Pack out all of your trash, and don't leave your food trash in refugio bathrooms. It's much easier if everyone just takes the trash they produce back with them to Puerto Natales and disposes of it there.
Leave wildlife alone. If you are lucky enough to encounter wildlife, don't approach or feed them.
Yield to uphill hikers and be friendly. This is a world-famous hike and it's important to share it and practice good trail etiquette.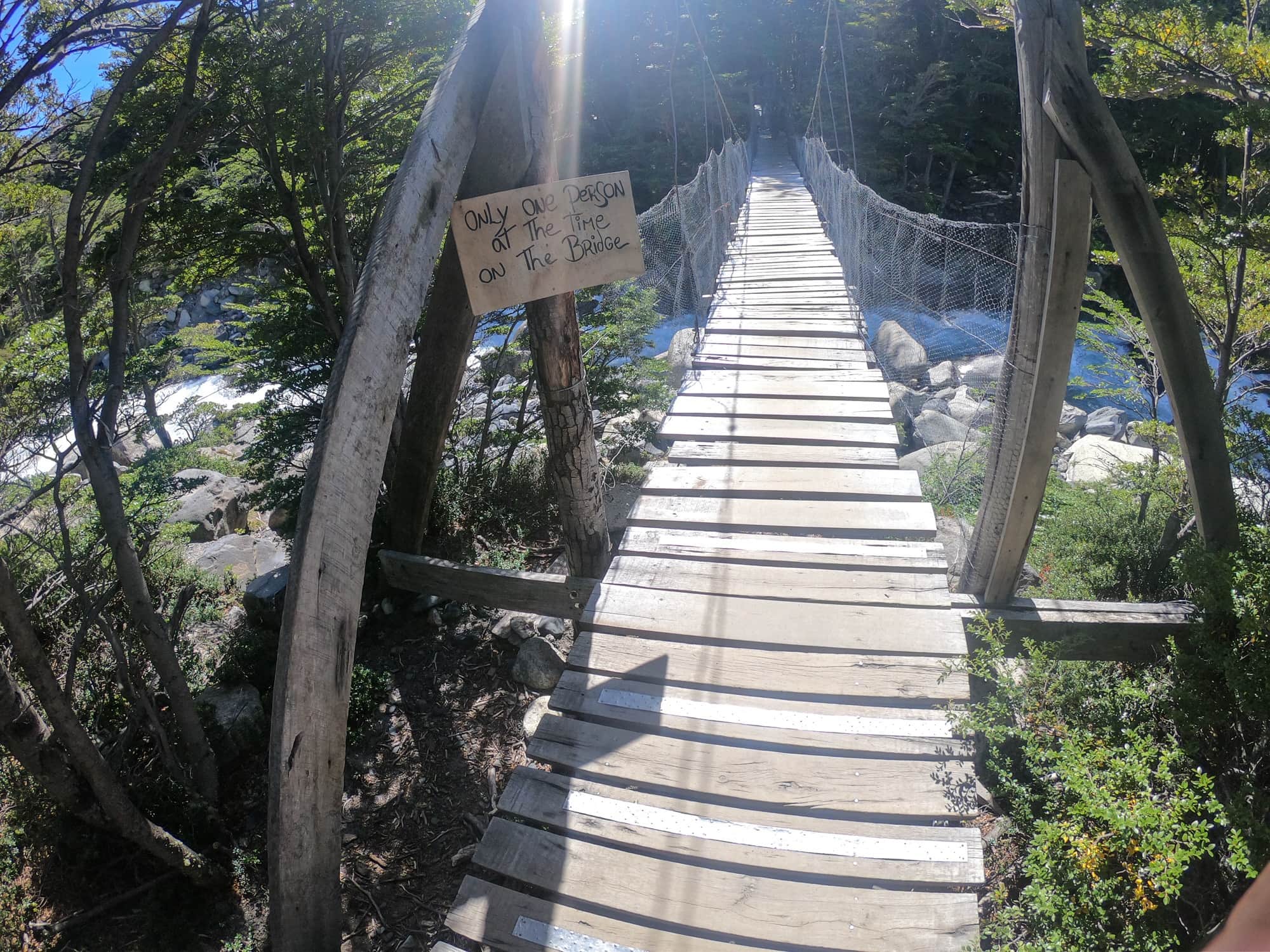 Best Time to Hike the W Trek
The W Trek can be hiked year-round (including winter with a guide). The busy season is December through late March. This is the warmest time of year, but also when you'll experience the strongest winds. April is Patagonia's fall with beautiful bursts of colors, while November is Spring when you'll encounter wildflower blooms. No matter when you go, you should always be prepared for crazy weather.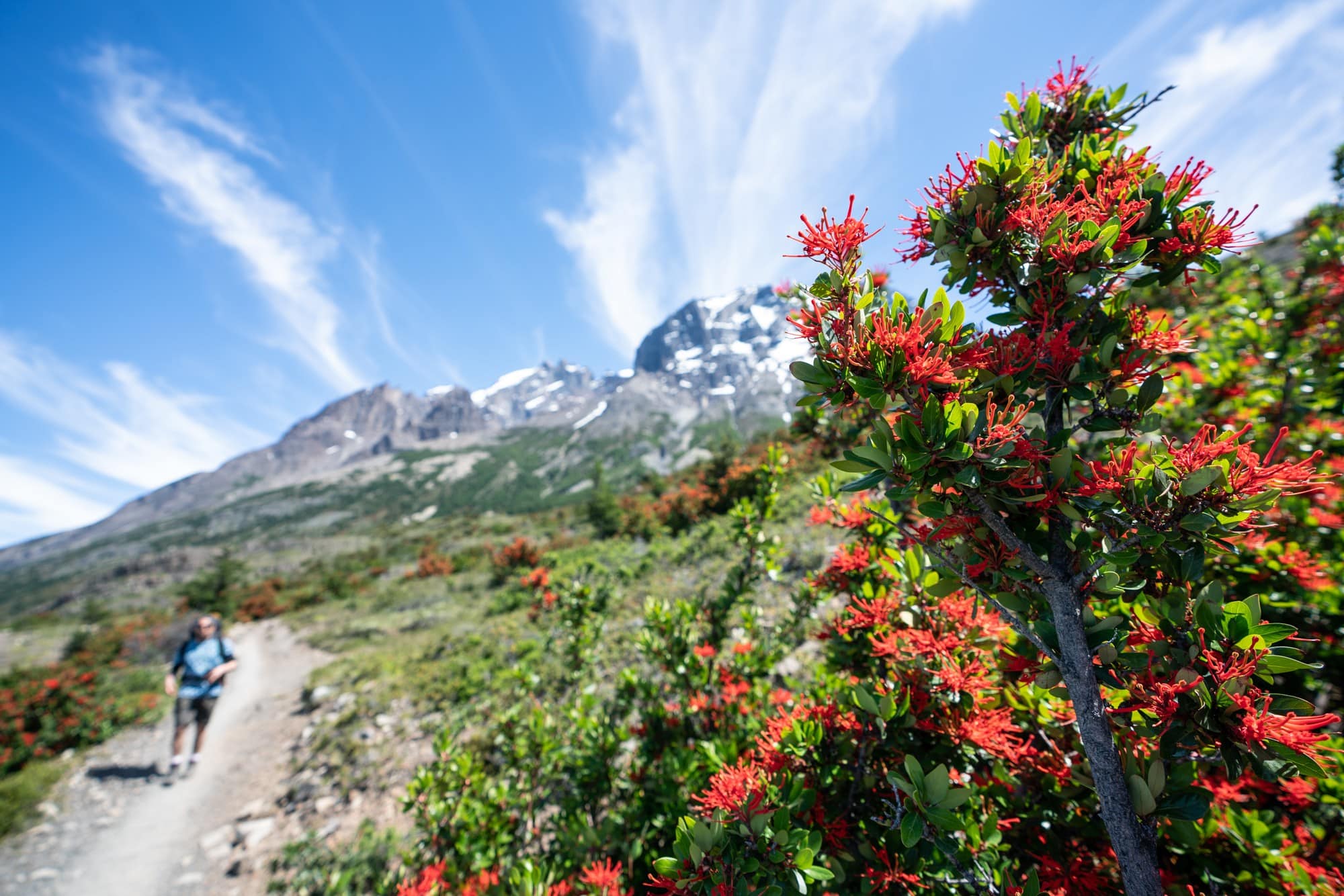 What Gear do you need to hike the W Trek?
I wrote up a detailed W Trek gear list that you can check out here.
On our tour, G Adventures provided sleeping bags, tents, and sleeping pads. The tents and pads were already set up at each site so all we had to do was unpack our sleeping bag. We were given a small dry bag for all of our clothes and personal belongings for camping. Both that and our sleeping bag were put in the dry bag and transported for us each day to the next campsite. All we had to carry was lunch, water, camera, and extra layers in our day packs.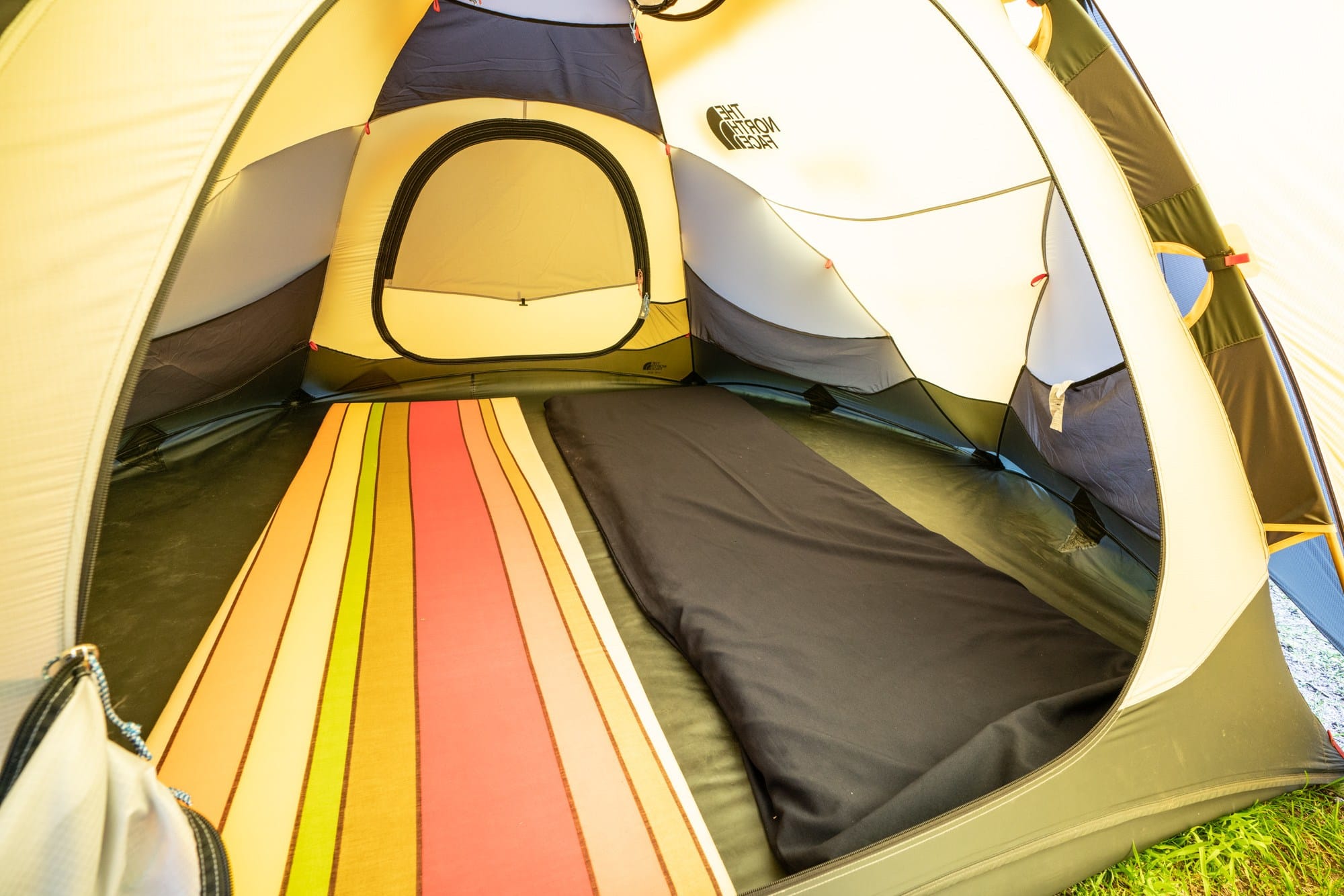 If you are hiking independently and need to carry all of your own gear, make sure you bring a backpacking pack that you've worn before. Since the summer season in Patagonia is known for the high winds, a rain cover might be ineffective in wet conditions, so in rainy condition, line your pack with a trash bag and then pack all of your stuff in that. Your tent also needs to be very solid and bring plenty of guy lines and stakes to secure your tent in high winds.
Aside from the windy conditions, it was hotter than I expected and I wish I had brought shorts. Pack layers with everything from warm to cold layers so you're prepared for any kind of weather.
A half-buff is also helpful. A trick we learned from our guides is to use the buff as a headband over your hat so it prevents your hat from flying off in the wind.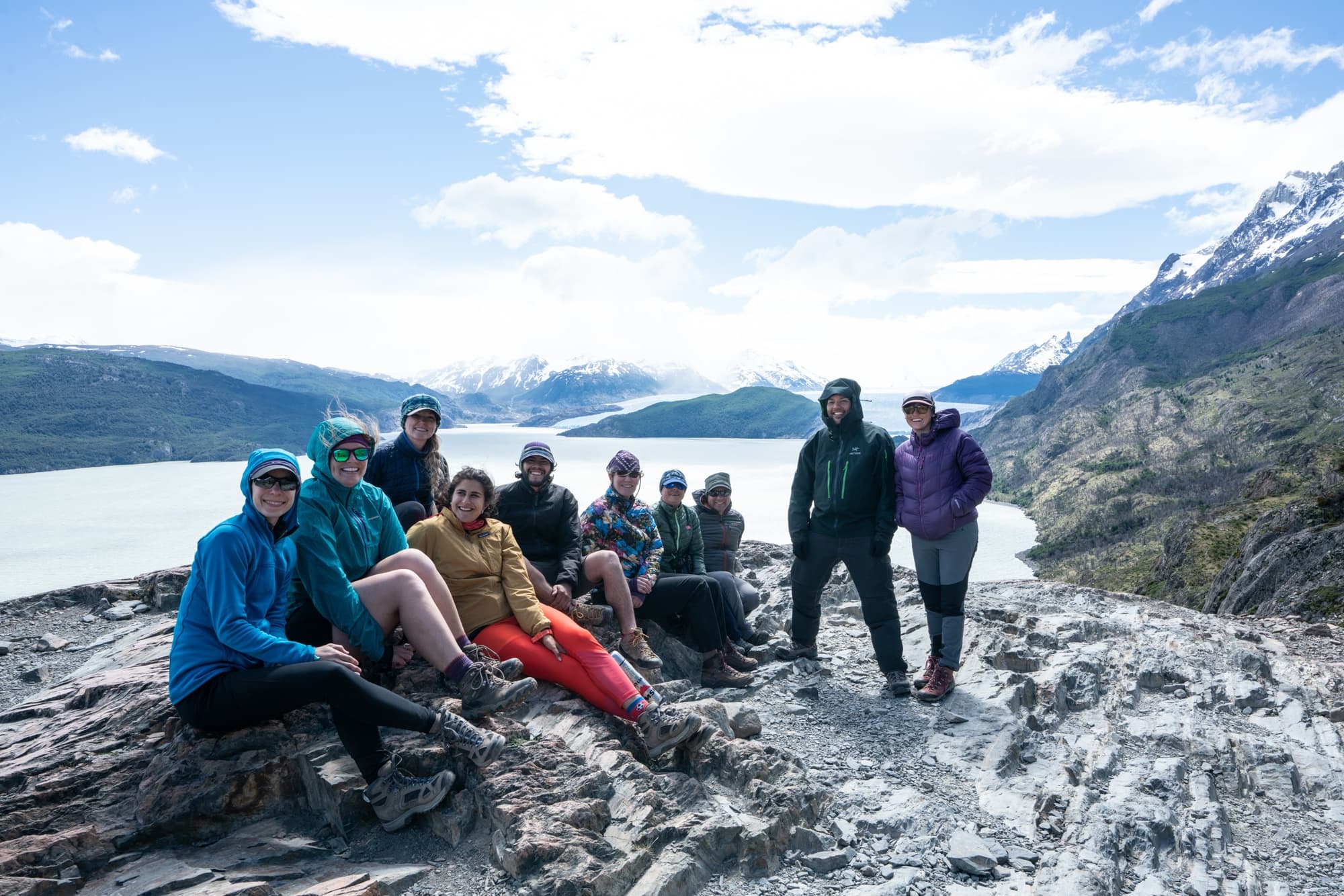 In addition to the clothing, I'd recommend bringing a portable water purifier, like a Steripen or a Grayl water bottle. I did drink unfiltered tap water and water right out of streams, but I'd bring a purifier just to be safe.
If you want to eliminate the need for heavier camping gear, the Refugios also offer rooms for rent.
Check out my detailed W Trek Packing Checklist
My W Trek Itinerary
What direction should you hike the W Trek?
On our trip, we hiked the W Trek a little out of order (roughly from East to West) which was due to the way G Adventures arranged for our bags to be transported. On Day One, we hiked out and back to the base of the Towers (the famous spiraling granite towers) so the bags could stay put. The second day, we took a ferry to Refugio Paine Grande, dropped our bags, and hiked another out and back to Gray Glacier.
On Day Three our bags were transported by boat, while we hiked from Refugio Paine Grande to the French Valley, ending at Refugio Los Cuernos.
On Day 4, our bags were transported by horseback to our finish line back at the Base of the Towers trailhead.
Although we did hike the W Trek in a slightly different sequence, it seemed a little easier than the opposite direction. I liked that we hiked the busiest day first because every day after that got less and less busy. That said, there are many different ways to hike it, so get familiar with the map and different locations. If you go independently, it's important to understand that your itinerary may be determined by campsite availability.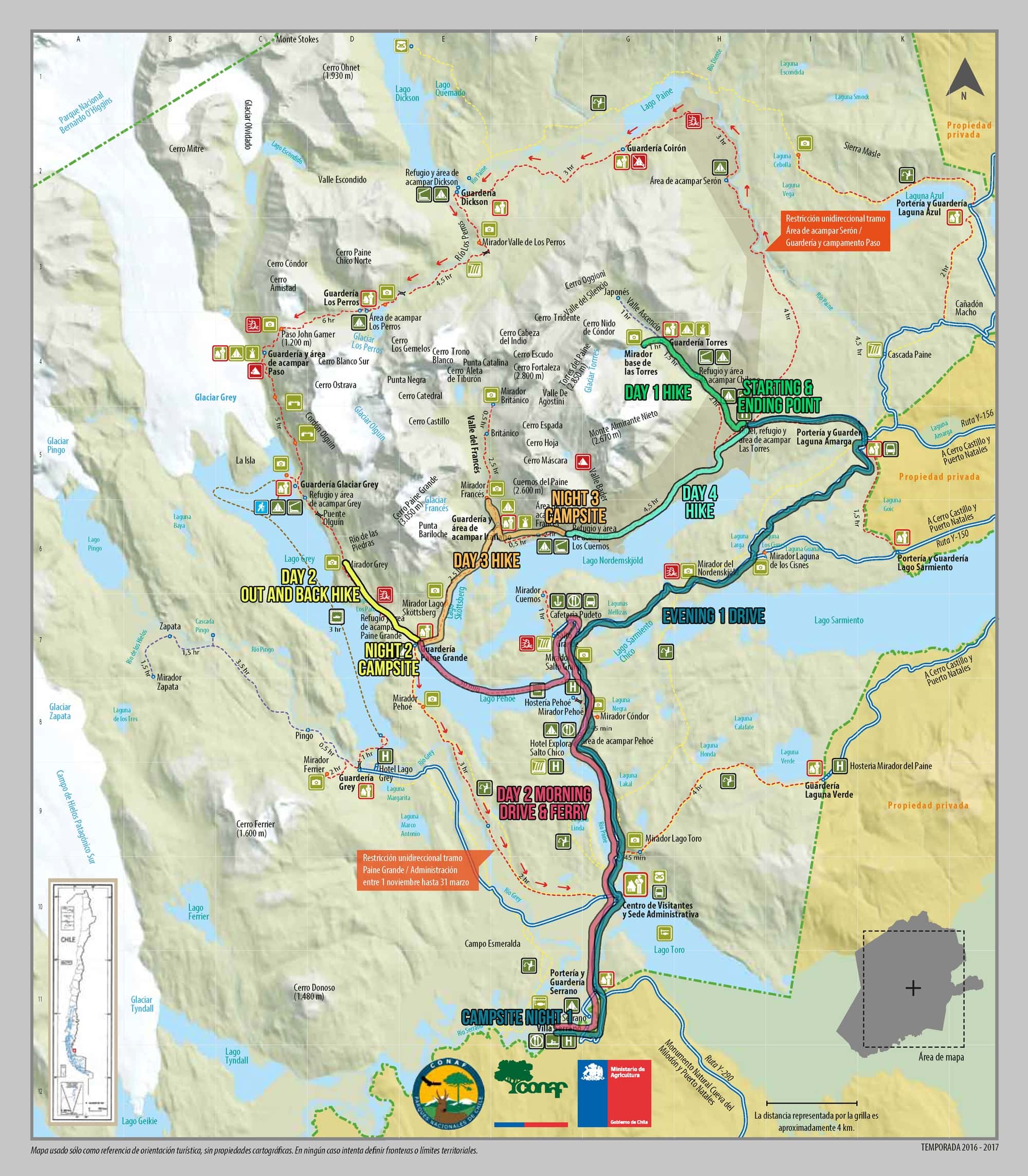 How many days do you need to hike the W Trek?
We hiked the W Trek in four days and three nights. The hike to the Towers and the French valley were pretty long days, but the other two were fairly mellow and I thought the days were planned well.
Some people take five days and take a boat out to Gray Glacier Refuge and start there. Taking 5 full days would also allow you to take a little more time and hike farther up into the French Valley.
Is it worth purchasing meals at the refugios on the W Trek?
Meals may seem expensive but remember that you are in the middle of nowhere and getting your meals through the refugios means you don't have to carry four to five days worth of food on your back.
We were given lunch boxes each day by the refugios which consisted of a large chicken salad sandwich, cookies, fruit, trail mix and a piece of chocolate. Plenty of food to energize you for the day. Overall, I thought dinners at the refugio were better than the breakfasts which matters since you can purchase meals ala carte.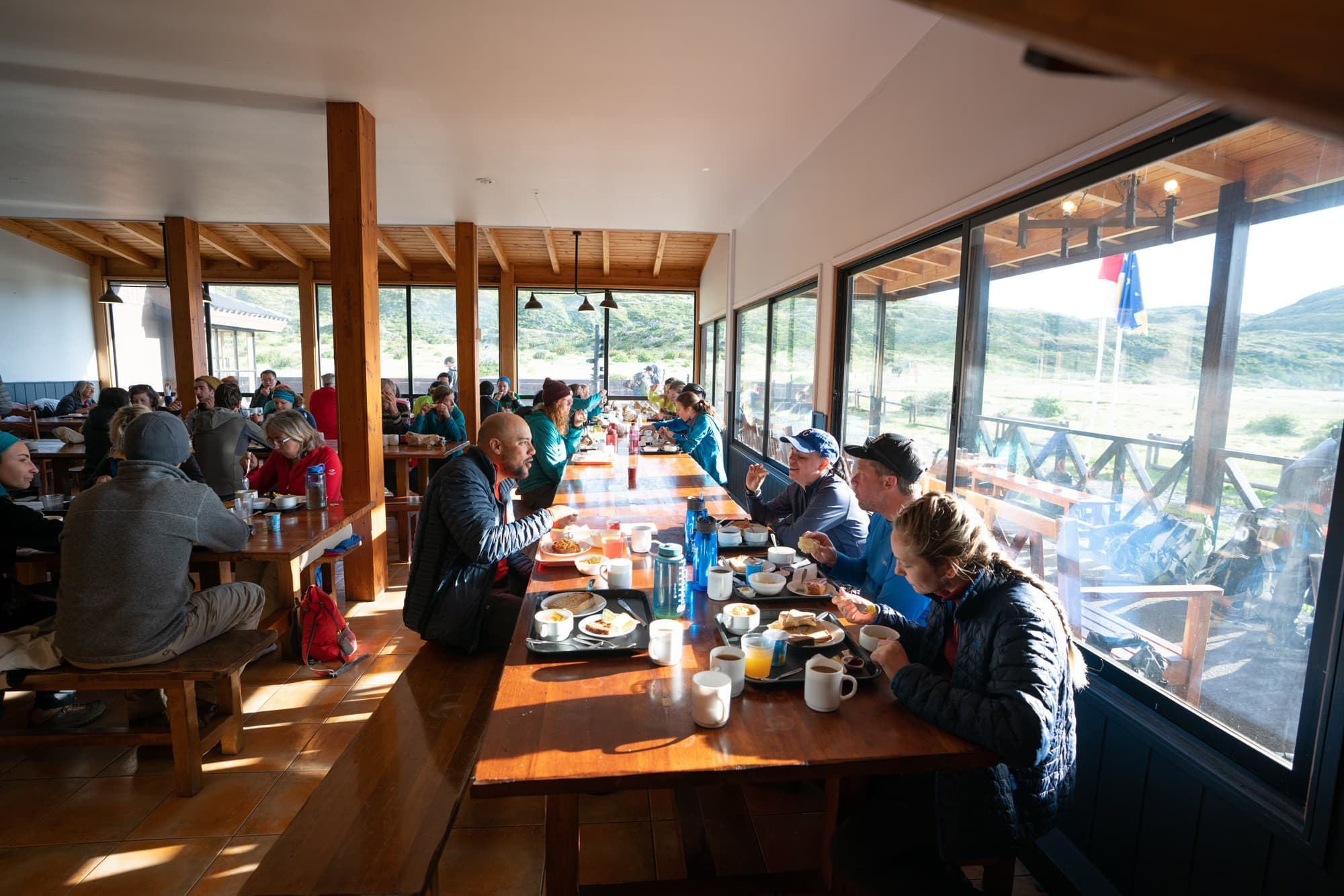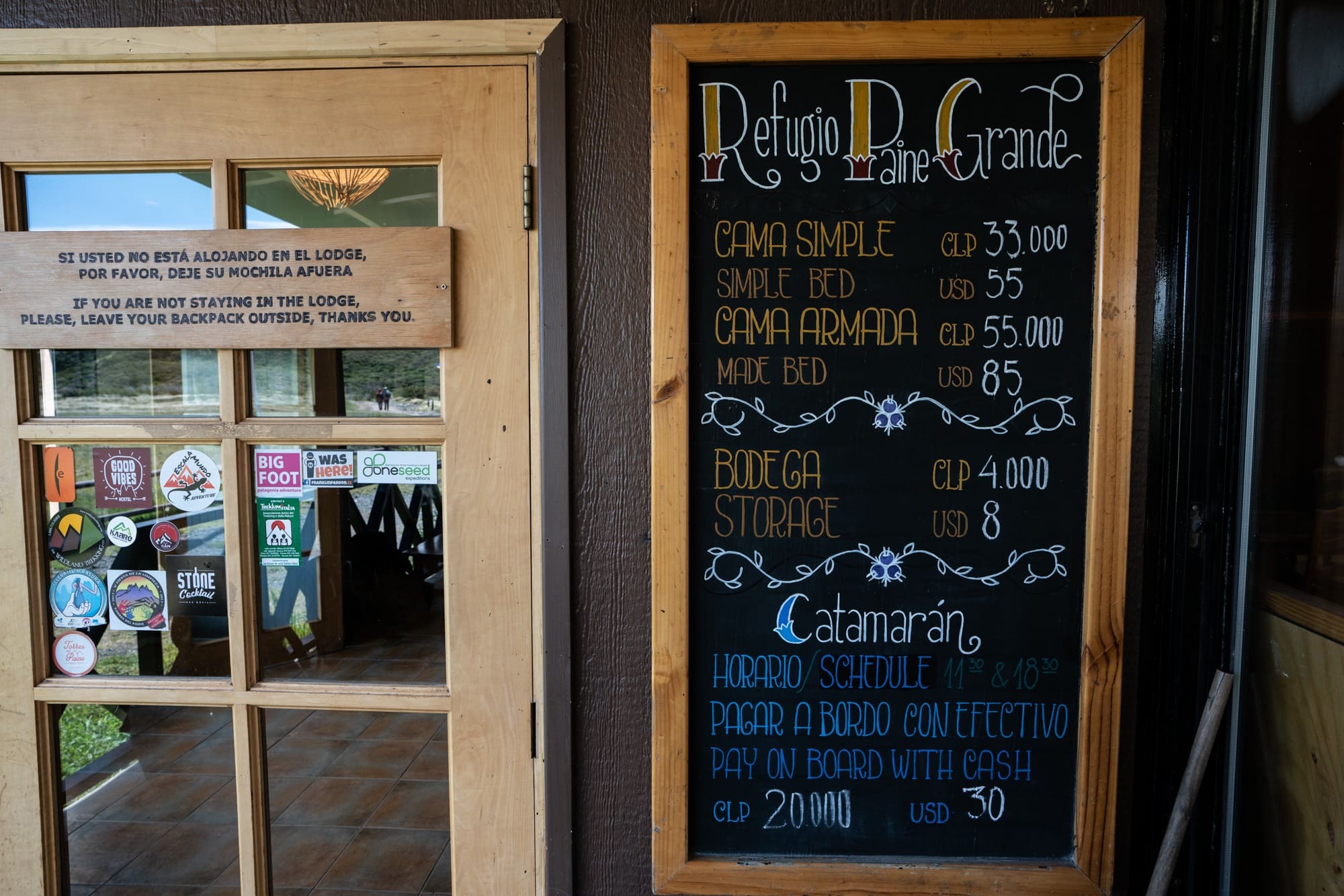 To give you an idea of prices independent travelers paid at the time of my hike:
Refugio Paine Grande: $55 US for dinner, breakfast, and a boxed lunch (not including accomodations or camping)
Refugio Los Cuernos: $80 US for dinner, breakfast and a boxed lunch / $115 US for a fully equipped campsite (with a tent, bag, and pad rental) and all meals
Nash Patagonia Lodge: $29 for dinner / $112 for a fully equipped campsite and all meals
Note that Patagonia is very remote, lodging and food options are limited, and prices reflect that.
Day 1 – Hiking to the Base of the Towers (12 miles)
This is a very busy trail so be prepared for crowds and a steep uphill climb. At times the congestion made it feel like Disneyland, as a line formed hiking up the mountain.  The lake was beautiful but this was honestly my least favorite day of the hike due to the crowds. We hiked on Sunday, so maybe it's less busy mid-week?
Once you're about 30 minutes from the trailhead, the trail starts climbing and doesn't really quit. Make sure you pack plenty of water, as there isn't a place to fill up until you reach a river crossing at Refugio y Camping El Chileno.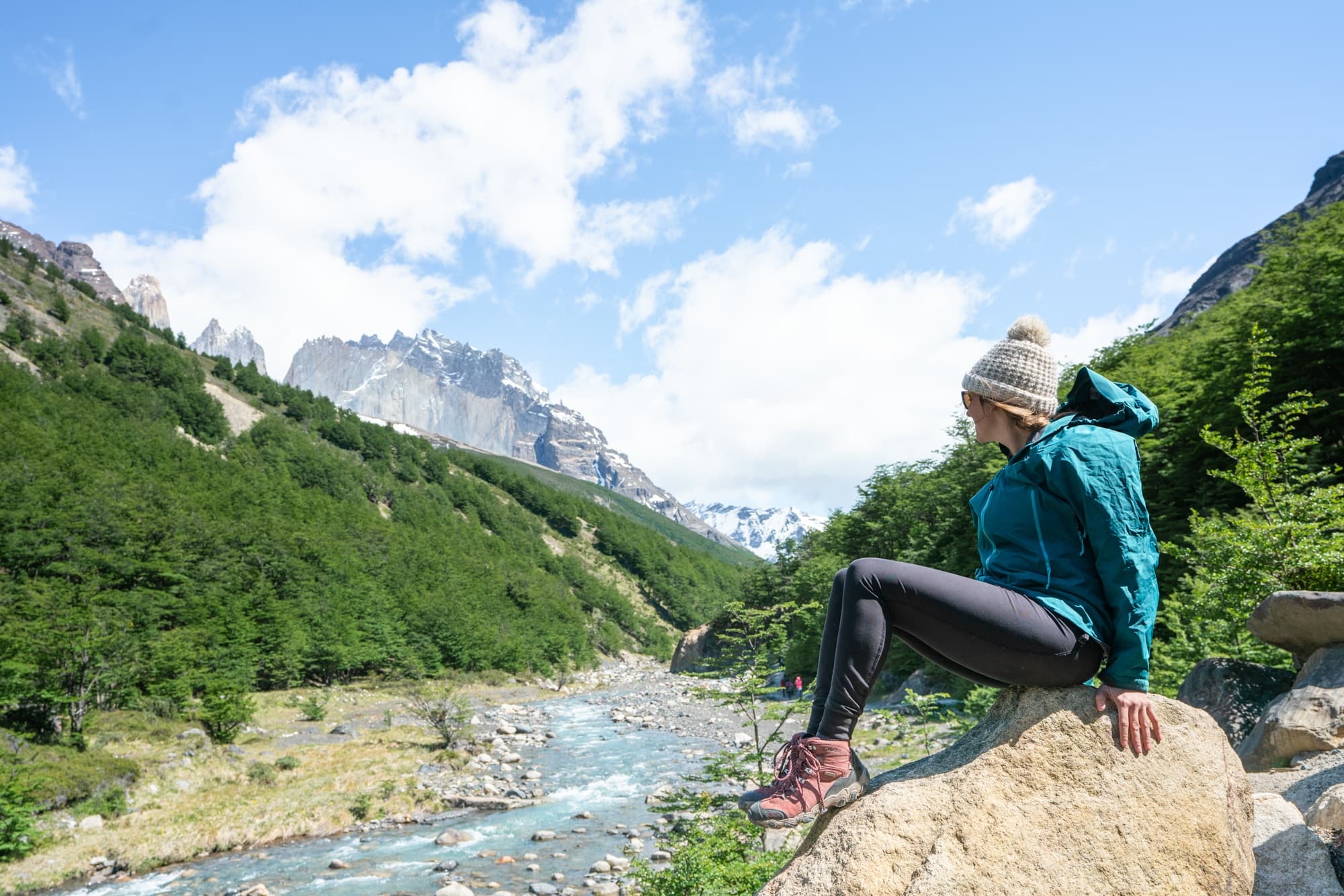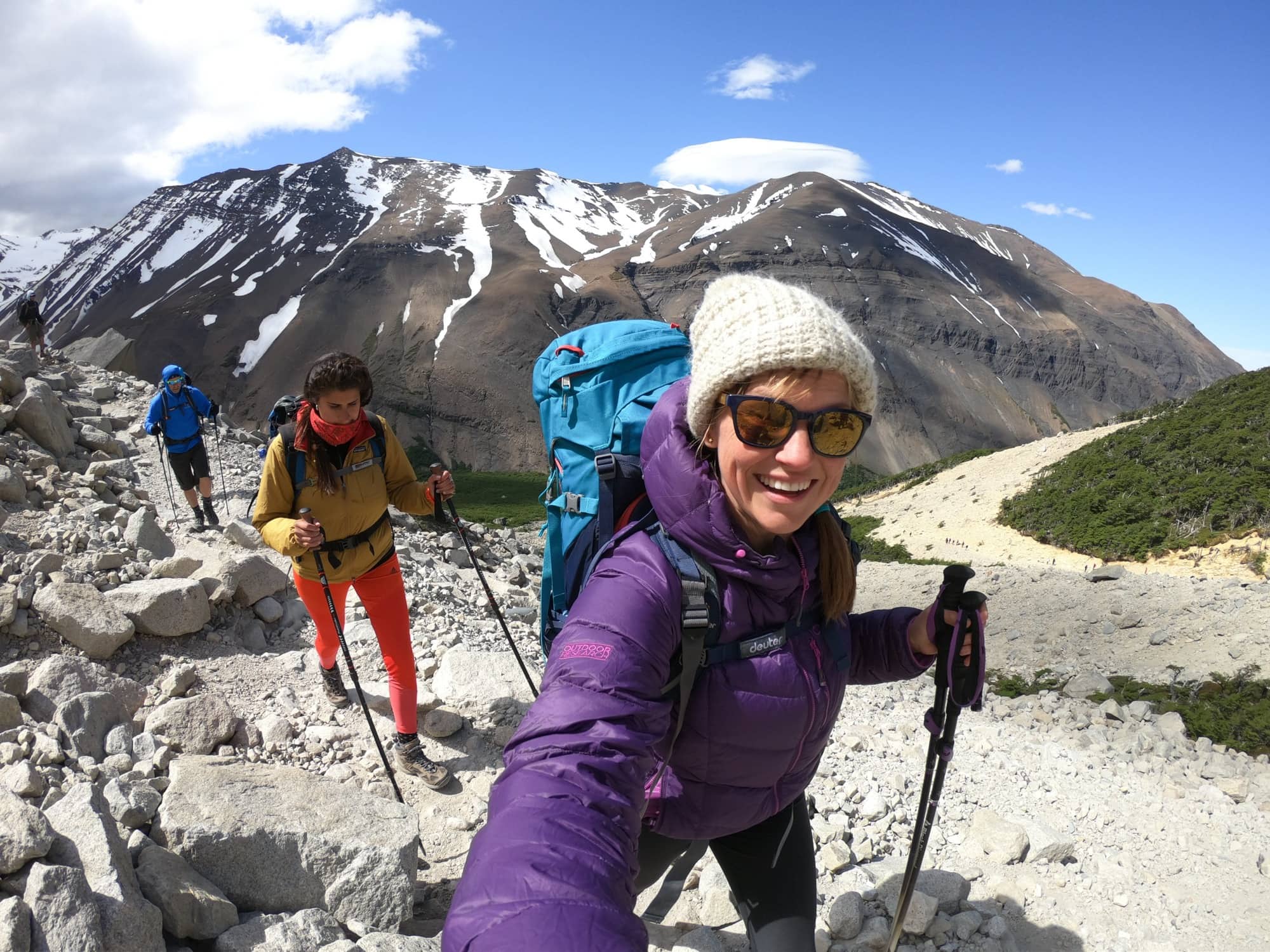 I will say that the lake is one of the prettiest lakes I've ever seen. Just set your expectations for crowds, or get a very early start to try and beat them. If you are doing the trek independently you could try to get a camping spot at the refugio which would allow you to hike to the base of the towers for sunrise.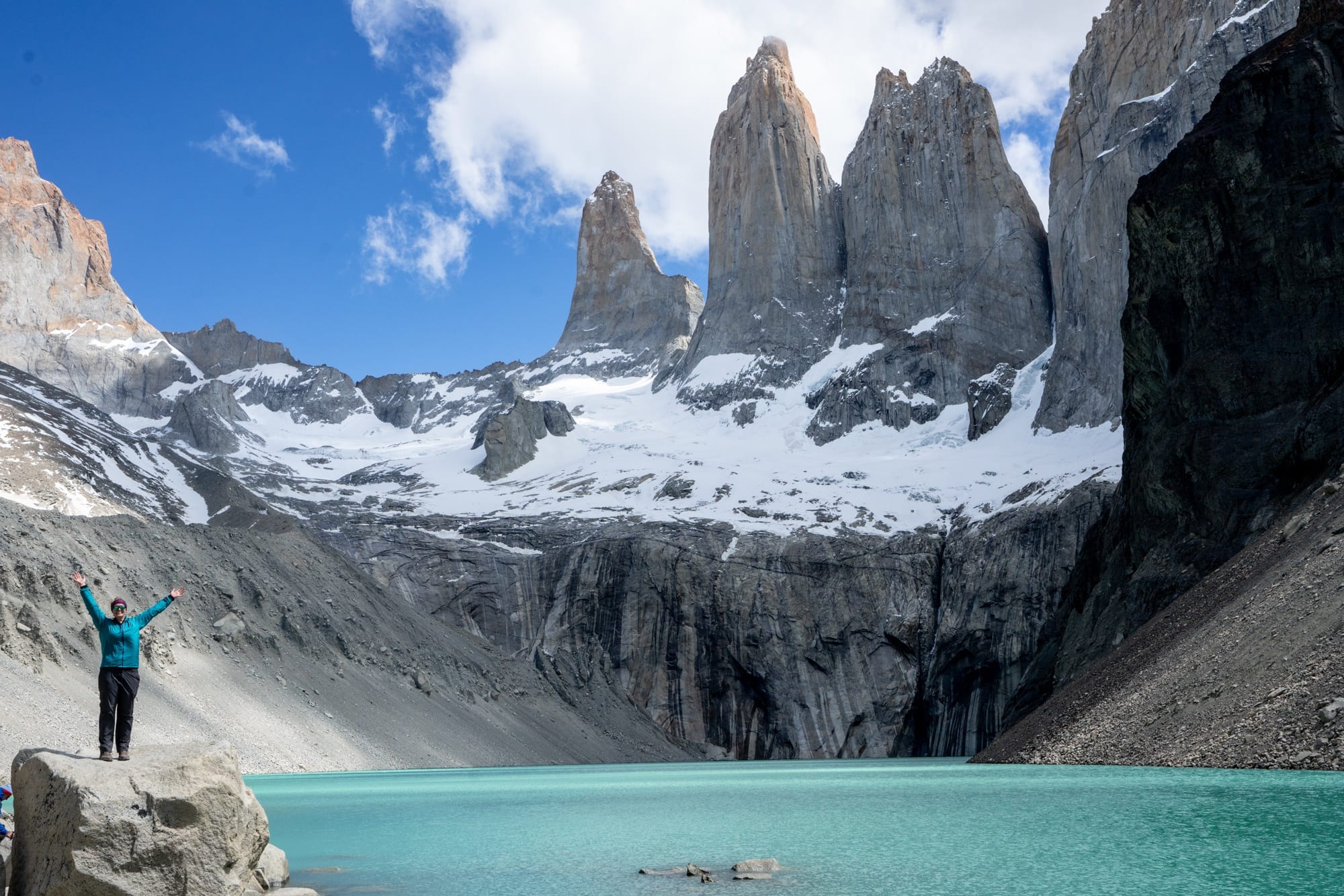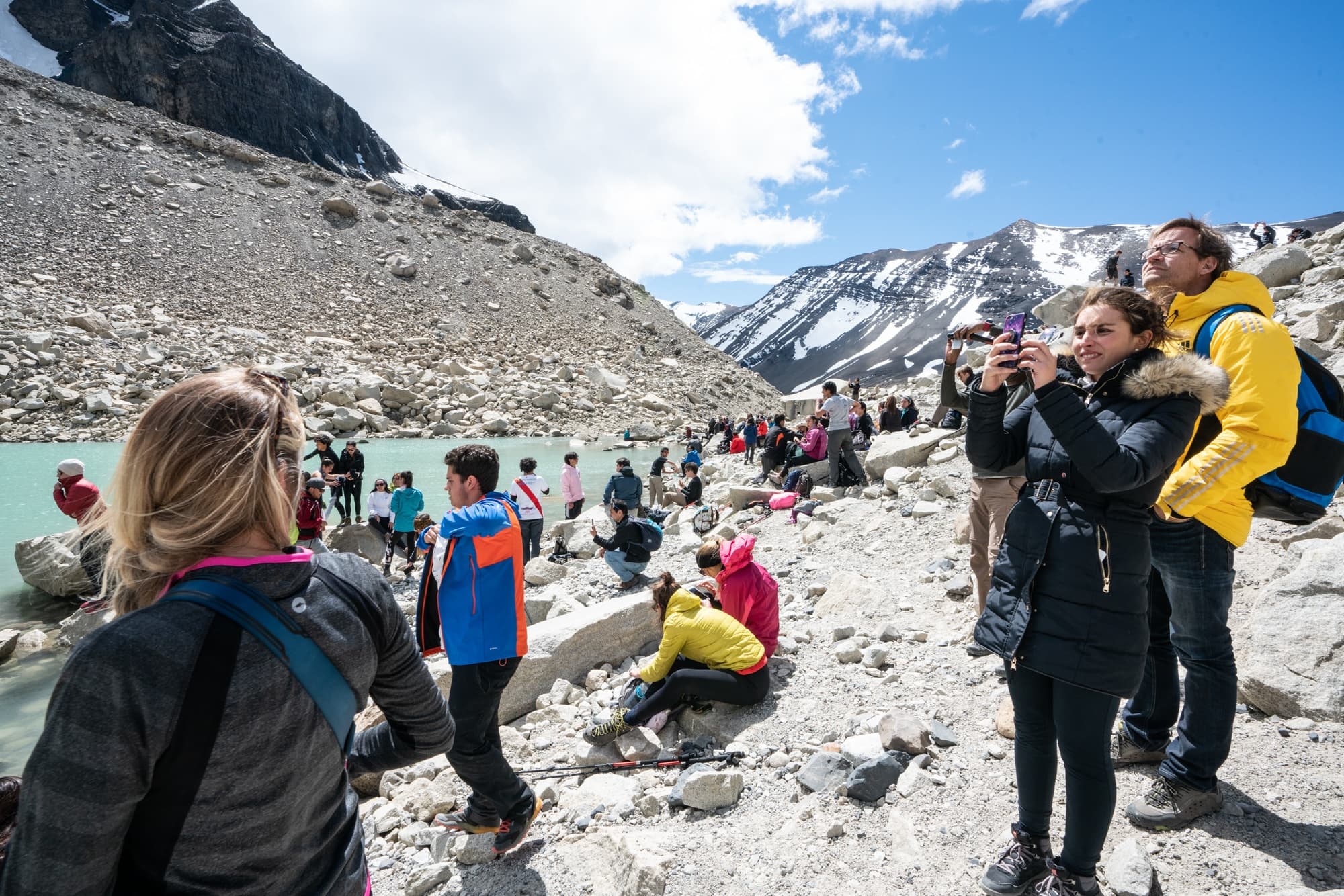 G Adventures booked out an entire campsite on the Serrano River called Nash Patagonia that we stayed on the first night. The campsite is just on the outskirts of the park with the friendliest staff of all of the refugios we stayed at. The drive to that campsite, while it may look long on the map, took only an hour and a half and was absolutely gorgeous. The drive was a way to get a feel for other parts of the park. The campground only had one other G Adventures group so it was very quiet with gorgeous views. We had a tasty group dinner with braised beef and vegetables.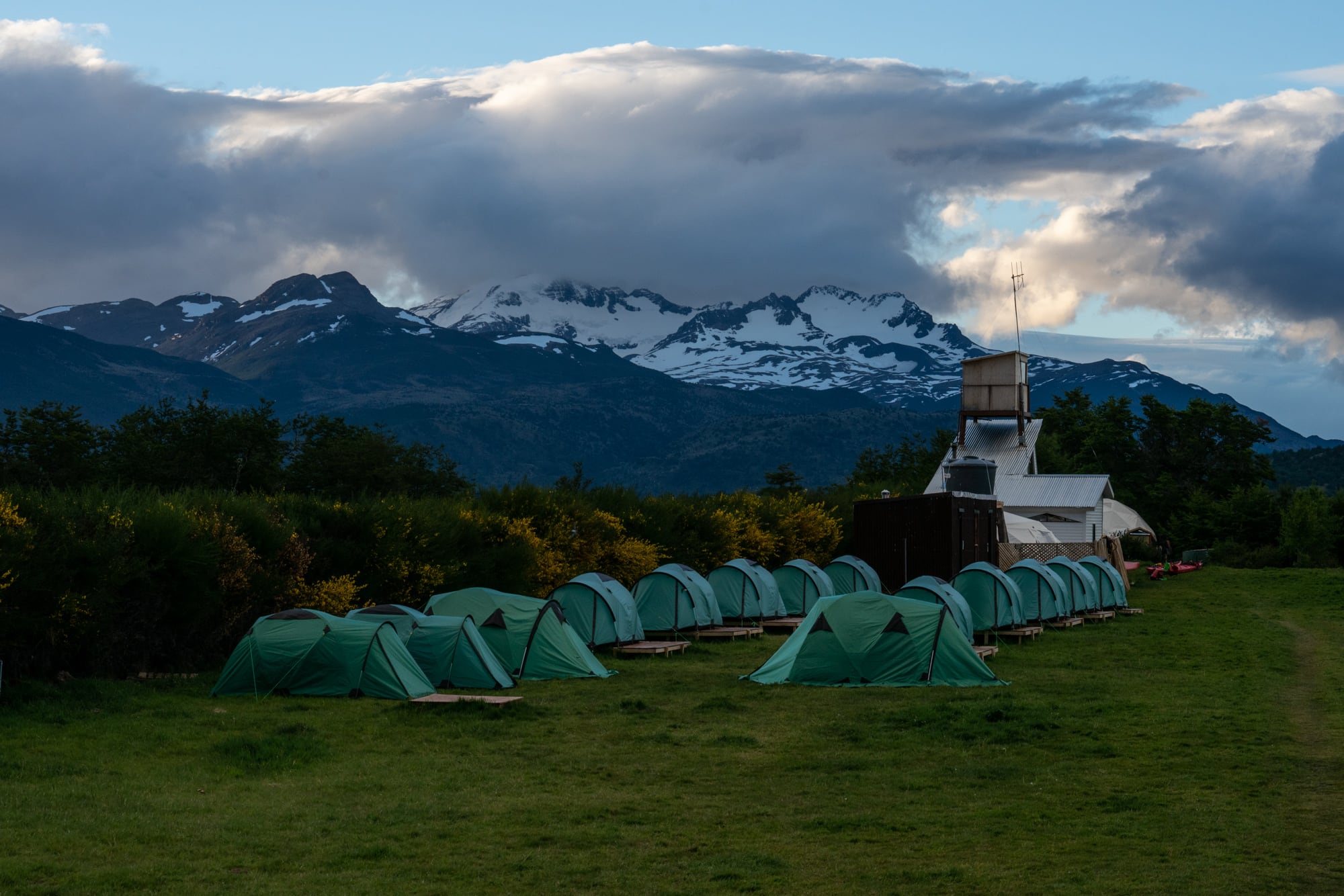 Day 2 – Refugio Paine Grande to Grey Glacier Overlook and back (7 miles)
The next morning we drove back into the park and took the 30-minute catamaran ferry across Lago Pehoe where we arrived at Refugio Paine Grande. On the G Adventures tour, our guide had reserved tents and sleeping pads that were already set up and waiting for us at each campsite. That way it was less for us to lug around on the hike.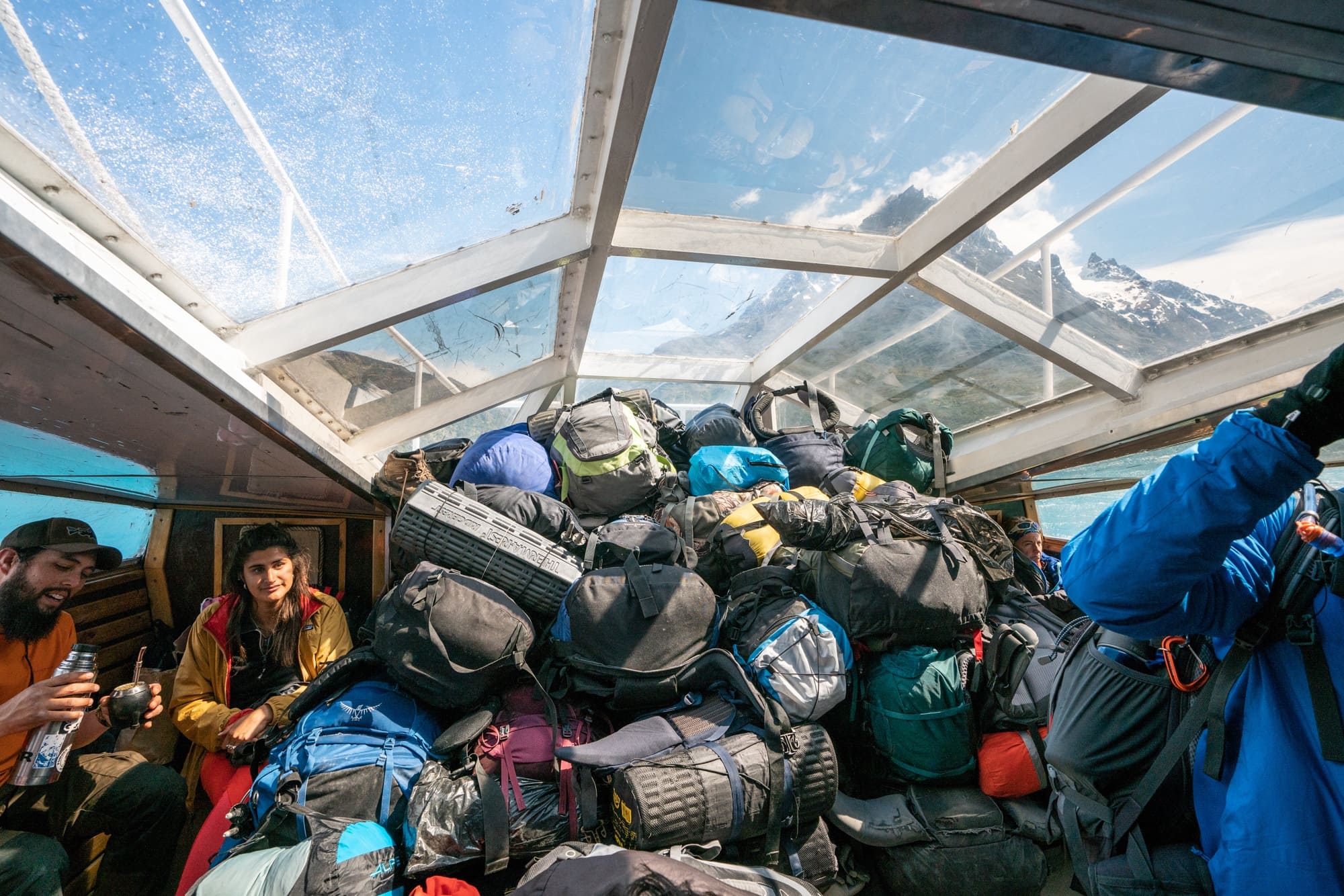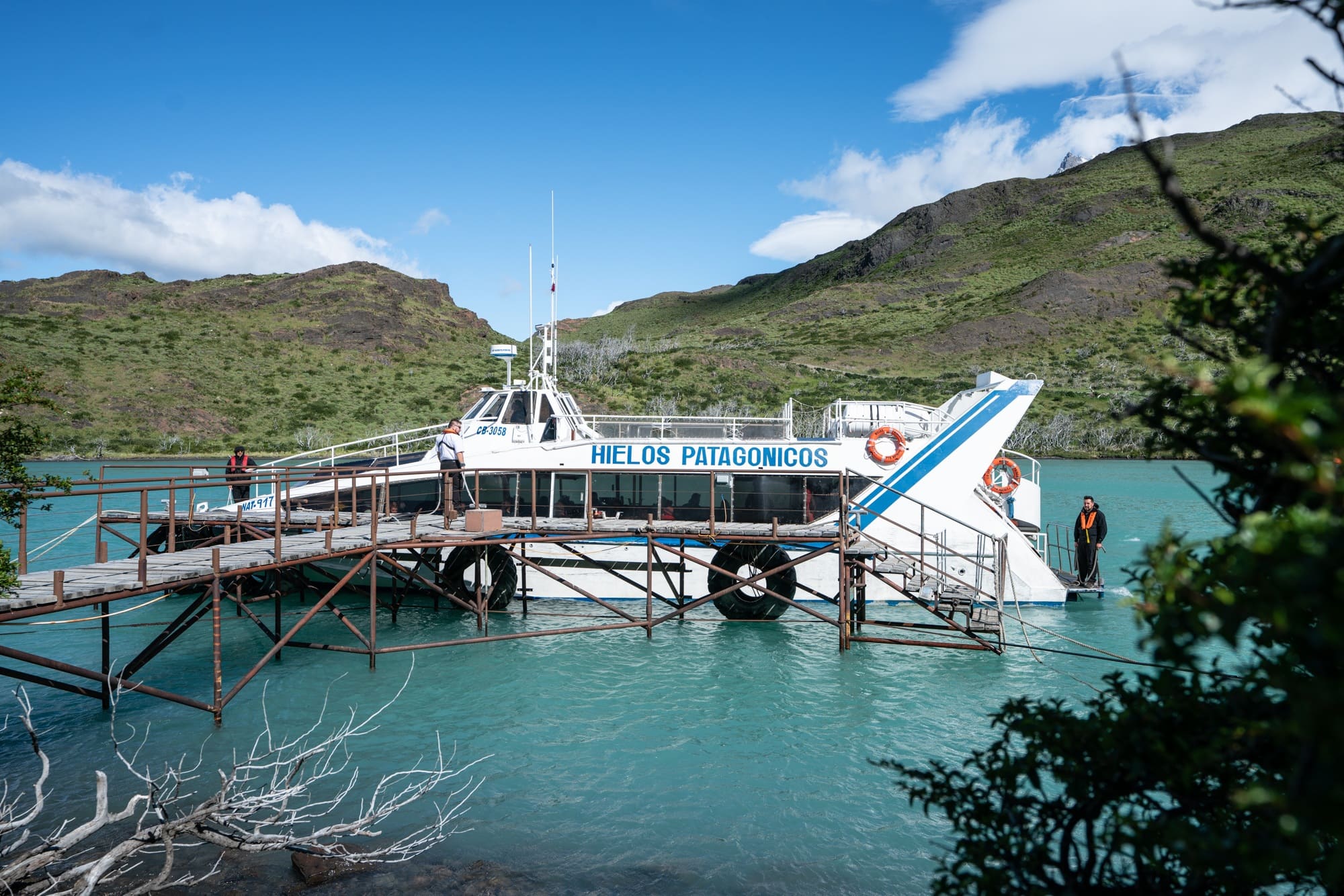 Day 2 to the Grey Glacier was a much more mellow hike than Day 1 that takes you over a ridge, past a Laguna Los Patos), and around the shoreline of Lago Grey. Eventually, it reaches a lookout with beautiful views of the Gray Glacier. If you want to get closer, you can keep walking all the way to Refugio Gray, which ends up being 13 miles round trip from Refugio Paine Grande.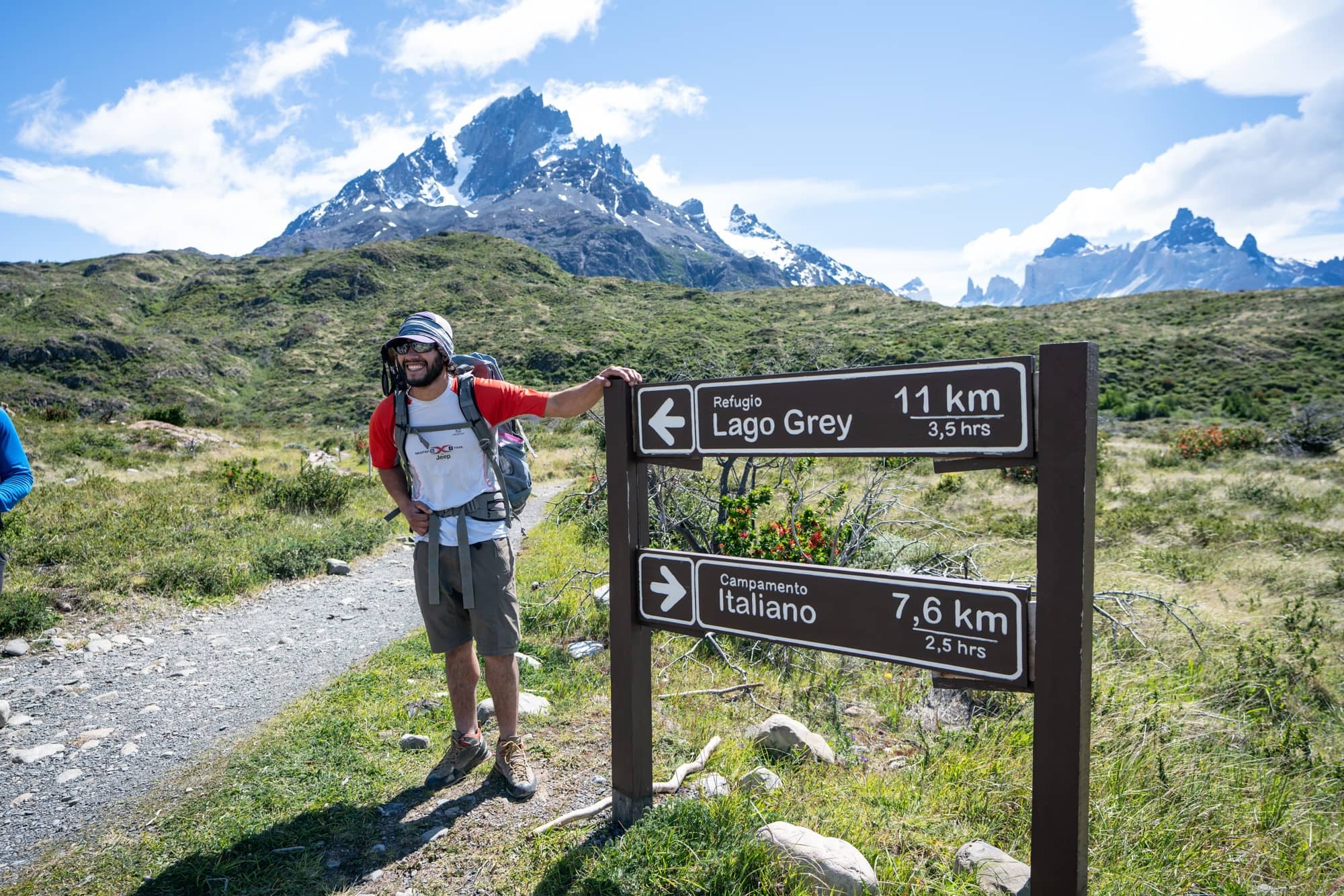 You'll note from the map that on day two that we didn't hike all the way to the Gray Glacier and only went to the lookout. I was satisfied, but I do think with a quicker pace, it would have been possible to hike all the way to the Gray Glacier and back. Alternatively, you can also arrange to take a boat to Refugio Gray and start your W Trek hike from there.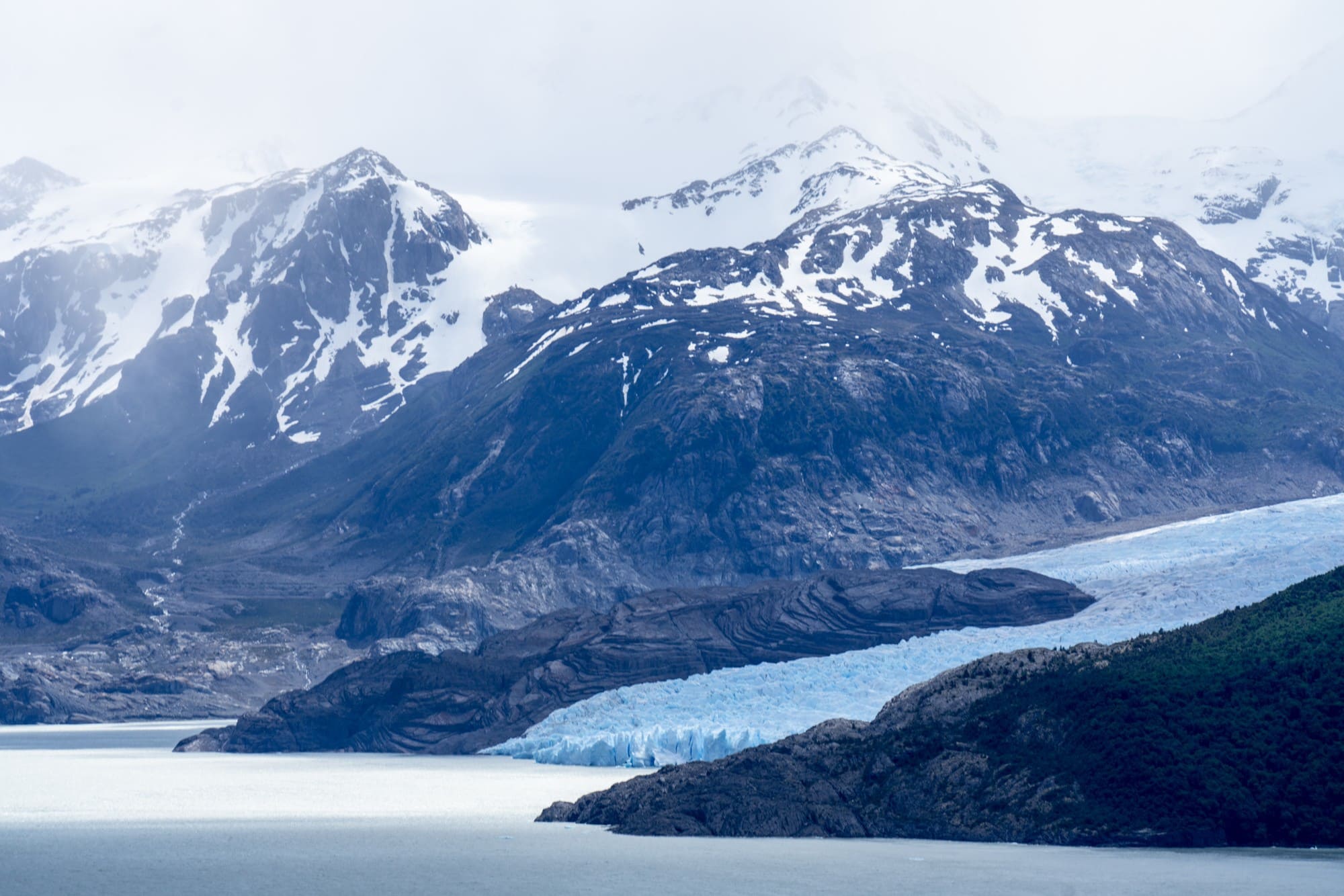 We stayed at the Refugio Paine Grande where there were hundreds of people camping and gorgeous views. Dinner is served cafeteria-style and was my least favorite food of the W Trek. Dinner times are assigned so you should get in line a little early. Good news is that you can cook your own food in a separate cabin if you want to bring your own food. There's also a bar upstairs with beer and place to hang out. Hot showers were available at certain times of the evening.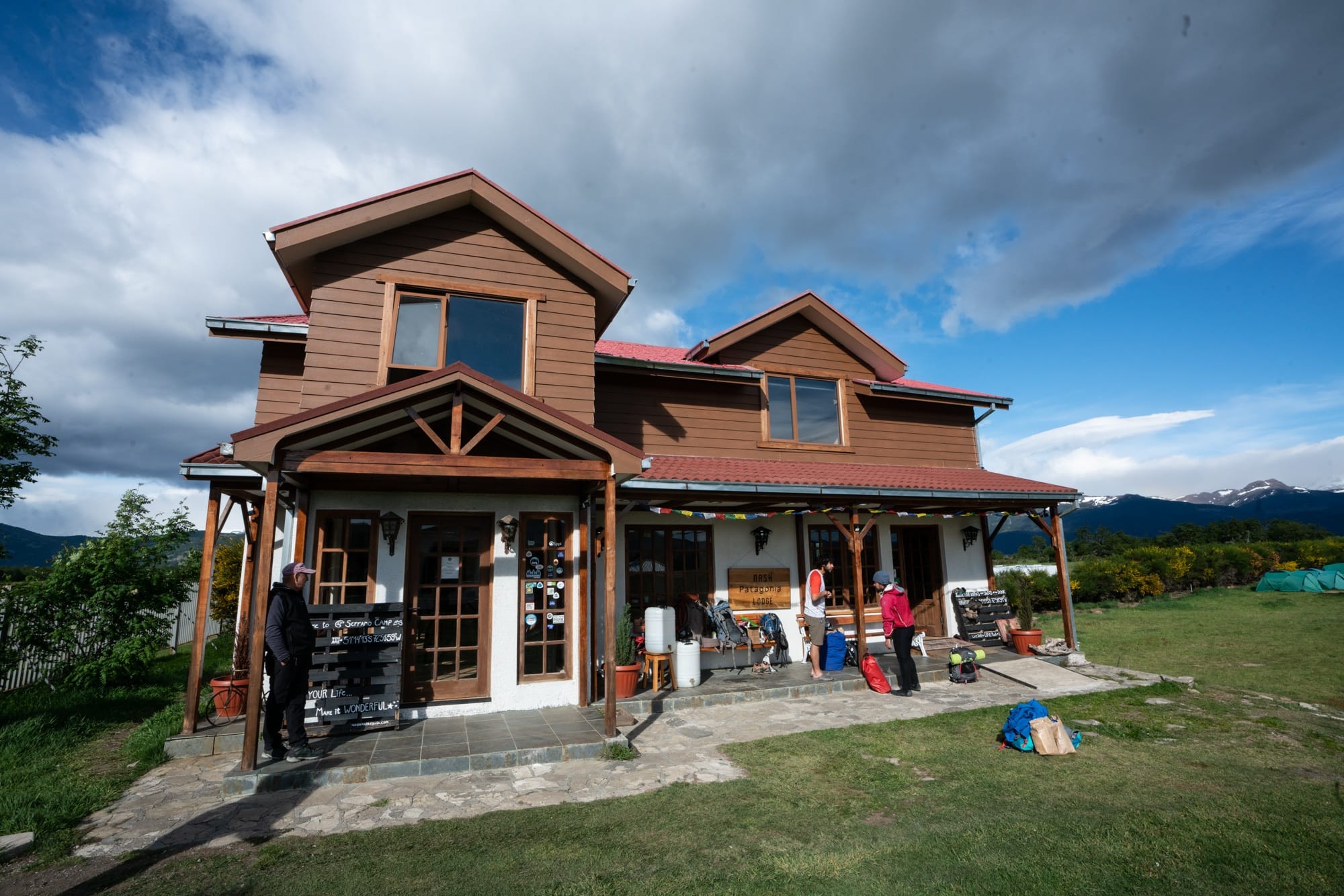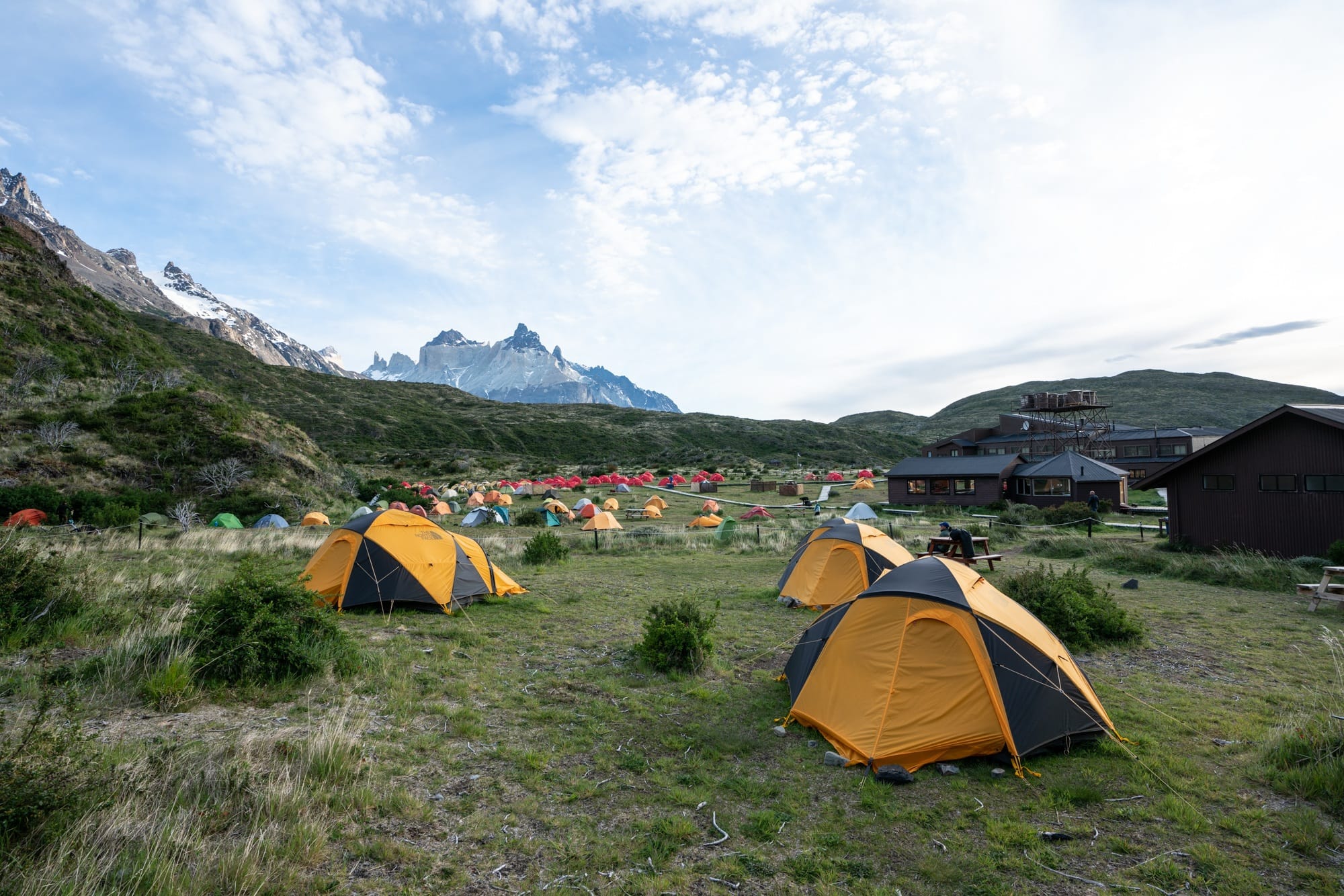 Day 3 – Paine Grande to the French Valley to Refugio Los Cuernos (11.5 miles)
On our third day of hiking the W Trek, the views from the trail were non-stop. First, you pass Lake Skottsberg, and there are a few different rocky outcrops that make for a good snack break.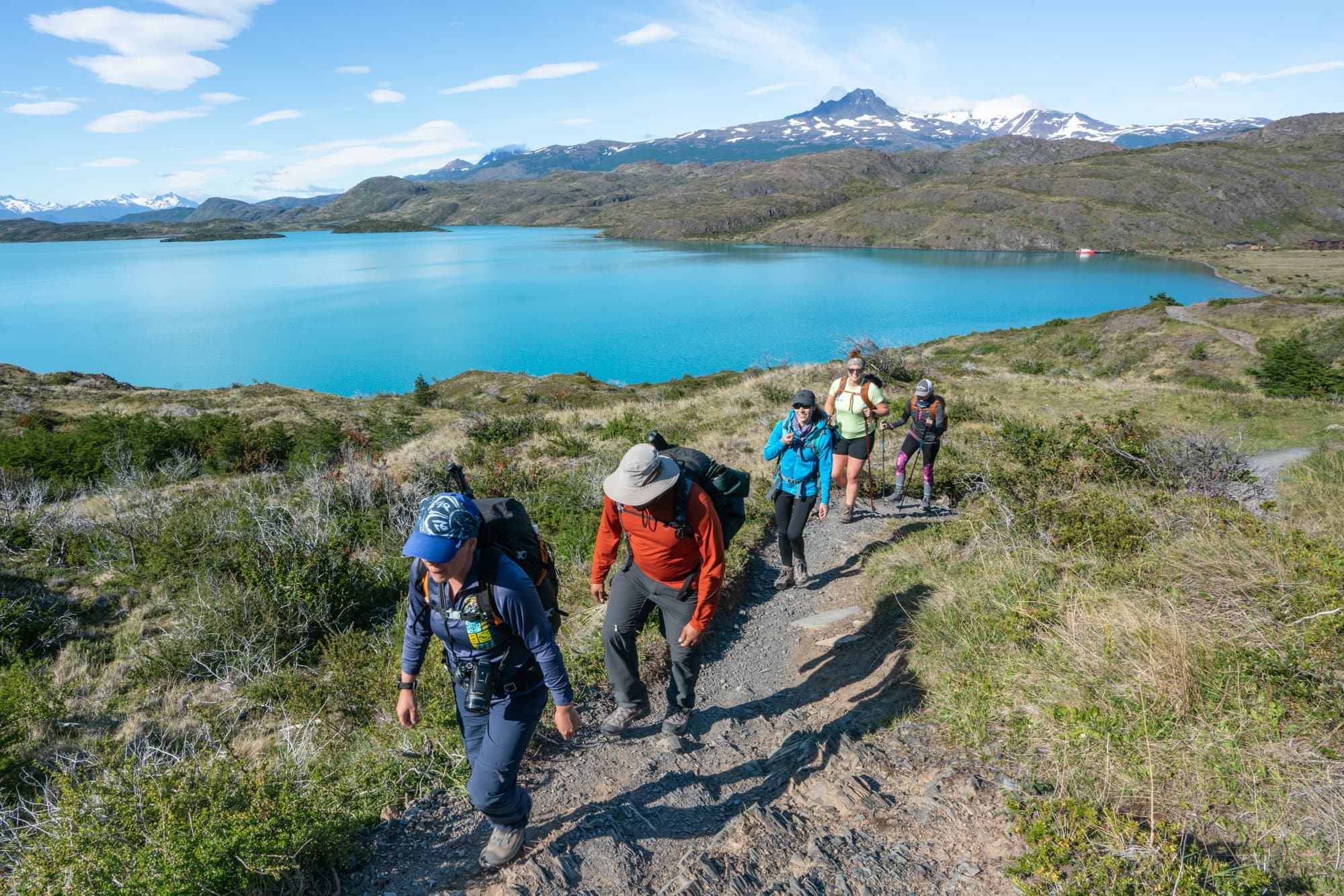 Next, you'll hike through a burn area and eventually arrive at the Italiano campsite. Here you hang a left and start hiking up towards French valley. This is steep but didn't feel as steep as the Base of the Towers hike and also had the bonus of way less people. The French Valley offered my favorite views from our entire time hiking the W Trek, and just past the main overlook, there is a nice lunch spot on the river where you can watch avalanches breaking off the glacier. You are also right under the Horn which is one of the famous peaks in Torres Del Paine.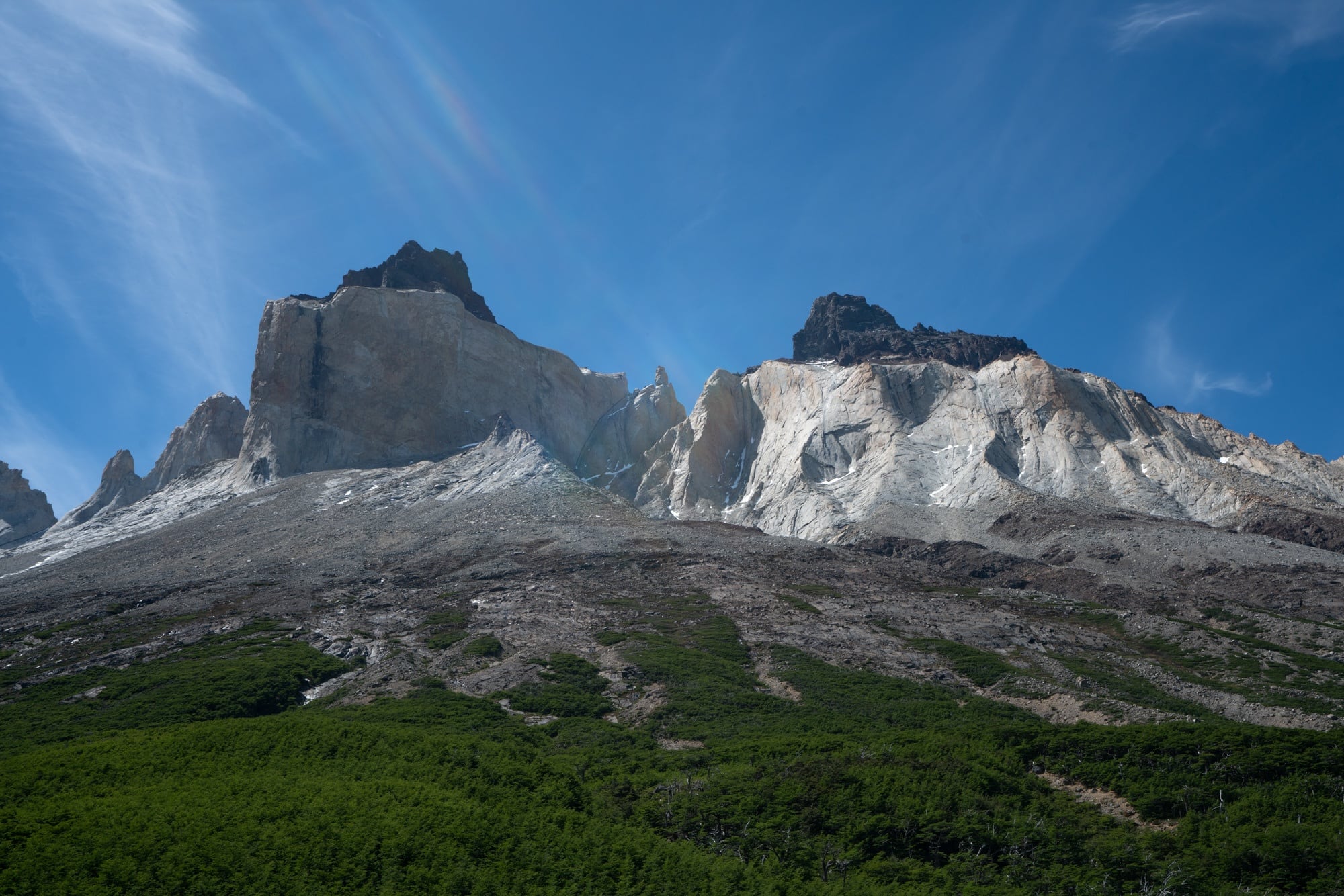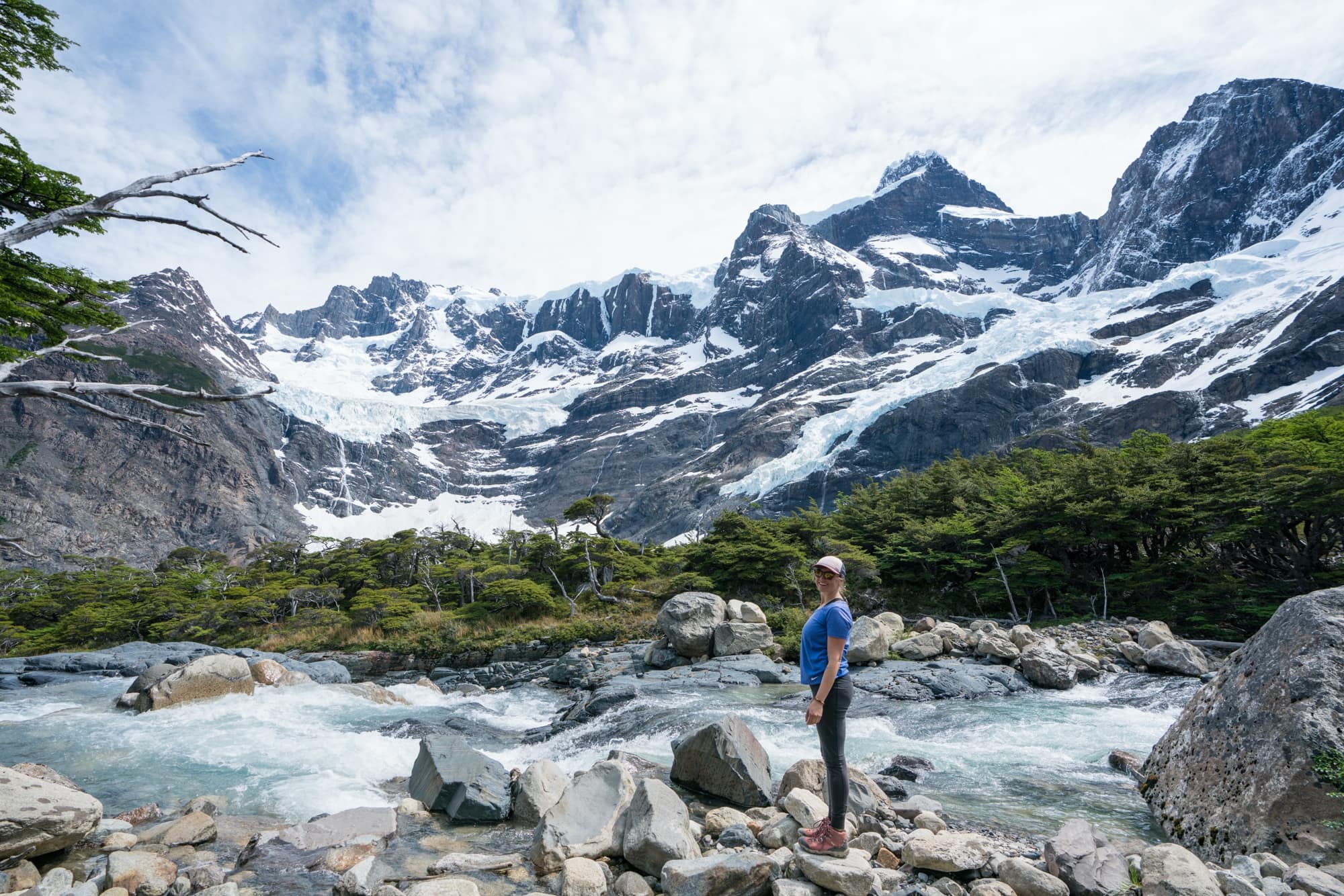 On day 3, we only hiked to the French Valley (Mirador Frances) lookout but the trail continues quite a bit farther back to the Mirador Britanica. Our guides told us this was very difficult, and we still had 2 hours of hiking once we got back down to the Italiano campsite to reach Refugio Los Cuernos where we would be camping.
If you want to hike all the way to Mirador Britanica, you should consider starting or ending at the Italiano campsite and get a very early start. We heard this is one of the most beautiful and isolated areas of the park and would probably recommend five full days for the W Trek if you want to go to the very back of the valley.
This campsite was the Refugio Los Cuernos and also my favorite campsite. The refugio is located right underneath the Horn and had a beautiful beach with a great place to enjoy a beer from the bar. Luckily, there were clean, hot showers to boot. The dinner here was also my favorite spot. On the menu there was a hot soup, bread, braised beef with mashed potatoes, and a dessert.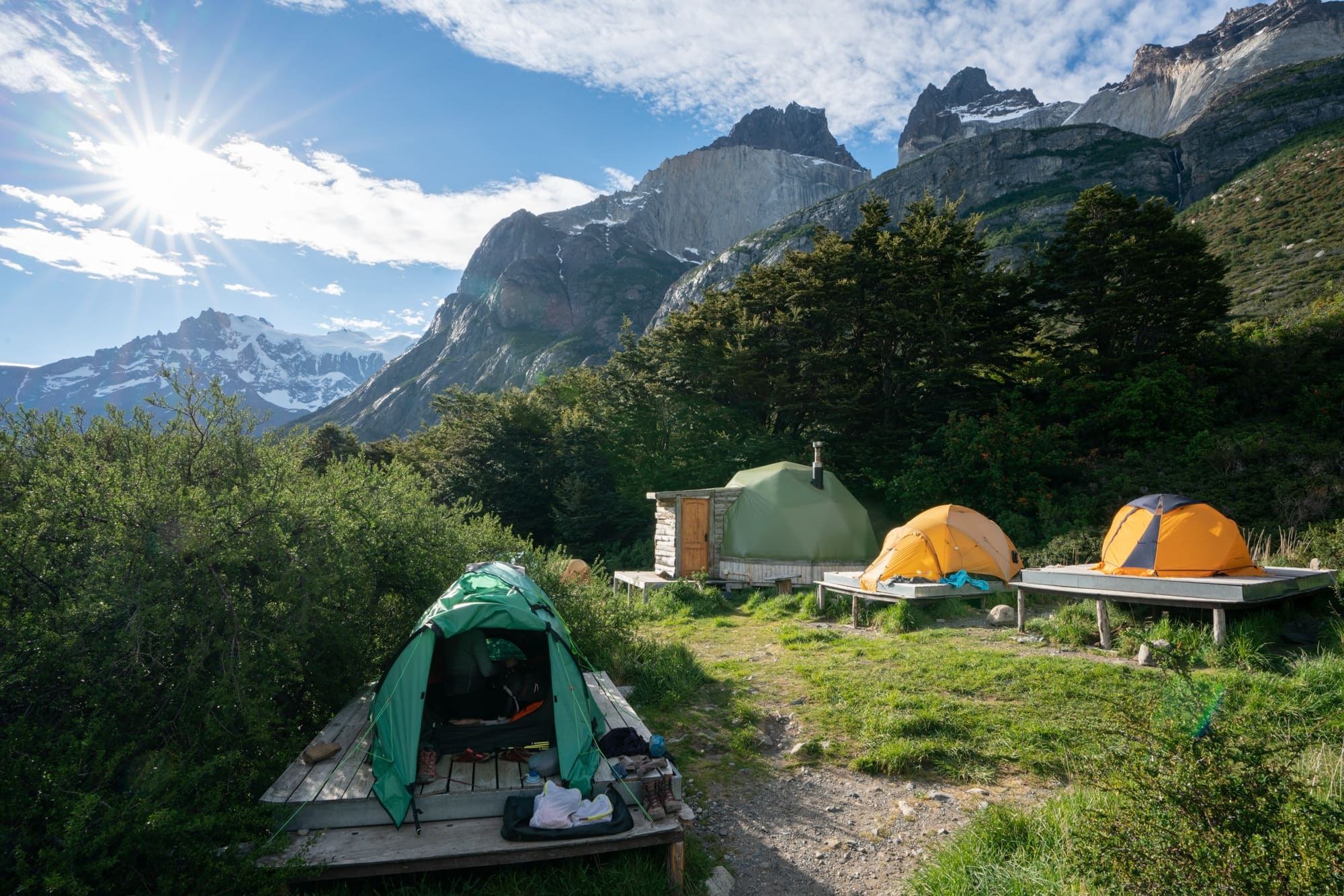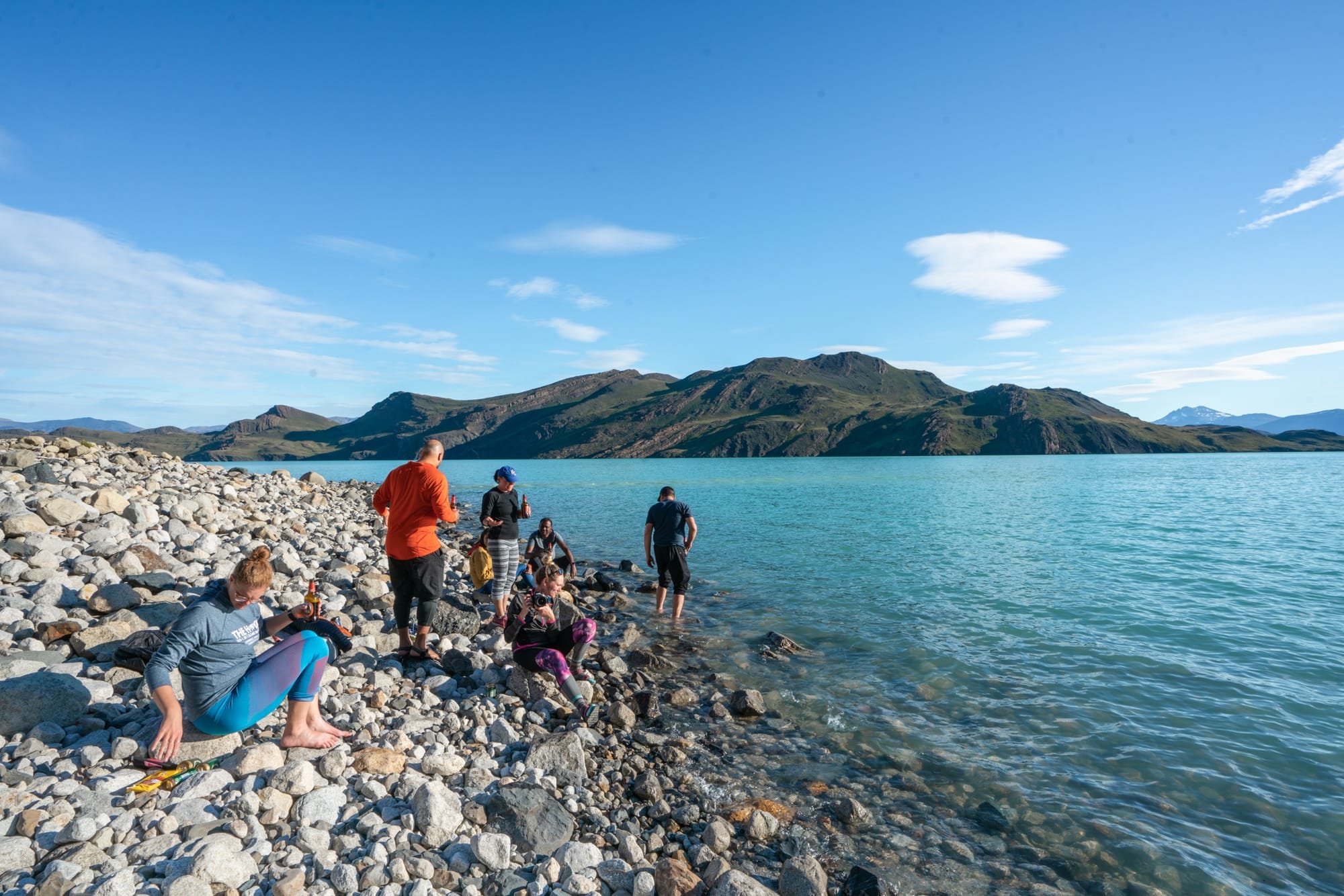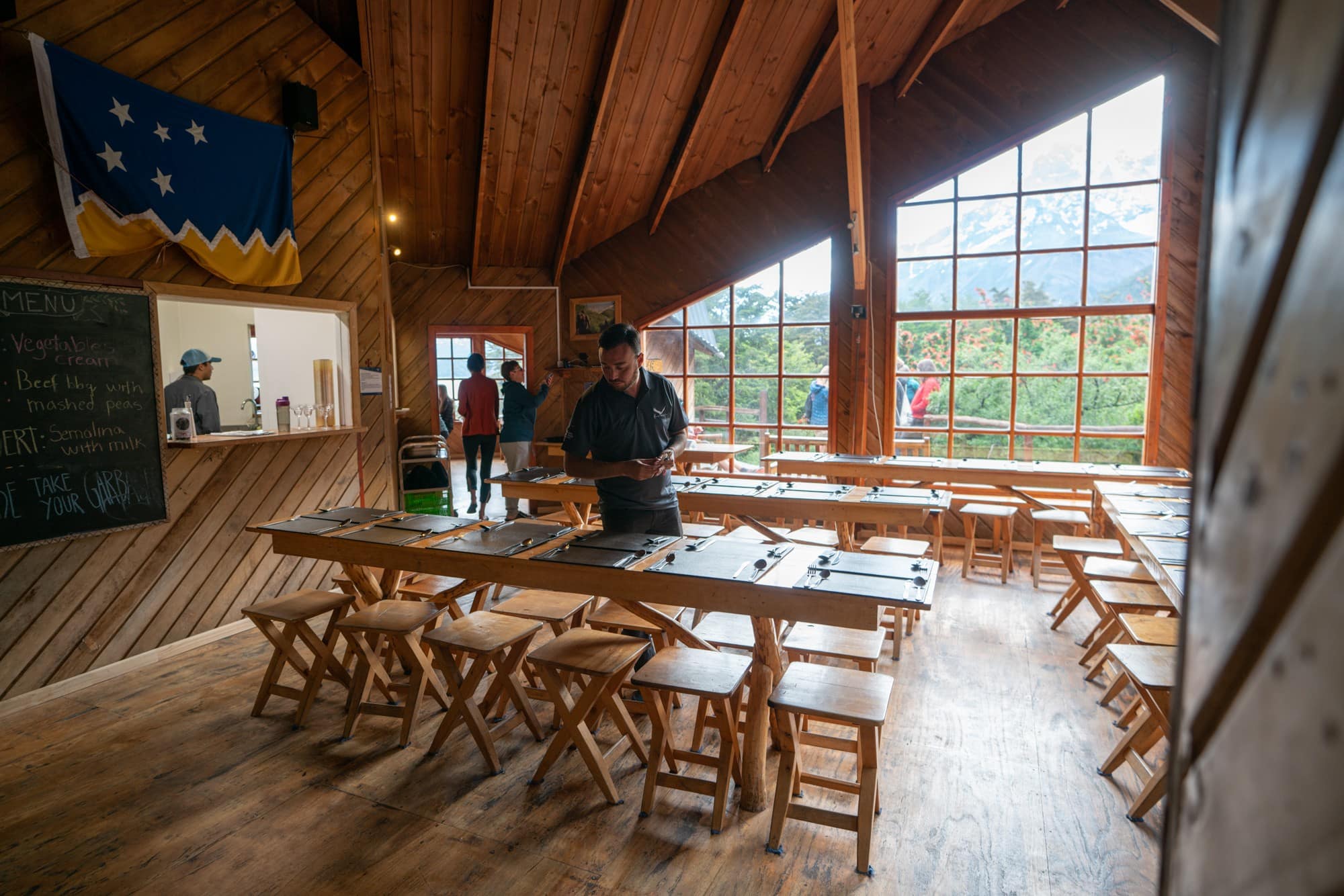 Day 4 – Refugio Los Cuernos to Hosteria Los Torres and back to Puerto Natales (7.5 miles)
This was a mellow morning and breakfast consisted of toast, eggs and coffee. Our day was fairly short so we were able to take our time and enjoy the scenery. There were lots of beautiful flowers in bloom and we hiked along Lake Nordernskjold the entire day so we had non-stop views. In total, it took us about four hours.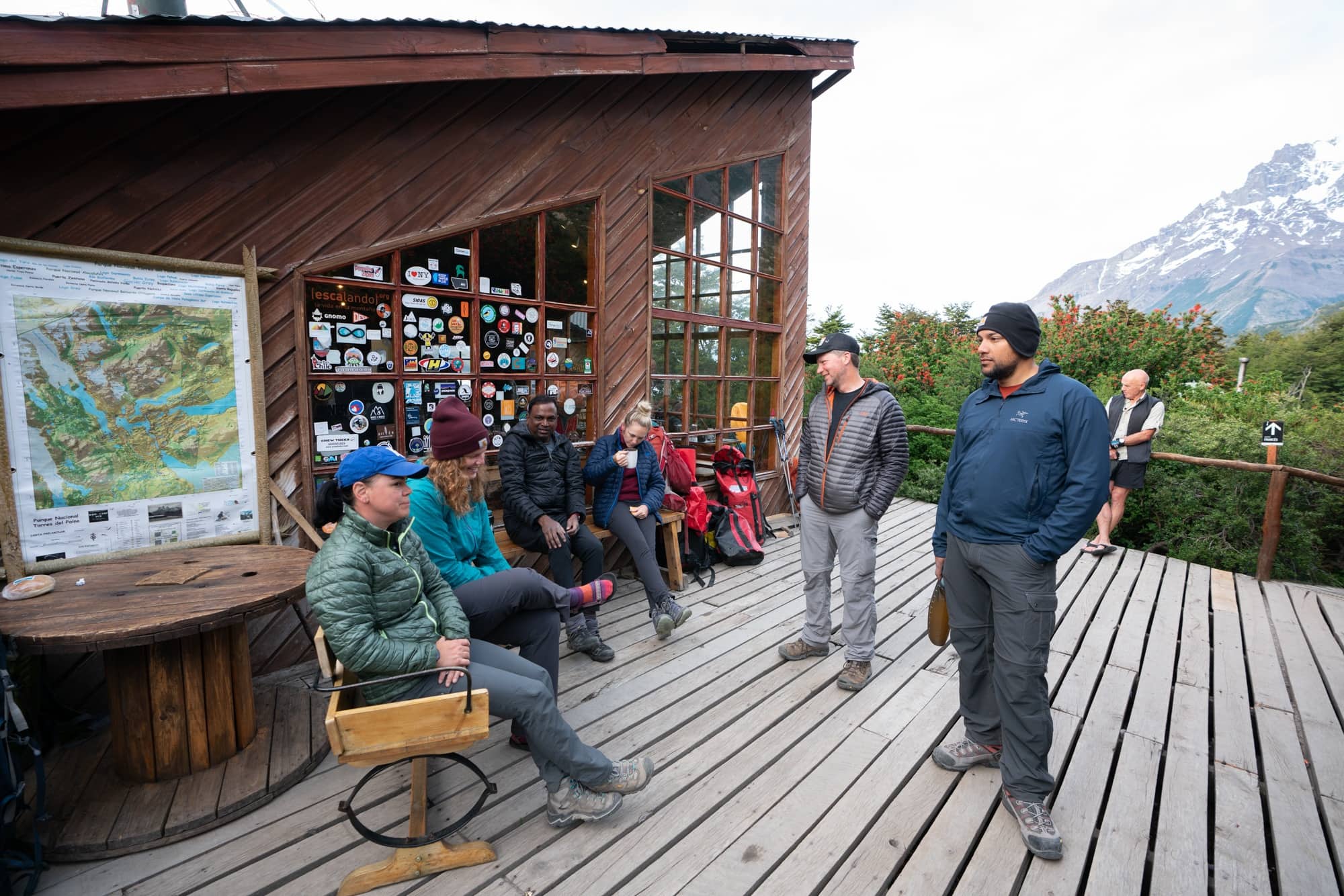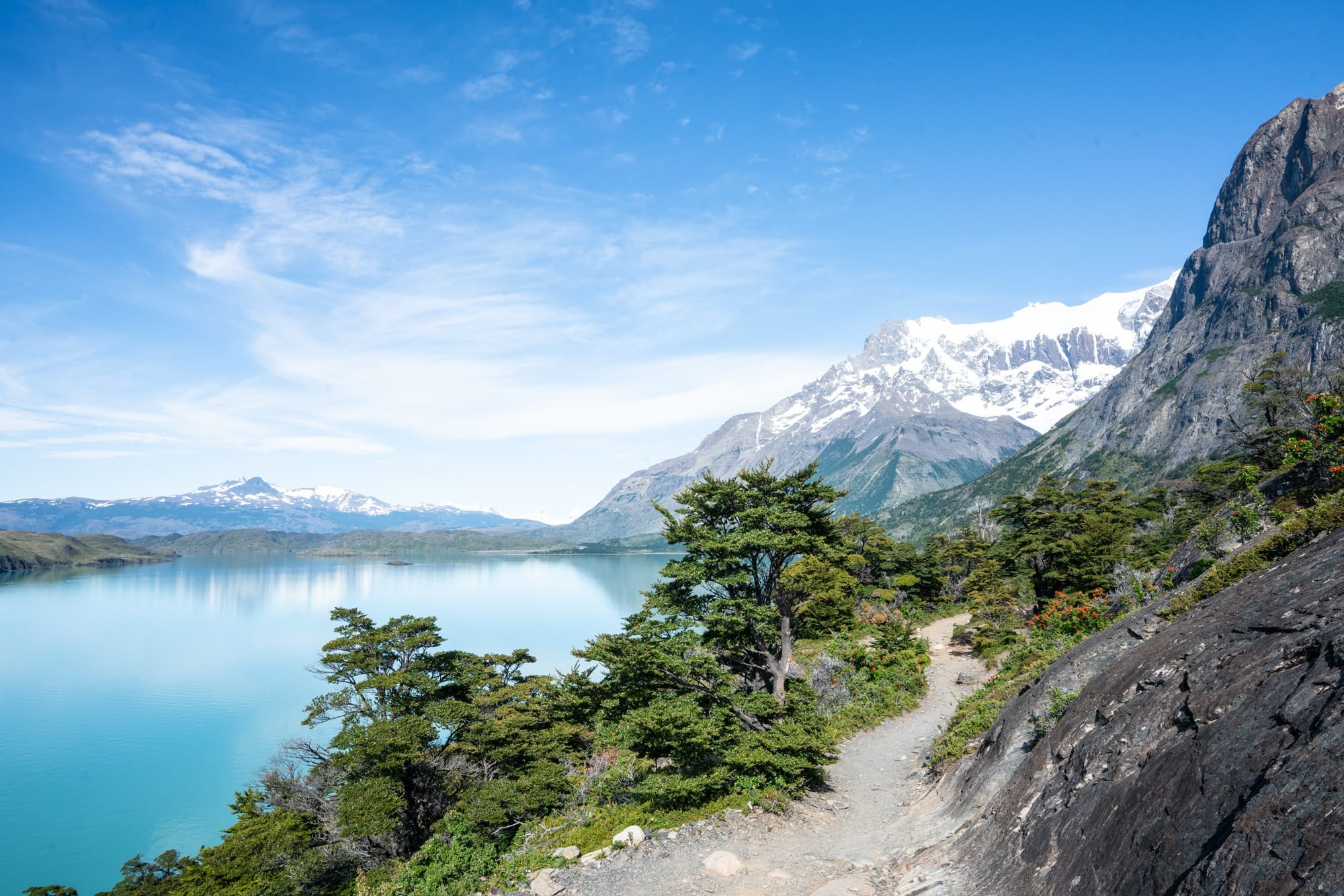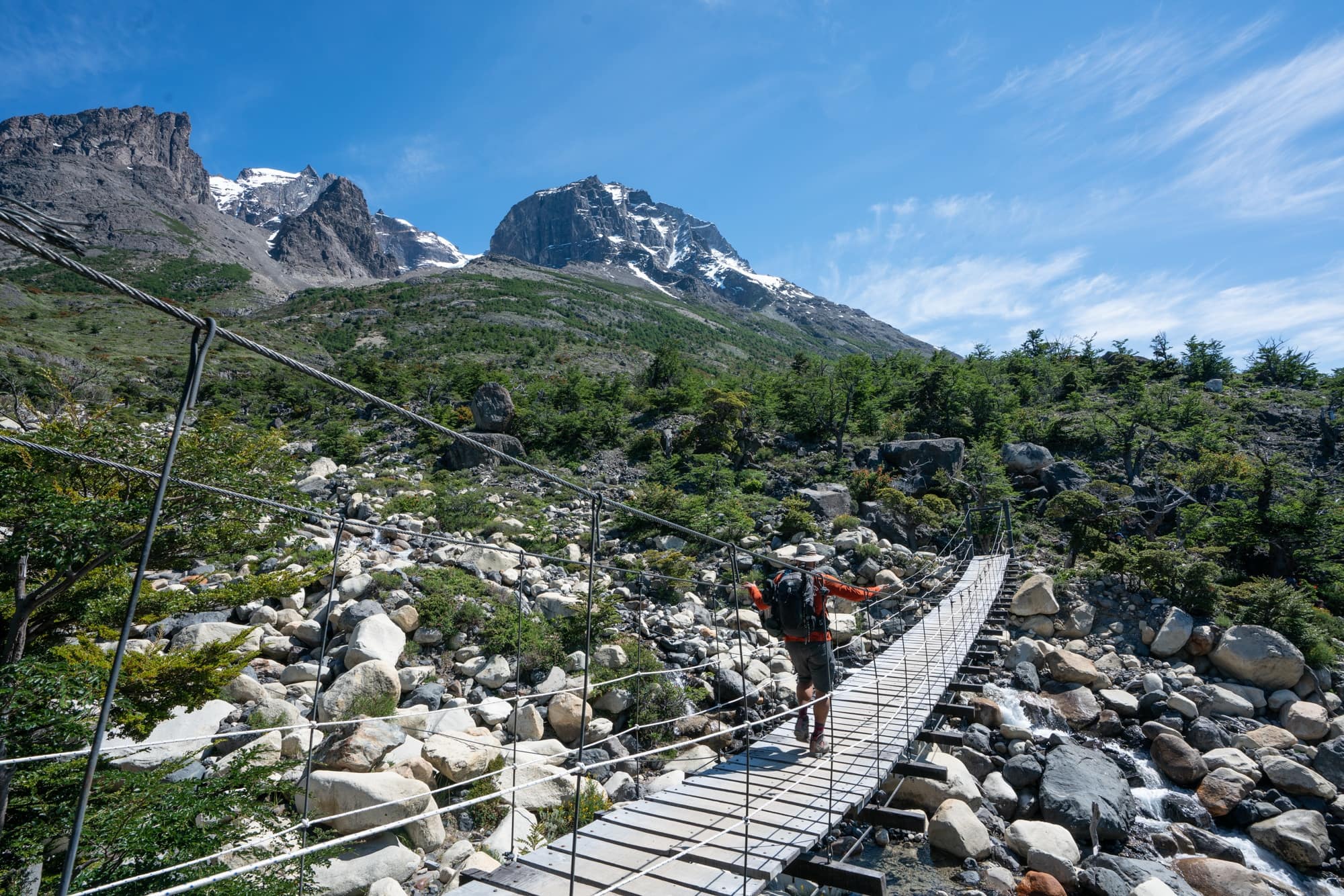 Since we had a shorter day on the trail, we stopped at the last spot with a view of the lake, where we enjoyed lunch and some mate tea.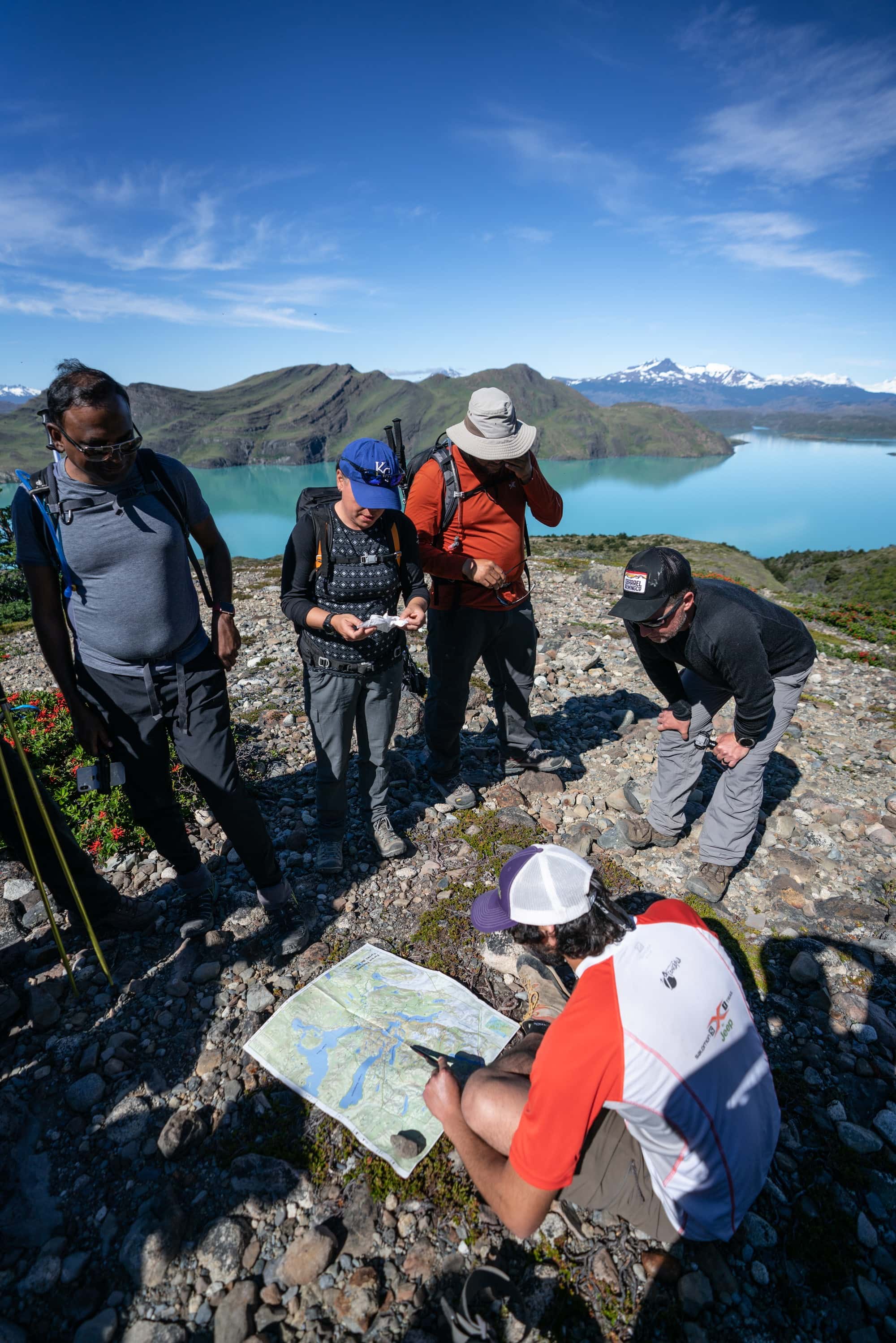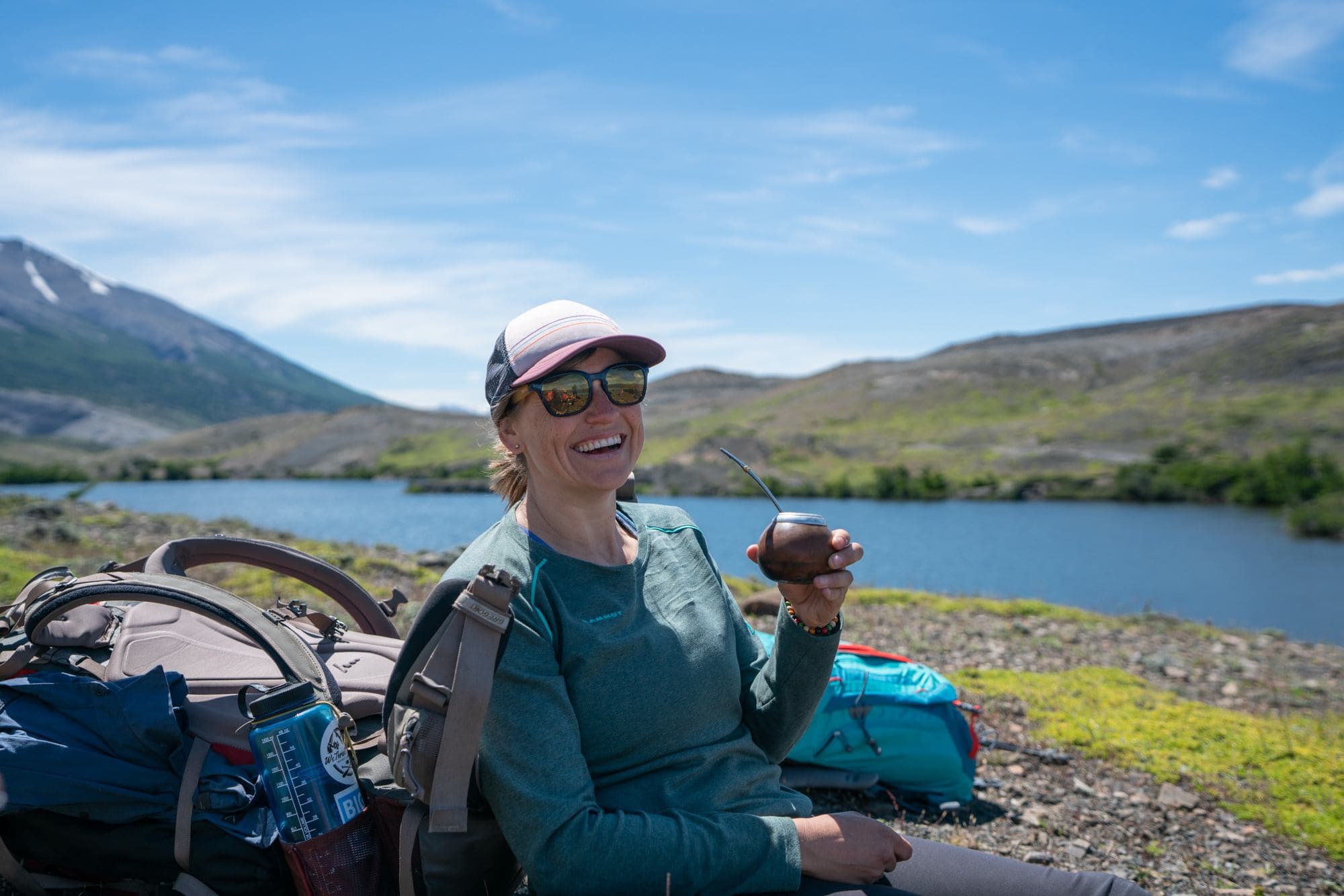 When we got back to our Day 1 starting point, our driver was waiting for us at the end to take us back to Puerto Natales where we grabbed pizza with our guides at the basecamp.
What questions do you have about hiking the W Trek in Torres Del Paine? Leave us a comment below!
Some of the links in this post are affiliate links. That means if you make a purchase, I make a small commission at no added cost to you. I only promote products I use and love, and your support helps keep the wheels turning at Bearfoot Theory. Thanks!