15 Fun Camping Games to Bring on the Road
These fun camping games can be played in your tent, car, or around the fire.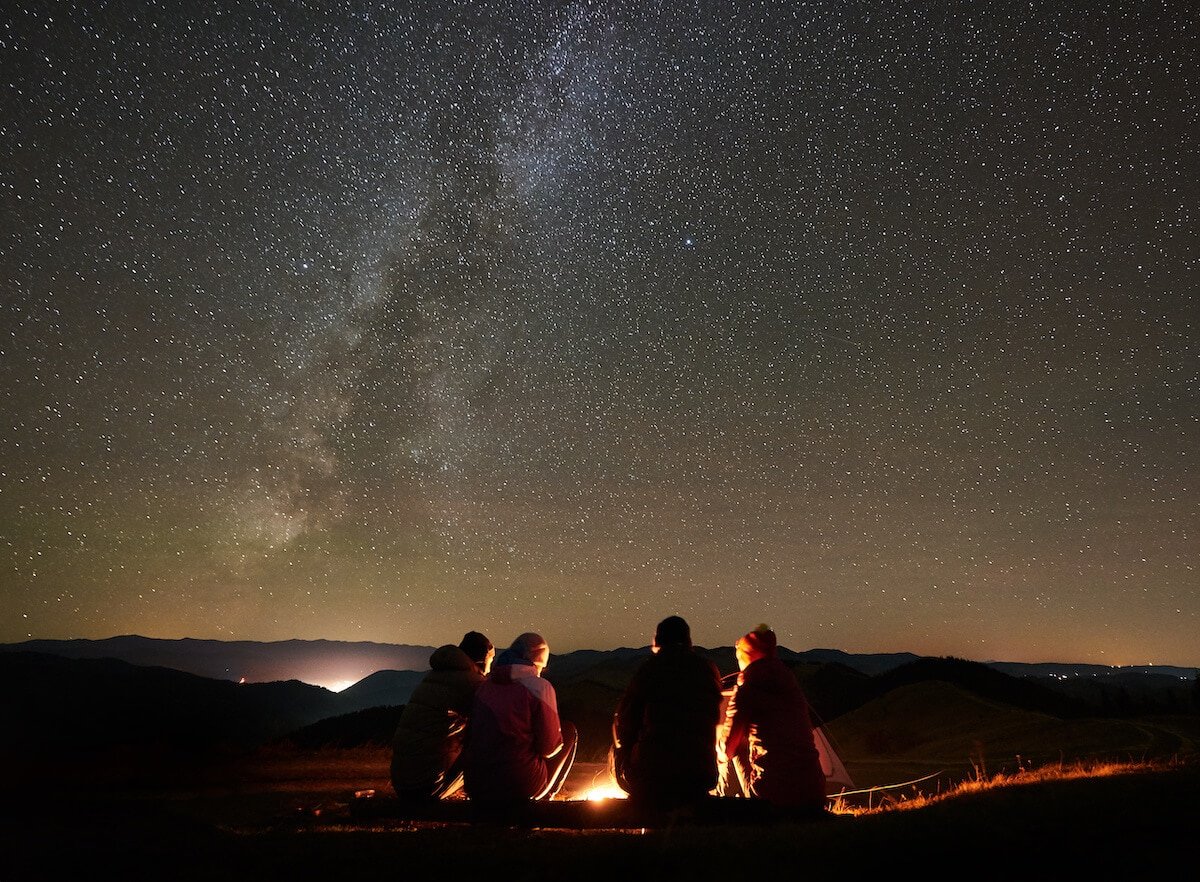 Looking for fun camping games to play on your next car camping or van road trip? While a good ol' deck of cards is always a must, sometimes you just want something a little more exciting. All of these camping games can be played either inside of a van or tent, outside at a campsite, or even on the trail.
Whether you're venturing out with one friend, your family, or a large group, this list of fun camping games for adults are sure to liven up any evening under the stars. And guess what? Most of our favorites are under $30, weigh less than a pound, and are no bigger than the size of your hand (when packed down).
Looking for compact, easy, and fun camping games to play? We've rounded up our favorites below.
Best Camping Games
While not car camping essentials, these camping games will add some fun to your next trip and will keep you and the whole family entertained.
Exploding Kittens
Exploding Kittens is the most-backed project in Kickstarter history which is awesome for all those dreamers and doers out there! The point of the game is survival against drawing an "Exploding Kitten" card. Strategy and laughter are definitely needed for survival! If you already have the original game, make sure to check out the expansion pack, Imploding Kittens. It adds more twists (and laughs) to the game.
Eno TrailFlyer Outdoor Game
While not the most practical for backpacking, ENO TrailFlyer Outdoor Game is a compact version of corn hole that is a super fun car camping game to play and can be set up around a tree. The best part? It packs down to about the size of a Nalgene!
5 Second Rule Uncensored
I recently bought the Jr. version of this game for a child's birthday and it proved to be an awesome family game. Bring on the uncensored version for adult fun! 5 Second Rule requires you to be quick with your mind AND tongue as you only have 5 seconds to name three uses of common items, for example "Name 3 Reasons to Call in Sick" or "Name 3 Things You Do With Your Tongue". You can even skip packing the timer and use your cell phone to count down 5 seconds. An awesome addition to your camping games–it's great for just 2 or for a large group!
Telestrations
This is an awesome game for sitting around the campfire. Telestrations is similar to the game "telephone" except you draw and then pass your sketchbooks around the circle for others to guess what they see. It's a great community game that engages the whole circle. It comes with 8 erasable sketchbooks, markers, and cloths making this our only camping game on the list that weighs more than a pound.
Settlers of Catan
Settlers of Catan is the perfect 4-person camping game that is easy to learn and addictive to play – it's also been one of the best-selling board games for years. This game does come in a box, but you can easily store all the pieces in a small pouch for camping.
Campfire Stories Deck
While Campfire Stories isn't technically a "game", it's still a great activity to play around the campfire or on the trail. This deck of 50 cards includes storytelling prompts to help you meaningfully engage and connect with your campmates. Here are a few sample prompts: "Tell us a story about your favorite memory of the person sitting next to you" and "Tell us a story about a rock, tree, mountain, or ocean that gave you perspective."
Outside/Inside Backpack Table Tennis Set
Weighing in at 1 pound and 8 ounces this Outside Inside Backpack Table Tennis Set might not be the best pick for backpacking given the need for a table to play on, but this travel ping-pong set is a great idea for car camping at established campsites with tables! The kit even comes with a great drawstring bag to keep everything together!
Quick Wits
Want to liven up your evening in the wilderness? Quick Wits is a fast paced adult game great for 3 or more players that can easily be enjoyed around the campfire. The goal is to win the most amount of cards from your friends, but you've got to be the quickest to shout out answers!
Go Fish Yourself
Weighing in at only 3 ounces, this camping game takes up hardly any room. Go Fish Yourself is a fun, grown-up version of Go Fish for those who love reliving their childhoods, with a little friendly sabotage. This game requires a sense of humor and can be played with anywhere from 2-6 players. The objective isn't to create pairs — instead, you are forcing your friends to create pairs, and each pair comes with a set of ridiculous rules to be followed. Can't follow the rules? You're out!
Glow-in-the-Dark Frisbee
Now you don't have to stop playing games after dark! Light up your campsite with a little glow-in-the-dark frisbee. Fun for a group and also good for playing with your pooch at night.
Bananagrams WildTiles
Love Scrabble? Bananagrams is basically Scrabble without the board! One of the best things about Bananagrams is that they easily pack into a small bag that you can easily throw into your backpack or camping bag.
Outside/Inside Backpack Tumbling Tower
Jenga weighs in at 2.2 pounds so it is definitely out of the question for sneaking in your pack without noticeably carrying the extra weight. This Outside Inside Backpack Tumbling Tower weighs in at less than a pound and comes in fun bright colored pieces. Included is a great drawstring sack for keeping all the pieces together. Not sold yet? It is also less expensive than classic Jenga!
Farkle
This is an awesome game for children and adults alike to enjoy. Outdoor adventure lovers thrive on risk and that's what Farkle is all about. Roll the dice and try for higher score combinations but if you "Farkle" all your points are gone–will you play it safe or take the risk?
Electronic Catch Phrase
This electronic catch phrase game weighs less than a pound, and the batteries last a really long time on a trip. It's a great way to break some ice with your neighbors since an unlimited number of people can play.
UNO Wilderness
A new spin on the original classic game of UNO, this new UNO Wilderness edition features fun wilderness scenes on the cards.
What are your favorite camping games? Leave us a comment below!