The East side of the Sierra Nevada Mountains is home to some of the best hiking in California. Throughout this stretch of the mountain range, hikers pass by pristine alpine lakes, over mountain passes with views of jagged peaks, through wildflower-studded meadows, and along crystal clear rivers and streams. The area is well-known for its 211-mile John Muir Trail that winds its way through stunning Wilderness, but there are also plenty of great day hikes here as well, many that are easily accessed via the small mountain town of Mammoth Lakes. I've lived just south of Mammoth for about four years, and these six Mammoth Lakes hikes showcase the best views, lakes, pine forests, and natural beauty of the Eastern Sierra. Pro tip: bring your bathing suit!
Ready to experience the stunning landscapes of the Eastern Sierra? Here are 6 of the best Mammoth Lakes hikes for incredible views and outdoor adventure.
How to get to Mammoth Lakes, California
The town of Mammoth Lakes is located along Highway 395 on the eastern slopes of the Sierra Nevada mountain range. Mammoth Lakes is about a 5 hour drive north from Los Angeles and a 2.5 hour drive south from Lake Tahoe. If you're coming from the San Francisco area, there are a number of mountain passes you can take, which are only open in the summer. A popular route is the 6 hour drive through Yosemite National Park along Tioga Pass (Highway 120), California's highest highway pass. Sonora Pass (Highway 108) is also a very scenic route through the Sierra Nevada range to Highway 395.
---
Best time to hike in Mammoth Lakes
The town of Mammoth Lakes is situated at 7,881 feet and the summit of Mammoth Mountain is over 11,000 feet. The area gets heavy snowfall in the winter, so Mammoth Lakes hiking trails typically aren't clear of snow until late spring or even early summer. The hiking trails closer to town tend to melt off more quickly while the higher elevation trails can have snow on them until June or even July depending on that year's snowpack.
Typically, June to September is the prime hiking season for the Mammoth Lakes area. Late spring and early summer brings beautiful wildflowers and rushing rivers while the fall months of September and October are a great time of year to experience Mammoth Lakes hikes when the Aspen leaves turn golden.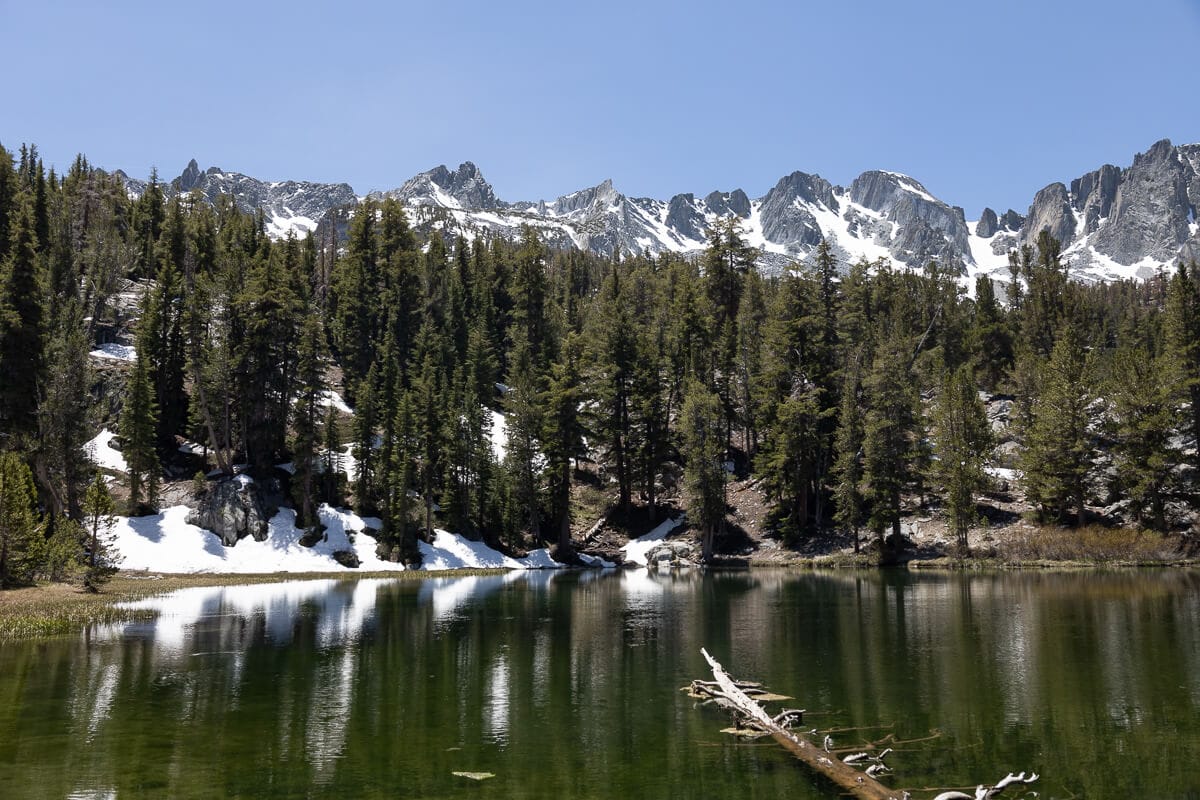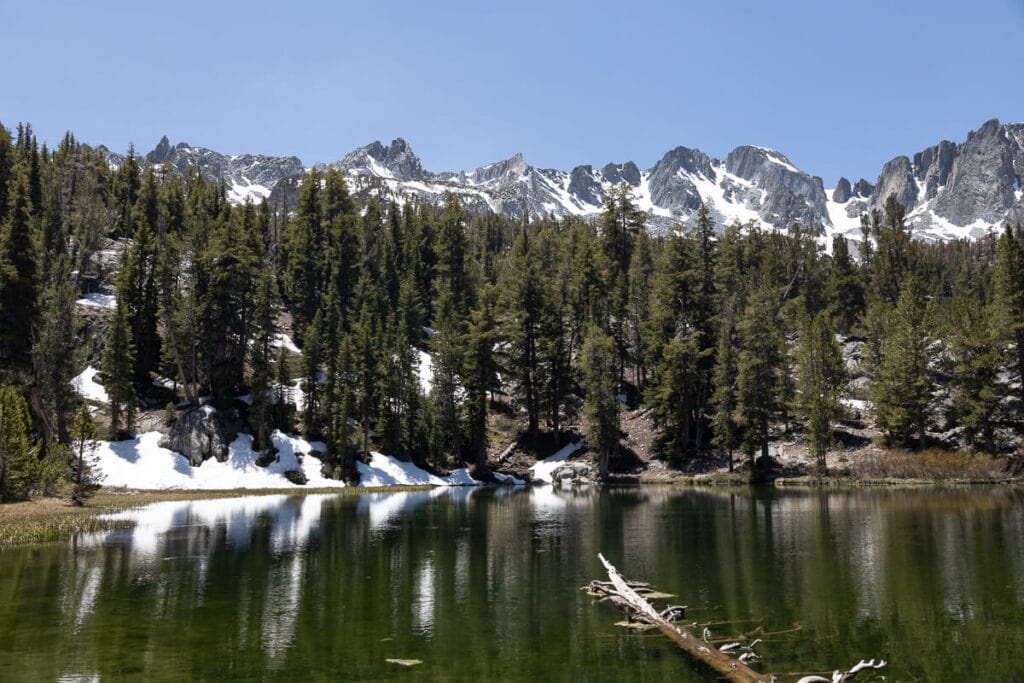 ---
The Best Mammoth Lakes Hikes
All of the Mammoth Lakes Hikes detailed below can be found on this map.
1. Duck Pass Trail (Optional: Pika Lake)
Trailhead: Duck Lake Pass Trailhead
Length: 9.5 miles roundtrip
Elevation gain: 2,132 ft
Trail type: Out-and-back
Difficulty: Moderate
Dogs allowed?: Yes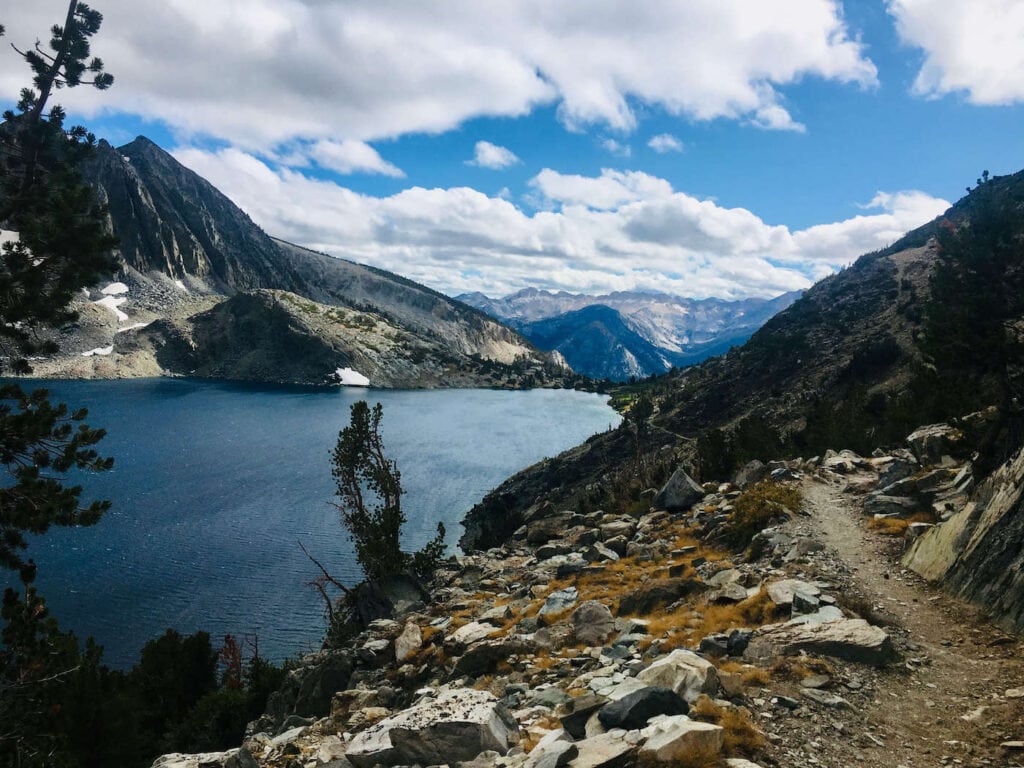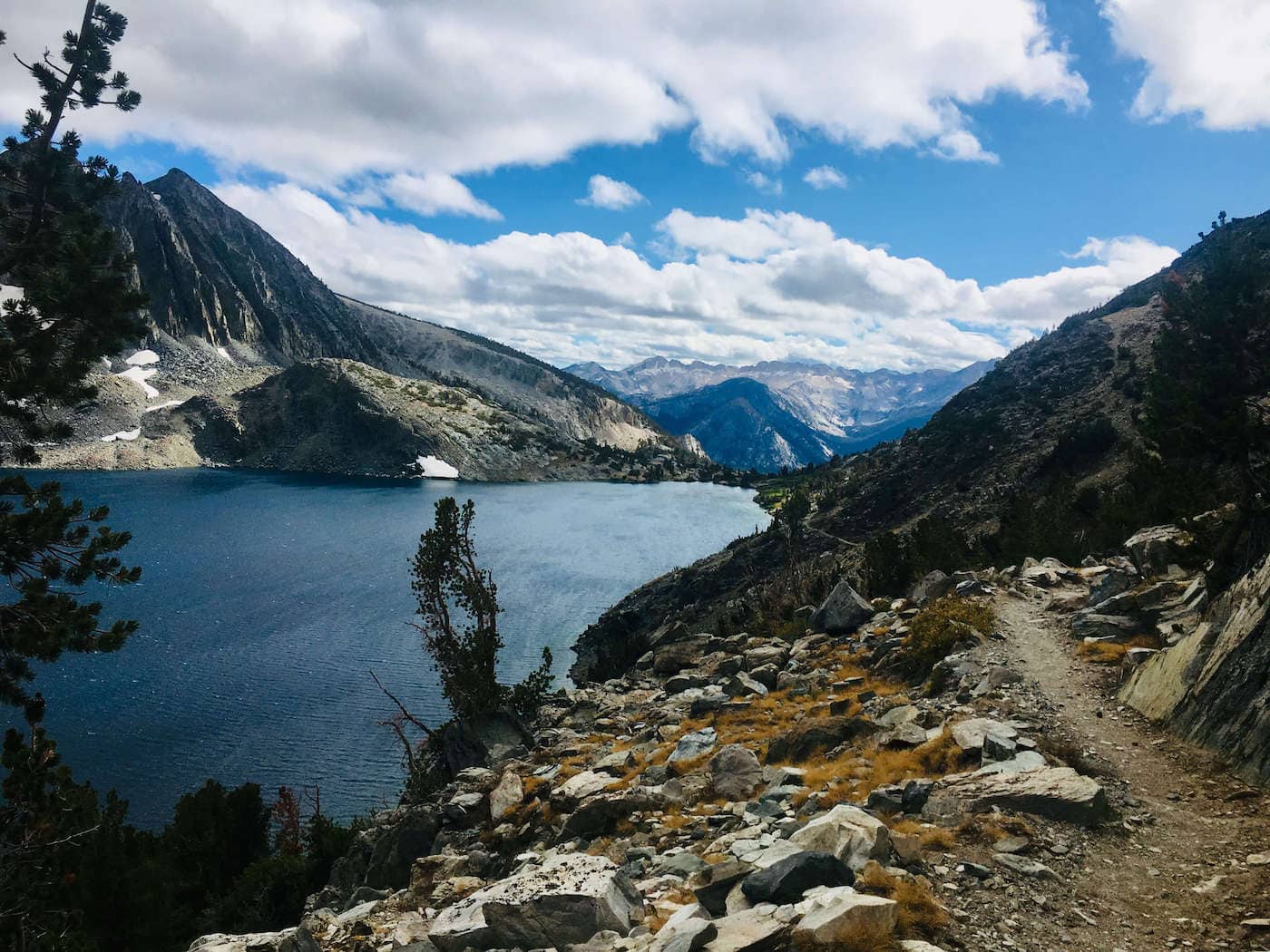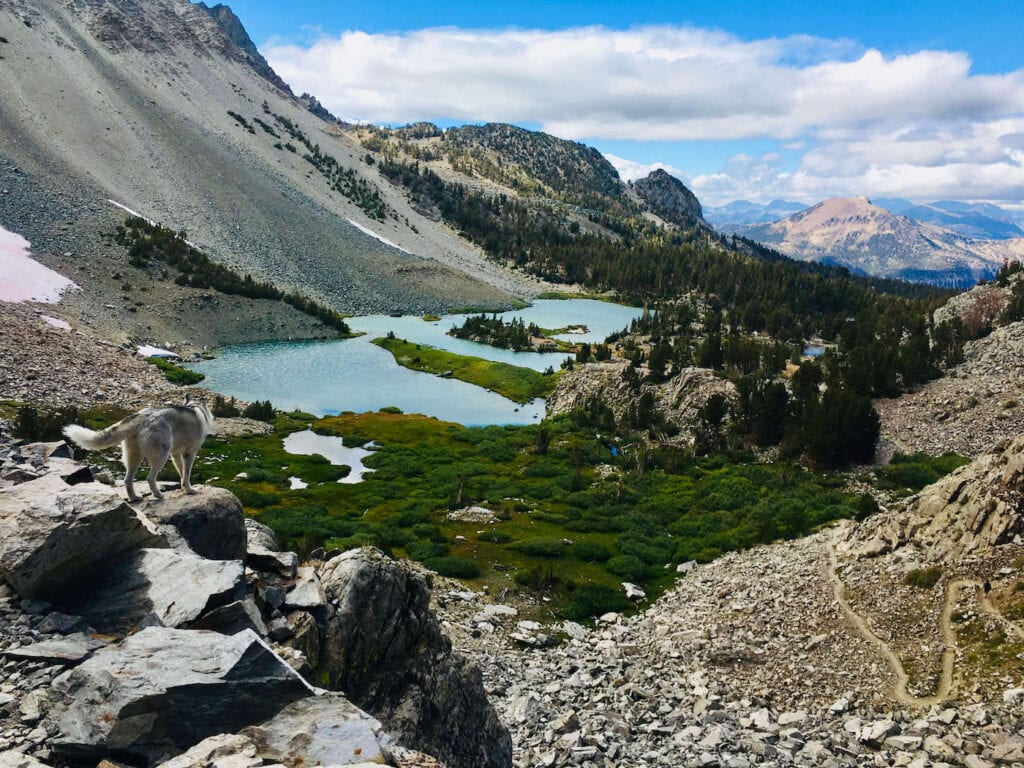 Duck Pass Trail is one of my favorite Mammoth Lakes hikes for its stunning scenery and beautiful alpine lakes. The trail starts at Coldwater Campground and slowly winds its way up through pine forests until you reach Barney Lake. From there, the trail enters high-alpine terrain with a stretch of steep switchbacks covered in loose scree and continues to climb up toward Duck Lake. The effort is worth it, though, because the views out over Duck Lake into the John Muir Wilderness are some of the best in the Eastern Sierra! You can continue on to the smaller Pika Lake for a dip in the crystal clear water, or hang out on the rocks above Duck Lake and take in the view.
How To Get To Duck Pass Trailhead
Duck Lake Pass Trailhead is located in the Coldwater Campground in the Lakes Basin area above Mammoth Lakes. You can catch the free Lakes Basin Trolley (orange line) from town to the Lake Mary Marina and then it's a short hike up the Coldwater Campground. If you're driving, there is free day parking available at the end of the campground.
2. Little Lakes Valley to Gem Lakes
Trailhead: Little Lakes Valley Trailhead
Length: 8 miles
Elevation gain: 1,059 ft
Trail type: Out-and-back
Difficulty: Moderate
Dogs allowed?: On-leash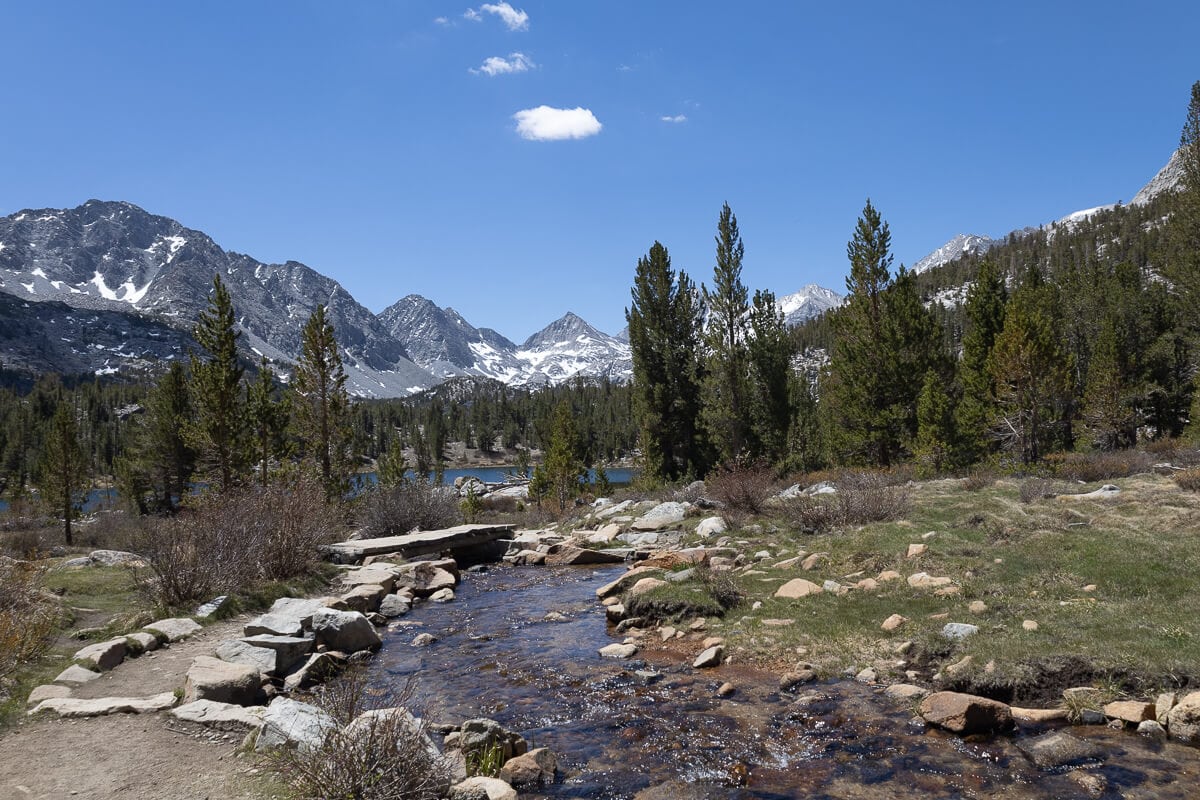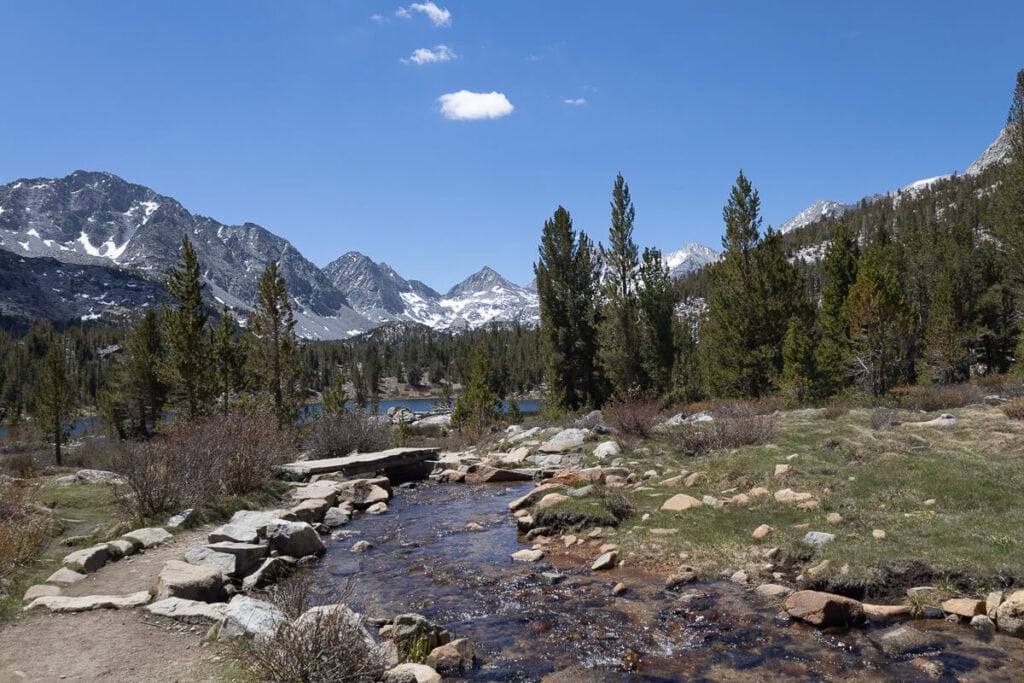 Little Lakes Valley is another amazing hiking area to explore in the Eastern Sierra. The trailhead at Mosquito Flat is a 45 minute drive south from the town of Mammoth Lakes, but it is absolutely worth the trek. This hike is also a great option if you're not quite acclimated to the elevation yet and want a hike that starts above 10,000 feet.
Starting from the Mosquito Flat Trailhead, the Little Lakes Valley Trail follows the rushing Rock Creek for about a mile before the valley opens up into huge views of jagged peaks and a string of beautiful alpine lakes. Each lake is more stunning than the last until you reach Gem Lakes, a series of 6 alpine lakes set against the base of the tall peaks. There are lots of great lakeside rocks to soak up the sun on before heading back down the trail.
Because of its casual terrain and stunning scenery, this hike is very popular, so try to plan your visit during the week if you can.
How To Get To Little Lakes Valley Trailhead
The Little Lakes Valley Trailhead is located at the top of Rock Creek Road near Mosquito Flat Campground. It's about a 45 minute drive south from Mammoth Lakes. Take HWY 395 to Tom's Place and turn right onto Rock Creek Road. It's another 11 miles up to the Mosquito Flat parking area.
3. Rainbow Falls & Devils Postpile
Trailhead: Rainbow Falls Trailhead
Length: 4.9 miles
Elevation gain: 515ft
Trail type: Out-and-back
Difficulty: Easy
Dogs allowed?: On-leash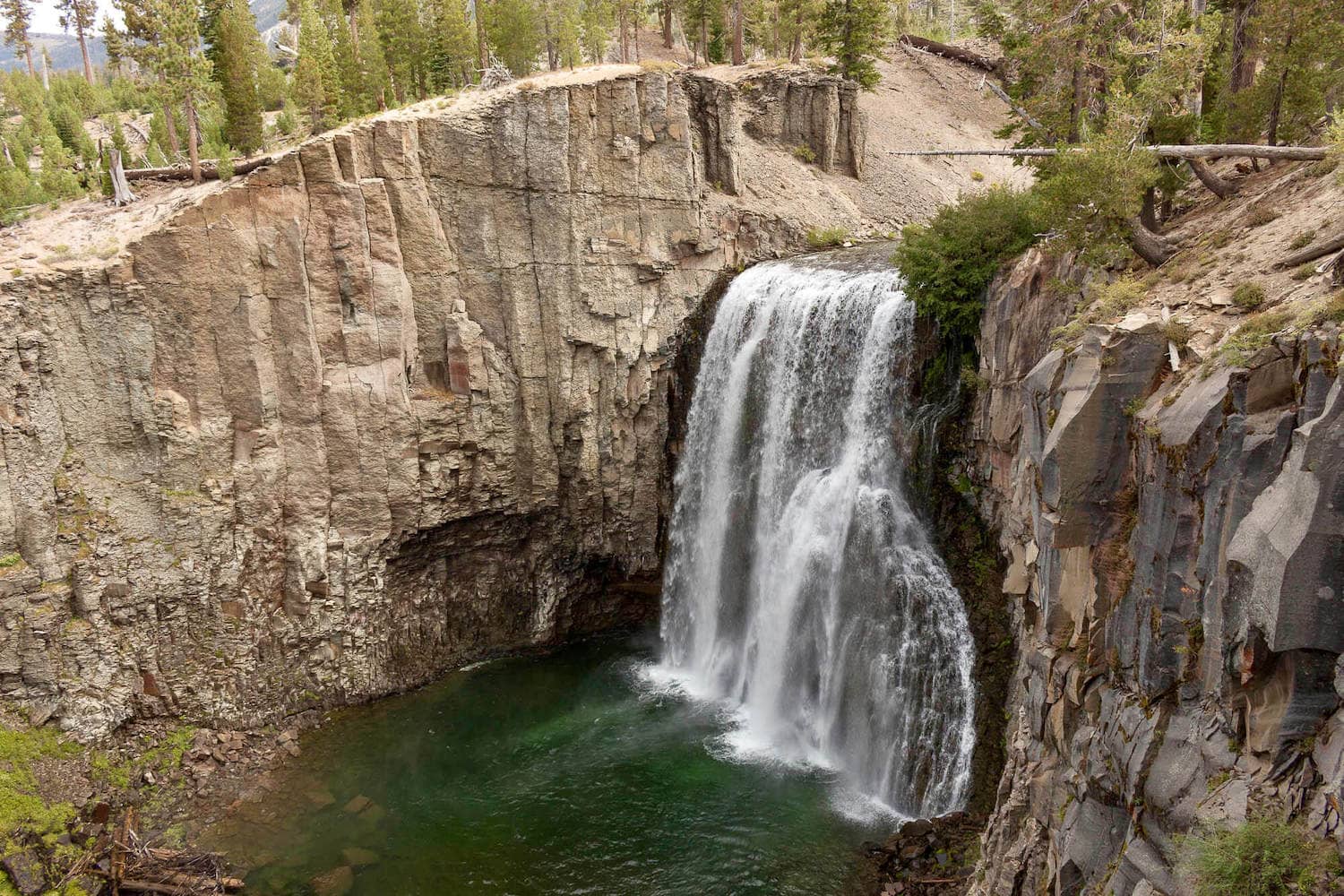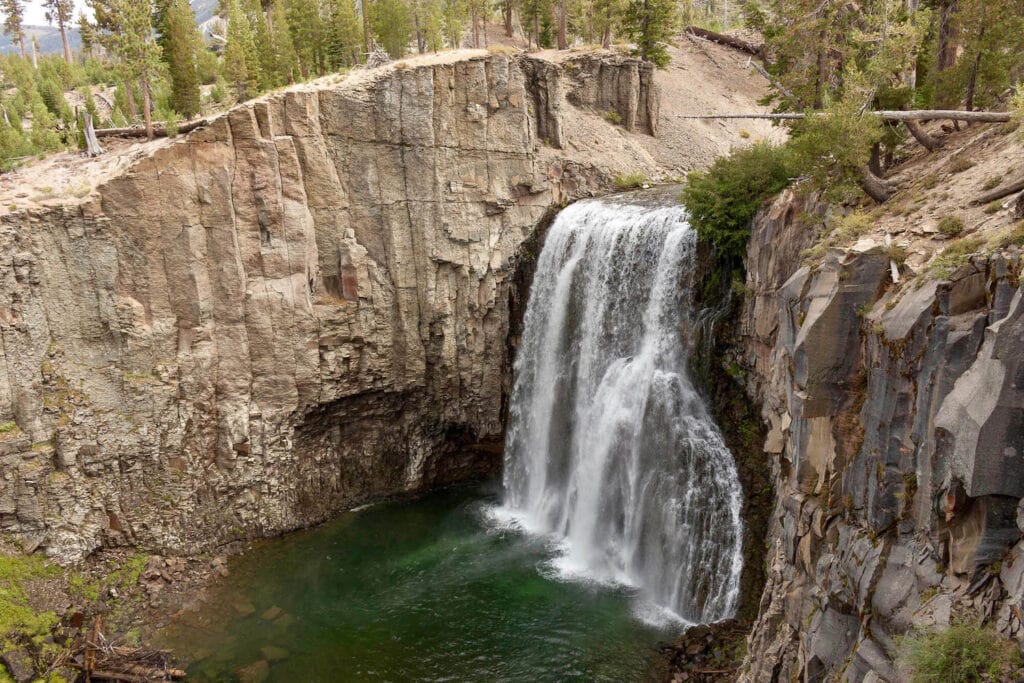 Rainbow Falls is one of Mammoth's Lakes most popular outdoor attractions, but don't let the crowds deter you from visiting this stunning waterfall. If you get an early start, you may just have the place to yourself. Rainbow Falls is the highest waterfall in the Eastern Sierra at 101 feet and its name comes from the rainbows that appear in the mist on sunny days. The hike into the falls is slightly downhill along a well-traveled trail until you reach the first viewpoint that overlooks the cascades and the emerald pool at its base. There is a steeper trail that leads down to the falls where you can then take a dip if you wish!
On the return hike, visit Devils Postpile National Monument for another unique and beautiful Eastern Sierra natural wonder.
How To Get To Rainbow Falls Trailhead
The Minaret Summit Road that leads to the Rainbow Falls Trailhead is closed during the winter and doesn't tend to open until mid-June or later depending on snowpack. Starting around July and ending in September, there is a mandatory shuttle bus into Reds Meadow Valley with a stop at Rainbow Falls Trailhead. The shuttle is $15 for adults and $7 for kids and tickets can be purchased at the Mammoth Mountain Adventure Center. Alternatively, you can drive to the Rainbow Falls Trailhead before 7am or after 7pm.
Outside of the shuttle bus season, there is a $10/car entrance fee which can be paid at the Minaret Vista Station on your way into Reds Meadow. For more information on shuttles and road conditions visit the Reds Meadow and Devils Postpile NPS webpage.
4. Mammoth Crest Loop
Trailhead: Crystal Lake Trailhead
Length: 12.7 miles
Elevation gain: 3,044 ft
Trail type: Loop
Difficulty: Hard
Dogs allowed?: On-leash


If you're looking for the best views around Mammoth Lakes, the Mammoth Crest Trail is your answer. With views of the Lakes Basin, the High Sierra, Crystal Crag and even the White Mountains in the distance, this is one of the best Mammoth Lakes hikes and one of my personal favorites. The first four miles are very steep and challenging and the high elevation makes it even more difficult. But once you're on the Crest, the trail mellows out and you can start to enjoy the beautiful scenery and views. To complete the loop, return via Duck Pass Trail, which offers similarly stunning views. If you want a shorter hike, simply make it an out-and-back.
How To Get To Mammoth Crest Trailhead
The Mammoth Crest Trailhead – or Crystal Lake Trailhead – is located near the Lake George Campground. There is parking near the trailhead or you can take the free Mammoth Lakes Basin Trolley (orange line) from town and get off at stop 102. The trailhead is about half a mile down Lake George Rd on the right.
5. McGee Creek Trail to Steelhead Lake
Trailhead: McGee Creek Trailhead
Length: 11.1 miles
Elevation gain: 2,522 ft
Trail type: Out-and-back
Difficulty: Hard
Dogs allowed?: Yes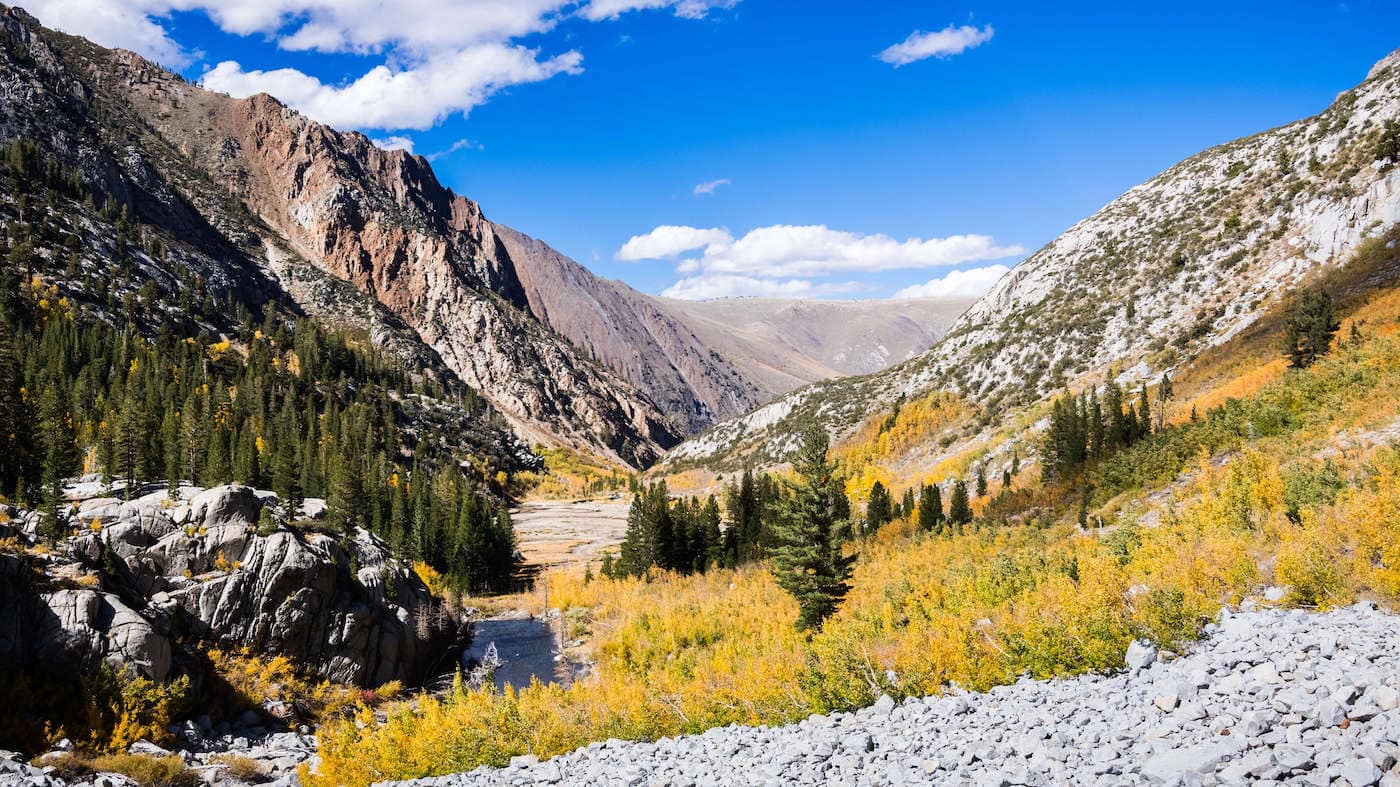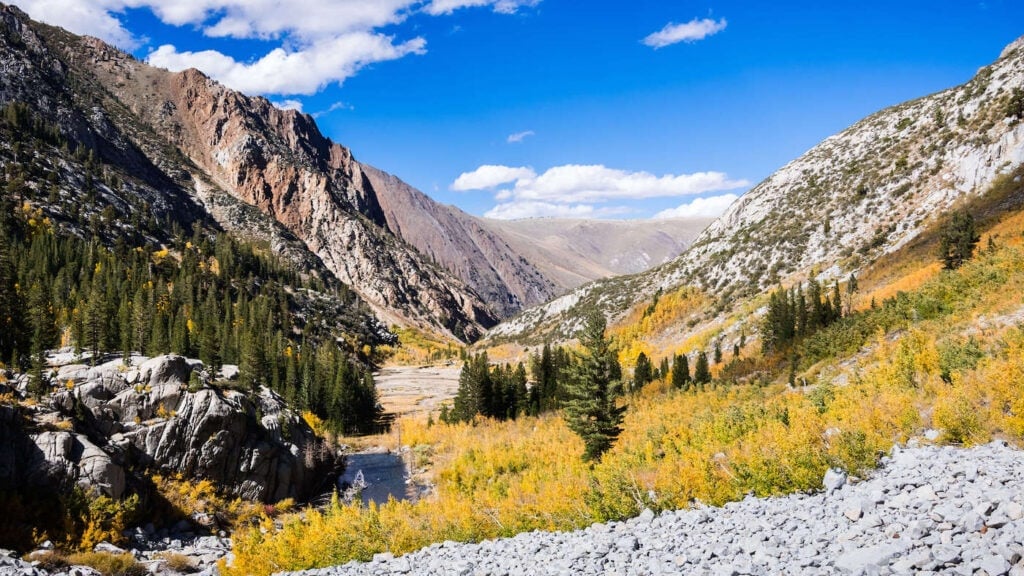 If you're looking to ditch the crowds in Mammoth, head 20 minutes south of town to McGee Creek. The road into the McGee Creek Trailhead is narrow and winding, but you'll catch great views of Crowley Lake and the White Mountains. The first few miles of McGee Pass Trail are mellow and you'll hike alongside the rushing McGee Creek. If you do this hike in spring you'll also be rewarded with lots of wildflowers! After a few miles, the trail steepens as you make your way up to Steelhead Lake, but once you're there you'll enjoy one of the most beautiful alpine lakes in the Eastern Sierra.
The lake is stocked with brook trout, so grab a fishing permit and bring your rod! This is also a great hike to do in the fall since the trail is lined with aspen trees that turn golden.
How To Get To McGee Creek Trailhead
Drive south from Mammoth Lakes on 395 for about 12 miles and turn off onto McGee Creek Rd. Take McGee Creek Rd. for 3.3 miles and you'll come to the parking area. The McGee Creek Trailhead is at the far end of the parking lot.
6. Coldwater-George Trail
Trailhead: Coldwater Campground or Lake George Campground
Length: 2.9 miles
Elevation gain: 139 ft from east to west or 474 ft from west to east
Trail type: One-way with the option to make it a loop
Difficulty: Easy
Dogs allowed?: No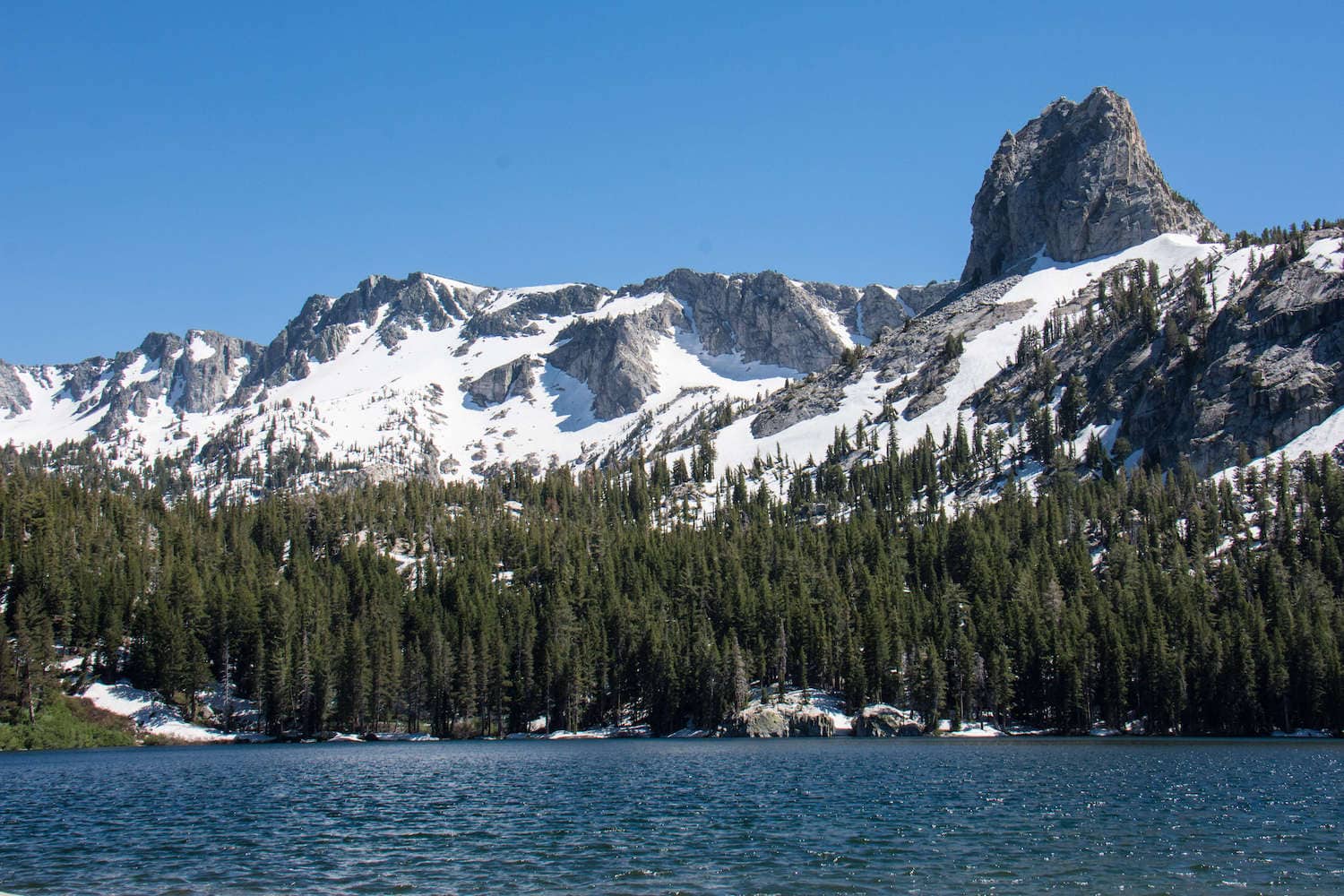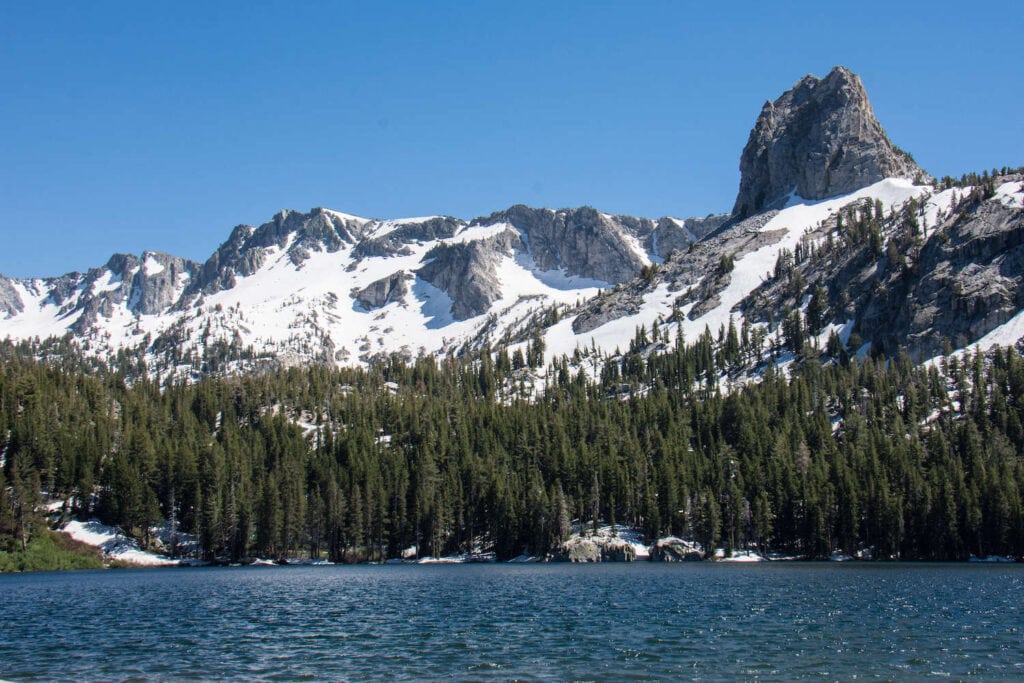 If you're looking for a short, easy hike that still offers amazing views, the Coldwater-George Trail is a great option. With only a few hundred feet of elevation gain, it's a perfect introduction to the Lakes Basin area and a perfect hike for families with little kids. It's also a good option for early season hiking when the higher elevation trails are still covered in snow.
The trail connects Lake George Campground and Coldwater Campground with great views of Crystal Crag and Mammoth Crest in between. You can do this hike as a one-way hike and take the free Lakes Basin trolley back to the start or make it a loop by returning via Around Lake Mary Road (which will add about 1.5 miles).
How To Get To The Coldwater-George Trailhead
You can start this hike at either Lake George Campground or Coldwater Campground. Both have parking areas or you can take the free Mammoth Lakes Basin Trolley and get off at stop 101 for Lake George Campground or stop 100 for Coldwater Campground.
Have you done any of these Mammoth Lakes hikes? Which ones are still on your list to check off? Let us know in the comments below!