Kayaking New Zealand's Abel Tasman Coast
One of the best things I've done in New Zealand was a three-day sea-kayaking trip on the coast of Abel Tasman National Park. See the photos and get the full scoop on the tour here.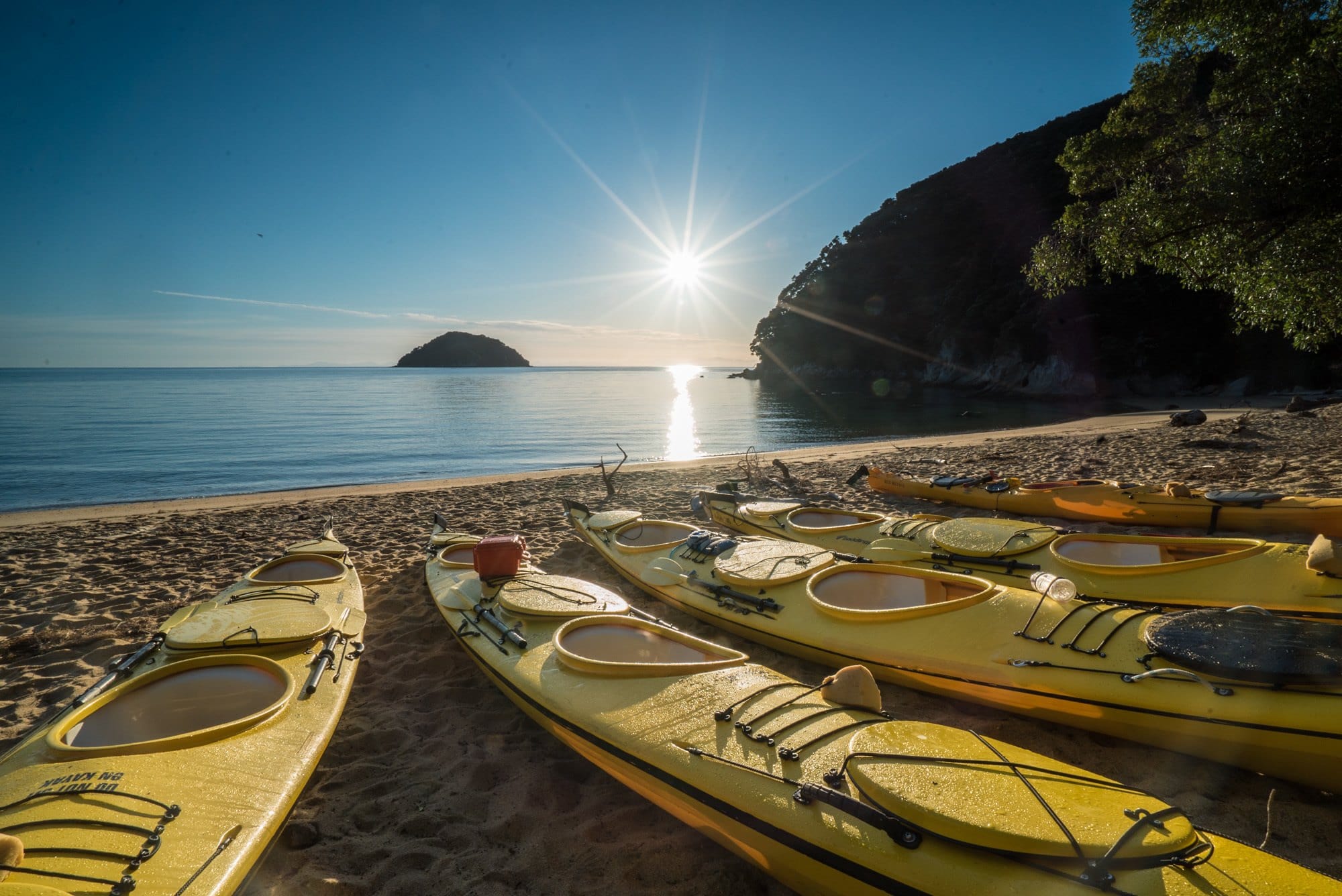 Three-Day Kayak Trip on New Zealand's Abel Tasman Coast
I've done a lot of cool things in New Zealand so far, but my three-day kayak tour on the Abel Tasman coast with Abel Tasman Kayaks has stood out as one of the most unique and enjoyable experiences of my trip.
I came to Abel Tasman for the mile-long stretches of golden sand, beach-front camping, colorful sunrises, and friendly wildlife, and I was not disappointed. But what I wasn't expecting was a world-class tour. My guide Kyle (otherwise known as the @bare_kiwi) was hysterical, yet he was one of the most professional guides I've ever done a trip with. He kept us laughing the entire time, spoiled us with fresh tasty food and local beer and wine, and was an amazing storyteller. That combined with quality gear, a perfect pace, and some fun side hikes, I couldn't have had a better time exploring the Abel Tasman coast by kayak.
Important Reminder: As outdoor recreationists, it's our responsibility to know how to recreate responsibly on the water whether we're kayaking, paddleboarding, canoeing, rafting, or boating. Learn how to prevent the spread of aquatic invasive species with 3 easy steps that have a huge impact on our ecosystems.
[separator style_type="double|dotted" top_margin="20″ bottom_margin="40″]
— My Abel Tasman Kayak Travel Video —

[separator style_type="double|dotted" top_margin="20″ bottom_margin="40″]
— Where is the Abel Tasman Coast? —
Abel Tasman is New Zealand's smallest national park and is located on the northwest coast of the South Island. Whether you are hiking or kayaking, all trips depart from the small coastal town of Marahau.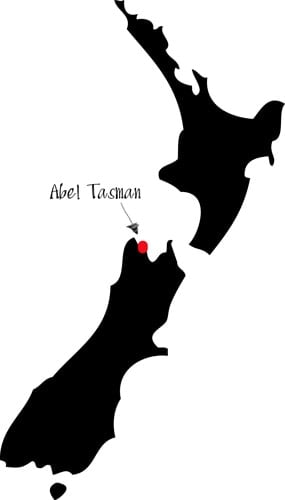 [separator style_type="double|dotted" top_margin="20″ bottom_margin="40″]
— Hiking vs Kayaking the Abel Tasman —
Abel Tasman can be explored on foot, by kayak, or a combination of both. The bit of hiking I did certainly afforded nice views, but Abel Tasman really is all about the beaches. Since much of the trail bypass the best stretches of sand in the Park, I would highly recommend doing Abel Tasman by kayak.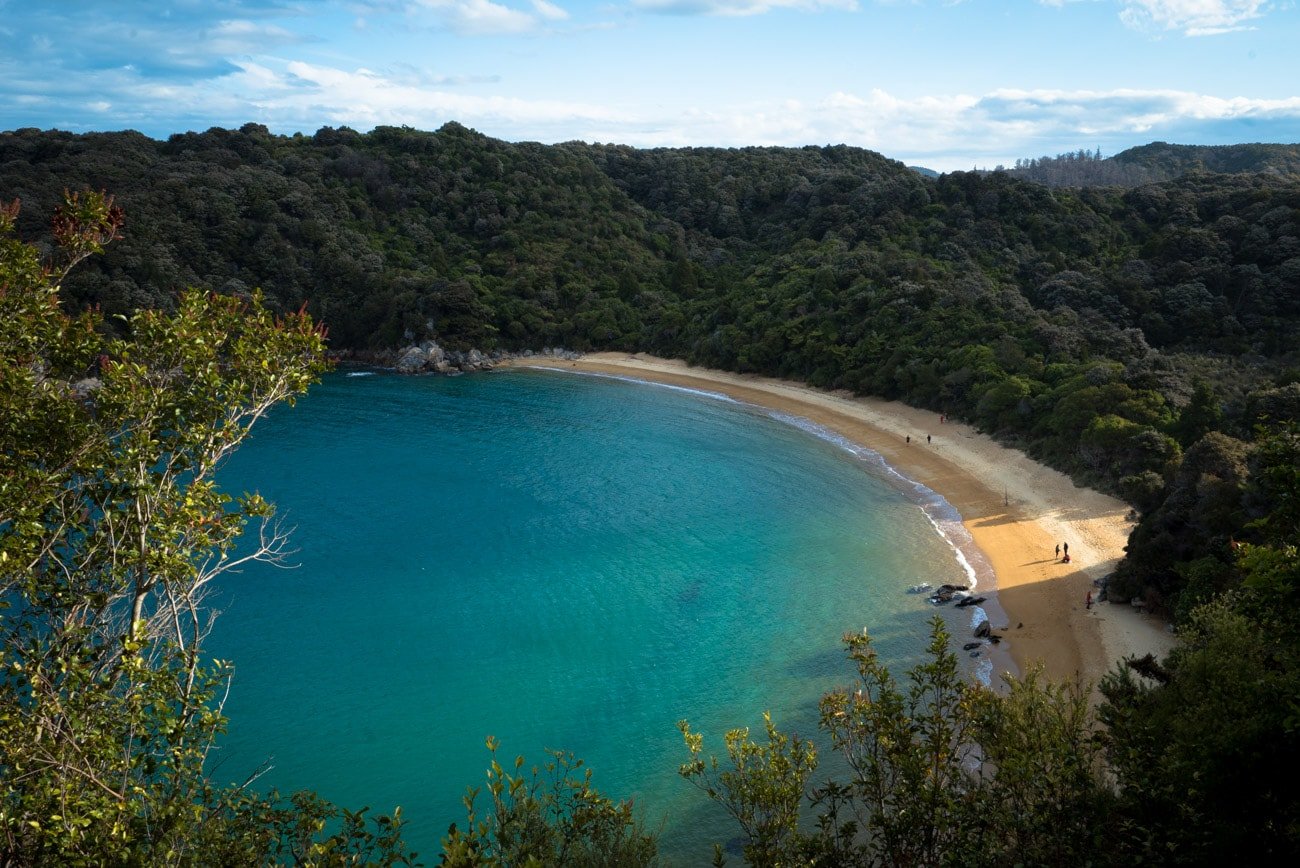 Exploring by sea allows you to frolic on more secluded beaches, get up close with the ridiculously cute fur seals, and to explore hidden coves that can only be reached by boat. For those on a time crunch, you also can cover a lot more ground in less time when traveling by kayak.
Finally, being in a boat means you don't have to skimp on good food and beer. (Just imagine hiking all day. Then when you arrive at camp and are preparing your dehydrated backpacker meal, your neighbors are washing down their fragrant Asian curry stirfry with some local sav blanc. Not cool at all.)
With all that said, if you want to do Abel Tasman on the cheap, hiking is still an awesome option. Just make sure you carry a tide chart, as there are many spots that are impassable except at low tide.
[separator style_type="double|dotted" top_margin="20″ bottom_margin="40″]
— Self guided kayaking vs a kayaking tour —
Ok, so you've made the right choice to kayak the Abel Tasman, rather than hoofing it. Now you have to decide whether you will do it self-guided or as part of a tour.
My initial plan was to do it self-guided, but then I learned that the Park actually doesn't allow solo kayakers. Abel Tasman Kayaks, the company I did my tour with, does rent kayaks to groups of two or more, but that wasn't an option for me as a solo traveler.
At first I thought that was silly, but once I was out there and witnessed the power of the wind and currents (and they do get strong), it made a lot more sense. Also after comparing the prices of a three-day rental and adding in food, any other gear I needed, and the water taxi (which you'll need either way), the cost difference between self-guided and the tour wasn't that great. You also have to remember that if you do it self-guided, this is one of the Great Walks, meaning you'll need to reserve campsites/huts in advance.
If you do decide to go self-guided, I'd recommend traveling to the northern section by water taxi and paddling your way back south to Marahau, following the general direction of the currents and wind.
[separator style_type="double|dotted" top_margin="20″ bottom_margin="40″]
— Abel Tasman Kayak Tour Review —
I chose the three-day classic tour with Abel Tasman Kayaks. This tour would give me a chance to see some of the lesser-traveled sections of the Park, while moving at a fairly relaxed pace with time for hiking and hanging on the beach.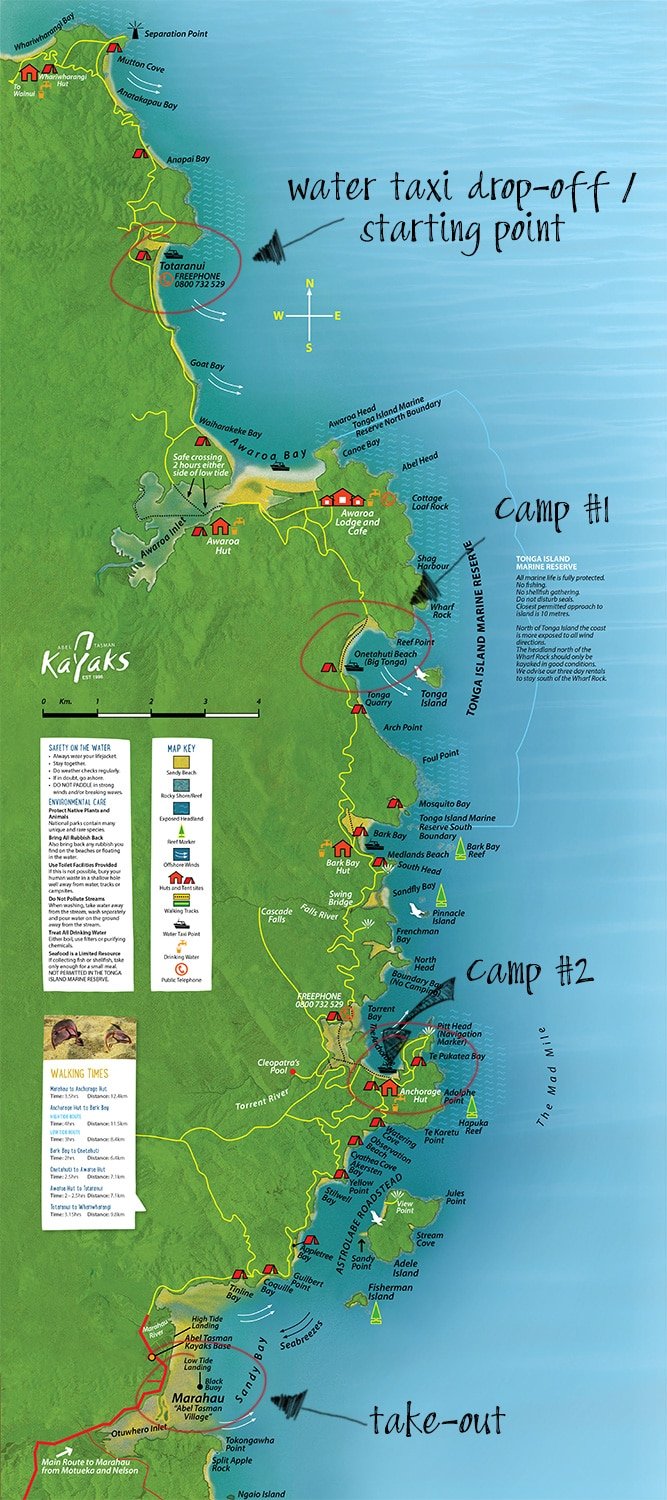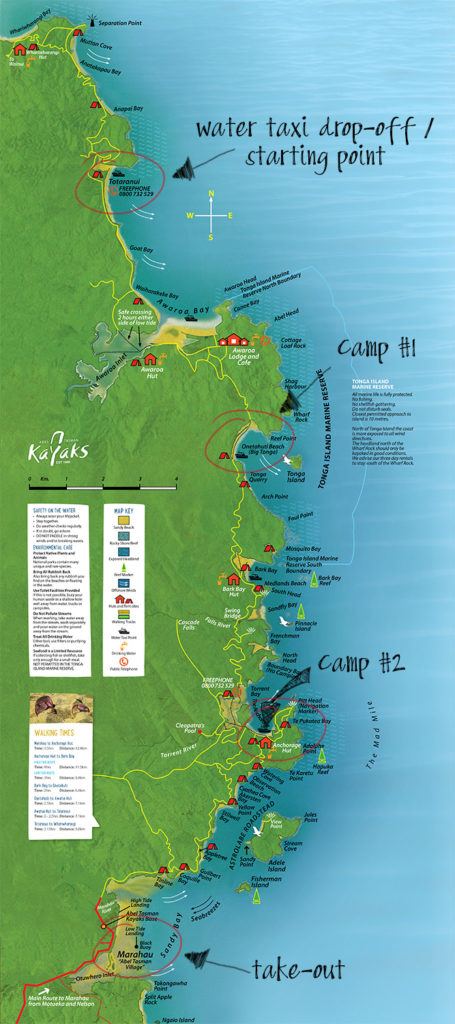 Click on the map for a larger version
Day 1
I went to the Abel Tasman Kayaks office around 8am the starting day of my tour and was introduced to my guide Kyle. Kyle set me up with all of my gear, including a very spacious tent, comfy sleeping pad, dry bags, and a Pelican Case for my camera. The only thing I needed to bring was my sleeping bag (which they would've provided had I not had one), sunscreen, clothes, and any other personal items. Easy breezy.
We loaded into water taxi boat and were pulled down to the beach by a 4-WD tractor that launched us in the water. We spent the next hour heading north up the coast to our kayak launching point, getting a quick glimpse at territory we would be covering in our kayaks.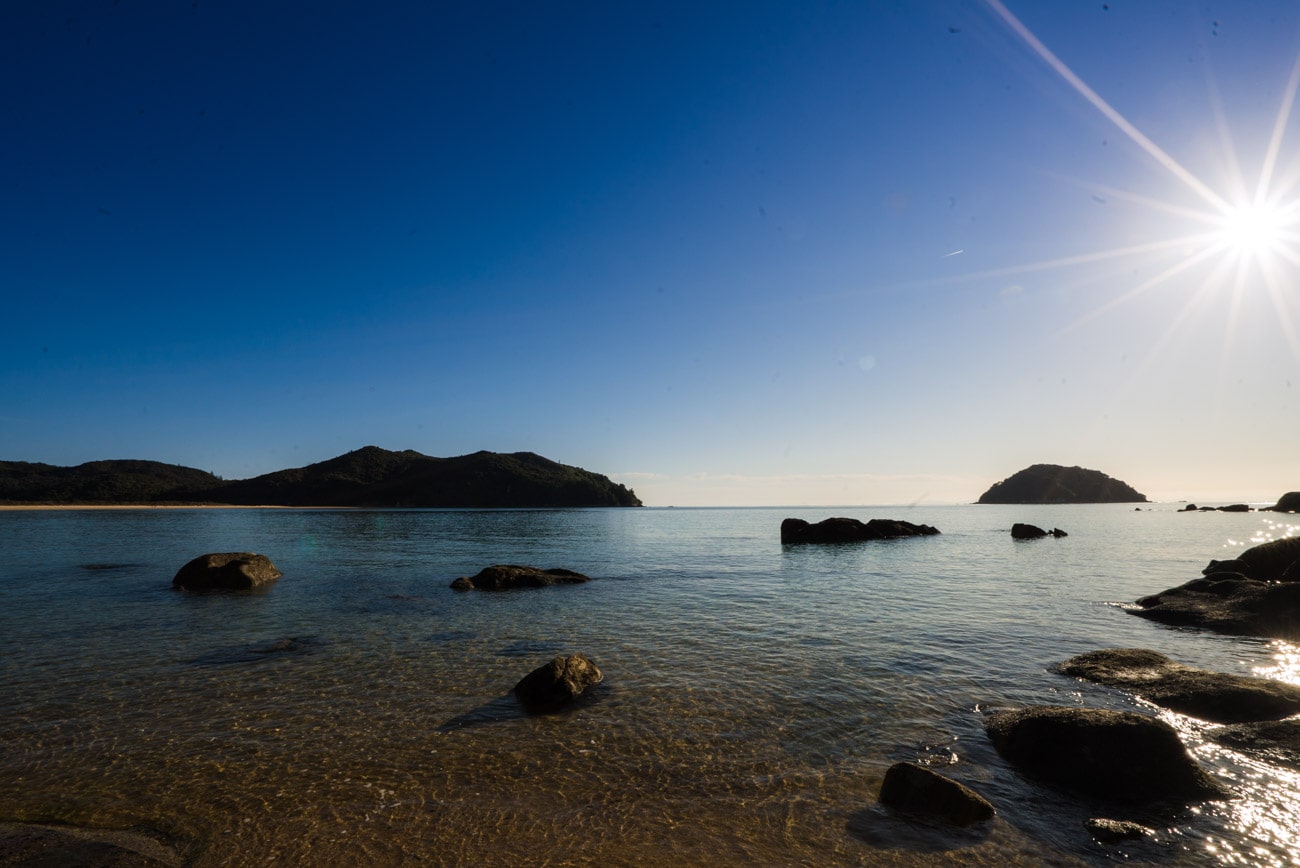 Once at Totaranui, we got organized and packed up the kayaks, and I was paired with a friendly Dutchman named Mike who was also traveling solo.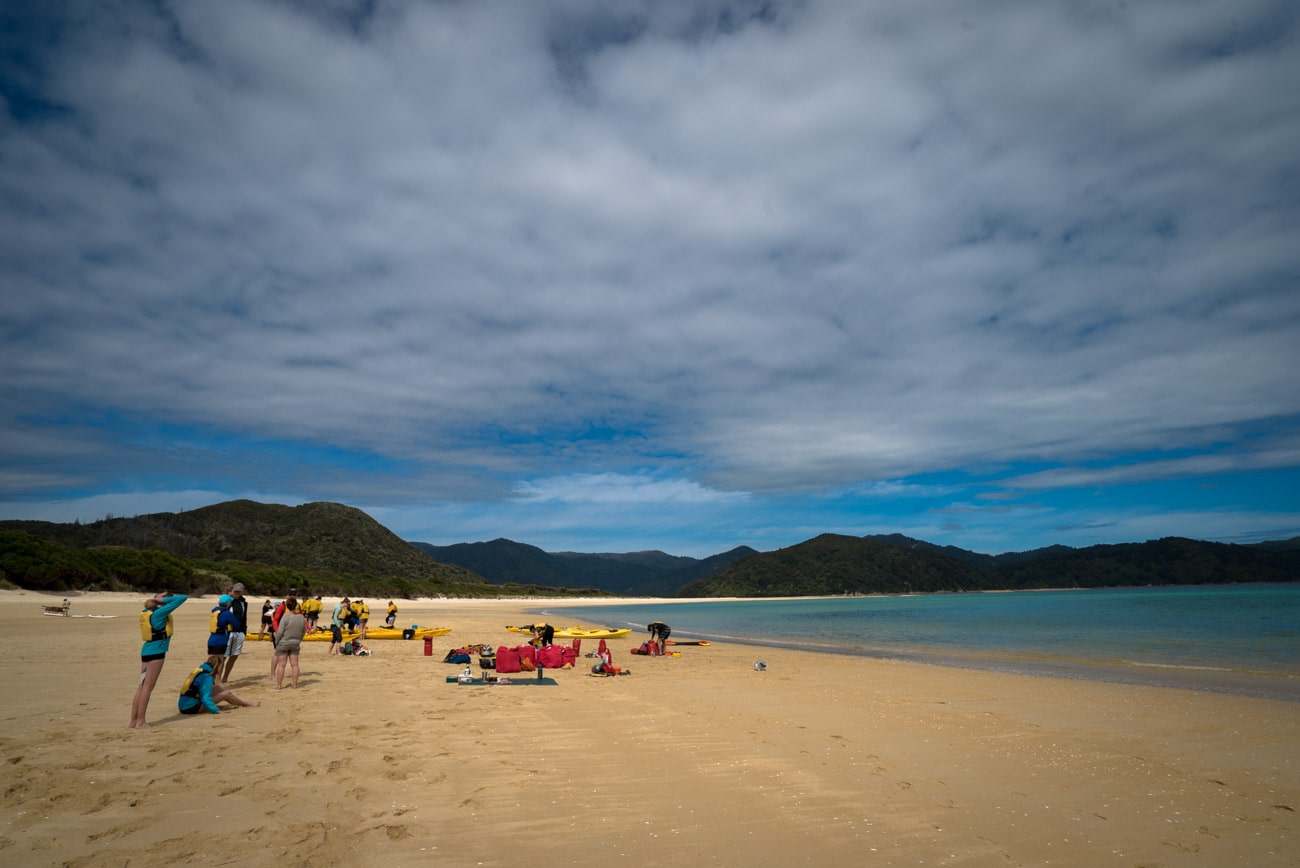 Next after making us all some coffee, Kyle did his briefing where he showed us how to get in and out of the kayaks and how to efficiently paddle. Since we weren't on any sort of time schedule, he also told us to take off our watches and not look at them for the rest of the trip. In the mornings, we could wake up whenever we wanted. Then we'd chill, have coffee, and pack up whenever we were ready. When we were hungry for lunch, that's when we'd stop.
Sounded perfect. Already this tour was off to a good start, and we hadn't even left.
Shortly after we started cruising the shoreline, exploring the big granite rocks, secret lagoons, and taking photos of curious fur seals that didn't seem to mind us one bit. The scenery was even better in person.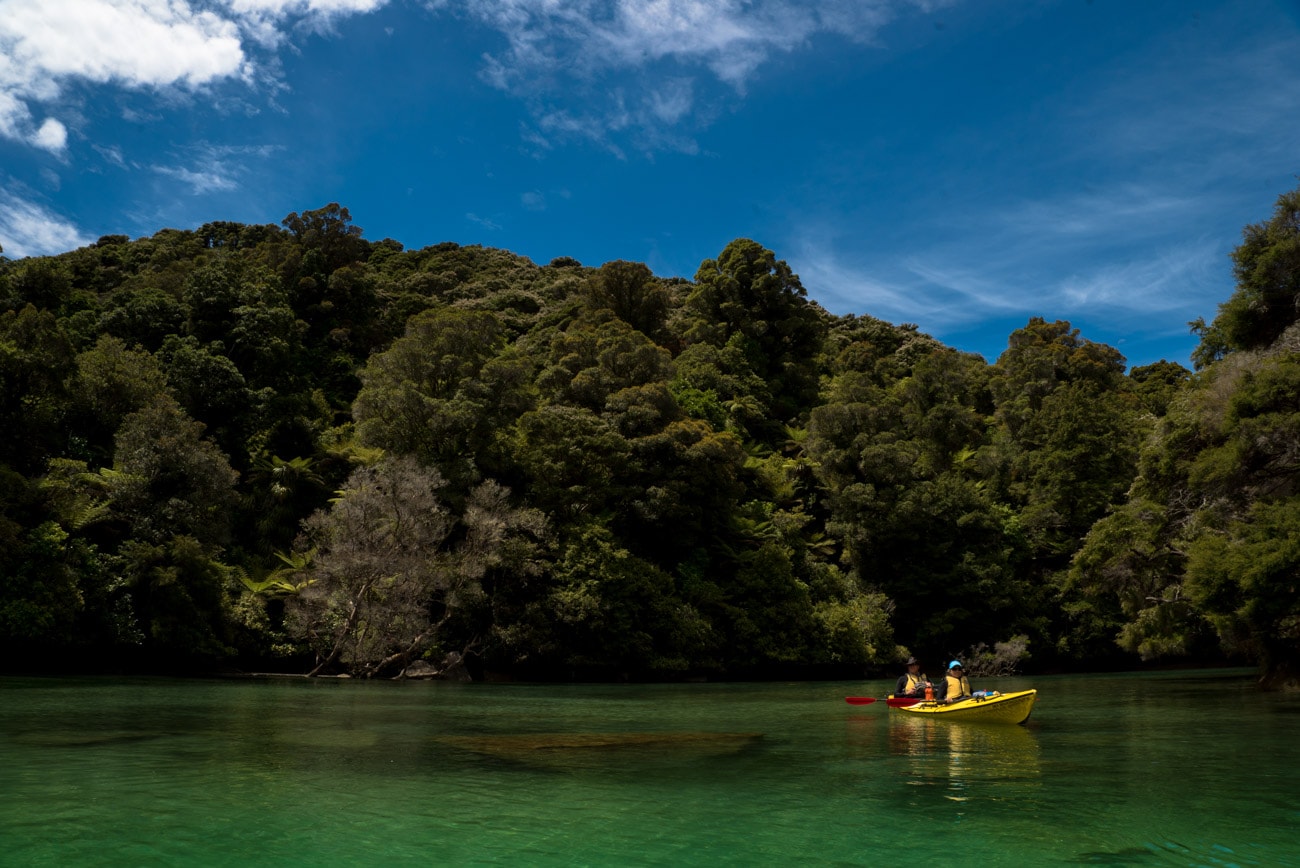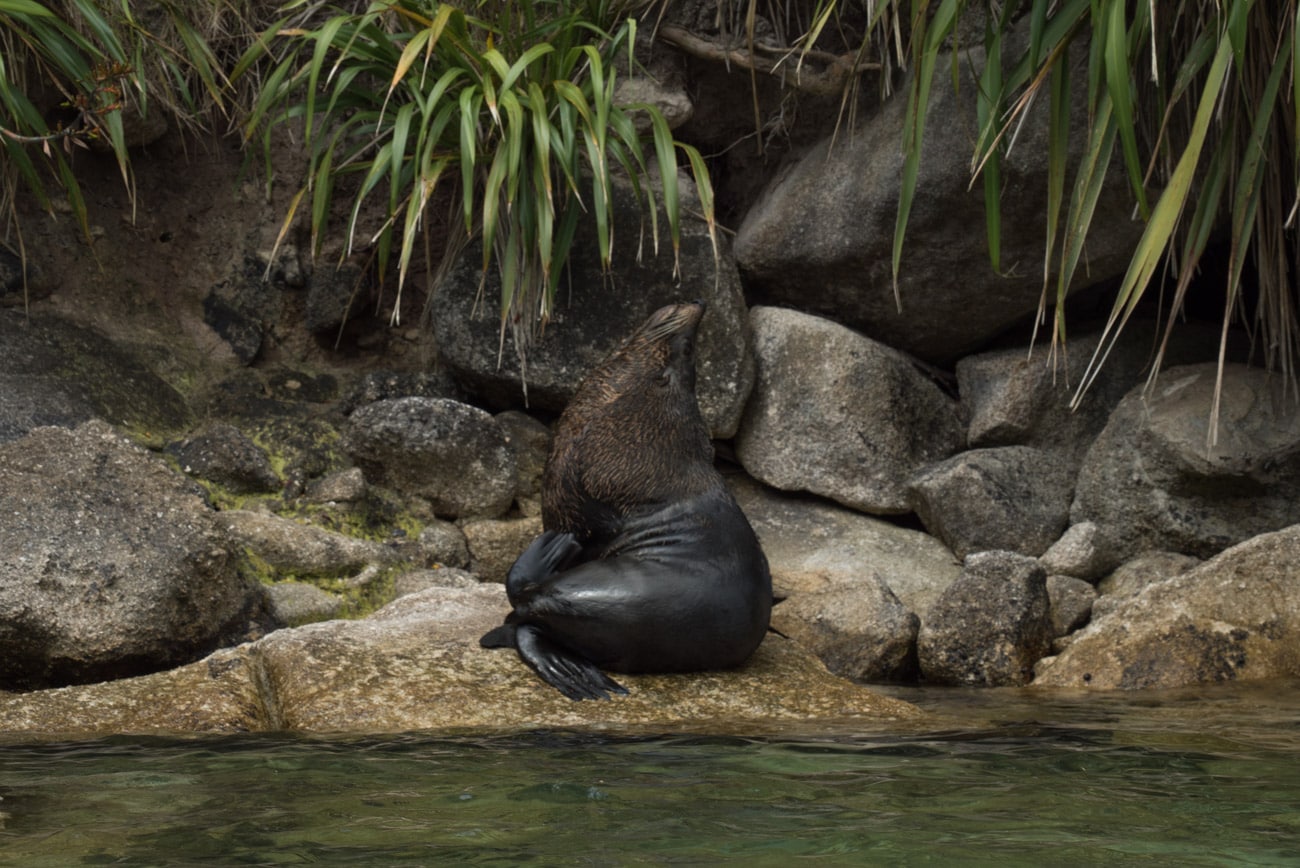 We had a relaxing day with a long lunch stop on an empty white sand beach where Kyle gave us an entertaining history lesson about the area.
The first night we arrived at our camp at Onetahuti Beach around 4pm with plenty of time to explore. After snacks, I decided to hit the trail up to a lookout point that Kyle recommended, followed by a beer on the beach.
The campground was large with a number of other people (mostly hikers), but we were spread out enough so it never felt cramped.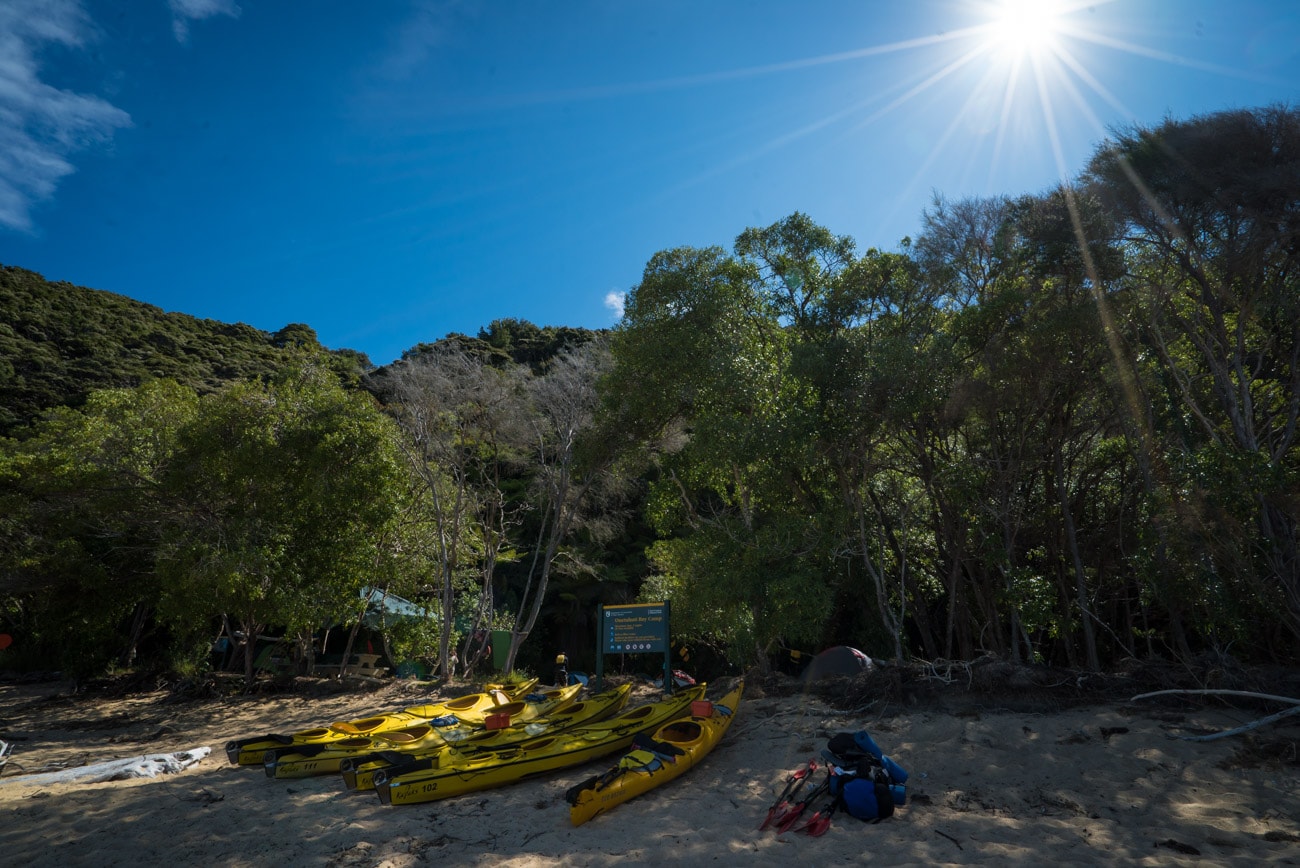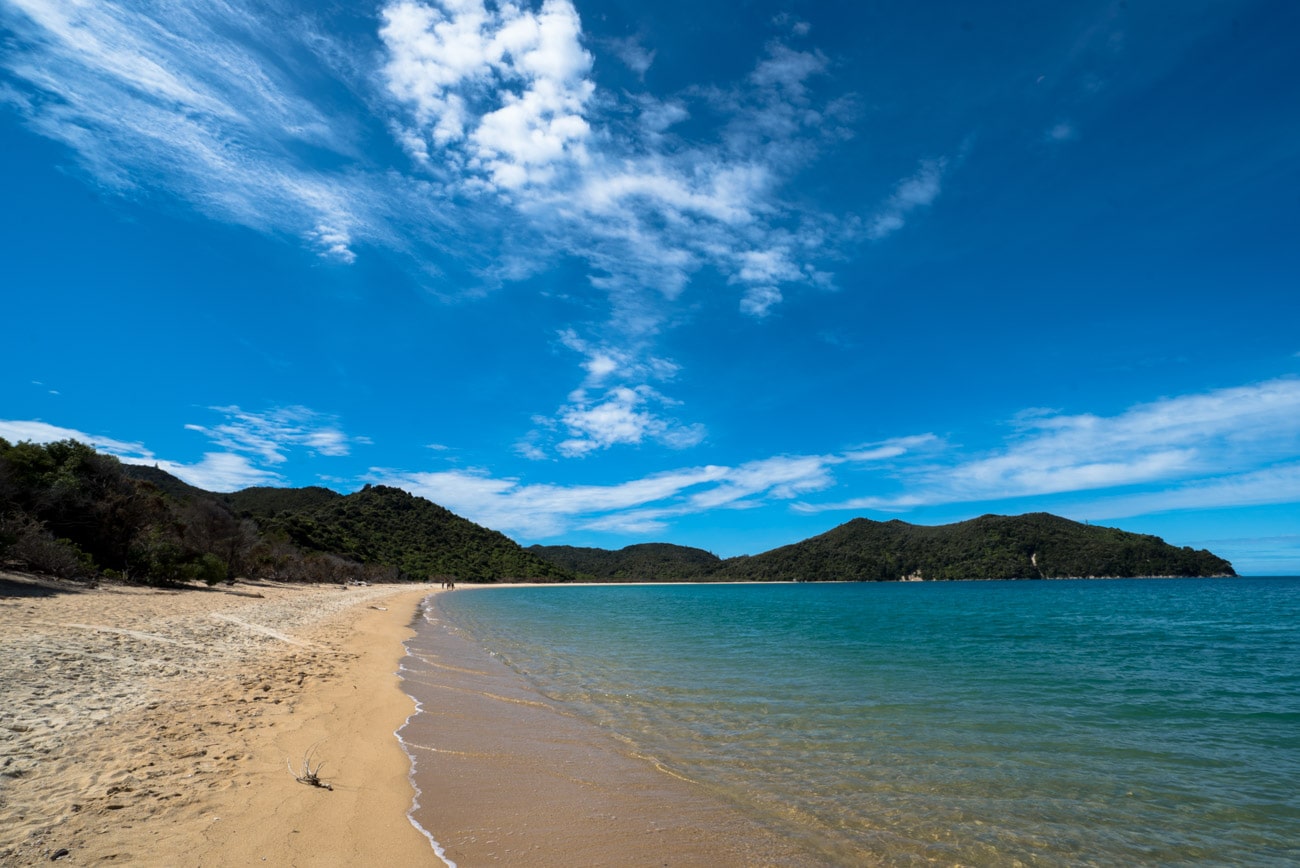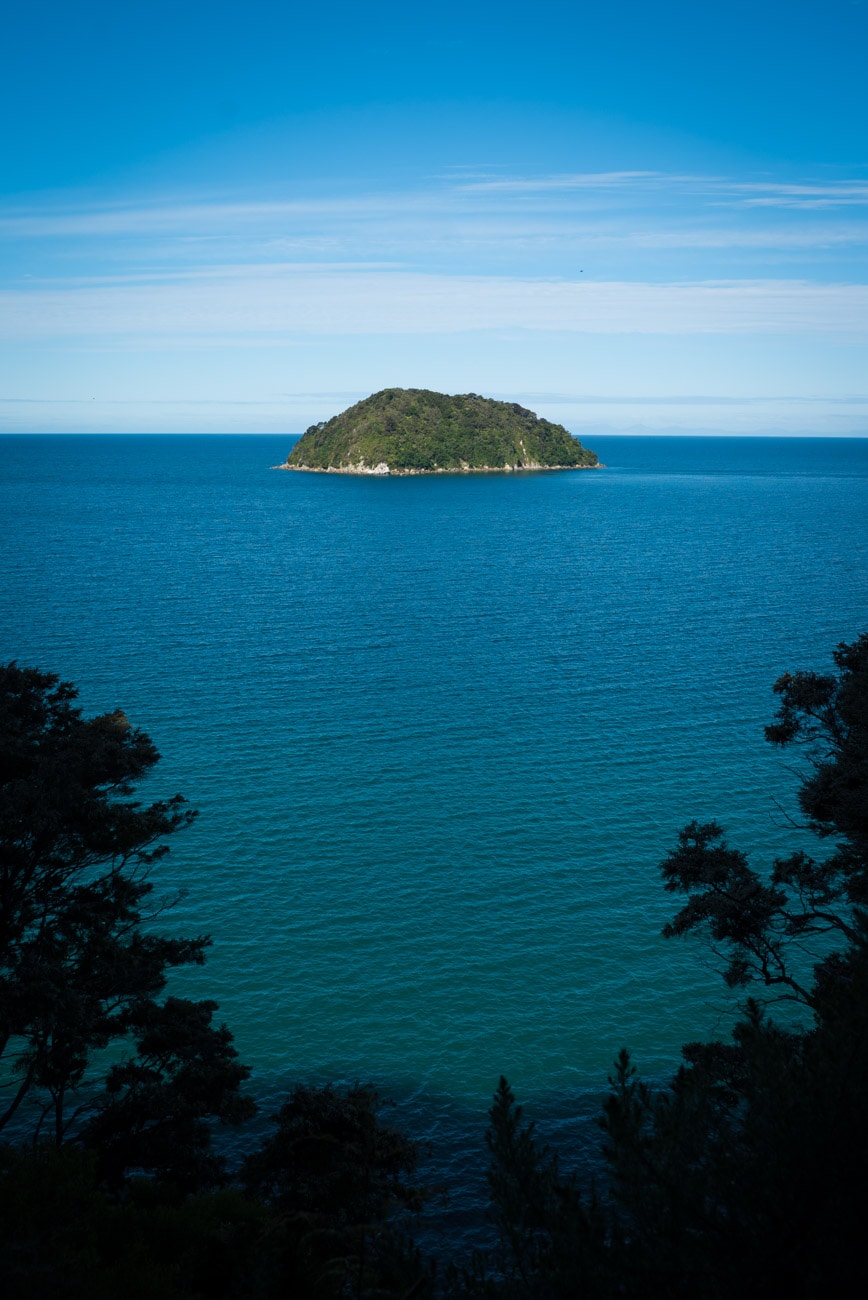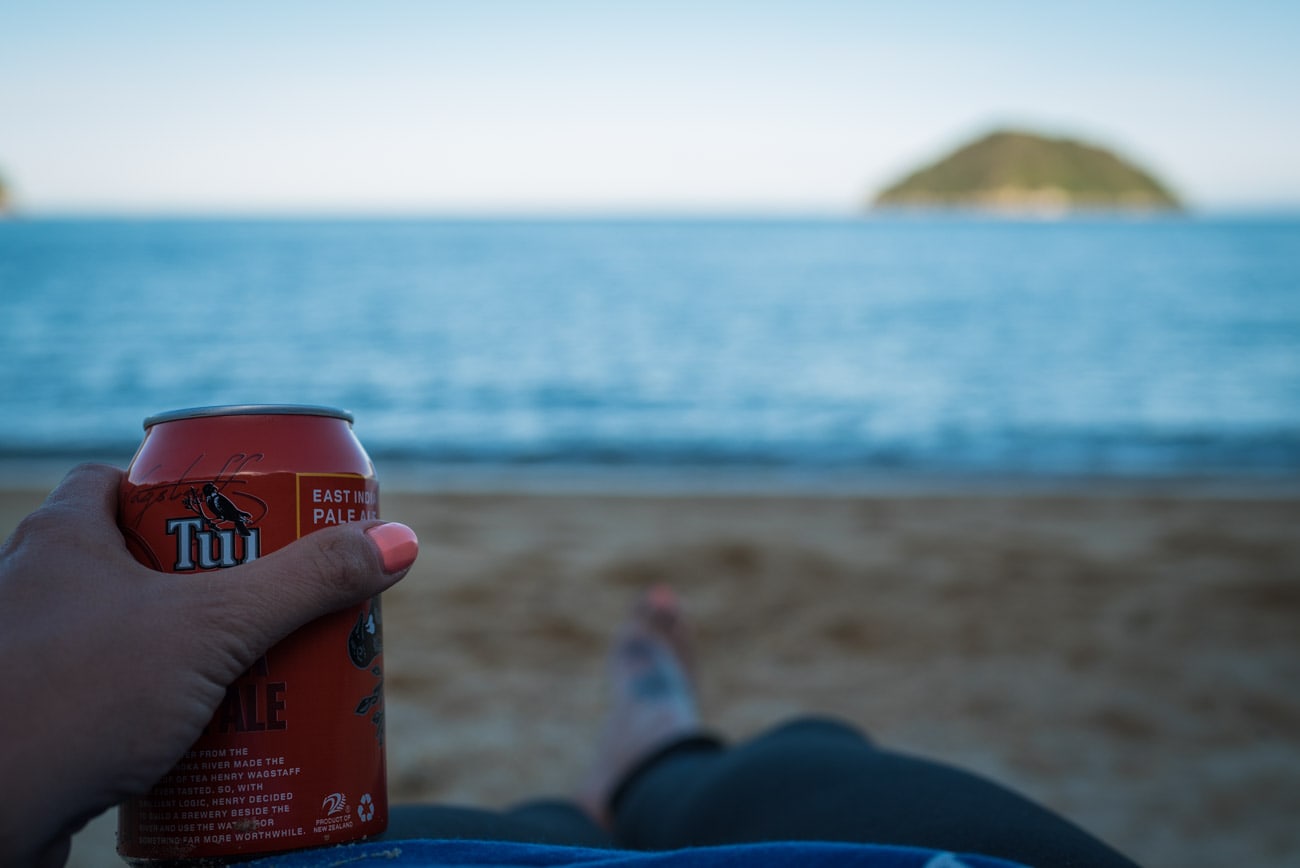 Dinner consisted of a vegetarian pesto pasta with feta cheese and a bunch of other goodies.  Kyle whipped it up like it was no big deal, and there was plenty of food to feed our group of 8.
That night, I stayed up and practiced a little night photography. Here are my two best shots.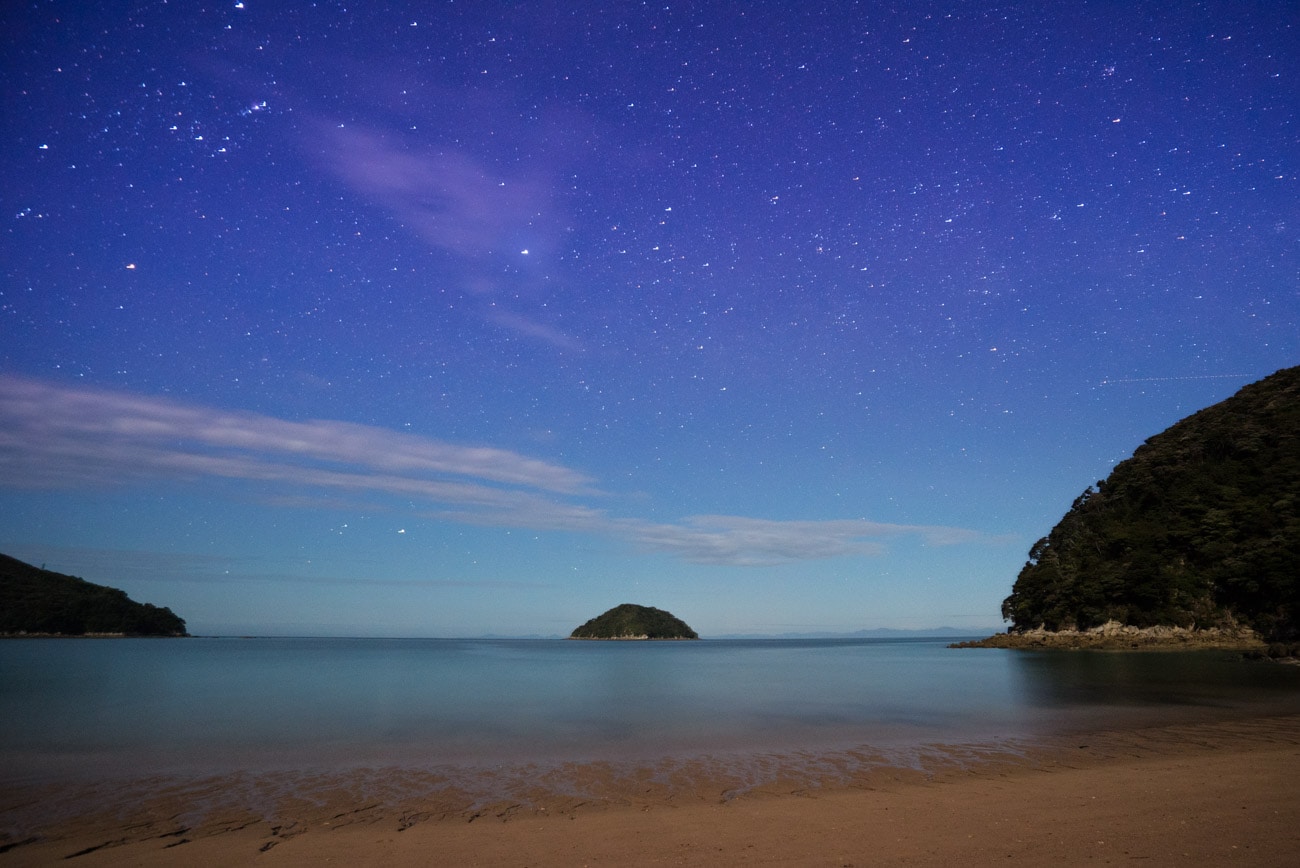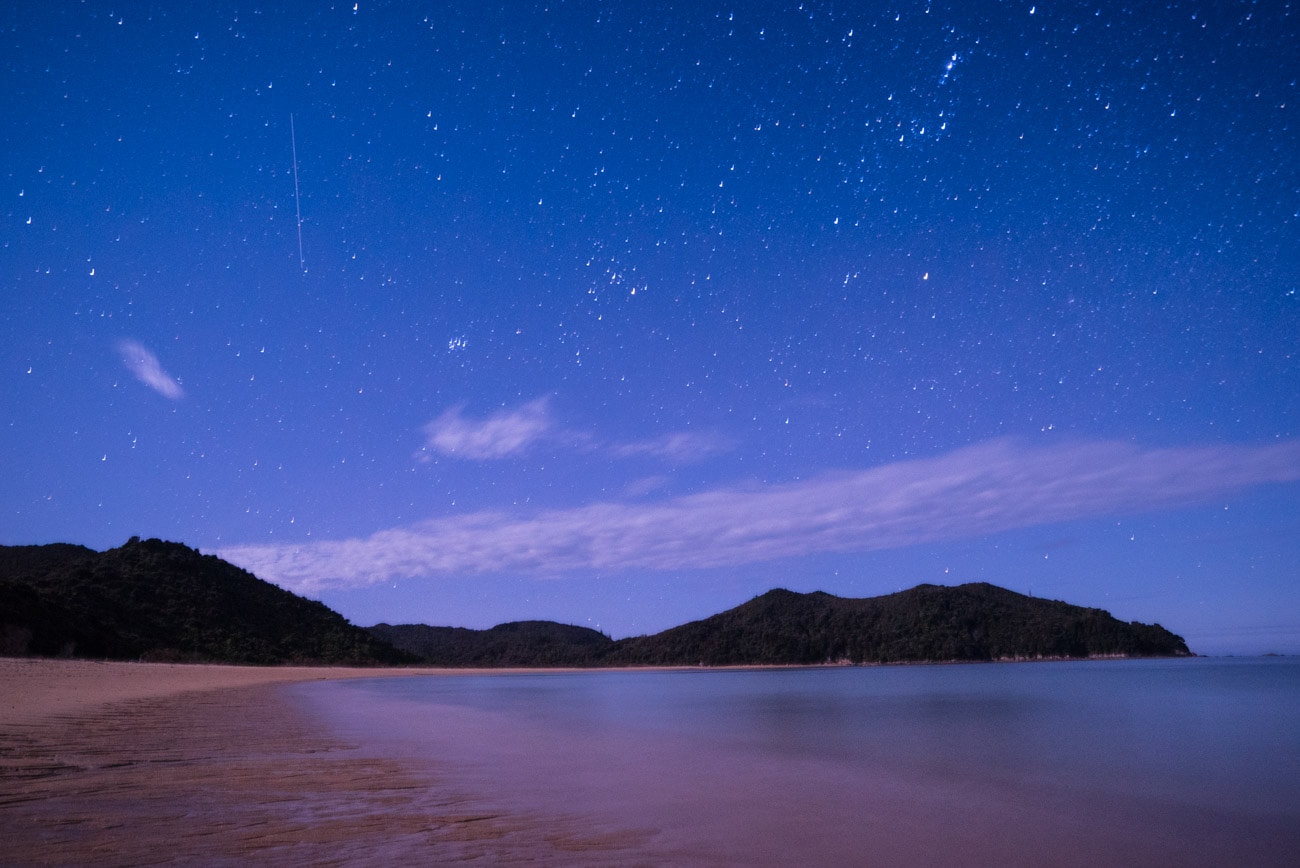 Day 2
A little cooler mixup meant breakfast on day 2 was a little skimpy…but it's hard be upset when your day starts like this.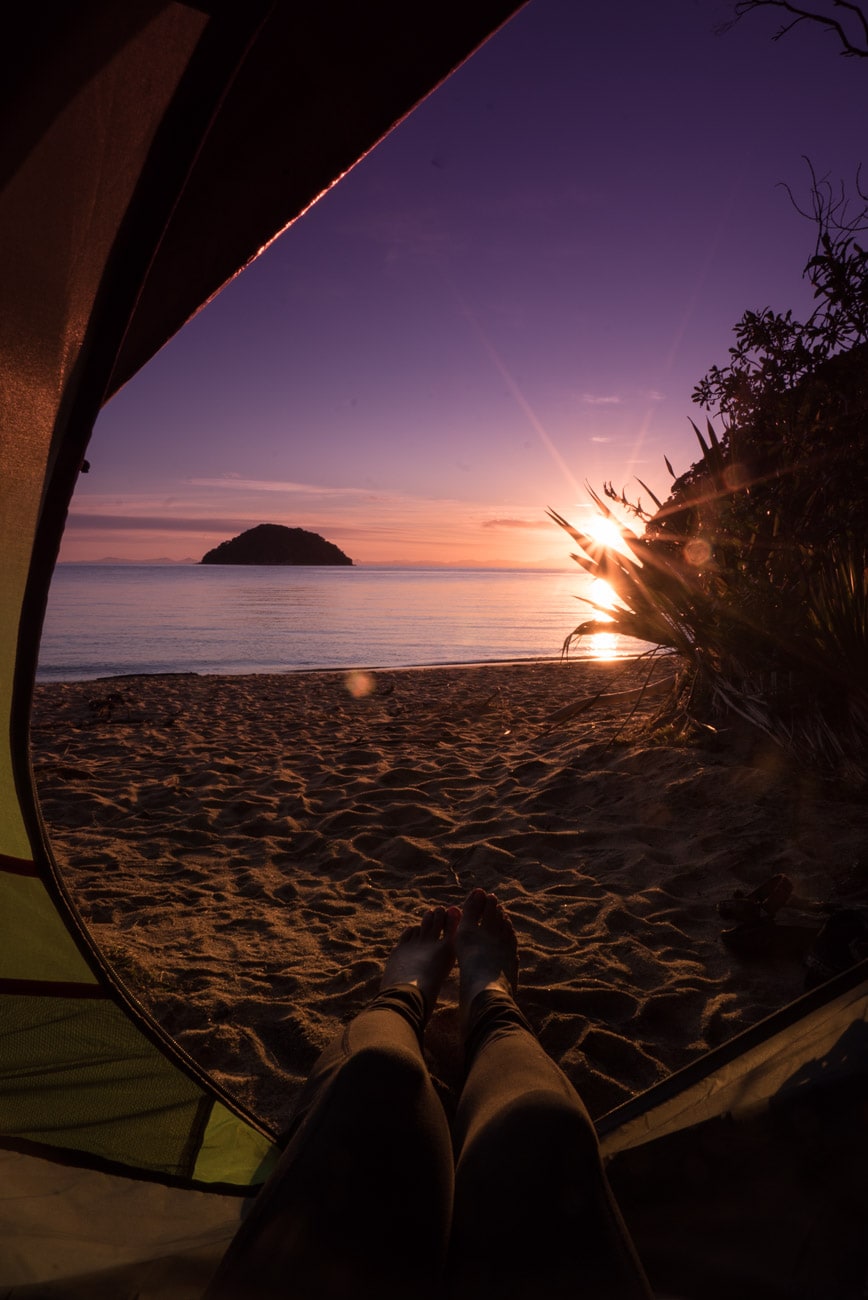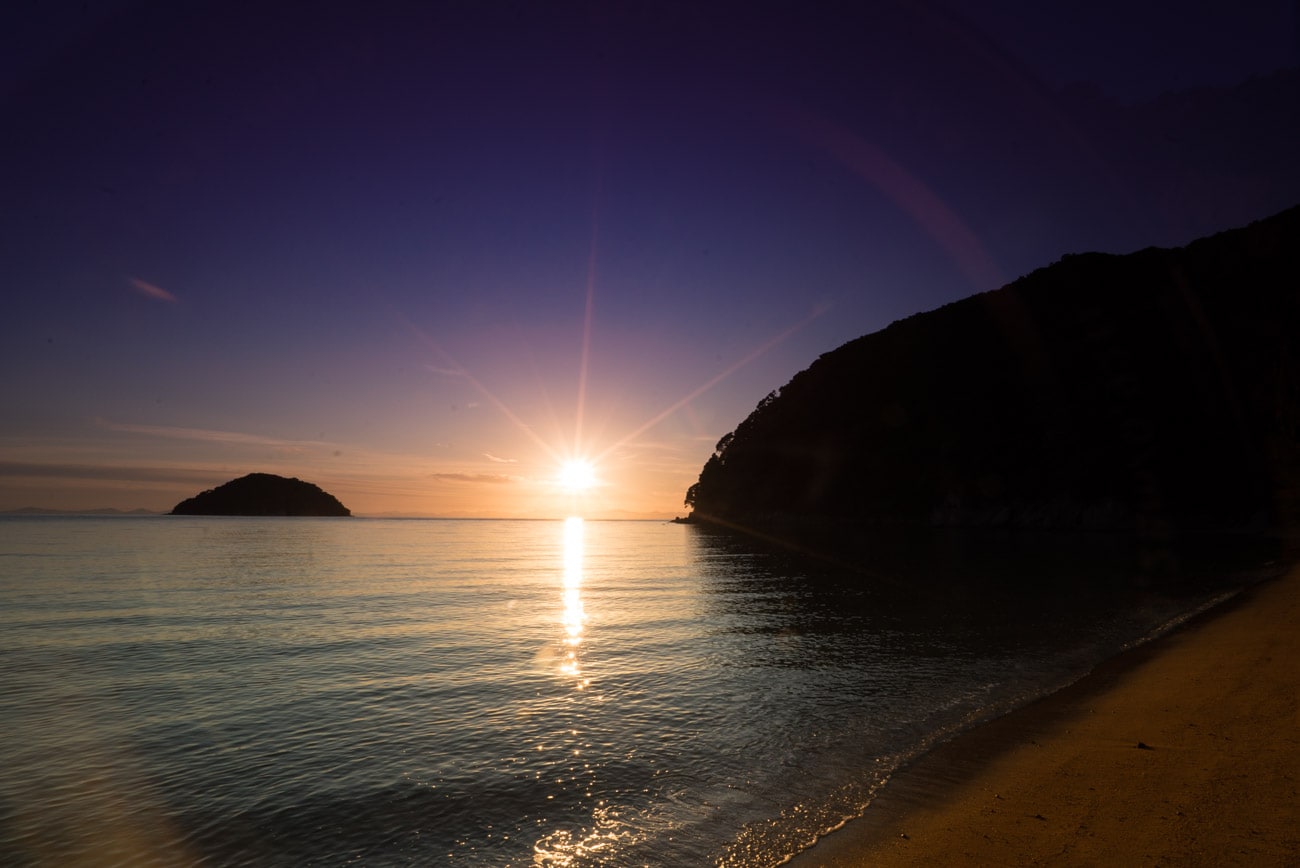 Kyle made up for our breakfast mishap shortly after we got on the water, when he passed around a big tub of homemade chocolate cake. Ok…you're forgiven.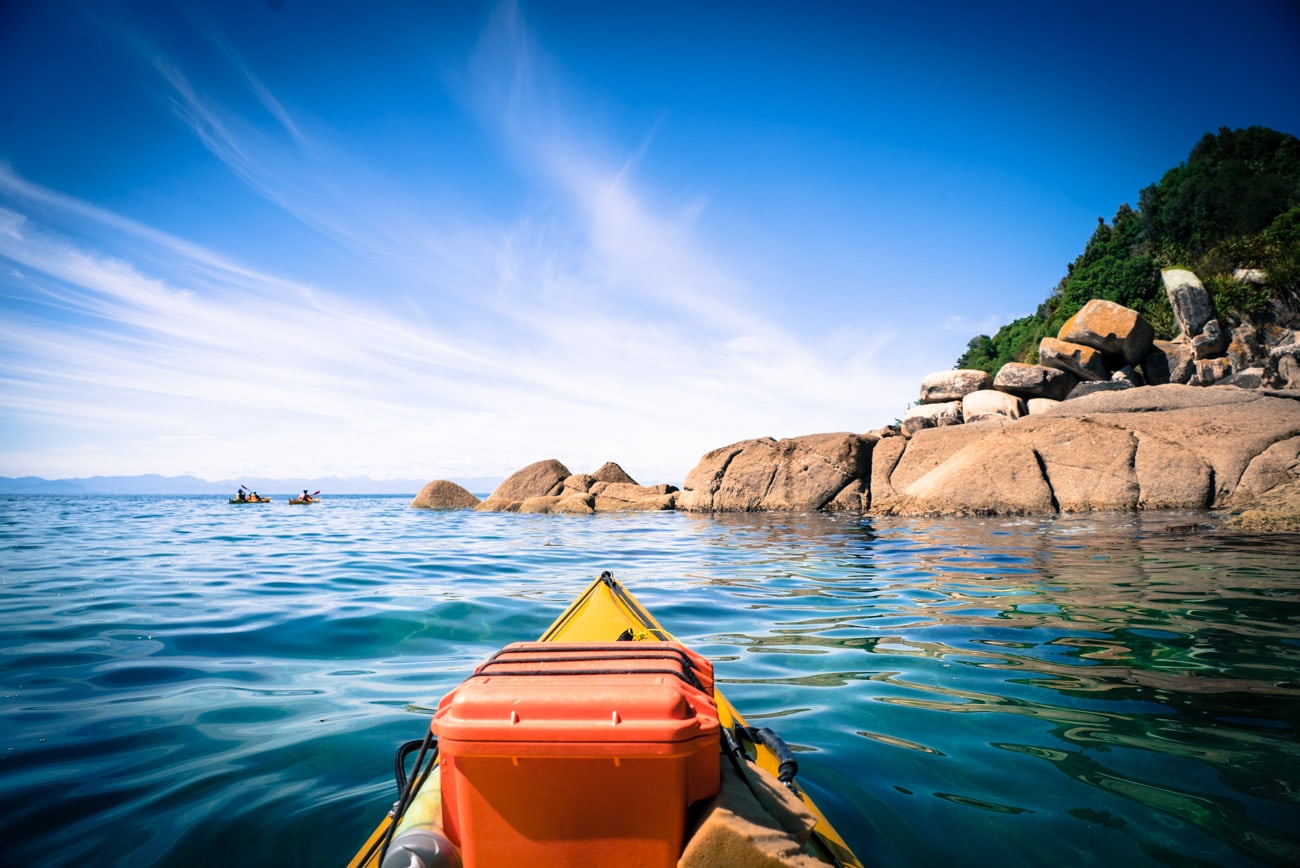 Lunch on day 2 was at Bark Bay. This was one of my favorite beaches on the coast and would've been an amazing place to camp (this is one of the beaches that the trail bypasses and you can only reach by kayak).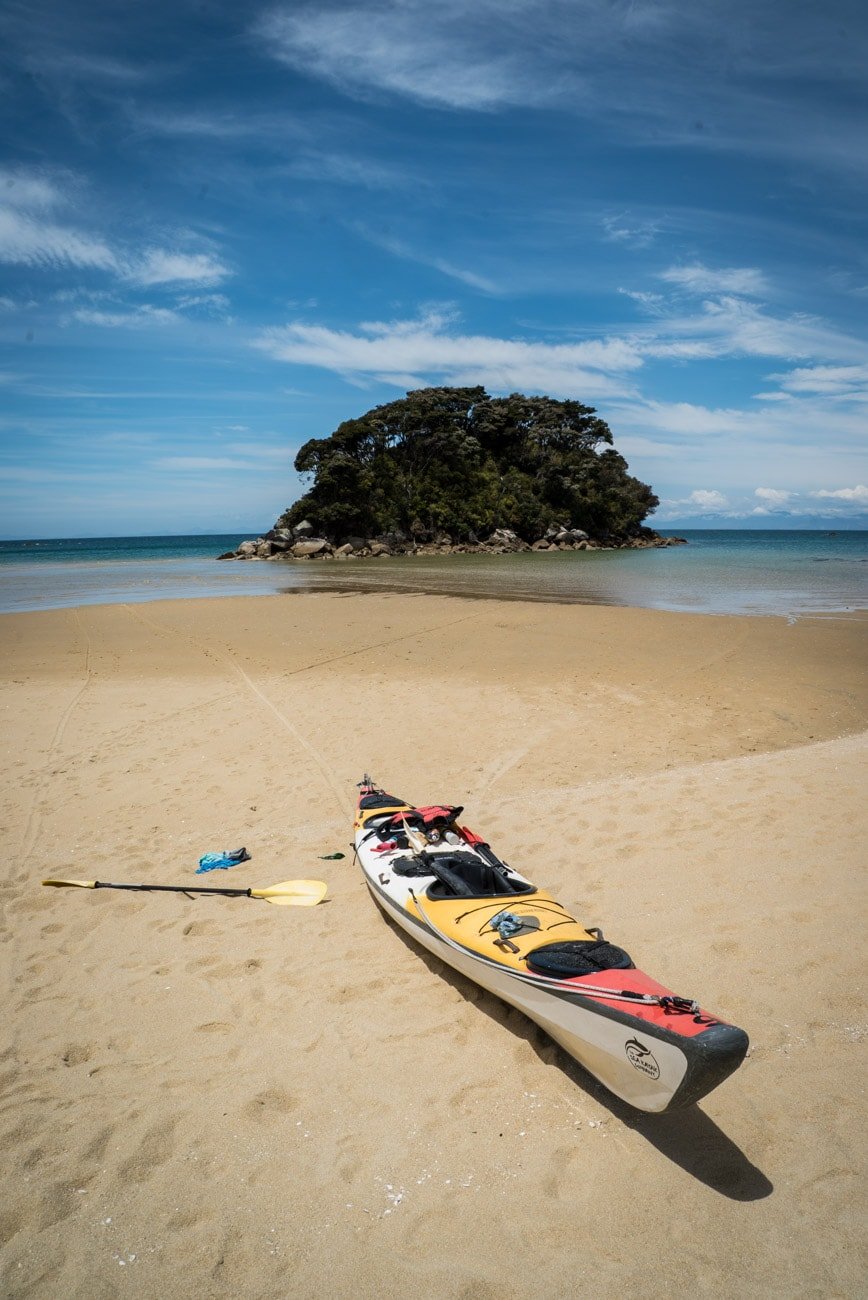 This is also when Kyle busted out his Santa one-sie that he let me wear for a little pre-Christmas celebration….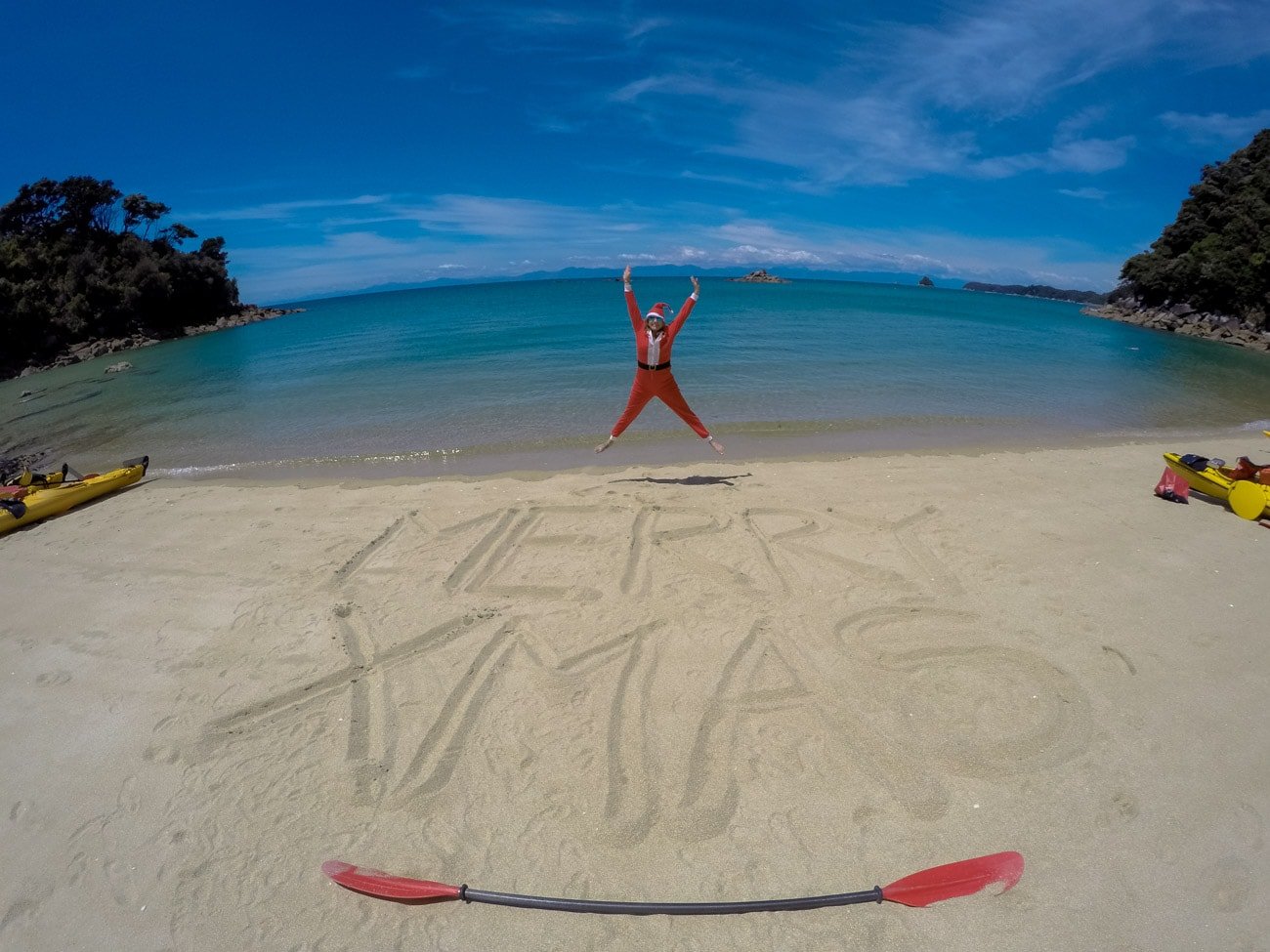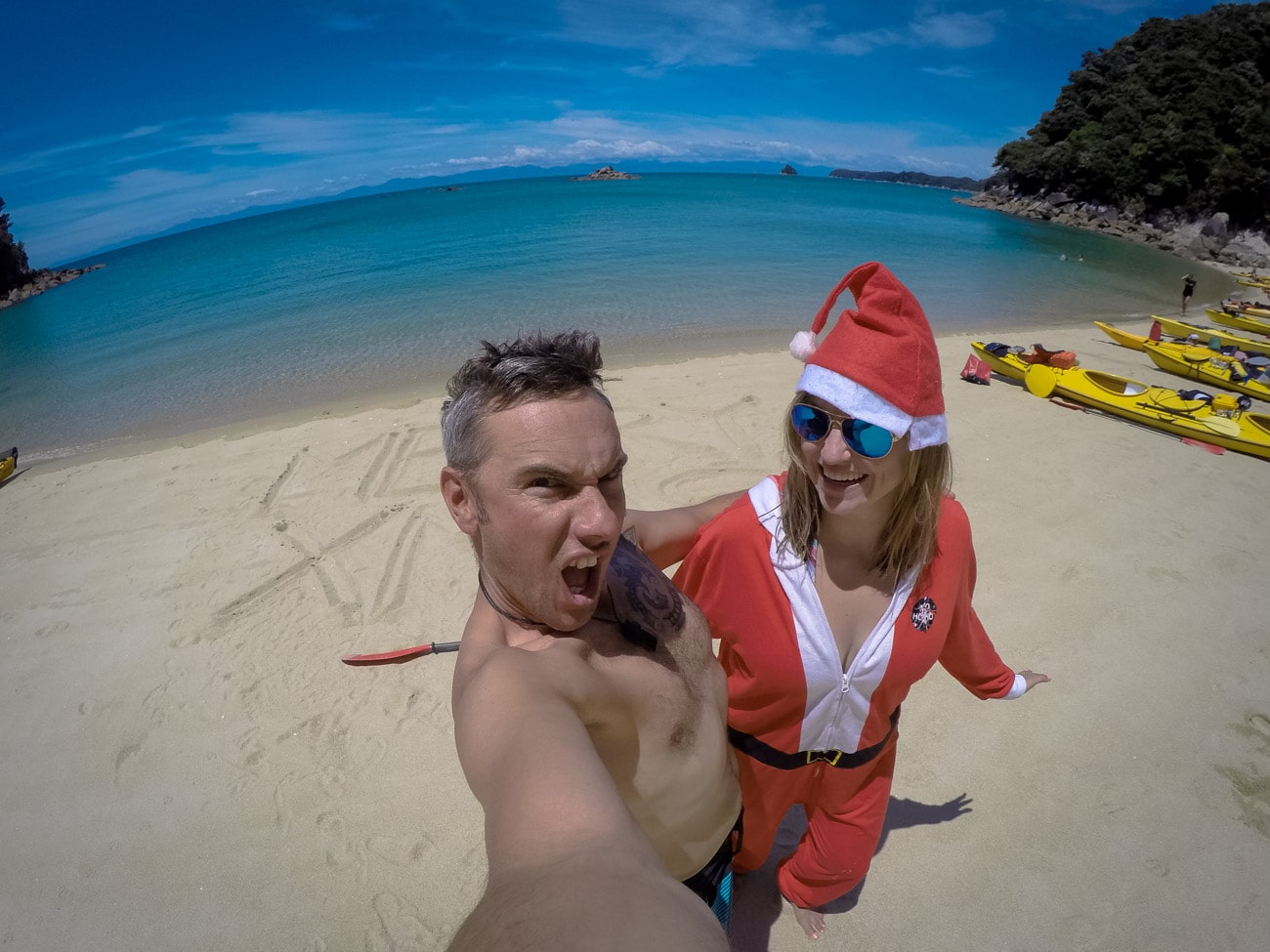 After lunch the wind picked up a bit and the sea got choppy. We explored another lagoon and then booked it to camp.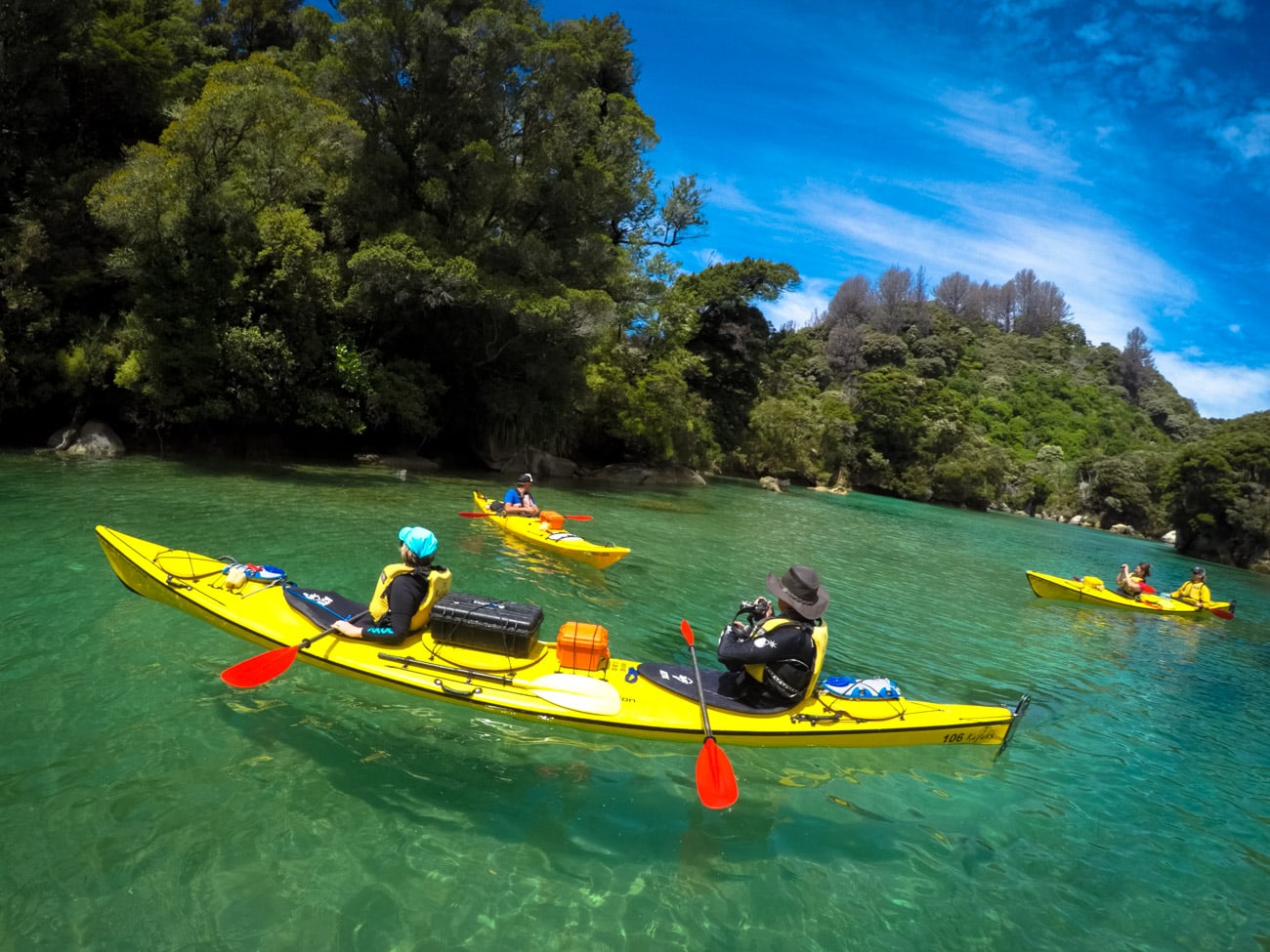 Luckily we weren't too far from our second night's camp at Anchorage Bay. When we arrived, we said goodbye to the Dutchman and two Germans who had only signed up for two days and got picked up by a water taxi. This meant Kyle would be my kayaking buddy for the rest of the trip.
Ok now my thoughts on Anchorage Bay…
Good things about Anchorage Bay: the beach is super big and pretty, you could have a campfire, there's access to beautiful hiking trails with geocaching (treasure hunting), and Kyle showed us some of his ultra-cool secret spots (I'll leave it at that so it's a surprise if you do the tour)
Bad things about Anchorage Bay: It's the busiest beach on the whole coastline. It does calm down in the early evening, but don't expect any privacy. But rather than be bummed about the crowd, we drank wine and made friends with our neighbors around the campfire.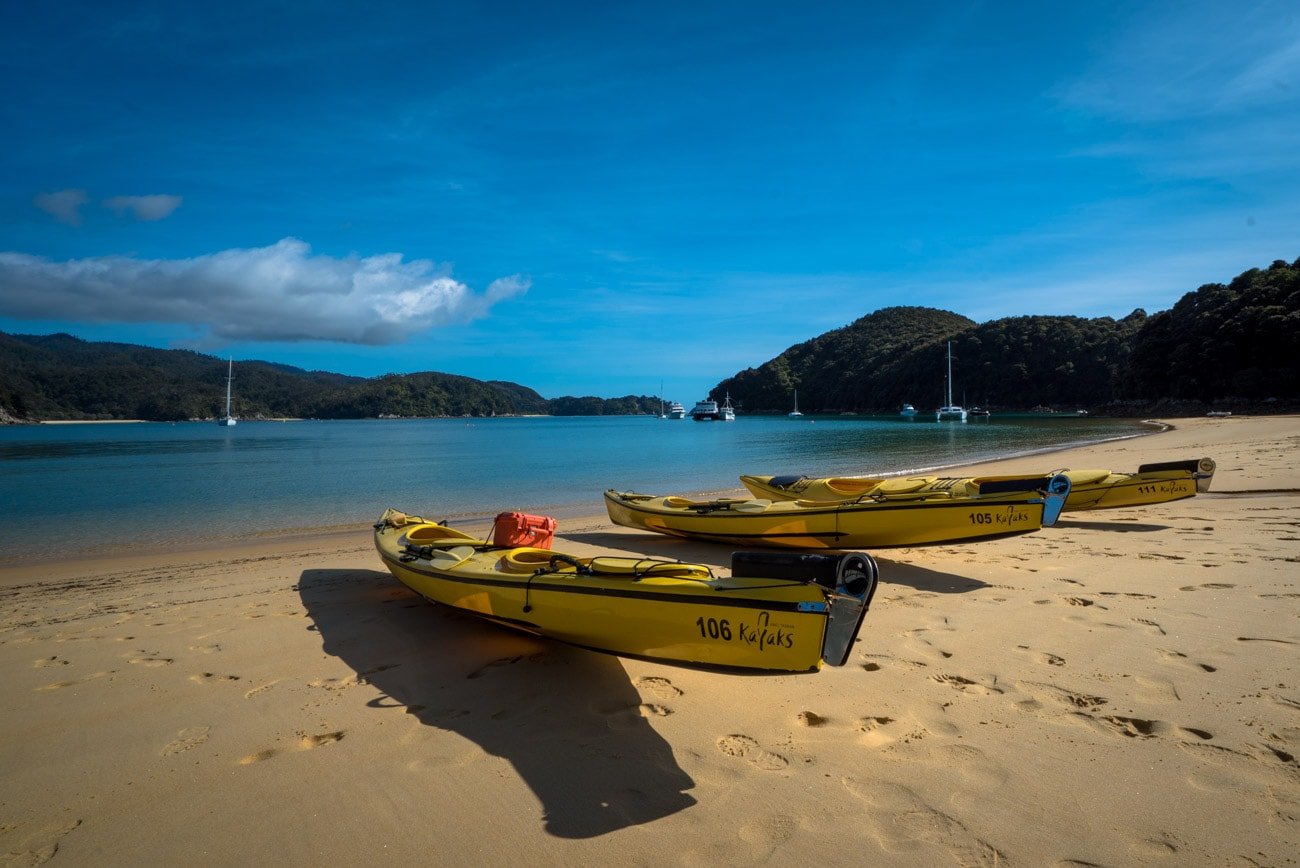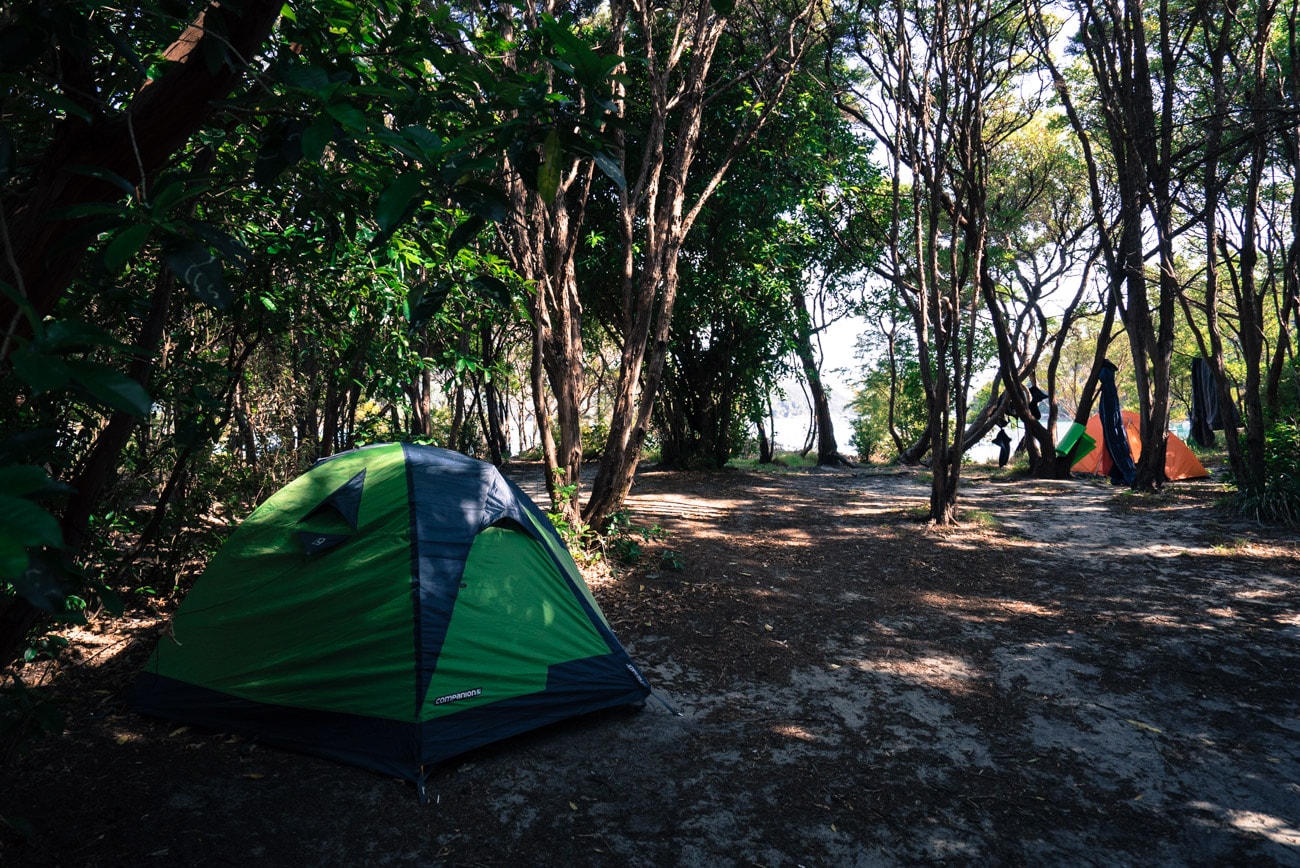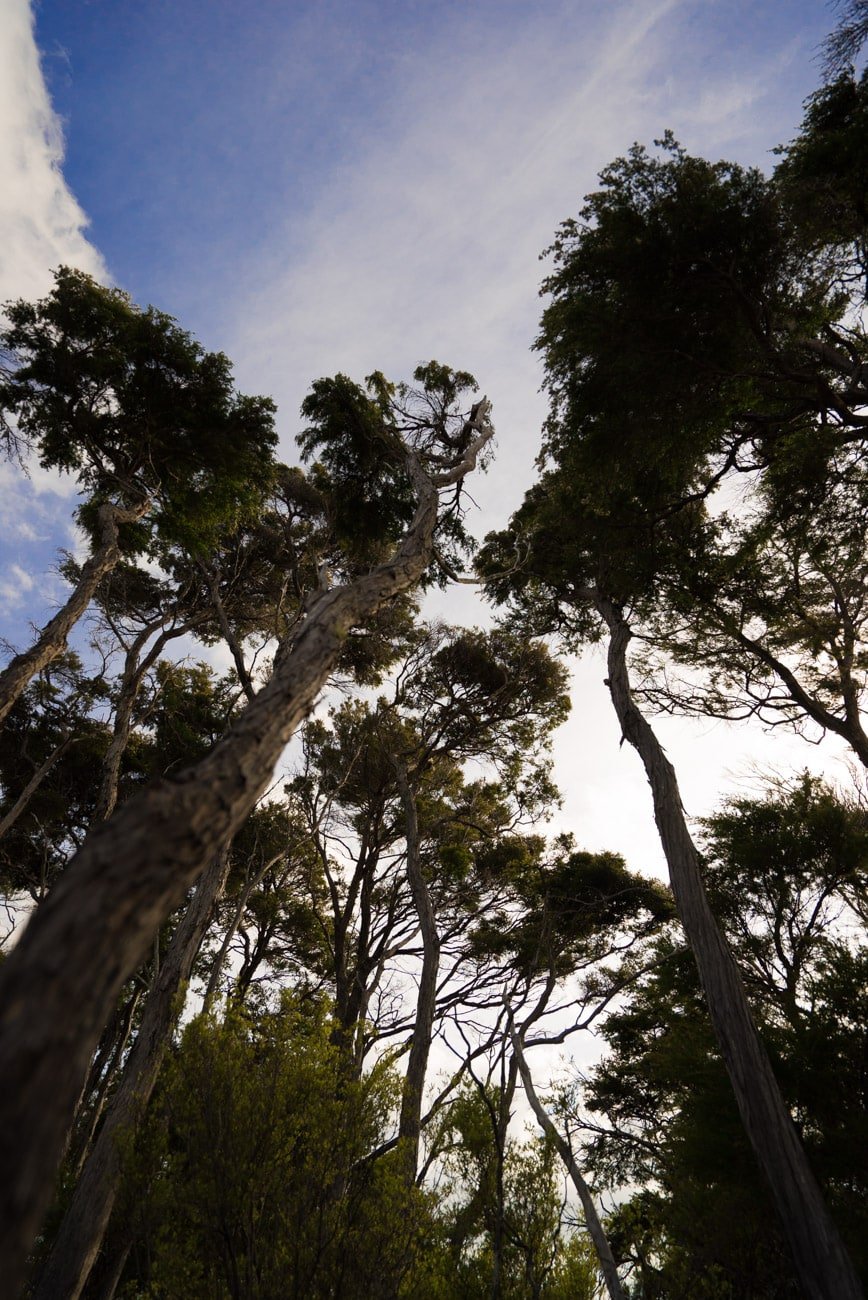 Day 3
Now there were only 6 of us left. A family of 4 from Auckland, Kyle, and myself. We didn't have far to go on our final day which meant we could sleep in, sip on our morning coffee, and paddle at a very easy-going pace.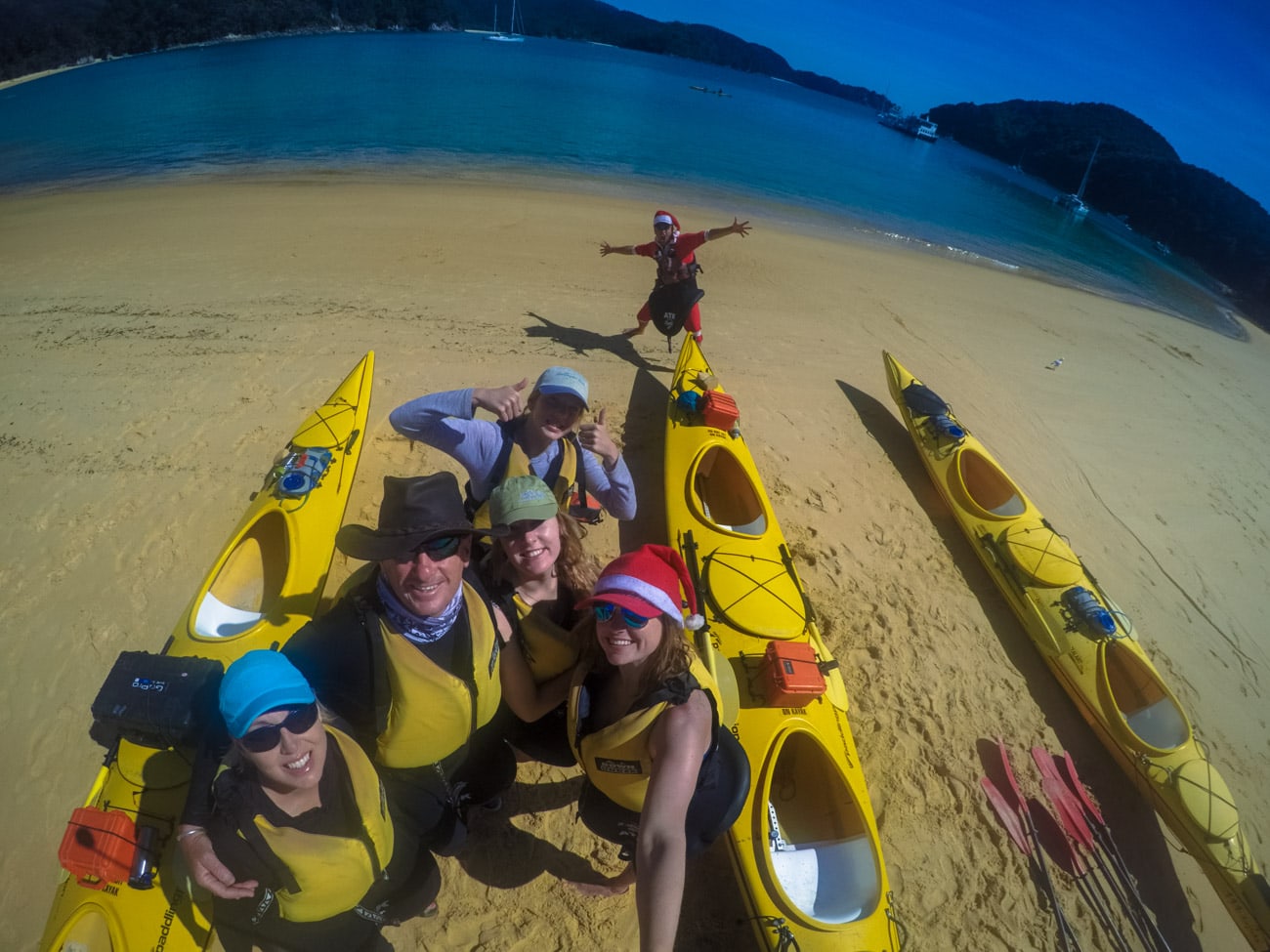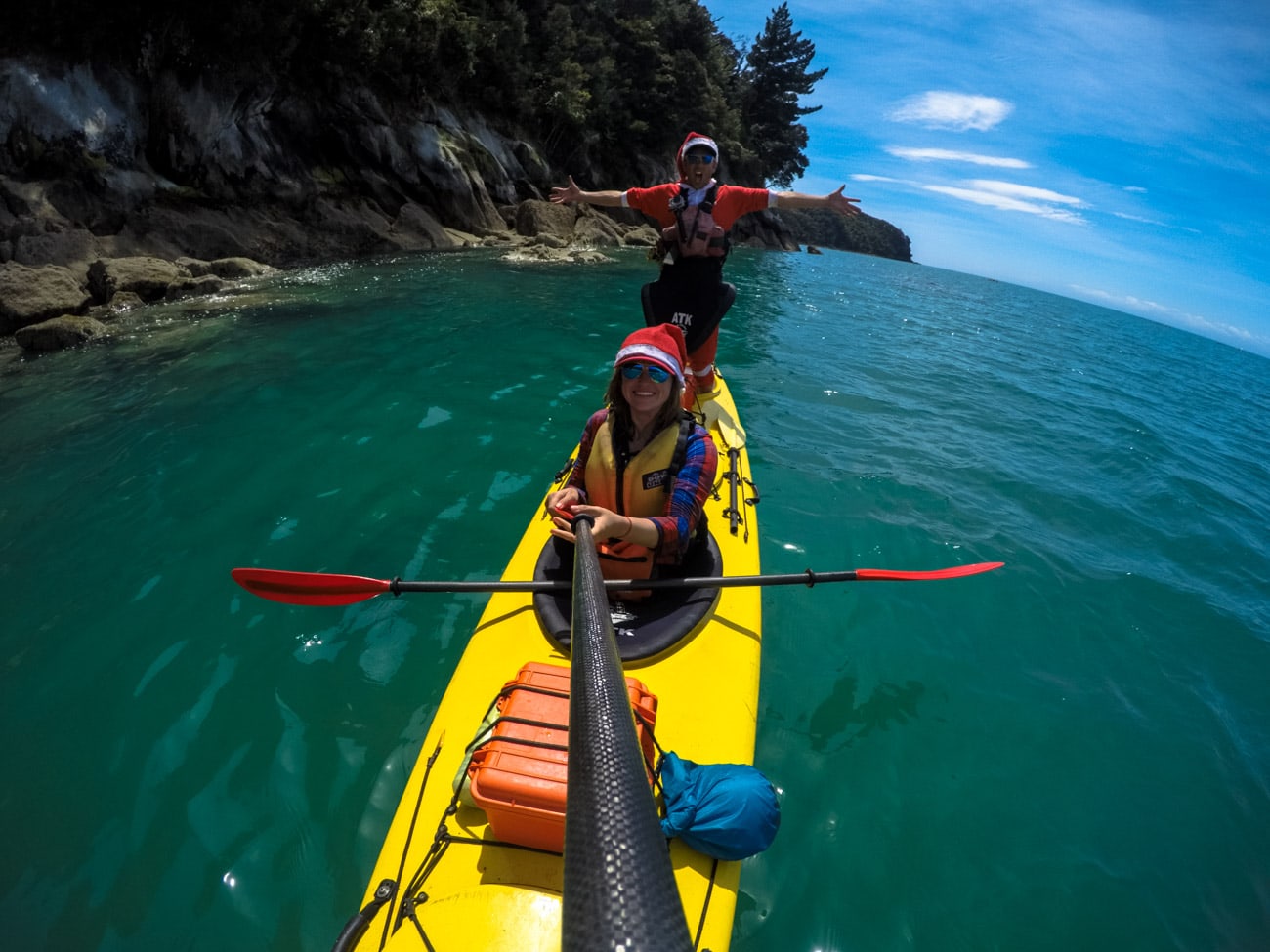 We stopped for lunch at Observation Bay – another one of my favorite beaches on the coast. If I was doing the trip self-guided, this and Mosquito Bay would have been the two places I would have wanted to stay at. Kyle made warm falafel wraps for lunch (mmmm), did another story telling session, and then turned us loose to swim, take pictures, etc.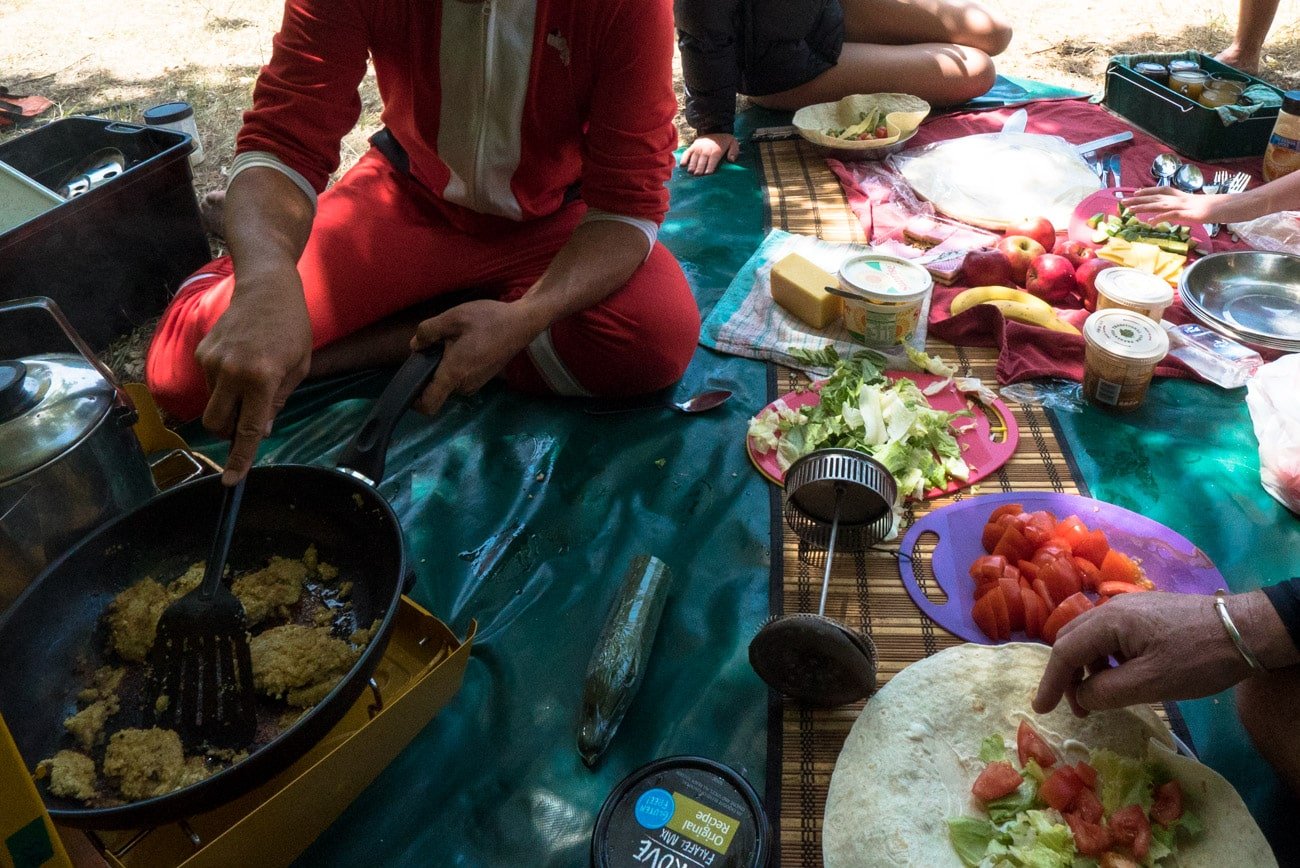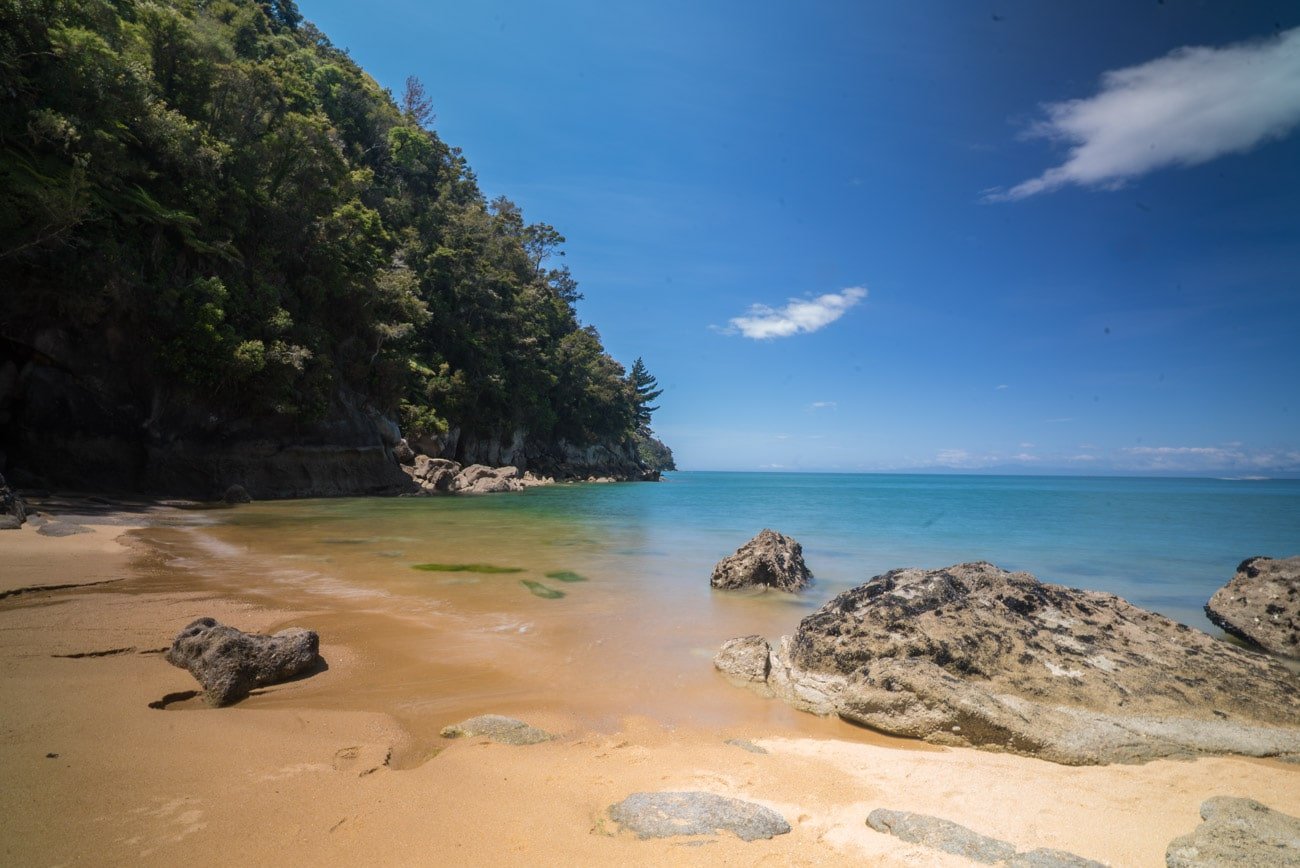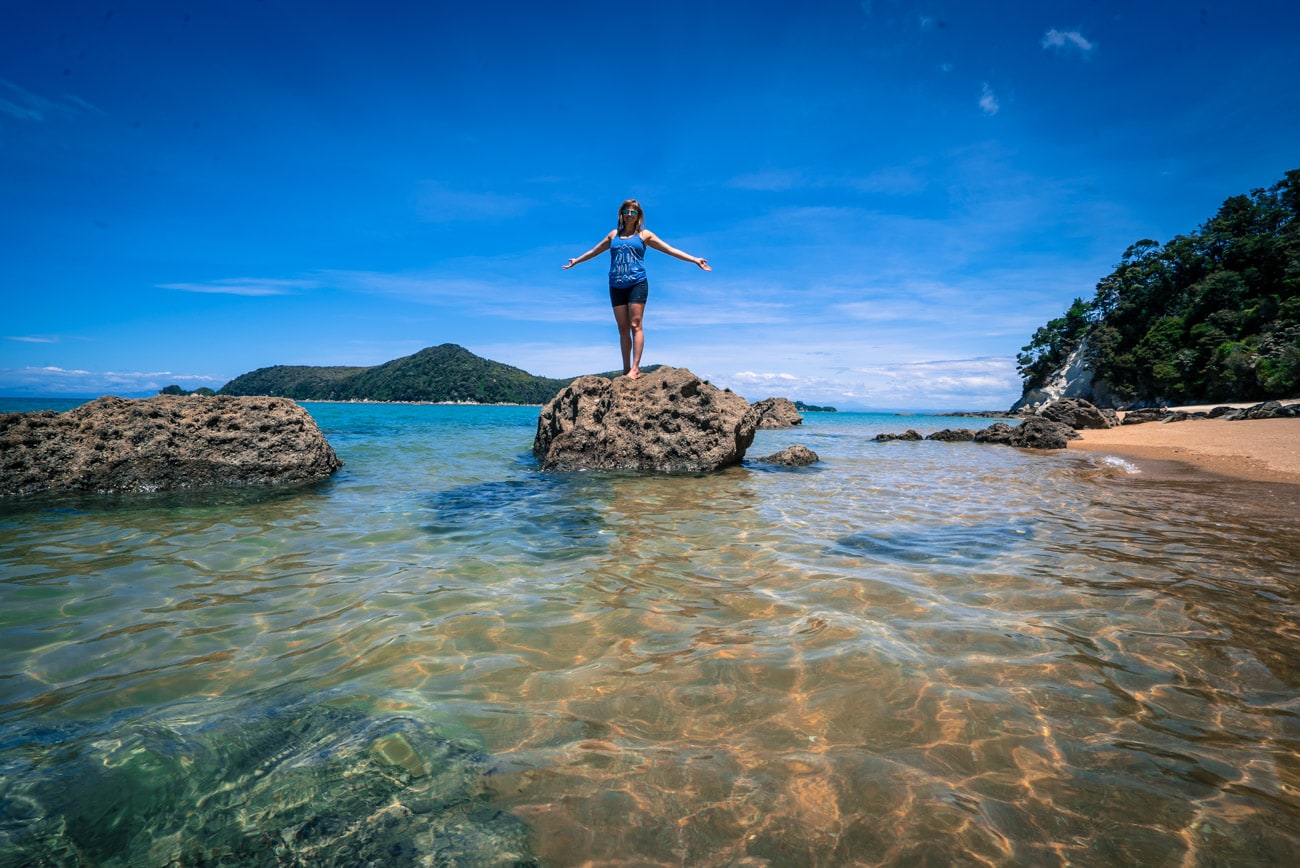 During the final stretch, it was just breezy enough to set sail. So we held our kayaks together, put up the chute, and let the wind take us all the way into to our take-out point in Marahau.
The three days flew by, and I had such a blast on my Abel Tasman kayak tour. For anyone traveling on the South Island, this is an amazing area that you shouldn't miss.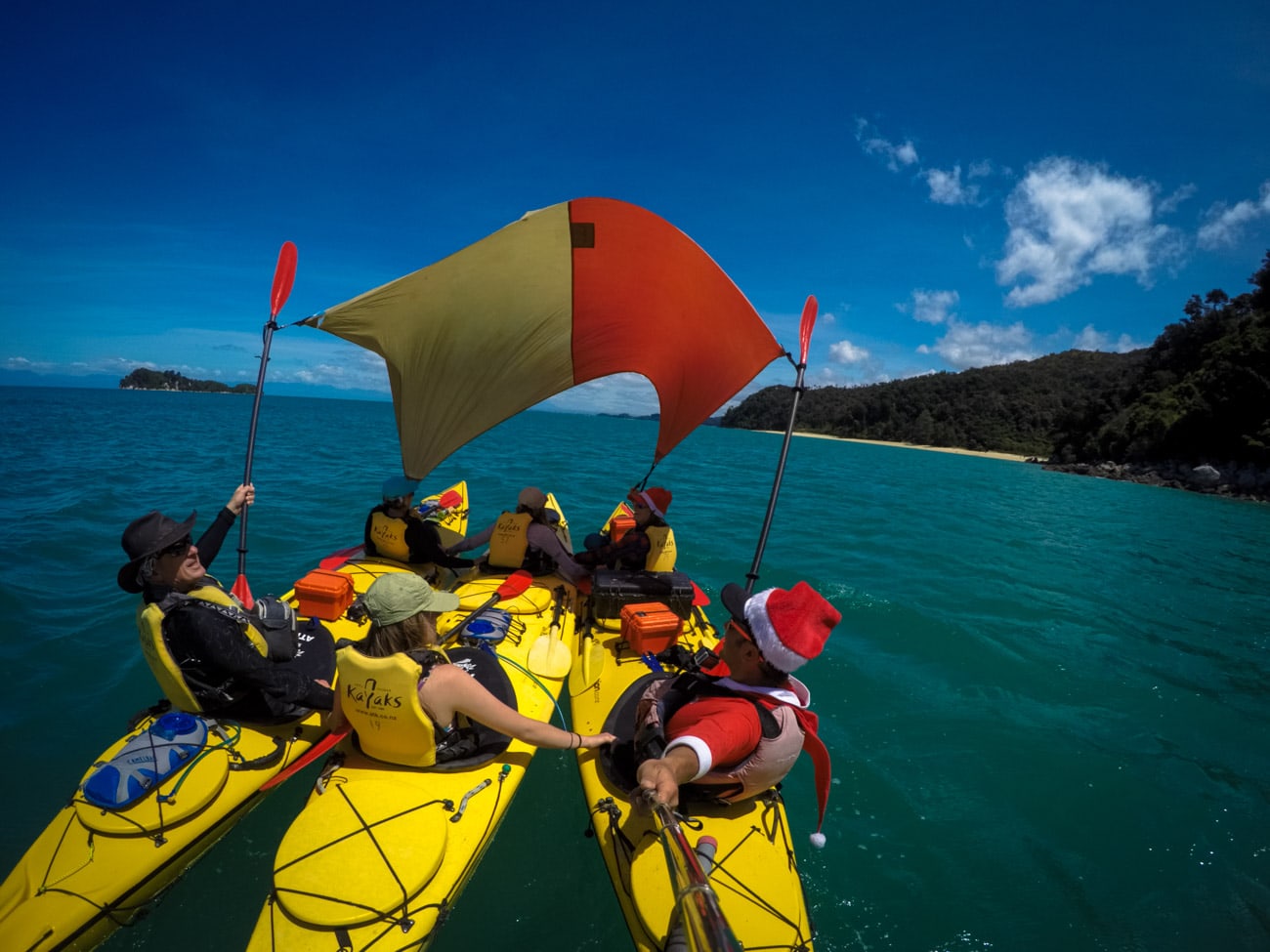 [separator style_type="double|dotted" top_margin="20″ bottom_margin="40″]
— Abel Tasman Kayaks Info —
Abel Tasman kayaks is located on the main drag right in the Marahau. You really can't miss it. If you are interested in doing a tour with them, I recommend calling in advance as they book up during the busy season…and request Kyle if he's available!
They organize everything from rentals and single day trips to a full 5-day kayaking adventures. Or they can customize your trip so you get to do a little kayaking and a little hiking.
[separator style_type="double|dotted" top_margin="20″ bottom_margin="40″]
– Read More New Zealand Posts –
[separator style_type="double|dotted" top_margin="20″ bottom_margin="40″]
QUESTIONS ABOUT THE ABEL TASMAN COAST?
LEAVE A COMMENT, TWEET ME, OR WRITE ME A POST ON FACEBOOK. 

** A big thanks to Abel Tasman Kayaks for hosting me on this tour. As always, all opinions remain my own **