Easy DIY Vegan Backpacking Meal Ideas & Tips (with Recipes!)
Discover easy DIY vegan backpacking meals. Boost your adventure with nutritious, plant based recipes and expert meal prep tips for the trail!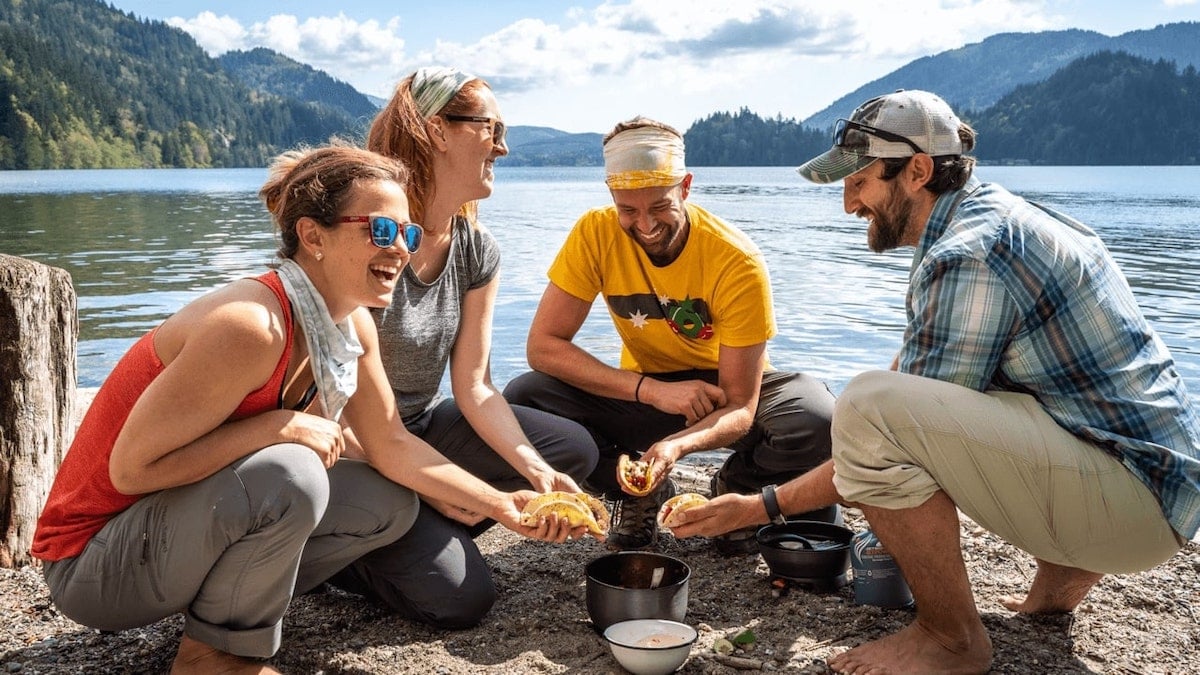 Looking for some easy DIY vegan backpacking meals? You've come to the right place!
There are a lot of ways to eat these days: keto, plant-based, lacto-ovo, paleo… just to name a few. But is it possible to follow your dietary preferences when you hit the trails? As an outdoor chef, I'm here to tell you that yes, you can. You can cook up tasty meals and stick with your diet, whatever it may be, out in the wild.
I'm Chef Corso, head chef and founder of Outdoor Eats and I'm on a mission to elevate the outdoor food experience through fast, easy, and tasty recipes, meal plans, and pocket-sized cookbooks. However you're eating, I want you to be able to stick to your food ideals and keep your belly happy as you head into the outdoors.
I love hiking and backpacking and noticed that most folks are just boiling water and adding it to a bag come mealtime. To me, this is a missed opportunity to have a tasty, filling, and exciting meal that compliments your trip, rather than just shoveling down calories that don't refuel in the best way. 
In this post, I am going to cover the basics for easy DIY vegan backpacking meals including balanced meal planning strategies, how to shop for ingredients, my favorite vegan backpacking recipes, and more.
All photos courtesy of Chef Corso
Join our community for access to our free member resources!
Download Handy Outdoor Packing Checklists & Trip Planning Guides
---
Considerations When Planning DIY Backpacking Meals
Before you head off to the store to buy ingredients, it's important to think through your trip so that you're well-prepared. You don't want to overpack food and carry more than you need or worse, underpack and risk going hungry.
Here are a few considerations to think about before a backcountry trip:
How Many People Are You Planning For?
Every trip and meal plan starts with one question: "How many people are going?"
Planning a solo trip requires very different meal planning than a trip with 6 hungry hikers. Once you know the number in your crew, you can work to create a great meal plan that will be satisfying for everyone.
While I often see folks planning their meals solo even on group trips, planning as a group for main meals is a fun way to share tasty memories together and it isn't as hard as you think.
DIY vegan backpacking meal prep doesn't have to be a burden. Meal plan together and share the load!
TIPS FOR GROUP MEAL PLANNING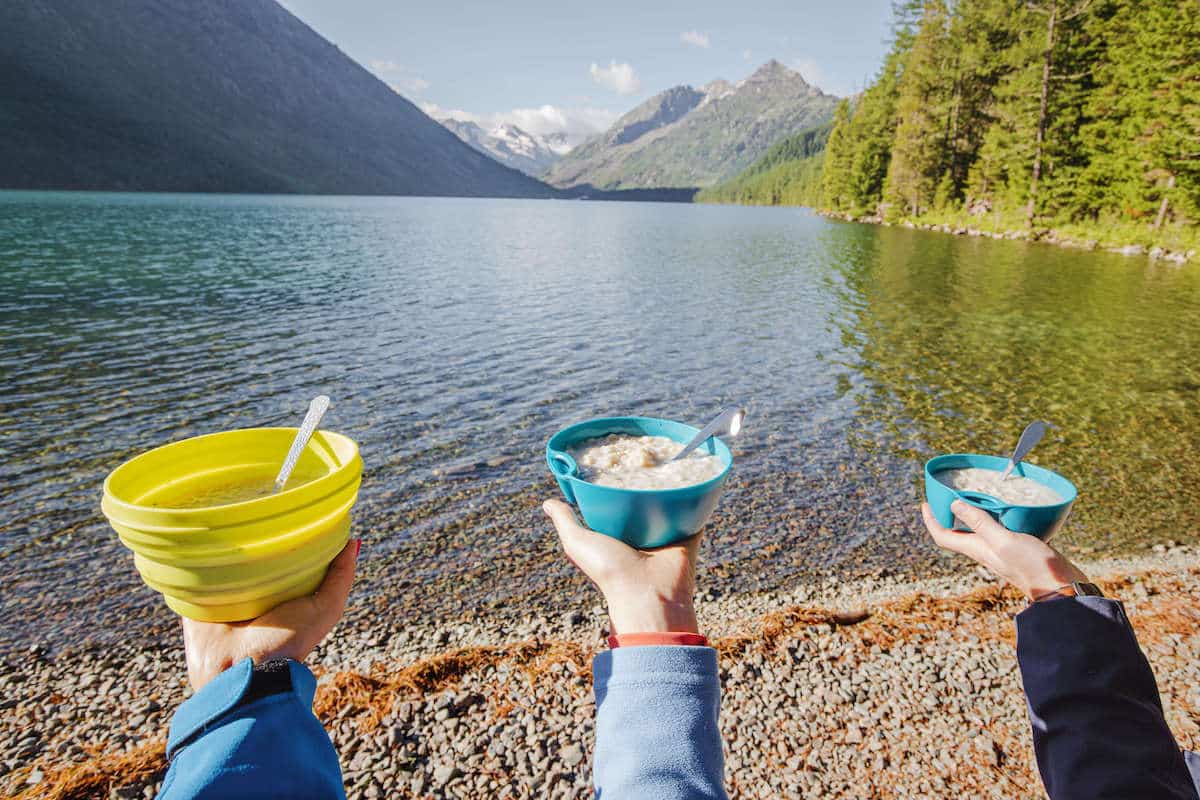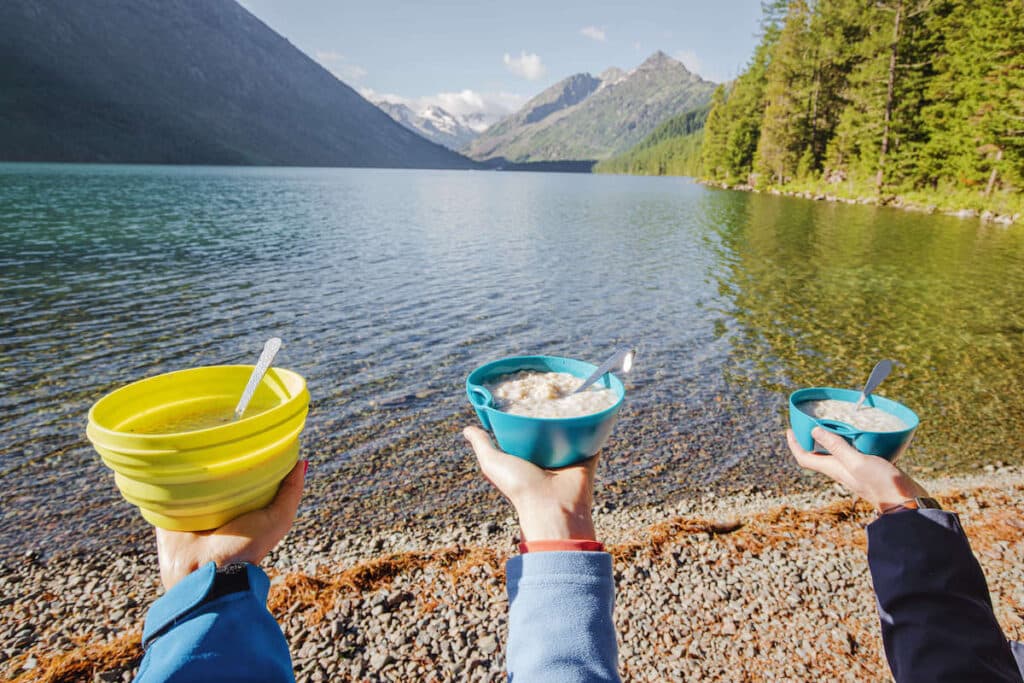 How Big of a Pot Do You Need?
Once you know your group size, you can start to think about cooking equipment. You can choose a camp stove and pot/pan combination from the same company or you can mix and match.
Here are cooking pot capacity ranges to target based on your group size:
Solo trip: 300-500 ml pot
2-person trip: 500 ml -1.2 L pot
2-4 person trip: 1.2 L – 2.5 L pot
4+ people: 2.5 L – 4 L pot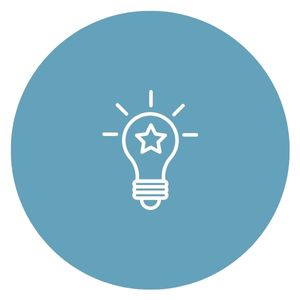 Tip: If you mix and match pots and stoves, look for a stove that has a burner large enough to support the circumference of your pot so it has a stable landing zone and doesn't tip over.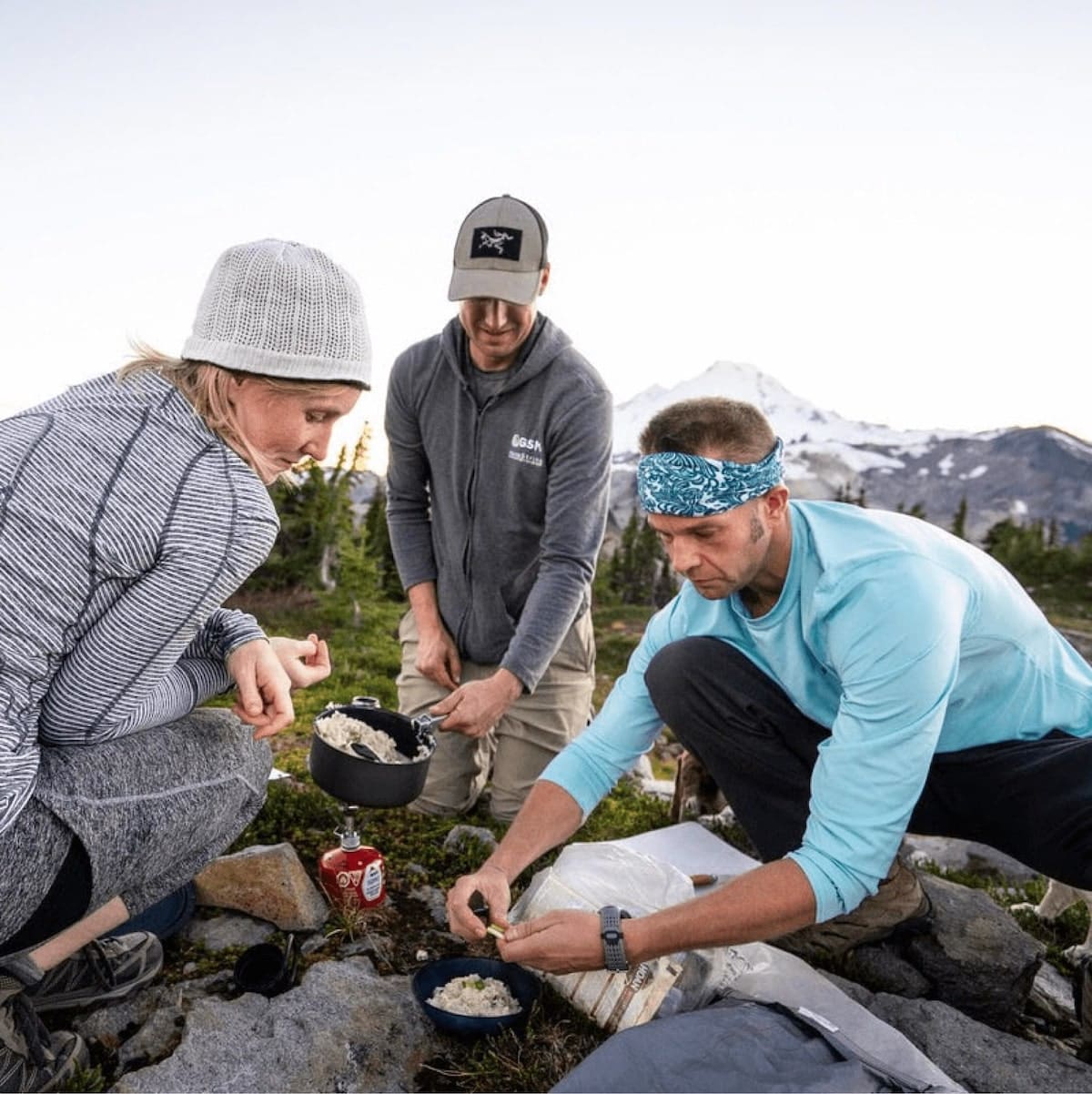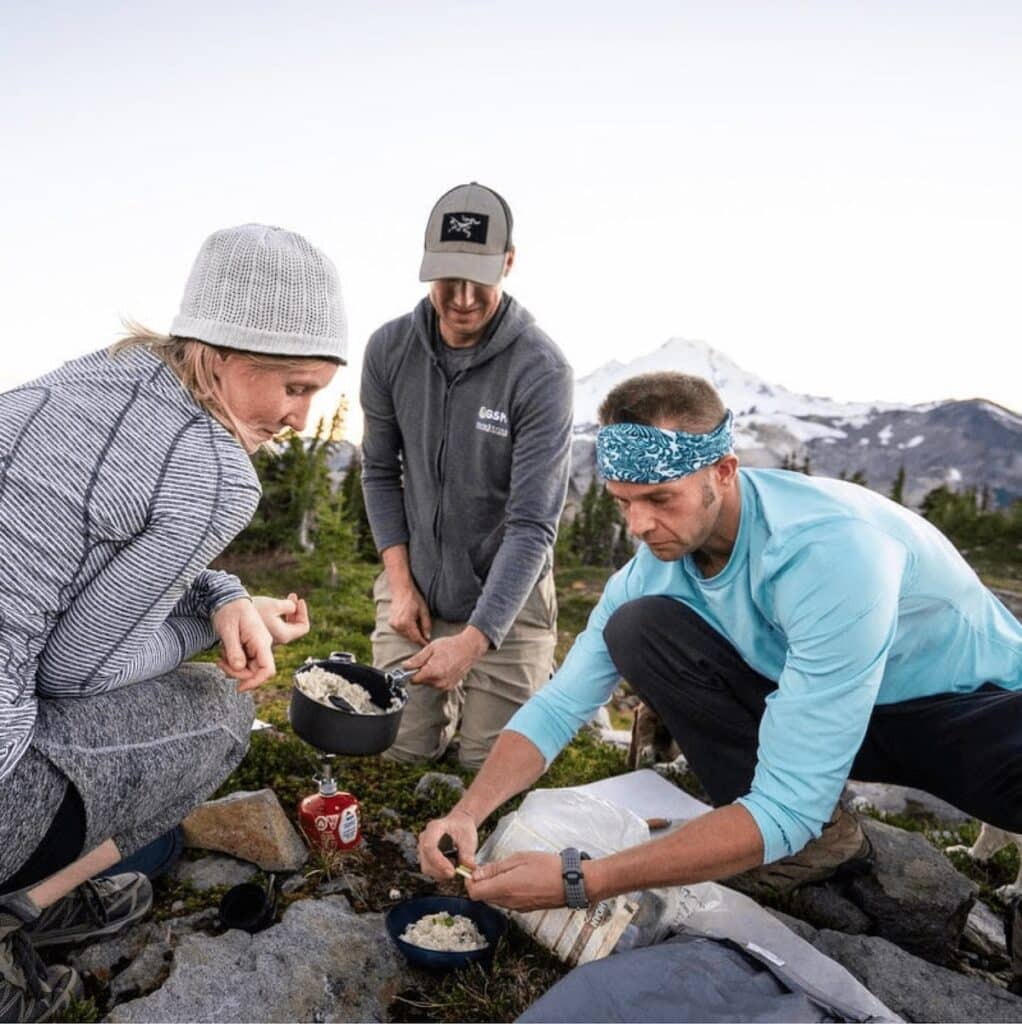 How Much Food Should You Bring?
Figuring out how much food to bring can be one of the biggest challenges of planning a backpacking trip.
Everyone has different appetites and each day on the trail can require varying energy needs. For example, one day of the trip may involve a hard 10-mile hike to the top of a 14er in Colorado while the next day could simply be "hammock and chill" by an alpine lake.
I tend to not focus on a calorie number and rather focus on tasty, filling meals at each meal time. All the recipes on the Outdoor Eats website are meant to provide hearty servings for most hikers.
Each recipe also notes how many portions it makes and is easy to scale up or down based on your trip.
If you are concerned about quantity, pack a little bit more of your pantry items (see below) or a few more snacks.
If you do want to plan your meals based on calories, a general rule of thumb is 2,500 – 4,000 calories of food per person per day.
At a minimum, you'll want to plan breakfast, lunch, dinner, and snacks for each day on the trail.
Not every backpacking meal on your trip needs to be DIY of course, but I've included a few of my favorite easy DIY vegan backpacking recipes at the end of this post to get you started.
---
Tips for Planning DIY Vegan Backpacking Meals
Now that you know how many people you need to pack food for, let's get into some meal-planning tips.
Start in the Pantry
For any DIY backpacking meal plan, I always start in the pantry. Check the cupboard for what plant-based staples you might already have on hand like:
All of these options are lightweight, packable, filling, and versatile based on what you want to make in the backcountry.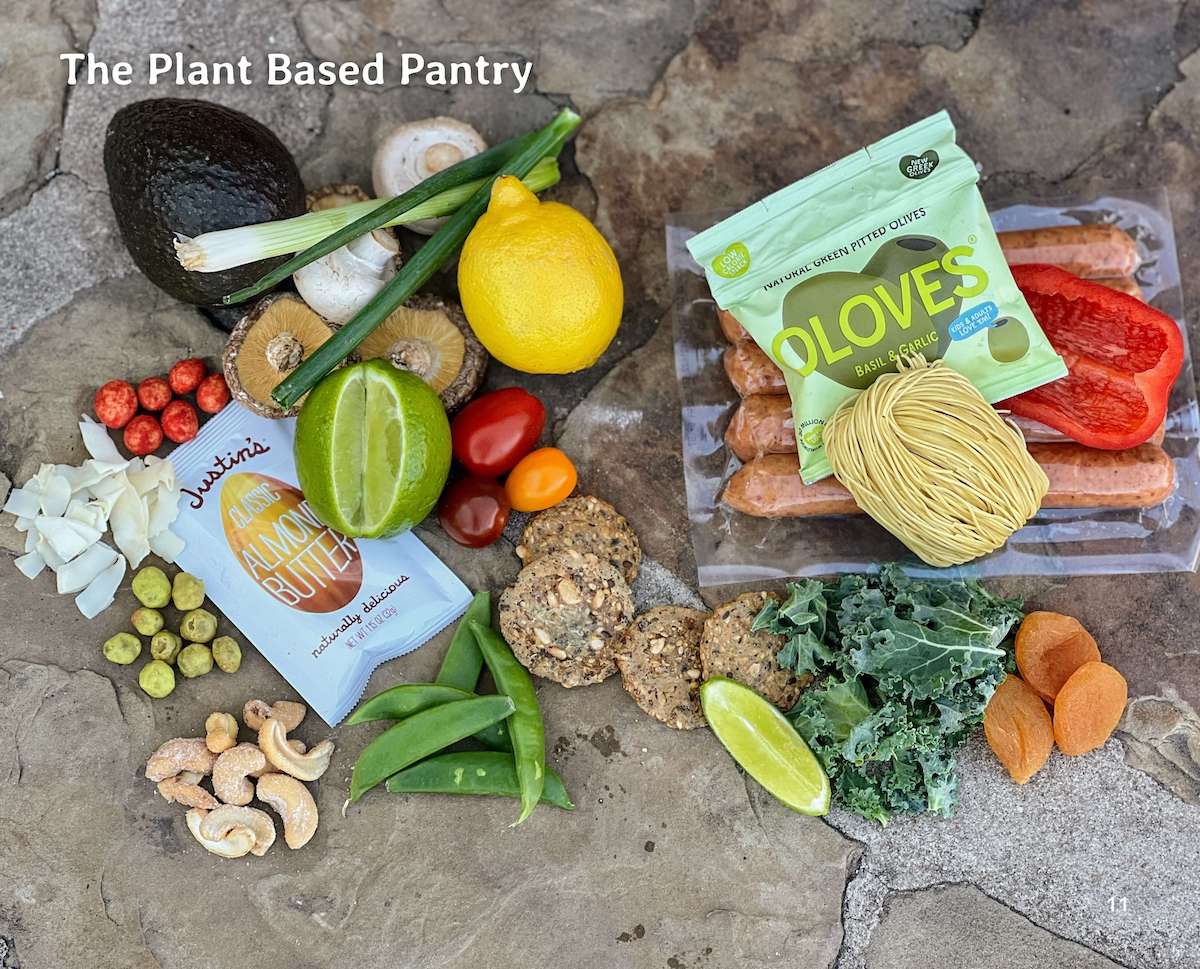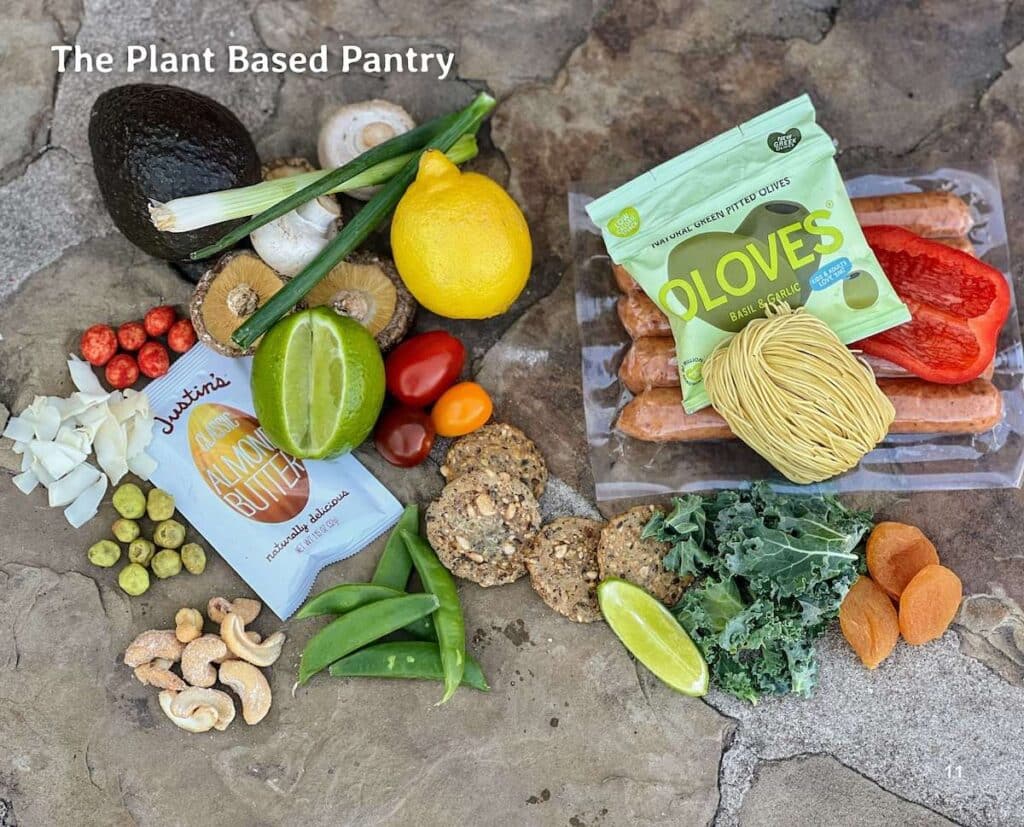 Pick Your Protein
Protein is an important macronutrient to target for a complete meal but it can be challenging to find plant-based options that last for days away from refrigeration.
Here are a few vegan protein options to check out:
Add Flavor Through Spice Mixes
Spices and spice mixes are THE BEST way to add flavor without carrying heavy sauces and condiments.
Some of my favorites are: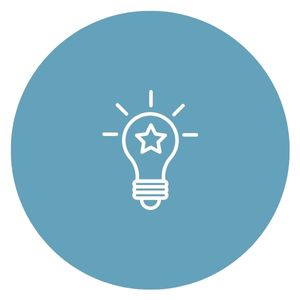 Tip: When buying spice blends, always check the ingredient listings for the amount of salt. You want blends that have spices as the first ingredient, not salt.
Watch Chef Corso choose which spices to pack for backpacking
Add Texture & Freshness
Finally, add something fresh to round out your meal. Texture and freshness are key components to completing a flavorful dish at home and they're just as important outside on the trail.
These key attributes are missing from packaged meals and I think they are important to target when creating backpacking meals.
Here are some options for veggies that last for multiple days on the trail without getting bruised, slimy, or soggy.
I tend to focus on fresh for the first days of my meal plan then move to drier, more stable options as the trip progresses.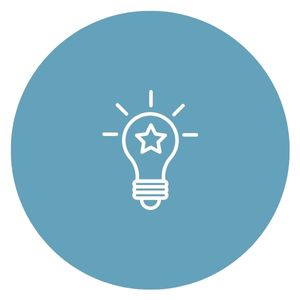 Tip: For freshness, I love packing along a lime or lemon, and a small plastic bottle of apple cider vinegar to add that little bit of pop to my meals. Don't want to take along liquids? Check out Sumac. It's a dry spice that has a nice lemony flavor that adds no weight.
---
Tips for Packing DIY Backpacking Meals
If you are not bringing along pre-packaged meals, you'll need to pack up the ingredients for your DIY vegan backpacking meals and keep everything organized.
I like using compostable Ziplock bags (remember to pack them out), reusable Stasher Bags, and stuff sacks to keep things organized. Typically I'll pack each meal into one Ziplock bag and then pack each day's meals into one stuff sack. That way, I don't have to go rummaging through my entire pack to find that day's dinner.
For liquids like oil, vinegar, and soy sauce, I like reusing old soda or juice shot containers. They can vary in size from 1 oz – 16 oz and are a perfect way to reuse something you were just going to throw away. These 2 oz bottles are perfect for shorter trips.
For spices, I reuse washed-out lotion tins or rehydration tab bottles. You could also these Humangear Interlocking Containers (medium size) for pastes and other flavor ingredients.
Shop backpacking food storage & organization >>
---
DIY Vegan Backpacking Recipes
Now for the fun part, let's dive into the recipes!
Below are a few of my favorite plant-based recipe ideas for DIY backpacking breakfasts, lunches, and dinners.
DIY Vegan Backpacking Breakfasts
I don't know about you, but I can't eat another maple brown sugar oatmeal packet.
This tropical oatmeal recipe provides a different flavor to change up the boring morning trail routine.
The ingredient list is short and simple, but it packs a delicious punch.
Avocado, Tomato, and Spinach Breakfast Sandwich
Not all breakfast sandwiches have to have an egg.
For a vegan option, I love this combination of ingredients for flavor, color, texture, and micronutrients.
Start your day off right!
DIY Vegan Backpacking Lunches
This no-cook grain bowl concept is perfect for a change-up from your standard deli sandwich trail lunch.
It contains whole grains, fresh veggies, and a delicious dressing.
Add some crunchy chickpeas for a little extra protein and use vegan mayo packets to keep it plant-based.
Don't worry – no raw fish here!
Just a few packable veggies and a quick pot of sushi rice all wrapped up in a seaweed wrap for an unforgettable trail meal.
Tip: Nori can be delicate so plan this meal earlier in your trip.
DIY Vegan Backpacking Dinners
I love this recipe for its versatility.
You can adjust the sauce and toppings to make your own perfect noodle bowl.
It's also a great recipe for one person or a big crew!
*This recipe can be altered to exclude fish sauce
This is a take on New York Times food writer Alison Roman's "The Stew" recipe.
With this easy DIY backpacking version of this recipe, you can eat this classic on a mountaintop!
DIY Vegan Backpacking Desserts
Don't forget about dessert!
This easy DIY backpacking dessert recipe is sweet, easy, and refreshing – the perfect way to top off a long day on the trail.
Thanks for coming along! If you're searching for more easy DIY trail recipe ideas, hit up outdooreats.com or check out my YouTube page Chef Corso for more tasty options.
Get out there!
Looking for more backcountry meal ideas and tips? Check out these related blog posts:
What are your favorite DIY vegan backpacking meals or tips? What questions do you have about meal planning for a backpacking trip? Leave a comment below!