7 Outdoor Activities in Las Vegas
When I first started this blog, I spent a year living in Las Vegas. I got a job at the Henderson REI store, and during that time I learned that there's a lot more to Vegas than smoky casinos and glitzy nightclubs. Venture just a short drive from the strip, and you'll discover hot springs, snowy mountains, red rocks, and plenty of cool hiking trails. In this blog post, I share some of my favorite outdoor activities and things to do in Las Vegas
1) Hiking in Las Vegas
There are many options for hiking around Vegas, and the best spots depend on the season. In summer, head up to Mount Charleston to get some reprieve from the heat. Higher elevations here result in temperatures that can be as much as 20 degrees cooler than in downtown Vegas.
The Raintree Trail is a 6 mile out and back forested trail whose main attraction is a huge 3,000-year-old bristlecone pine tree. The trail gains 1,100 feet, so you'll get a decent workout along with some beautiful views of the surrounding mountains that look nothing like you would expect in Vegas.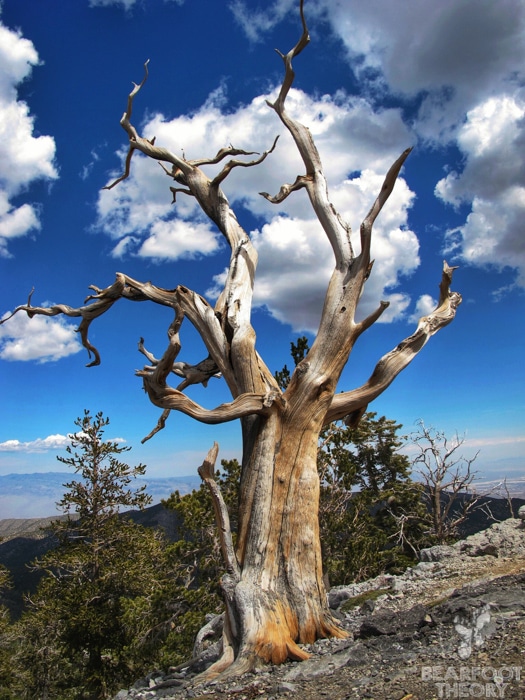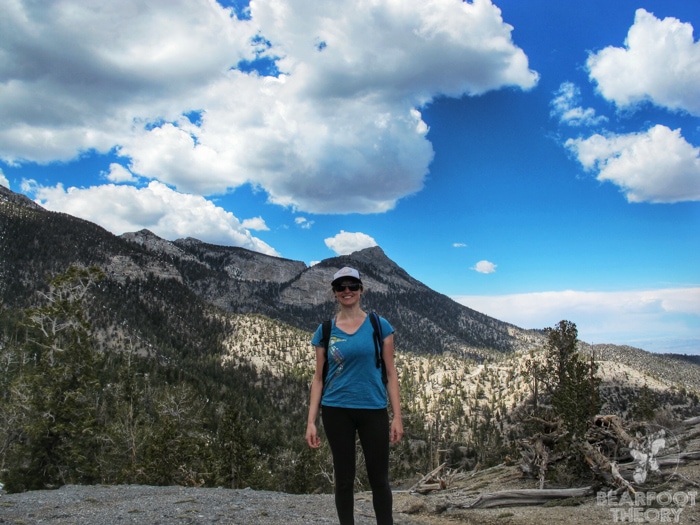 In the winter, Mt. Charleston actually gets snow. There's even a ski resort…can you believe that? So during those cooler months, you are better off going to Red Rock or Lake Mead.
Mt. Charleston in the early spring
In Lake Mead, my favorite hike is Anniversary Narrows. The trail begins in a wash and ends in a twisted narrow slot canyon with a variety of colors and geologic features. If you've never done any slot canyon hiking, this is a beautiful, beginner-friendly hike that will make you hungry for more slot-canyon adventures. Go here for directions and a description of the trail.
**UPDATE: AS OF FEBRUARY 2015, ACCESS TO ANNIVERSARY NARROWS HAS BEEN CLOSED AND THE ALTERNATE ROUTE IS ALSO CLOSED.  **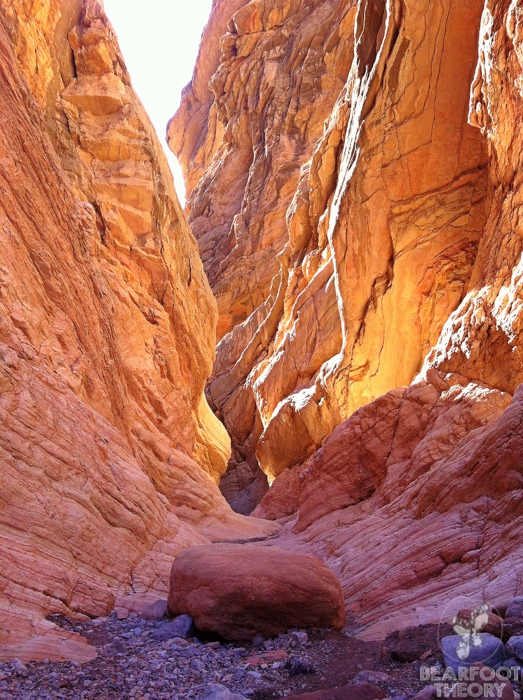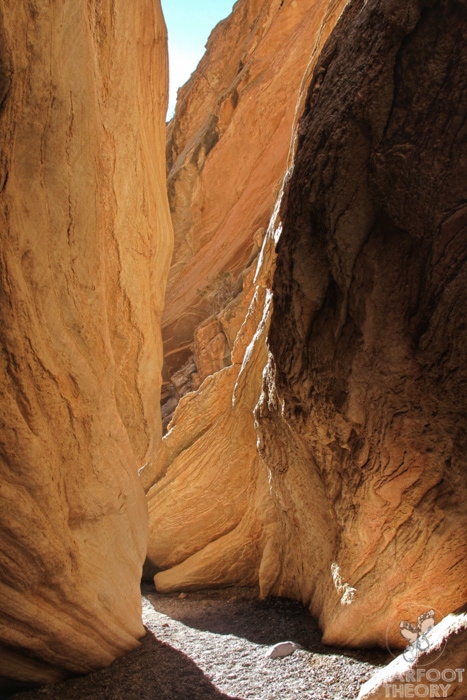 For more hiking options, download the free AllTrails app for your smartphone. This awesome trail app, which I discussed in a previous blog post, maps out the best trails in the Vegas area and provides many detailed trail reviews.
2) Biking at Lake Mead
The areas around Lake Mead offer excellent biking opportunities.
The River Mountains Loop Trail is a paved bike path that connects Lake Mead National Recreation Area to the towns of Boulder City and Henderson. The 35-mile trail circles the edge of the River Mountains with beautiful views of Lake Mead and the Las Vegas Valley, giving bikers a taste of the Nevada desert. You might even get lucky and encounter the large population of bighorn sheep that live here.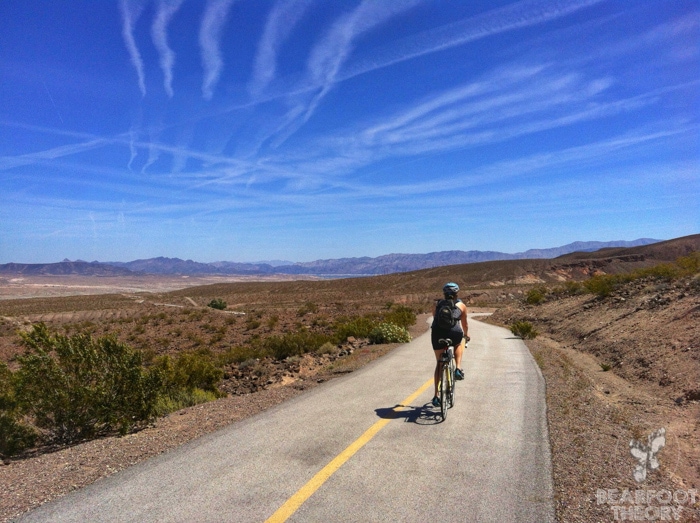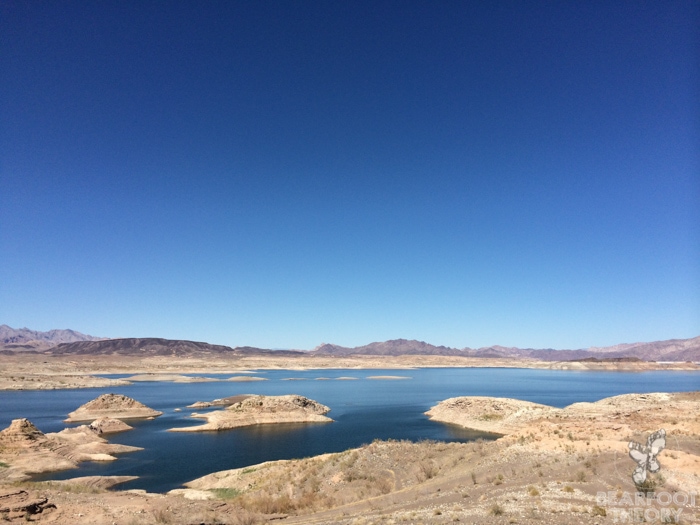 There are many access points, but one of the easiest to get to from the strip is at the Railroad Pass Hotel and Casino (2800 South Boulder Highway, Henderson, NV 89002) where there is a large parking lot. This trailhead is also where the mile markers begin. Most bikers prefer to ride clockwise from Railroad Pass.
When choosing your direction, you must decide whether you'd prefer mostly downhill with a few short punches of steep uphill (clockwise) or long gradual climbing for the majority of the day with a few fun descents (counter-clockwise).
For maps, a complete list of access points, and more information on the trail visit the River Mountains Loop Trail website.
If you need to rent a bike, check out All Mountain Cyclery in Boulder City. They are the best bike shop around and are conveniently located less than a mile from the trail access point at Bootleg Canyon.
3) Scenic Driving at Red Rock National Conservation Area
Vegas nightlife get the best of you? Go the easy route and take a scenic drive through Red Rock National Recreation Area. The 13-mile one-way route traverses the best scenery in the park and provides plentiful opportunities to pull over and snap some photos of the bright rock formations. And once you are out there, if you are up for it, you can take an easy stroll through Calico Basin.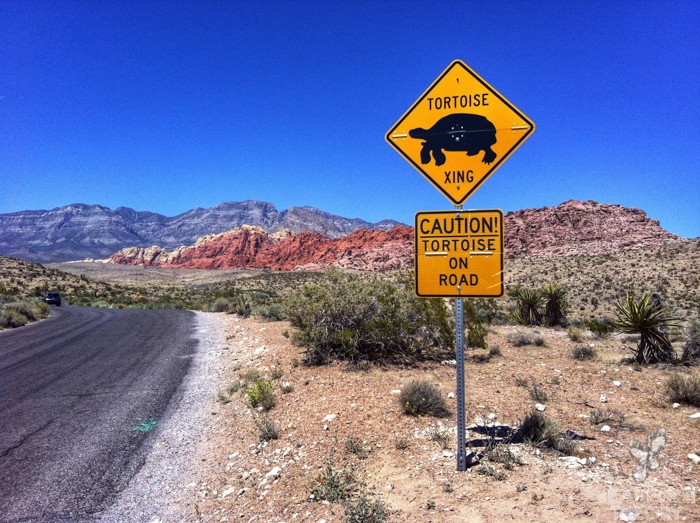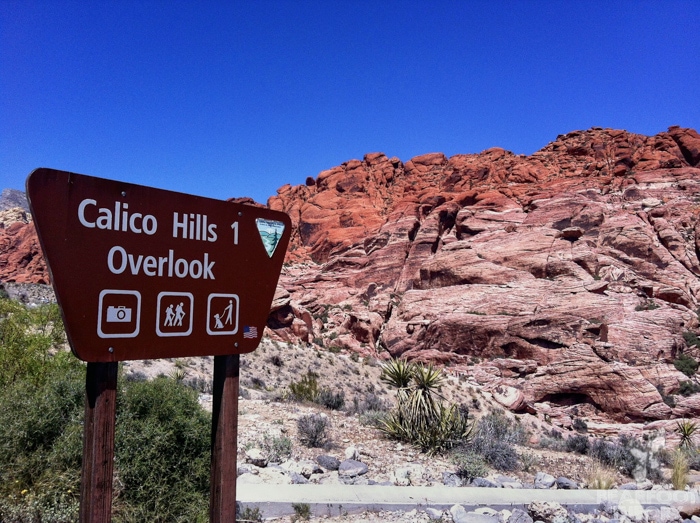 4) Stand up Paddle Boarding at Lake Las Vegas
Lake Las Vegas is a Mediterranean themed resort community about 30 minutes from the Strip that is situated on a 320-acre lake and surrounded by desert mountains. Lake Las Vegas Water Sports, located right on the beach at the Lake Las Vegas Westin Hotel, rents stand-up-paddle (SUP) boards by the hour. Spend your morning out on the lake exploring the numerous coves, and afterward grab lunch and a glass of wine in the village at one of the several lakeside restaurants. They also offer SUP yoga classes.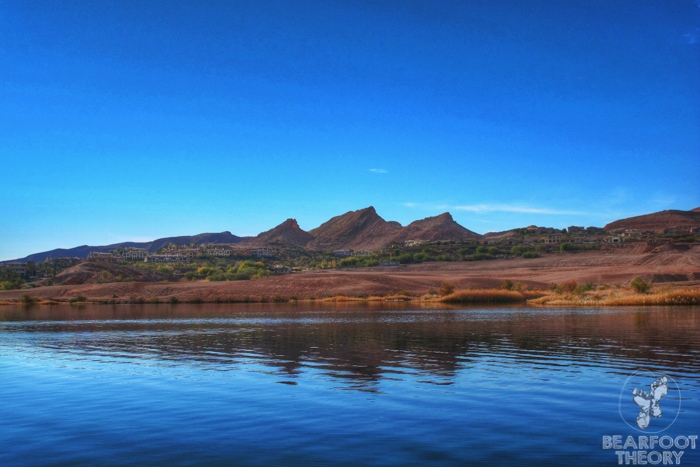 Lake Las Vegas is an easy escape from the madness of the Strip
5) Soak in Hot Springs near Hoover Dam
The section of Colorado River below Hoover Dam is named the Black Canyon and is famous for its slot canyon hot springs. The easiest to get to on foot is Arizona hot springs, which is a beautiful pool located in a narrow slot canyon just above the river. Getting there requires a moderate 5.6-mile round trip hike and a climb up a 20-foot ladder that was installed by the National Park Service. The effort is more than worth it, especially in the winter when it is cooler and you can enjoy a nice long soak.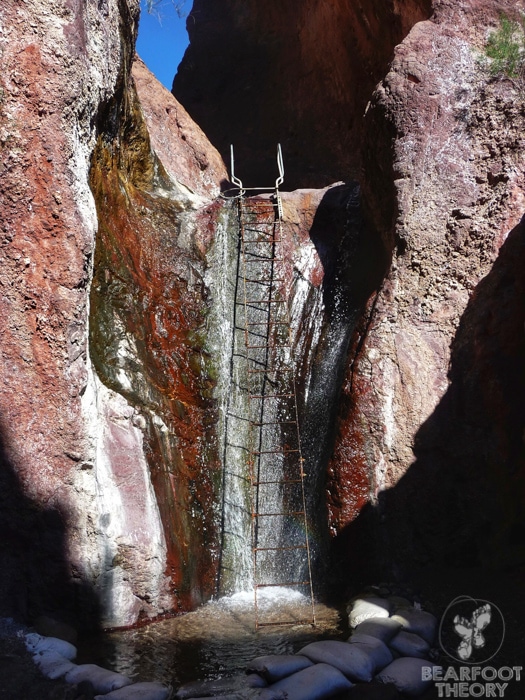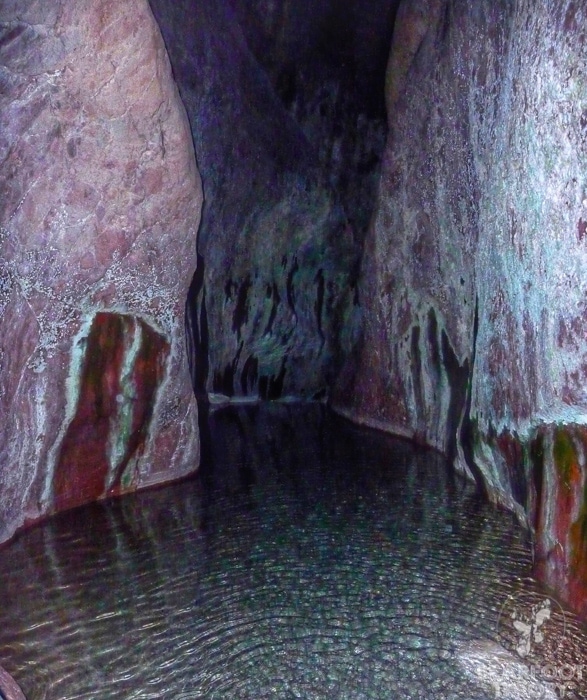 6) Kayak the Black Canyon
A few additional hot springs on the Colorado River, as well as Arizona Hot Springs, can also be reached by kayak. Several outfitters in the area rent kayaks and will drop you off below Hoover Dam and pick you up 12 miles downstream at Willow Beach. Along the way, you can stop and relax in the hot springs, explore side canyons, and sit back as the current pushes you downstream. Out of all of the outdoor activities in the Las Vegas area, this is my favorite. For more information, see my full trip review on Paddling the Black Canyon.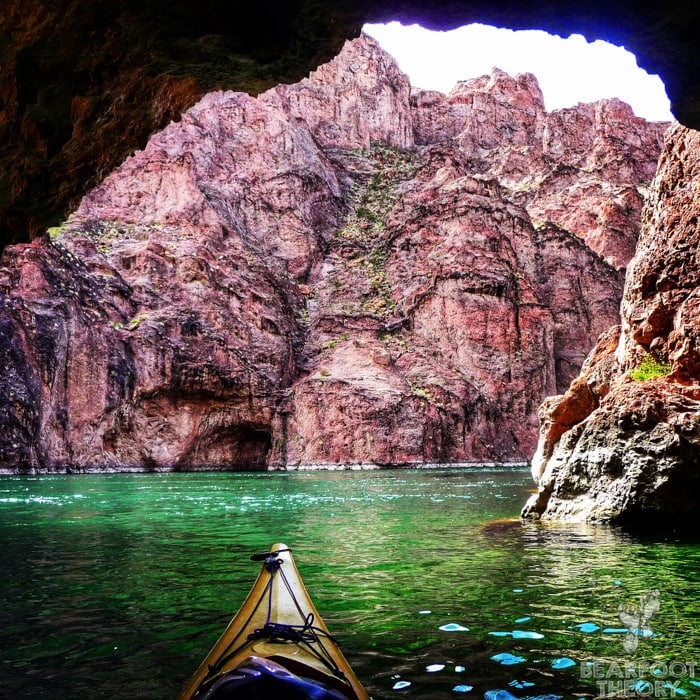 7) Zip-lining in Bootleg Canyon
Go for a flight over the Mojave Desert with Flightlinez zipline tour in Bootleg Canyon. The tour includes four separate zip lines with the longest line being almost half a mile. If the daytime tour isn't thrilling enough, from April to October, they also offer a sunset tour. Knowing how epic the sunsets are here in Las Vegas, I bet this would be awesome.
What are your favorite things to do outdoors in Las Vegas off the strip? Leave a comment below and let us know!