Backpacking Guide: Hiking the San Jacinto Peak Loop Trail
At 10,834 feet, San Jacinto Peak is the highest peak in the San Jacinto Mountains. It's most known for its expansive 360 degree…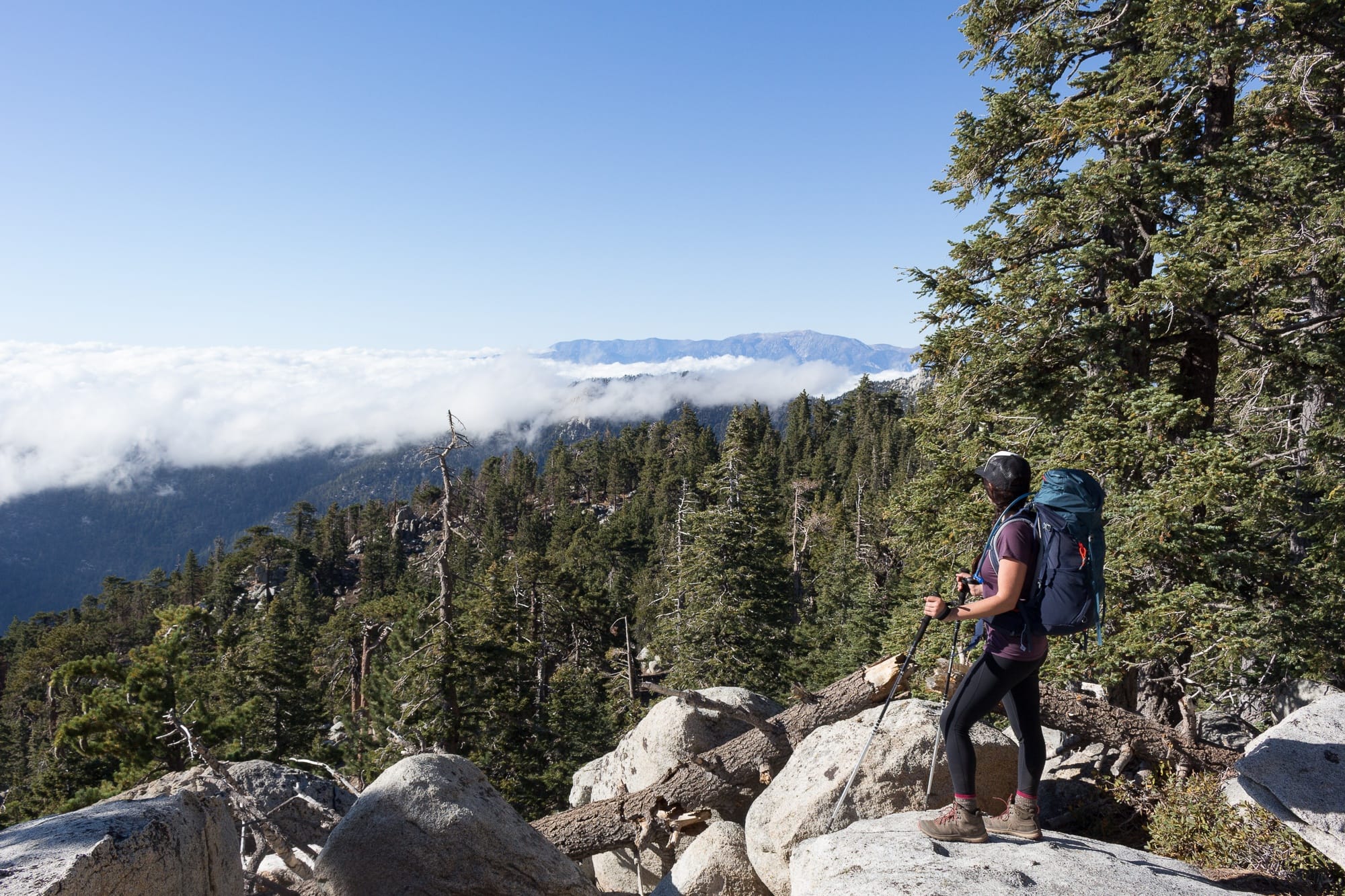 At 10,834 feet, San Jacinto Peak is the highest peak in the San Jacinto Mountains. It's most known for its expansive 360 degree views that span the Coachella Valley and Salton Sea below, all the way across to Joshua Tree and the San Bernardino Mountains. John Muir called the view from San Jacinto "the most sublime spectacle to be found anywhere on this earth". When you stand on the peak watching the clouds below you drift by as you take in the views all around, you'll know what he meant.
While there are multiple routes that go up to San Jacinto Peak, this backpacking guide covers my favorite: the San Jacinto Peak Loop Trail. It's the perfect 2-day/1-night backpacking trip that can easily be fit into a weekend. This route is longer yet more gradual than others and is the most scenic and enjoyable (in my opinion).
Looking for the most scenic way to summit San Jacinto Peak? Here's everything you need to know about backpacking the San Jacinto Peak Loop Trail.
---
San Jacinto Peak Loop Trail Details
This loop trail (well, more like a lasso) takes you through some of the most scenic parts of the San Jacinto mountains and provides spectacular views both ways. This route is a bit longer than other routes to the peak, but it's also more gradual, enjoyable, and easier on the knees. Plus it makes for the perfect 2 day / 1 night weekend escape into the mountains.
Trail Type: Loop
Distance: 19 miles
Elevation Gain: 5234'
Recommended Time: 2 days / 1 night
Difficulty: Challenging
Dogs Allowed: No
---
What to Know Before Hiking San Jacinto Peak
Hiking San Jacinto Peak is no cake walk. It involves some serious elevation gain, exposure to the elements, and is a pretty strenuous hike overall. Below is some of the key info that will help you plan a successful backpacking trip.
Permits
While most of the trails begin in the San Jacinto Wilderness, San Jacinto Peak and the backcountry campgrounds are in San Jacinto State Park. Permits are required whether you are day hiking or backpacking.
Day Hiking Permits
There is no quota for day hiking permits – you simply need to fill out a permit before heading out for the day. This permit system is in place to ensure that visitors know the rules so the natural environment can be preserved. Day use wilderness permits are free and available 24 hours a day at the State Park Headquarters office in Idyllwild, Stone Creek campground, and the Long Valley Ranger Station.
Backcountry Camping Permits
The backcountry campgrounds on the way up to the peak do have quotas and there are a specific number of designated campsites at each campground. Permits tend to fill up more than 4 weeks in advance for summer weekends. Little Round Valley Campground is especially popular since it's closest to the peak.
Applications for overnight permits are accepted up to 56 days (8 weeks) in advance and can be submitted by mail only.
To apply for a permit, visit the Mount San Jacinto State Park website where you can download a wilderness camping permit to be filled out and mailed in with your permit fee ($5 per person payable by check or money order). You'll be asked to indicate your first and second choice campground. Round Valley Campground is a good backup if you're not able to get a permit for Little Round Valley.
Permits can also be obtained by walk-in at the Mount San Jacinto State Park office but availability isn't guaranteed.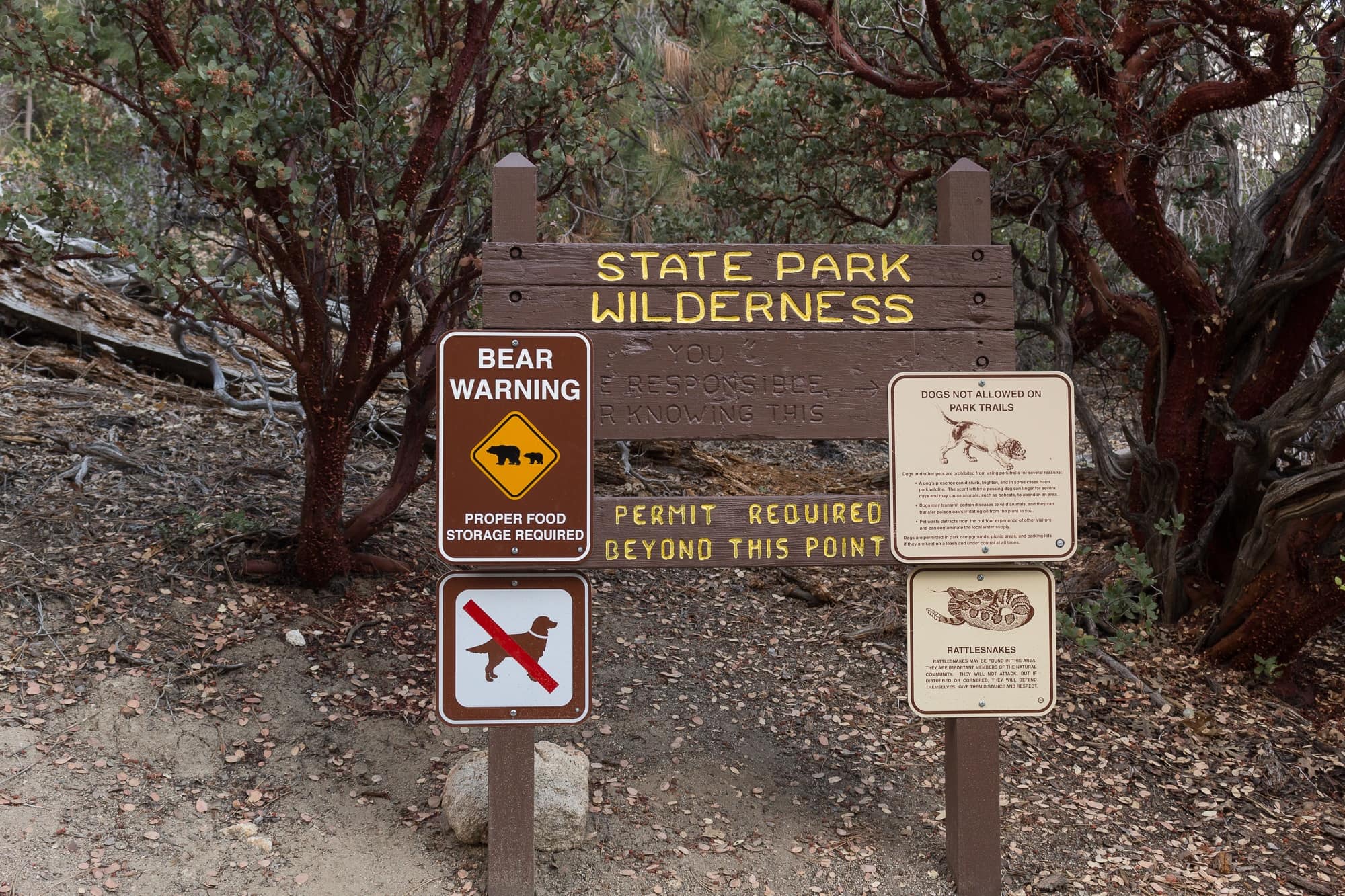 Parking
At most trailheads, you'll need an Adventure Pass or a National Forest Pass to park your car. If you don't already have one, you can purchase a pass at the Idyllwild Ranger Station.
Wildlife
Bears are active in this area. You'll need to either bring a bear proof canister/container for your food or know how to properly hang your food stash from a tree branch out of reach. We didn't see any bears either time we hiked San Jacinto, but it's always good to play it safe and not temp bears with easy access to food.
Rattlesnakes inhabit these mountains too, so keep an eye ahead of you on the trail as you hike. We saw one just off the trail about two miles in from the Deer Springs Trailhead. They want to avoid you as much as you want to avoid them, so if you see one, just give it a chance to move away so you can safely pass.
Are Dogs Allowed When Hiking to San Jacinto Peak?
Unfortunately, no. Dogs are not allowed in San Jacinto State Park, which encompasses much of the hiking trails up to the peak, the backcountry campgrounds, and the peak itself. As soon as you hit the State Park boundary, there are signs that clearly state that dogs are not allowed beyond that point.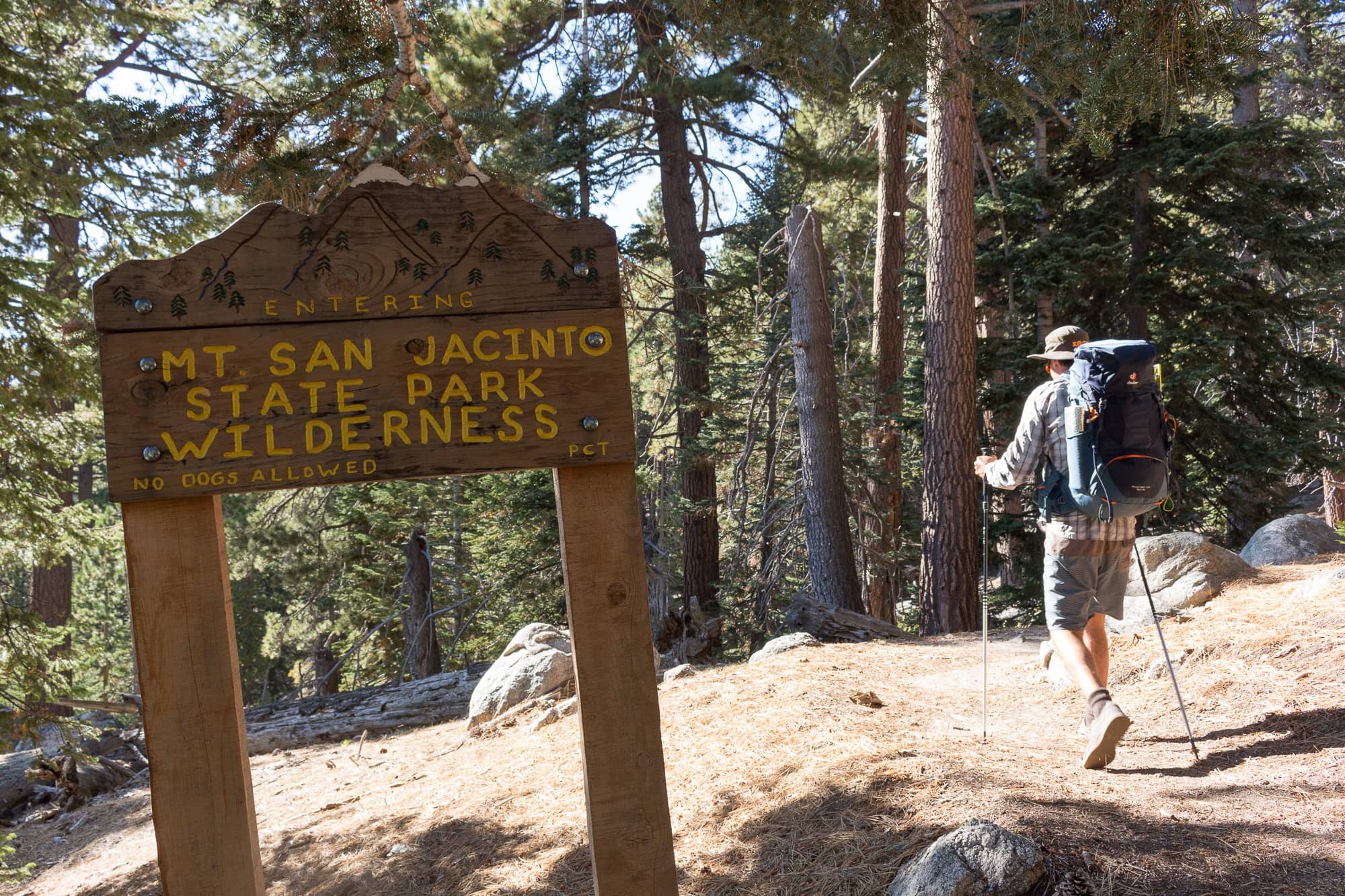 Weather
Weather can change quickly in the mountains. Check the weather before you leave home so you can bring all the supplies and warm layers you might need. Then check the weather again before setting off for your hike so you know what to be prepared for. You can get an updated weather report for the peak at the San Jacinto State Park office.
Water Availability
Water is generally available along the trail year round. We've hiked to the peak in late September and late October and both times we encountered multiple creeks along the trail and at the Little Round Valley Campground – small but enough to filter water from (don't forget to bring a water filter!). You can find water and trail status updates at sanjacjon.com – a site run by a volunteer (consider donating if you'd like to support his work). It's usually updated at least every 10 days or so and is where the rangers get their info too.
Elevation
San Jacinto Peak tops out at 10,834 feet – that's pretty dang high. Anything over 8,000 feet is considered high altitude so just be aware of how you feel and take care to stay hydrated and fueled. Give yourself extra time to complete this hike and take breaks to catch your breath whenever you need.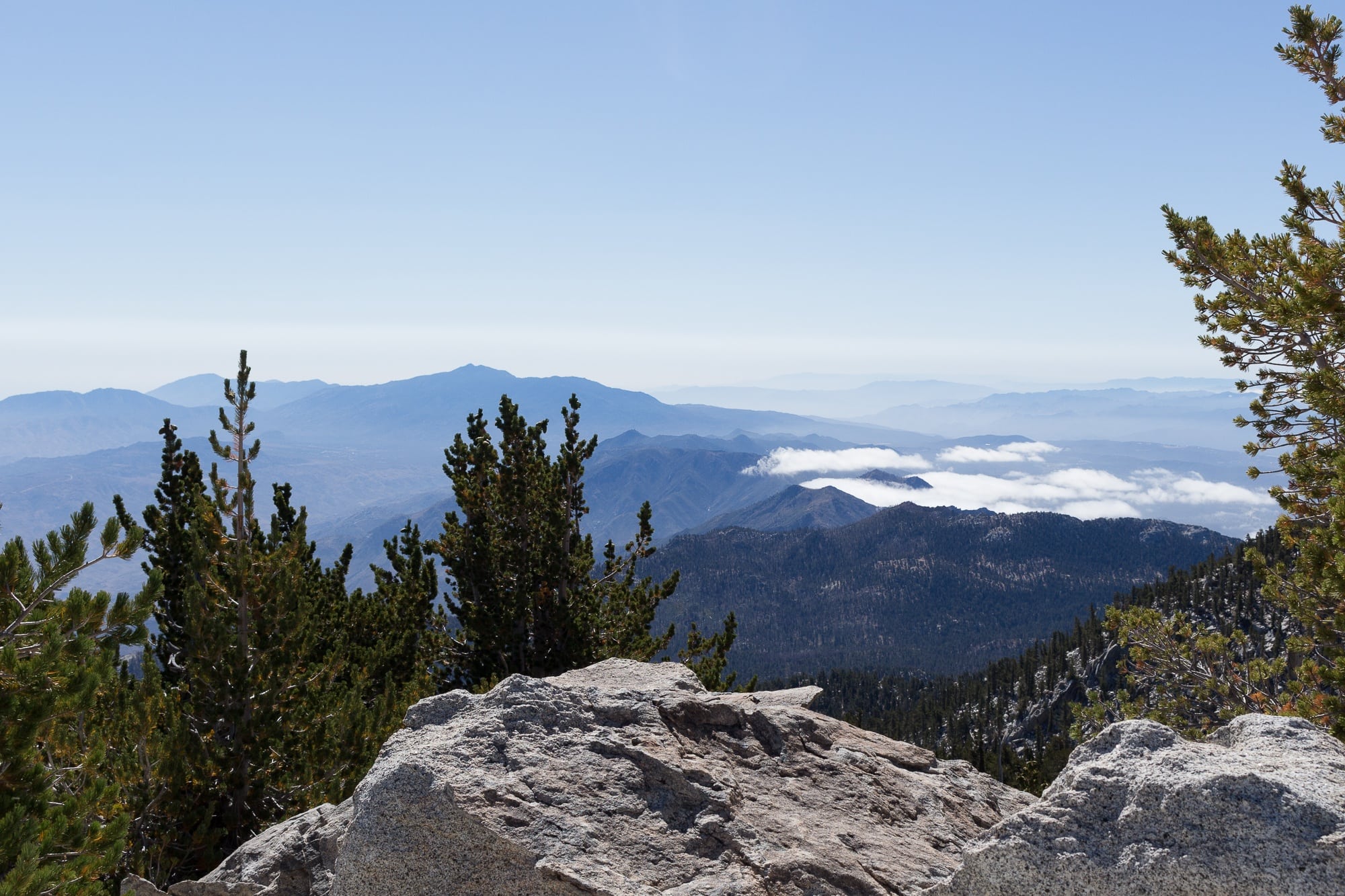 Fire Regulations
Fires are not allowed in the backcountry campgrounds within San Jacinto State Park. All your cooking must be done on a chemical stove.
Leave No Trace
Familiarize yourself with the Leave No Trace principles before heading out to San Jacinto State Park. We picked up trash we found on the trail and were a little disappointed to see discarded banana peels and plastic beverage containers at the peak. Please do your part to Leave No Trace and if you see someone doing something they shouldn't be, don't be afraid to give them a gentle reminder.
---
Best Time to Hike San Jacinto Peak
After Labor Day weekend, things quiet down making late summer and early fall a great time to hike San Jacinto Peak. The summer crowds have dispersed, you'll have a better chance at scoring a camping permit, and the weather is still nice. We've hiked the peak in late September and late October and both times we had great weather (although it did get pretty chilly at night). Another bonus is that the cooler weather kills off most of the mosquitoes and flies, so they're not as much of an issue on the mountain as they are in the spring and summer.
Once the first snow of the season hits the mountain, you'll want to postpone your trip until the snow melts in the late spring or early summer unless you are confident in your mountaineering skills. Late spring and early summer once the snow melts brings beautiful wildflowers and lots of green, making this a beautiful time to hike San Jacinto as well, although you'll likely deal with more bugs this time of year.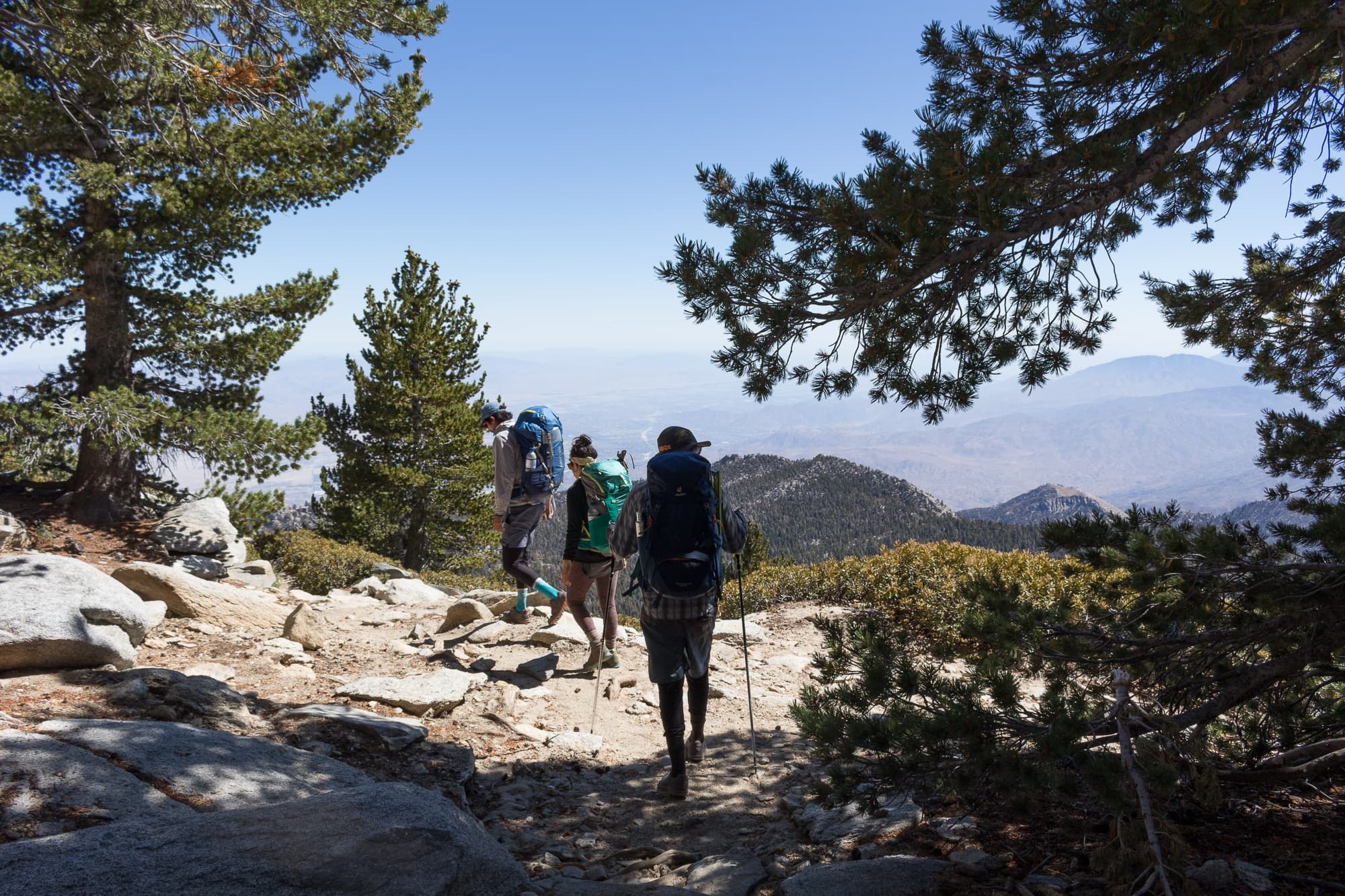 ---
Getting to the Deer Springs Trailhead
This hike starts at the Deer Springs Trailhead, less than a mile outside of the center of Idyllwild. You'll see a sign for it along the 243, the main highway that runs through town. Park your car off the road in the dirt parking areas near the trail head. You'll need an Adventure Pass or a National Forest Pass to park your car here. If you don't already have one, you can purchase one at the Idyllwild Ranger Station.
Deer Springs is also the trailhead for Suicide Rock which is one of the most popular hikes in Idyllwild, so this trailhead does get a little busy. When we arrived on a Saturday around 11am, the main trailhead parking area was already full so we parked across the street in the dirt, making sure our car was well off the road and not blocking anything.
---
San Jacinto Peak Loop Trail Trail Guide & Trip Report
Day 1: Deer Springs Trailhead to Little Round Valley Campground
Distance: 7.9 miles
Elevation Gain: 4200'
Approximate Time: 6-7 hrs
The hike to Little Round Valley is all uphill, but this route is gradual so most of the time it doesn't feel super strenuous.
As you begin your hike, you'll share the trail with day hikers heading to Suicide Rock. This stretch of the trail is a bit exposed and can be hot if it's sunny out. You'll be doing a slow and steady incline, walking on a dirt trail past manzanitas and oak trees. After 2.3 miles, you'll hit the first junction where day hikers will veer off to Suicide Rock. Be sure to look to your right – on a clear day you can see Lily rock, a popular climbing destination, and Tahquitz Peak.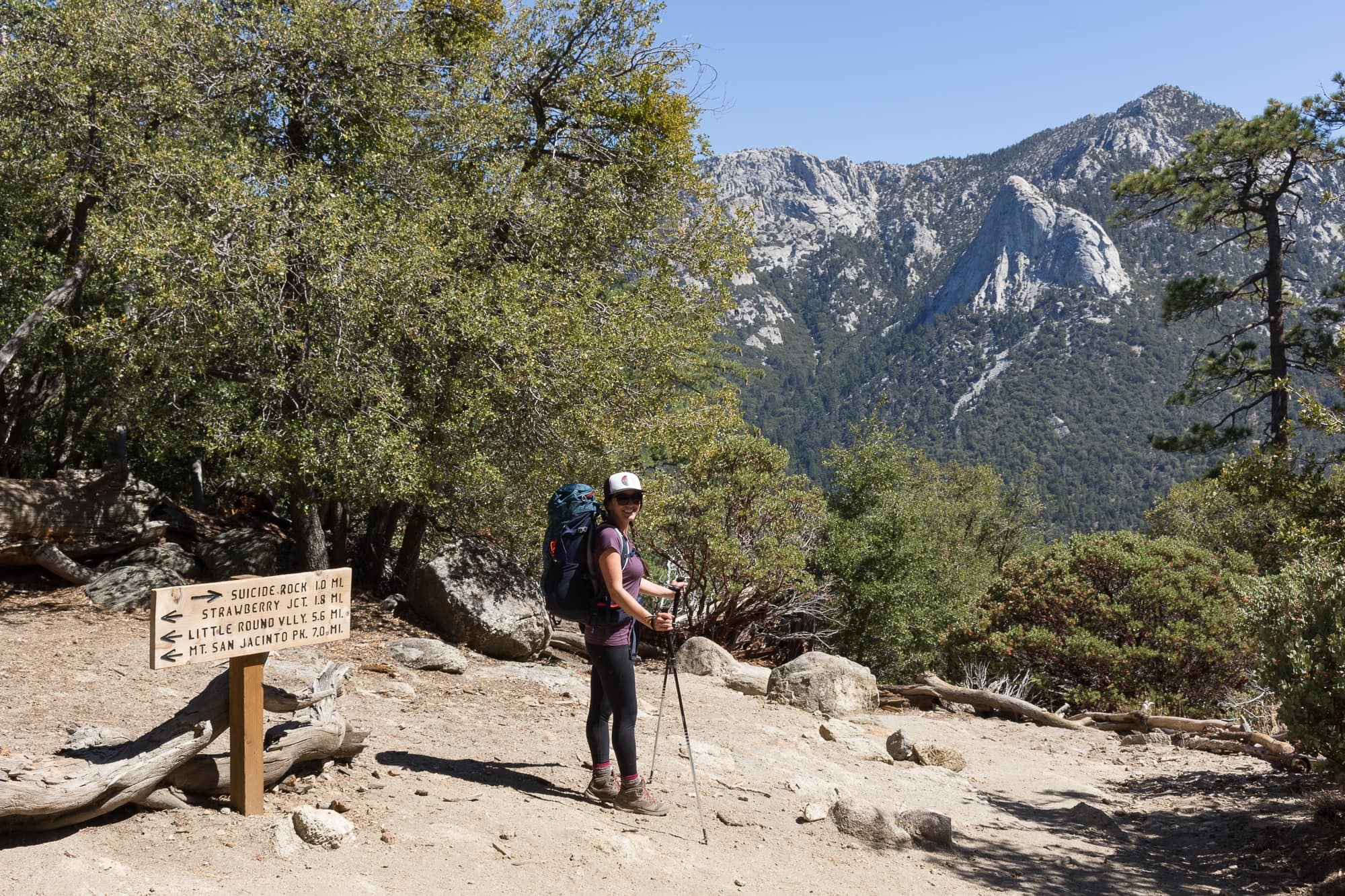 Take a left at the junction, following the sign to Strawberry Junction, Little Round Valley, and San Jacinto Peak. From here you'll steadily continue your ascent up and will start to see a little more shade.
Less than 2 miles later, you'll arrive at Strawberry Junction. This is a nice open area (and also a campground) perfect for a rest or a snack. Head left at the junction following the sign to Little Round Valley.
You'll now be on the Pacific Crest Trail. This next stretch is very gradual and pleasant, and you'll be in the shade of the pines. After 2.3 miles you'll see a junction for Marion Mountain Trail to your left. Keep right. Shortly after you'll hit another junction for Fuller ridge on your left. Keep right again.
It's only 1 mile to the campground from here, but you'll likely be feeling the elevation by this point so it feels a bit longer. You'll have beautiful views to your left as you continue to ascend the mountain, rising above the clouds.

When you get to Little Round Valley, you'll start seeing signs for designated campsites. All have a number and a unique name. I suggest exploring a bit (if you have the energy) to find a campsite that tickles your fancy. We're all about the views so we hiked up to a campsite called Thunderview which was a wide open granite and sand area with lots of nice flat tent camping spots and a wide view of the sky. I definitely wouldn't recommend this site during a storm or high winds.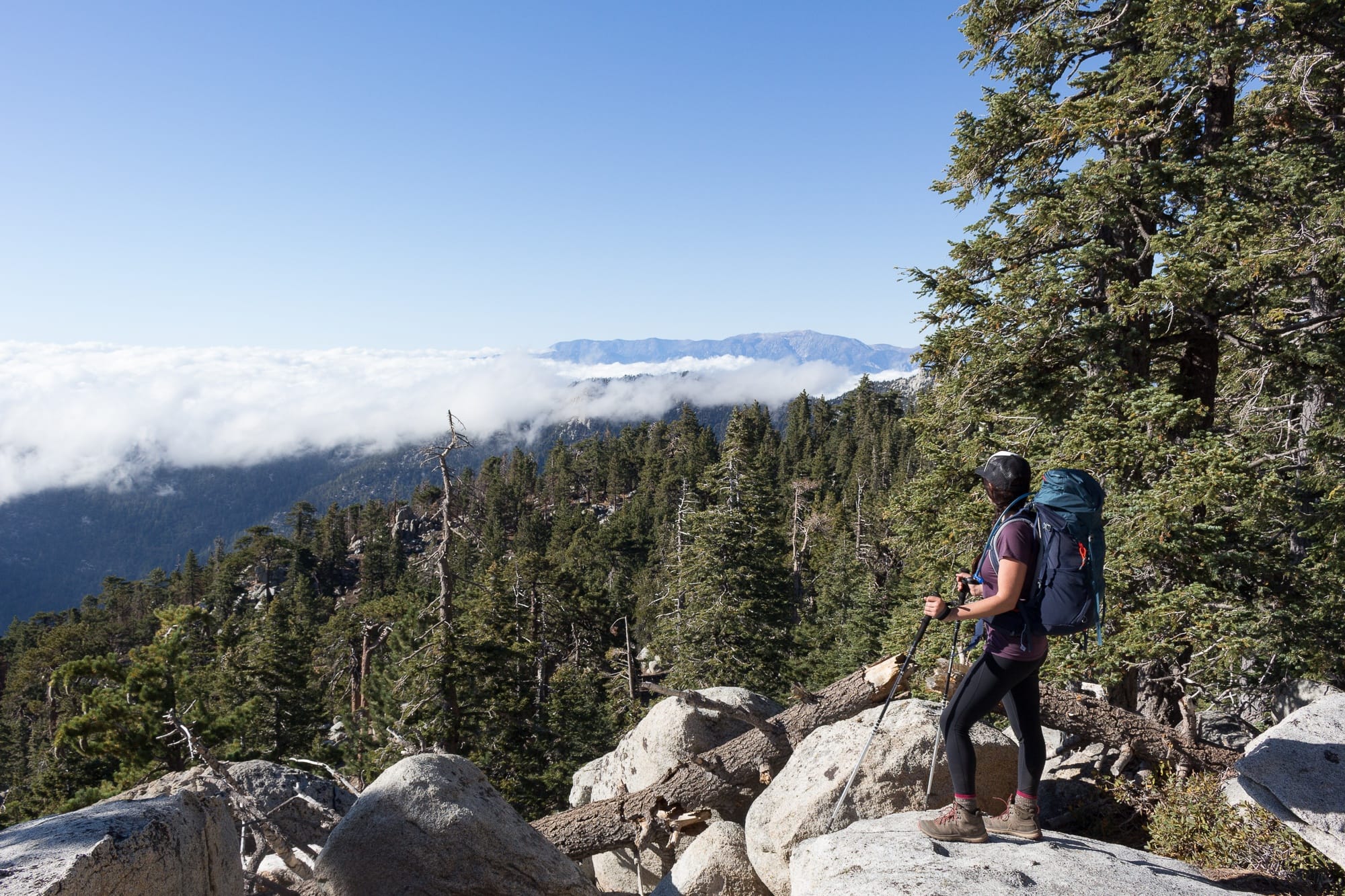 Temperatures were freezing overnight (literally – there were ice chunks in our water in the morning) but we had clear weather even though a 20% chance of snow had been predicted.
Day 2: Little Round Valley Campground to San Jacinto Peak and Down to the Trailhead
Distance: 11.1 miles
Elevation Gain: 1034' up, 5234' down
Time: 7-8 hrs
One bonus of camping at Little Round Valley is it's only 1.3 miles to the peak from there. We toyed with the idea of hiking to the peak for sunrise but it's incredibly hard to get out of a cozy tent when it's cold and dark. Instead, we had a relaxing morning, fueled up with hot coffee and oats, then packed up and set off for the summit.

If you set off early, you might have the peak to yourself for a while before the day hikers make it to the top. Don't let the short distance of 1.3 miles fool you though – this was the toughest stretch of the entire hike. It took us around 1.5-2 hours to cover this distance.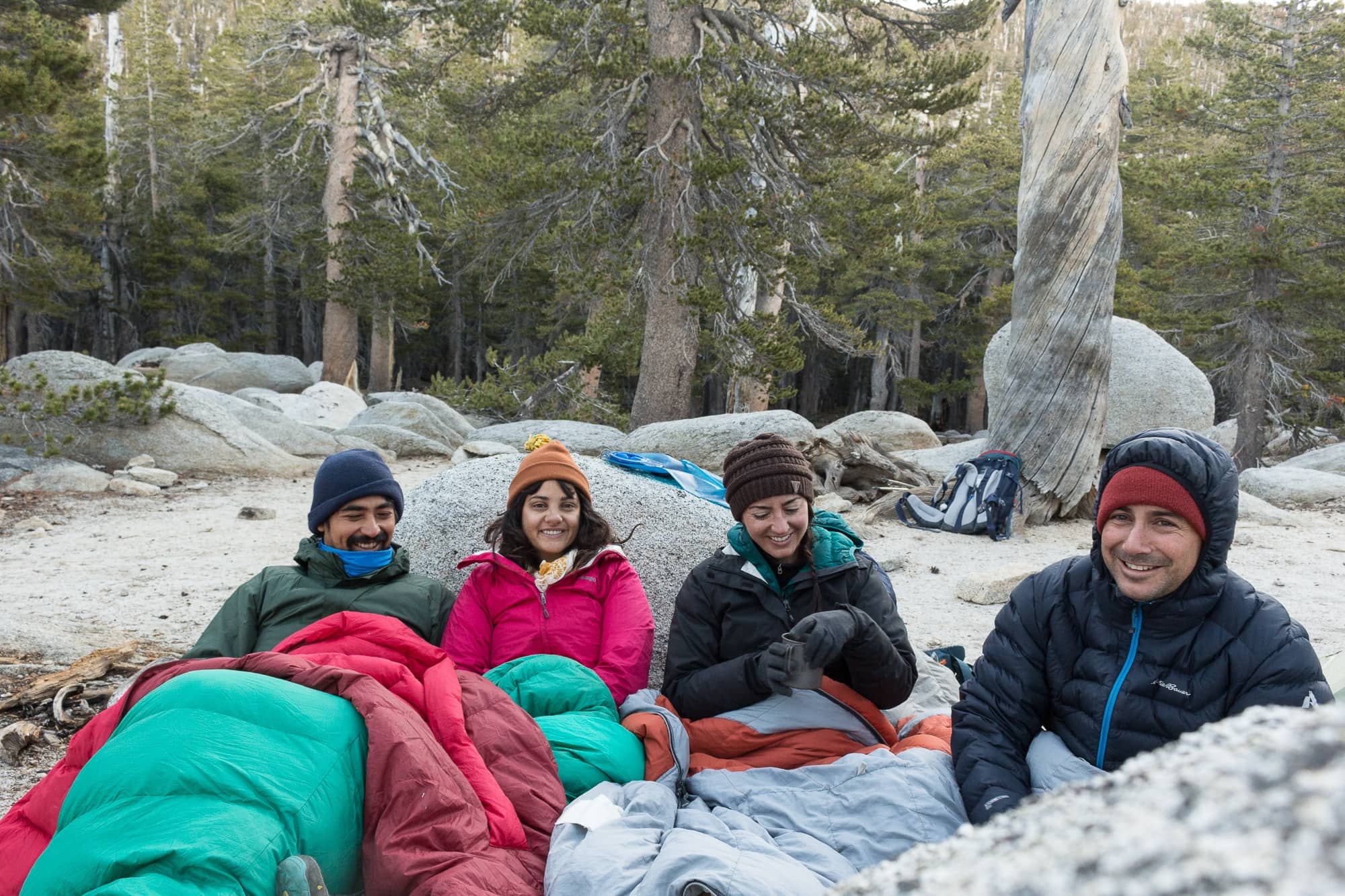 From the campground, you'll switchback up through steep, rocky terrain. We moved pretty slow and really felt the altitude at this point – the air felt thin and we stopped often to catch a breath. After a mile of steep, rocky switchbacks, you'll hit a flat open area where you'll want to have a quick break. Walk just a little further and you'll hit a sign that will direct you to the peak – it's next to a big flat rock that's perfect for a rest and a snack. From here, the trail tapers off and can be difficult to follow, but don't worry, all roads lead to the top.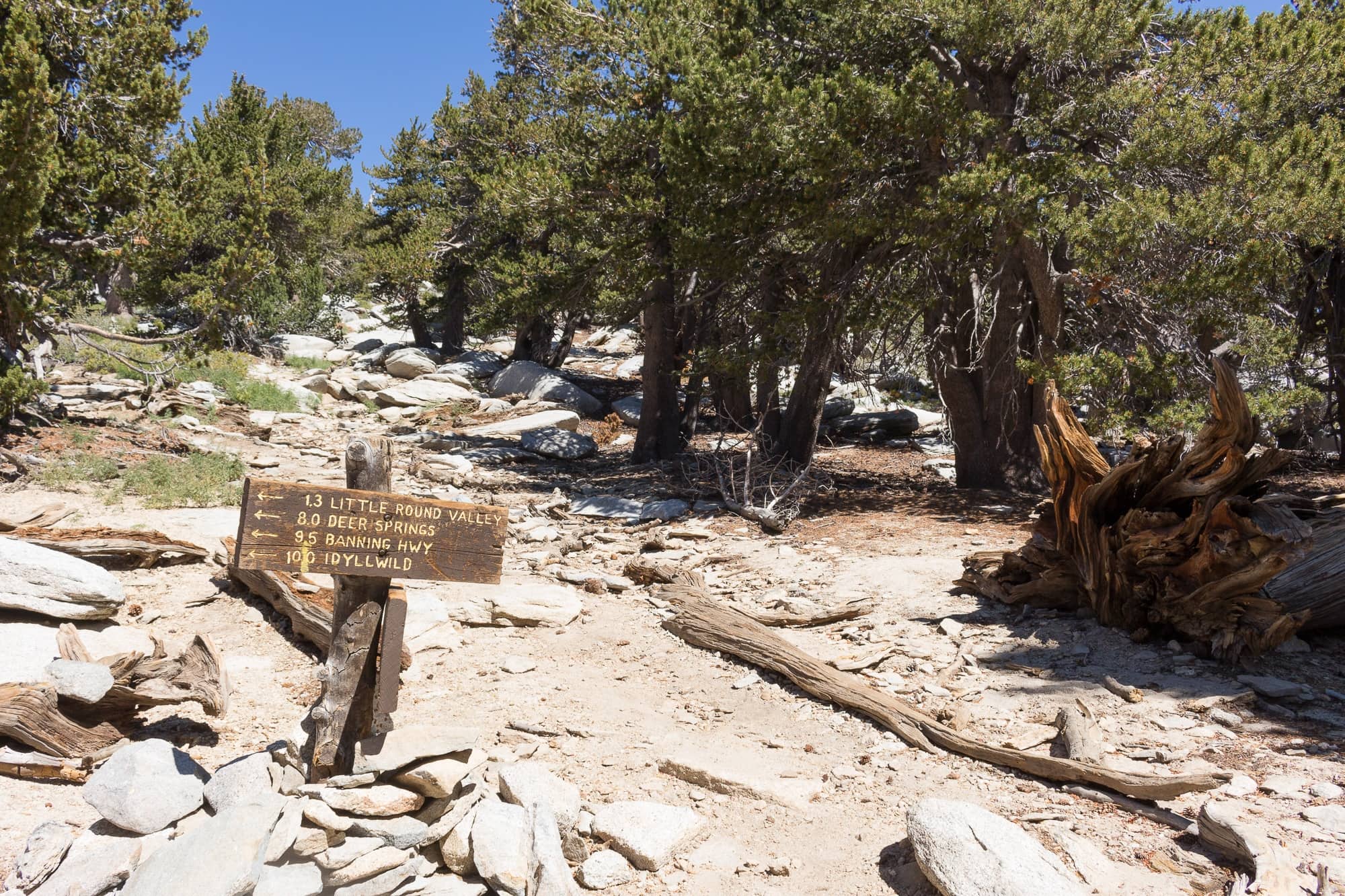 The first thing you'll see is a stone shelter that was built in the early 1900's as a refuge for hikers and horseback riders caught in sudden storms. It's only meant for emergencies (not for just anyone to overnight in). If you take a peek inside, you'll see bunks and supplies stashed for emergencies.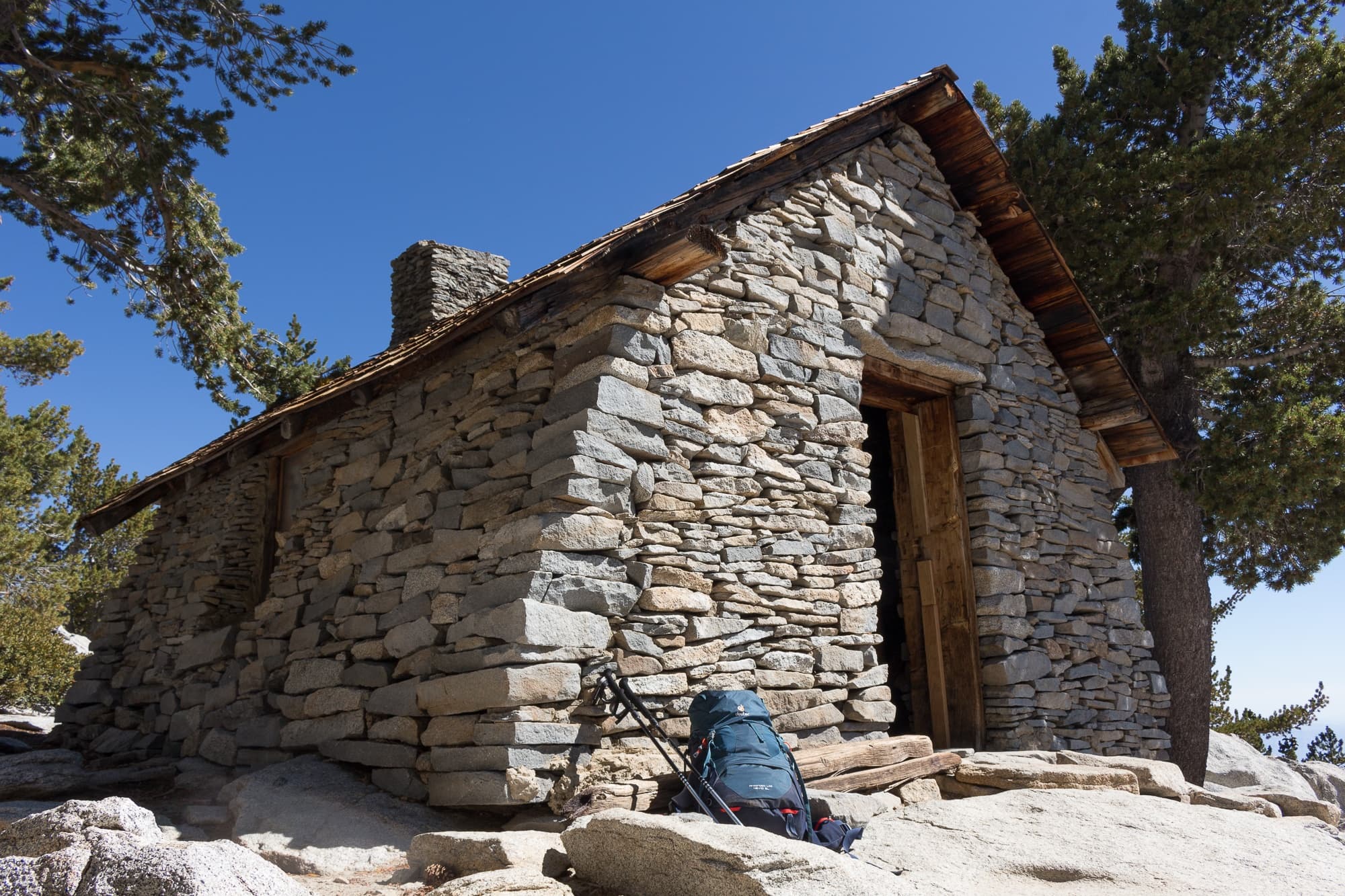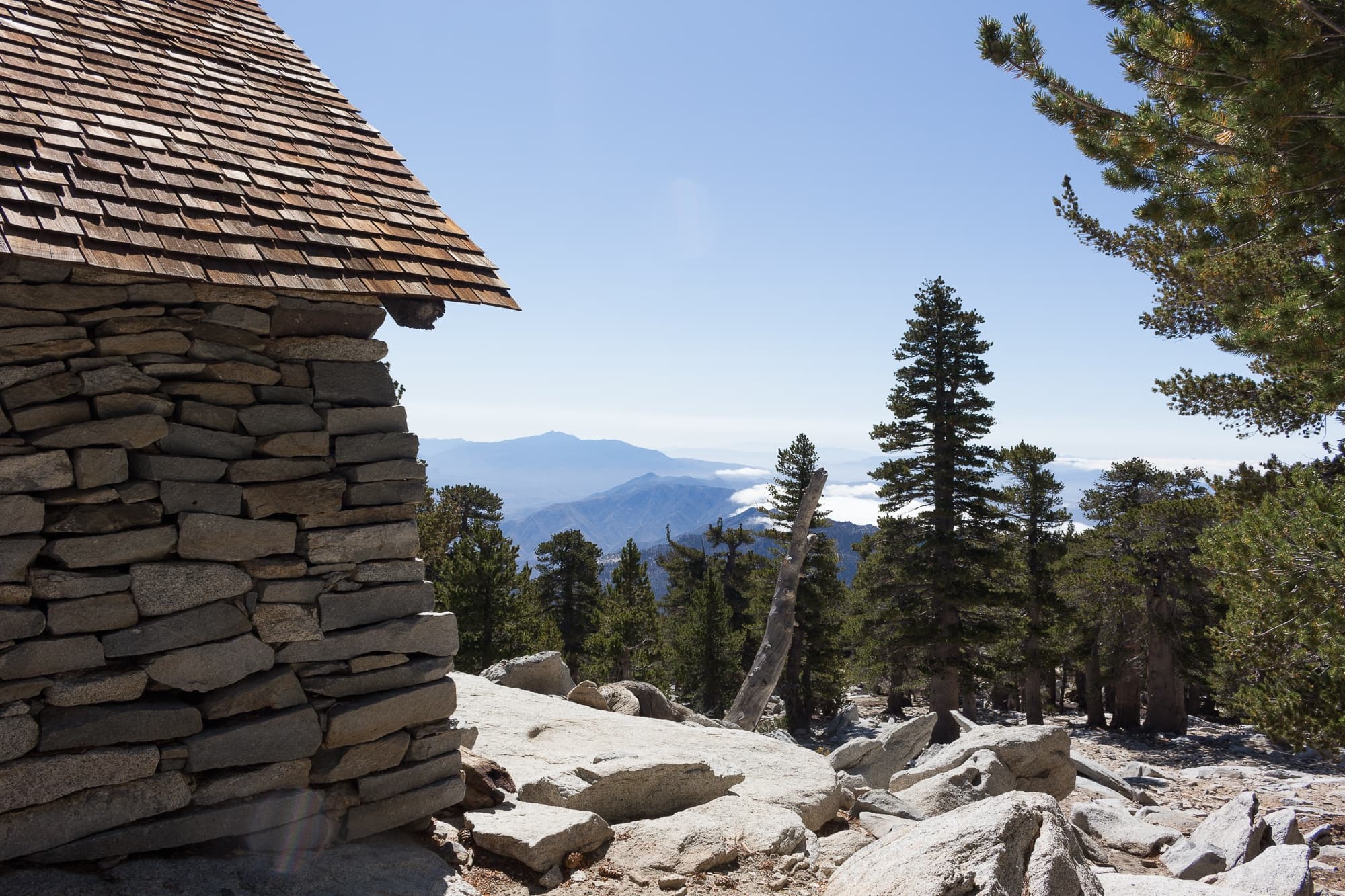 Continue up the sort-of-trail. If you lose the trail or it's nowhere to be found, simply pick the easiest looking route up (all require a little bit of scrambling). You'll eventually reach the top of the peak – you'll know you're there when you see the sign.
Take your pictures before more hikers arrive, then sit back and enjoy the views. Once you've had your fill, it's time to head out. But don't worry, it's all downhill from here!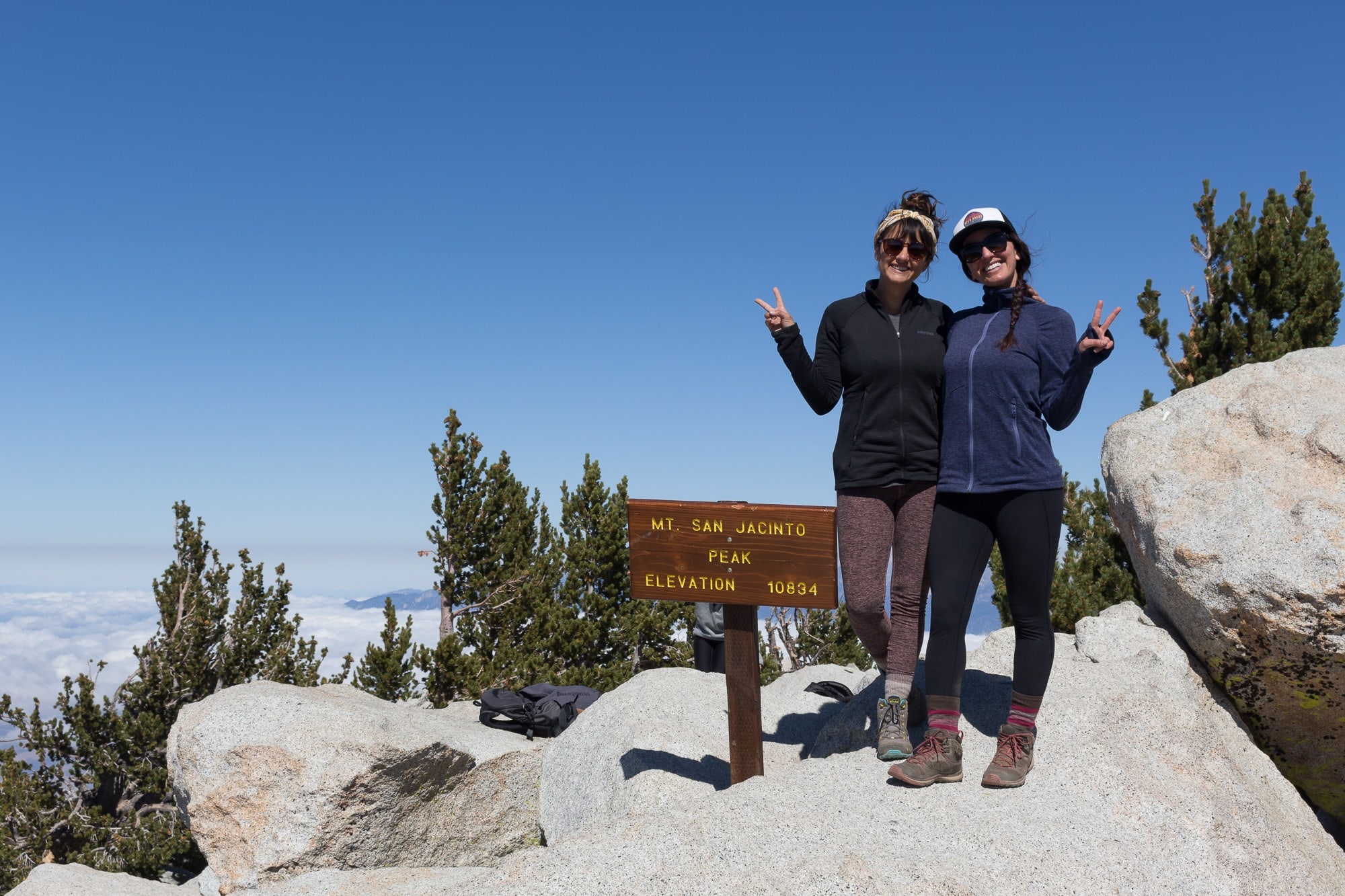 Find your way back down, past the storm shelter back to the junction. Follow the sign pointing toward Round Valley. Over the next 2.4 miles, you'll have some spectacular views of the desert valley below. This section of trail is pretty exposed, so make sure you have sun protection and warm layers to protect you from cold wind.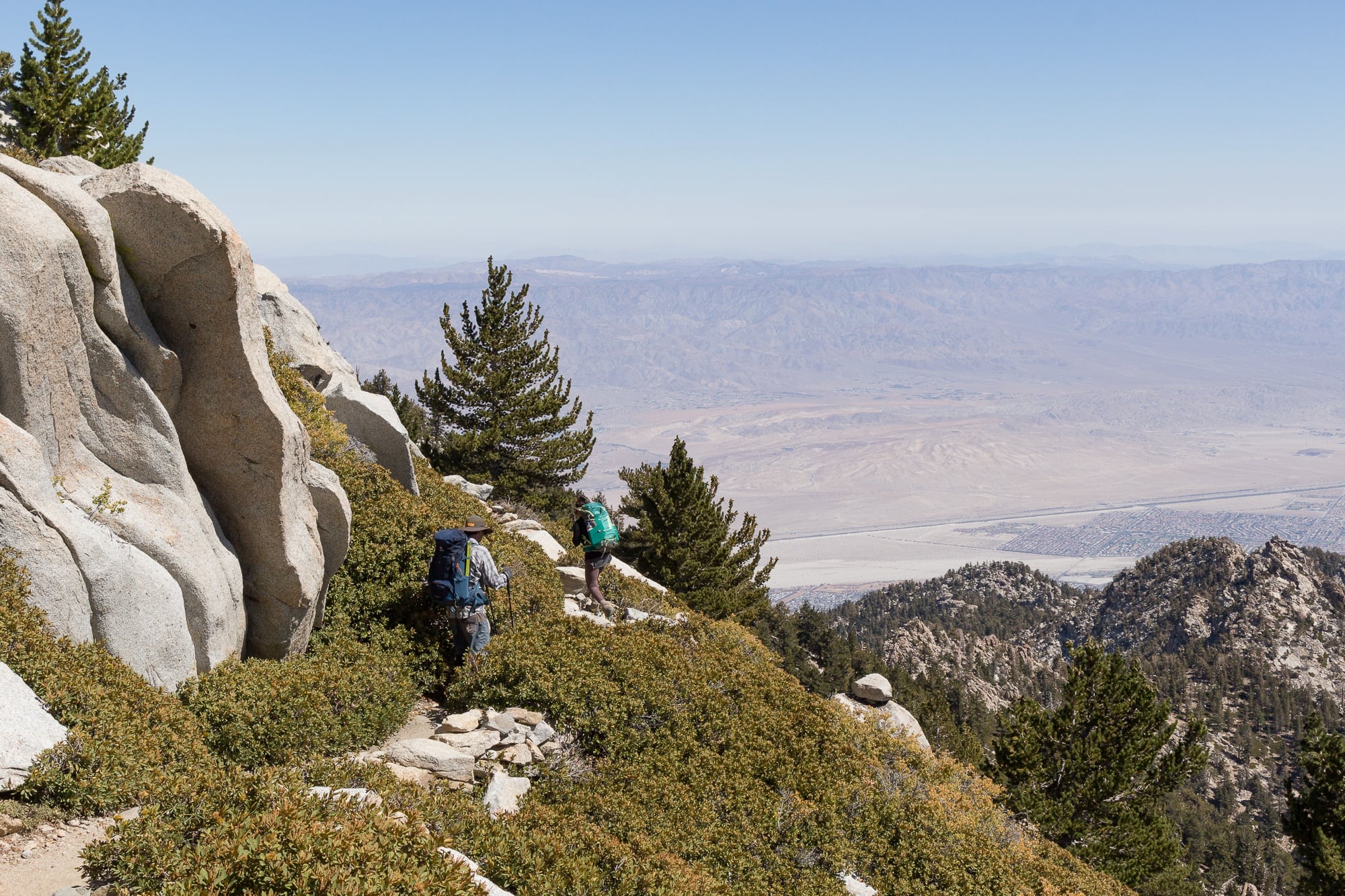 The next junction you come to leads to Round Valley Campground – this is a good backup choice for camping if you're not able to get a permit for Little Round Valley (more on that in another blog post). Both times we've hiked San Jacinto Peak, we've seen deer near this junction so keep an eye out for them.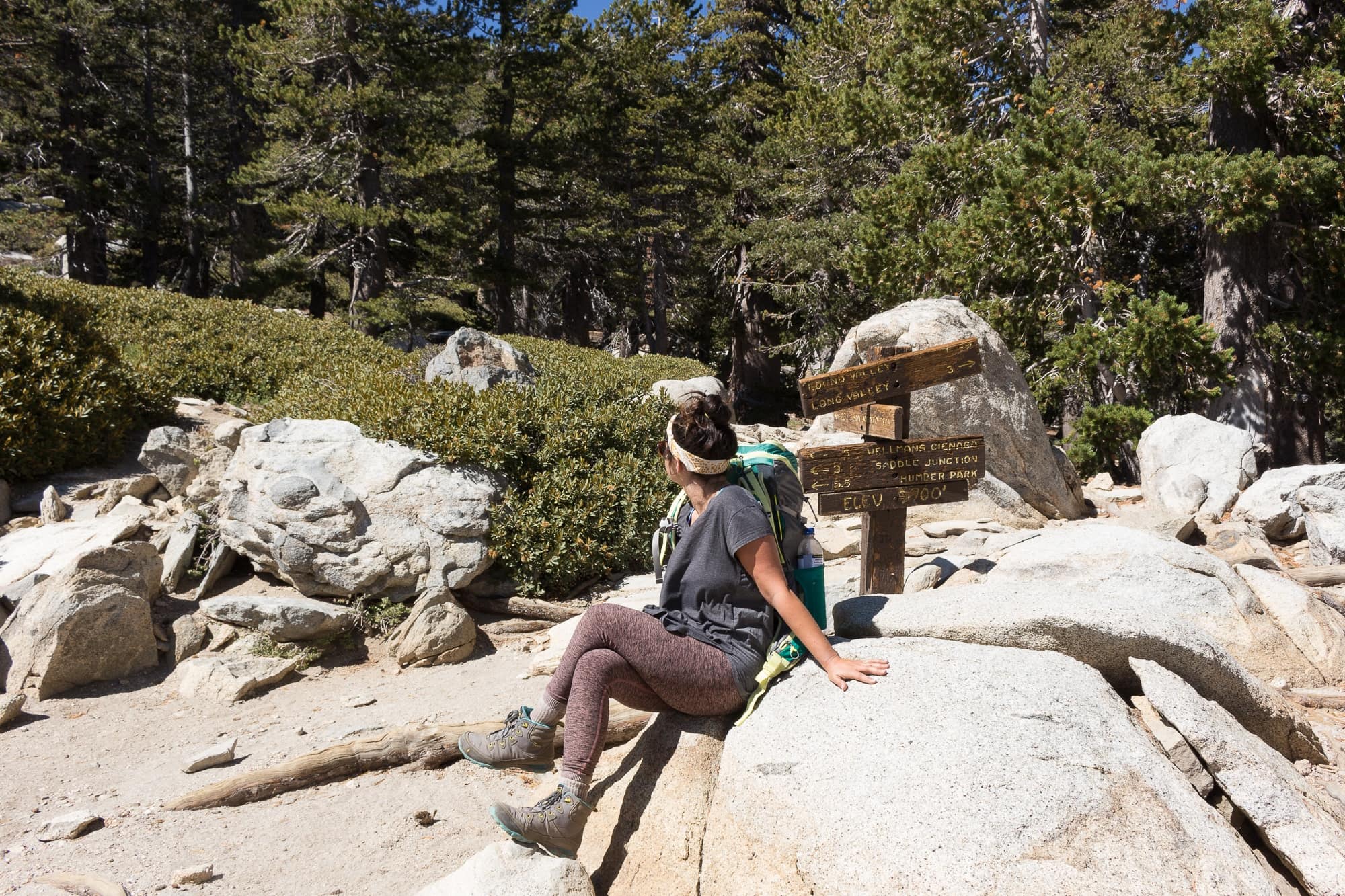 Follow the sign to Wellman's Cienega. When you get to a small creek dripping down from the hill on your right as you enjoy the views to your left, be sure to fill up water here if you're running low. Depending on the time of year you're on the trail, this may be the last water source on the hike (it was for us in late September).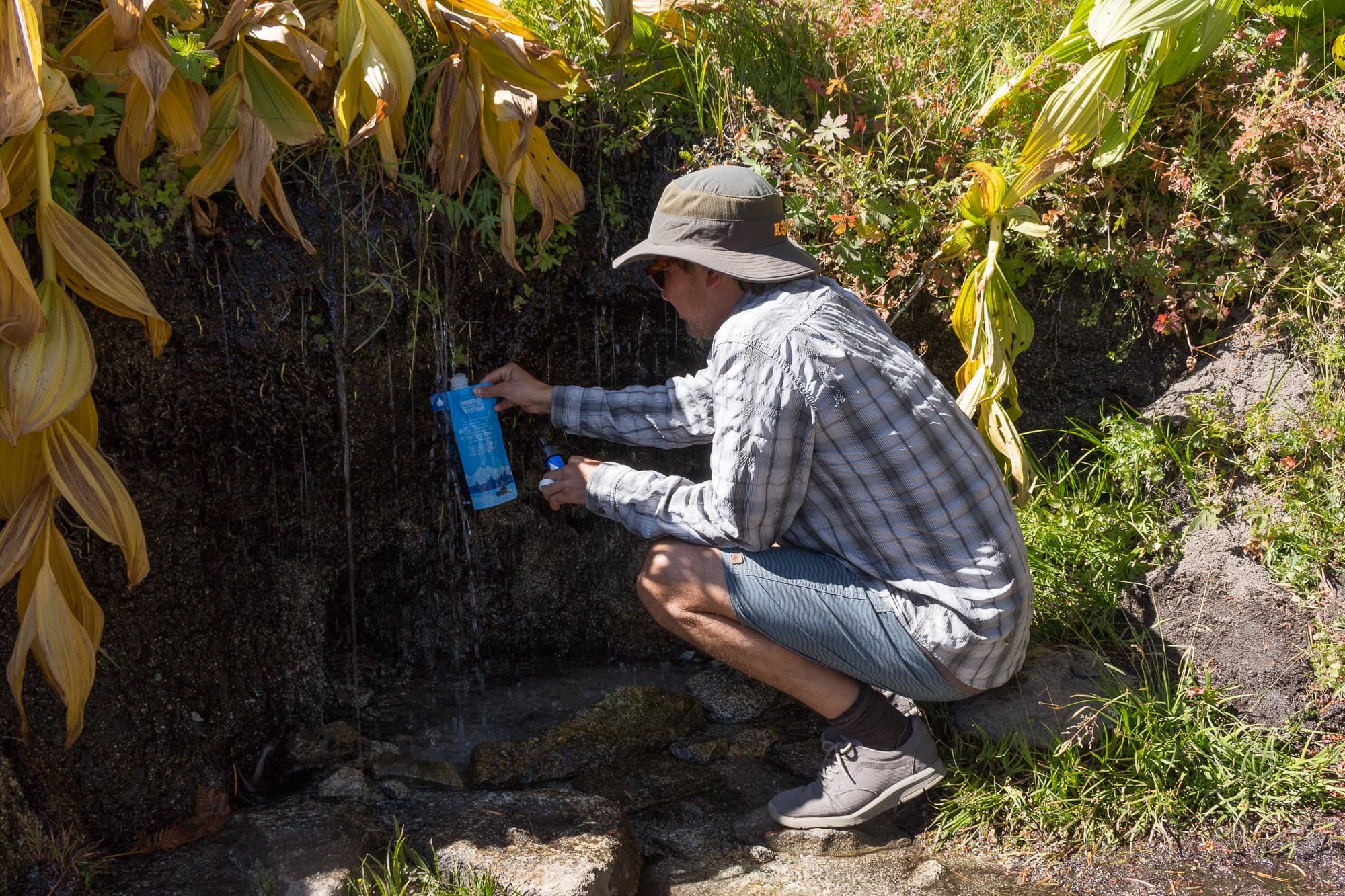 After 1 mile, you'll hit another junction where you'll follow the sign to Strawberry Cienega and Deer Springs Trail. During this next stretch you'll have beautiful views of Tahquitz Peak, Lily Rock, and Suicide Rock.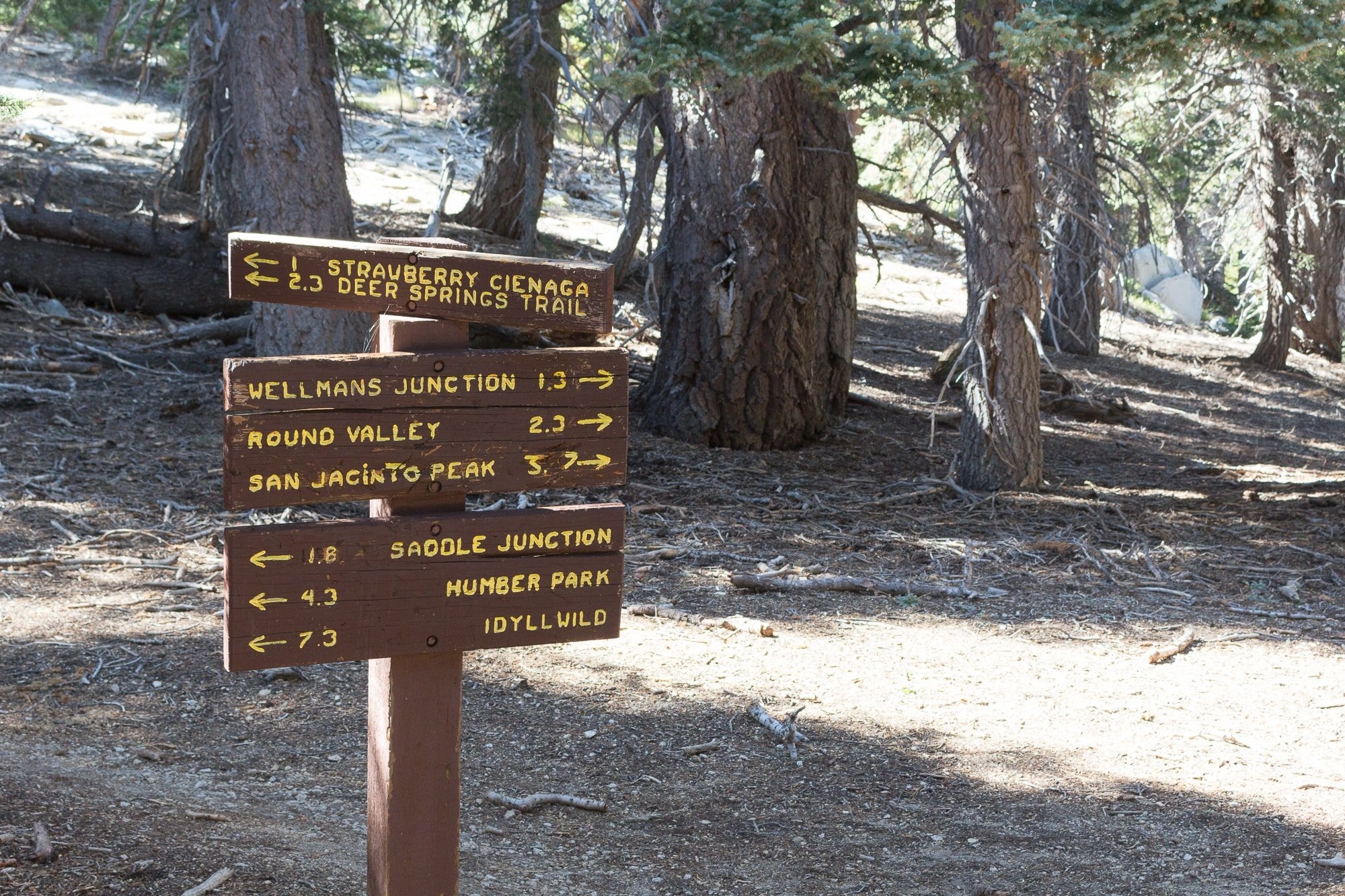 When you hit Strawberry Junction after 2.3 miles, you'll know you're almost done! From here it's only 4.1 more miles to the trail head. Here, you'll head in the direction of Banning Highway and Idyllwild, and will descend on the same trail you came up.
After 1.8 miles, you'll hit the junction to Suicide Rock where you'll stay to the right and continue on down the trail for 2.3 more miles until you reach the trail head.
---
Recommended Gear for Hiking San Jacinto Peak
With the wide range of elevation you'll be covering in the San Jacinto Mountains, you'll want to be prepared for a variety of weather. It can go from sunny and hot at the beginning of the trail to cold and windy near the peak. It's essential to pack layers so you're prepared and comfortable on this trip. With all the uphill, downhill, and rocky terrain, trekking poles are absolutely essential as well. I only recently started backpacking with trekking poles and man, what a game changer. They really help distribute the weight and help protect your knees.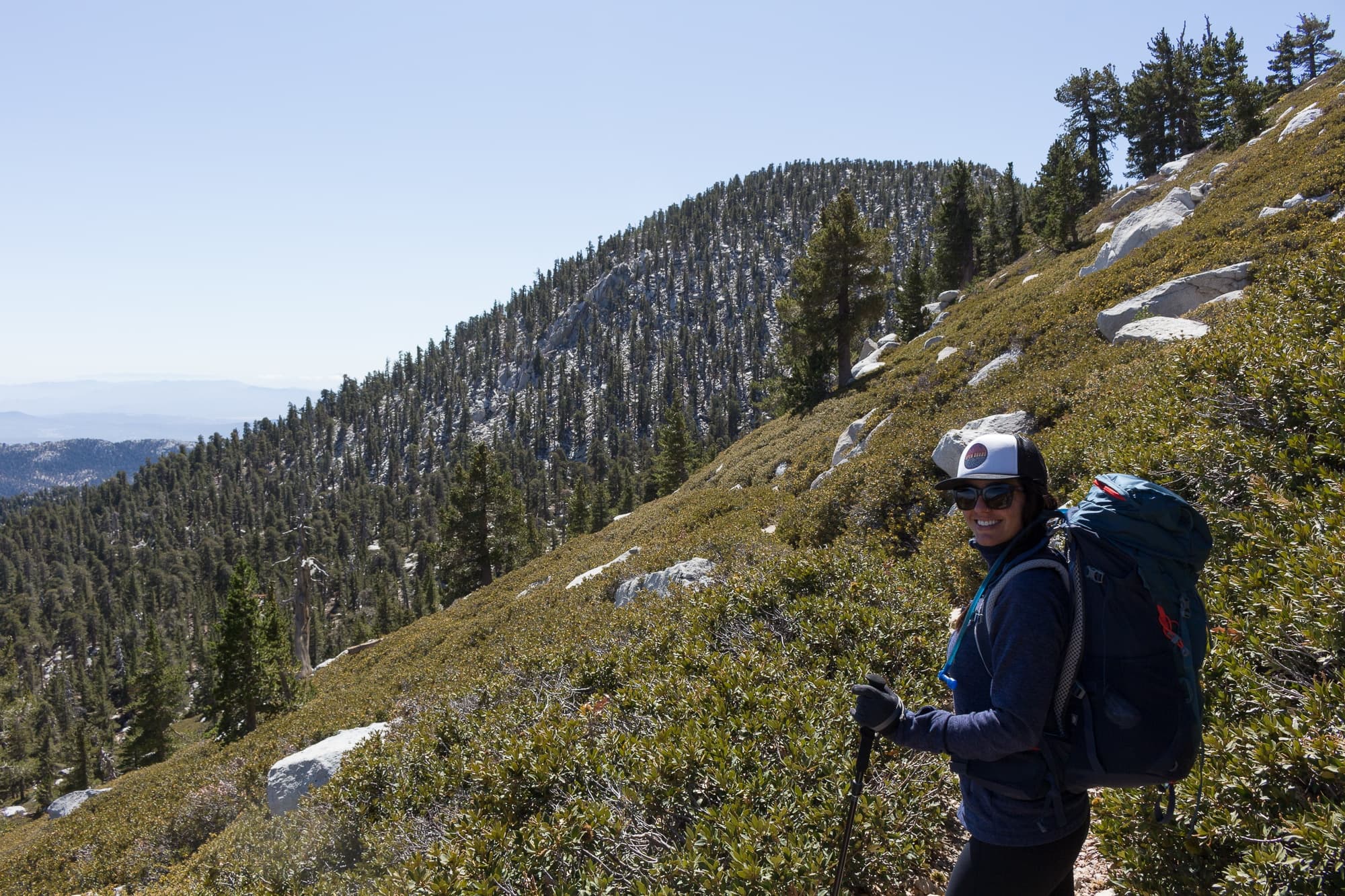 Got any questions about backpacking San Jacinto Peak? Have you done this hike? Leave a comment below!