23 Van Life Safety Tips For Staying Safe On The Road
Worried about staying safe in your van? Read our tips for staying safe and secure on the road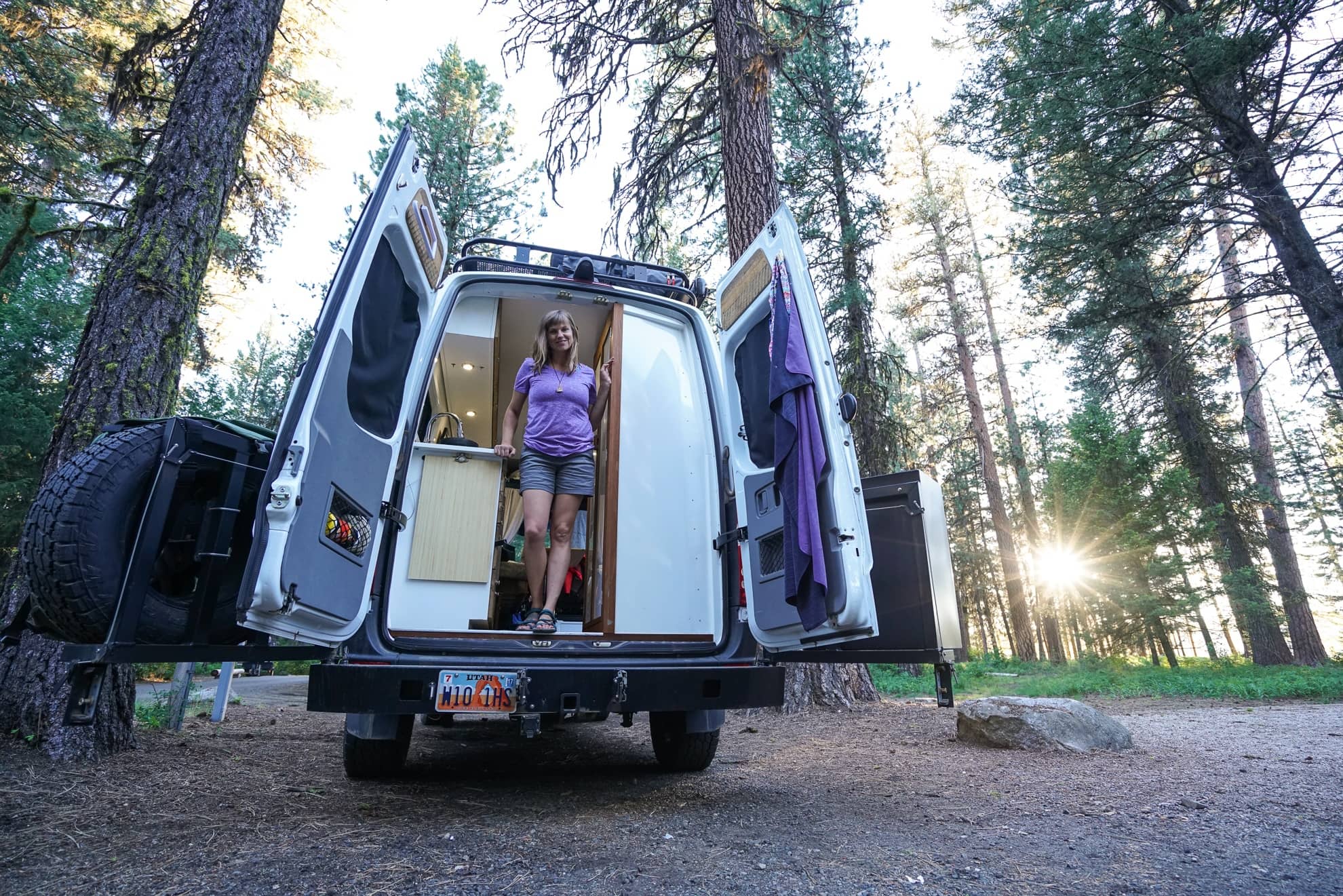 Taking extra safety precautions when you're traveling in your van is an important consideration when living on the road. Just like you would take steps to secure an apartment that you live in, it's important to run through how to increase your security when living in a van.
Van life safety mostly boils down to learning how to prevent yourself from being in a vulnerable situation.
I've been living in my van full and part-time since 2015 and thankfully I haven't run into any scary or dangerous situations, but they can – and do – happen.
In this post, I share some helpful vanlife safety tips to make sure you stay safe in your van when you're in cities and out in nature.
---
1. Trust your gut
The first tip is to trust your gut. If it doesn't feel right or you don't feel at ease – don't stay there. Fortunately, your home has wheels so you're able to get up and go if necessary. Never second guess your instinct. You can always find another spot to park, and it's better to be safe than sorry.
If you're traveling with a partner or friends, trust them too. If someone else doesn't feel right about the place, move on rather than getting frustrated or telling them they are being too cautious.
The best-case scenario is that you were indeed a little paranoid, but the worst-case scenario is that you were in fact in danger. In this case, police and fire stations are always an option if you ever truly feel in danger or if you're being followed.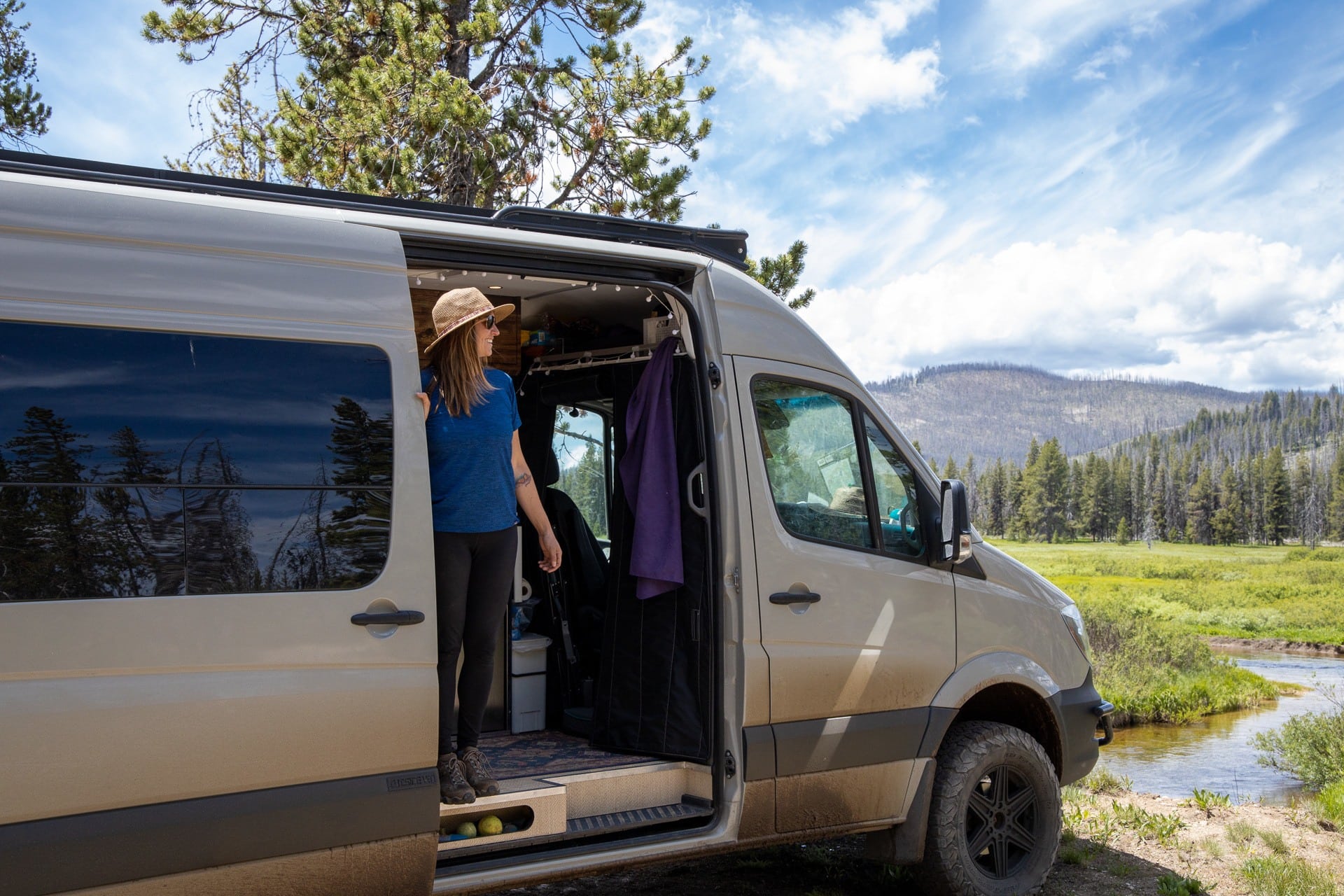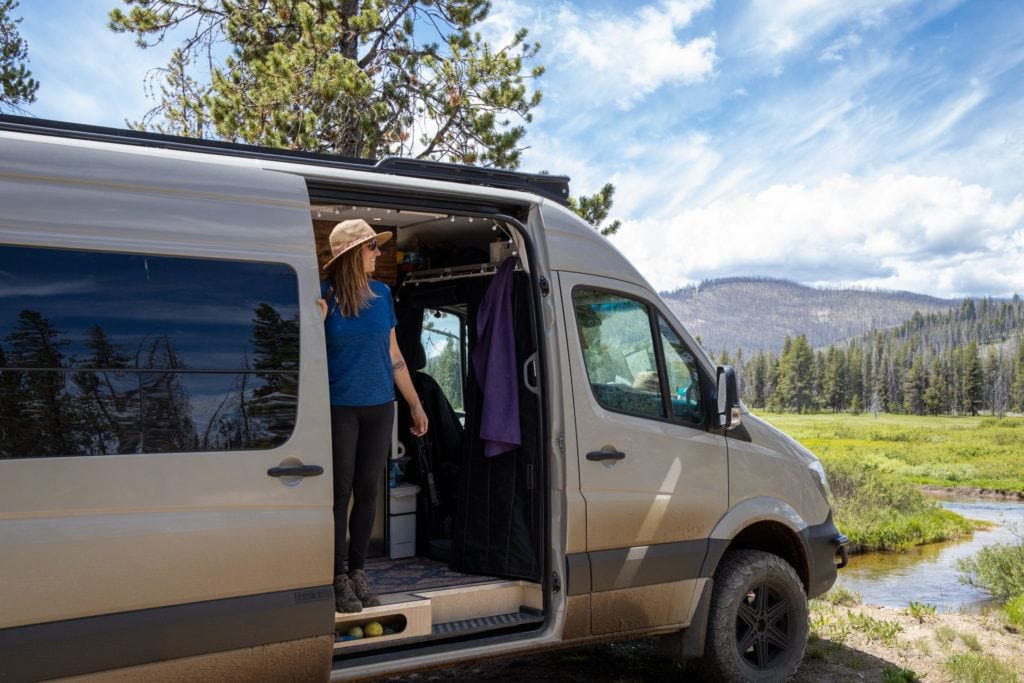 2. Pay attention to your surroundings
While Camping
Whether you're on a solo road trip or traveling with friends or a partner, pay attention to who and what's around you so you can choose your campsites carefully. When I travel alone, I prefer to stay in areas where there are a few other campers nearby rather than be fully alone.
Picking a spot within eyesight of families and/or couples is always a safe bet. I also think carefully before I venture too far off the beaten path or down a remote dirt road especially when I'm by myself. This is both for my safety while I'm sleeping, but also in case I were to have issues with my van.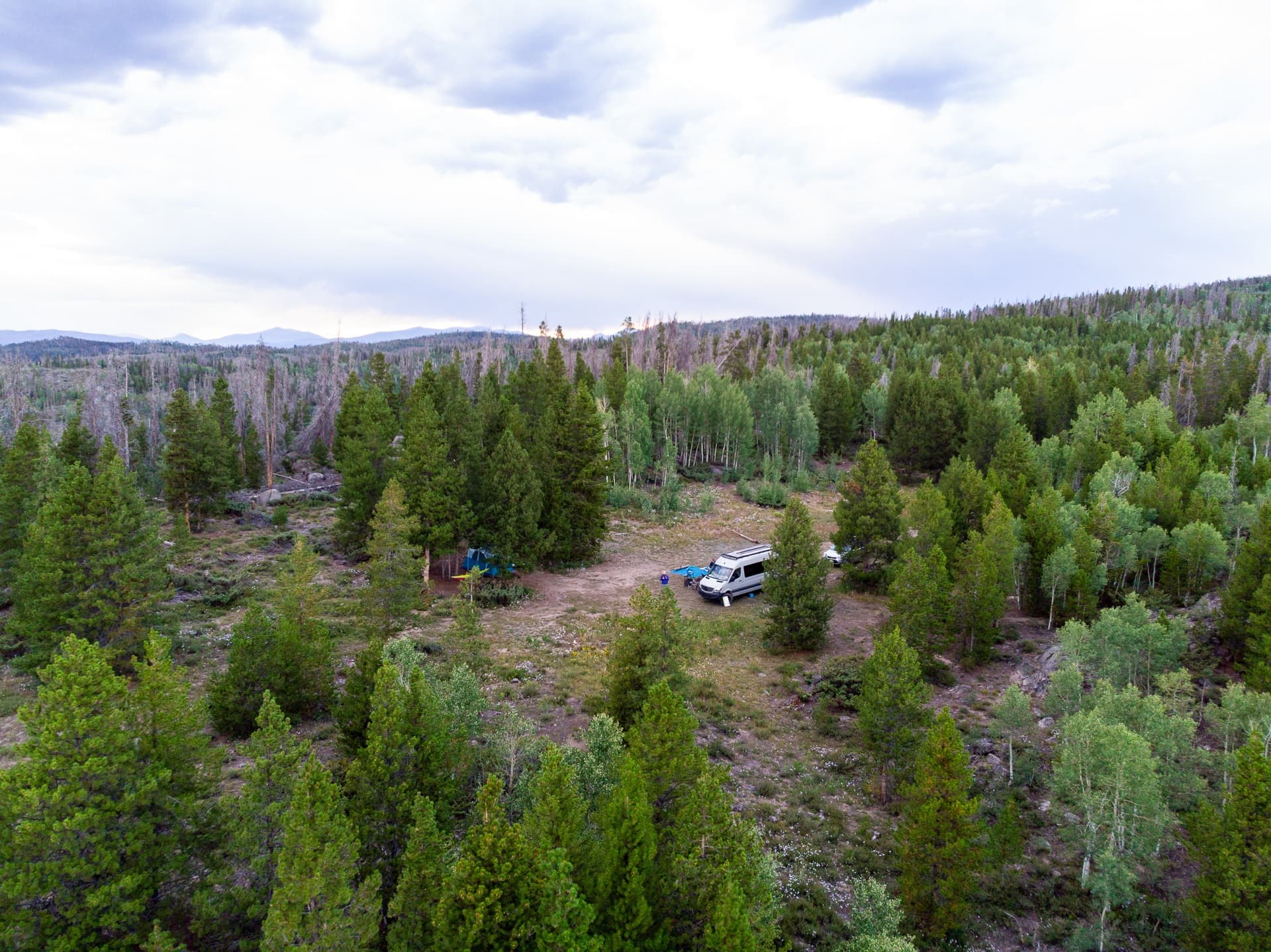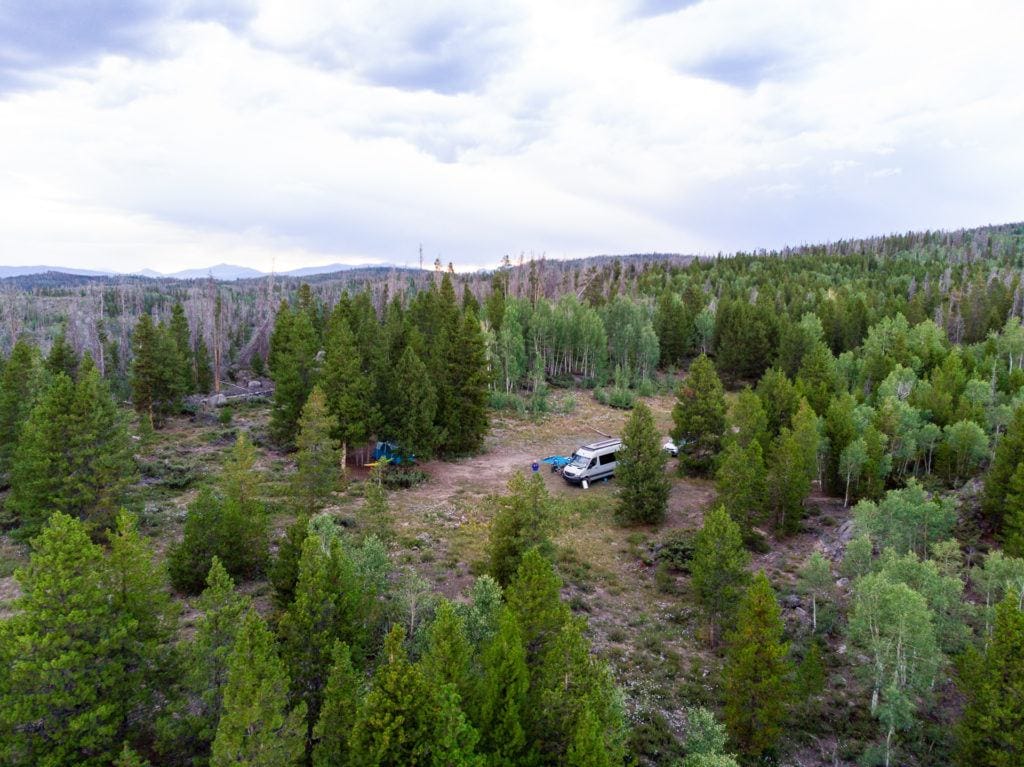 In Urban Areas
In developed urban areas, I feel safer staying in well-lit parking lots and nicer residential streets. I avoid dark lots where I'm the only car and instead try to blend in with other cars in a lot with lights or security cameras.
Whenever possible in cities, plan ahead for where you're going to park for the night. Before you arrive in a new city, do a little research and have an idea of where the good and bad neighborhoods are. If an area feels seedy, move on. After a while, you'll hone your senses to better know what's a good spot and what's not.
3. Park before it gets dark
Try your best to arrive at your campsite or wherever you're staying before it gets dark out. This way, you can check your surroundings, see who your camping neighbors are, and get a better feel for your surroundings.
If you do find yourself still driving when it's dark, it's best to choose a place to sleep that is in a public area with good lighting. Most rest stops will allow you to sleep for a few hours and many of them have security cameras.
#1 campsite finder app
Try The Dyrt PRO free for 30 days
Get a FREE 30-Day membership to The Dyrt PRO, one of our favorite apps for finding campsites.
Perks include:
• 5,000+ free camping locations
• 1,000+ campground discount network
• $0 extra booking fees
• Get reservations at sold-out campgrounds, and more
Use the code BEARFOOT to get 30 days free!
4. Keep doors locked
One of the essentials of van life safety is to make it a habit to keep all the doors locked while you're in the van and always while you're sleeping.
This goes for when you are camping outdoors and in towns. Don't make it easy for intruders to come into your van by keeping by keeping your vehicle locked up.
5. Use blackout curtains
I also recommend hanging up blackout curtains as soon as the sun gets low in the sky. Whether you're alone or not, it's a safer practice to prevent wandering eyes from peeking in at night.
6. Have an exit plan
Having an exit plan is crucial in case something does happen. It's a good idea to park your van in a way that will allow you to easily exit the vicinity quickly if you need to.
This may mean backing into your campsite, making a mental map of the route you took to get to your location, or knowing where the closest campers are in case you need help.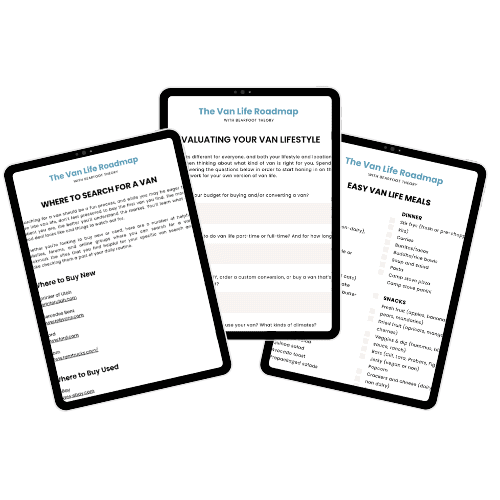 Free Van Life Resources
Get access to our Van Life Member Area
We've got ya covered with packing lists, worksheets, and other helpful resources to get you ready for van life.
7. Have a designated spot for your keys
Have one designated spot for your keys and always place them there when you go to sleep. Better yet, have two sets of keys and always keep one set hidden near the driver's seat. Make sure everyone in the van knows where to find them.
8. Keep the path to the driver's seat accessible
If you need to leave in a hurry, you don't want to be climbing over clutter to get to the driver's seat. Always keep the path to the driver's seat clear by having designated storage for all your gear and belongings.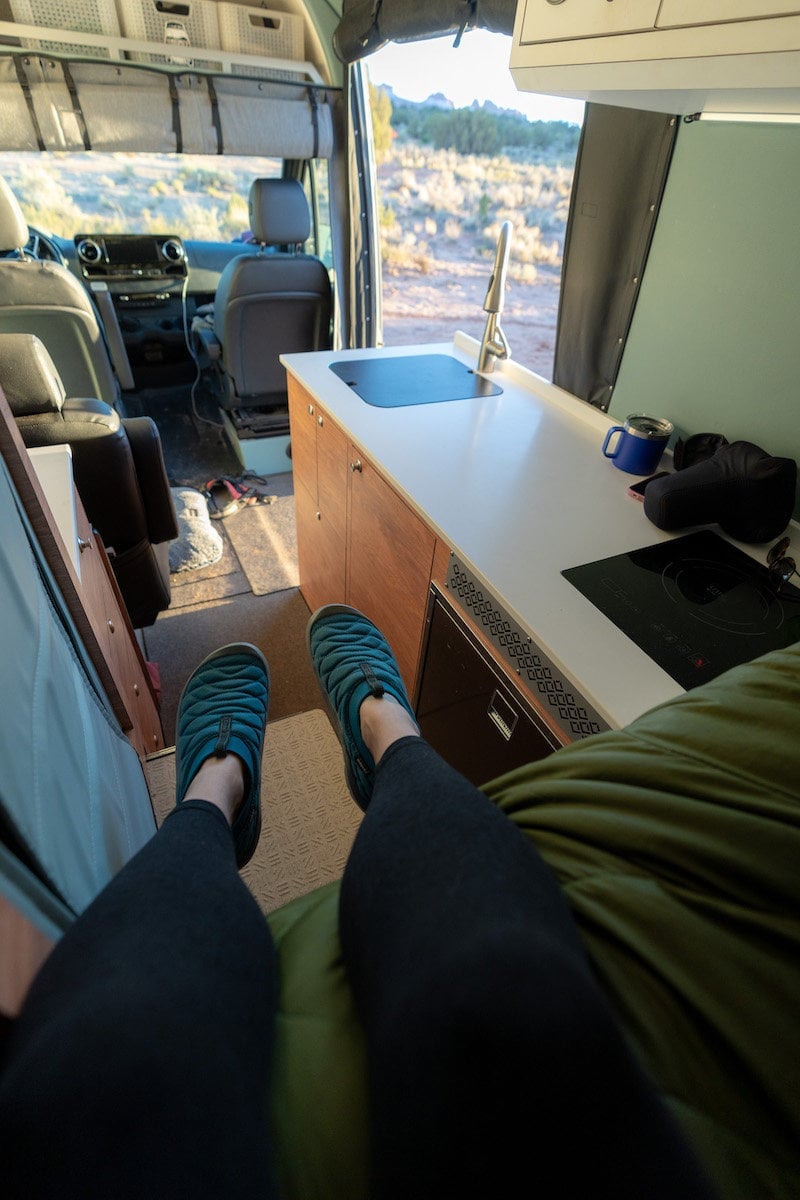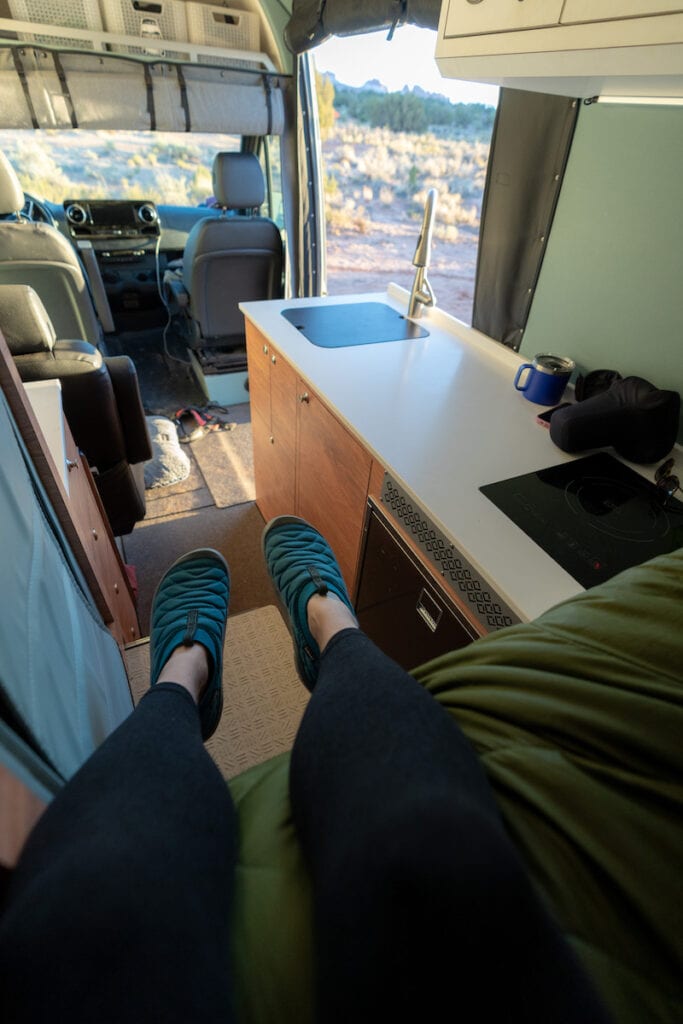 9. Have a way to use the bathroom inside
If you tend to wake up in the middle of the night to pee, you'll want a way to use the bathroom without needing to go outside.
This may be as simple as designating a jar to be your pee jar or you may opt for a more sophisticated toilet. Either way, once you're in for the night, you don't want to unlock your van to go outside.
10. Communicate with friends and family often
Sending a daily text or making regular phone calls to loved ones is a good idea when you're living on the road. Not only can these forms of communication help combat loneliness, but they also let people know you're safe.
If you miss a call or don't send your daily update text because you're in trouble, you're more likely to get help faster than if you typically go a few days or weeks without contact.
A passive way to stay in contact is to share your location with select family members and friends via Find My Friends or Google Maps.
11. Consider buying a self-defense tool
Some people feel better knowing they have some sort of defense tool like pepper spray, a knife, taser, or a different type of weapon. This can be a good strategy for van life safety, but the overall goal is to avoid ever being in a situation where you feel like a defense weapon is necessary.
Whether or not you carry something like this is a personal decision, and if you do, you'll need to make sure you know how to use it. Also, keep in mind that gun laws vary by state. What is legal in one state may be illegal as soon as you cross into another, so do your homework before bringing a weapon on board.
12. Keep your phone charged
If you use your phone as a hotspot or use the GPS to navigate your hike, it's easy to run the battery down to zero. At the end of the day, make sure you plug your phone in to charge it so you're not left without any way to make a call if you need help.
13. Consider getting a GPS communication device
Are you planning on doing a lot of camping off-grid? If so, you'll want a GPS communication device that doesn't require cell signal. I have a Garmin inReach Mini that can send two-way texts via satellite. You do need an active Garmin subscription, which is around $15/month for the lowest plan. Since I do a lot of hiking and backcountry exploring, owning an InReach is a no-brainer.
Another option is the iPhone 14, which has an emergency SOS satellite feature built in. If you're in an area that doesn't have cell service, your phone will try to connect to a satellite so you can contact emergency services either through text or phone call.
14. Brush up on basic self-defense
If you're traveling solo, especially as a female, it's a good idea to take a basic self-defense class so you can protect yourself in case of an attack. Many martial arts studios will offer classes for women such as Krav Magma studios.
If you don't have access to an in-person class, there are online courses, although it's really best to get an in-person experience.
15. Keep Valuables Out of View
Never leave valuables like your camera, laptop, purse, wallet, or phone in plain view, especially when leaving your camper van unattended or camping in an area with lots of people around.
Make it a habit to take a look around your van and put everything away before leaving it unattended.
16. Hide or Lock Valuables Up When Not Using Them
It's also a good idea to have a couple of hidden stash spots in your van for your valuables and cash. I'll let you decide where those spots are, but it's good to have a few of them. For example, don't put all of your important documents, cash, passport, and credit cards together in one place unless it's very secure, like a safe.
If you decide to go the safe route, the PacSafe Travelsafe Portable Safe is a great option for van life. It's not your typical heavy metal case, but instead, it's designed with a stainless steel mesh cage under the fabric so it can't be slashed.
It also comes with a locking cable to secure it to a fixed feature in your van. The X15 model can fit a 15″ laptop and other smaller valuables.
17. Install an alarm system
If your vehicle doesn't have an alarm, it is possible to install an aftermarket one. They generally cost a couple of hundred bucks and can definitely be worth it, even if it's just for peace of mind. If you are carrying expensive mountain bikes and electronics, an alarm isn't a bad idea.
SimpliSafe is a great option for van lifers because their alarms don't require any wiring, although the base station does need to be plugged in.
The Foundation bundle can be set up in minutes and comes with an alarm-sounding base station, an entry sensor, a motion sensor, and a keypad. You also don't need a subscription to use SimpliSafe, although you can sign up for 24/7 monitoring, which also includes police and medical dispatch.
If you want more security, you can add on more sensors, an outdoor camera, and even a glassbreak sensor.
Shop SimpliSafe Foundation Alarm at:
18. Put security stickers on your windows
Regardless of whether you have security devices in place, just having some stickers on your windows can deter thieves.
Here are a few security sticker options:
19. Install a motion sensor light
An outdoor motion-sensor light can be great for extra security at night. If you don't want to install a permanent one, these solar-charged motion sensor lights can be used with magnetic tape to be placed anywhere on the outside of your van.
The lights have an easy on/off button for daytime and three brightness settings.
20. Add roadside assistance to your policy
Many van insurance policies include roadside assistance, so double-check to see if yours does. If not, you can either add it to the policy you currently have or purchase separate roadside assistance through AAA or a similar company.
Having roadside assistance not only helps alleviate anxiety about breaking down on the road, but it can also make van life safer by sending help without needing to flag someone down on the side of the road.
21. Carry breakdown essentials
If calling roadside assistance isn't an option, you should be prepared with the essential tools and spares so you can do your own basic maintenance like fixing a flat tire.
Always carry jumper cables, a spare tire tool kit, a spare tire, road flares, and a portable air compressor.
Van Life Essentials Packing List
Below are a few of my favorite pieces of van life gear and recommendations for the road:
22. Minimize the gear you carry on the outside of your van
Reduce the attention you bring to yourself on the road by minimizing how much gear and extra luggage you carry on the outside of your van.
The more toys like bikes, surfboards, skis, and other expensive equipment that is displayed, the more chances for theft and robbery.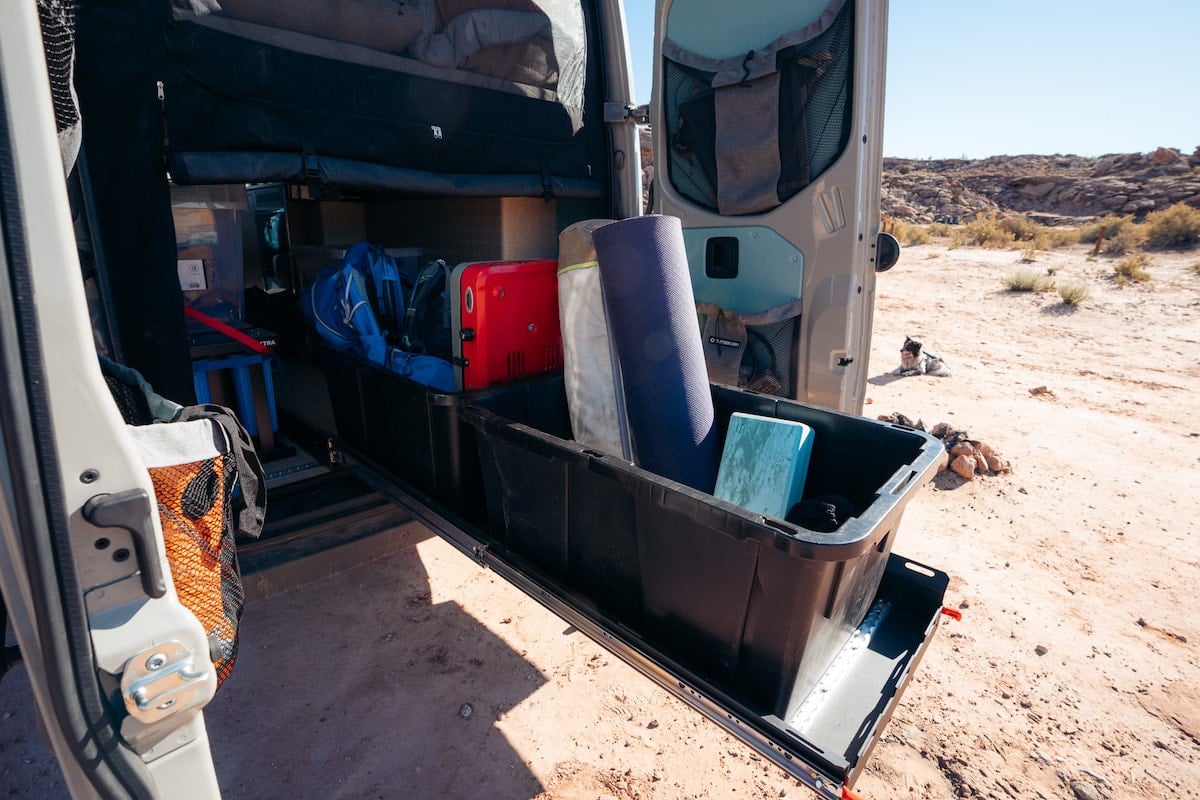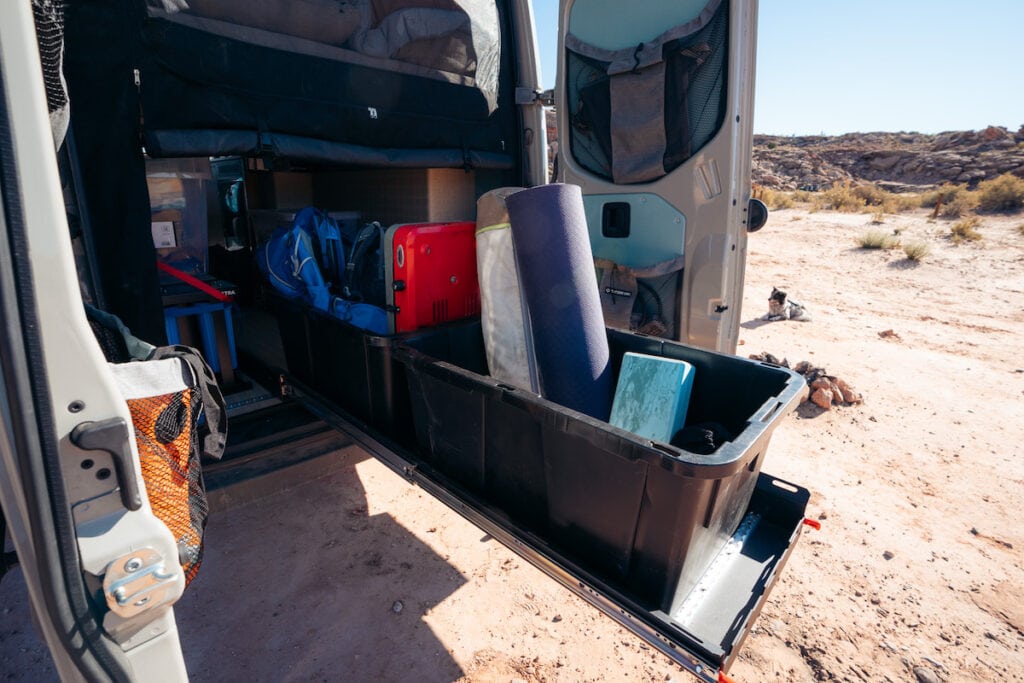 23. Get a dog!
Dogs are great for a lot of things: companionship, unconditional love, laughs, and security. Even if your dog doesn't have a mean bone in its body, just having a furry friend around can deter unwanted attention.
Living on the road with a dog can have its challenges, but it can also be the greatest thing in the world.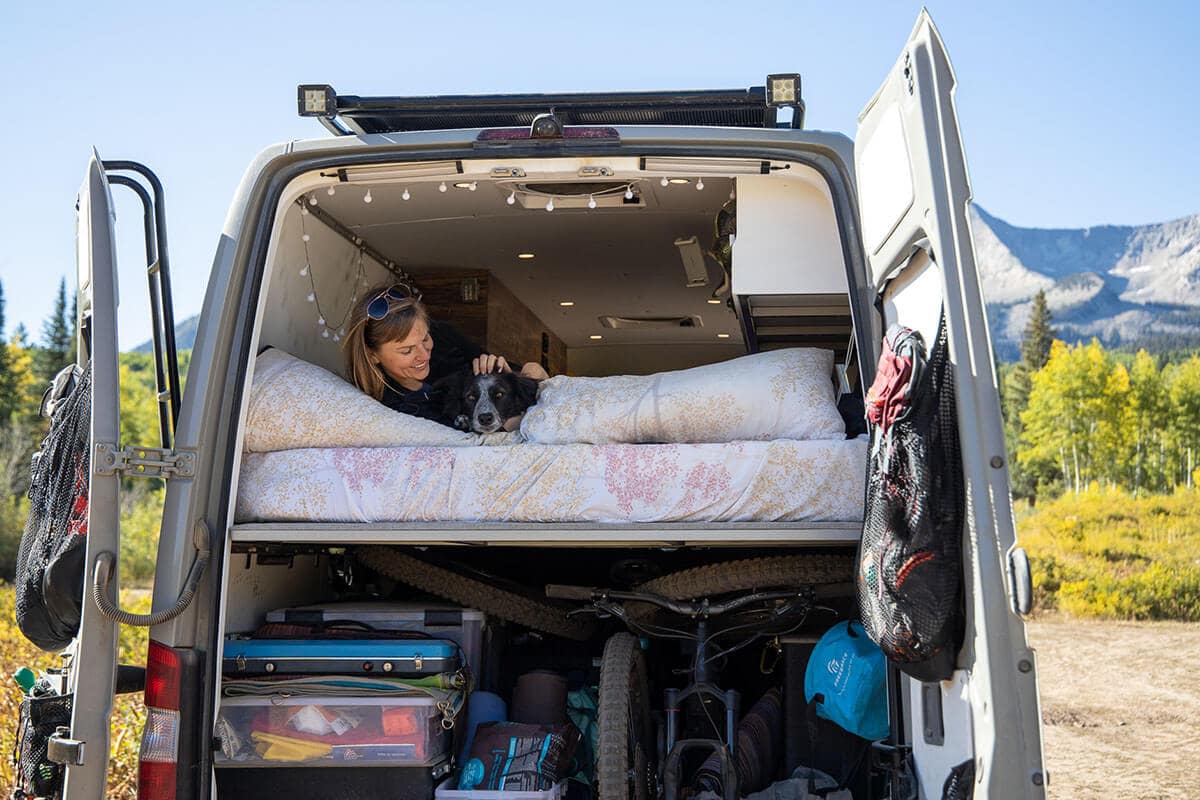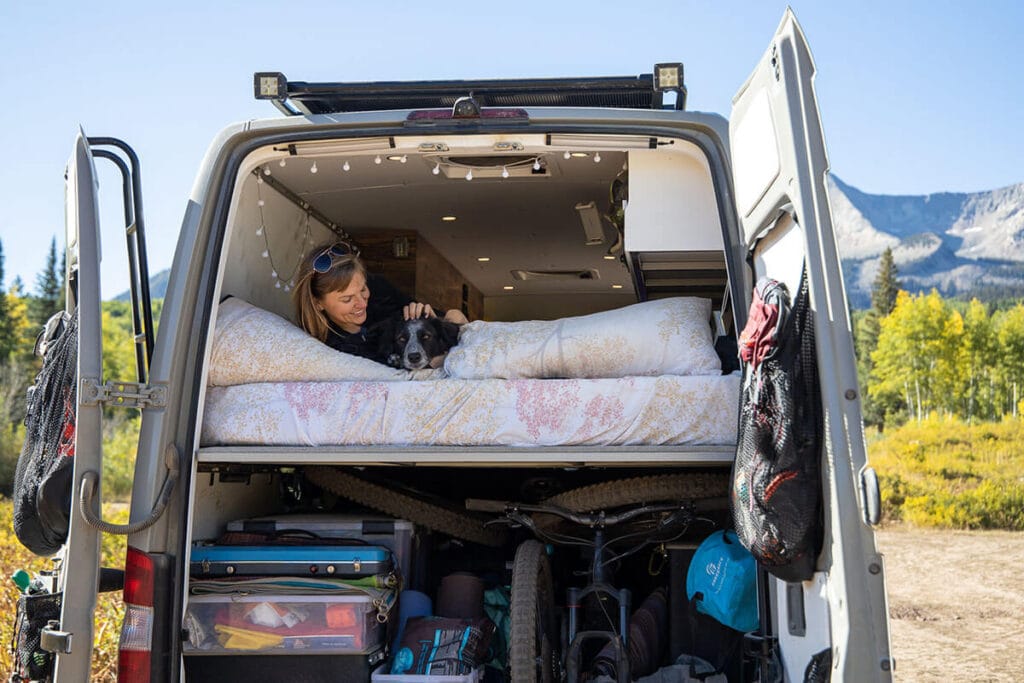 Key takeaways
Traveling in your van is safer than many people think, but it does require common sense, increased awareness, and being more cautious than you would be if you were just parking your car.
With you and all of your valuables inside, it's very important to follow your instincts and make smart decisions about where you will park and leave your van. Having insurance for your van and your belongings inside is always a good idea as well.
New to van life? Browse these van life blog posts for help jumpstarting your life on the road:
What strategies and practices do you have for staying safe in your van? Share your questions, tips, and experiences down in the comments, and make sure to sign up for updates here.