10 Best Van Life Books to Inspire You to Hit the Road
Looking for some van life inspiration? Check out these 10 best van life books for navigating every life on the road and fueling your van life adventures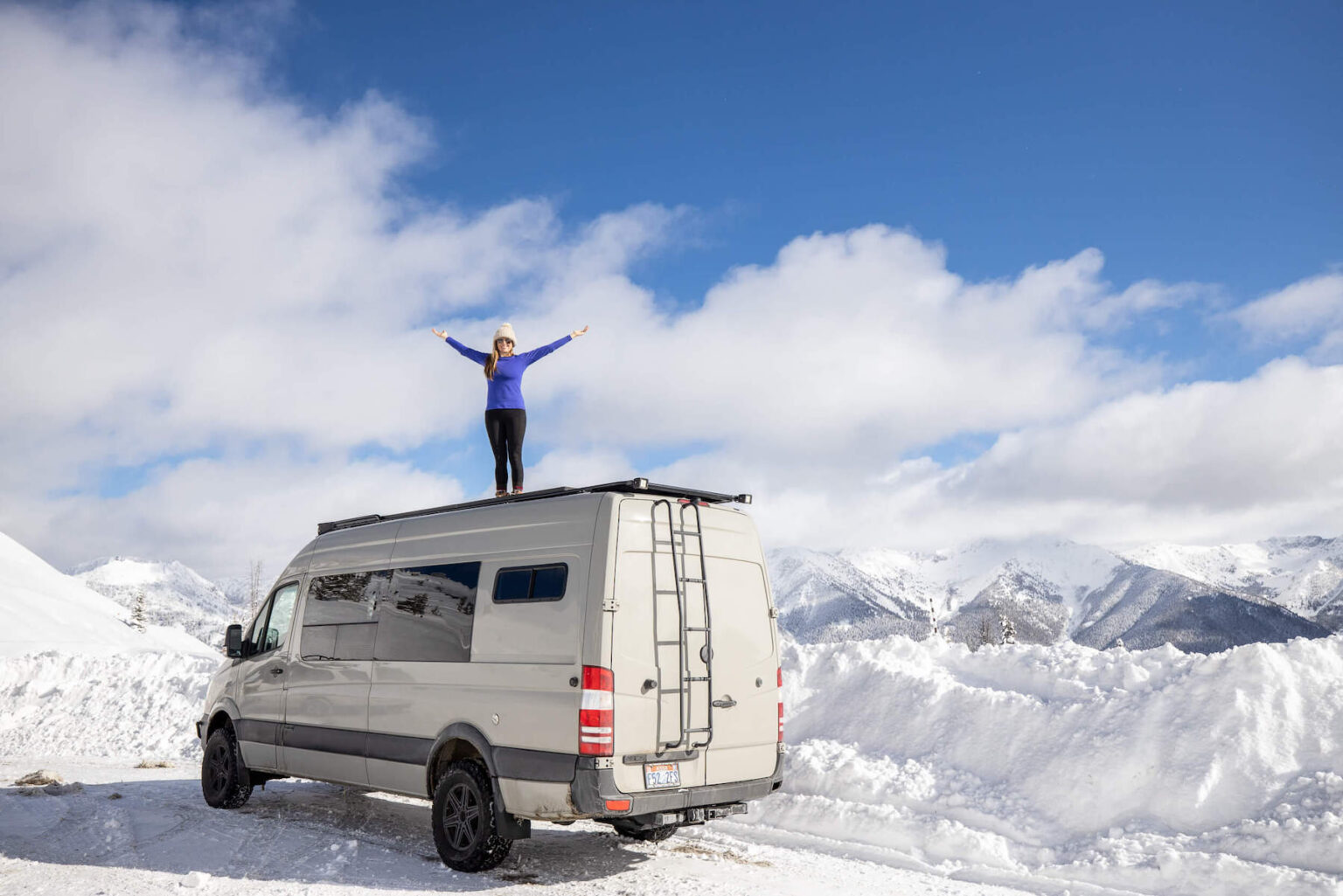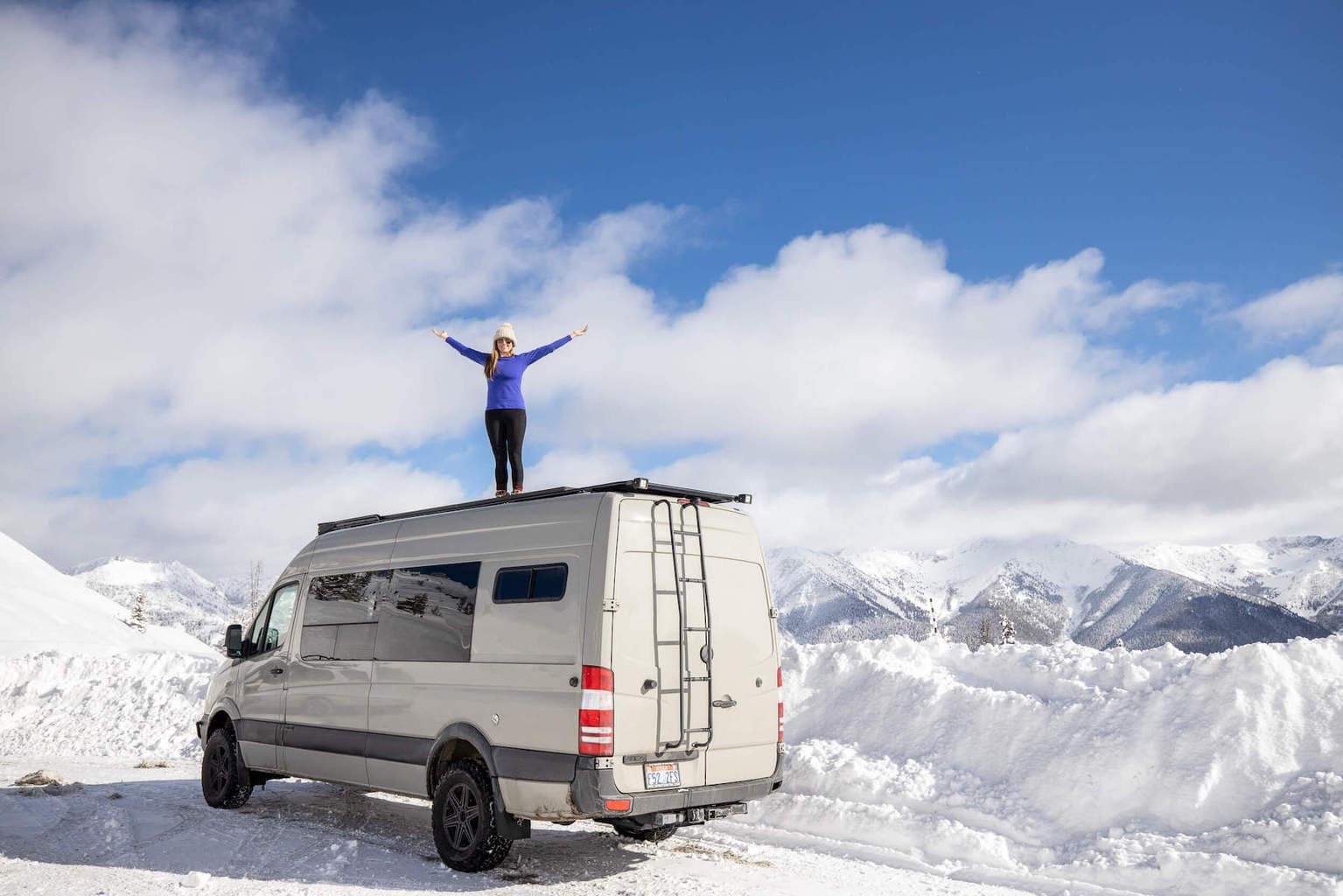 Finding campsites, learning how to make money and live on the road, making dinner in a cramped kitchen — these are just a few of the things that can stress you out when you're living in a van. Anyone who's spent time in a tiny home on wheels knows that it's easy to get overwhelmed and disheveled after spending some time on the road, and it seems like there are so many things to learn. So how can you thrive while living in a van?
Whether you're daydreaming of moving into a van or are already enjoying this incredible lifestyle, we've all got a thing or two we can learn from van life books. In this post, I share 10 of the best van life books that will help you pick out your dream rig, adapt to the nomadic lifestyle, thrive and eat well on the road, and so much more. Whether you need inspiration or have a few specific questions about van life, there is plenty of wisdom and insight in these top books.
Here are the best van life books that include inspiration, wisdom, and insight for life on the road.
Books To Get You Inspired for Van Life
Walden on Wheels: On the Open Road from Debt to Freedom by Ken Ilgunas
If your definition of van life hinges on living with fewer material items, opting out of the 9-to-5 to pay for an unwanted mortgage, and roughing it to live more simply — you'll want to crack open Walden on Wheels. Ilgunas was $32,000 in student debt and decided to finish his Master's program while living in a van on a budget to get out of debt as quickly as possible.
While I found some of the writing to be a little preachy and more about living independently than living nomadically, it touches on many core experiences that draw people to the vanning lifestyle. There are some great sections about Ilgunas fulfilling his dream to travel up to Alaska. Plus, 10% of the royalties from the book are donated to The Wilderness Society, one of our top environmental groups you should know.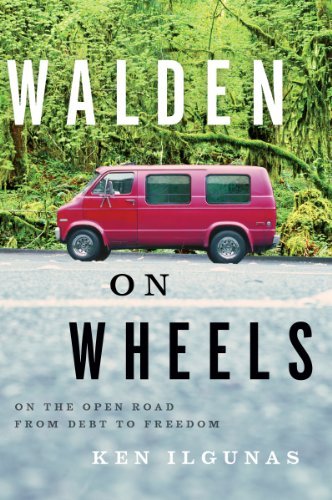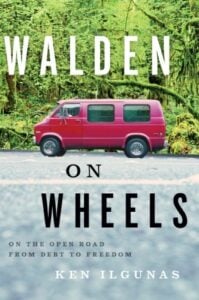 How to Live in a Van and Travel by Mike Hudson
Mike Hudson spent three years on the road traveling through scenic beaches, high mountain passes, and quiet country roads before publishing this helpful book in 2017. How to Live in a Van and Travel captures the spirit of why so many people are choosing to live in a van: to kick the 9 to 5 and live for more than a paycheck, to enjoy the freedom of traveling to new places, and to be in total control of how you spend your time.
If you're looking for a final jolt of motivation to sell your belongings, move into a van, and thrive with your newfound freedom, this is the book for you!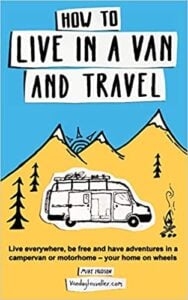 Van Life: Your Home on the Road by Foster Huntington
If you're more of a visual person, this coffee table book will inspire you with many, many photos of vans with smart designs in beautiful locations. Huntington crowdsourced Van Life: Your Home on the Road with hundreds of VW vans, converted vans, school buses, and so much more. You're bound to get plenty of layout and design ideas from this one, as well as a good dose of inspiration to find the vehicle of your dreams.
Pour yourself a cup of coffee and get ready for a long afternoon on the couch with this one!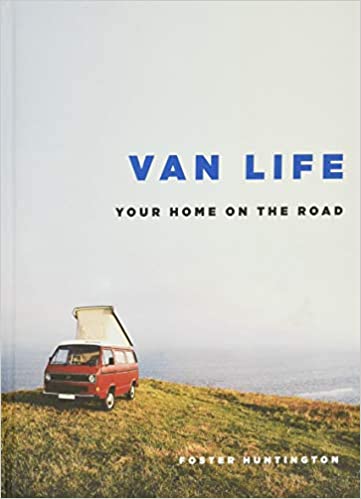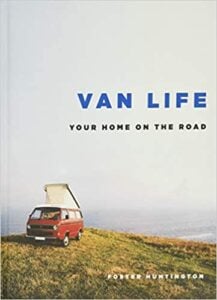 ---
Books for Navigating Every Day Van Life
How to Live the Dream: Things Every Van Lifer Needs to Know by Kristine Hudson
If you need help navigating the details of the van lifestyle, this book won't disappoint. There is advice on budgeting, choosing a van, what issues you're likely to run into on the road, how to deal with emergencies, and so much more.
This is a great book if you're new to the van life community because let's face it: there are a lot of things to figure out in order to live, work and travel in a van full-time. How To Live The Dream: Things Every Van Lifer Needs To Know will walk you through all of it, providing helpful advice without getting too bogged down in the details.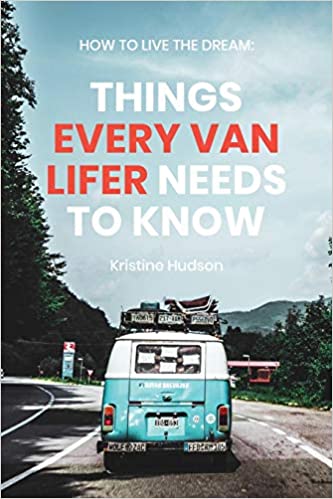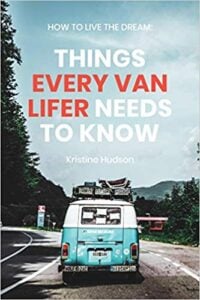 The Campervan Bible: Live, Eat, Sleep (Repeat) by Martin Dorey
The Campervan Bible is a great van life book if you're just starting out on your nomadic journey. Dorey shares tons of information about how to pick out a van, which gear to use, and how to eat well on the road. He shares a lot of great advice about navigating the day-to-day realities of van life like using a toilet, staying warm, finding water, and charging your electronics.
While this book is centered around vanning in the U.K., most of the advice will be a great resource to the nomadic lifestyle wherever you are, although it probably won't reveal too much if you're already on the road.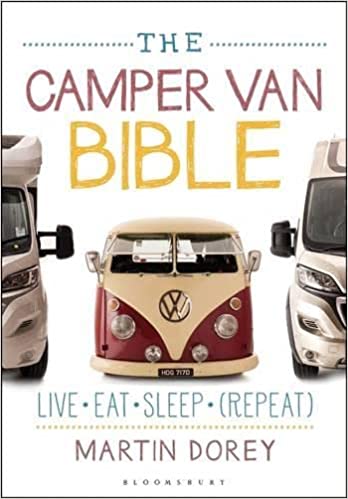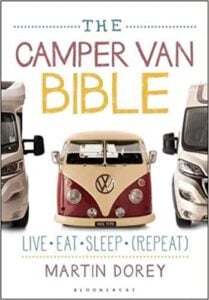 United We Van Cookbook by United We Van
Cooking on the road is a lot different than in a house and this downloadable cookbook has over 100 pages of van life-friendly recipes submitted by over 30 experienced van lifers. If variety is the spice your life needs, these recipes will level up your repertoire of meals that are great for cooking on the road.
Not only are the recipes in the United We Van Cookbook delicious, but they're also nutritious — which will fuel your adventures and keep you healthy and fit in a nomadic lifestyle. Plus, United We Van is a nonprofit organization that is dedicated to promoting diversity and inclusion in the nomadic community, so each purchase of the cookbook gives back to the public lands and natural spaces that we all use and enjoy.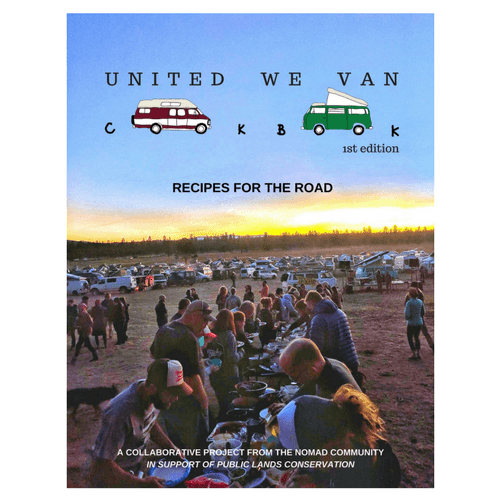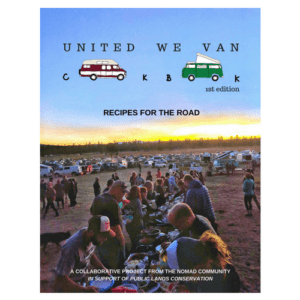 ---
Books for Inspiring Epic Van Adventures
Outlandish: Fuel Your Epic by Morgan Sjogren
Don't let the Jeep on the cover turn you off: this phenomenal book is part love letter to wild places, part burrito recipe book, and part ode to the dirtbag lifestyle of living on the open road and filling your days with outdoor adventures.
Sjogren's love for the nomadic lifestyle will have you gunning down empty 4×4 roads to find more adventures in your life. Outlandish: Fuel Your Epic has plenty of tips for how to eat well in wild circumstances, how to leave no trace in the wild, and how to seek out your own big adventures along the way. Plus, it's filled with gorgeous photos that are sure to grow your "must travel here" list.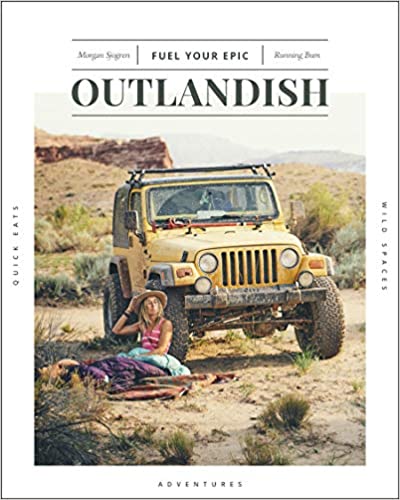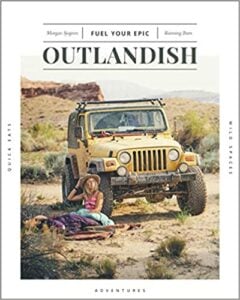 Vagabonding: An Uncommon Guide to the Art of Long-Term World Travel by Rolf Potts
One thing nobody tells you about living in a van is that it's as much about learning how you want to travel as it is about learning the details of how to travel. Vagabonding: An uncommon guide to the art of long-term world travel teaches the art of determining your road trip destinations, how to adjust to life on the road, and how to handle life's inevitable obstacles along the way.
It's more about developing an outlook of how to travel instead of a prescriptive, one-size-fits-all approach to it. It's full of guideposts to keep you fulfilled and true to yourself, and I think author and entrepreneur Tim Ferriss said it best: "Vagabonding teaches you how to travel (and think) not for one trip, but for the rest of your life."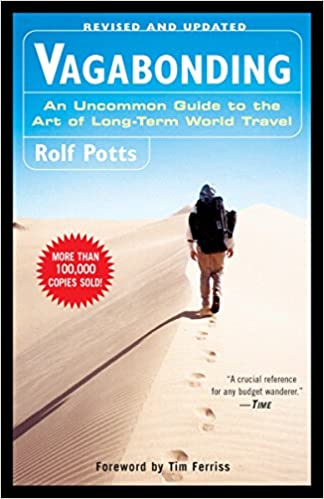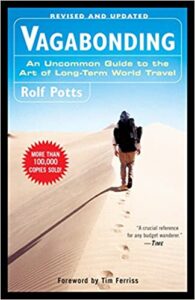 National Geographic Road Atlas – Adventure Edition by the National Geographic Society
Since I live in a campervan with my girlfriend, we don't have a whole lot of space for extra belongings — but this book makes the cut. The National Geographic Road Atlas is sure to provide inspiration for getting on the road as well as providing tons of utility once you're out there.
It's filled with detailed landscape maps, recreation guides, and helpful navigation to get you where you need to go when reliable cell phone reception is nowhere to be found (and believe me, that happens more often than you'd think).
While it's too big to keep in the glove box, this is one you're sure to keep within arm's reach of the driver's seat during your next road trip.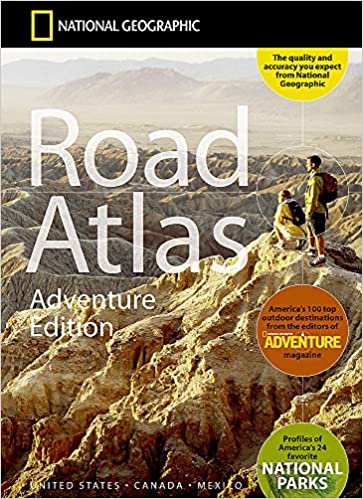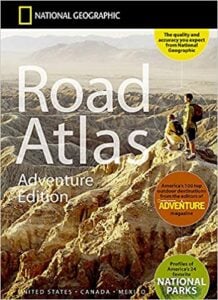 She Explores: Stories of Life-Changing Adventures on the Road and in the Wild by Gale Straub
This powerful book is a collection of stories by women who aren't afraid to get out and explore the world on their own. It's filled with inspiring personal narratives of 40 diverse women who choose to live life outside the box. Accompanied by stunning photography, this book provides inspiration for adventures such as traveling in a van solo, tackling a big mission despite being afraid, trying something for the first time, and much more.
She Explores is an essential companion for every female van lifer.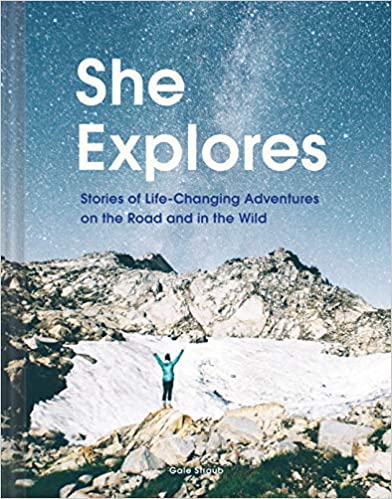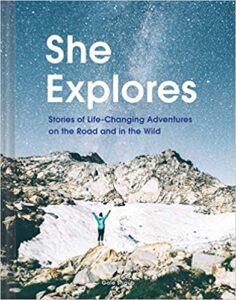 Van Life Essentials Packing List
Below are a few of my favorite pieces of van life gear and recommendations for the road:
---
What are your favorite van life books? Did we leave one out that should make this list? Let us know what you think in the comments and be sure to sign up for our van life newsletter!