THE ULTIMATE HALEAKALA NATIONAL PARK ADVENTURE GUIDE
by Kim Vawter, Bearfoot Theory's former Community Manager
Maui is on many people's bucket lists, and for National Park enthusiasts the Hawaiian Islands have two National Parks you can cross off – Hawaii Volcanoes National Park on the Big Island & Haleakala National Park on Maui.
I recently spent 14 days exploring Hawaii with my dad, and we were blown away by the landscapes, views, and activities in both of these National Parks.  In this Haleakala National Park guide, I put together my list of the best things to do and see for an adventurous trip to Maui, including my favorite hikes, sites, where to stay and more. Enjoy and let us know if you have questions in the comments below!
Start planning your trip to Maui with our Haleakala National Park Guide!
Haleakala National Park Basics
Haleakala National Park has two sections; the Kipahulu coastal area, and the Haleakala summit area. Haleakala means "house of the sun" and most people are familiar with the summit area as a popular, and arguably the best, sunrise viewing destination on Maui. Both sections of the park are unique and equally worth a visit during your time on Maui.
Little known fact, Haleakala National Park is home to more endangered species than any other National Park. My dad and I had the opportunity to view two of these species; the silversword plant, a rare plant found only in Hawaii and the nene, a native Hawaiian goose, during our trip. I hope this guide helps you make the most of a visit to Haleakala National Park.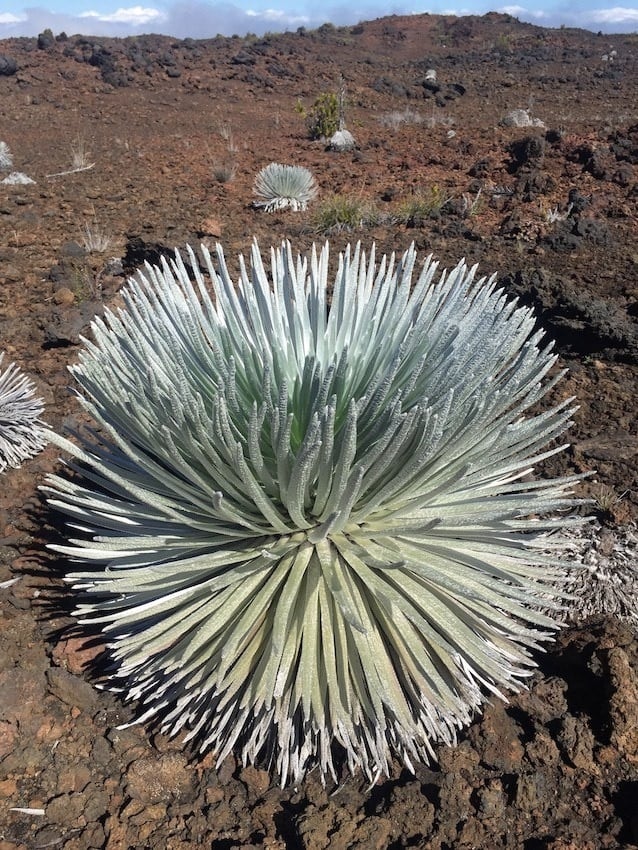 Getting to Haleakala National Park on Maui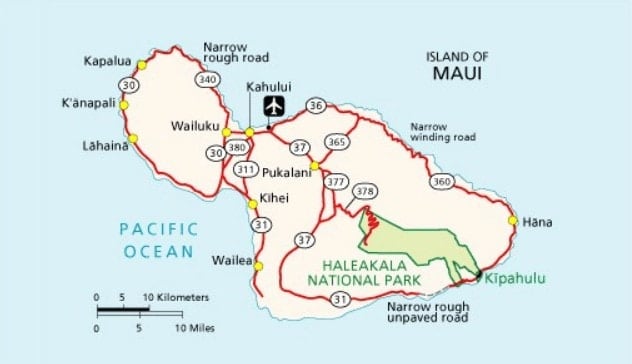 Haleakala is on the island of Maui in the state of Hawaii. Both areas of the park require some drive time to access.
The Haleakala summit is only 38 miles from the Kahului Airport but is a 1.5-2 hour drive.
The Kipahulu coastal area is 62 miles from the Kahului Airport. That's 62 miles though along the Hana Highway, with hairpin turns and curvy roads. This makes the journey about 3-4 hours, and that's if you don't stop at any of the "Road to Hana" attractions. I'd allow a full day for exploring the summit and at least two full days for traveling the Road to Hana and visiting the Kipahulu Coast area.
Why two days for the Kipahulu area? You'll drive the Road to Hana one day, and then I recommend spending the evening in Hana or camping at Kipahulu and then driving the road back the following day.
Best Time to Visit Haleakala National Park
Since Haleakala has two very different regions, temperatures can range from 80 degrees to 30 degrees in one day. You can visit both regions year-round but need to be prepared for the conditions.
Haleakala's summit will be 30F degrees cooler than the coast given its elevation. The summit area usually only reaches a high of 50F. My dad and I visited in December, and there was ice on the summit and evening temperatures hit freezing. During the day it was close to 50F and perfect for hiking and exploring. If you're visiting Maui in the summer, Haleakala can be a very cool and breezy retreat from the hot, humid beaches.
Given the location of the Kipahulu coastal region, towards the Hana side of the island, it is often VERY wet. Daytime average temperatures are 70-80 F, and nighttime average lows can be 65-75F.
Best Things to Do in Haleakala National Park
Catch Sunrise (or Sunset) over the Haleakala Summit
Since February 1st, 2017 reservations have been required for driving to the summit area between 3am-7am. My dad and I did it. Would we do it again? YES. Would we recommend it to anyone visiting Maui? YES.
Let me explain a few things:
Why is sunrise in this exact spot so darn good? Well, let's talk about the location. You're at 10,000 feet elevation on an island. You're ABOVE the clouds. You'll get to catch the horizon light up with rich, warm colors as the sun rises and becomes visible. Then make sure to stick around because the sun will often melt away the cloud layer to expose the vast Haleakala crater area below. You'll all of a sudden think you're on Mars. This to me was the best part. When we originally got out of the car, all we saw was clouds cover the summit area so I had no idea what was below. But after the sunrise, the entire crater area was stunning with its numerous craters and colors.
Yes, it was cold. We both had on next-to-skin base layers, an insulating layer and down jackets. You'll want hats, gloves, etc. Come prepared, pack a thermos if you have room in your luggage for coffee or hot cocoa to keep you warm in the morning.
One big perk people don't mention about getting up to see the sunrise is you're then also first in the park to hit the hiking trails.
If you're not into early mornings, yes, you can do sunset, but if you google pictures of Haleakala sunrise vs. sunset, you'll see there is a distinct winner. Don't get me wrong though, if you can't make it in the morning then I'd drive up there for sunset.
Reservations cost $1.50 per car. Don't forget there is also a park entrance fee of $25, which is good for three days.
Reservations should be made online at Recreation.gov. They sell-out early, generally two weeks in advance, so book early. The park has put together a great FAQ sheet regarding sunrise reservations.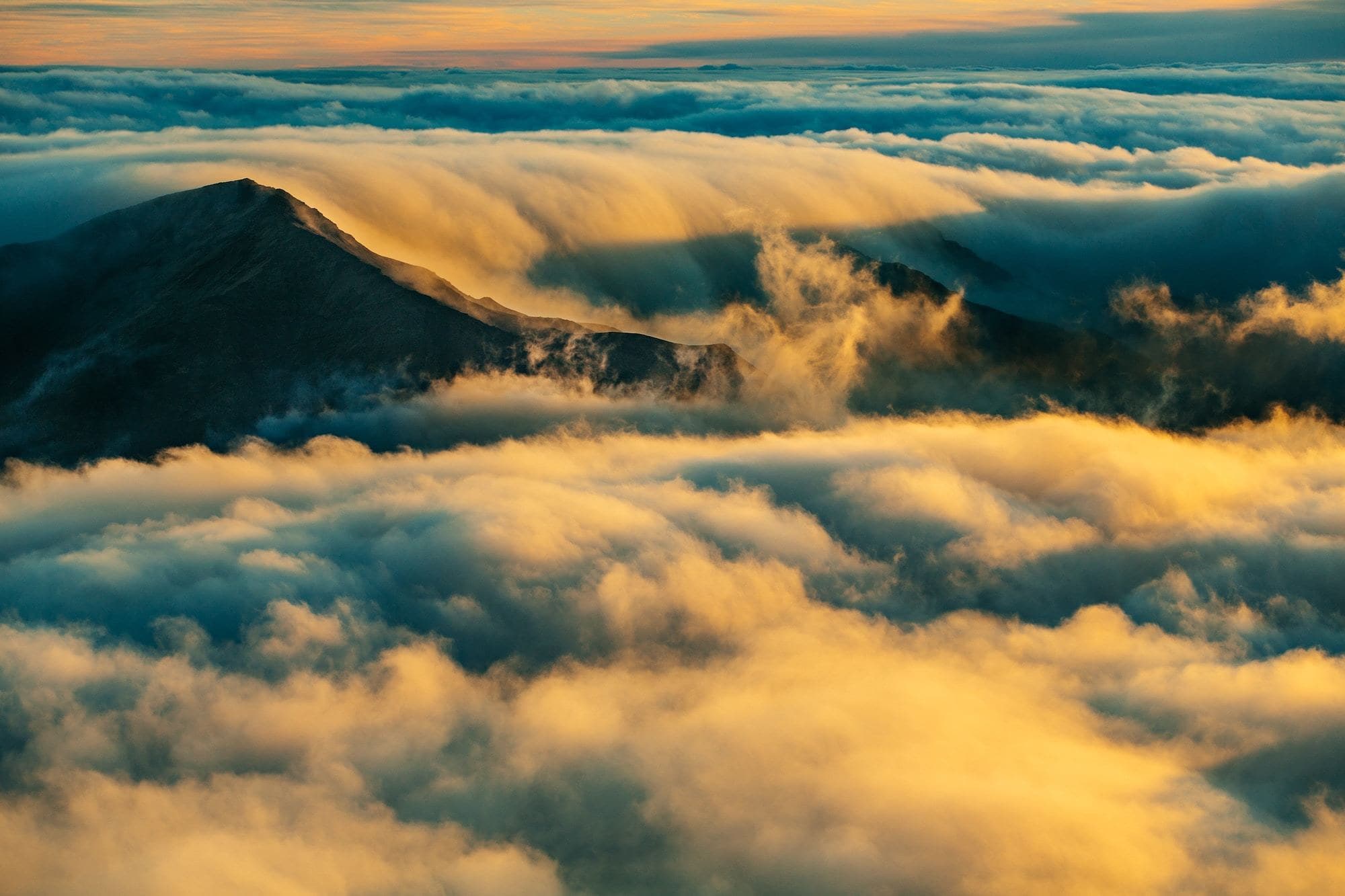 Learn how to layer for cold weather
Day-Hiking in the Haleakala summit area
Day hiking in Haleakala offers over 30 miles of trails. Keep in mind hiking trails here often take longer to complete than usual. The soft cinder of the summit area is similar to walking on a beach, and since trails are at a high elevation, you may find the routes more strenuous than you'd expect. Read this post for tips on improving your lung capacity.
You can tell based on the map of the summit area below that there are many hiking trails to explore. Make sure you pack plenty of water and snacks. There is water available at the cabins, but it must be filtered or treated for drinking. Pit toilets are also available at the cabins.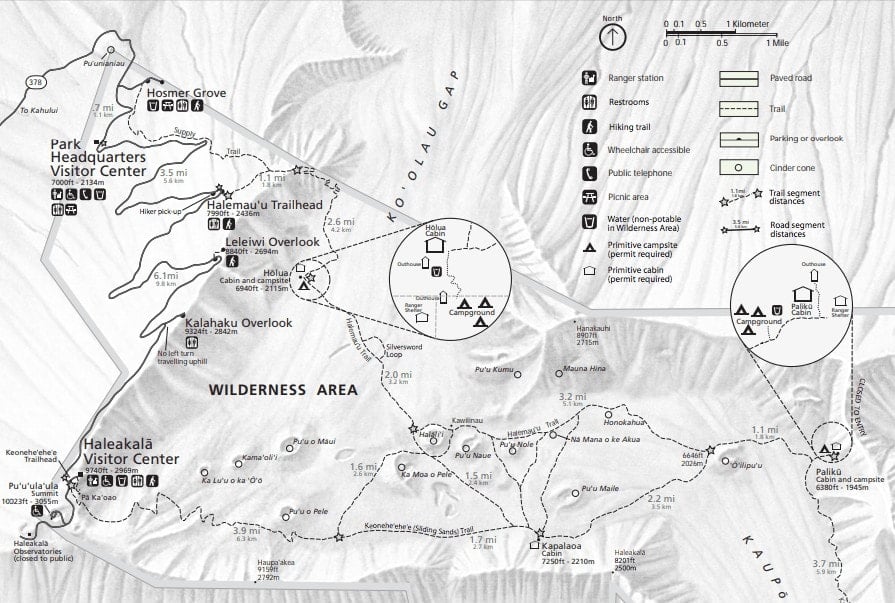 Hiking from the Halemau'u Trailhead to the Pu'u Nole crater
My dad and I hiked from the Halemau'u Trailhead to the Pu'u Nole crater and back. Originally we planned to hike from the Keonehe'ehe'e (Sliding Sands) trailhead to the Halemau'u Trailhead so we didn't have to do an out and back, but we decided we didn't want to wait at the "hiker pick-up" location to get a ride from our parked car back to the summit area. We were visiting during the "off-season" in early December, and it was only 7:30 am in the morning (since we'd been up at sunrise earlier).
If you want to do the one-way hike, the park strongly recommends guests to park at Halemau'u trailhead and hitch to the Keonehe'ehe'e trailhead at the summit so when you are done your car is waiting for you vs. having to hitch at the end back to your car. And yes, "hitching a ride" is legal in Haleakala National Park as long as you do it from the designated "Hiker Pick-up" location.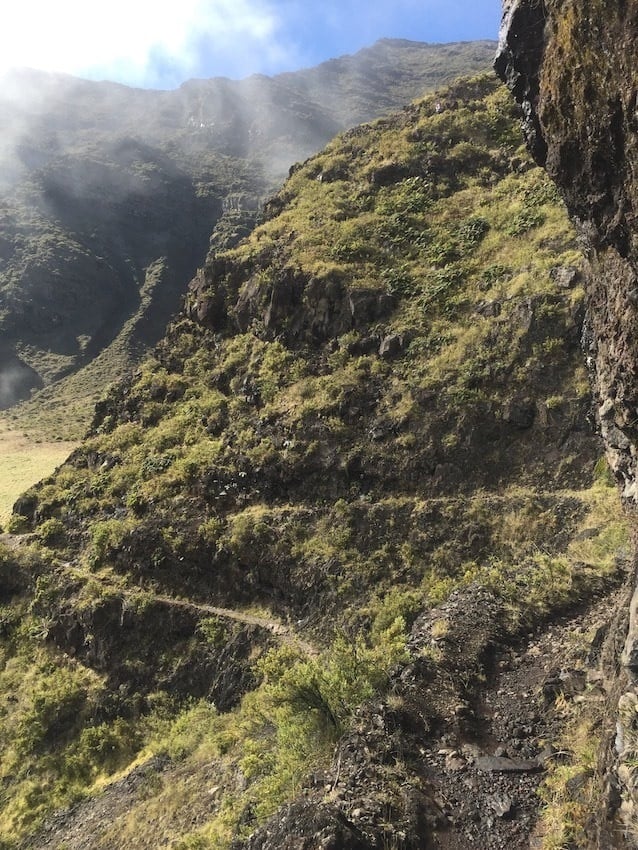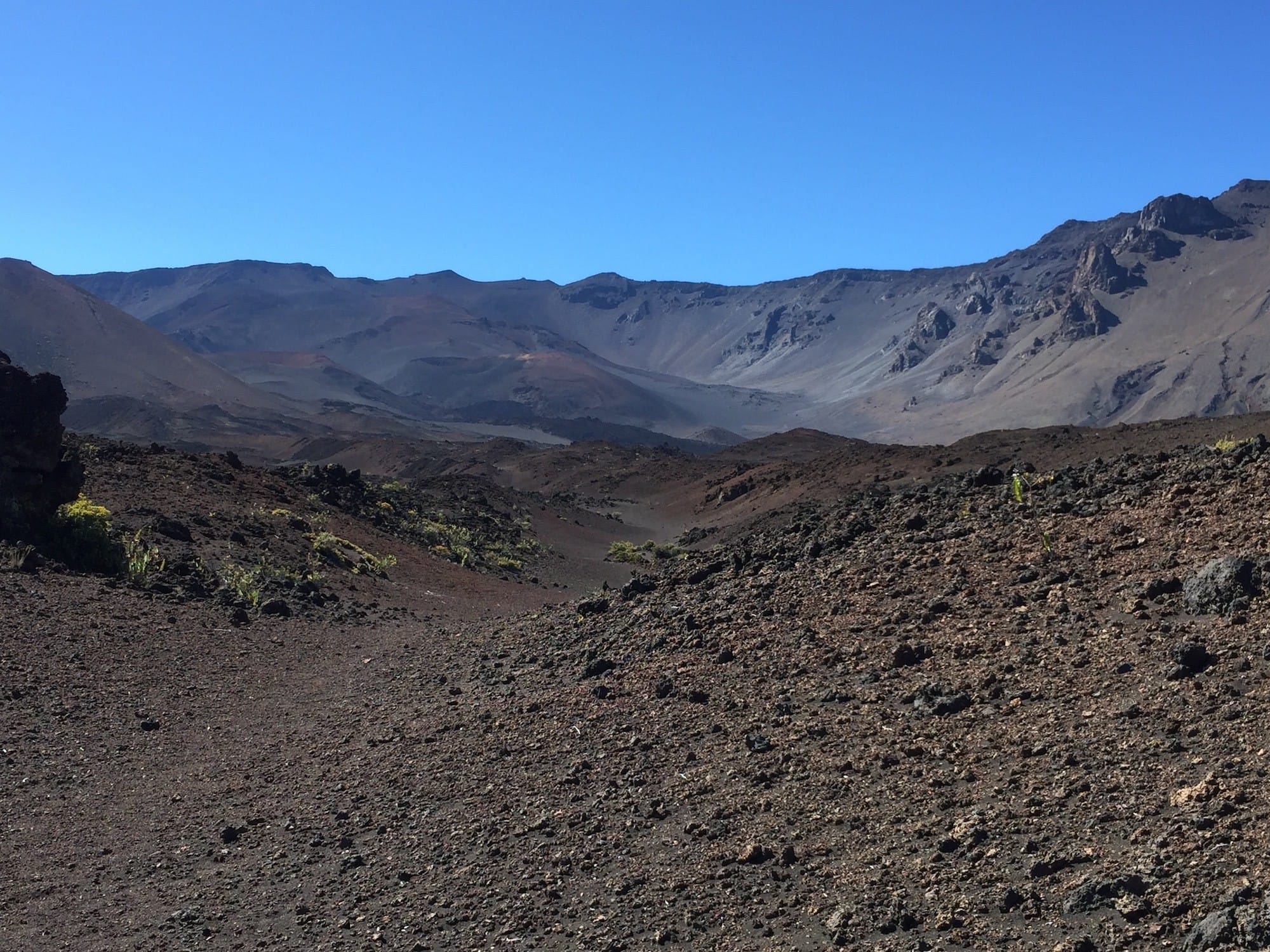 The Halemau'u Trailhead was unbelievable as we descended 2,500 feet down into the crater area in just 3.9 miles. We had lunch at the Holua cabin picnic benches before continuing towards the craters. The landscape changed significantly along the hike giving us a thorough view of the diversity of the summit area. I highly recommend this full-day hike which had a total mileage just under 14 miles.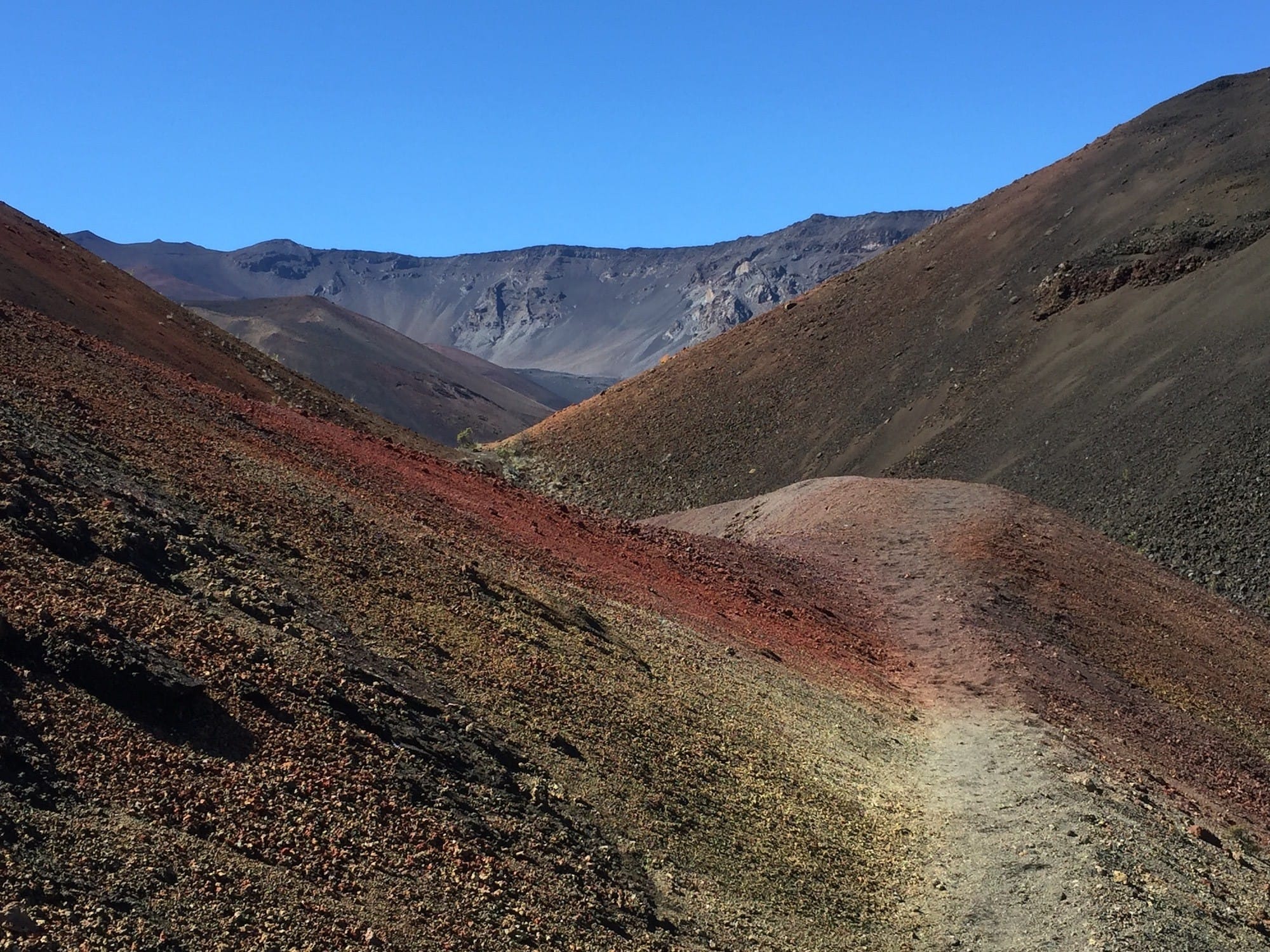 Backpack to the Summit Cabins/Campgrounds
You could easily spend multiple days camping in Haleakala's three wilderness cabins or 2 wilderness campgrounds. Each of the cabins has 12 bunks with a thin sleeping mattress. Pit toilets are available, there is no electricity in the cabins, and all water must be filtered before drinking. Anybody with a cabin reservation will be required to watch a 10-minute orientation video at the Headquarters Visitor Center.
The Holua Cabin is 3.7 down the Halemau'u Trail or 7.4 miles down the Keonehe'ehe'e (Sliding Sands) Trail. The Nene can often be found here. There is a wilderness campground nearby as well.
The Kapalaoa Cabin is 7.3 miles from the Halemau'u Trailhead or 5.5 miles down the Keonehe'ehe'e (Sliding Sands) Trail.
The farthest cabin, Paliku, is on the east end of the wilderness area at the base of a rain forest cliff. The cabin is 10.1 miles on the Halemau'u Trail or 9.3 miles on the Keonehe'ehe'e (Sliding Sands) Trail. There is a wilderness campground here as well.
Reservations can be made up to 180 days in advance and can be made online at Recreation.gov (https://www.recreation.gov/)
How to Reserve a Campsite
Campsites are available on a first-come, first-serve basis. A permit is required for camping and can be obtained at the Headquarters Visitor Center 8am-3pm up to one day before your hike. There is a limit of 25 people per campground.
Cabins are $75 per night per cabin.
Please protect this wilderness area and Leave No Trace. Haleakala has put together a Leave No Trace video specific to the park.
Hiking in the Kipahulu Coastal Area
Kipahulu Visitors Center
You should peek in the small but informative Kipahulu Visitors Center; they have numerous scheduled talks and demonstrations throughout the day led by rangers & volunteers. I recommend stopping here first to also grab a free, detailed Pipiwai Trail map.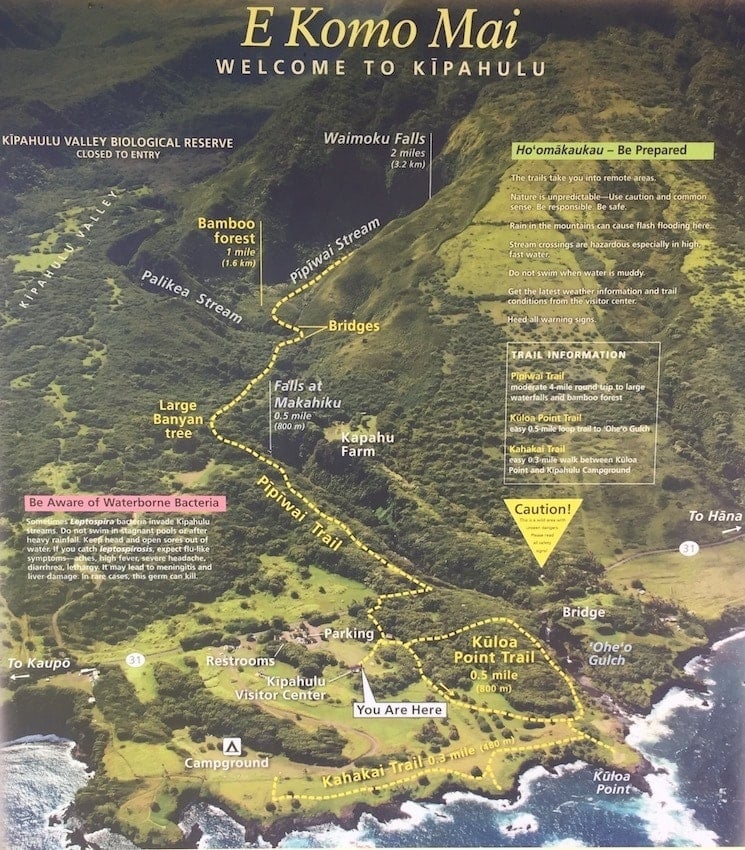 Pipiwai Trail
The 4-mile round trip Pipiwai Trail is full of waterfalls, pools of water and a bamboo forest. If you're visiting on a Sunday, this hike is offered as a guide Ranger hike at 10 am. You can reserve one week before beginning at 9 am, call 808-248-7375 for reservations.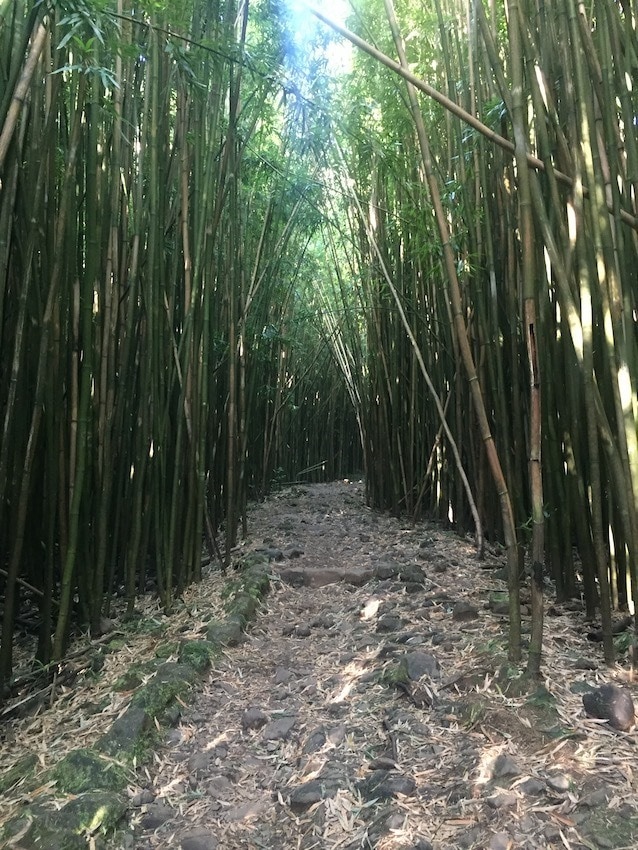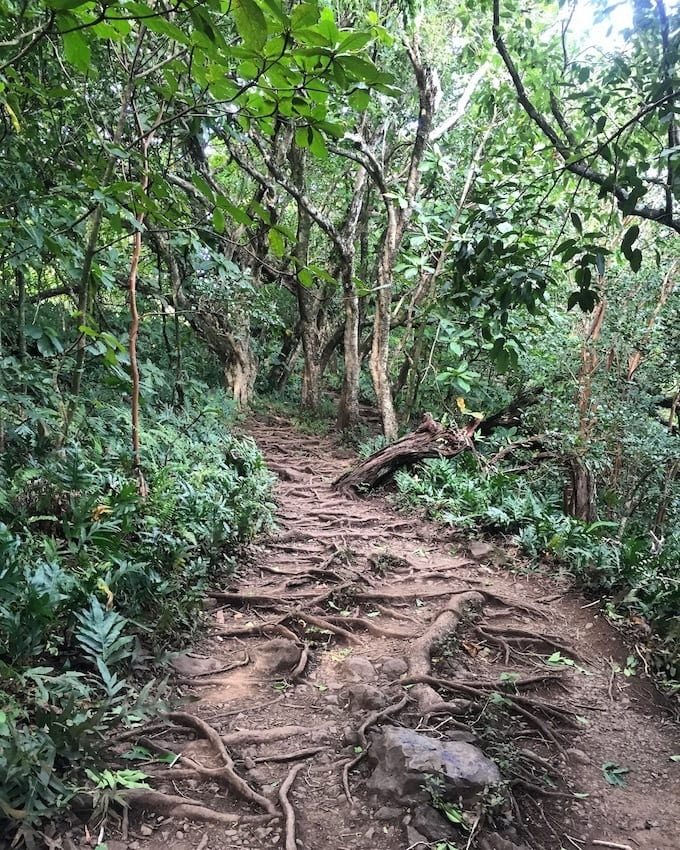 Kuloa Point Trail
From the Visitor Center don't miss the quick ½ mile round trip Kuloa Point Trail which drops you at the mouth of the 'Ohe'o Gulch.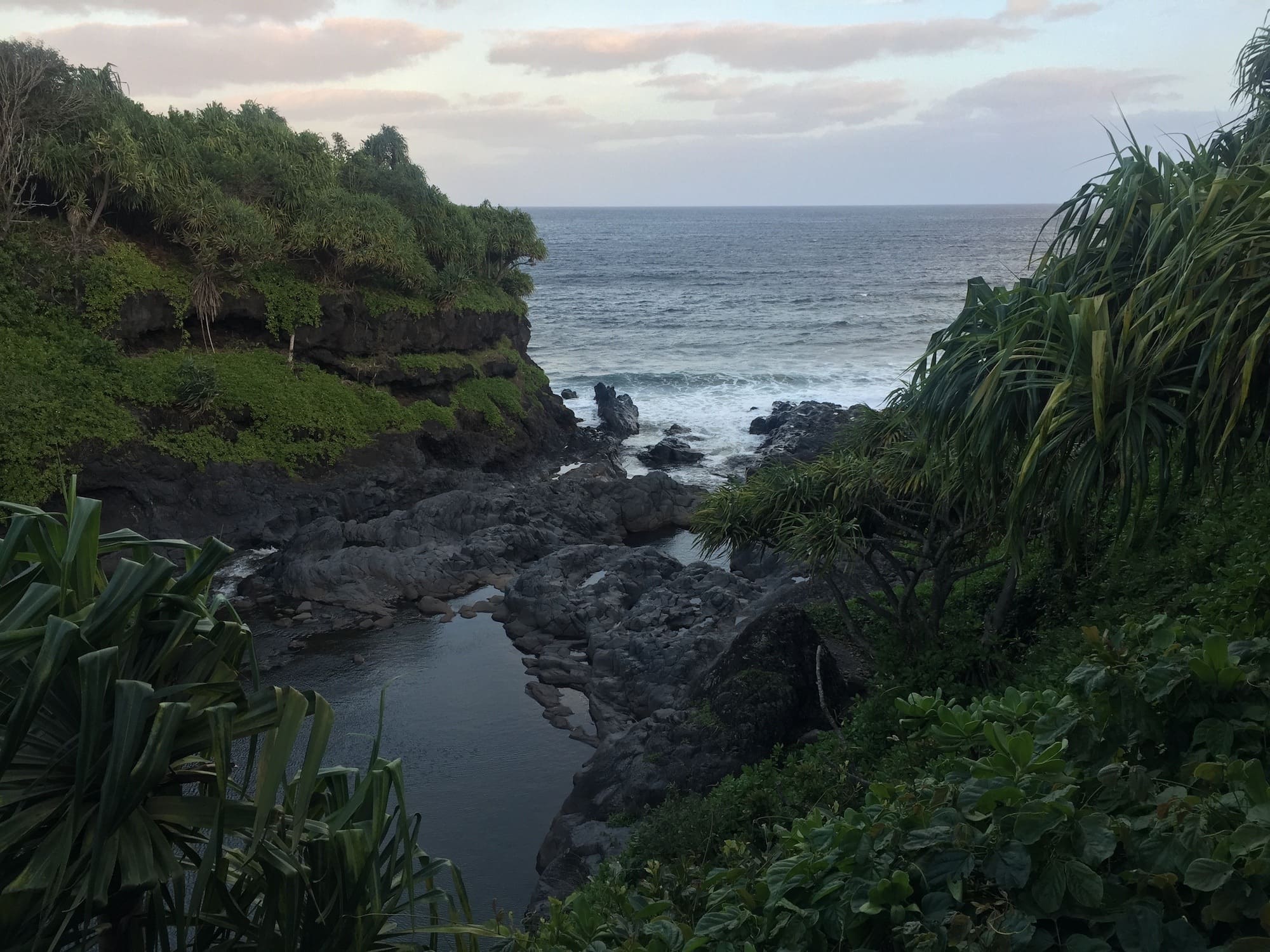 Pools of 'Ohe'o
The Pools of 'Ohe'o are closed indefinitely due to safety concerns with landslides. Follow the rules and don't even think about trying to access the pools.
Where to Stay Near Haleakala National Park
Haleakala has two car campgrounds, both equally impressive yet very different from one another. Both are available on a first-come, first-served basis.
Not into camping? Hawaii has some unique Airbnb's as well.
Lodging & Camping near Maui's Haleakala Summit
Hosmer Grove Campground is located slightly more than halfway up to the Haleakala summit. At just below 7,000 feet, you'll need to be prepared for rain and cold weather. My dad and I didn't camp at the Hosmer Grove Campground due to a few factors, but camping here came highly recommended by numerous friends. We did drive by the campground the following morning, and the sites looked beautiful. They are in an open, grassy area but near the forest of Hosmer Grove.
There are also plenty of Airbnb options near Haleakala. My dad and I stayed in the rural town of Makawao, which was just a quick 15-minute drive to the road to Haleakala's summit. Pukalani is a similar nearby town with Airbnb options. The Pukalani Superette is a great place to pick up ready-made Hawaiian meals to pack for the park. It is an inexpensive little grocery store with tons of local finds as well as a hot food bar with daily specials.
Lodging & Camping near Maui's Kipahulu Coastal Area
The Kipahulu Campground overlooks ocean cliffs and is a short jaunt to the 'Ohe'o Gulch. Since the town of Hana is 10 miles away, where a majority of visitors stay, camping at Kipahulu most likely means you'll be first on the Pipi'wai Trail in the morning.
There isn't any water available in the actual campground but the Visitor Center restrooms, which are walking distance, have drinking water. If you're heading out to the campground and need any last minute necessities, make sure to stop in the town of Hana at the Hana General Store.
Another Maui camping option outside of Haleakala National Park is the Waianapanapa State Park which offers beachfront camping. The car camping/RV sites here book up far in advance though, so advanced reservations are recommended.
Finally, there are some Airbnb options near Kipahulu, but you should book in advance as options are limited.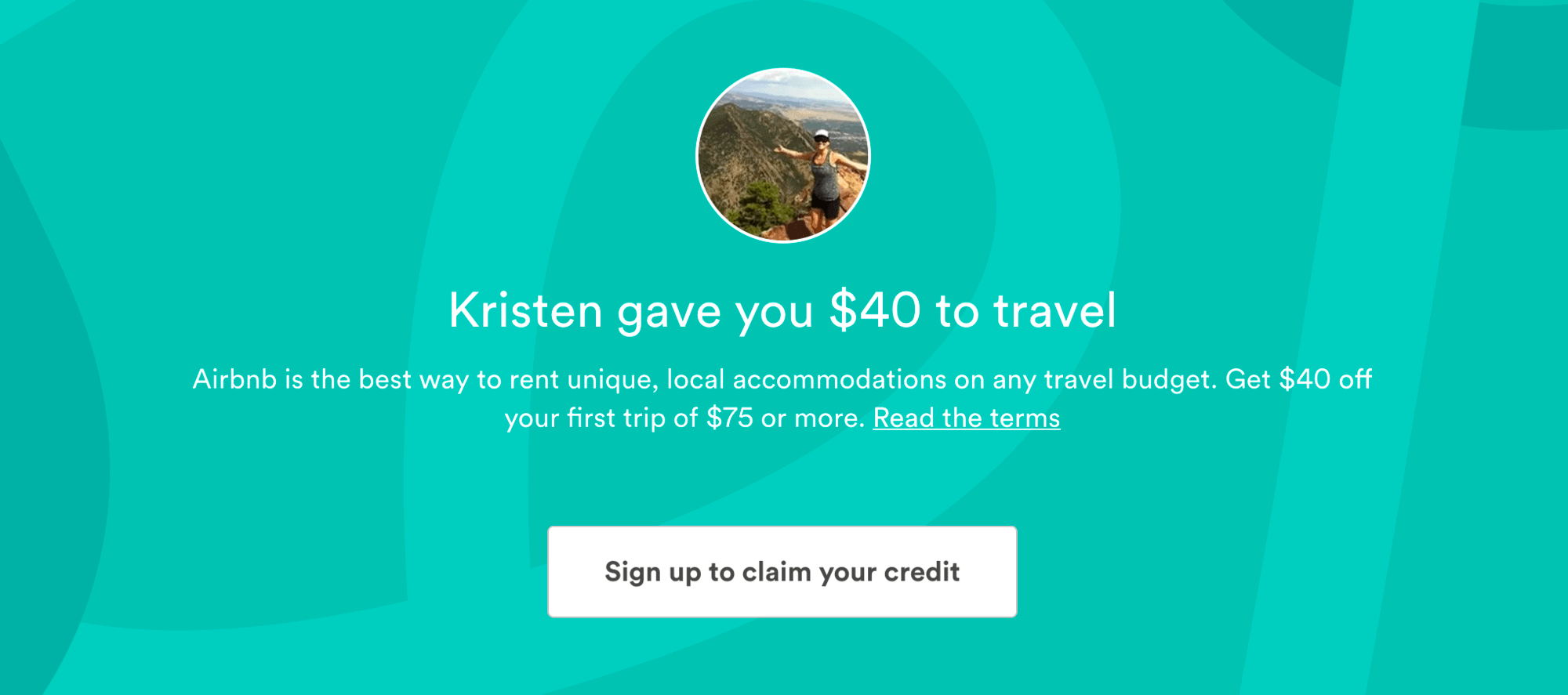 Necessities for Visiting Haleakala National Park
Don't forget your camera equipment! Check out our Guide to Outdoor Photography Gear.
Have you been to Haleakala National Park? What questions do you have about visiting Haleakala National Park? Leave us a comment below or connect with us on Facebook.