Florida National Parks Itinerary
As winter nears and some of us are bundling up for the cold, places like Florida are just about to hit their prime. And did you know?…Florida has three national parks where you can explore Florida's reefs, wildlife, and history? Combined with unique city-life, a 7 day trip in Florida provides a ton of variety. In this post, Bearfoot Theory contributor Kim Vawter shares her ultimate 7-day Florida National Parks Itinerary that takes you to Key Biscayne, the Everglades, and Dry Tortugas. Enjoy and let us know if you have questions in the comments below! -Kristen
by Kim Vawter
Growing up in the Midwest, Florida always meant three things to me: long car ride, DisneyWorld, and beaches in December. This past December I had the opportunity to explore "off the beaten path Florida" and found some incredible spots as well as three uniquely diverse National Parks. Not many people realize that Florida boasts THREE National Parks, most people are just aware of the Everglades. Florida is also home to Dry Tortugas National Park and Key Biscayne National Park. Having visited 28 National Parks, I would argue that these parks are among the best for viewing wildlife–alligators, crocodiles, turtles, birds and even Burmese pythons (I'm not kidding)! Why not check out all that Southern Florida has to offer (other than DisneyWorld) and jet away for a little fun with this Ultimate 7-day Florida National Parks itinerary.
••• Getting To South Florida •••
All of Florida's National Parks are located in the southern portion of the state. Ft. Lauderdale is generally cheaper to fly into than Miami. Miami though, as the sprawling city it is, has lots to offer and is a great hub for starting trips to Everglades National Park and Key Biscayne National Park.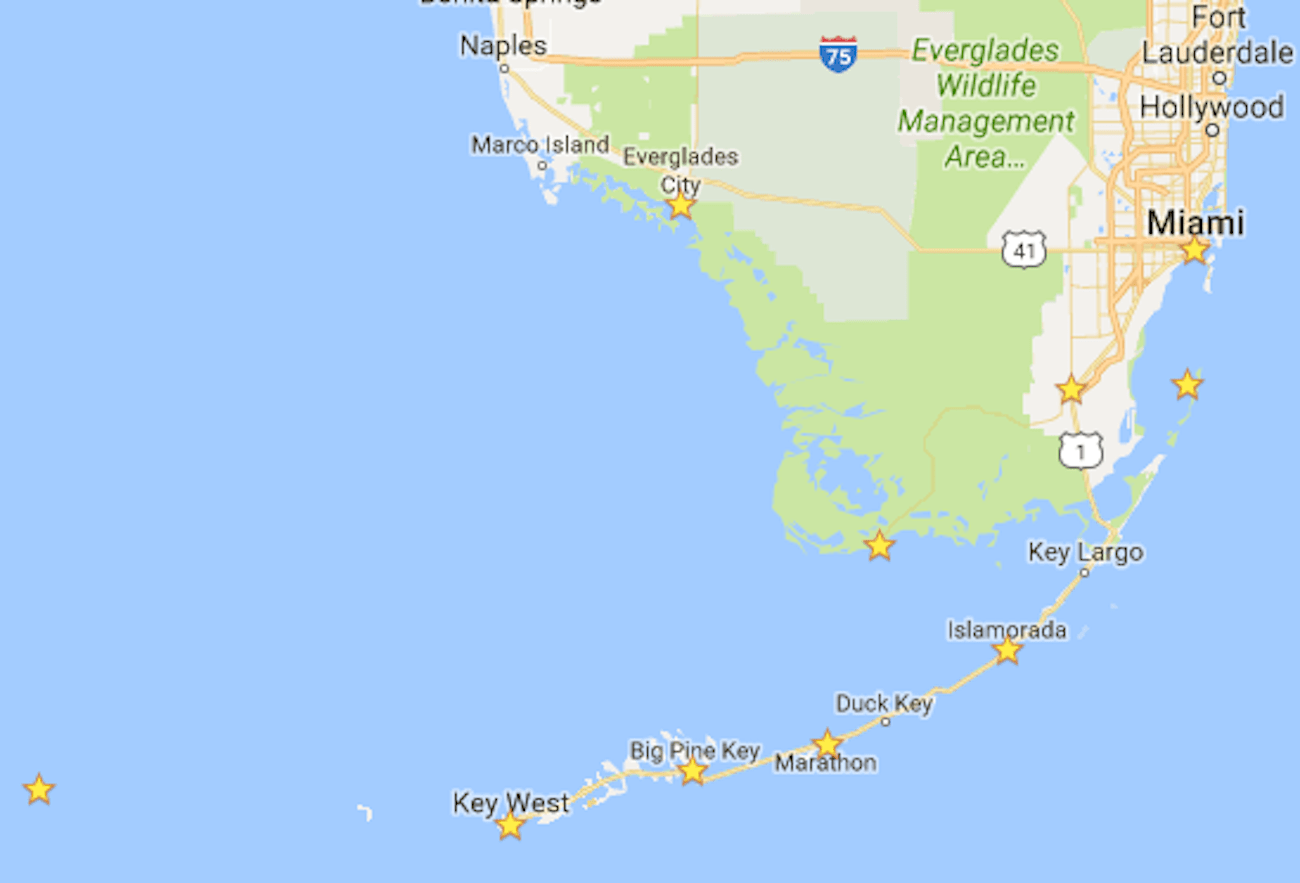 ••• When to Go•••
Florida is a little tricky when it comes to picking the best time to visit. Hurricane season runs from June to November so during summer and fall you can't necessarily predict the weather! Some years they have no hurricanes, other years hurricane warnings seem to be a weekly thing. The best times to visit South Florida are from mid-December to mid-April, unfortunately this is also known as "high season" and often room rates can double. If you're looking for great rates and can bear heat and humidity then visiting between June and August is smart.
••• 7 Day Florida National Parks Itinerary •••
The parks can easily be visited in one week with time to explore a few additional cities and sites. Below is a sample one week itinerary–that could easily be confined to 3-4 days if you only wanted to explore the parks or expanded to 2-3 weeks if you wanted to spend more time camping in the parks or exploring more!
DAY 1: Explore Miami
DAY 2: Travel to Everglades National Park Northern Visitor Centers (Shark Valley & Gulf Coast Visitor Centers)
DAY 3: Visit Key Biscayne National Park (TIP: Homestead, FL is a great place to base yourself for Key Biscayne's visitor center and for quicker access to the Everglades southern-most visitor centers)
 DAY 4: Travel to Everglades National Park Southern Visitor Centers (Ernest Coe & Flamingo)
DAY 5: Explore the Keys and reach the crown jewel of the keys, Key West
DAY 6: Visit Dry Tortugas National Park
**Read Next: How to Save Money in National Parks**
••• The Cities •••
— Miami, FL —
"Welcome to Miami", trust me you'll be singing Will Smith for at least your first few hours in the city. Miami is a sprawling city with lots to see and a million websites to offer recommendations on what to do. I recommend these TWO awesome local spots: Wynwood walls & Domino Park in Little Havana. Wynwood, a neighborhood of Miami, is the newest "up and coming" area filled with art galleries, restaurants, breweries and unique clothing shops—a great place to walk a few blocks and enjoy some culture. Need more culture? Little Havana will not disappoint. If you hit the area, make sure to grab a scoop of ice cream at the local ice cream shop, Azucar. Don't get trapped in the city though—the parks are waiting, let's head south!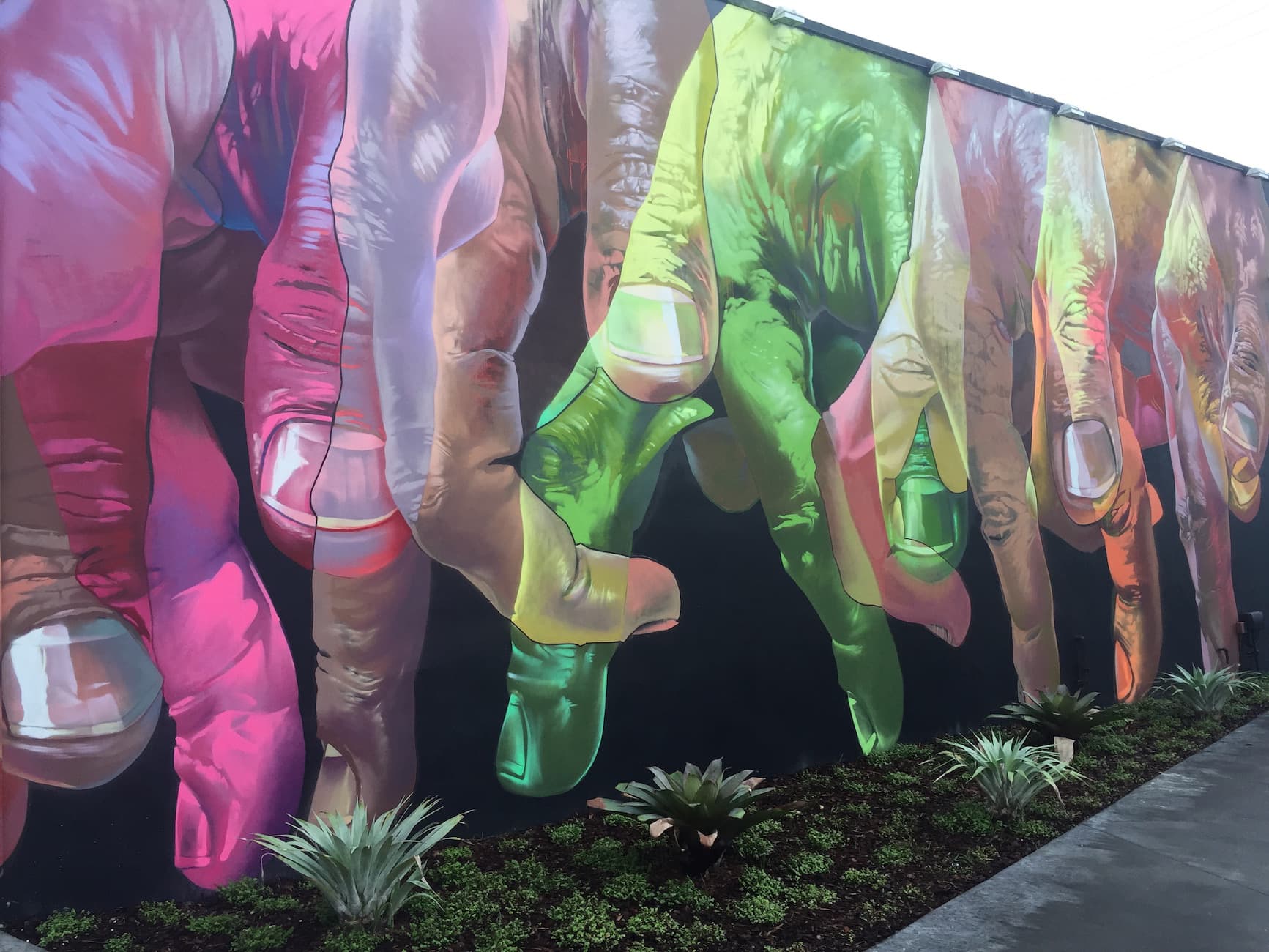 Miami is strong on culture–music, food, art, clothing–you name it they have it going on.
— Homestead, FL —
Homestead, FL is just an hour south of Miami and will forever give me a special twinkle in my eyes if it isn't just for the two rival fruit stands, Robert is Here and Knaus Berry Farm. How can you honestly determine which fruit stand has the best milkshakes if you don't visit both? I'll let you pick the winner but trust me, you want to judge both! Oh, did I mention that Knaus also has absolutely incredible cinnamon rolls that are a must-must-must! The line for the cinnamon rolls on the weekends goes down the road so make sure to go on a weekday or get there early—and bring a chair to sit in line–I'm serious! Ohhh and while were talking food, definitely stop by and try some mofongo, a Puerto Rican plantain dish, at the restaurant, Chefs on the Run. Another advantage to Homestead is that it offers lodging options that are significantly cheaper than Miami, FL. If you're a little "laid back" and looking to save, I highly recommend the Everglades Hostel in Homestead.
–The Florida Keys —
The Florida Keys— Key Largo, Islamorada, Marathon, Big Pine Key, Lower Keys, and the crown jewel–Key West. There is a lot to see and do in the Keys, and these are my top recommendations as your cruise south.
— Islamorada —
Florida Keys Brewing Company, hidden off the main road. An awesome local hang-out with great beer and mellow vibes.
Up for some more brews? We were! Islamorada Beer Company is right on the Overseas HWY, check them as well for a little tasting afternoon!
— Marathon —
 Turtle Hospital, tours offered daily 9am-4pm on the hour, reservations are highly recommended
7 mile bridge is coming up after Marathon…get excited for water vistas out both windows!

Don't miss these beauties and an opportunity to support the Marathon Turtle Hospital. Make sure to check their calendar of "Turtle Releases" to see if you are visiting when they are releasing a turtle back to the wild
— Big Pine Key —
 No Name Pub, just go–it's fun. I wasn't a big fan of the food but honestly every local will recommend this dive bar/restaurant.
Stand Up Paddleboard Yoga with Serenity Eco Therapy
— Key West —
Coming into outer Key West don't miss Baby's Coffee–they are super funky and have a cute little market with awesome finds for beach picnics and roadtrips–definitely worth the stop for a caffeine pick-me-up and more!
 Ernest Hemingway House…you've heard of the famous 6 toed cats, right? It isn't a joke! They are real and EVERYWHERE! A tour of the house is included in the price of admission, don't miss out on the most visited house (besides Mickey's house) in Florida.
 Yoga on the Beach–yes, on the beach. Looking out towards curling ocean waves with ocean breezes all around, it's definitely a must on the list for any yogis!
 Truman Little White House, just taking a walk thru this gated community is a must-do.
**Hitting the Road Solo? Check out the Ultimate Guide to Planning your first Solo Road Trip**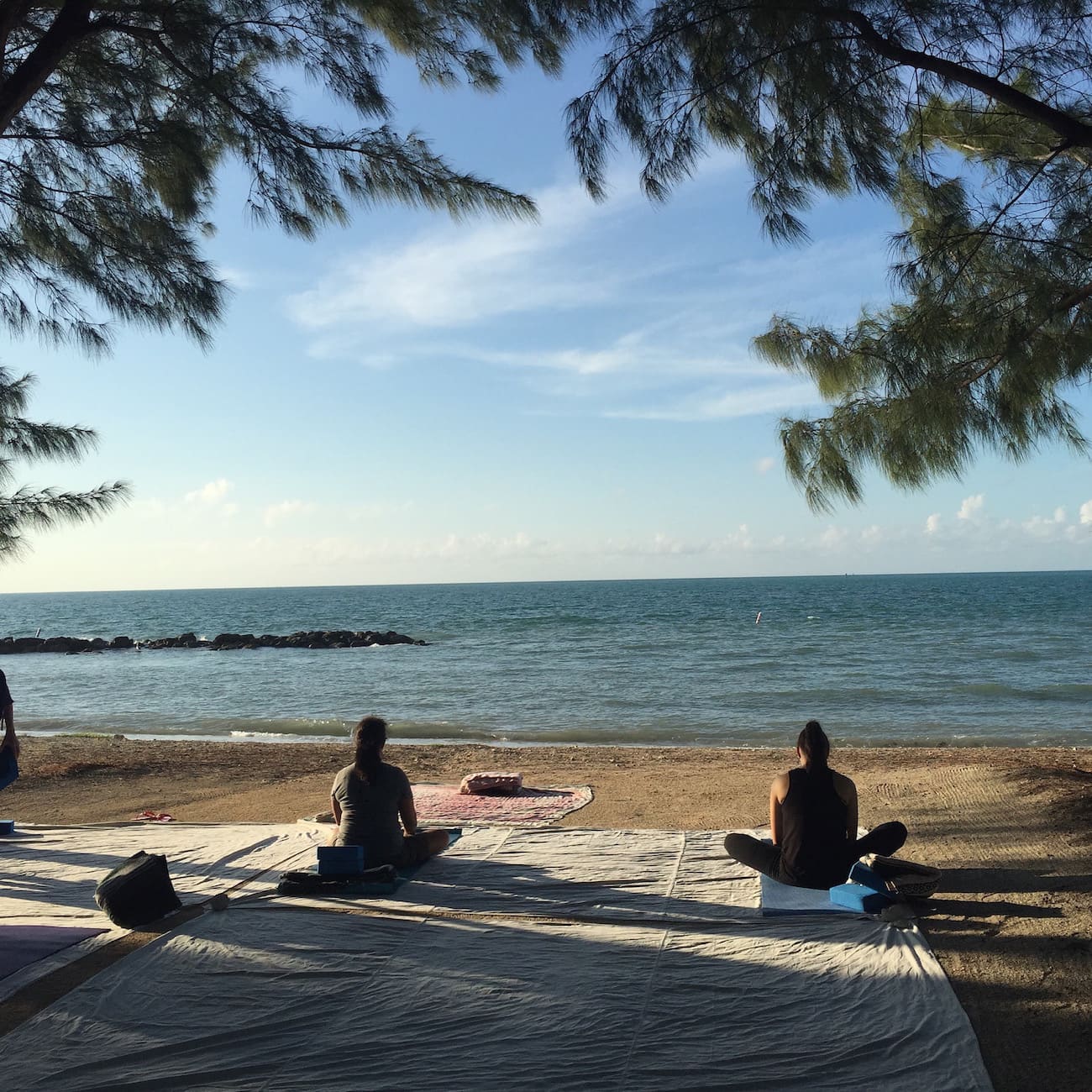 This is a vacation after all, right? Key West has all sorts of ways to truly kick back, relax and live on island time!
••• Florida's National Parks •••
— Key Biscayne National Park —
Outside of Alaska's northern parks and the American Samoas, I would argue that Key Biscayne is one of the hardest National Parks to get out to and experience. 95% of the park is water and when I visited in December 2015, there was no park concessionaire so accessing the water or islands required a private boat. We spent some time exploring the Dante Fascell Visitor Center, catching a video introduction to the park and walking the short boardwalk that starts from the center. As of Fall 2016, the Key Biscayne National Park website offers two options for getting on and in the water–half day guided boat tours and full day sailing tours. By the way, did I mention that Key Biscayne National Park boasts one of the largest coral reefs in the world—I know, right? I had no idea the US could make that claim! Go, go, go–and let me know how it is! I will definitely be back to Key Biscayne in the future and hope to camp on either Boca Chita Key or Elliot Key, which both offer first come- first serve camping but are only accessible by private boat.
Be ready for some fun in the sun:
— Everglades National Park —
The Everglades are HUGE, and the park is large enough to have four visitor centers! I insisted on visiting all four of them to see each of their different offerings. To see such a large sampling of the park's diversity, we divided the park in half and took two days. The drive from Miami across the park to Everglades City, where the Gulf Coast Visitor Center is located is 84 miles. I recommend making this drive in one day, stopping along the way and then staying near the Gulf Coast for the evening. The next morning you can then drive out and head south to visit the two other visitor centers. From the Gulf Coast Visitor Center on the far western edge of the park, you have to drive back east to access the southern portions of the park by car. Keep in mind that while traveling many of the park roads between the visitor centers you won't find an overabundance of lodging and food options so plan ahead and pack snacks to get you from point A to point B! Here's how we divided our two days in the park into a "northern day" and a "southern day"
–Northern Day: Shark Valley Visitor Center & Gulf Coast Visitor Center–
Shark Valley visitor center offers a tram tour with a guide and gives you a great starting point to learn about the park. This was the only guided activity we went on inside the park–it didn't disappoint and gave us an opportunity to ask lots of questions about the park. You can also rent bikes and bike the same 15 mile long-road. I definitely recommend getting out of your car and exploring this area by foot, bike or tram. This is also the only way to access the 65-foot Shark Valley Observation Tower which gives you incredible 360 views of the park! If you are planning to explore the 10,000 Islands protected wilderness of the Everglades, then the Gulf Coast Visitor Center will be your starting off point.  You can also grab a boat tour here from Everglades National Park Boat Tours, an authorized concessionaire of the National Park Service, to explore the 10,000 Islands area. Between the two visitor centers are a few must stops, I've listed them in order from east to west as you travel along US-41 S to the Gulf Coast:
Airboat Ride–it is important to note that on most of the nearly 2,400 square miles of Everglades National park airboats are prohibited. On US-41 traveling from Miami to Naples you will pass numerous airboat operators, only a few of them actually travel on National Parks lands. Many of the locals recommended Cooperstown Airboats.
Loop Road Scenic Drive–this road is all about enjoying the journey and not the destination, trust me, take the time to take this 24-mile drive that passes through a cypress swamp. Make sure to grab the "Loop Road Scenic Drive" pamphlet at one of the visitor centers.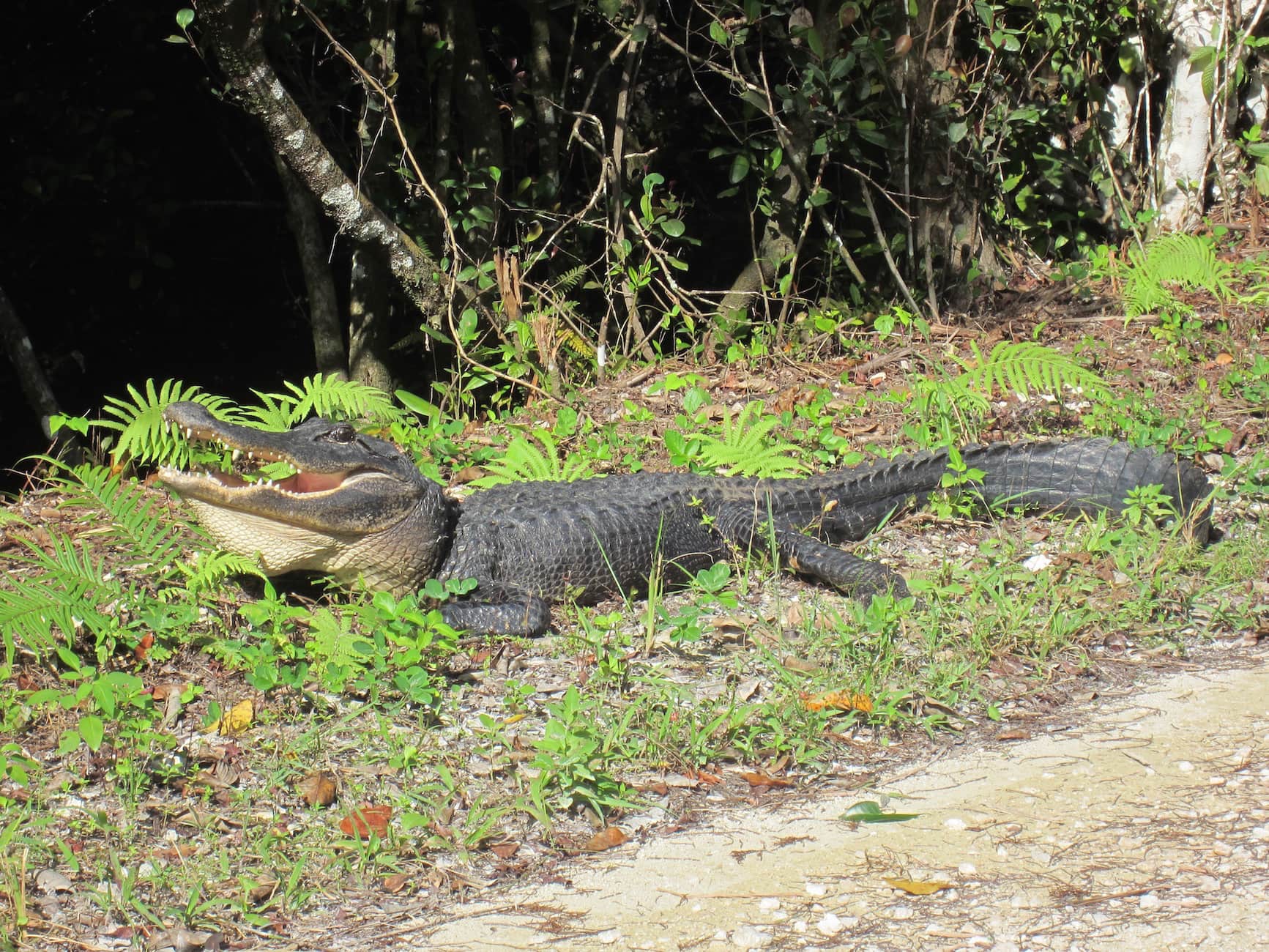 Make sure to travel the road slowly—you don't want to miss the roadside attractions!
Clyde Butcher's photography gallery—Clyde has been creating photographs of untouched wilderness areas for over 50 years. Insider tip: Be careful where you park, we literally parked and got out of the car to find a gator less than 20 feet from us!
Oasis Visitor Center—this is one of the BEST places to view gators. Literally, they are everywhere, here and there, and there is a great boardwalk around the lagoon to view them lounging around! 
Looking for lodging before making the drive all the way back to the Miami-area? Chokoloskee is an island located off the Gulf Coast that is nestled in the 10,000 Islands and Everglades National Park and boasts numerous housing options. Chokoloskee also offers camping & food options.
–Southern Day: Ernest Coe Visitor Center & Flamingo Visitor Center–
You might think after one day in the Everglades you've seen enough alligators for one vacation but you most likely haven't seen a manatee yet nor a crocodile! The southern section of the Everglades where freshwater and saltwater meet one another is definitely worth a stop. If seeing a manatee is a must for you then the Flamingo Visitor Center is right where you should head. Flamingo is the southernmost point in mainland Florida and many boat tours also start from this visitor center. Currently all lodging facilities in Flamingo are closed due to Hurricane Wilma and Hurricane Katrina but there are numerous camping options on this side of the park. This is also the only place in the park you can enjoy freshwater and saltwater sport fishing! Need to get out of the car a bit? Driving from the Ernest Coe Visitor Center to Flamingo I highly recommend stopping to walk the one mile Anhinga Trail, the half-mile Gumbo Limbo Trail, and the half-mile Mahogany Hammock Trail.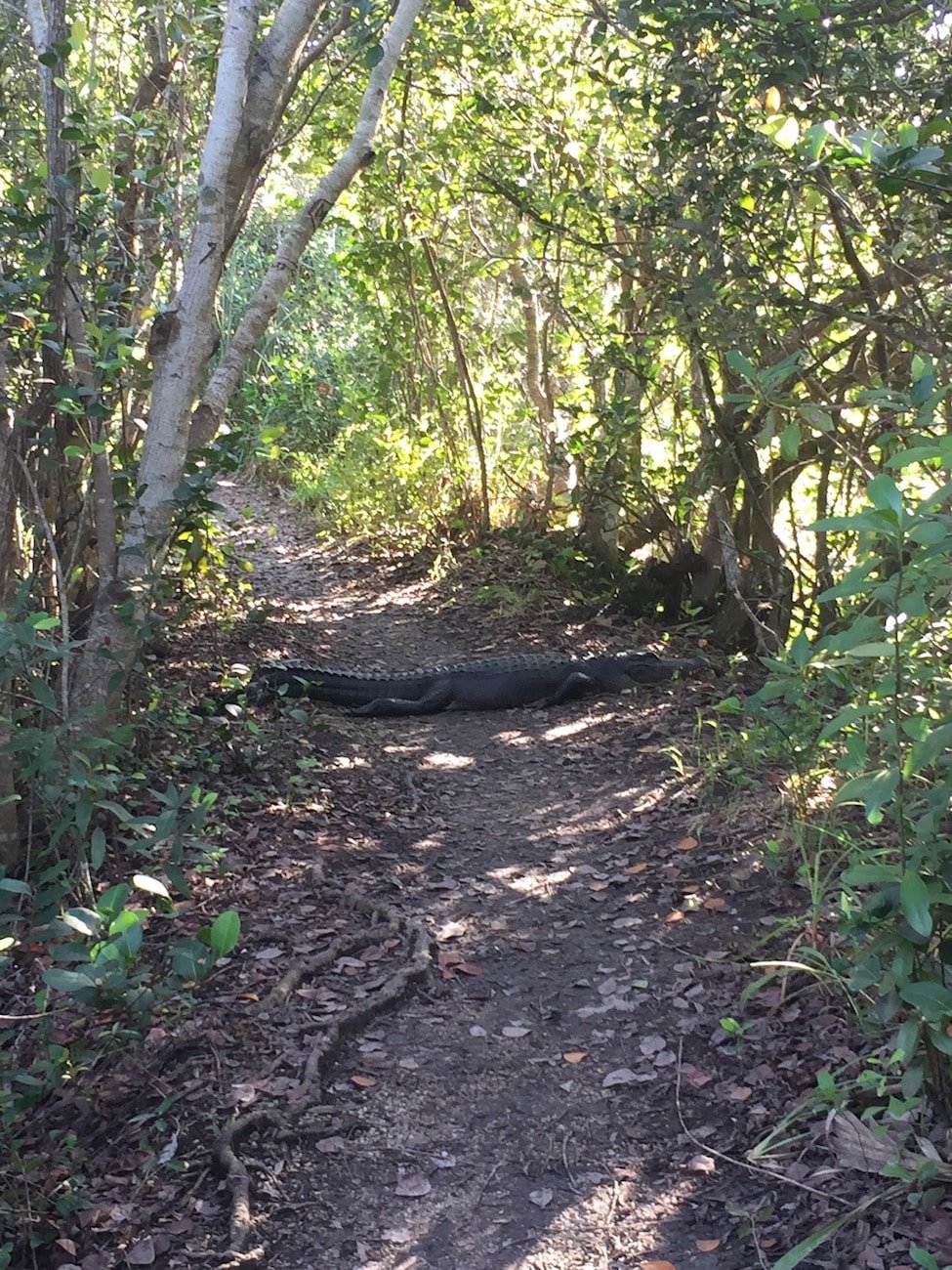 Keep it safe! Be alert when hiking in Everglades National park. Keep your head up to watch for wildlife…that you might not want to get too close to. Unfortunately we didn't complete the Anhinga Trail due to the "trail block" shown above.
** Read More: Hiking 101 Tips for Beginners **
— Dry Tortugas National Park —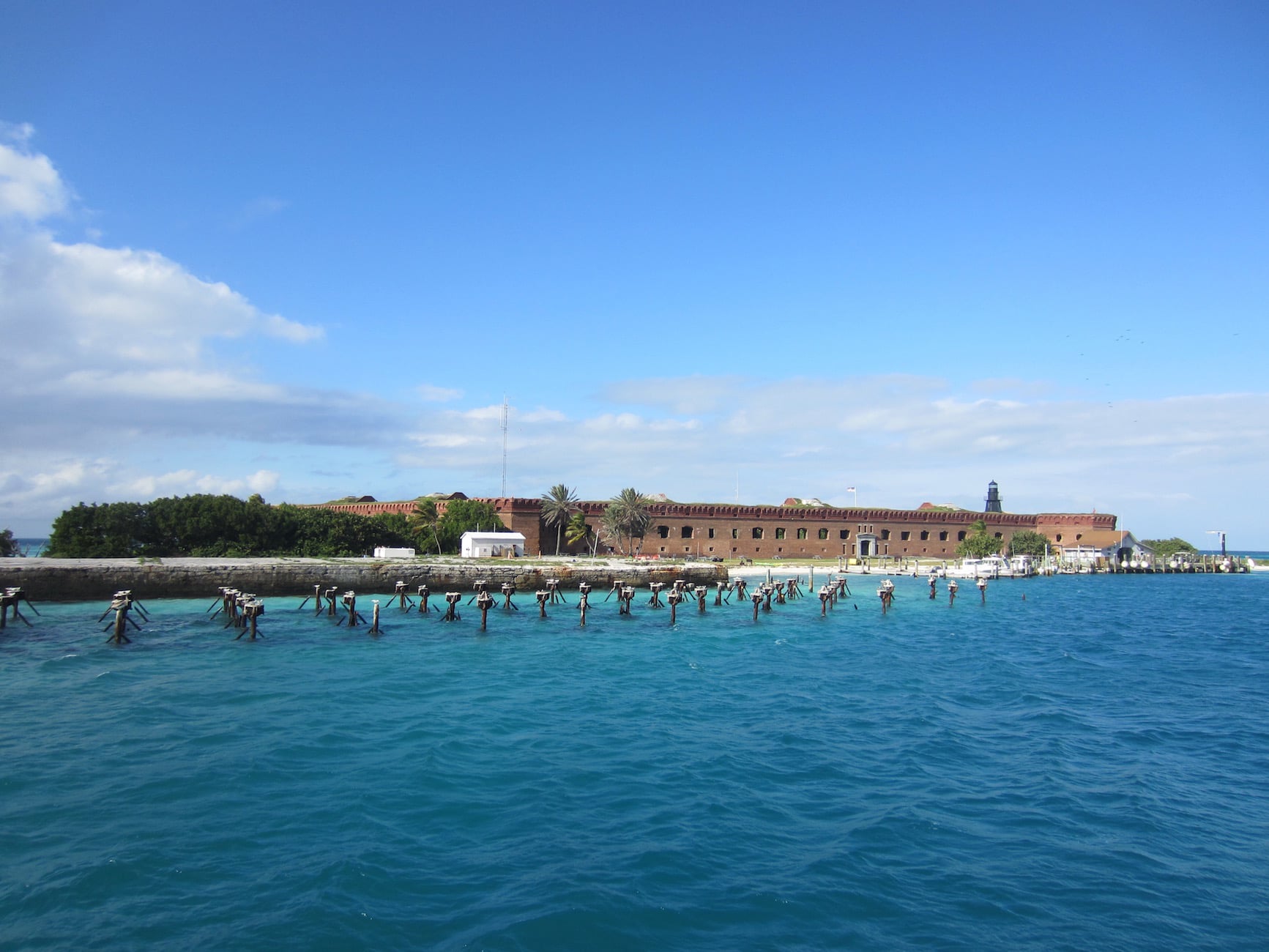 An island oasis surrounded by rich marine life and incredible history.
While in Key West it is definitely a "tourist must-stop" to snap a photo at the zero mile marker of US-1, marking the southernmost point in the continental US. What most people don't realize though is that you can actually travel even farther south and still be on US soil! Introducing…Dry Tortugas National Park! Dry Tortugas is the southernmost National Park in the parks system and it is on my top 5 list for US National Parks. It lies 70 miles west of Key West and can only be reached by ferry, private boat, charter boat or seaplane. Dry Tortugas is a few things—it is a collection of seven keys, home to a 19th century fort, rich in history and abundant sea life and absolutely stunning with crystal clear waters on all sides. You might have thought Key Biscayne was all water, well less than 1% of Dry Tortugas National Park is on dry ground—but trust me you don't want to miss Fort Jefferson. Seriously, check out the photos of this place. Plus, Dry Tortugas offered some of the most interesting ranger guided talks and tour I've ever had in a National Park. The island moat and Fort Jefferson guided walks are equally impressive! My biggest regret during my week in Florida was not camping at Dry Tortugas–I highly recommend considering camping at Garden Key so you can explore longer!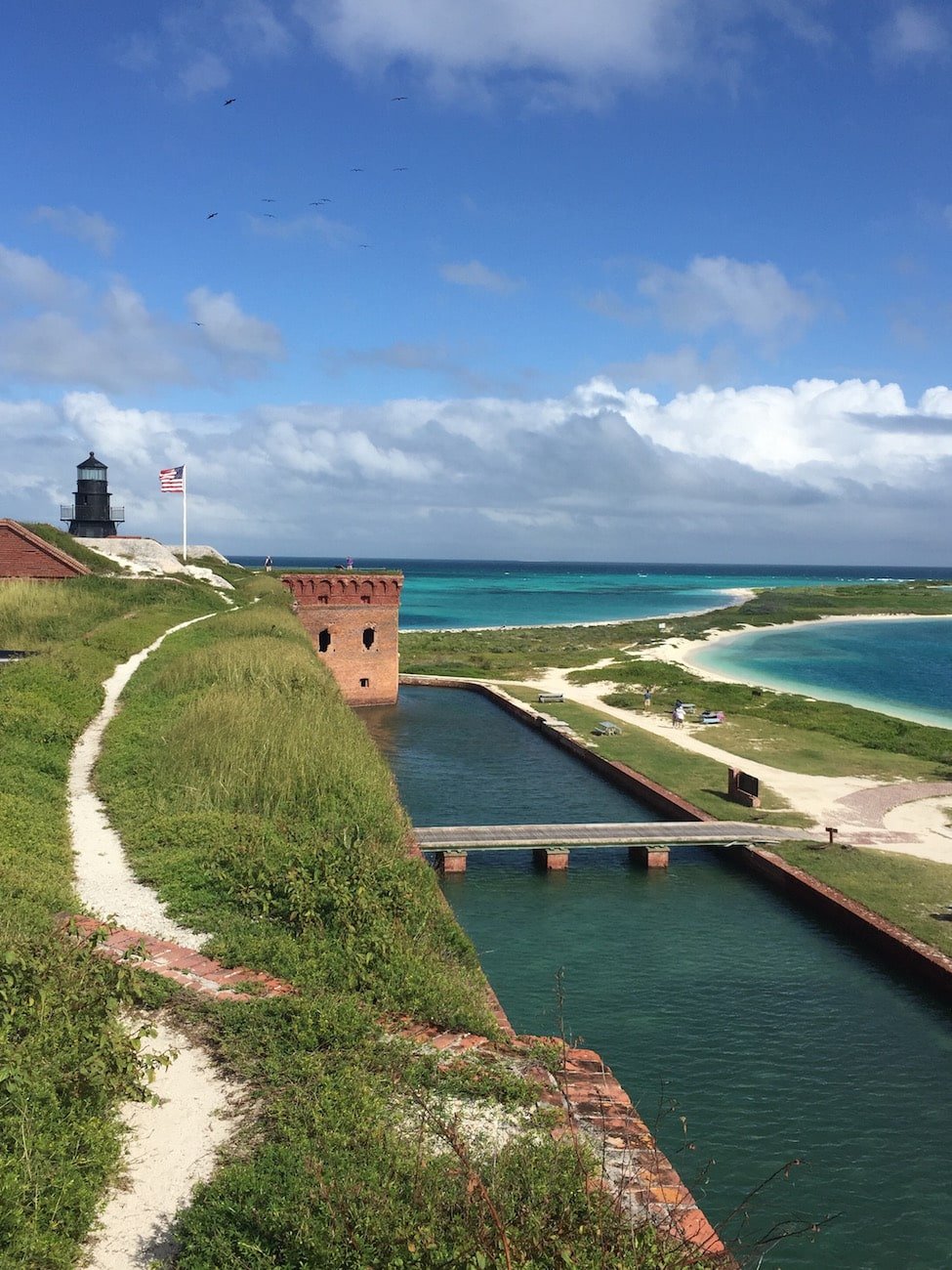 A walk around the top of the fort offers not only an incredible opportunity to reflect on your vacation but also mesmerizing 360 degree views of the ocean.
WHAT SPOTS DID WE MISS? GOT QUESTIONS? LEAVE A COMMENT BELOW, TWEET ME, OR WRITE ME A POST ON FACEBOOK.