MUD SEASON: 5 COLORADO SPRING HIKES IN THE FRONT RANGE
This post is written by Bearfoot Theory contributor Ben Thomas
Springtime in Colorado often goes by another name: Mud Season. It's my least favorite time of year. By May, I'm tired of snow, so corn skiing is out, but the mountains are still choked with snowpack. Hiking would be closer to a lesson in posthole humiliation than walking.
Luckily, I spent the milder parts of winter looking for new areas to tie me over through May and into June. While the mountains are still thawing out and turning from mud traps to fun traps, these Front Range locations should be green and dry. This is a rare time of year where the foothills are more picturesque than the high mountains, thanks to green grass, warm-but-not-hot temperatures, and dry trails. Obviously, since we are dealing with Colorado, there is always a risk of rain or even snow, but by the first weekend of June, when the fourteeners are still better suited for sledding than peak-bagging, give these trips a shot. And if you're looking for quick escapes on the Front Range before or after work, these will be right up your alley.
Get outside this spring on these 5 Colorado Front Range Mud Season Trails.
Dawson Butte, Douglas County Open Space, Larkspur
Dawson Butte was a lucky find one day when my wife and I were exploring somewhere new. While you can't summit the namesake butte due to property lines, the five mile loop trail that winds around the surrounding woods and meadows is a perfect trail-run destination. In spring, the meadow should be lush and green with the wetlands full of wildlife and wildflowers. The loop has enough elevation gain to make you feel accomplished or to use as training for bigger trail-runs without being overwhelmingly difficult to tackle.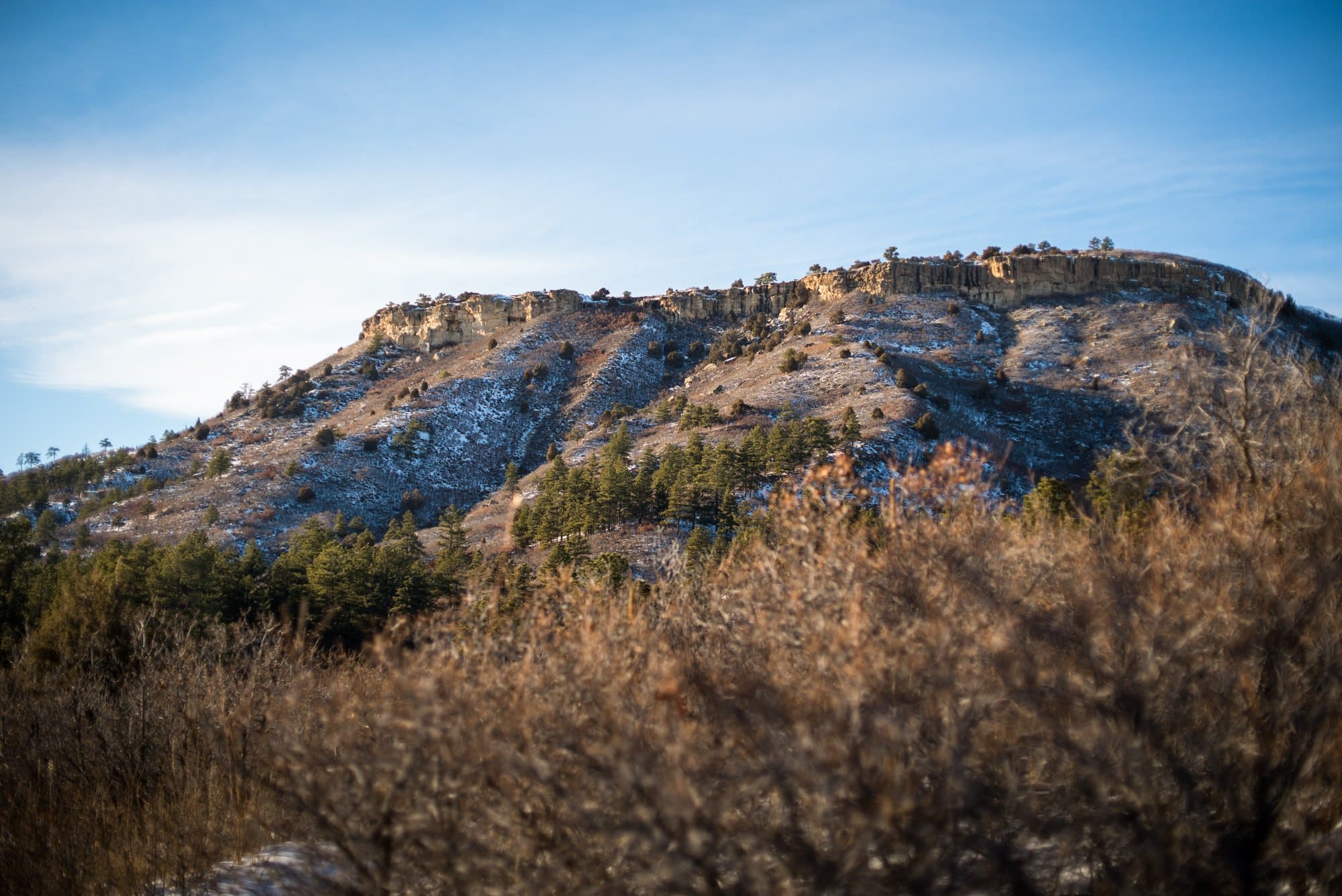 Carpenter Peak/South Rim Trails, Roxborough State Park, Littleton
Roxborough is a family favorite Colorado Spring hike for us (if you head out this way, you'll likely run into my dad volunteering at the park. It's one of his favorite places on earth, and with good reason). I've been out to this park dozens of times and I'm still impressed by its beauty each and every visit. The dramatic cliffs of the Fountain and Morrison formations are the backbone of this park. For the best views of the rocks, combine the Fountain Valley Loop and South Rim Trail into a five mile tour of Colorado uplift. If you'd rather have a peak to tackle, Carpenter Peak is a 6.4 miles round trip and gives you views out over the formations to the plains all the way past downtown Denver to DIA on a clear day.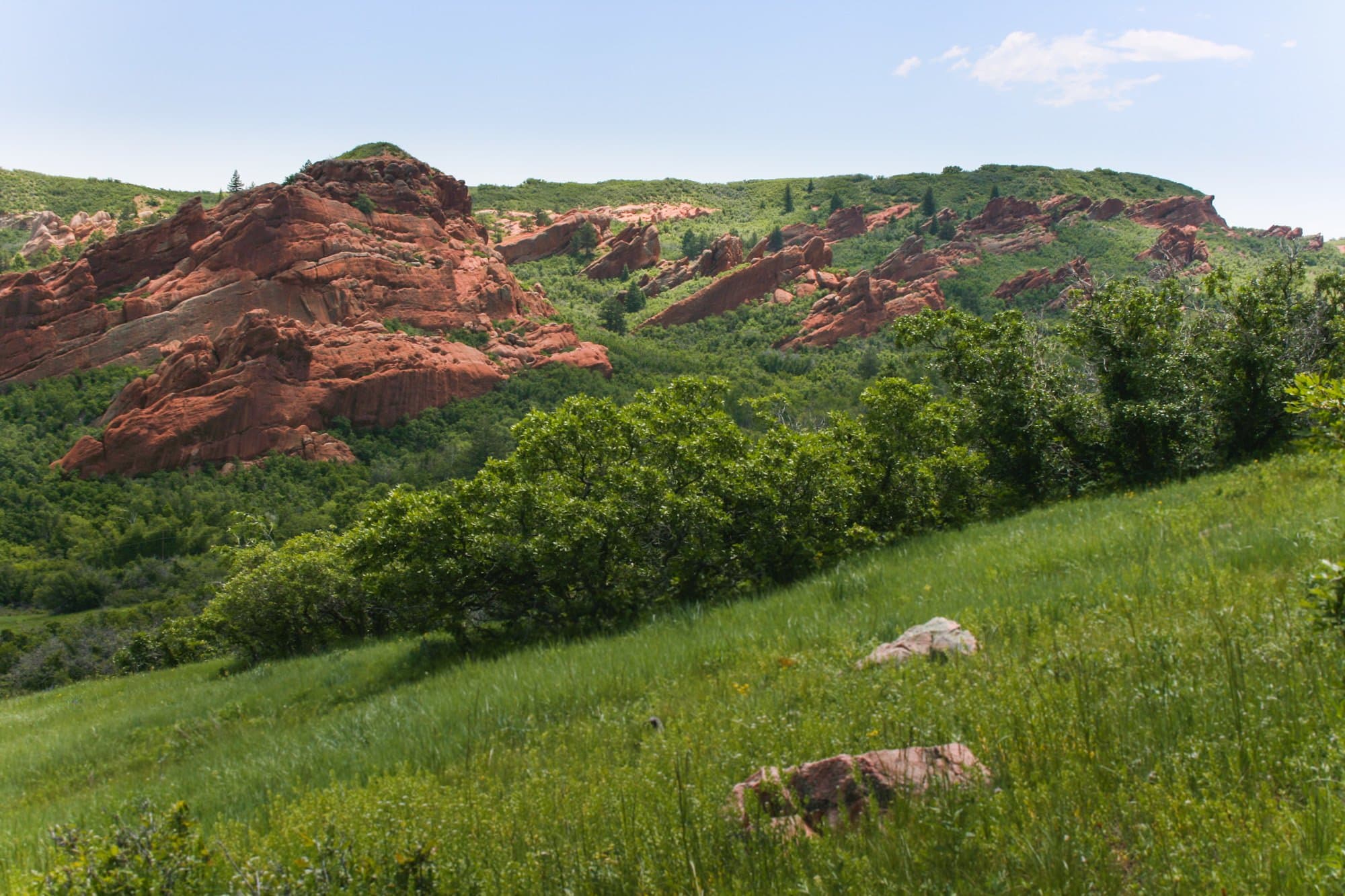 Paint Mines Open Space, Calhan, East of Colorado Springs
Heading further south and out onto the Eastern Plains is Paint Mines Open Space. East of Colorado Springs on Highway 24, these clay cliffs are the mini-Badlands of Colorado, offering a different landscape to the other Colorado spring hikes in this blog post. With miles of trails and loops, starting or ending in the hyper-real colored hoodoos, head down to this open space if you want a taste of the surreal. My suggestion would be to start going clockwise on the biggest loop, taking in the plains and grasslands in their lush, green springtime glory and ending at the pink and orange bluffs and hoodoos. Paint Mines isn't the biggest area to explore, but it might be one of the most unique on the Front Range.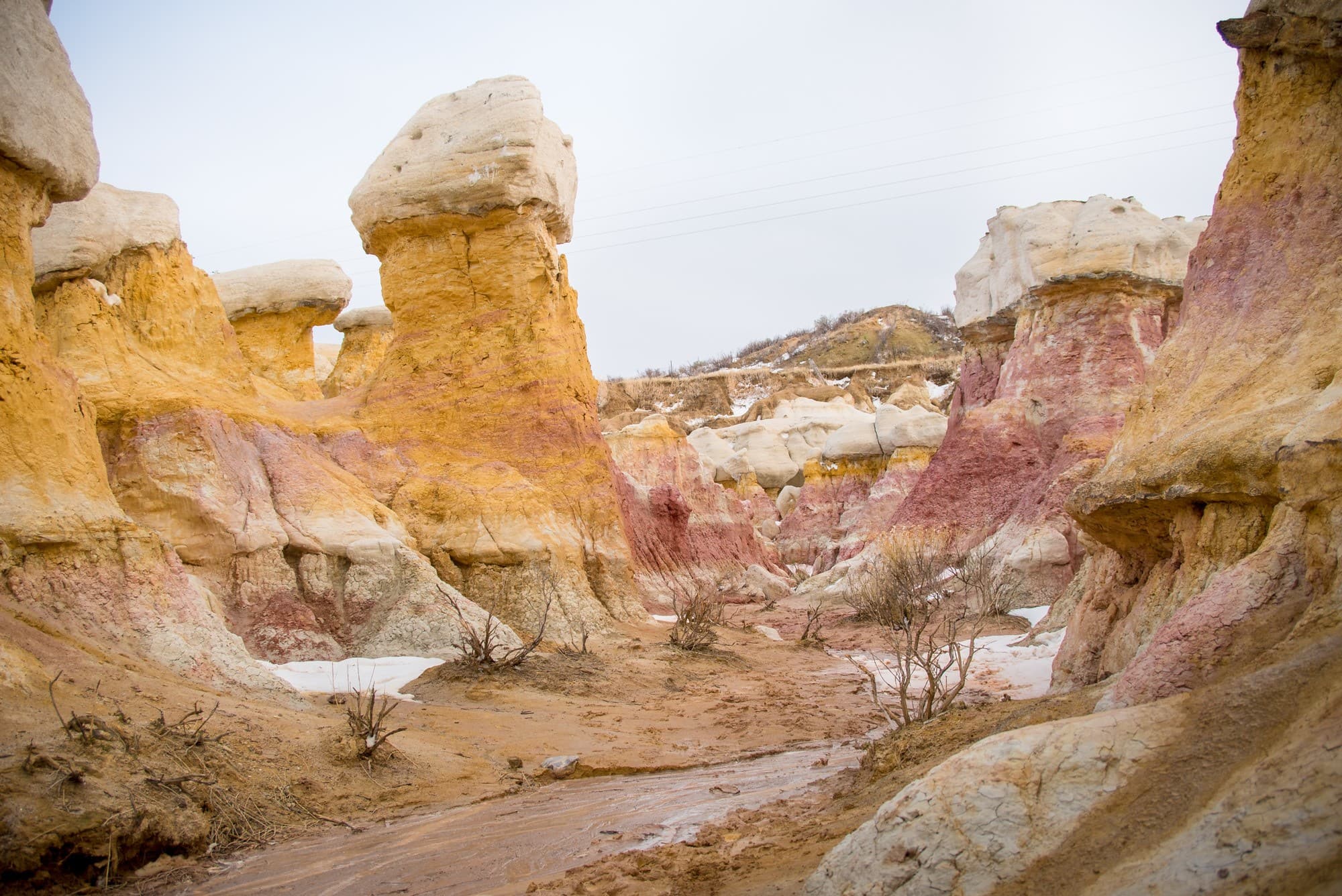 Skyline Traverse, Boulder
If you are looking for some solid fourteener training or you want to feel like an endurance athlete for a day, tackling Boulder's skyline traverse is a worthy challenge. Compromised of South Boulder Peak, Bear Peak, Green Mountain, Flagstaff Mountain, and Mount Sanitas, this 17-mile, 6,300 feet of vertical challenge is not for the faint of heart. But if you are jonesing for a big Colorado spring hiking fix, this will certainly do it. Make sure to bring plenty of food and water and maybe even something to treat water with for refills. In spring and early summer the creeks should be flowing enough that you can fill up at crossings between peaks. If you aren't training or just want a mellower hike to take on, any peak can be tackled on its own or linked up in a shorter sequence. In particular, Green Mountain on its own is a great 6 mile round-trip hike that starts from the main Chautauqua parking area and acts as a great post-winter tune-up.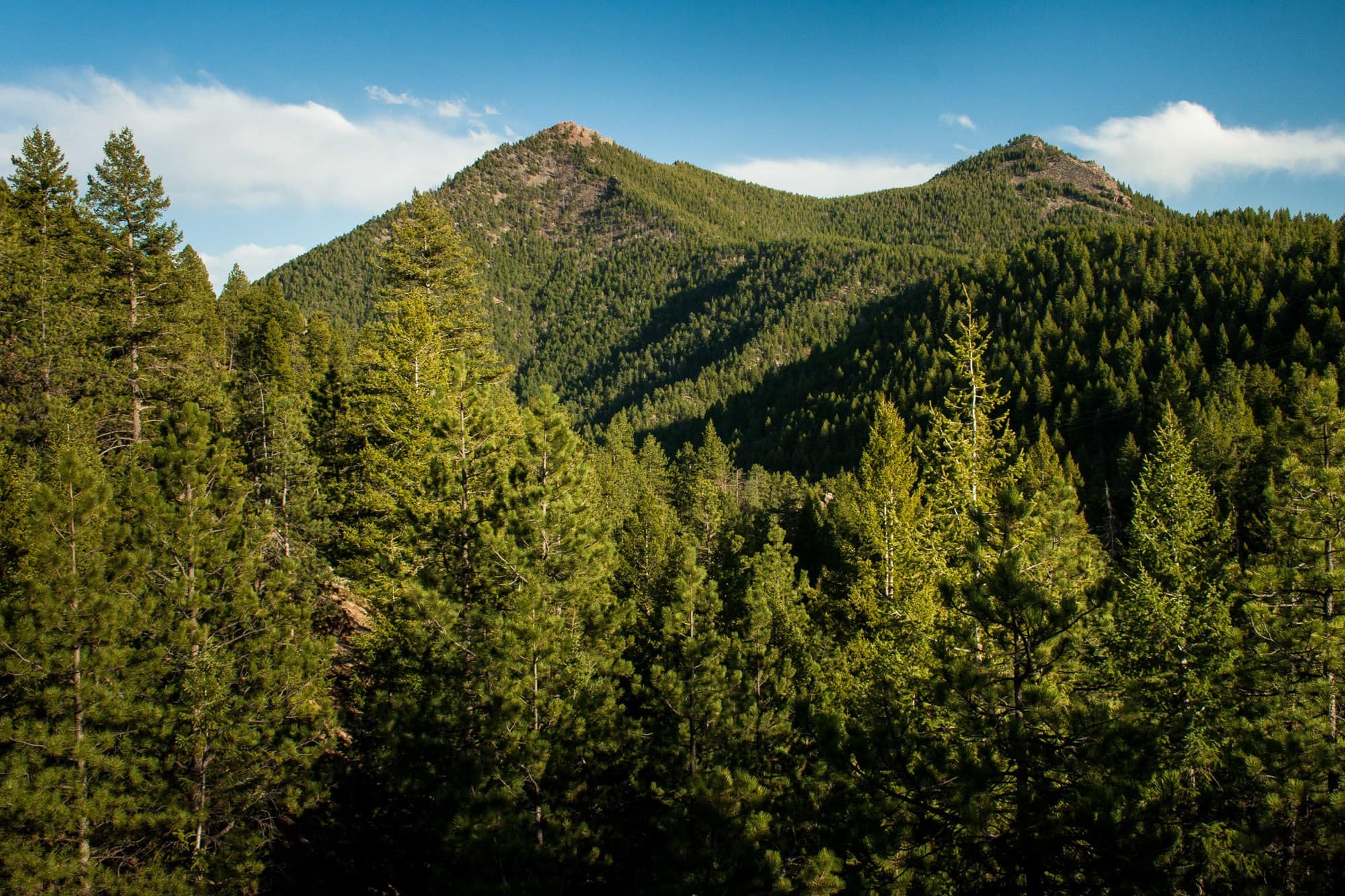 Chief Mountain, Highway 103, outside Idaho Springs
Chief Mountain is a quick, but effective Colorado spring hike. While the higher peaks might still be post-hole hell, Chief Mountain tops out at 11,709 feet and the snow clears earlier thanks to its relatively lower elevation. With the summit peeking out above treeline, you get massive, close-up views of Mount Evans (one of the three fourteeners visible from Denver) and a little taste of hiking at altitude. Using Chief as another tune-up before fourteener season is a great way to see how you'll do at real altitude without pushing yourself too far. The trail covers about 1,000 feet in two miles, but does so with great switchbacks. Chief also makes for a great first mountain to climb for visiting friends and family. Like any Rocky Mountain hike, take plenty of food, water, and layers and keep an eye on how everyone is feeling with the altitude.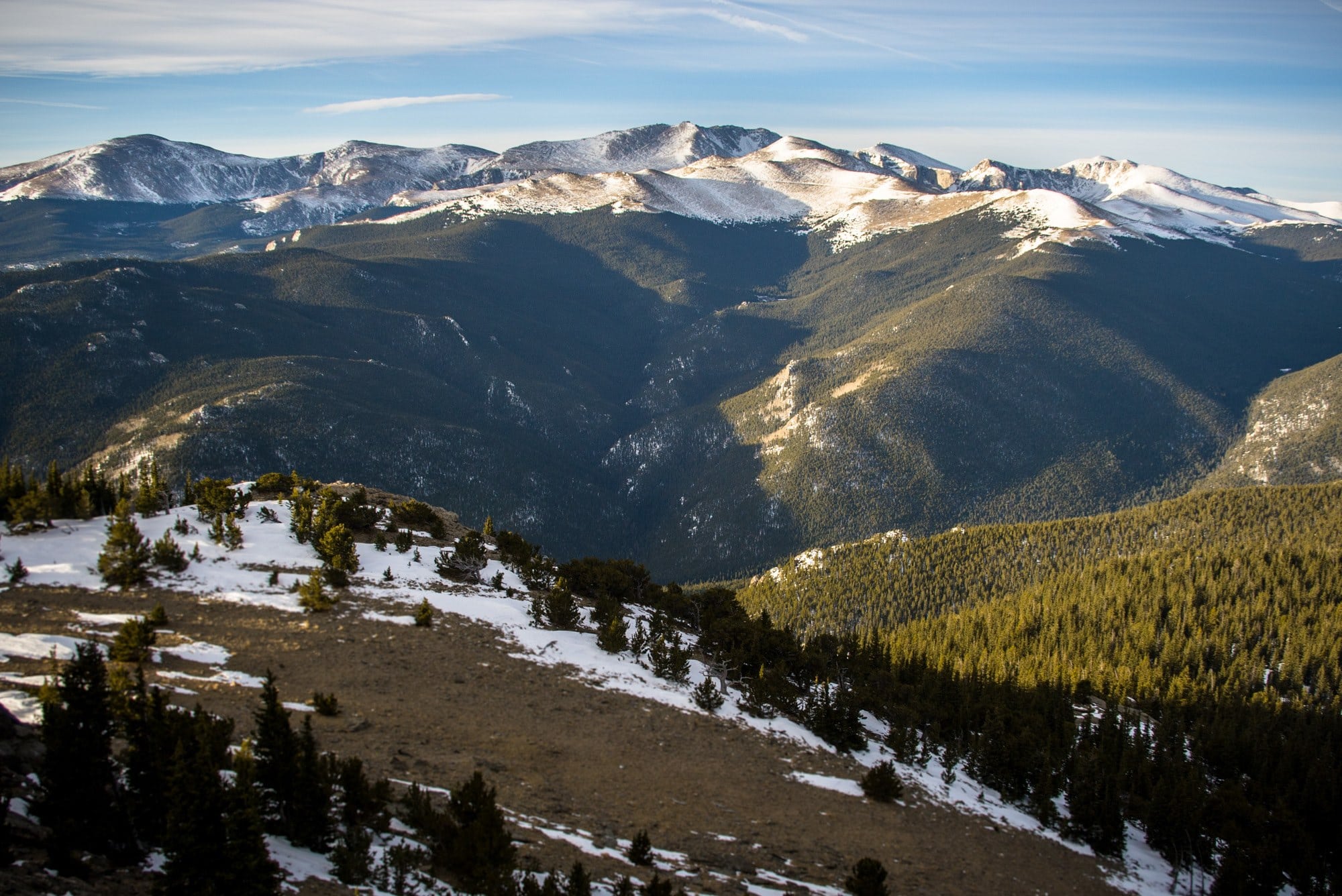 Hopefully, these Colorado spring hikes will tie you over until the weekends will be full with high-country adventures once again. If you have any other suggestions, feel free to let us know in the comments!