Best Stanley Camp Cookware for Camping & Van Life
Durable, practical items for campers, van lifers, and road trippers that will last a lifetime of adventures.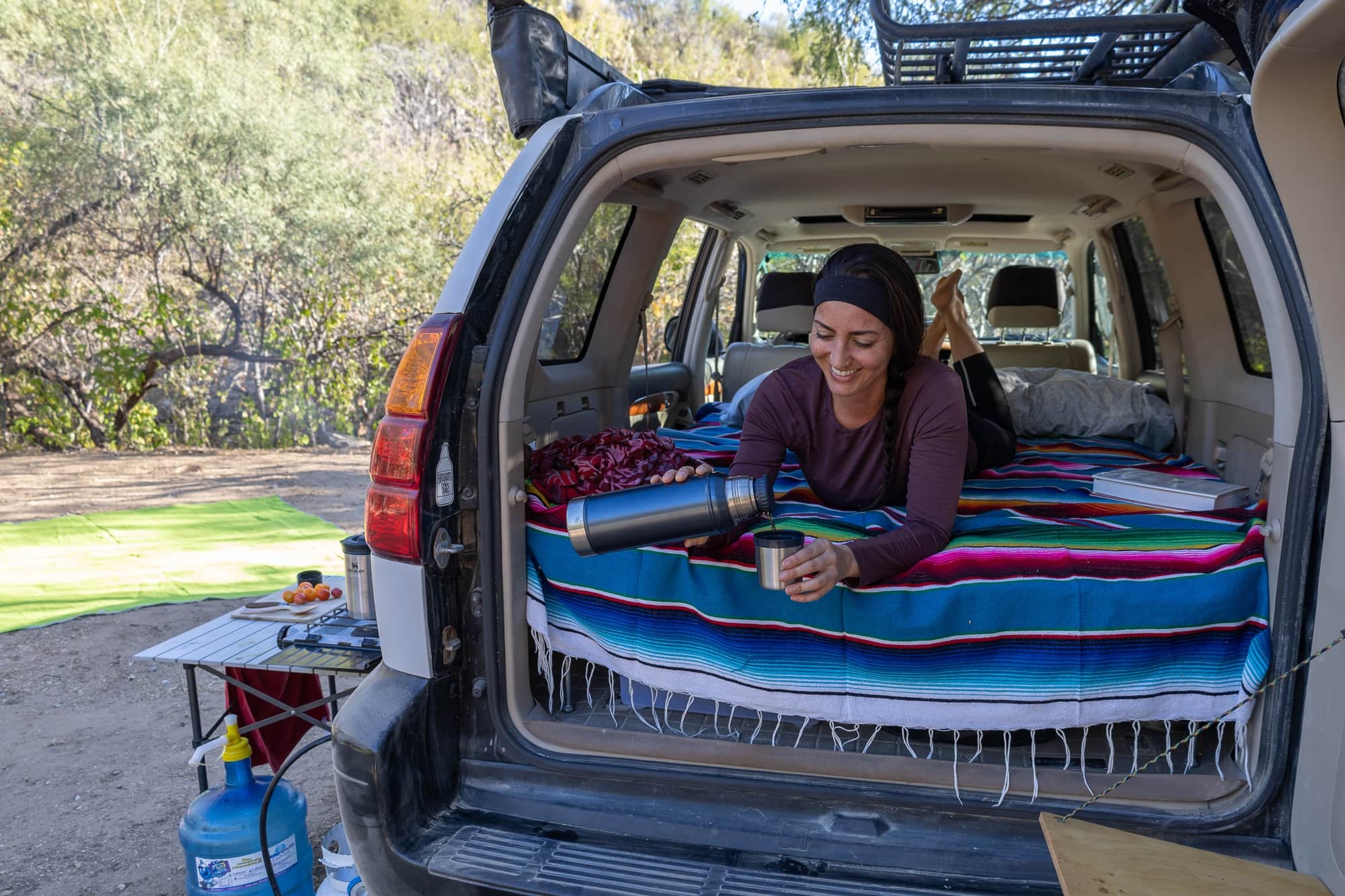 If you're looking for gift ideas for the campers, van lifers, and road trippers in your life or are shopping for durable products for your own adventures, this guide to the best Stanley camp cookware and drinkware items will make choosing easy.
Stanley's products are all super durable, high quality, and long lasting. My first Stanley product was an old, classic thermos that my dad passed down to me more than a decade ago. My partner and I would fill it with hot tea (let's be honest, sometimes hot toddys) and take it to the cliffs overlooking the ocean in California where we'd sit bundled up, sipping on hot drinks and watching the sunset.
I recently got to test out some of Stanley's camp cookware and drinkware and it was easy to see that the same quality and craftsmanship that was behind their products 15 years ago is still there today. Stanley's products are more than long-lasting and reusable – they are purposely designed to never need to be thrown away or replaced. They can be passed down for generations, like my first Stanley thermos (the Legendary Bottle below) was to me.
Here are our favorite drinkware and camp cookware pieces from Stanley that are durable and long lasting for camping, van life, and all your adventures.

Camp Cookware for Campers & Van Lifers
All-In-One Boil + Brew French Press
Stanley's Boil + Brew French Press is one of our favorite new camp cookware kitchen additions. In fact, we love it so much we included it in our 2020 Outdoor Gift Guide. You can boil water and make coffee all in one vessel. Simply boil water in the stainless steel pot, add coffee, then push the French press insert down to strain. The mesh of the press is so fine that it filters out all the coffee grounds for a nice, smooth cup of Joe. We also love that the handles fold in making it easy to pack and store.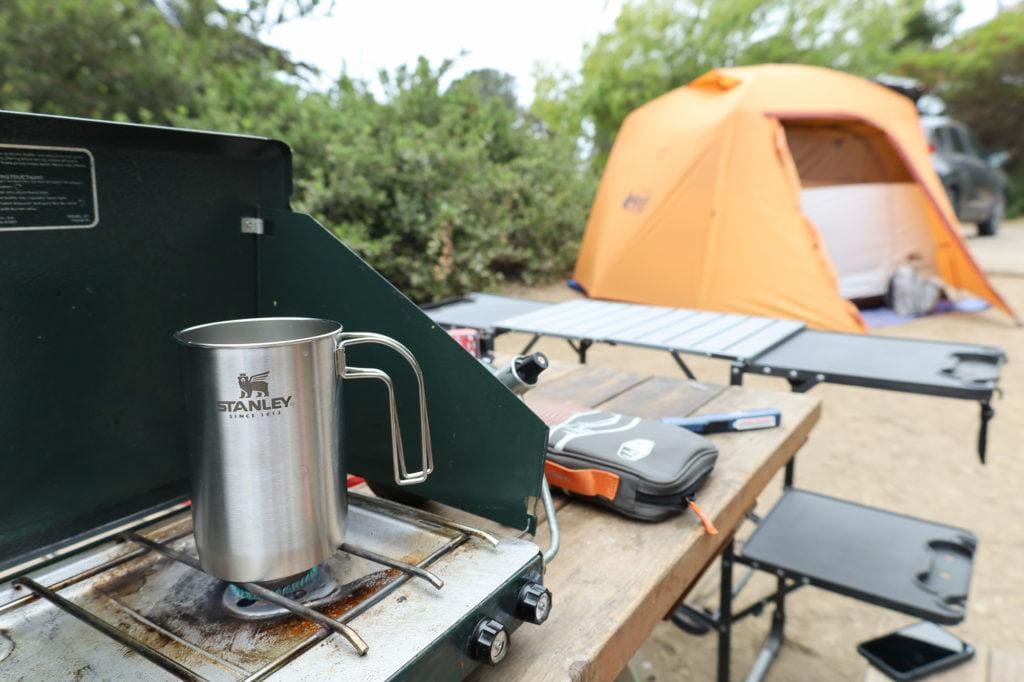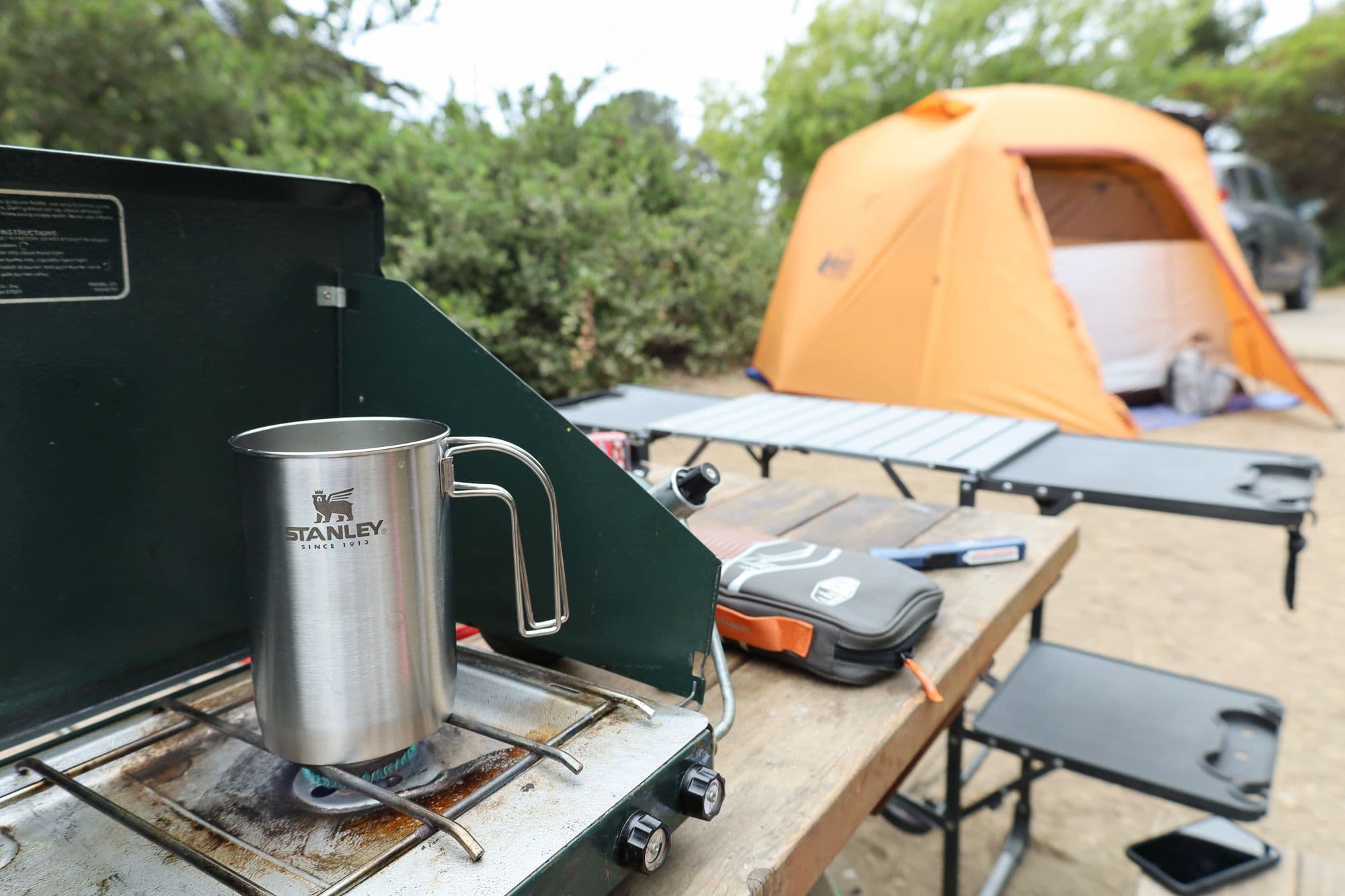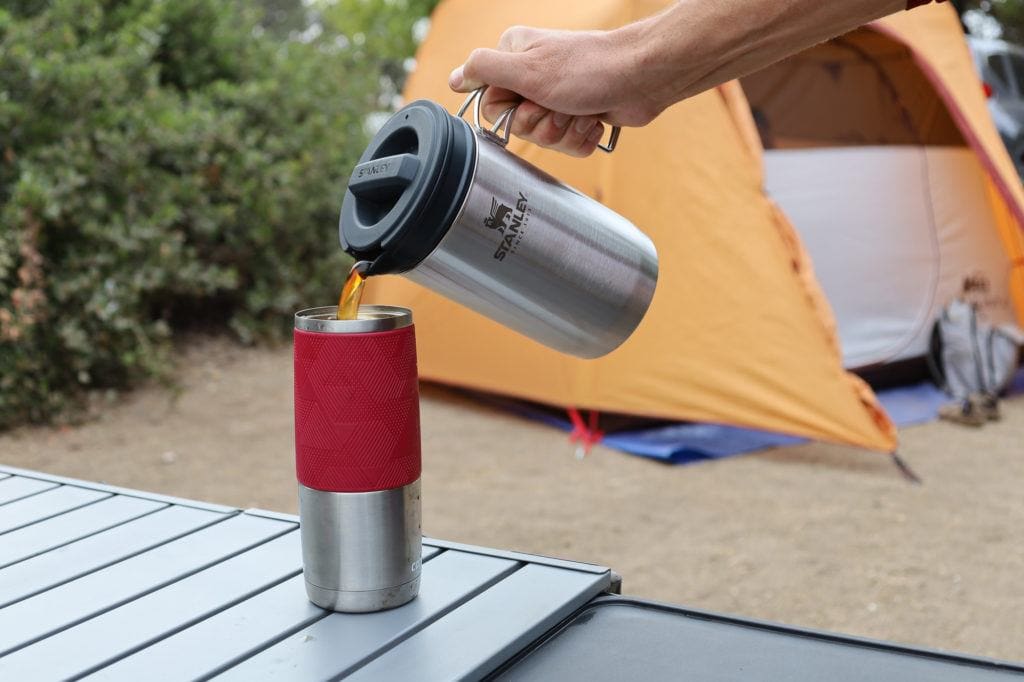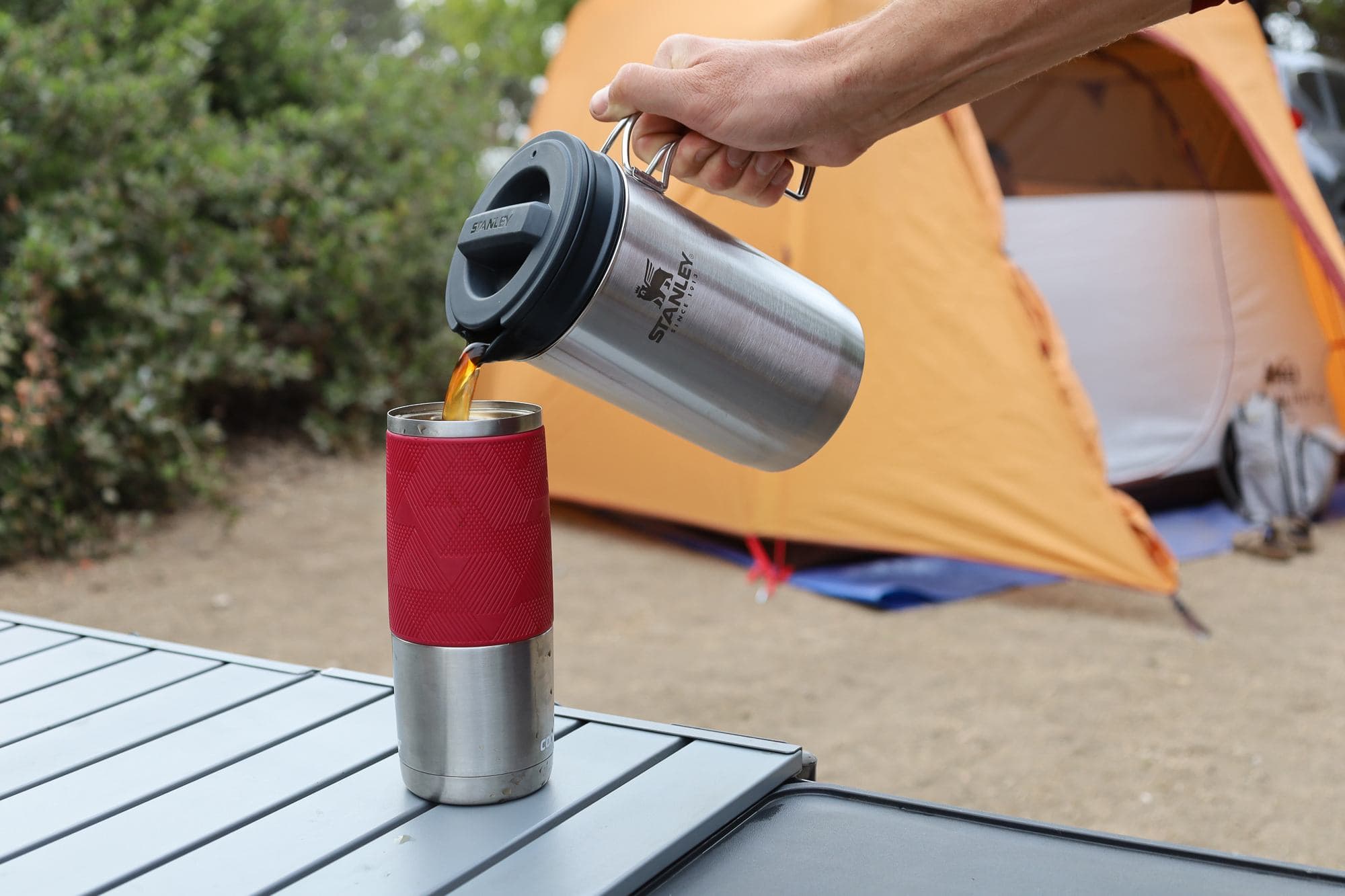 Legendary Camp Mug
Stanley's Legendary Camp Mug is a classic like many of their other products. It's made from durable stainless steel, comes in a variety of colors, and keeps drinks hot for up to 1.5 hours and cold for 3. The lid prevents spills and makes for easy sipping on the go, plus it's easy to remove and clean.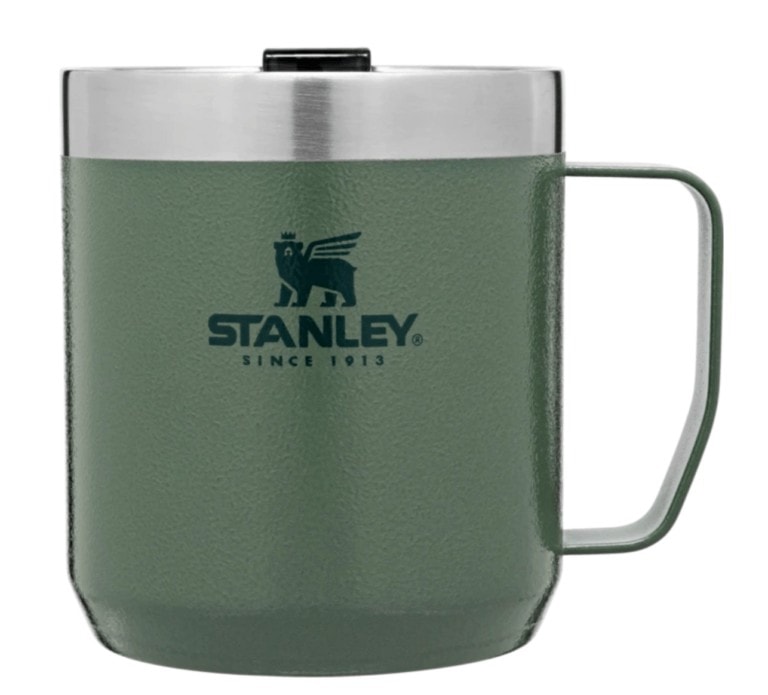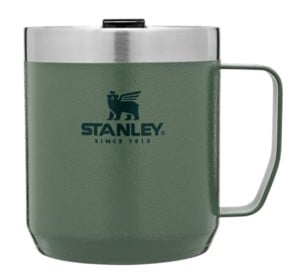 Classic Legendary Bottle
The Legendary Bottle is a classic and another one of our favorite camp cookware gifts and Stanley products in general. This insulated, leak proof thermos will keep your drinks piping hot for hours (up to 28 to be exact) and it's lightweight and durable to boot. The lid serves as an insulated cup and the 1 quart size is perfect for hot drinks for 2-4 people. If you want something bigger, check out the 1.5 quart version.


Classic Travel Mug
Stanley's Classic Travel Mug will become your companion wherever you go from daily coffee runs to camping trips, road trips, and more. It'll keep your bevies hot for 5 hours, cold for 8, and it'll fit nicely in your cup holder. It's durable, leakproof, and the lid comes apart for easy cleaning. It also comes in some really nice colors including our favorite, wine red, below.

Adventure Stacking Beer Pint Set
We love Stanley's Adventure Stacking Beer Pints and the fact that they put them into a multi-color set perfect as a camping gift. Not just for beer, these pint cups are insulated, durable, and stack making them easy to store and a great set for any camp kitchen bin or for van life.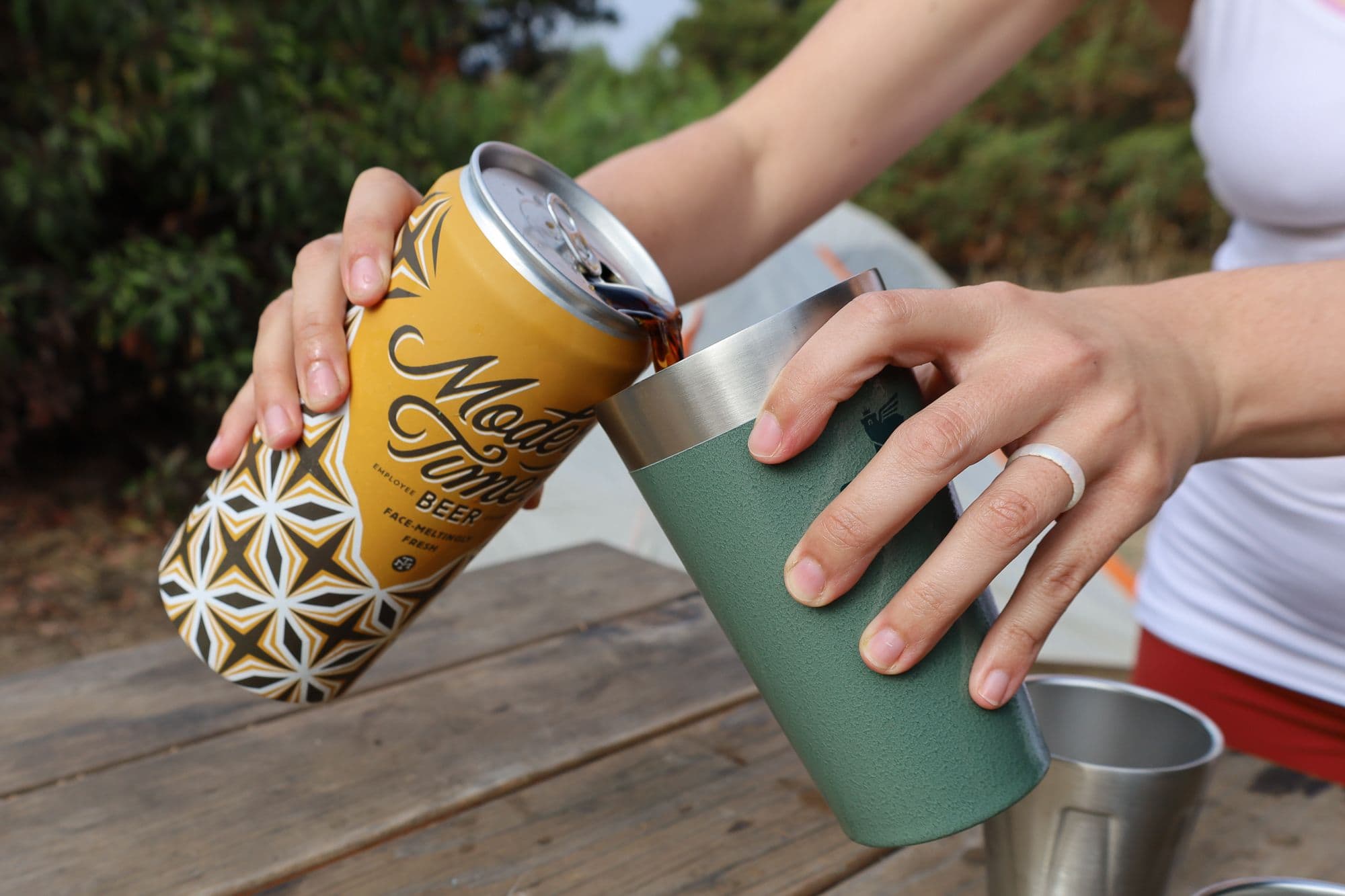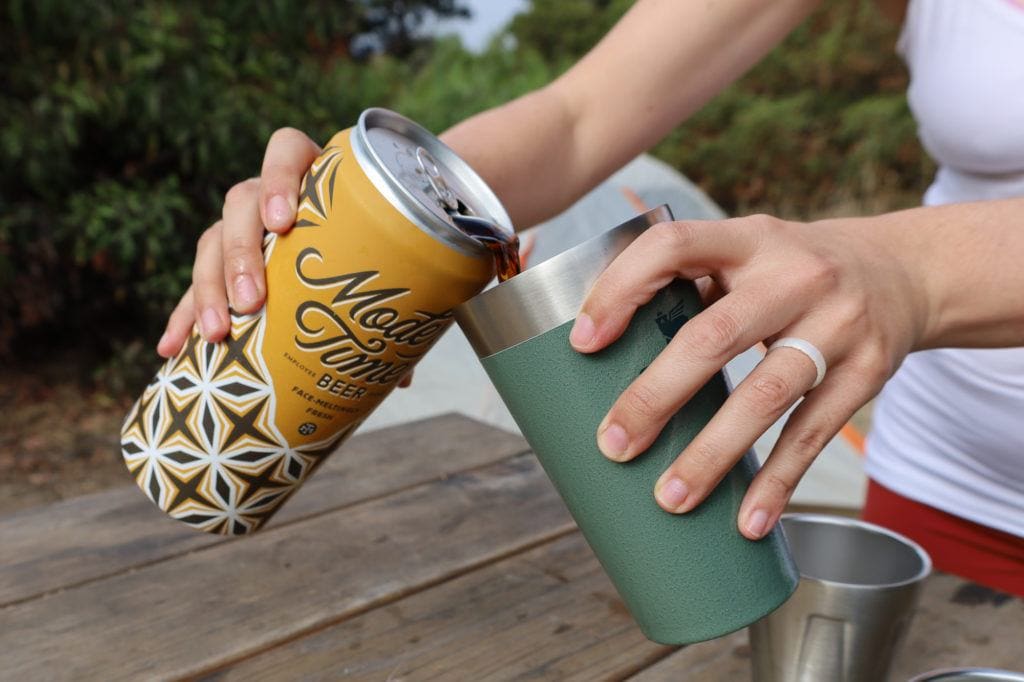 Adventure Full Kitchen Base Camp Cookset
This Full Kitchen Base Camp Cookset includes all the camp cookware you'll need to get cooking at camp – 21 pieces in all. It all packs together and nests withing the stainless steel pot for easy storage and transportation, and it's also a great cookset for van life where saving space is always top of mind. In addition to a pot and pan, this set comes with plates, bowls, and sporks for 4, a spatula, and a serving spoon.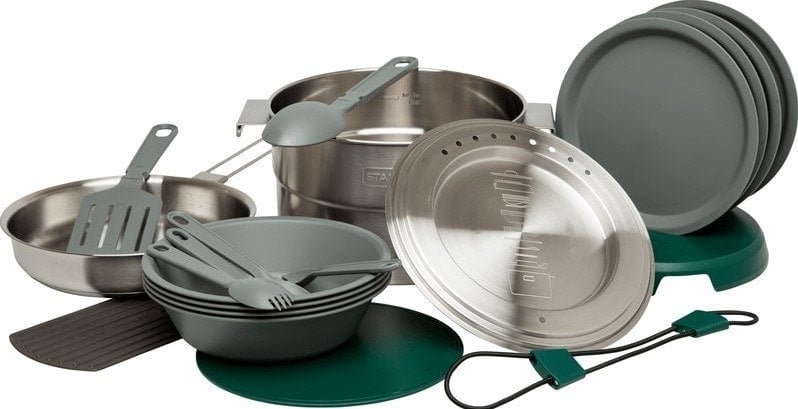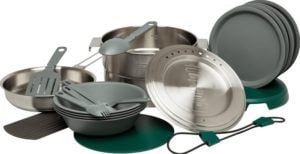 Adventure Fast Flow Water Jug
I recently took the Adventure Fast Flow Water Jug on a camping trip with my family and it was a game changer. It was so nice to have all the water we needed right at our campsite. We'd fill it up once or twice a day and have enough water to fill our water bottles for hikes as well as for cooking and cleaning up. It holds 2 gallons of water, is durable and super easy to fill and use, and it's a great way to reduce single-use plastics.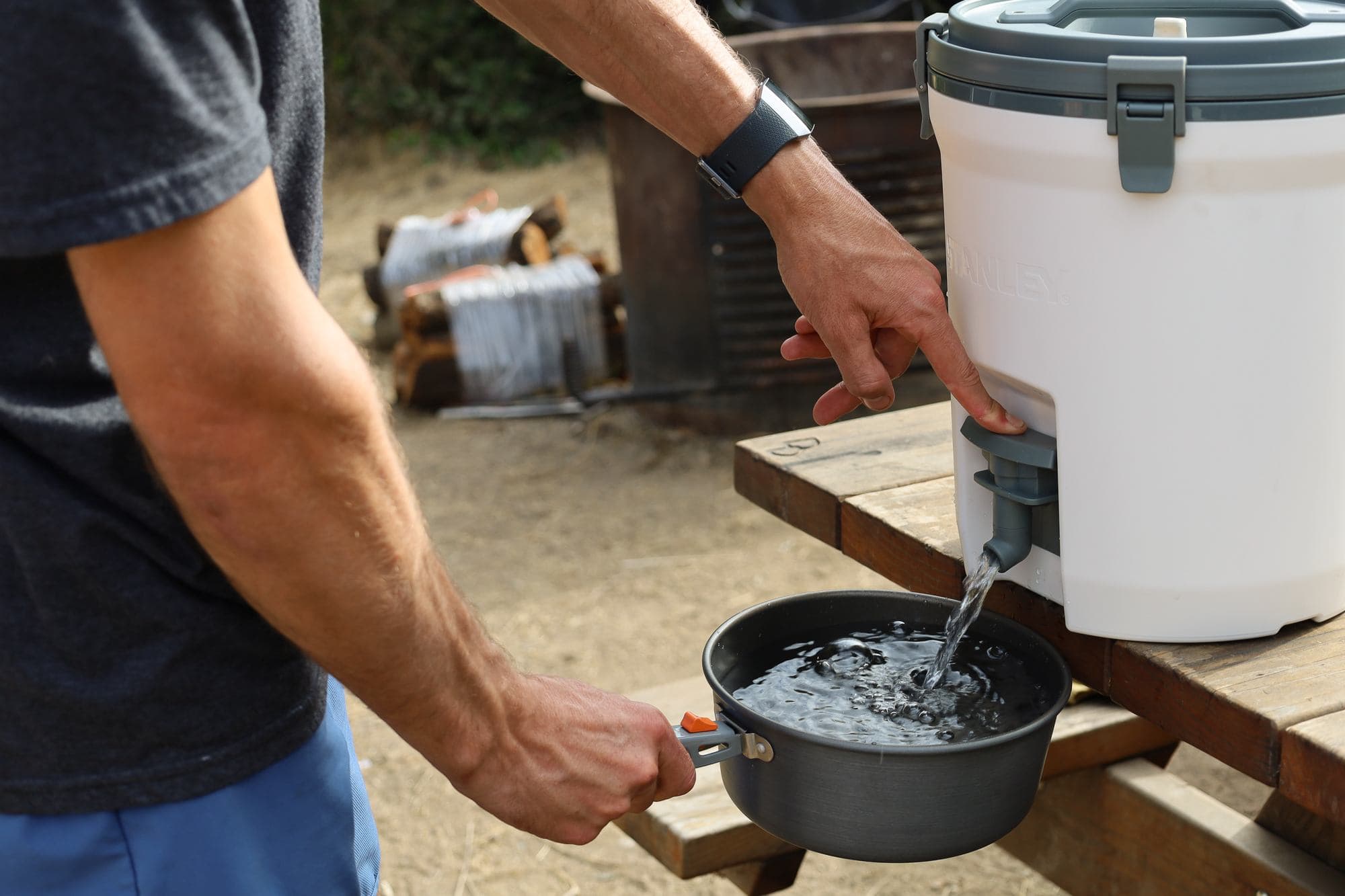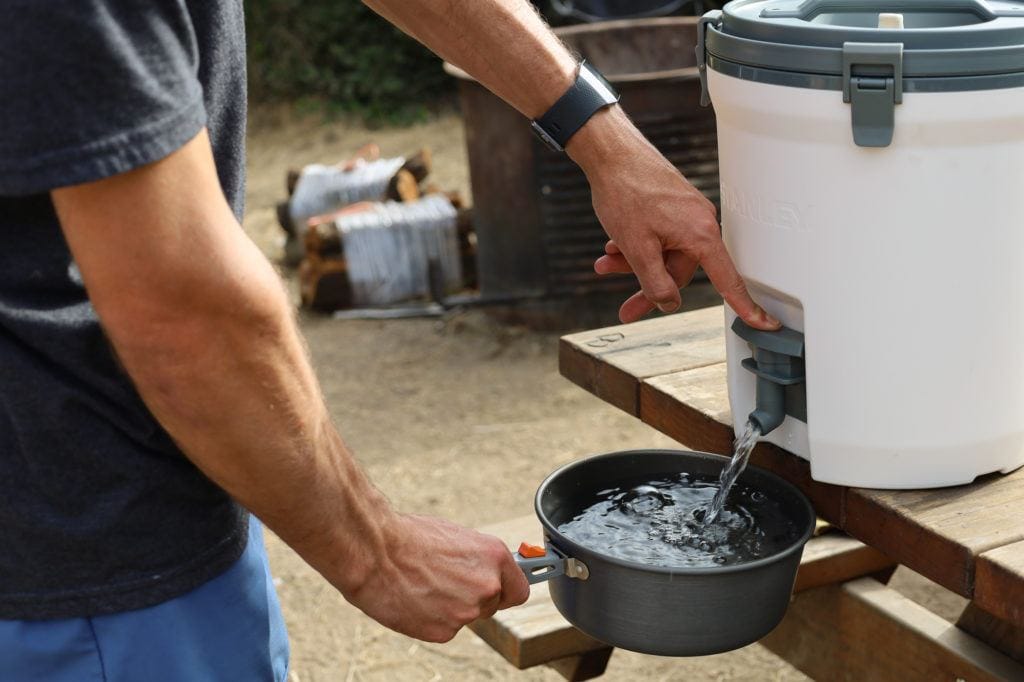 Adventure Happy Hour Cocktail Shaker Set
This is a fun one for a camp kitchen gift – the Adventure Happy Hour Cocktail Shaker Set. Whether you're mixing up a dirty martini at camp or a mocktail, this shaker will get the party started. The twist on top prevents leaks and spills, and it even comes with two stainless steel glasses and tools for juicing fresh citrus fruits so you can level up your camp cocktails.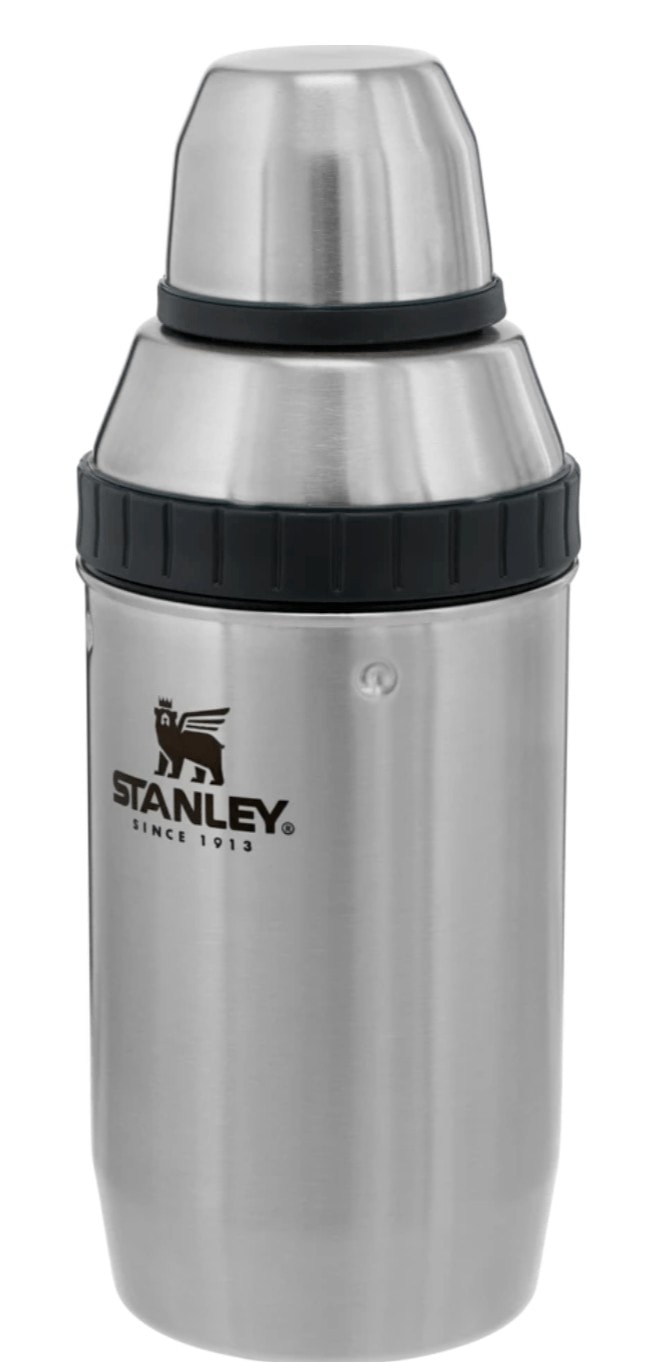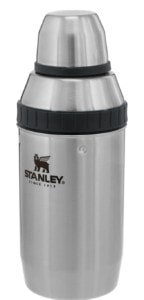 Classic Outdoor Growler Gift Set
This Classic Outdoor Growler Gift Set might just be the camping gift I get for my brother-in-law this holiday season. The insulated growler will keep beer or kombucha cold and bubbly for 24 hours, and the 4 included stainless steel tumblers make sharing easy. They're even color coded so everyone can keep track of their drinks.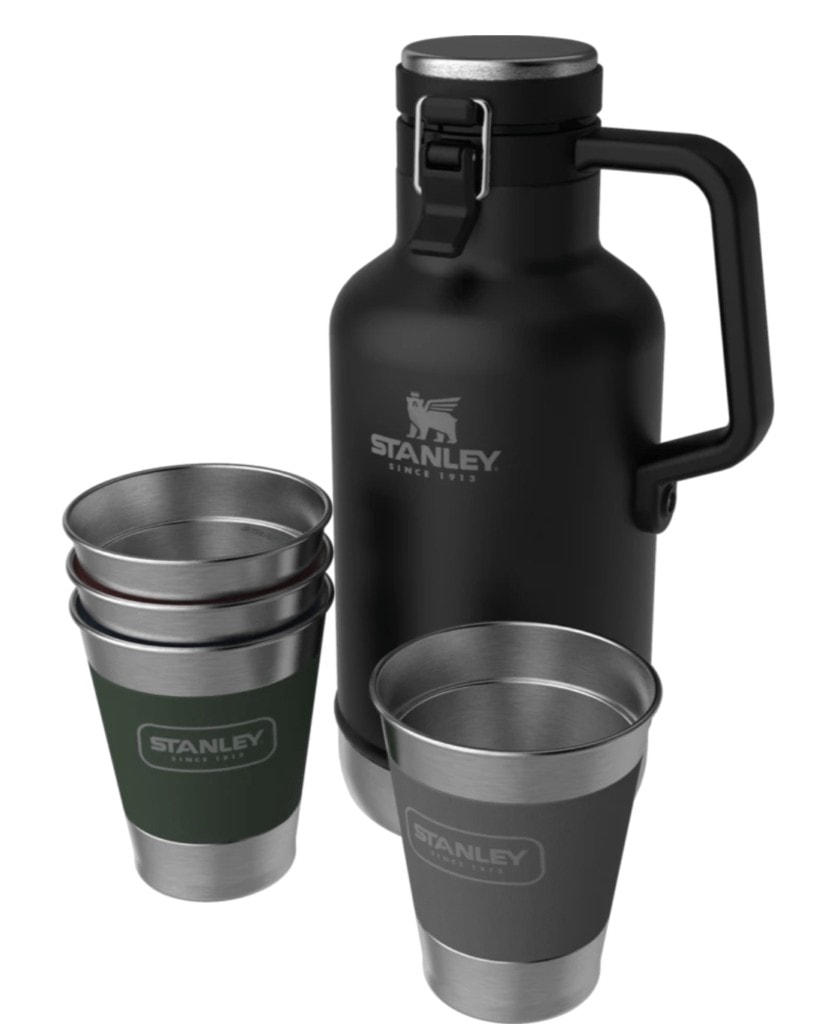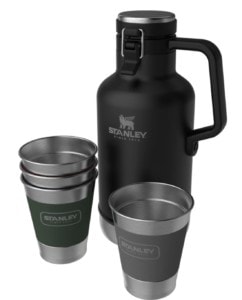 Adventure Stay Hot Camp Crock
The Stay Hot Camp Crock is one of Stanley's most popular products for good reason. You can cook a soup, chili, dip, or other deliciousness at home and transfer it to this crock pot where it will stay piping hot for 12 hours. Perfect for whipping up a hot meal at home before heading out on a camping trip to make the first night's dinner a breeze, and it's also great for backyard bbqs and get togethers.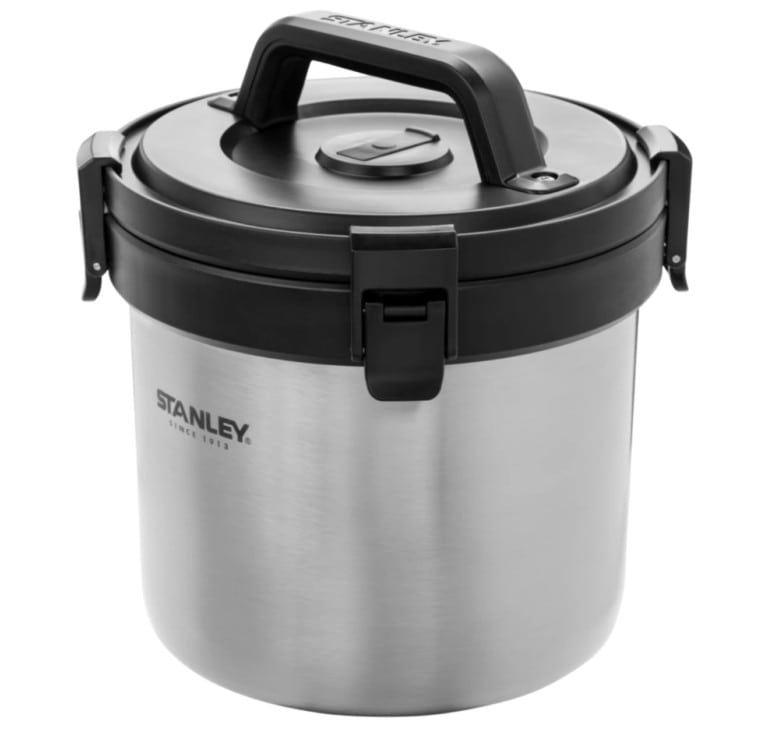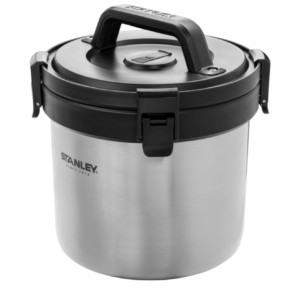 ---
We hope this guide to the best Stanley gifts for campers and van lifers helps make gift-giving (and receiving) a breeze!