12 BACKCOUNTRY HUTS TO RENT THIS WINTER
With the onset of snow comes the opening of winter backcountry huts all across the US. Whether you want to snowshoe, cross-country, or backcountry ski, there are a lot of reasons to plan an epic adventure to a backcountry hut this winter. From the adventure it takes to get there, to untracked snow, and incredible mountain scenery, overnighting at a cozy backcountry hut is an awesome way to enjoy all winter has to offer with friends or family.
From Vermont to California, our backcountry hut round-up focuses on huts located on America's beautiful public lands and are accessible for both snow-shoers and skiers.
**And one last note. It is your responsibility to be aware of avalanche risks and to have the tools and knowledge you need to safely travel in the backcountry.  If you don't have any experience with winter backcountry travel, we've included a few huts that offer backcountry guides to show you the way.
Clair Tappaan Lodge Huts (Lake Tahoe, California)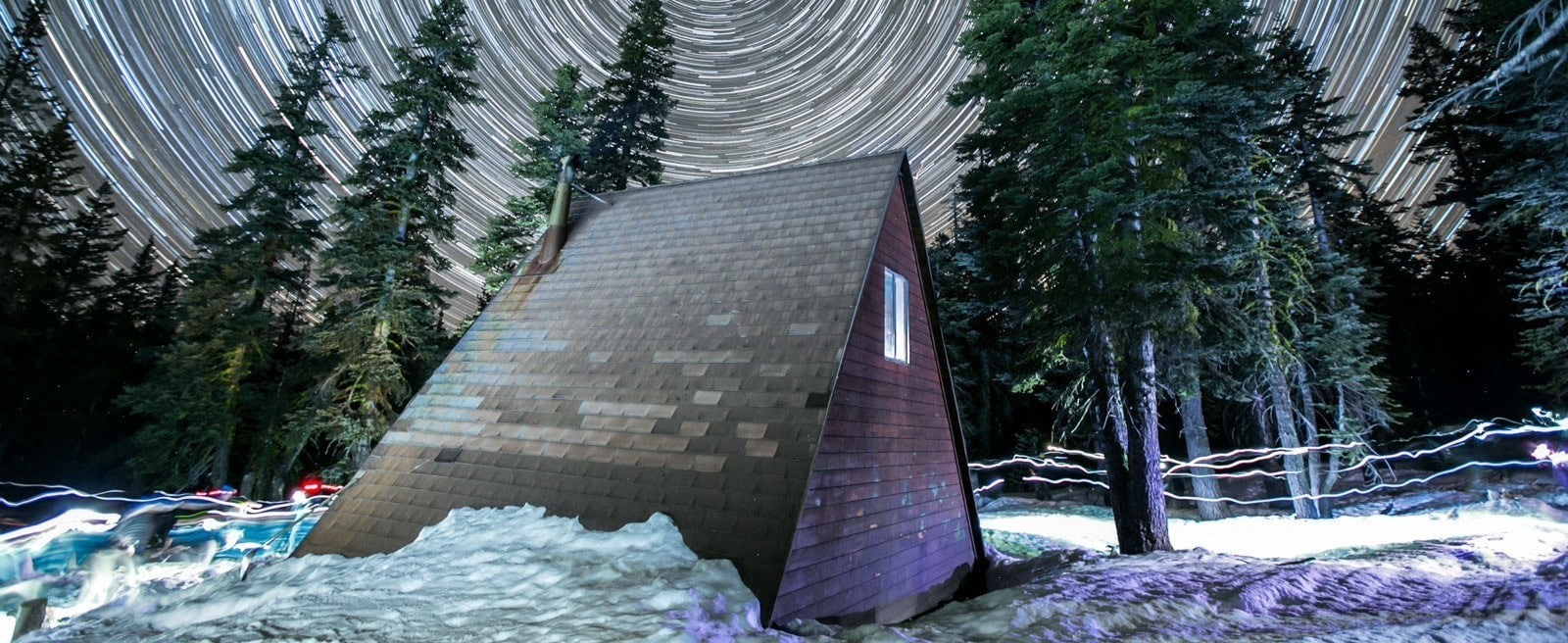 If you've hiked the Pacific Crest Trail, these 4 huts will sound familiar as they are right off the trail. The Peter Grubb Hut, Ludlow Hut, Benson Hut, and Bradley Hut are located just a short drive from Truckee and Tahoe City. Each hut requires only a single day approach making these great Northern California huts perfect one-night, two-day getaways. The huts offer easy access to exceptional backcountry skiing routes right out their front door.
Occupancy for each: 15 people
Access to Hut & Difficulty Level: All huts are a short trek from easily accessible parking areas. You can even loop Benson Hut & Bradley Hut together for a three-day, two-night epic adventure. You should be familiar with the area and winter wilderness survival skills.
Price & Reservations: $20 per person, per night. Hut reservations are lottery based, preference given to volunteer work party participants. Applications can be sent June-October. The lottery is held the first Saturday in November. For more information visit their website.
Bear River Yurts (Uinta County, Utah)
The Bear River Outdoor Recreation Alliance (BRORA) operates 5 yurts in Uinta County for backcountry skiers, cross-country skiers, and snowshoers. BRORA's mission is to assist in the promotion, development, and maintenance of outdoor recreation and access in Uinta county, an effort you support when you rent one of their yurts. Yurts come stocked with firewood to keep you warm and toasty throughout the night and easy access to some of Utah's finest backcountry terrain.
Occupancy for each: 4-8 guests
Access to Hut & Difficulty Level: Four of the yurts are easy to access along well marked and maintained trails. The distance of the trails ranges from 1.5 to 6 miles. The 5th yurt (& newest) is another 2 miles further into the backcountry on an ungroomed trail.
Price & Reservations: Reservation fees are $75 per night. Reservations open online FIRST to those who volunteered at BRORA work parties and then the general public can make reservations online beginning October 30th.
Bryant Camp (Bolton Valley, Vermont)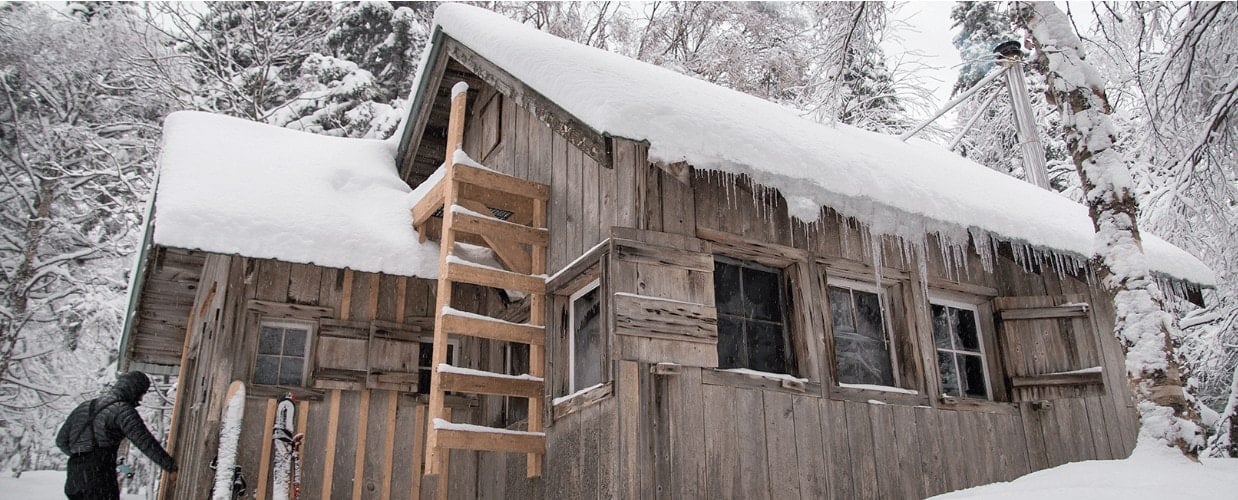 Located in Mt. Mansfield State Forest, Bryant Camp was originally built in the 1930's and was recently restored. The "hut" is operated by the Green Mountain Club. The Green Mountain Club also operates an additional property-the Hadsel-Mares Camp, both are available year-round.
Occupancy for each: 8 people
Access to Hut & Difficulty Level: The camp is accessed via Bolton Valley Resort's network of cross-country ski & snowshoe trails. There is an easy one-mile jaunt from the Bolton Sports Center that leads right to the hut, making it a great hut for beginners.
Price & Reservations: $95 on the weekends or $75 during the week. Reservations can be made online.
Hinsdale Haute Route Huts (Colorado)
The Hindsale Haute Route Huts offer two options to choose from. The first hut is perfect for family-friendly outings, while the other is better for folks with backcountry experience. Both of the huts are also DOG-FRIENDLY! If you've hiked the Continental Divide Trail or the Colorado Trail, you've likely heard of these huts as they are right on the trail.
Occupancy for each: 8 people
Access to Hut & Difficulty Level: The Jon Wilson Yurt is a short 1.25-mile trek from HWY 149 making it great for beginners or families with children. The Colorado Trail Friend Yurt is accessible via three different routes. Two of the routes are 5 miles long with 1,000 feet of elevation gain, while the third option is a more strenuous route that is 5.5 miles with 2,500 feet of elevation gain.
Price & Reservations: $110 per night. You can pay $25 for their "Sherpa Service," and they will deliver your gear directly to the yurt for you. Reservations can be made online.
Mount Tahoma Trails Huts & Yurts (Washington)
360 views of Mt. Rainier, Mt. Adams and Mt. St. Helens. It get pretty hard to beat that when it comes to backcountry winter scenery. If you're looking for a fun social winter event, the Mount Tahoma Trails Association puts on a yearly family-friendly event showcasing some of their huts. Snacks and warm drinks are provided at their South District huts as you cross-country ski or snowshoe from hut to hut.
Occupancy for each: 6-14 depending on the hut
Access to Hut & Difficulty Level: Copper Creek Hut is the only hut accessible to beginners. This hut can be reached by a gentle uphill 4.5 miles hike along the Rainier Vista Trail through the forest. The rest of the huts require anywhere from 4.5-6.5 miles of strenous uphill hiking to access.
Price & Reservations: All the huts are available for day visitors to drop-in or they can be reserved for overnight stays. The reservation fee is only $15 per person per night. More information can be found online.
Mountaineering Club of Alaska Huts (Alaska)
These huts are designed for the more advanced and skilled winter traveler. The Mountaineering Club of Alaska operates 7 huts that can be found across the Chugach and Talkeetna Mountains. If you're a beginner, consider visiting these huts in the summer instead.
Occupancy for each: 7-10 depending on the hut
Access to Hut & Difficulty Level:  The GPS coordinates of each hut and detailed directions can be found on the club's website. According to the website, "All of the huts are located above the treeline, often right next to glaciers, and are most often used for climbing nearby peaks, glacier traverses, and for skiing and hiking trips. All of the Chugach huts require glacier travel skills to reach and  two of the seven huts can be reached by fixed-wing aircraft."
Price & Reservations: The huts DO NOT require any reservations and are free to stay in. It's important to note they have no beds but can be used overnight, so  don't forget to bring your sleeping pad and bag!
Southwest Nordic Center (New Mexico & Colorado)
The Southwest Nordic Center (SNC) operates four yurts near the southeastern end of the San Juan Wilderness in Colorado. SNC also operates one yurt in New Mexico. People don't often associate New Mexico with skiing, but the Taos Ski Valley has world-class terrain and options for all levels. The Bull of the Woods Yurt is just two miles from Taos Ski Valley and offers some of the best alpine views in the state.
Occupancy for each: 6-10 people
Access to Hut & Difficulty Level: Informative PDFs are available online to help you learn about each individual hut before reserving. Four of the yurts in New Mexico are accessible via well-marked trails, making these great for beginners. You can even reserve "Yurt to Yurt" trips or "triple Yurt-to-Yurt-to-Yurt" trips for an exciting long weekend.
Price & Reservations: Reservations can be made online. They begin taking reservations for the winter on August 1st and summer reservations beginning March 1st. Prices range from $68-$75 per night. They also partner with Cumbres Adventure Tours to offer a snowmobile assisted yurt tours if needed.
Sun Valley Yurt System (Sun Valley, Idaho)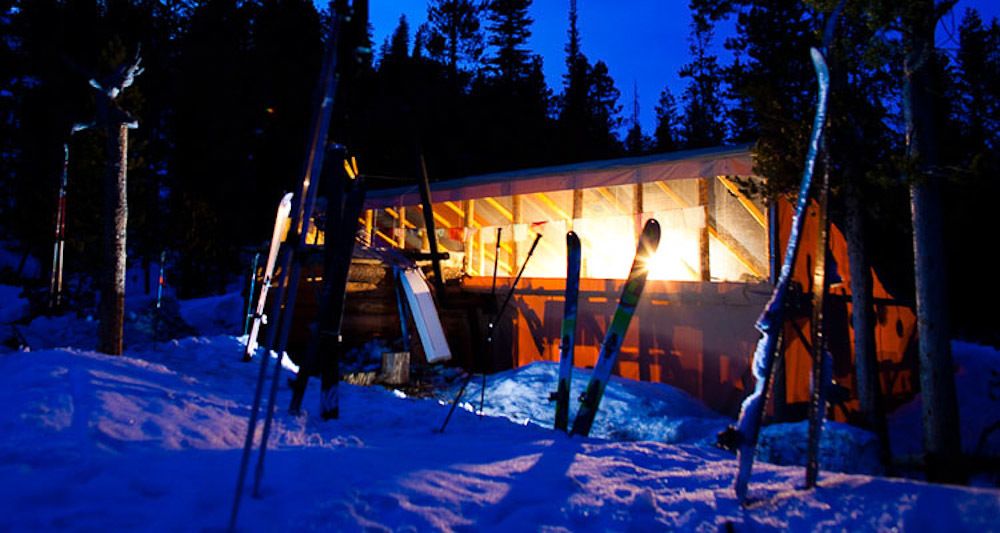 Sun Valley Trekking operates 6 different backcountry huts in the Sawtooth, Smoky and Pioneer Mountains near Sun Valley, Idaho.  They have options for all levels and interests–including beginners and families with kids. What makes the Sun Valley Trekking huts unique is some of them have their own saunas and hot tubs – a perfect way to end a cold day in the snow.
Occupancy for each: 10-14 people
Access to Hut & Level of Difficulty: The huts are accessible via beginner or strenuous trails that range from 1.5 miles to 10 miles. For the more advanced routes, if your group is new to the area, you're required to "Rent a Guide" to accompany your group on day 1.
Price & Reservations: $45 per person per night. Reservations can be made online.
Pear Lake Hut (Sequoia National Park, California)
Sitting alongside Pear Lake at 9,200 feet is Pear Lake Cabin. The cabin is managed by the Sequoia Parks Conservancy and is available for rent from December to April.
Occupancy: 10 people
Access to Hut & Level of Difficulty: The trail to the Pear Lake Cabin begins in Wolverton Meadow and ascends six steep miles to Pear Lake. Since the Hut is in Sequoia National Park, you will need a wilderness permit for all overnight trips. The trail is marked as advanced for backcountry skiers/snowshoers.
Price & Reservations: $40 per person per night. Reservations are required and are made by lottery beginning in November each year.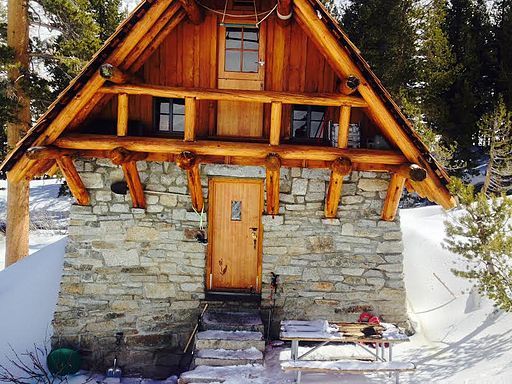 Idaho City Backcountry Yurts (Boise National Forest, Idaho)
The Idaho Department of Parks & Recreation operates the "Idaho City Backcountry Yurts" system that encompasses 6 yurts that are all about 1.5 hours north of Boise, ID in the Boise National Forest. If you aren't a big fan of snow and winter, all six of the yurts are available year-round. Most of the yurts are also dog-friendly, with the exception of Banner Ridge and  Elkhorn yurts, which are off-limits to dogs from Dec. 1st to April 15th.
Occupancy for each: 6 sleep comfortably, but 9 people are allowed for additional fees
Access to Hut & Level of Difficulty: Each of the huts are accessible by a groomed 2-3 mile ski or snowshoe trek.
Price & Reservations: Yurts are $115 per night. Reservations can be made online. If your traveling from November 15th through April 30th you also need to purchase a valid Park N Ski parking pass to display in your vehicle.

Baxter State Park Huts (Maine)
Baxter State Park is the home of Katahdin, the northern terminus of the Appalachian Trail. The Park operates 7 "bunkhouses" during the winter as well as 4 cabins at Daicey Pond and 4 cabins at Kidney Pond.
Occupancy for each: varies from 4-10 people depending on bunkhouses or cabins
Access to Hut: Park roads are not plowed in the winter. The treks to most huts are a full day's journey and should only be attempted by individuals familiar with the territory. There are companies that offer guided winter tours in the park if you are a beginner looking to gain skills and expertise.
Price & Reservations: $18-$37 per person per night for a bunkhouse or $30 per person per night for a cabin. You can make camping reservations in person at Baxter State Park Office, 64 Balsam Drive, Millinockey, ME, 04462 or by email after November 1st. Reservations must be made at least 7 days in advance of your trip.
Yellowstone Expeditions Yurt Camp (Wyoming)
If summer crowds are keeping you away from Yellowstone National park, consider visiting in the winter. Yellowstone Expeditions operate a "Yurt Camp" in the park that includes private heated tent cabins. You'll spend your days trekking across snow-covered meadows, relaxing in hot springs, viewing wildlife, cross-country skiing the rim of Yellowstone's Grand Canyon, or backcountry skiing some of the nearby slopes.
Access to Hut & Difficulty Level: Transportation for all trips is provided from West Yellowstone into the park. You'll tour the park on your first day and then explore the park. Trips can be tailored to meet all levels, beginner to advanced.
Price & Reservations: You can pick from a 4-day, 5-day or 8-day excursion. Rates available online.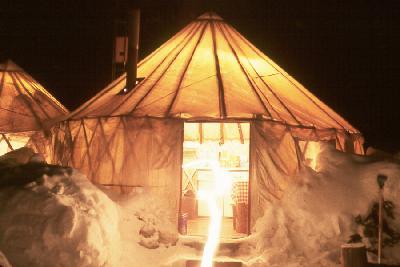 Have you stayed at a backcountry hut before? Share your backcountry hut experiences in the comments below!