JASPER, ALBERTA: THE ULTIMATE WINTER ITINERARY FOR ADVENTUROUS TRAVELERS
Maybe you aren't a winter person. I get it. I wasn't either. Until I started prioritizing winter travel and seeing all of the benefits. Fewer crowds, lower prices, beautiful snowy landscapes. I recently took a 4-day winter trip with Tourism Jasper in Alberta to experience the best that Jasper National Park has to offer, and I easily could have spent a few weeks. From skiing to dog sledding to walking through an icy Maligne Canyon, I squeezed in as much as I could. In this new Jasper National Park winter itinerary, I share everything I did, including how to get there, the best winter activities, tasty restaurants, and where to stay for easy outdoor access.
Plan your trip to Jasper with my 4-day Jasper National Park winter itinerary.
Where is Jasper National Park & How Do You Get there?
Jasper National Park was established in 1907 and is the largest National Park in the Canadian Rockies. In the 2900 square miles that the Park covers, you'll find the Columbia Icefields, the northern half of the Icefield Parkway, some of the most impressive peaks in the region, and incredible Maligne Lake.
The main town of Jasper offers the only major services in the Park and is located three and a half hours north of the town of Banff, 5 hours north of Calgary, and four hours west of Edmonton.
Flying into Edmonton vs Calgary
In the winter, the most reliable and quickest route to Jasper is from Edmonton. The road is mostly a 4 lane highway and is generally well maintained in the winter. If you only have a few days, I'd recommend flying directly into Edmonton and renting a car from the Edmonton Airport. If you arrive late into Edmonton, there are a number of hotels right next to the airport that offer a convenient place to stay.
If you have additional time (5-7+ days total) and want to combine Banff and Jasper into one trip, you can fly into Calgary. The road between Banff and Jasper, however, can get a little spicy and isn't as well maintained in winter as the road from Edmonton.
What kind of rental car do you need for visiting Jasper?
The type of car you get isn't as important as the type of tires that your rental car has. No matter what car you get, make sure to request winter tires. Winter tires are required in parts of the Park and provide extra traction if the road is icy. It can be very cold in Jasper, so the snow can stick to the road long after a storm has passed. I had a small Kia with winter tires. To be honest I was pretty skeptical when I picked up my car, but the winter tires actually handled the roads pretty well.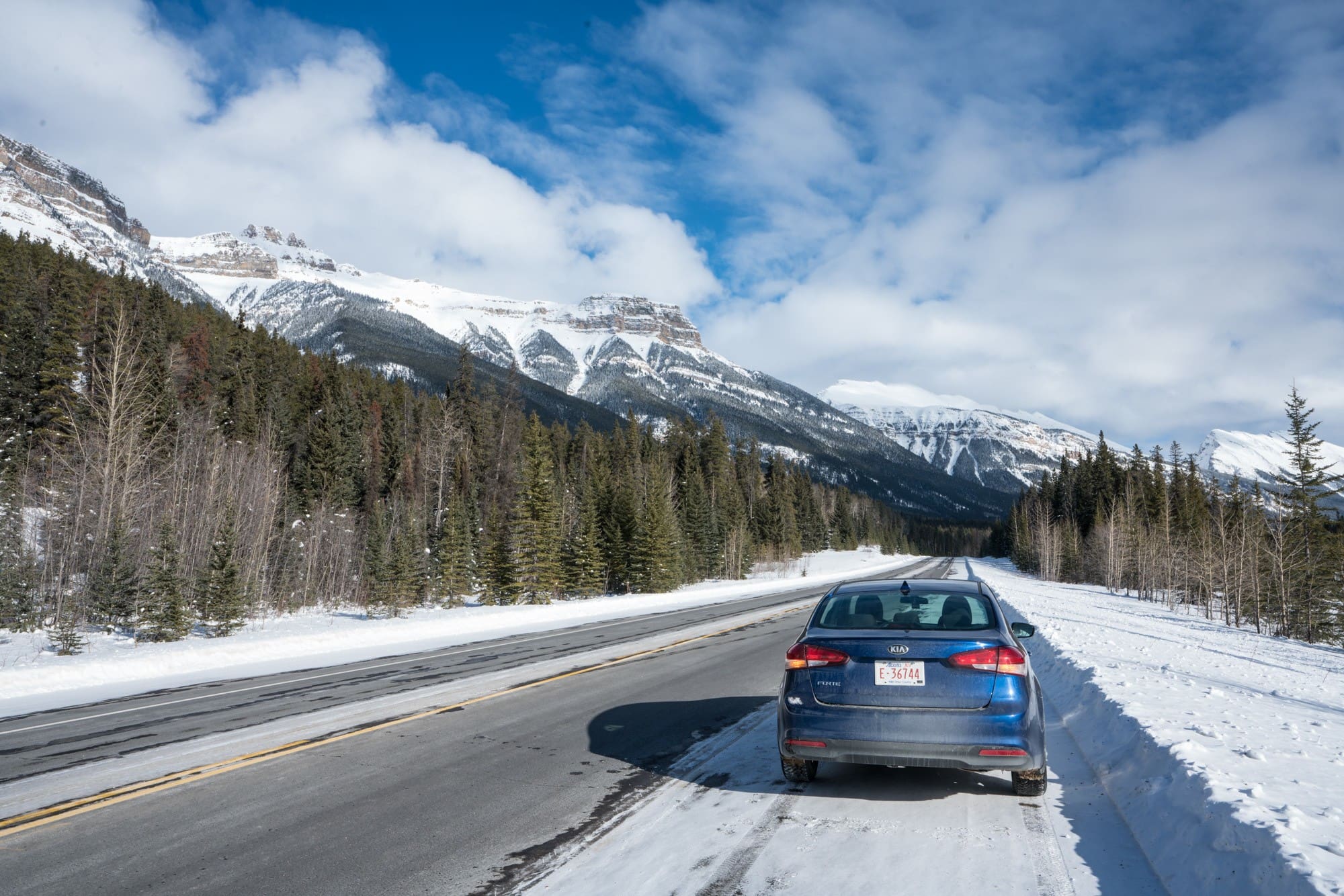 Where to Stay in Jasper
There are a number of hotels in Jasper, and the advantage of visiting in Winter is the prices drop significantly from summer rates. I stayed at the Pyramid Lake Resort, which is a 7 minute drive outside of town. The decor is a little rustic, but the rooms were comfortable and views of Pyramid Mountain can't be beat. Plus you'll have a ton of recreation right out your doorstep with fat biking, ice skating and cross-country skiing that can all be done on frozen Pyramid Lake.  It also looked like they were in the process of renovating some of the rooms for the upcoming year.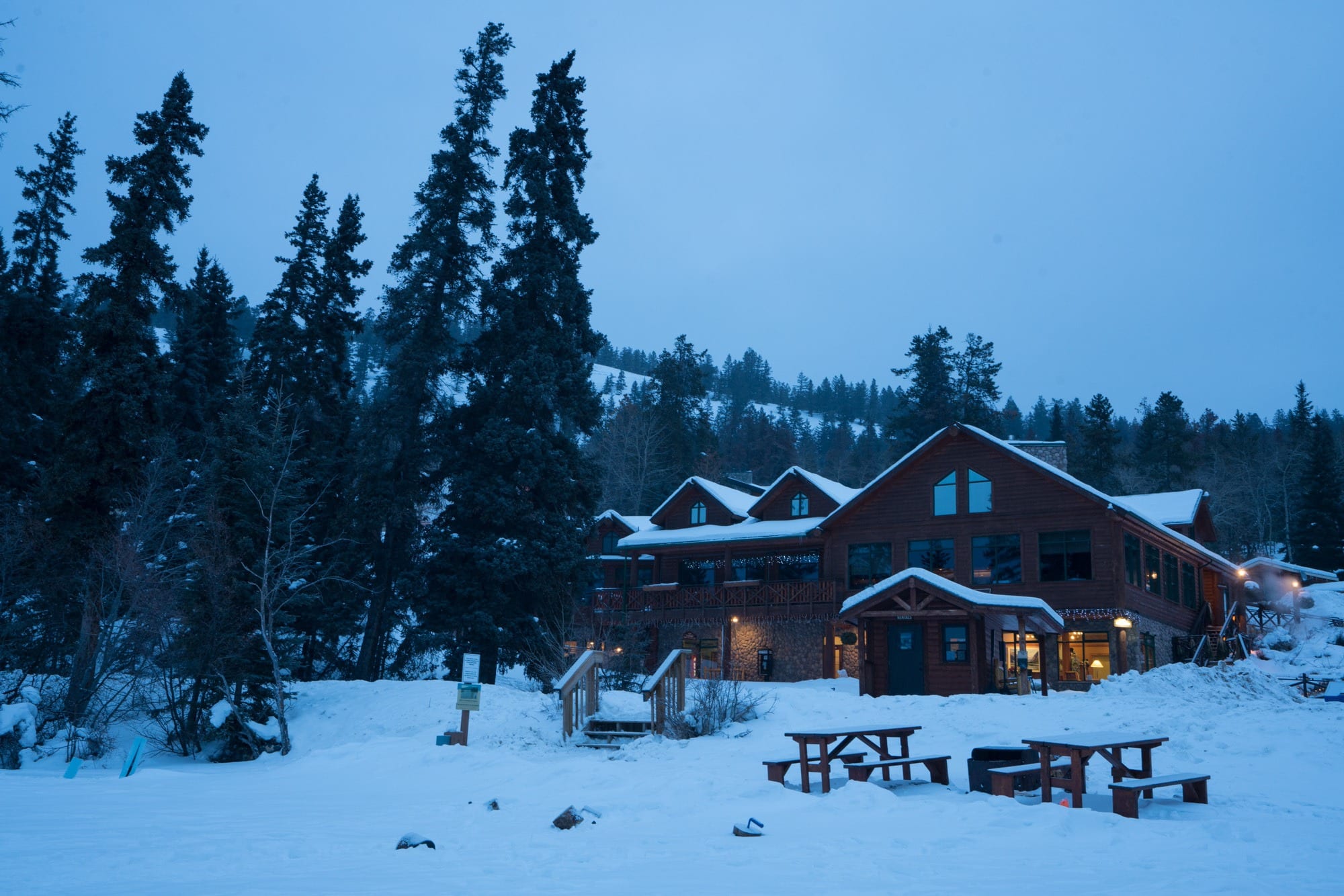 Jasper National Park Winter Itinerary Day 1
Start your trip off right with a day of skiing at Marmot Basin. Compared to the "Big 3" ski resorts down in Banff and Lake Louise, Marmot Basin is a bit cheaper and seems to be more of a local mountain. You won't be waiting in any long lift lines, particularly if you visit mid-week. The mountain has 7 lifts, and with nearly half of the mountain above the treeline, you'll feel like you're on top of the world. If you want to take some laps with an instructor, or you are a new skier, Marmot Basin is a great place to learn. Two-thirds of their terrain is considered beginner or intermediate. But don't let that stop you if you consider yourself a shredder. Marmot Basin has lots of hikeable, ungroomed expert terrain. Most recently they opened a new long, steep bowl called Tres Hombre, where the snow was dry, light and fluffy.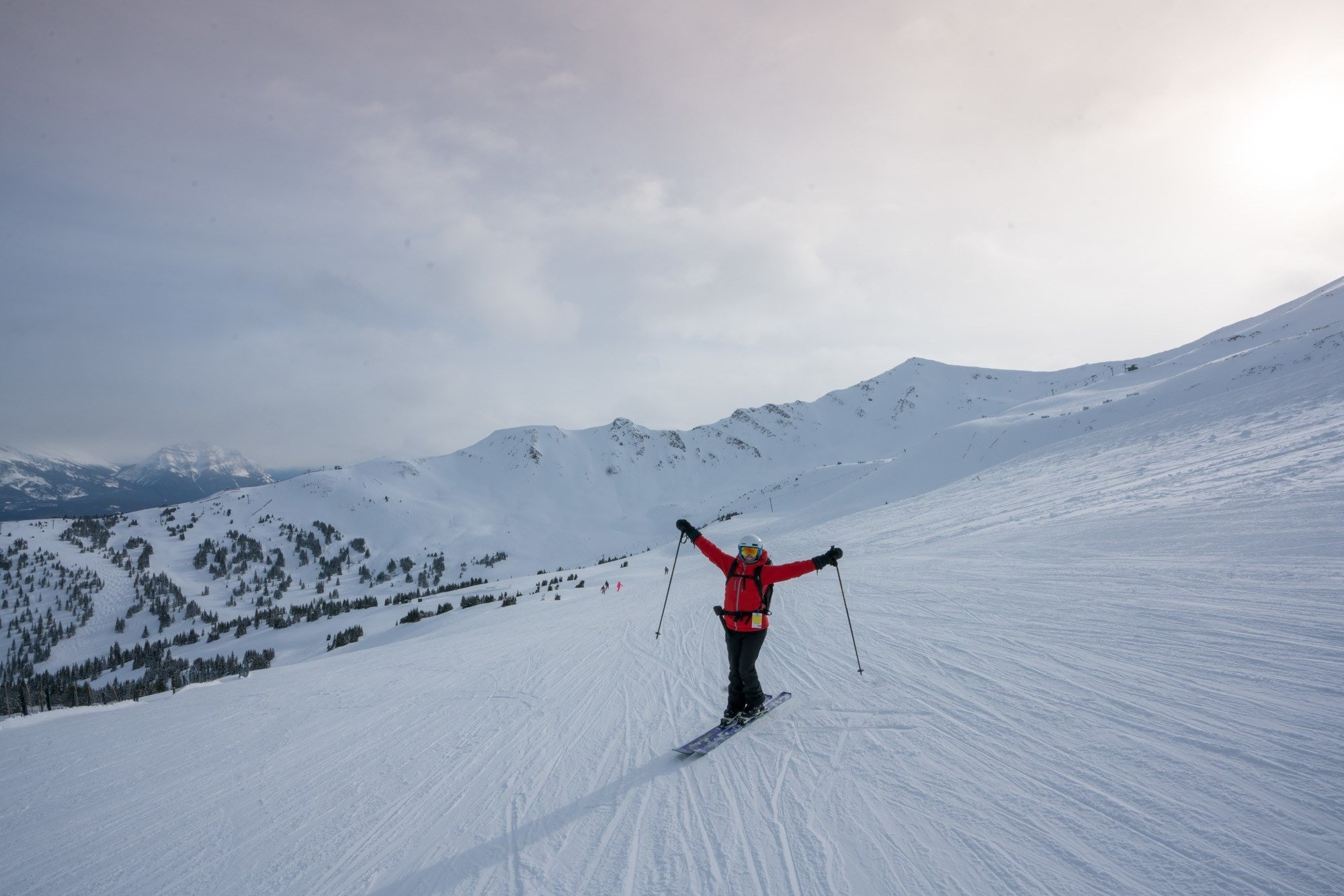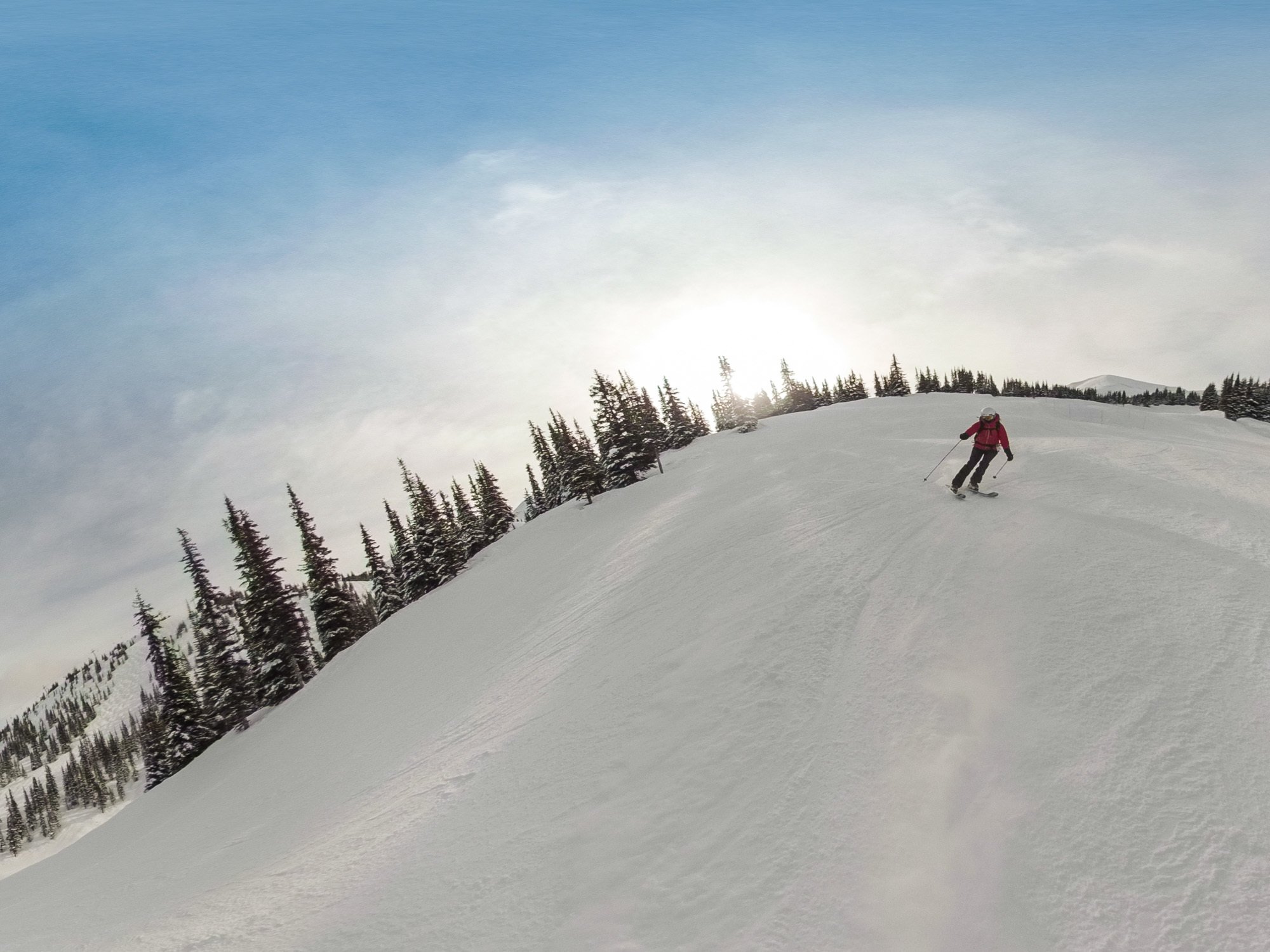 Take a mid-day break and grab a cold Kokanee and lunch at the Caribou Chalet and if you need some hand warmers, don't hesitate to swing into the on-site ski shop at the base. I did, and was very happy when I could feel my fingers again 😃
Read Next: What to Wear Skiing
After skiing, head back into Jasper and warm up with some Asian-inspired mountain fare at Evil Dave's. Start with the Cowboy Sushi, which was my favorite thing we ordered. The steaks, born and raised in Alberta, also got good marks, and the dessert sampler gave us a taste of all the sweets.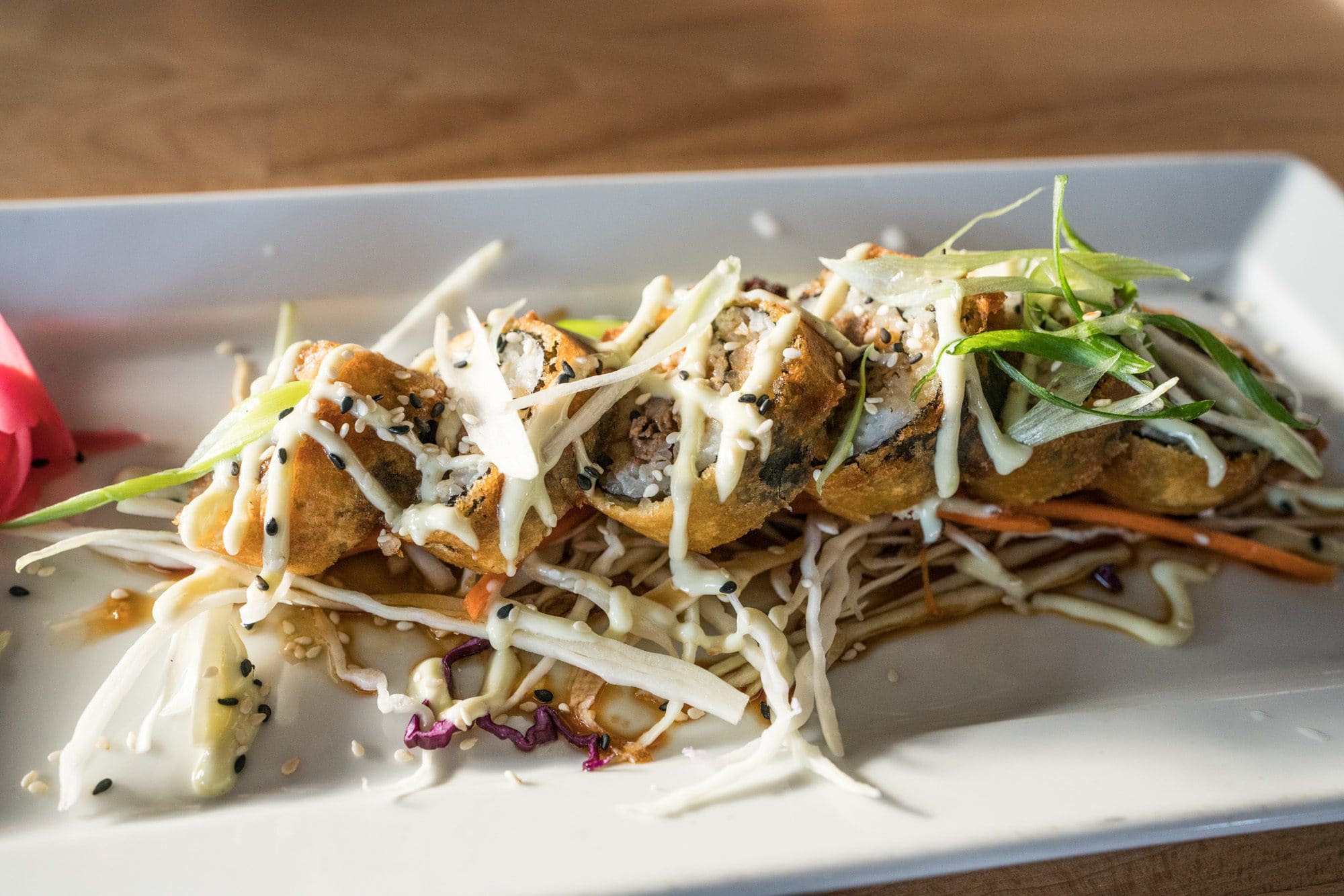 Jasper National Park Winter Itinerary Day 2
Have a relaxing morning out at Pyramid Lake, and start your day with breakfast at Coco's Cafe. This is a funky little cafe in Jasper with a ton of tasty vegetarian and gluten free options (they also serve meat). You might also grab a snack or something to go for lunch (the that you can scarf down en route to the afternoon's activities.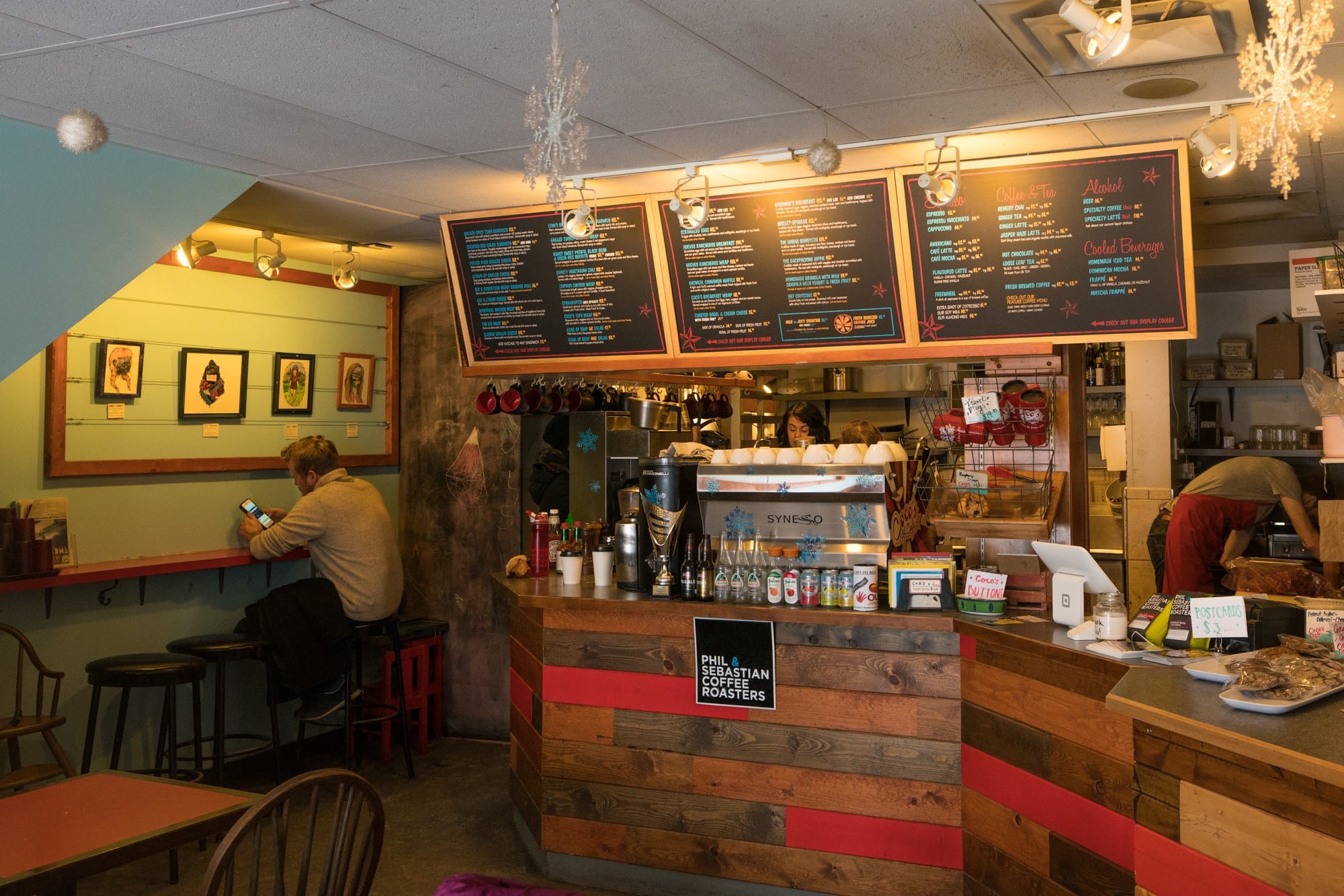 Today you get to hang out with some of the cutest pups on the planet (besides Charlie of course). Cold Fire Creek Dog Sledding is the closest dog-sledding operation to Jasper National Park and offers a variety of tours where you get to be the lead musher. This trip was my first-time dog sledding, as a huge dog-lover, I was really excited to be part of this canine team. My guide Taylor said it best when describing his job. "I get to come to work every day, and instead of a bunch of people, my colleagues are these incredible dogs. You have to respect them, just like they respect you, and you all work together to get the job done." I tried to take more photos of the dogs, but they were so eager to run, it was hard to get them to sit still and look at the camera.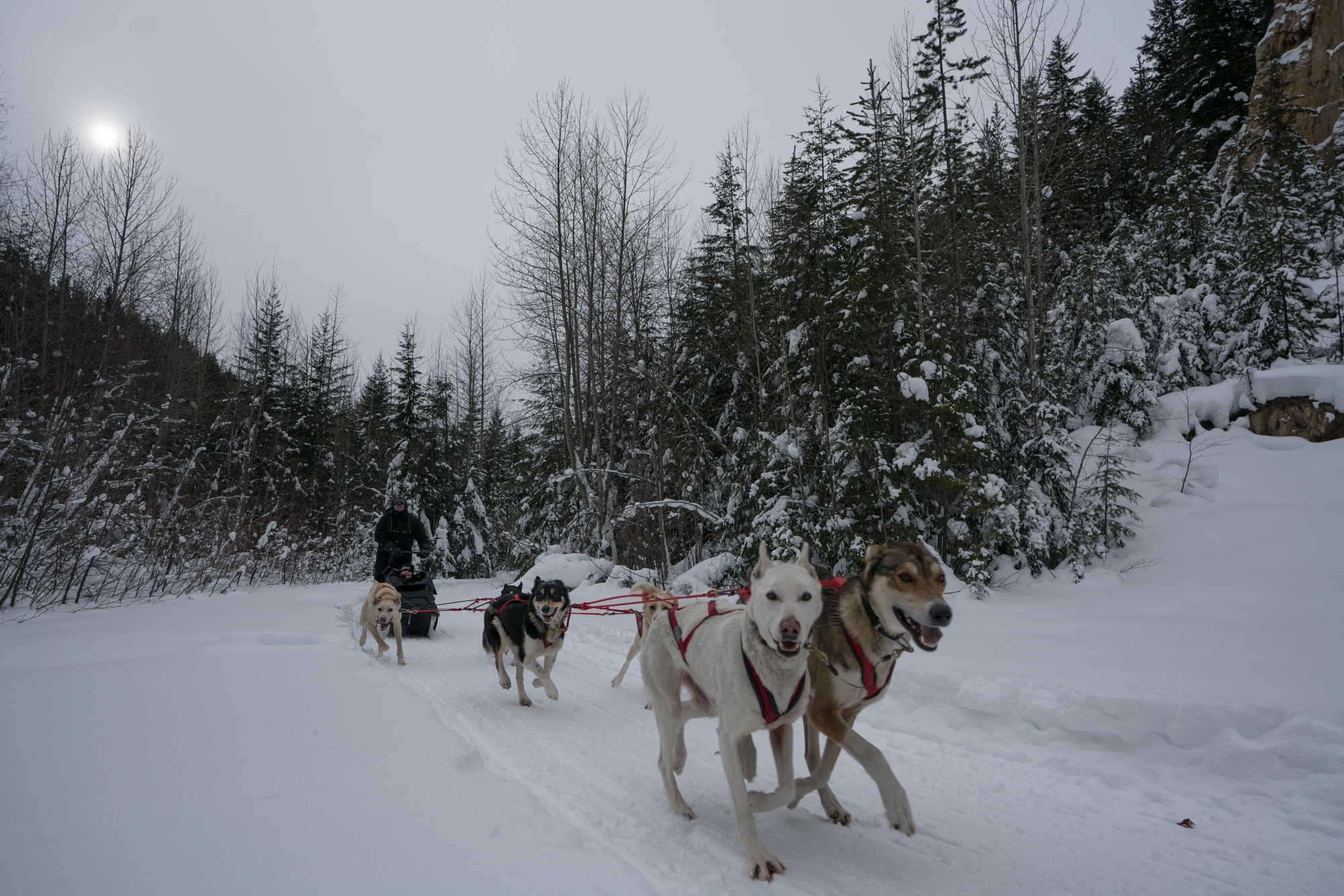 I did the one-hour tour which starts at 1pm (note the tour takes place in Pacific Time, while Jasper is Mountain Time). The one-hour tour was a great introduction to mushing with some beautiful scenery, but I would have loved to do one of the longer tours. By the time I got the hang of it, the tour was over, and I wasn't ready to say goodbye to the dogs. The one hour is a great option for families where your little ones might get cold, but for the adventurous folks, I'd recommend the 3-hour or the xx hour tour where you go further up the trail and have a campfire-side lunch at a remote cabin. The longer tours also include transportation to and from Jasper, so if you are nervous about the drive through Mount Robson Park (which was absolutely spectacular, but can get icy), this will allow you to have a more relaxing day. If you drive yourself, I'd recommend 2 hours which will give you some time to stop and take some photos along the way.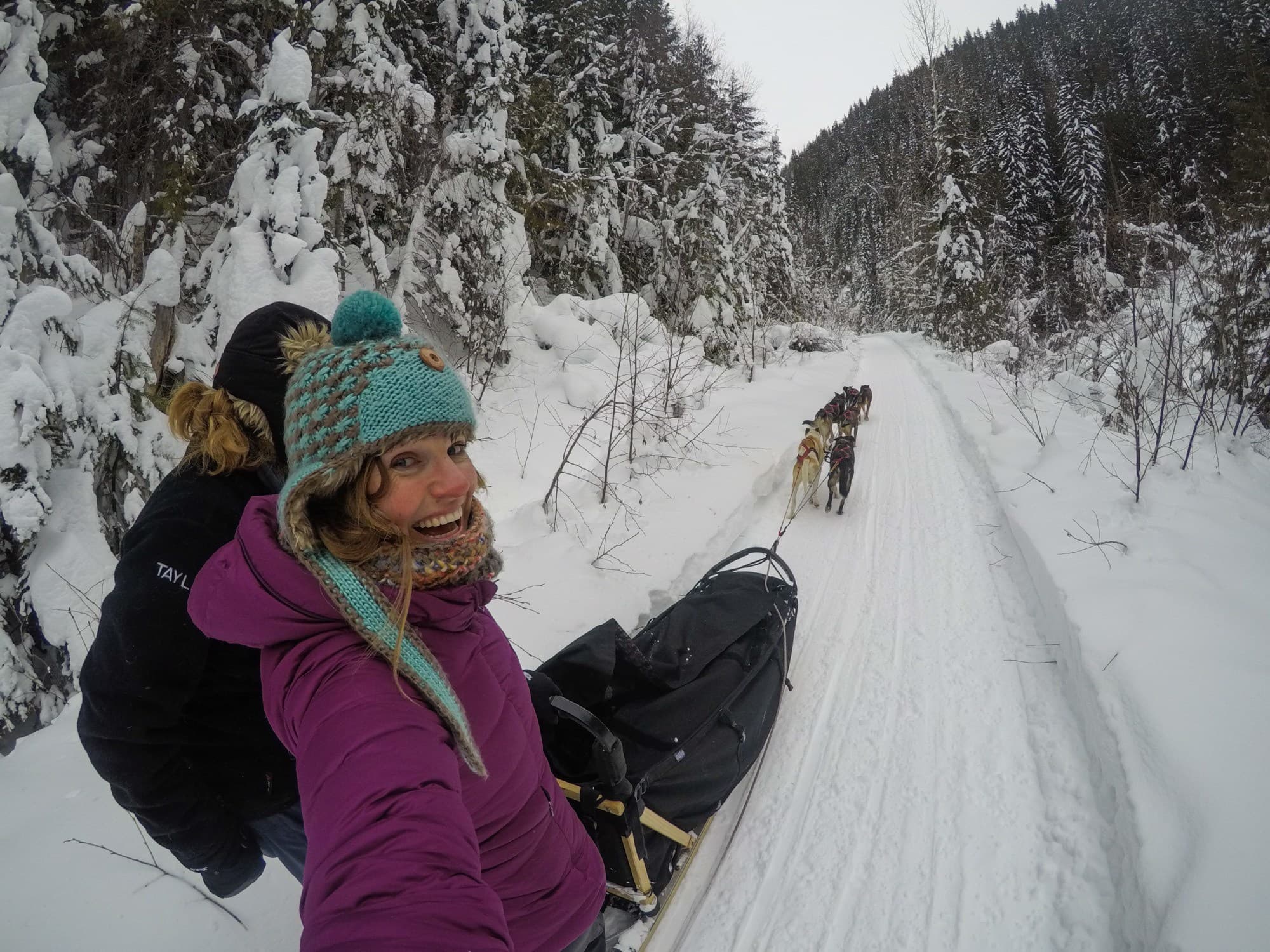 Once you are back in Jasper and have worked up an appetite, head to Jasper Brewing Company, where all of the beer is brewed right on site. Order a beer sampler if you want to try them all. For an appetizer, go out on a limb and try the elk carpaccio. This dish has thinly sliced raw elk with pickled mushrooms and a local berry sauce and it practically melts in your mouth. Plus where else can you get this?
Finish your night with a Rocky Mountain Heater, a delicious boozy coffee made with Canadian whisky, before heading back to the hotel and hitting the hot tub.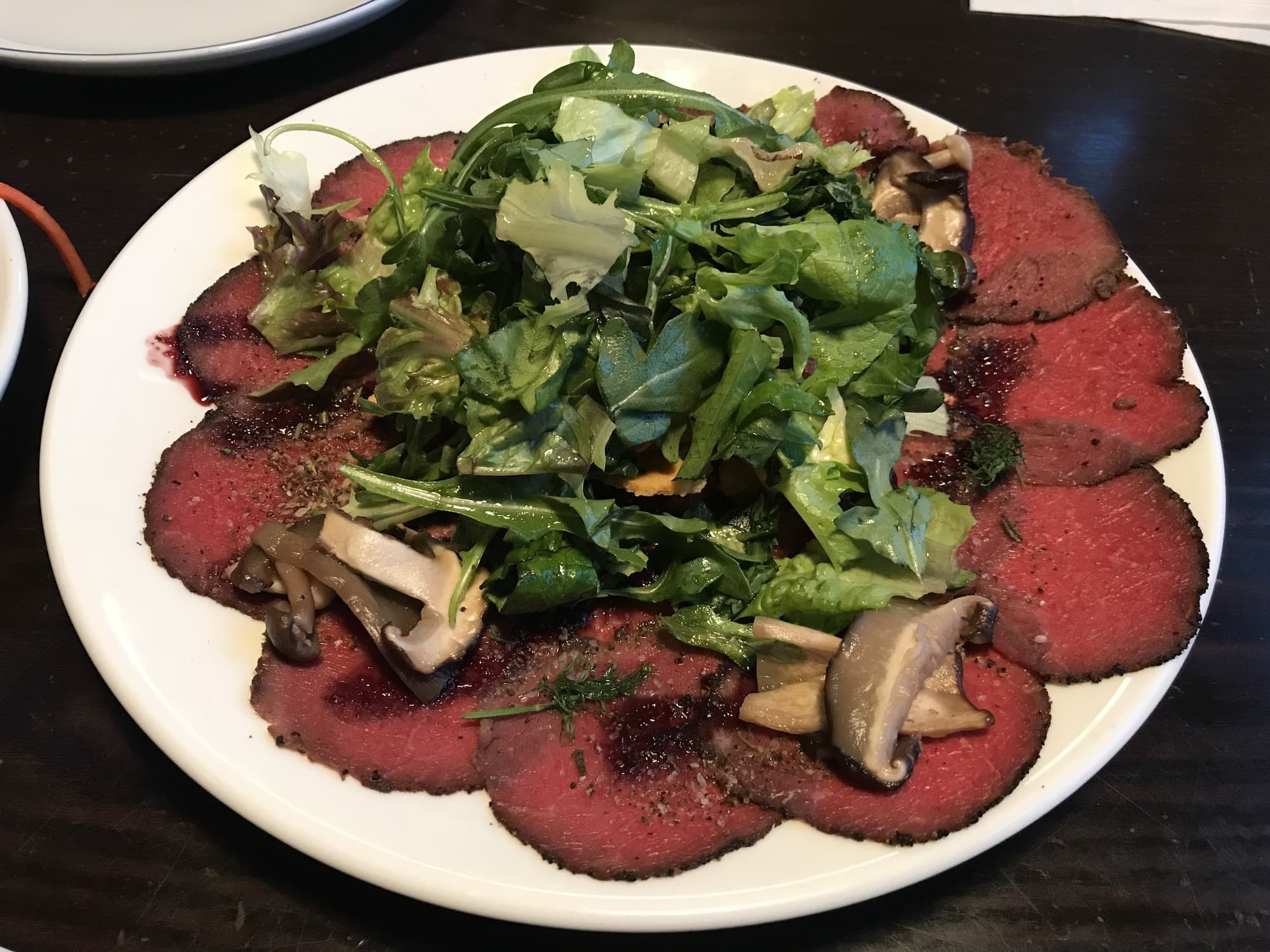 Jasper National Park Winter Itinerary Day 3
Breakfast today is at Wicked Cup, where they are known for giant breakfast sandwiches served on a fresh baguette.
After you've got your morning coffee jolt, head down the road to Source for Sports to meet your Sun Dog Tours guide for the Maligne Canyon Icewalk – one of Jasper's most unique attractions. Maligne Canyon is the deepest canyon in Jasper National Park, and in the winter, the water and waterfalls freeze over creating really unique ice formations in the canyon that you can walk on. It was like a frozen, Canadian version of the Zion Narrows. Before you hit the trail, you'll be given microspikes for your shoes to help with traction, a helmet, and a trekking pole if you want one.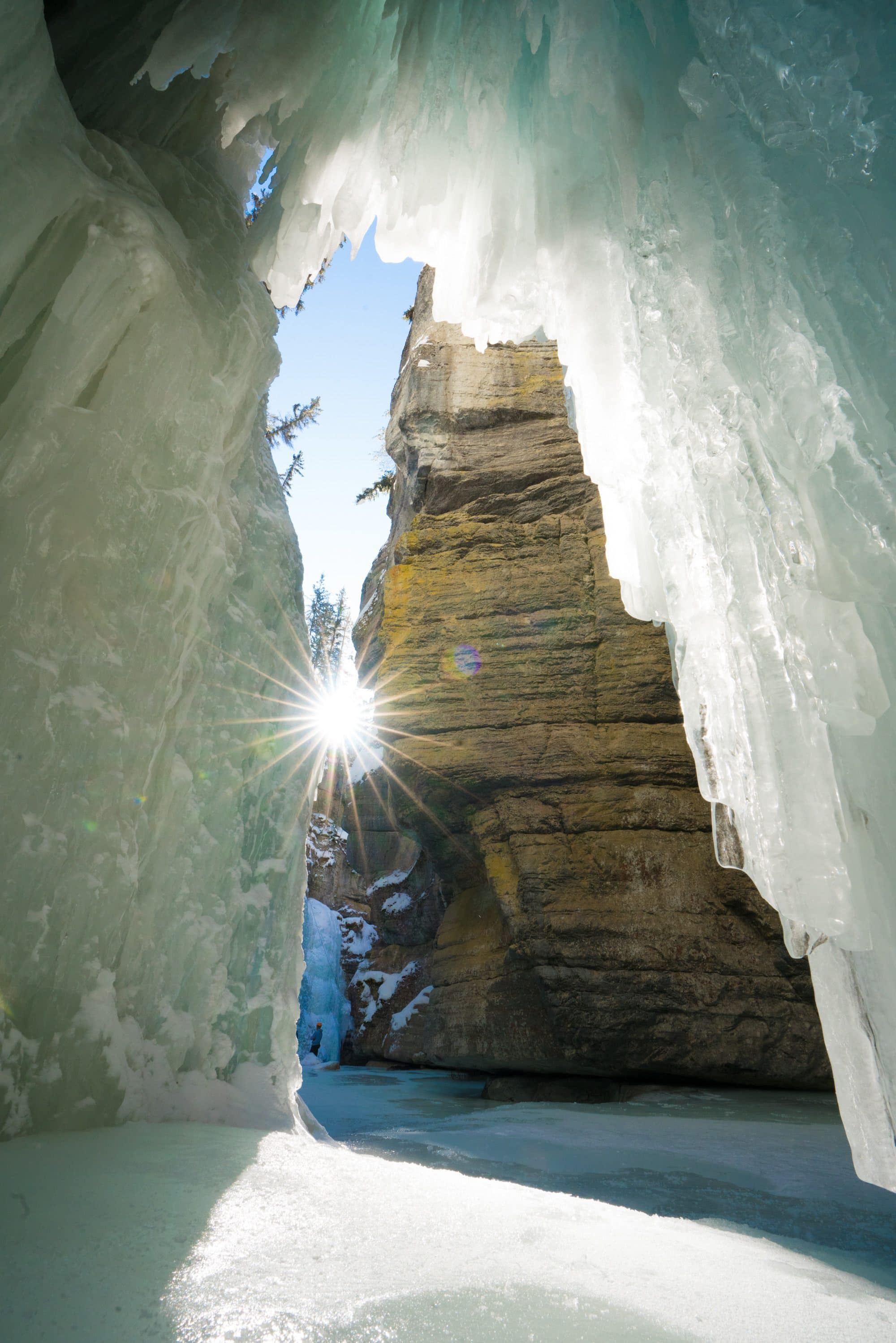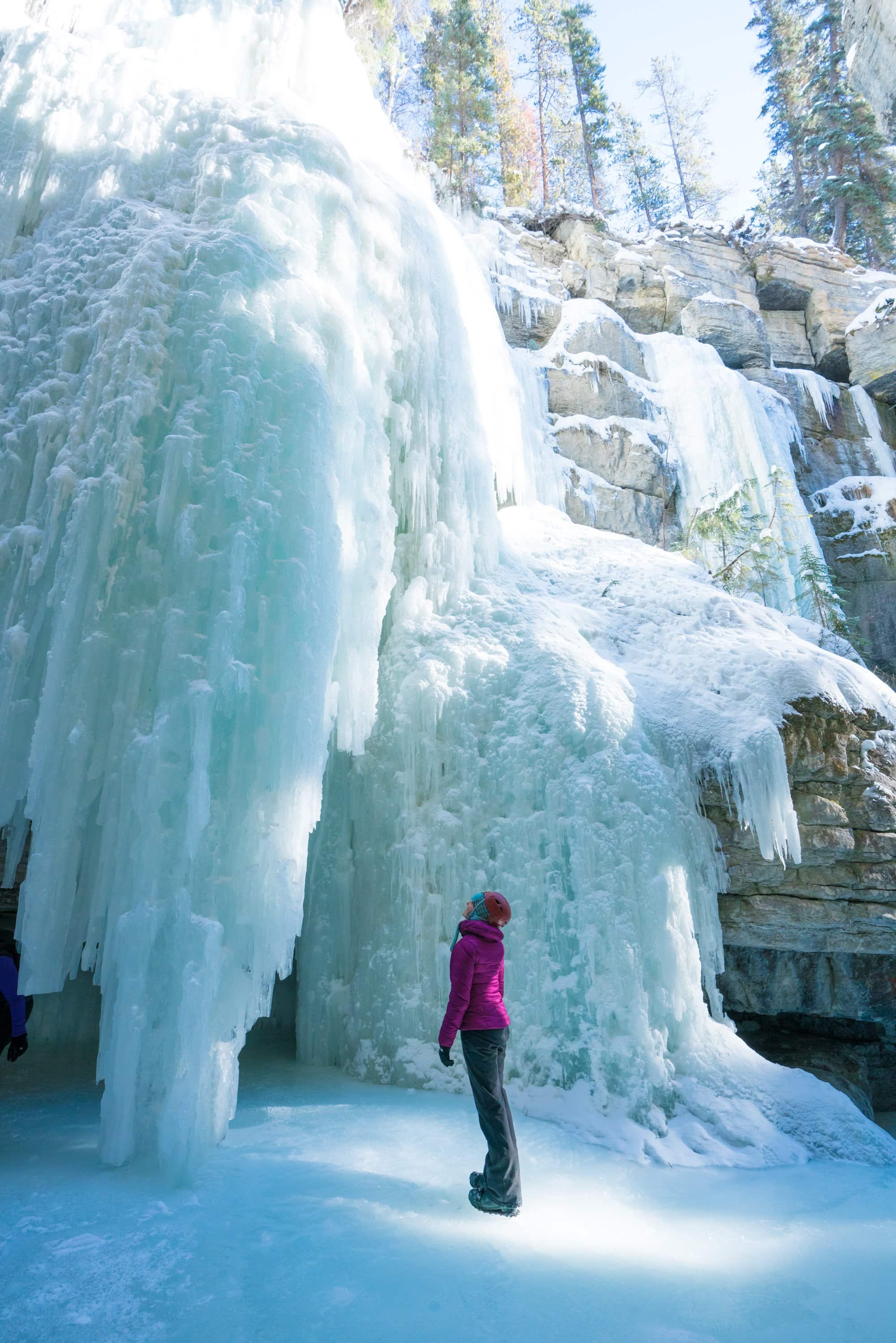 Now could you do this on your own without a guide? I think it depends on the time of year. The ice was pretty solid when I was there in February after weeks of sub-zero nights, but if you go earlier in the season, the river might not be as solid as it looks. In this case, it's important that you know how to read the ice and avoid any less-than-stable spots or you could fall in…which would be very dangerous. If you go without a guide, do so at your own risk, and definitely don't go without microspikes or you'll be slipping all over the place.
If this doesn't sound like enough adrenaline for you, Rockoboo Adventures leads introductory ice climbing classes in Maligne Canyon, where you see everything you see on the ice walk, plus more. They were just setting up when we were on our ice walk, and it looked like a lot of fun. If I were to go back to Jasper in winter, I'd like to do this next time.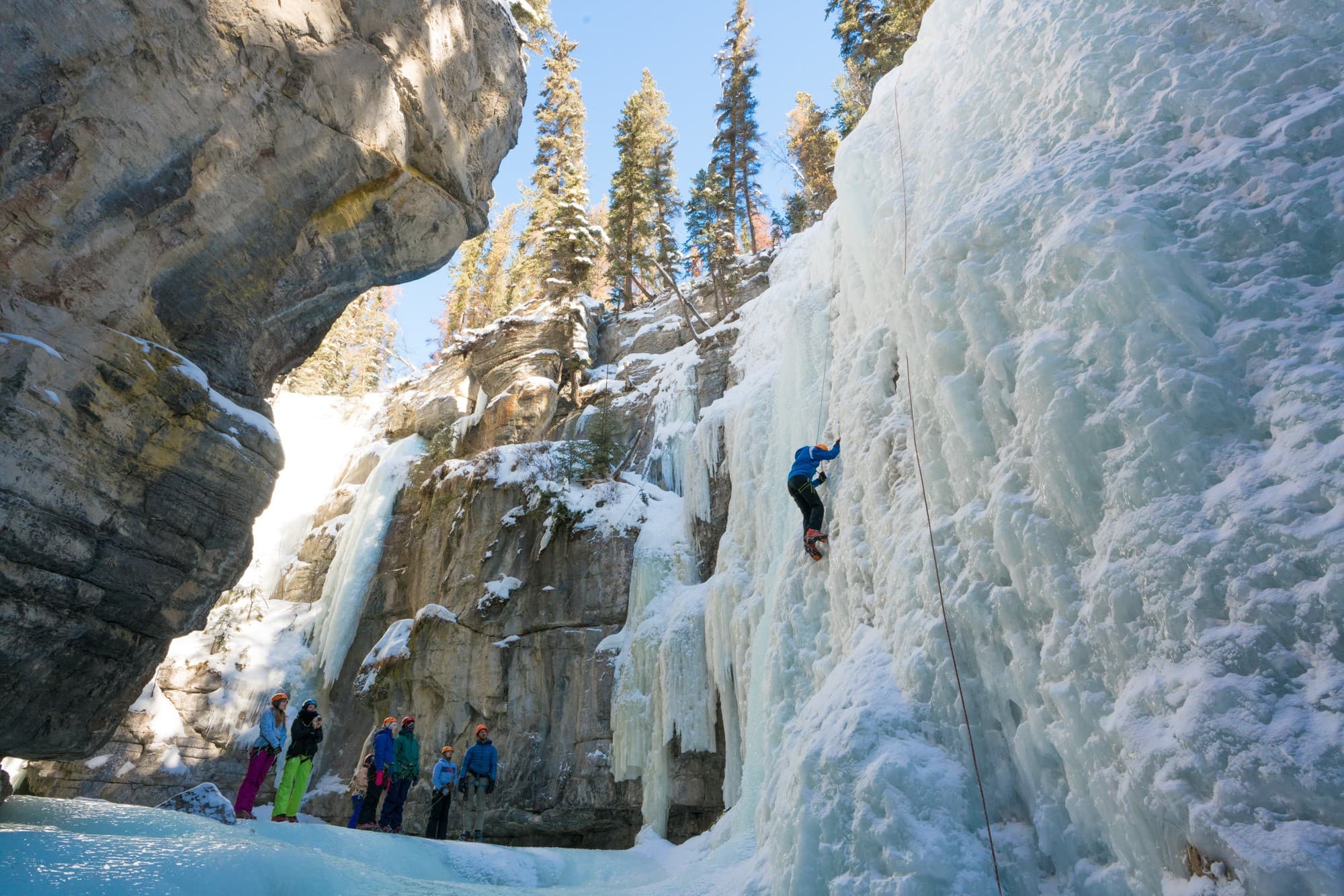 For dinner on Day 3, fancy pizza is on the menu at Famoso's. This is a Neopolitan style pizza joint with a real Italian pizza oven. Mix one of the spicy salami pizzas with the sweeter Cavoletti which has Brussel sprouts, crispy prosciutto, gorgonzola, and walnuts. If you're extra hungry, order a side of meatballs served in their homemade tomato sauce, and finish up with some gelato.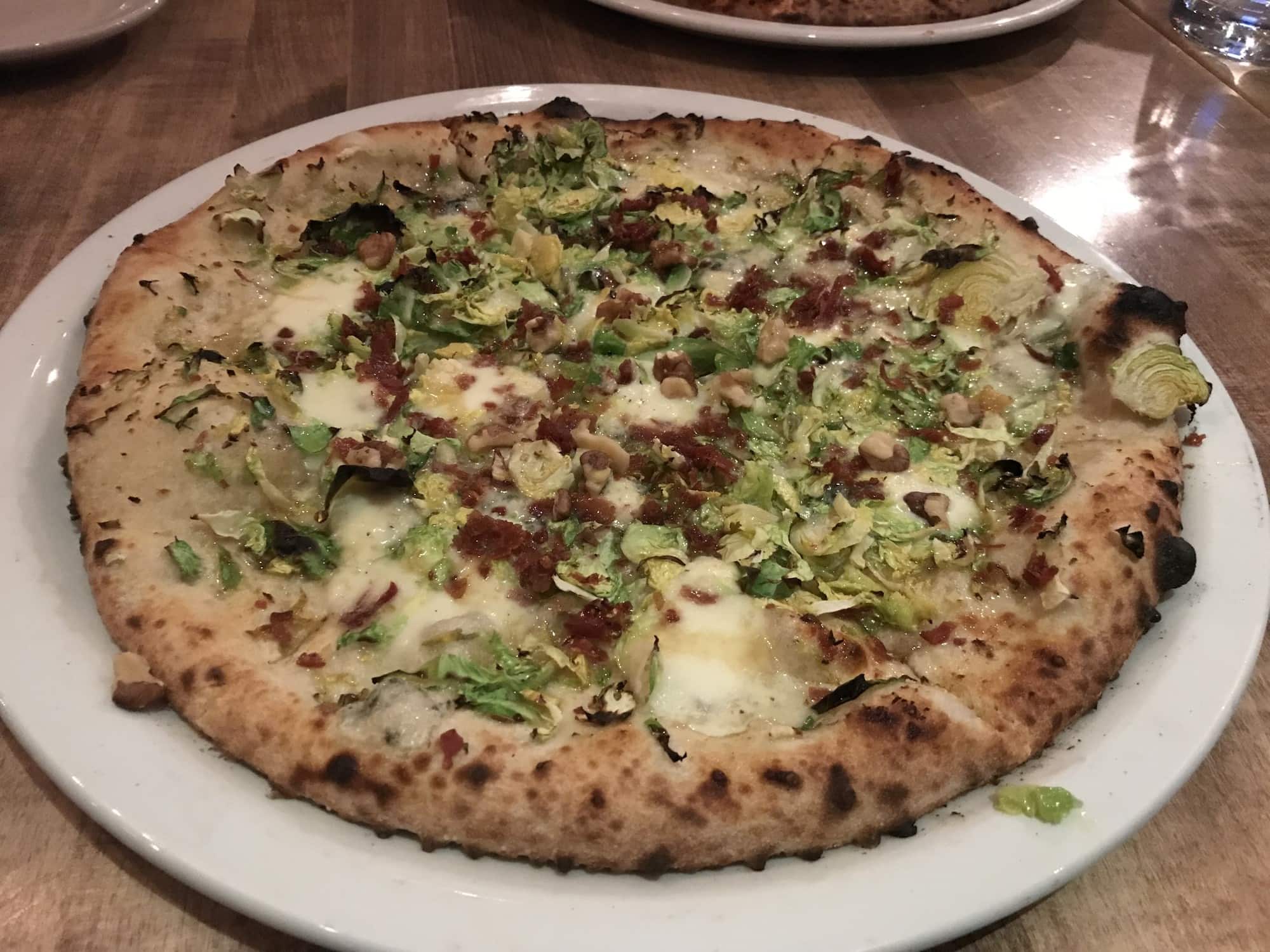 Jasper National Park Winter Itinerary Day 4
If you are into photography, sunrise is prime time in Jasper. Don't know where to go to catch the best light? Hit up Jeff Lewis, a local photographer who leads photography tours and will take you to all of his secret spots. He was super friendly, and after living in Jasper for 15 years, he has a lot of knowledge about the area and where to go. He'll even give you some camera pointers if you want them.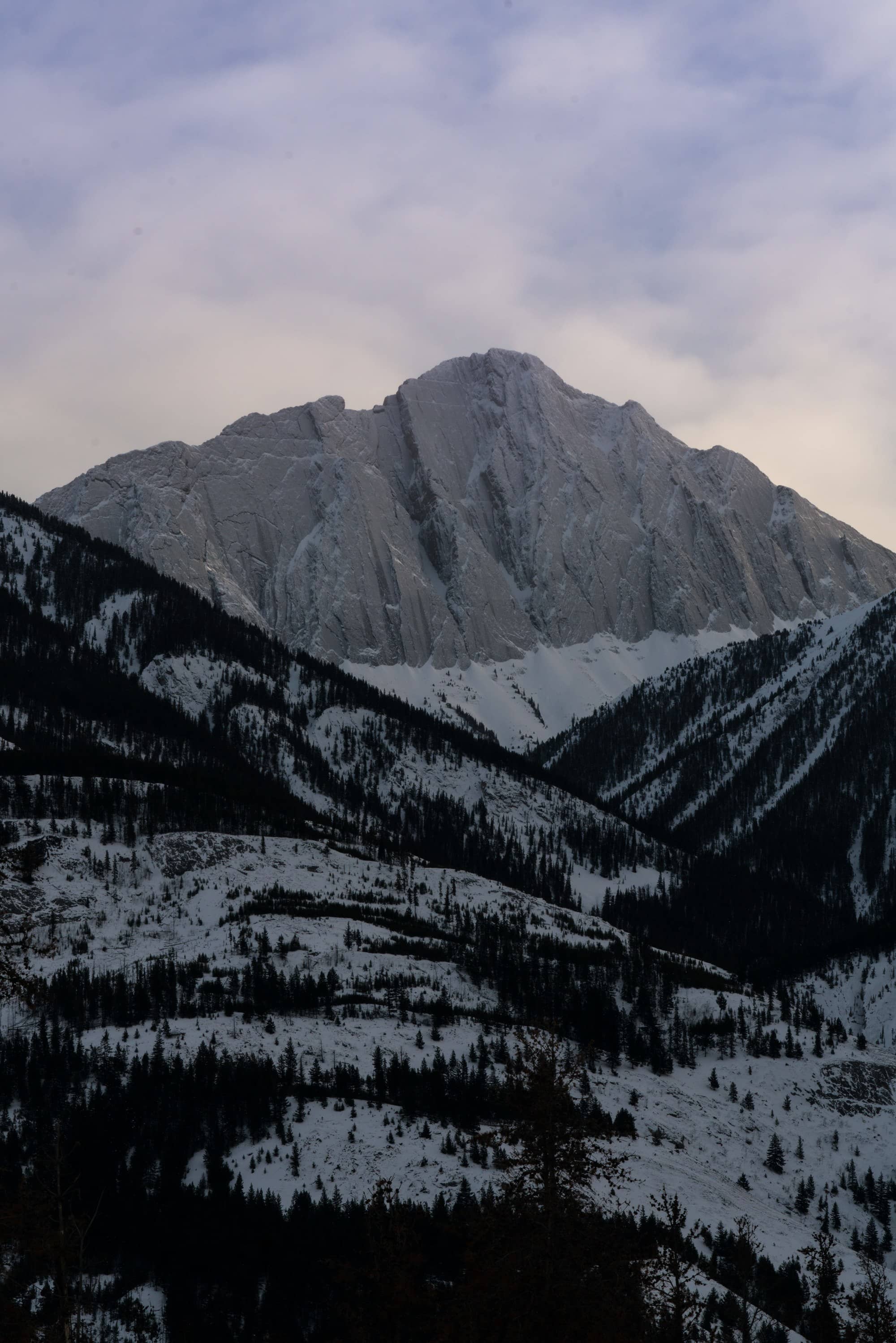 If you could care less about photography, then spend your morning working up a little sweat by borrowing a fat bike from Pyramid Lake Resort and heading out on the ice. The lake completely freezes over in winter, and they have a series of groomed trails on the lake with spectacular views of Pyramid Peak. You can also cross-country ski or even ice skate on the lake. For the more advanced fat bike rider (or once you get the hang of it), head into the forest for some more varied terrain.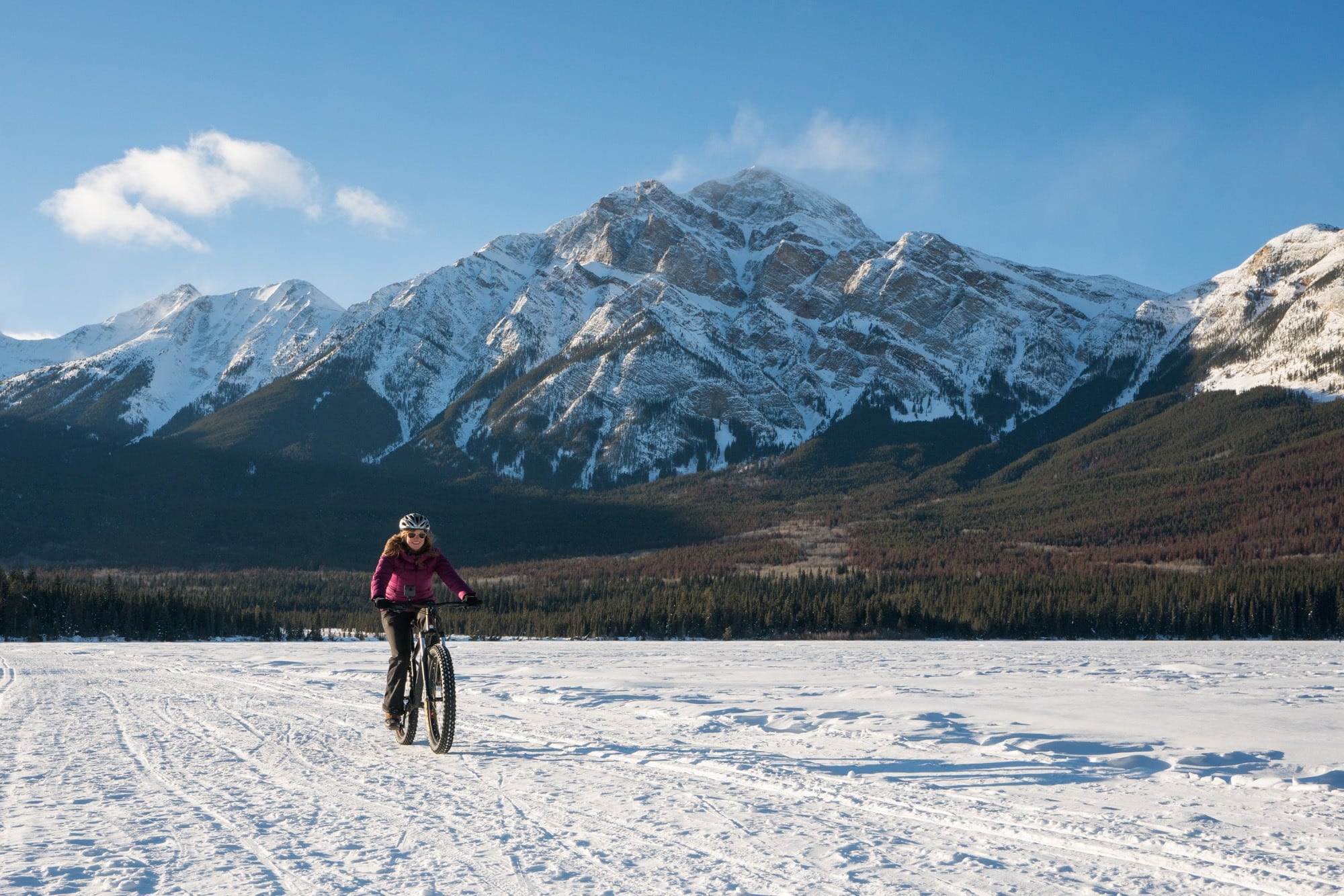 No visit to Jasper National Park is complete without driving at least some of the Icefields Parkway. The road can get a little spicy following a storm, so be careful.. but it is totally worth it for the views alone, even if you only look from the car. Plus you don't have to drive that far before you're right up against some of the most impressive mountains in the Canadian Rockies.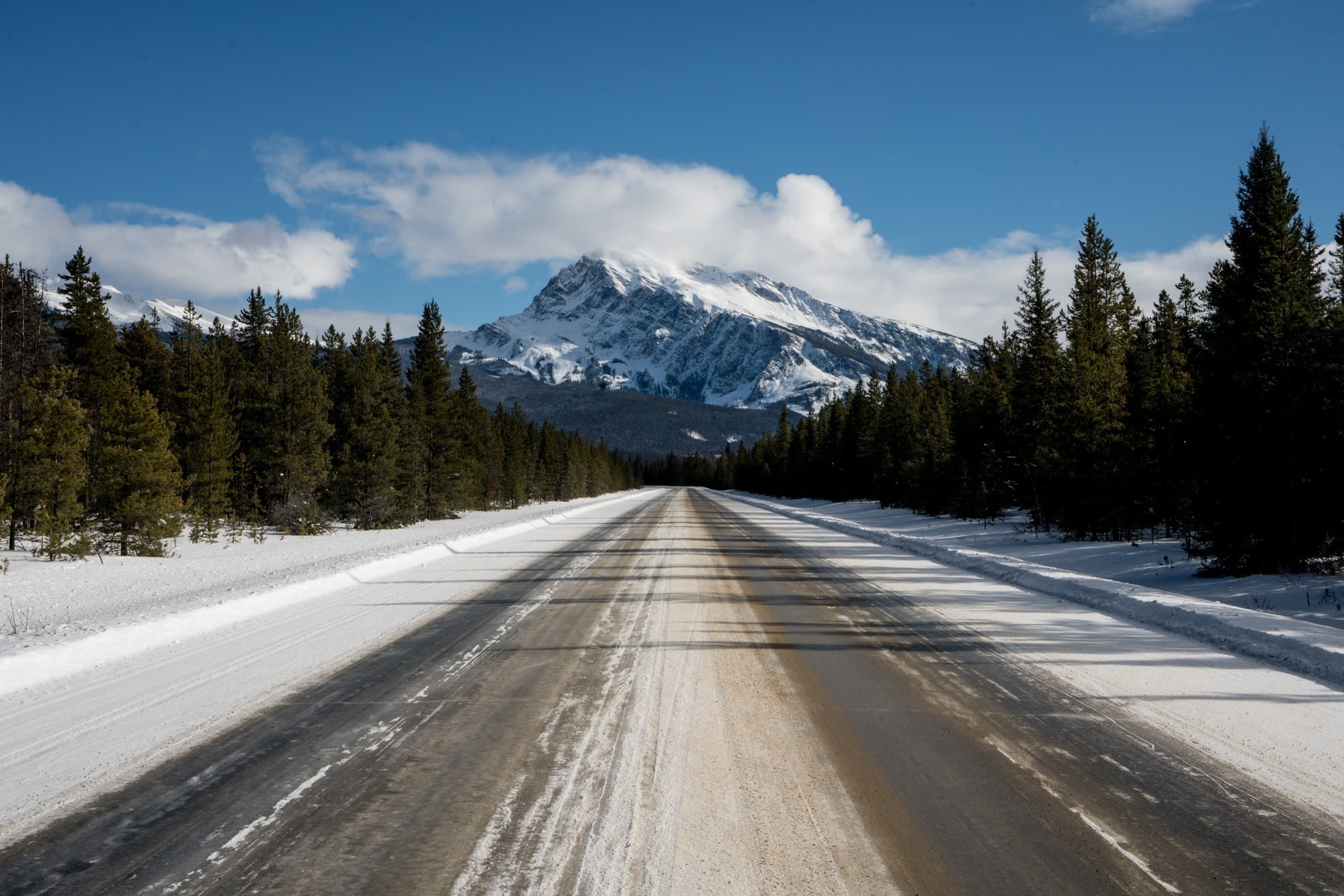 The main tourist attractions just south of Jasper are Athabasca Falls and Sunwapta Falls. Both are frozen over in winter. I thought Athabasca was still very pretty with some icy glacier pools below the falls, but Sunwapta isn't really worth a stop for a photo op unless you just need some fresh air. My photo guide Jeff Lewis, mentioned above, suggested going a bit further south to the Icefields Center if you have time (which I didn't).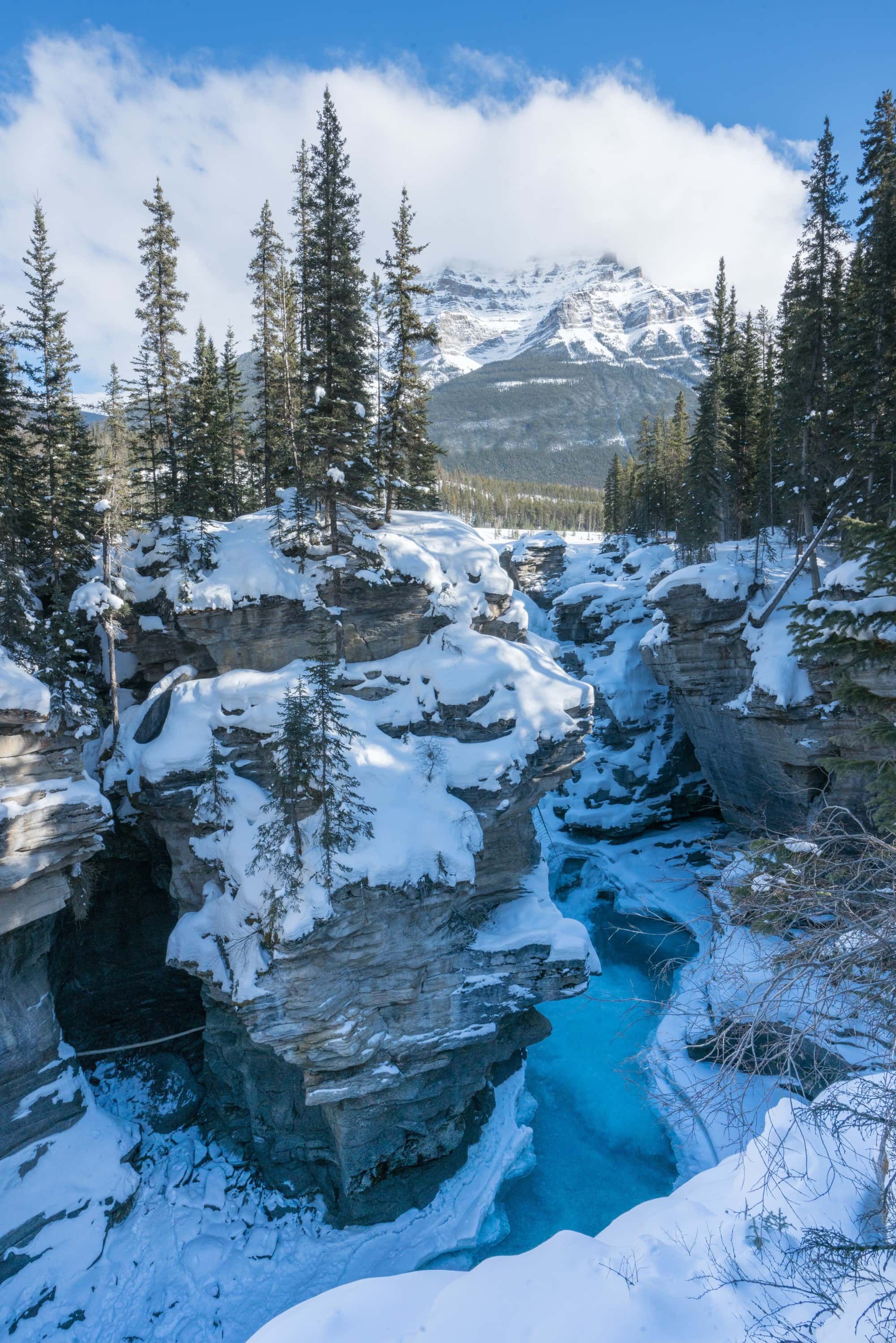 For dinner on your final night, check out the Raven Bistro which was recommended to me by more than one local.
See Jasper National Park in Winter!
Watch my newest YouTube video to see the spots covered in this Jasper National Park winter itinerary!
Did this Jasper winter itinerary spark your interest? Would you like to visit Jasper in the off-season? Leave a comment below!
Thanks to Tourism Jasper for hosting me. As always, all words and opinions are my own.