Things to Do in Jasper National Park in Winter
Plan your getaway to Jasper National Park in winter with our guide to the best activities such as skiing, dogsledding, snowshoeing, and more.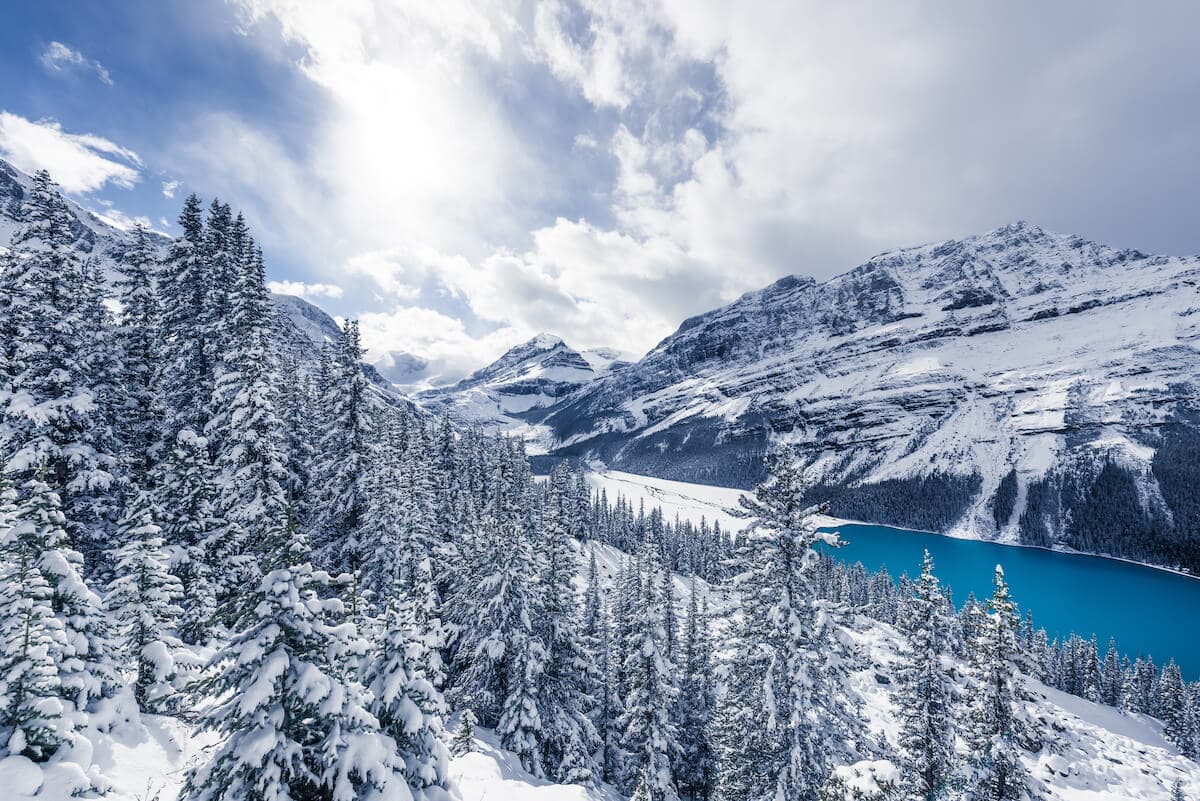 Visiting Canada's Jasper National Park during the winter is absolutely magical. With fewer crowds, lower prices, and beautiful snowy landscapes, it's the perfect winter escape. I took a 4-day winter trip with Tourism Jasper in Alberta to experience the best winter activities Jasper National Park has to offer, and I easily could have spent a few weeks there.
From skiing to dog sledding to walking through an icy Maligne Canyon, I squeezed in as much as I could. In this Jasper National Park winter guide, I share how to get there, the best winter activities, tasty restaurants, and where to stay for easy outdoor access.
Discover the best things to do in Jasper National Park in winter with our travel guide.
Where is Jasper National Park & How Do You Get There?
Jasper National Park was established in 1907 and is the largest National Park in the Canadian Rockies. In the 2900 square miles that the Park covers, you'll find the Columbia Icefields, the northern half of the Icefield Parkway, some of the most impressive peaks in the region, and incredible Maligne Lake.
The main town of Jasper offers the only major services in the Park and is located three and a half hours north of the town of Banff, 5 hours north of Calgary, and 4 hours west of Edmonton.
Flying into Edmonton vs. Calgary
In the winter, the most reliable and quickest route to Jasper is from Edmonton. The road is mostly a 4 lane highway and is generally well maintained in the winter. If you only have a few days, I'd recommend flying directly into Edmonton and renting a car from the Edmonton Airport. If you arrive late in Edmonton, there are a number of hotels right next to the airport that offer a convenient place to stay.
If you have additional time (5-7+ days total) and want to combine Banff and Jasper into one trip, you can fly into Calgary. The road between Banff and Jasper, however, can get a little dicey and isn't as well maintained in winter as the road from Edmonton.
What Kind of Rental Car Do You Need for Visiting Jasper?
The type of car you get isn't as important as the type of tires that your rental car has. No matter what car you get, make sure to request winter tires. Winter tires are required in parts of the Park and provide extra traction if the road is icy. It can be very cold in Jasper, so the snow can stick to the road long after a storm has passed. I had a small Kia sedan with winter tires. To be honest, I was pretty skeptical when I picked up the car, but the winter tires actually handled the roads pretty well.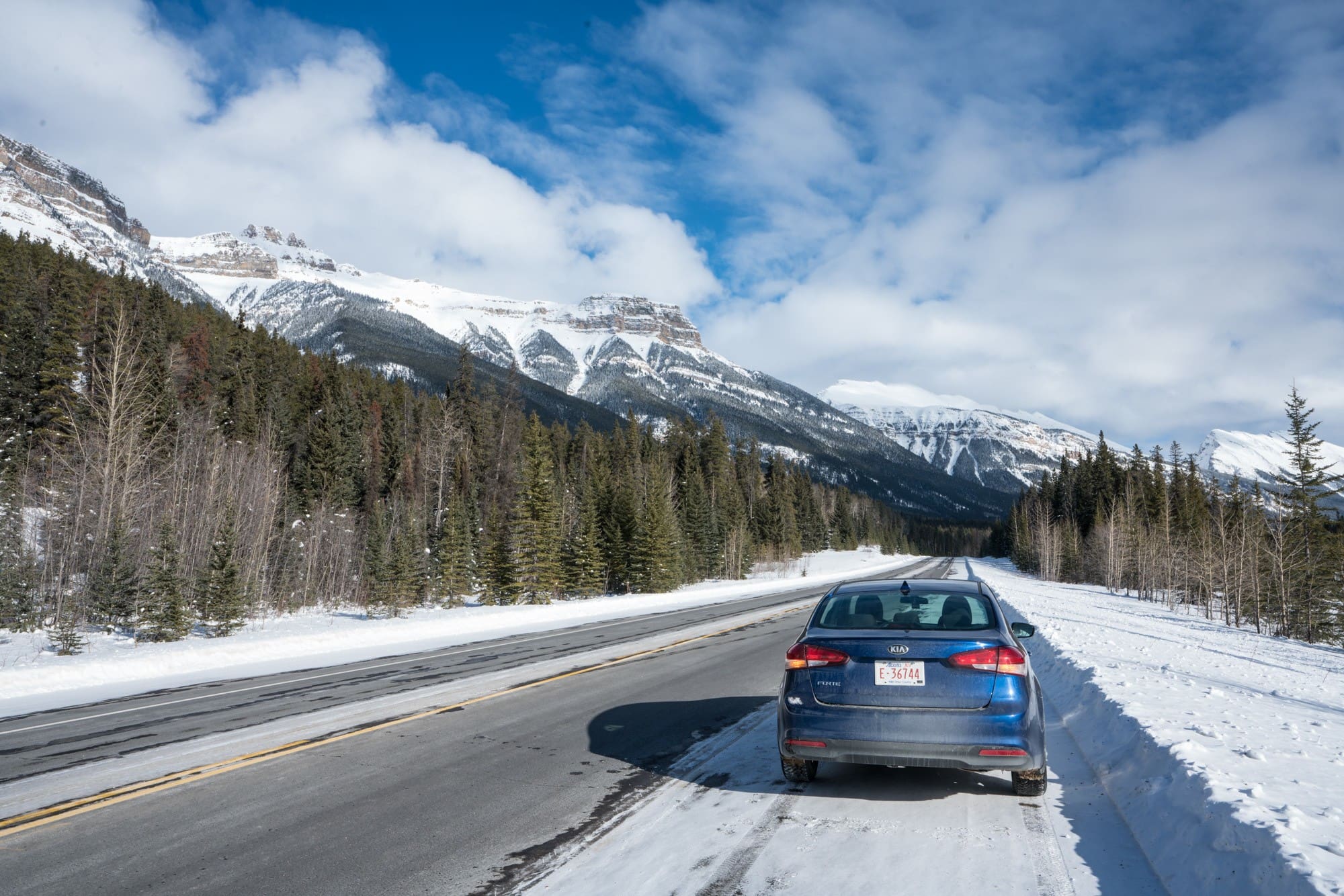 Why You Should Visit Jasper National Park in Winter
I've visited Jasper National Park in both summer and winter and while I LOVED both trips, here are a few reasons why I recommend visiting in winter:
Fewer Crowds
In my opinion, this is one of the biggest reasons to visit Jasper, Alberta in winter. If you're looking for a "scene," by all means go to Banff. If you are looking for a welcoming, casual and relaxed mountain town, go to Jasper where things really quiet down in winter. There's no looking for parking, no waiting in restaurants, no crowds on the trails, no swarms of cars every time you see an animal on the side of the road. You won't stand in long lift lines, and the chill vibe means you can wear your ski clothes to nearly every restaurant in town without feeling out of place.
Off Season Pricing
Winter is the off-season in Jasper which means prices drop significantly compared to the Canadian Rockies in the summer. During my winter visit, I stayed at Pyramid Lake Resort which has greater availability and much cheaper rooms in winter.
Epic Winter Landscapes
Think the Canadian Rockies are pretty in summer? The snow on Jasper's mountains results in an entirely different dynamic. While the pretty blue lakes are frozen over, I thought the mountains themselves were actually a lot more impressive in winter. They just look so much bigger, and the snow during sunrise and sunset gives the mountains a gorgeous glow.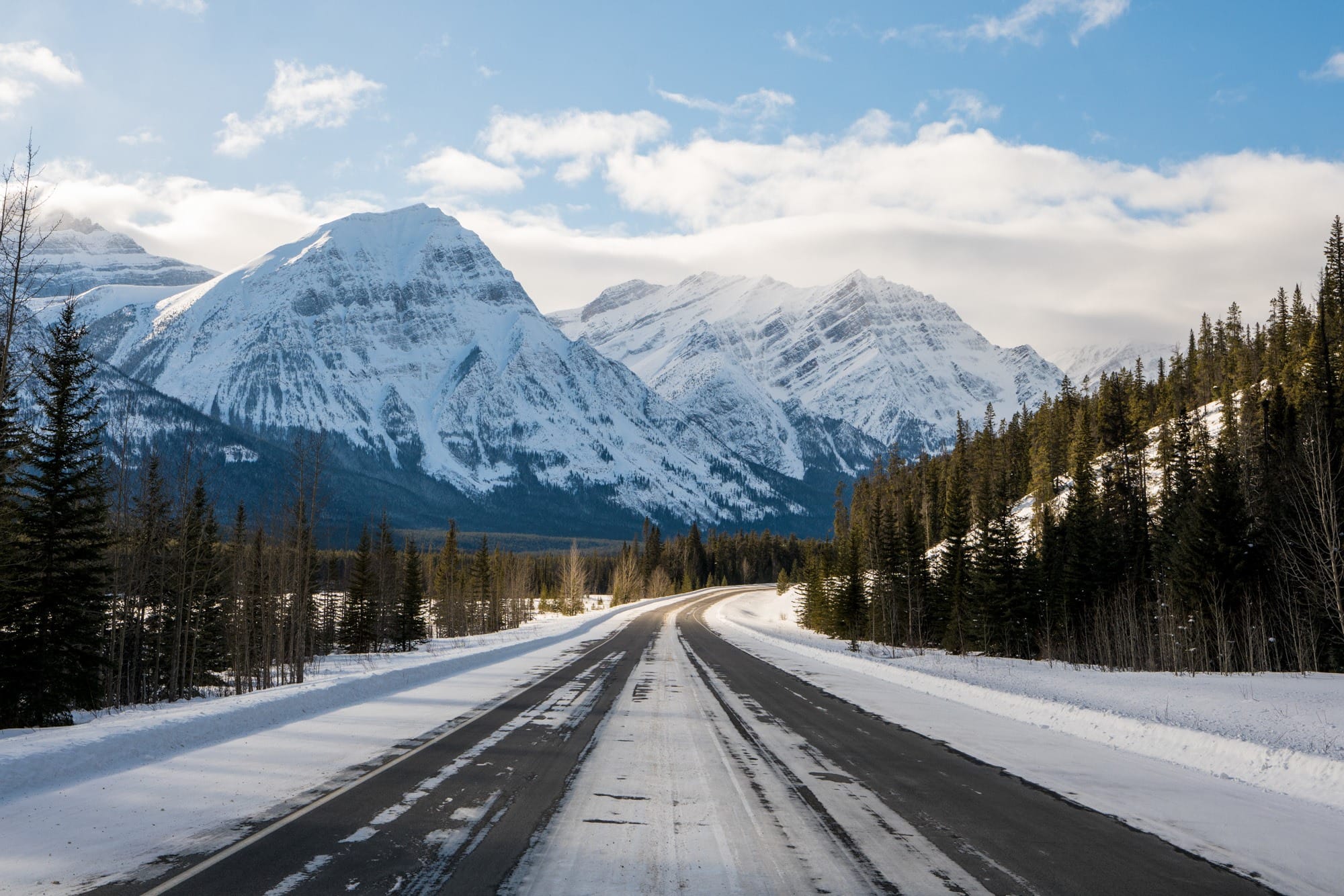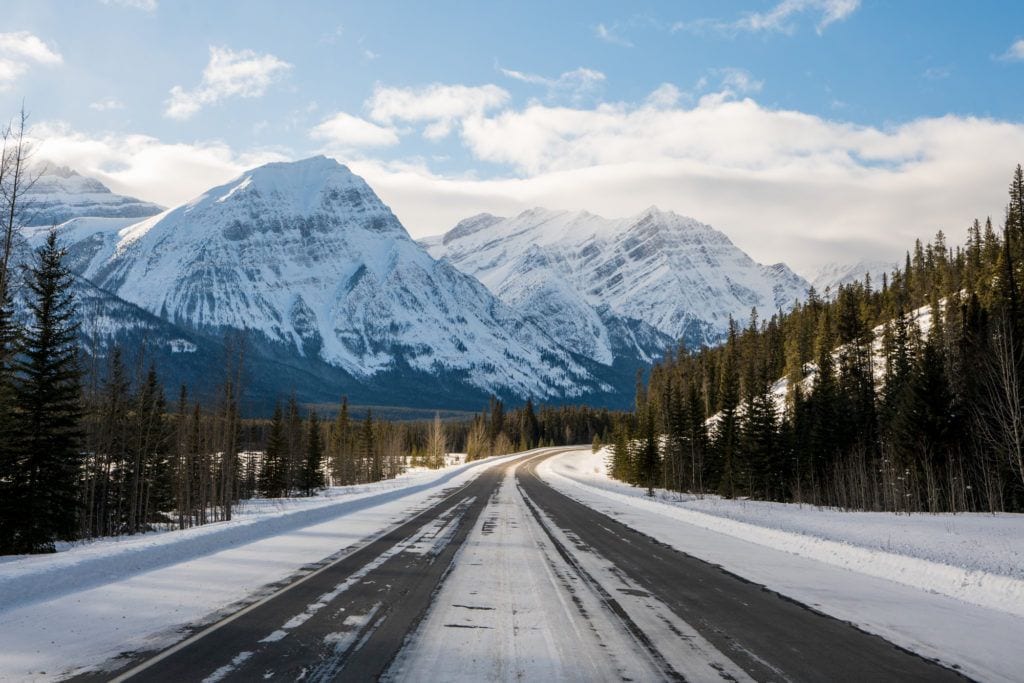 Where to Stay in Jasper in Winter
There are a number of hotels in Jasper, and the advantage of visiting in winter is the prices drop significantly from summer rates. I stayed at the Pyramid Lake Resort, which is a 7-minute drive outside of town. The decor is a little rustic, but the rooms were comfortable and views of Pyramid Mountain can't be beat. Plus you'll have a ton of recreation right out your doorstep with fat biking, ice skating, and cross-country skiing that can all be done on frozen Pyramid Lake.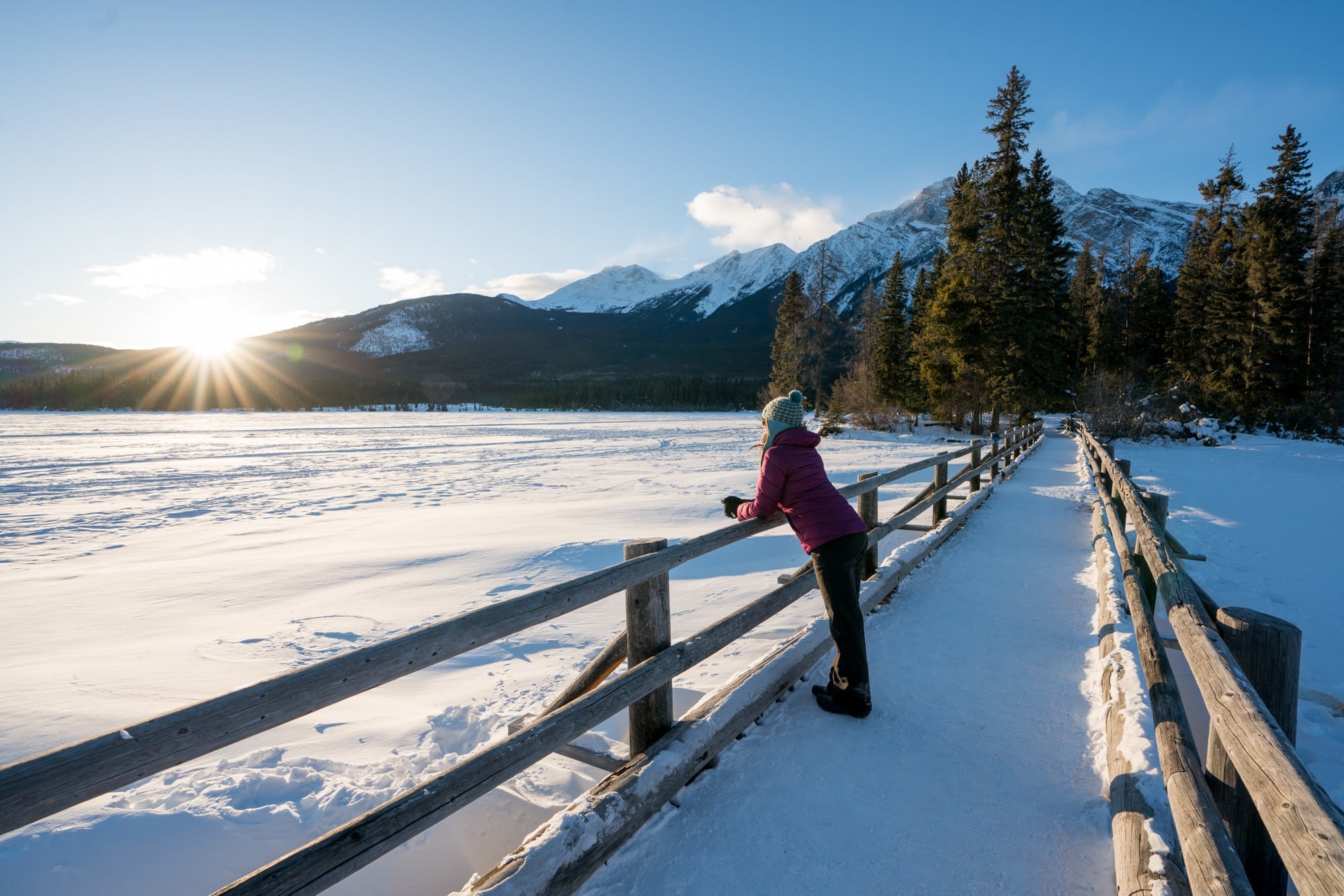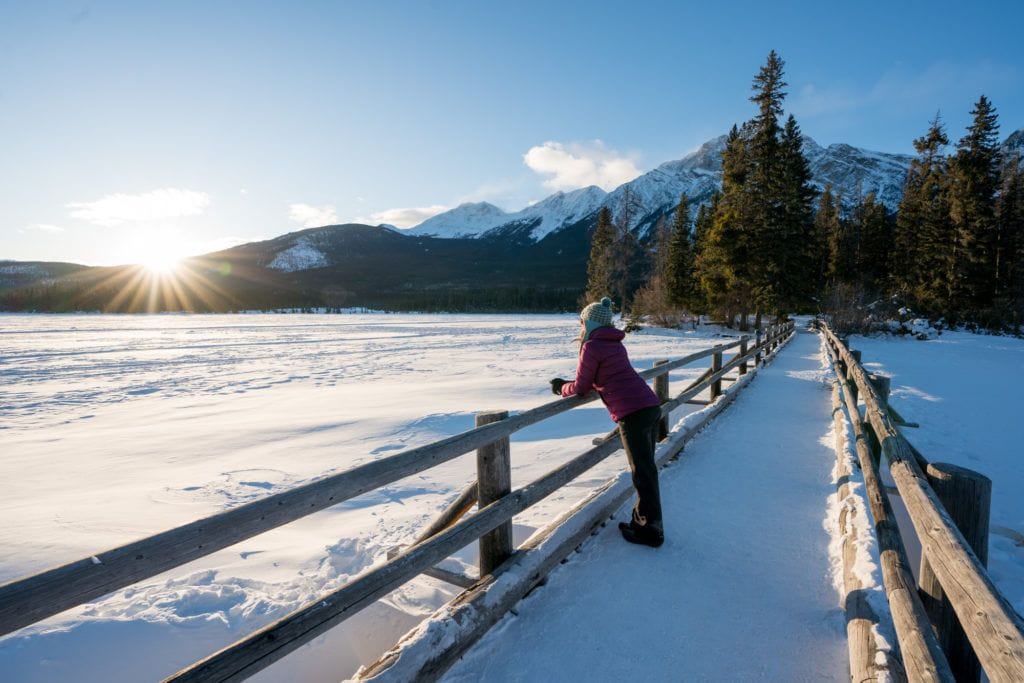 Things to Do in Jasper National Park in Winter
Jasper Skiing
Start your Jasper National Park winter trip off with a day of skiing at Marmot Basin. Compared to the "Big 3" ski resorts down in Banff and Lake Louise, Marmot Basin is a bit cheaper and seems to be more of a local mountain. You won't be waiting in any long lift lines, particularly if you visit mid-week. The mountain has 7 lifts, and with nearly half of the mountain above the treeline, you'll feel like you're on top of the world.
If you want to take some laps with an instructor, or you are a new skier, Marmot Basin is a great place to learn. Two-thirds of their terrain is considered beginner or intermediate. But don't let that stop you if you consider yourself a shredder. Marmot Basin has lots of hikeable, ungroomed expert terrain.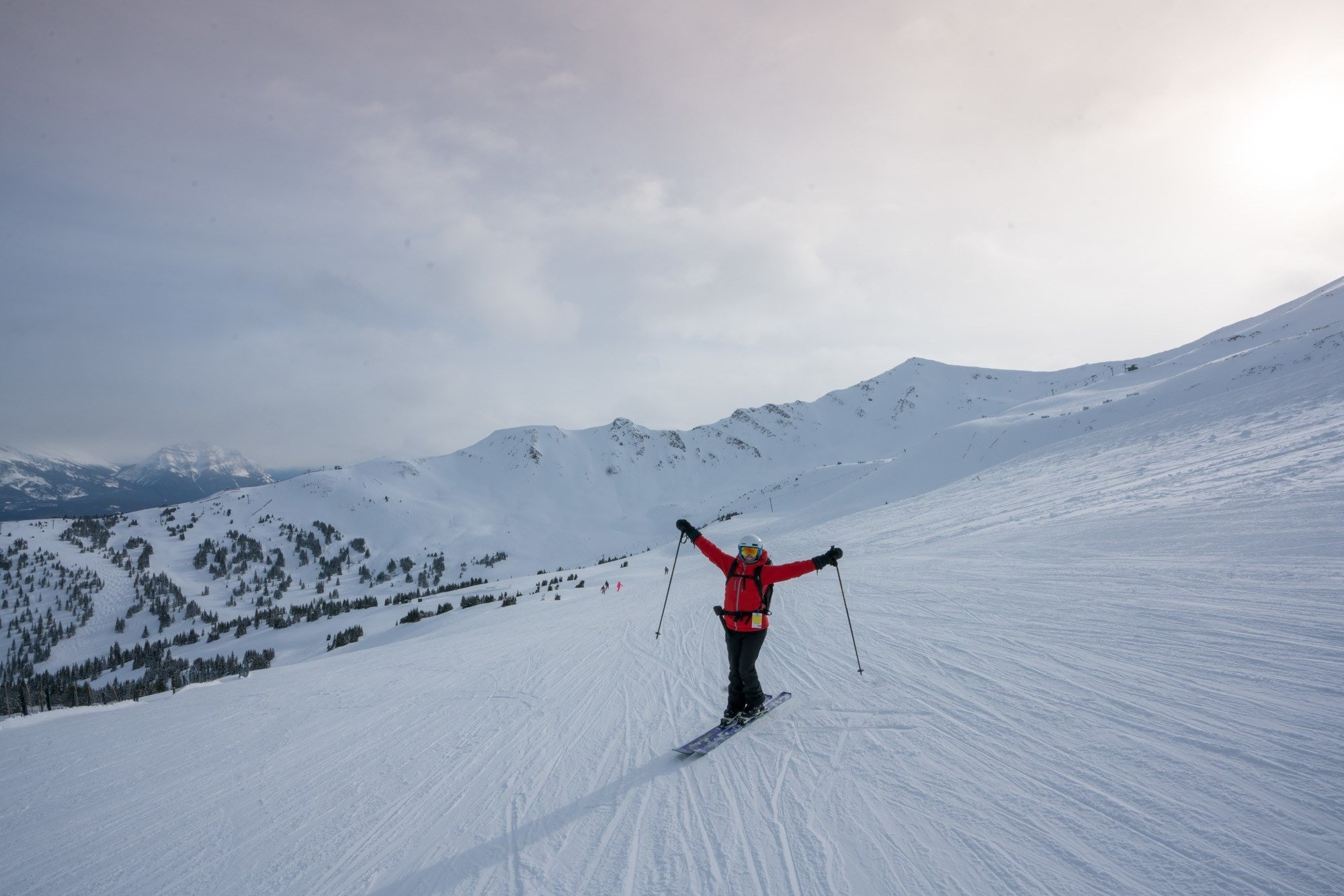 Dogsledding
Cold Fire Creek Dog Sledding is the closest dog-sledding operation to Jasper National Park and offers a variety of tours where you get to be the lead musher. This trip was my first-time dog sledding, and as a huge dog-lover, I was really excited to be part of this canine team.
My guide Taylor said it best when describing his job. "I get to come to work every day, and instead of a bunch of people, my colleagues are these incredible dogs. You have to respect them, just like they respect you, and you all work together to get the job done." I tried to take more photos of the dogs, but they were so eager to run, it was hard to get them to sit still and look at the camera.
I did the 1-hour tour which starts at 1pm (note the tour takes place in Pacific Time, while Jasper is Mountain Time). The one-hour tour was a great introduction to mushing with some beautiful scenery, but I would have loved to do one of the longer tours. By the time I got the hang of it, the tour was over, and I wasn't ready to say goodbye to the dogs. The 1-hour tour is a great option for families where your little ones might get cold, but for the adventurous folks, I'd recommend the 3-hour tour where you go further up the trail and have a campfire-side lunch at a remote cabin.
The longer tours also include transportation to and from Jasper, so if you are nervous about the drive through Mount Robson Park (which was absolutely spectacular, but can get icy), this will allow you to have a more relaxing day. If you drive yourself, I'd recommend 2 hours which will give you some time to stop and take some photos along the way.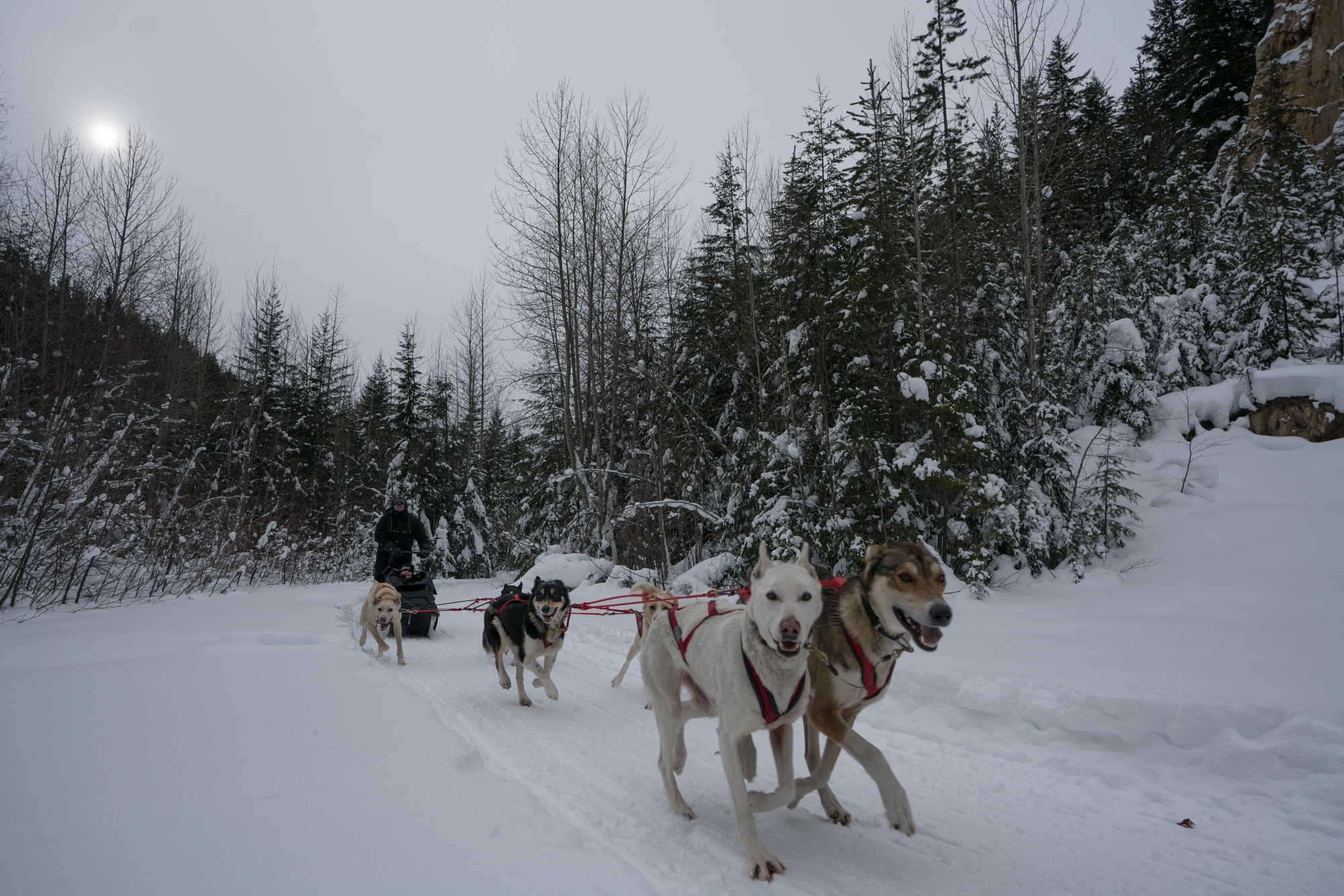 Jasper National Park Winter Hiking
I highly recommend doing the Maligne Canyon Icewalk – one of Jasper's most unique winter hiking attractions. Maligne Canyon is the deepest canyon in Jasper National Park, and in the winter, the water and waterfalls freeze over creating really unique ice formations in the canyon that you can walk on. It was like a frozen, Canadian version of the Zion Narrows. Before you hit the trail, you'll be given microspikes for your shoes to help with traction, a helmet, and a trekking pole if you want one.
Now could you do this on your own without a guide? I think it depends on the time of year. The ice was pretty solid when I was there in February after weeks of sub-zero nights, but if you go earlier in the season, the river might not be as solid as it looks. In this case, it's important that you know how to read the ice and avoid any less-than-stable spots or you could fall in…which would be very dangerous. If you go without a guide, do so at your own risk, and definitely don't go without microspikes or you'll be slipping all over the place.
Other top winter hikes in Jasper National Park include Lake Annette, Valley of the Five Lakes, and the Moose Lakes Loop. Be sure to check out our winter hiking tips blog posts to keep you safe hiking in the snow.
[images_2_col image_1="33114″ image_2="33112″ /]
Jasper Snowshoeing
Jasper is the place to learn to snowshoe in the Canadian Rockies because there are endless trails to explore for all skill levels from beginner to advanced snowshoers. Maligne Lake is one of the best spots to snowshoe because of its picturesque landscapes and high chances to see wildlife. There are also tons of snowshoeing opportunities along Highway 92A and the Icefields Parkway.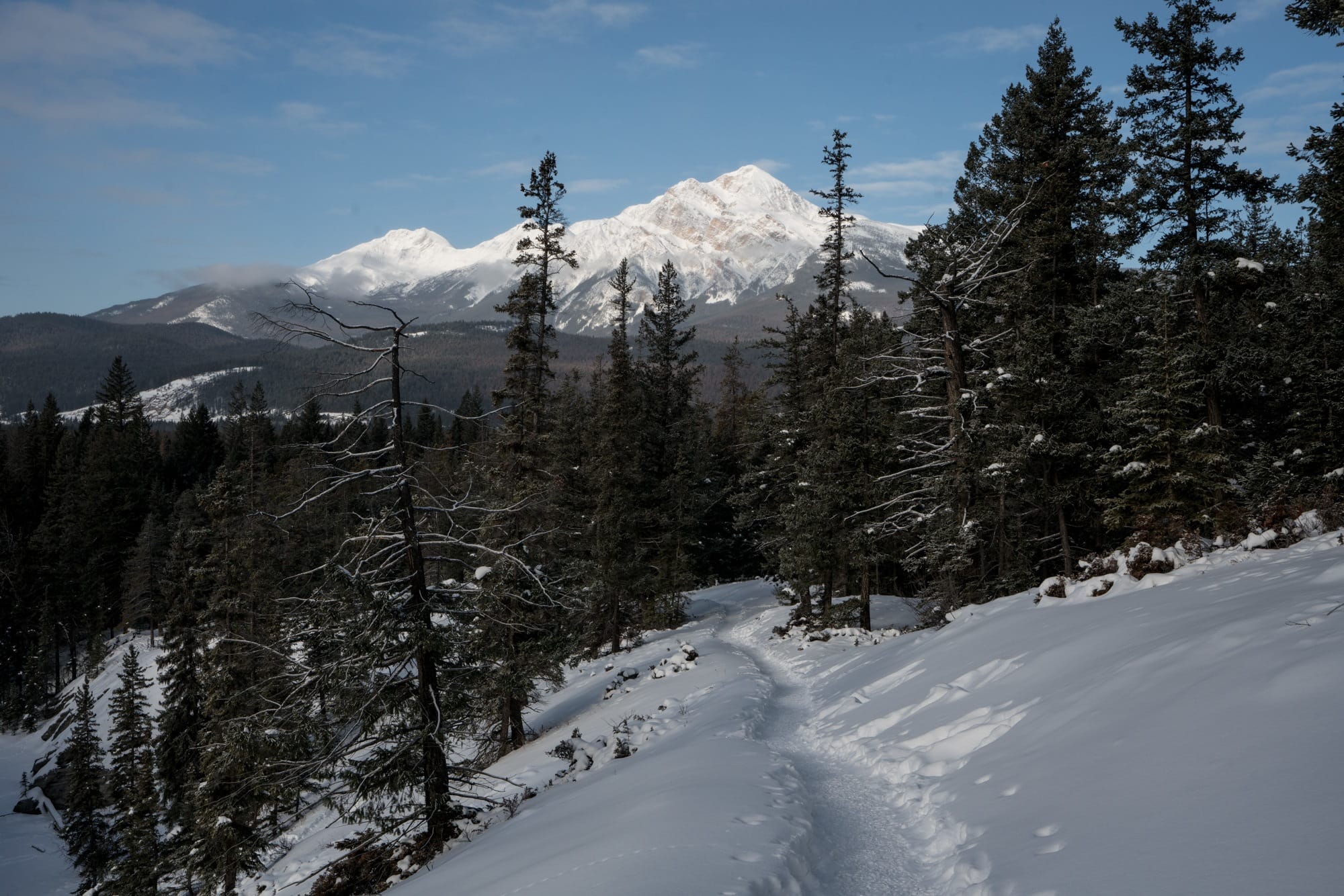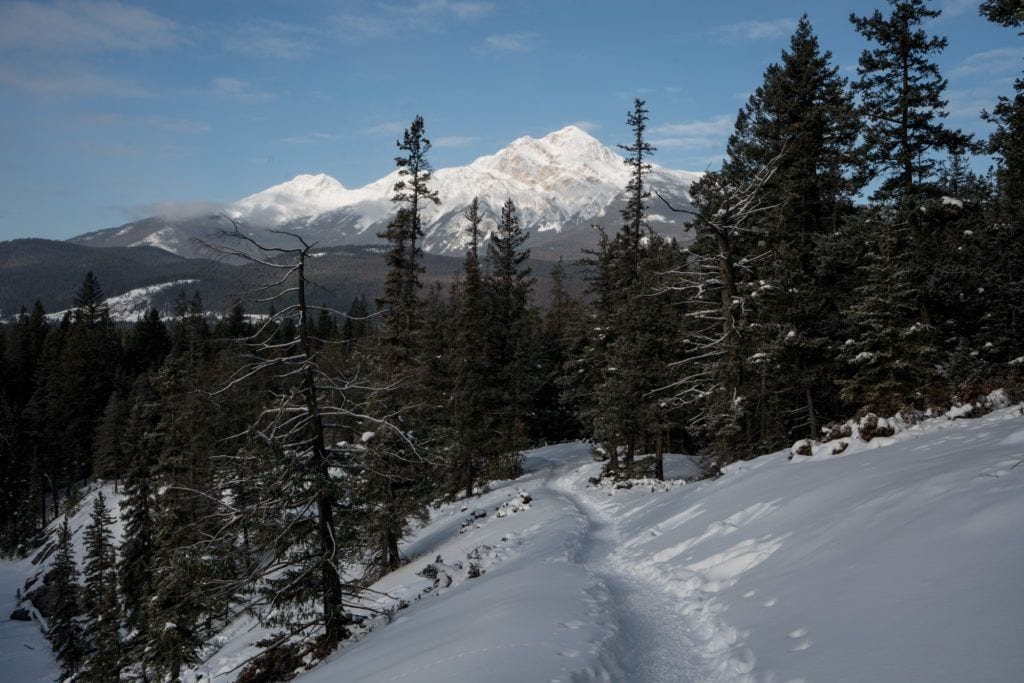 Jasper Ice Climbing
Experience the thrill of climbing a classic multi-pitch waterfall in Jasper National Park in winter. Rockoboo Adventures leads introductory ice climbing classes in Maligne Canyon, where you see everything you see on the ice walk hike, plus more. This is one of the most unique things to do in Jasper National Park in winter!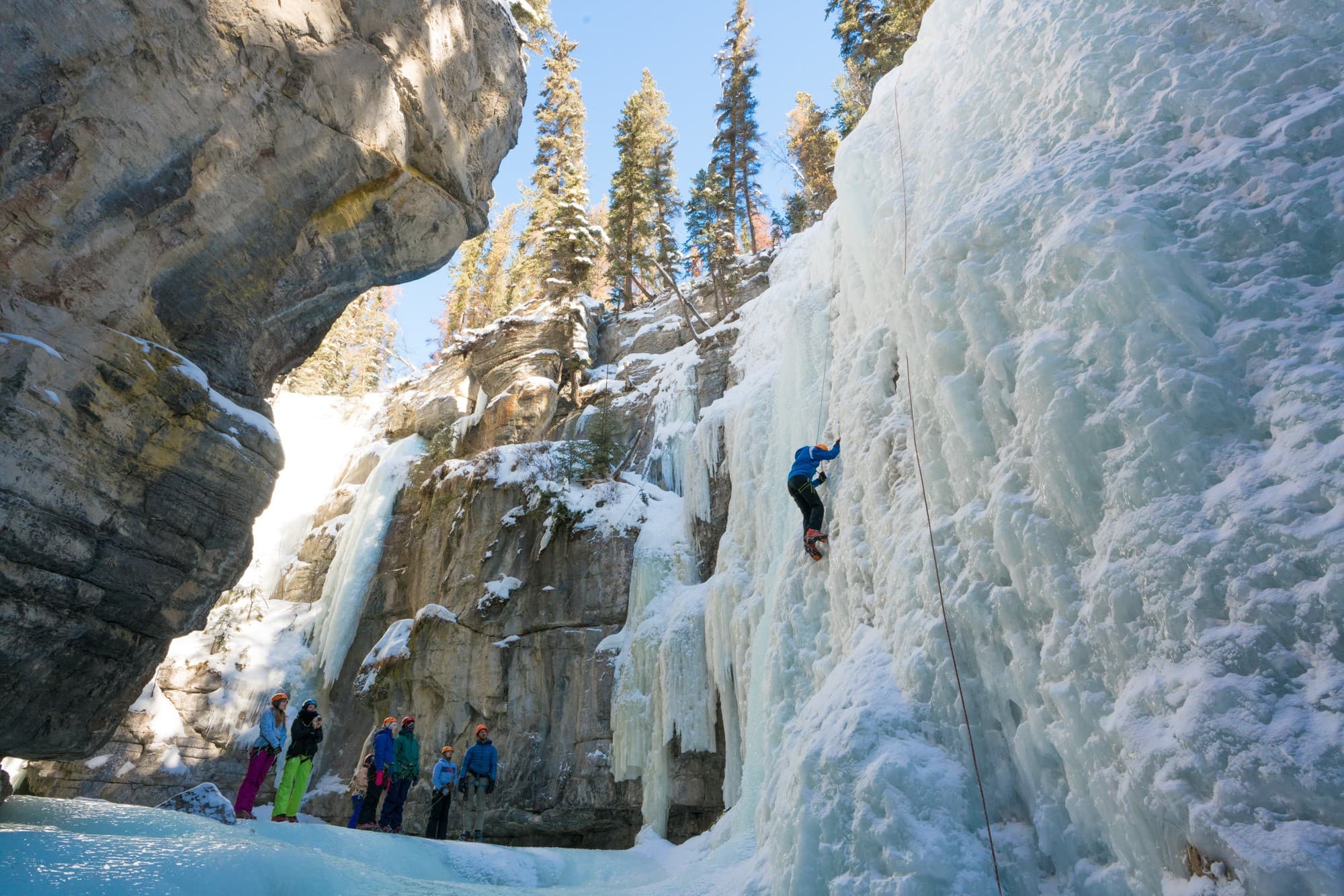 Fat Tire Biking
Get a fat tire bike at Pyramid Lake Resort and head out on the ice for one of the most unique Jasper National Park winter activities! The lake completely freezes over in winter, and they have a series of groomed trails on the lake with spectacular views of Pyramid Peak. You can also cross-country ski or even ice skate on the lake. For the more advanced fat bike rider (or once you get the hang of it), head into the forest for some more varied terrain.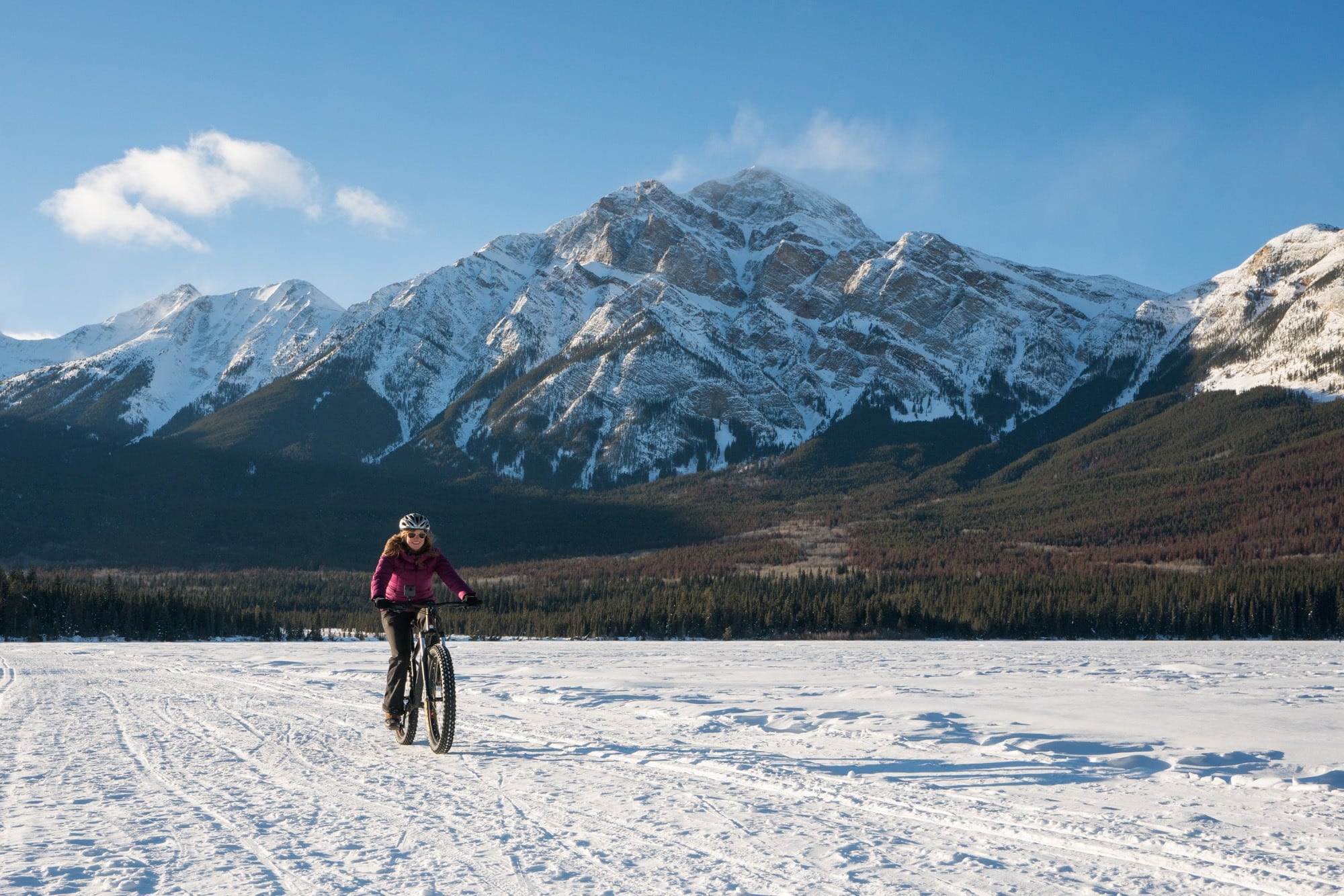 Jasper Winter Scenic Drives
No visit to Jasper National Park in winter is complete without driving at least some of the Icefields Parkway. The road can get a little dicey following a storm, so be careful.. but it is totally worth it for the views alone, even if you only look from the car. Plus you don't have to drive that far before you're right up against some of the most impressive mountains in the Canadian Rockies.
The main tourist attractions just south of Jasper are Athabasca Falls and Sunwapta Falls. Both are frozen over in winter. I thought Athabasca was still very pretty with some icy glacier pools below the falls, but Sunwapta isn't really worth a stop for a photo op unless you just need some fresh air. If you have time, go a bit further south to the Icefields Center for more winter magic.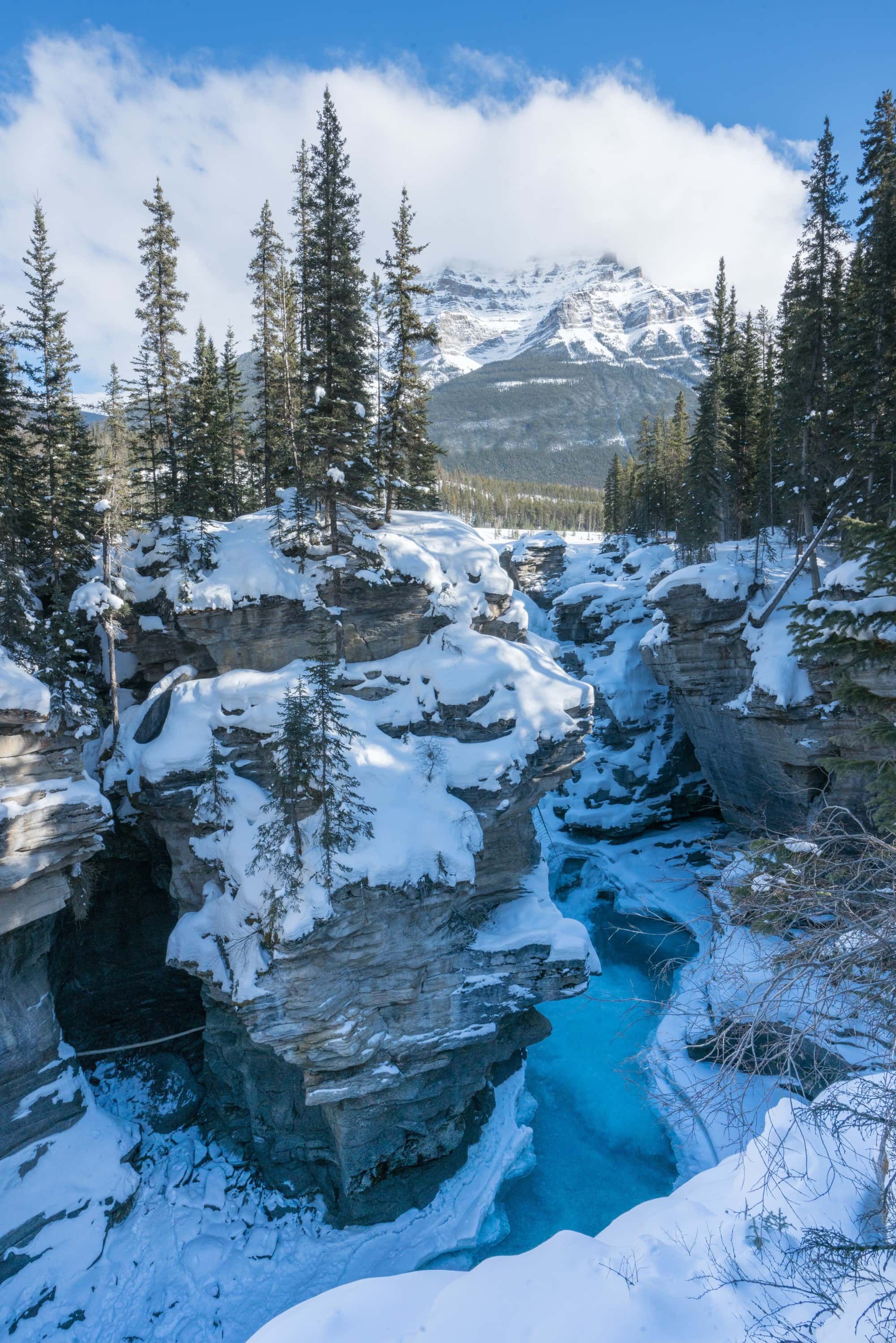 Where to Eat in Jasper, Alberta
For being a town of only 1,000 people, there are a surprising amount of amazing restaurants to check out in Jasper. Here are a few of my favorite spots:
Raven Bistro
This spot was recommended to me by more than one local and it definitely lives up to the hype. Serving Mediterranean fusion for lunch and dinner, it's definitely worth checking out.
Wicked Cup
For breakfast, head to Wicked Cup, where they are known for their amazing organic coffee and tea selection, as well as giant breakfast sandwiches served on a fresh baguette.
Coco's Cafe
This is a funky little cafe in Jasper with a ton of tasty vegan and gluten-free options (they also serve meat). You might also grab a snack or something to go for lunch (that you can scarf down en route to the afternoon's activities).
Harvest Food & Drink
This small, family-owned and operated restaurant is open for breakfast, lunch, and dinner and is a super popular spot in Jasper. I didn't get to try this restaurant on my trip, but it is highly recommended for vegetarians and vegans.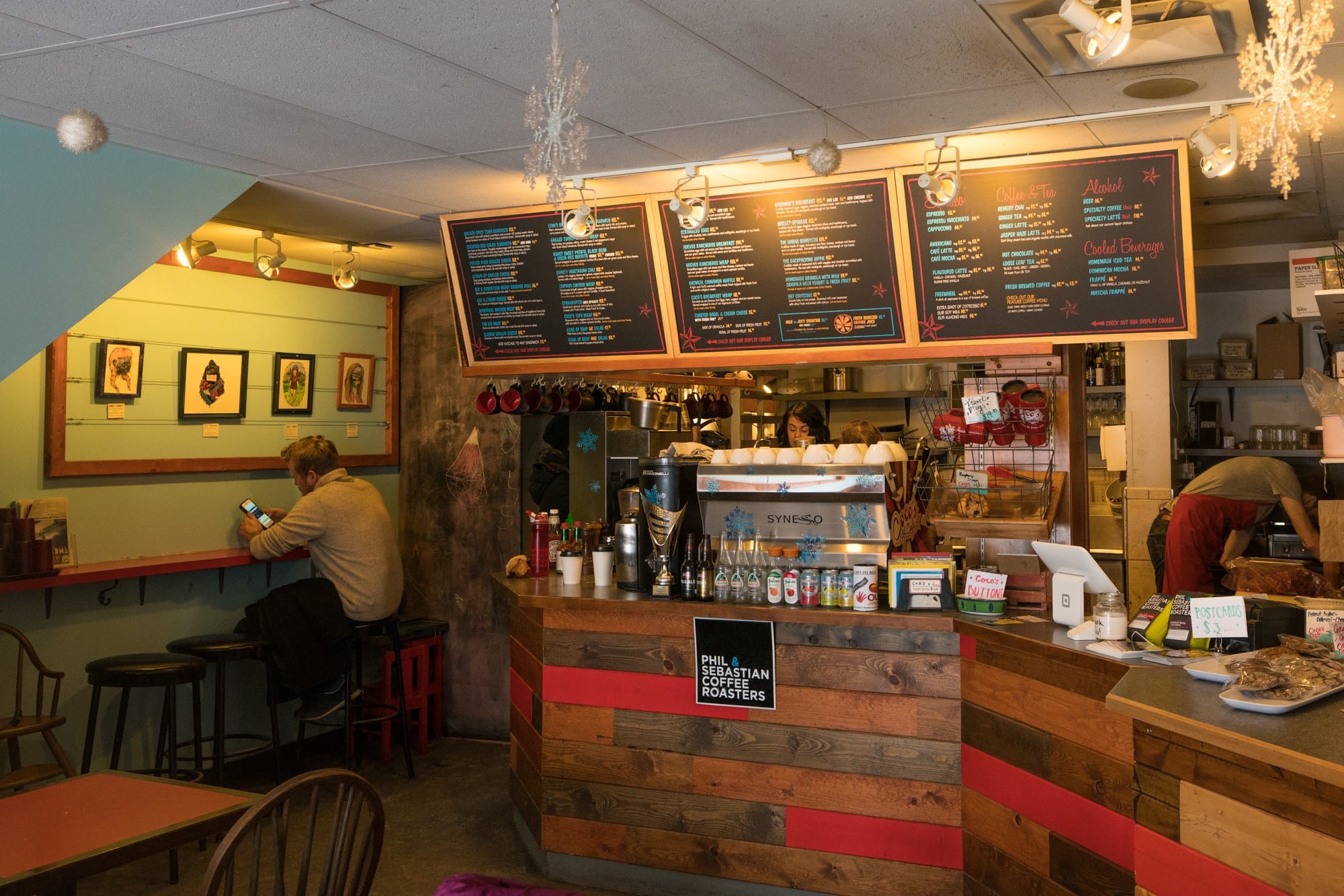 YouTube – My Jasper National Park Winter Experience
Watch my YouTube video to see the spots covered on this Jasper National Park winter trip!
Are you planning a trip to Jasper National Park in winter? Have you visited before? Leave a comment below!
Thanks to Tourism Jasper for hosting me. As always, all words and opinions are my own.