What to Pack for your First Winter Backcountry Hut Trip
A few months ago we ran a post with 15 rad reasons you should take your first backcountry hut trip this winter. And now that you're convinced, we wanted to help you get ready. In this new post by Bearfoot Theory's Colorado experts Ben and Jenna Thomas, they share a gear checklist for your first backcountry hut trip and some other helpful tips to ensure you have a good time out there in the snow.
A couple of years ago, I went on my very first winter backcountry hut trip. I was so excited when we made plans, but as the weeks went by, I got more and more nervous. Everyone else we were going with was outdoorsy and did things like bike up mountains in their spare time. I didn't know what to bring or what to expect.
Well, I ended up having so much fun that a hut trip became an annual tradition. We've already tried to convince you why you should take a hut trip this winter. If you are still undecided or have one booked and are feeling nervous like I was, here is a complete gear list with all the details on what to pack for your first winter backcountry hut trip, as well as some specific recommendations in case you are missing any of the essentials.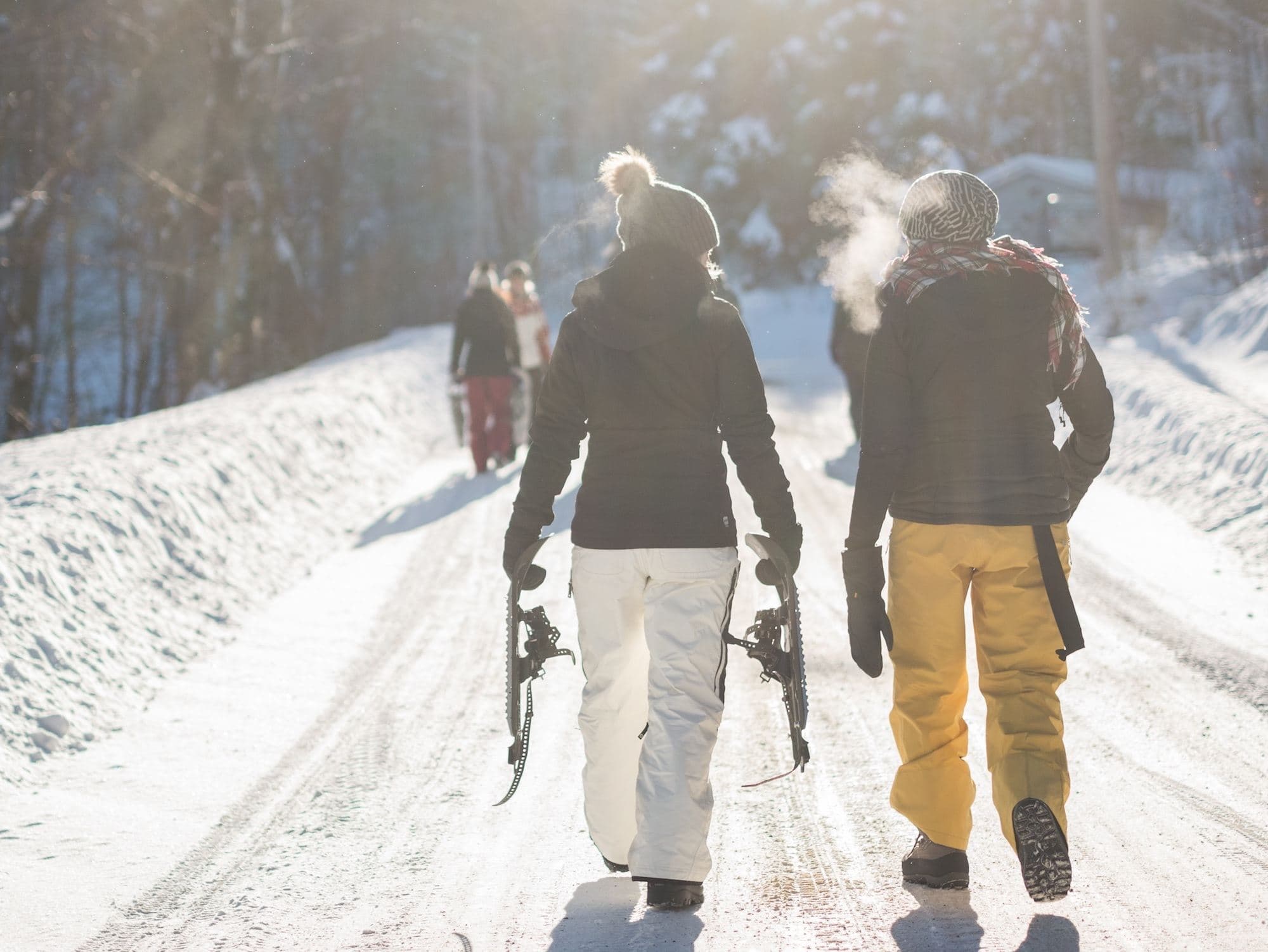 Clothing
Base layers: wool, silk, or polypropylene. NO COTTON! You'll sweat, and cotton doesn't wick moisture–so when you stop moving, and your base layer is sweaty, you'll get cold.

Recommended base layers for Women:
Recommended base layers for Men:
Midlayer: fleece, down, or more wool is a good option here, and you might need more than one, for instance, a fleece under a down jacket. Also, you might end up taking this layer off if the hike is tough and you get hot. It's safest to start with one mid layer and have an extra in your pack in case it's colder than you thought.

Recommended mid layers for Women:
Recommended mid layers for Men:
Waterproof Shell / Pants: You'll need something waterproof that is also breathable in case the snow starts to fall mid-hike. 

Recommended shell layers for Women:
Recommended shell layers for Men:
Footwear: Should be waterproof, comfortable and supportive enough for hiking/snowshoeing. Preferably this will be a winter hiking boot, but if, like me, you prefer a lower-rise shoe style, you will need to add gaiters to keep the snow out of your shoes. If you're buying new shoes or boots, break them in BEFORE the trip. 

Recommended footwear for Women:
 Recommended footwear for Men:
Socks: Wool is my favorite. Whatever material you choose, make it warm, moisture-wicking (again, no cotton), and taller than ankle-height. You'll also want an extra pair of dry socks to change into once you arrive at the hut.
An extra pair of comfy pants: unless you want to walk around in your long underwear, which hey, that's fine! If you got it, flaunt it!
Slippers: Not necessary, but awesome.
Extra Necessities:  Gloves should be waterproof, a hat should cover your ears, and if it's really cold you'll want to be able to cover your face.

Here are our recommended favorites: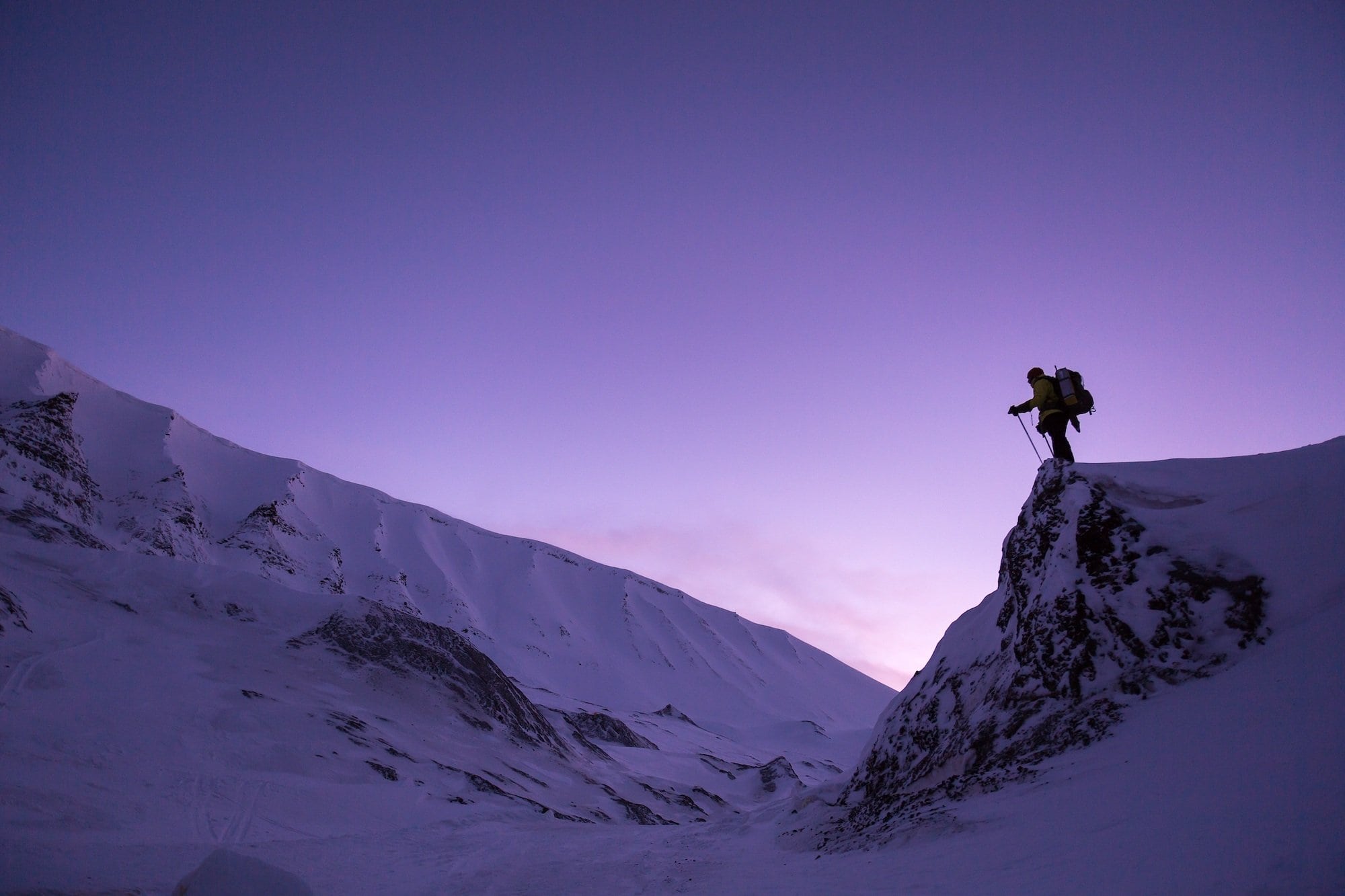 Gear Essentials
A topographic map of the area, or at the very least the map provided on the hut's website
Snowshoes / Poles: These can easily be rented at REI or most outdoor gear shops. Skis or a split-board snowboard with climbing skins are another option.
Backpack: this is probably the most important part of your get-up. This needs to be backpacking-specific and comfortable—padded straps, padded back, and a waist strap to help distribute weight. If you haven't got a backpacking backpack, go to REI and get fitted. Don't pick out a pack on your own unless you know your size already.

Recommended women's packs:
Recommended men's packs: 
A small first-aid kit with Advil/Tylenol/Aspirin, band-aids, etc.
Sleeping bag: You'll want a bag that is light and packs down small, and a 20ºF bag should be sufficient, especially in huts with a wood burning stove. Many huts have mattresses, but if not, you will also need a sleeping pad. Double check before leaving.
Sunglasses/snow goggles, sunscreen, and chapstick: Sun on snow can be intense—even if there are clouds.
If you are going anywhere near an avalanche-prone area, you should also carry avalanche gear and a beacon, and avoid these areas if you haven't taken a class in avalanche safety. A SPOT GPS Transponder is also a handy device for communicating in the case of an emergency when you are out of cell phone range.
Earplugs in case you have a snorer in the group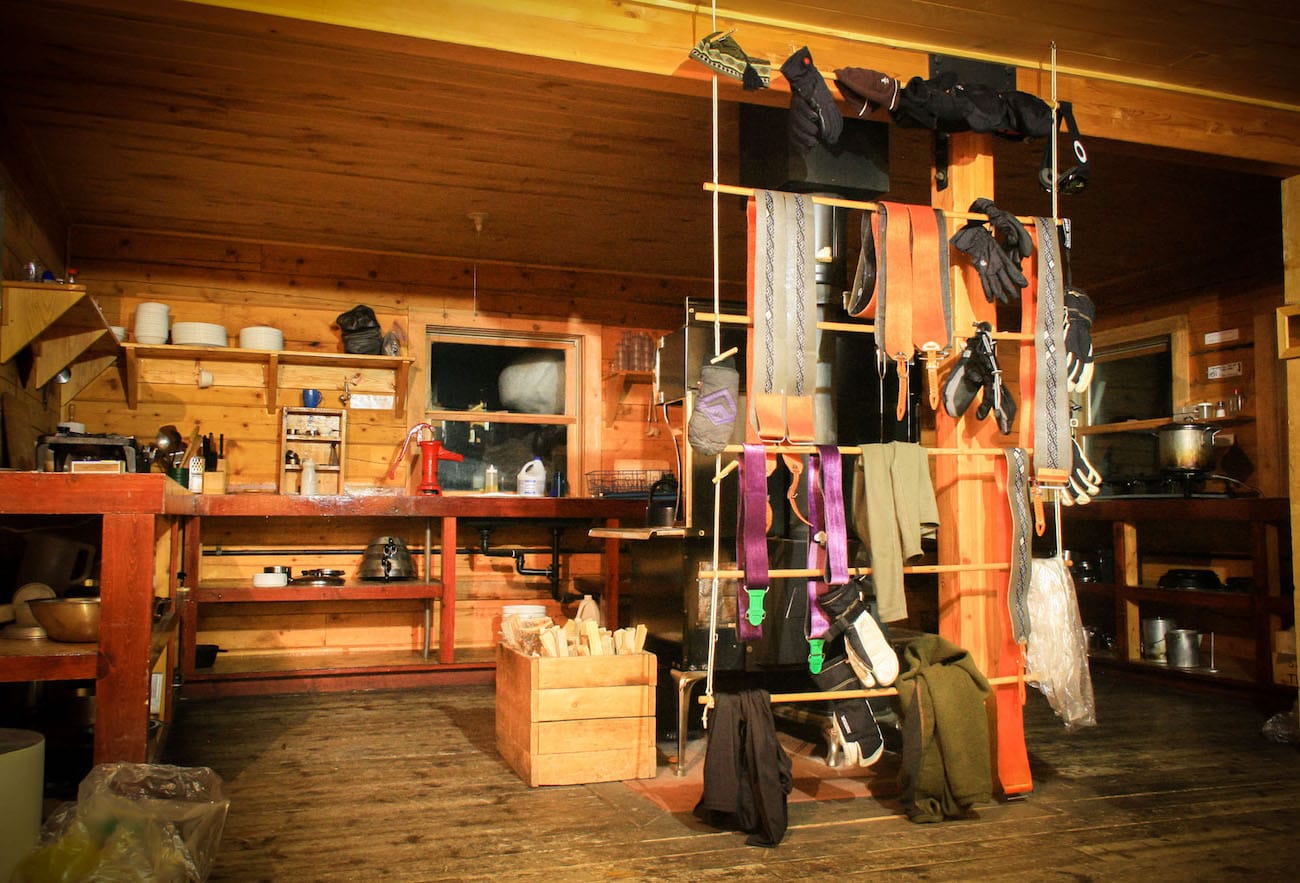 Other Tips for your First Backcountry Hut Trip
GET AN EARLY START. Don't try to estimate how long it will take you to hike in because there are too many variables. Snowshoeing and skiing in almost always take longer than normal hiking, so adjust accordingly.
Don't forget when you get to the hut to HANG ANY WET CLOTHES so they can dry out before you have to hike back.
Don't worry about bringing extra water for a while you're at the hut or for the hike out. You'll melt snow for this, but DRINK A LOT OF WATER the whole time you're there. No one wants to deal with altitude sickness.
Read carefully what the HUT PROVIDES. Sometimes you don't need to bring a sleeping bag and others times you do.
Most huts DO NOT allow pets. Since the snow around the hut is used for drinking water, pet waste would contaminate the snow supply. Check on this before you book your spot in a hut, and if pets are not allowed, PLEASE obey this!
Pack it in, pack it out: Everything you brought with you needs to leave with you. There's no trash or recycling at most huts.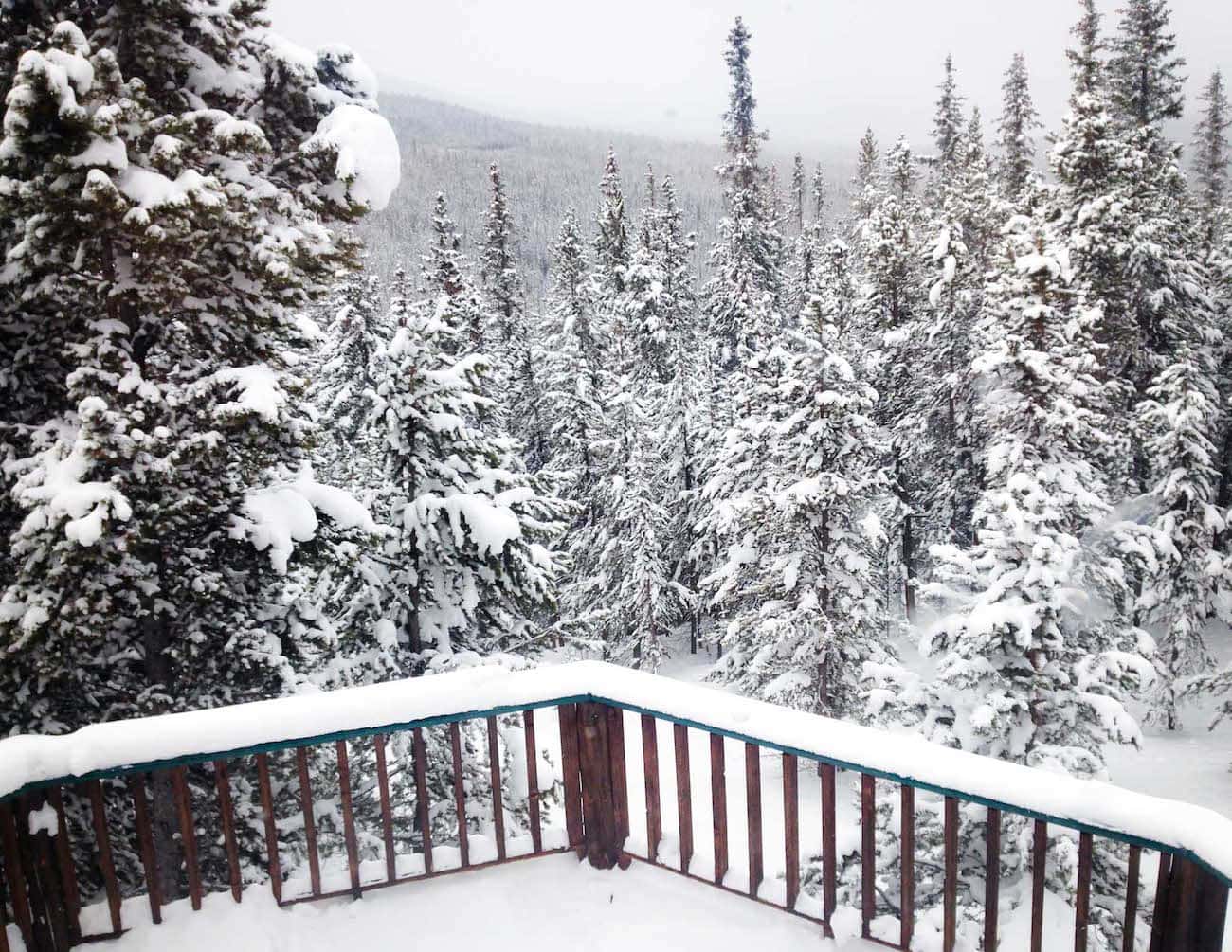 Hut trips are my favorite way to get out into the backcountry during the winter. If you are on the fence about taking a hut trip hopefully, these tips will help get you out the door and on the trail!
Disclosure: The links in this post are affiliate links which means if you make a purchase, I receive a tiny bit of compensation at no added cost to you. Any purchases you make help keep this blog going…so thanks for all of your support! If you ever have any questions about any of the products featured on my site, please email me. Thanks! Kristen
 GOT QUESTION OR COMMENTS ABOUT GOING ON A HUT TRIP?  LEAVE A COMMENT BELOW OR WRITE ME A POST ON FACEBOOK.