The Most Dog-Friendly National Parks
Here are the most dog-friendly National Parks, along with information on trails and campgrounds where pets are permitted.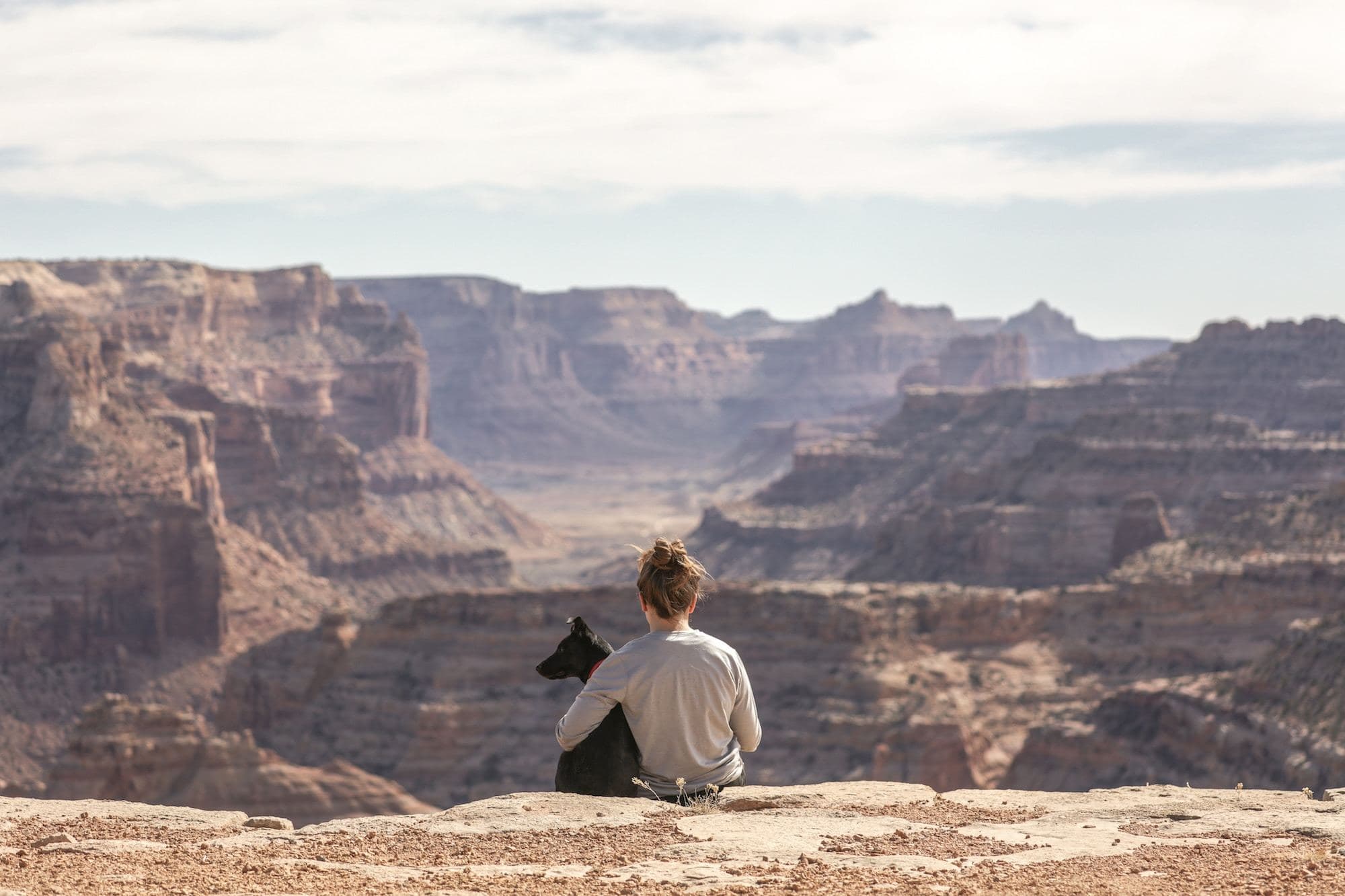 National Parks are notorious for being amazing spots for hiking, biking, and getting outdoors — and notoriously strict for restrictions on where dogs are allowed. In our National Parks, there are often rules and regulations that are in place to protect the parks and their visitors, and these sometimes prohibit dogs within the park. This leaves you with the option of finding doggy daycare or skipping the park altogether.
As passionate outdoor adventurers and dog-lovers who hate to leave our pups at home, we know how hard it can be to find wild places where you can bring your dog. That's why we made it our mission to find out which of our National Parks are the most dog-friendly for a pawsitively great time outside.
In this blog post, we share a list of the most dog-friendly national parks, along with some campgrounds and trails in each of those parks where your dog is allowed.
Important Reminder: As it goes in all of the destinations we share, please practice good trail etiquette and remember to Leave No Trace. This means packing out all of your garbage (including your pet's waste), being respectful to others on busy trails, and following the established rules.
Are Dogs Allowed In National Parks?
Short answer: Yes. Most national parks allow pets in developed areas (fully paved roads, sidewalks, some bicycle paths, most campgrounds), as long as you follow the NPS' Bark rules:
Bag your pet's waste.
Always use a leash.
Respect wildlife.
Know where you can go.
Your pet can even become a BARK Ranger at many National Parks!
Unfortunately, there are many restrictions on what trails dogs can go on in National Parks. Read on below for our roundup of the most dog-friendly parks and trails you can hike on with pets.
Find camping at sold out campgrounds
Try The Dyrt PRO free for 30 days
The Dyrt Alerts will help you get reservations at sold-out campgrounds across the US by sending you an alert when your desired dates become available.
• Select campgrounds and the dates you want to camp
• The Dyrt repeatedly scans for cancellations
• When your campsite becomes available you'll get a Dyrt Alert sent to your phone!
Use the code BEARFOOT to get 30 days free!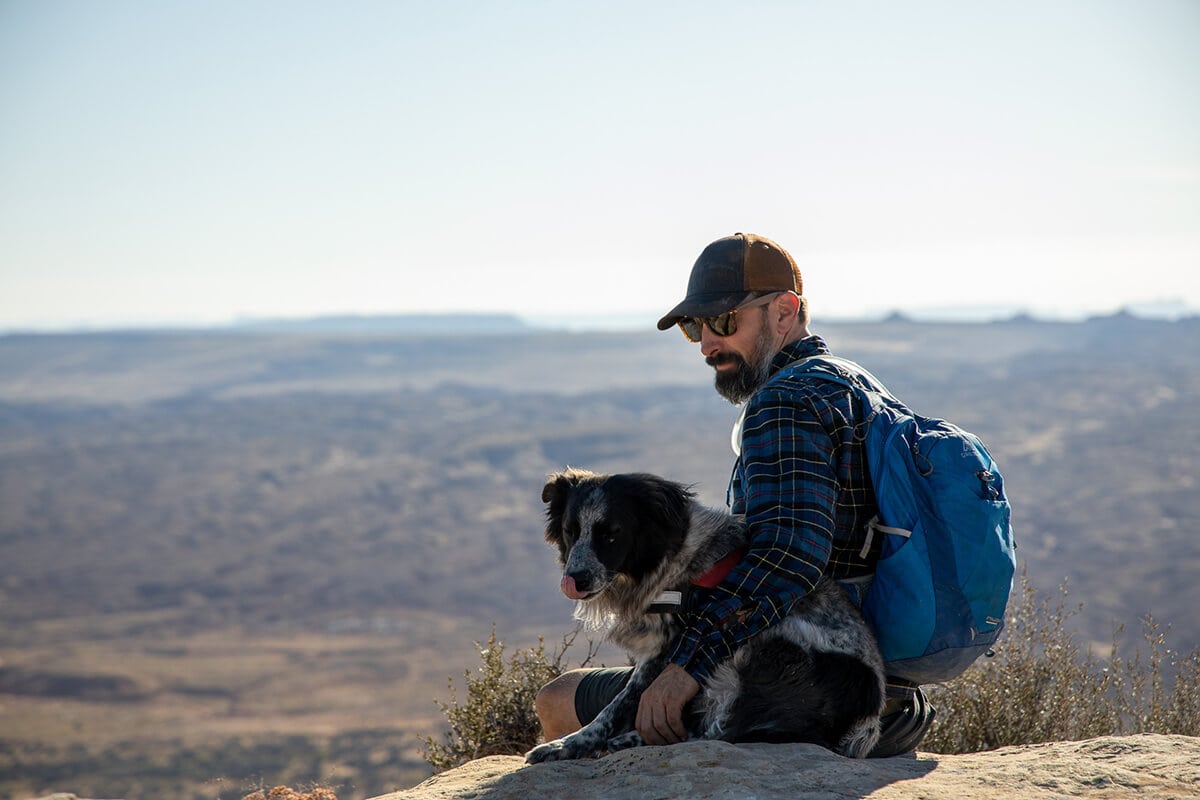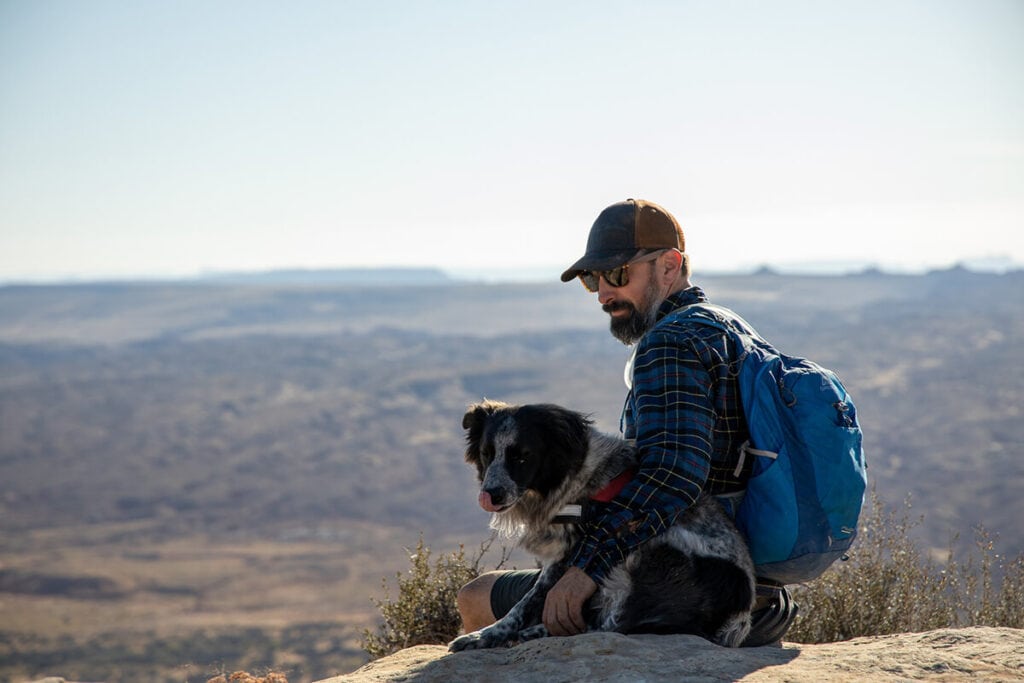 Top Dog-Friendly National Parks
Yosemite National Park
From towering sequoias to the sky-high Sierra Nevada Mountain Range, California's Yosemite National Park is one of the most popular parks for humans…and their dogs, too. Although there are restrictions on the backcountry trails, much of the park's roads, bike paths, and other walkways are open to leashed dogs, in addition to the Wawona Meadow Loop, an easy 2.25-mile loop.
You can also bring your dog along with you overnight at many of the campgrounds, with the exception of the walk-in and group camp areas. While walking your dog, keep them on a leash at all times and pick up all waste. Click here for our comprehensive guide to visiting Yosemite National Park.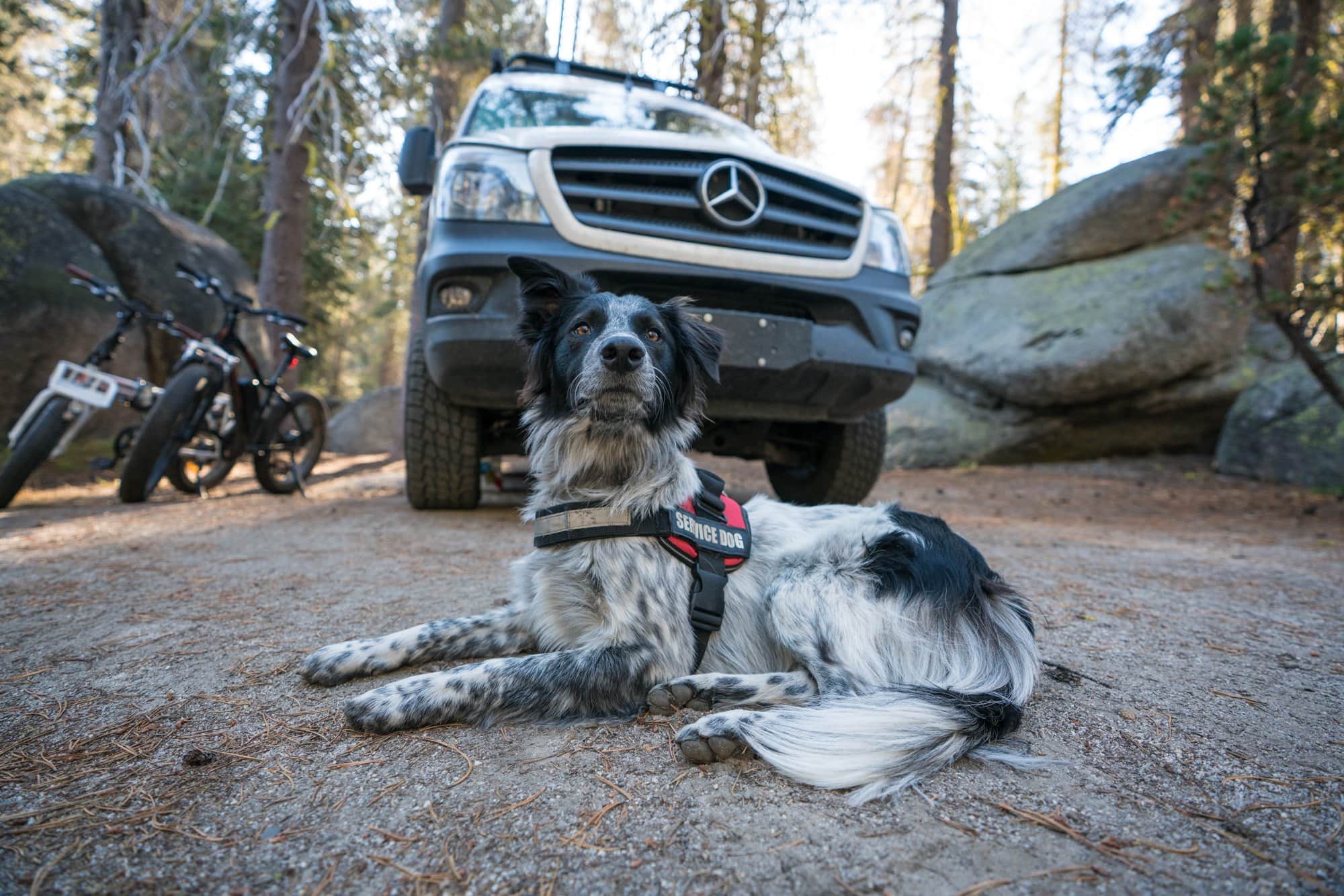 Grand Canyon National Park
Take your pup for a hike and visit one of the 7 natural wonders of the world together at The Grand Canyon in Northern Arizona. While the park isn't open to dogs below the canyon's rim, they can certainly enjoy the 13 miles around the perimeter and the South Rim Trail itself on a leash. Even if you trust your dog, it's important to not remove your dog from the leash here since safety is such a huge issue.
Pets are allowed at Mather and Desert View campgrounds. If you need to board your pet to hike below the rim, check out the South Rim Kennel.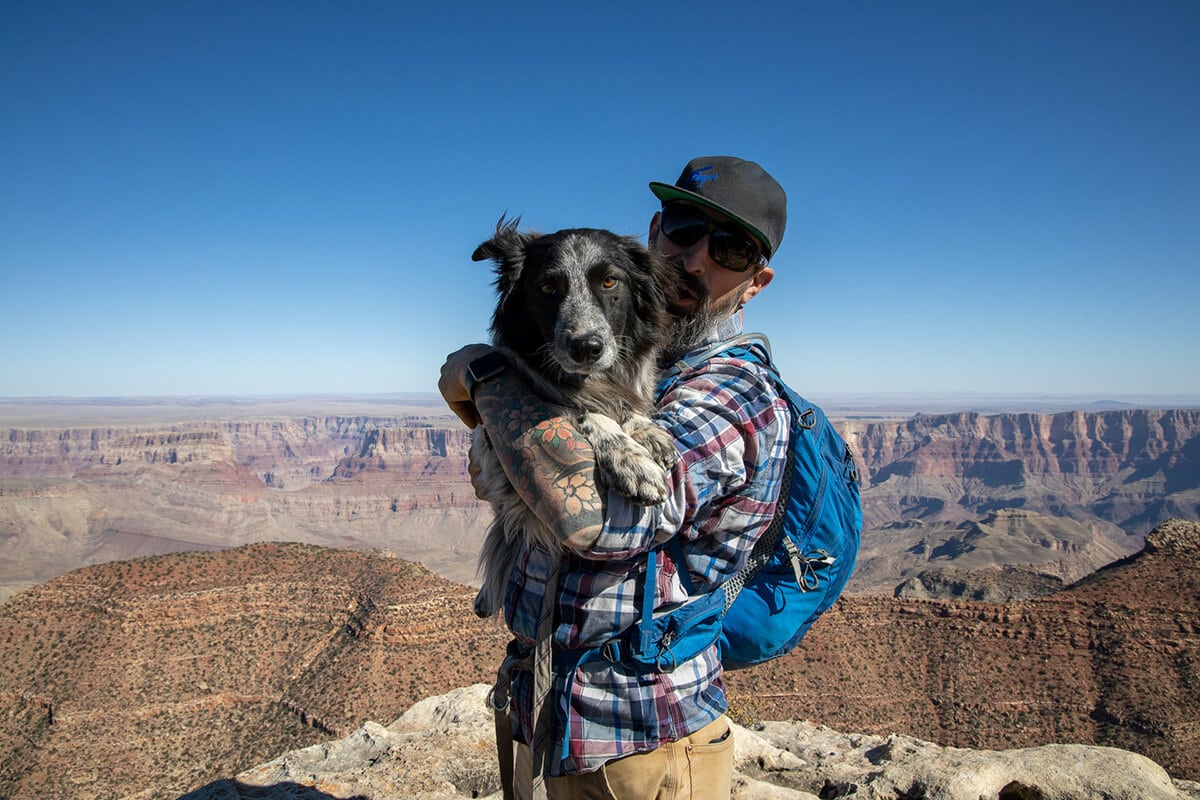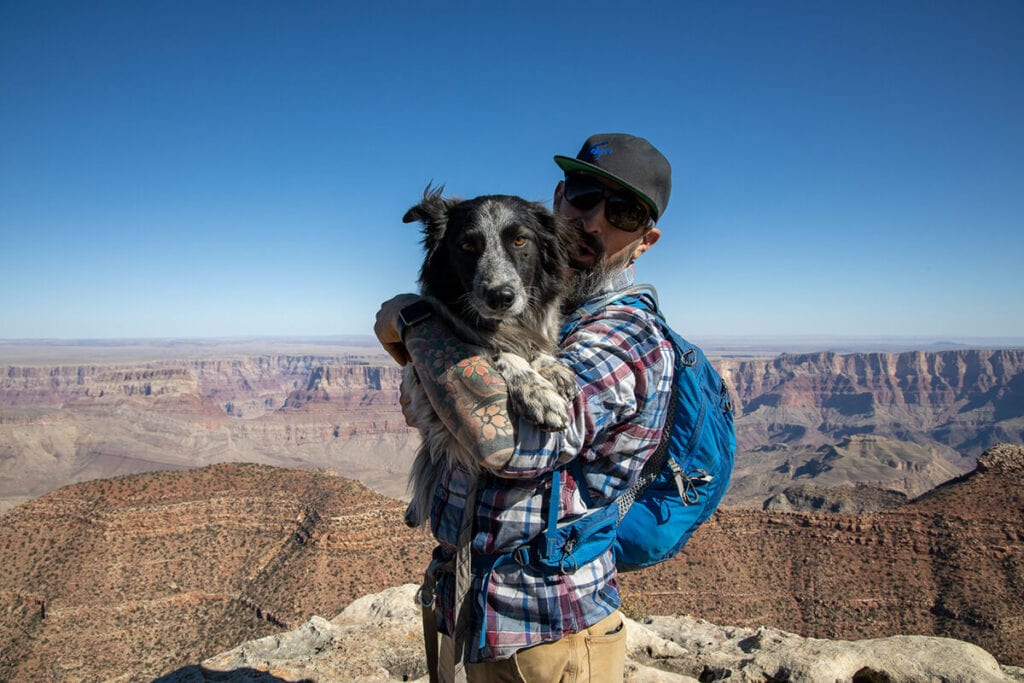 Great Sand Dunes National Park
Miles of tall, golden sand dunes (tallest in North America!), aspen forests, and even alpine lakes make Southern Colorado's Great Sand Dunes National Park an awesome place to visit for the outdoor adventurer. What makes this diverse landscape even better is that it's dog-friendly.
At the park, you and your pooch are free to explore the Preserve, Pinon Flats Campground, Dunes Overlook Trail, and the Medano Pass Primitive Road. All other areas do not allow pets. When walking through the grasslands, keep an eye out for prickly pear cactus spines that are painful for both of you! Also be aware of wildlife like coyotes, bears, mountain lions, and even porcupines. Pick up all waste when you are in the park.
Bring your pup along with you and make sure to keep them on a leash that's no longer than six feet long and consider outfitting them with dog booties to protect their paws from the hot sand which can get up to 150-degree Fahrenheit in the summer. On that note, make sure to bring enough water for your dog so they don't get dehydrated from the extreme heat, and never leave them alone in a car.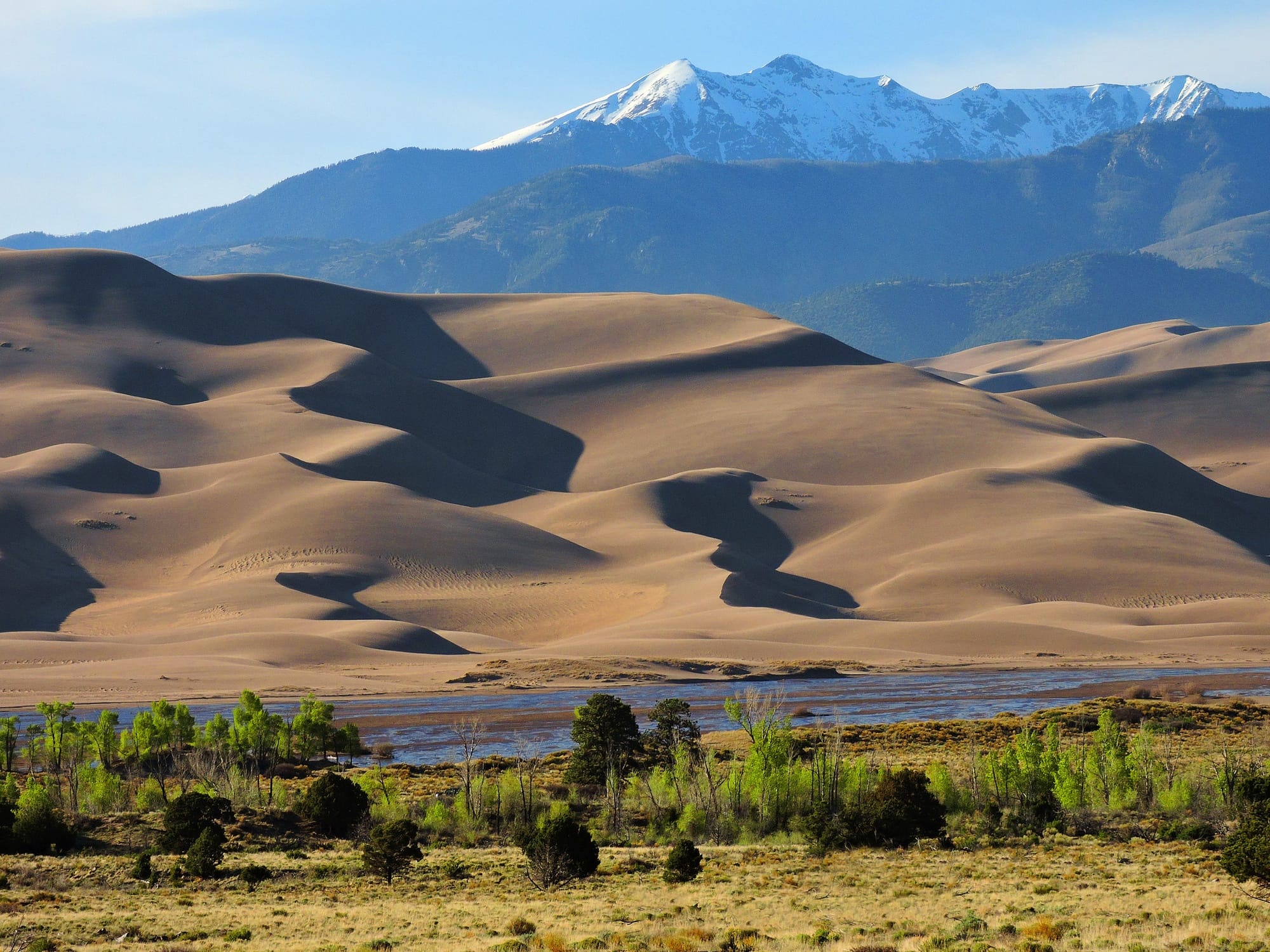 Petrified Forest National Park
Arizona's Petrified Forest National Park is one of the country's most unique and naturally beautiful sites to visit in the US and also one of the most dog-friendly National Parks on this list. Exploring the petrified wood that is scattered throughout the vibrant badlands of the backcountry makes this park a one-of-a-kind camping and hiking experience.
Luckily, it's a very pet-friendly park that also allows your dog to join in on the fun, too. You're welcome to bring your four-legged friend along on any of the Park and Wilderness Area hikes, camping, and backpacking trails as long as they are on a six-foot leash and watched at all times. As always, pick up all waste. I went here back in 2014 on a cross-country road trip and wish I had Charlie back then!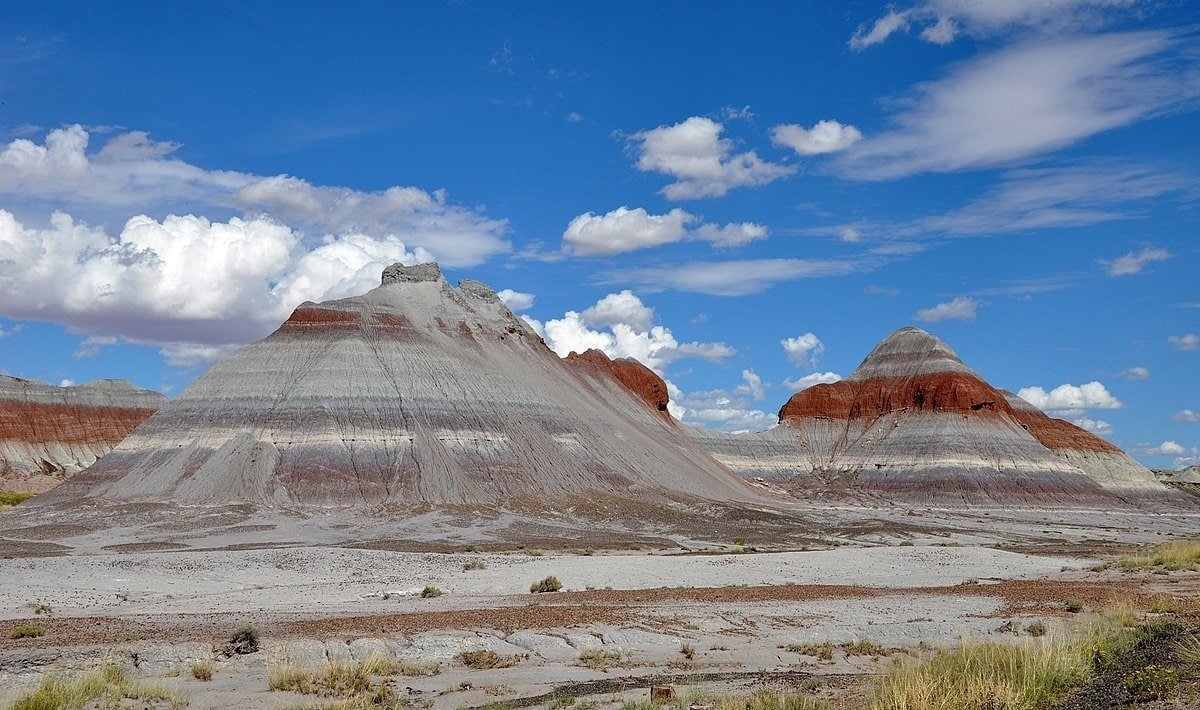 North Cascades National Park
When taking your dog with you on a trip to Washington State's scenic North Cascades National Park, there's one major caveat: dogs are only allowed on one trail. The good news is that that single trail happens to be the Pacific Crest Trail, which has 18 miles available within North Cascades National Park. If you're up for bringing your dog with you on a multi-day, overnight backpacking trip along the PCT you'll find yourself on one of the most scenic trails in the US. We're also pretty sure Fido will love it, too.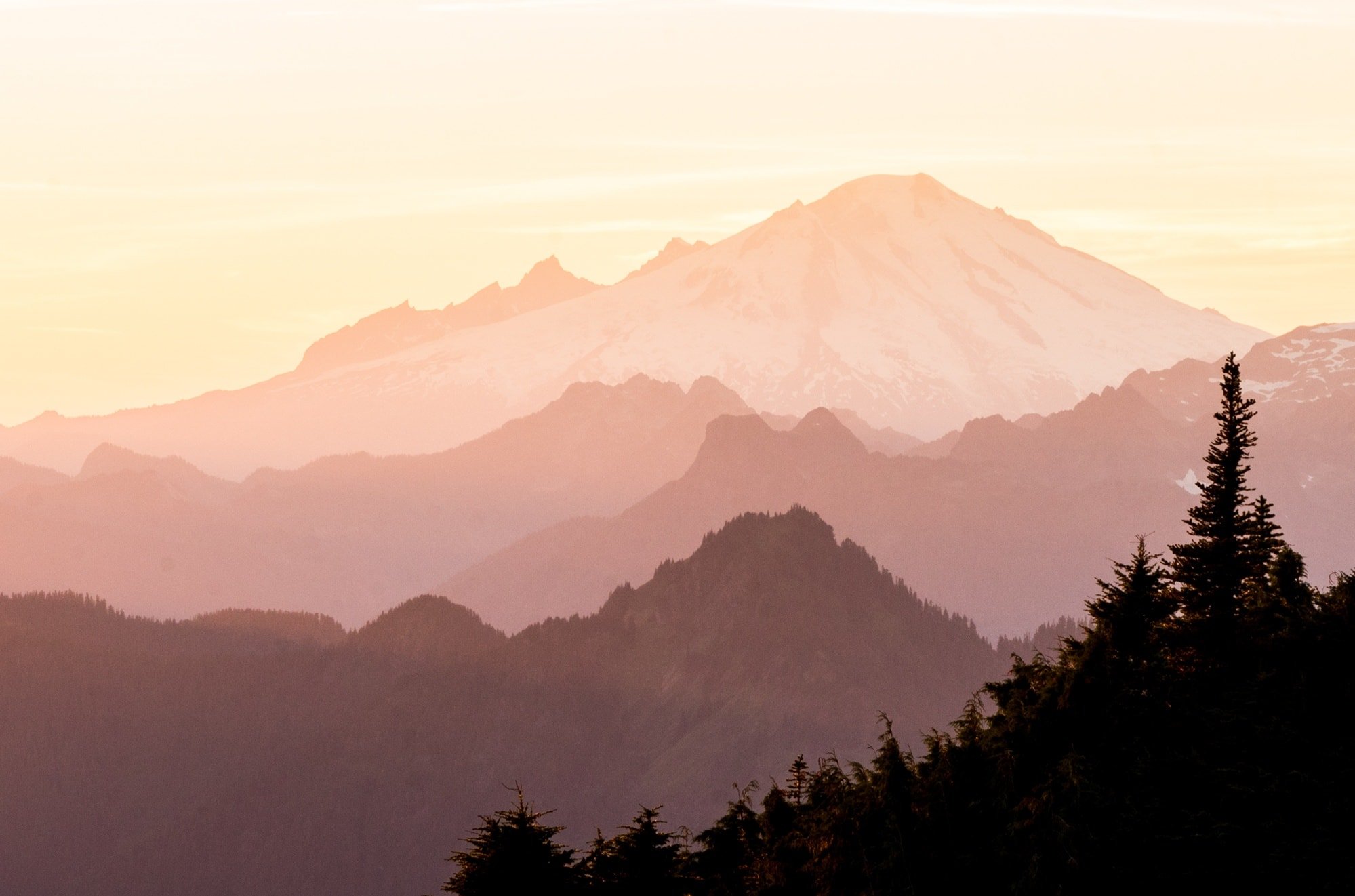 Shenandoah National Park
Out of the 500 miles of scenic hiking trails in Virginia's Shenandoah National Park, there are only 20 miles that your pooch isn't permitted to visit along with you – making it another one of the top dog-friendly National Parks on this list. That means the two of you are free to roam around 480 miles worth of land throughout the Blue Ridge Mountains, Shenandoah River, deep canyons, and panoramic vistas at nearly every ridgeline. If your dog is a serious hiker, tackle the Old Rag Circuit hike.
On a road trip with your dog? Drive down Skyline Drive, a 105-mile road that passes through the entire park with incredible viewpoints and access to trails along the way down. Dogs are also permitted in all campgrounds in Shenandoah National Park.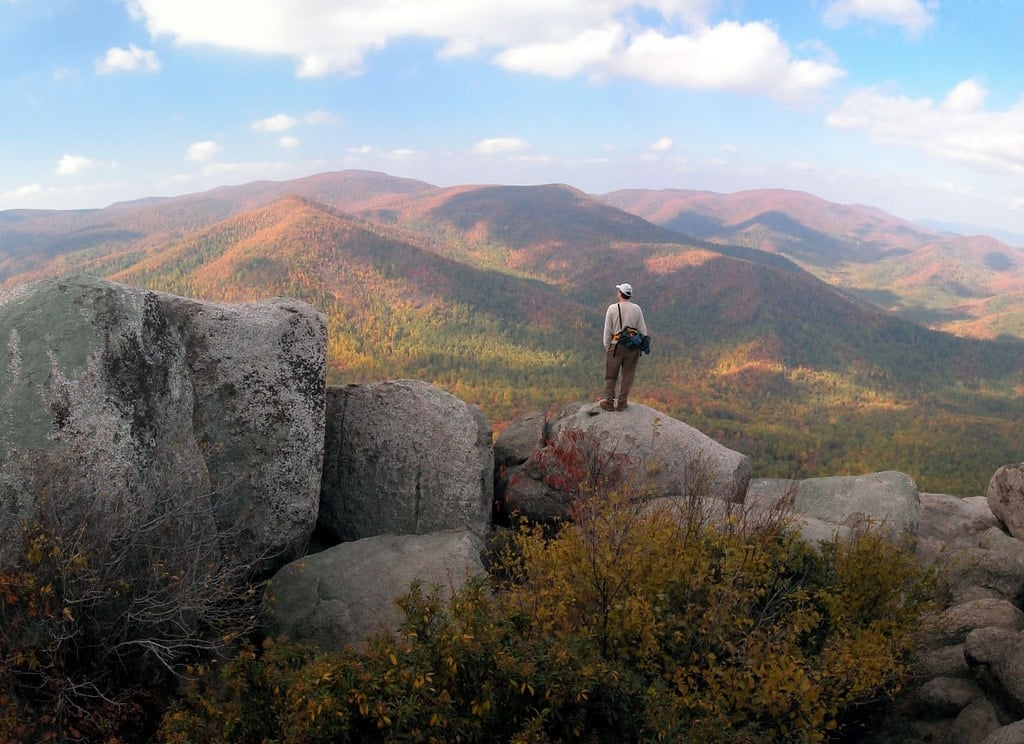 Cuyahoga Valley National Park
While it might not have as big and grand a reputation as Yosemite or the Grand Canyon, don't let Cuyahoga Valley National Park fall off your list. Located in Ohio, this park boasts miles of trails that run through beautiful forests, meadows, and the famous Erie Canal to explore and is totally dog-friendly to boot.
Check out the Towpath Trail, a 2 mile-long historic trail that offers great scenery and dog-friendly paths, and the Ledges Trail. Be sure to keep your dog on a leash and pick up all waste.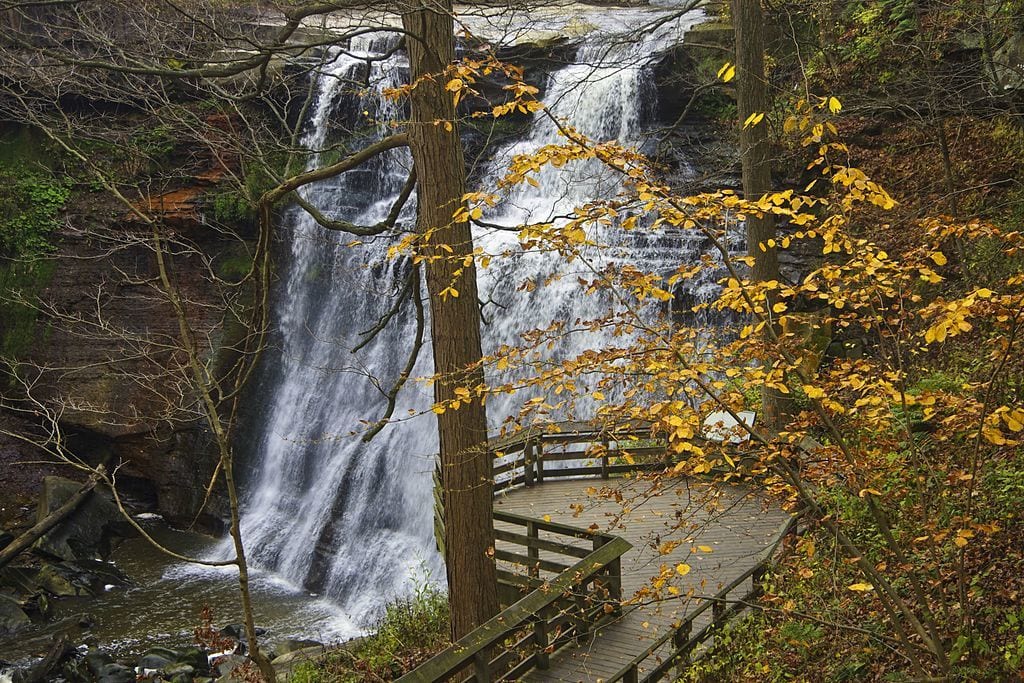 Acadia National Park
Take your furry friend with you on a trip to the rugged coastline of Maine's Acadia National Park, where dogs are allowed on nearly every trail, except for a few that require climbing ladders built-in to the rock face like Precipice, Beehive, Ladder Trail to Dorr Mountain, Perpendicular Trail, and Jordan Cliffs trail between Penobscot East Trail and the carriage road. Duck Harbor Campground is also off-limits to pets. Blackwoods, Seawall, and Schoodic Woods campgrounds permit pets.
Besides that, there are 100 miles of trails and 45 miles of carriage roads in Acadia National Park that are dog-friendly. Make sure you keep your dog on a six-foot leash and pick up all waste. Check out our guide on things to do in Acadia National Park here.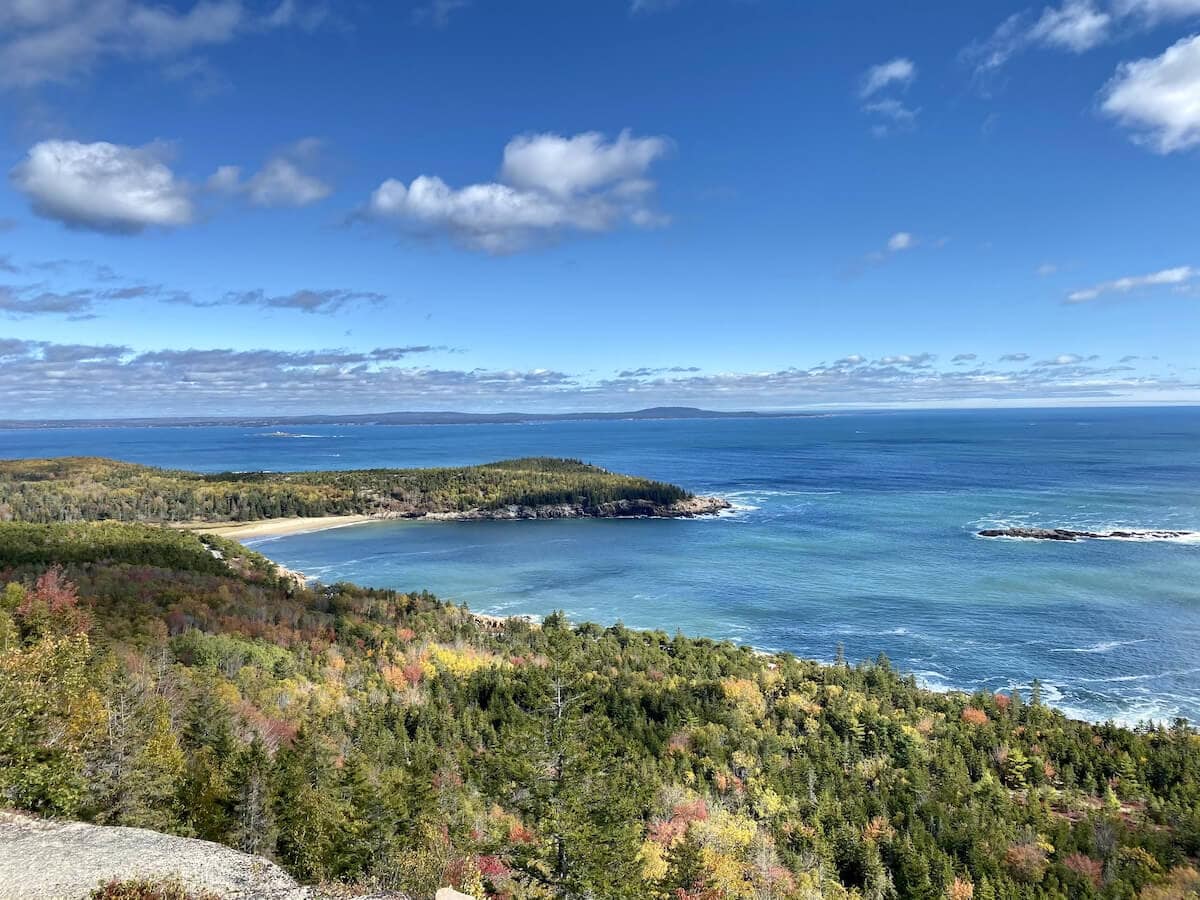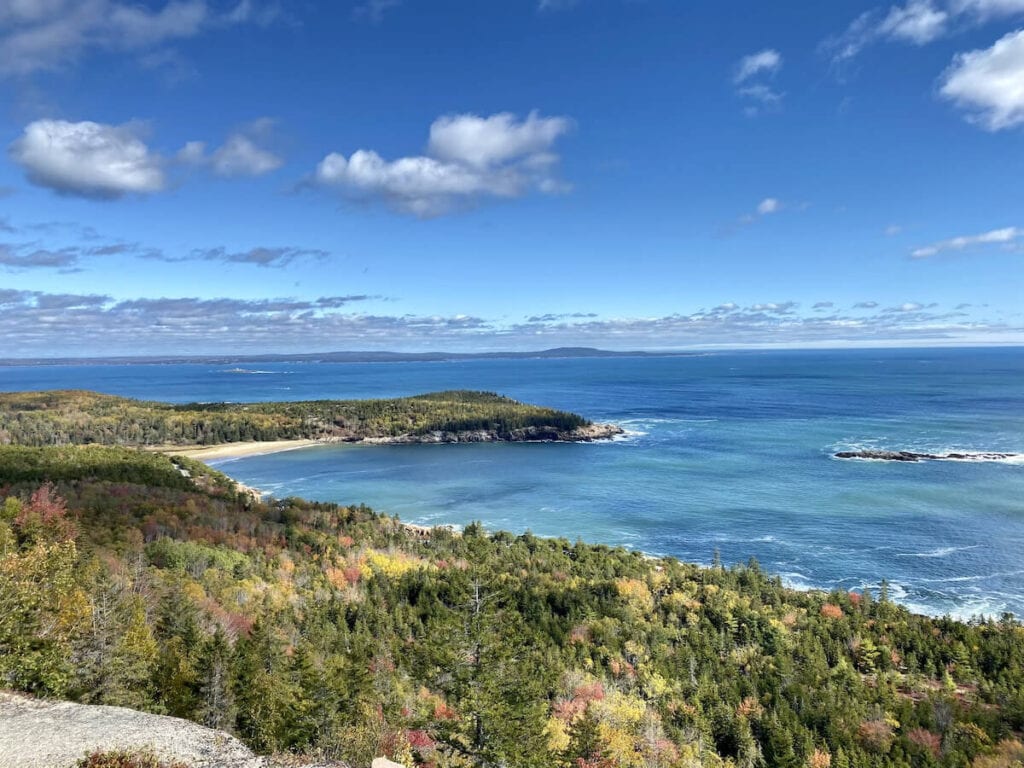 Mammoth Cave National Park
The main feature of Kentucky's Mammoth Cave National Park is the 300+ miles of underground passages, but with 70 miles worth of dog-friendly trails above ground, you still can't lose. These ground-level trails are just as fun, so visit the Green River Bluffs Trail or any of the North Side trails for a more challenging hike. While you're here, be sure to pick up all waste and keep your dog on a leash.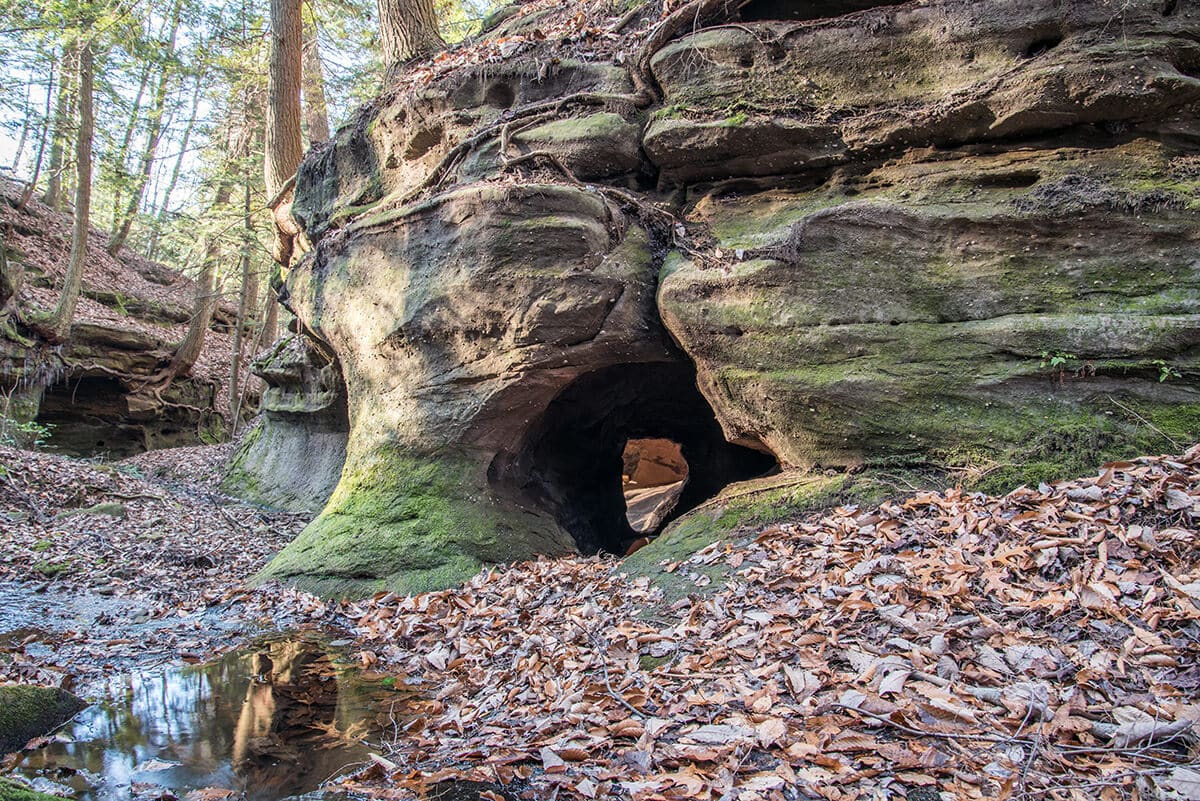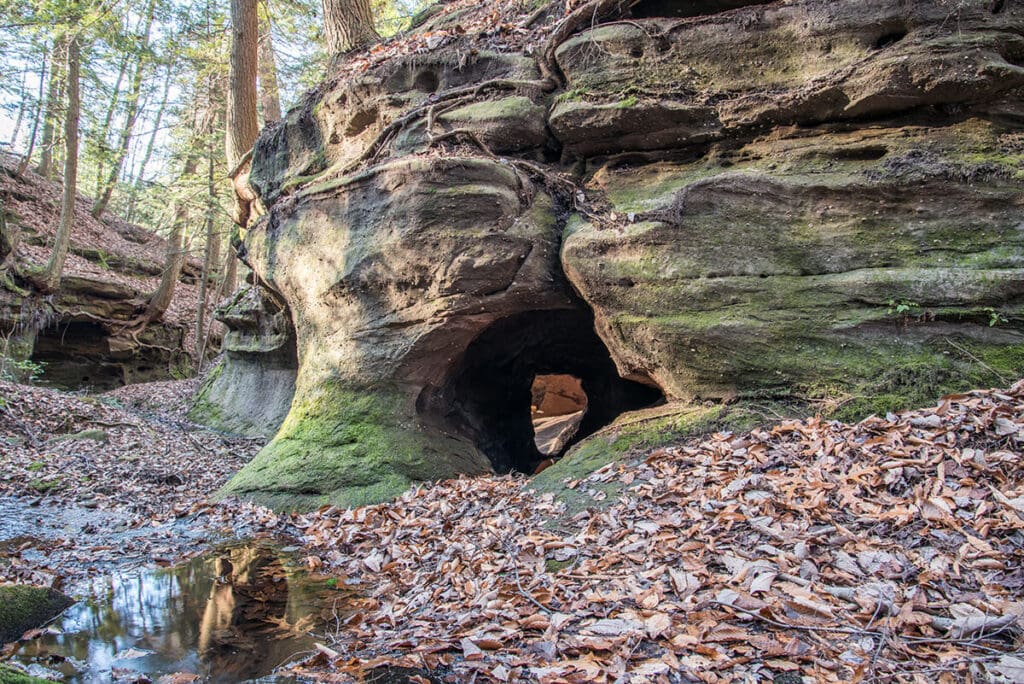 Tips for Visiting a National Park with your Dog
Similar to humans, you should always bury or pack out dog waste when hiking or camping in the parks. It's disappointing to see pet waste on trails, or dog bags of waste left behind.
When you hike and camp with your dog in these dog-friendly National Parks, make sure your dog stays hydrated, and remember they are burning extra calories, just like you. Bring a collapsible bowl for water.
If you plan on being active with your pup, it's always a good idea to bring along extra food and treats to make sure they aren't running on empty.
Never leave your dog in your car on a hot summer day while you go out and hike a trail where dogs aren't allowed. It's extremely dangerous for your pup, and you could also end up with a serious fine.
Always keep your dog on a leash, even if they are trained. All National Parks require that pets remain leashed at all times, on a leash that is no longer than 6ft. Don't be that person that breaks the rules!
Note: We have selected areas in the National Parks that allow ALL dogs. Trained medical service dogs that perform a specific medical function are allowed in more areas than we have noted. You'll sometimes see pictures of my boyfriend Ryan and I's dog, Charlie, on trails where dogs are typically not allowed. Charlie is a diabetic alert dog for Ryan's Type 1 Diabetes, which is why you might see him in some areas that generally don't allow dogs. If you have a trained medical service dog, you should talk to the Rangers to check on requirements.