THINGS TO DO IN ACADIA NATIONAL PARK
Kim, our content director here at Bearfoot Theory, recently made the trek from California all the way out to Portland, Maine  with the goal of exploring Acadia National Park and the surrounding area. She's written some stellar national park itineraries for us, and now in this new blog post, she shares the best things to do in Acadia National Park and the surrounding area. Whether you are looking to cruise the coast, bag some peaks, or quench your thirst with some local brew, start planning your adventure with Kim's guide to Acadia National Park. -Kristen
I recently got serious about my bucket list goal to visit every National Park in the United States, so I sat down and scoped out some of the parks in the eastern US. Acadia National Park, in beautiful Maine, looked like it offered the perfect mix of outdoor activities, so I crafted a perfect 5-day road trip itinerary for the ultimate Acadia National Park experience. While the "wow-moments" in Acadia are a bit different from the Western parks I am used to, Acadia was beautiful and Maine packed lots of surprises and fun. I've highlighted my favorite sights and experiences within Acadia National Park, as well as great stops outside the park to help you plan your east-coast adventure.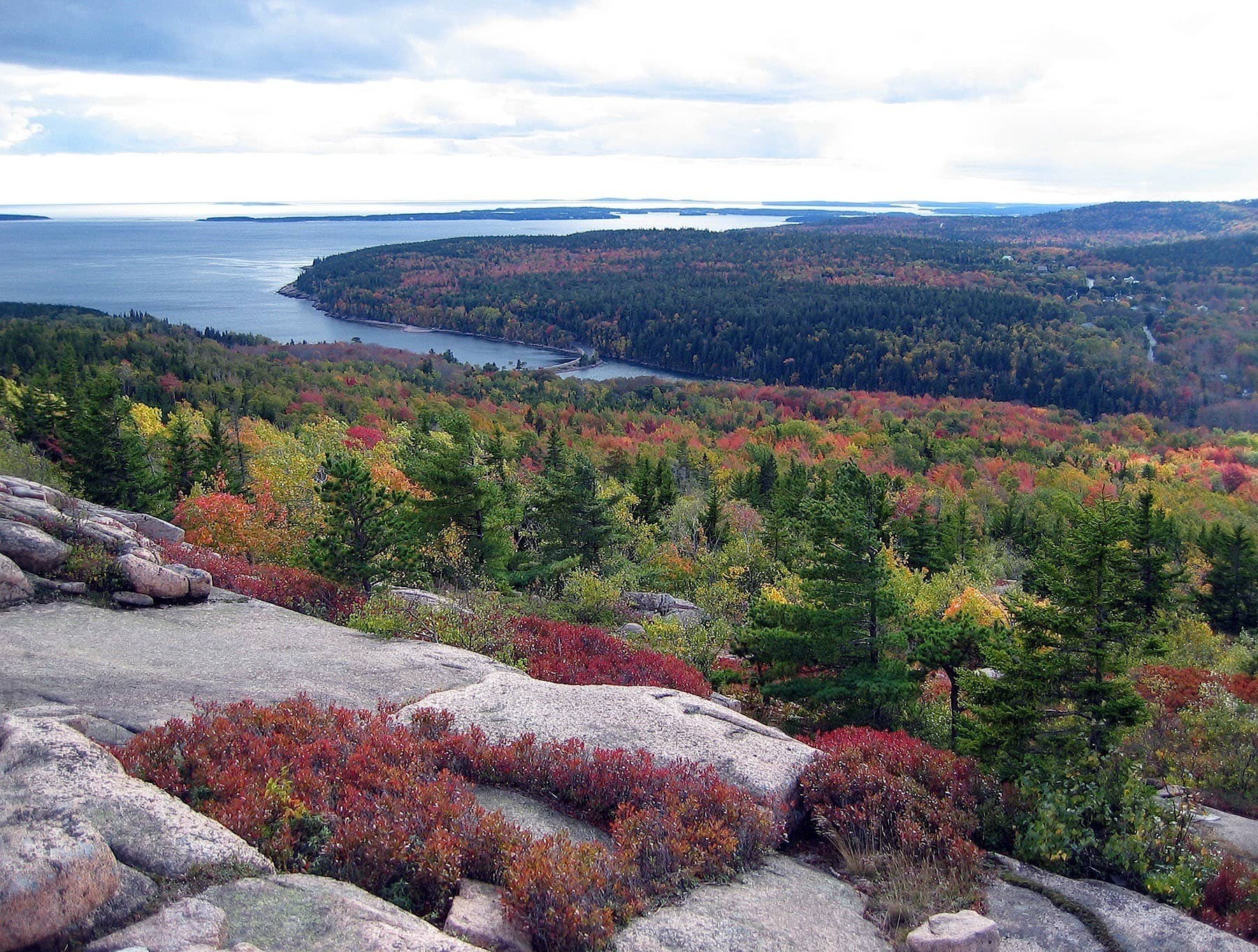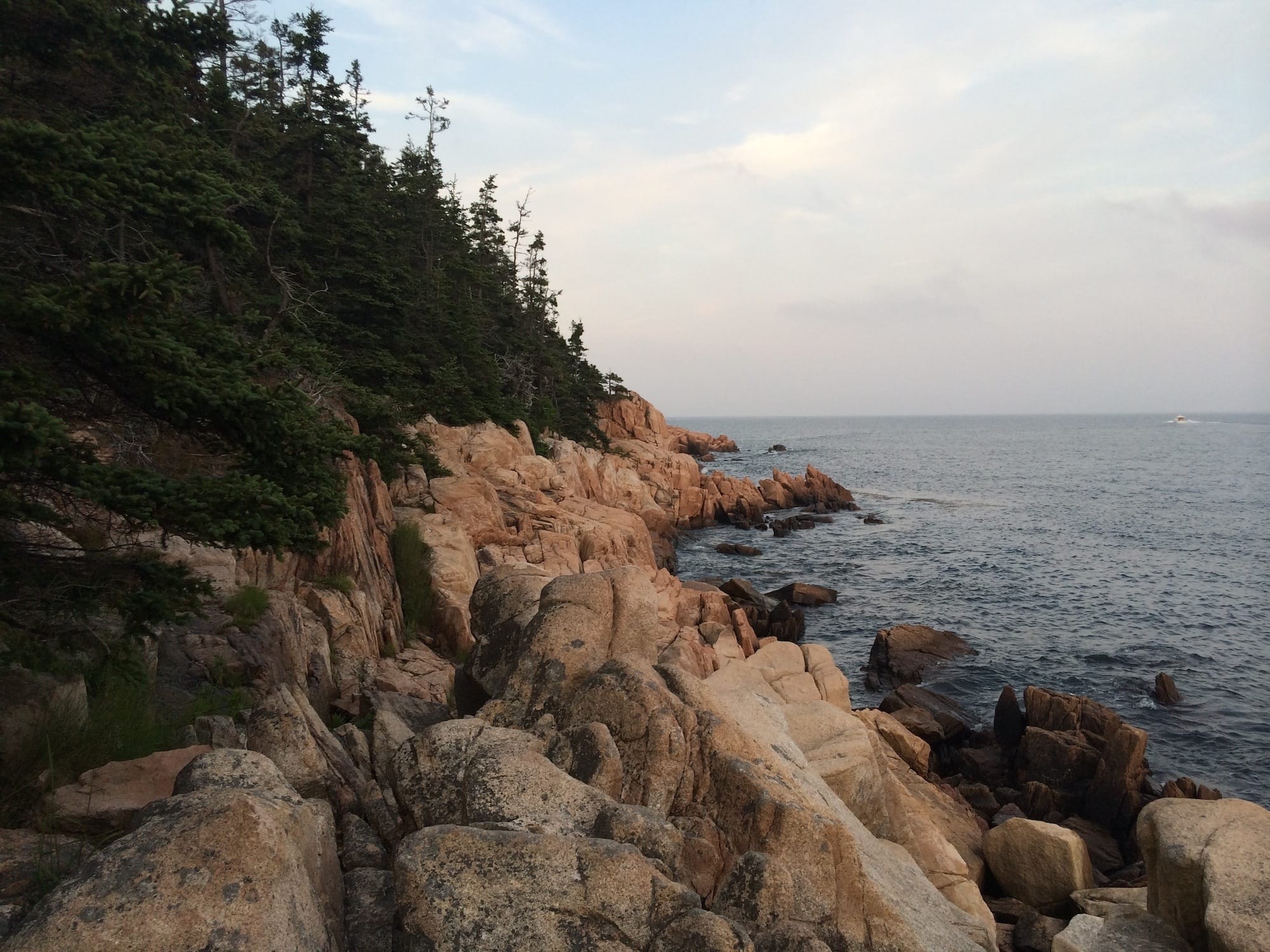 Getting to Acadia National Park
I flew in and out of Boston for our adventure, it was a 4 and a half hour drive from Boston Logan Airport to Acadia. Along the drive, you'll travel through the small towns of Portland, Augusta & Bangor. We were so excited to get to Acadia we only stopped in Portland which is 2 hours from Boston Logan, a great midpoint to stretch your legs and grab a bite to eat.
Portland also has a sizeable airport, and flying in there vs Boston would cut your drive in half.
Favorite Activities Acadia National Park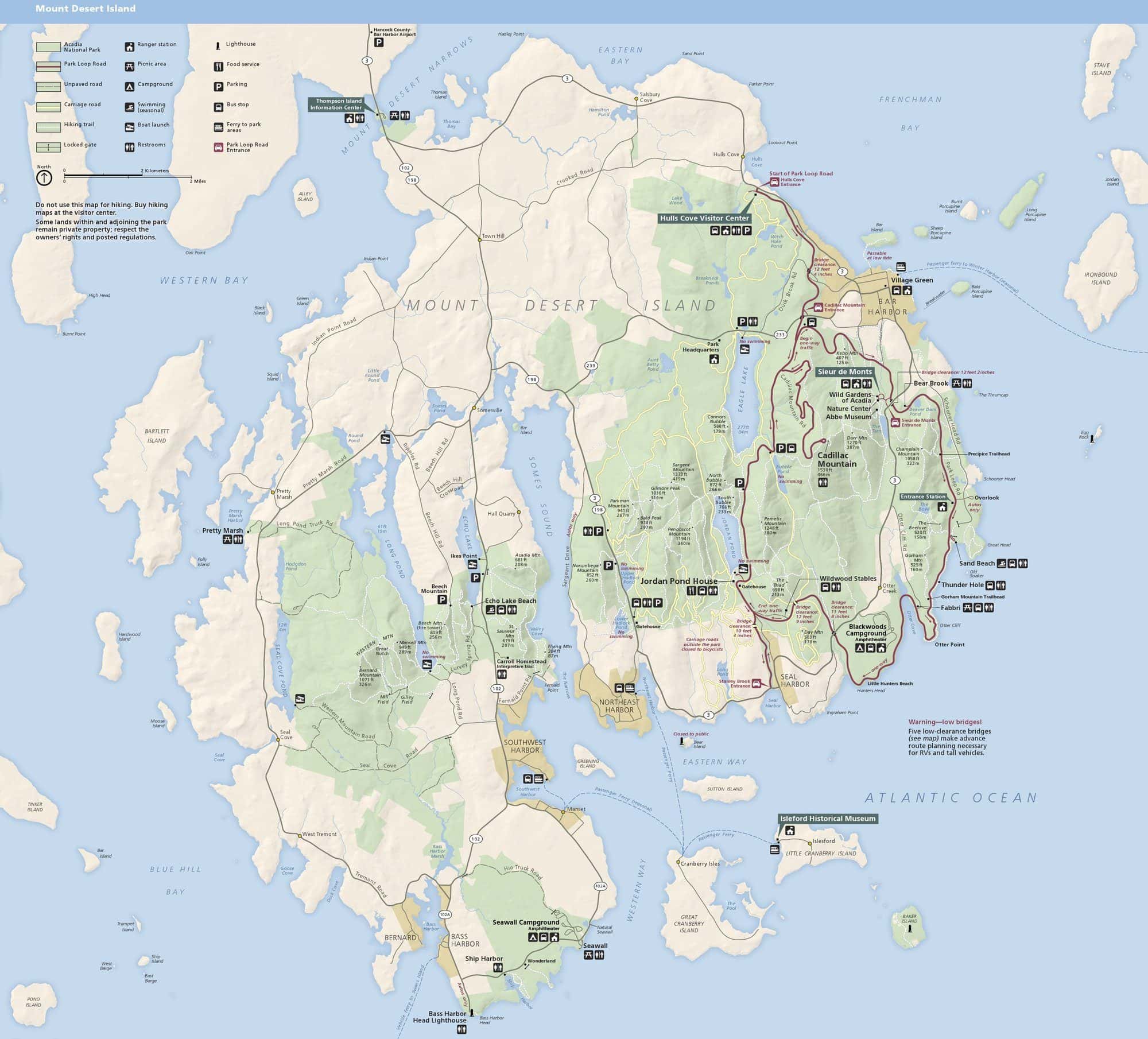 The Baker Island Cruise was a unique thing to do in Acadia National Park, where we traveled in a small boat 9 miles out to Baker Island. At first, we were hesitant about booking a half day boat tour when it seemed like there was so much great hiking. We also had to decide which boat tour to go on since the park has three different options. Our cruise was led by an Acadia National Park naturalist/ranger who was very knowledgeable and we really enjoyed learning about the history of the Gilley family who used to live on the island. It was also a really great way to see the cliffs of Acadia National Park from a different perspective.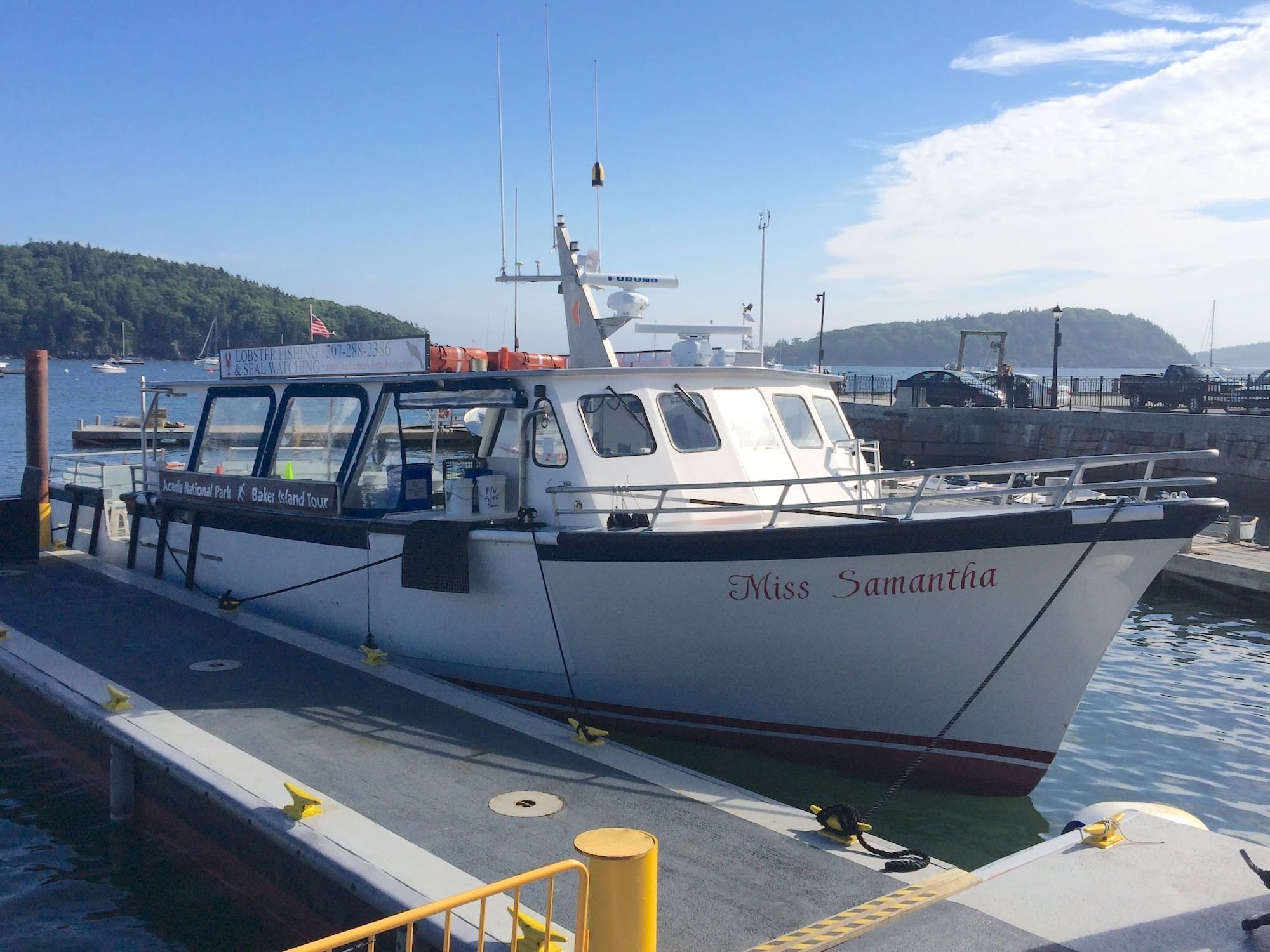 Drive the 27-mile loop road to see the carriage routes, carriage houses, stone bridges and other incredible sights in Acadia National Park. We ended up driving the entire road twice because we missed a few things the first time through and for certain sections, the road is only one-way.  So make sure to look at the map and plan your stops. Don't miss Thunder Hole, even if you aren't there when it is going crazy. Just North is Sand Beach which is a great place for a picnic, and just South you'll find Otter Cliff. And yes, drive to the top of Cadillac Mountain. It will be crowded, but it is nice and flat on the top so you can spread out to catch the sunset or admire the view for a bit.
Head over to check out the Bass Harbor Head Light on the Bass Harbor side (southwestern side) of Mount Desert Island. The lighthouse was built of brick in 1858 and is open every day from 9 am to sunset.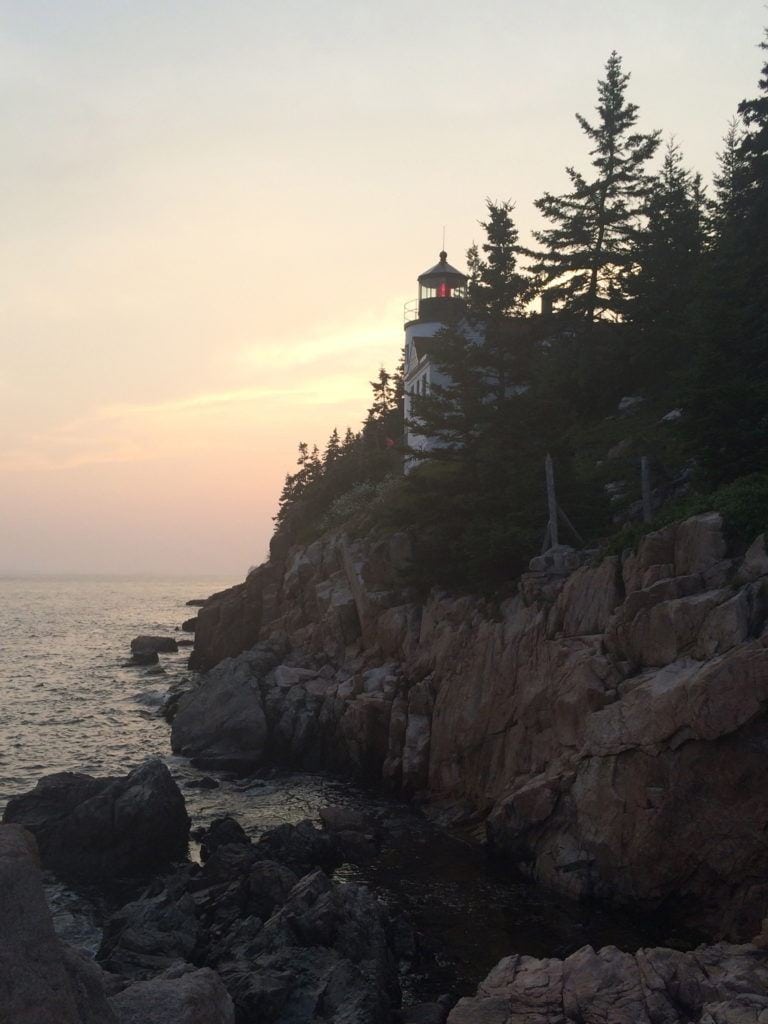 Don't miss going to the Jordan Pond House, a local spot that has been serving tasty popovers and tea for over 100 years. These sweet creations of eggs, flour, and milk have a hollow, doughy inside and crispy flaky crust. You can get them with strawberry jam and butter or for the sweet tooths out there, try the pop-over sundae.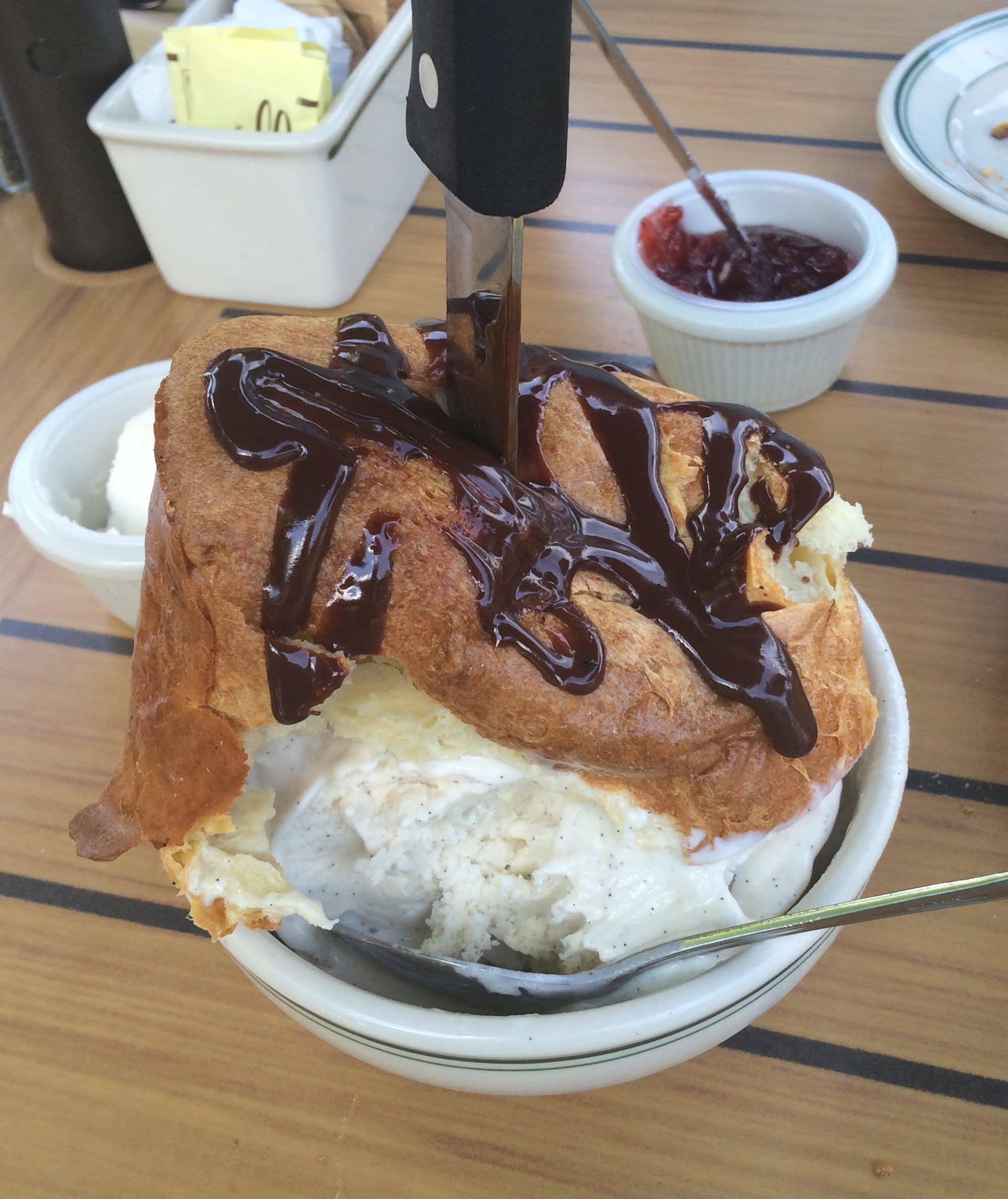 You can drive to the Cadillac Mountain (elevation 1,532 feet), the highest peak in Acadia National Park, so we opted to tackle some different trails instead.
My dad and I were looking for a challenge, so we decided to climb the 2nd highest peak in Acadia, Sargent Mountain (elevation 1,373 feet). Then we learned we could also bag Penobscot Mountain (elevation 1,194), Acadia's 5th highest peak, in an awesome loop. We took the Spring Trail from the Jordan House Pond to Penobscot Mountain first and then continued hiking north to Sargent. It was only a 5 mile trip with 1,300 feet of elevation gain. This trail meanders through an evergreen forest and also has numerous steep sections with open ledges. Insider tip: If the Jordan Pond House parking lot is full, head to the Jordan Pond North parking lot for more options. The hike begins in a beautiful thick forest and you'll cross numerous carriage roads as well as bridges if you are interested in checking those out as well. Most are marked. The path down from Sargent Peak back to the parking lot travels along the Jordan Pond and you'll arrive back to the Jordan Pond House hopefully with enough time to grab a popover!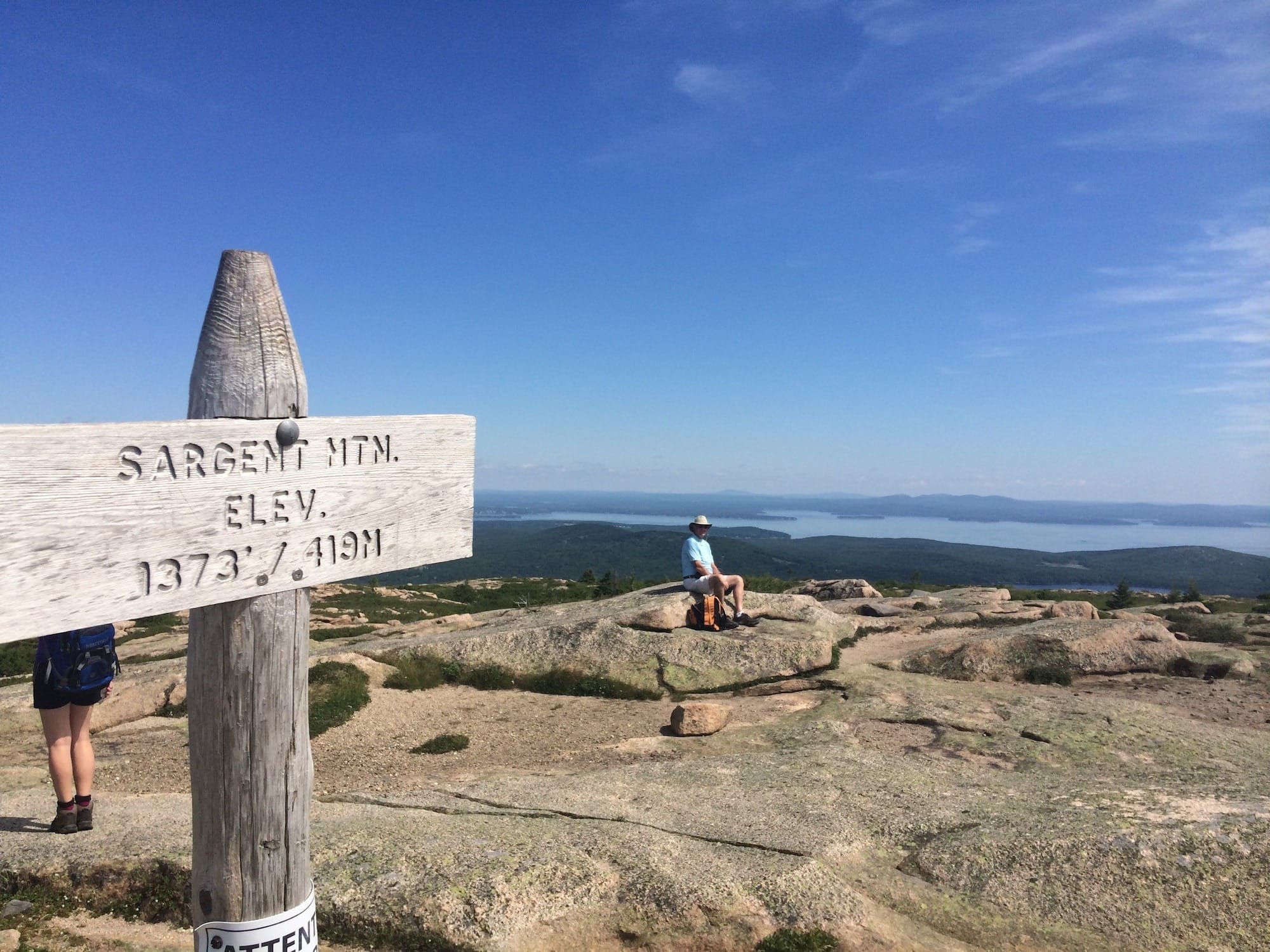 You can climb Cadillac Mountain by foot if you want. The 11 mile South Ridge Trail was highly recommended but we had already driven to the top of Cadillac before learning of it. On the South Ridge Trail you'll climb about 4 miles of steep granite to summit Cadillac and then continue to its neighbor, Dorr Mountain. The descent from Dorr Mountain along the Ladder Trail features exposed sheer rock walls where you use actual rock ladders to climb down.
The 1.6 mile Beehive Trail on Gorman Mountain features a short half-mile climb that rewards one with unsurpassed views of the Atlantic Ocean and Acadia's beaches and cliffs. While the climb is short, it is intense. You'll encounter steep switchbacks, steep drops, and portions where the National Park Service has provided hand and footholds for near-vertical climbs. If you are afraid of heights or not comfortable with exposure, you might sit this one out….or use it to tackle those fears 🙂 The Beehive Trail starts 100 feet north of the Sand Beach parking Area.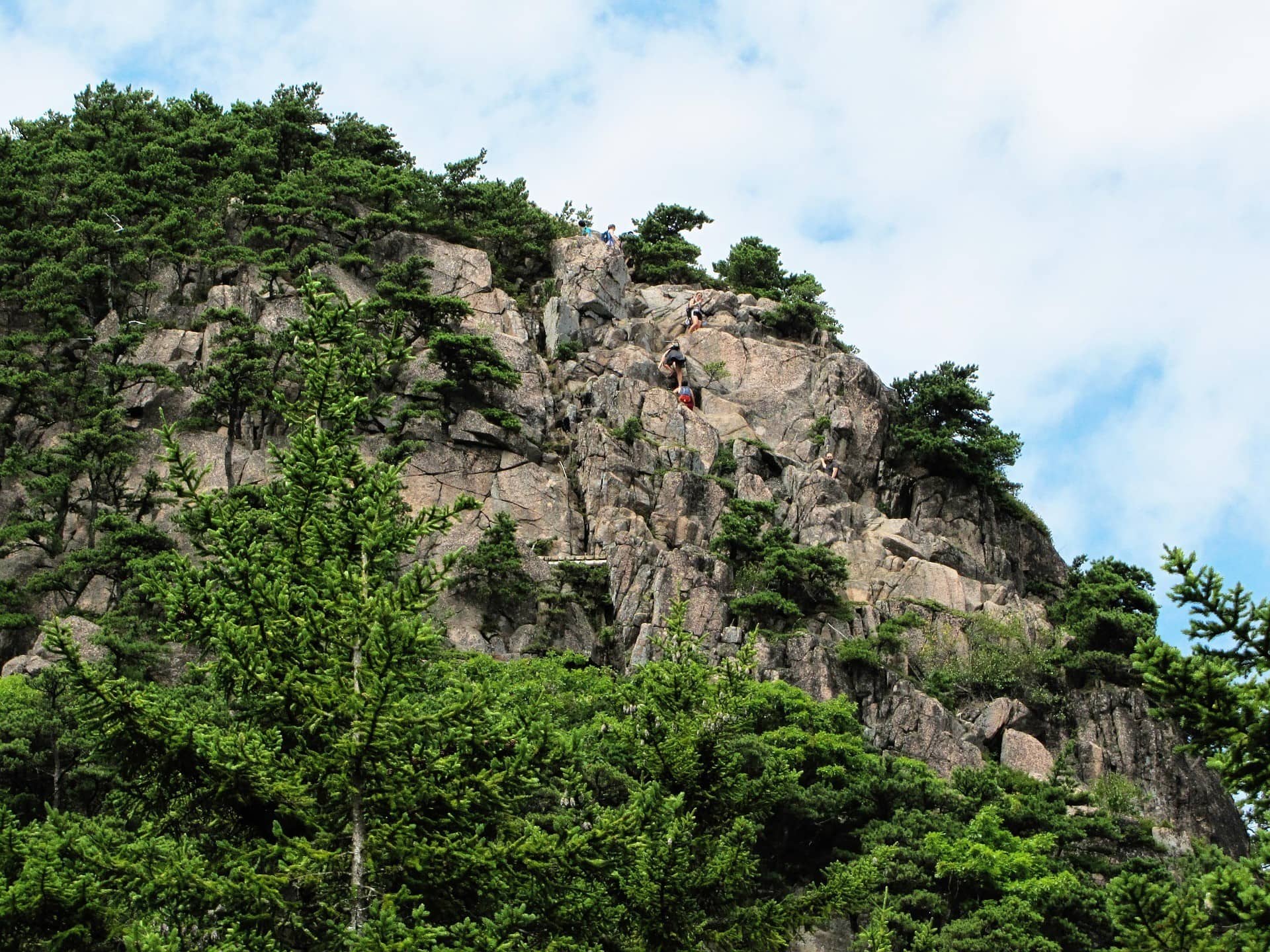 If the Beehive Trail interests you but you need more, try the Precipice Trail. This 1.3-mile one-way trail offers great views of Frenchman Bay. You can find access on the Park Loop Road, 2 miles past the Sieur de Monts Spring entrance. The National Park Service advises guests not to descend on Precipice Trail, make it a loop and bring back the Orange & Black Path for a 2.8-mile hike. Be aware that this route closes often due to Peregrine Falcon nesting.
If you can't stand sitting in the car and exploring the 27 Mile Loop Road then the Ocean Path Trail is a great idea for you. From the Otter Point parking area, you'll find the 5.8 mile Ocean Path Trail. This trail passes Sand Beach, Thunder Hole, the Beehive Trail, and summits 520 foot Gorham Peak.
Looking for a thrill? Go sea cliff climbing! There are climbing opportunities at Otter Cliff, as well as numerous other areas in the park. If I ever go back I am definitely going to look into this. Acadia Mountain Guides is a local company that offers climbing instruction and guiding in Acadia.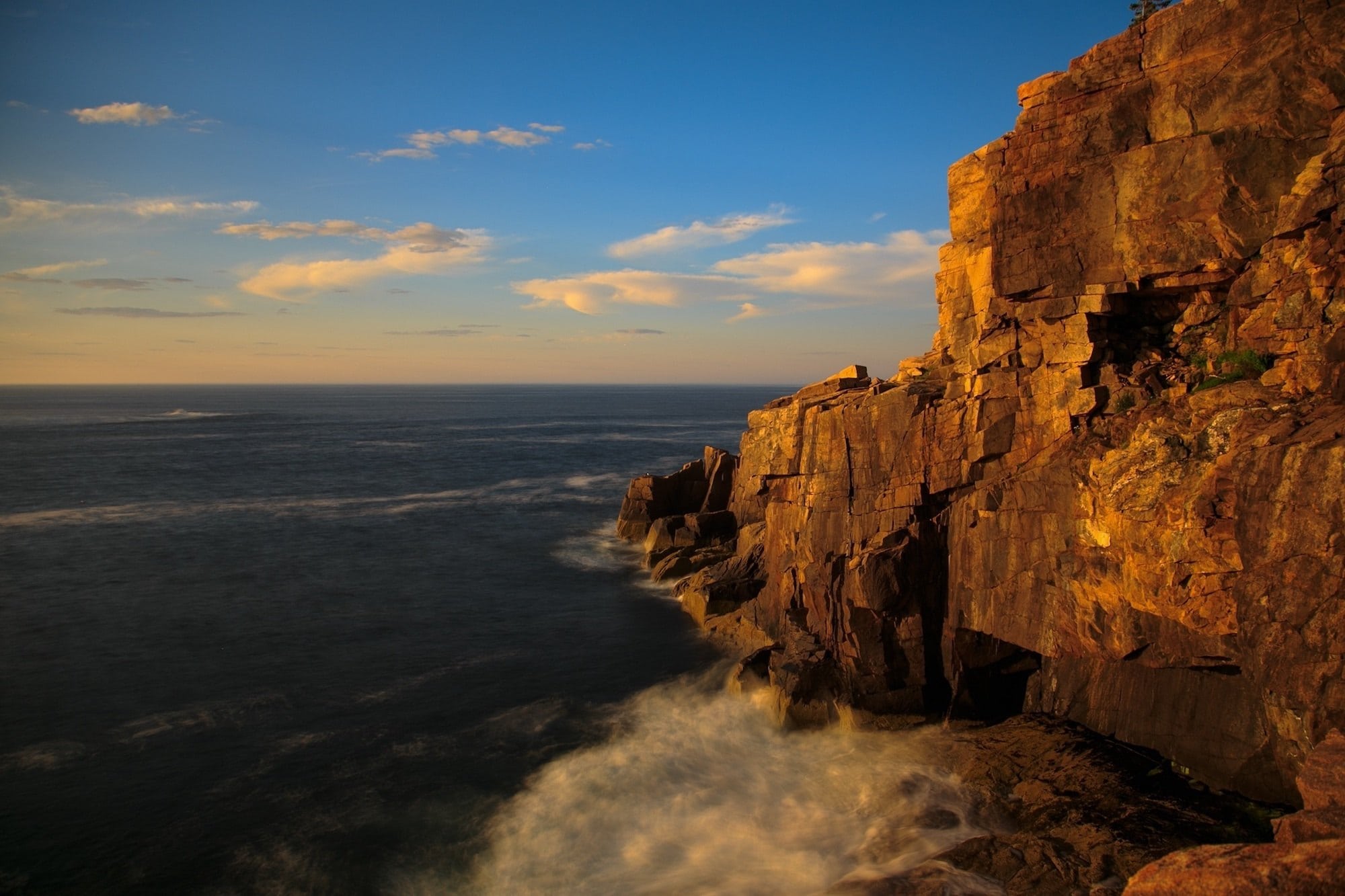 The park offers tons of activities so make one of your first stops at one of five Acadia National Park Visitor Centers. There is also a Historical Museum and Nature Center that are small but neat for exploring. The ranger station is also a great way to learn the lay of the land, ask questions, and map out the things you want to do in Acadia.
Maine Road Trip Stops Outside Acadia National Park
We went back and forth on whether or not to visit the small Mount Desert Oceanarium in Bar Harbor. It does take about 3 hours for the entire experience since there are three parts. We really enjoyed the learning about the local marine life. Touring the lobster hatchery was my favorite part, as well as the touch tank experience.
The Asticou Azalea Garden and Thuya Garden in Northeast Harbor, ME are open from May to October and are two of the best free gardens I have ever visited. It's worth a quick visit to check both of them out if you are into plants.
Coastal Maine Botanical Gardens in Boothbay is 2.5 hours South of Acadia along the coast and 3 hours from Boston Logan. The garden was full of surprises, including a fun reflexology labyrinth where you take off your shoes to feel the sensation of walking over smooth rocks. Don't miss the "Fairy Village" where you can build fairy houses in the forest.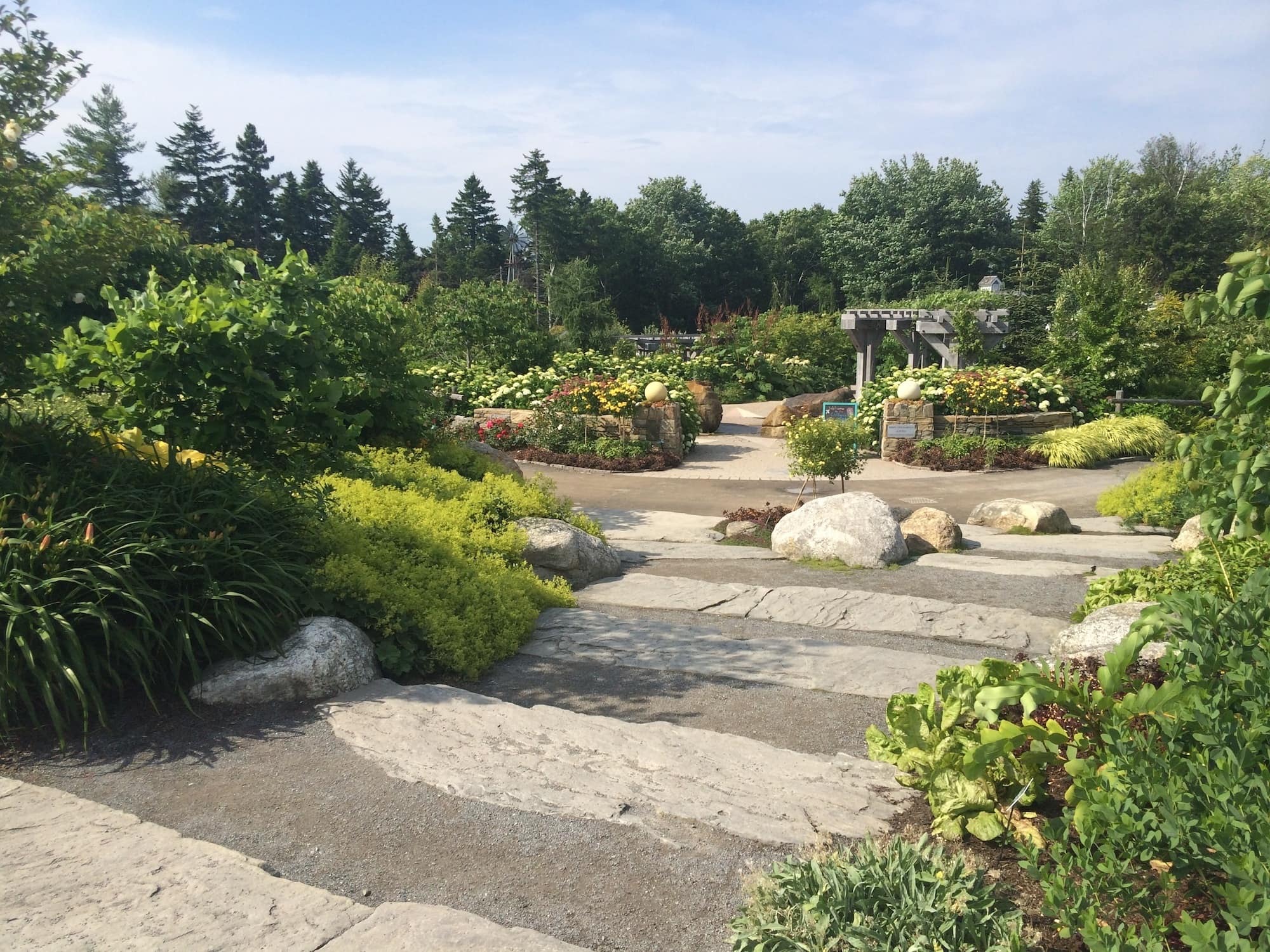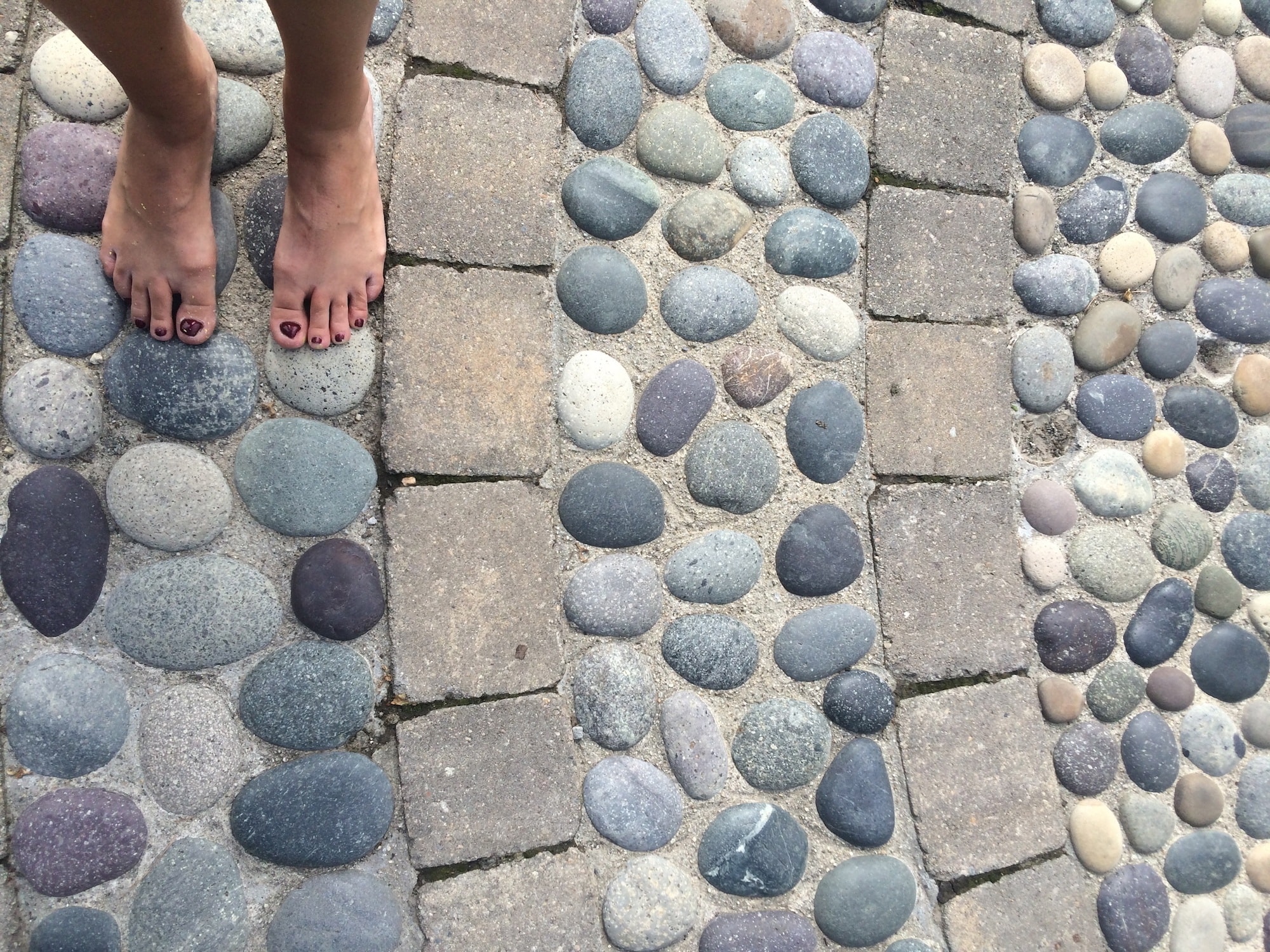 Great Towns to Visit in Maine
Bar Harbor, ME was a pleasant home base for exploring Acadia. The town thrives on tourists, and we had some incredible lobster rolls in town. I really enjoyed walking the streets and exploring all this little town has to offer. Don't miss grabbing some Mount Desert Island Ice Cream in Bar Harbor!
In Portland, ME we learned about the Maine Beer Trail. Portland is home to big names — Allagash & Shipyard Brewery, along with lots of small microbreweries. There are over 80 breweries on the trail, broken into 7 regions. You can pick up a map at any of the local breweries. This is another great reason to stop in Portland on your way North–you can plan awesome rest/refreshment stops for the rest of your journey!
LL Bean's flagship store is located in Freeport, ME and is worth a stop. It is open 24 hours a day, 365 days a year so no need to plan your adventure around the store's open hours. They offer tons of clinics, courses, and classes daily–some of which are free. Don't miss the 3,500 gallon, 24-foot long Maine riverbed aquarium and other outdoor displays including two locked Moose antlers. The Maine Beer Company is also worthy of a stop if you are exploring Freeport. They are located on U.S. Route 1 and feature some really great IPA and Pale Ales to quench your roadtrip thirst.
What to Pack
None of the trails recommended here are strenuous enough that you need heavy-duty hiking boots. If you prefer trail runners or hiking shoes you'll be just fine.
If you plan to do a cruise, you'll want to make sure you have warm layers including something that is wind/waterproof.


Here are some great guidebooks and maps where you can learn about other things to do in Acadia National Park:
Not sure what else to pack? Check out post "What to Wear Hiking" to ensure you have all the essentials for Acadia National Park.
Where to Stay in Acadia National Park
Acadia National Park has 3 main campgrounds, Blackwoods, Seawall and Schoodic Woods. From May to October, reservations are recommended for all campgrounds and can be made online at Recreation.gov. Blackwoods is the only campground open year-round but is hike-in only from December-March. Tent sites range from $22 to $30 each.
There are lots of great small hotels and motels as well as your big name chains. In the summer months book early as it can get busy on the weekends especially.
Save $40 on Airbnb when you sign up at this link!

Have you been to Maine? What are the things you'd like to do in Acadia National Park? Share your thoughts in the comments below!