Michigan Road Trip: 10 Best Stops for Outdoor Adventure
Plan your Michigan road trip with this guide to the best stops for outdoor adventure hikes, sand dunes, waterfalls, and more!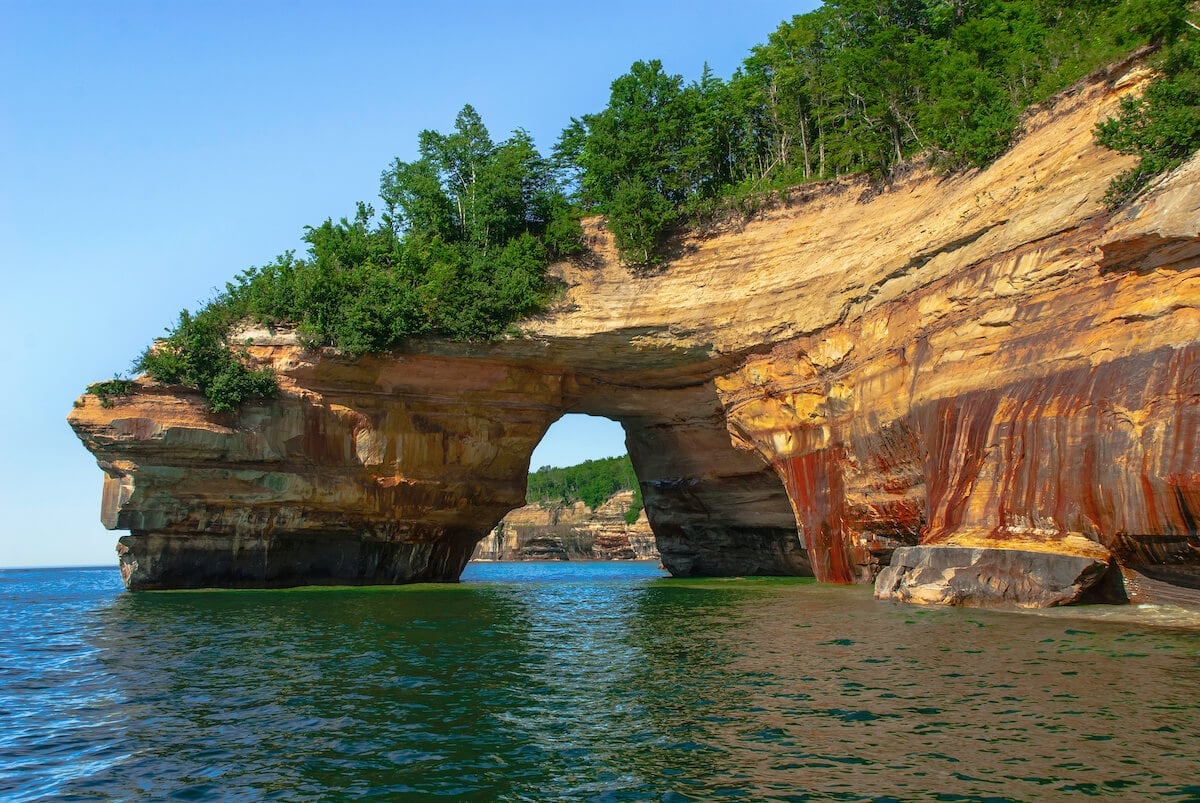 Known as the "Great Lakes State", Michigan is sandwiched between four of the five Great Lakes (Superior, Huron, Erie, and Michigan). This Midwestern state is a hidden gem full of outdoor adventures from hiking, paddling, backpacking, and more, across unique lakeshore landscapes, old-growth forests, and even sand dunes!
Michigan is also home to one of the least-visited National Parks in the US, Isle Royale National Park, which offers remote wilderness opportunities. Once you have your road trip essentials packed, get ready for an outdoor adventure through Michigan!
I spent two weeks road tripping across Michigan's Upper Peninsula and down the West Coast in the fall and was blown away by the natural beauty of the state. Michigan is the perfect summer or fall road trip destination for anyone who loves the water or wants to find an untouched outdoor paradise in the Midwest.
Looking for your next road trip destination? Here are the best stops for outdoor adventure on a Michigan road trip.
Important Reminder: As it goes in all of the destinations we share, please practice good trail etiquette and remember to Leave No Trace. This means packing out all of your garbage (including toilet paper), being respectful to others on busy trails, and following the established rules.
Michigan Road Trip Map
#1 campsite finder app
Try The Dyrt PRO free for 30 days
Get a FREE 30-Day membership to The Dyrt PRO, one of our favorite apps for finding campsites.
Perks include:
• 5,000+ free camping locations
• 1,000+ campground discount network
• $0 extra booking fees
• Get reservations at sold-out campgrounds, and more
Use the code BEARFOOT to get 30 days free!
Michigan Upper Peninsula Road Trip Stops
1. Porcupine Mountains Wilderness State Park
Porcupine Mountains Wilderness is the largest state park in Michigan, and one of only a few large wilderness areas left in the Midwest. Nestled against the Lake Superior shoreline, the Porcupine Mountains are home to over 90 miles of hiking trails, numerous waterfalls, and several scenic viewpoints. Lake of the Clouds is a must-visit for anyone visiting the park – this lake is surrounded by breathtaking forest and Lake Superior is visible in the distance, making it a photographer's dream. Lake of the Clouds is easily reached via a fully-accessible overlook, and can also be reached via the Big Carp River Trail and the Escarpment Trail.

Other popular hikes include the Summit Peak Observation Tower and Presque Isle River Loop. There are 65 backcountry campsites available year round – although if you plan to camp in winter, be sure you are prepared and have the proper cold weather camping gear. There are also established campgrounds within the state park and several yurts that can be booked in advance.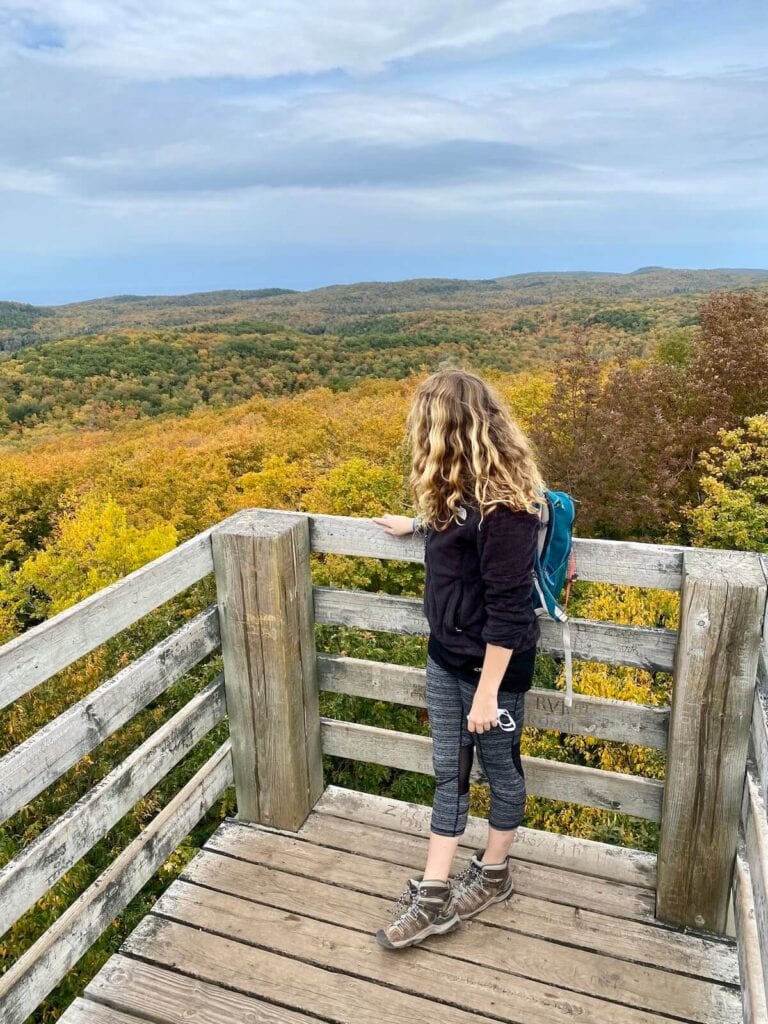 2. Keweenaw Peninsula
Located on the northernmost point of Michigan's Upper Peninsula, the Keweenaw Peninsula is ideal for history buffs, waterfall chasers, hikers, and mountain bikers.
The Keweenaw Peninsula is the earliest known metalworking spot in North America, when 7,000 years ago Indigenous people started mining copper and turning it into tools, jewelry, and fishhooks for trade. This continued among Indineous tribes and English settlers until the 1900s. Today, you will find dozens of museums dedicated to this mineral boom along the peninsula.
Outside of its historical significance, the Keweenaw Peninsula is home to many waterfalls, lighthouses, and hiking and mountain biking trails. Eagle Harbor Lighthouse, Eagle River Falls, and Hungarian Falls are great stops along your route. Mountain bikers from around the country head to Copper Harbor's IMBA Silver Level Ride Center for over 37 miles of rugged, highly technical, yet scenic trails.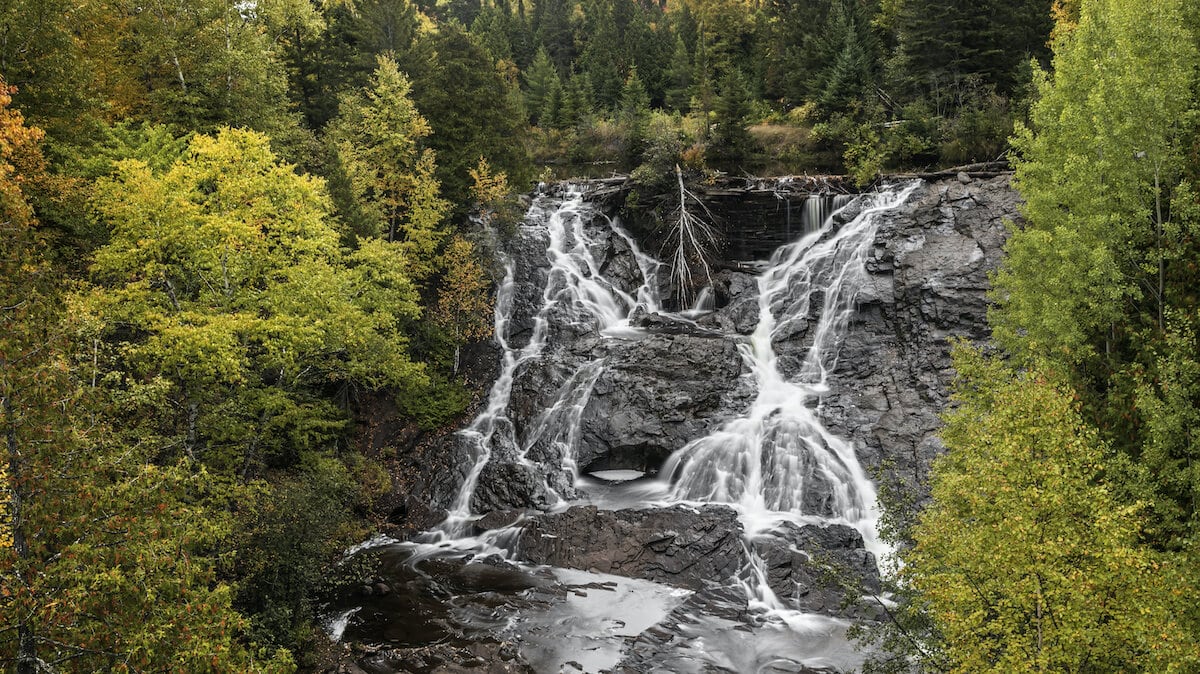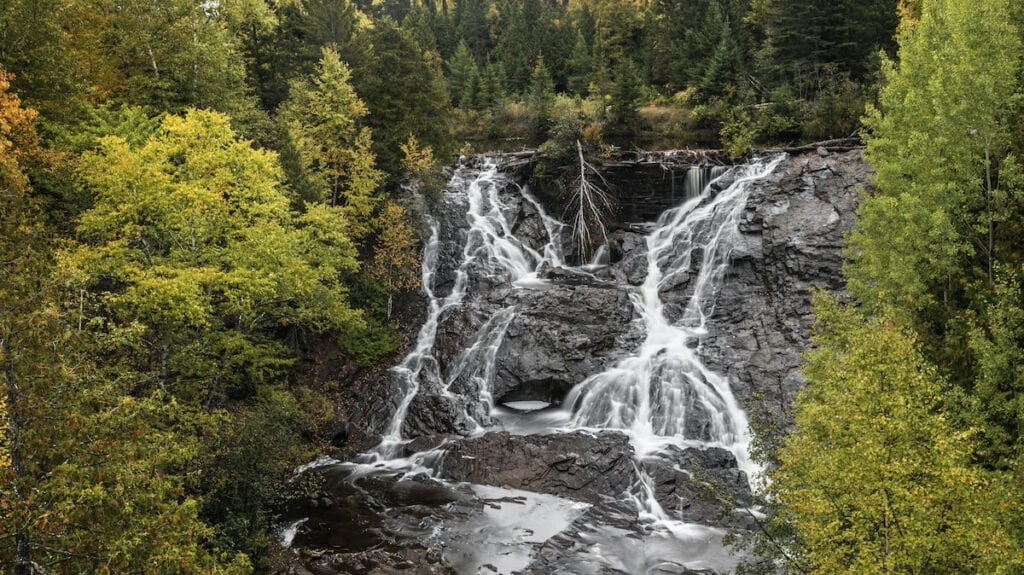 3. Isle Royale National Park
Isle Royale National Park is a remote island located on Lake Superior. It is accessible by boat or seaplane leaving from the Keweenaw Peninsula, and offers solitude for hikers, backpackers, paddlers, fishers, and even scuba divers. There are 36 established campgrounds (some of which are only accessible by paddling), and two rustic resorts on the island. Campsites require a permit, but permits are free for all parties under 6 people, and include a pit toilet, water source, and tent site. You can also visit the park as a day trip, although I recommend staying at least 1 night if you decide to make the trek out here!
For scuba divers, Isle Royale offers the unique experience to dive among 10 shipwrecks around the island. Isle Royale Charters offers scuba diving excursions for those wanting to dip their toes into shipwreck scuba diving.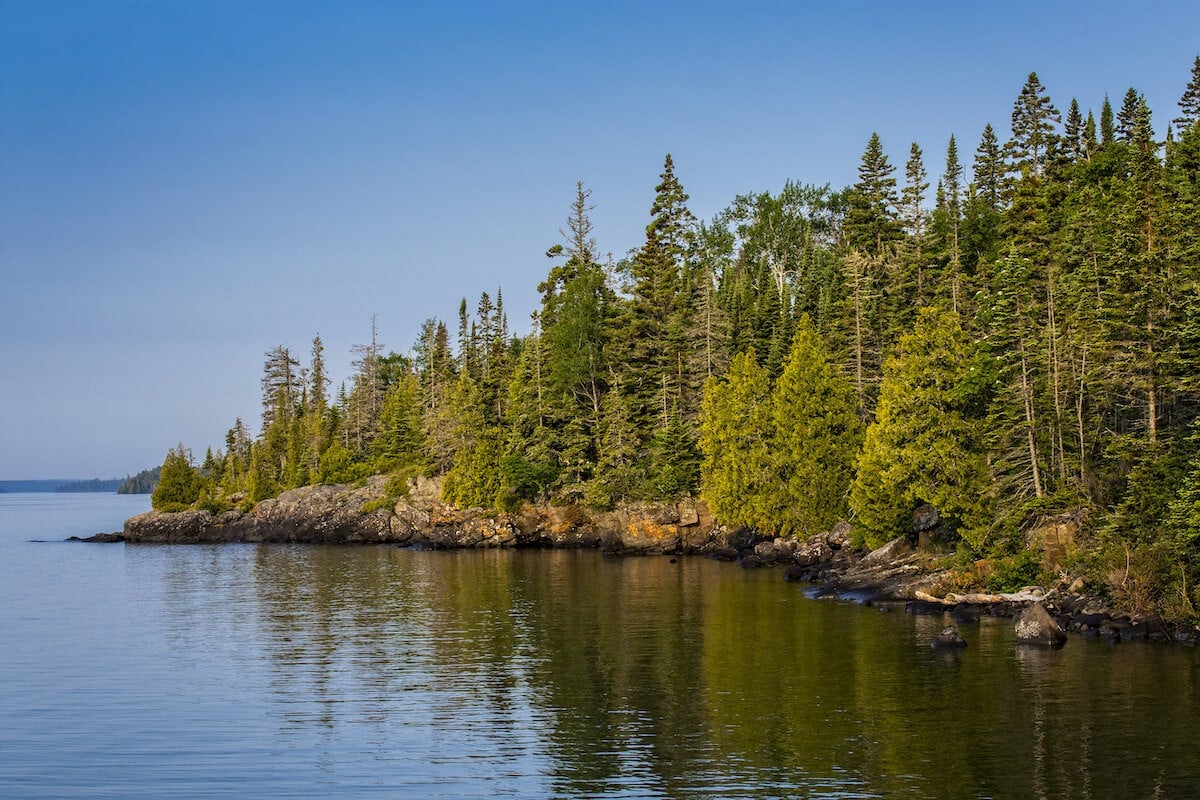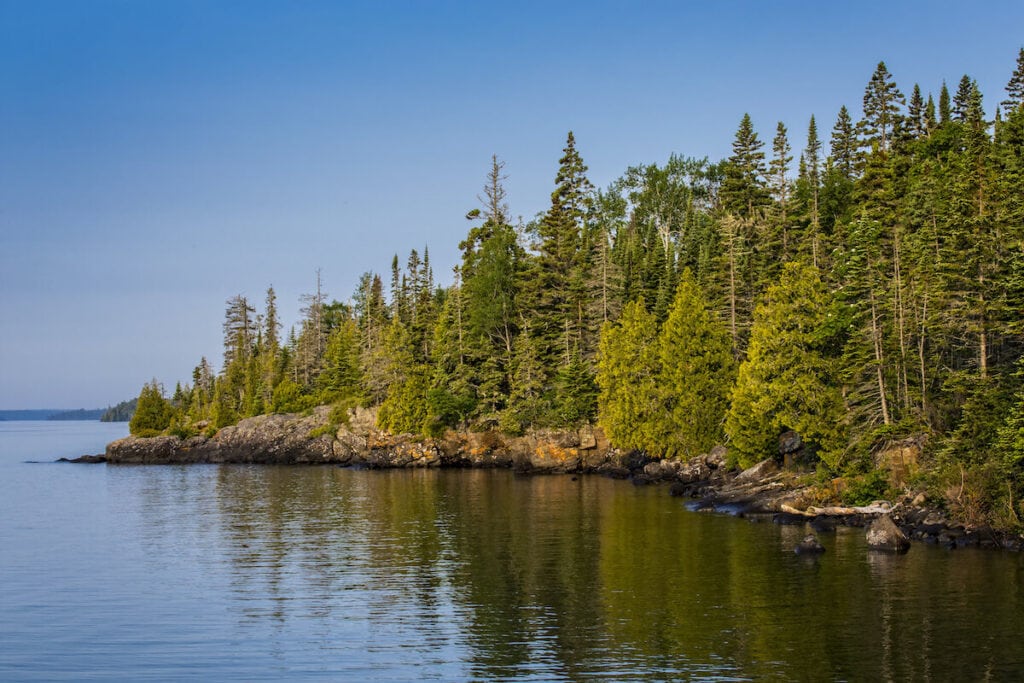 4. Pictured Rocks National Lakeshore
Pictured Rocks National Lakeshore was one of my favorite stops in Michigan – the clear blue water, sandstone cliffs, and lakeshore hiking made me feel like I was next to the ocean instead of a Great Lake. Many areas within Pictured Rocks are accessible by vehicle, short hike, or boat tour, making this an extremely accessible place for all to explore. Miners Castle is one of the most famous landmarks in the area, and is the only cliff area in the park accessible by vehicle. Other top spots include Munising Falls, Miners Falls, and exploring the small town of Munising nearby.
I did a 10 mile Pictured Rocks hiking loop to Mosquito Falls and Chapel Beach, which takes you through dense forest, waterfalls, and several miles along the lakeshore before hitting Chapel Beach. You can do this hike as a day hike, or there are dispersed campsites available to turn this into a relaxed overnight trip. For a unique vantage point of the rocks, or if you prefer not to hike, there are several Pictured Rocks boat tours and kayak rentals available. You can read our beginner kayaking tips here.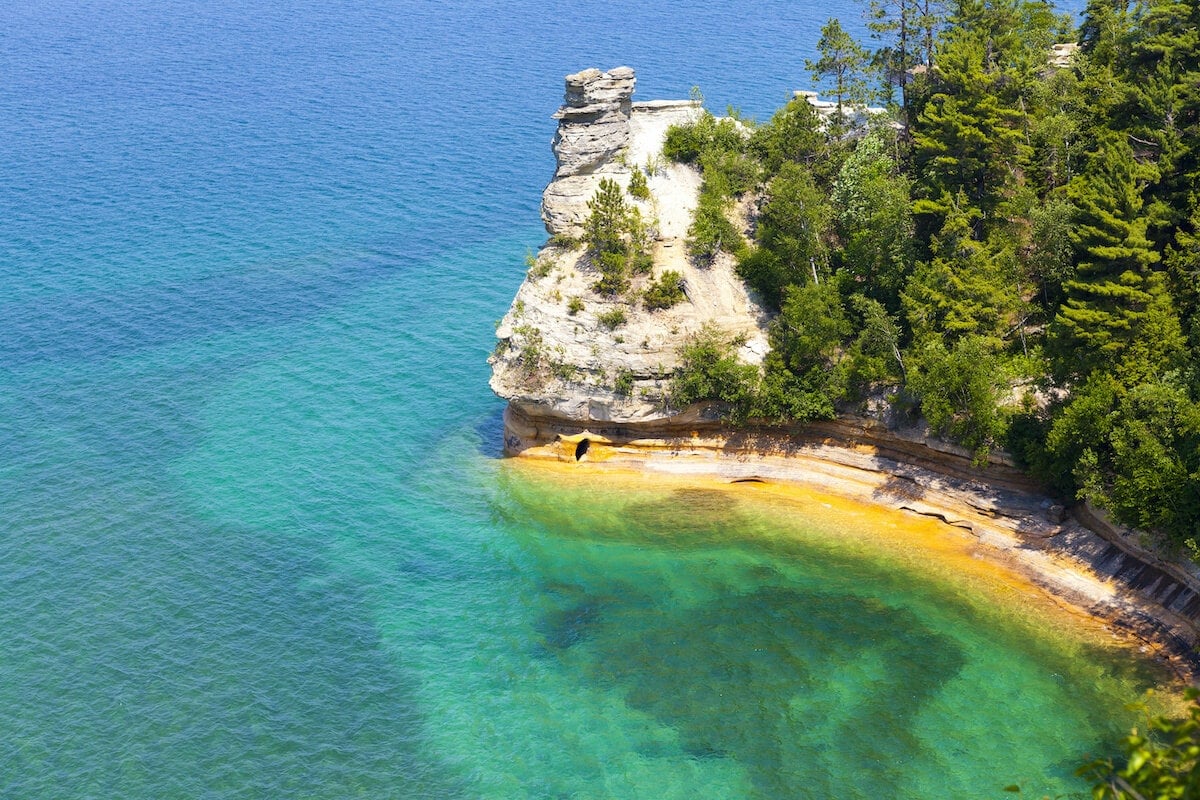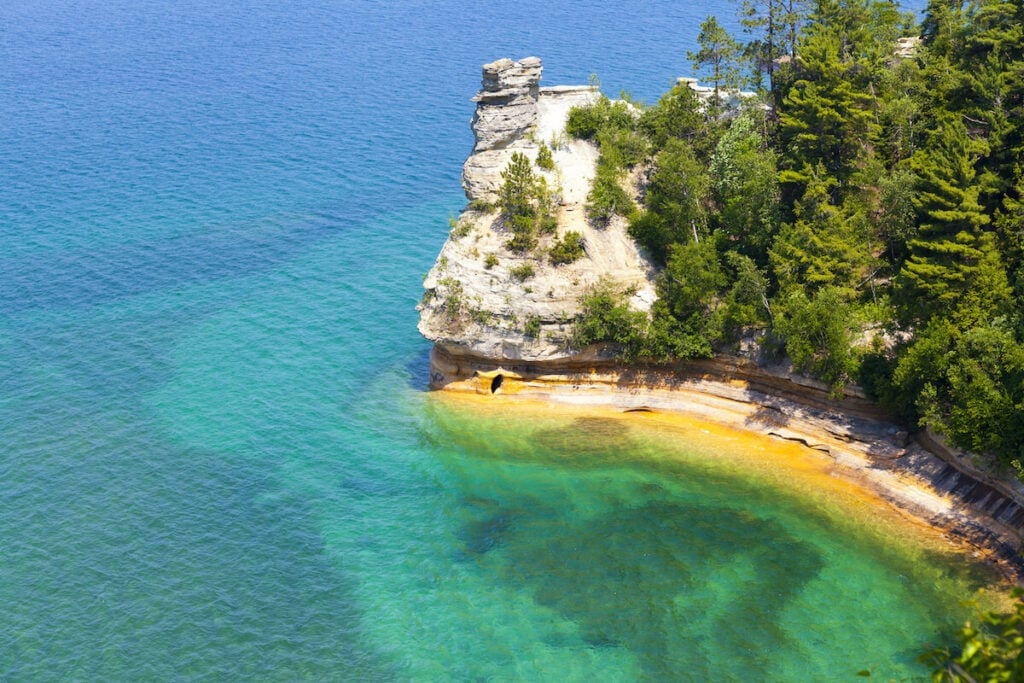 5. Tahquamenon Falls State Park
Tahquamenon Falls State Park is Michigan's second largest state park and covers nearly 50,000 acres, although most of this land is undeveloped. Tahquamenon's Upper Falls is the park's main attraction as one of the largest waterfalls east of the Mississippi; the falls drop a jaw dropping 50ft and are 200ft wide, while the Lower Falls spill into a series of five smaller cascades and rapids. The lower falls can be viewed from shore or from the island, which can be easily rowed to on boats rented from the park. This park can be a quick stop after exploring Pictured Rocks National Lakeshore.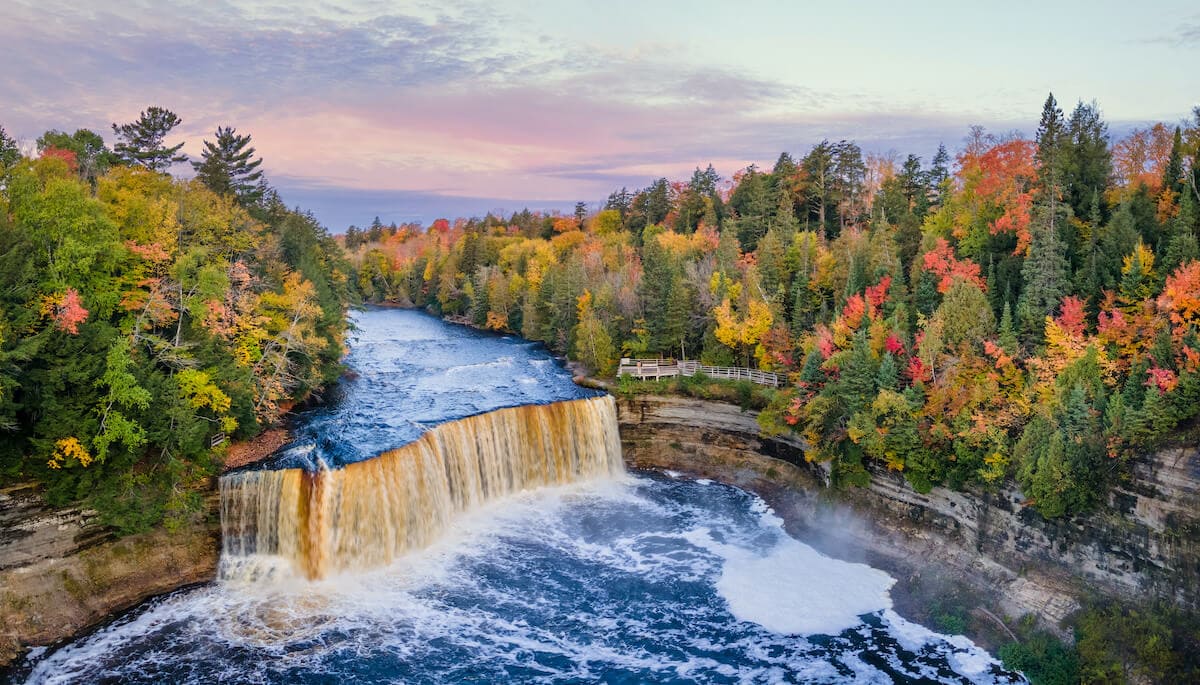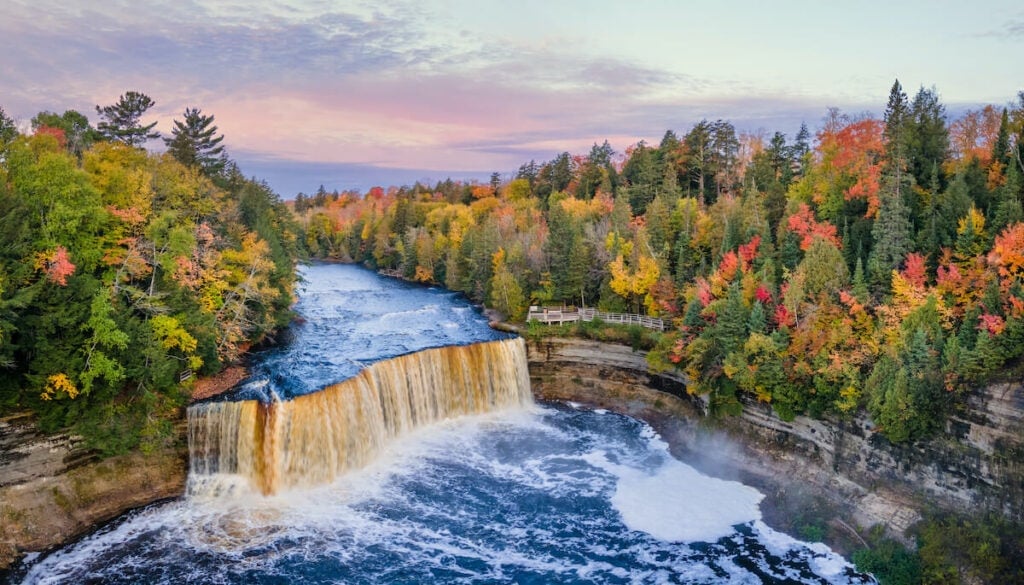 6. Kitch-iti-kipi
Located within Palms Book State Park, Kitch-iti-kipi is Michigan's largest freshwater spring. Over 10,000 gallons of water per minute gush from fissures in underlying limestone, creating a pool of water that never freezes, even in the dead of the winter. Famous for its bold emerald blue color and crystal clear view to the bottom, this site is accessible from a short paved path from the parking lot. You can walk around the shore or hop in an observation raft to guide you to vantage points around the spring to look down at the various underwater features, including schools of fish, ancient tree trunks, and mineral-encrusted branches.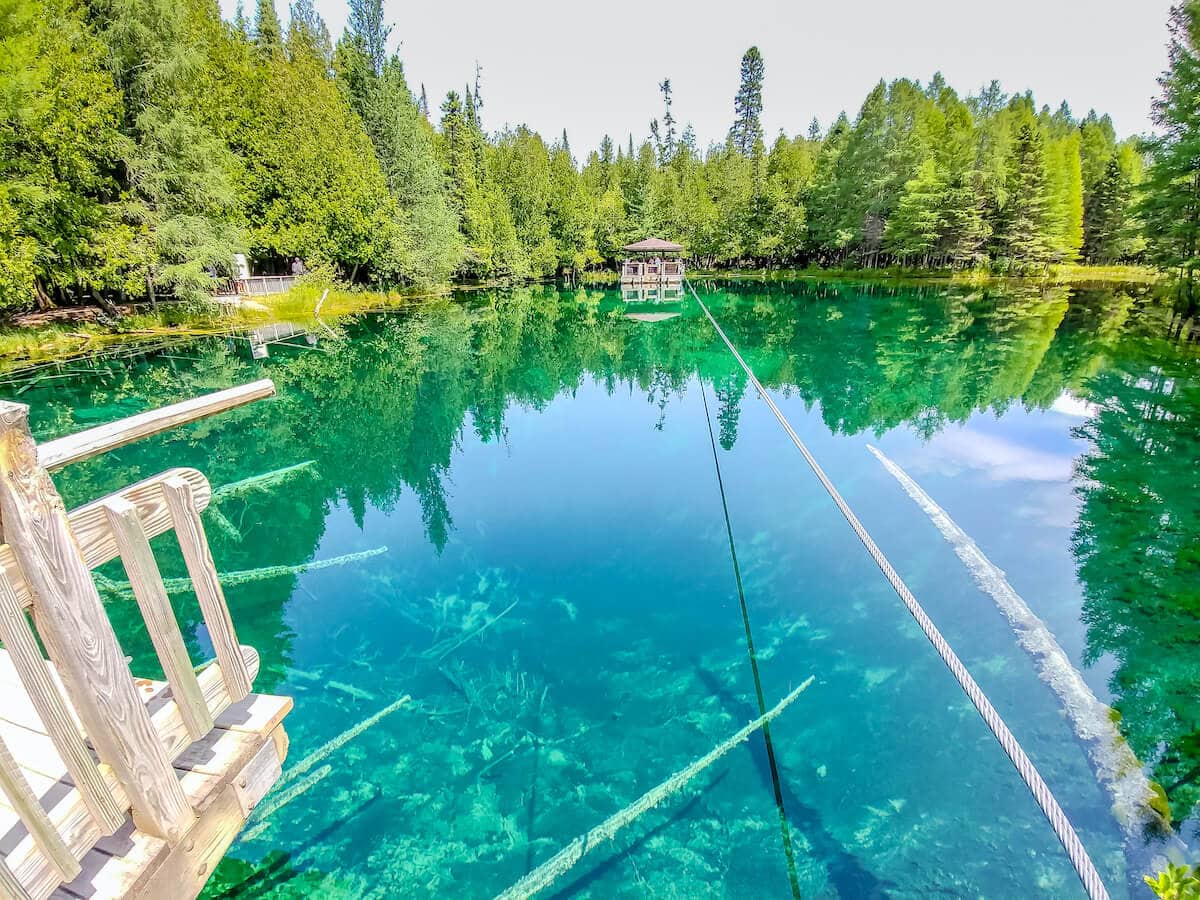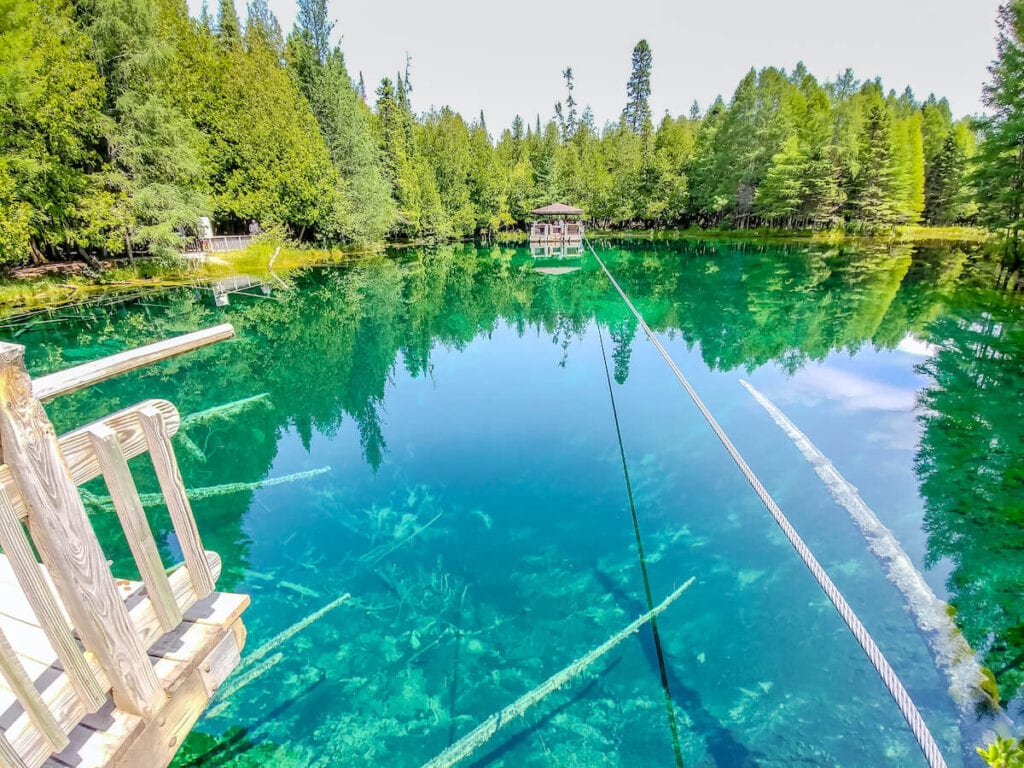 7. Mackinac Island
Mackinac Island sits right between the Upper and Lower peninsulas and is a great place to stop during your Michigan road trip. Mackinac Island State Park, which includes hiking trails, a limestone Arch Rock formation, and wooded forests, covers most of the island. Renting a bicycle is a popular way to explore Mackinac Island as the entire island is only 4.35 square miles and doesn't allow cars (you will leave your car behind at the port and take a ferry over to explore the island). Mackinac Island is quite built up and has plenty of hotels, restaurants, shopping, spas — as well as outdoor adventures. Explore the state park, visit Arch Rock, bike around the island, sunbathe at the beach.. Mackinac Island is the perfect mix of exploration and relaxation.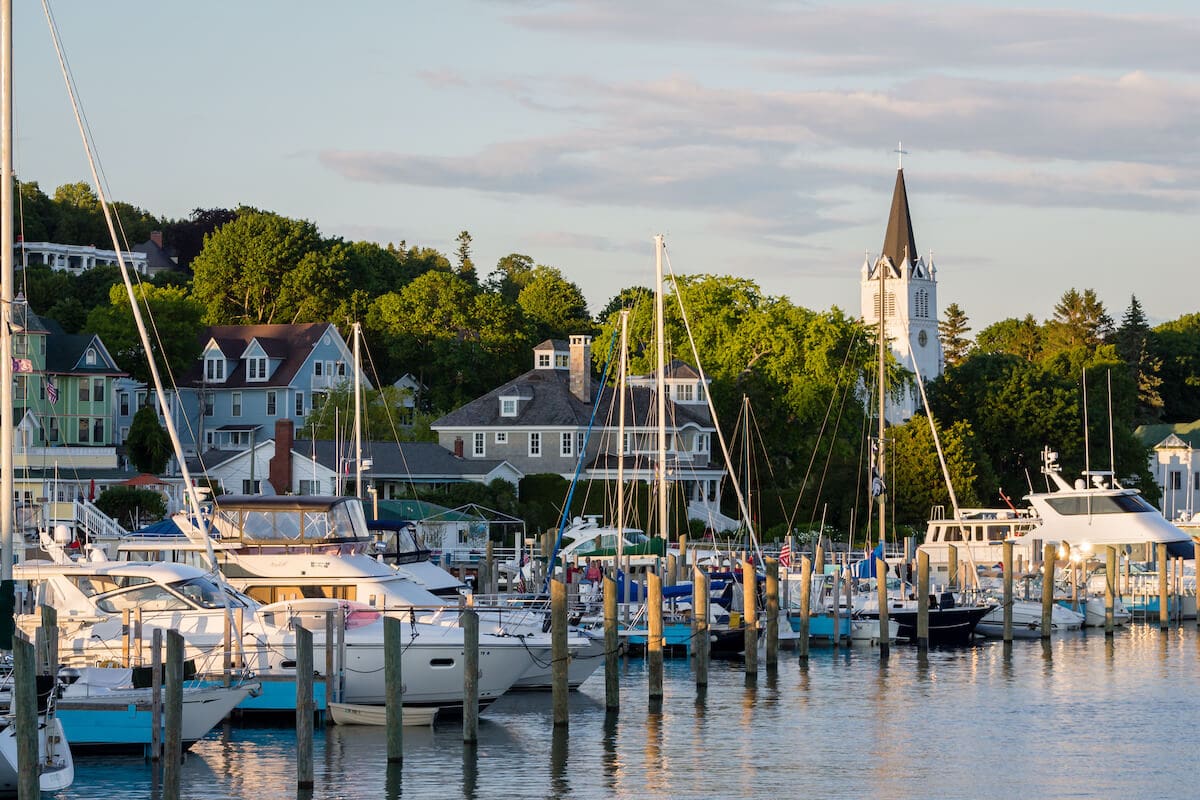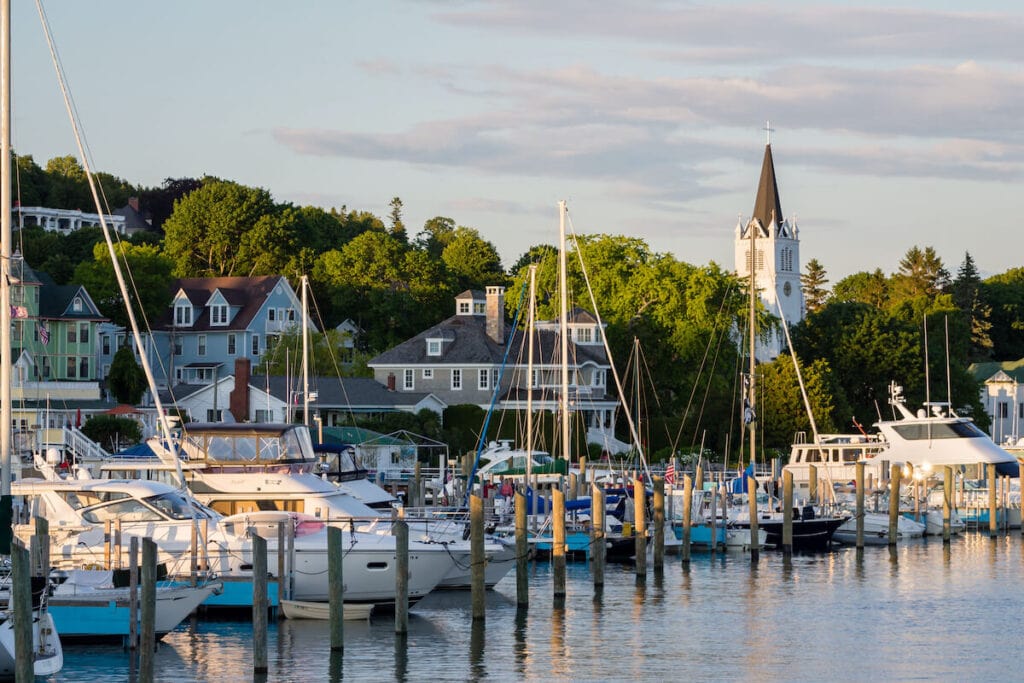 Western Michigan Road Trip Stops
8. Traverse City
Traverse City is a cute town located on Lake Michigan as you head south from the Upper Peninsula toward the western shore. Downtown Traverse City boasts boutiques, restaurants, bars, and coffee shops – it's very walkable and you can also quickly walk to Clinch Park for a lakeside stroll. Taking a drive up the Old Mission Peninsula is perfect for wine lovers – the scenic 18 mile drive has plenty of wineries and orchards along the way. My favorites are Chateau Chantal, Bowers Harbor, and Peninsula Cellars. On your drive toward Sleeping Bear Dunes, stop by Leland Fishtown for an old fishing village feel and amazing sandwiches at Village Cheese Shanty.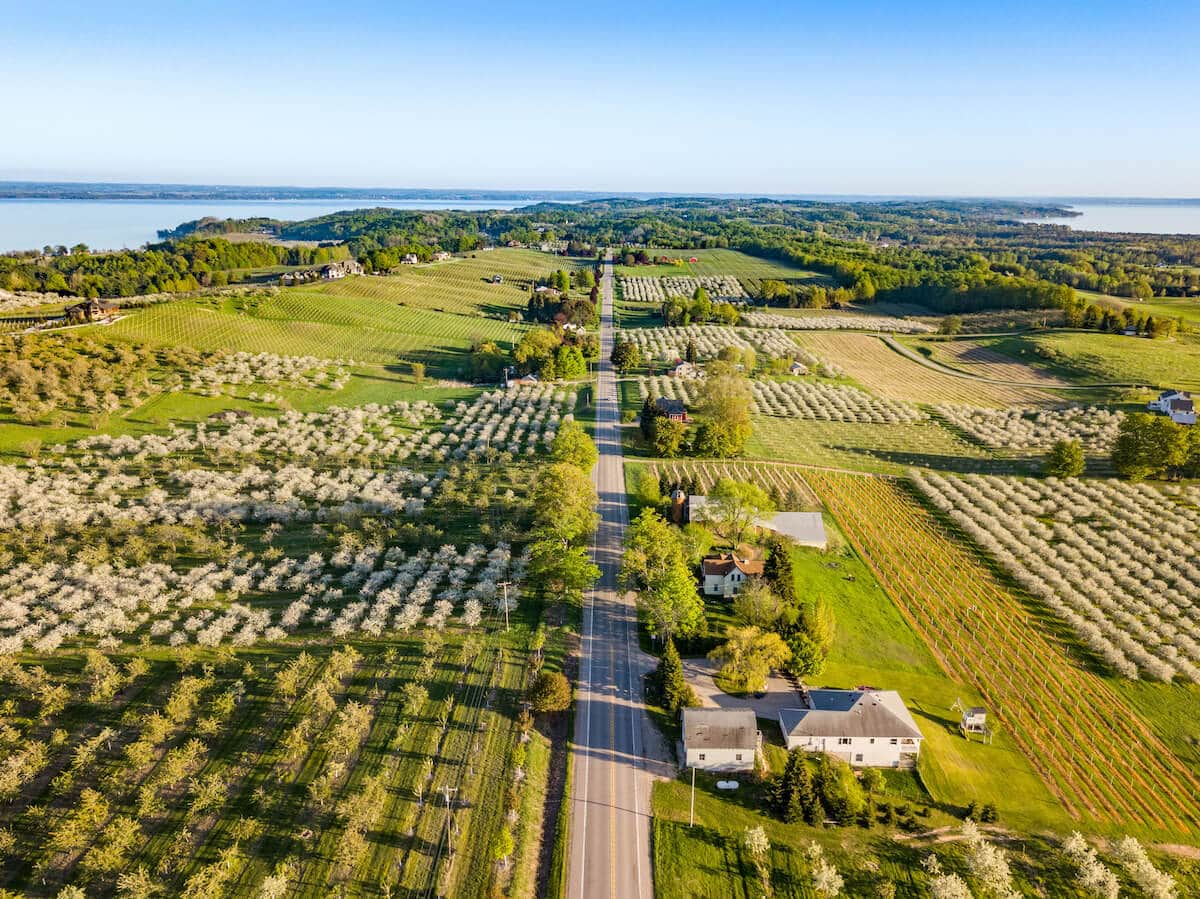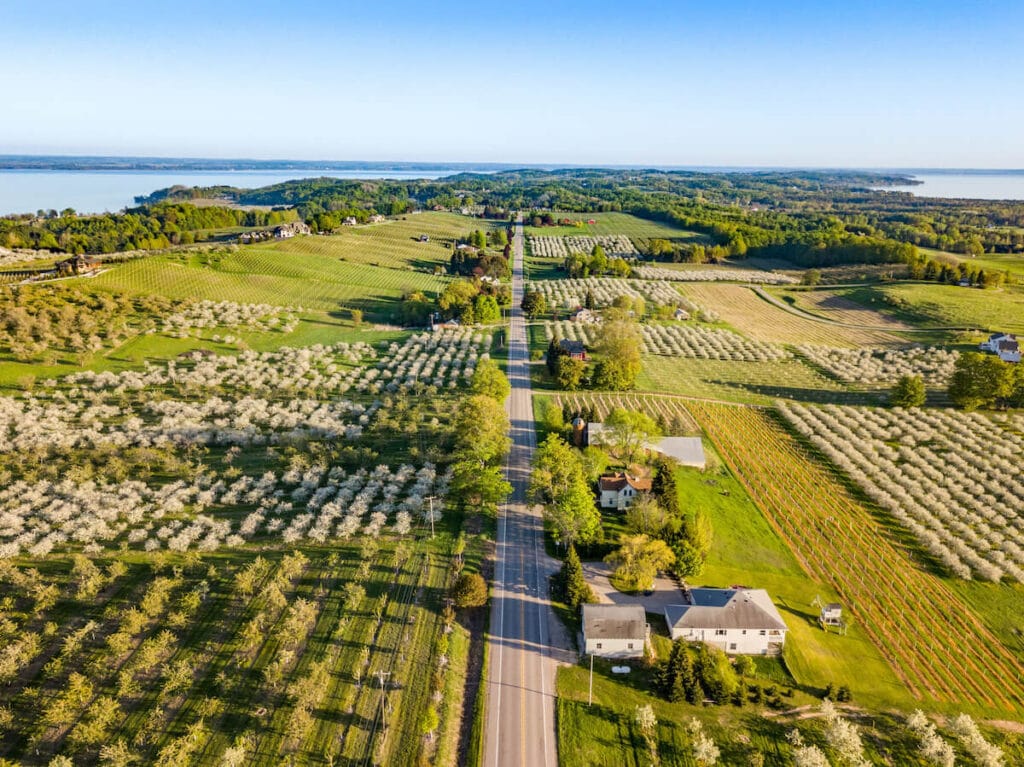 9. Sleeping Bear Dunes National Lakeshore
Miles of sandy beaches and beautiful shoreline are probably not the first thing that comes to mind when people hear the word "Michigan". Once again I couldn't believe I was in the Midwest when I arrived at Sleeping Bear Dunes, finding miles and miles of swimming beaches, bluffs that tower 450ft over Lake Michigan, climbable sand dunes, hiking trails, and a kayakers paradise.
The Dune Climb is the most popular hike in Sleeping Bear Dunes as a "choose your own adventure" climb up steep sand dunes. I loved the Empire Bluff Trail, which was a little less crowded and offered amazing views of Lake Michigan and the bluffs. Nearby, visit the cute town of Glen Arbor for food, drinks, and cherry tastings.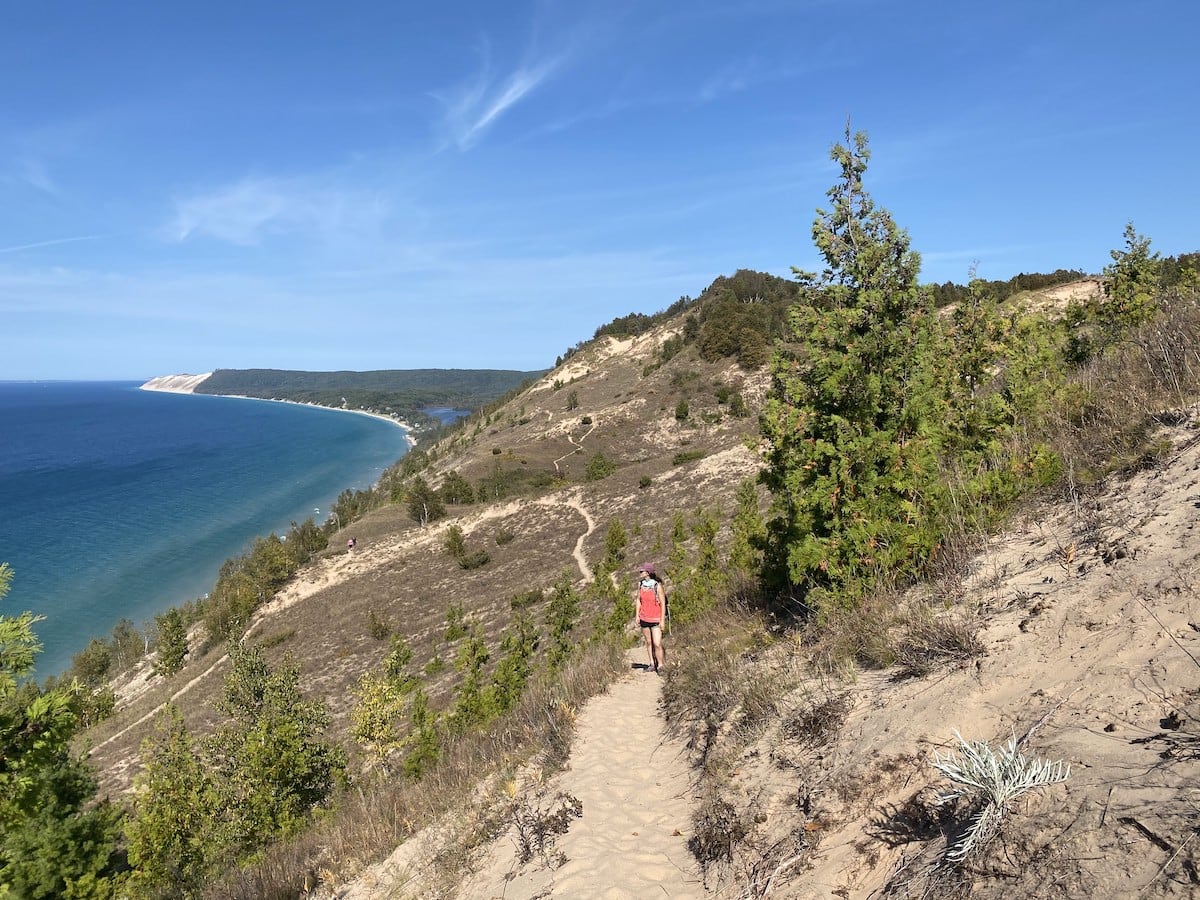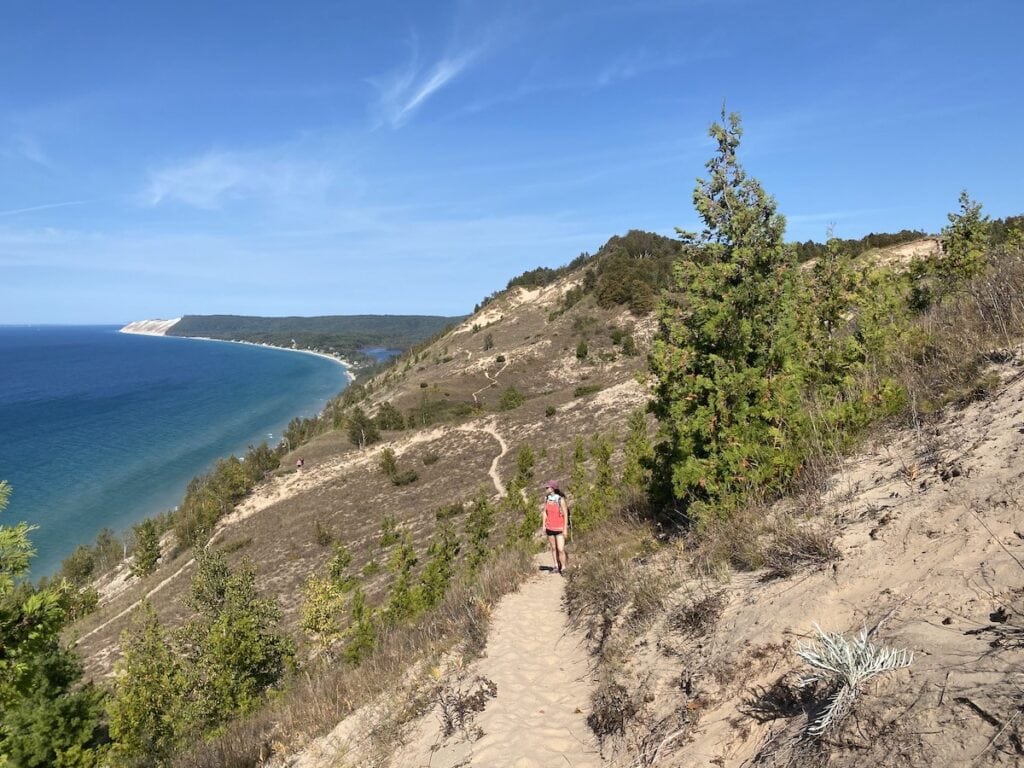 10. Nordhouse Dunes Wilderness Area
Nordhouse Dunes is another sand dune located on Lake Michigan, but without the crowds of Sleeping Bear Dunes. Nordhouse Dunes is located within Huron-Manistee National Forest and offers over 10 miles of hiking trails best for day hikers and overnight backpackers. If you're looking for a long beach hike, Big Sable Lighthouse is a 6 mile hike south from the middle point of the dunes.
The Nurnberg Road Trailhead offers day use and overnight camping access – dispersed camping is on a first-come, first-serve basis and campsites can be found right on the sandy shore, or in the wilderness. I hadn't planned to camp overnight at Nordhouse Dunes, but it's on my short list to return for a quick overnight backpacking trip because of how remote it felt and the uniqueness of pitching a tent or hanging a hammock right on the dunes next to Lake Michigan.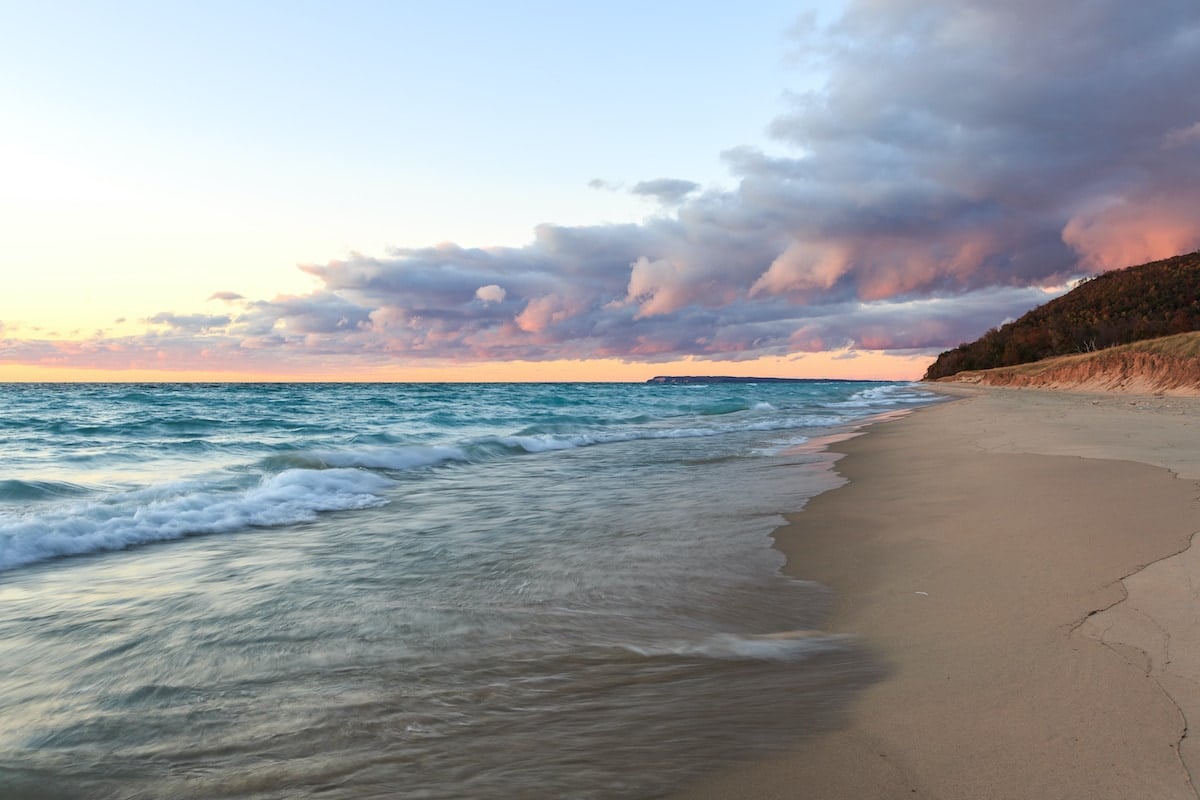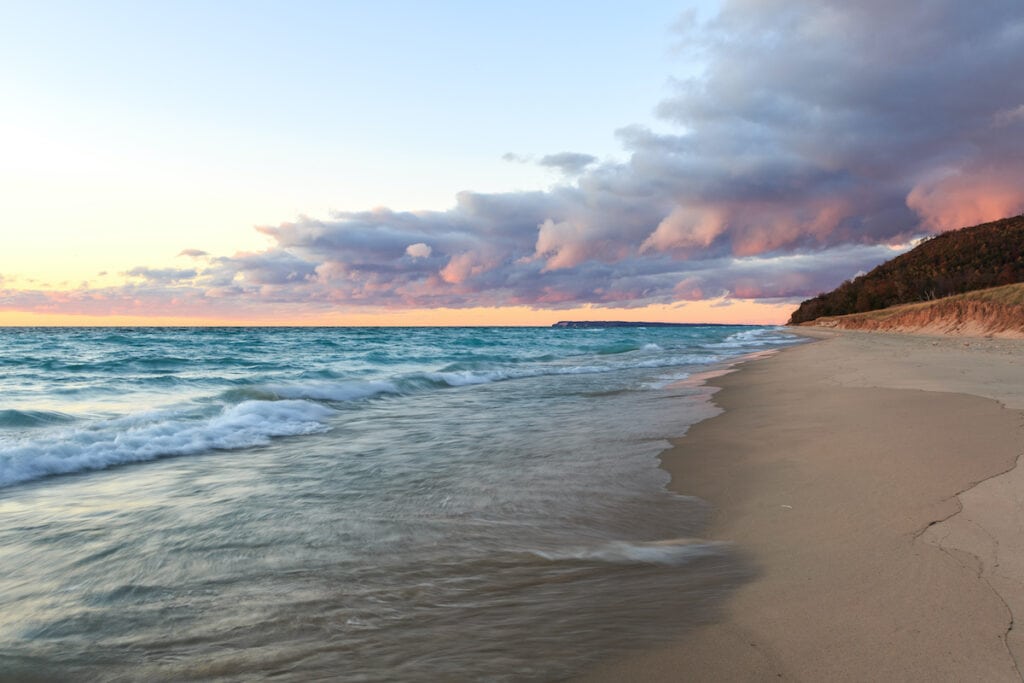 Have you been to, or are you planning a Michigan road trip? What other outdoor adventures would you recommend? Leave a comment below!