Planning your Everest Base Camp Trek: The Ultimate Logistics Guide
The most common questions about an Everest Base Camp trek answered! Learn about guided vs independent, altitude sickness, transportation, gear & logistics.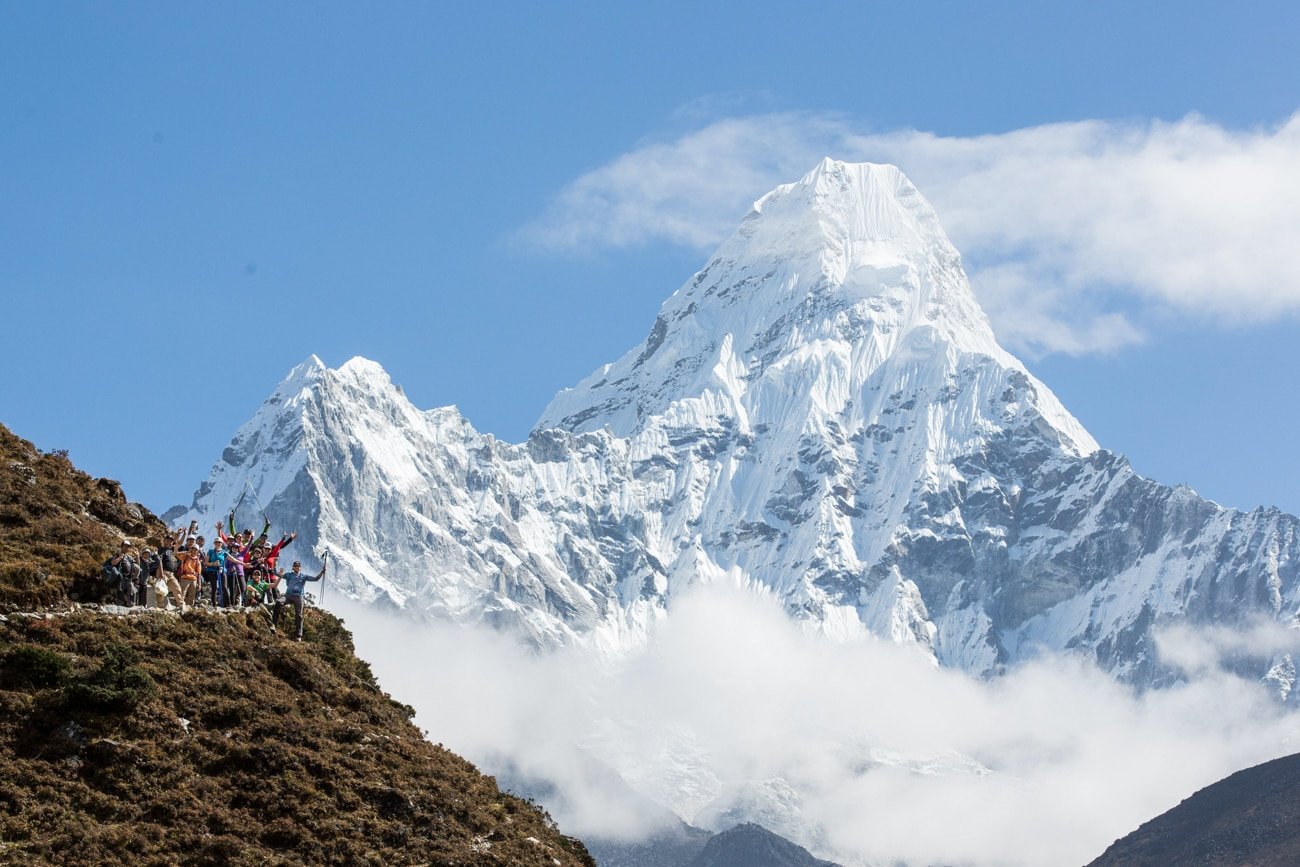 Planning your Everest Base Camp Trek: The Ultimate Logistics Guide
An Everest Base Camp trek offers the perfect trifecta as far as adventure travel goes. Big mountains, incredible culture, and for most people, a decent physical challenge that leaves you feeling proud and in better shape than when you started.
There are two ways to go about your trek to Everest Base Camp: Independent or Guided, and both options offer their pros and cons. Everest Base Camp trek planning can be a lot of work – from permits, accommodations, transportation, and more – there are a lot of logistics to consider before and during your trek.
I chose to do my Everest Base Camp Trek with the guiding company Anywhere Plus, and I was joined by 8 other Bearfoot Theory readers on this 11-day adventure. At the end of the trip, every person in our group agreed that it was one of the best trips any of us had ever been on – both due to the country and how well our trip was organized.
In this detailed post, I'll tell you what to expect on your Everest Base Camp trek. I'll share important information on the following topics:
Scroll down or click to the topic to skip to the section you are interested in….
••• Independent vs Guided Everest Base Camp Trek •••
Going with a guided group tour provided the opportunity to get to know an incredible group of like-minded outdoor adventurers.
The first big decision you need to make is whether you will do the Everest Base Camp trek on your own or as part of a guided group. An independent Everest Base Camp trek will be cheaper, no doubt, but you'll also be left to handle all of your accommodations, trekking permits, domestic flights, and logistics yourself. If you are a budget backpacker looking to save money, a very experienced traveler, or someone with a lot of vacation time, an independent Everest Base Camp trek might be a good option, with some caveats which I'll address throughout the post. If you are going on your own, I'd build a few extra days into your itinerary at the beginning of your trip in Kathmandu so you get all of your gear, flights, and other logistics dialed. I'd also recommend having a little cushion with your schedule on the trek itself in case you run into any problems (altitude sickness, stomach issues, transportation delays, etc).
On the other side of the spectrum, a guided Everest Base Camp trek can cost 3 times more….but is it worth it? There's a couple of questions you have to ask. How much time do you have in Nepal? How much decision-making do you want to do? Are you solo? Do you want to hike back down or helicopter out? Do you know how to deal with altitude sickness? How much cultural interaction do you want to have? Simply put, having the RIGHT guide puts the stress of planning on someone else so you can focus on enjoying the trek and staying healthy.
Here is Jangbu, one of our incredible guide assistants, teaching me how to pack a yak correctly.
Did you notice that little word up there? The RIGHT guide? The quality of Everest Base Camp guides varies from porters who will carry your bags to full-blown guiding services. And even between the professional companies, there are differences in what they offer. When deciding on a guiding company for your Everest Base Camp trek, make sure you pay attention to the fine print about what's included and what is not.
Our trip with Anywhere Plus was 100% all-inclusive. And that meant everything. ALL food and drinks in Kathmandu and on the trek, water, lodging, porters, assistant guides, cultural experiences, in-country flights, tips, and a helicopter flight down from Base Camp – this was all included. Every person on the trip was also hooked up with an Anywhere Plus duffel bag which was used to carry our stuff, a warm down jacket and fleece that we got to take home at the end of the trip, baby wipes, hand sanitizer, prayer flags, and a few other essentials for the trek. I admit, it was pretty luxurious as far as an Everest Base Camp trek goes, and the best part was knowing we were in good hands and that we didn't have to worry about a thing. A final perk I'll mention. Our guide Karl was a professional photographer and was taking photos of us all throughout the trip. That meant we could be more in the moment and less focused on our cameras. At the end of the trip, everyone received a USB stick with all of the photos, as well as an awesome photo book featuring the best shots from our trip. All of this made it worth every penny, and I'd do another trip with Anywhere Plus in a heartbeat.
Karl knew exactly where to get the best photos to create forever memories of our trek.
••• Typical Everest Base Camp Trek Itinerary •••
The total hiking distance if you hike straight from Lukla (the starting point) to Everest Base Camp is only 45 miles, but over the course of the trail you gain about 8,200 feet – going from 9,400 feet to 17,500 feet. In order to give yourself time to acclimate to the increasing altitude, most people take anywhere from 9-12 days to hike up to Everest Base Camp, plus another 3-4 back down to Lukla.
We spent a total of 11 days hiking from Lukla to Everest Base Camp. This gave us time to acclimatize and also enjoy our days on the trail without feeling too rushed.
Our guide Karl built in acclimatization days for us in Namche Bazaar & Dingboche. In each of these villages, we did a steep day hike and returned to our Everest Base Camp at night, allowing us more time to get used to the increasing altitude.
Happy and excited to have another acclimatization hike successfully completed!
We reached Everest Base Camp on the 10th morning. Then that afternoon, we trekked to the summit of a nearby peak called Kala Patthar to watch the sunset on Mount Everest on our final evening.
On the 11th morning, rather than starting to hike back down, we hopped on a short helicopter flight all the way back to Lukla. This was included in our trip price, and it was awesome to get an aerial view of the entire trail and all of the ground we covered the previous 10 days.
••• The Best Time to Visit Everest Base Camp •••
The best time to visit Everest Base Camp is March through May or late-September through November. These two seasons are the driest and typically experience clear mornings and cloudy afternoons.
The Spring season is when Everest Base Camp is full of climbers attempting to summit Everest. If you are interested in crossing paths with climbers and feeling the buzz in Base Camp, this is a great time to go.
In the fall, Base Camp is empty except for trekkers reaching their final destination. During our October trip, we got very comfortable weather with warm sunny mornings, cloudy afternoons, and chilly nights.
Both spring and fall are popular, so be prepared to share the trail with other trekkers, locals, yak trains, and porters. It's all part of the experience.
The monsoon season is June through early September and is the worst time to visit Everest Base Camp. During monsoon season, services are more limited and there's a chance you might not get to see those beautiful Himalayan peaks.
It's a neat opportunity to see a Yak train on the trail! Not something you see on trails in the States!
••• Getting to and from the Trail •••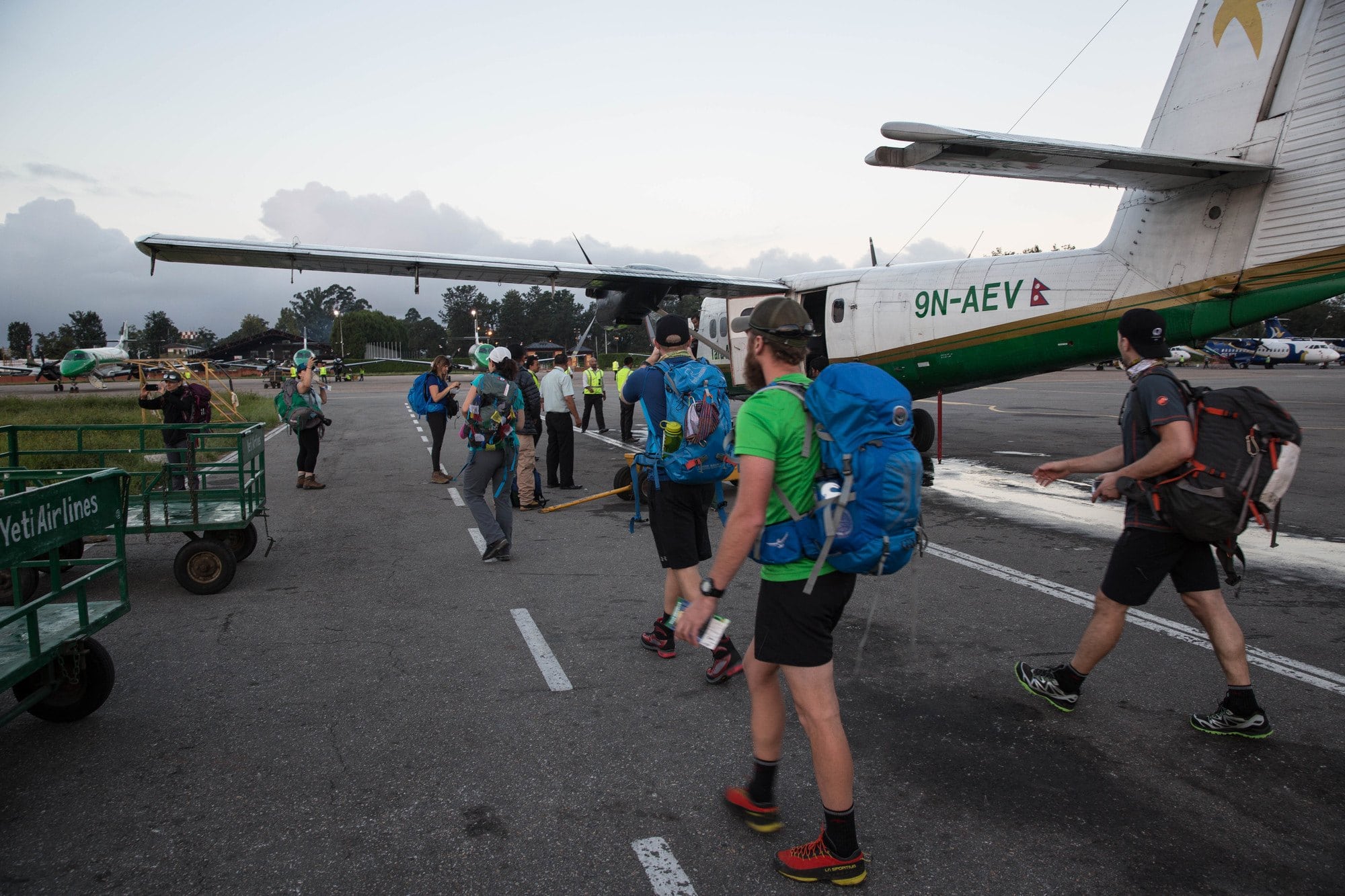 I heard all kinds of stories before our Everest Base Camp trek about how scary the flight into Lukla is. The airport has been referred to as the "World's Most Dangerous Airport" due to the fact that there is a sheer mountain face at the end of the runway.
We lucked out and got perfect weather on the way to Lukla, and our small little plane and experienced pilots handled the flight with no problems. If you are nervous, just remember, these pilots do this day in and day out and they don't want to crash anymore than you do.
At the time of writing, tickets online were priced at $150 each way per person. On our Anywhere Plus trip, all of the flights and transportation to the airport were arranged and included. When we got to the airport, things were a little hectic, but they helped us get checked in pretty quick. Also keep in mind that there is a standard weight limit of 10kg per person for checked bags, so depending on your guide and airline, you should be prepared to pay overage fees if your bag exceeds this limit.
We flew on the first Tara Air flight on the first flight of the day, which I'd recommend. Mornings tend to be more clear, and even if there were any weather delays, our group would have the highest likelihood of departure. I'd also suggest sitting on the left side of the plane for the best views on the way to Lukla.
Don't forget–insider tip–the left side of the plane will gift you with the better views on the way to Lukla.
The other thing to keep in mind is how you are going to get from Everest Base Camp back down to Lukla. A majority of people walk, and you should budget about 3-4 solid days for that. The other option is to fly on a helicopter like we did.
Our Anywhere Plus Everest Base Camp Trek included a return helicopter flight.
••• Everest Base Camp Trail Conditions and Difficulty •••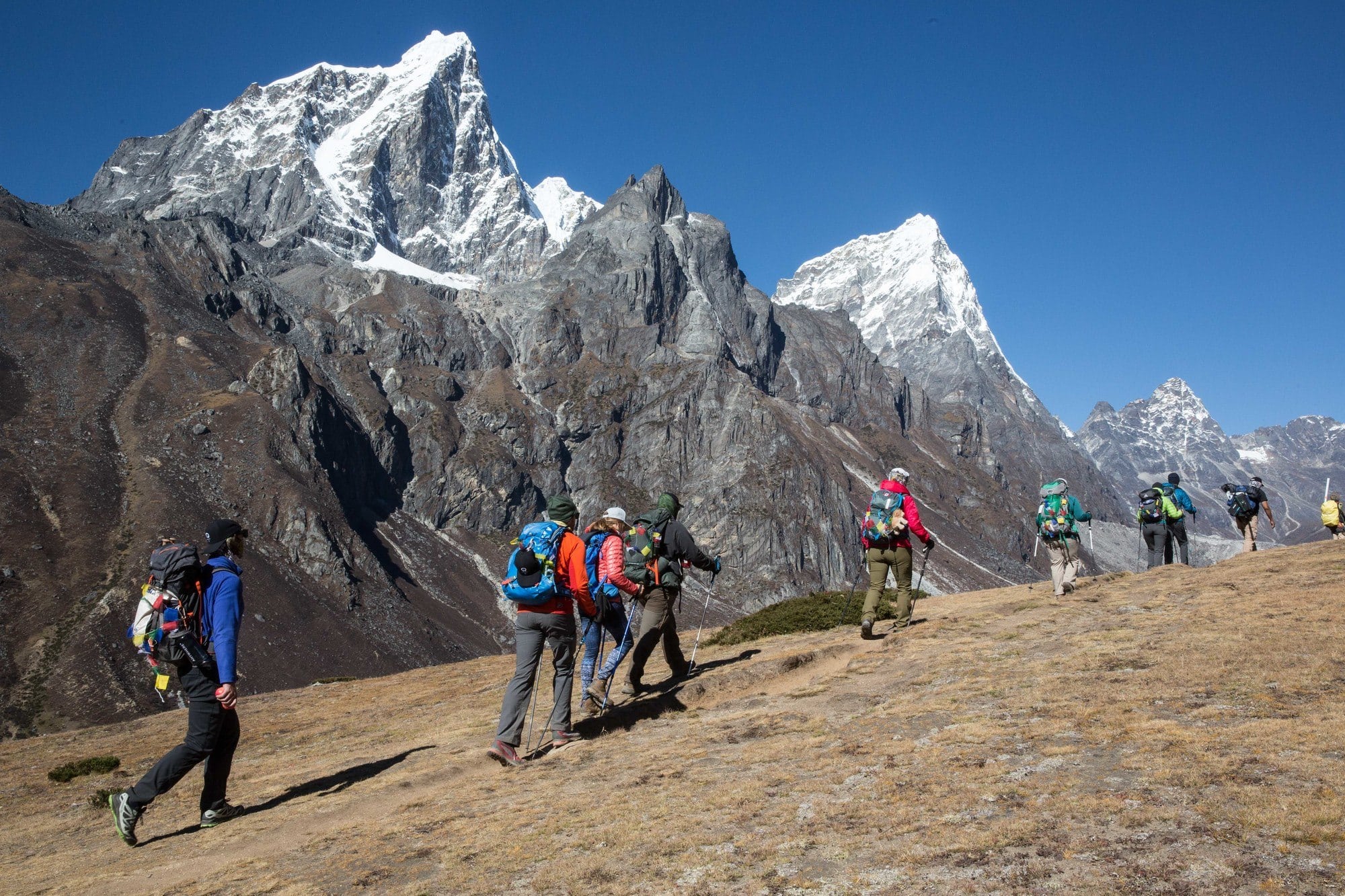 I wasn't sure what to expect as far as trail conditions on the way to Everest Base Camp, but what we found was a super well-maintained trail that was in excellent condition. Some sections were obviously steep, but most of the trail consisted of a well-defined dirt path without too many obstacles. The suspension bridges also seemed to be in good condition, able to support the weight of fully loaded yaks.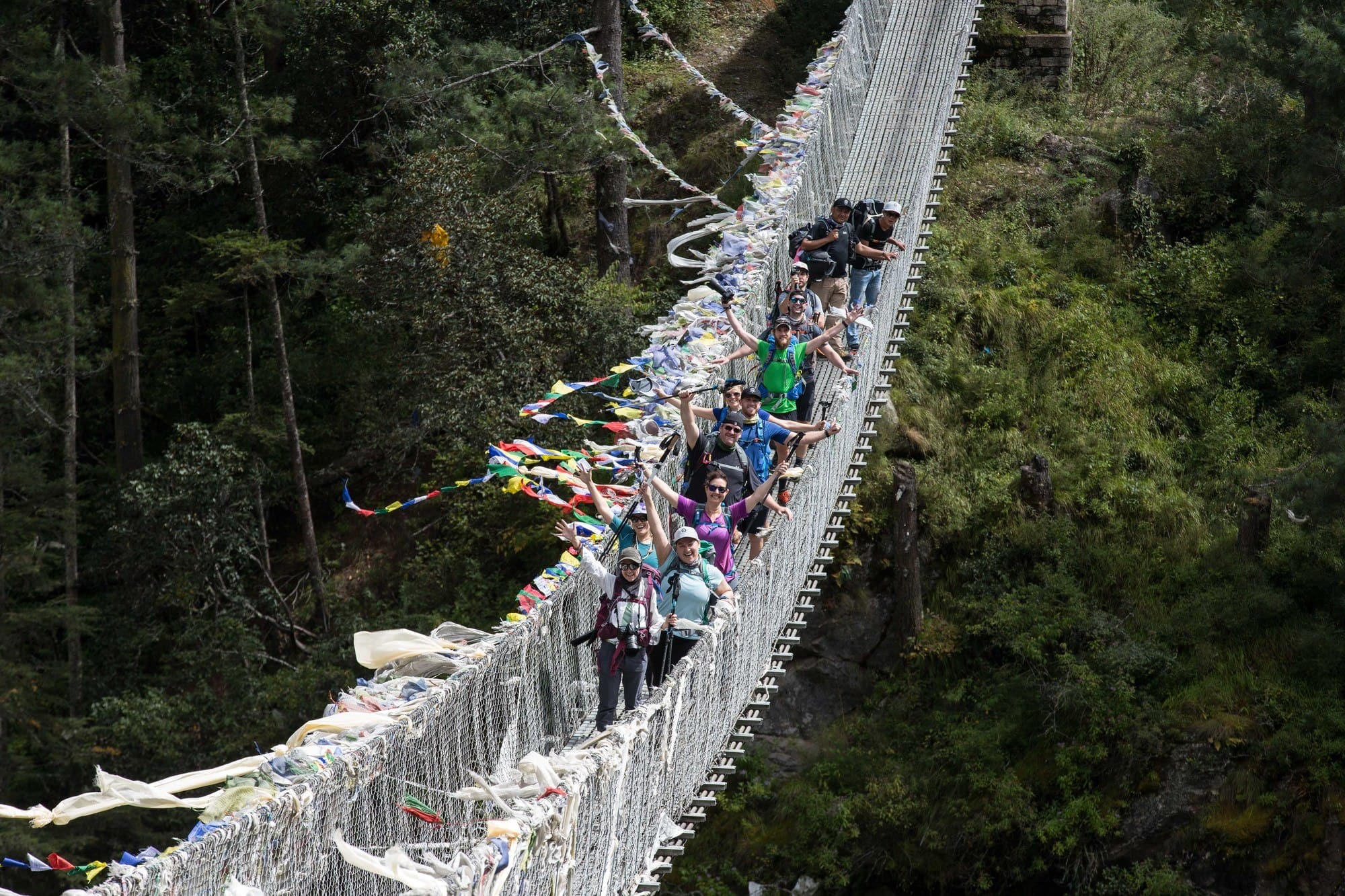 The scenery was constantly changing which kept things interesting. The beginning of the trail in Lukla was lush and green with all kinds of waterfalls, and everyday the landscape got a little more drastic until we were eventually above the treeline.
The only section that was a bit more difficult as far as terrain was the final stretch down into Everest Base Camp. This section had some boulders to hop over and once on the glacier you had to be careful as some parts were pretty slippery.
••• Everest Base Camp Trekking Permits •••
There are two different permits you need to trek to Everest Base Camp.
The first is a Trekkers Information Management System (TIMS) permit. This costs $10 USD if you are part of a group or $20 USD if you are trekking independently. You also need 2 passport photos. Our Anywhere Plus guide obtained these for us in advance of the trek. If you are on your own, you'll need to go to the Nepal Tourism Board office near Thamel in Kathmandu prior to your flight to Lukla.
The second permit is Sagarmatha National Park Entry Permit which can be obtained once you are on the trail at the office in Monjo. This costs $30 USD+ 13% Govt. Tax.
••• Food & Water on your Everest Base Camp Trek •••
— Food —
Little villages are spread all along the trail with plenty of places to stop and eat or have some tea, and all of the lodges we stayed in served breakfast, lunch, and dinner. Breakfast usually consisted of hot porridge or eggs, potatoes, and toast, while lunch and dinner menus varied between lodges. Typically lunch and dinner items included Nepalese stew, fried noodles, fried rice, and dal baht (the local Sherpa meal consisting of lentil soup, rice, and veggies).
It doesn't get much better than having breakfast with a view of Mt. Everest!
Something important to remember is that all of the meat has to be hiked in from Lukla and refrigeration is limited. For that reason, we steered clear of all meat after we left Namche Bazaar, and I'd recommend you do so too. Also, anything with cheese or butter is going to be the local yak version. I myself wasn't a fan due to it's strong flavor.
If you are trekking independently or your food isn't included in the price of your trek, expect to pay somewhere between $4-7 for a simple meal, and that price goes up the further along the trail you get.
— Water —
All tea and coffee is safe to drink since it's made with boiling water, but all other drinking water needs to be filtered. I'd also avoid brushing your teeth with any kind of tap water, especially in Kathmandu. Bottled water is available on the trail, but it's expensive and unsustainable since they don't have a way to recycle or properly dispose of the plastic on the trail.
Instead of purchasing copious water on the trail (which you need to drink to stay hydrated), our Anywhere Plus guide Karl brought a couple of SteriPens, which use UV rays to kill viruses and bacteria in water. Every morning and evening we'd have a big water filtering session where we'd all fill up, and it was a great way to provide free and safe drinking water for a large group. I will note that many of the other guided trips do not include drinking water, so if you choose another company, you should check as to whether you should bring your own SteriPen and/or iodine tablets. For more information on the best water filters for backpacking check out our guide on how to select the best water filter for your next adventure.
 Here is a glimpse of the little village of Namche.
••• Accommodations on the Everest Base Camp Trek •••
There are a variety of accommodations along the Everest Base Camp Trail, and our trek included private rooms at the nicest lodges available in each village.
At the beginning, our accommodations (like our rooms in Namche shown in the picture below) typically came with in-room showers, western-style flush toilets, heating blankets, and in-room outlets to charge our stuff. Towards the end, things got more simple – meaning no heat, no outlets, and squat toilets down the hall. Given the rural nature of the trail, this is the best they have. After day 5, we also didn't have in-room showers. At some of the lodges, there were hot showers available down the hall, but it was very cold outside and there is no way long hair would dry in that climate. So all of us were sans-showers for the second half of the trek.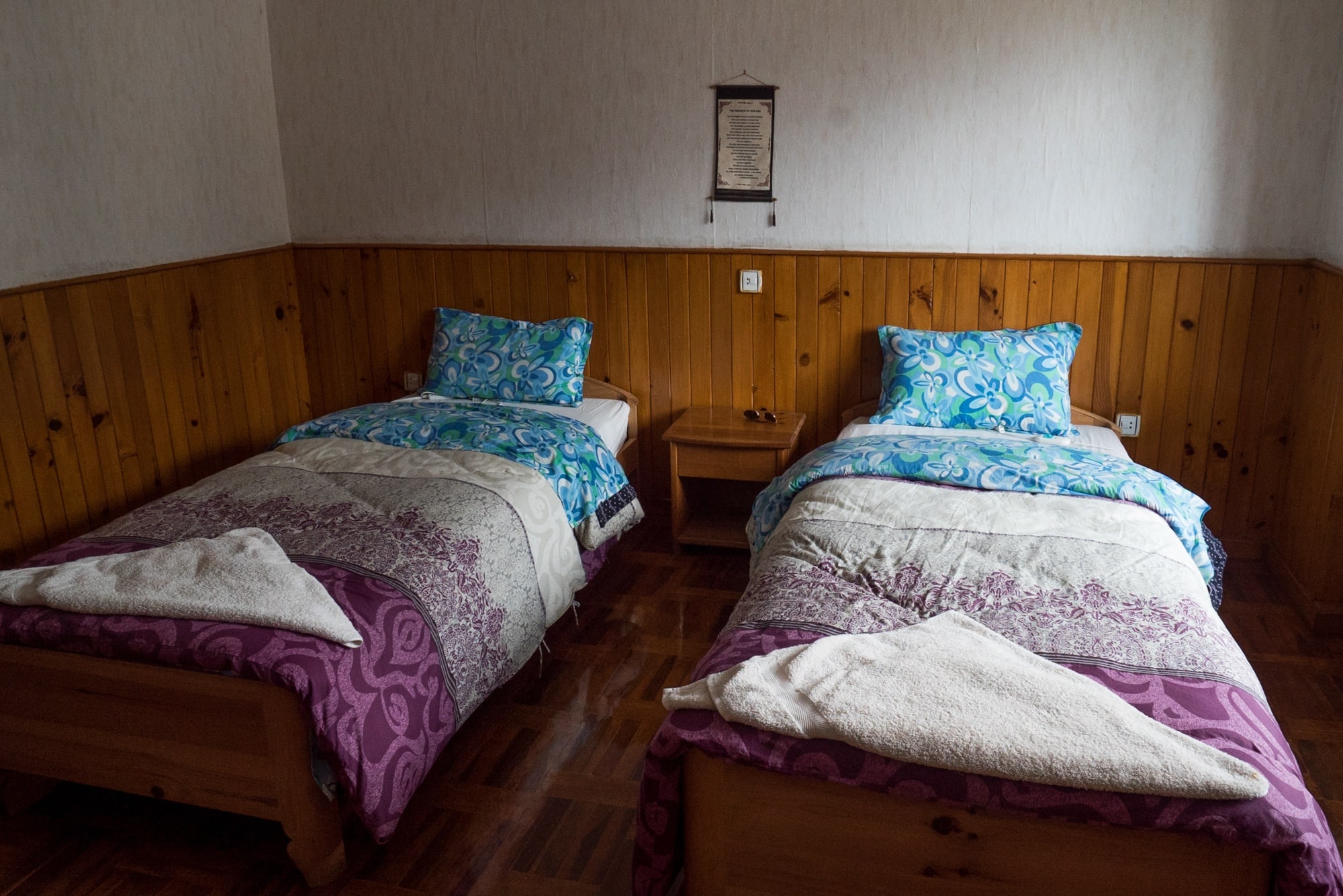 While the accommodations weren't the highlight, everyone in the group was content. After all, the hotels weren't why we were there. I'd suggest bringing some warm sleeping clothes, ear plugs, and a positive attitude, and you'll be just fine. That said, it's not for everyone, and if this description of the accommodations sounds awful to you, than perhaps the Everest Base Camp Trek isn't a good fit for you.
••• Wi-fi & Electricity on the Everest Base Camp Trek •••
I was surprised at the availability of wi-fi on the trail. Our trip with Anywhere Plus included wi-fi at all of the lodges as well as local N-cell SIM cards for those of us who had unlocked phones. This provided 3G on our phones wherever there was service along the trek as well as plenty of minutes to call home.
For those who are hiking independently or don't have wi-fi included on their trip, most of the lodges offered wi-fi for a fee, although speed was variable especially towards the end of the trek. It was fast enough in most places to upload photos to Facebook or write emails from our phones. Videos and Snapchat, however, were pretty slow to load, if they loaded at all. For that reason, I'd leave the laptop at home since it will only add to your weight and give you something extra to worry about.
For your electronics, you'll want to consider bringing a solar panel, battery packs and spare camera batteries. You'll only have electricity in your room and outlets to charge your personal electronics for the first few days. After that, you'll have to pay to charge things at the lodges.
••• Staying Healthy & Avoiding Altitude Sickness on your Everest Base Camp Trek •••
The biggest safety concern during your trek to Everest Base Camp is altitude sickness, and there are a number of measures you can take to minimize the chances of getting it.
First, you need to plan an itinerary that allows you to increase your elevation gradually. Second, you need to stay hydrated. This means you should have water available to drink at all times (I used a CamelBak), and you should avoid alcohol in the evenings at the lodges. Third, you'll want to keep your immune system strong by dressing warm, consuming enough calories, and taking vitamins. I brought some Emergen-C vitamin packets and put one in my water every morning at breakfast.
Taking care of yourself and listening to your body is super important while on your trek!
That said, altitude sickness is unpredictable, and even the fittest of people can suffer from it. If it hits you, it can result in nausea, dizziness, vomiting, and headache, and if you don't stop and address it, altitude sickness can be life threatening.
If you are on a guided trek to Everest Base Camp, your itinerary will include a couple of acclimatization days where you hike up and return to the same lodge that afternoon. Incorporating these acclimatization days into to the overall trek will increase the likelihood that everyone will be successful in making it to Base Camp. If you are doing the trek independent of a guide, you will want to do the research beforehand and incorporate some acclimatization hikes into your plan.
In the case that you are struck with a case of altitude sickness on the trail, a properly trained and professional guide will have a backup plan. That may include administering Diamox, a medication used to treat altitude sickness, or having you stay back with an assistant guide and catch up when you are feeling better either on foot or by horse. In the worst case scenario, a guide can arrange for helicopter transport back to your starting point or a hospital if necessary. Guides also have ways to communicate in the case of an emergency. I'm not saying these things to scare you, but if you end up doing the trek independently, you'll want to be prepared for these scenarios.
Diarrhea is a common ailment for travelers in Nepal, and the other key to staying healthy on the trail is to keep your hands clean. This means carrying hand sanitizer on you at all times. I used it religiously throughout the trip – after going to the bathroom, before eating anything, after shaking hands with people – and I never had any stomach issues throughout the trip. It's not fail-safe, but the more careful you are about germs the better chances you have of avoiding diarrhea.
••• Gear for your Everest Base Camp trek •••
I wrote up my entire packing list for my Everest Base Camp Trek. You can check it out in this post or by watching the video below:
••• Experiencing the Culture on your Everest Base Camp Trek •••
Experiencing the local culture was one of the things that made the trek to Everest Base Camp so special. I can't speak for other guiding companies, but on our Anywhere Plus tour, we had the opportunity to interact with a bunch of local families. Our guide Karl has been on two Everest climbing expeditions, and during that time he built a lot of relationships in the region. Both of our assistant guides – Nara and Jangbu – were from Nepal. They spoke excellent English and were an incredible source of knowledge about the Himalayan culture and region.
Nara was from Bigu Village and part of our trip costs were donated to his community which is still recovering from the devastating earthquake. Nara was a constant source of positive energy throughout the entire trip.
Here is Nara, one of our assistant guides, in front of one of our hotels.
Jangbu, the other assistant, was a 19 year old Sherpa who summited Everest for the first time last year. Our trip also provided support to further Jangbu's education so he can obtain a trekking guide license. On day 5, we had the chance to visit Jangbu's home. His dad taught us how to load up the yaks and his mom invited us into their home for a traditional Sherpa meal of potato pancakes and dal baht. Then Jangbu took us to meet with his local Lama – Lama Geshe – who blessed our prayer flags and anything else we brought with us. The day was one of the stand-out experiences of the trip, and it wouldn't have been possible without our guide Karl.

This is Jangbu with his mom and dad after our incredible lunch in their home.
Getting blessed by Lama Geshe in Jangbu's village
I hope this Everest Base Camp guide gives you a better idea of what to expect & how to plan for your Everest Base Camp Trek. Whether you are going on your own or as part of a group, you are in for a spectacular experience. Again, a huge thanks to Karl and the Anywhere Plus team for making our trip so incredibly memorable, and if you have any questions about planning your Everest Base Camp Trek, get in touch!
HAVE TIPS TO SHARE ABOUT PLANNING AN EVEREST Base Camp TREK? LEAVE A COMMENT BELOW, TWEET ME, OR WRITE ME A POST ON FACEBOOK.